Gallery
Inflatables Day - Wednesday 14th July 2021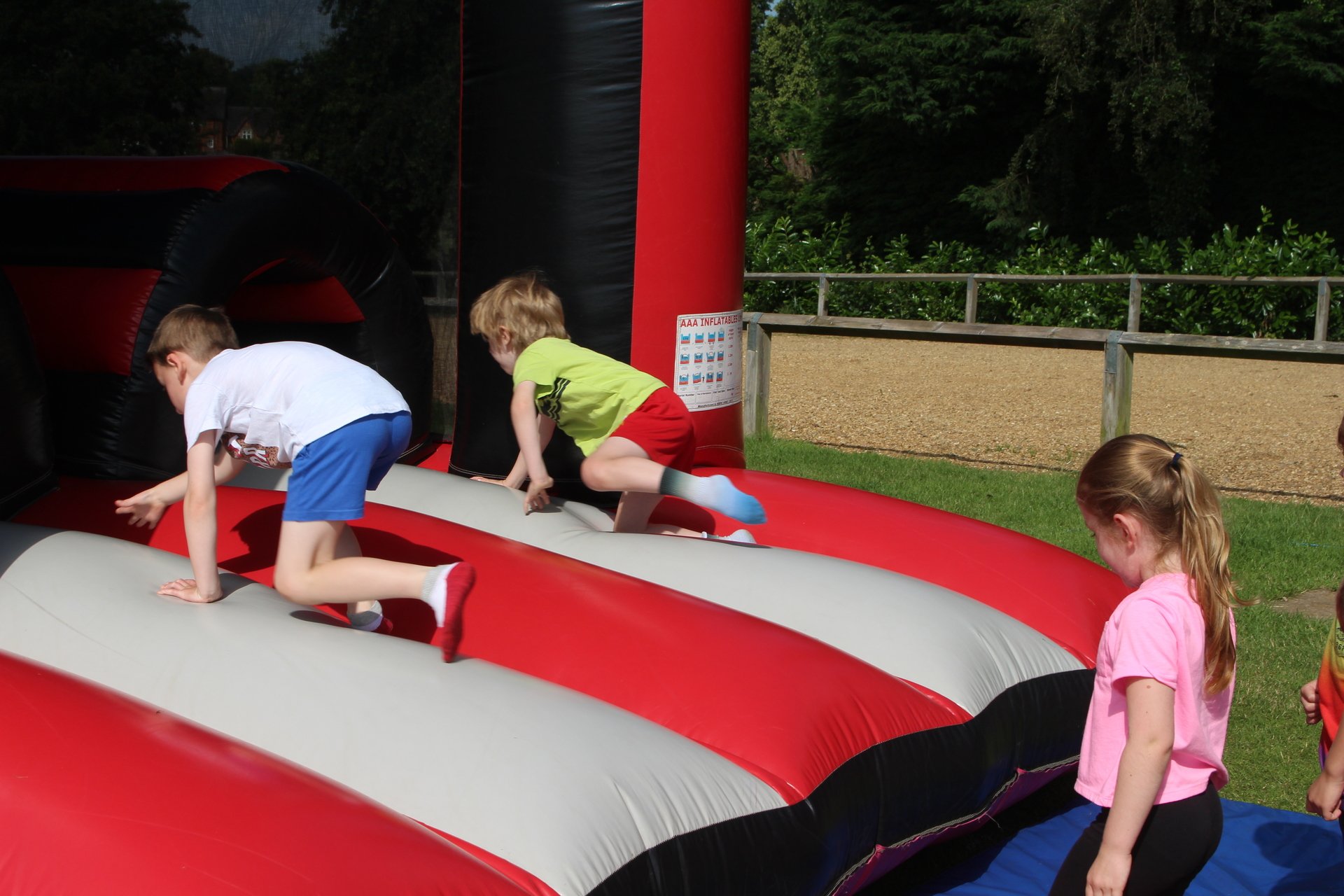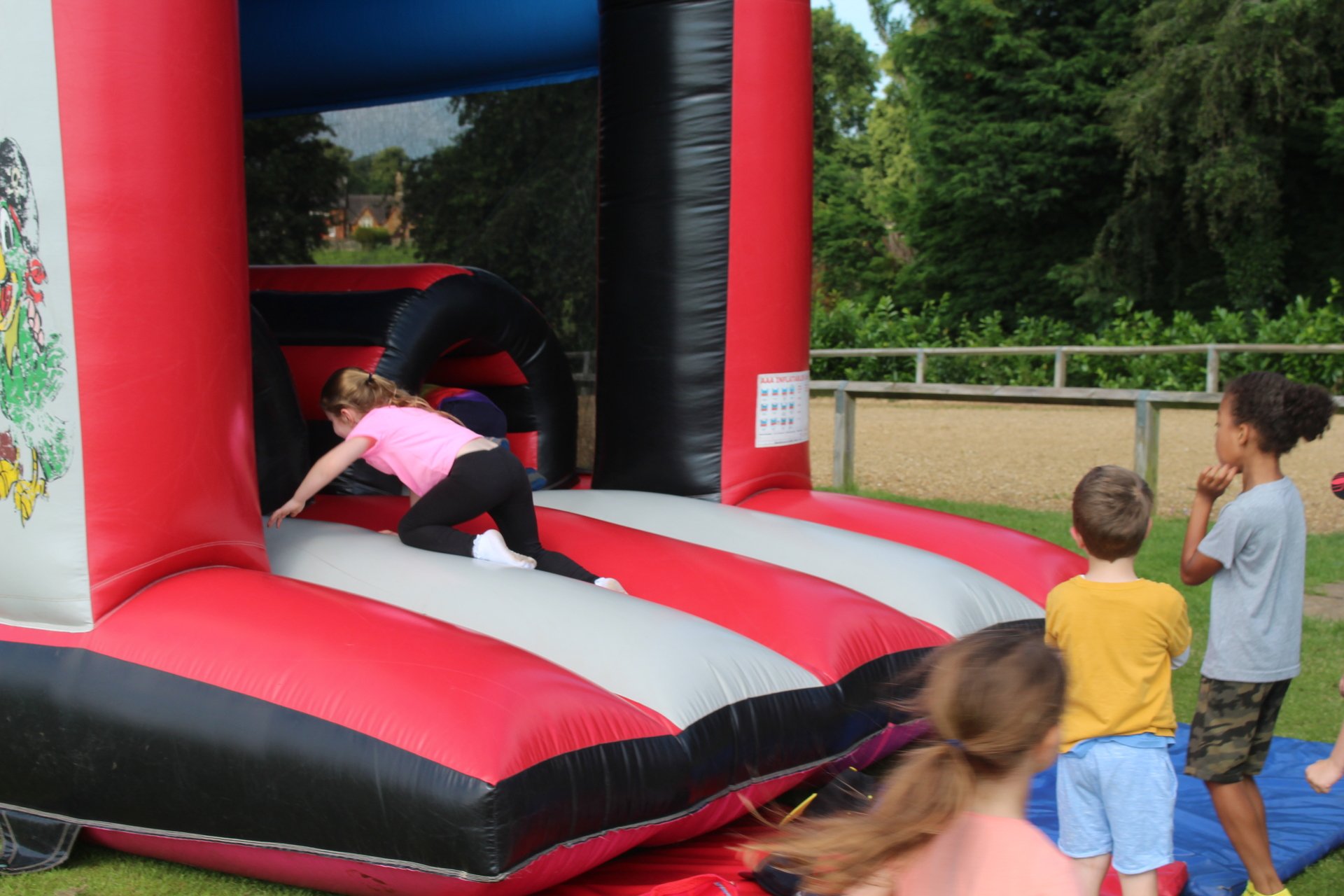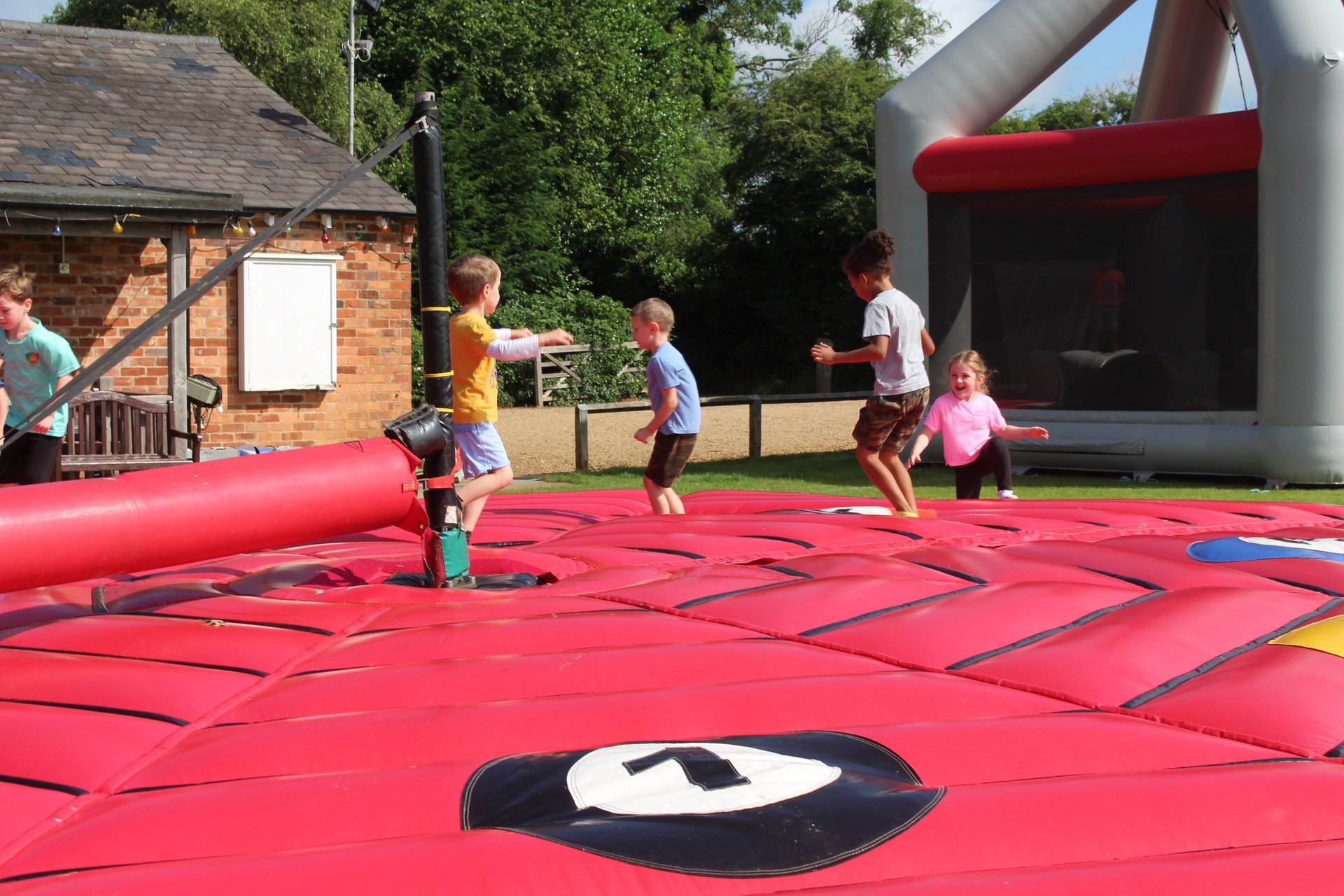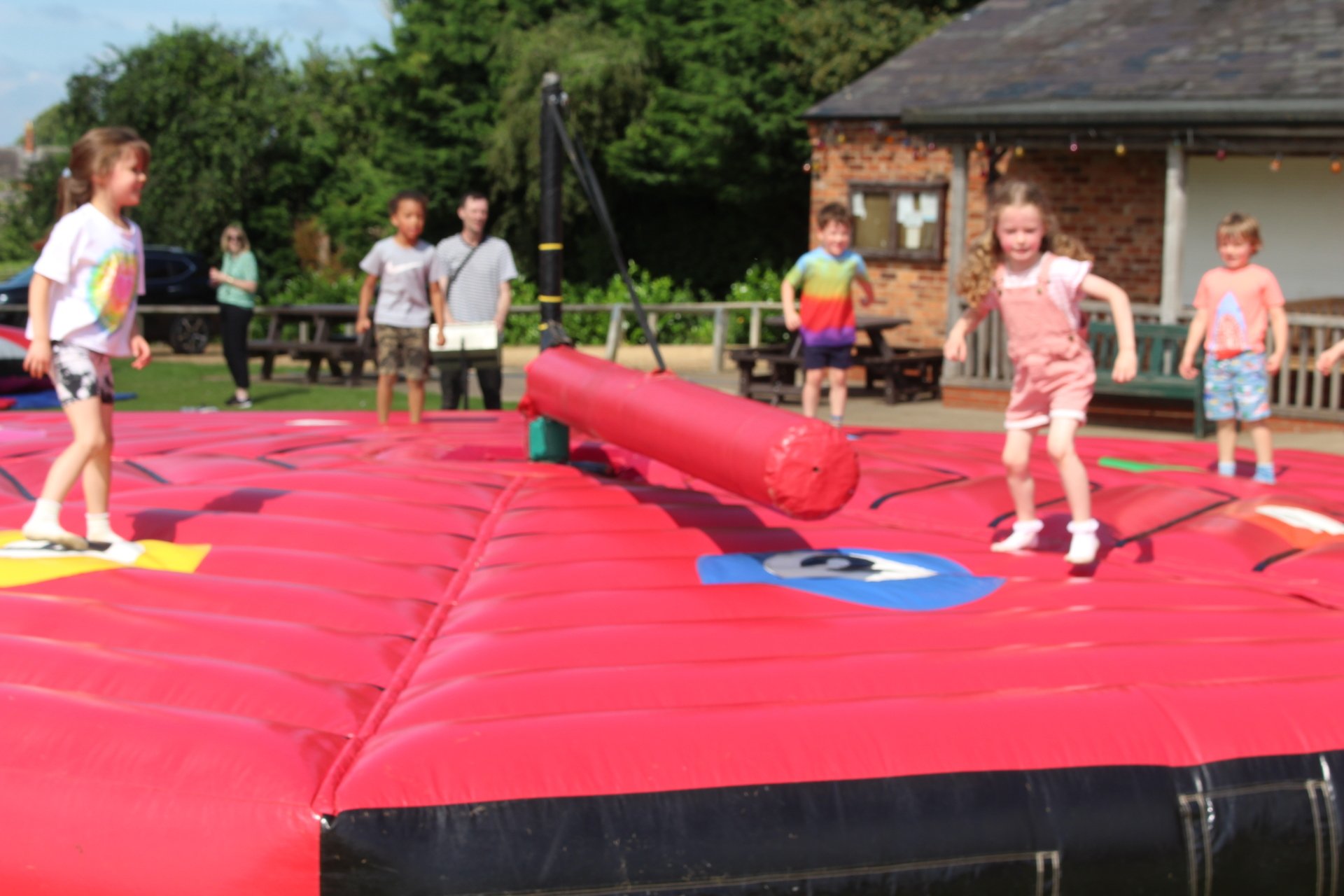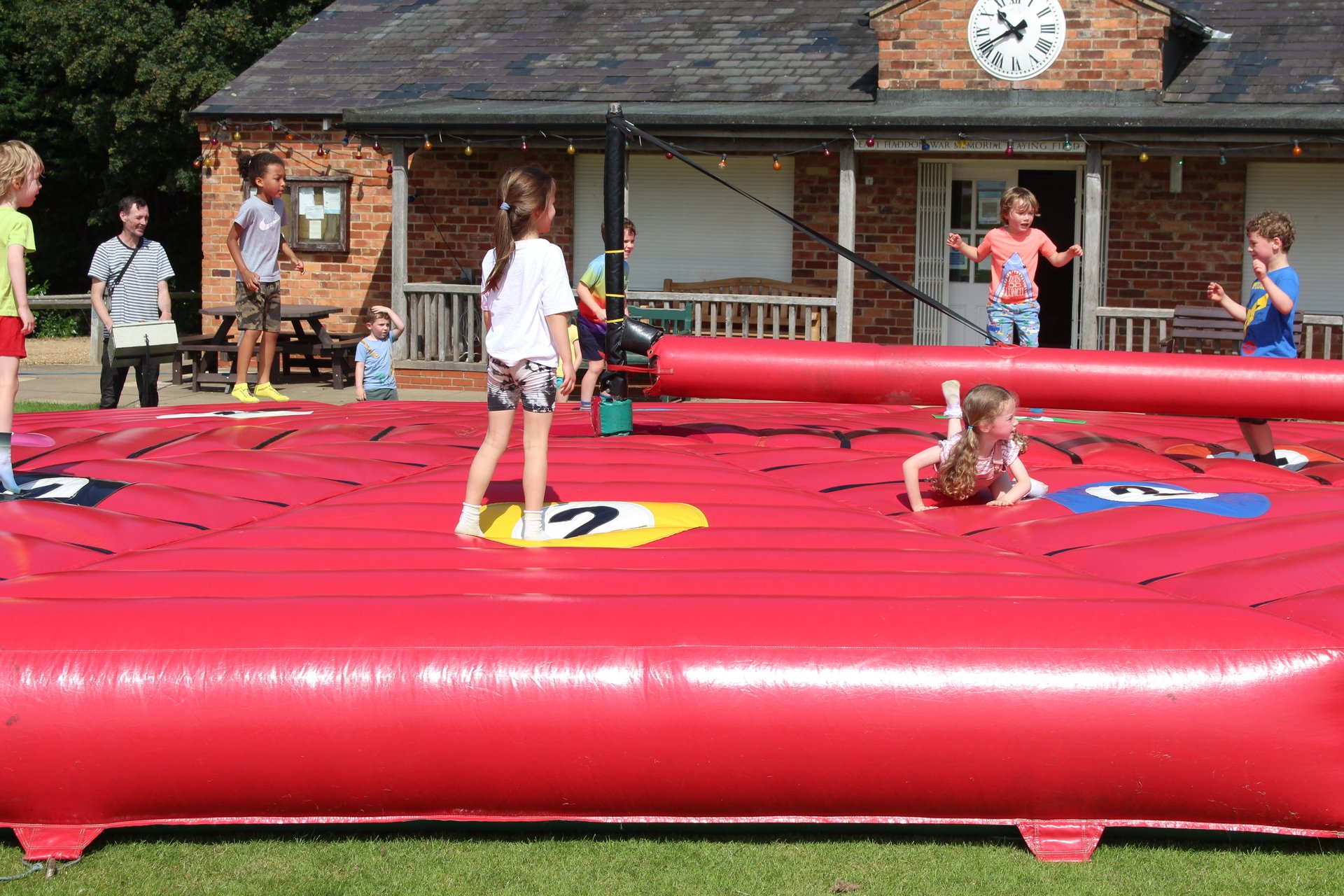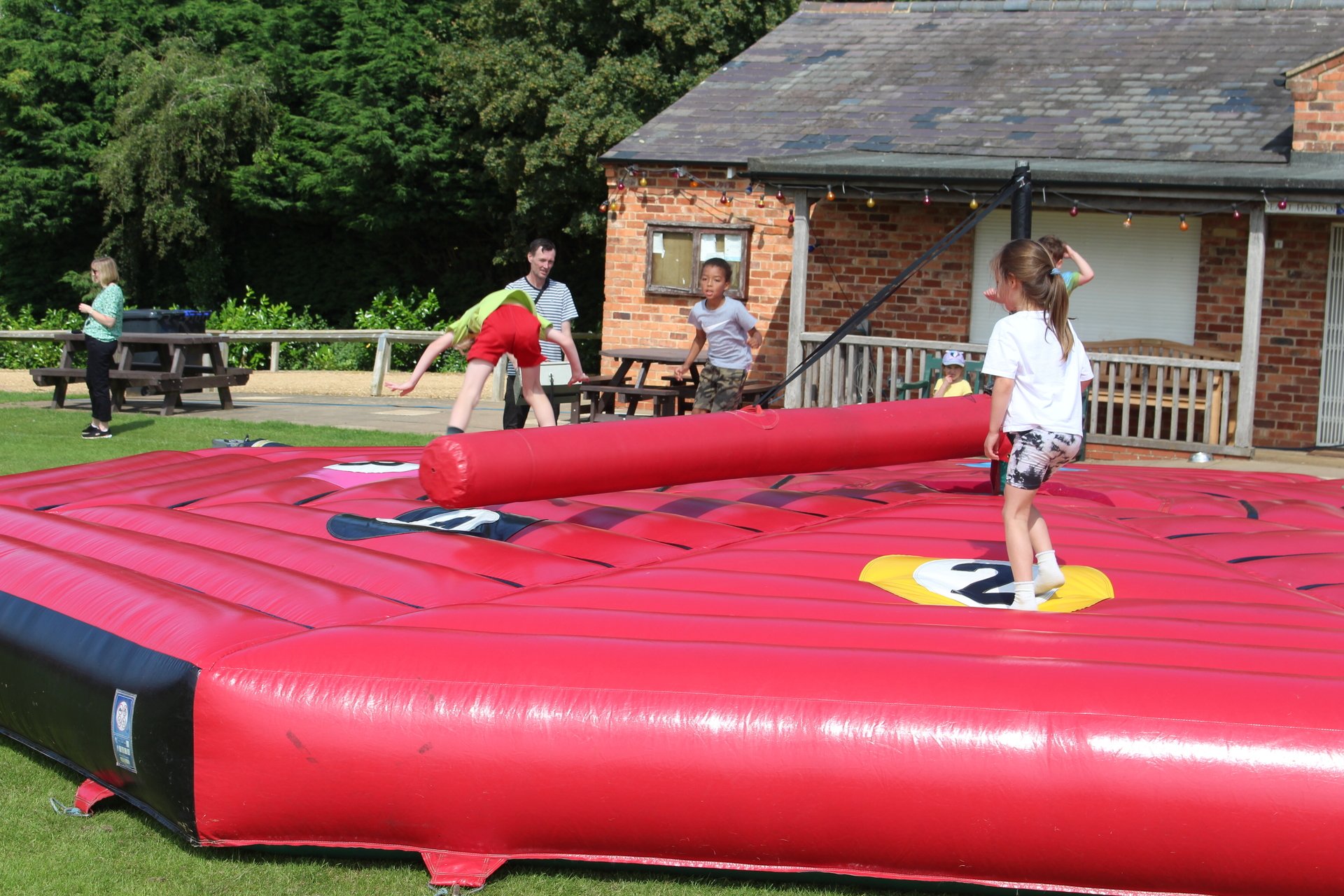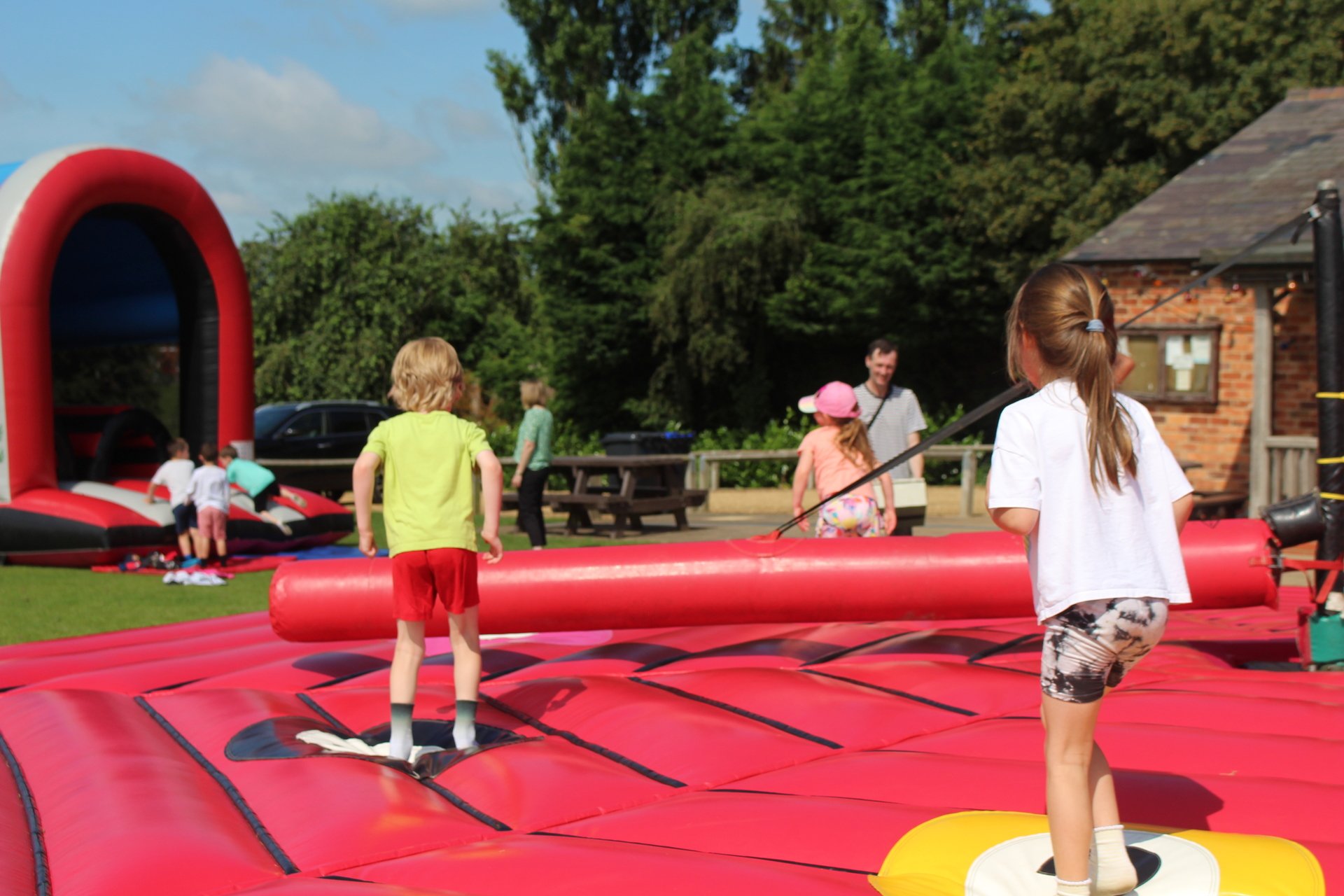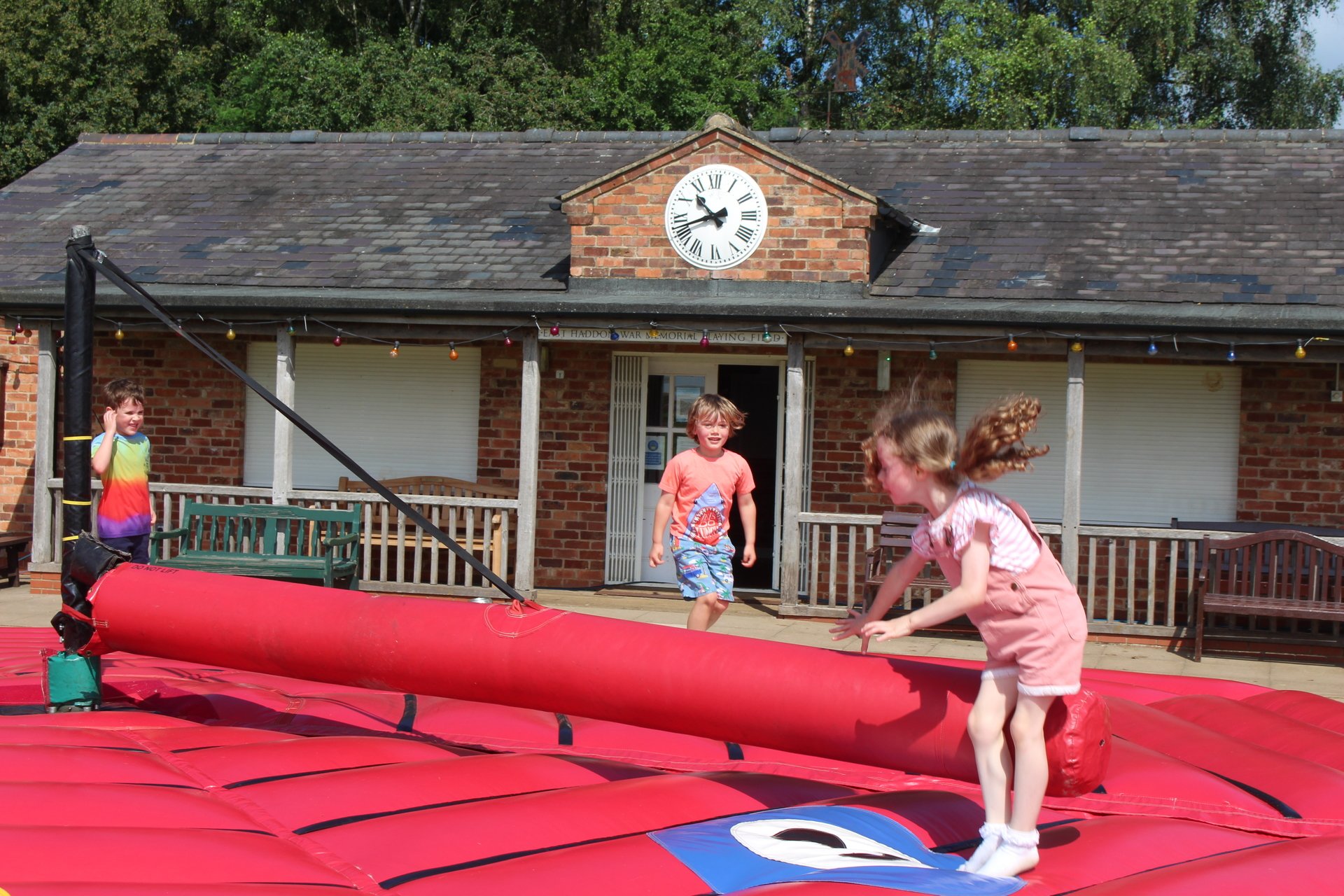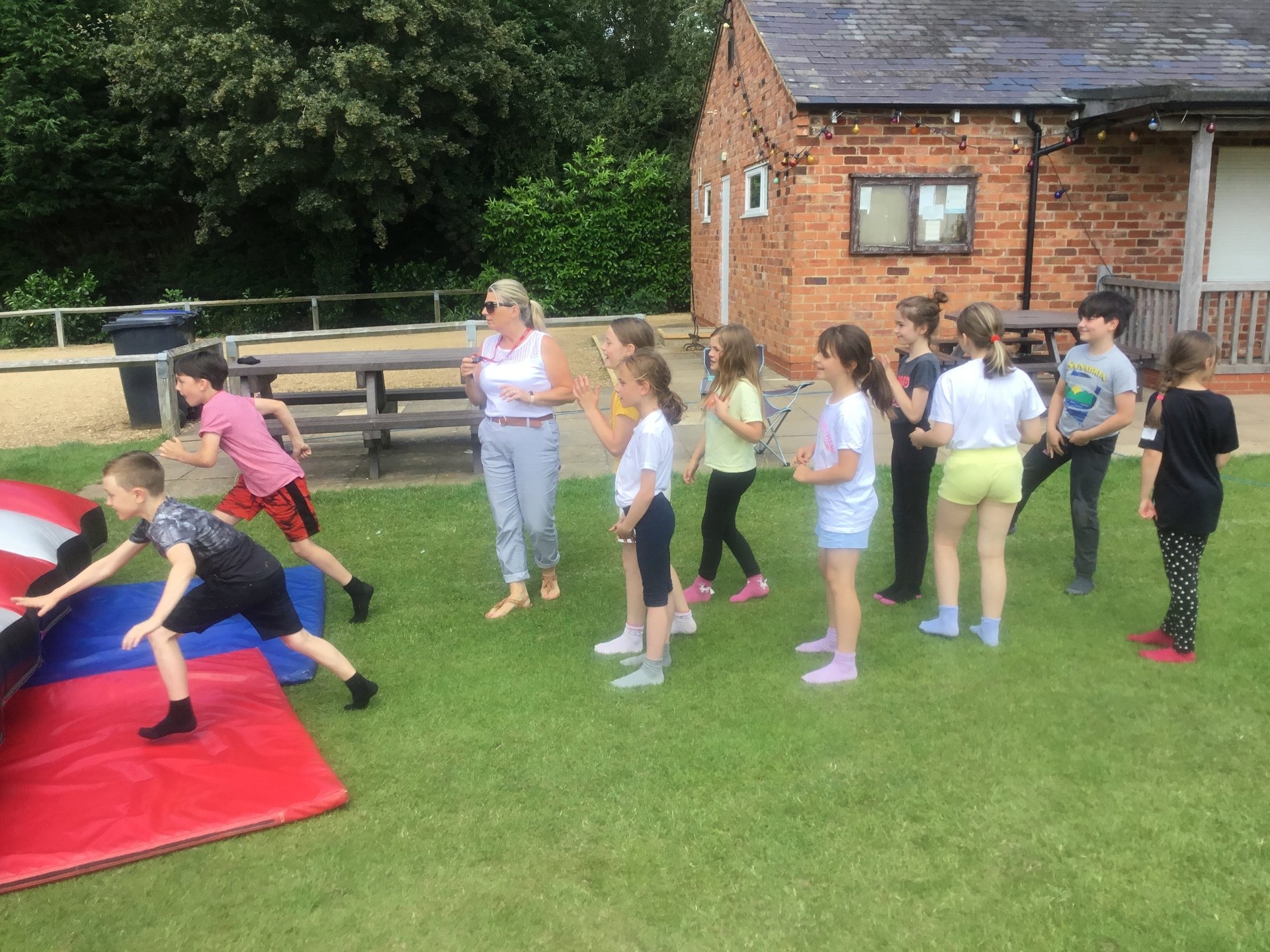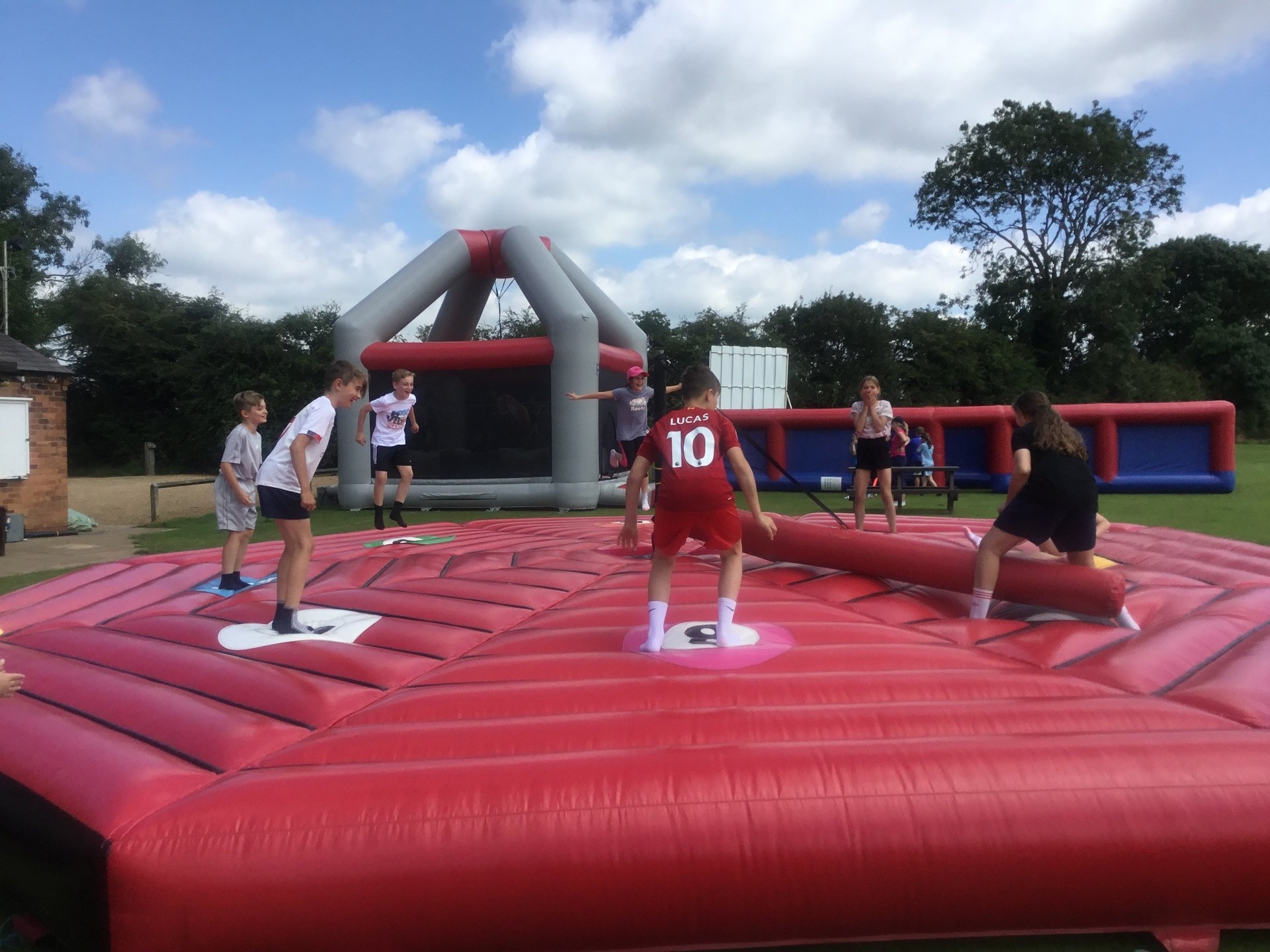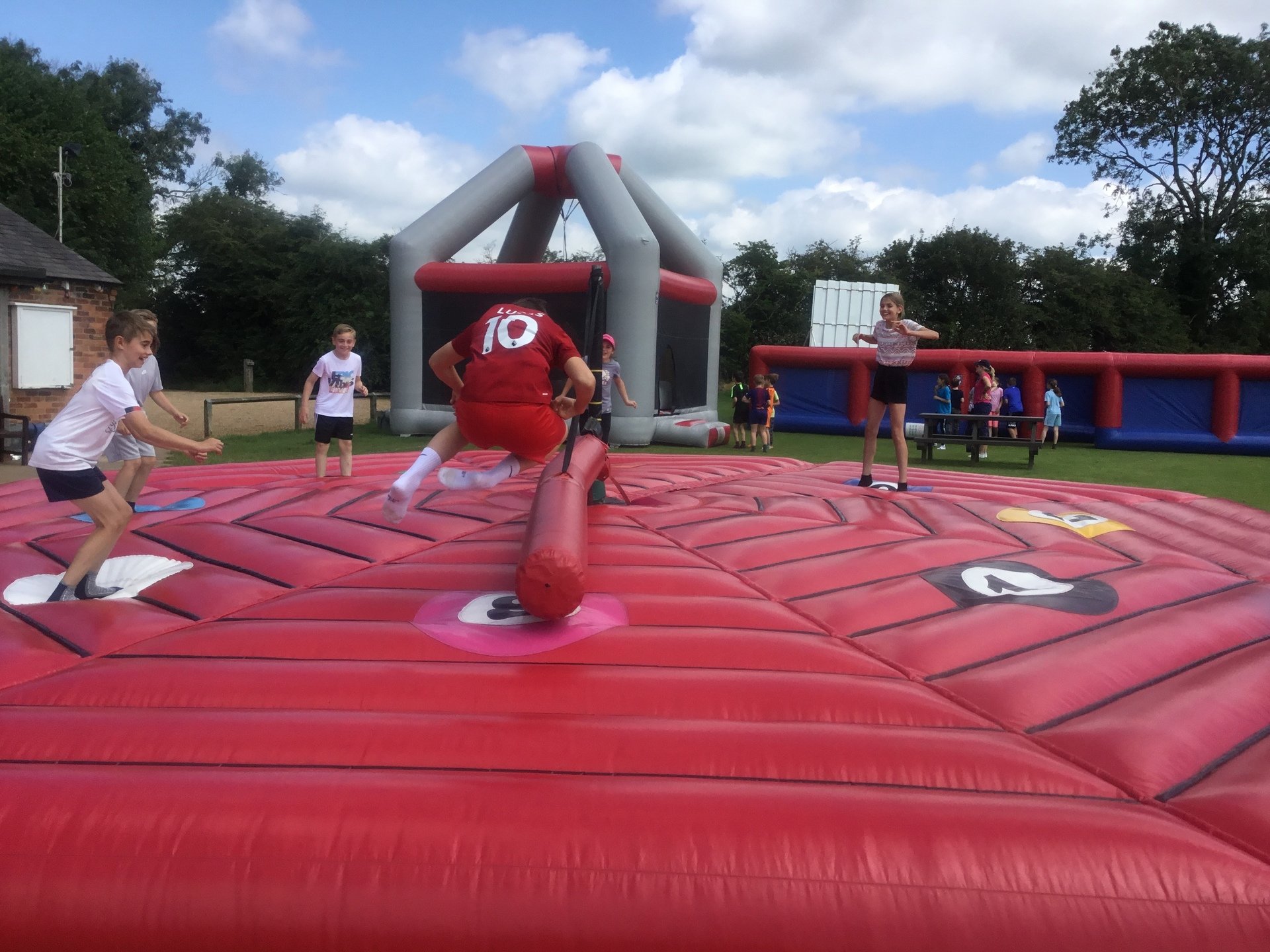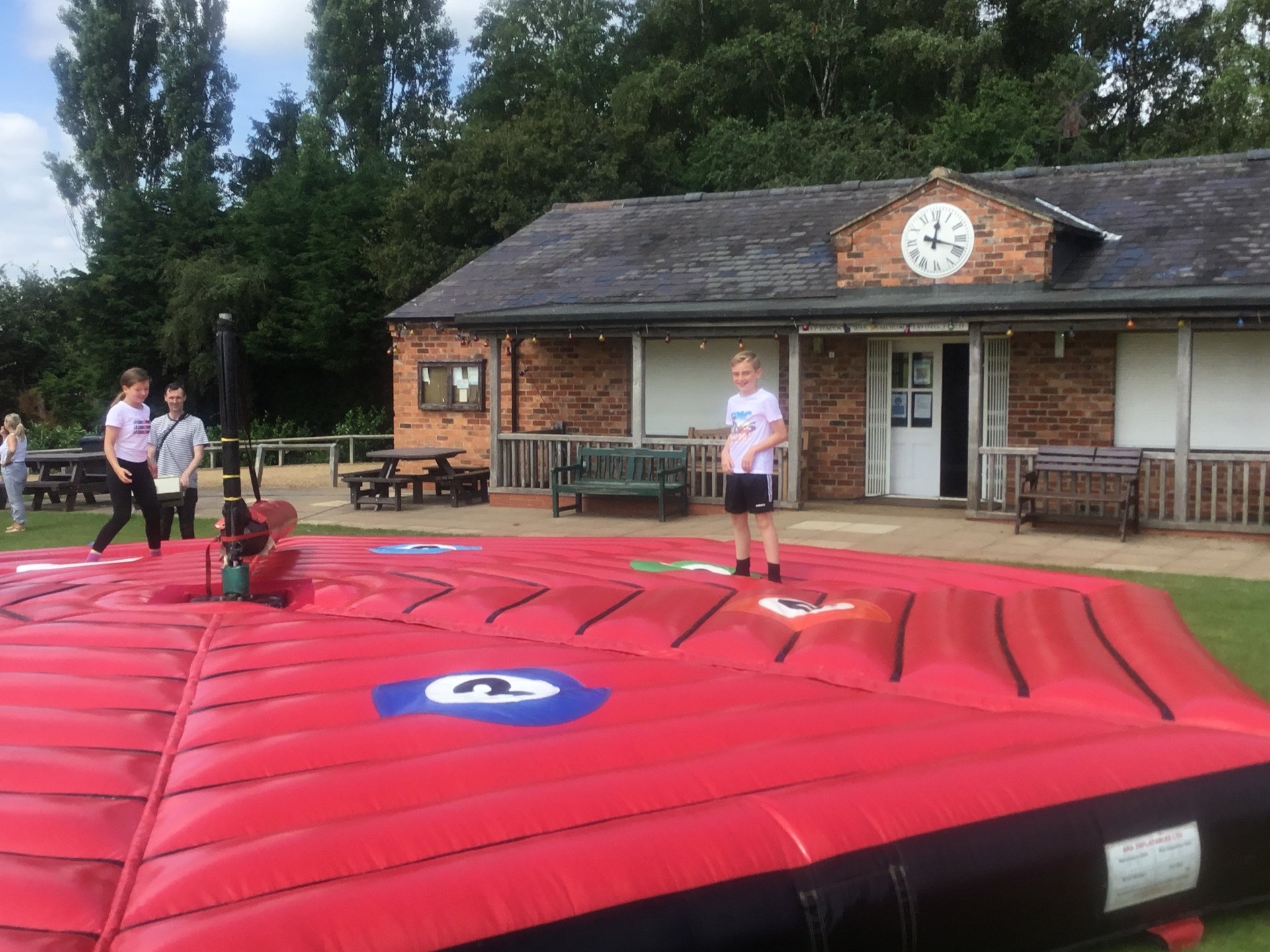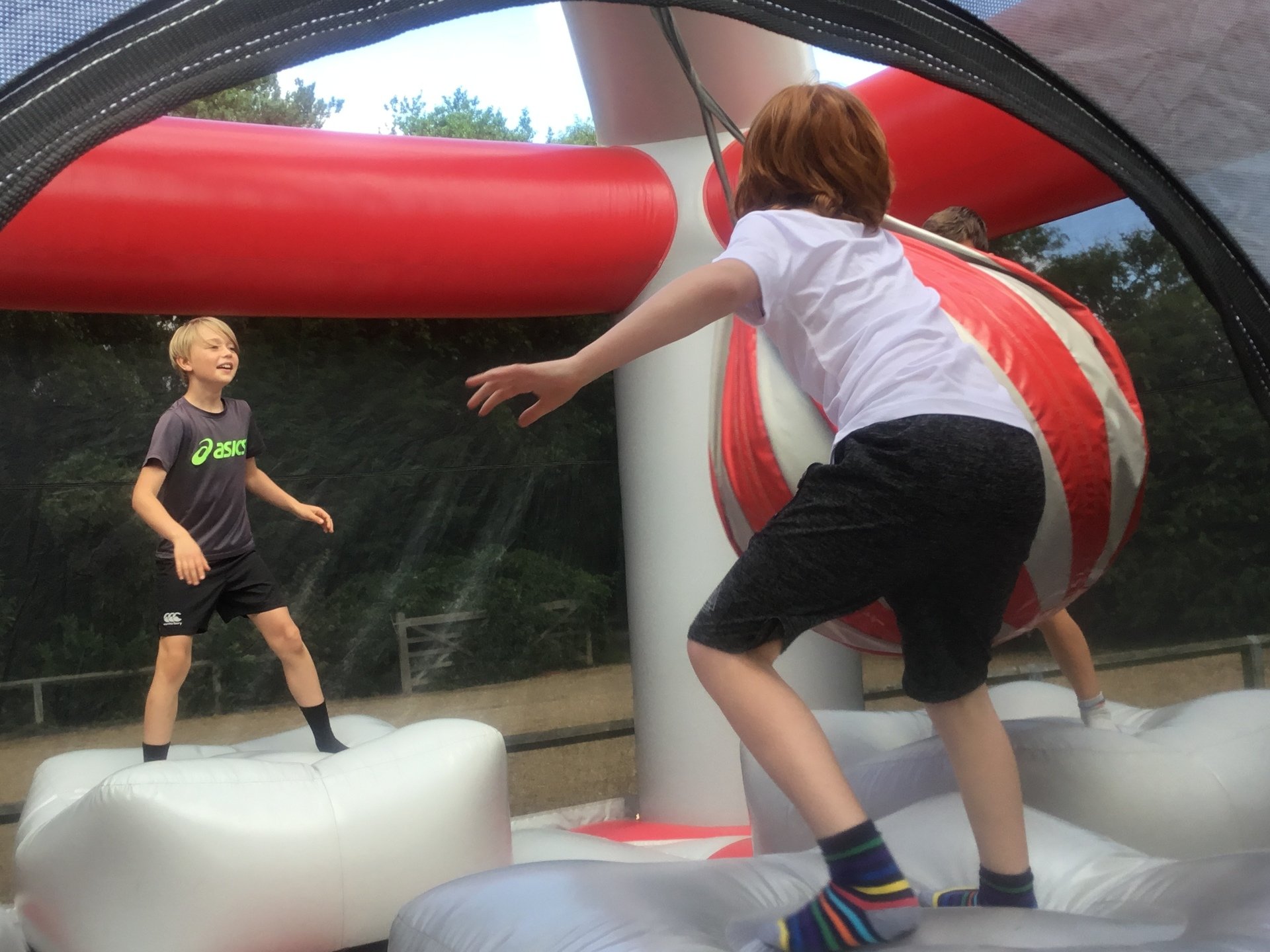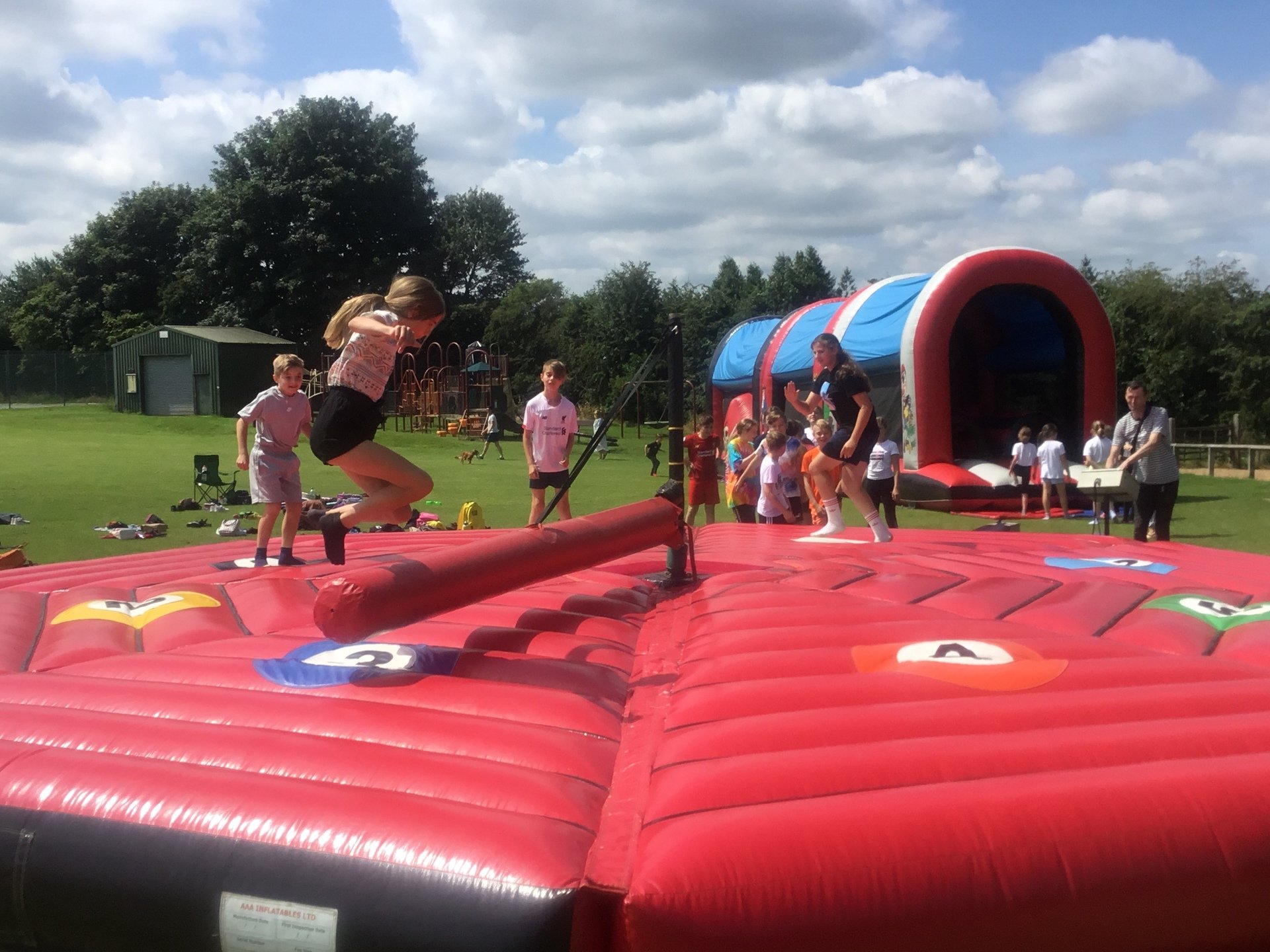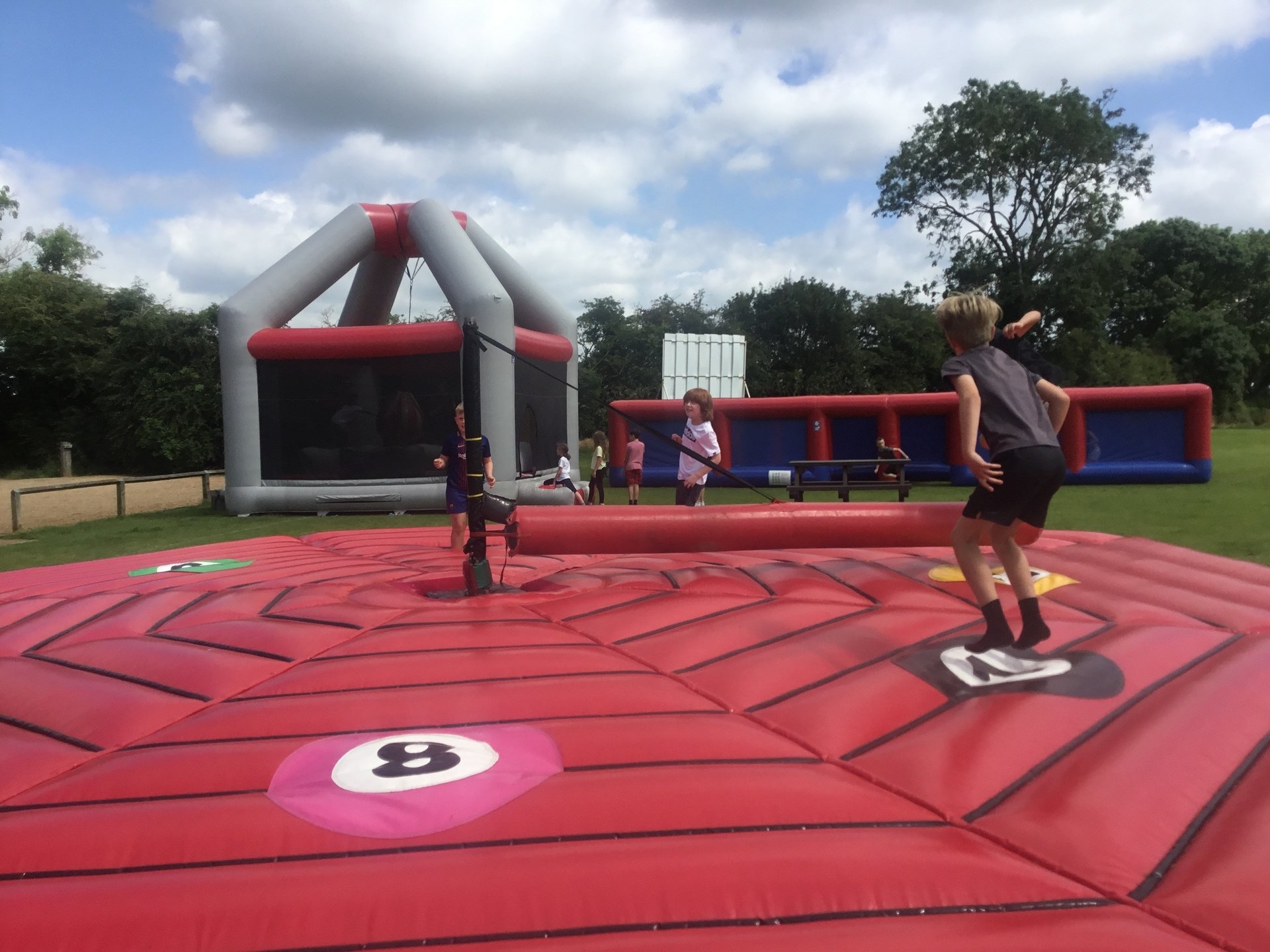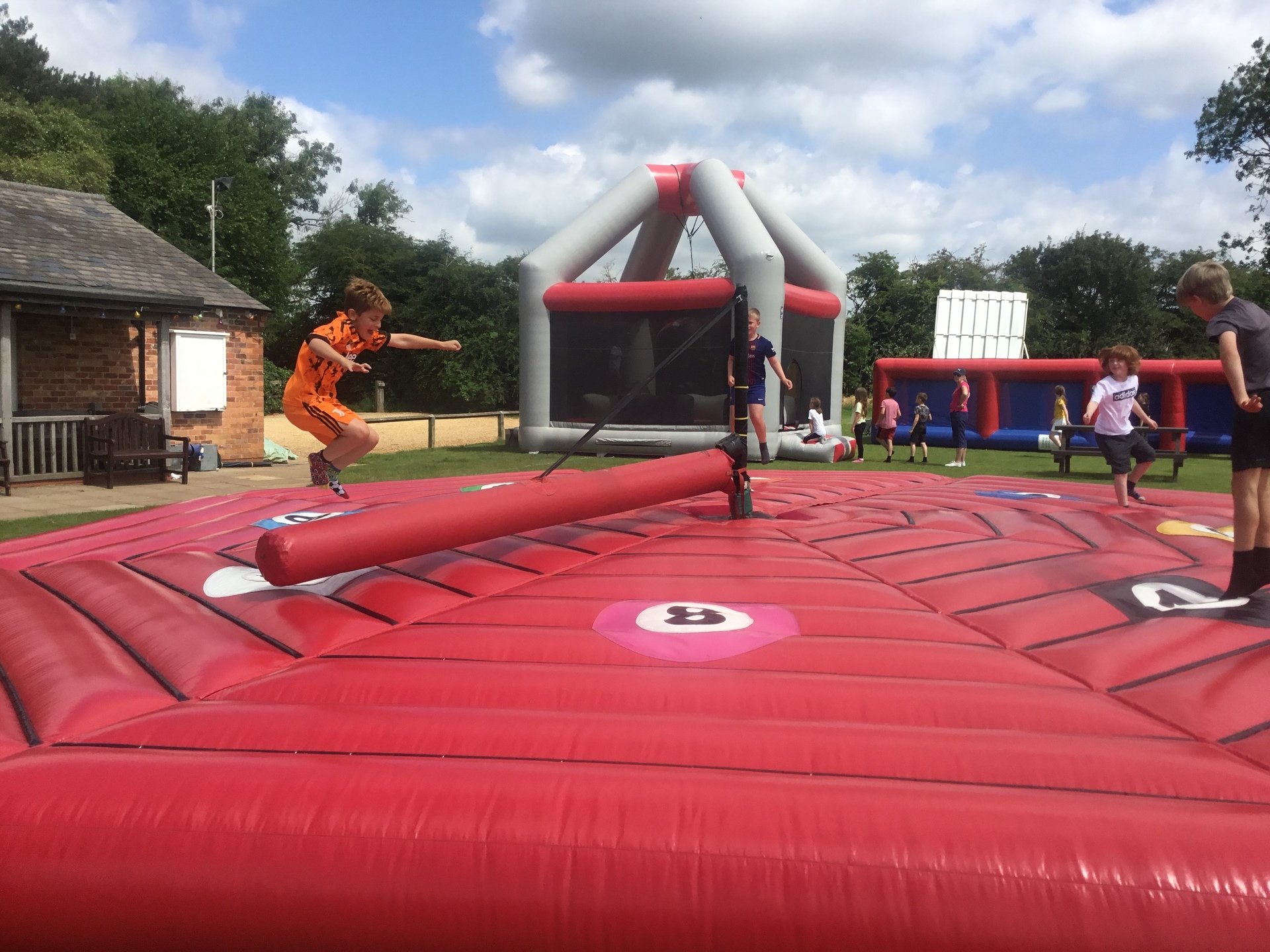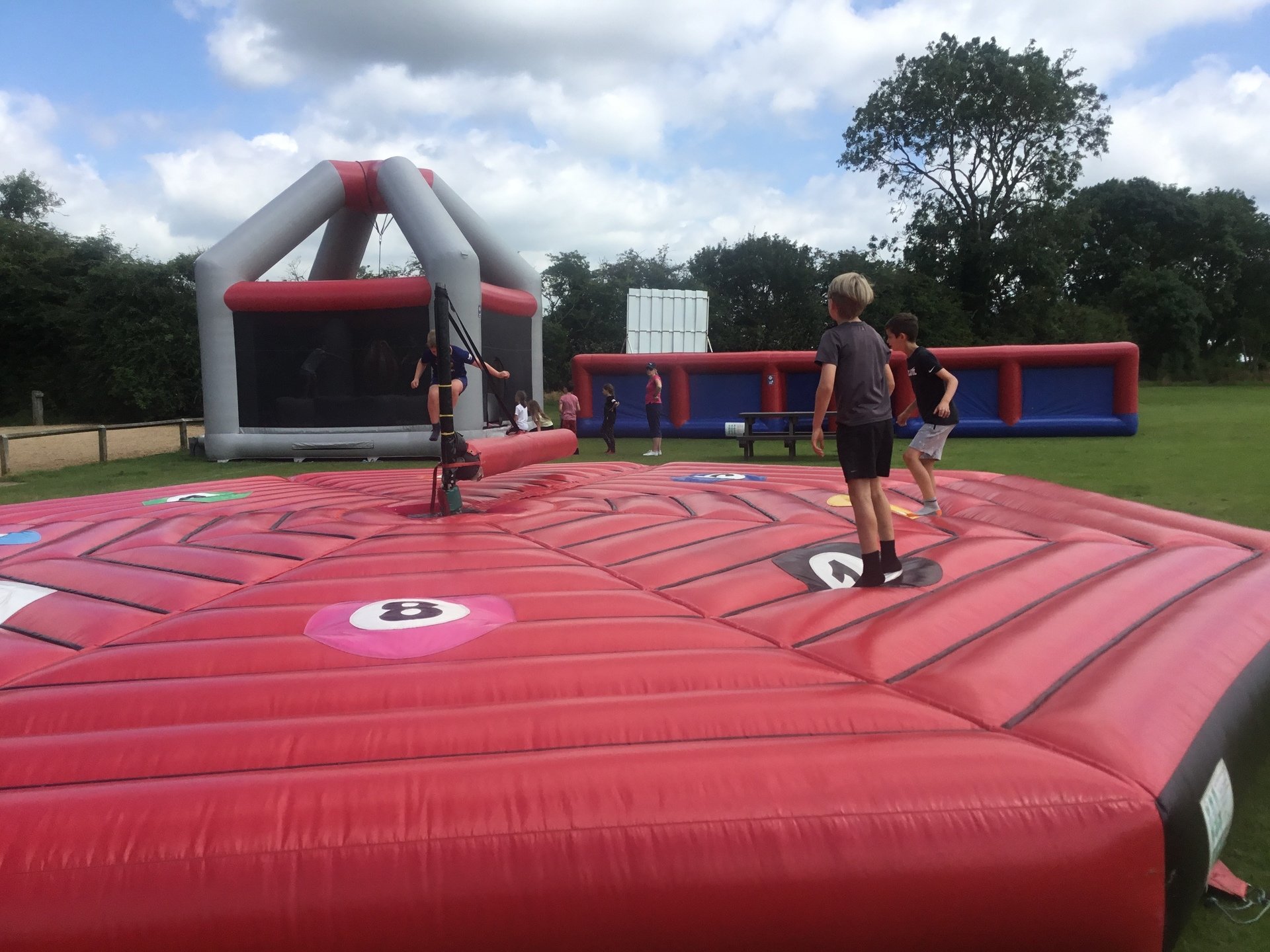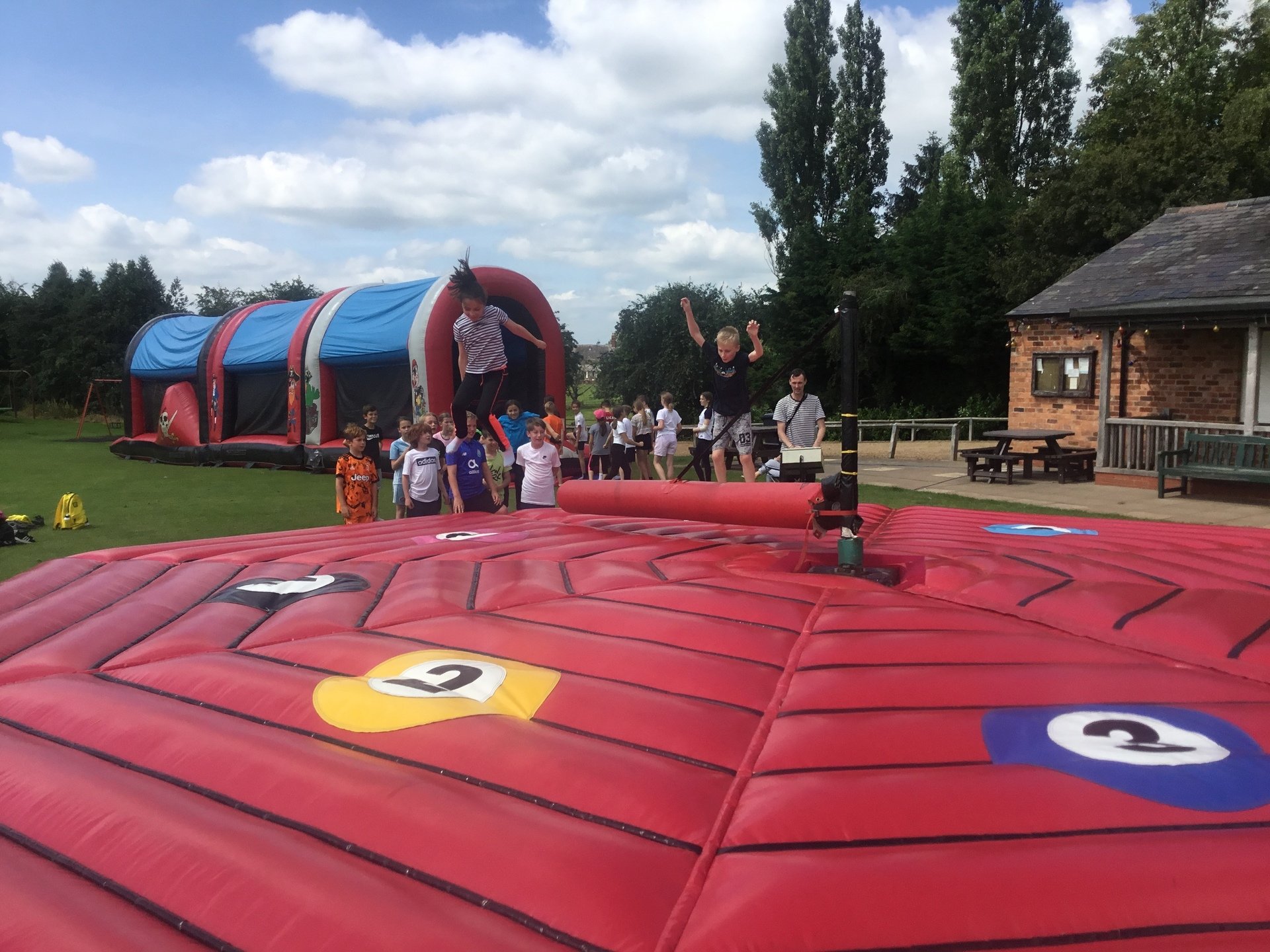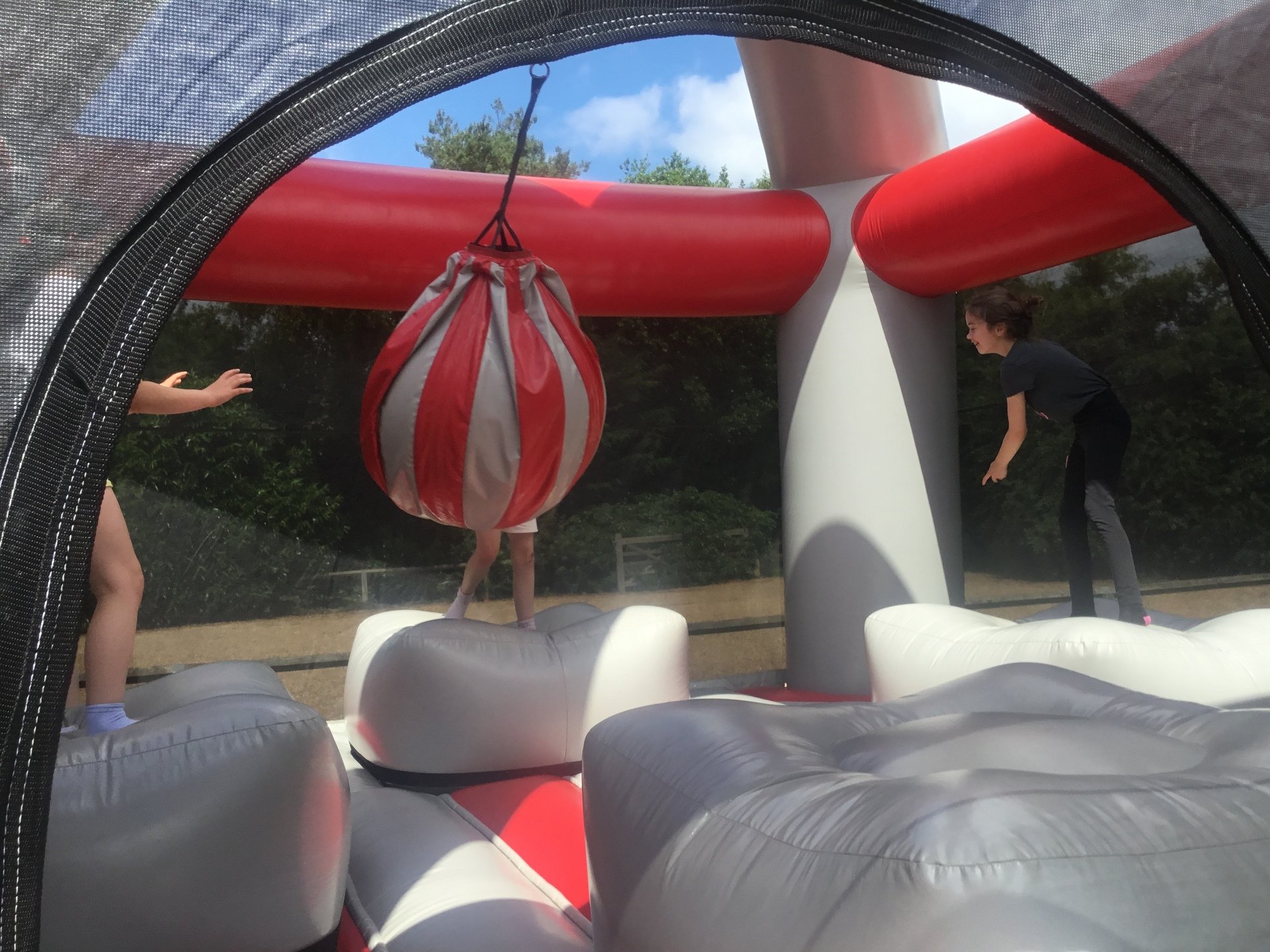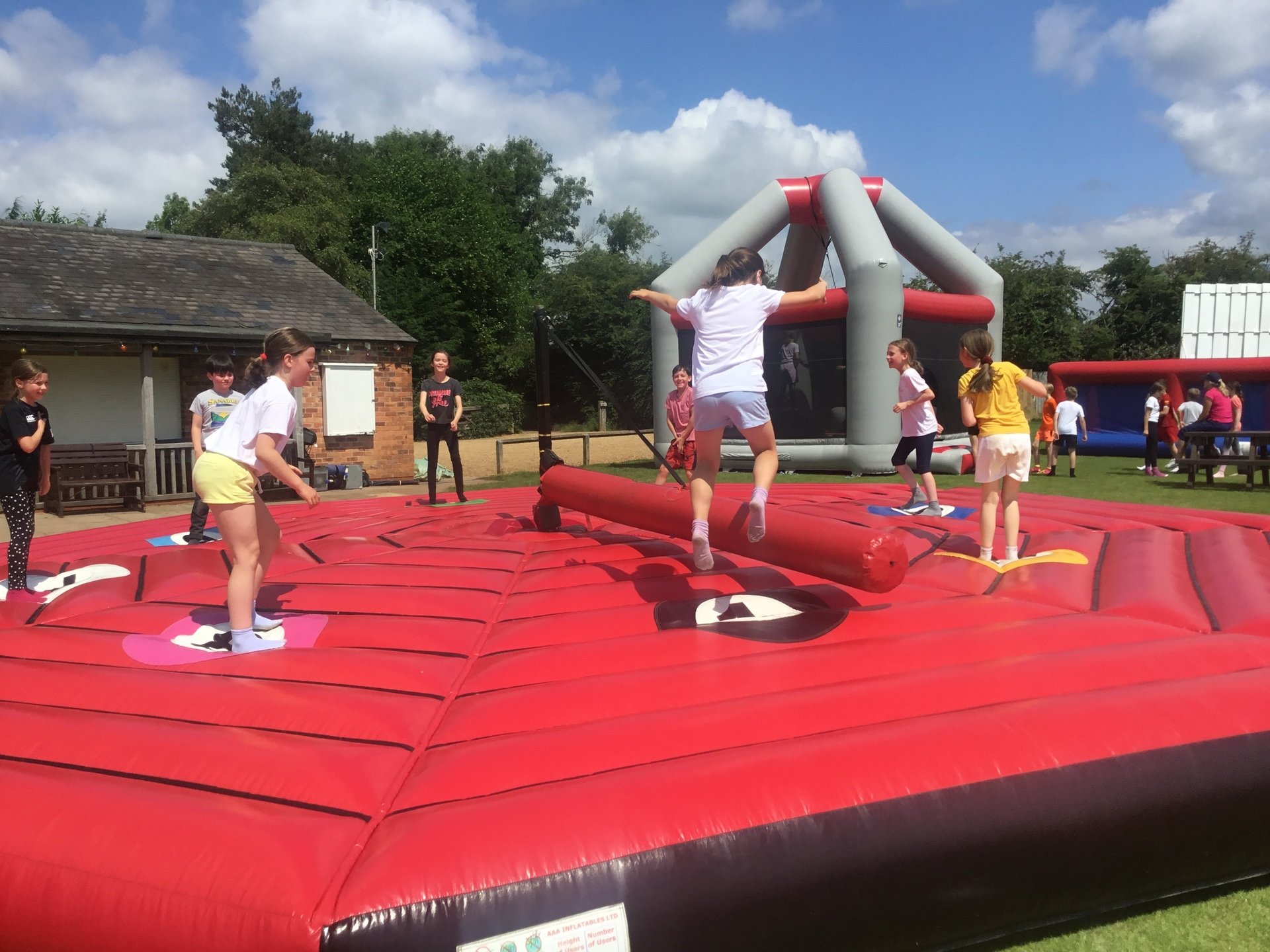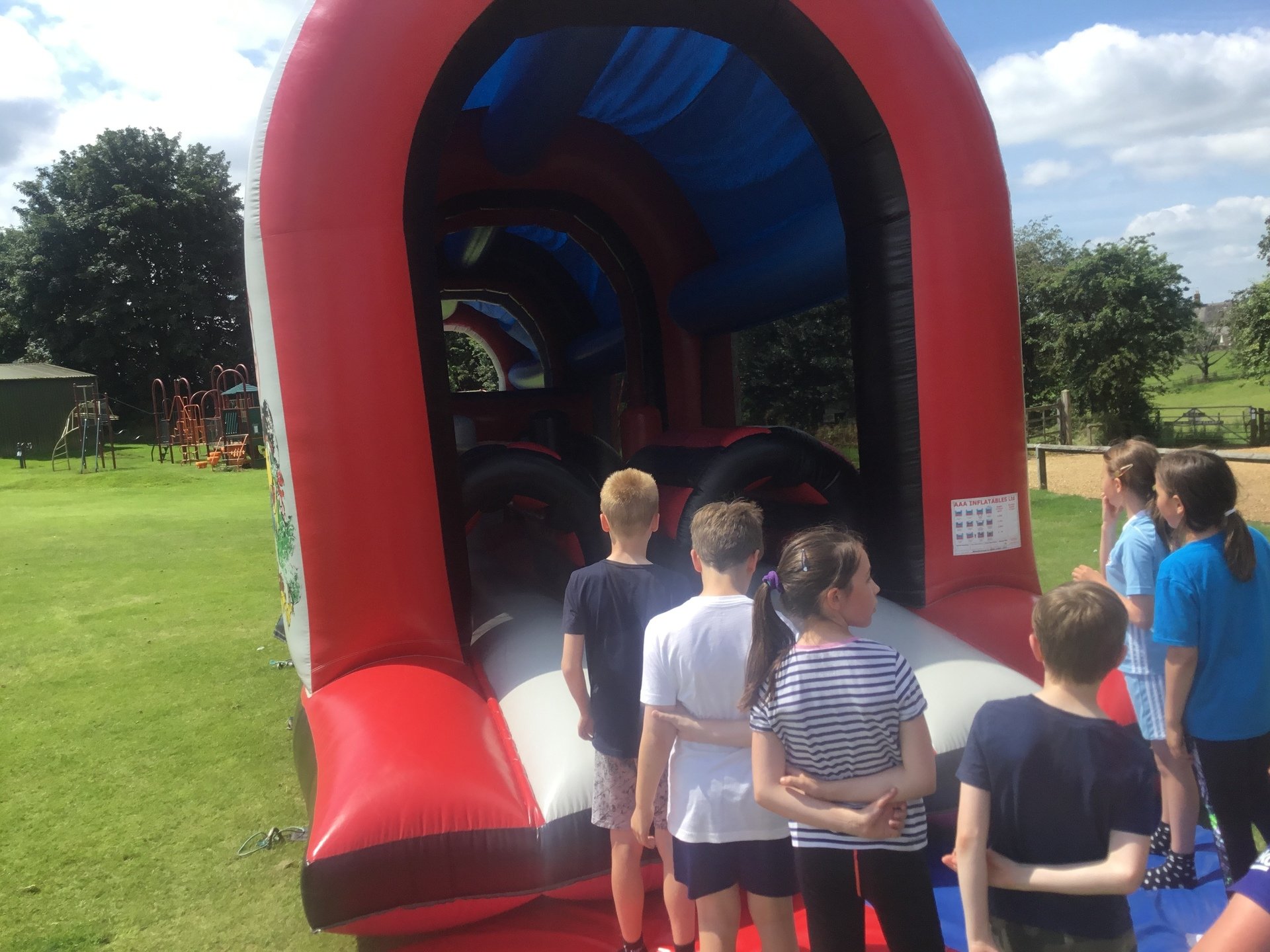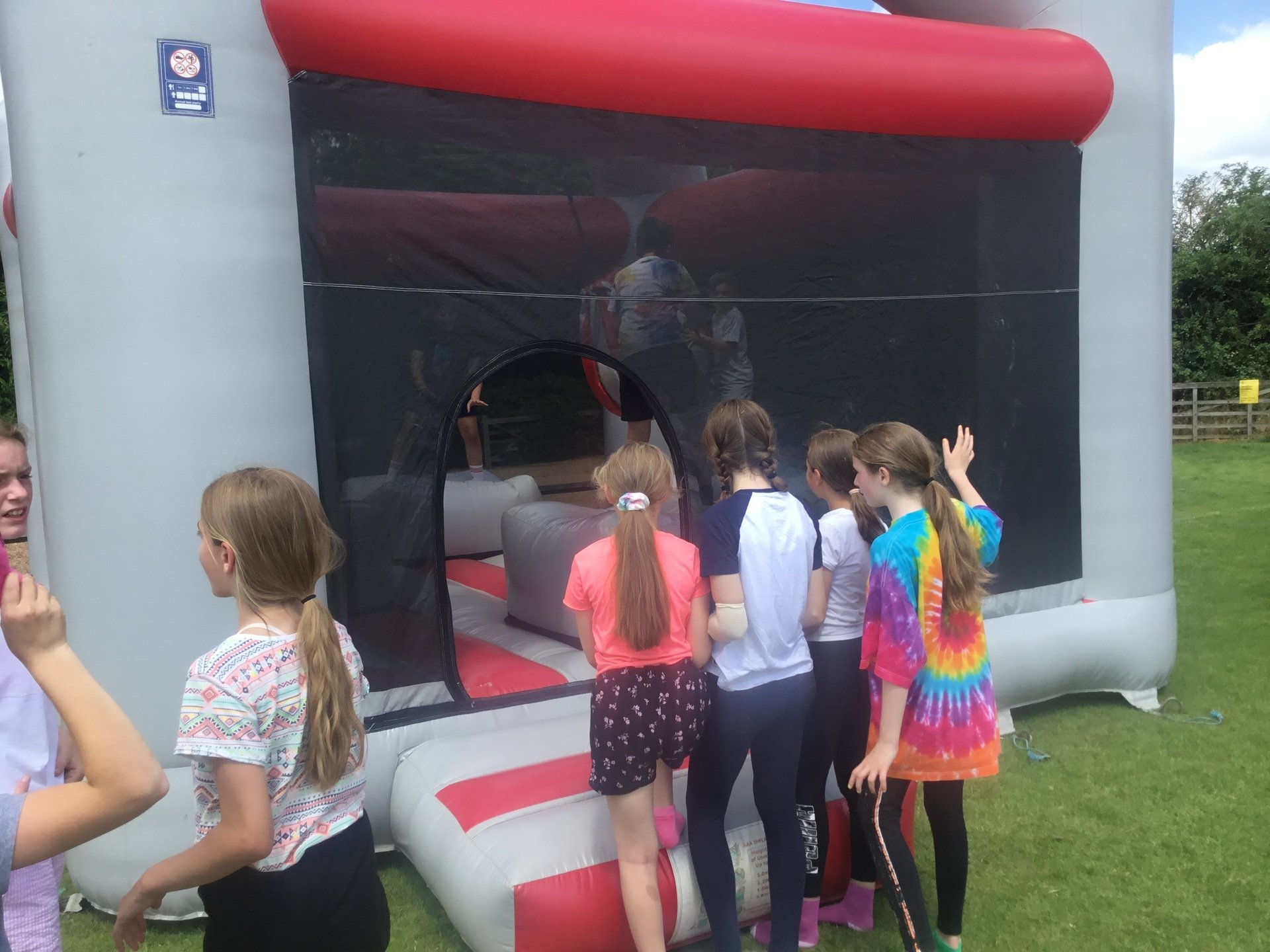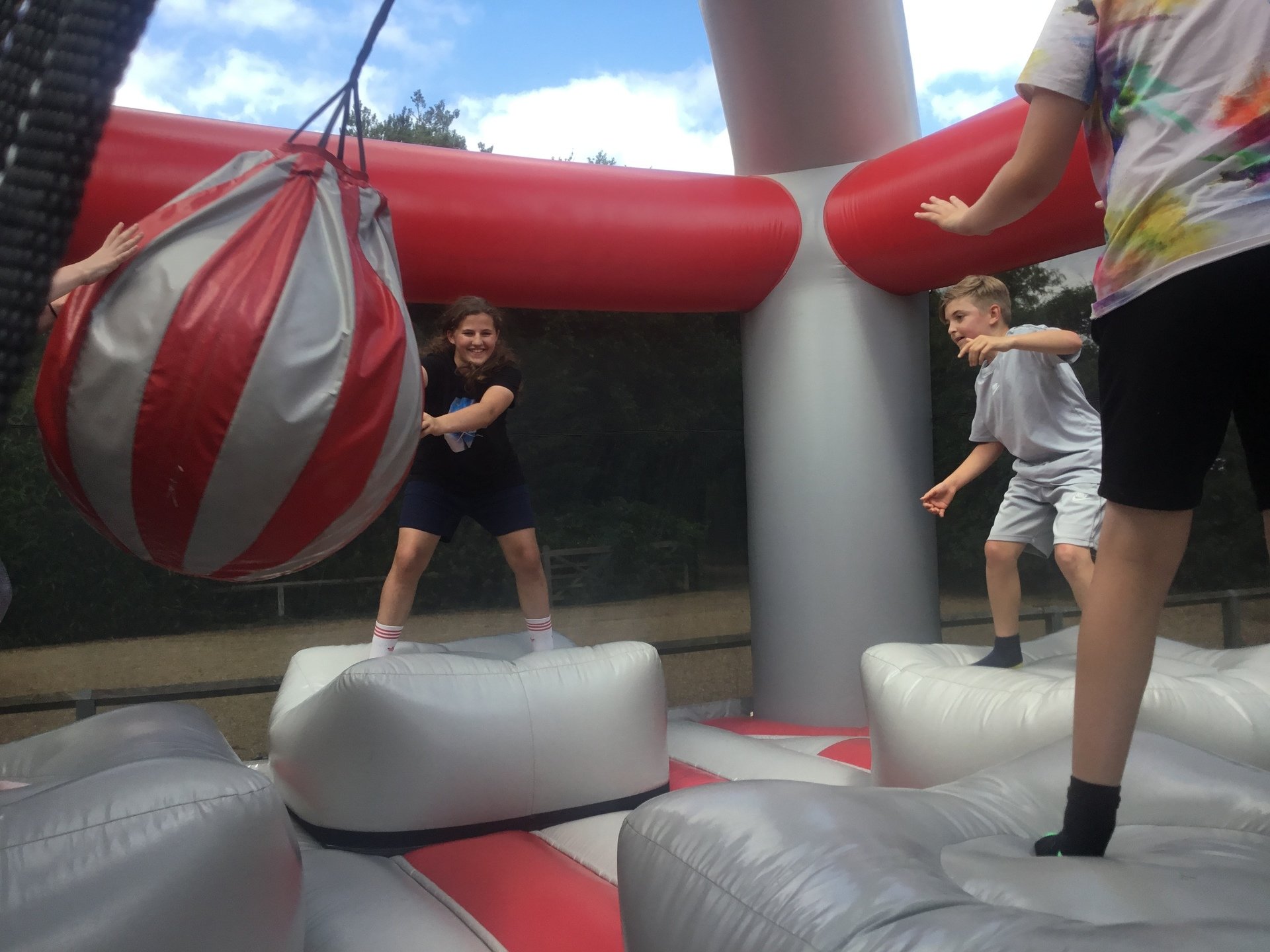 Pioneer Centre trip 2021
Thursday 10th June: Team Adventures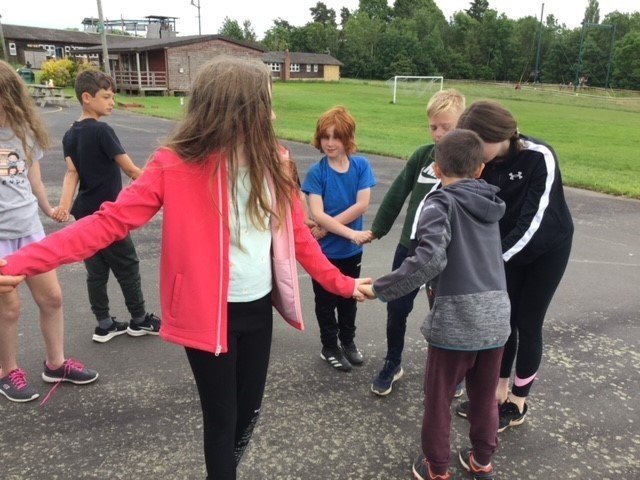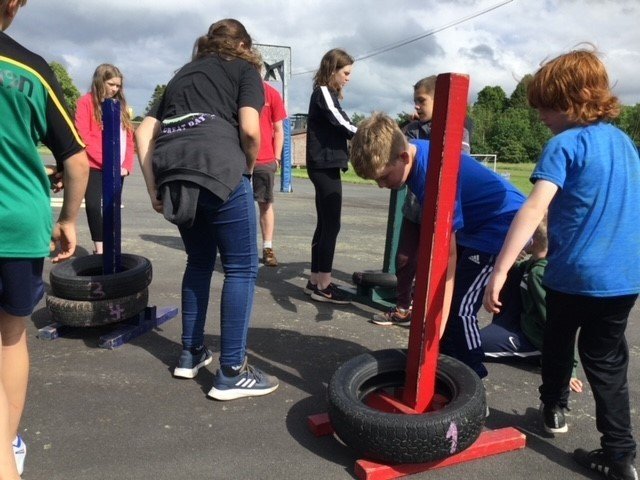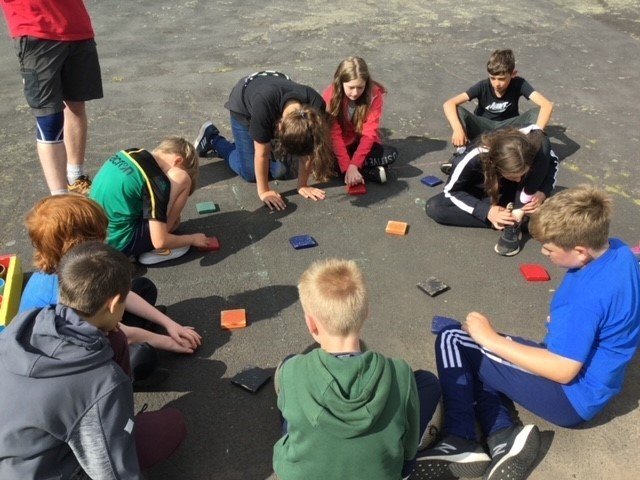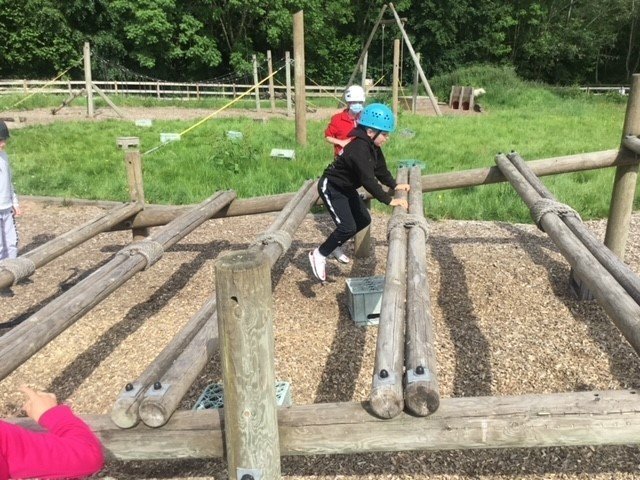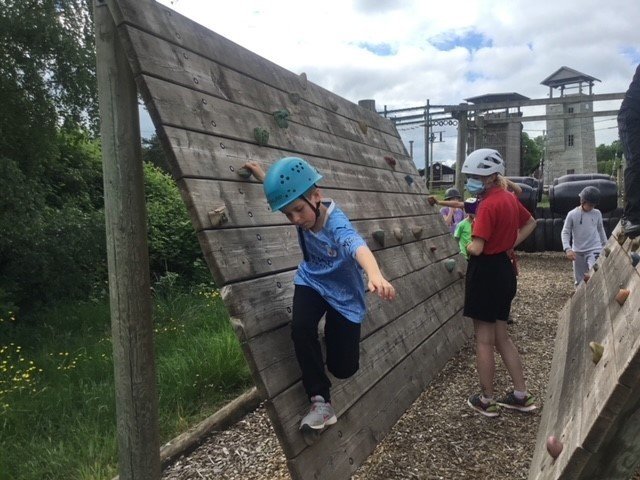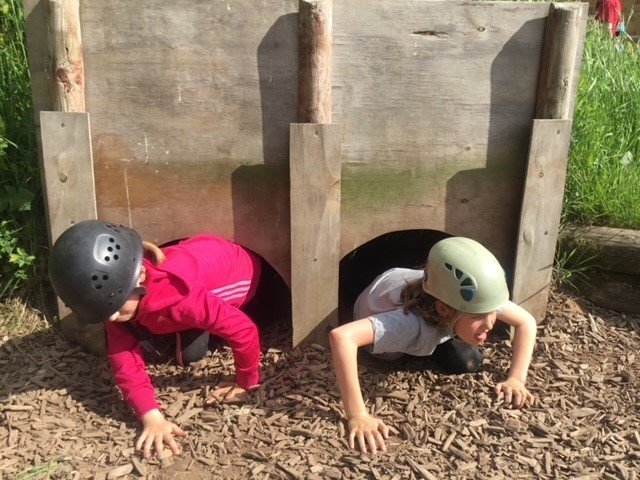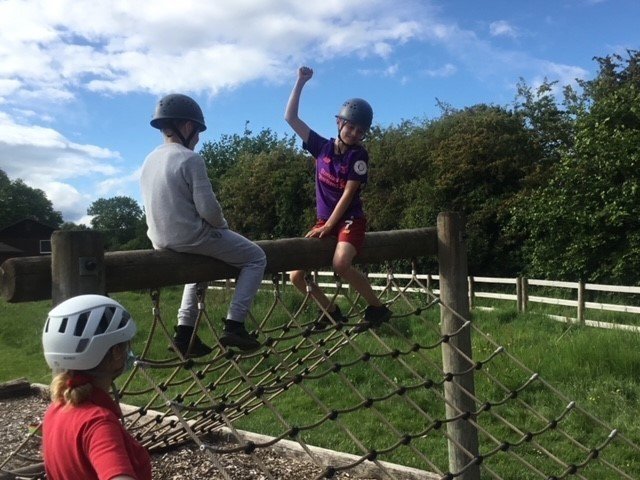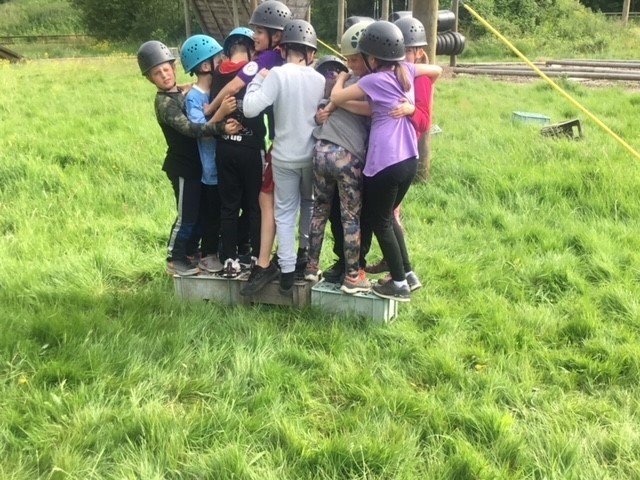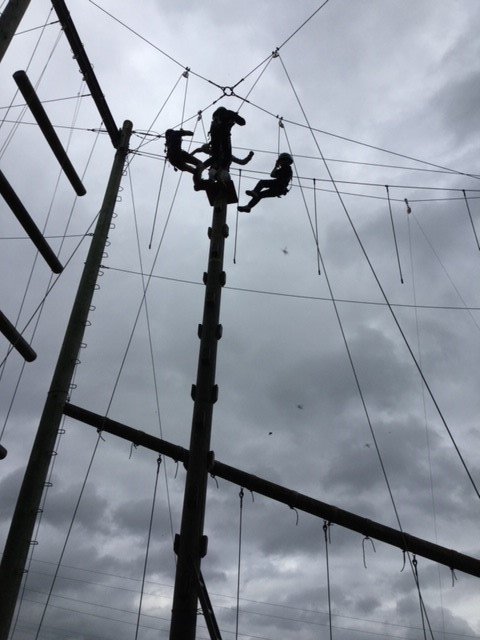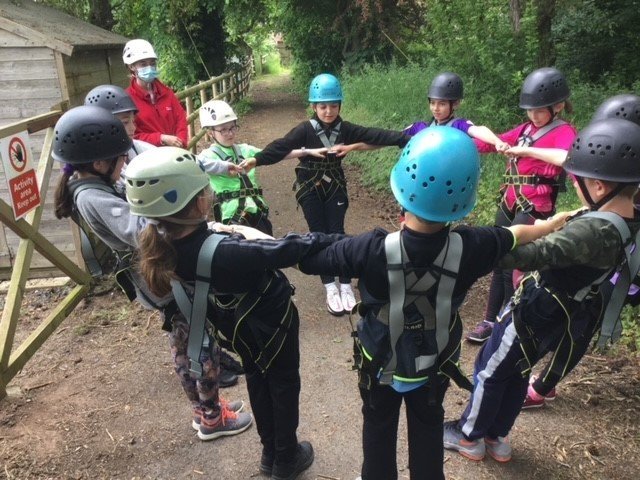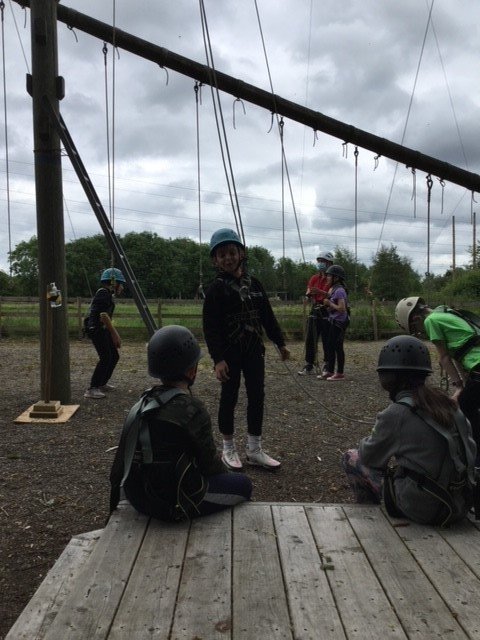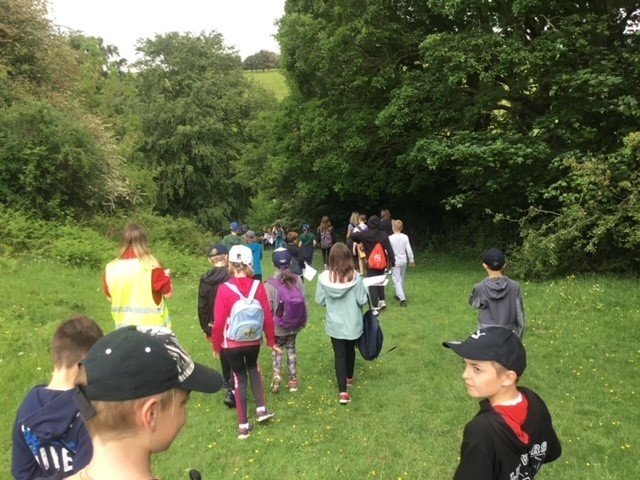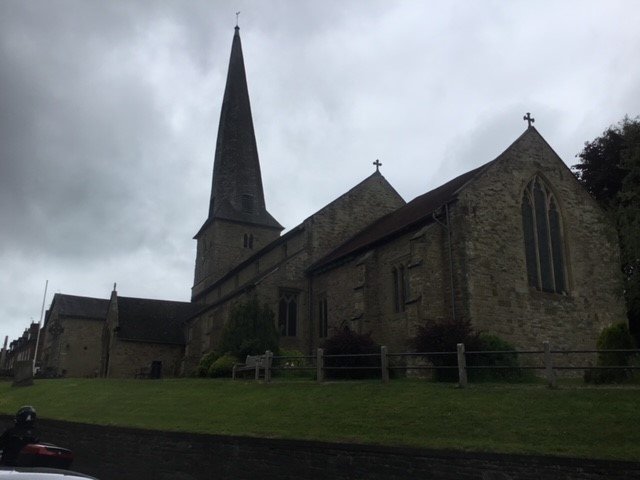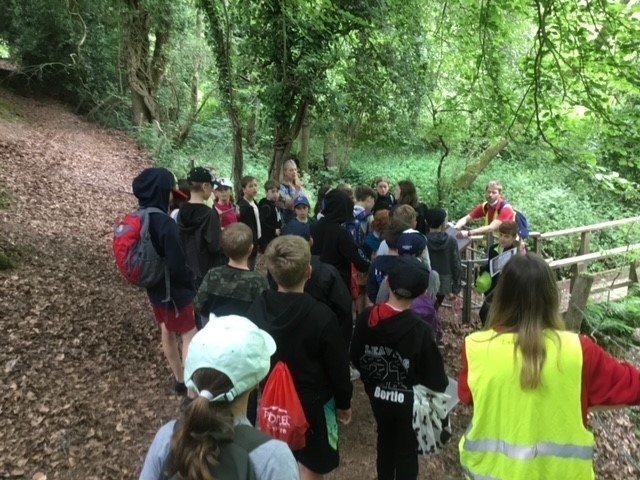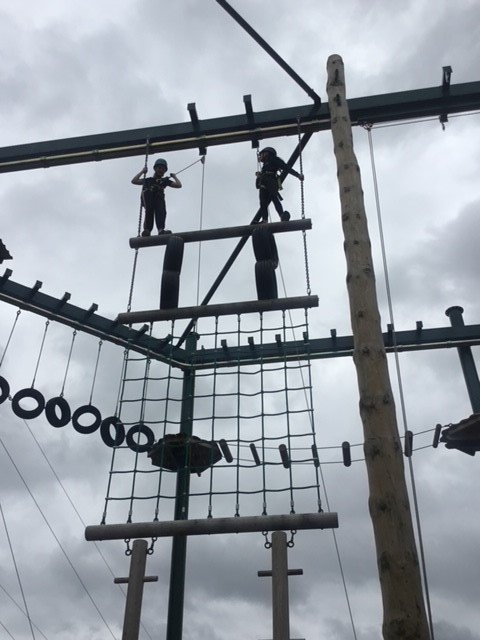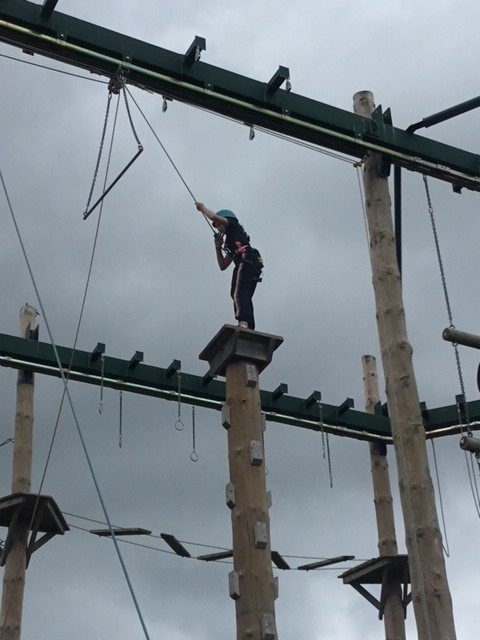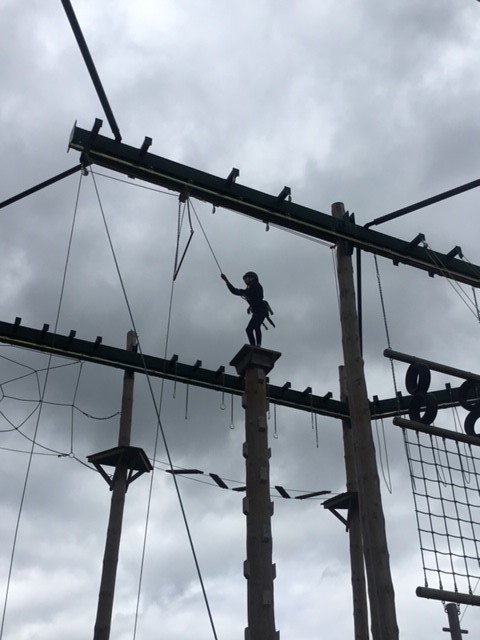 Wednesday 9th June: Abseiling, zipwiring and rafting fun!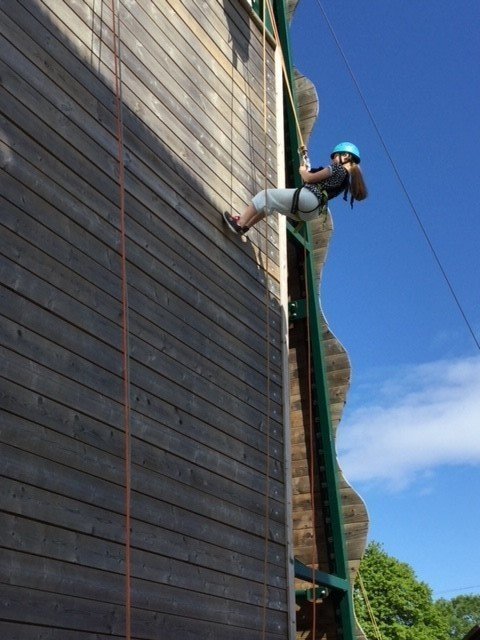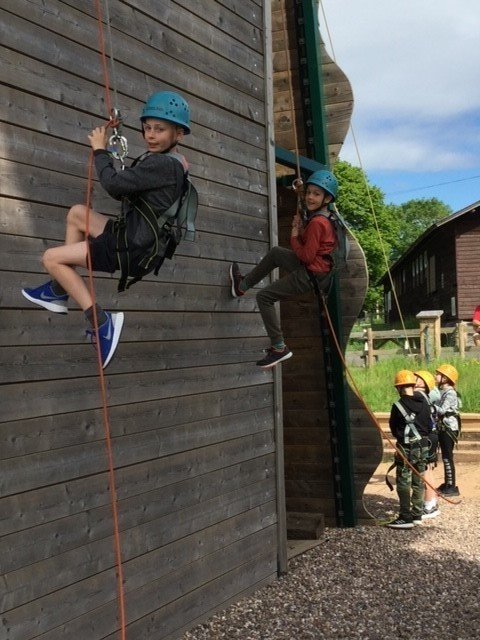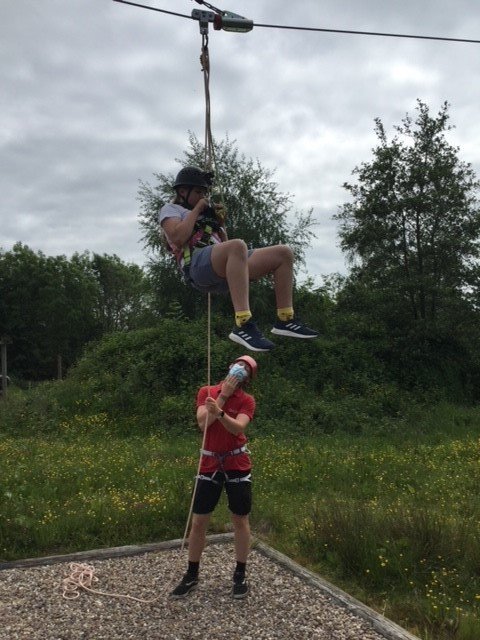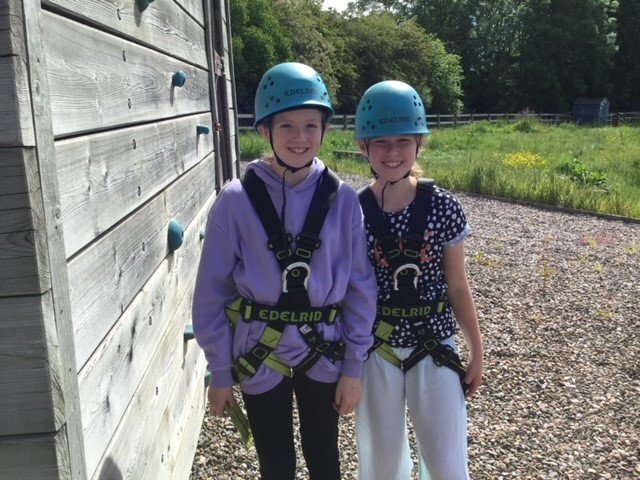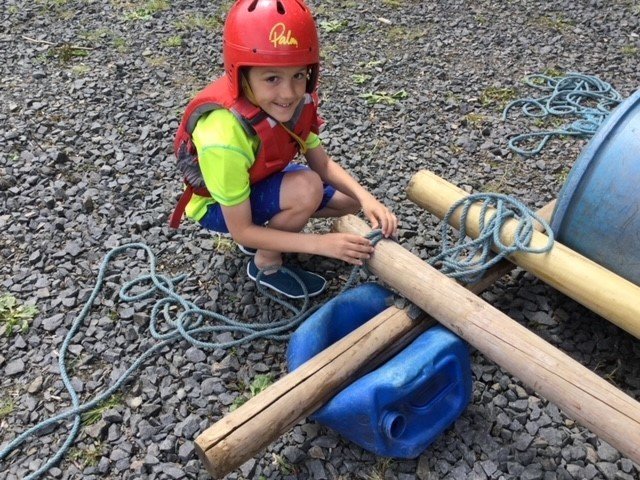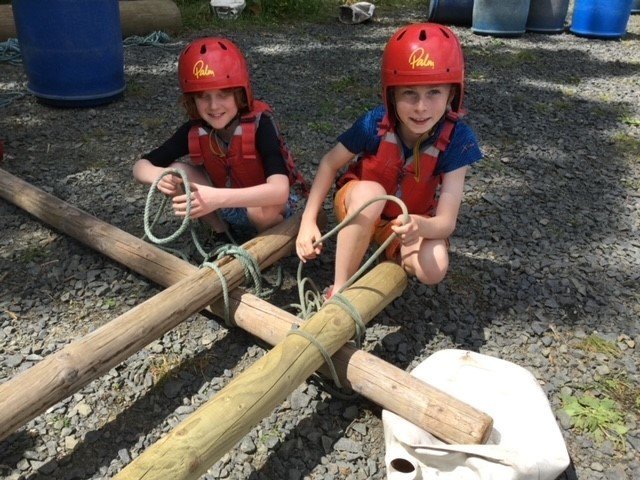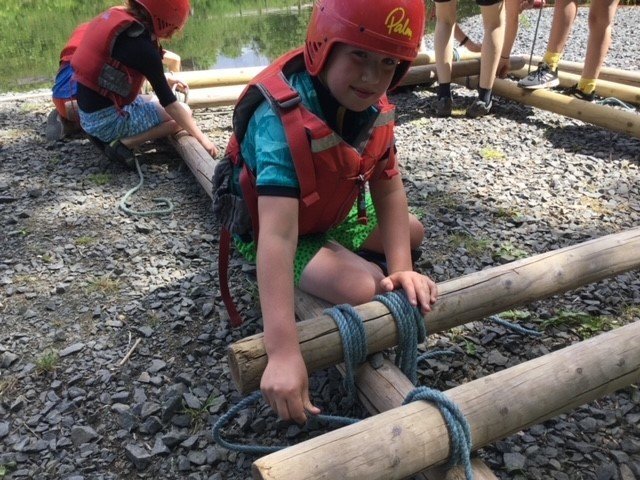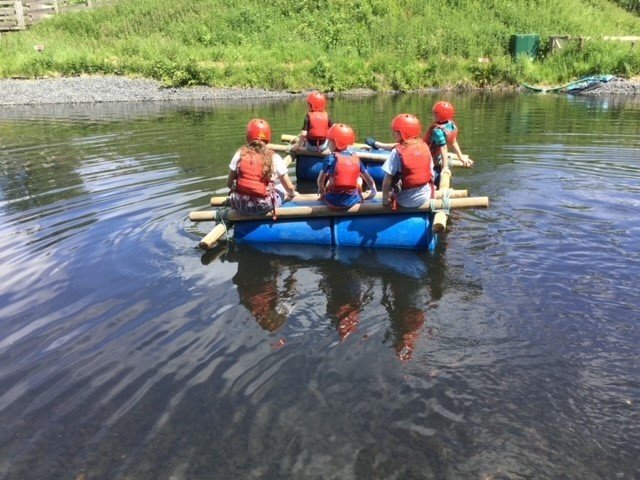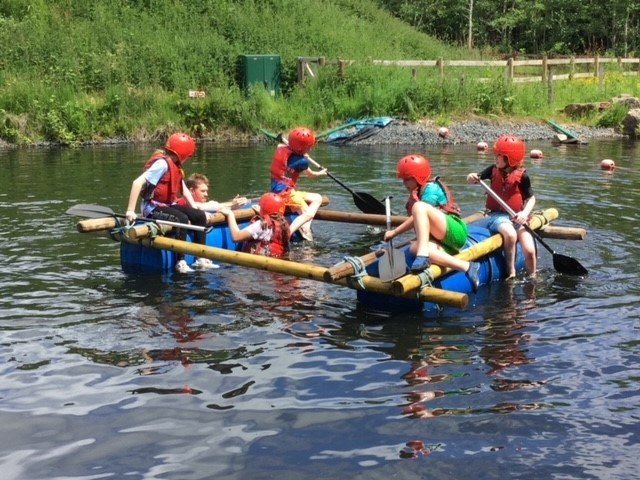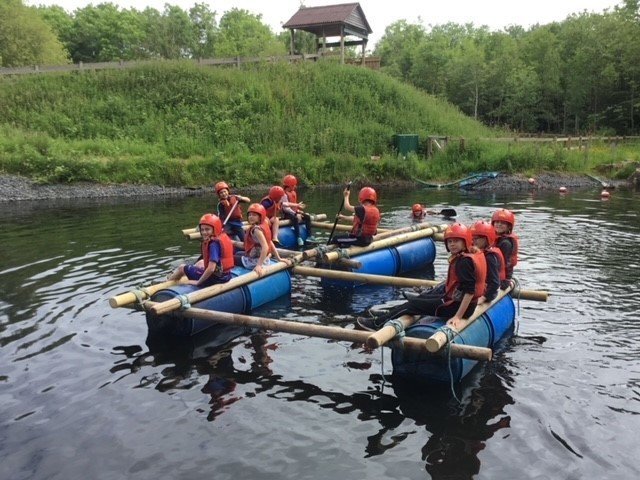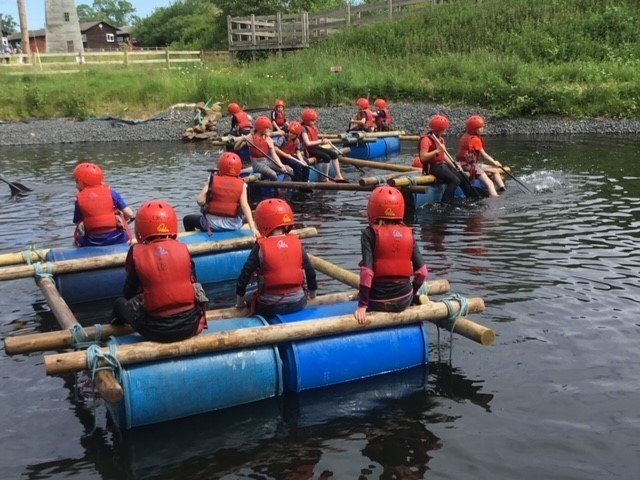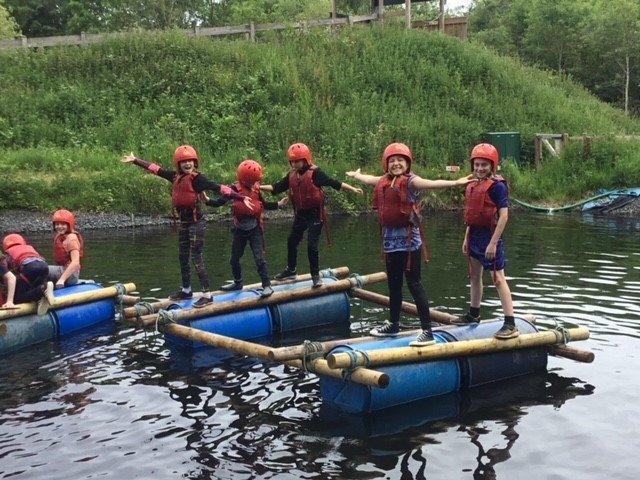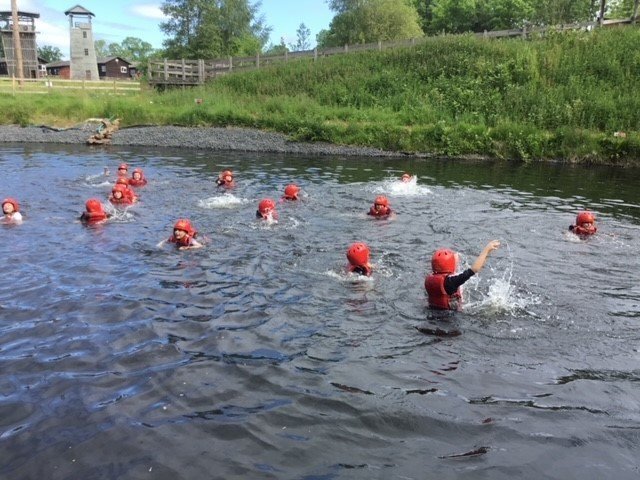 Tuesday 8th June: A busy day was had by all - archery, abseiling, zipwiring and more!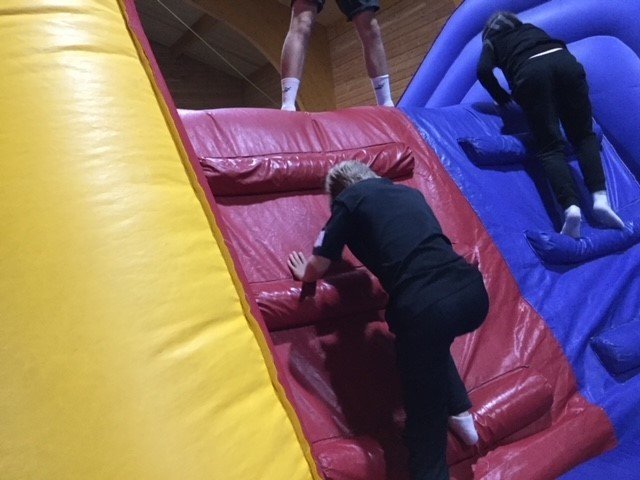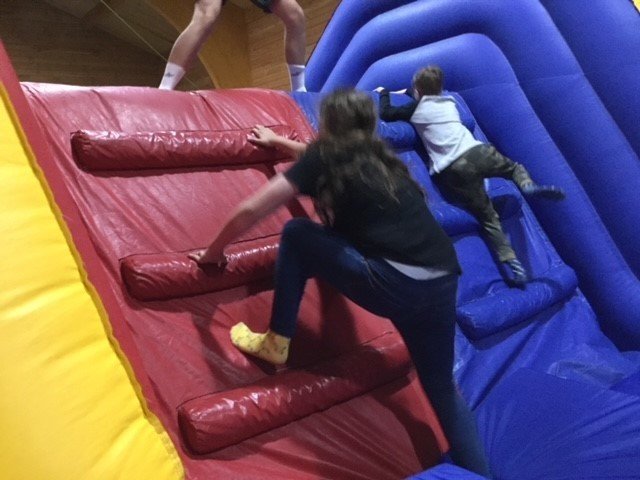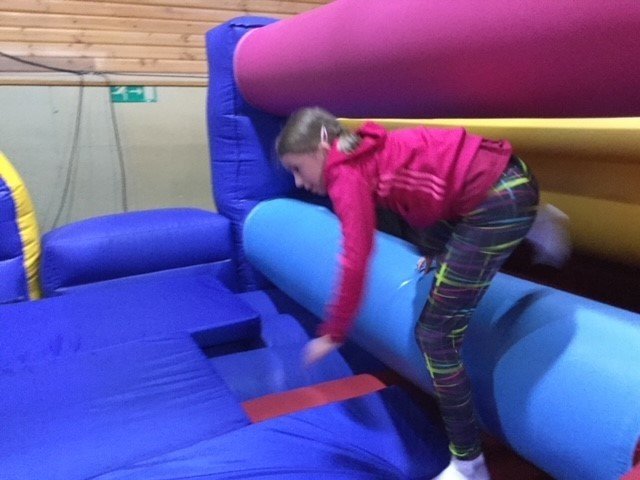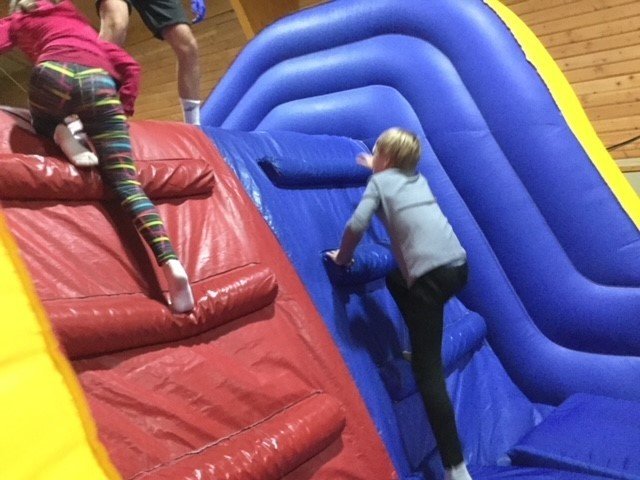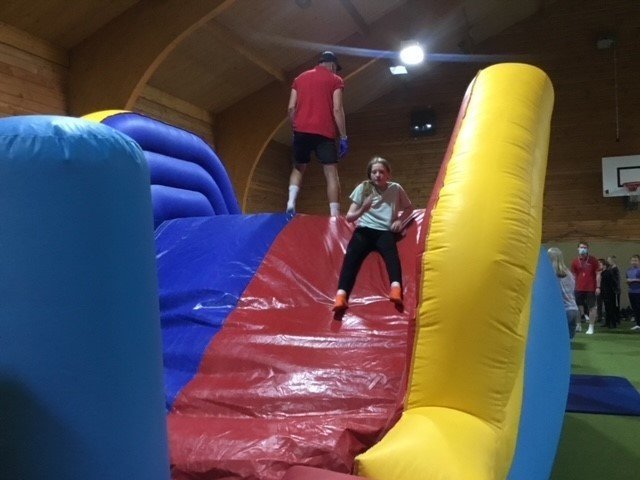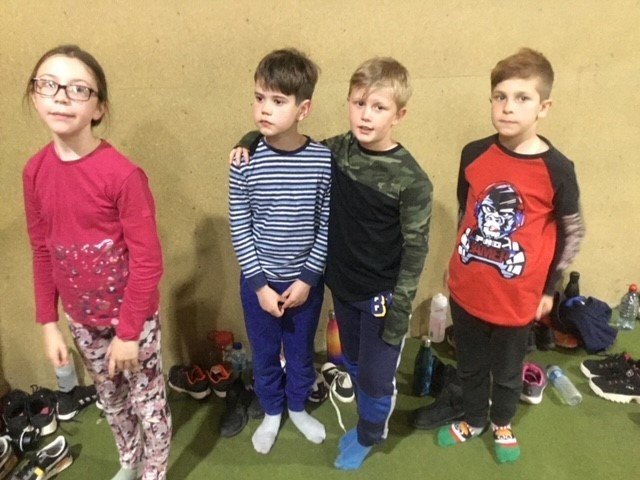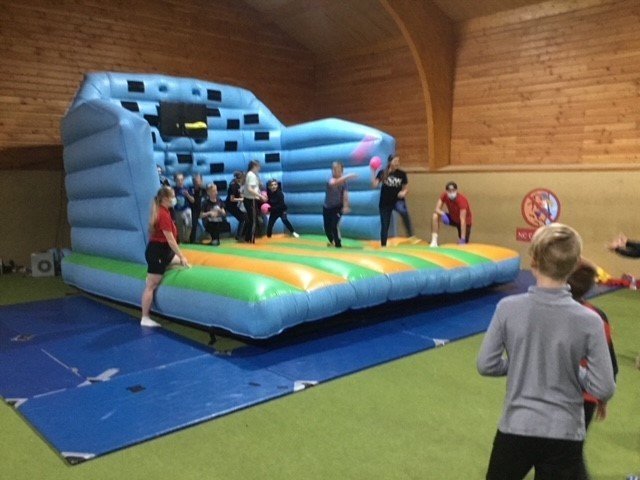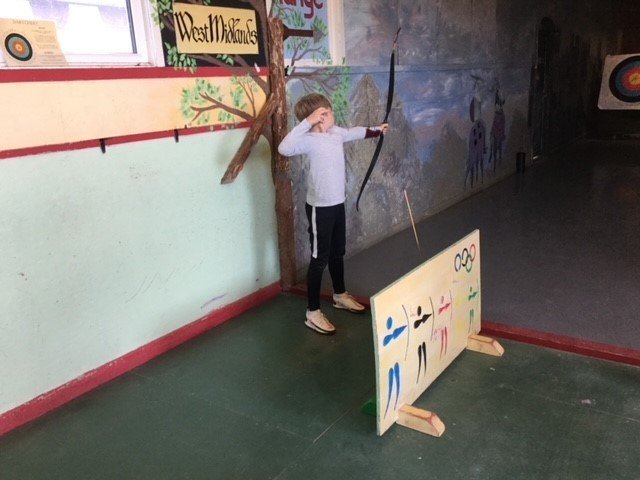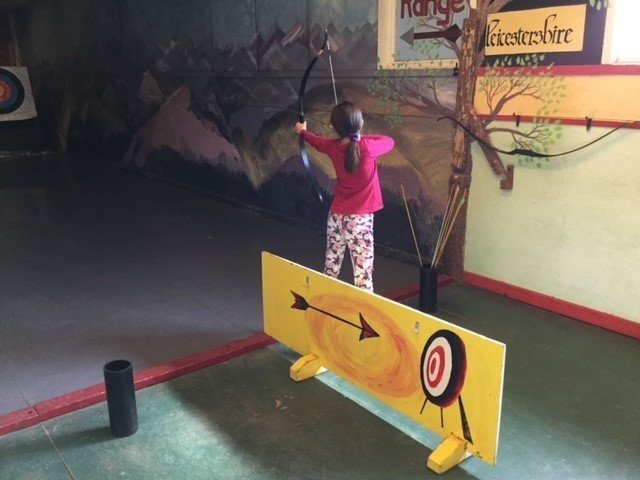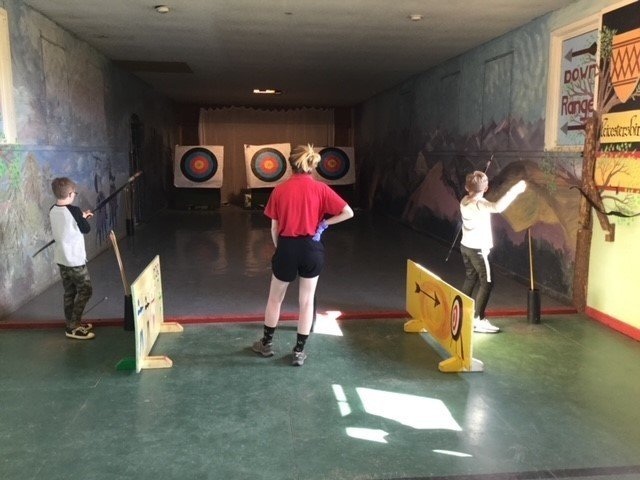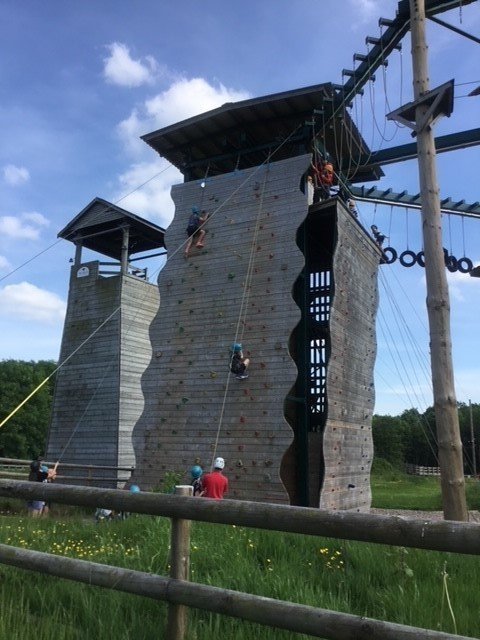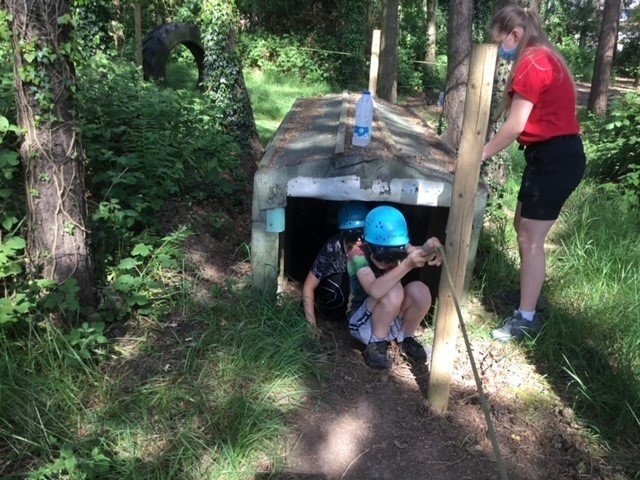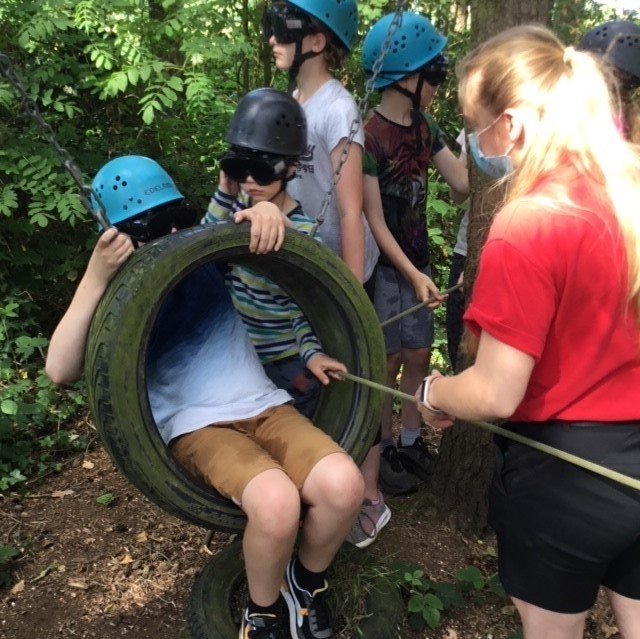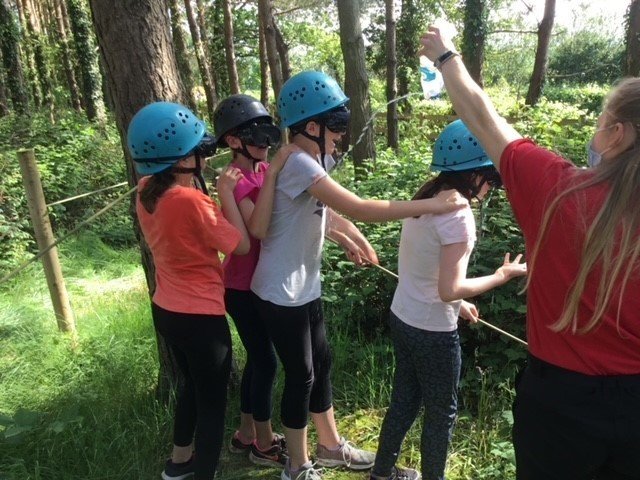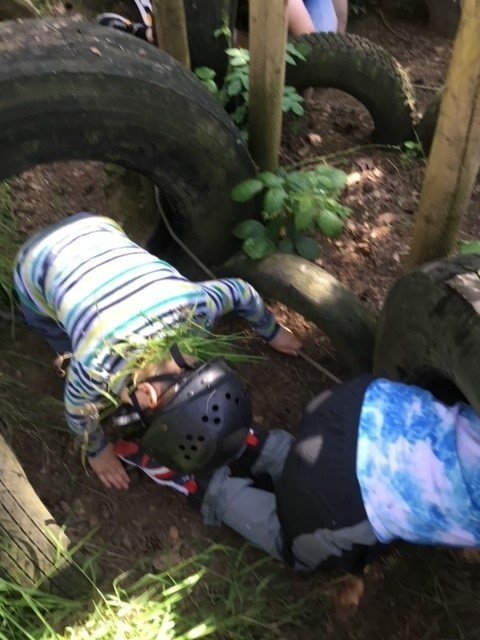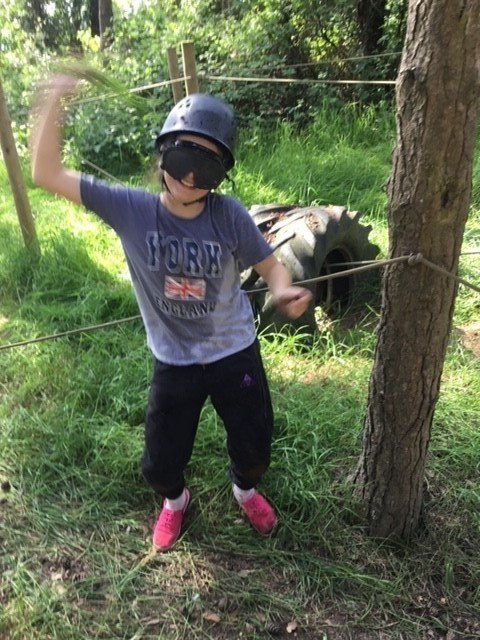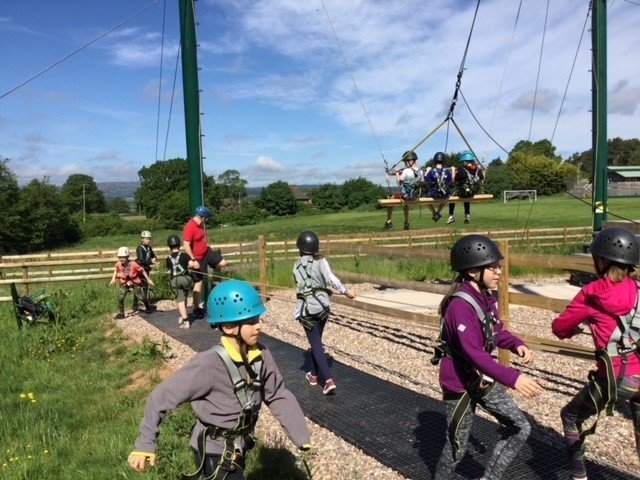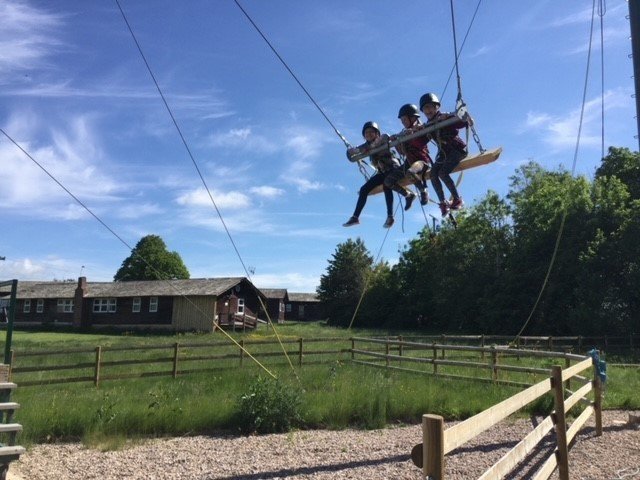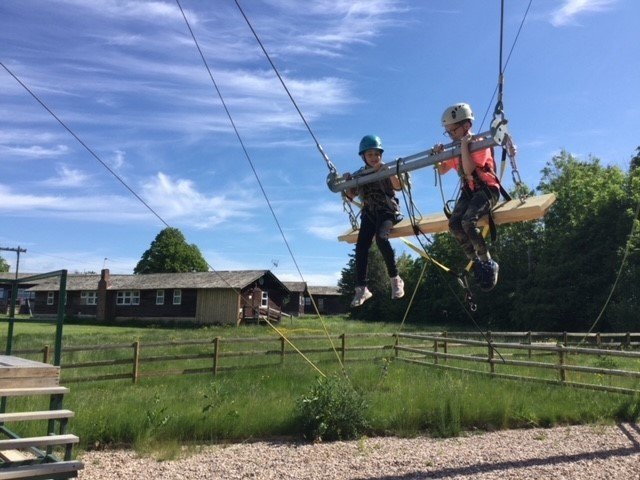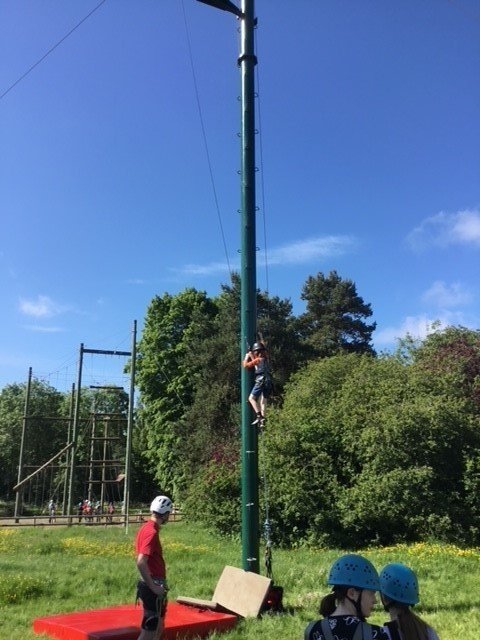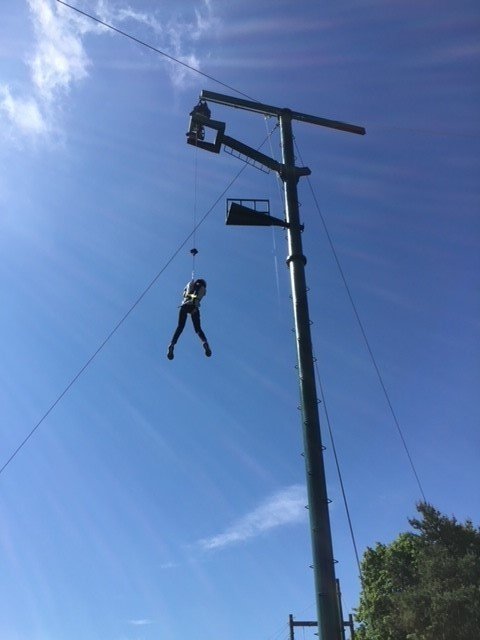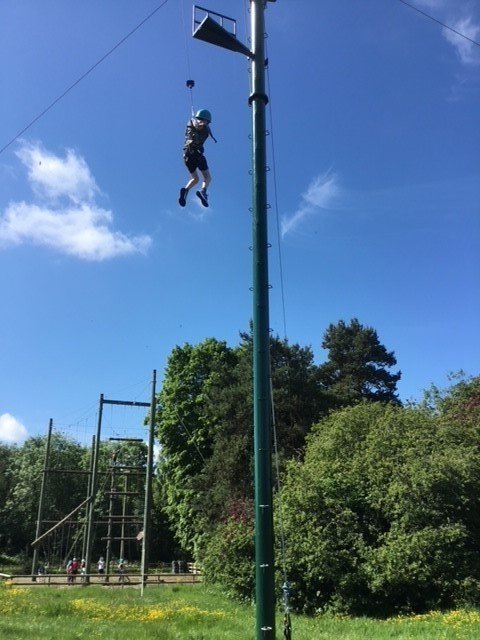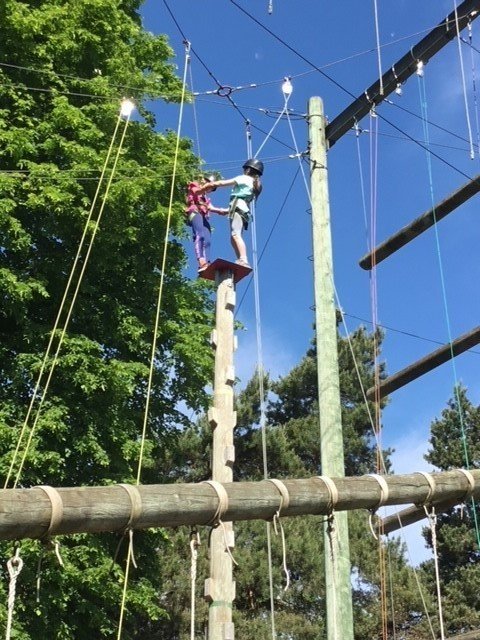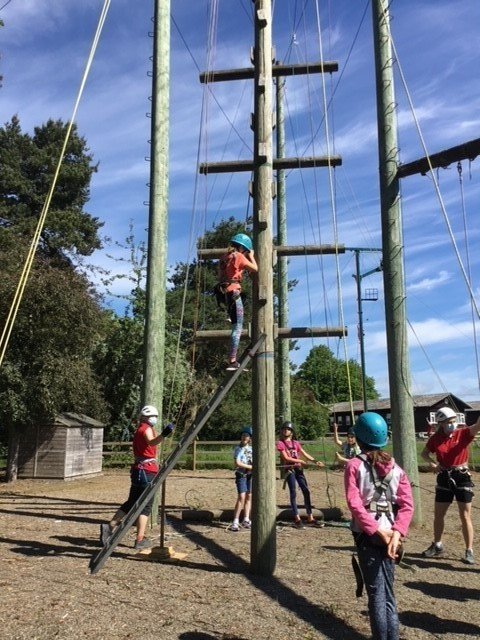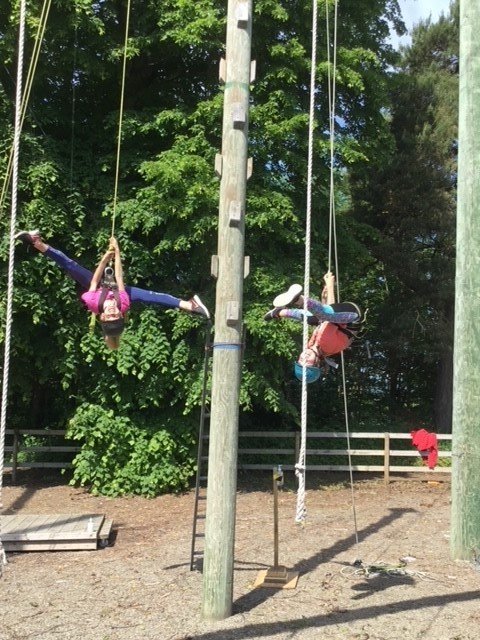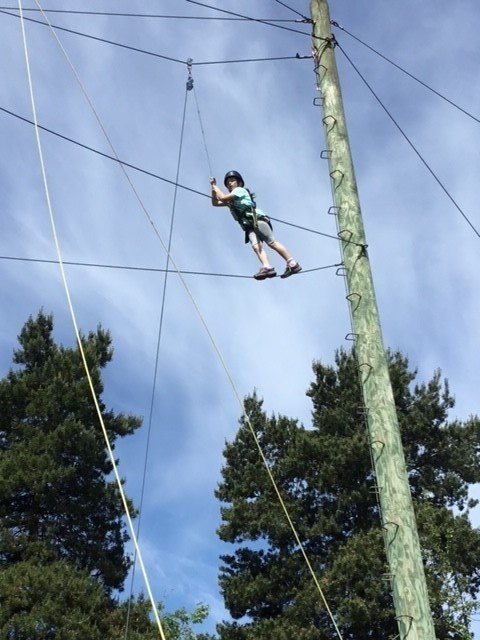 Monday 7th June - Getting a head for heights!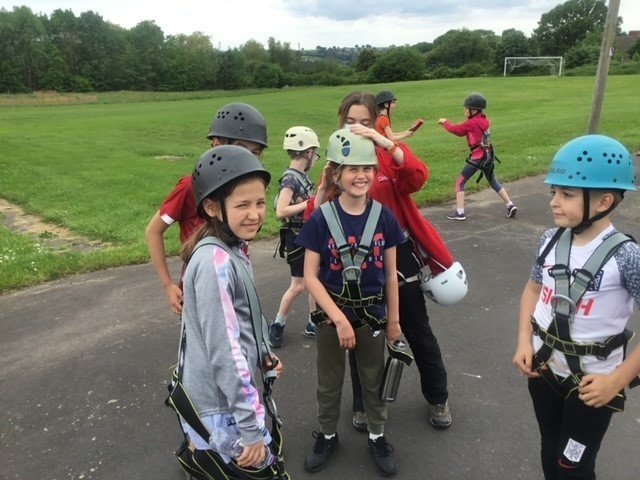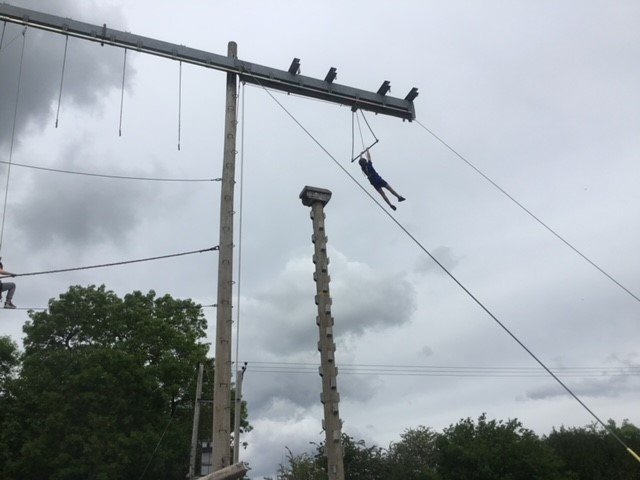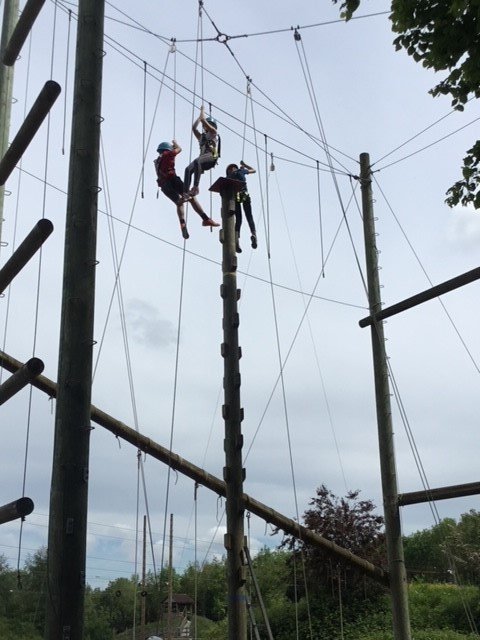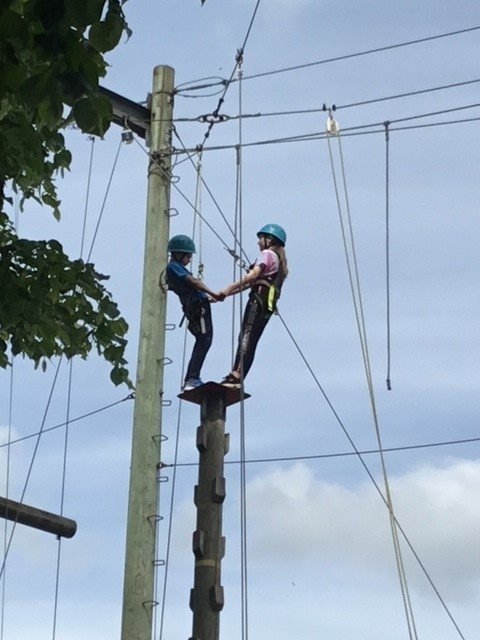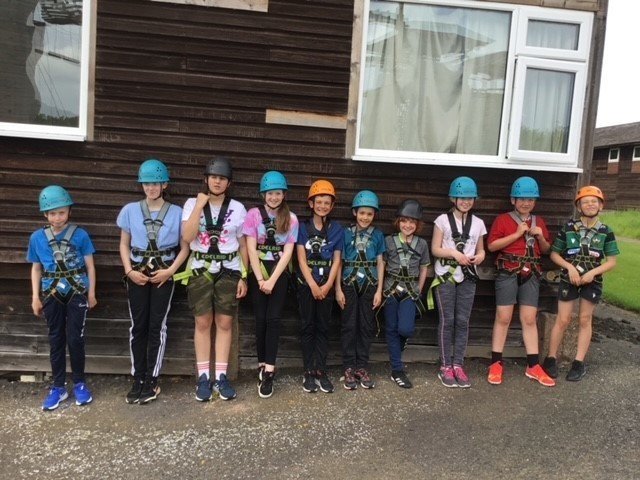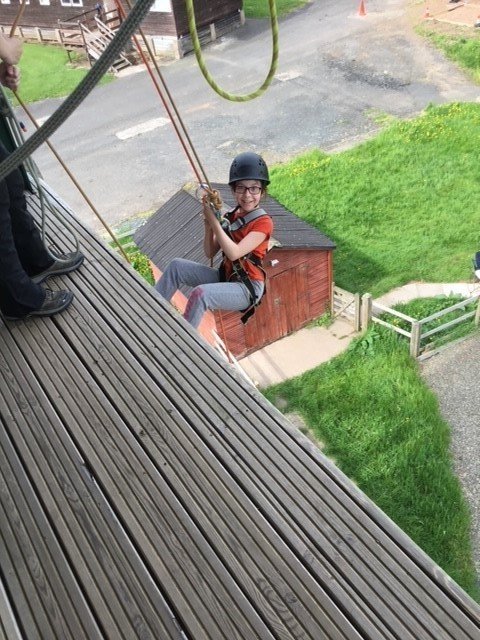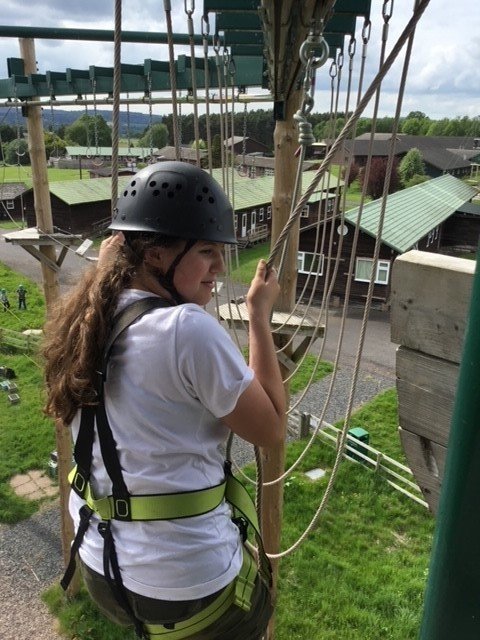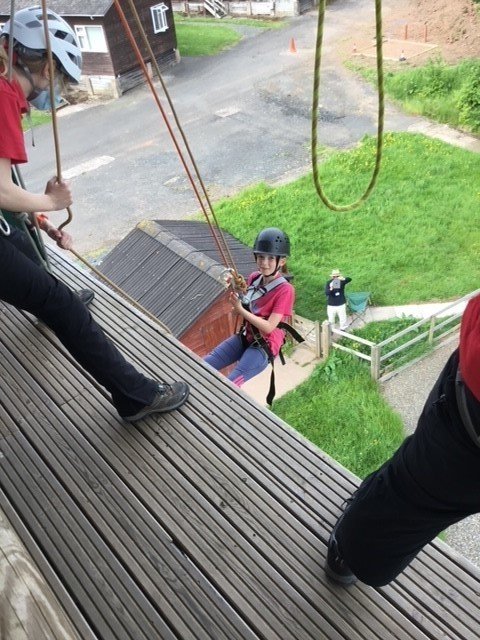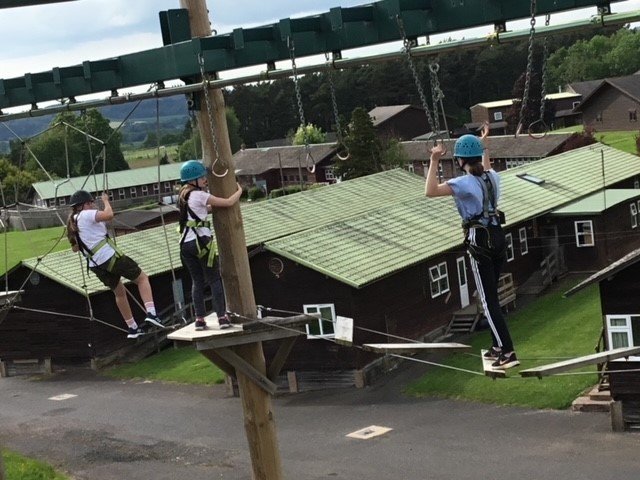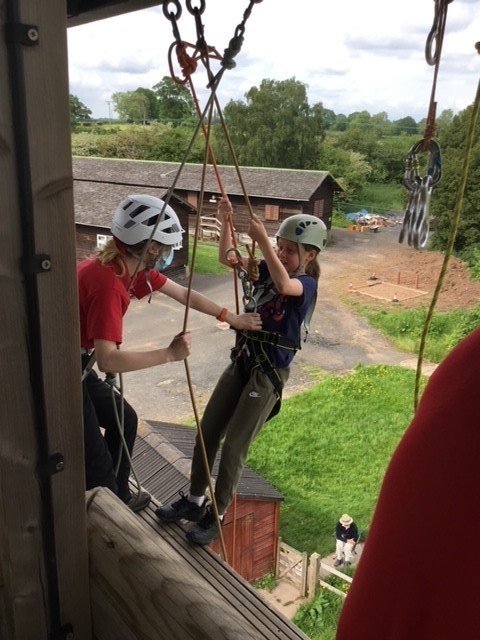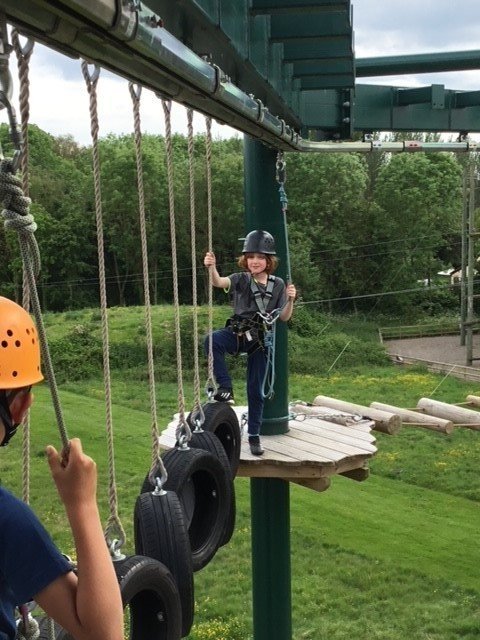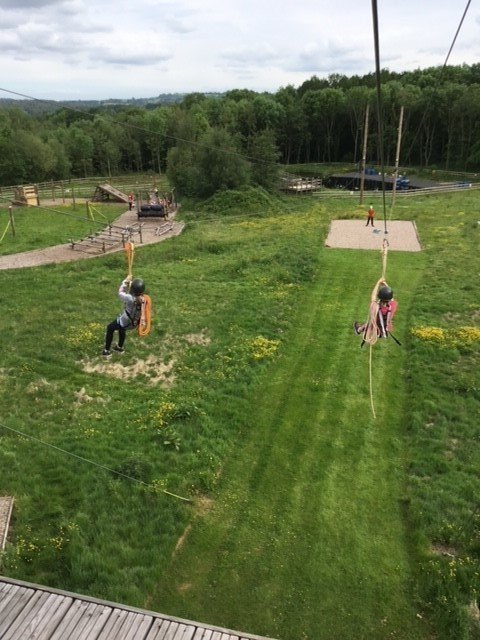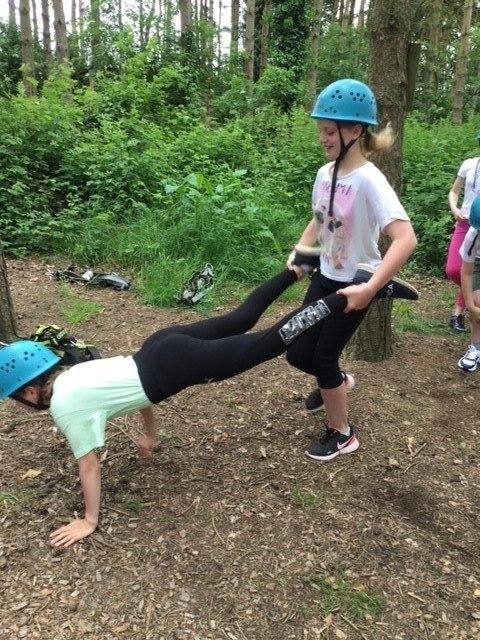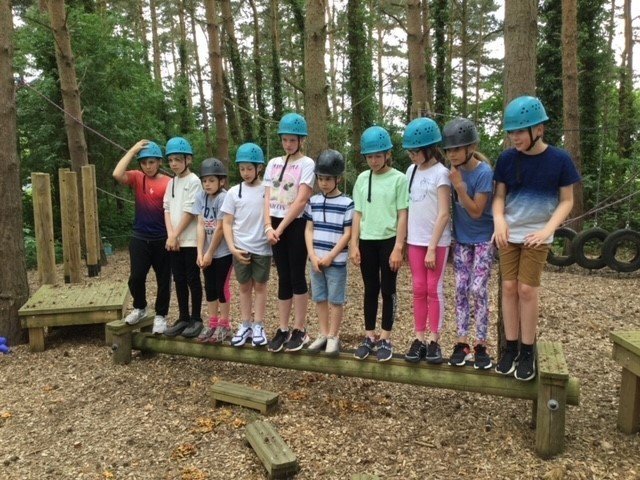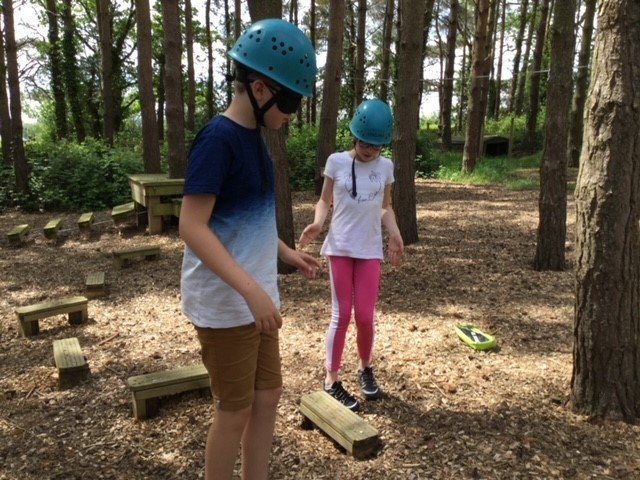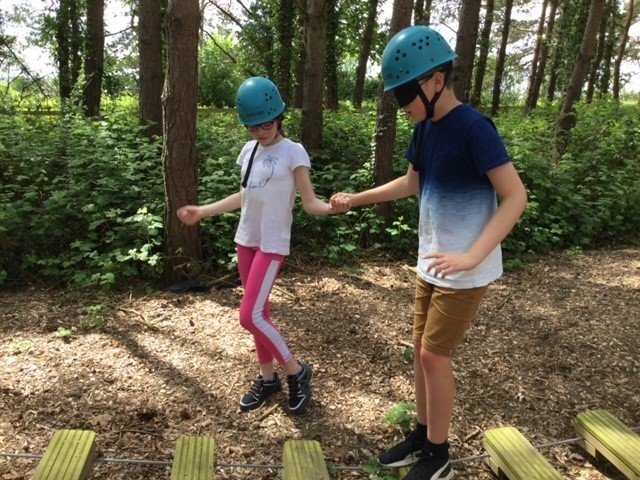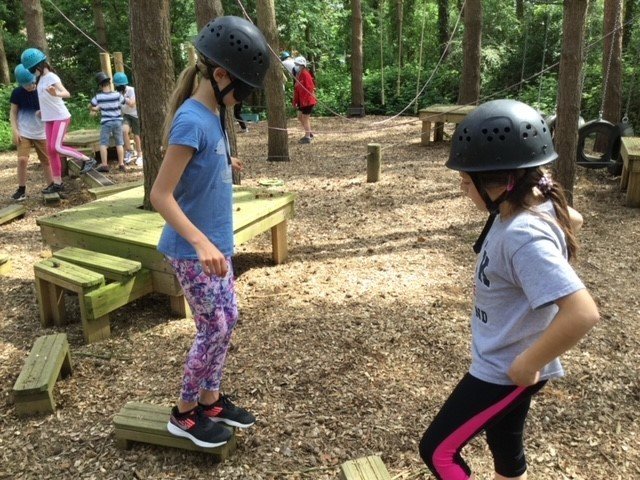 Red Nose Day 2021
The children came to school with a variety of red noses, crazy hair and hats to raise some money for this good cause. We raised £98.50, so well done everyone!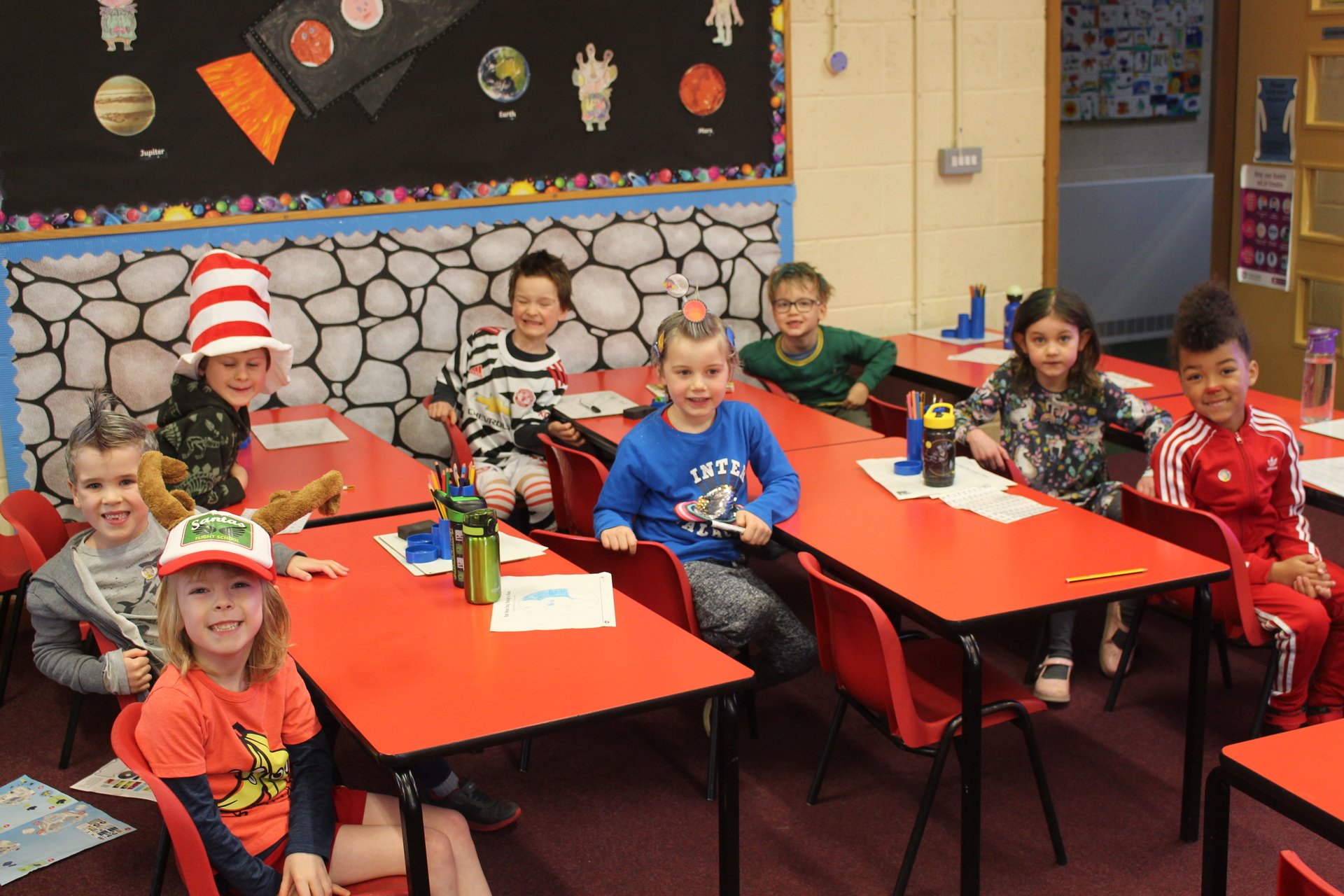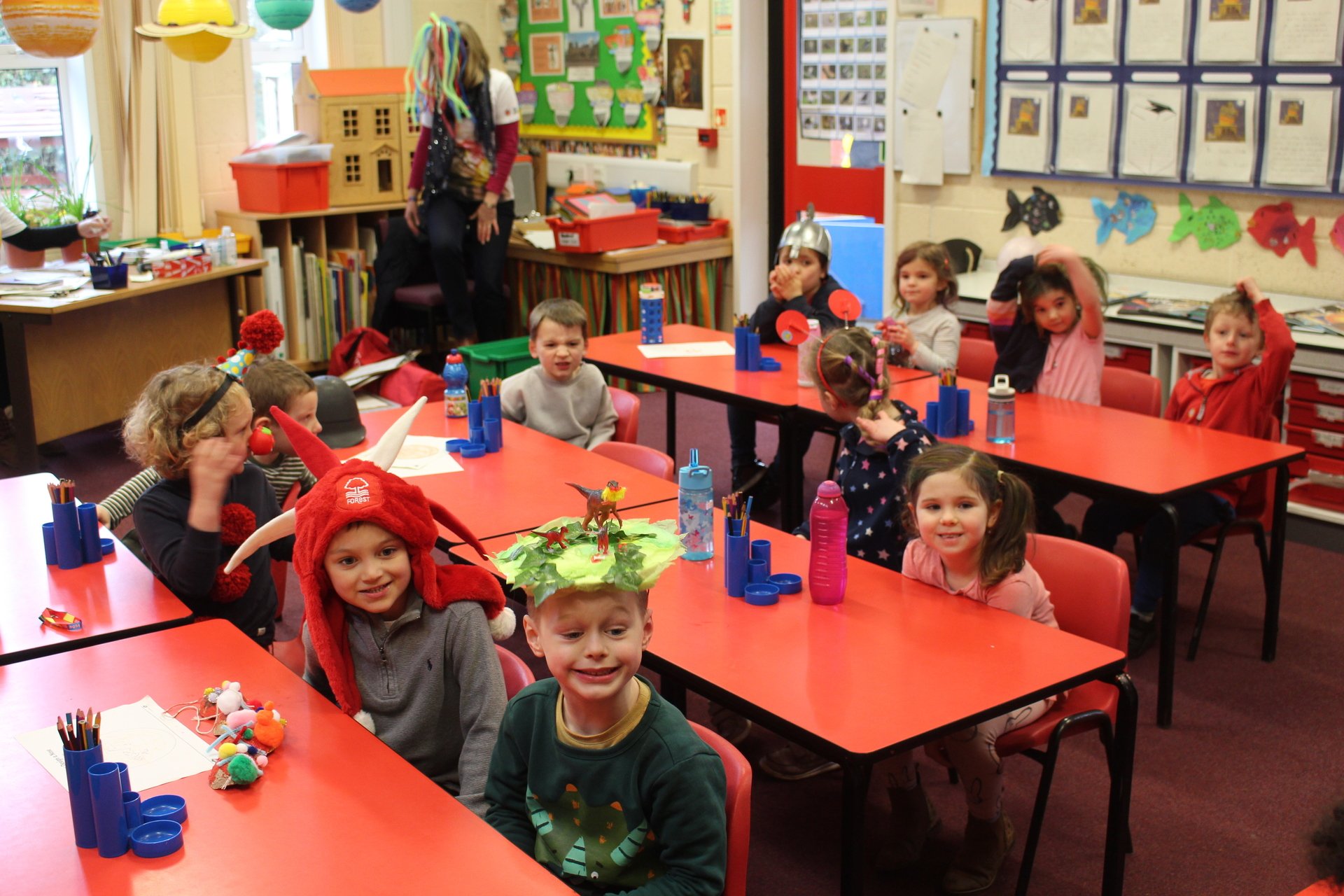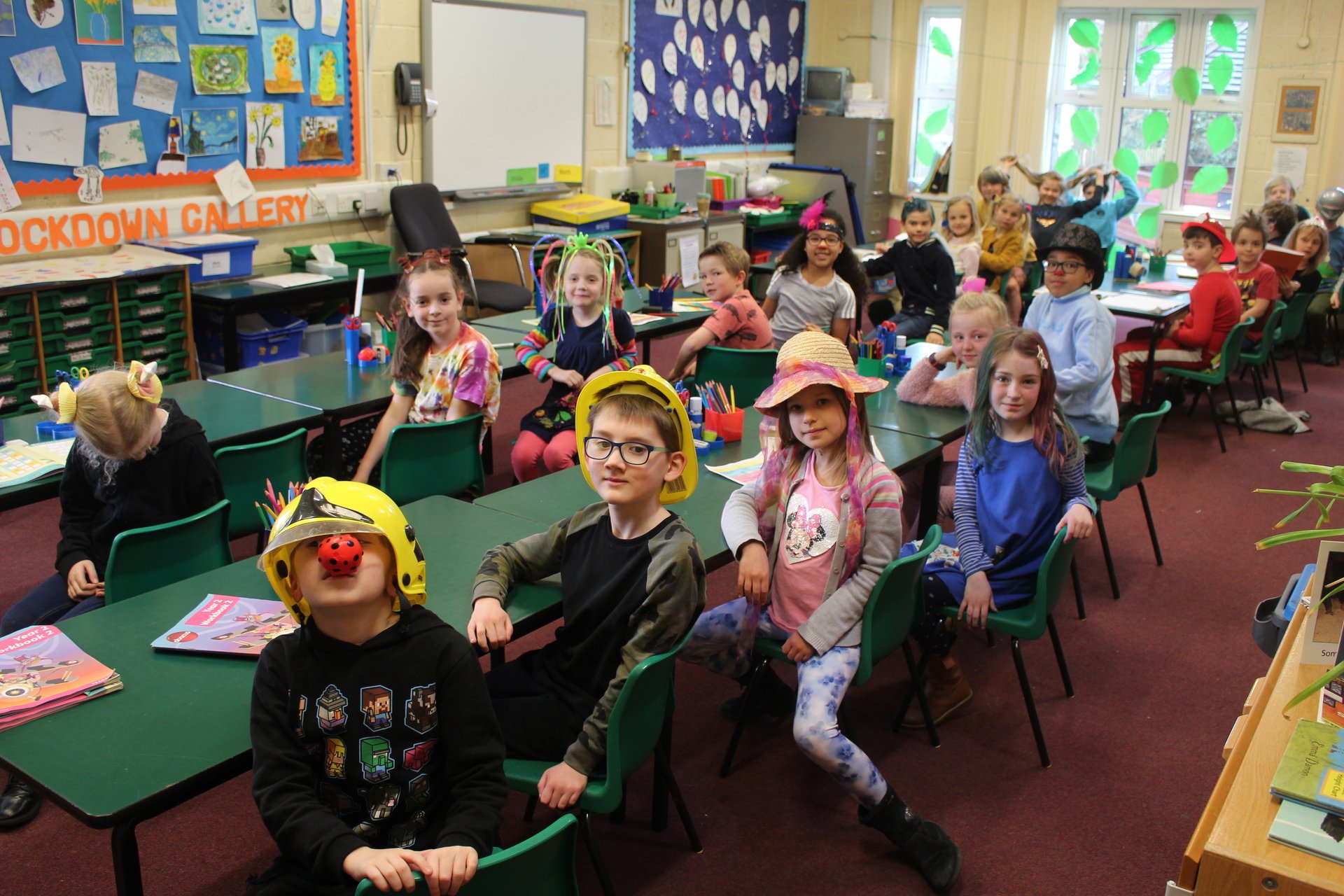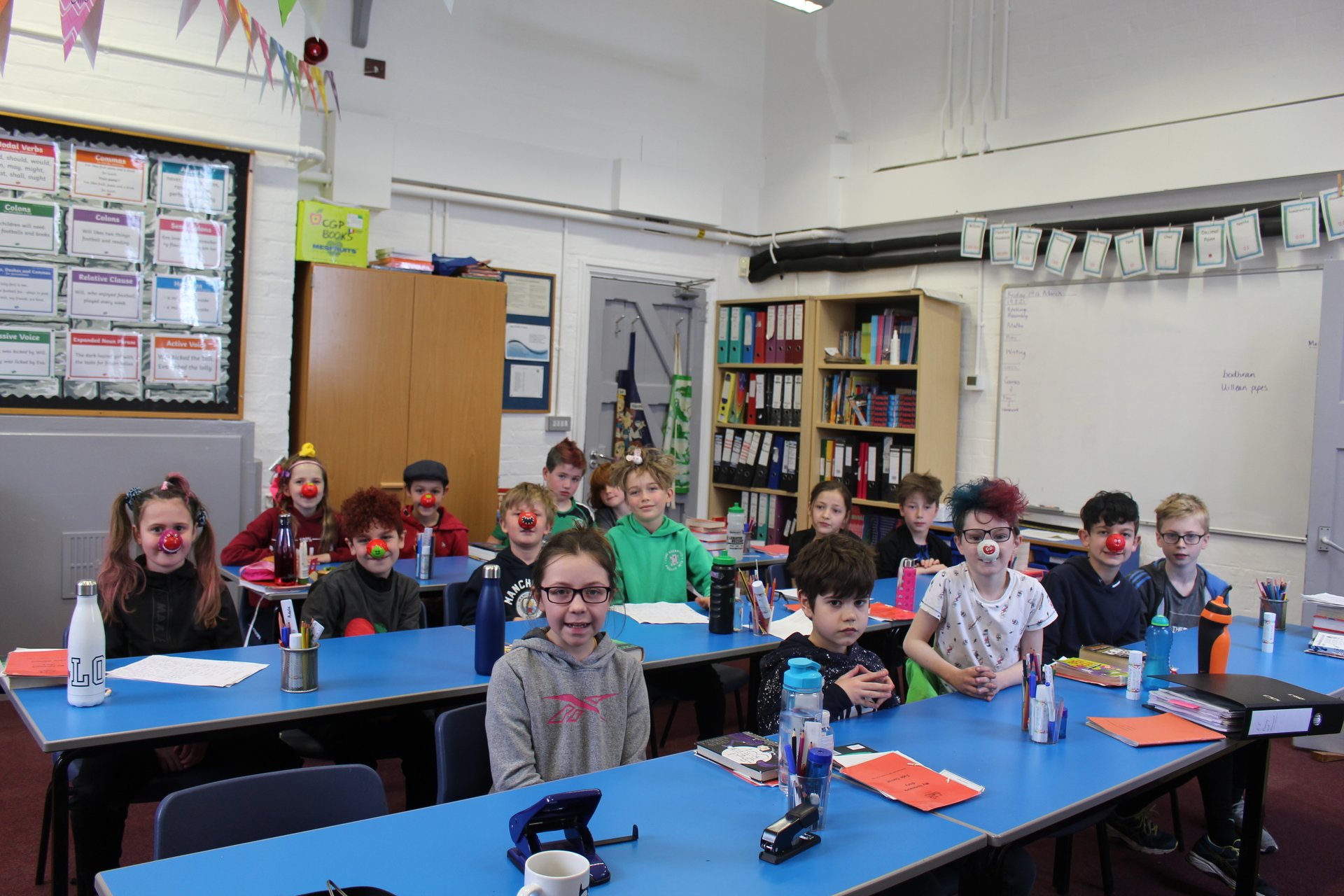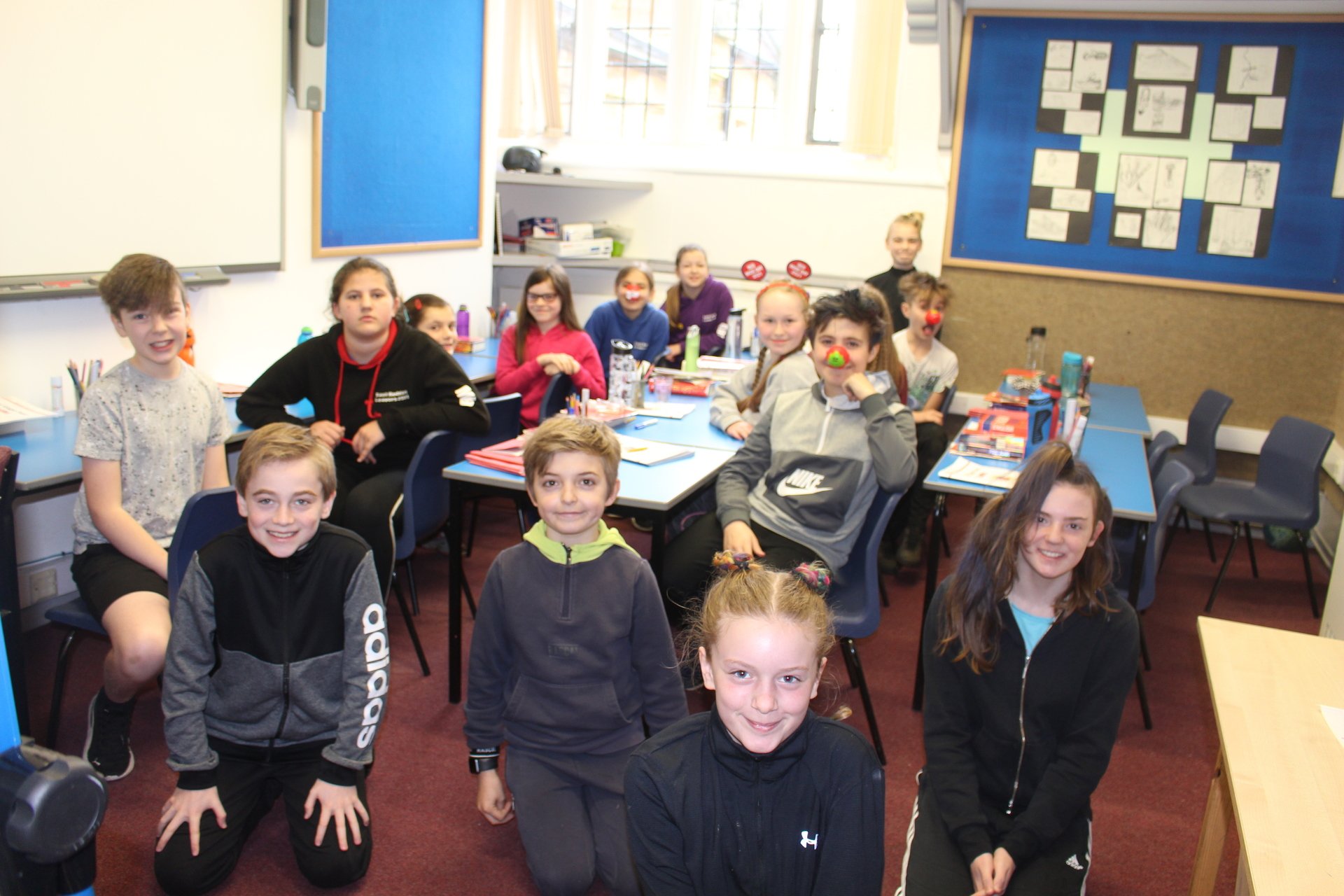 Christingle
The children thoroughly enjoyed making their Christingle oranges this year. Although we couldn't join together as a whole school, the classrooms were very magical as the candles were lit and prayers said. Thank you all for your donations - we raised an amazing £270.17! Many thanks to Lynne Threadgold for organising and donating the oranges.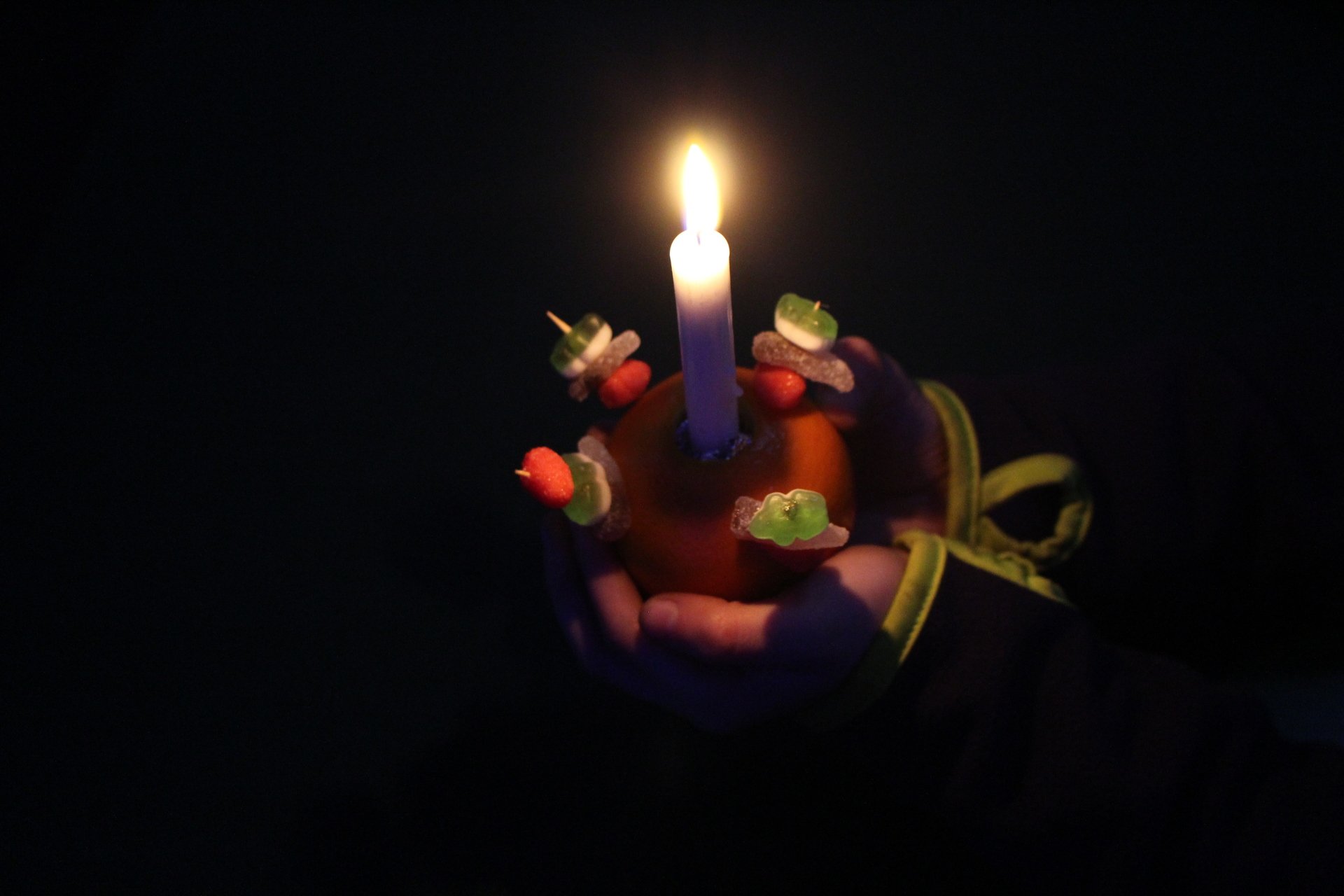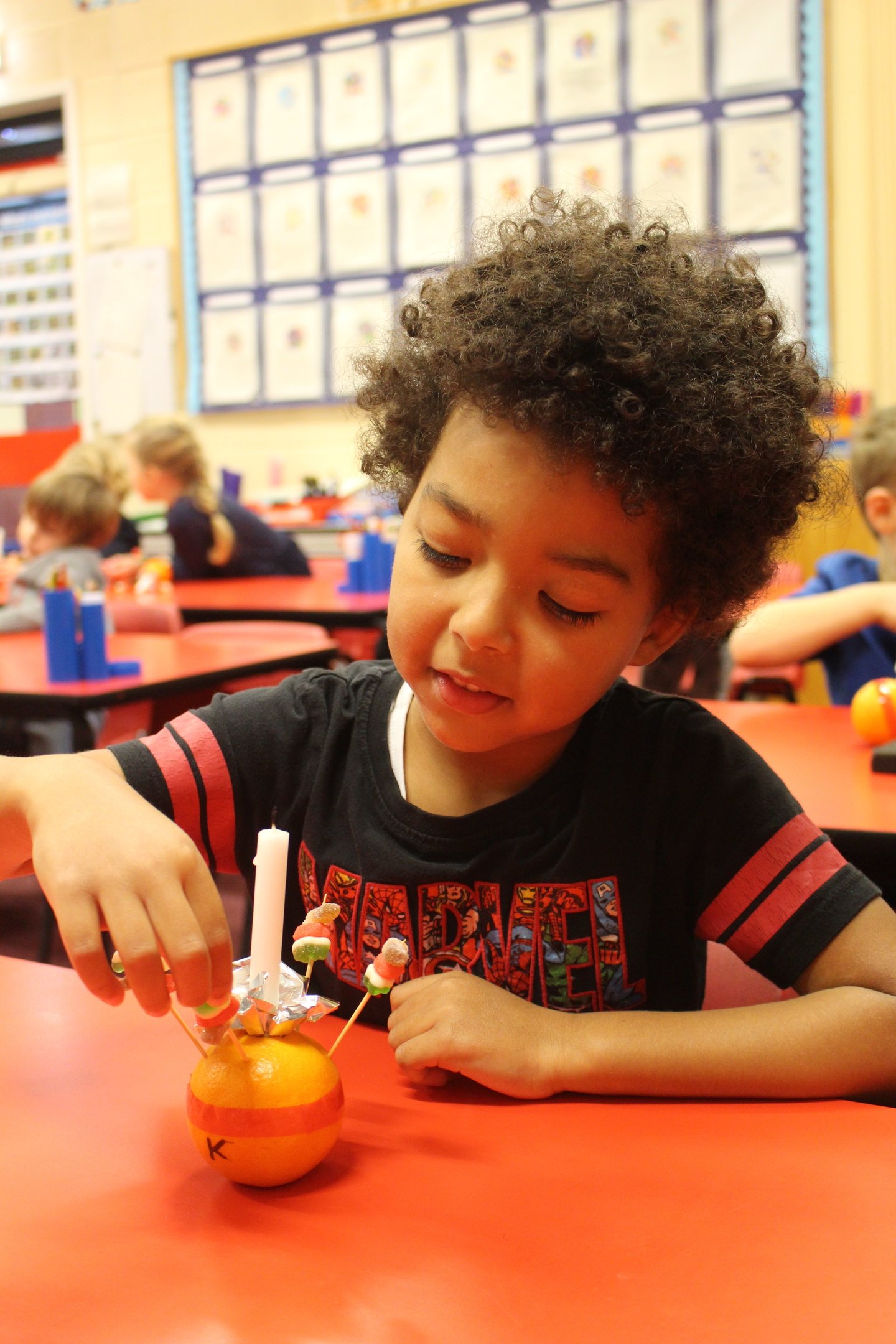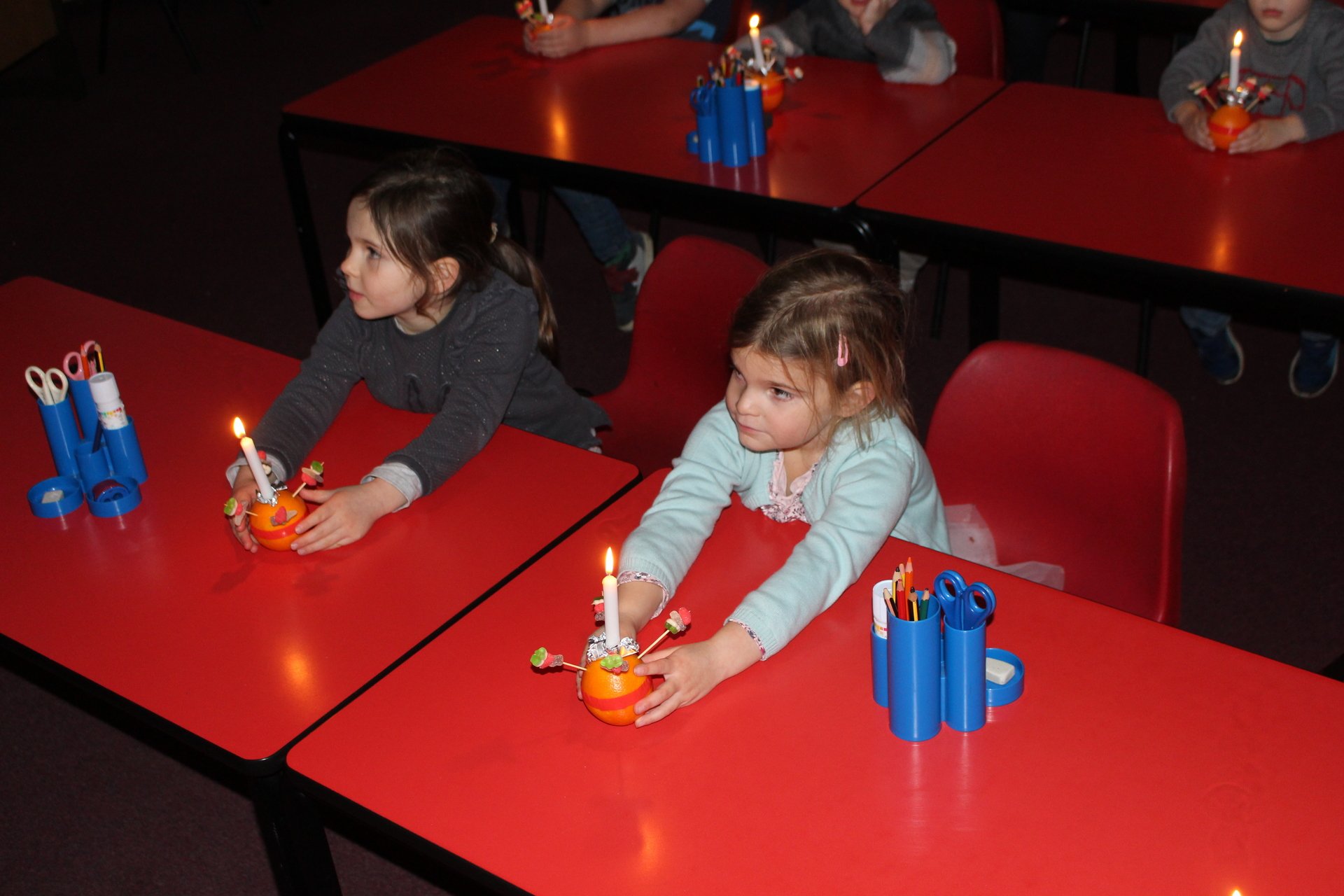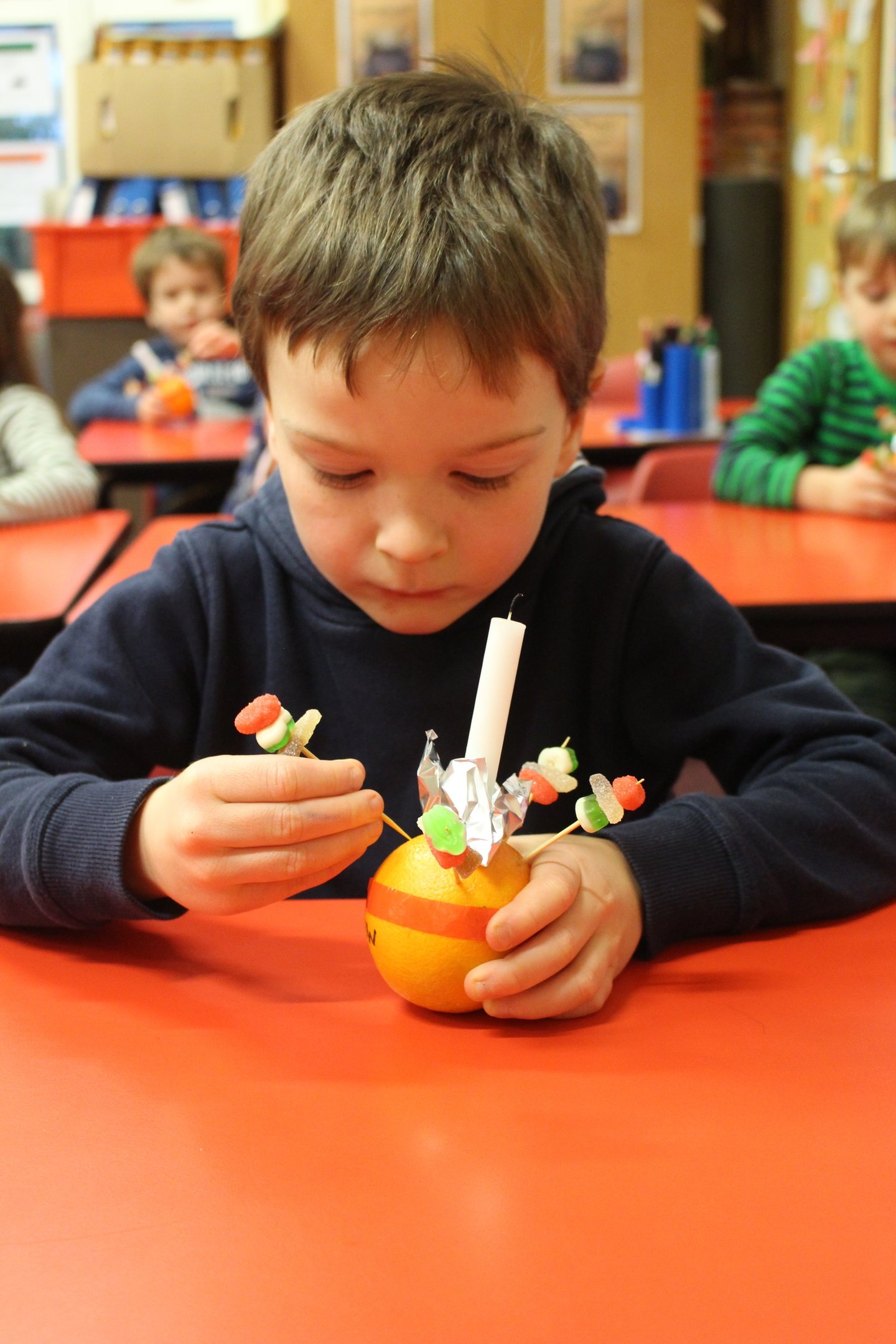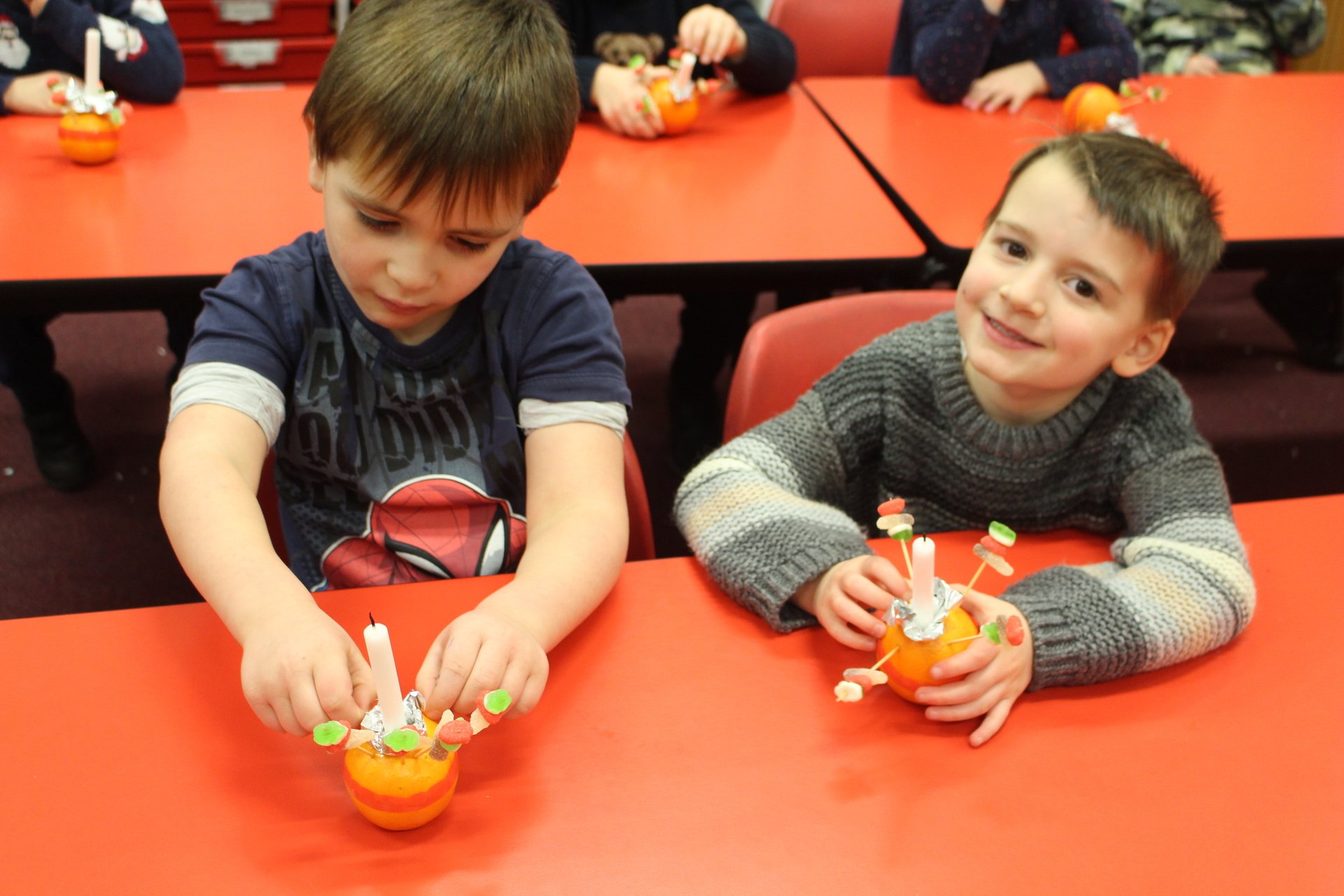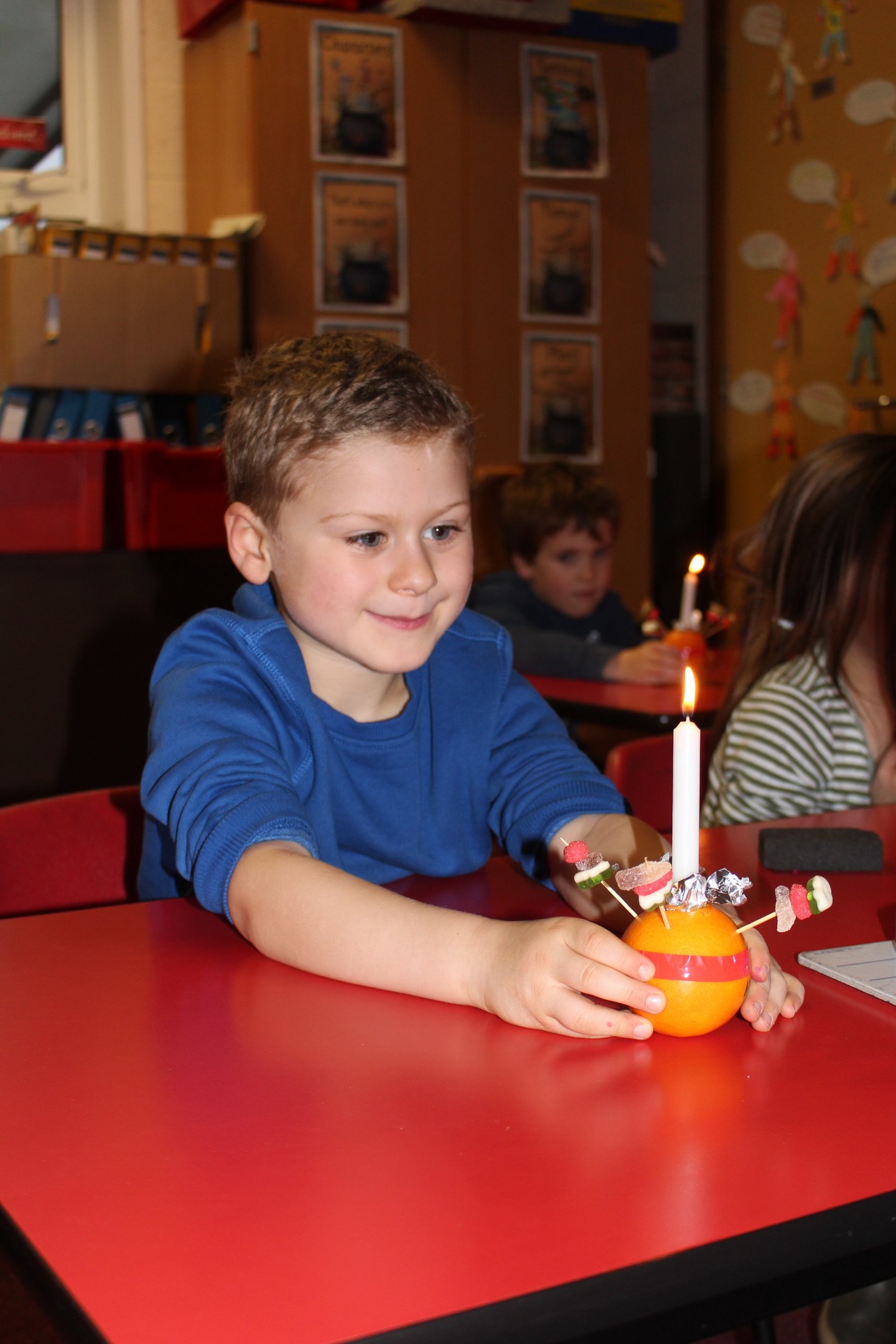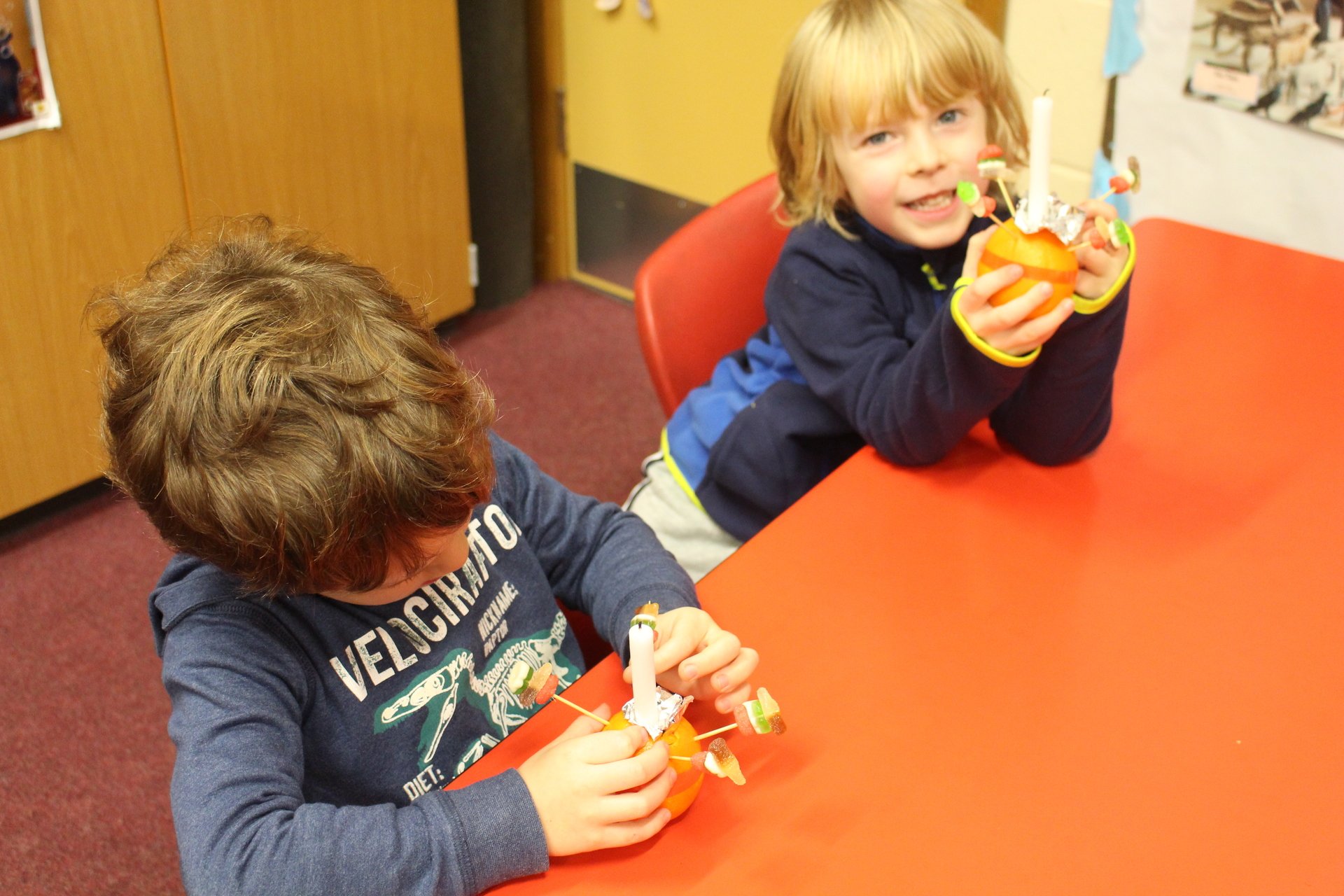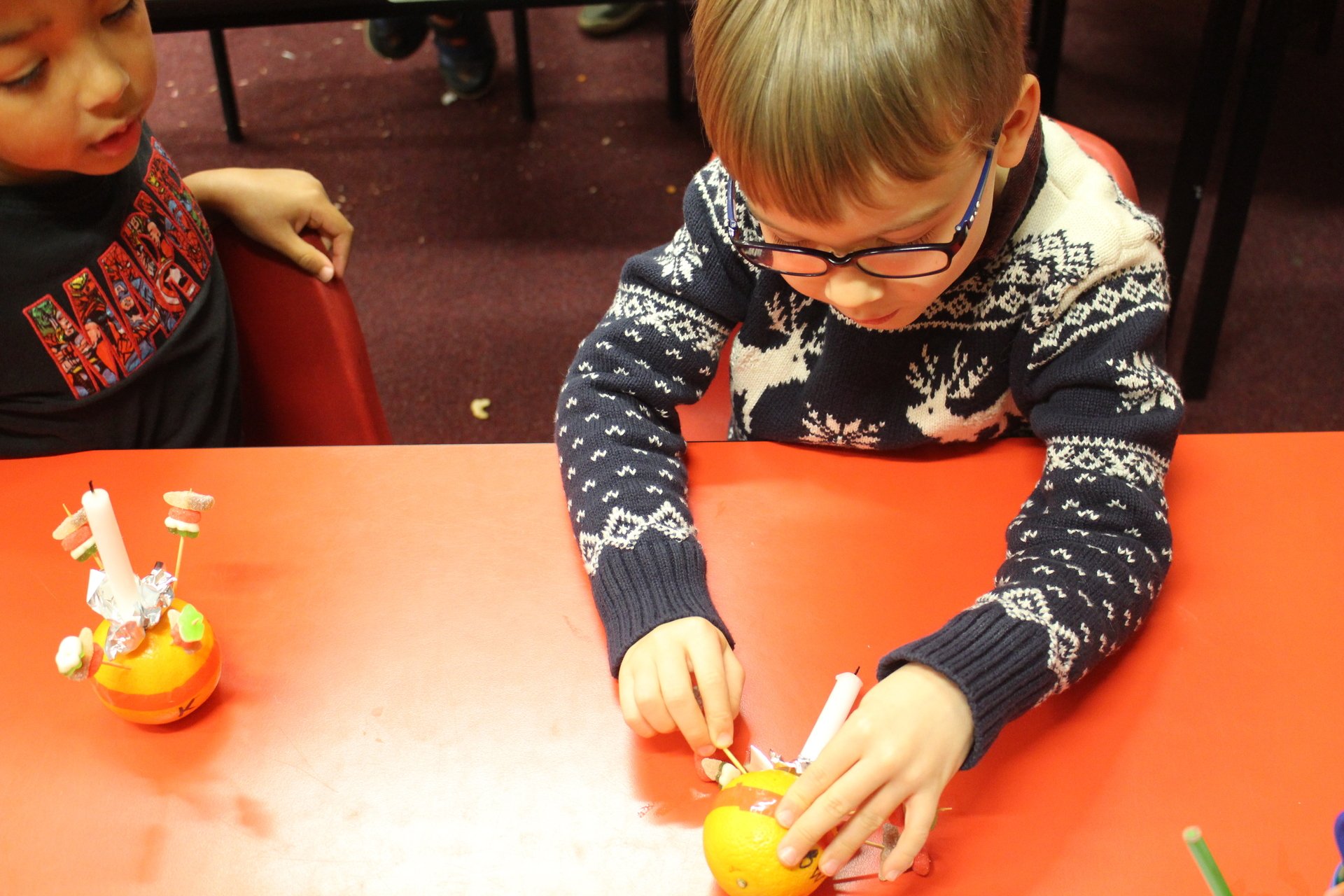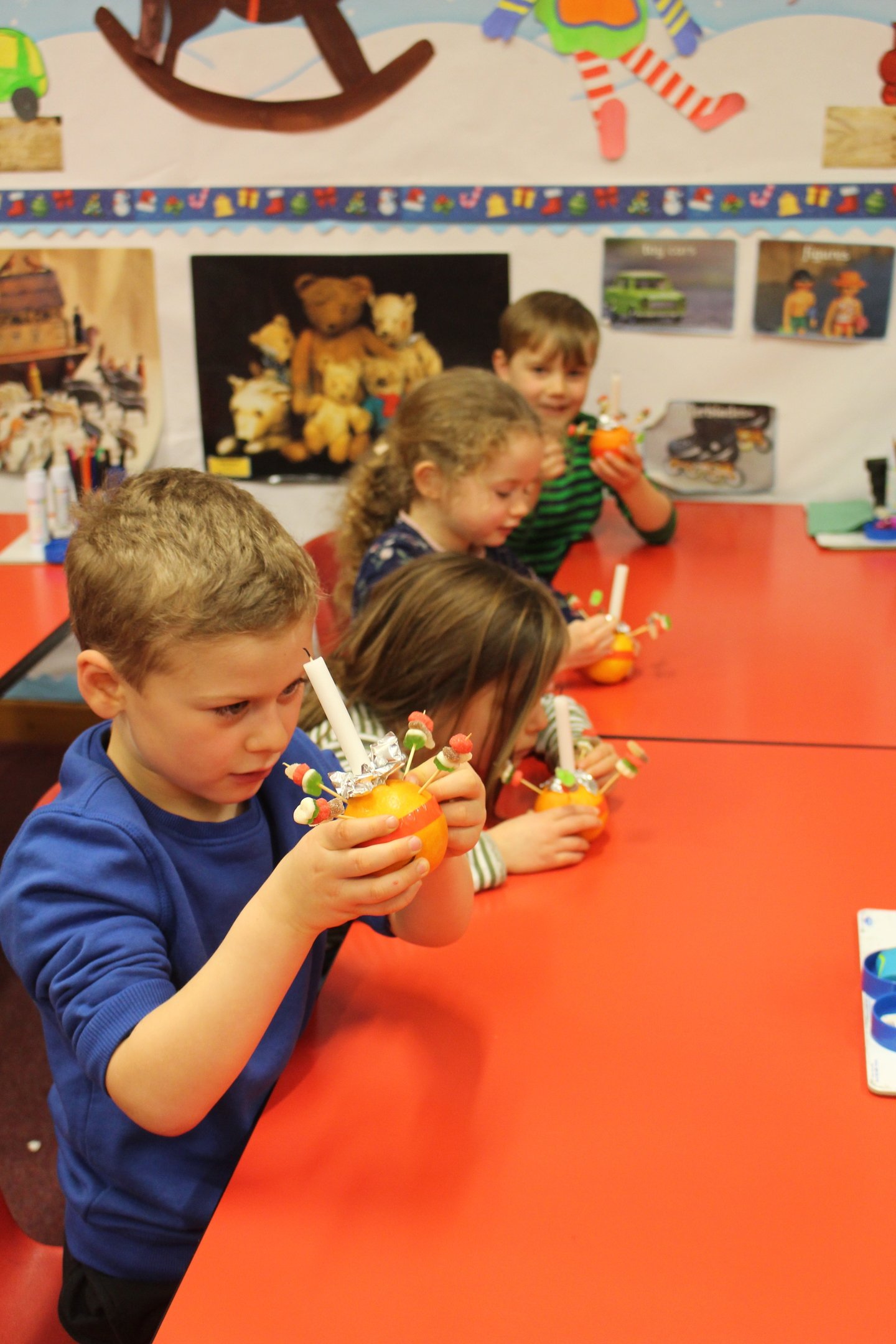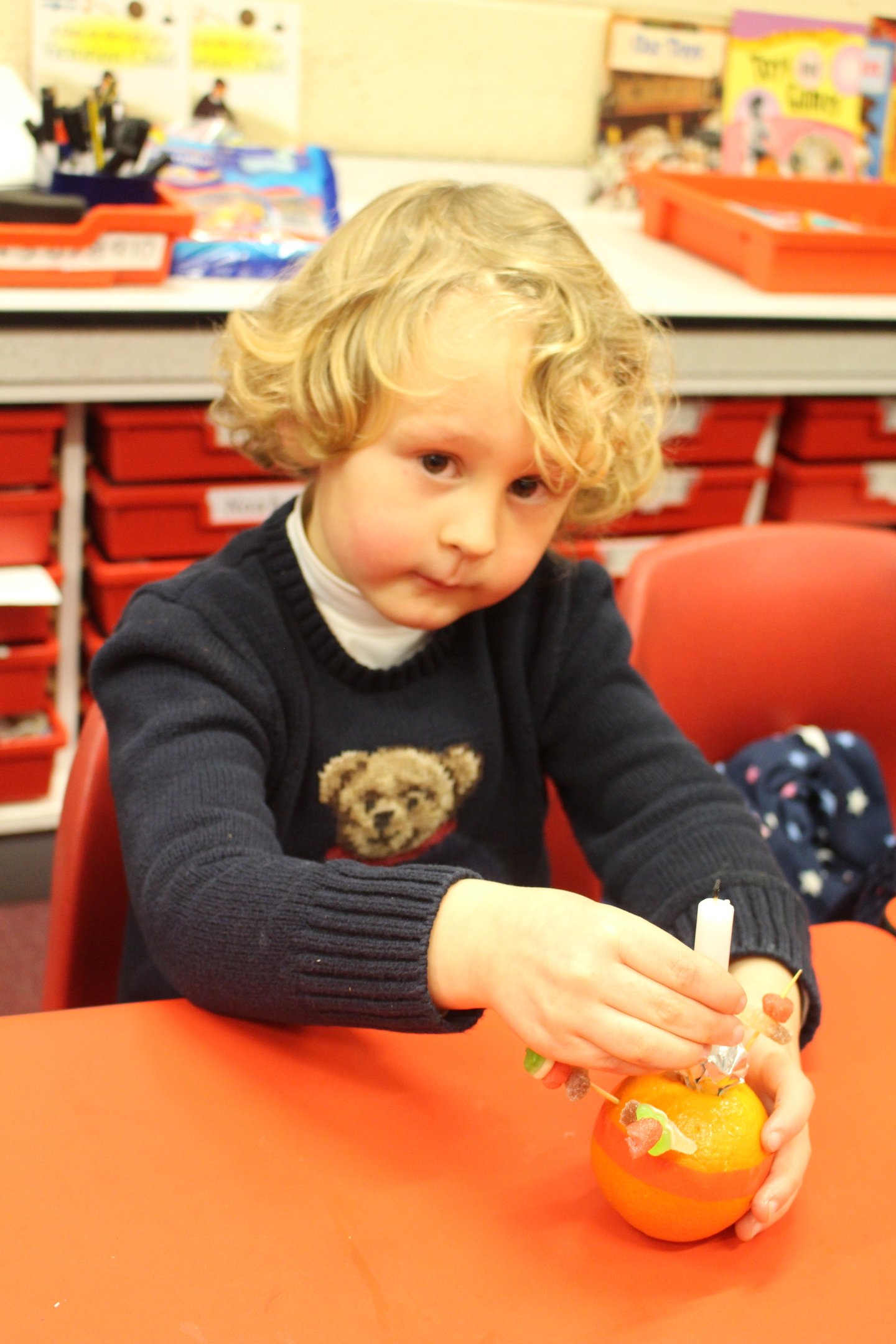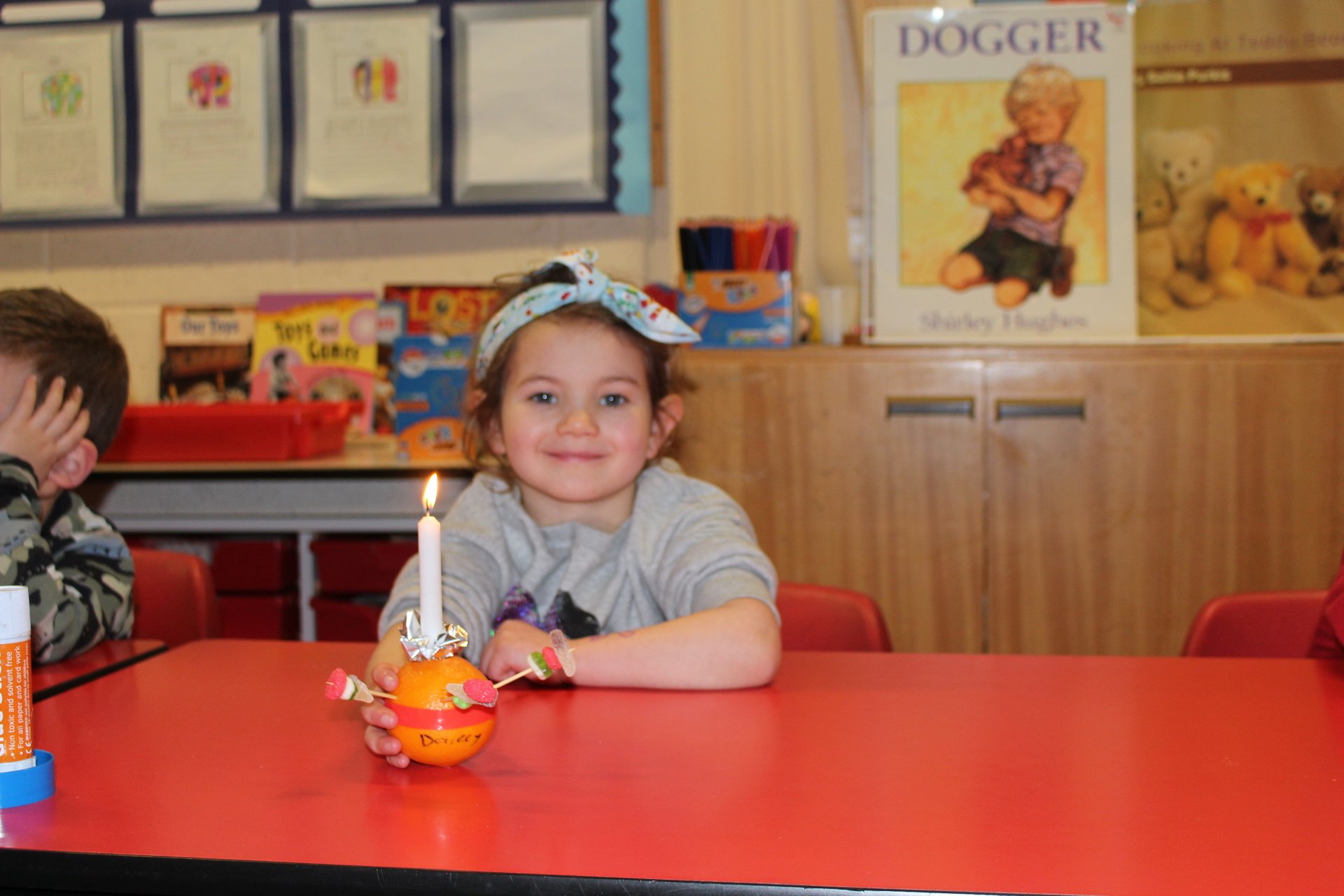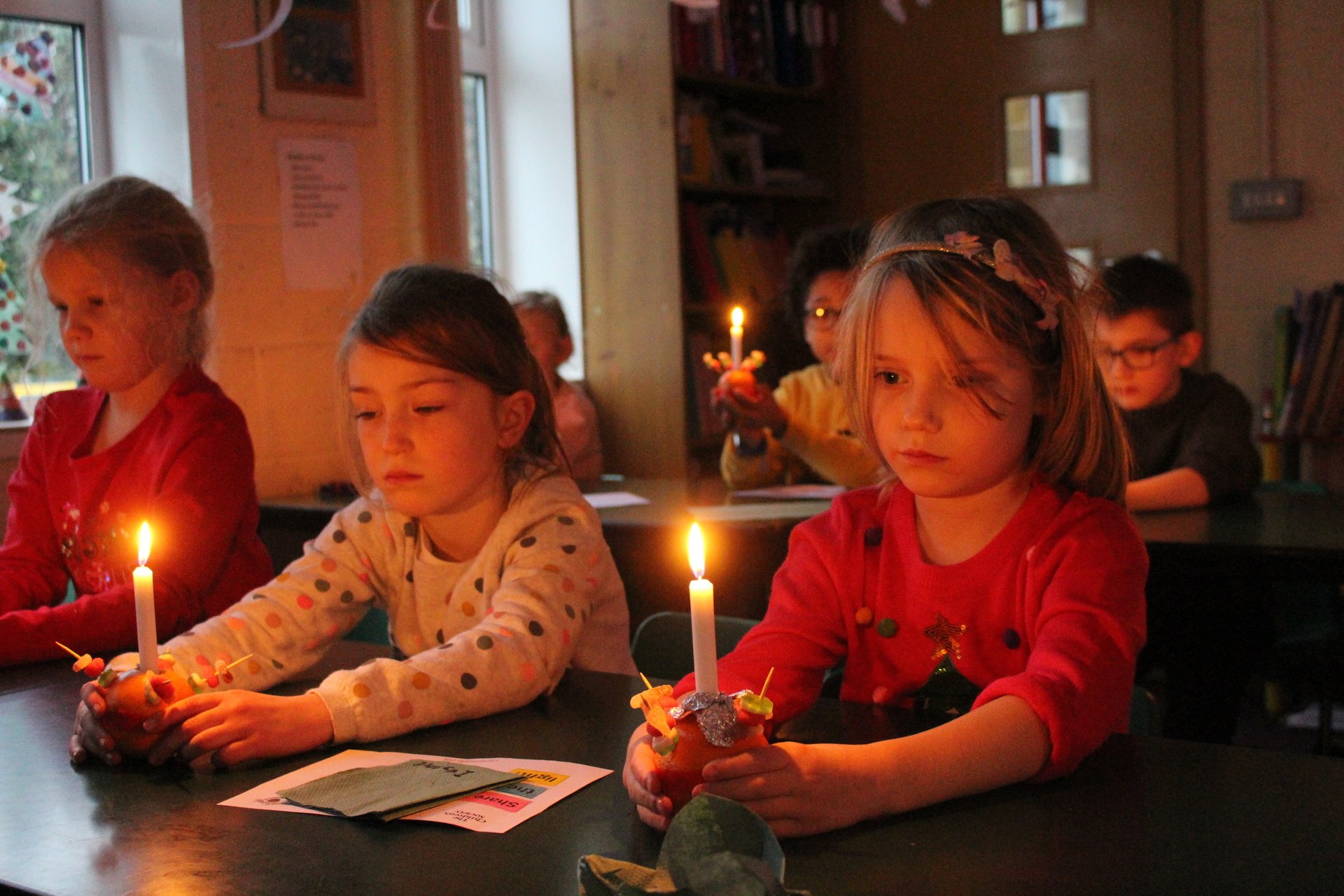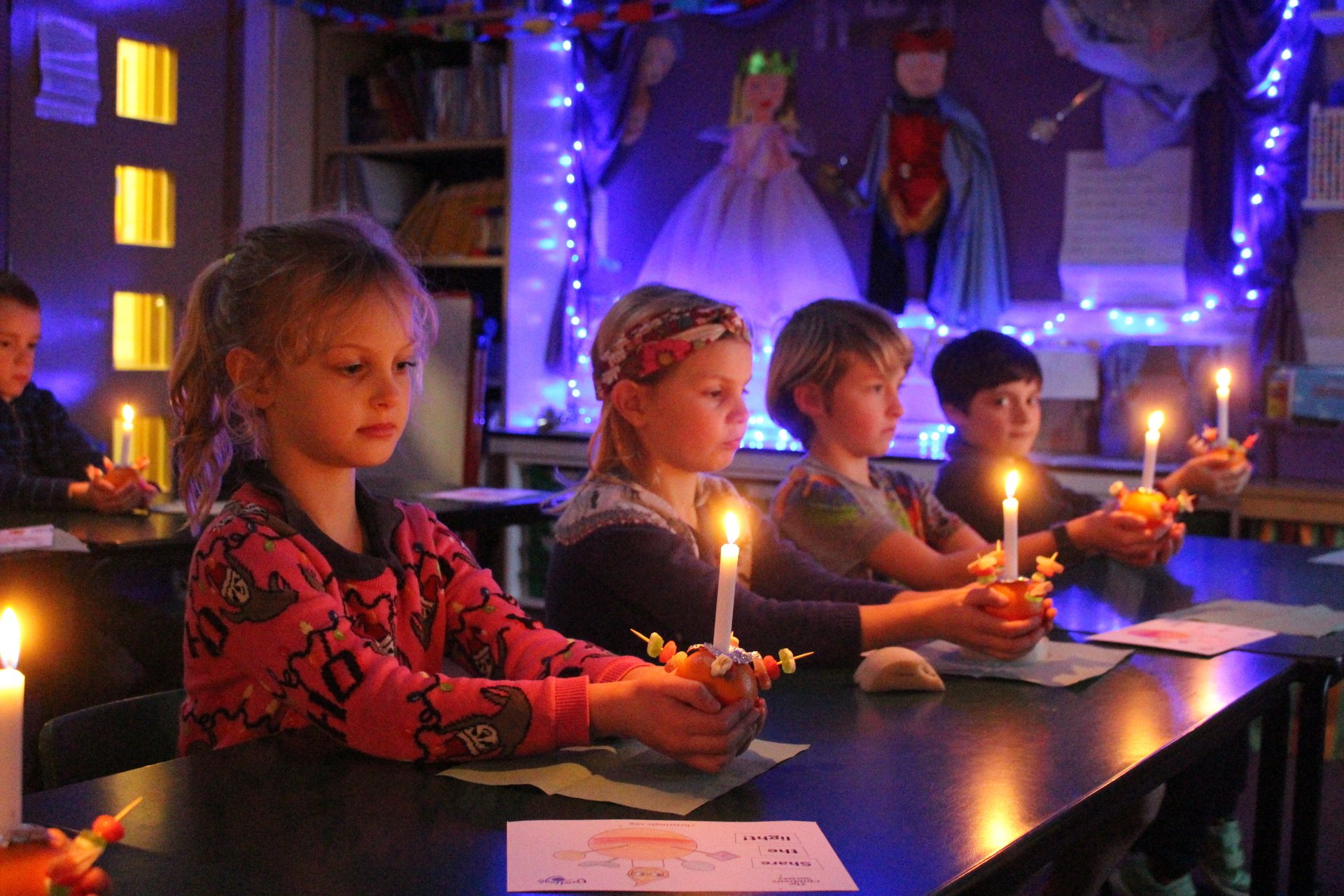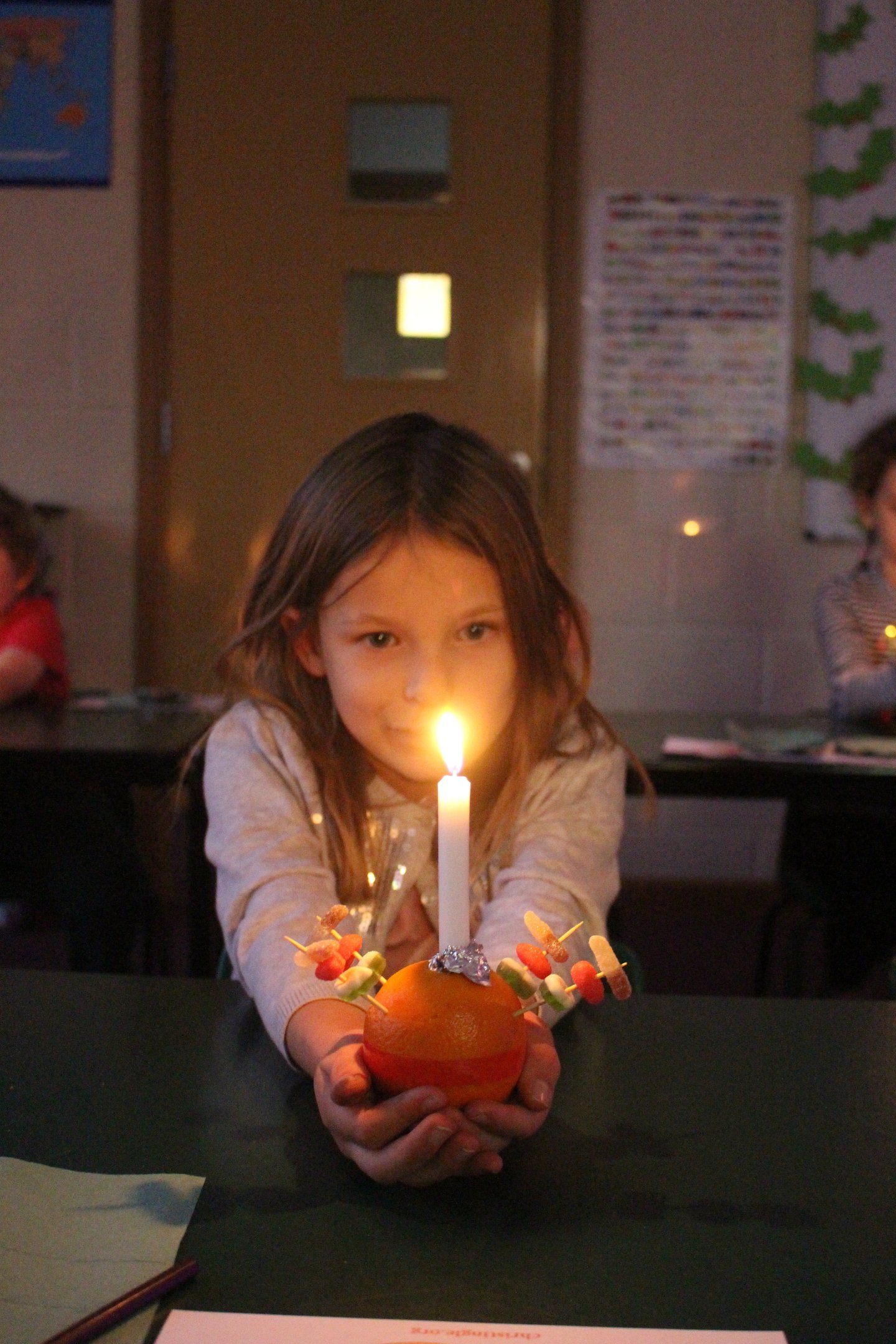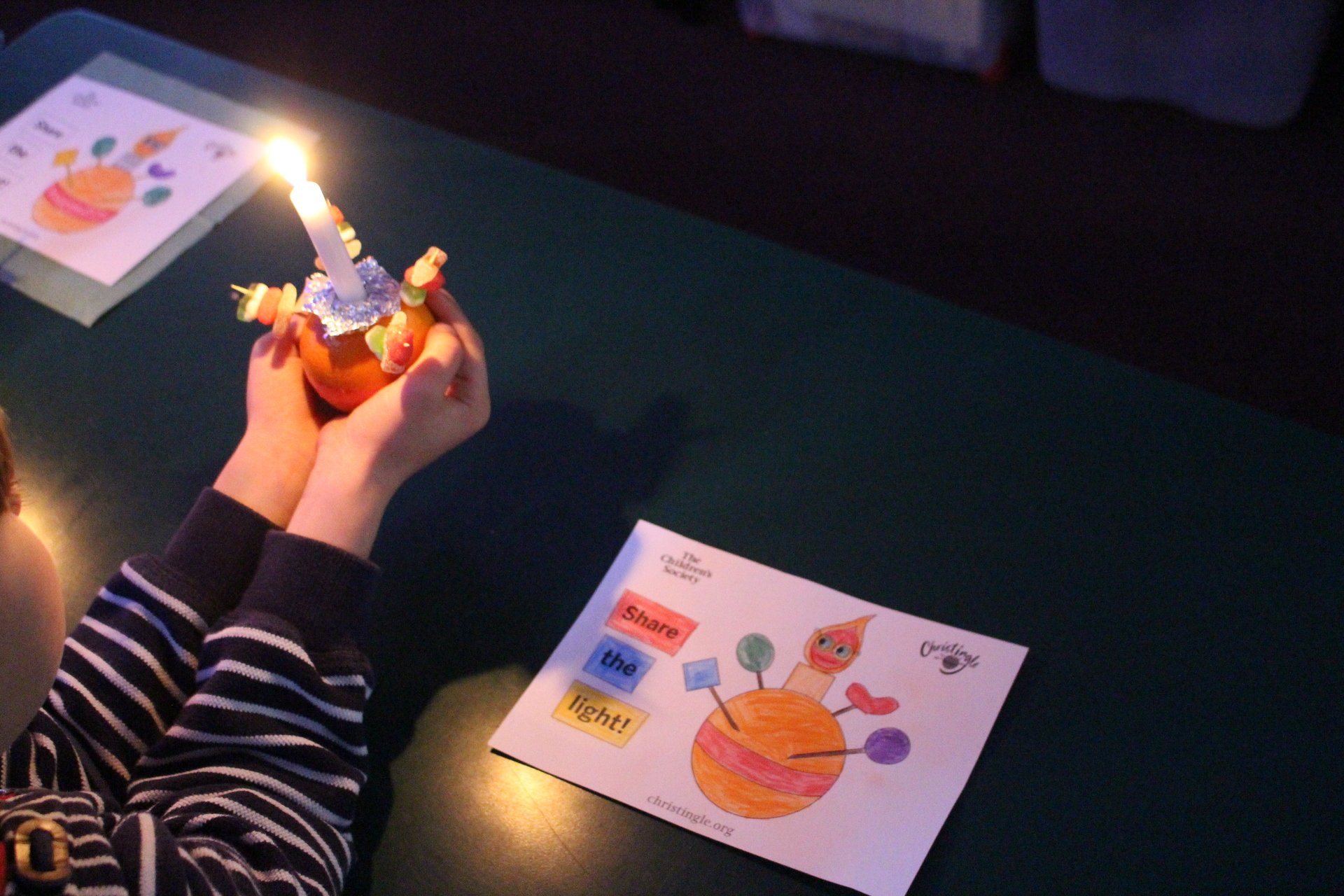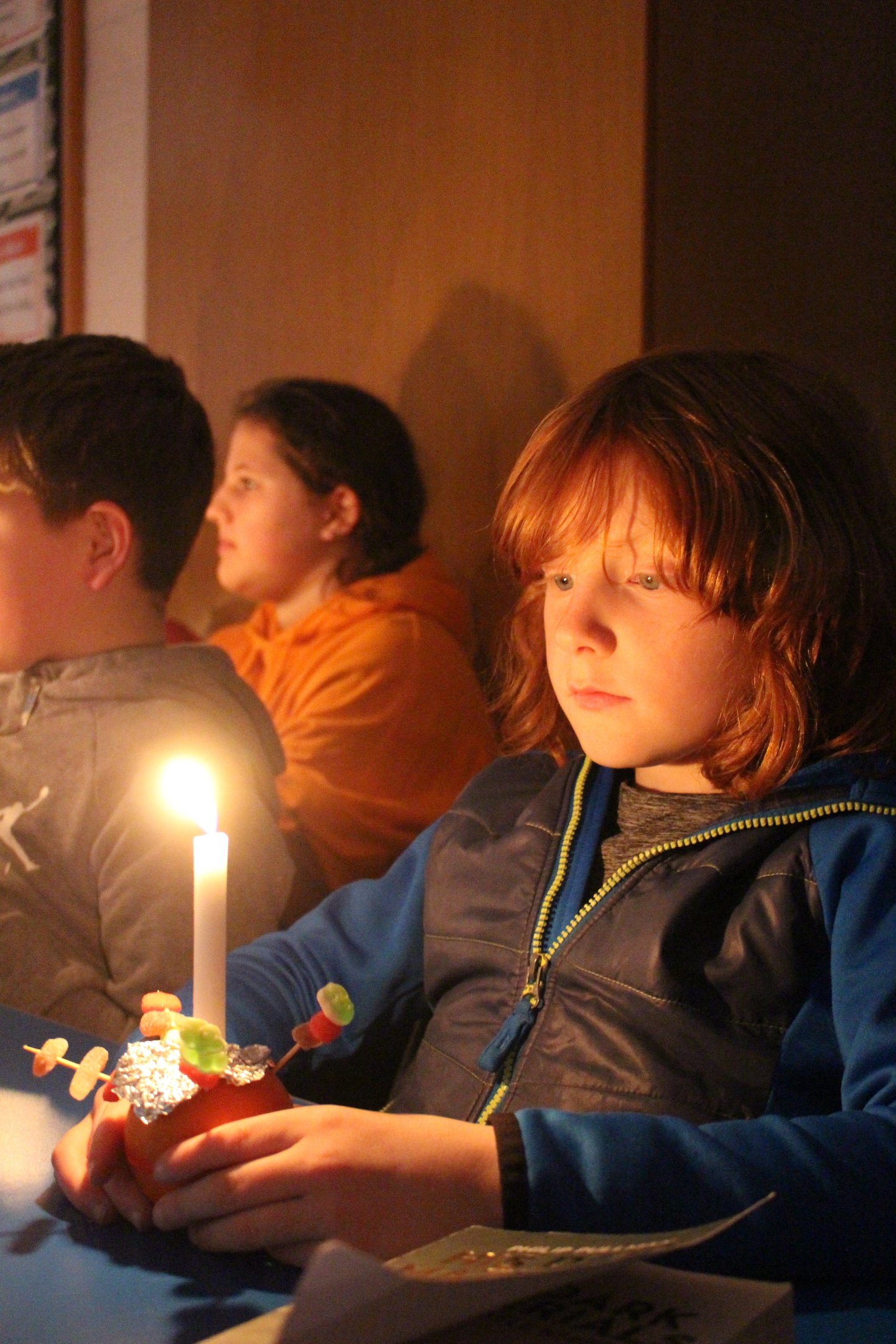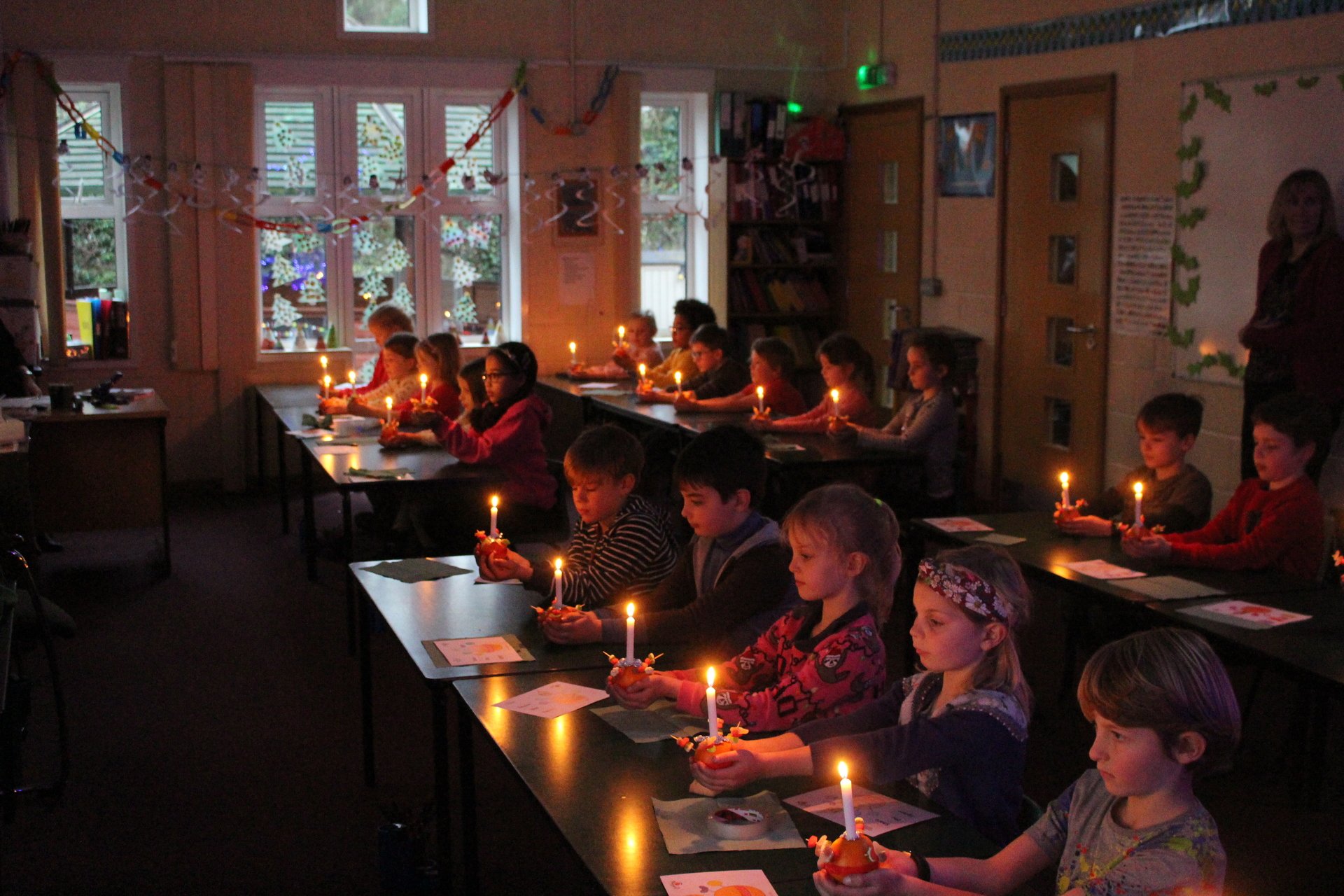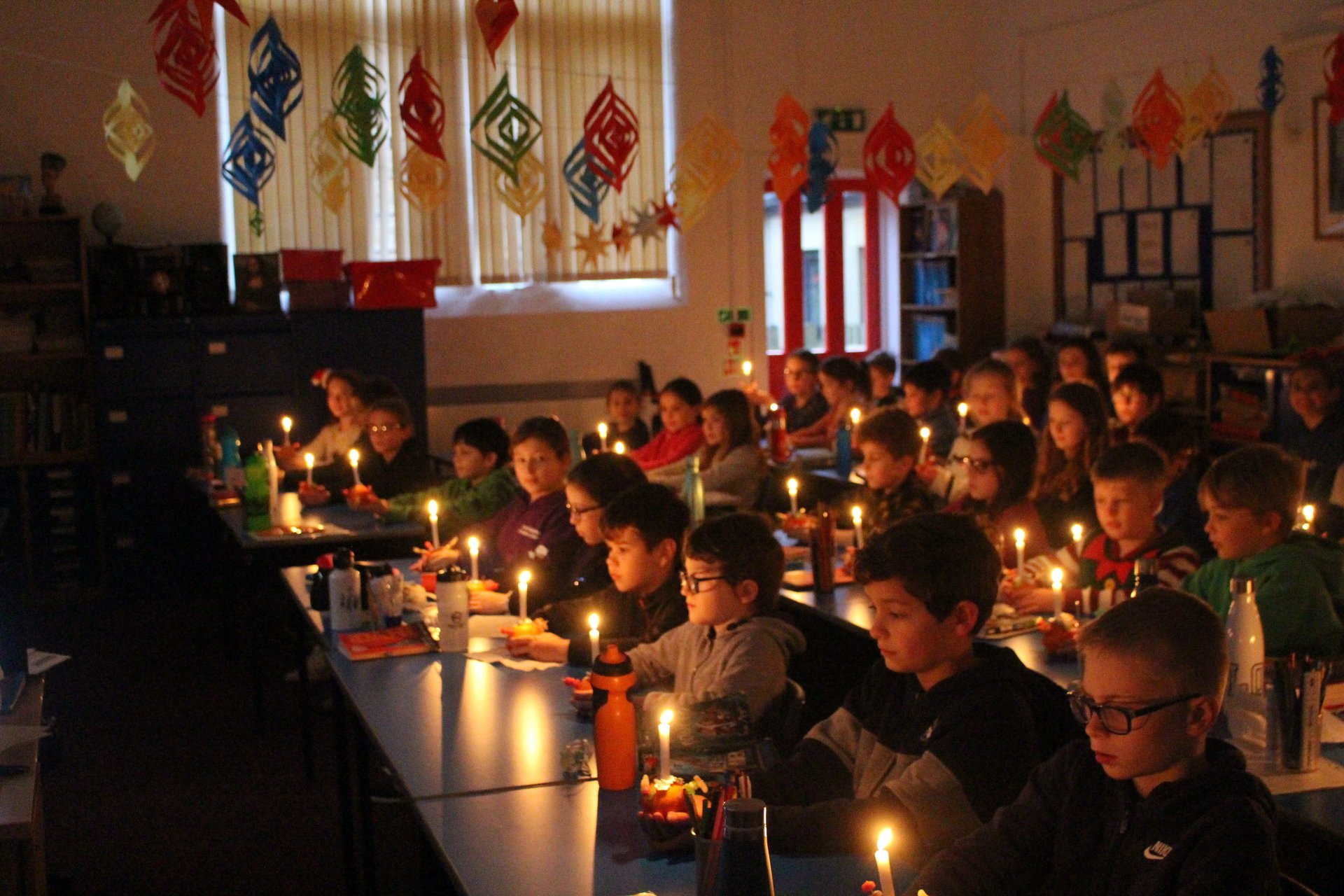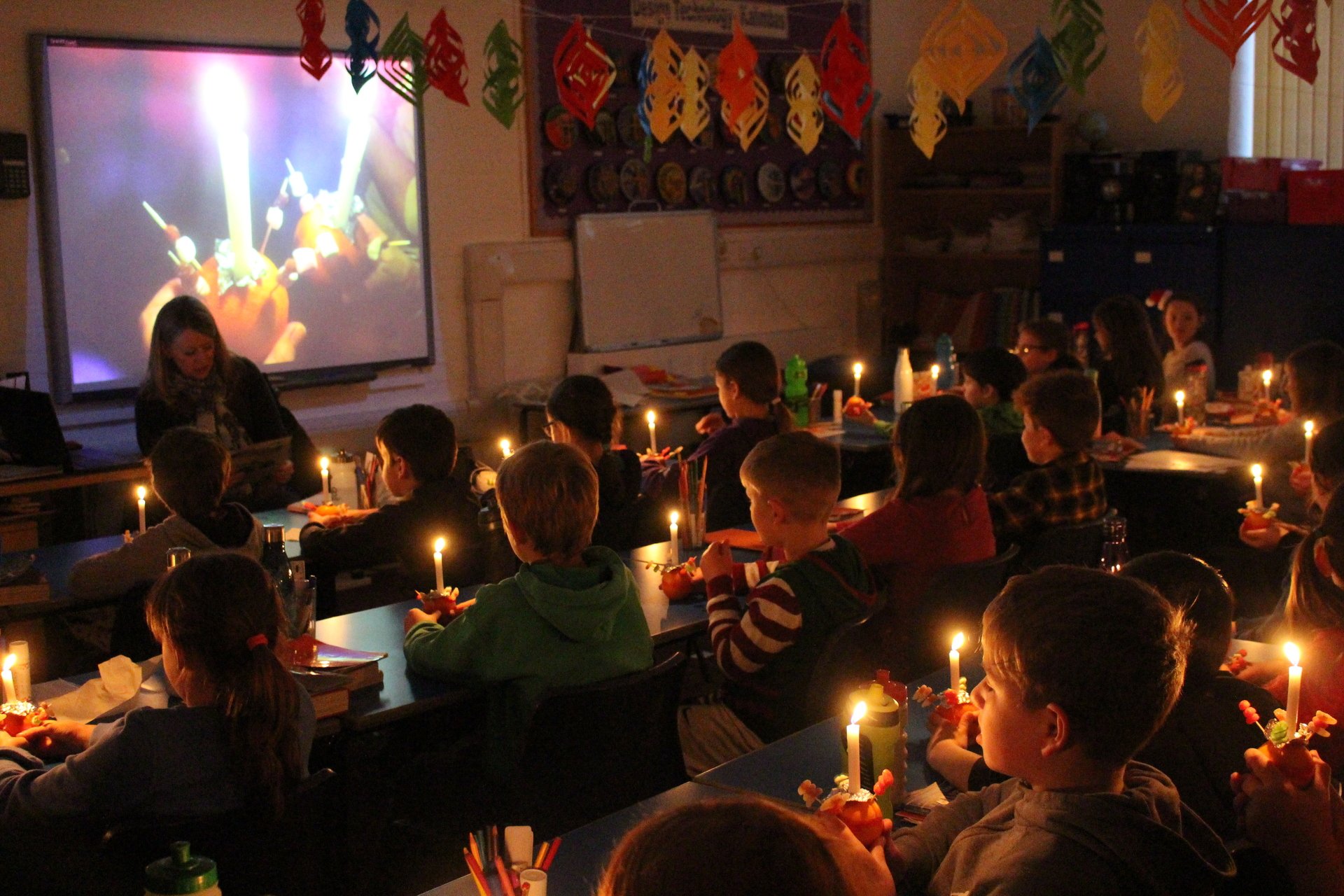 Pyjama Day!
We raised £108.96 for Children in Need by all bringing a donation and coming to school in our pyjamas! Well done everyone, a fantastic amount raised for such a great charity.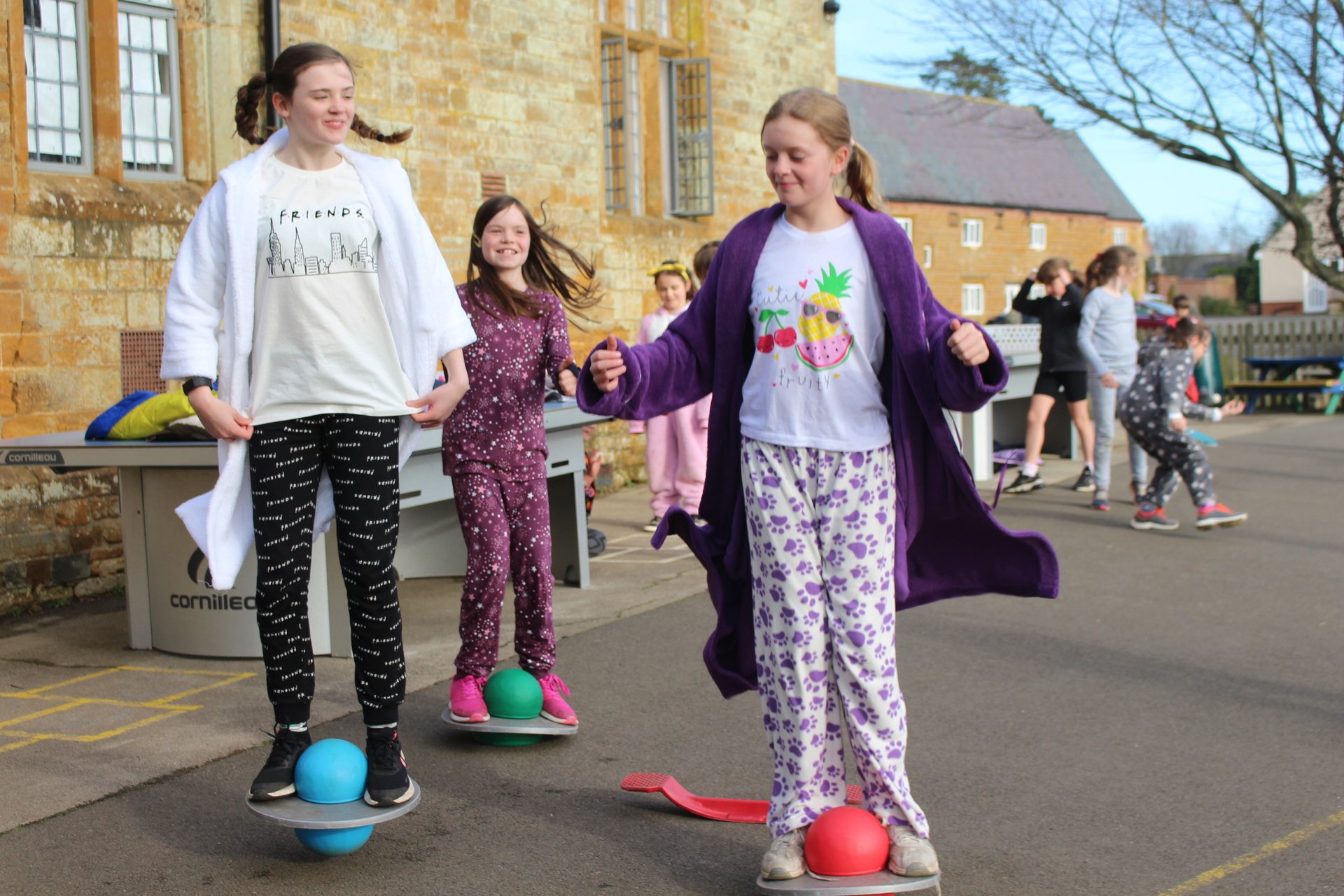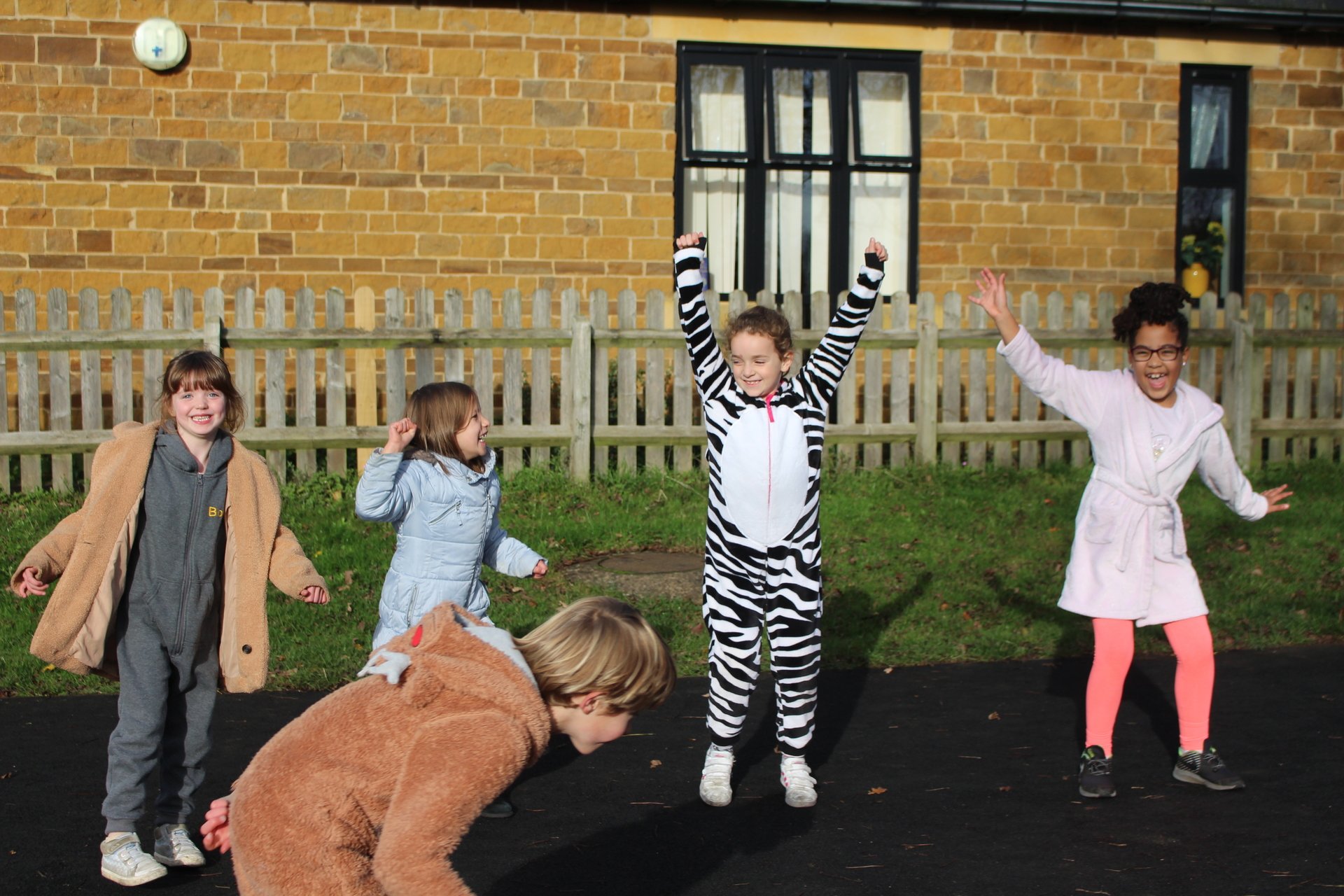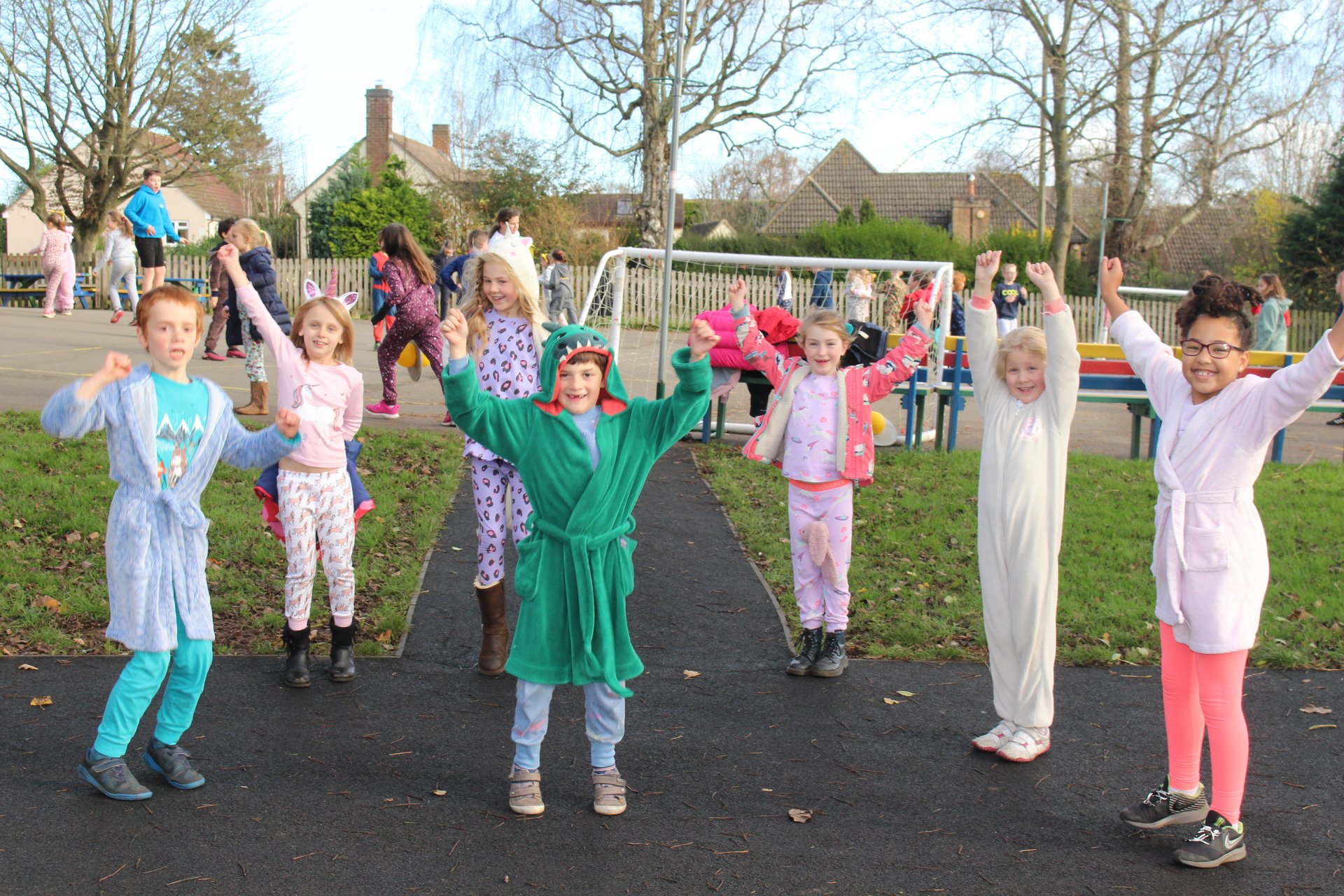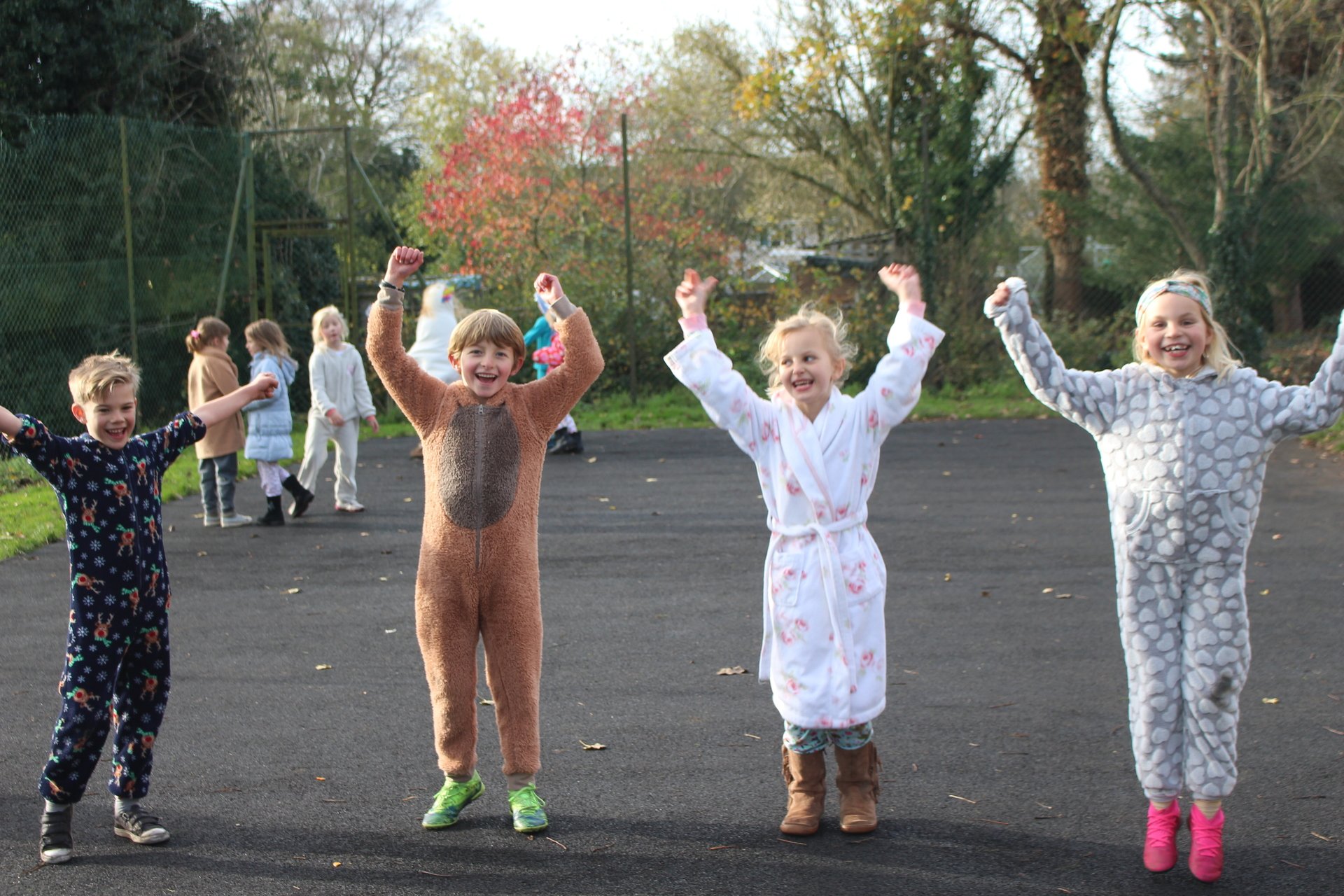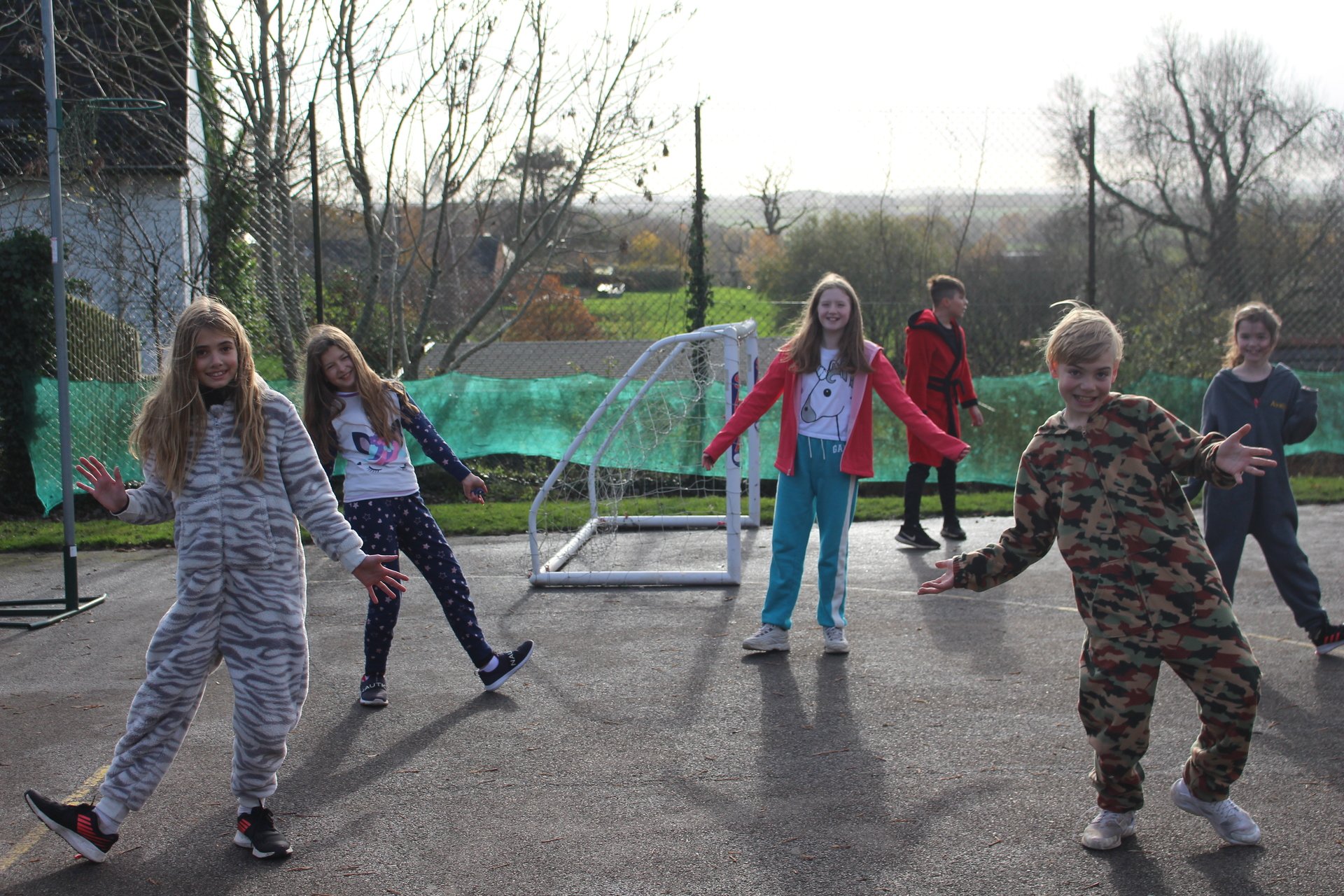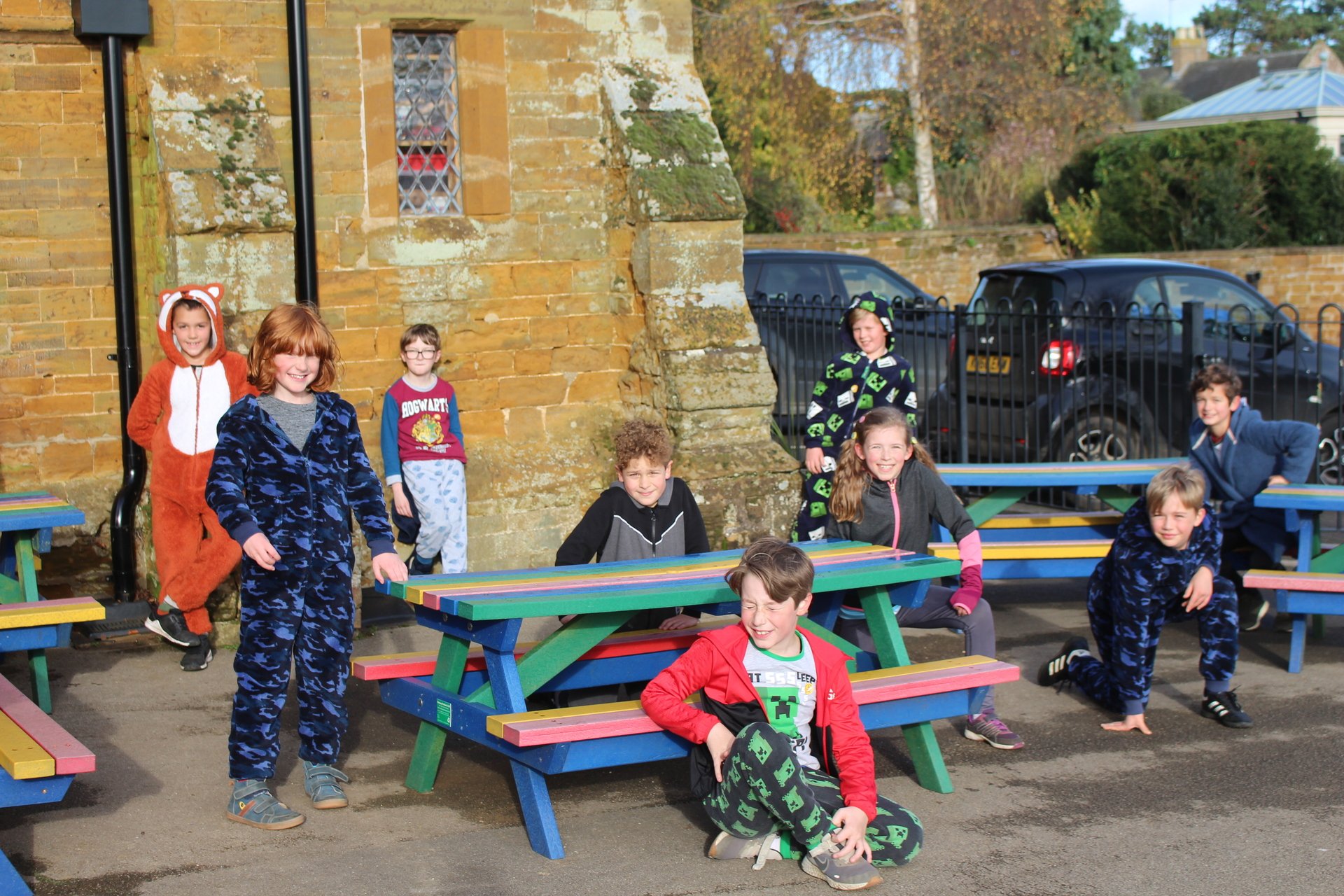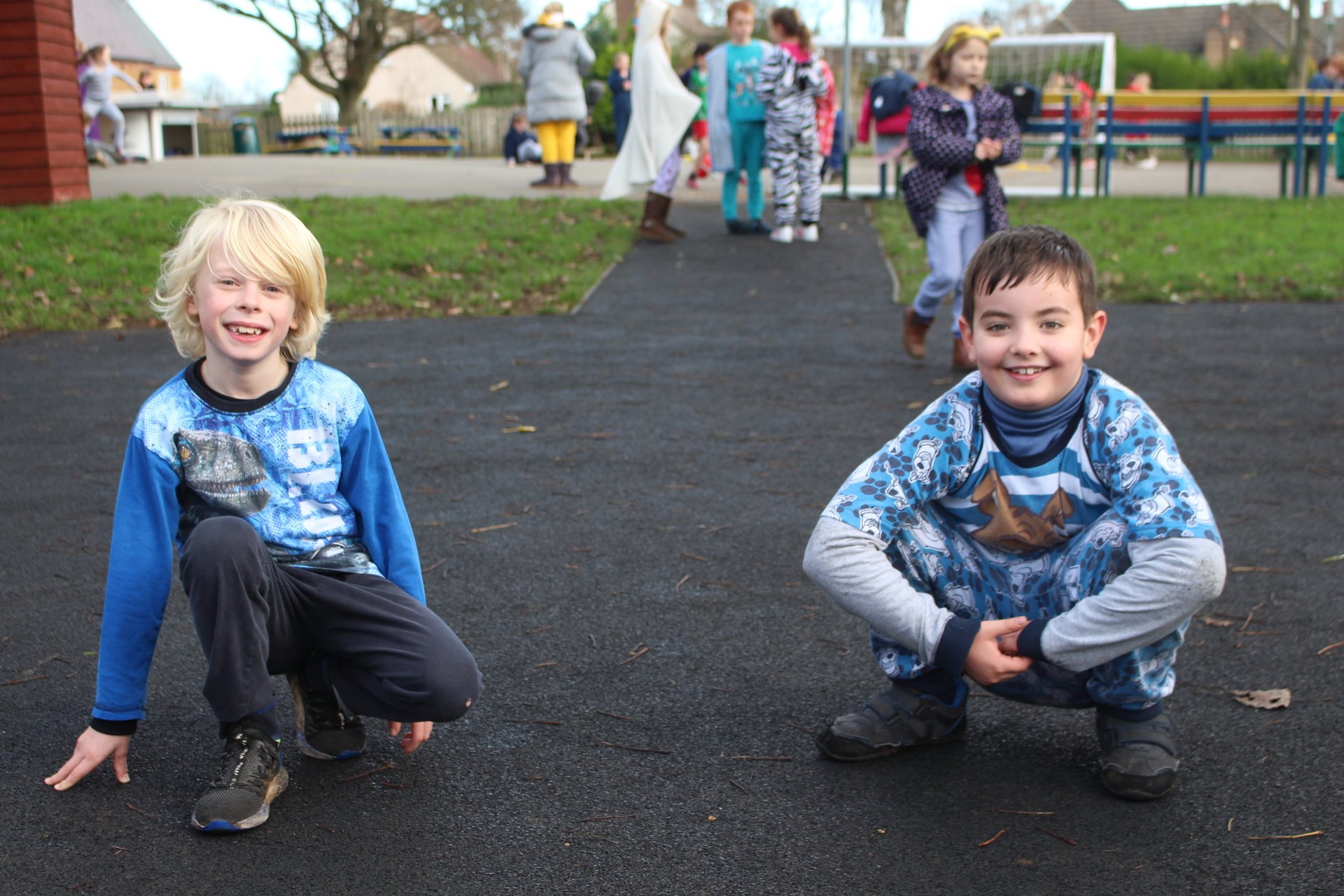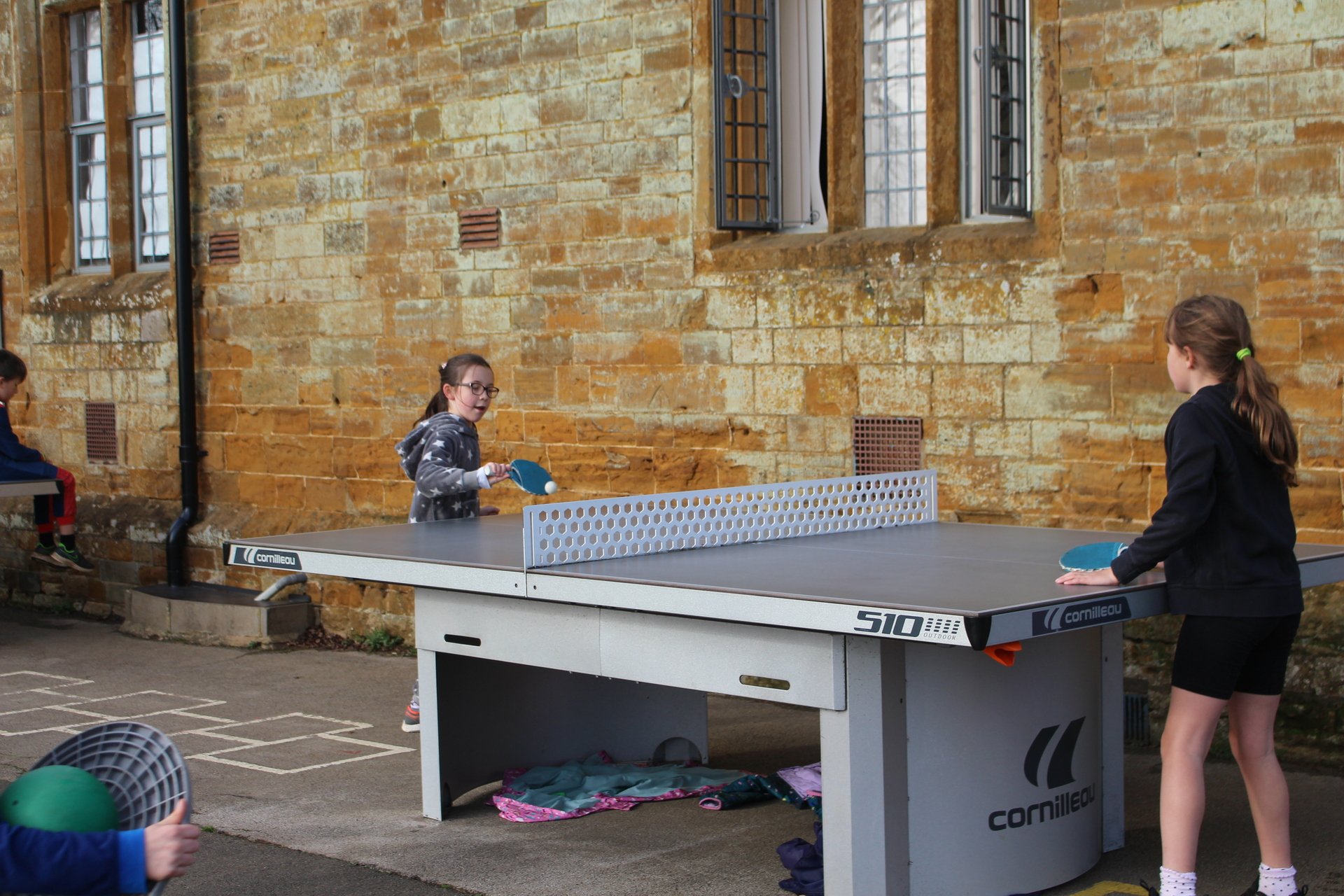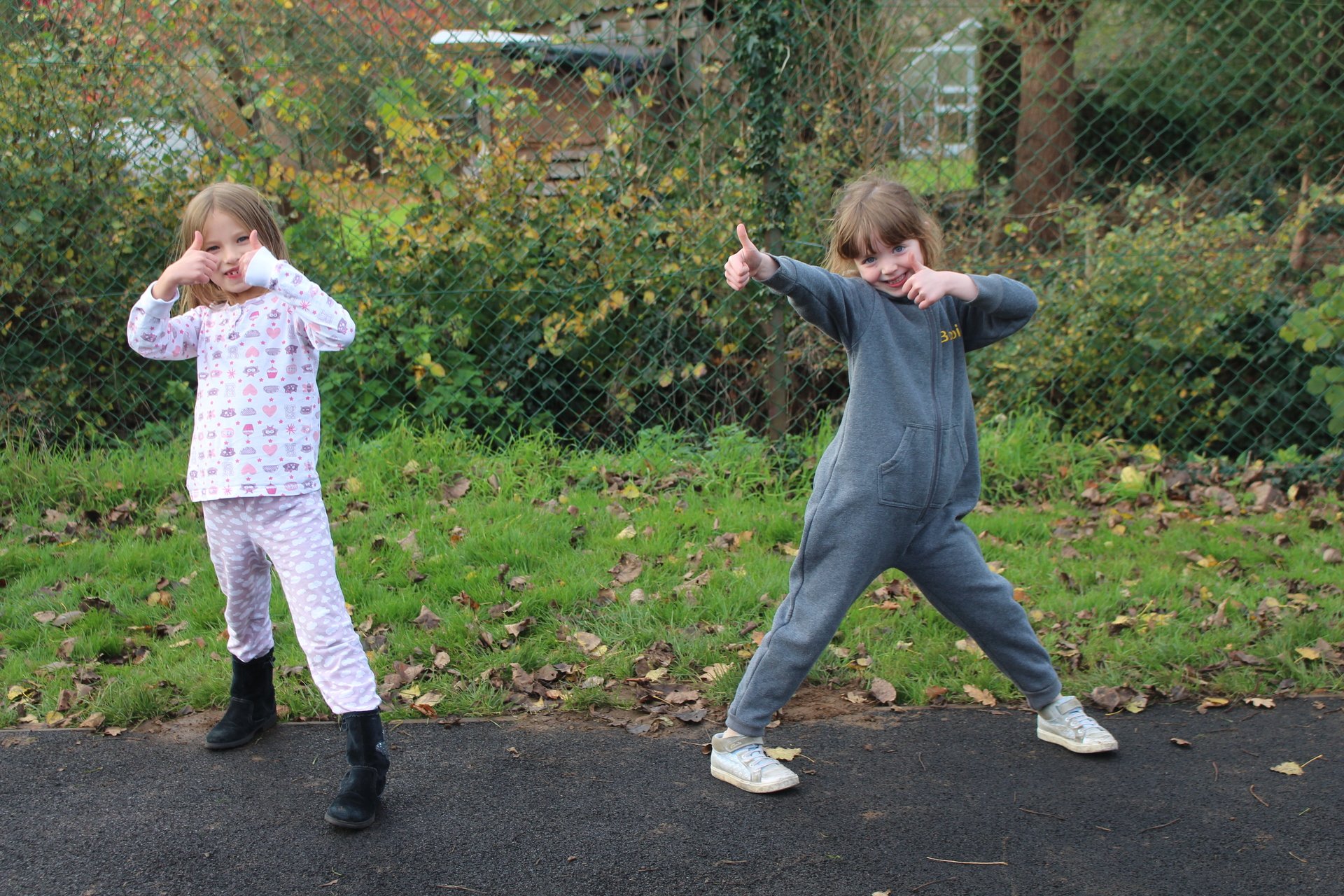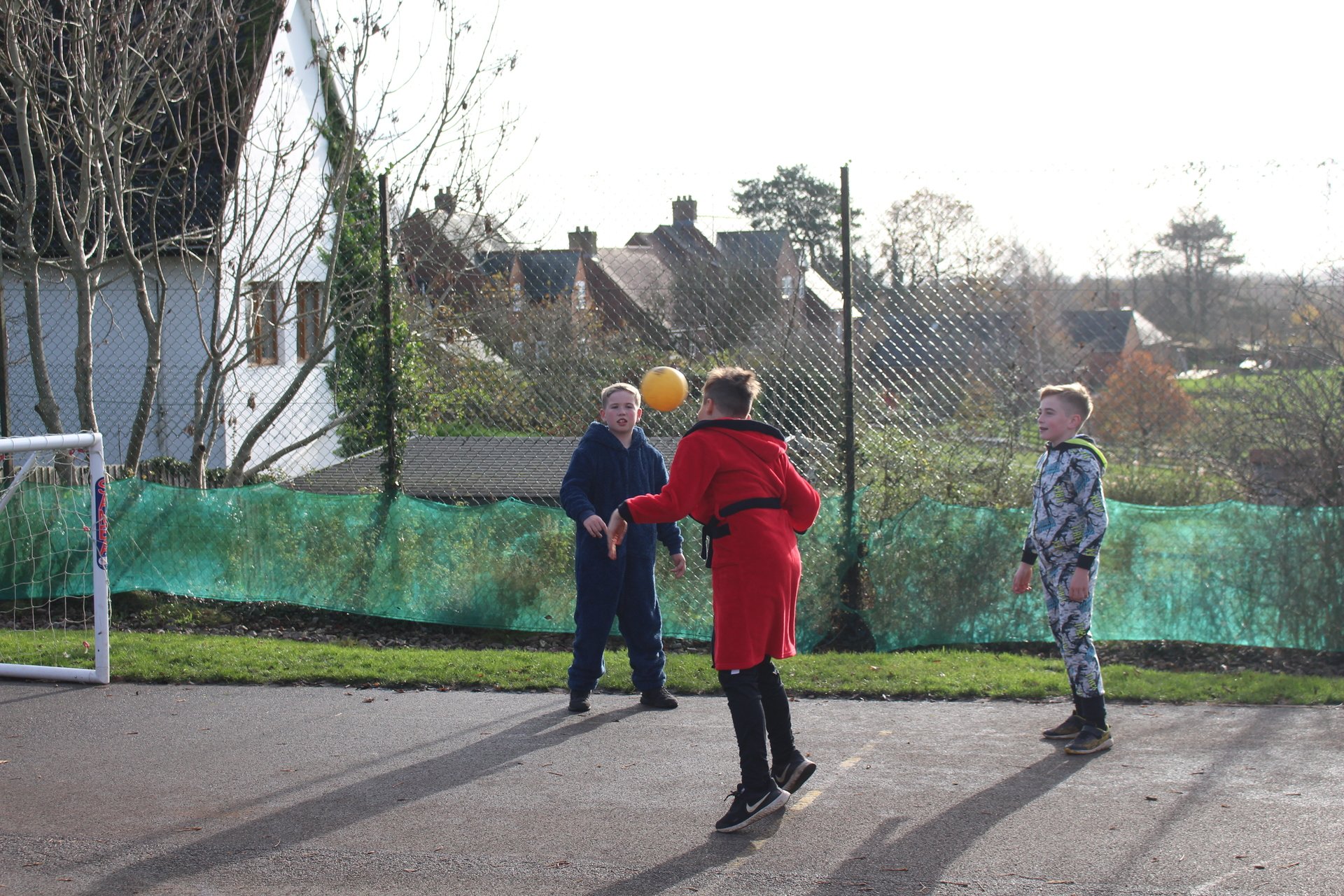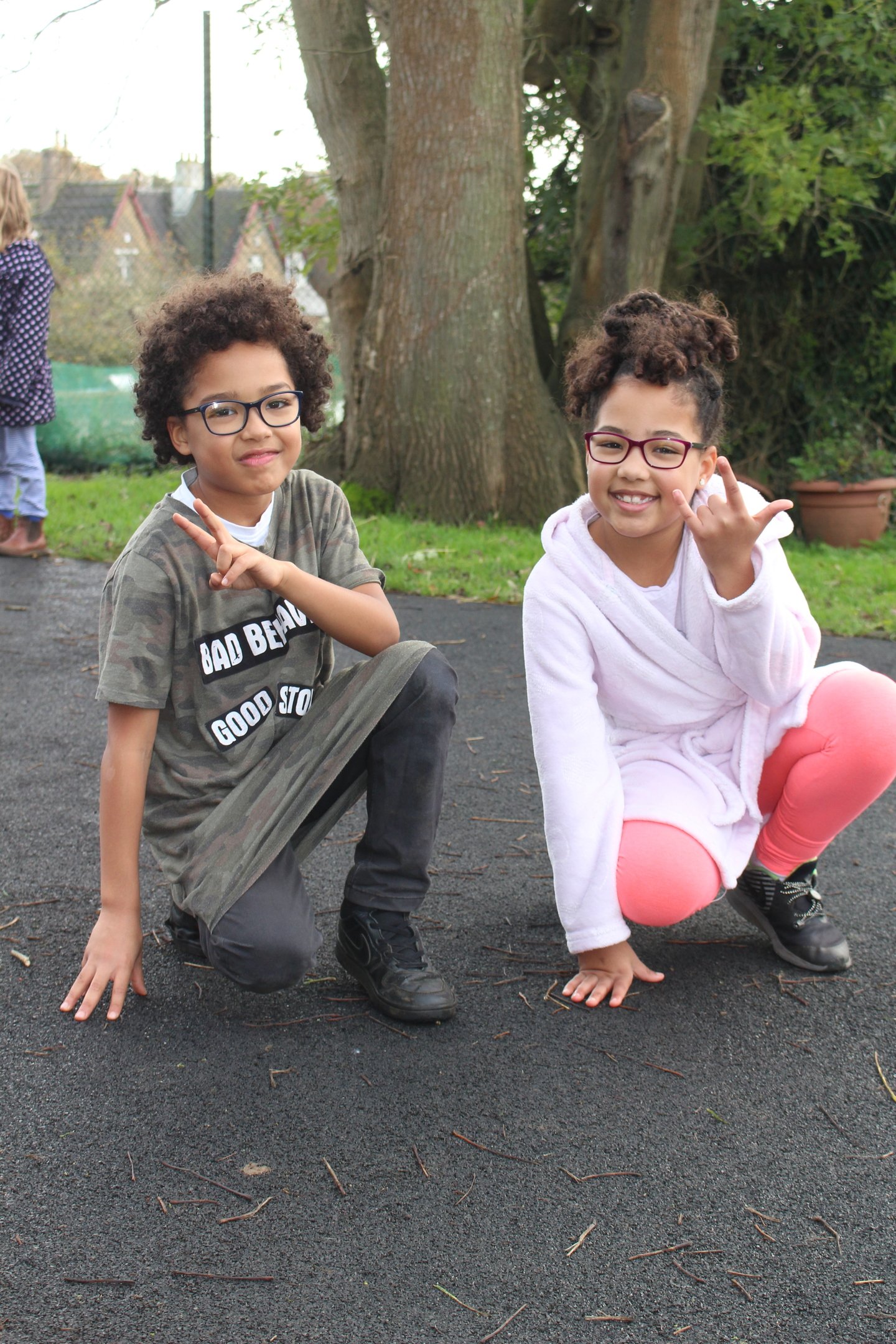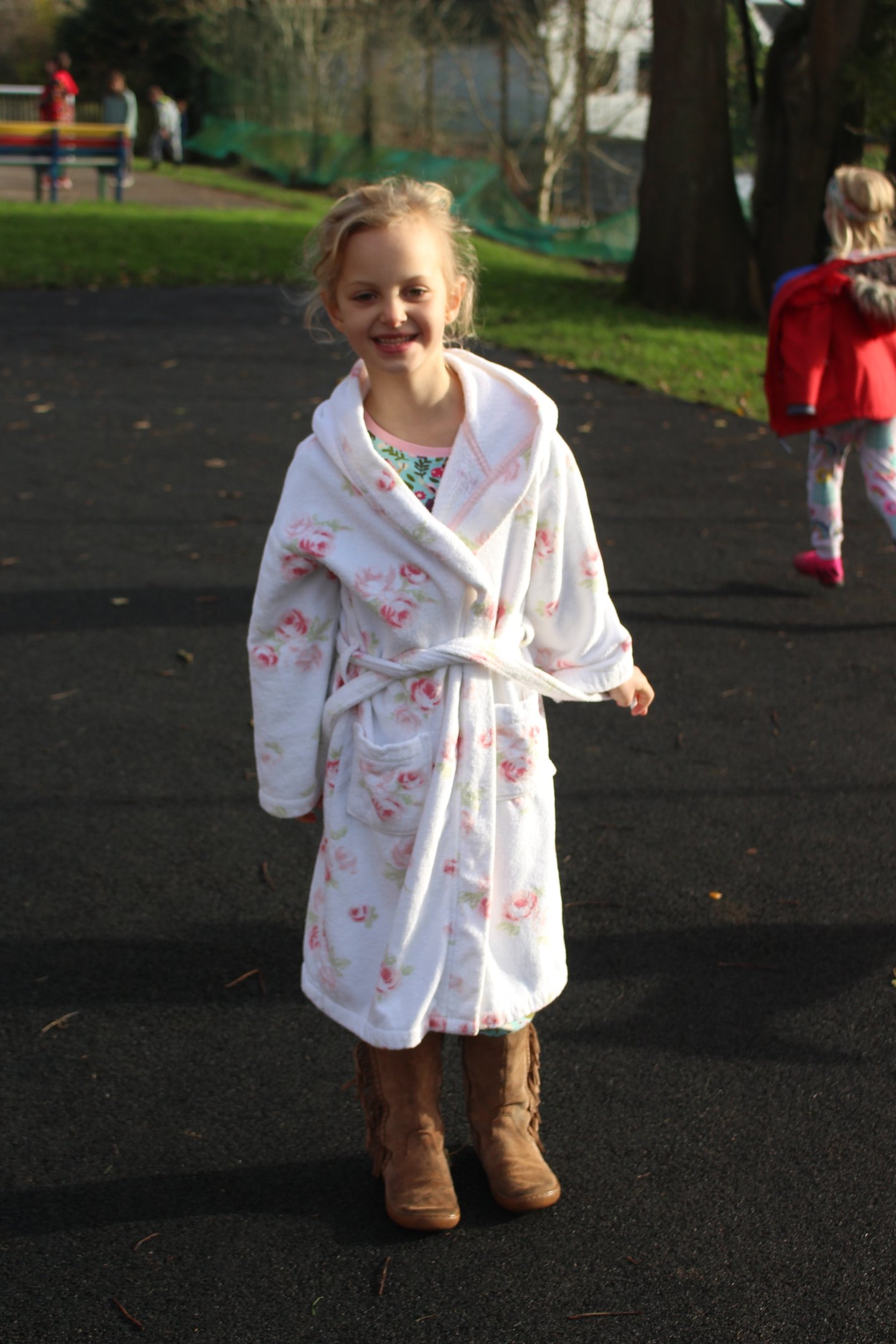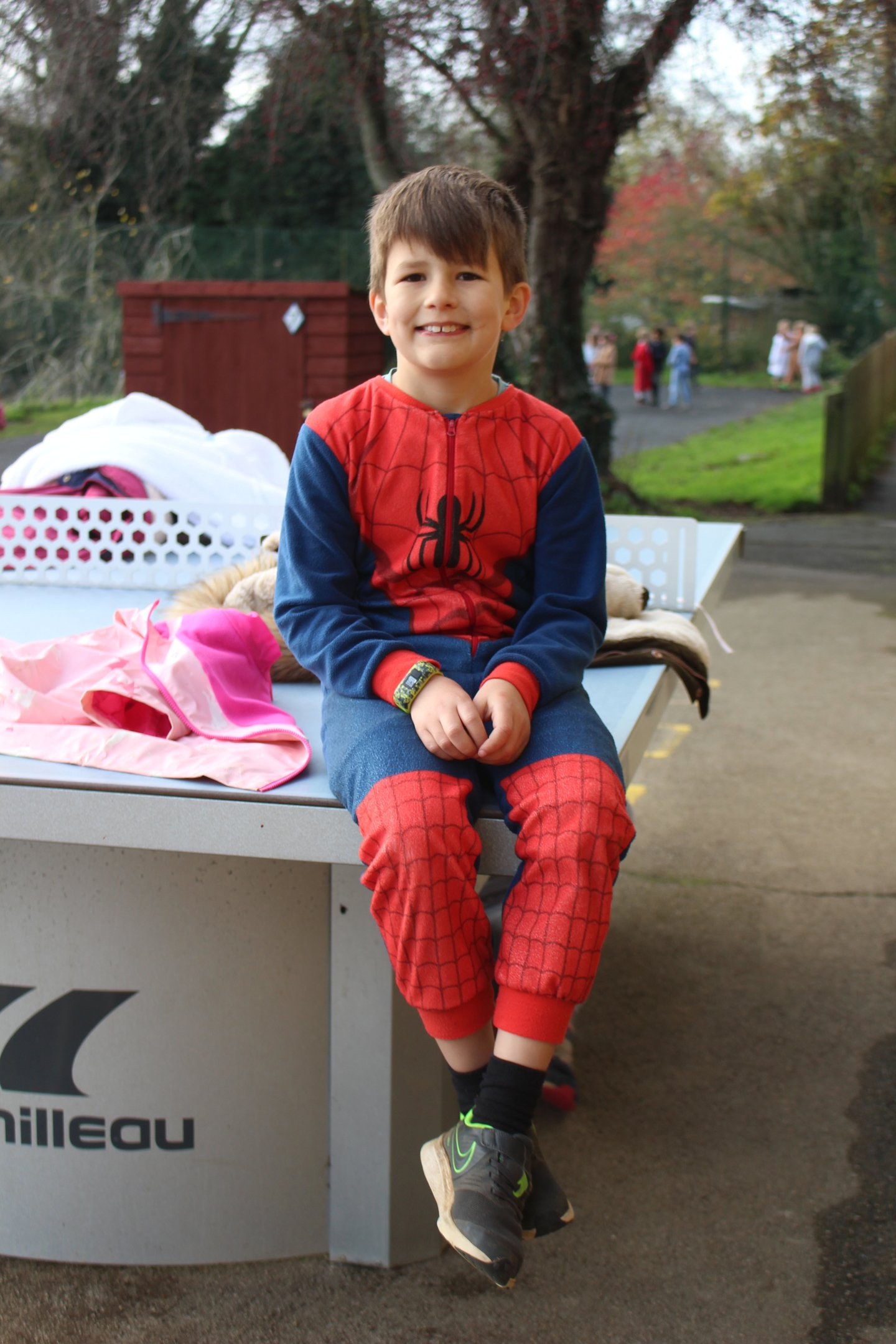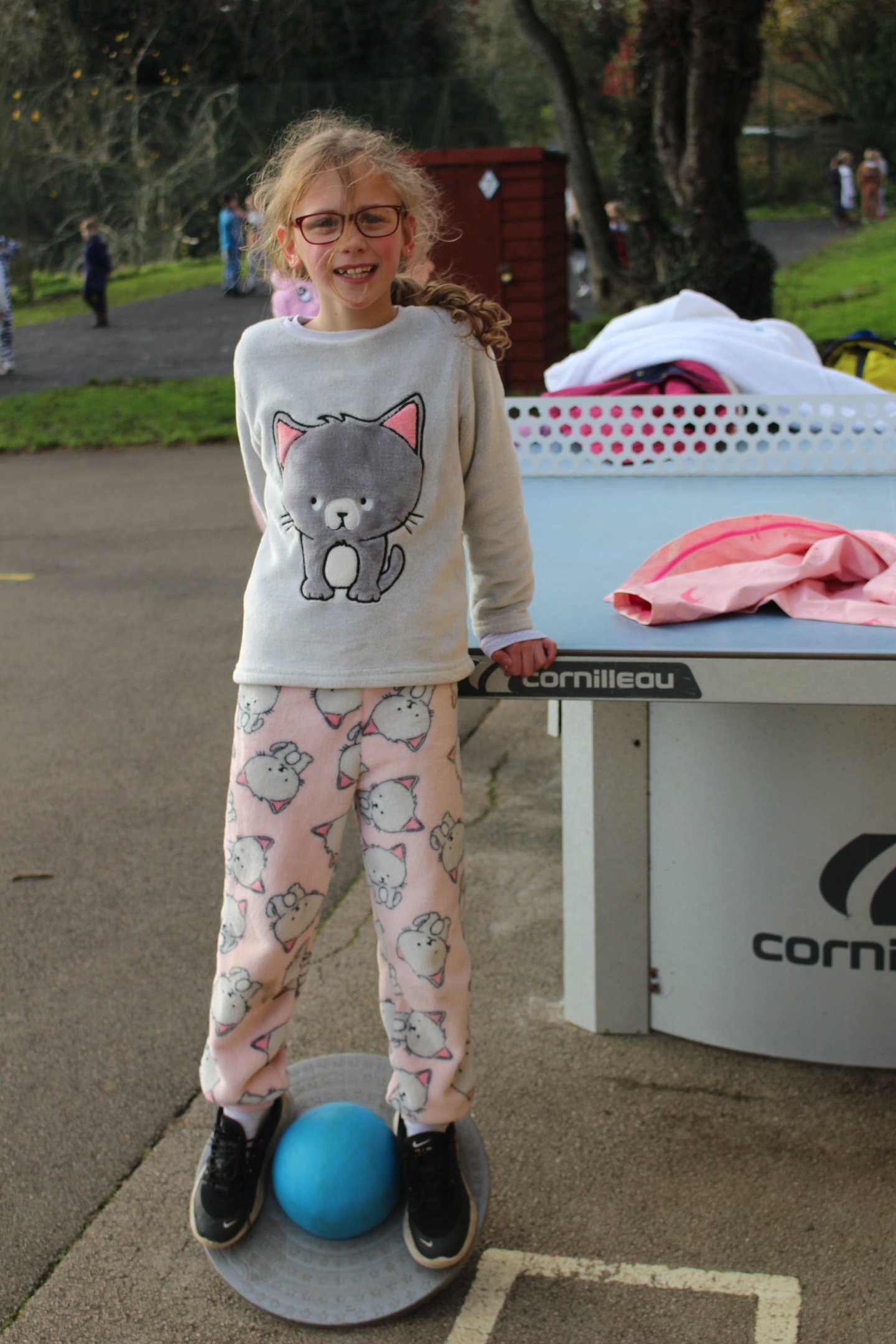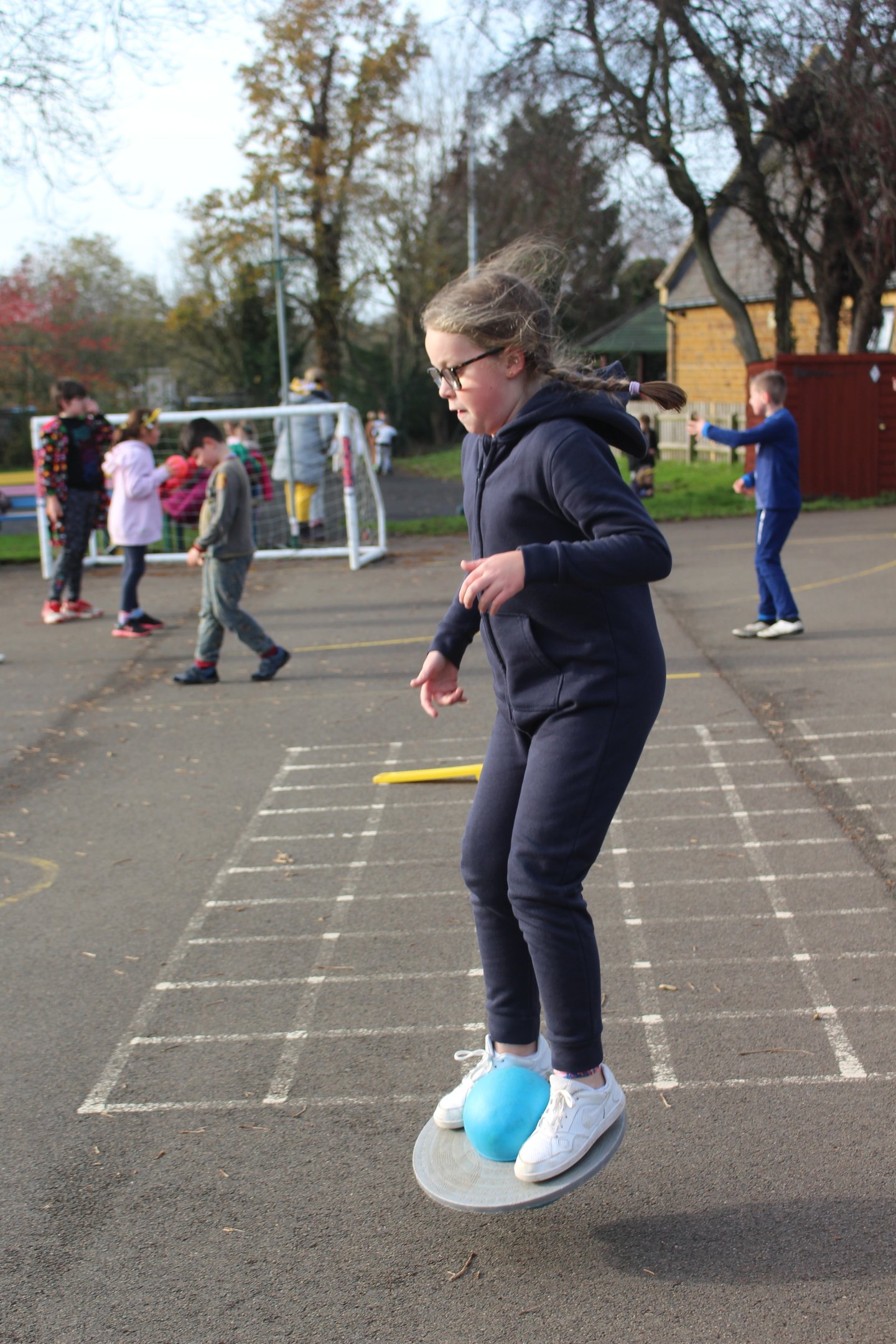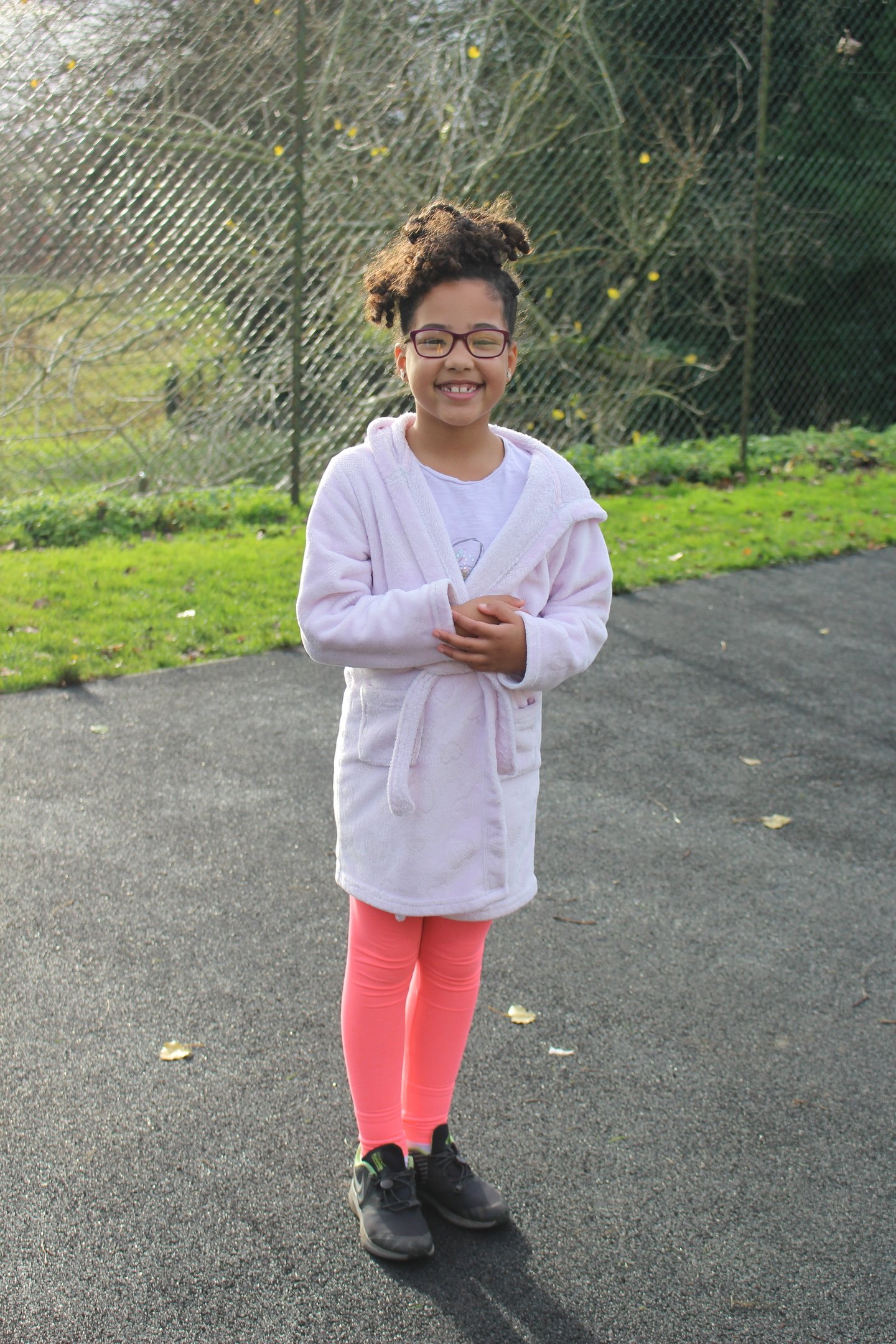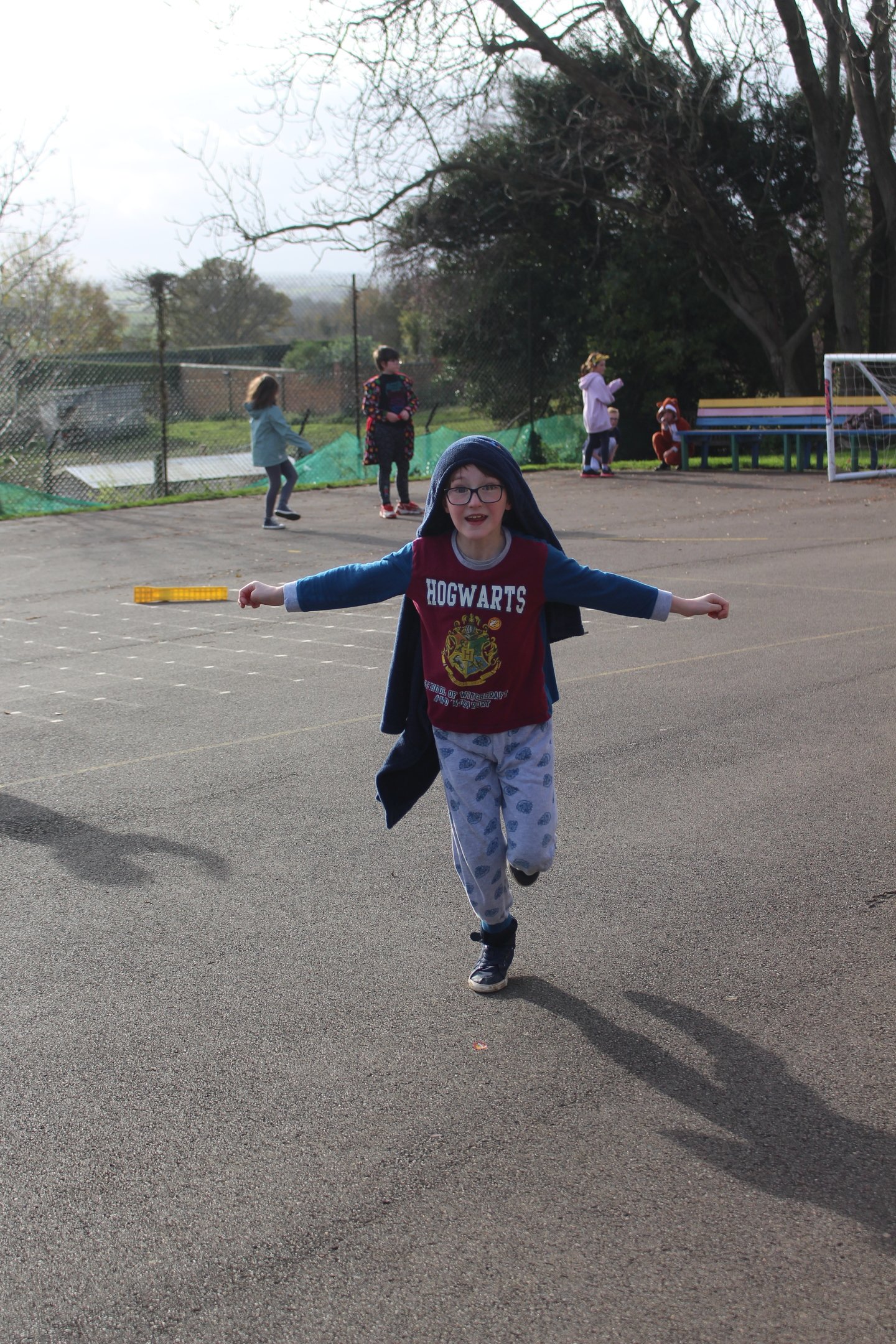 Remembrance Day
At 11am, on Wednesday 11th November, the whole school stood for 2 minutes silence, after which, the names of East Haddon's fallen soldiers were heard. We were glad to still be able to participate in this tradition, with social distancing in place.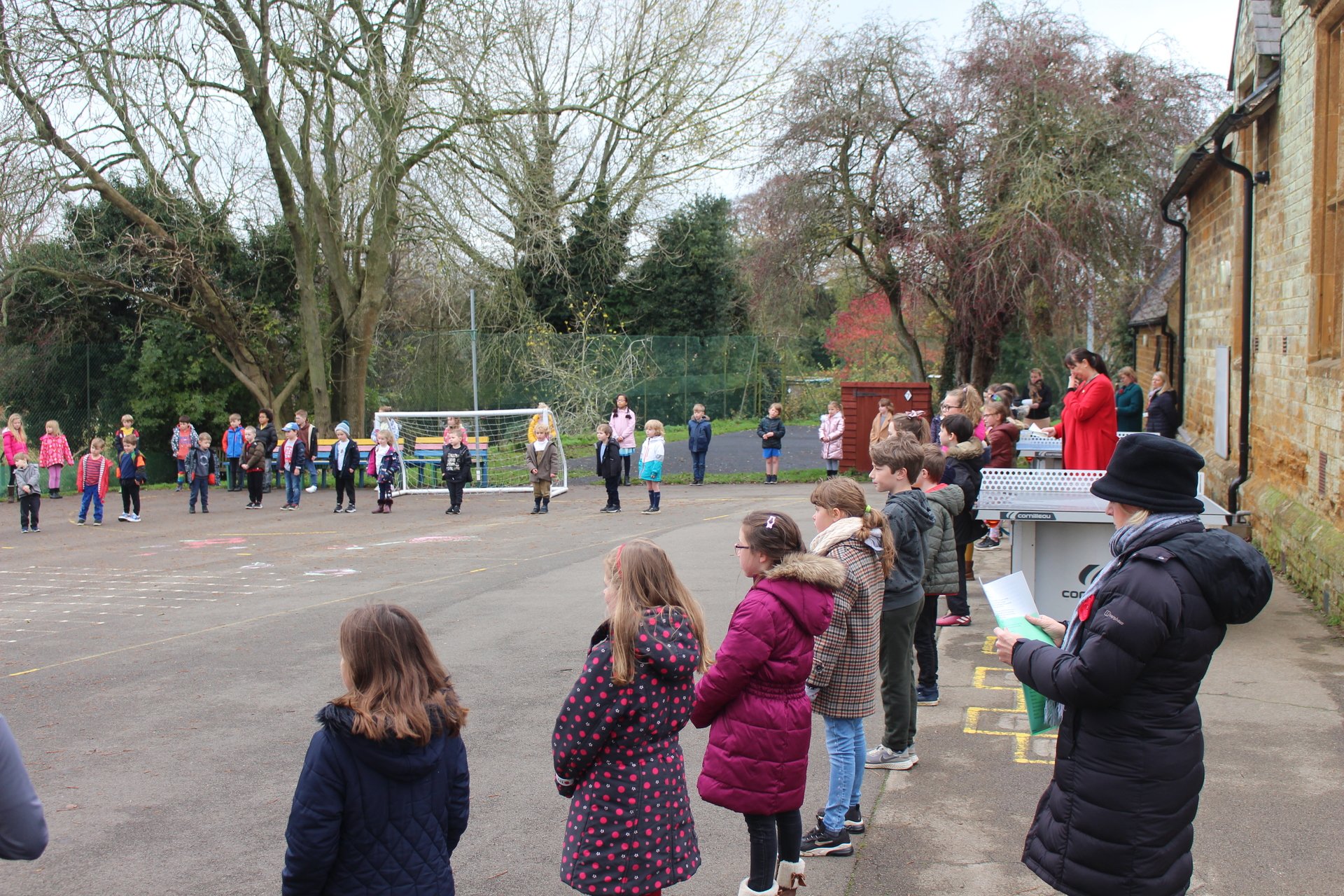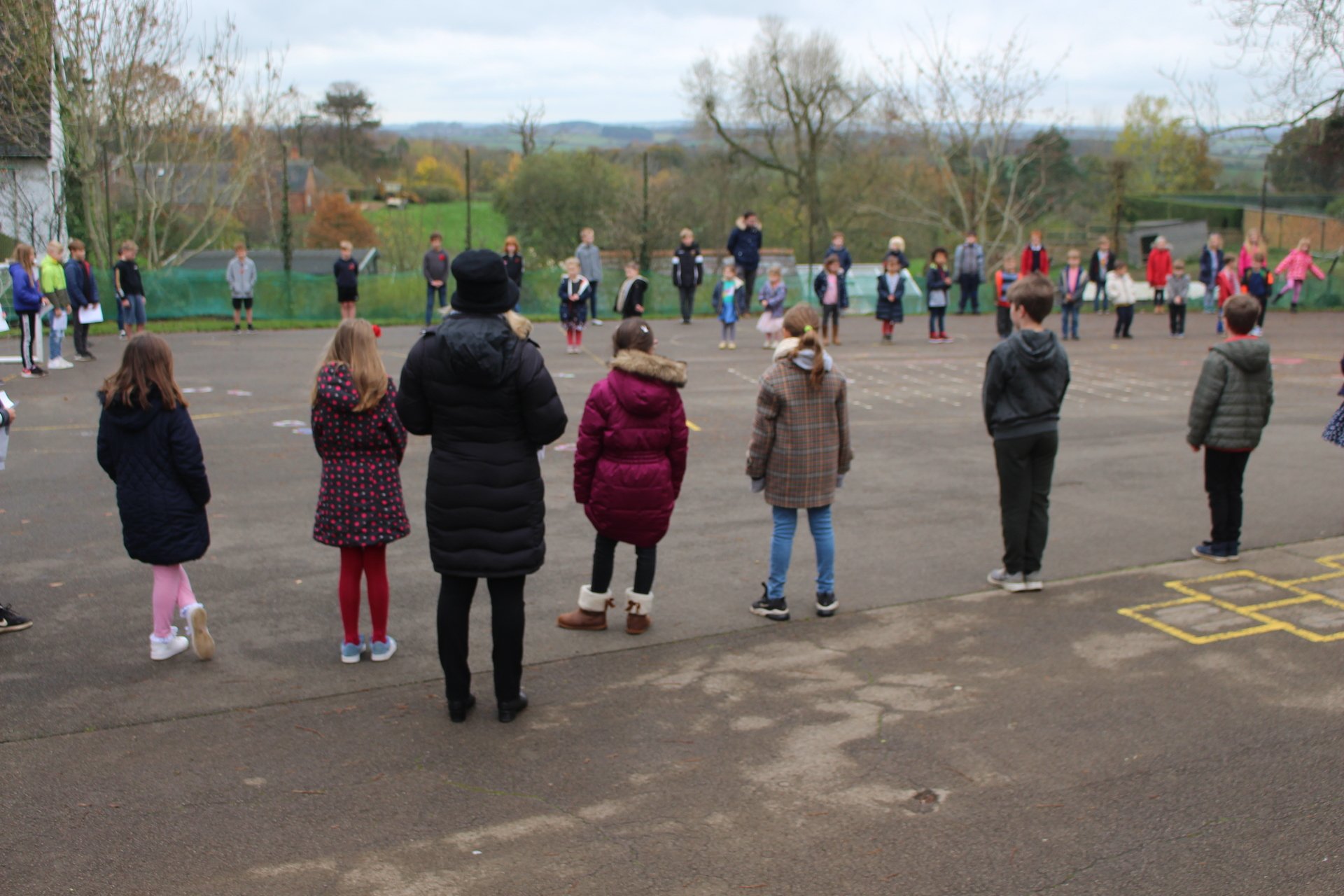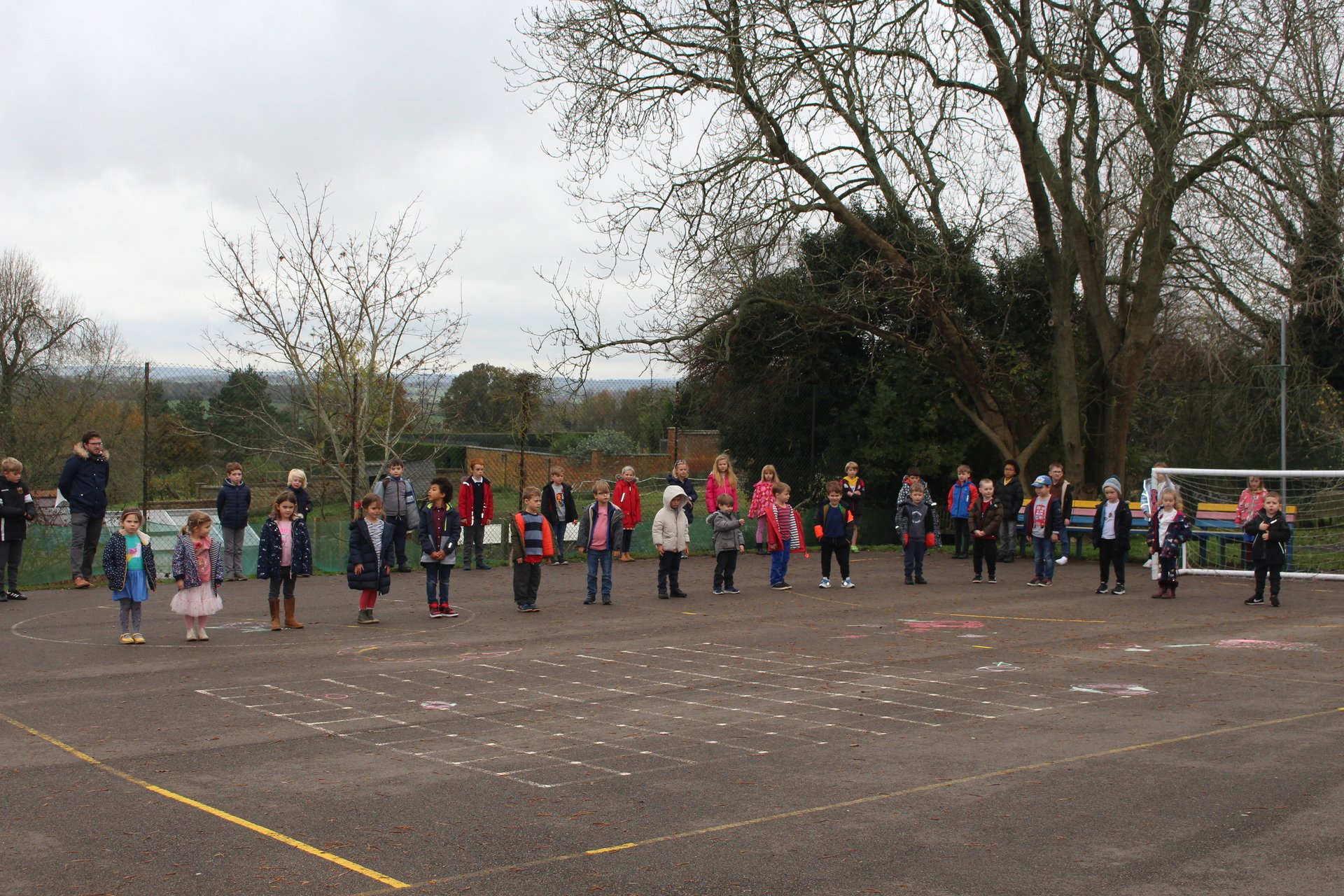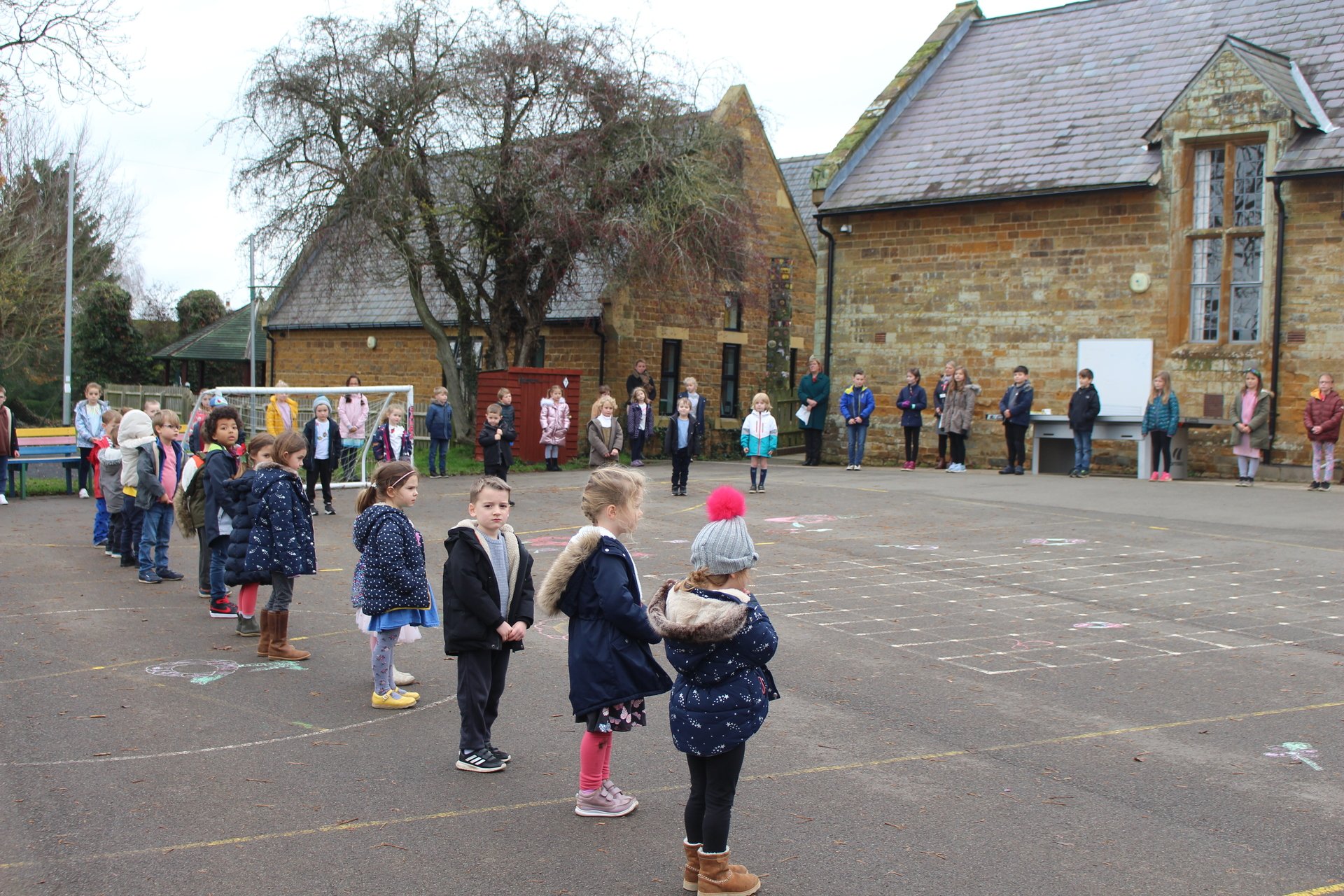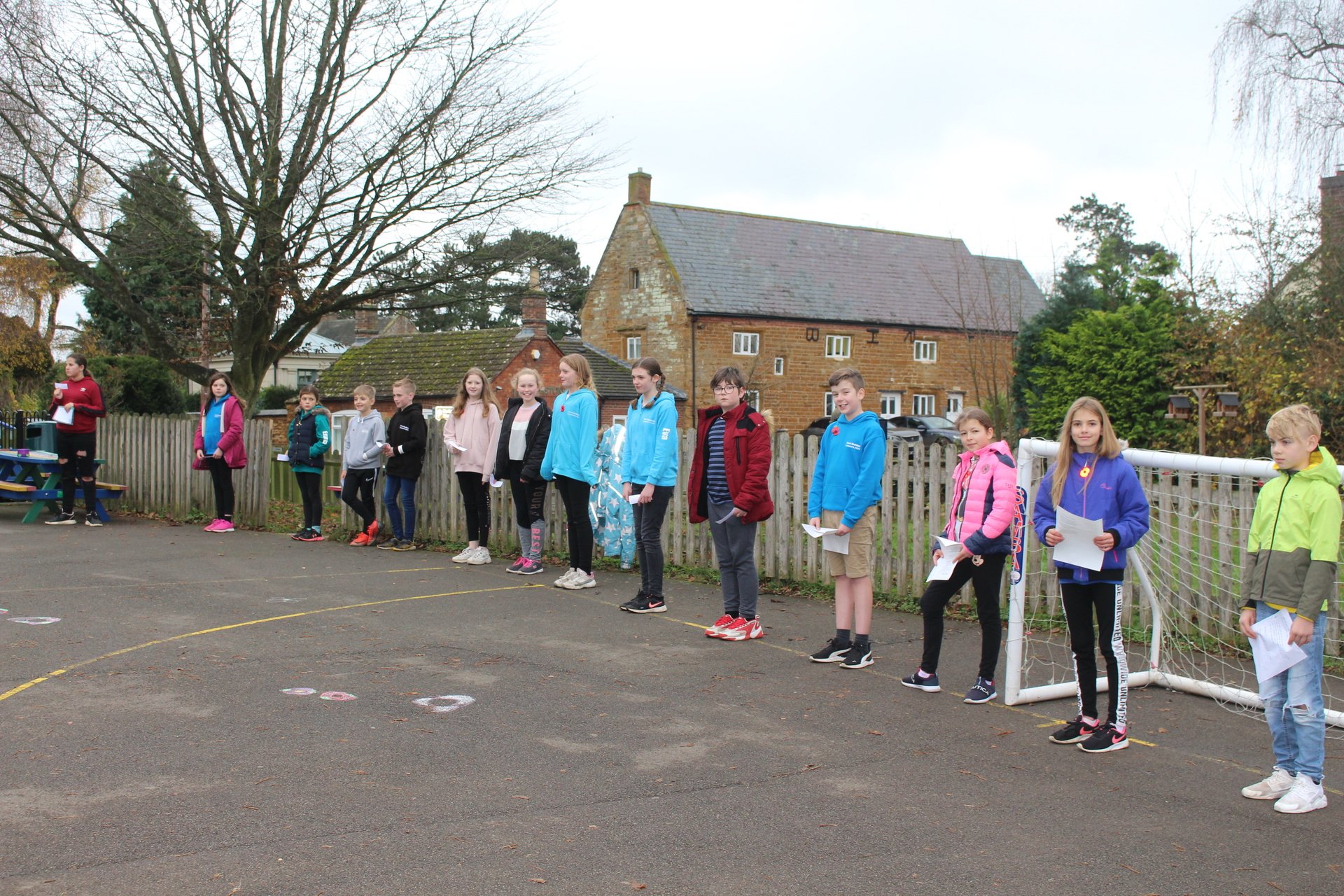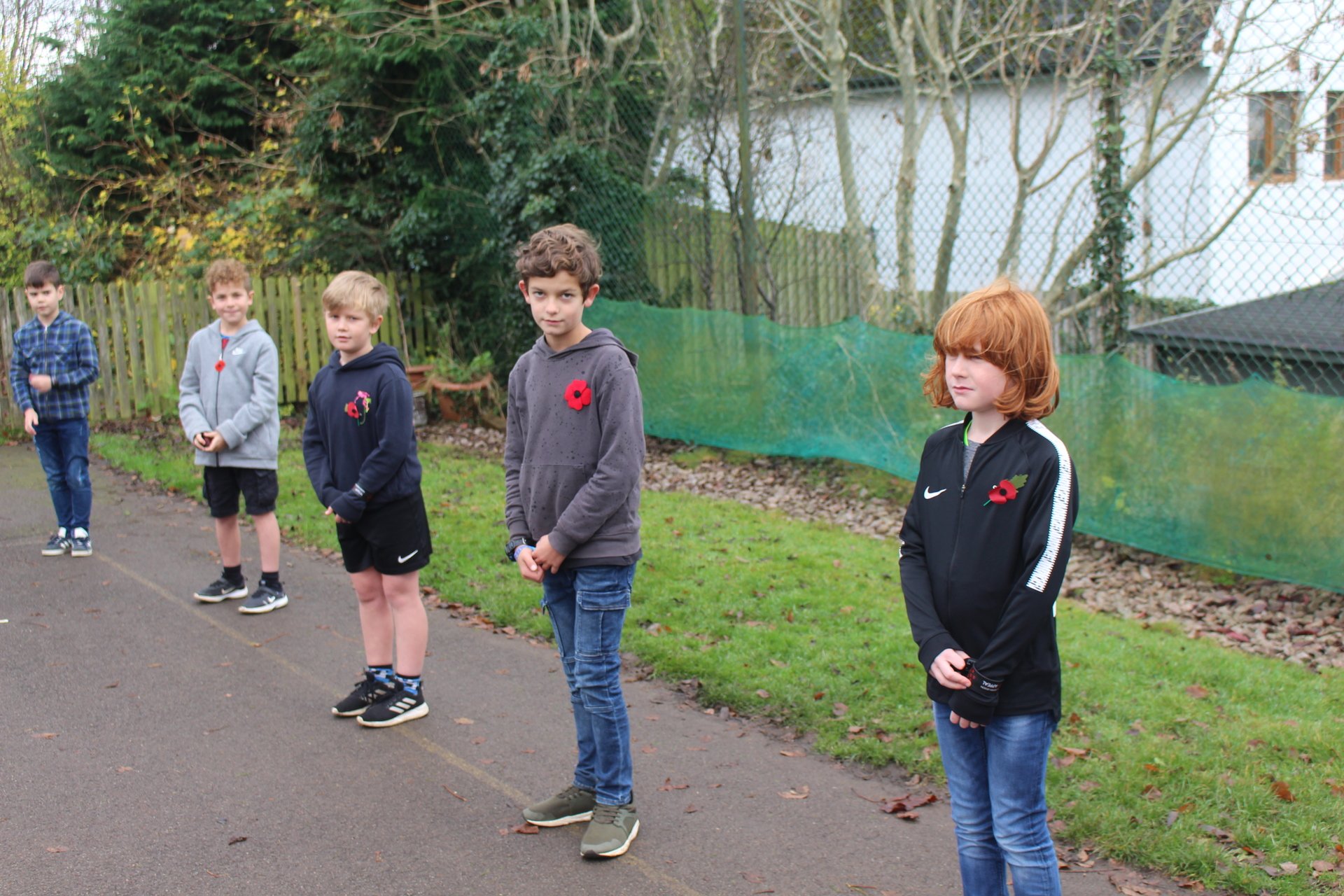 Blue Class DT Project
We have been designing embedded systems to go in houses to make our lives easier or to save energy. Some examples are automatic showers with sensors underneath the shower and automatic light sensors to turn the lights off in an empty room.
Guilsborough Drama Day
On Thursday 12th March, Years 5 and 6 took part in a drama workshop based around Shakespeare's 'A Midsummer Night's Dream'. The children began by looking at the different sections of the Globe Theatre, then learnt a typical Elizabethan dance. They then did a workshop on the 'seven states of tension' and freeze-framed scenes from 'A Midsummer Night's Dream'. It was a brilliant day and we all really enjoyed it. Many thanks to Mr Jackson and Sixth Formers at Guilsborough School.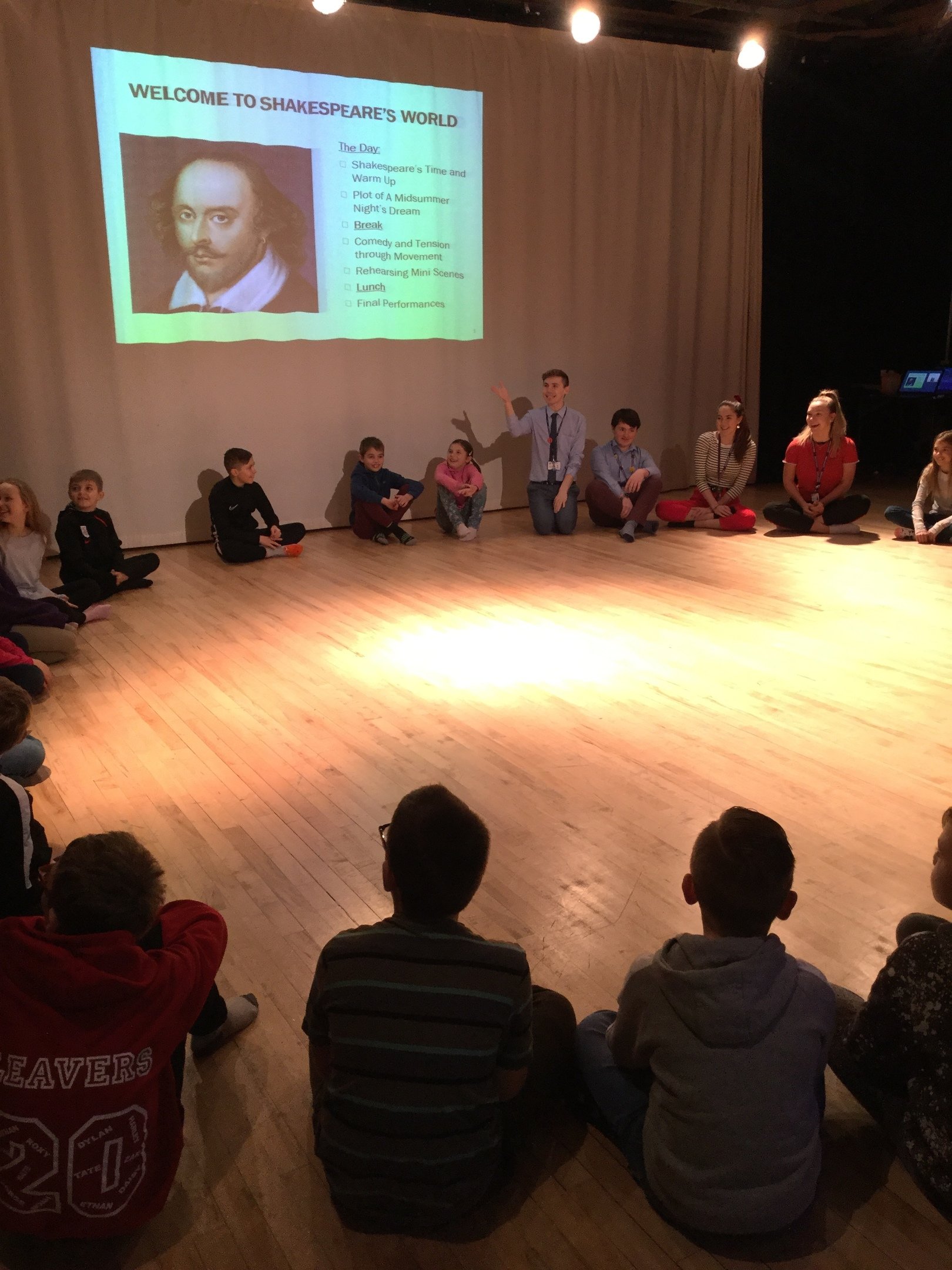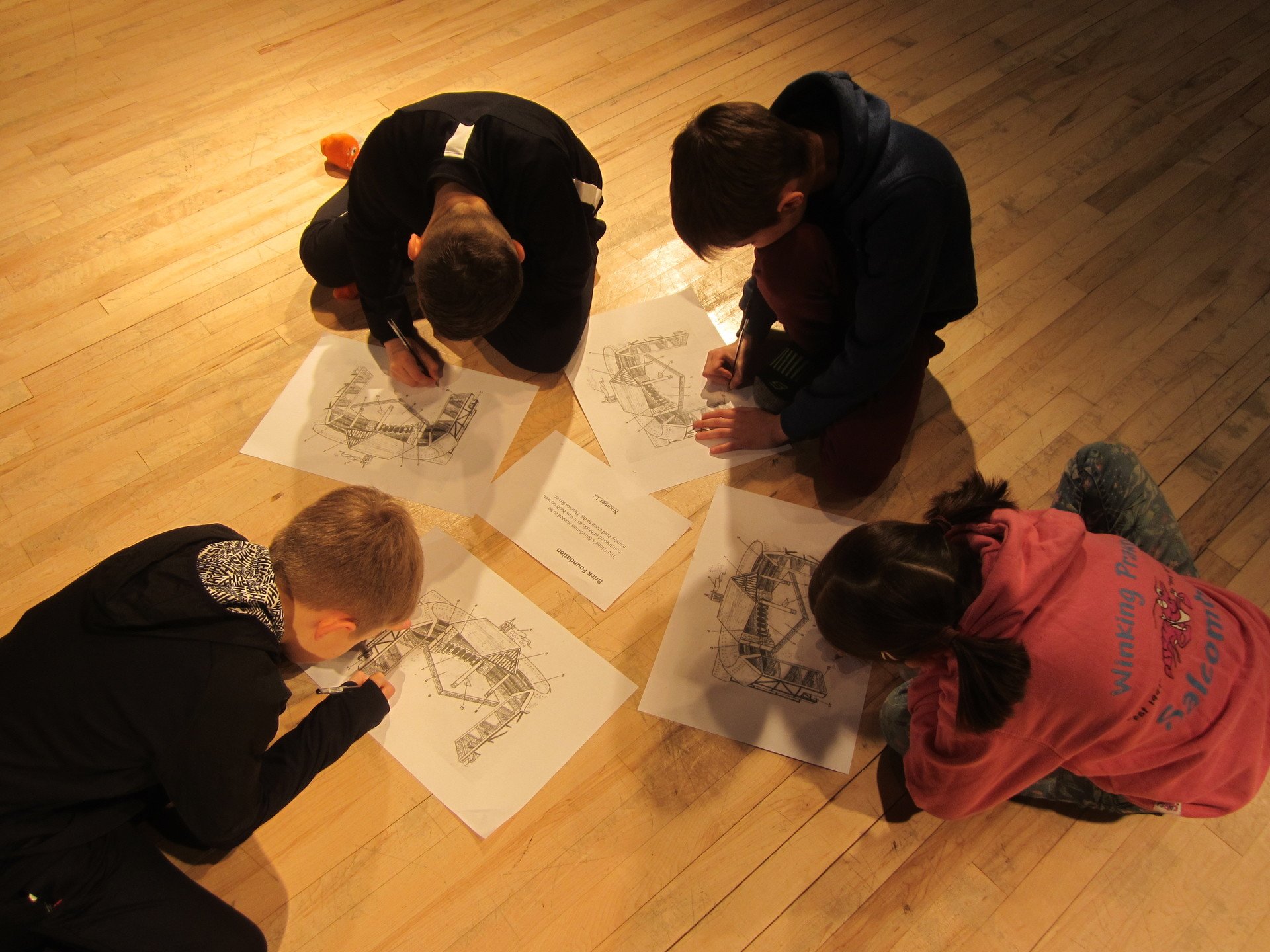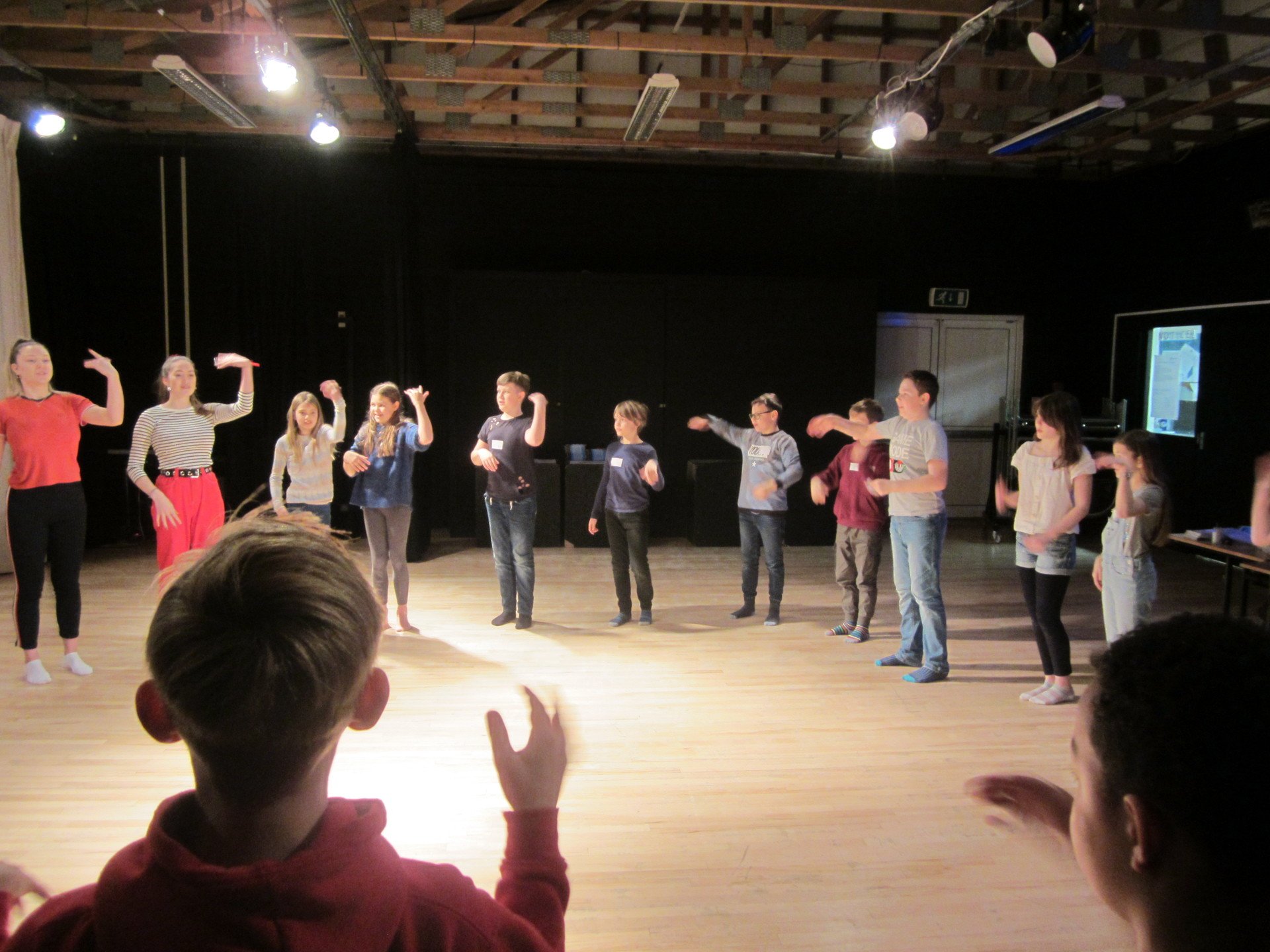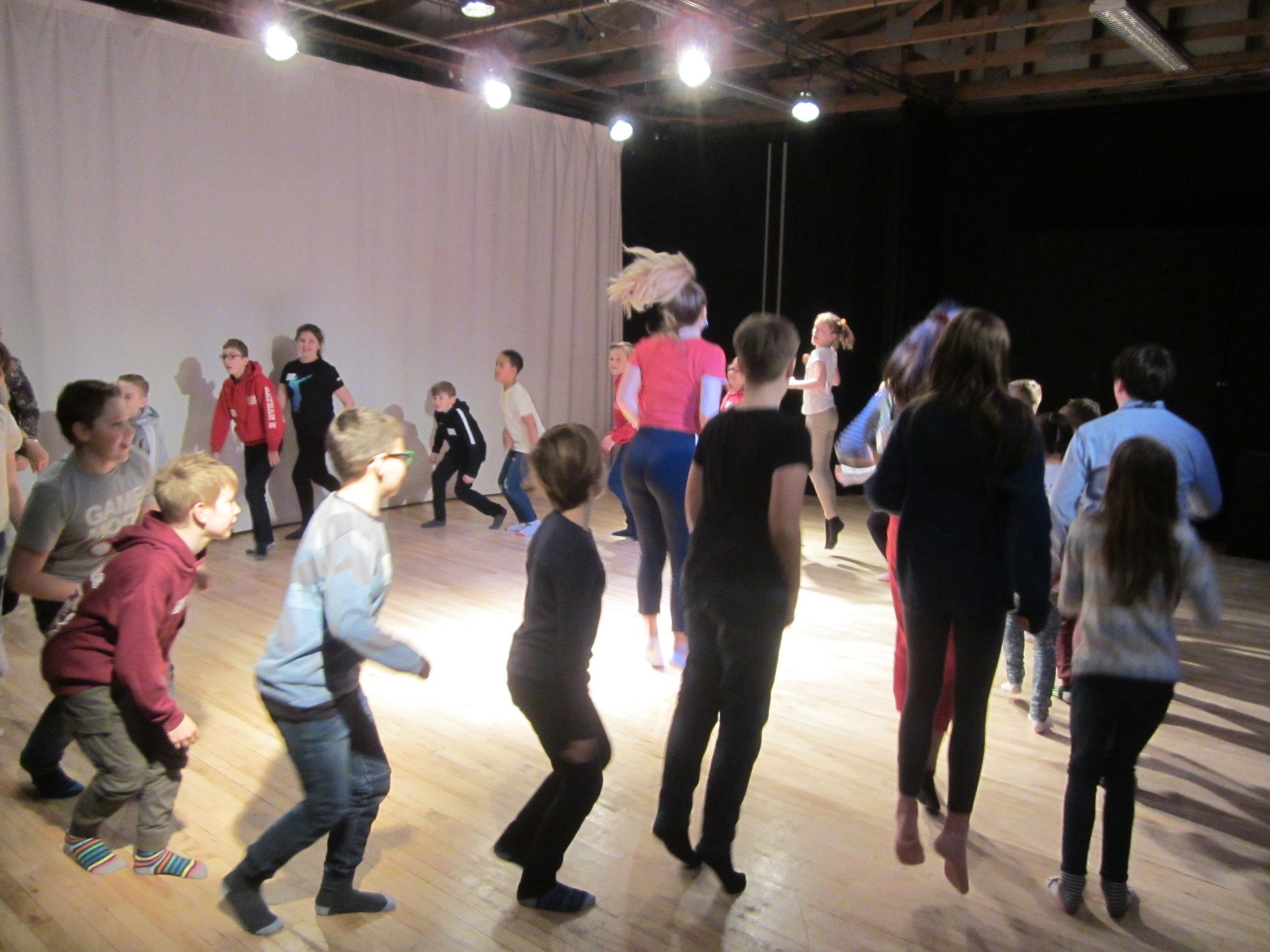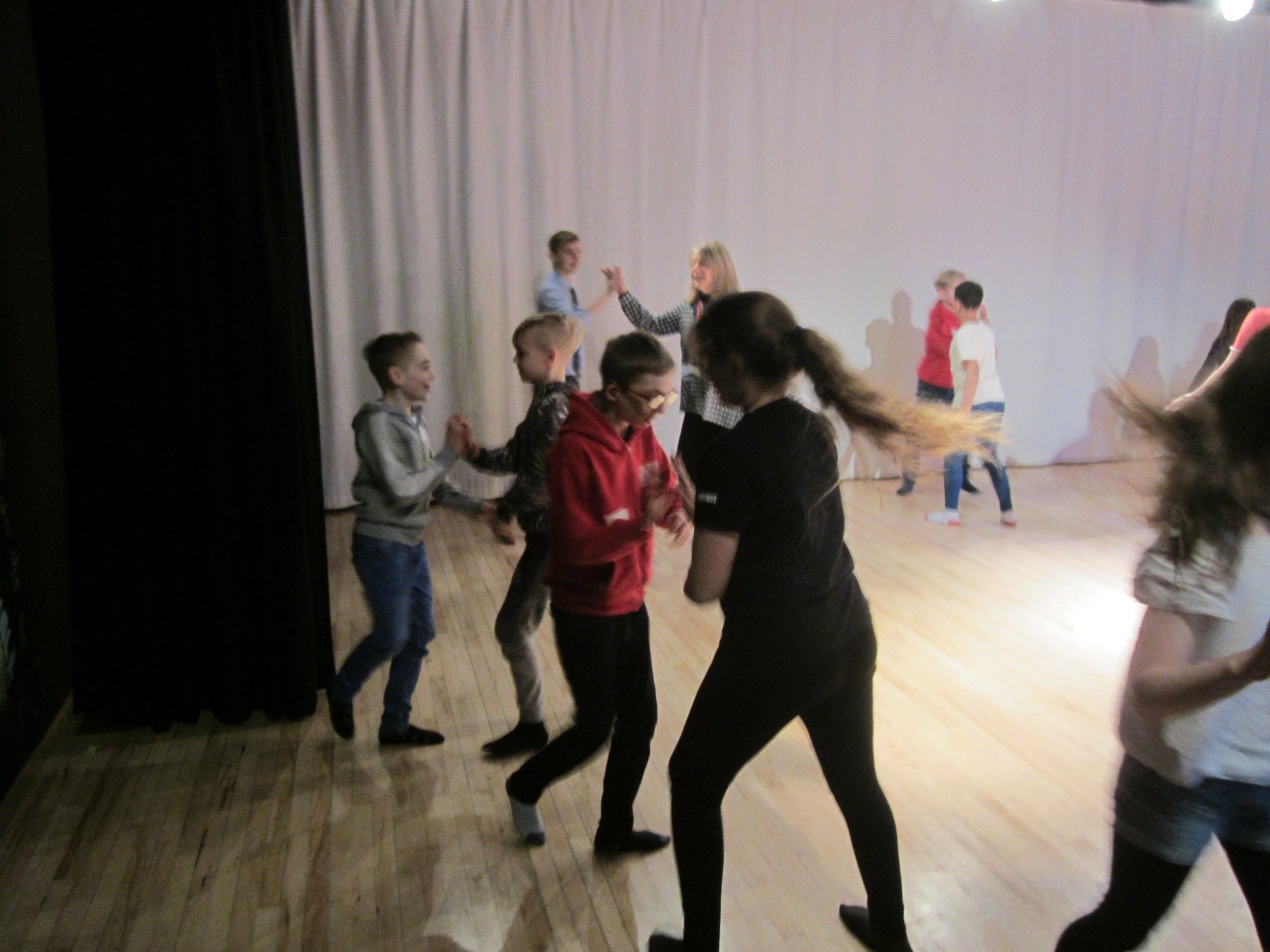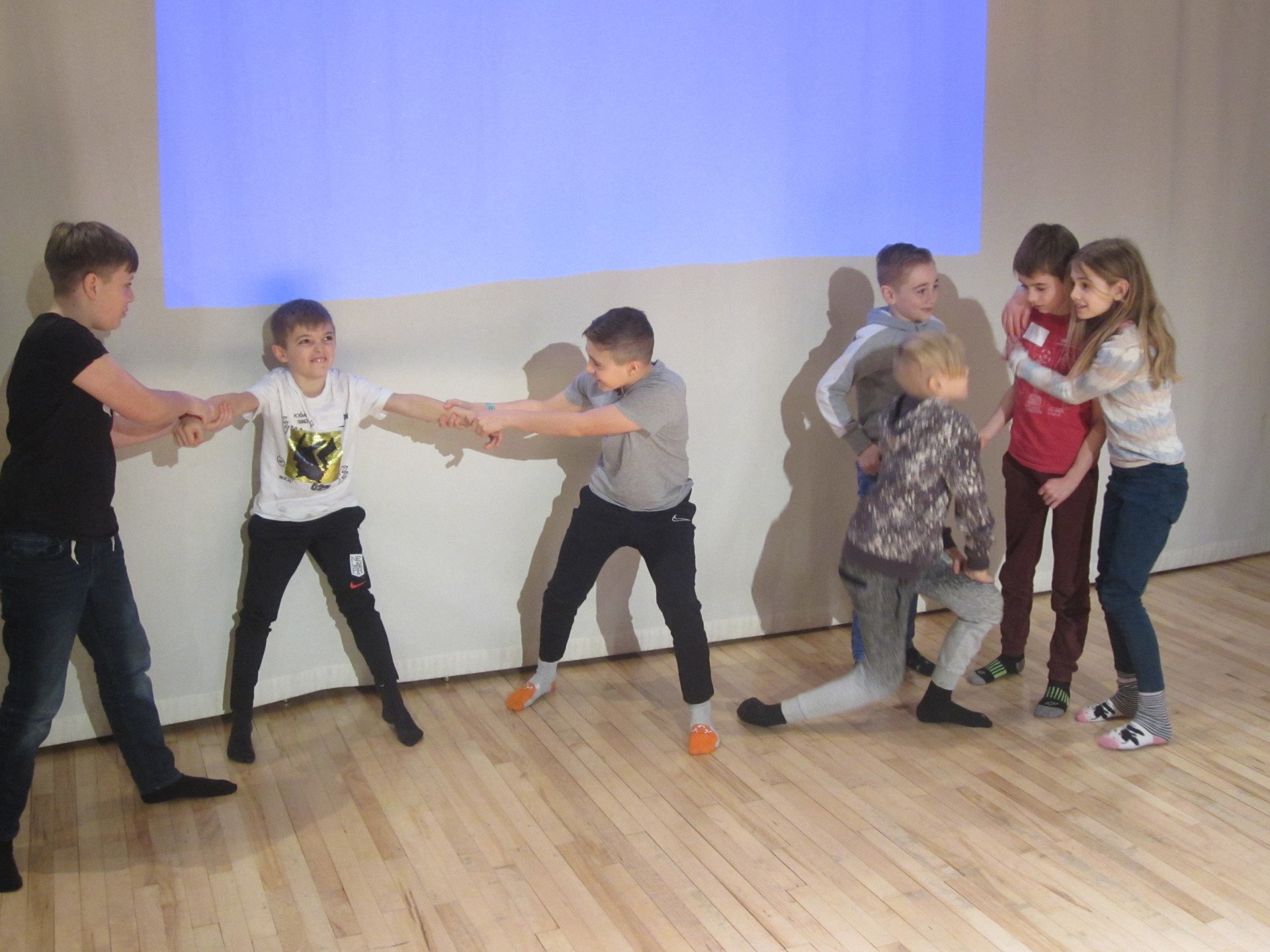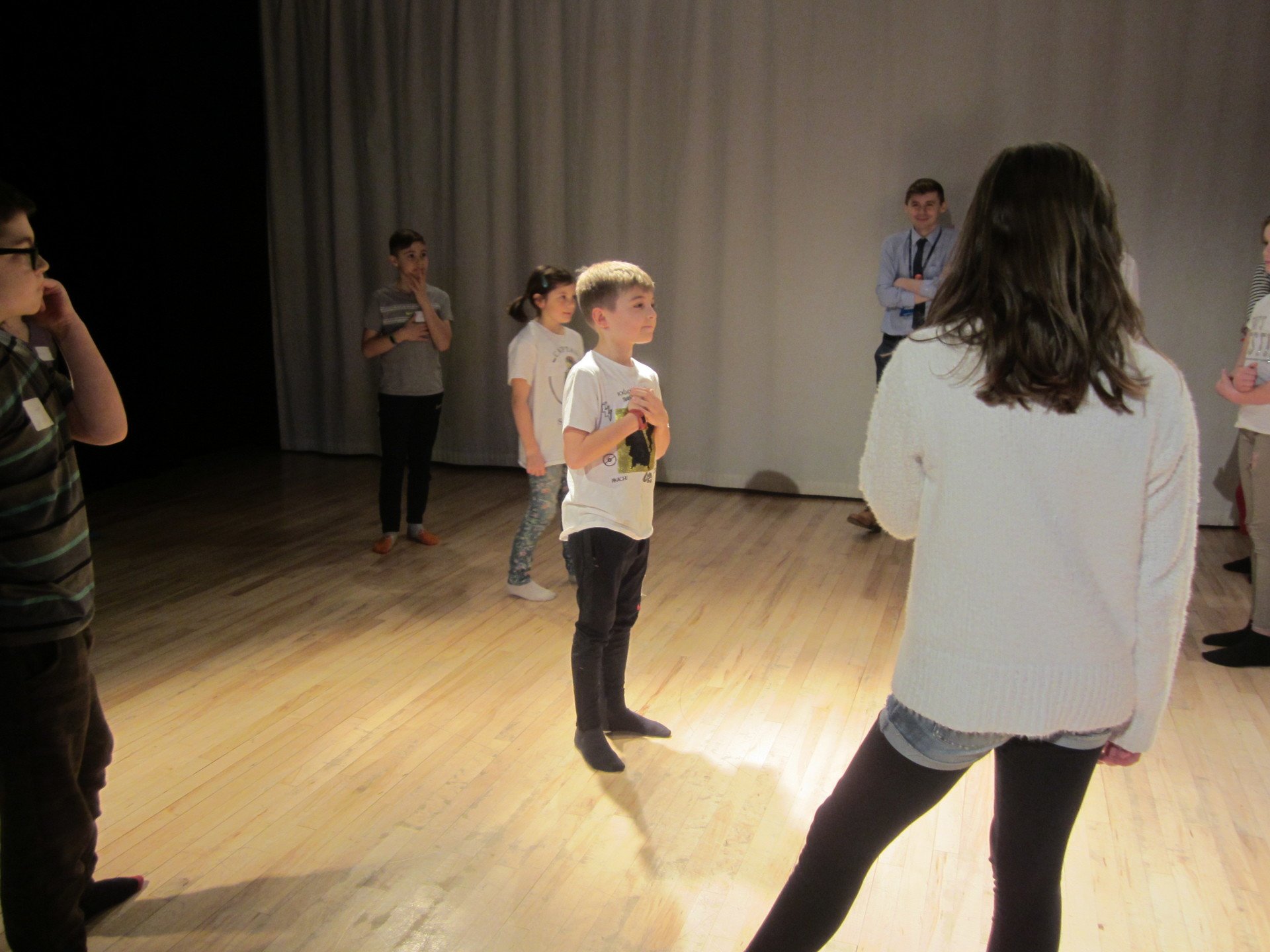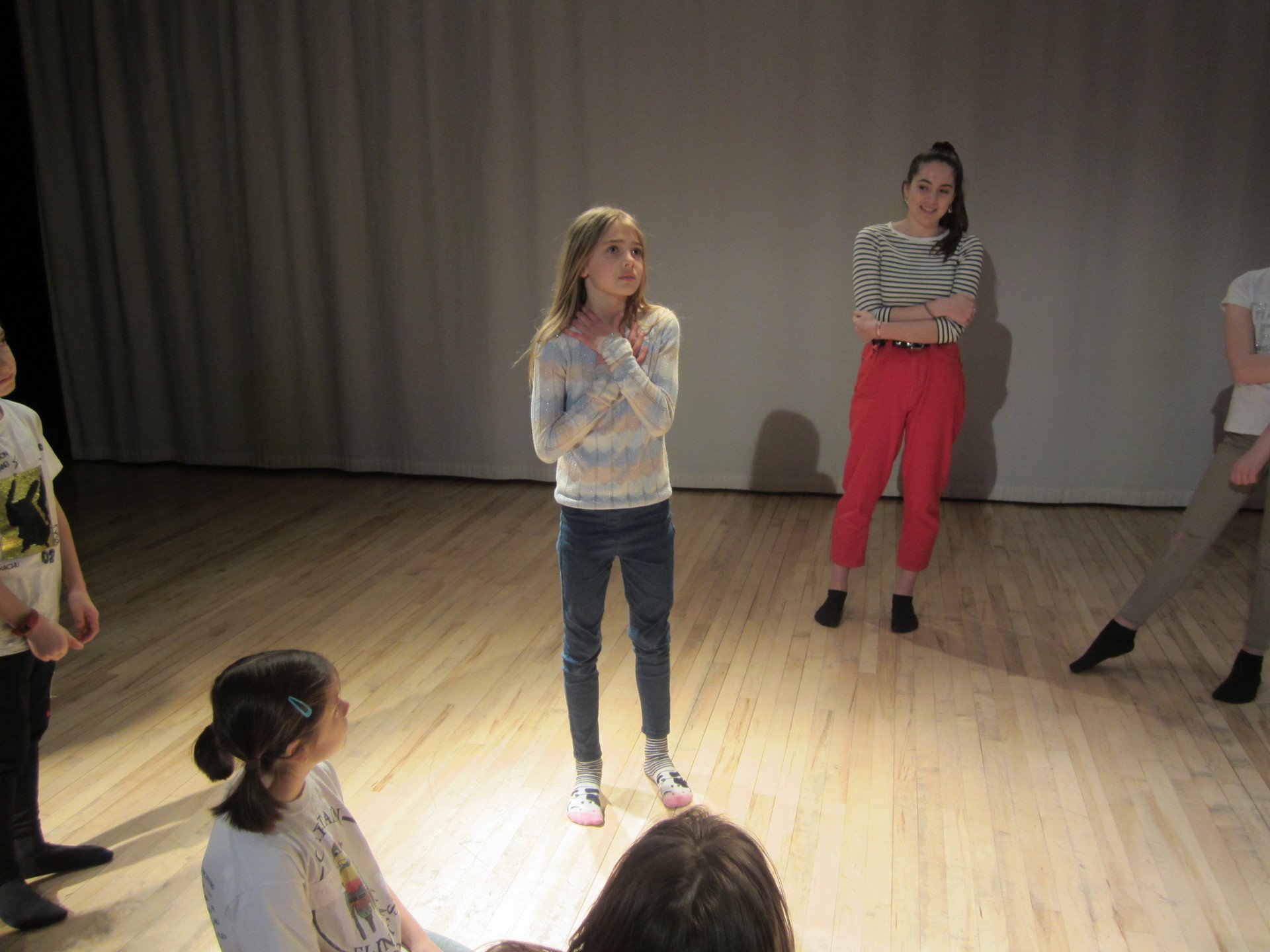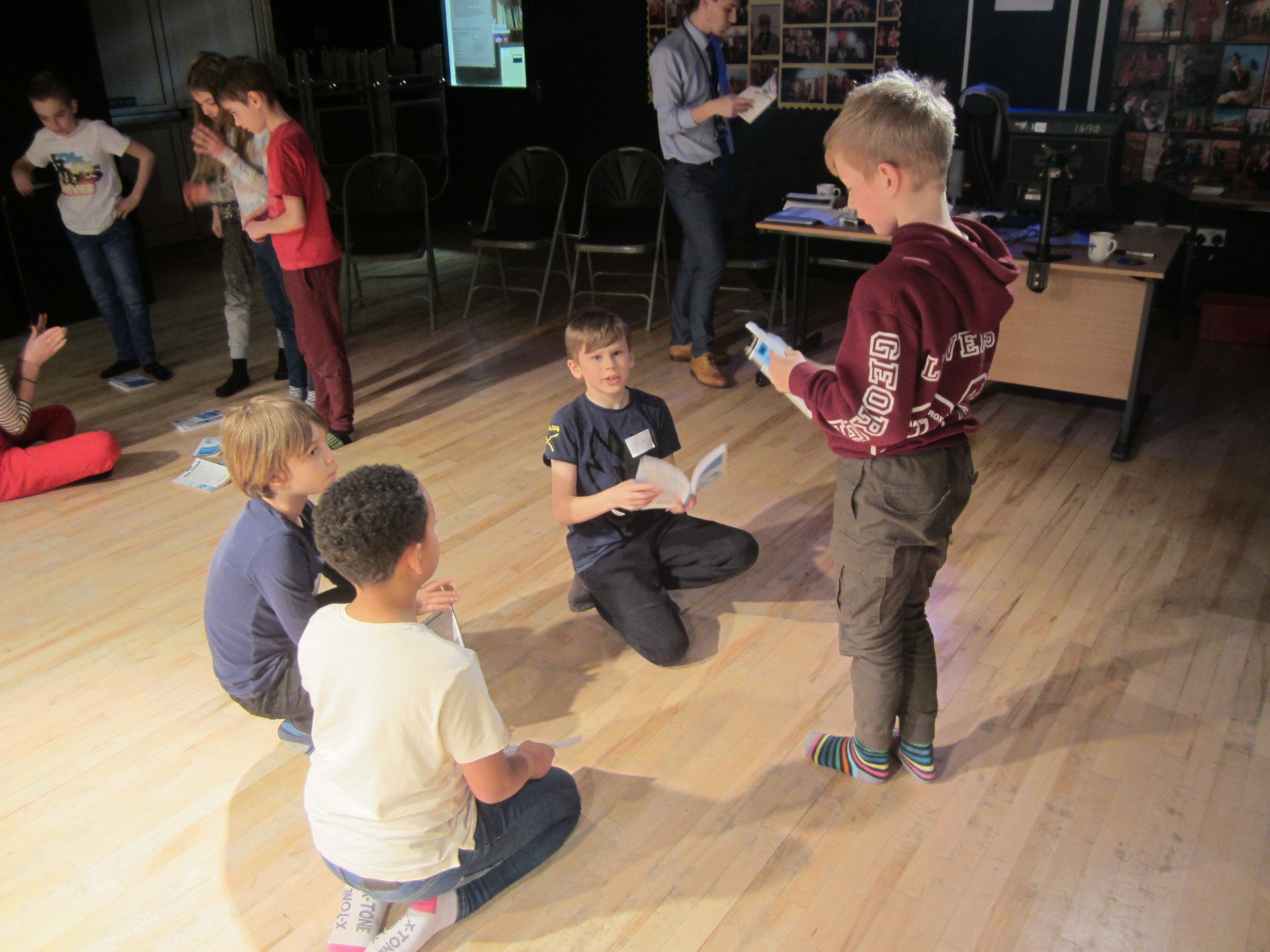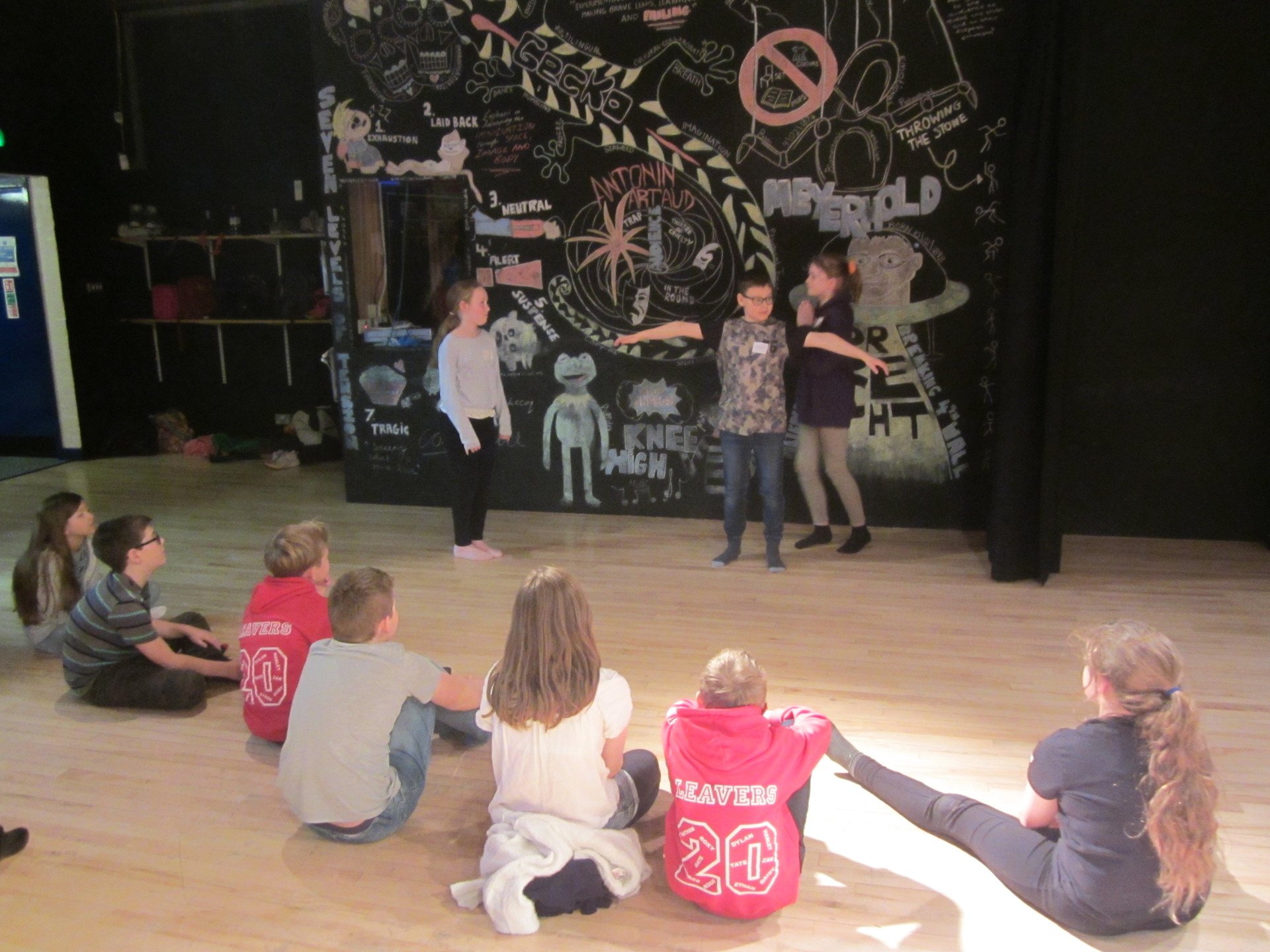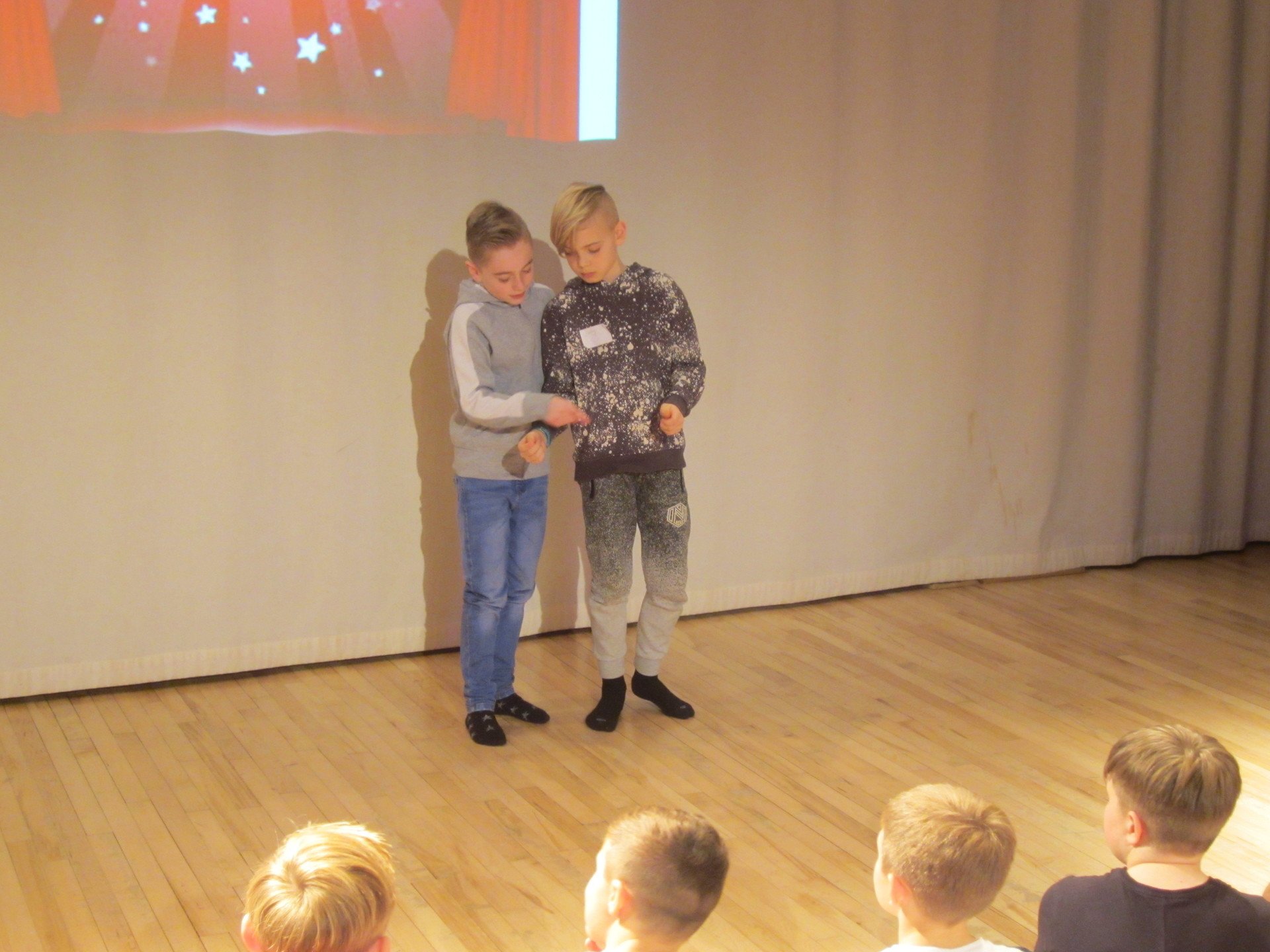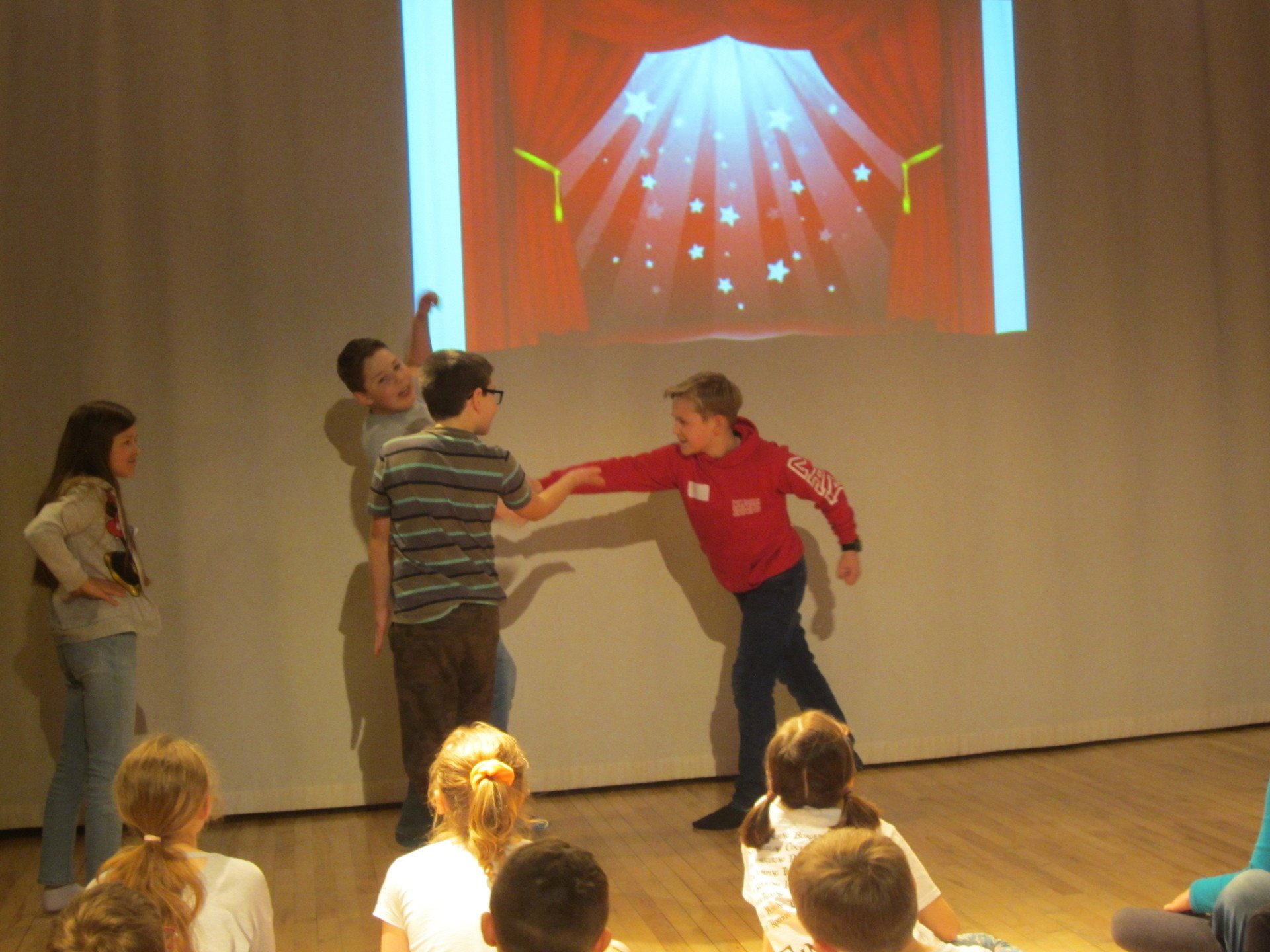 Dinosaur Day at Holdenby
Reception and Year 1 children visited The Countryside Education Centre on Wednesday 11th March, to take part in a Dinosaur Day. The children went on a dinosaur hunt, explored the grounds and took part in some craft activities. Many thanks to Becky for a most enjoyable day.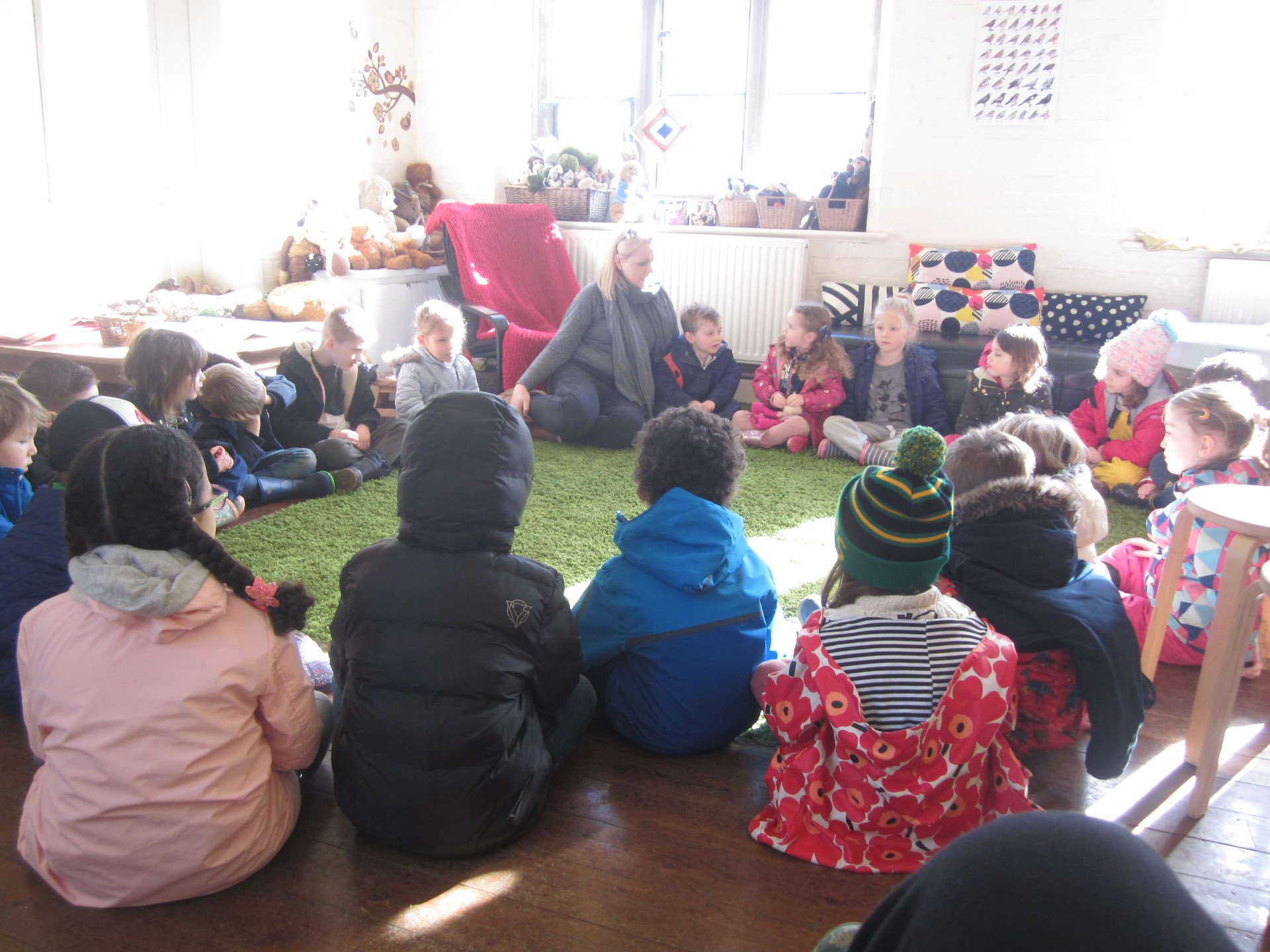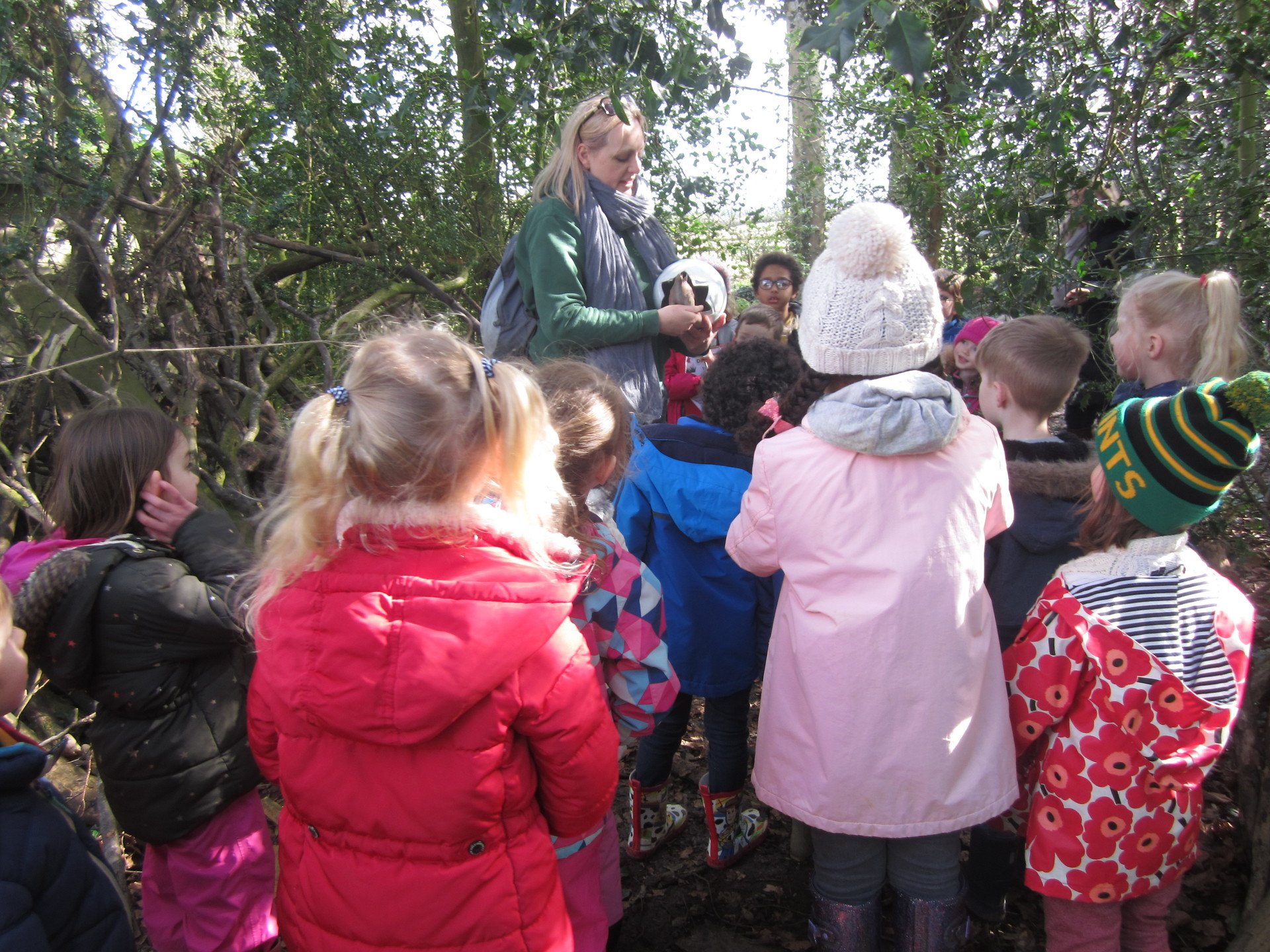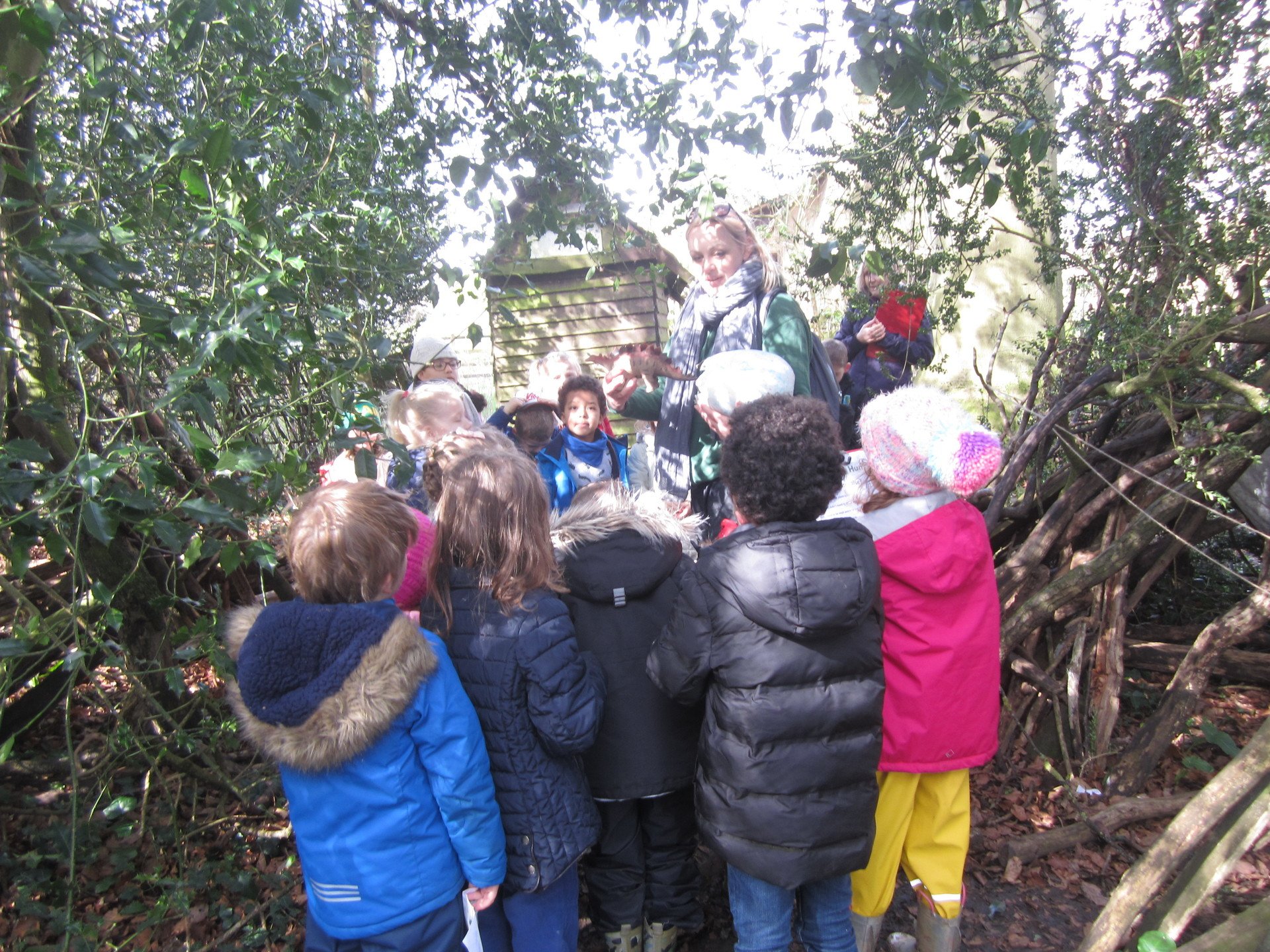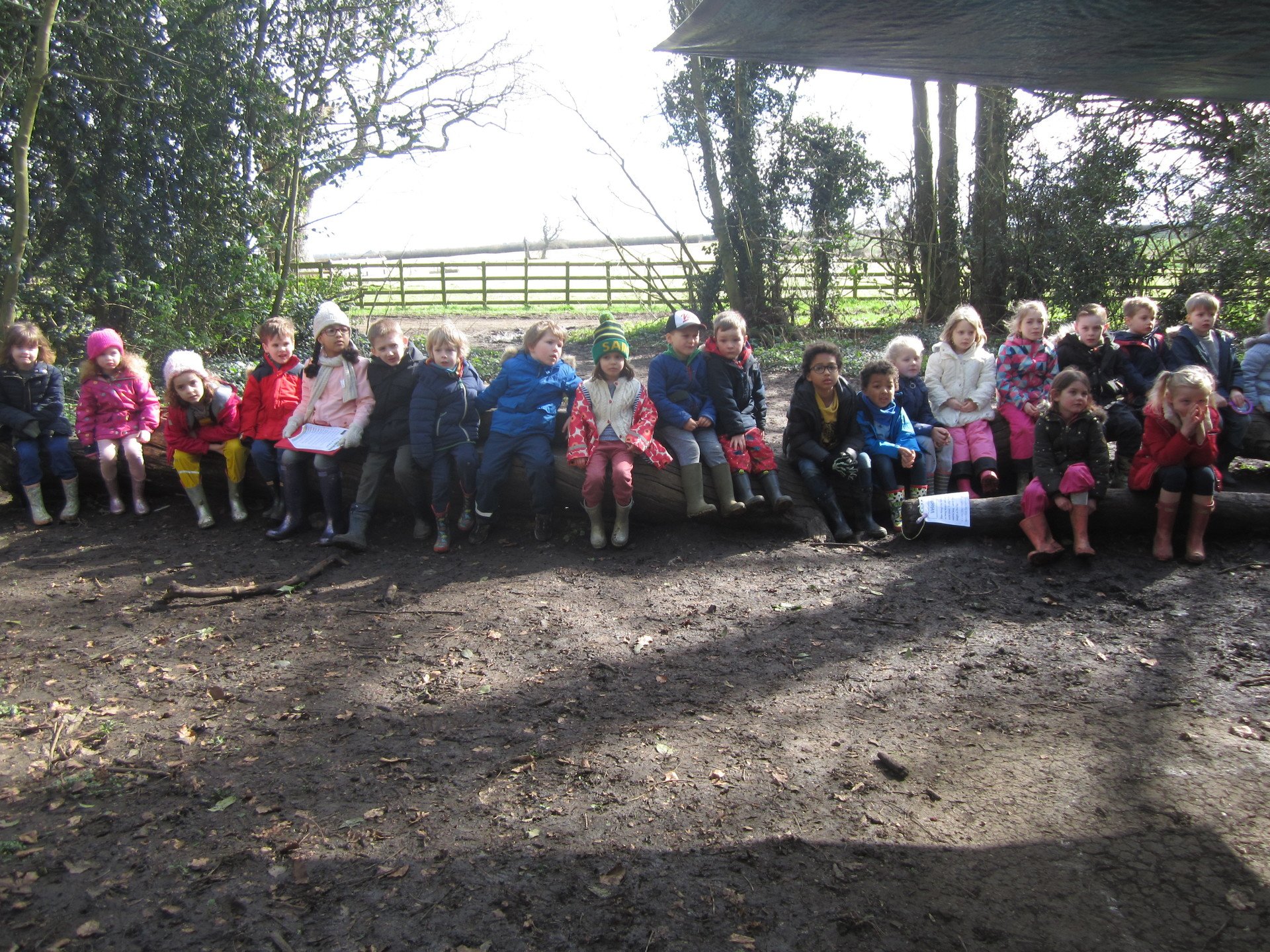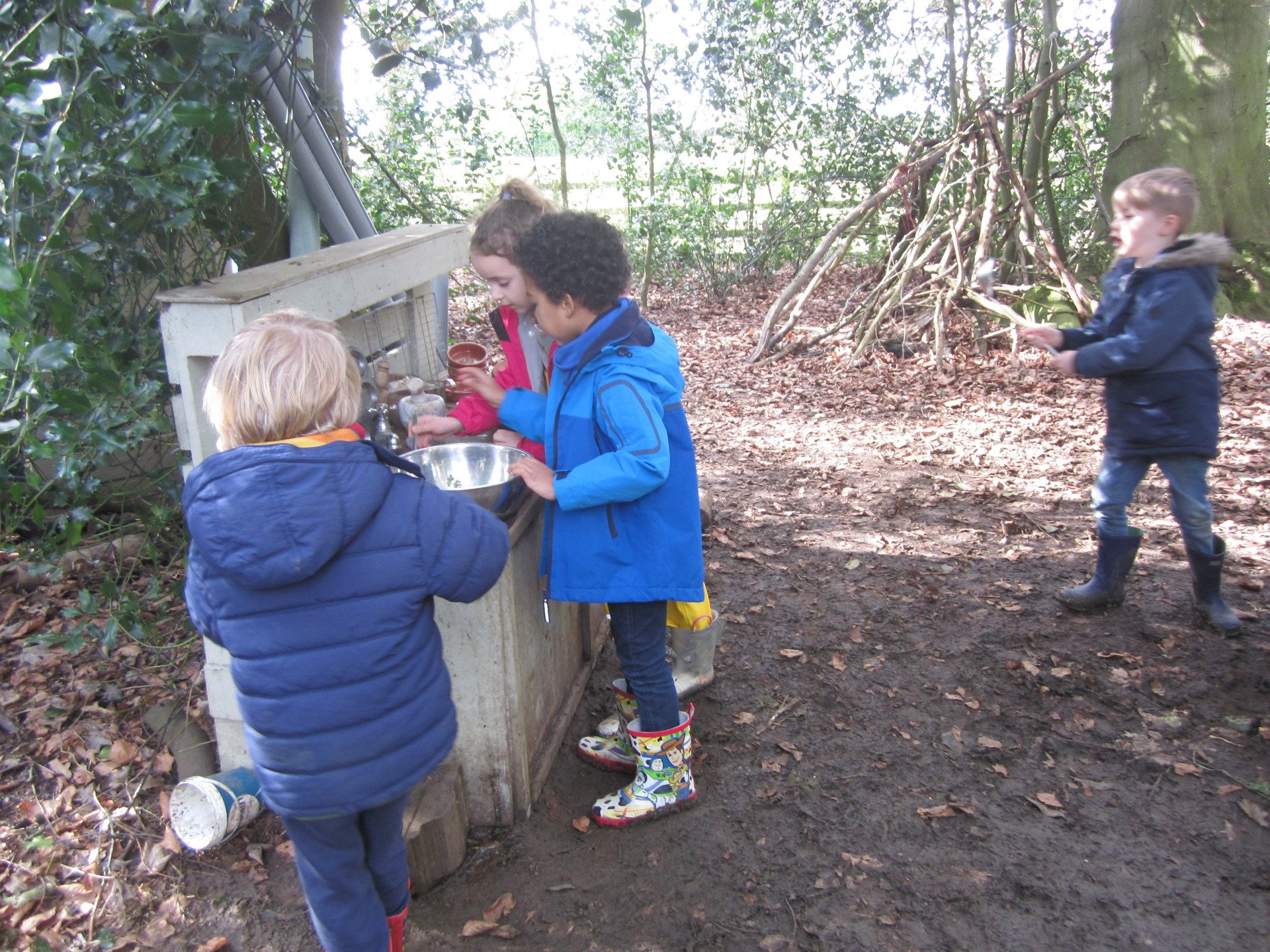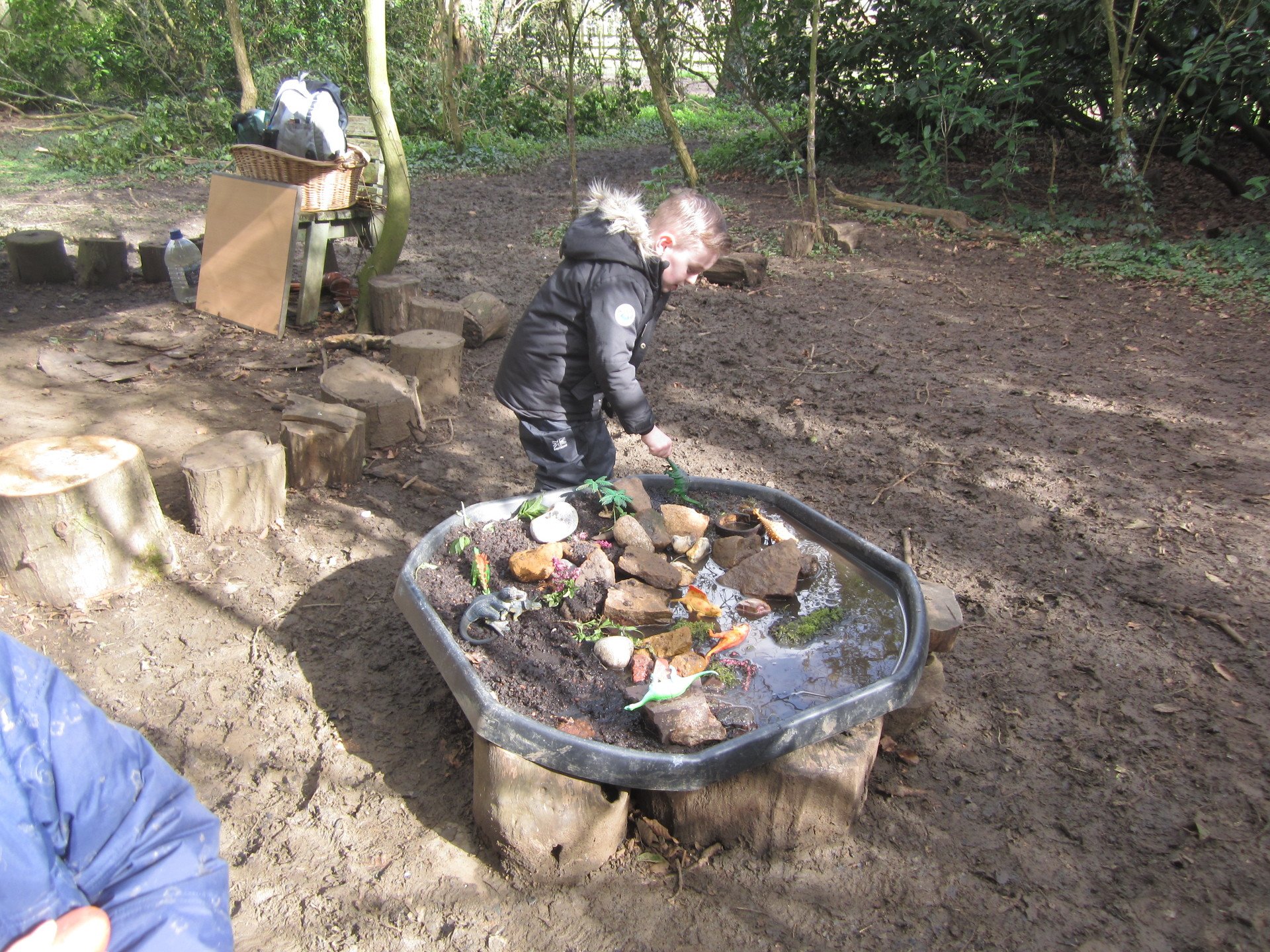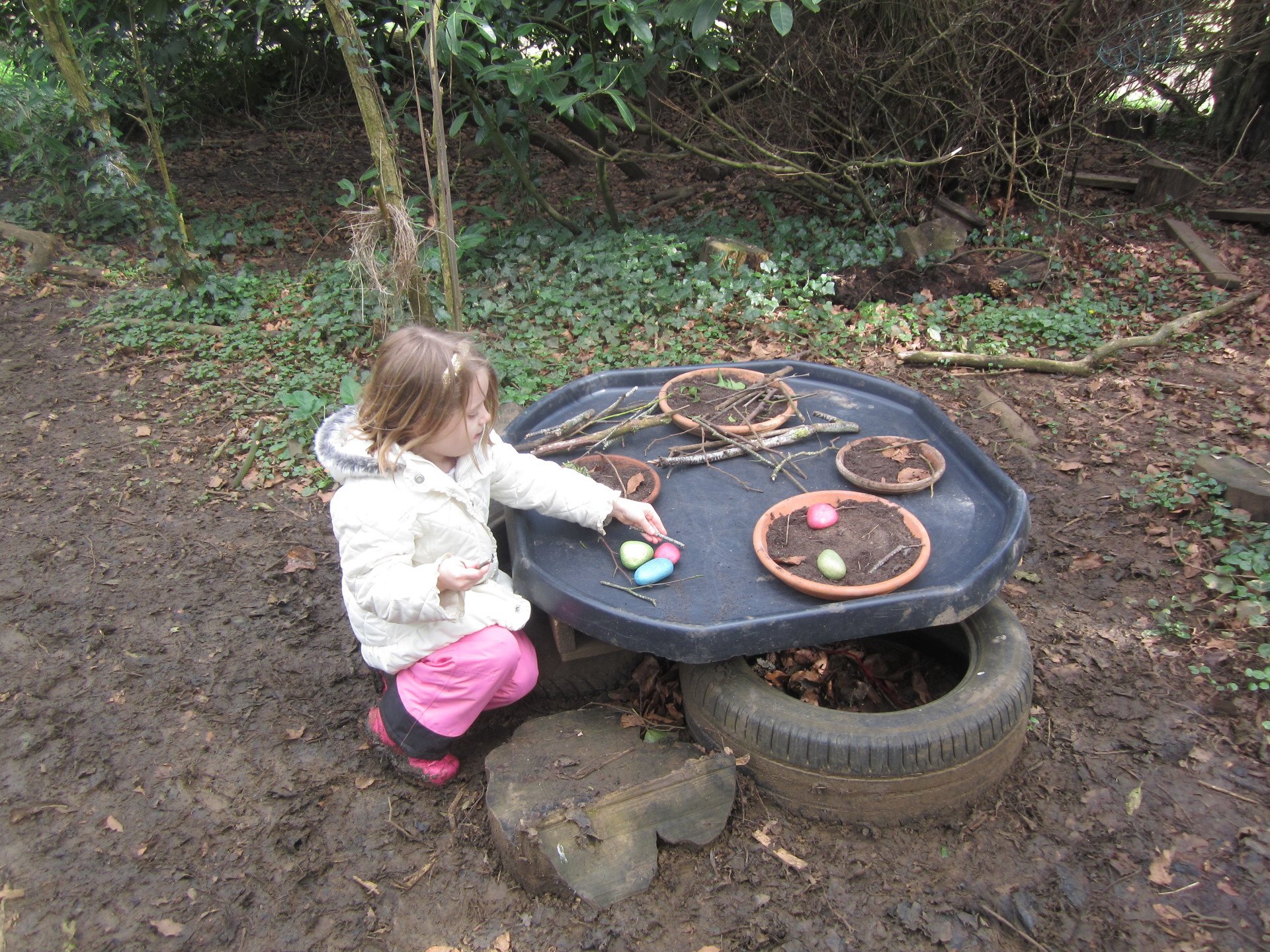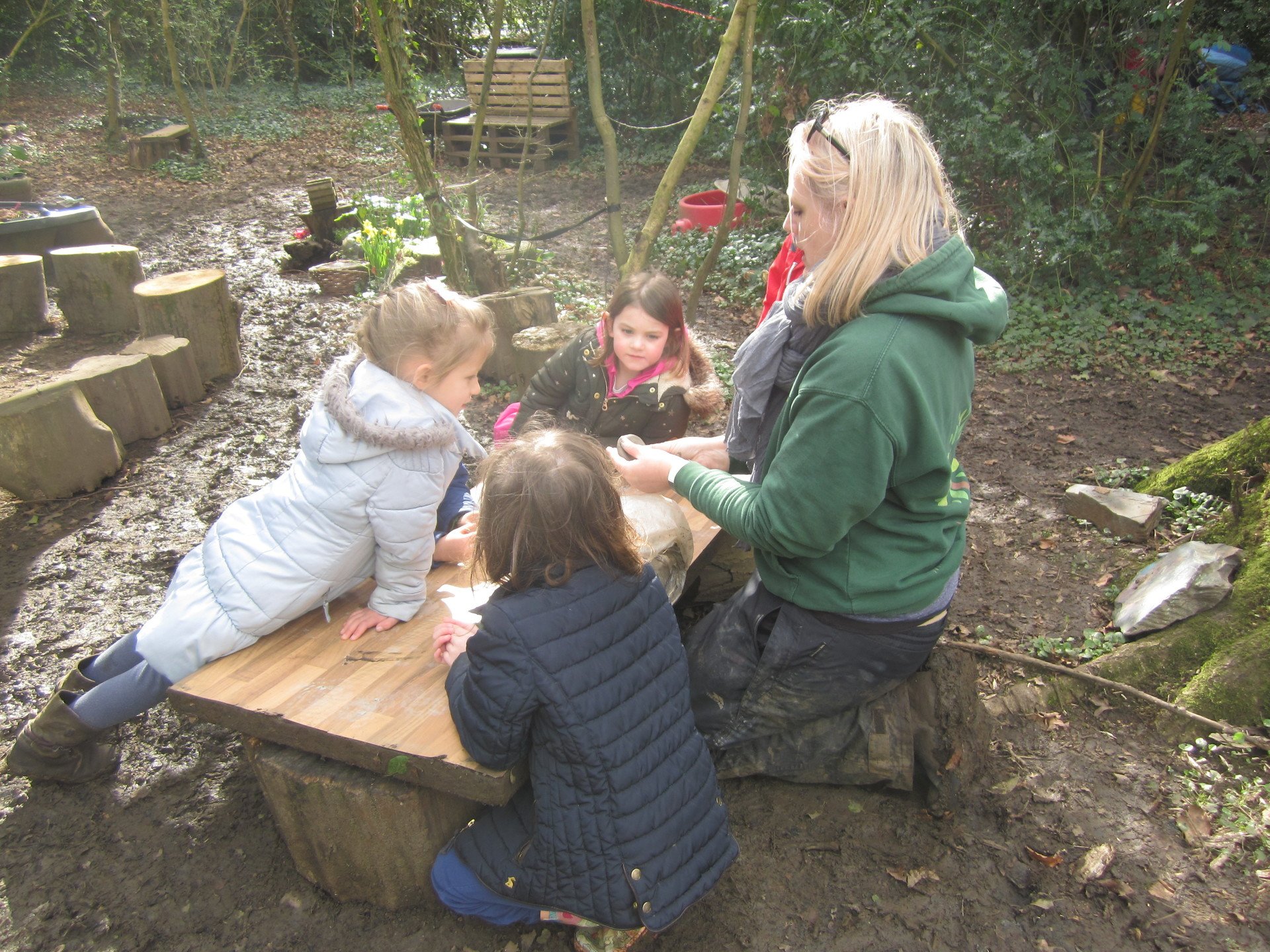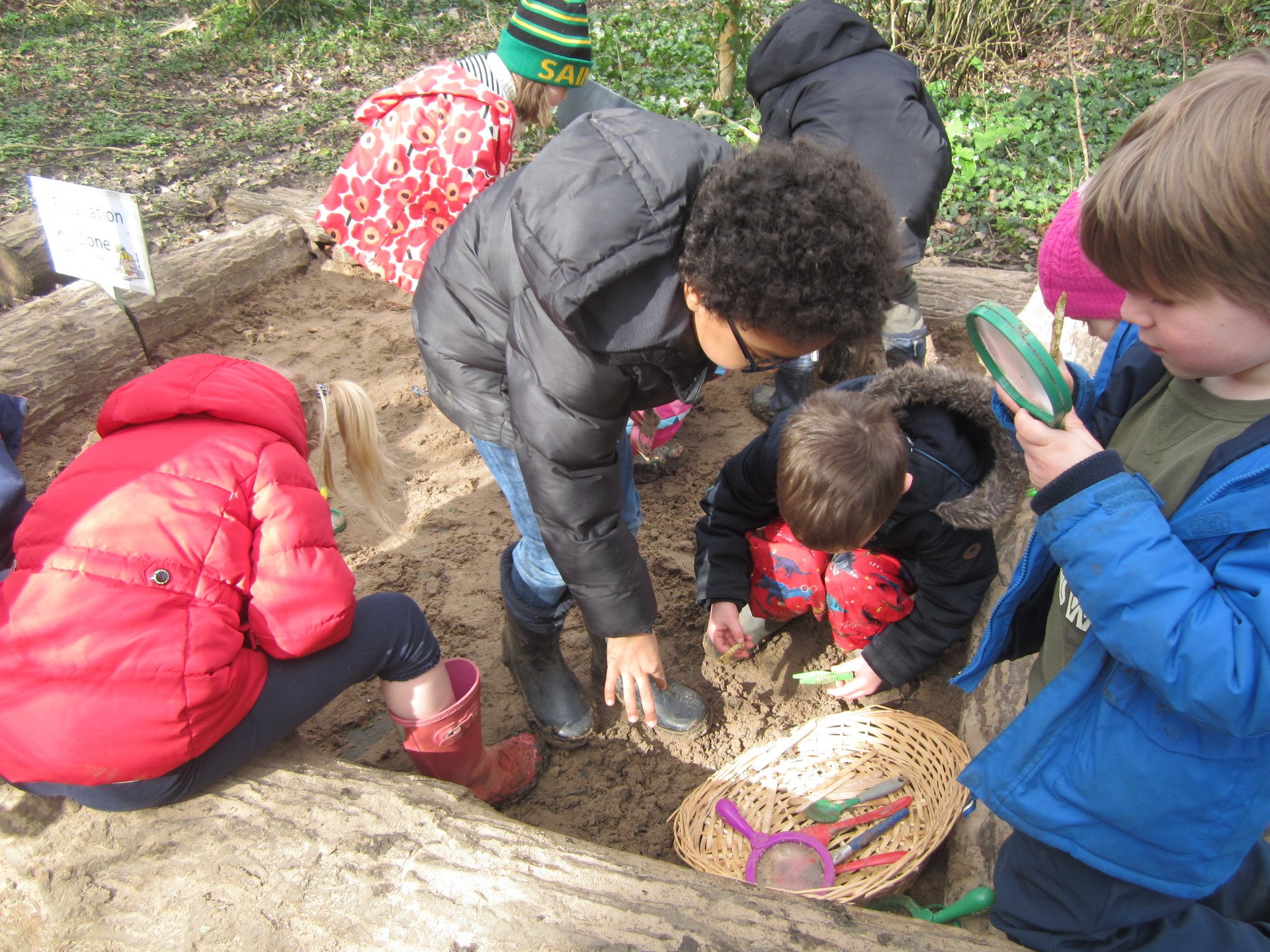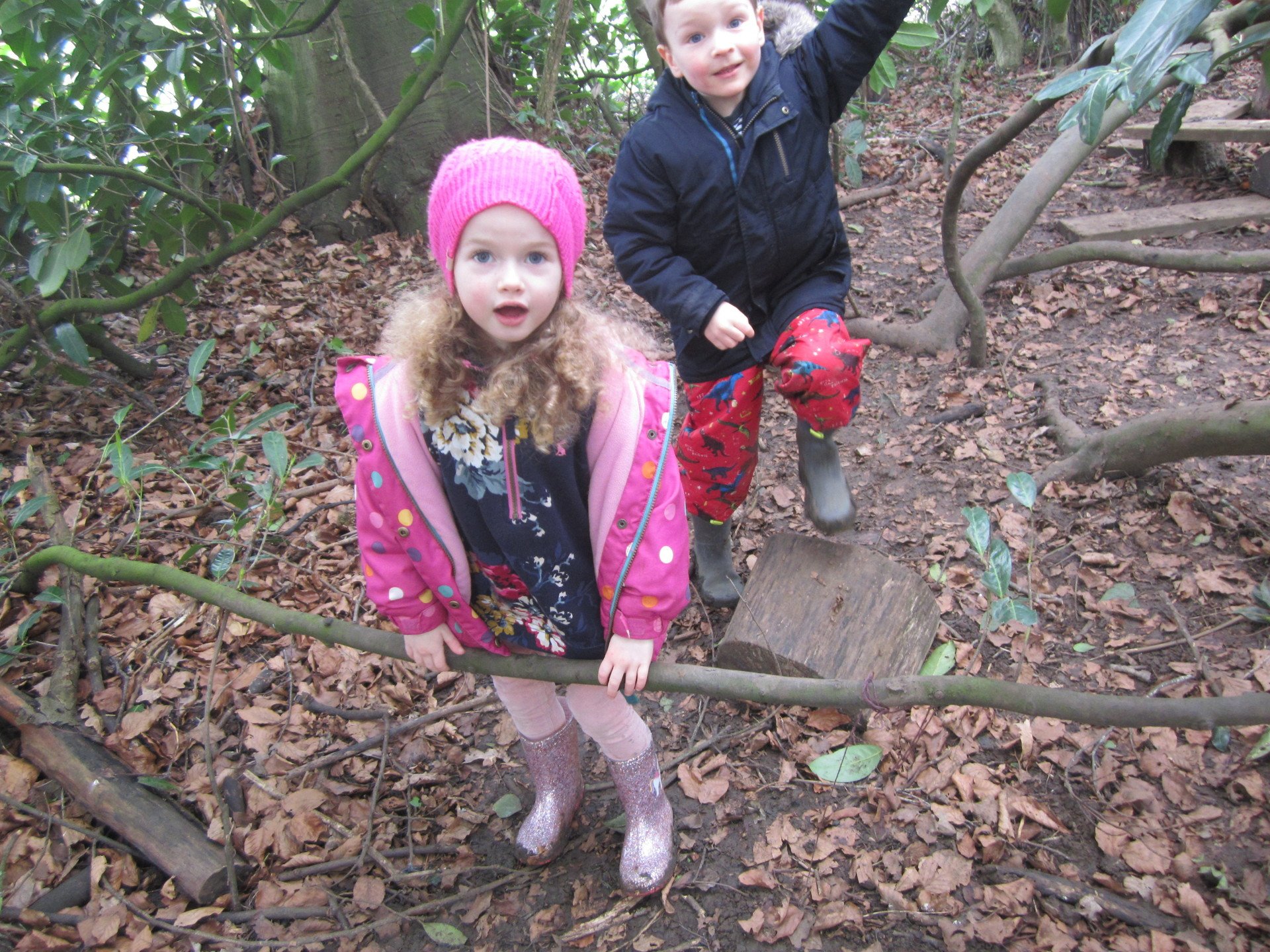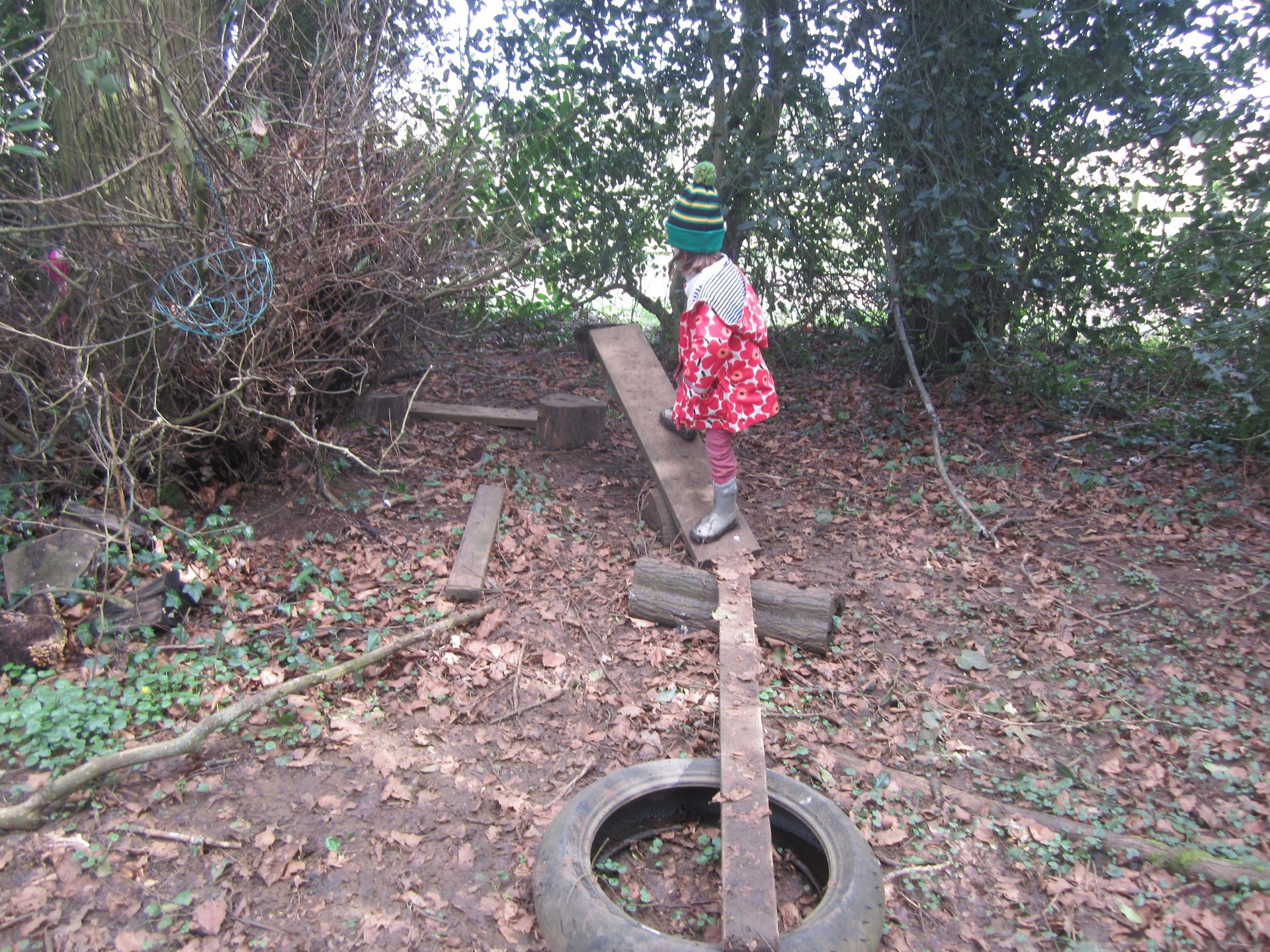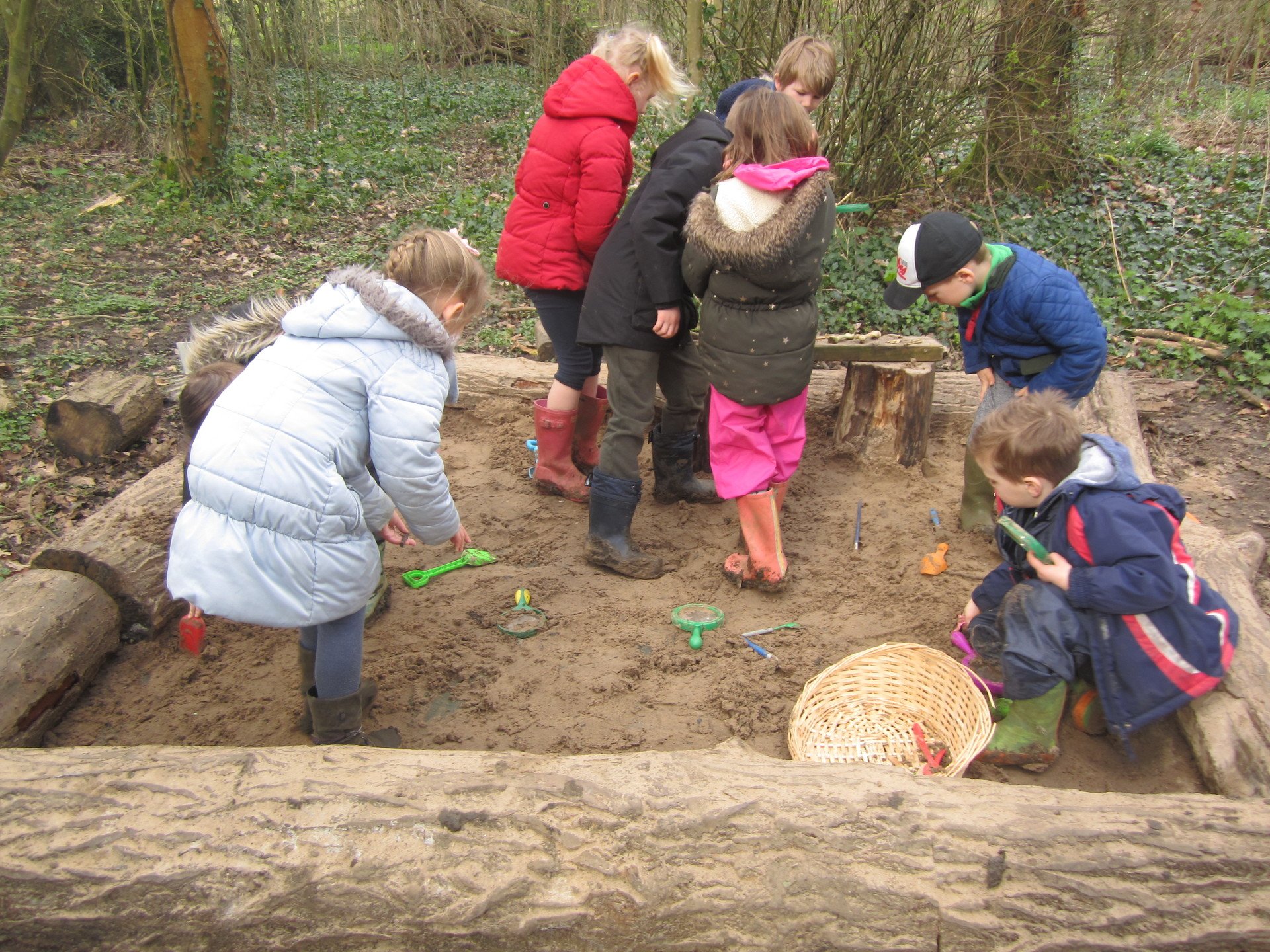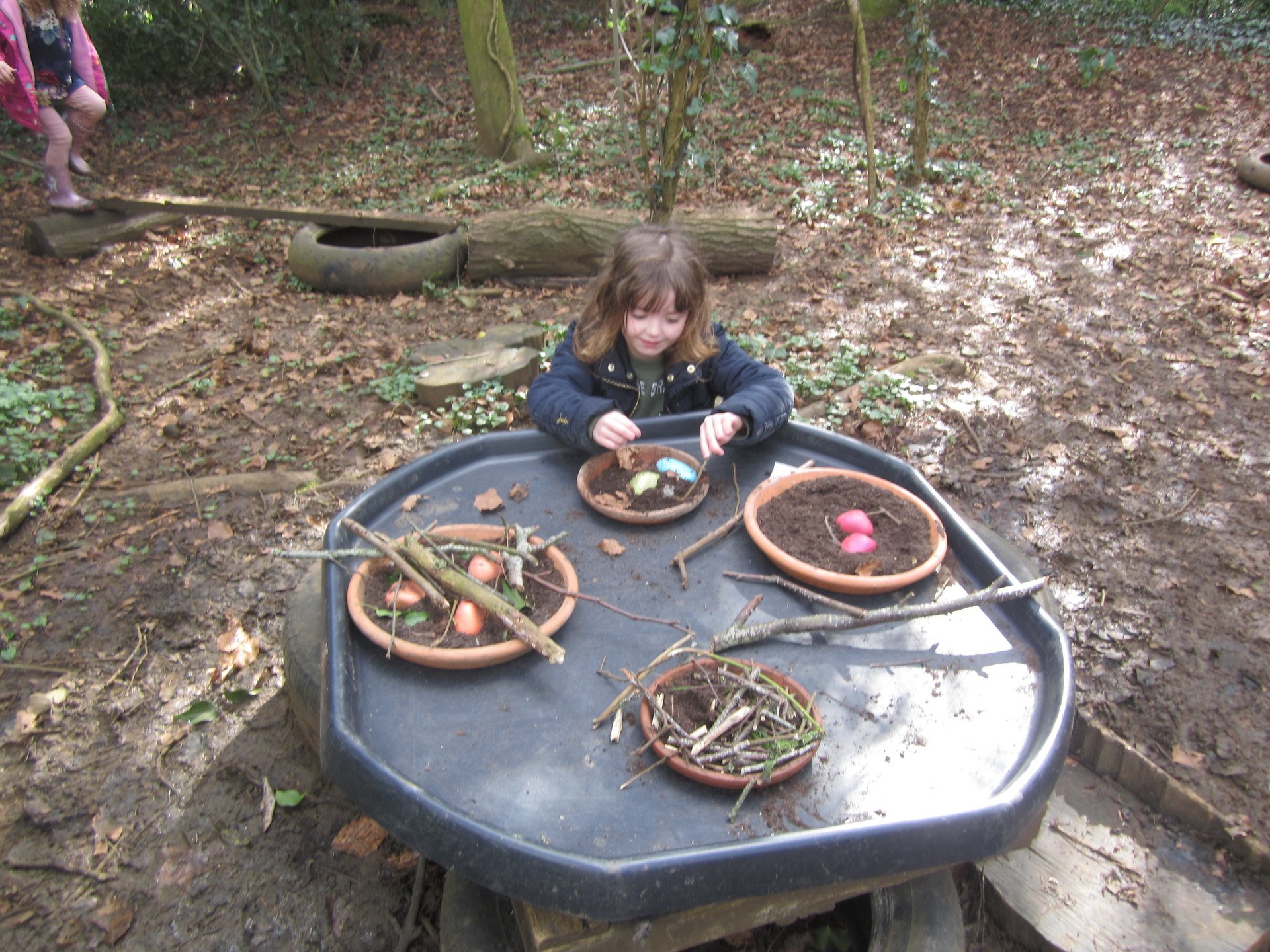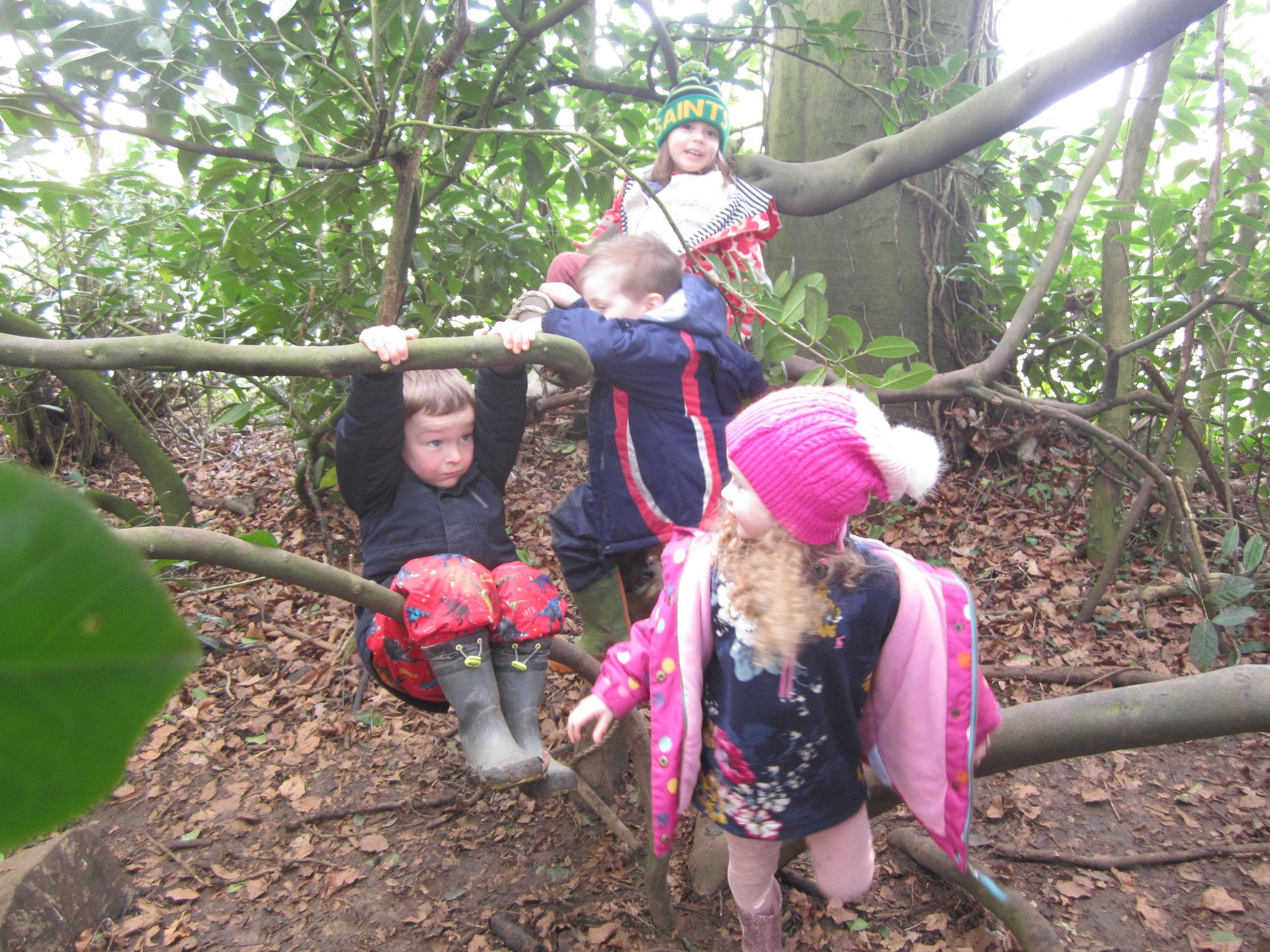 World Book Day 2020
This year we all dressed up as Bible characters - well done to everyone for their brilliant costumes!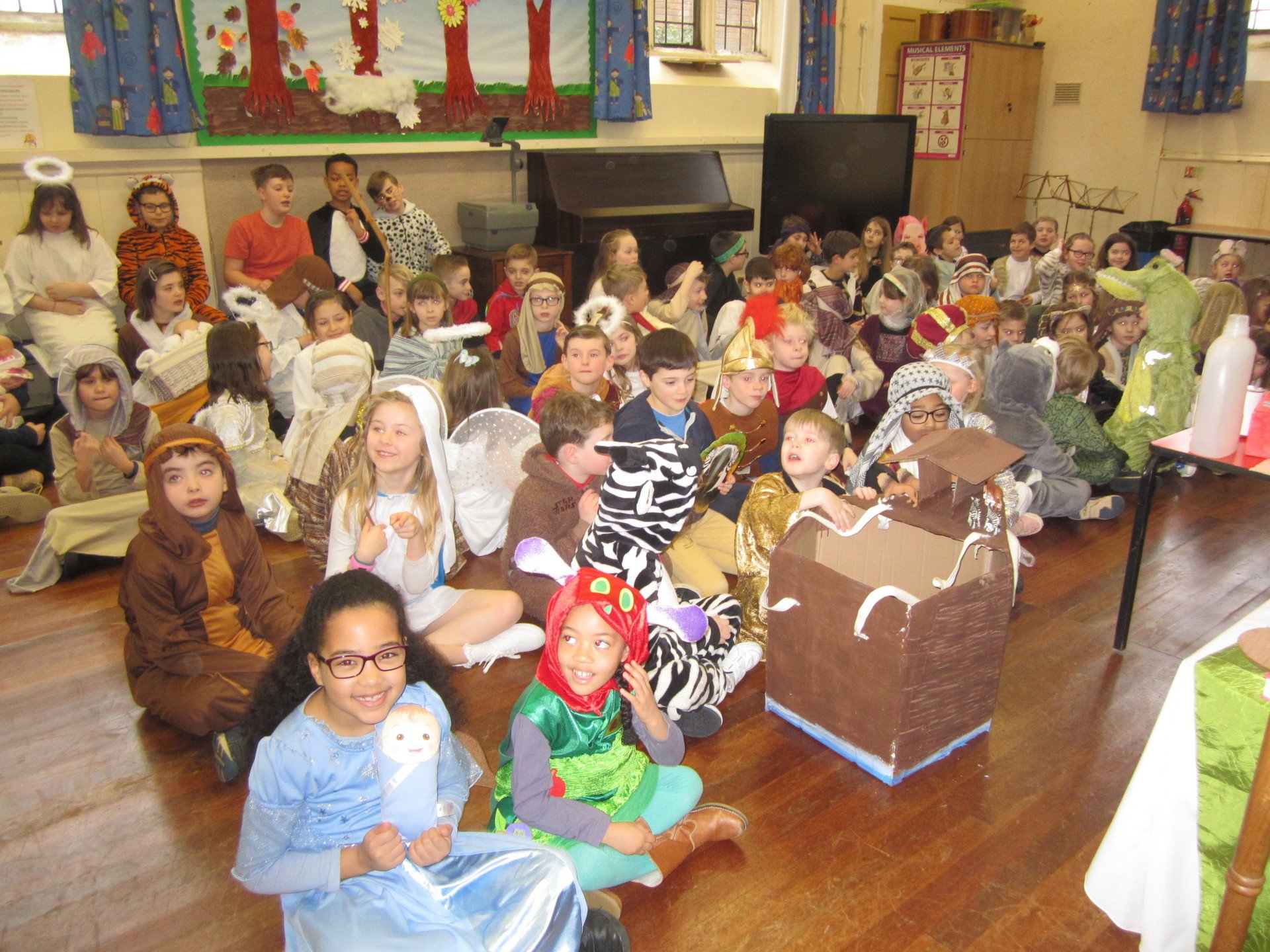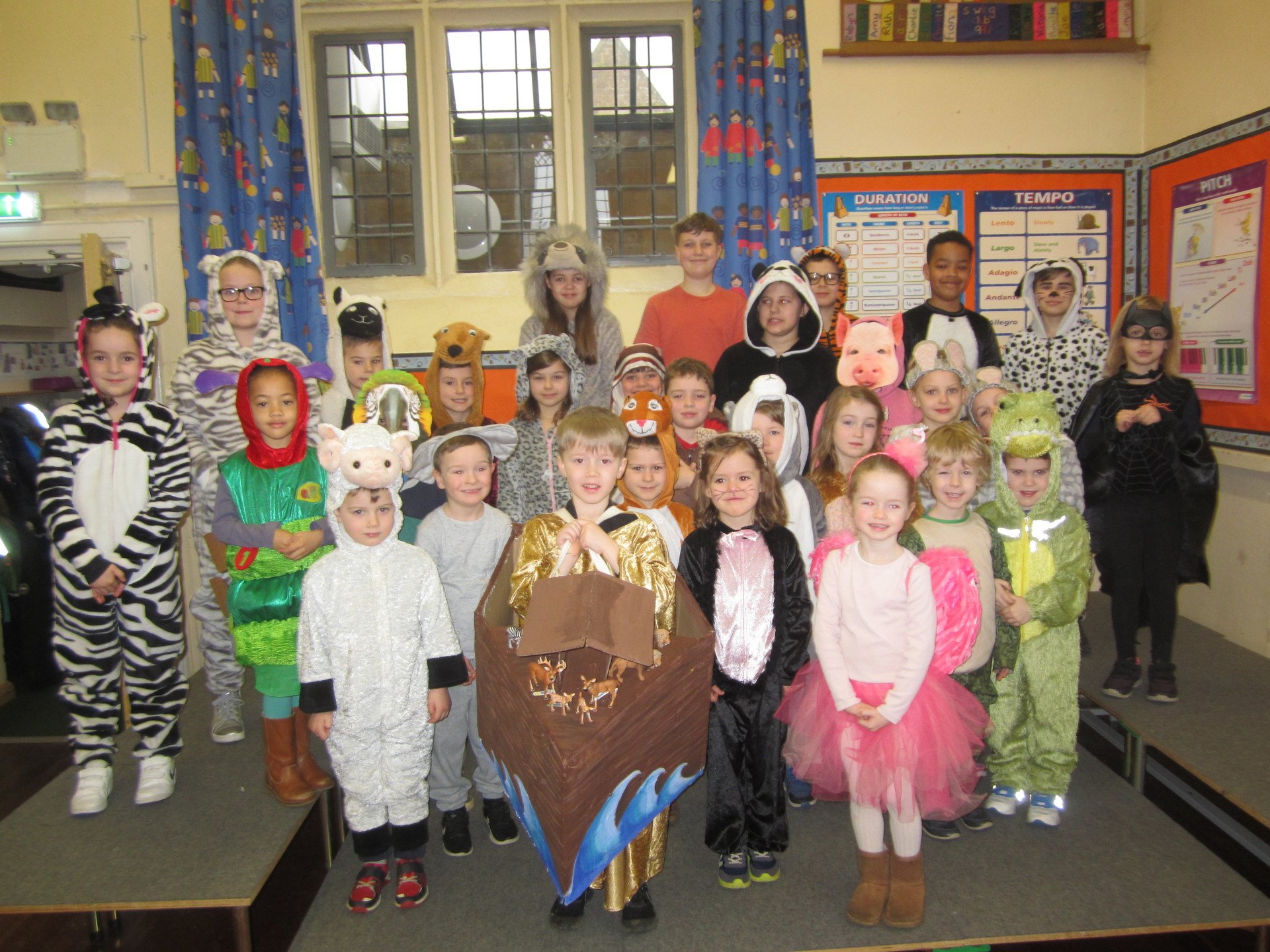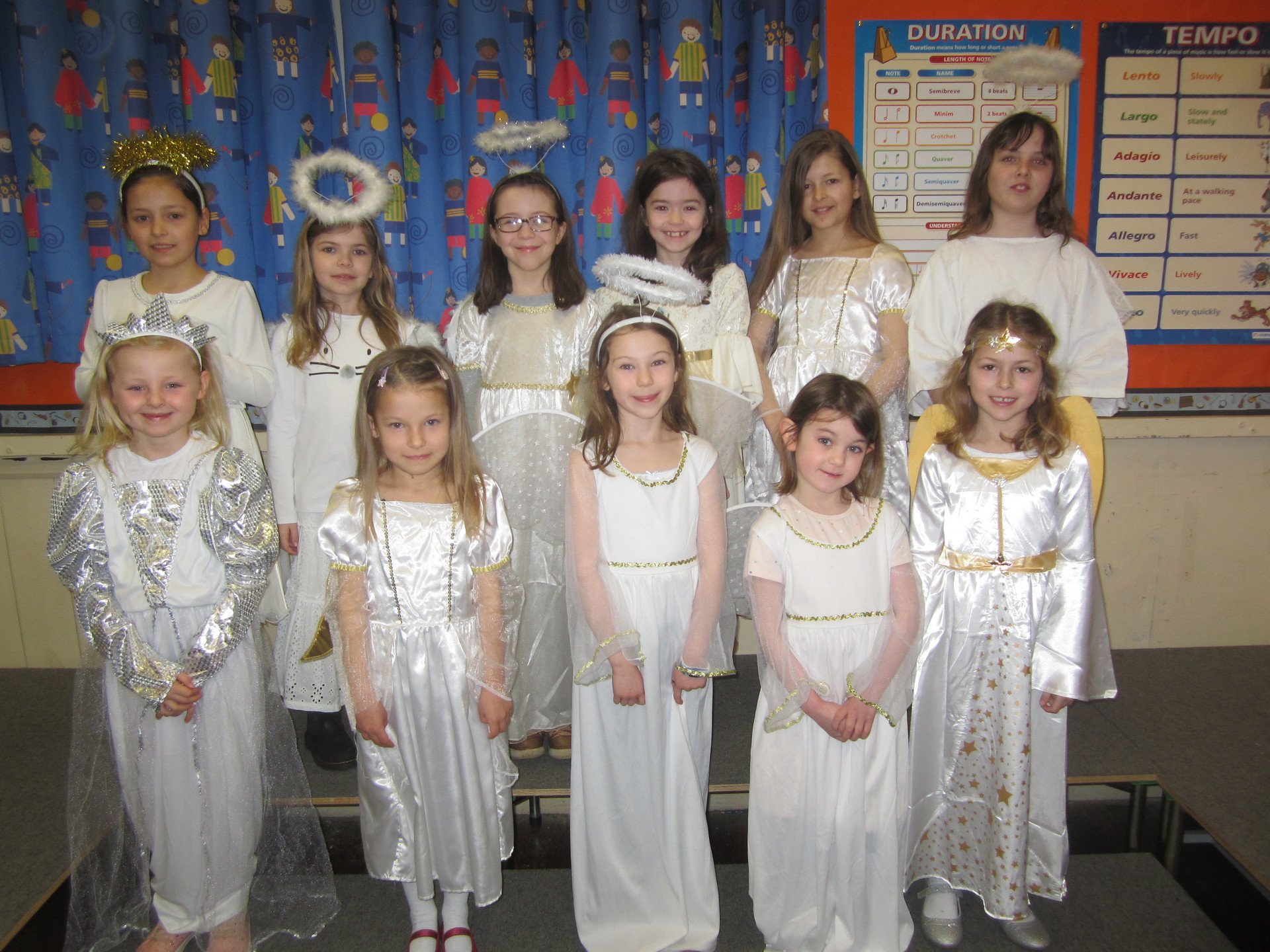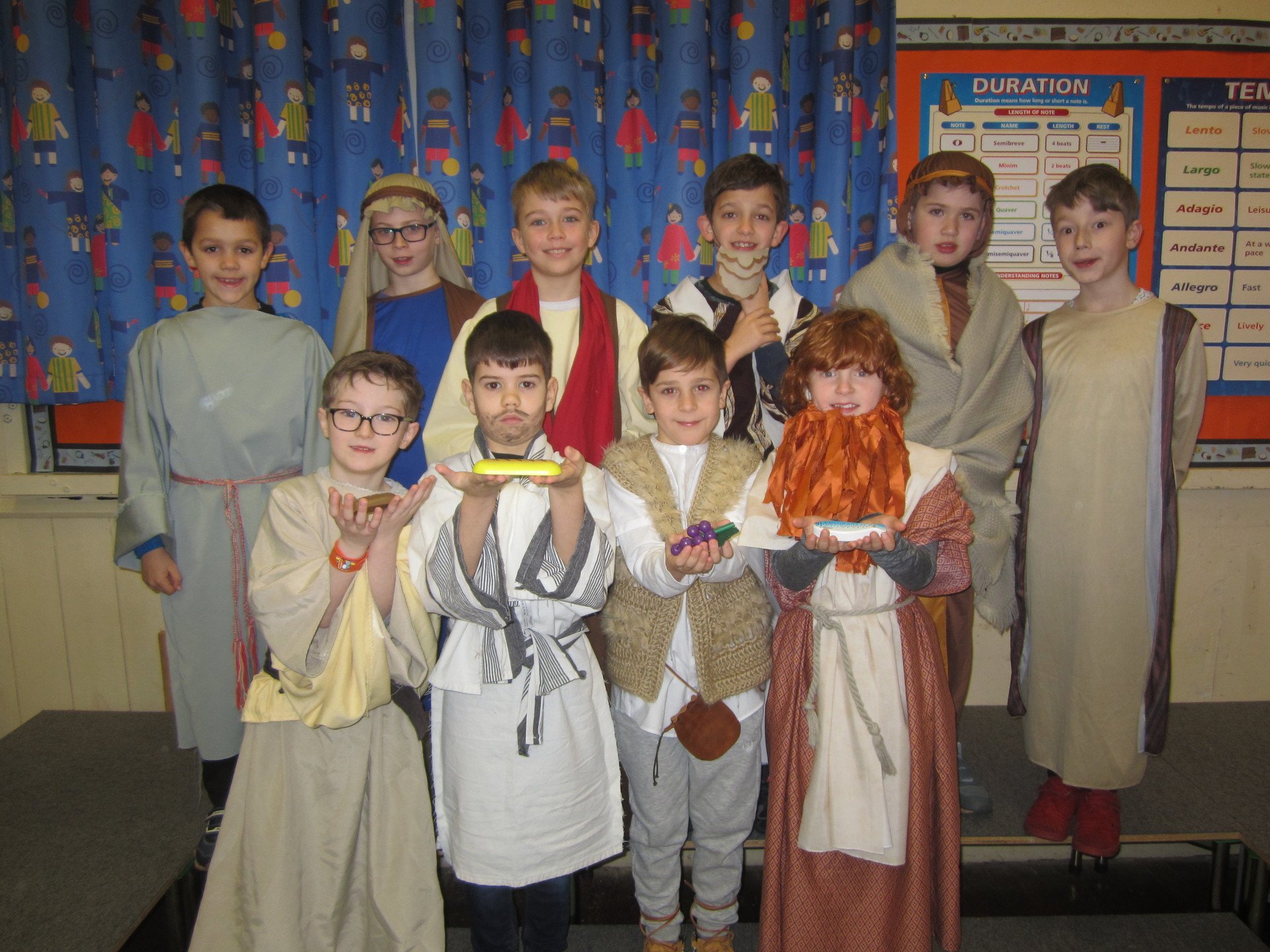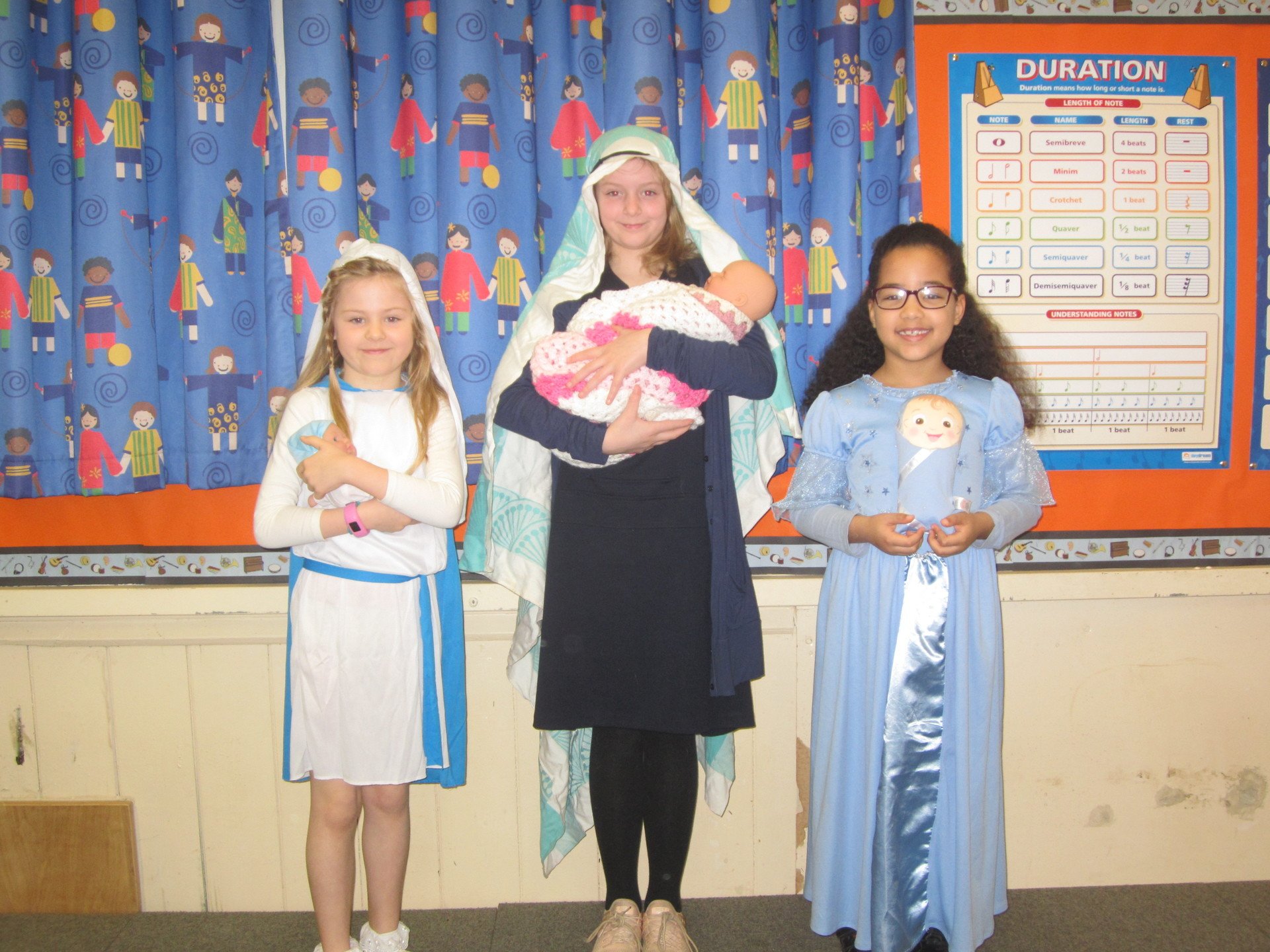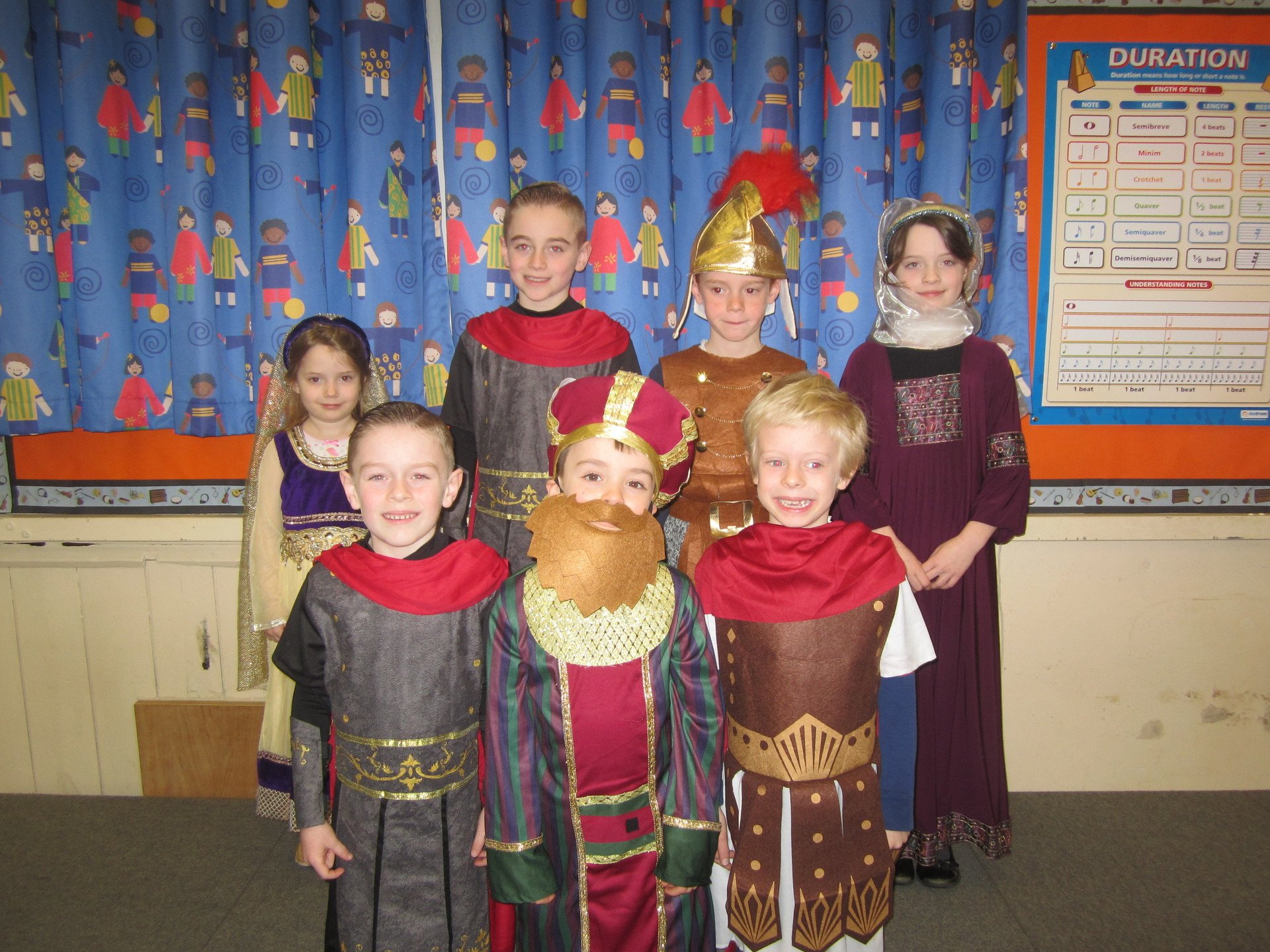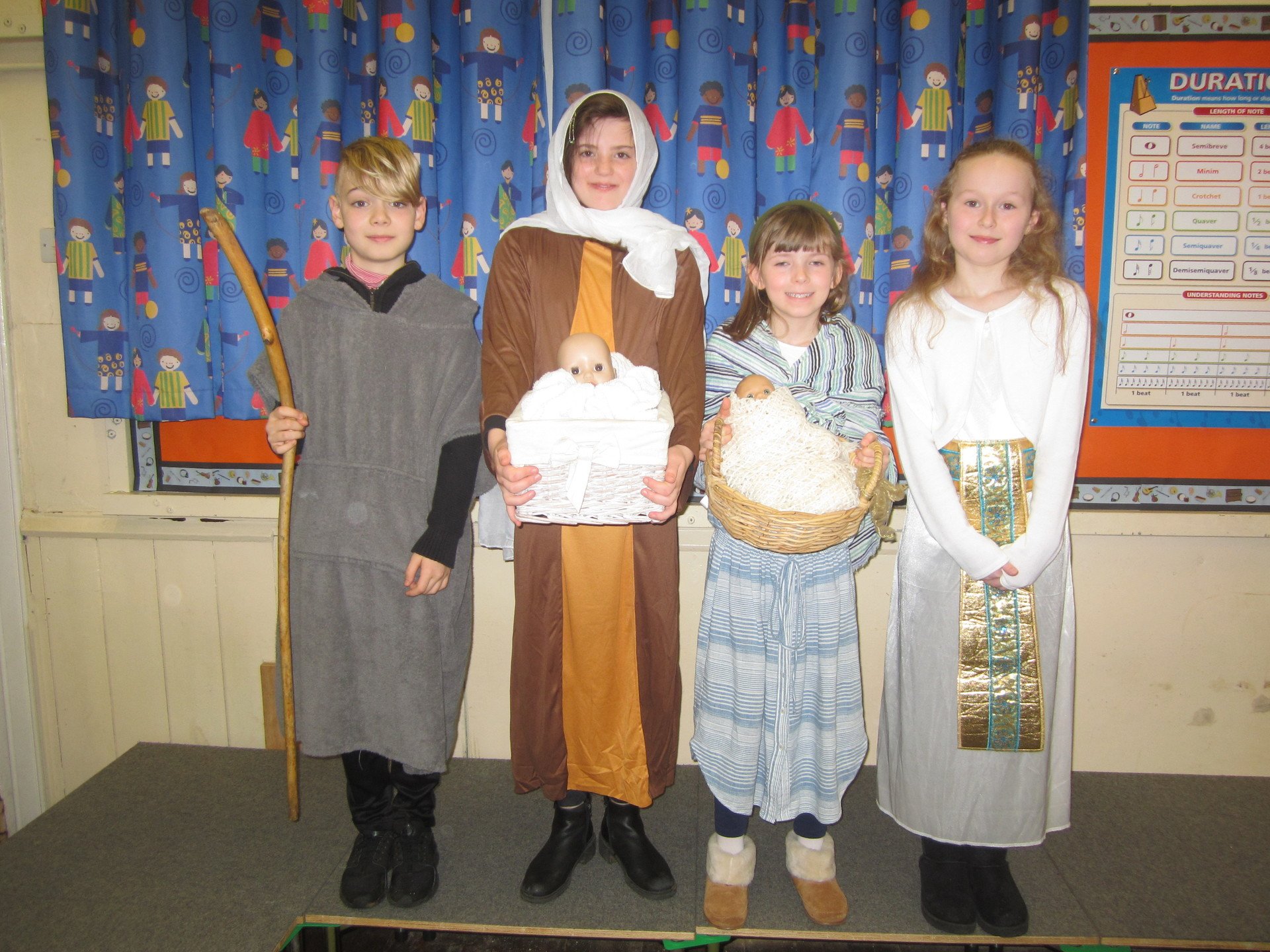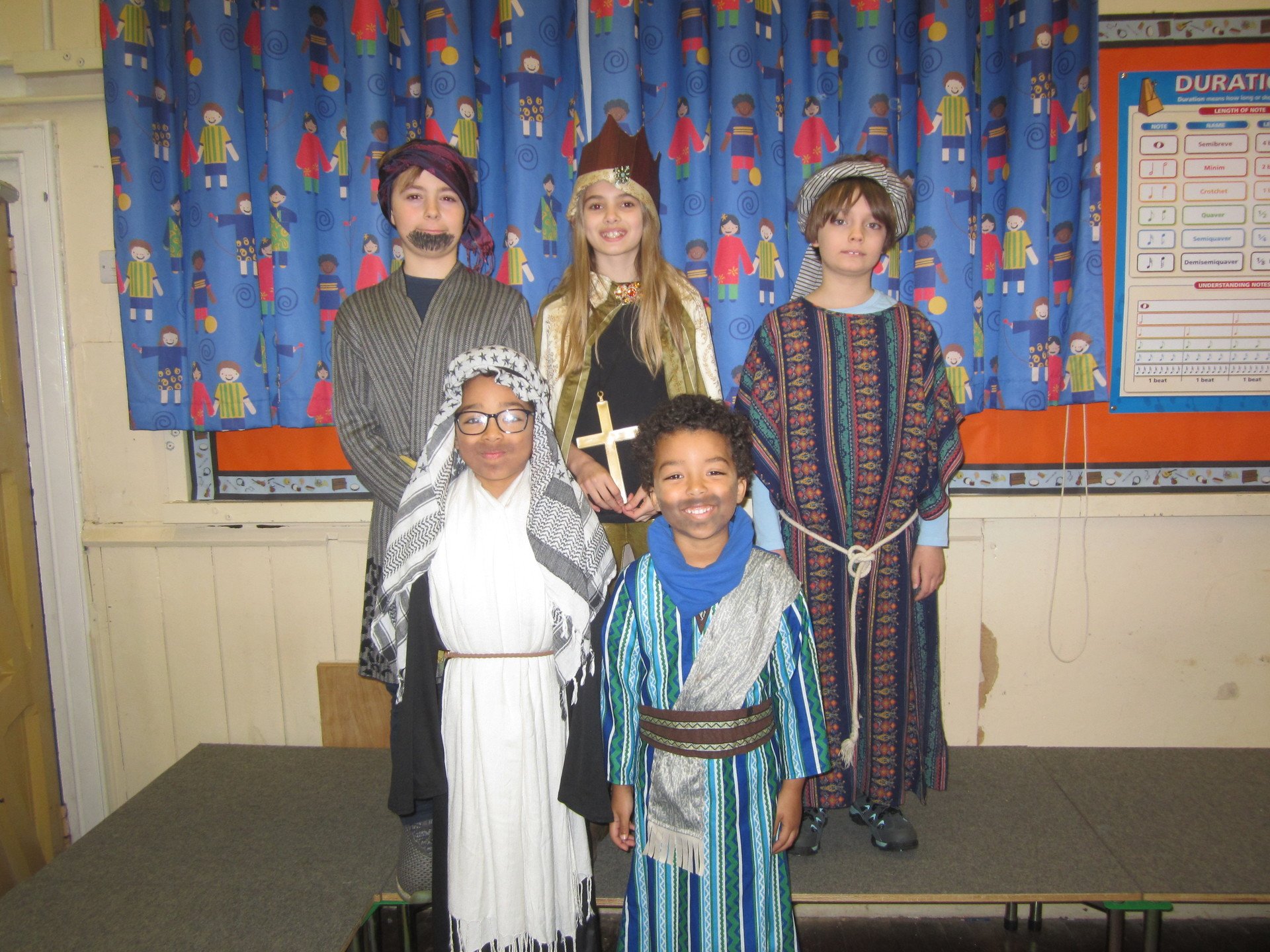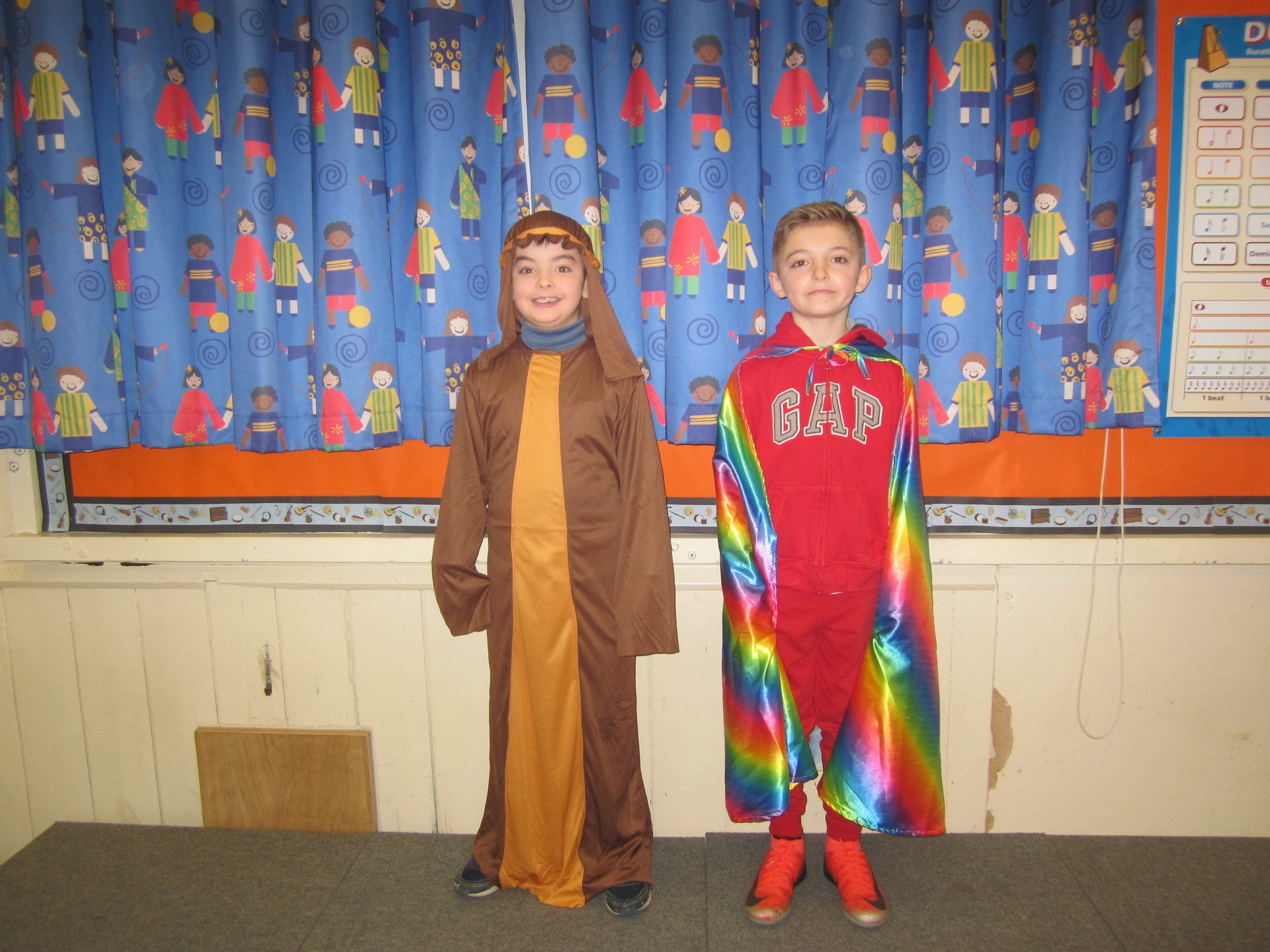 Yoga Workshop
Many thanks to Heather Saint, who came in on 10th January to deliver a yoga workshop for us. A relaxing start to the new term!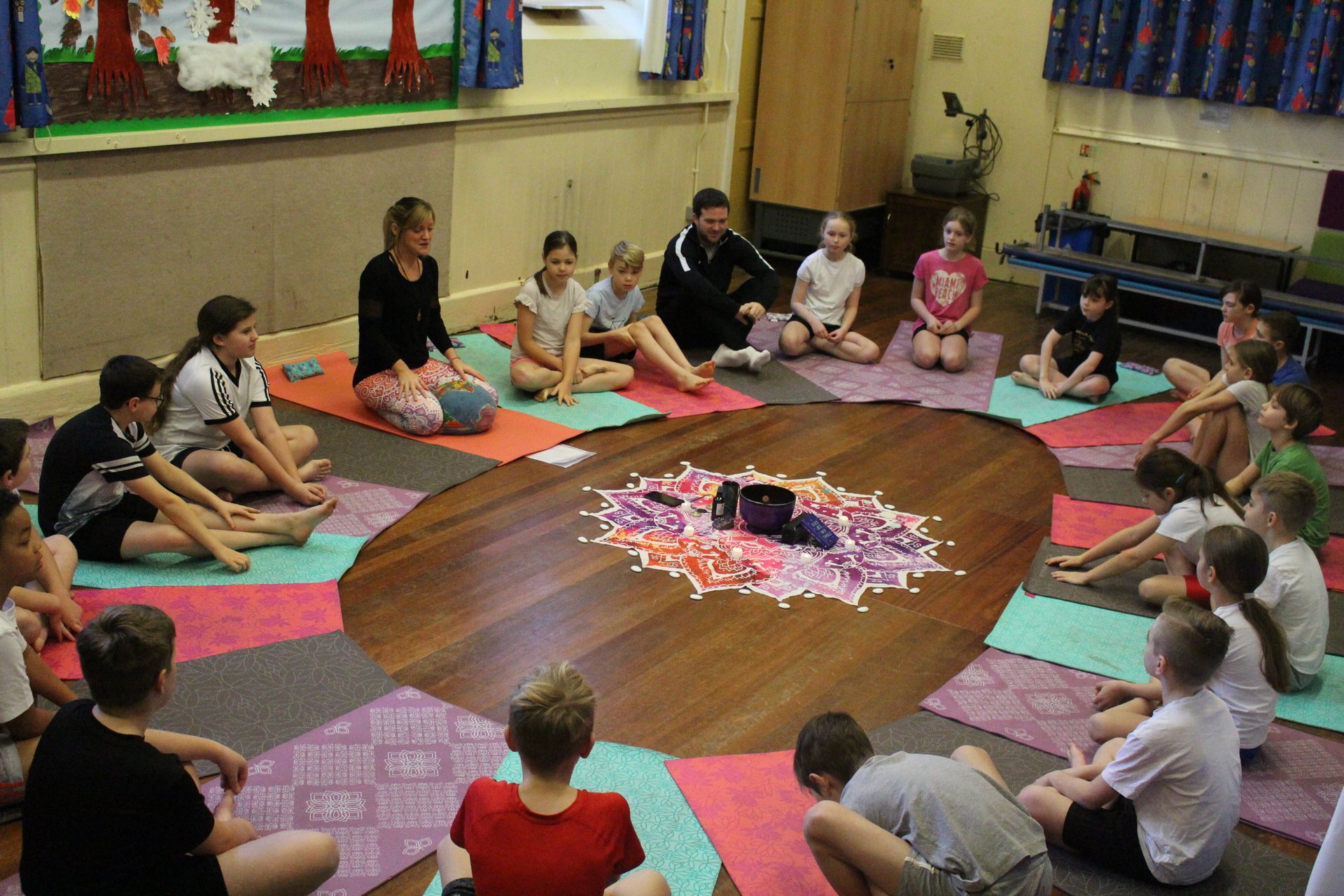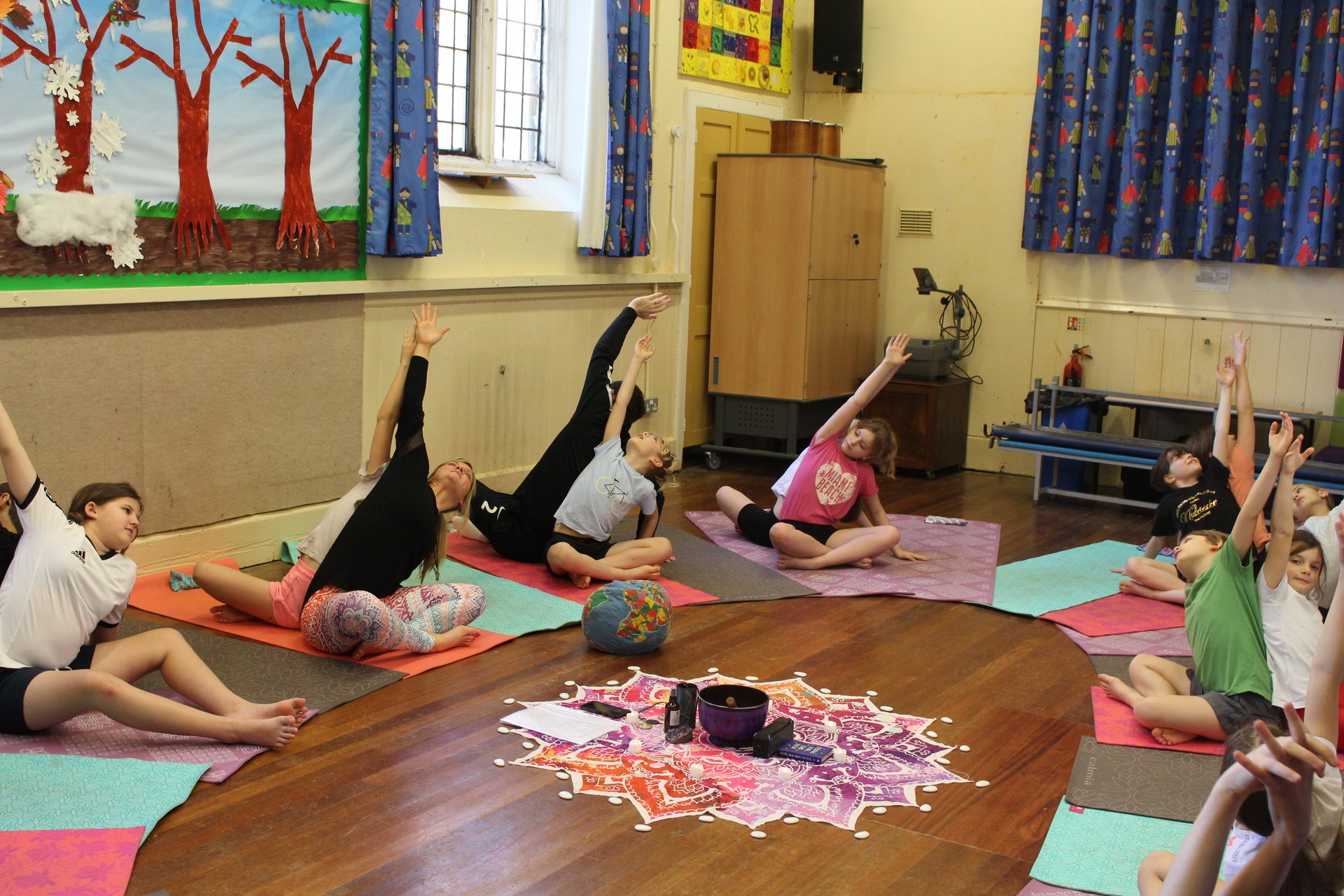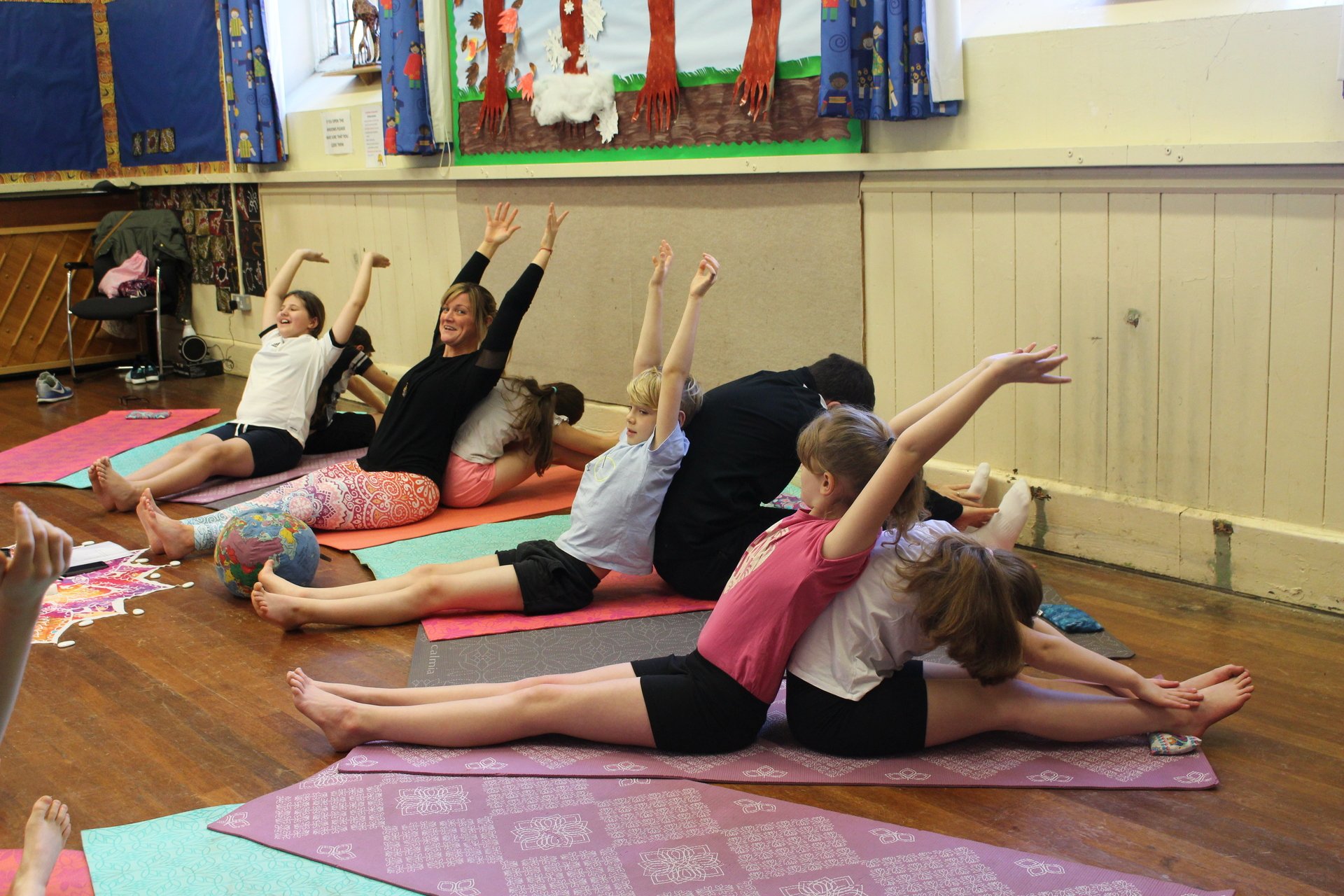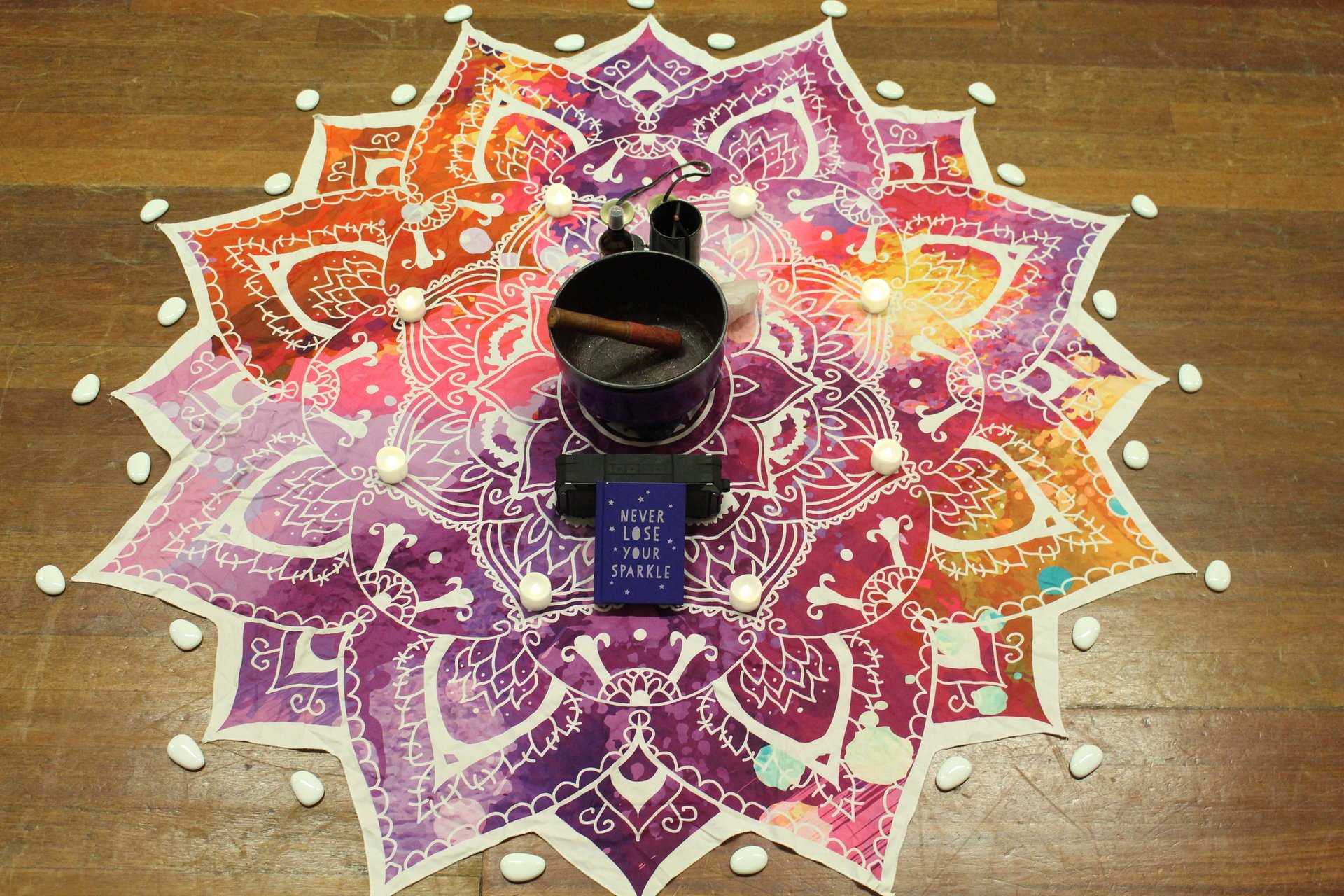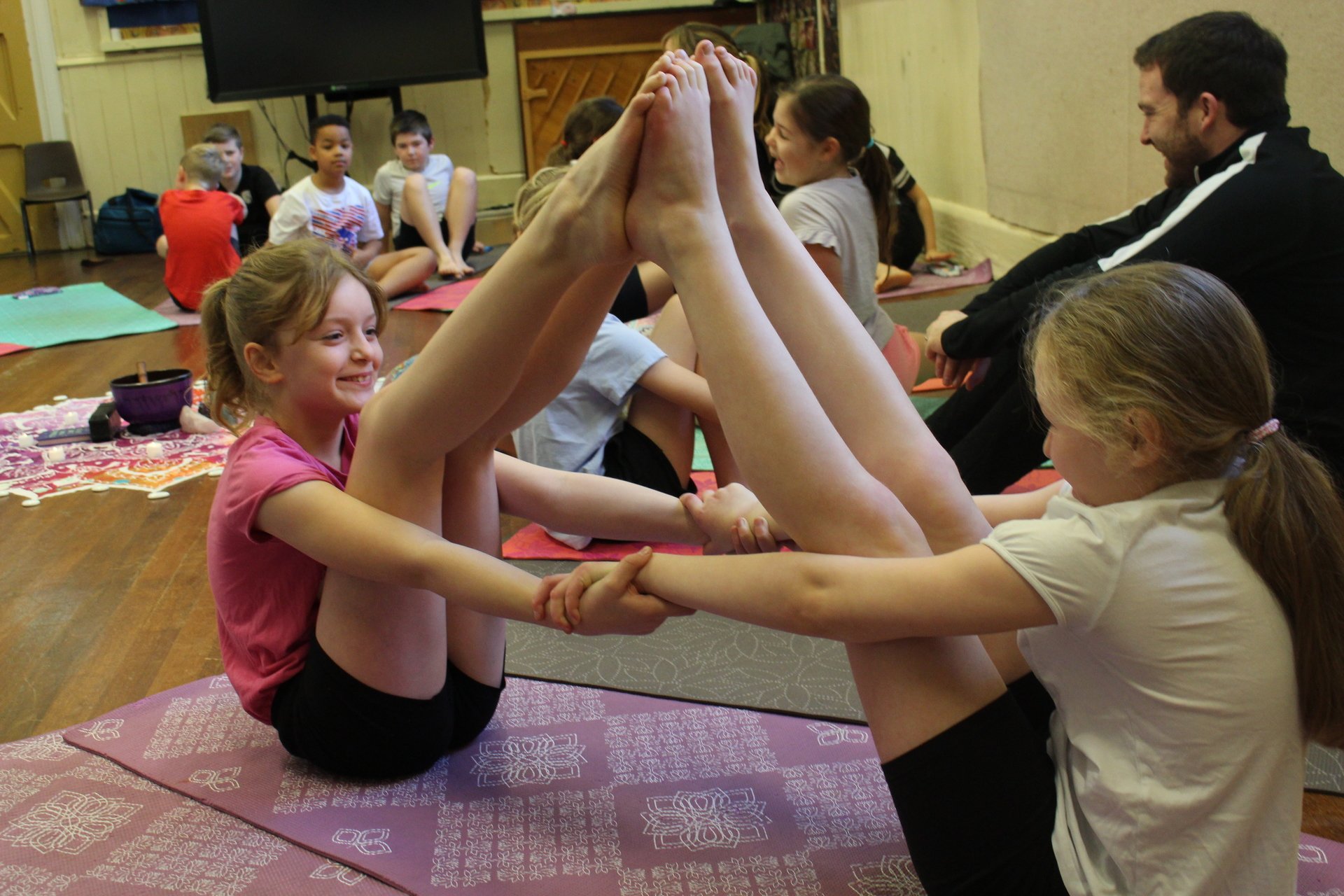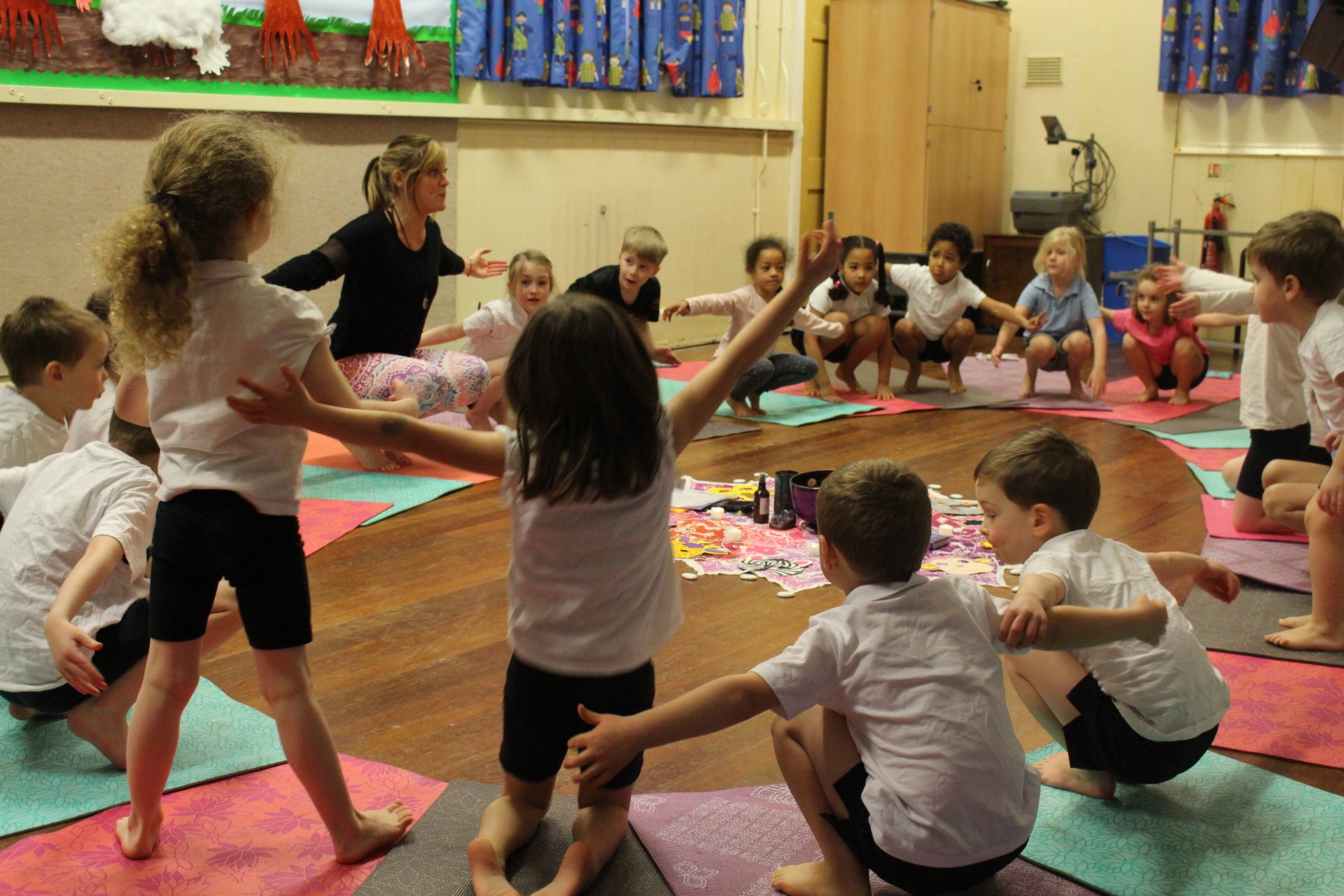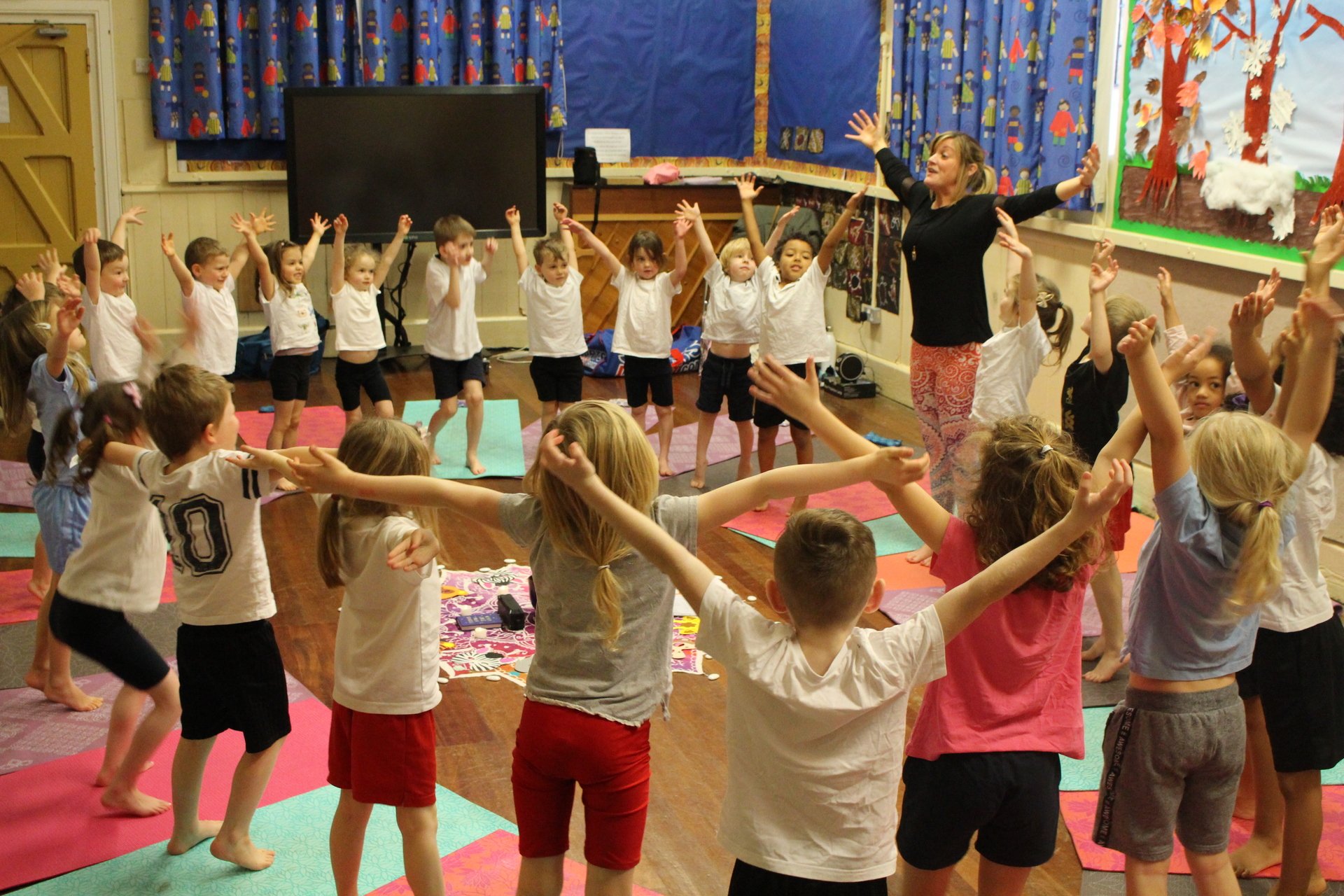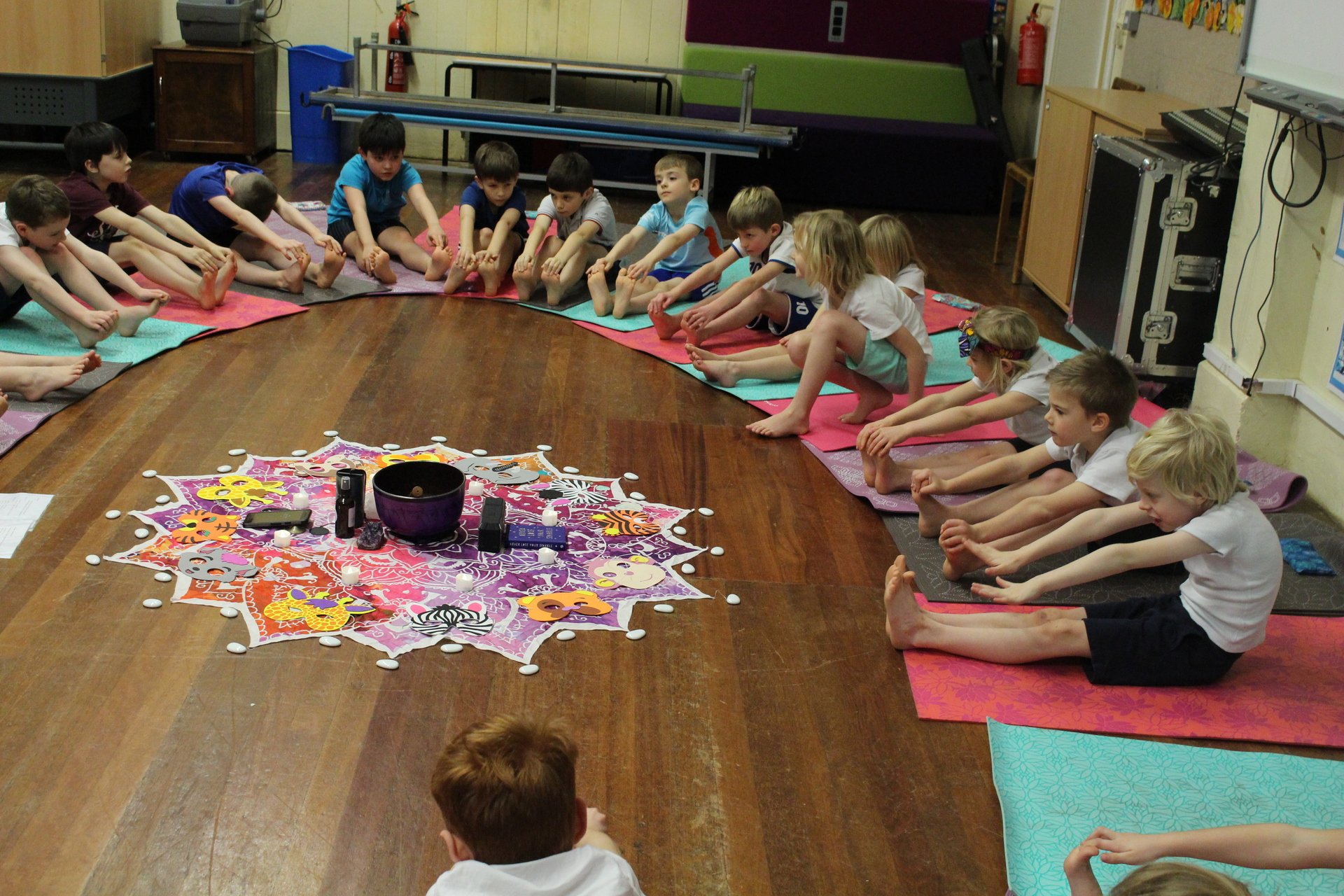 Christmas Performances 2019
Our key stage one children treated us to a performance of Cinderella & Rockerfella: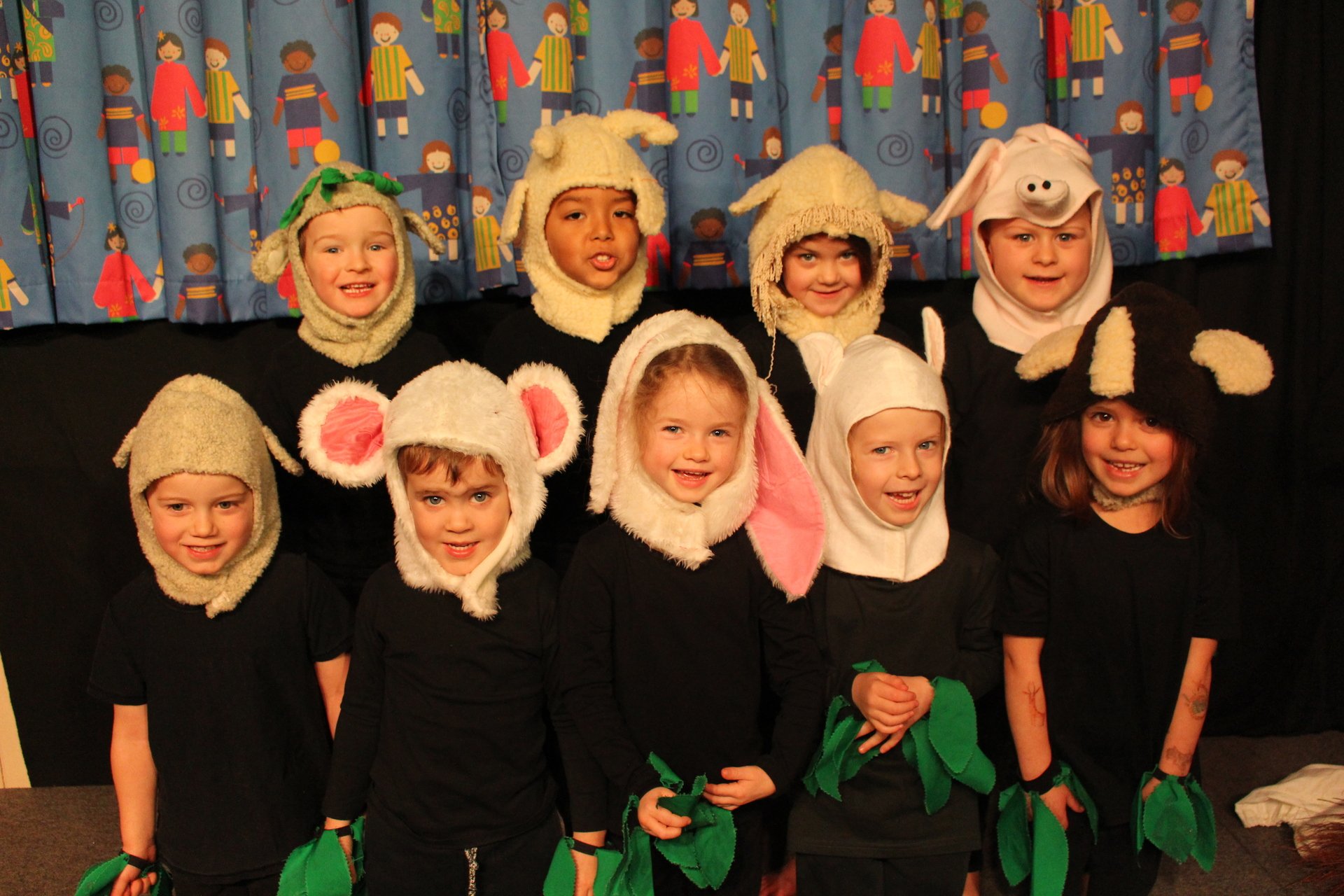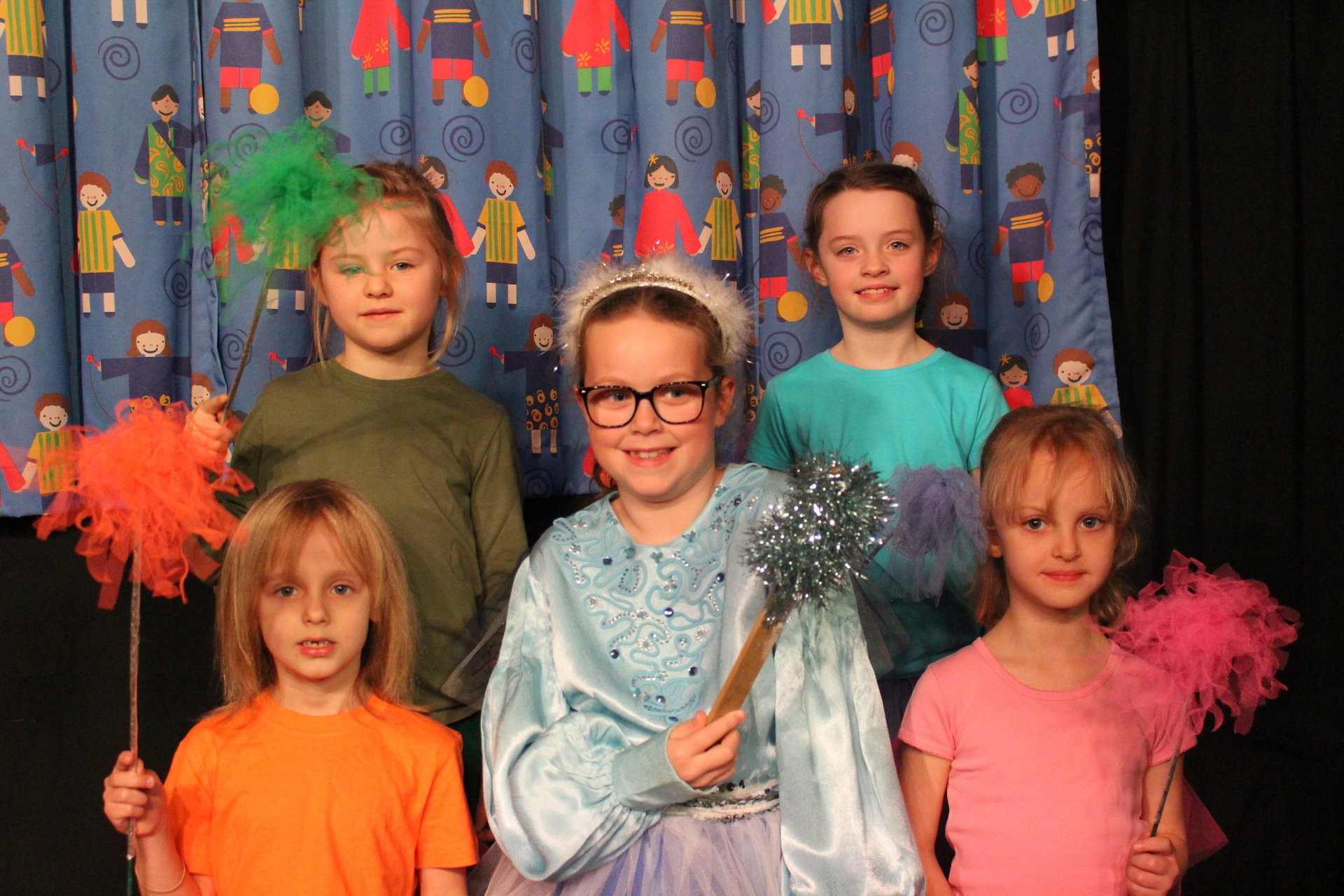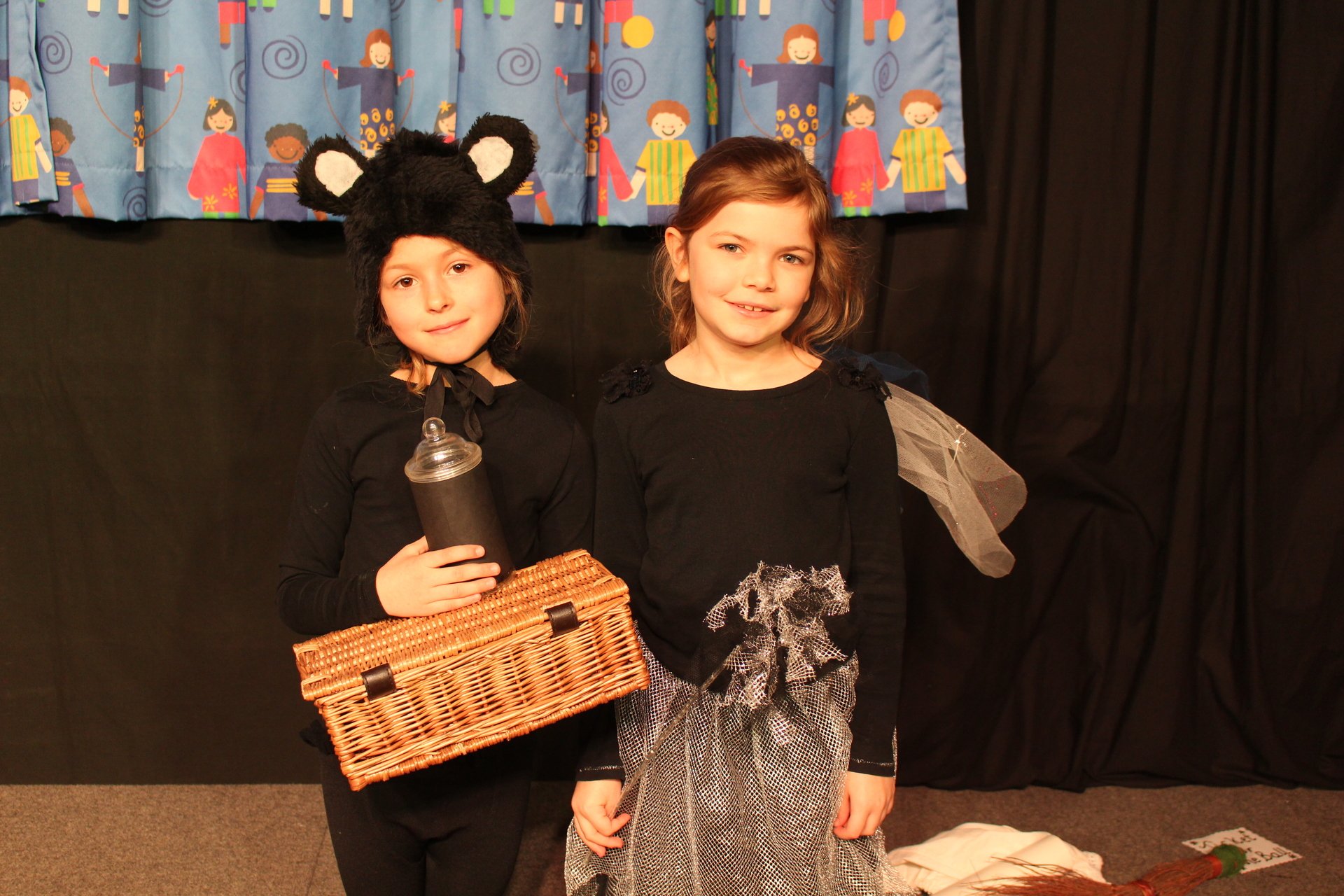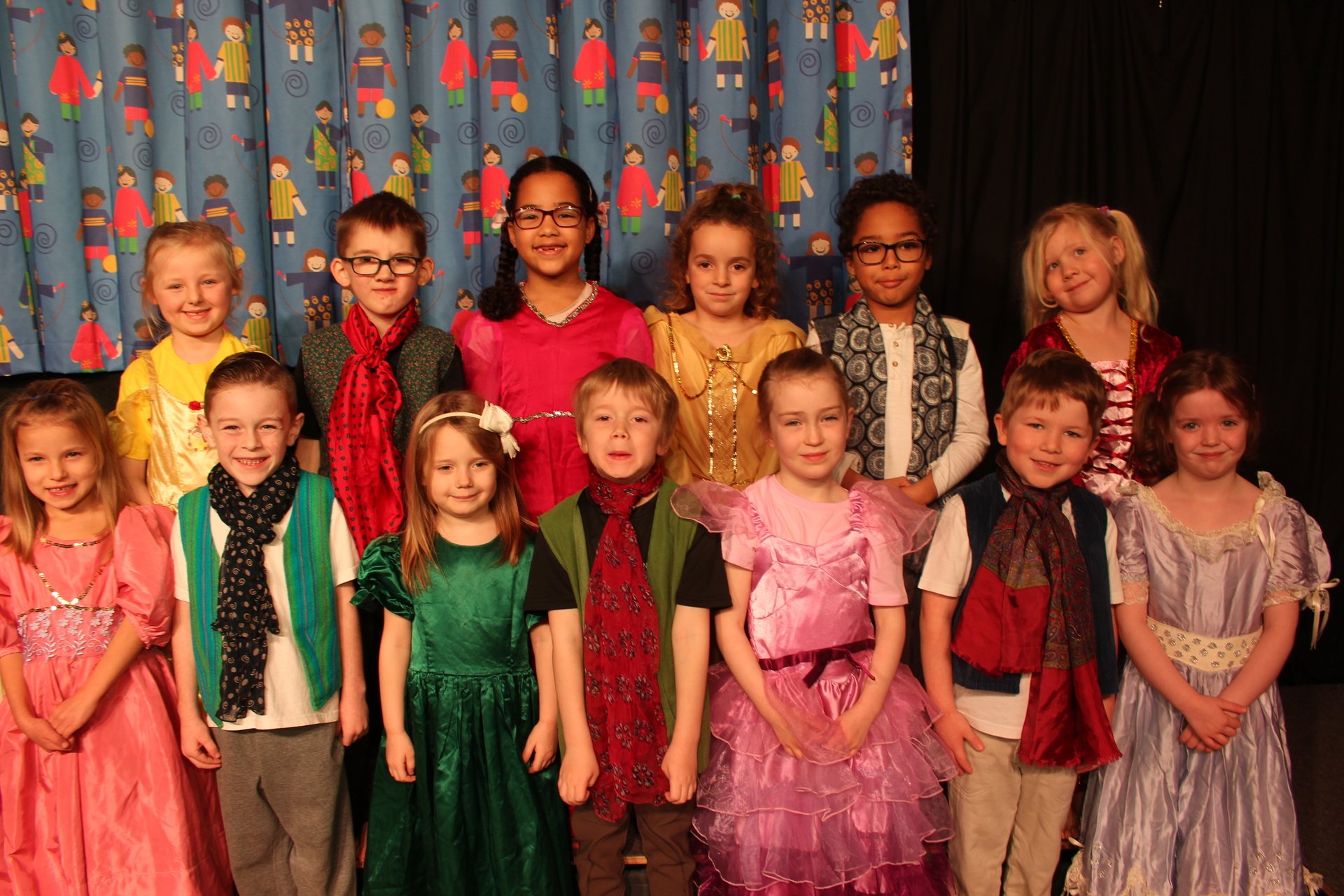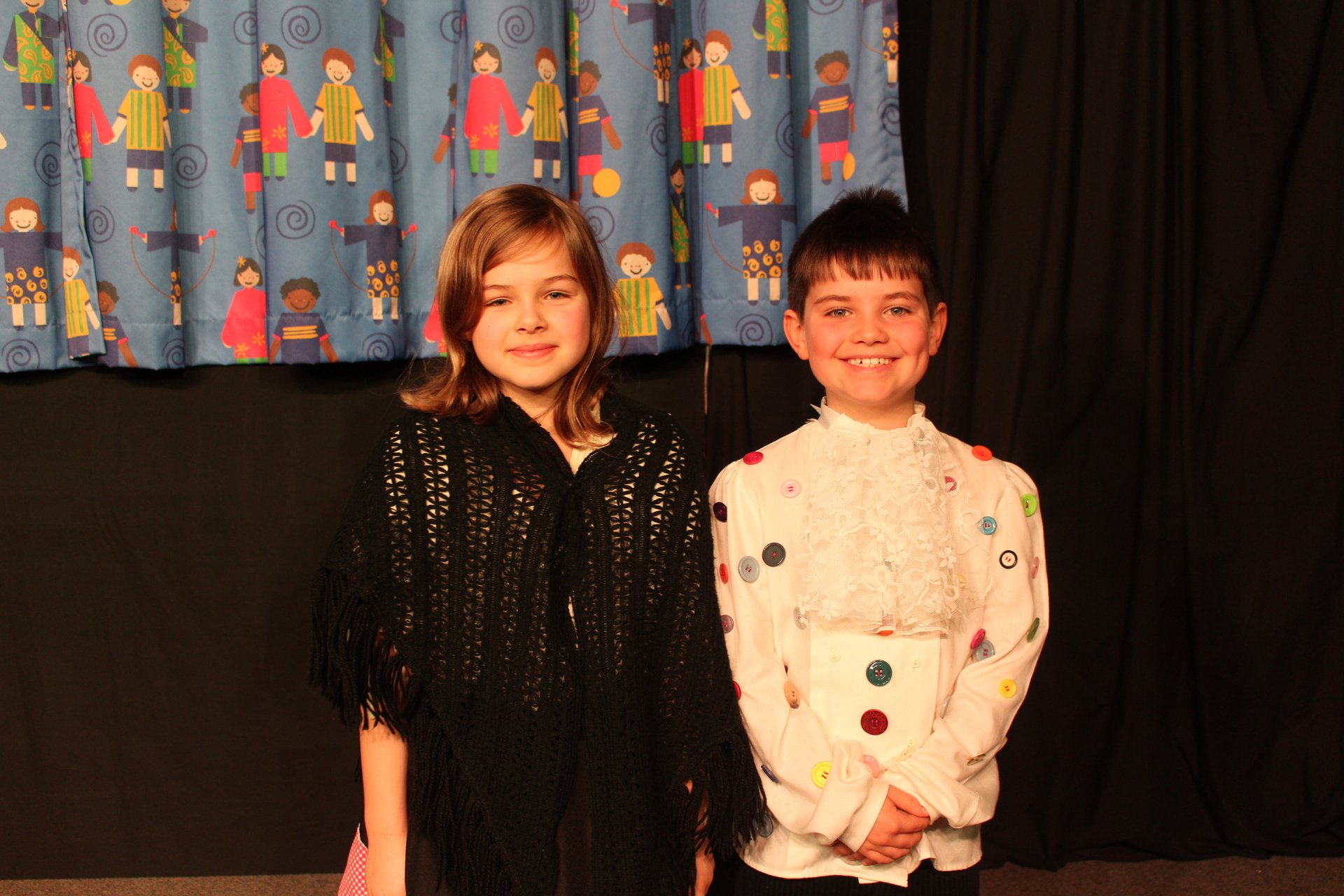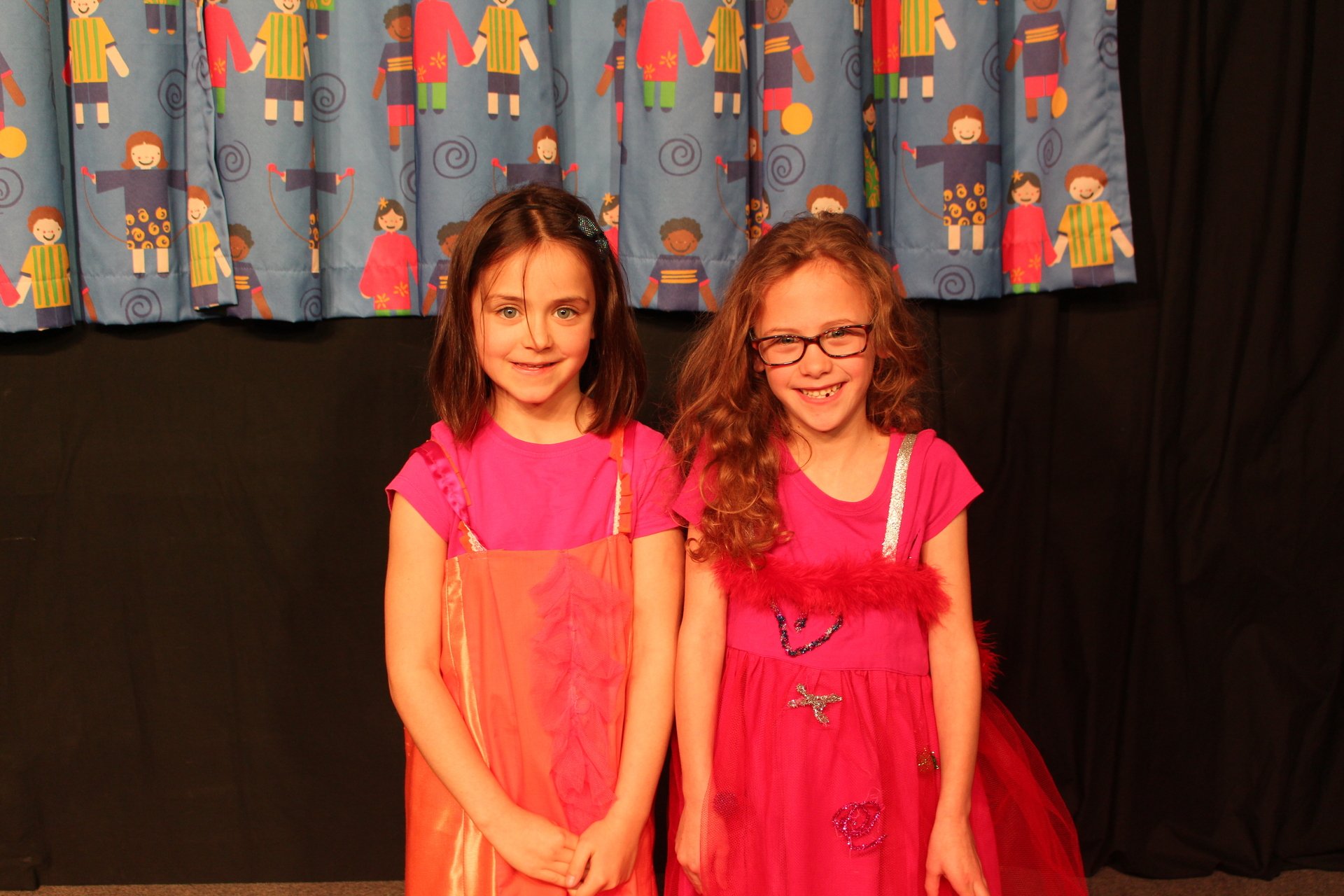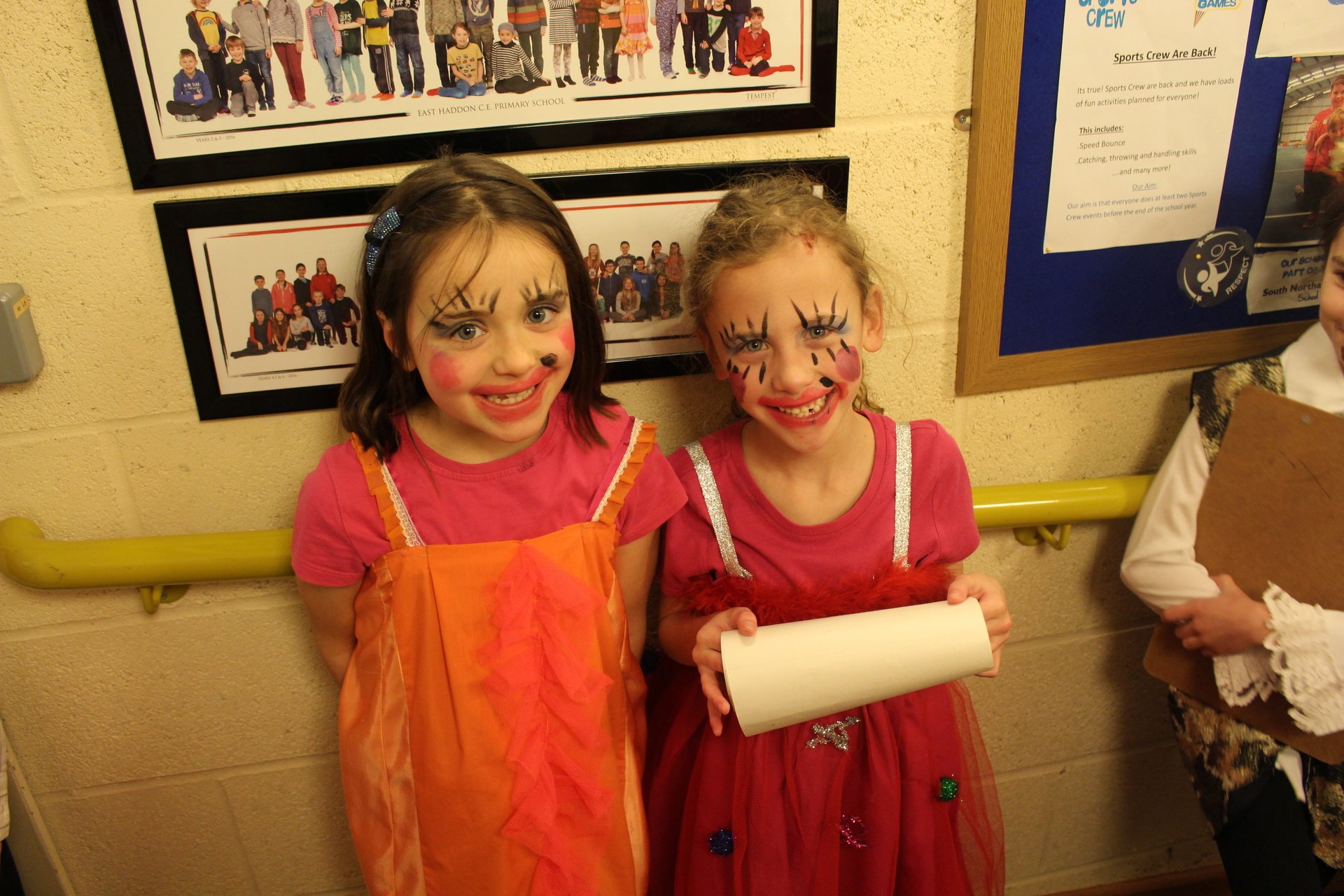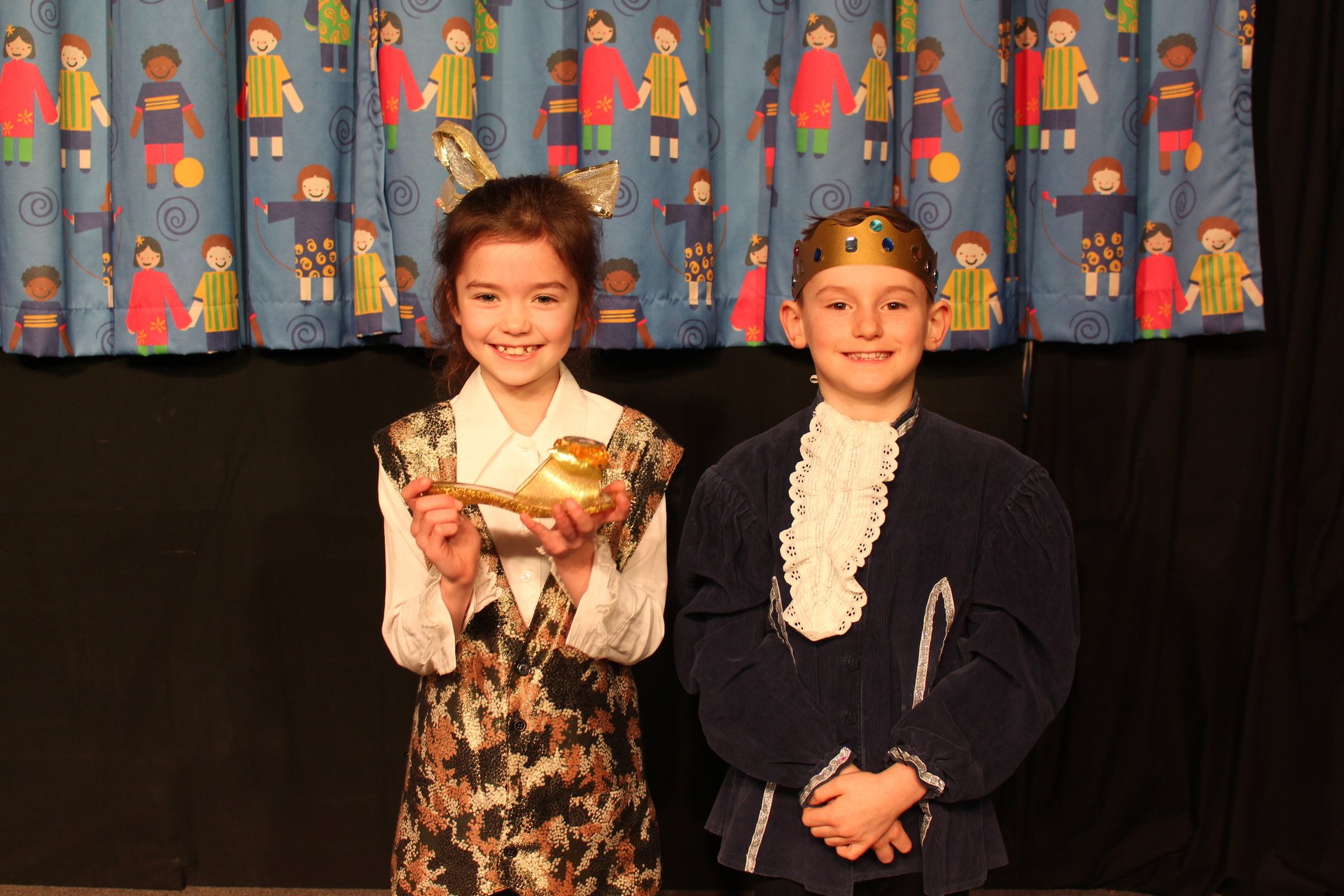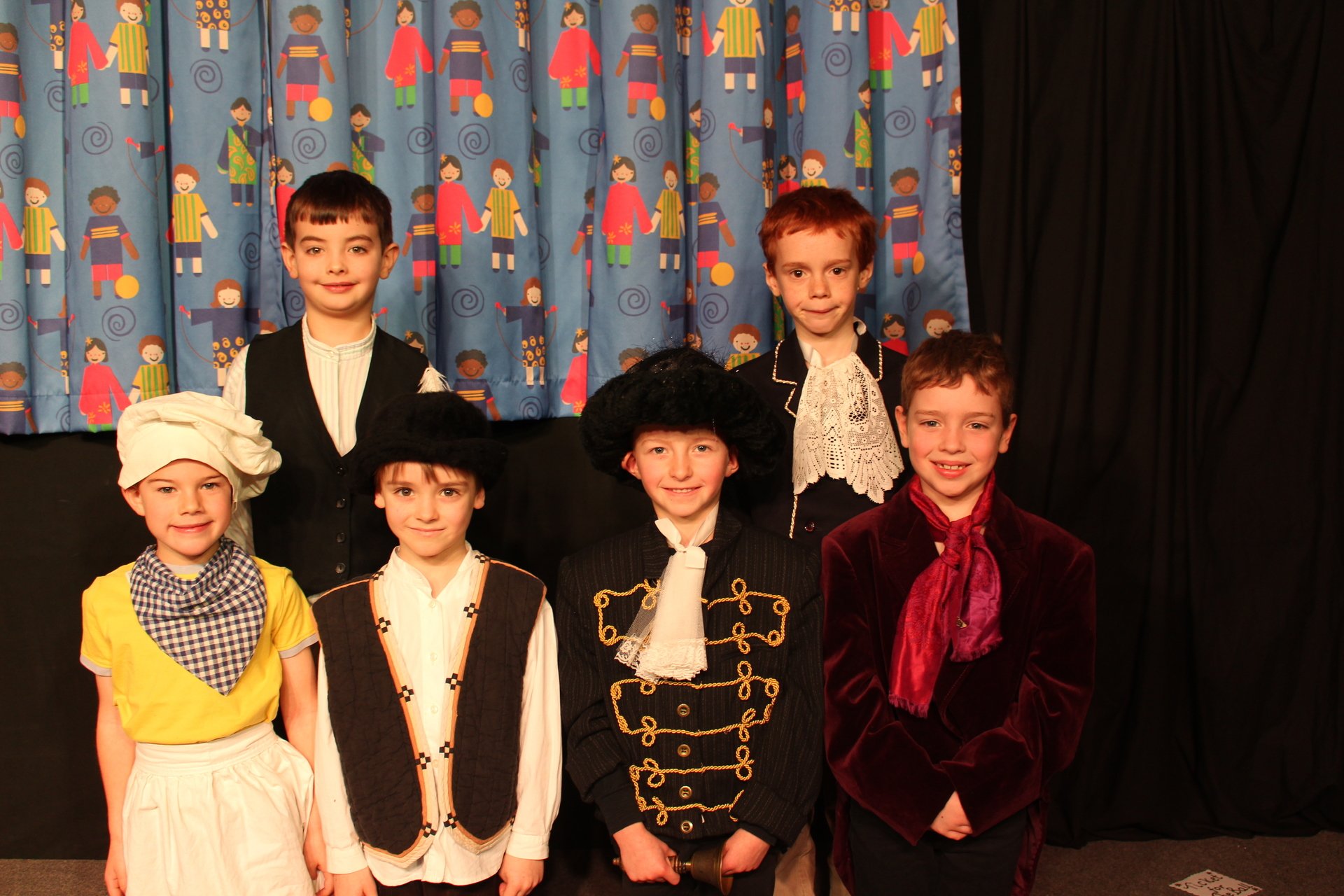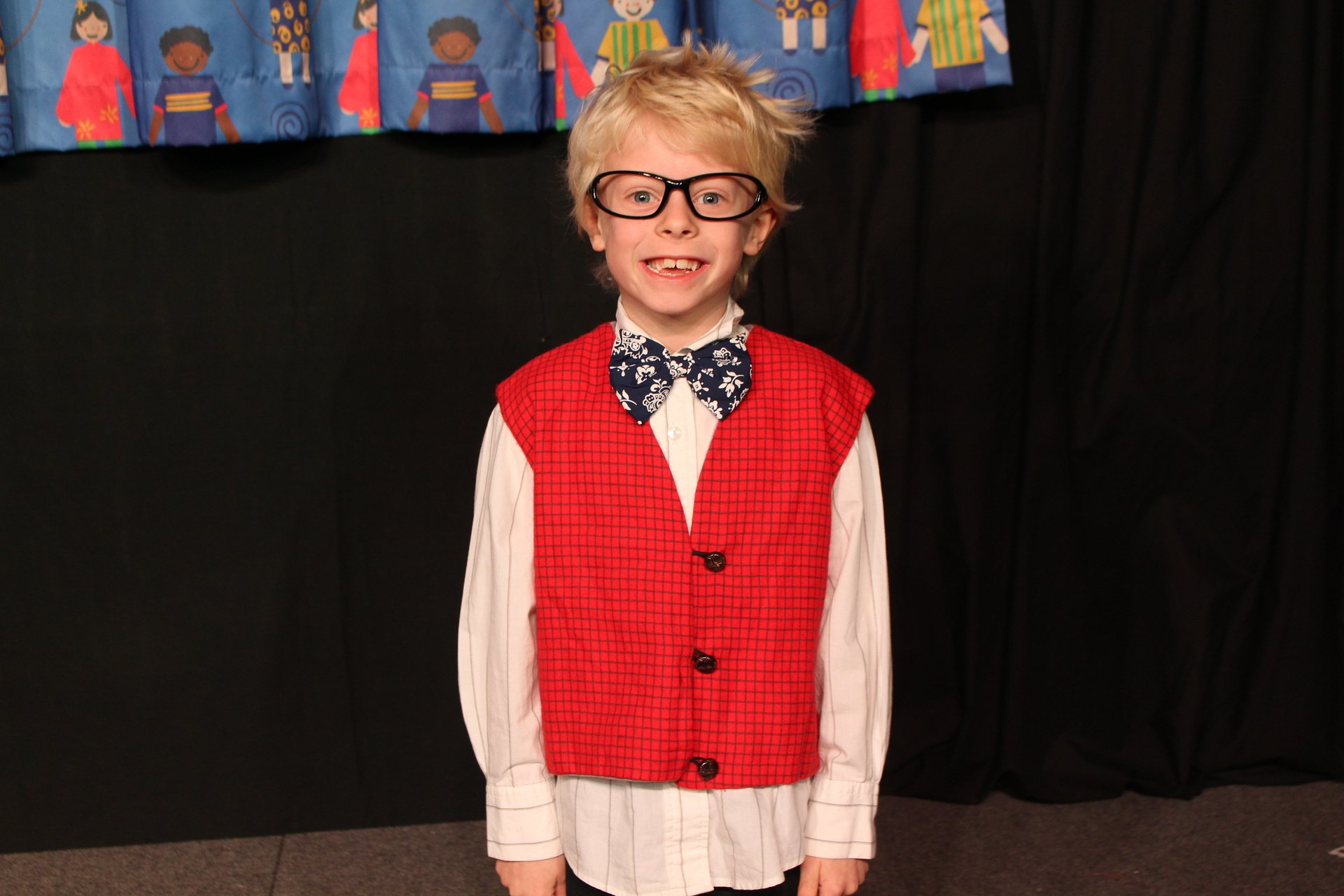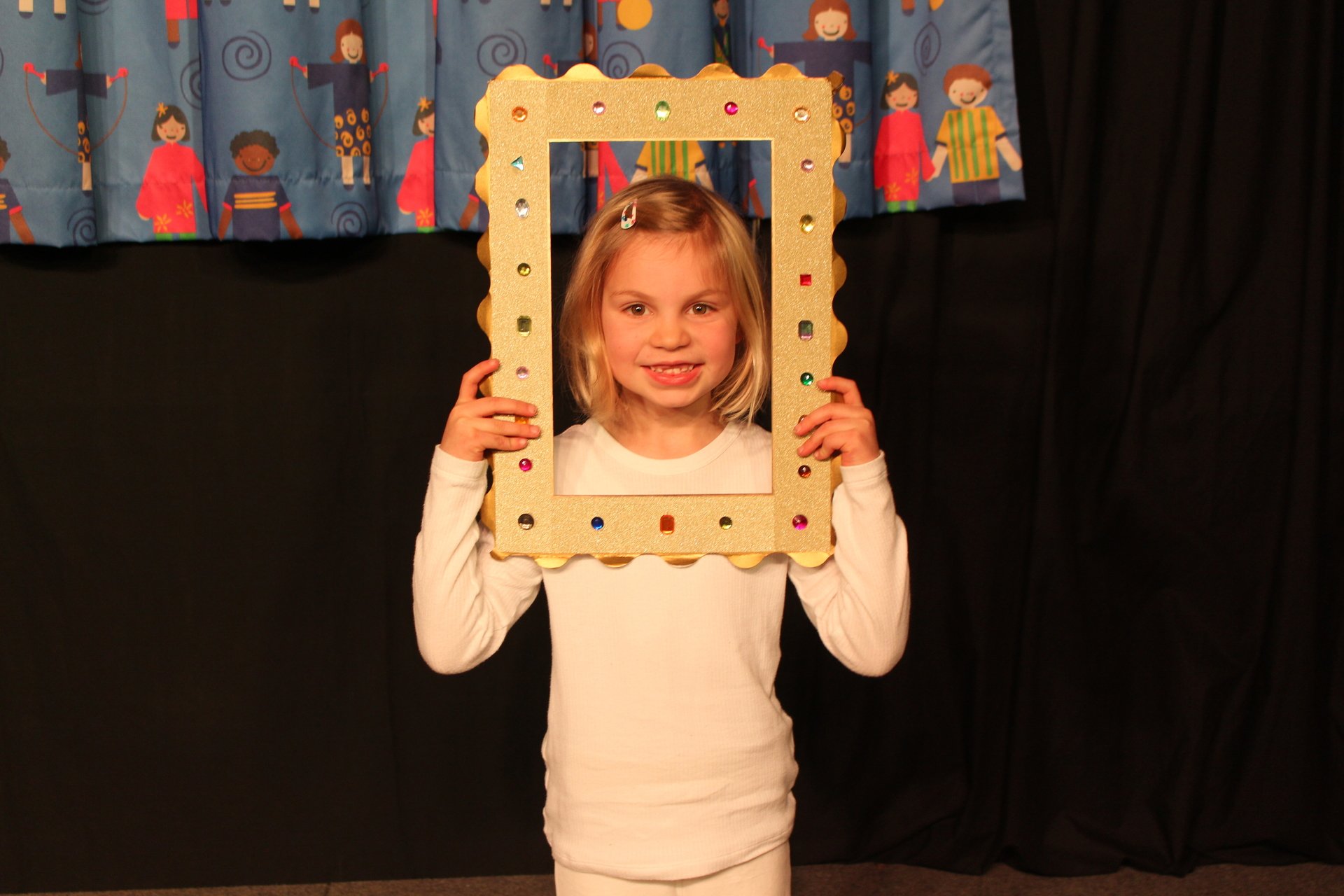 Our key stage two children treated us to a performance of Hosanna Rock!: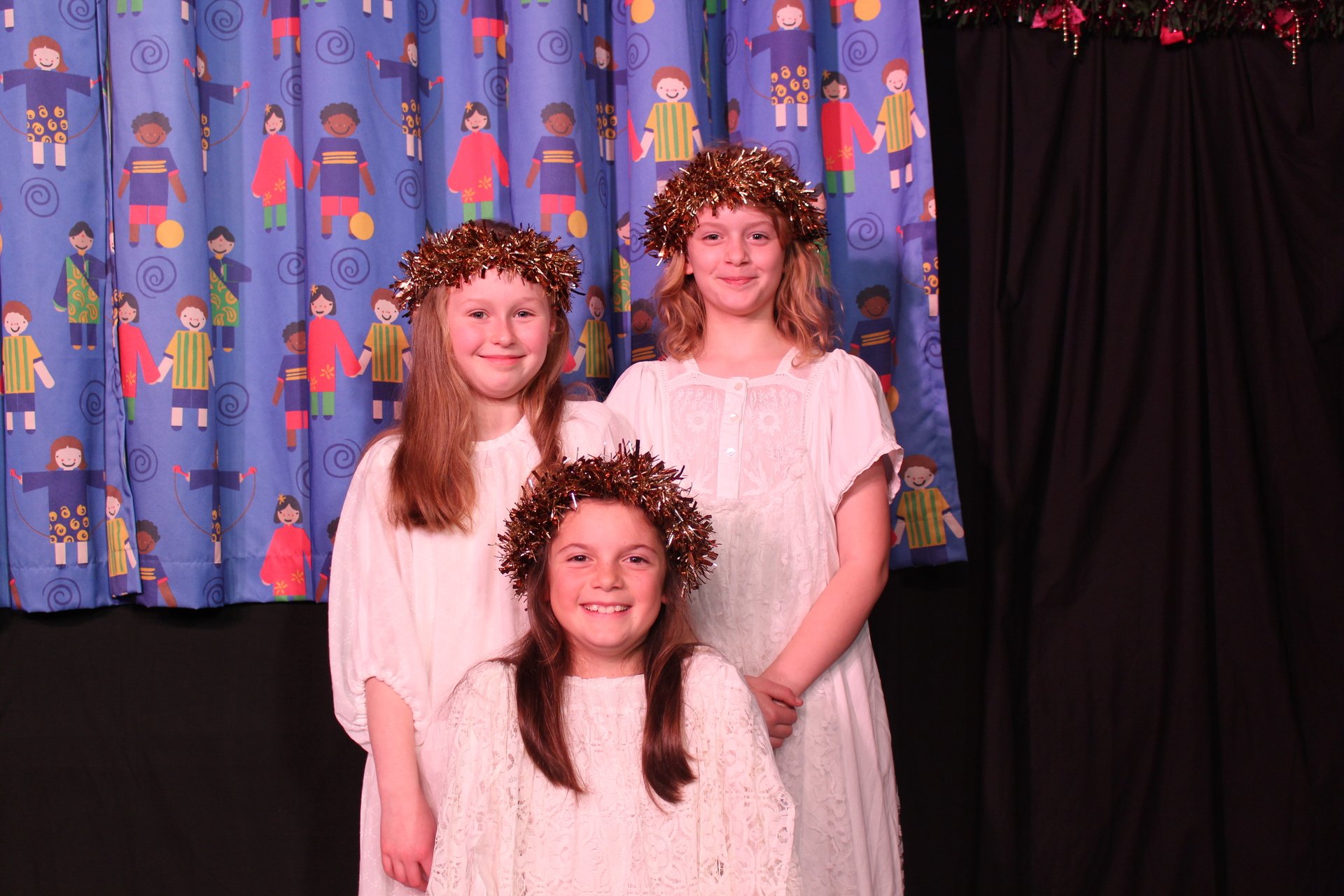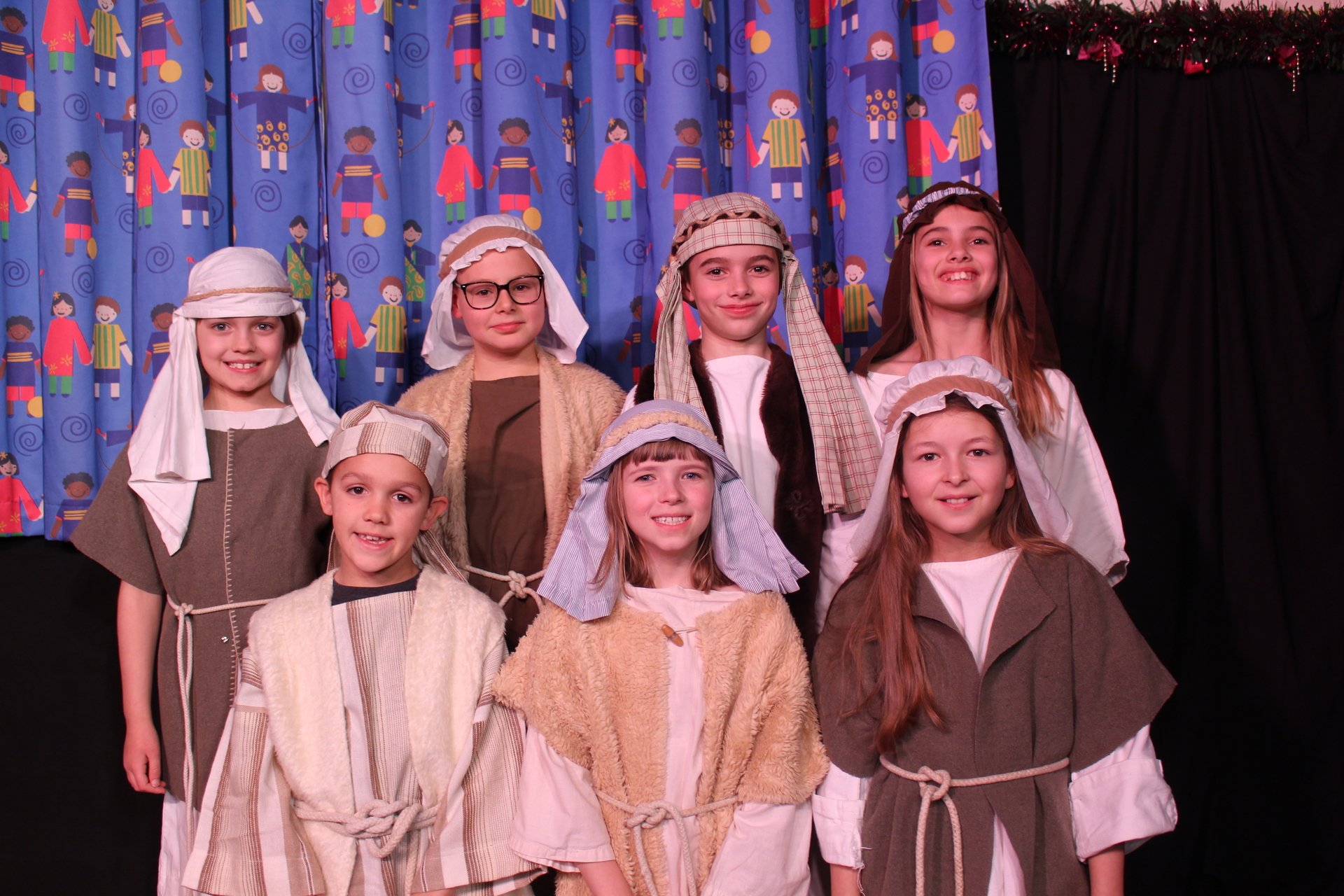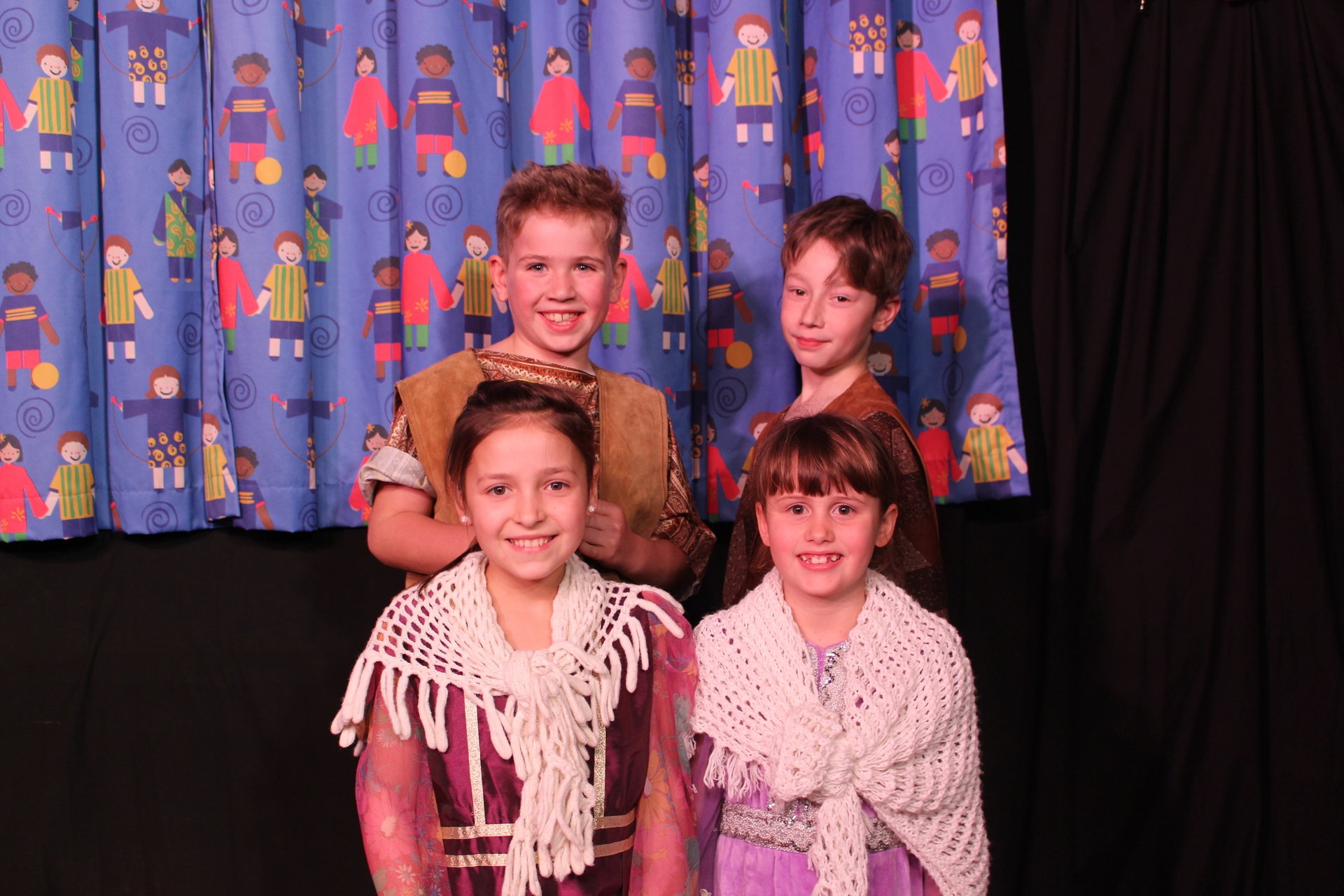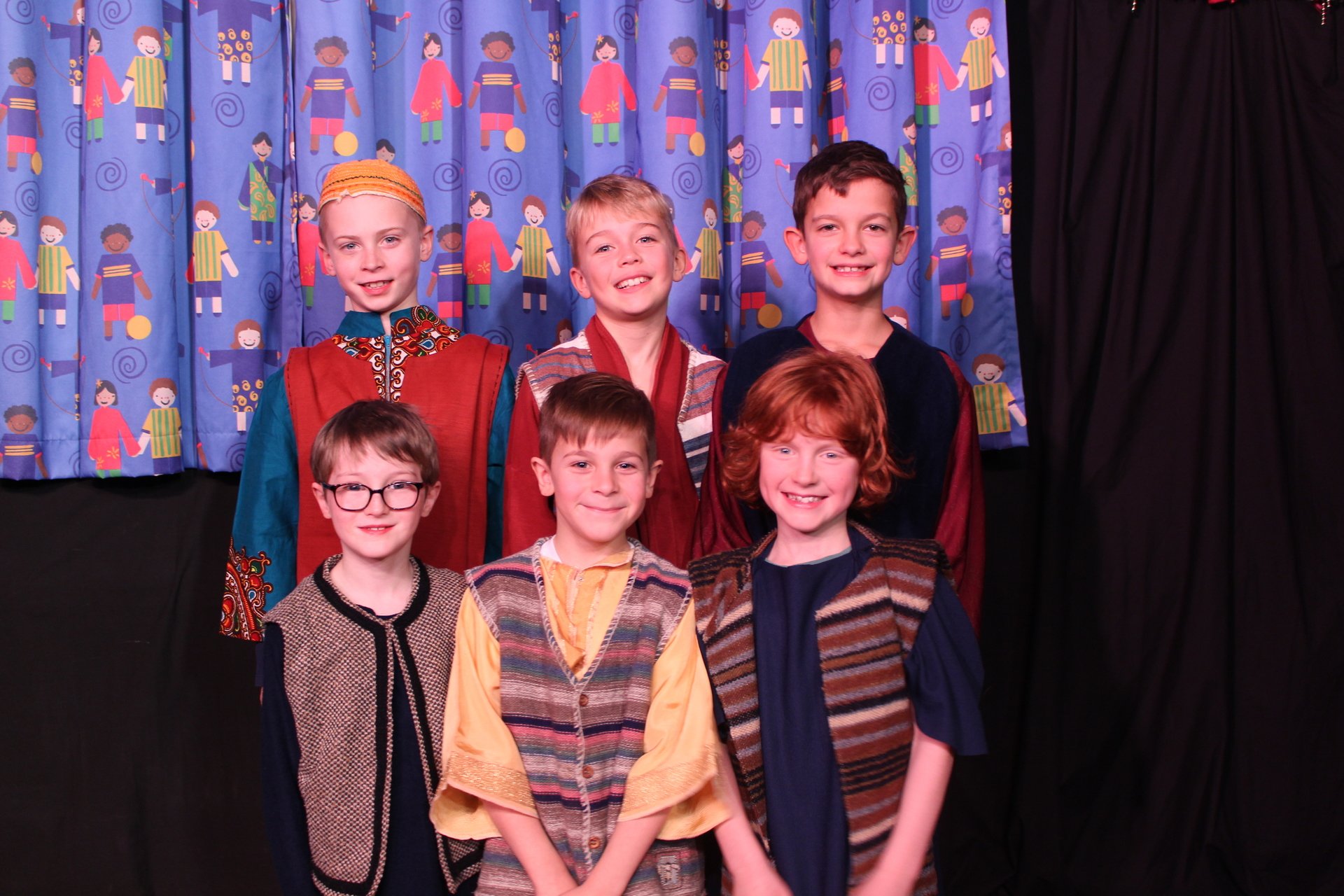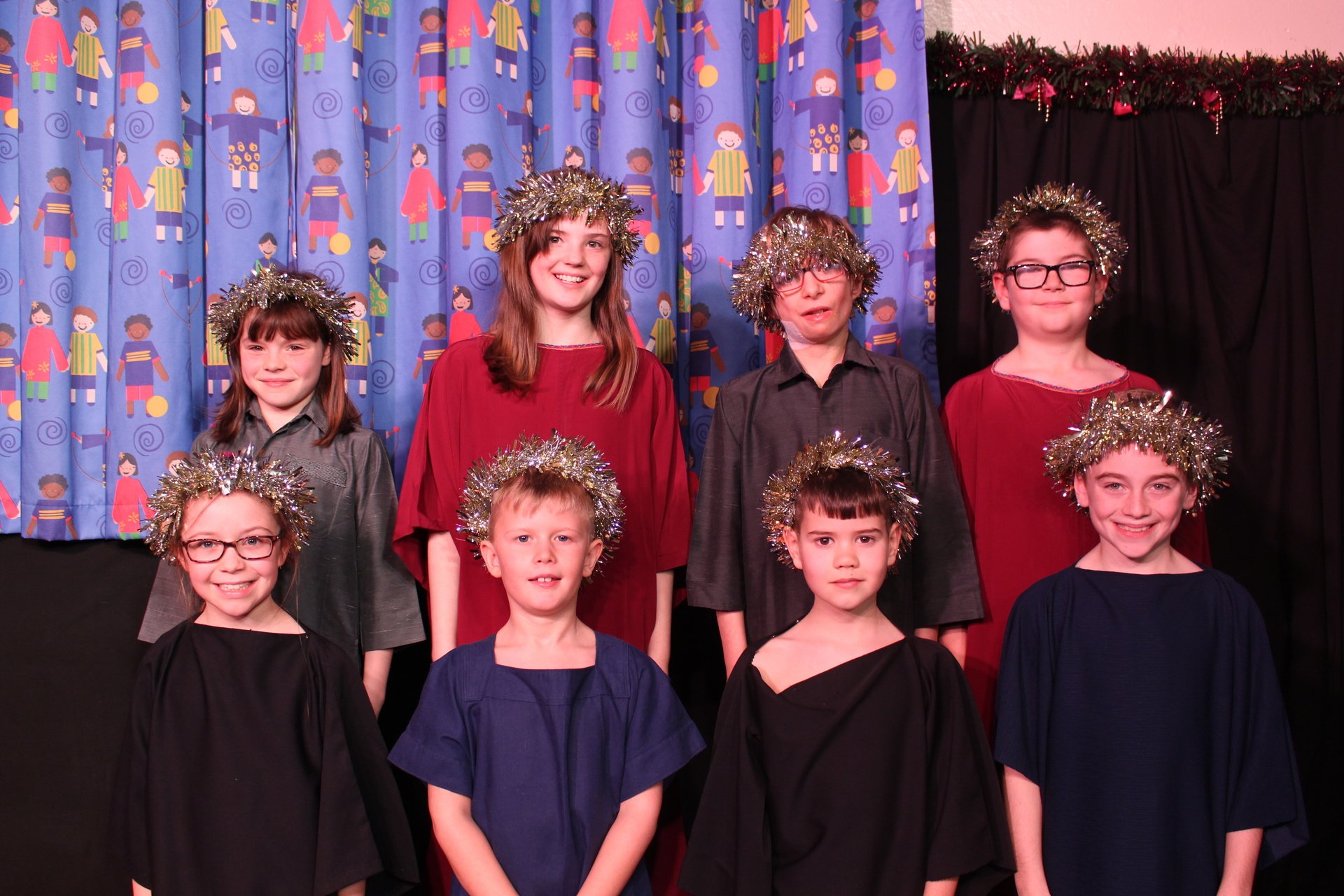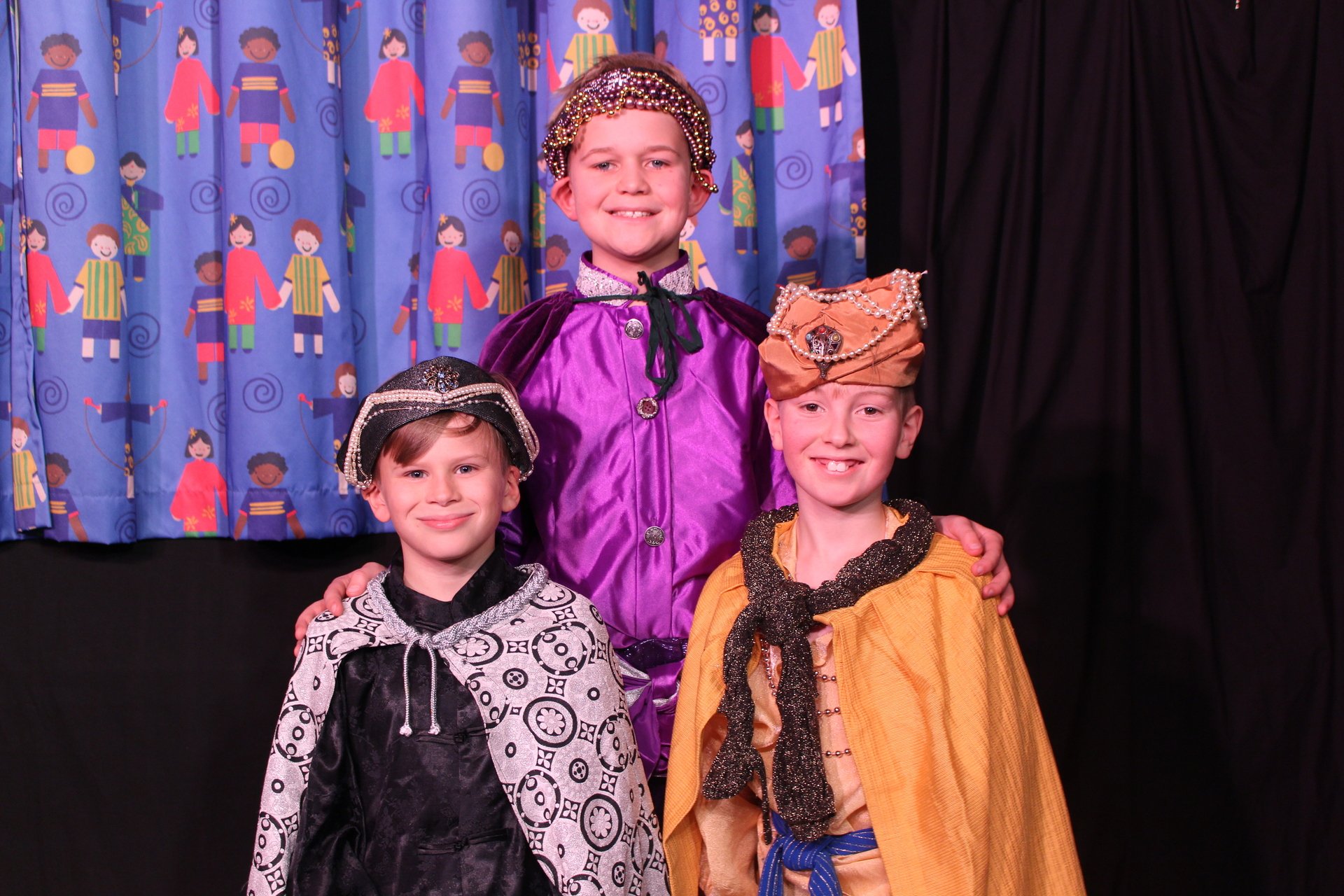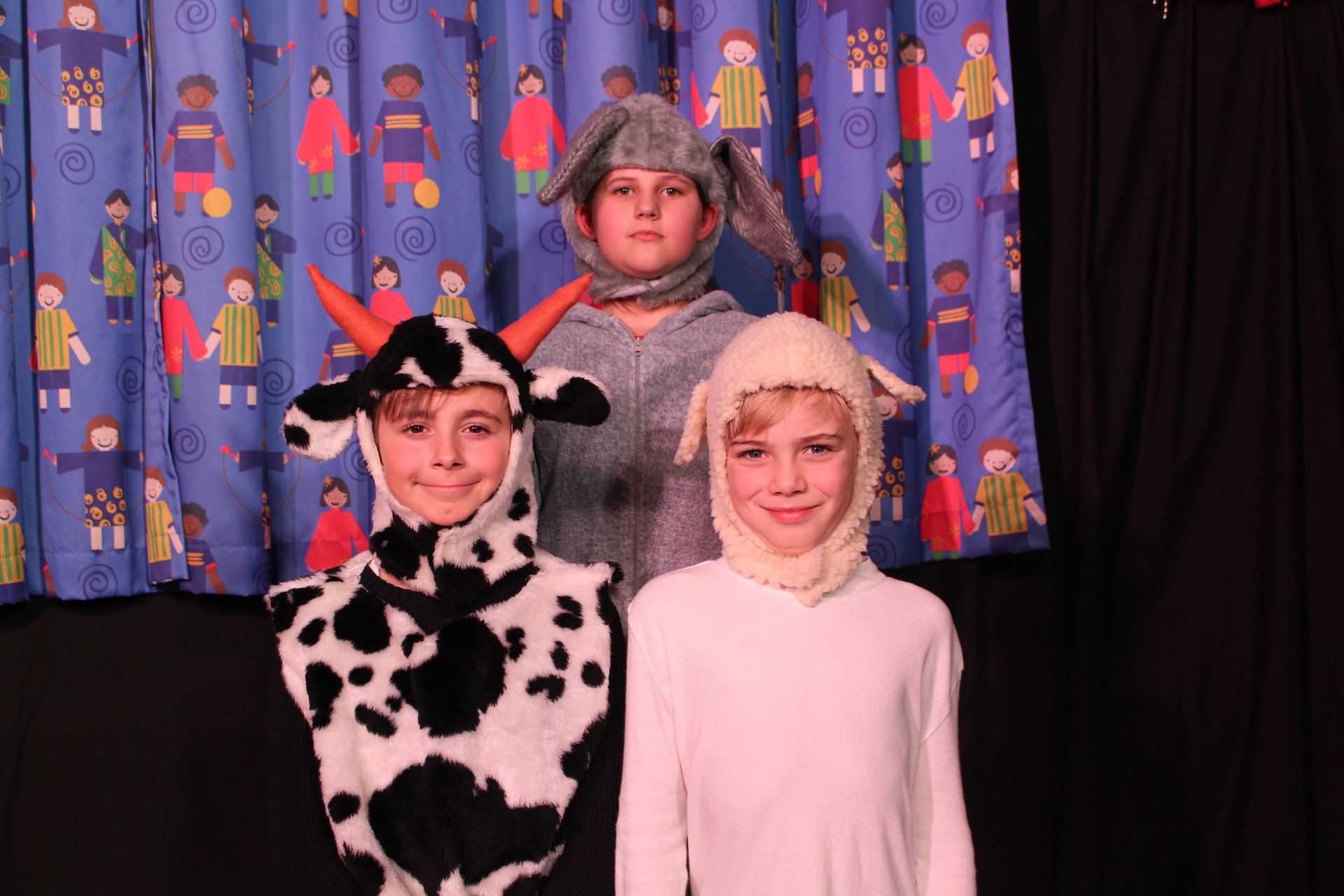 Experience Christmas 2019
We were all lucky enough to visit St Mary's Church to take part in 'Experience Christmas'. We all visited different 'stations' to hear the various parts of the Christmas story. Many thanks to Reverend Andrea and her team for a wonderful experience.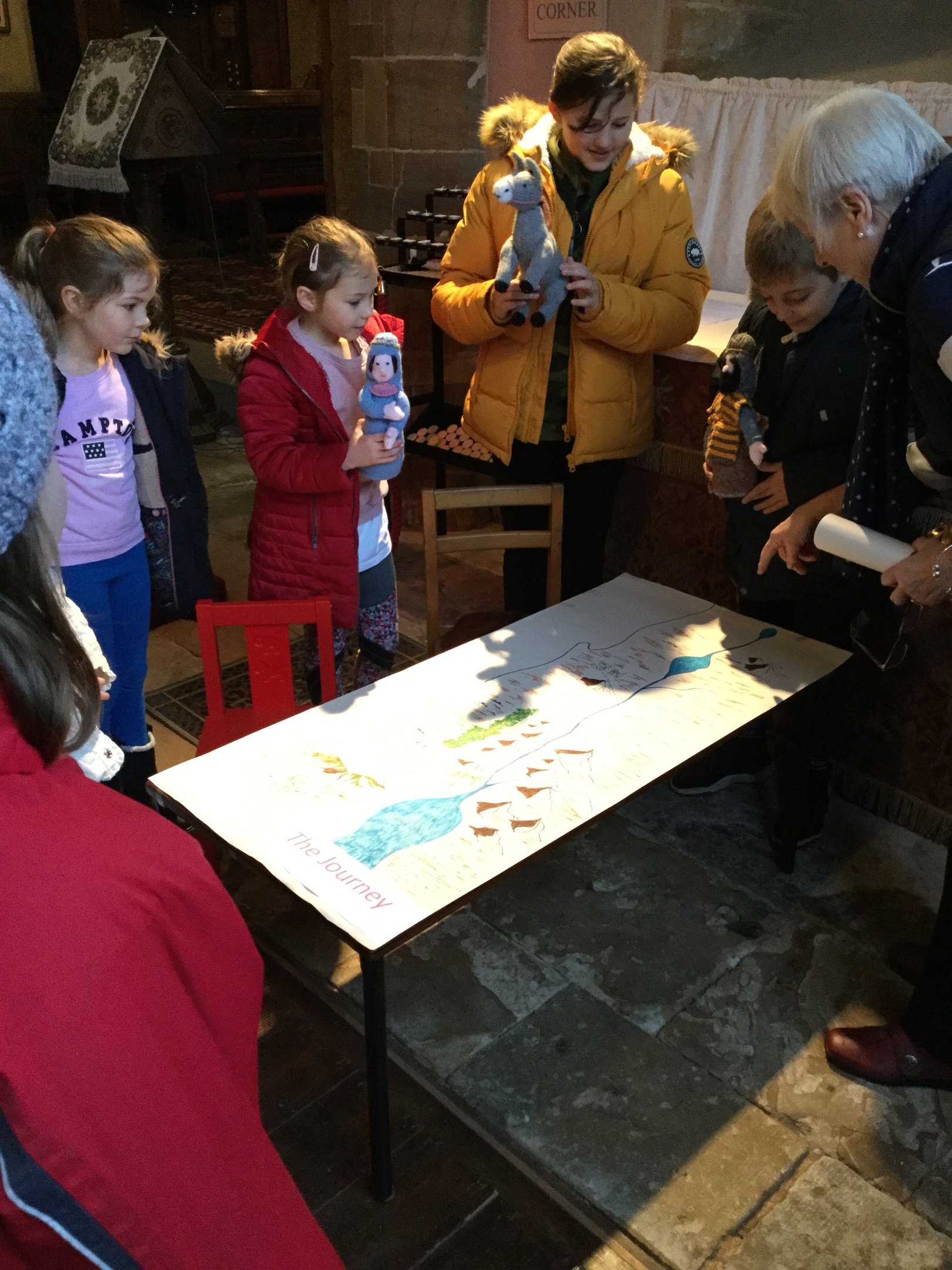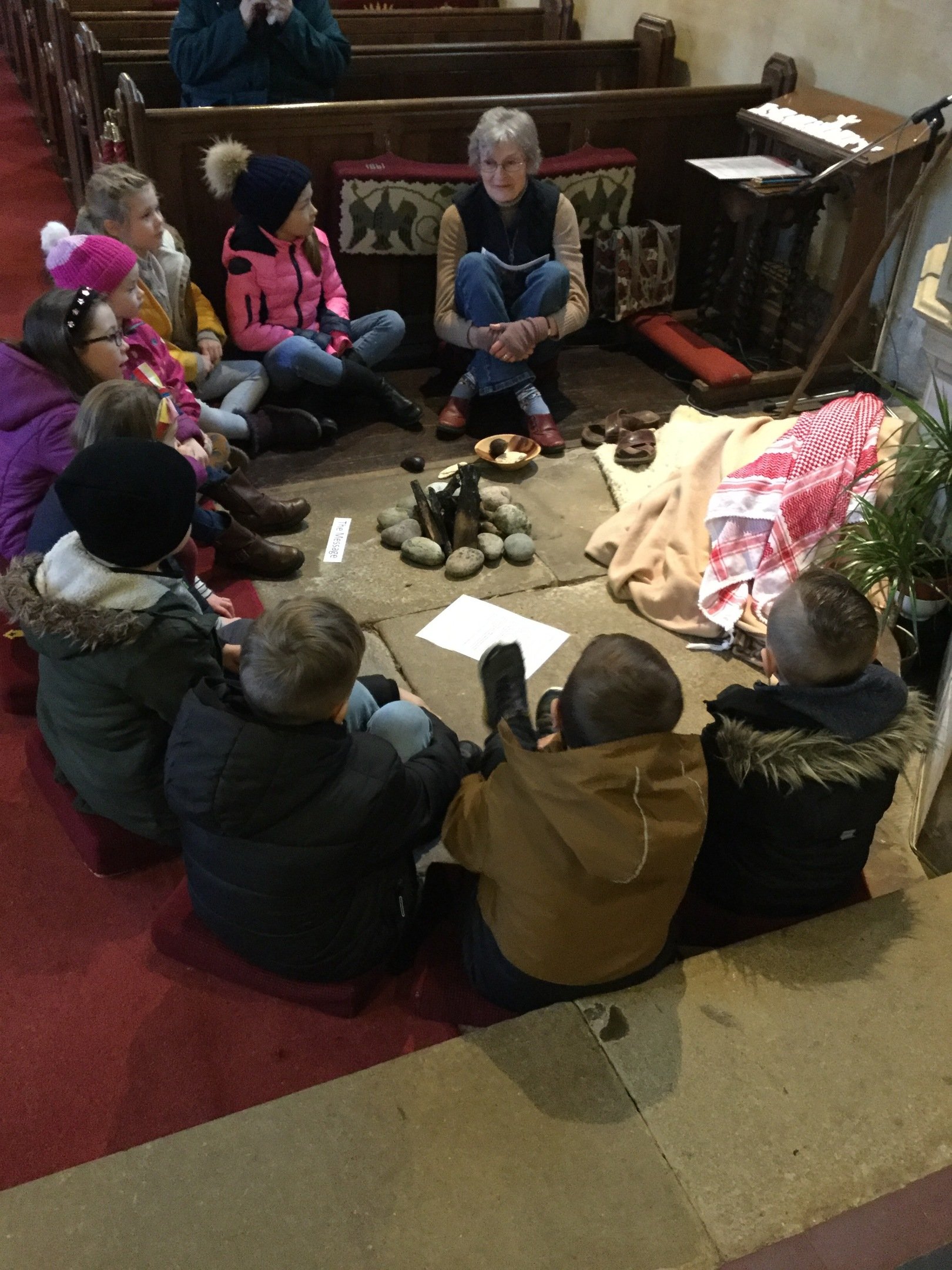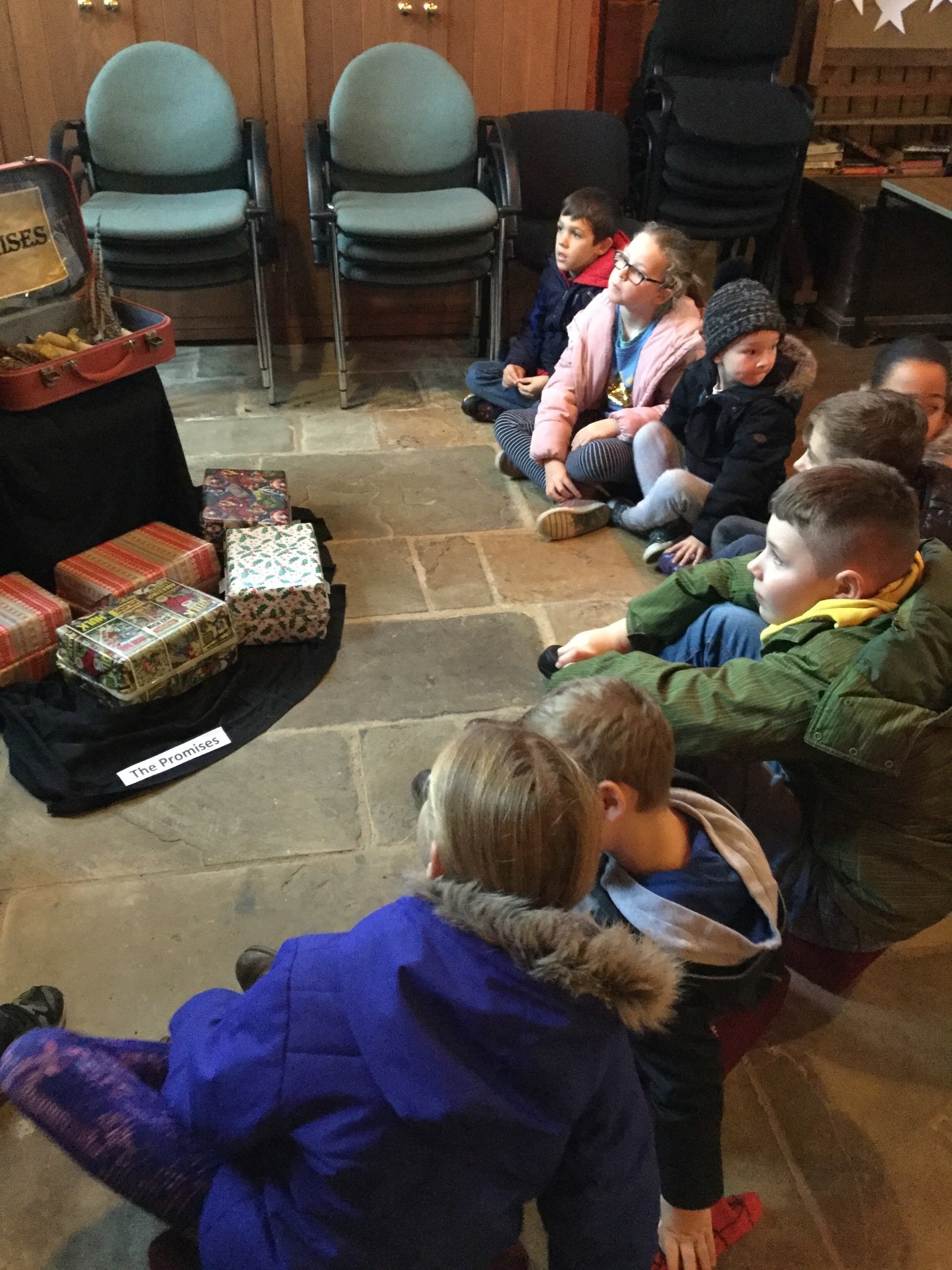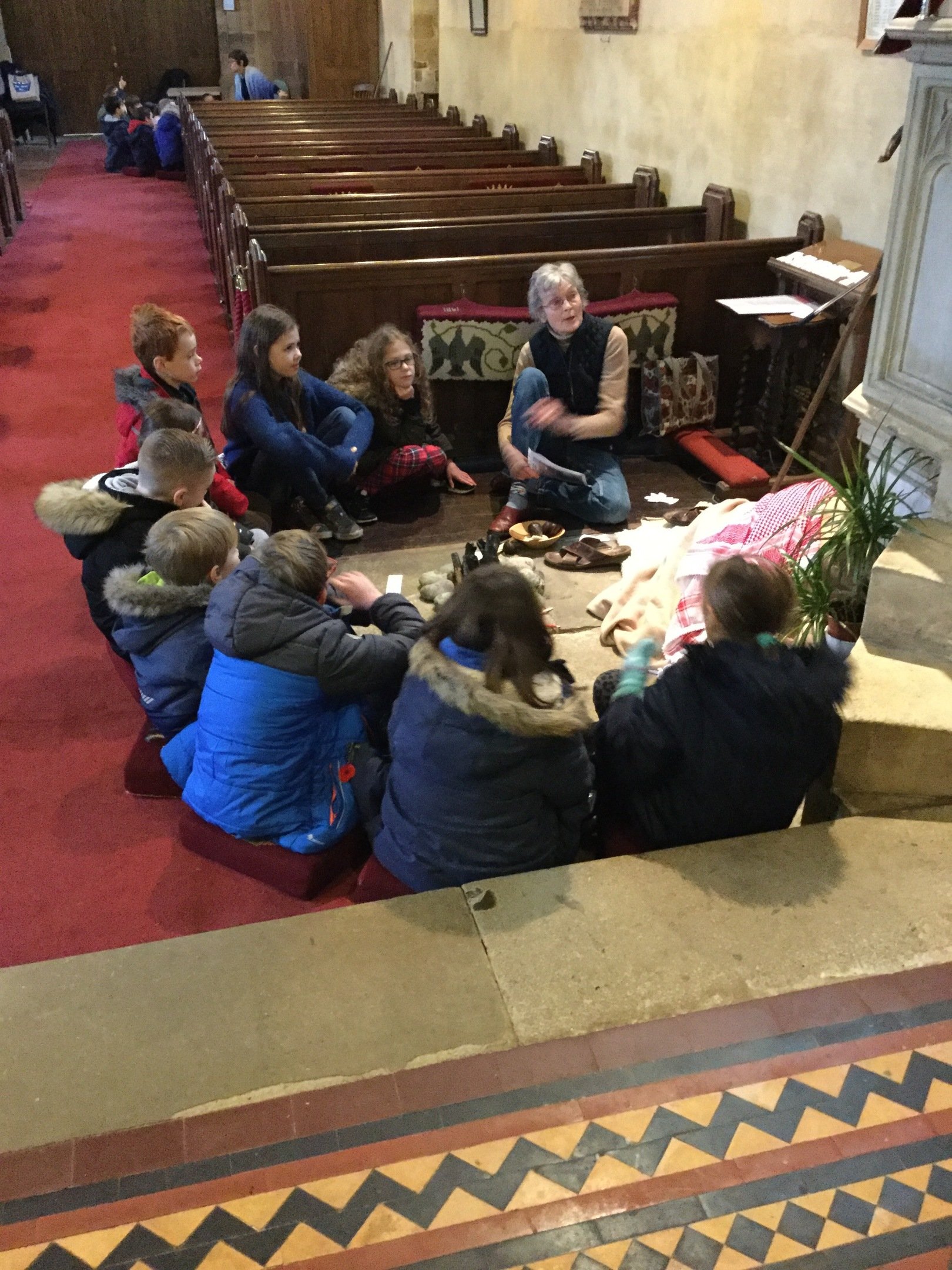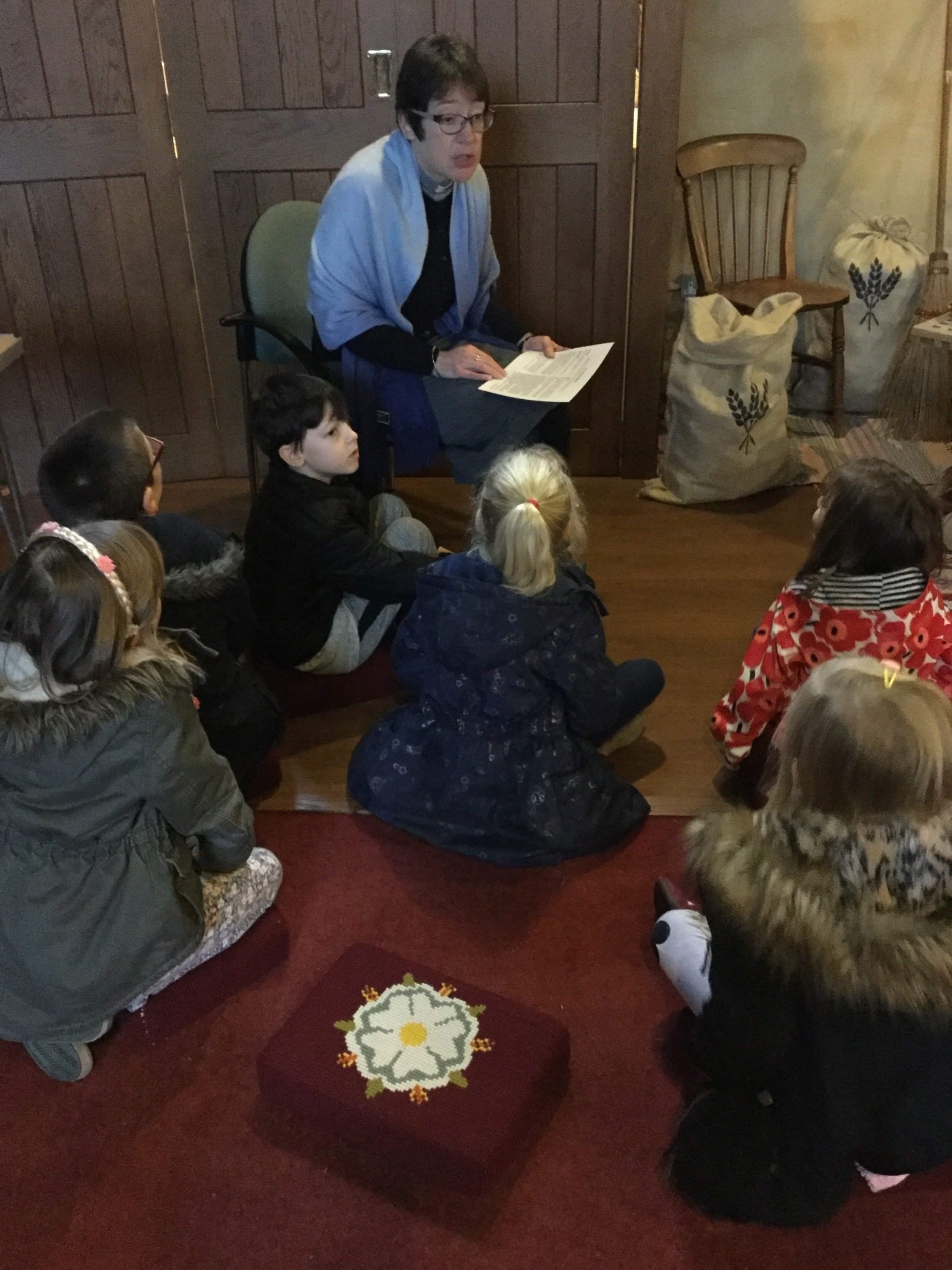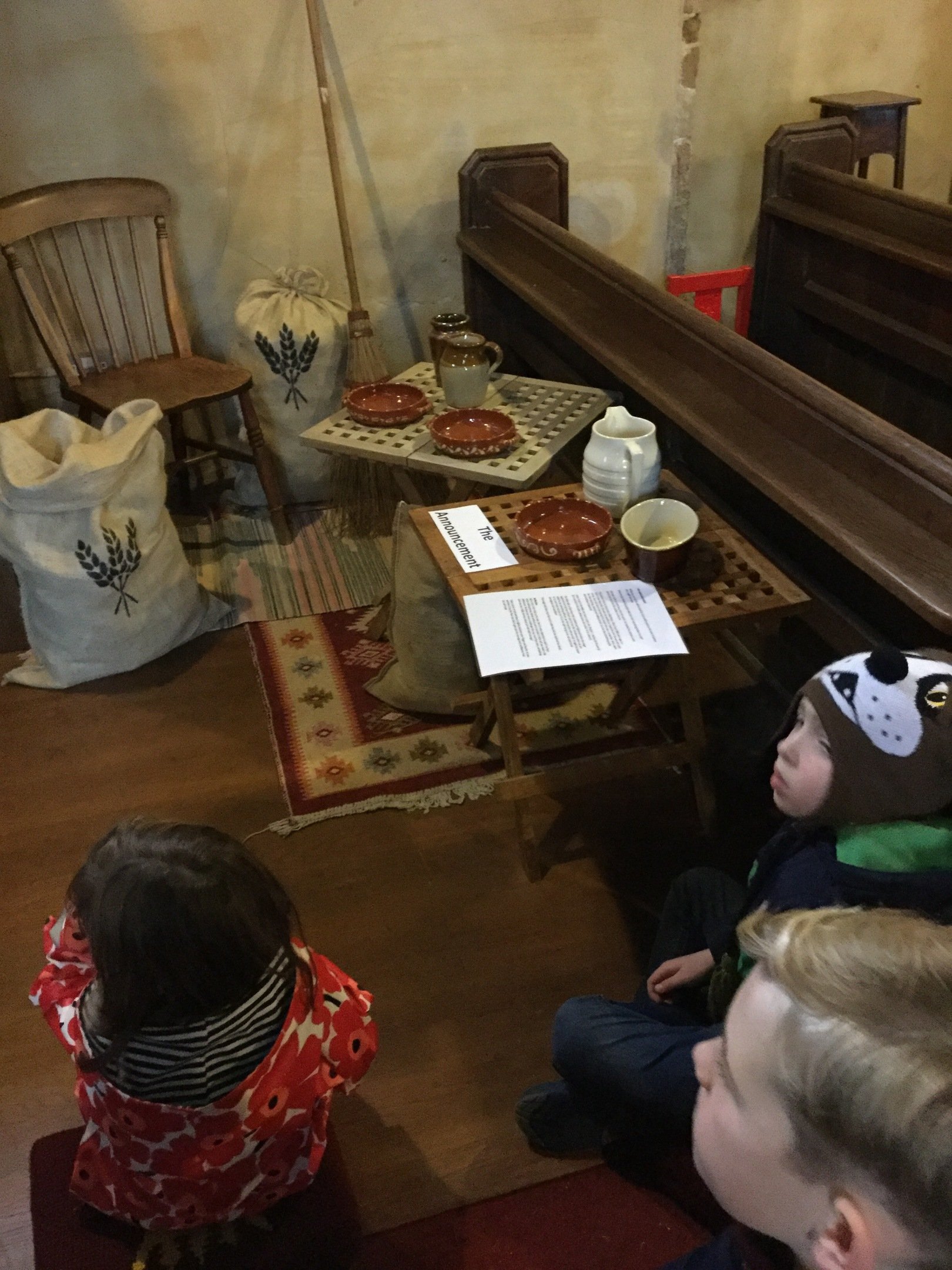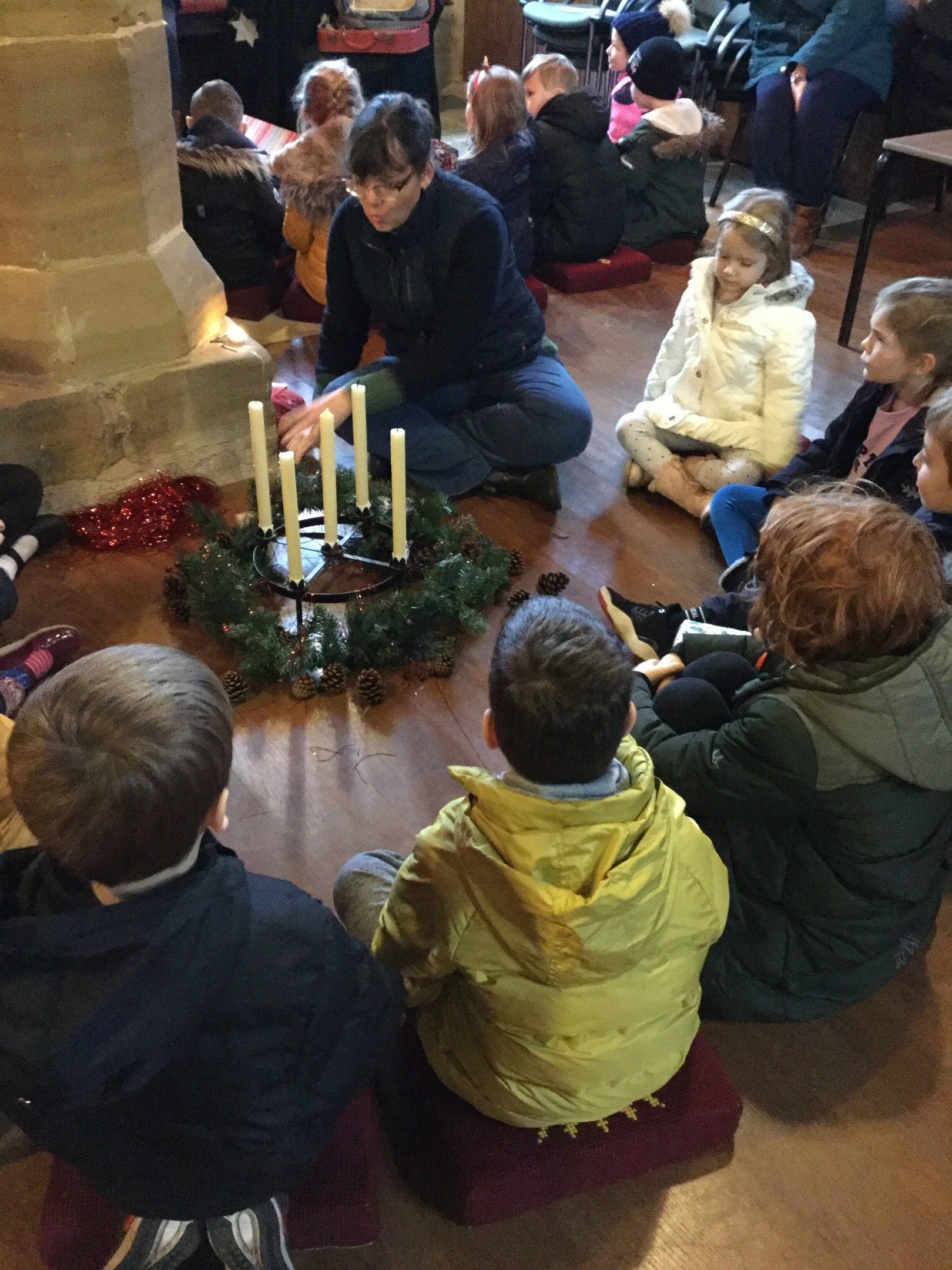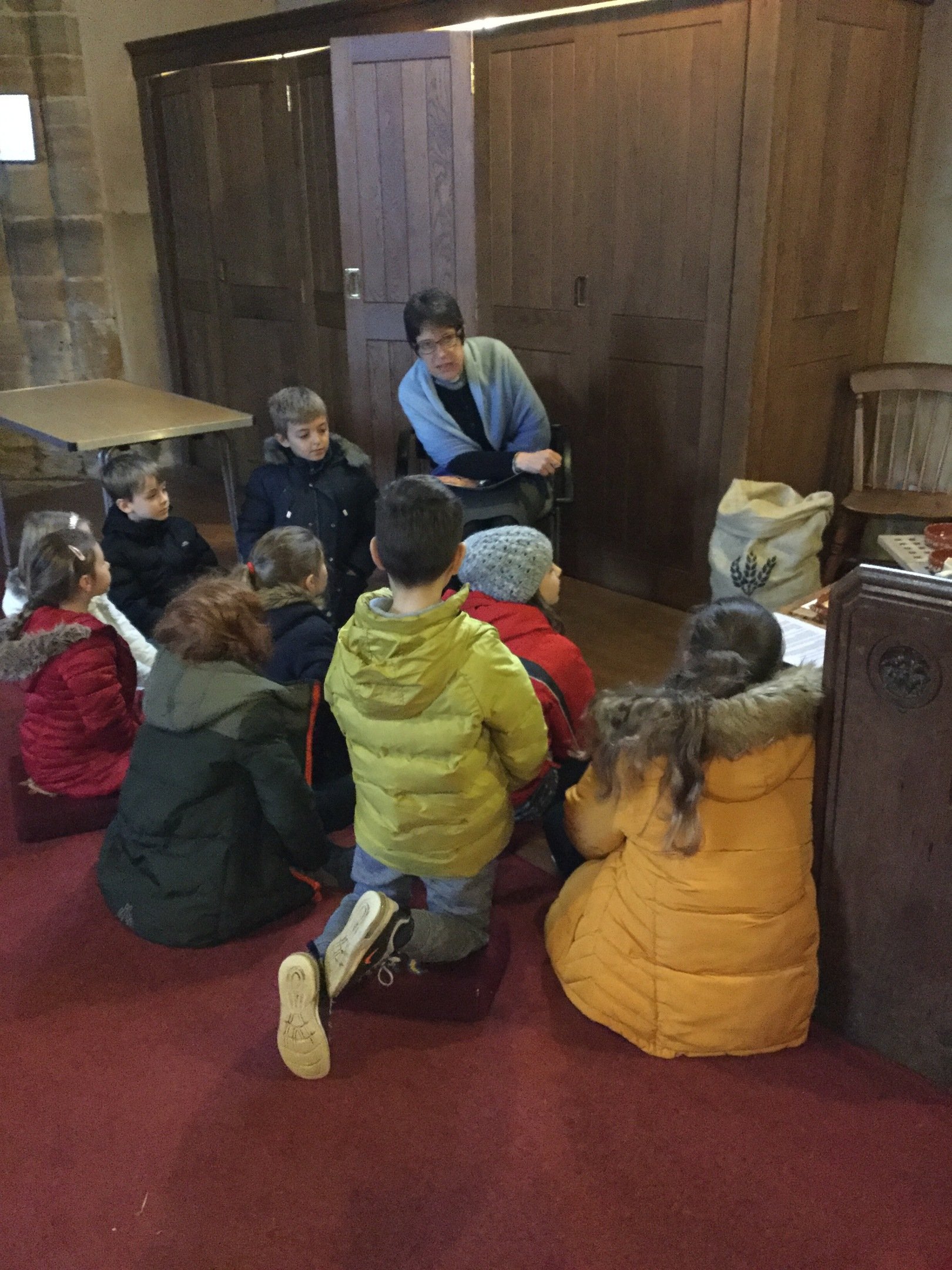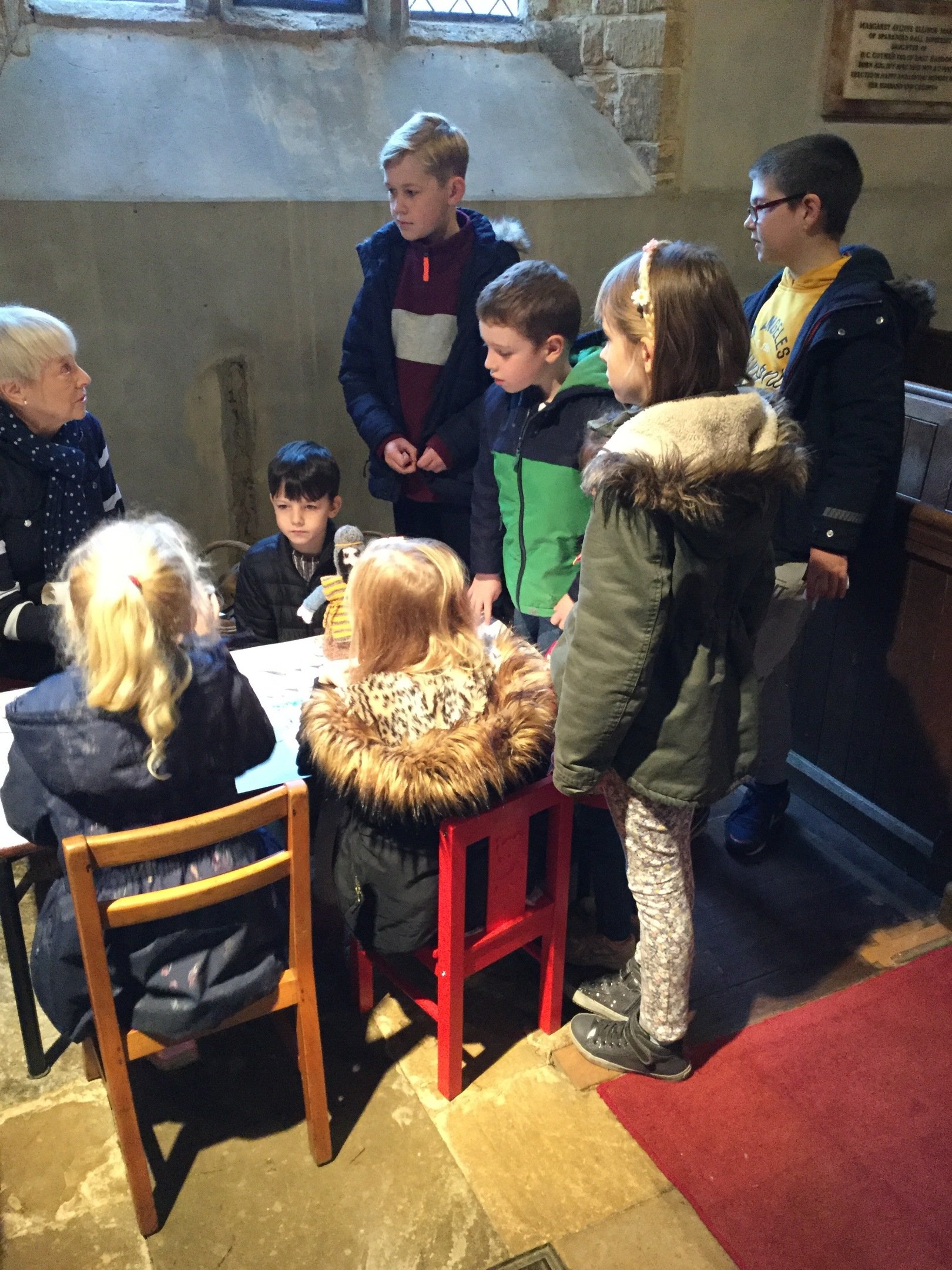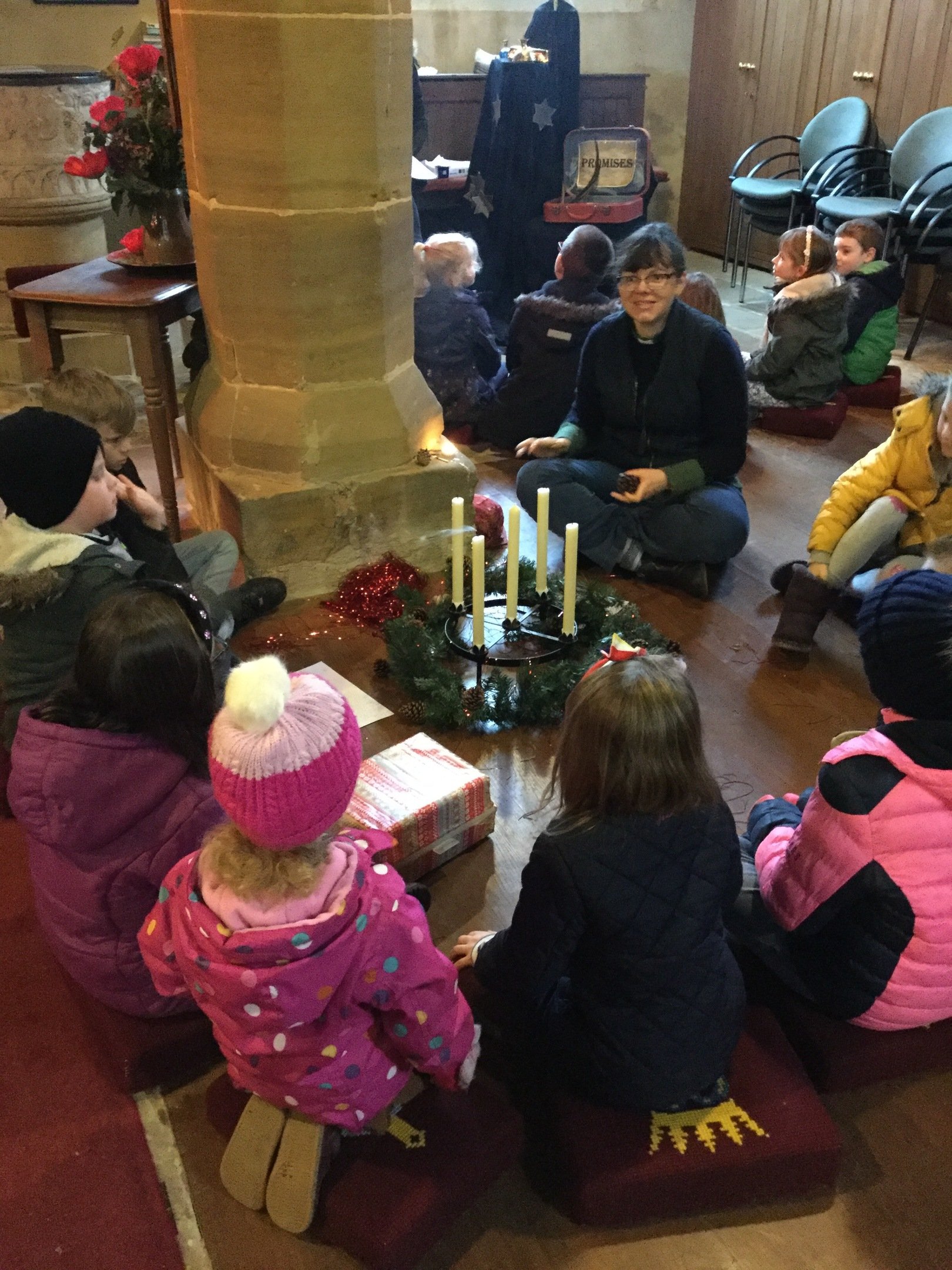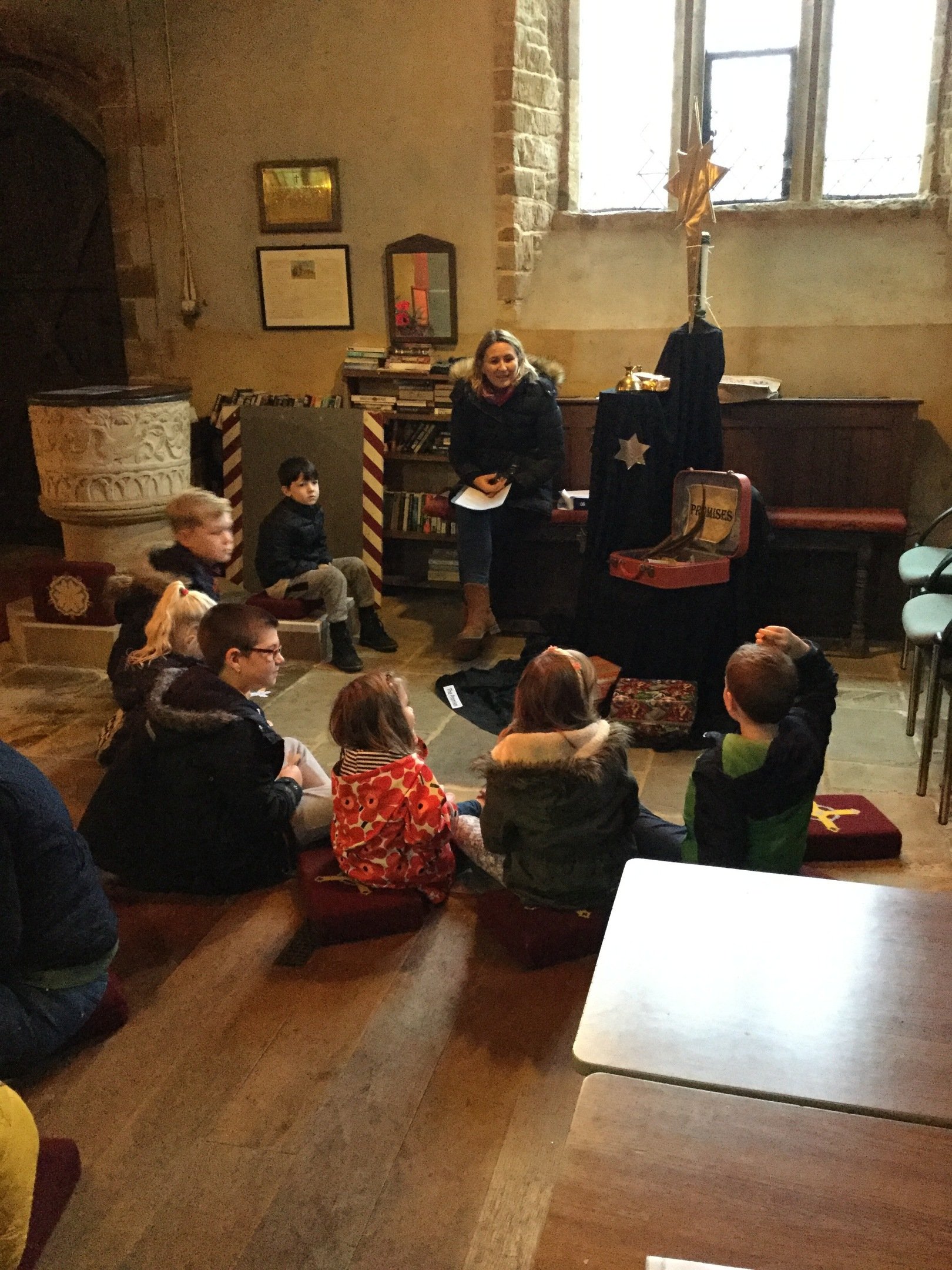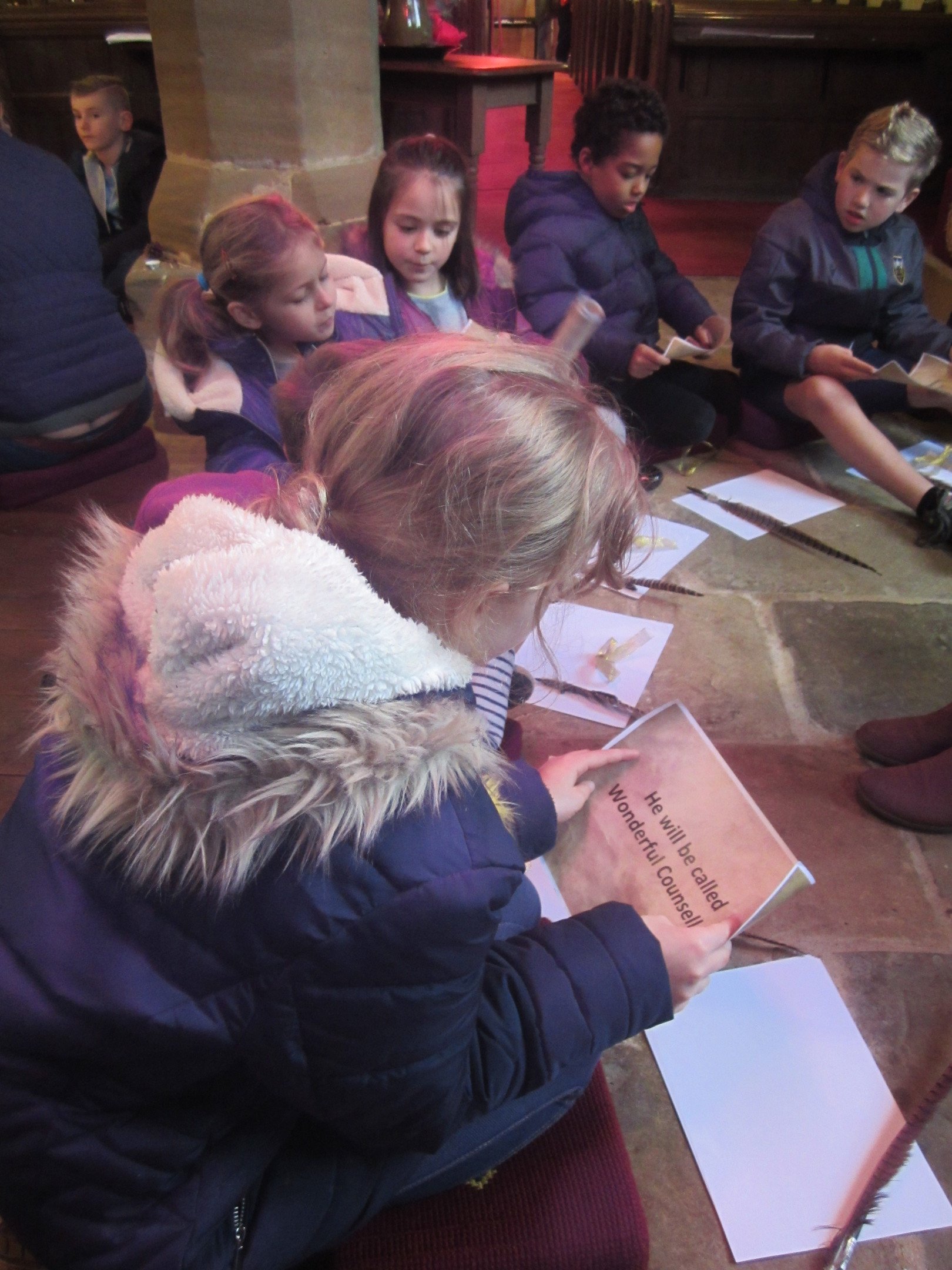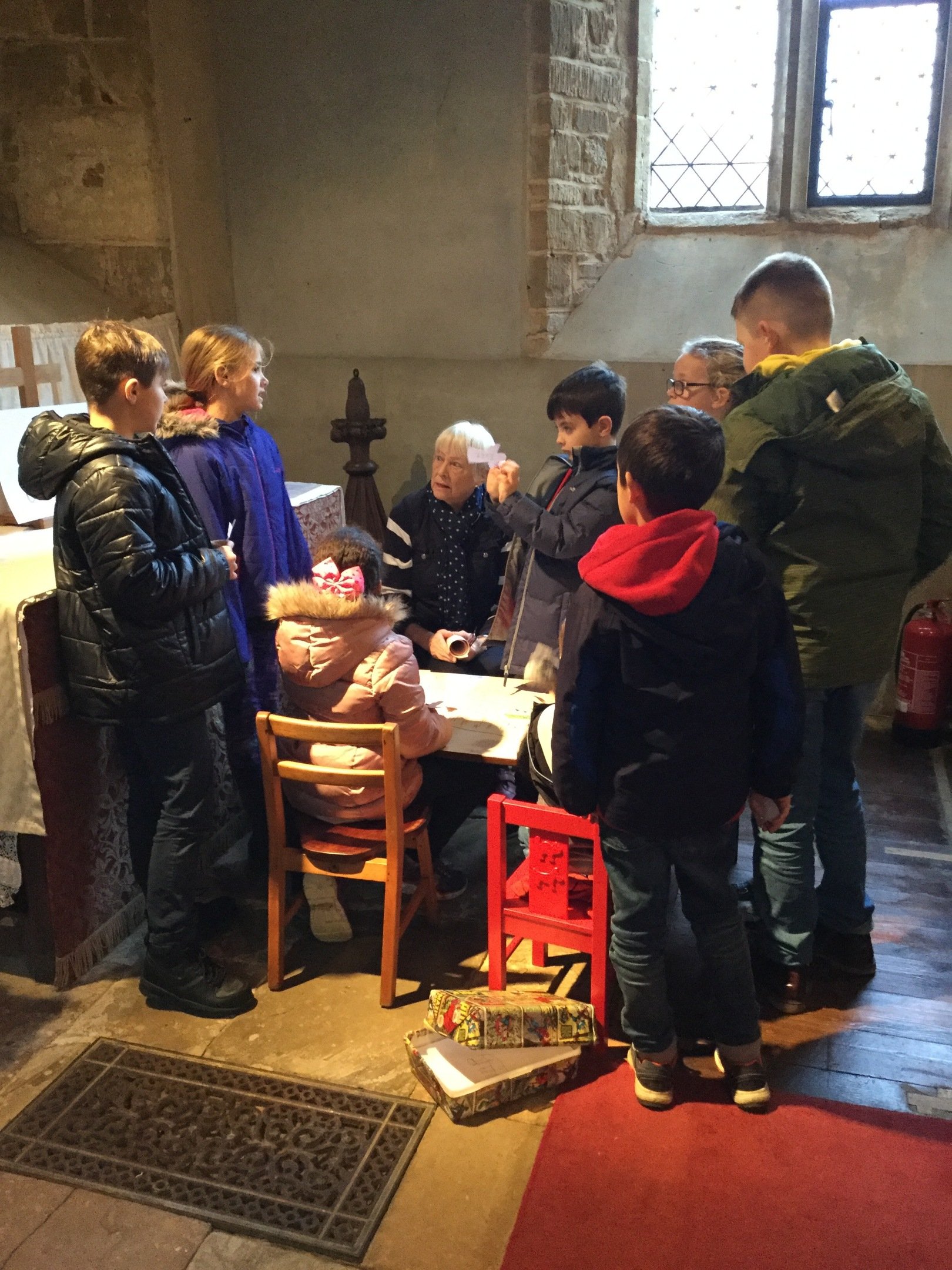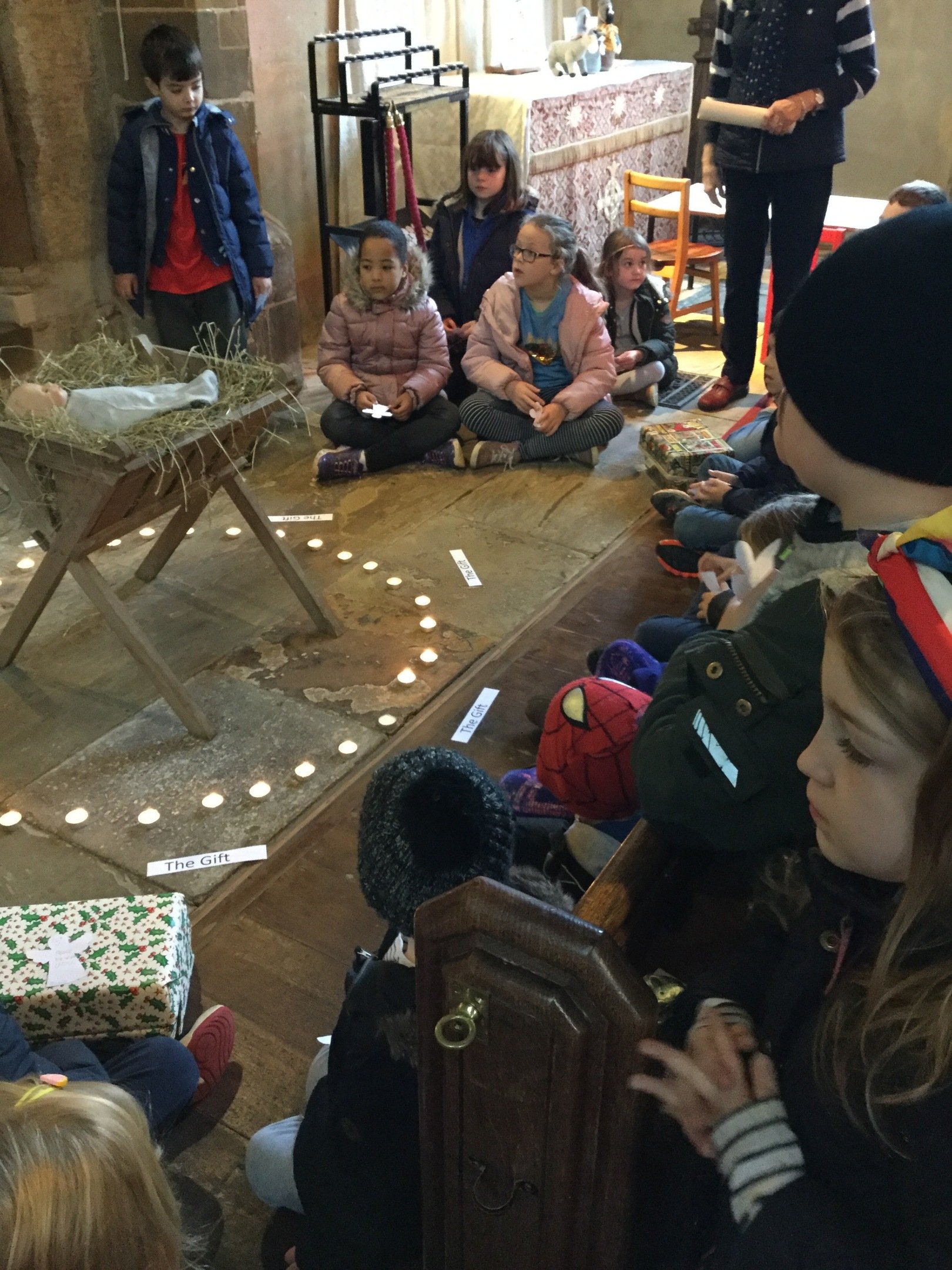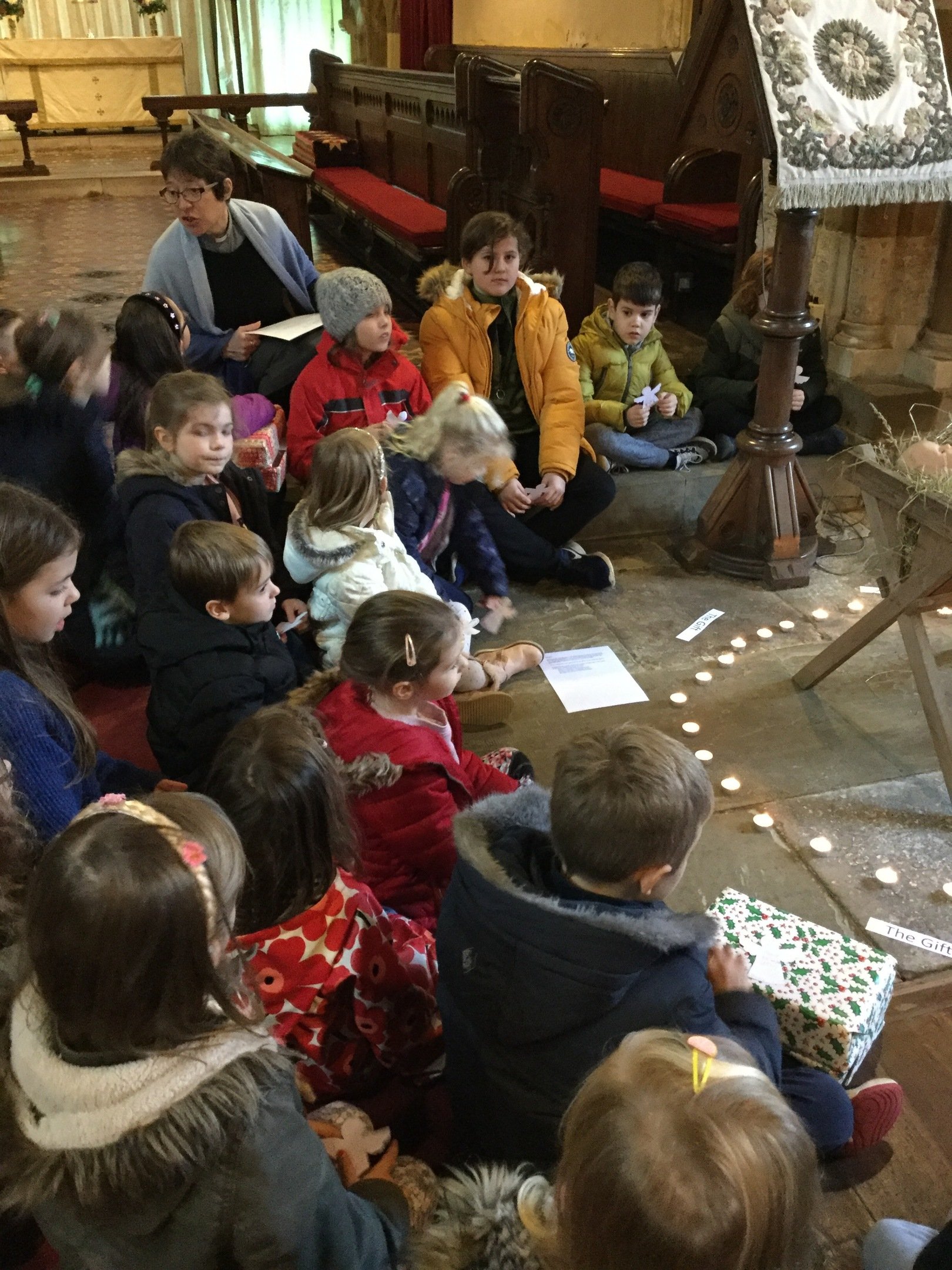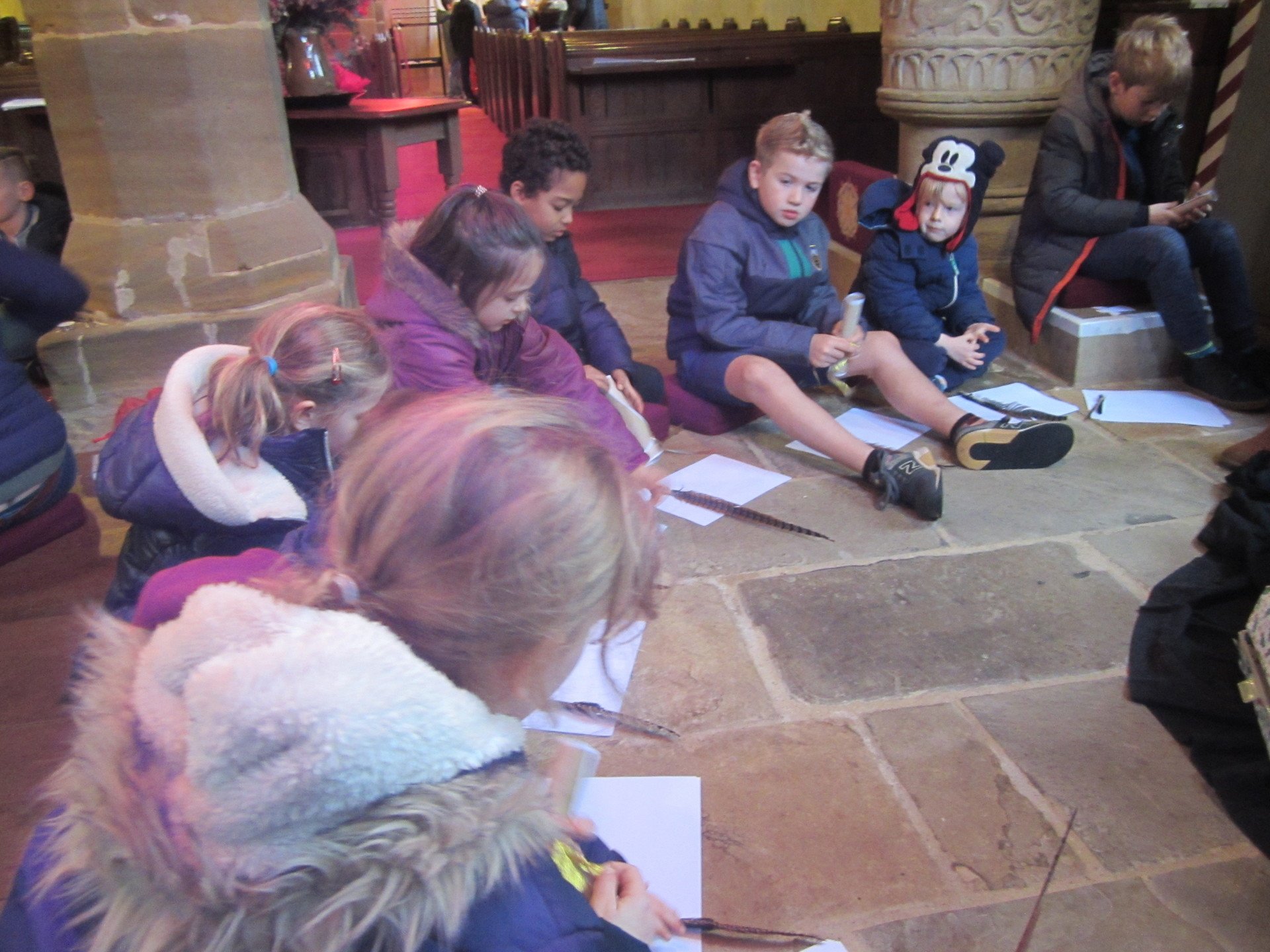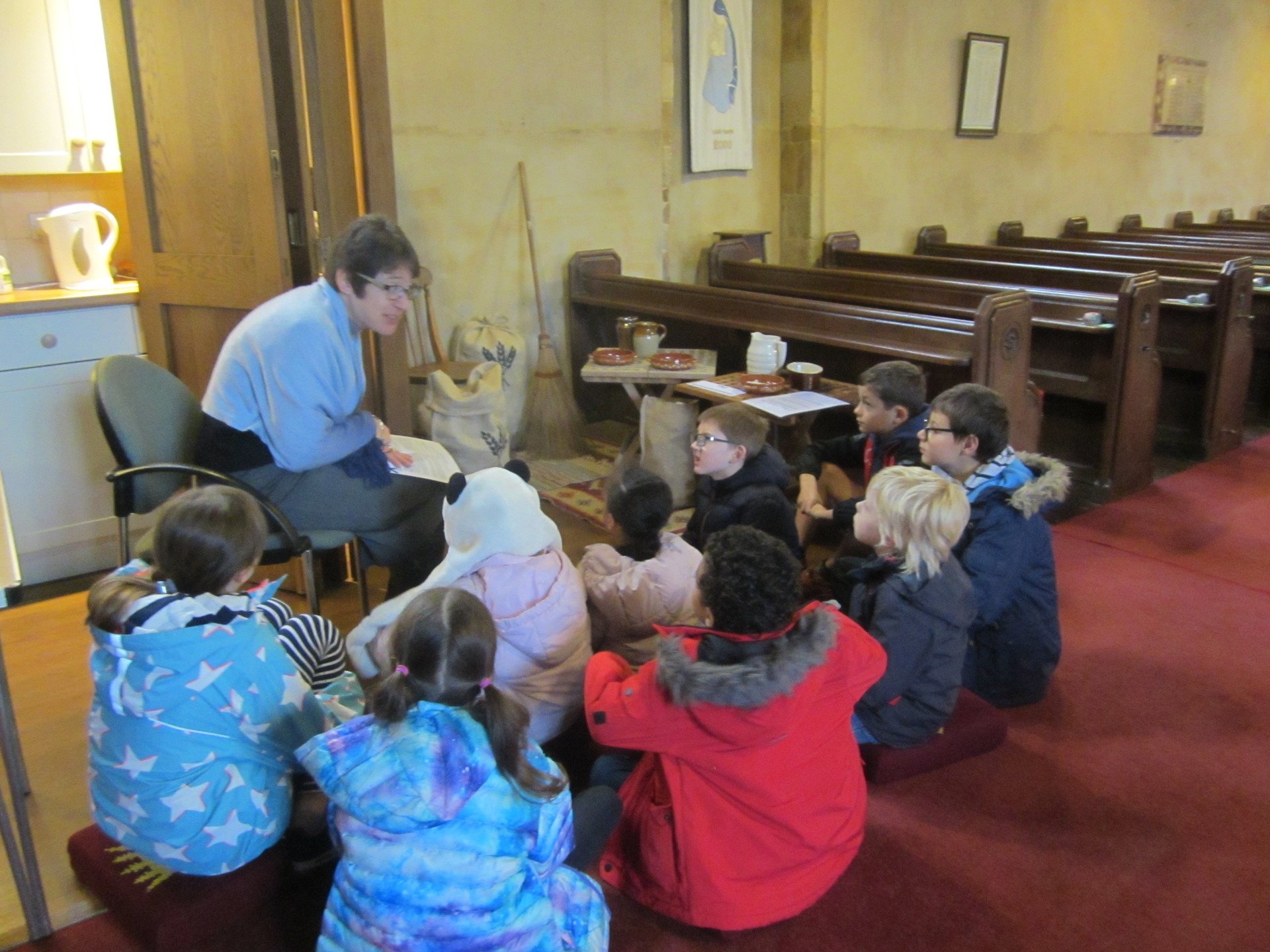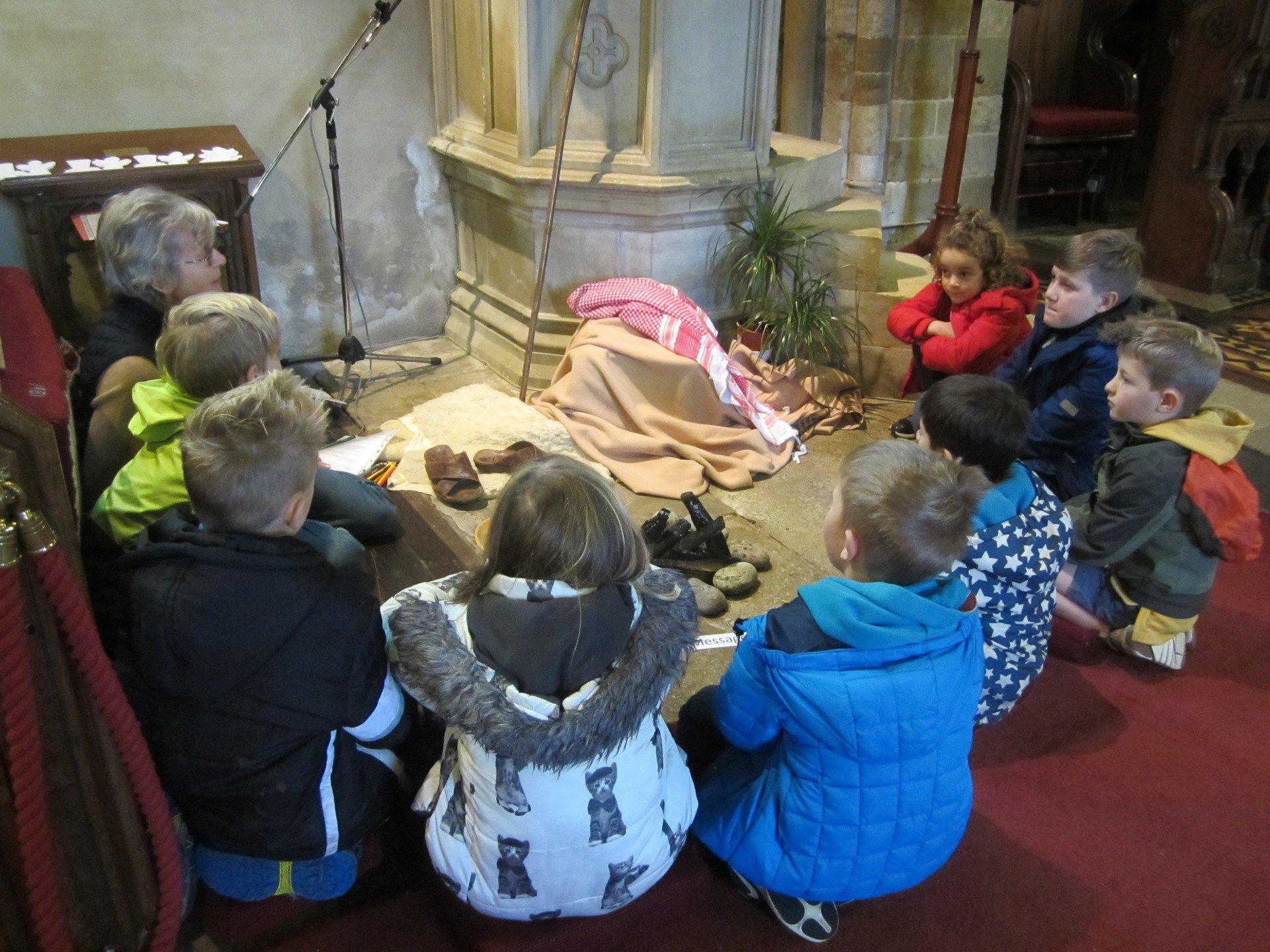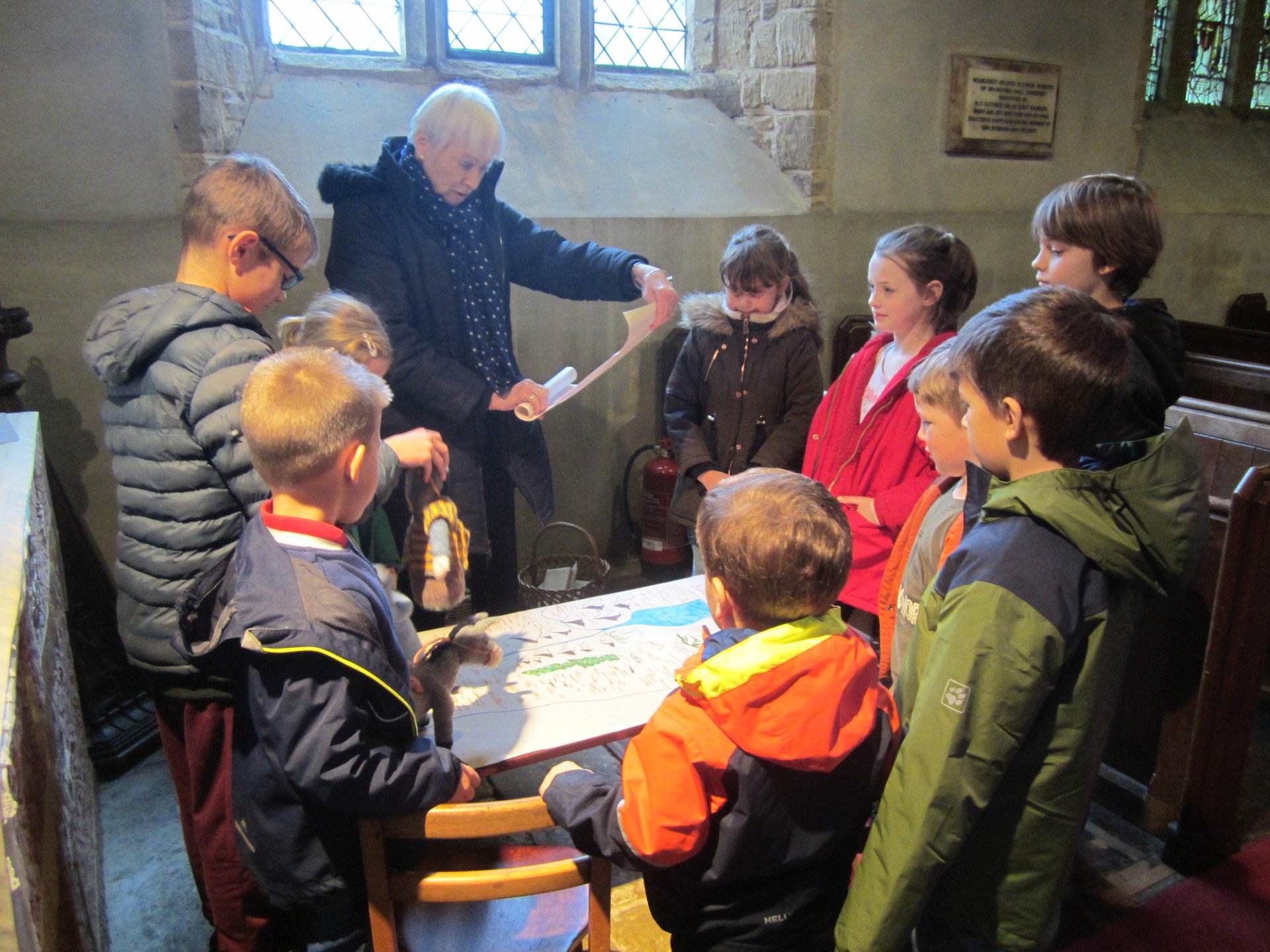 Anti-Bullying Performance
On 22nd October 2019, the Artyfact Theatre Group came in to deliver an anti-bullying performance. Thank you to the Friends Committee for organising and paying for this.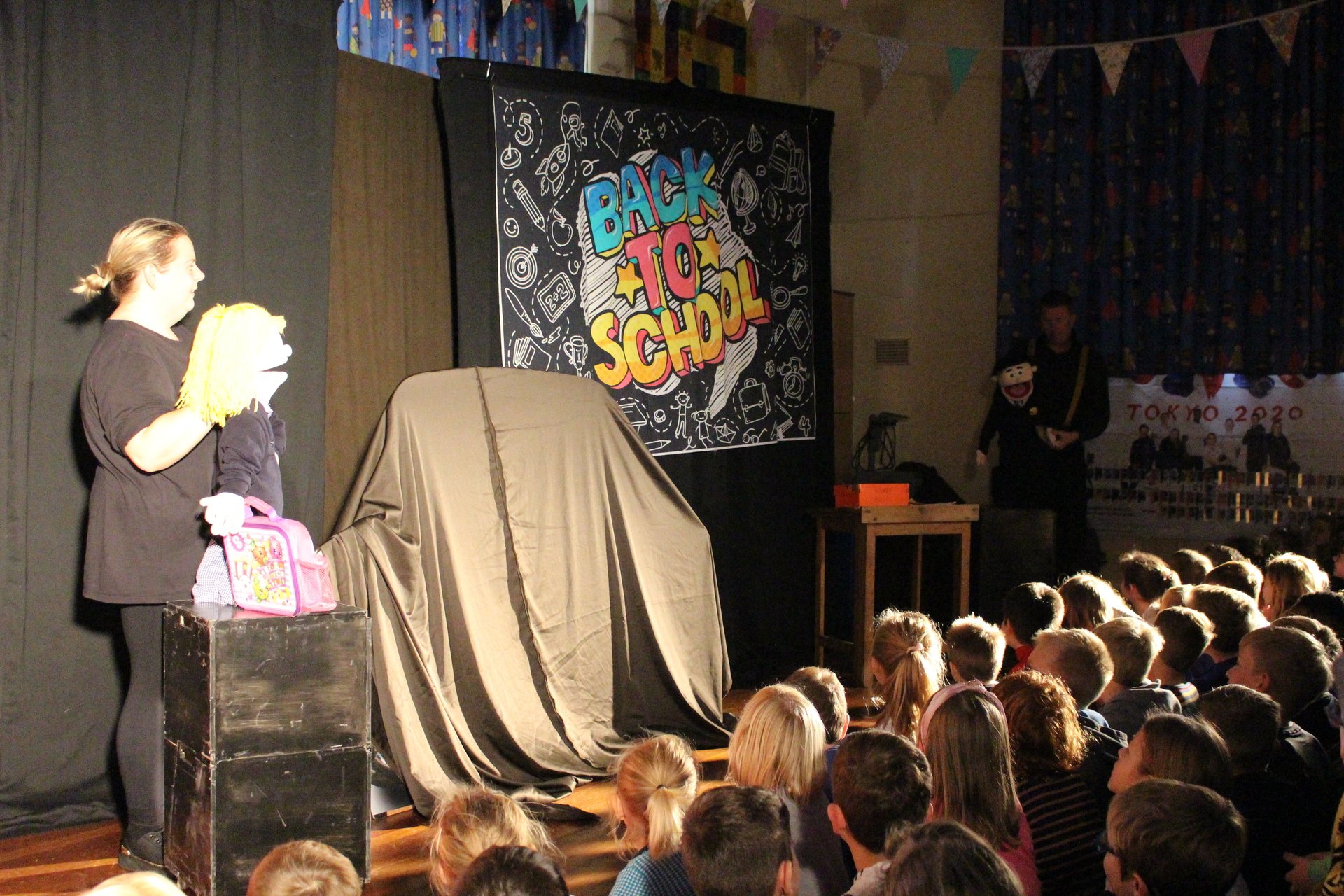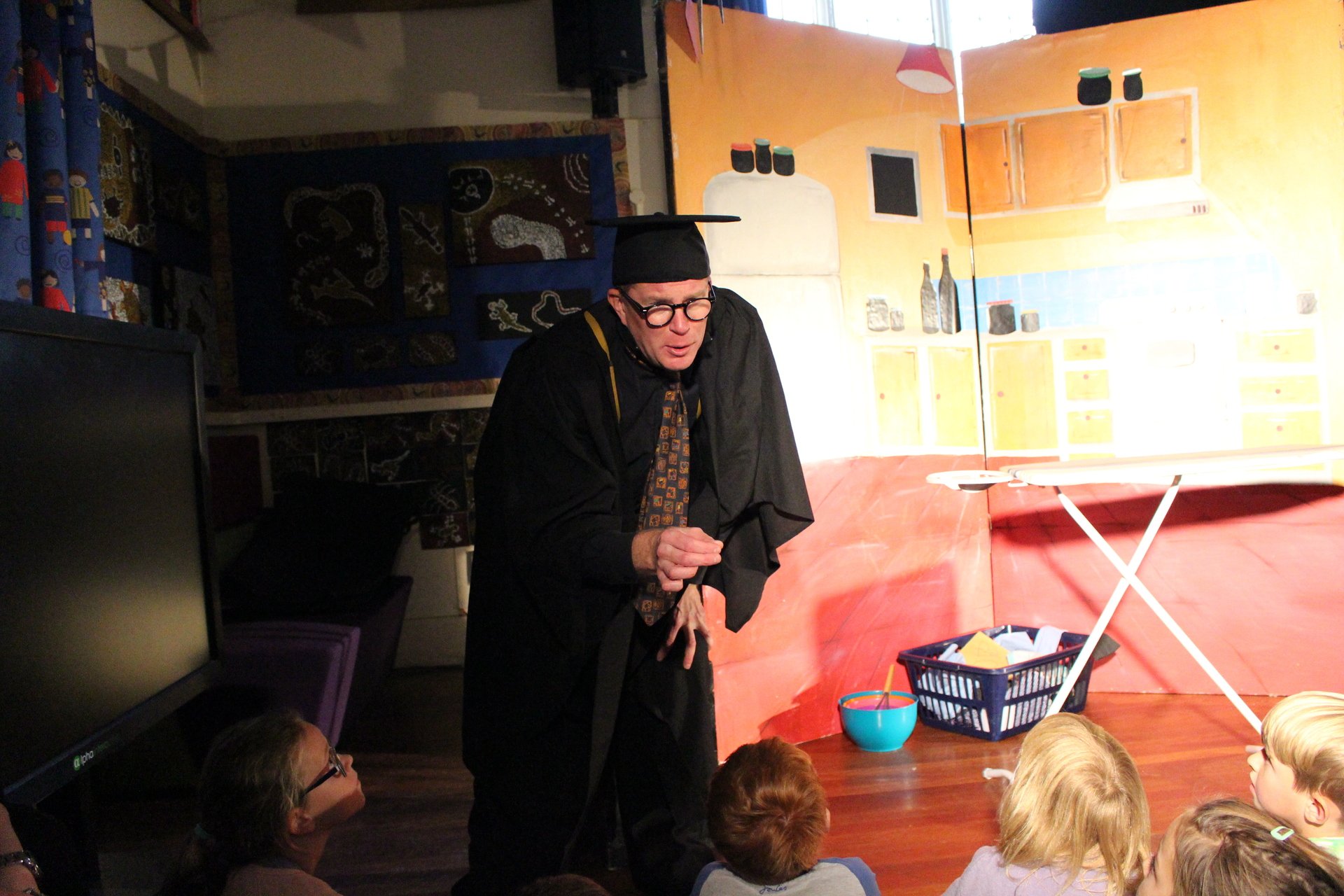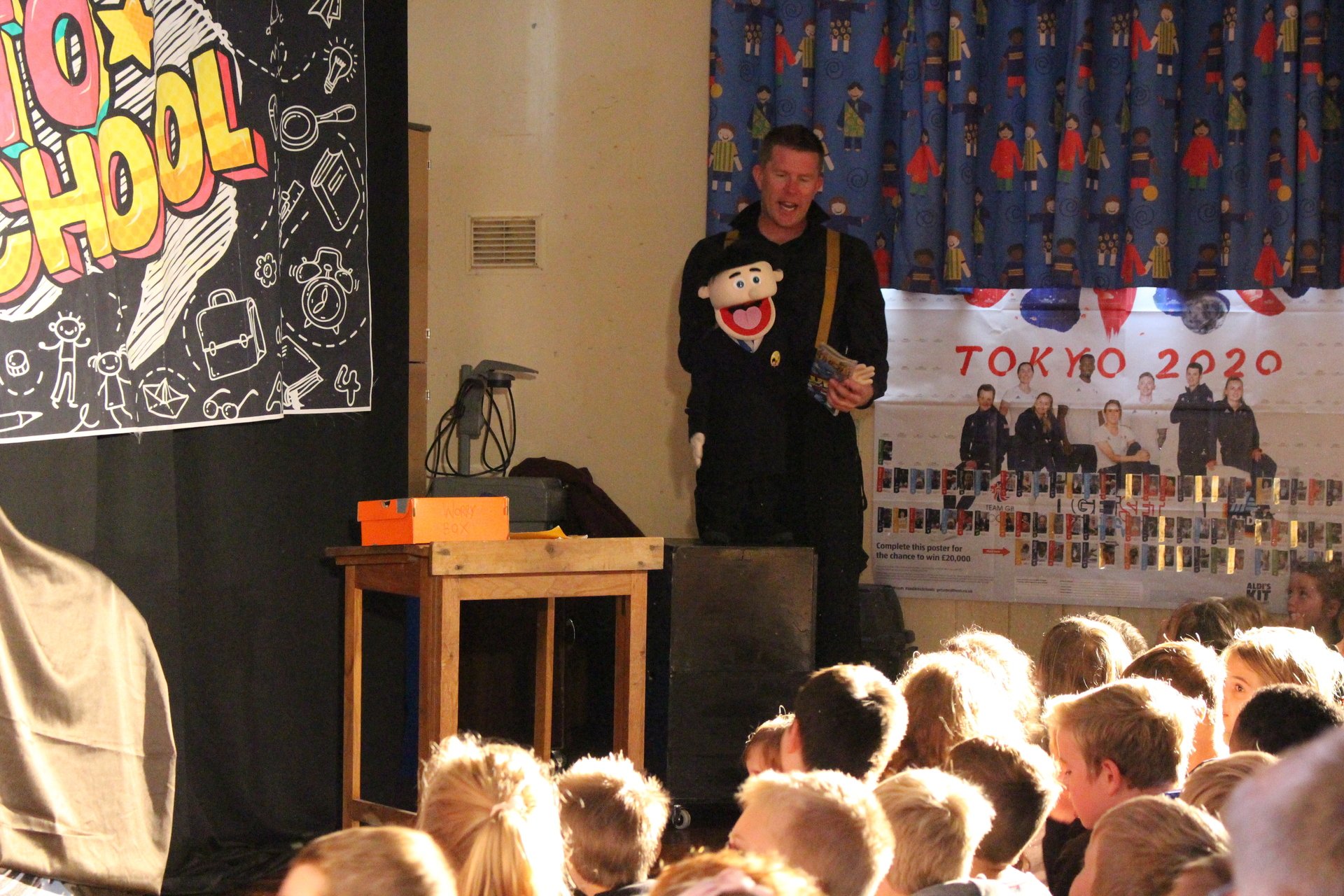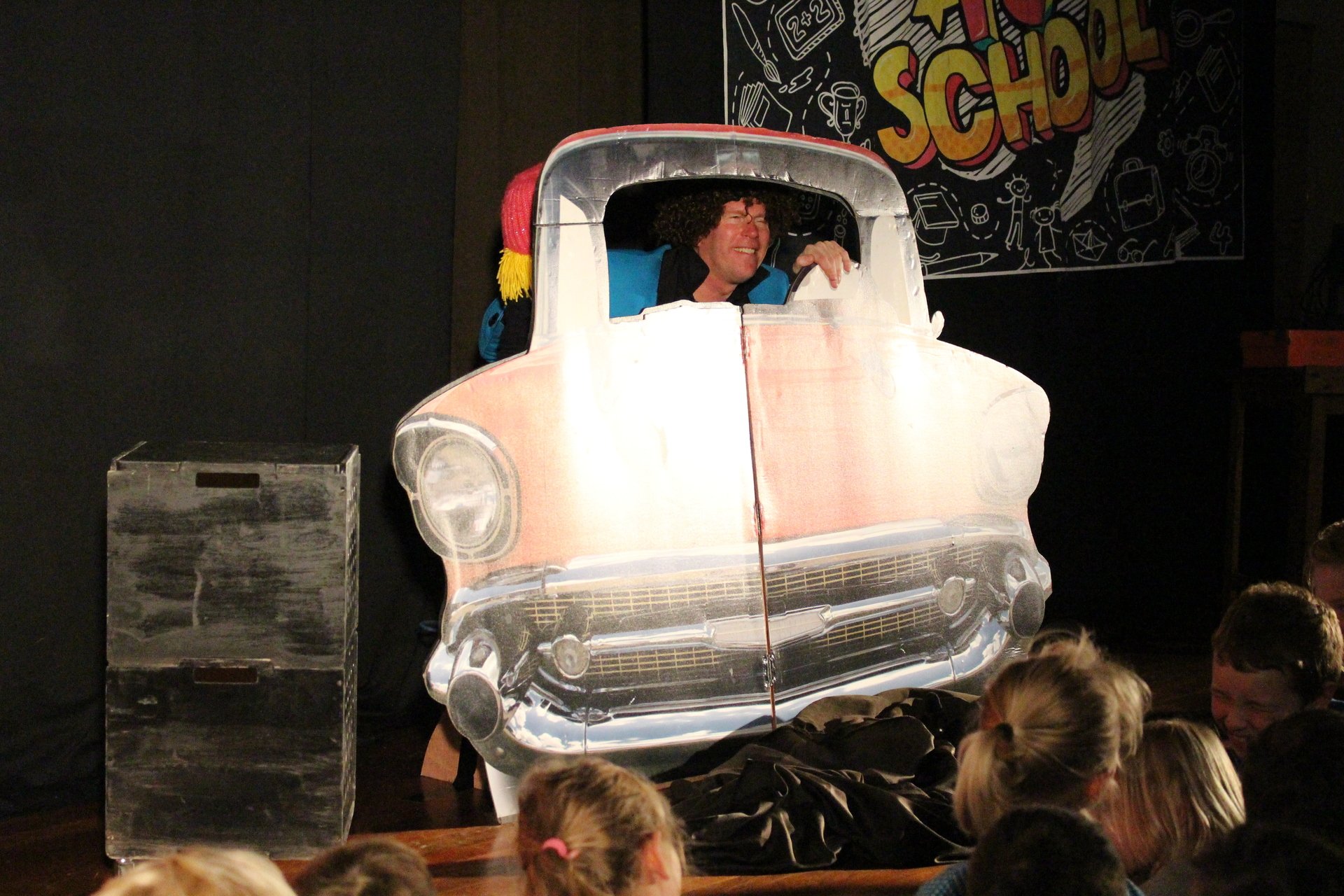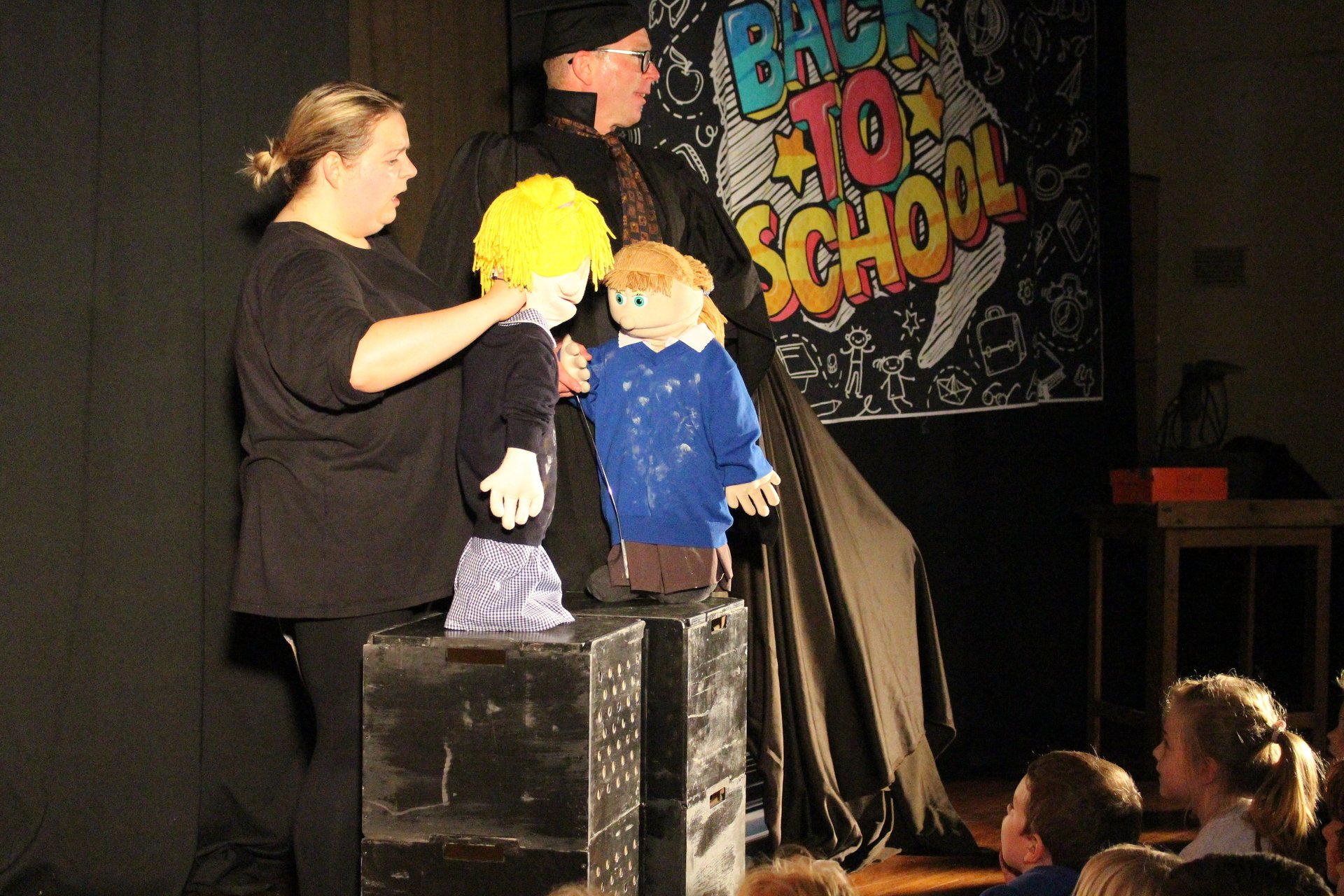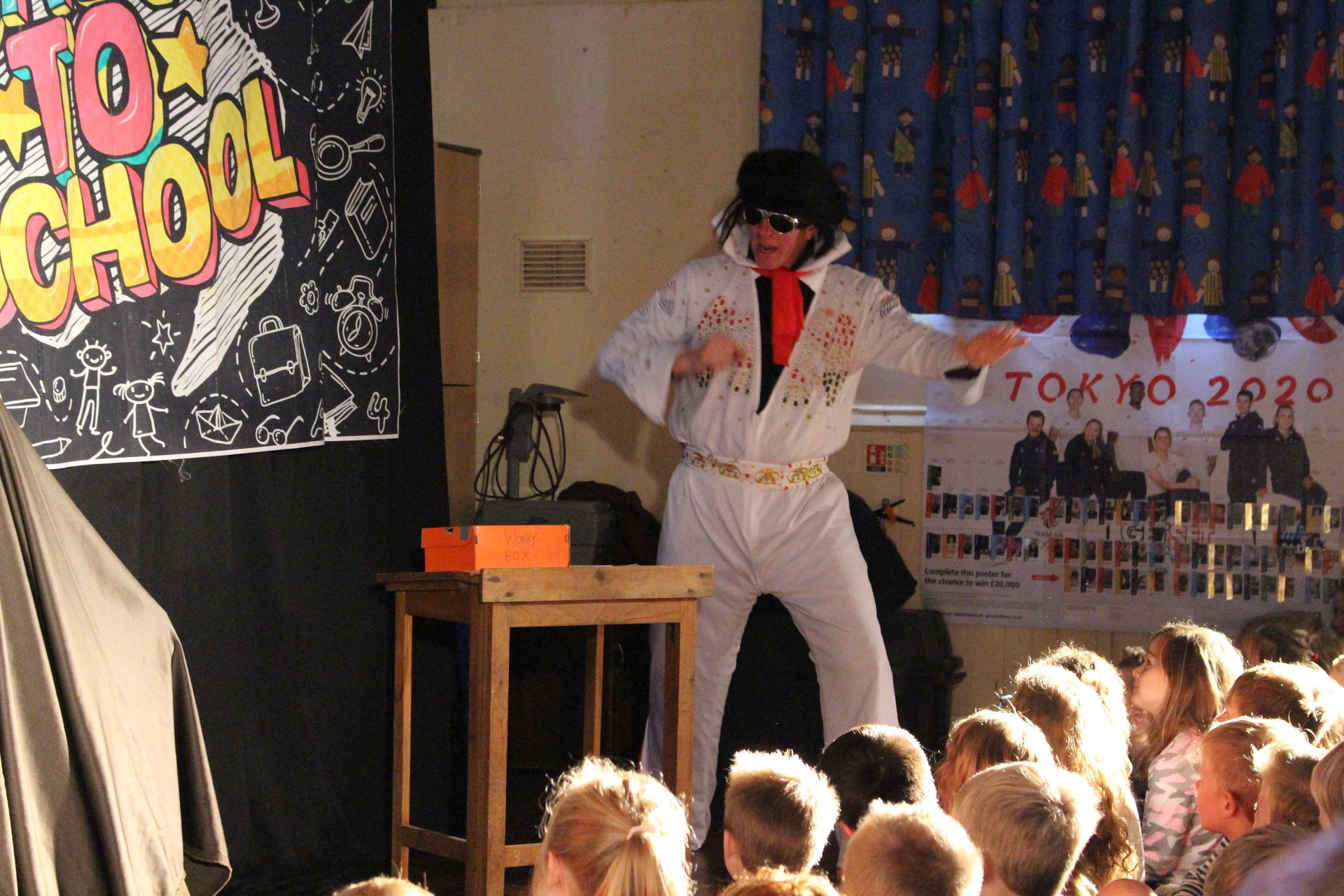 Whitemoor Lakes
On Monday 17th June 2019 some very excited year 5 and 6 children (and 3 very excited adults!) headed off to Whitemoor Lakes for an action packed residential. Keep an eye on this news feed throughout the week for pictures of how they are all getting on!
Monday - Just arrived! Action packed Tuesday!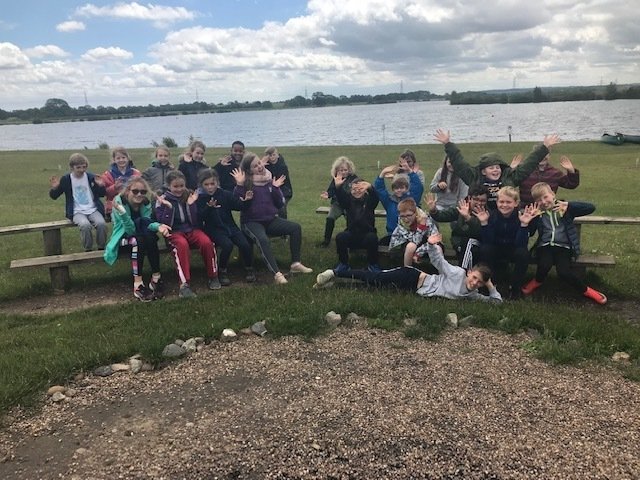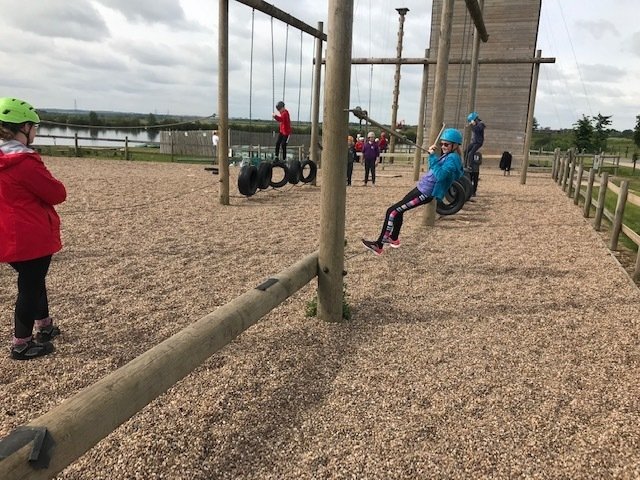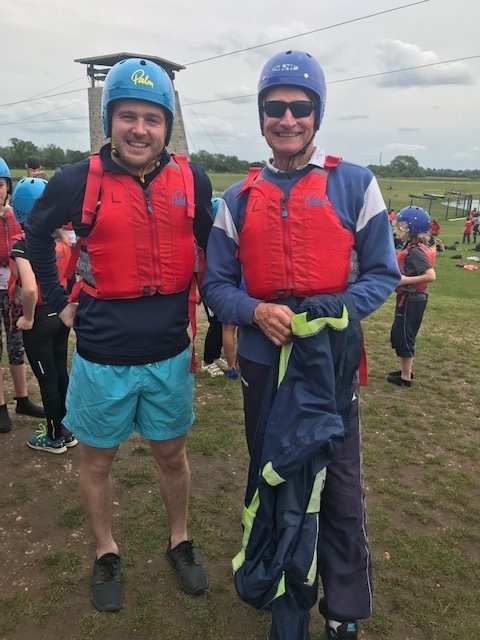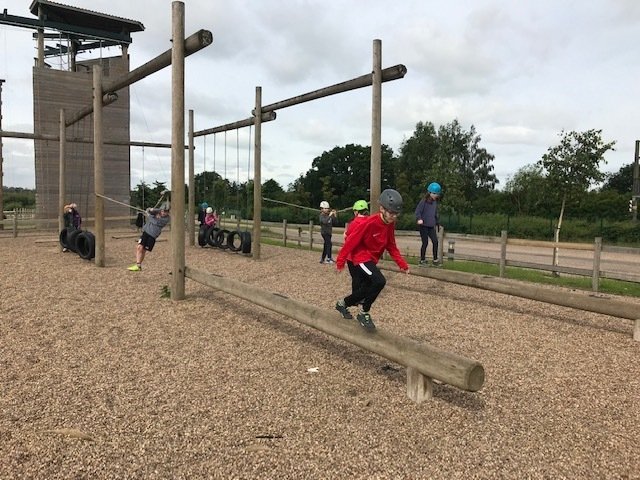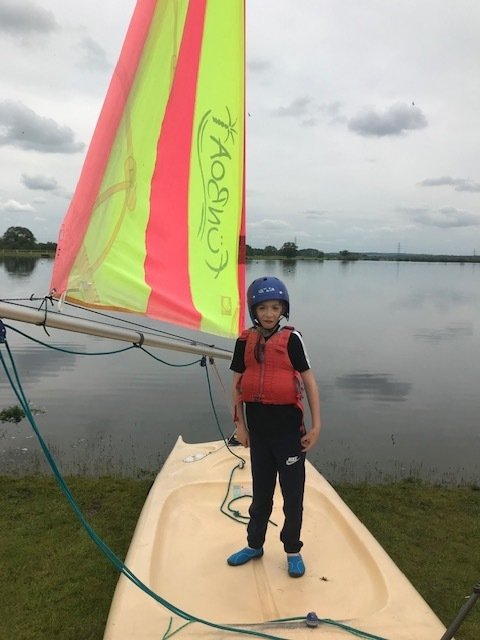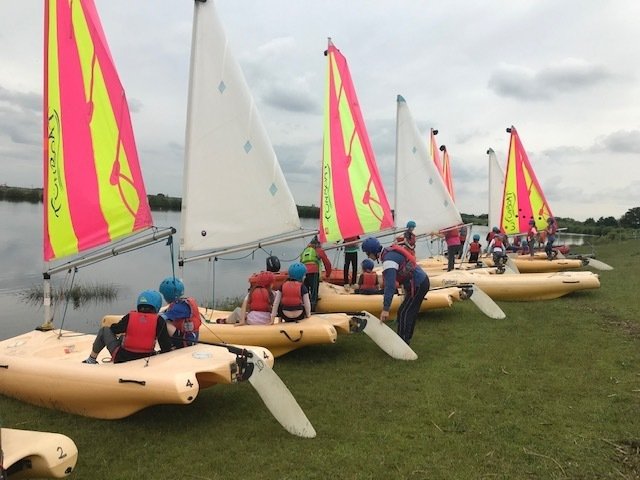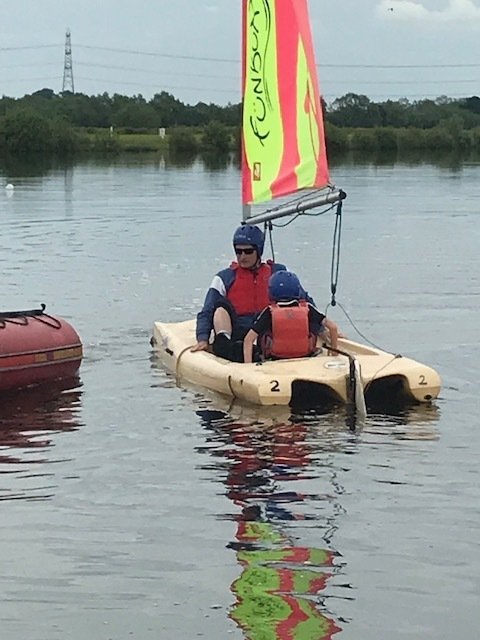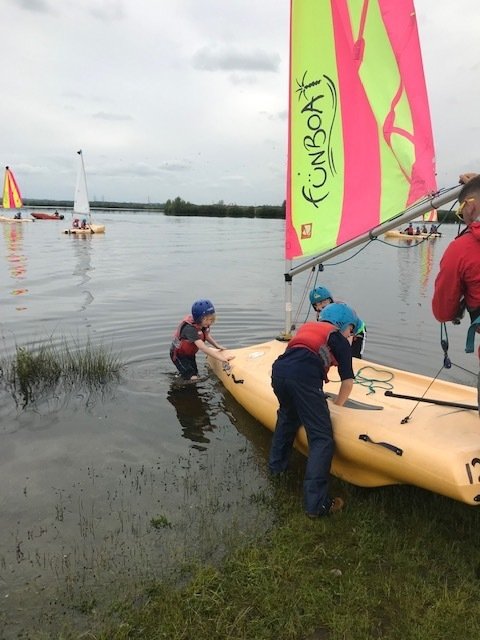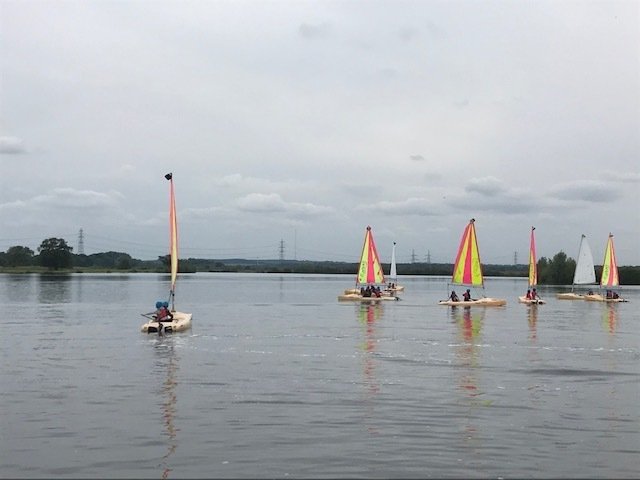 Wednesday report:
All going well - everyone asleep by 10.20pm last night and not a peep before 7am. Year 6 boys absolutely sparko apparently and had to be woken up by Mrs Pickles!!
Some of the site is flooded and below shows access to the first activity of the day!
The climbing wall....seriously high!!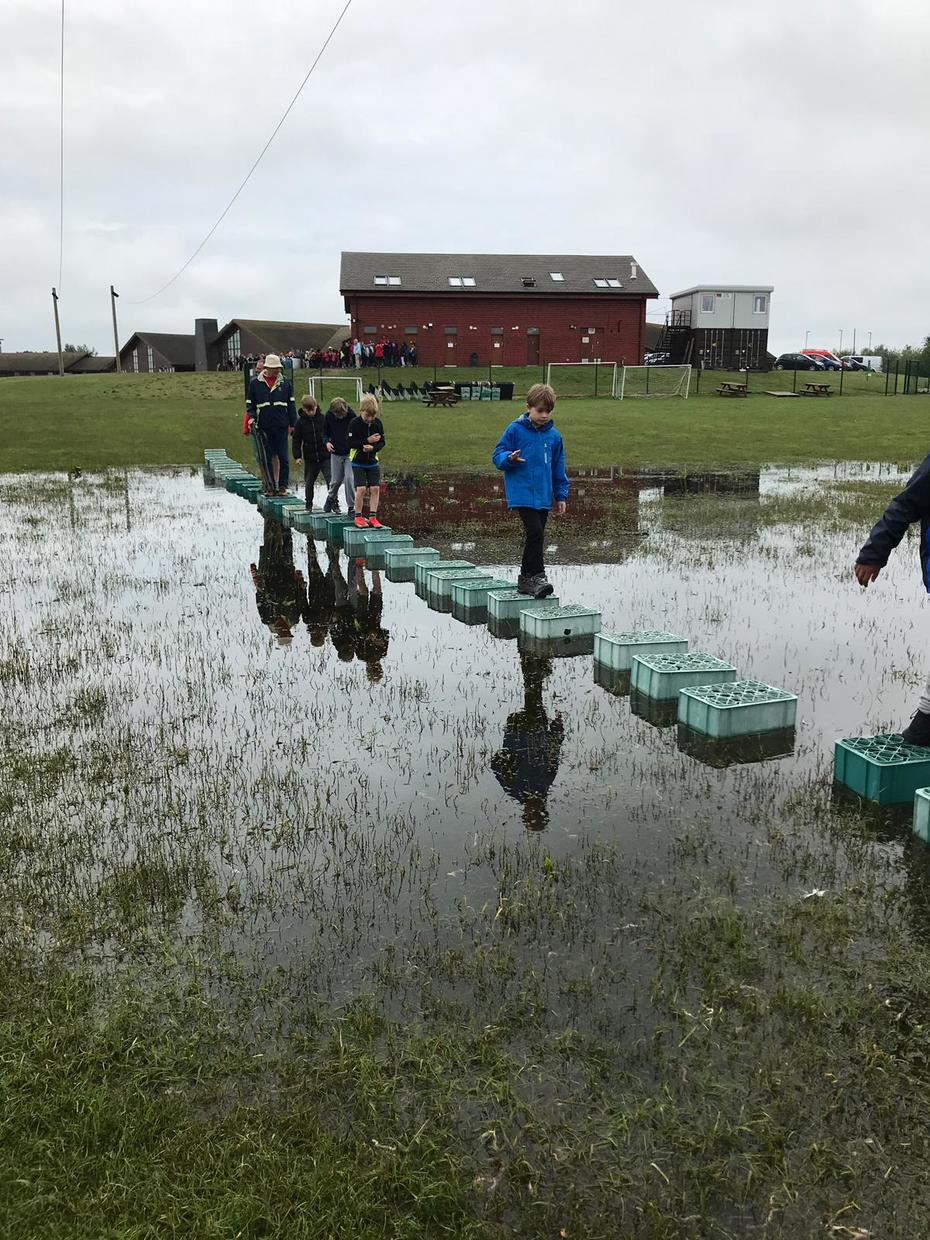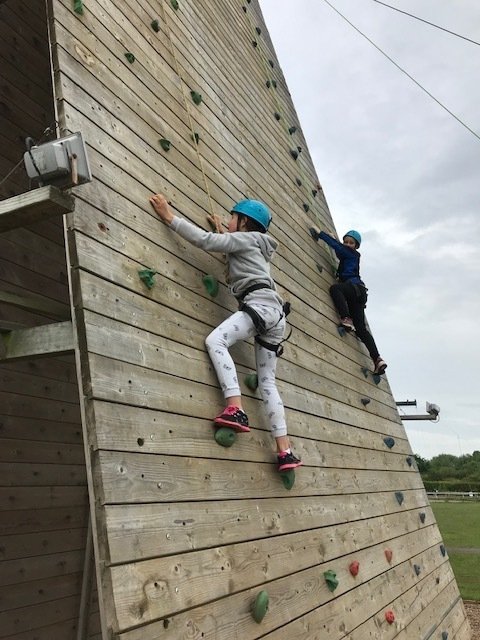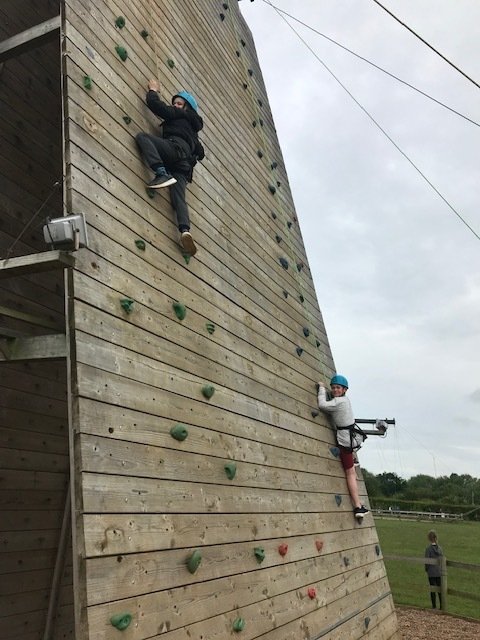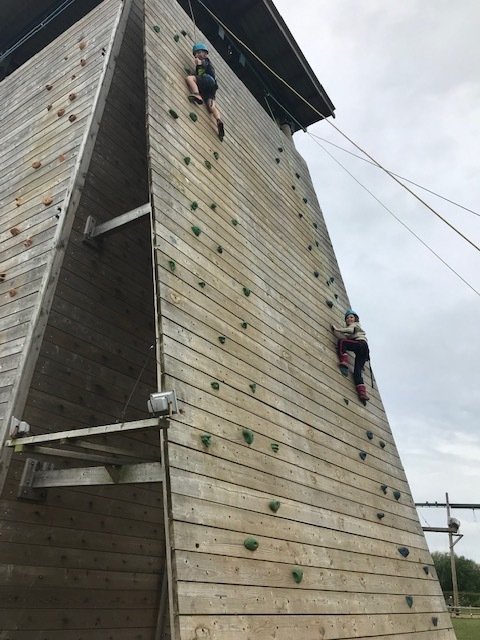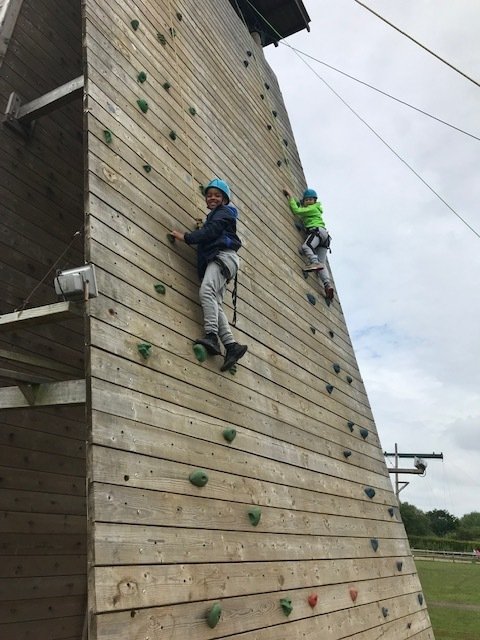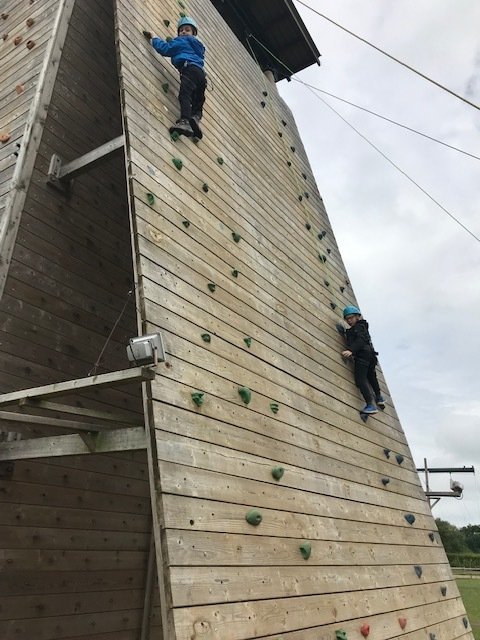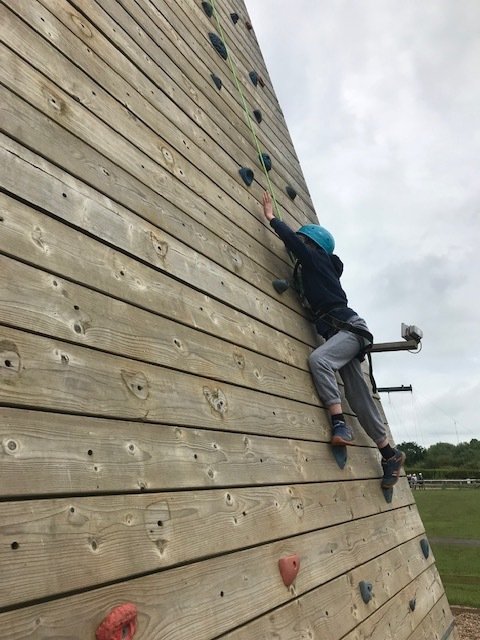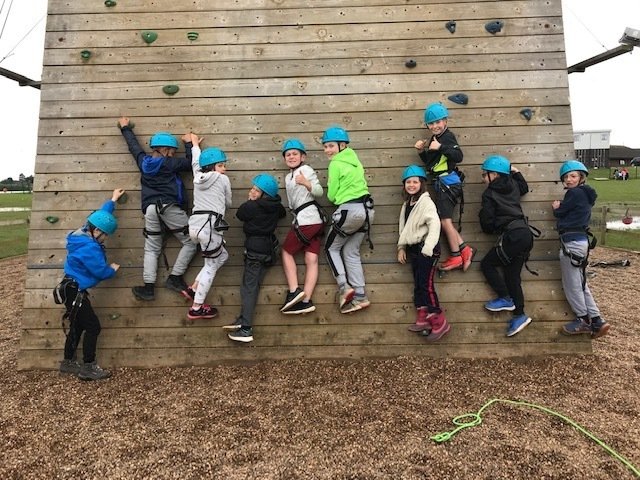 Fencing this afternoon! Year 6 Circus Skills below.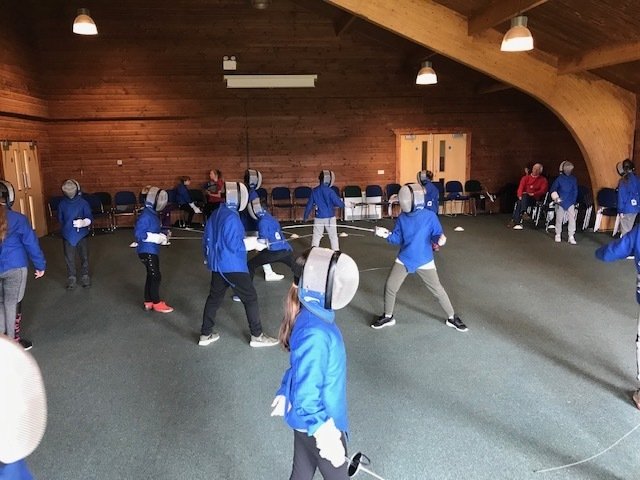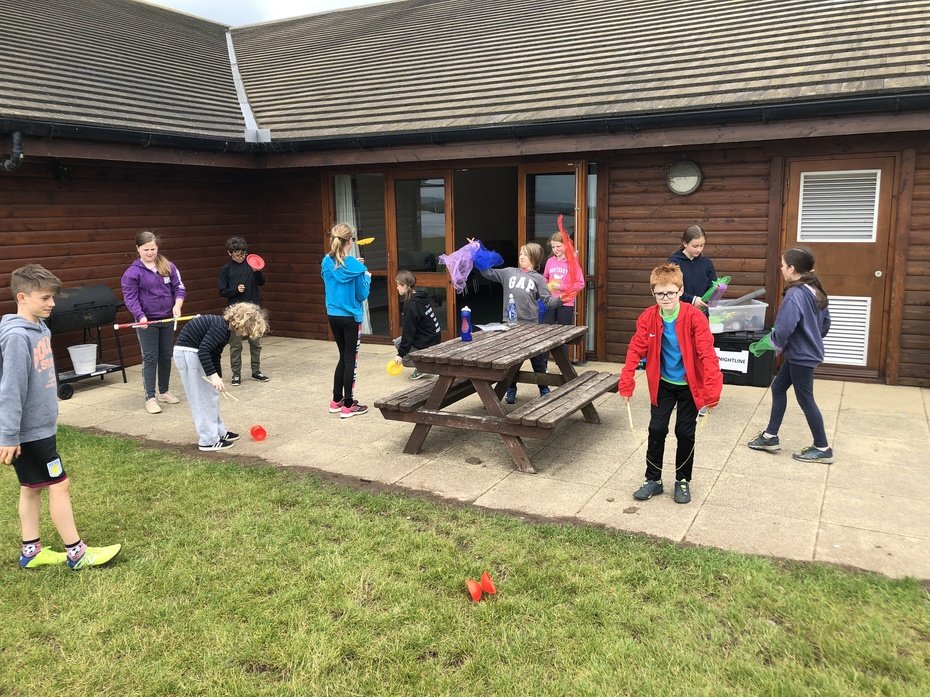 Year 6 tackling the Challenge Course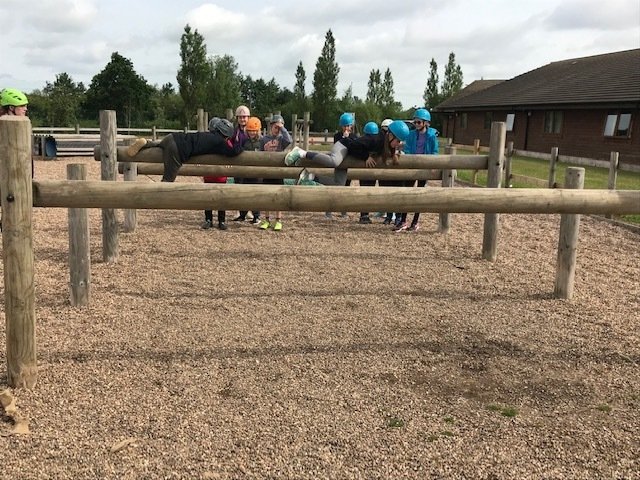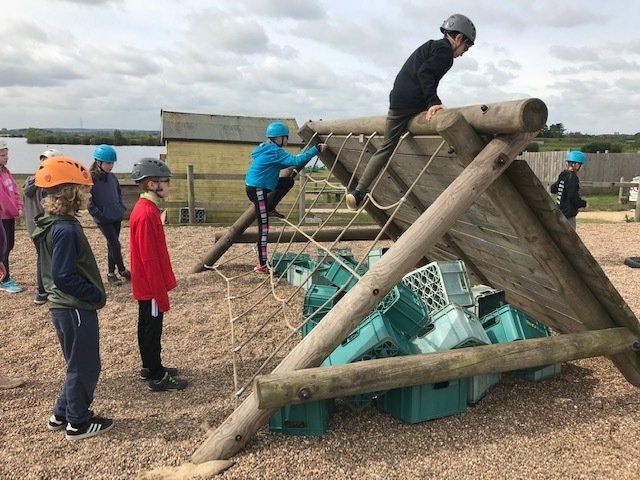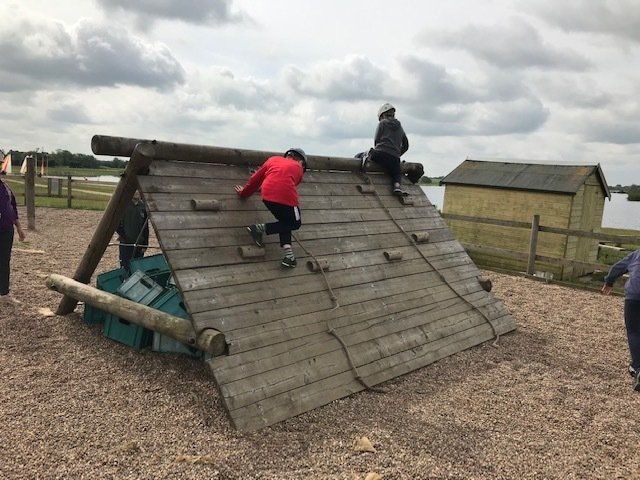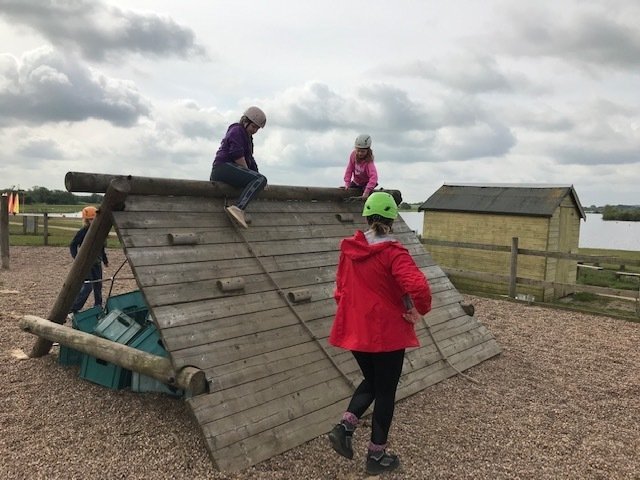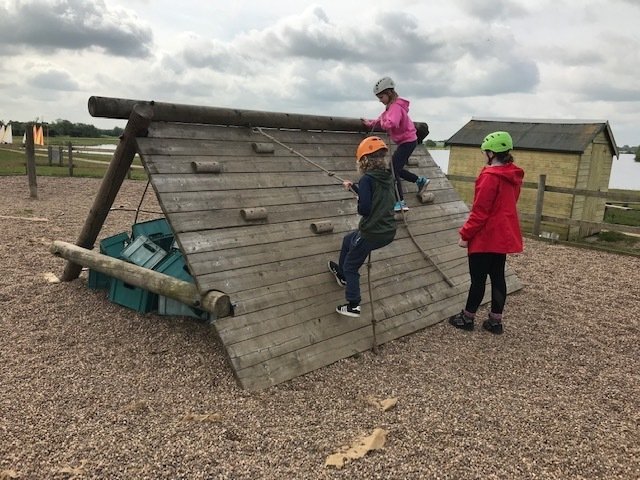 Thursday report - another good night's sleep had by all! Only one room awake by 7.45am so Mrs Pickles had to do the rounds again...!!
We have been told the flooding on site has been receding so hopefully the zip wire will be accessible for everyone to try before they return home - usually a real highlight of the trip.
Everyone canoeing - looking dry so far!!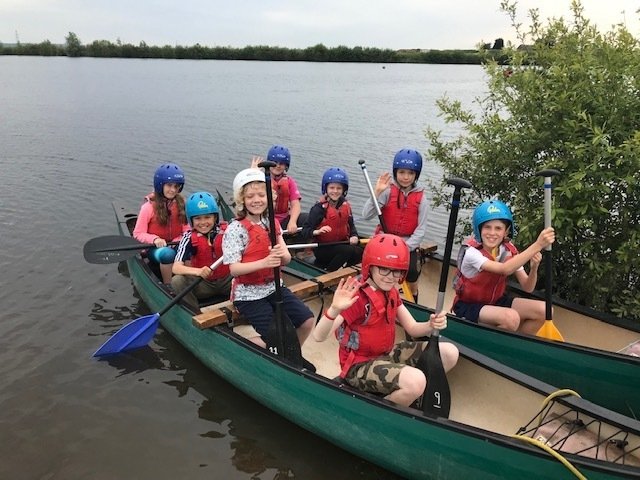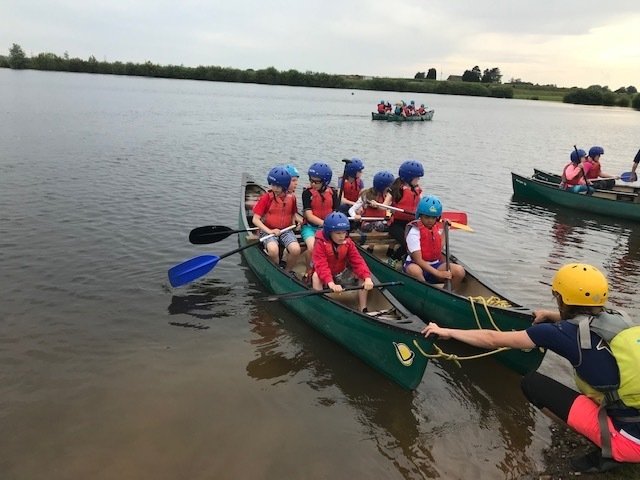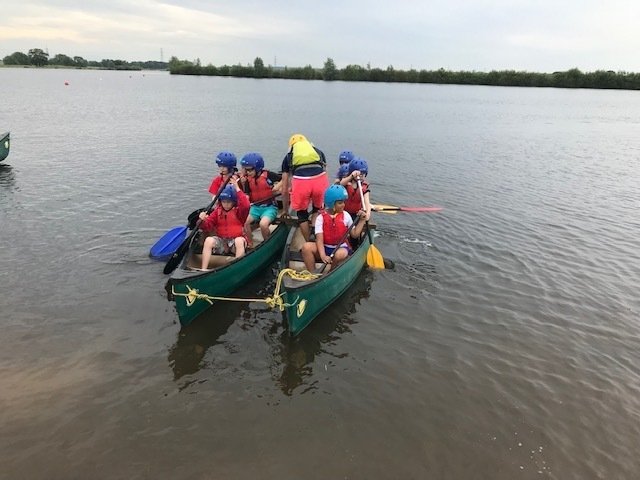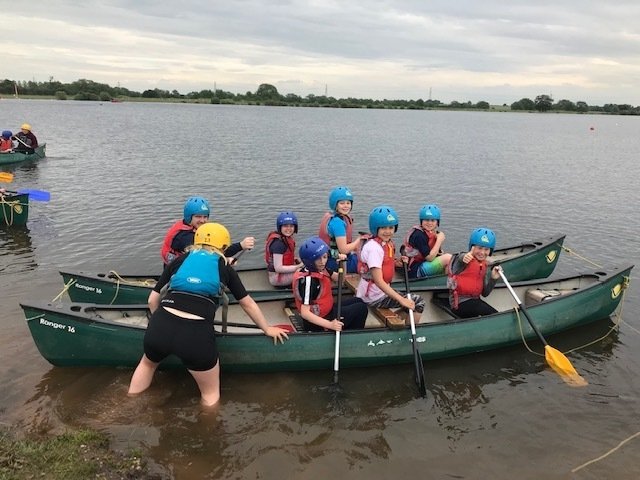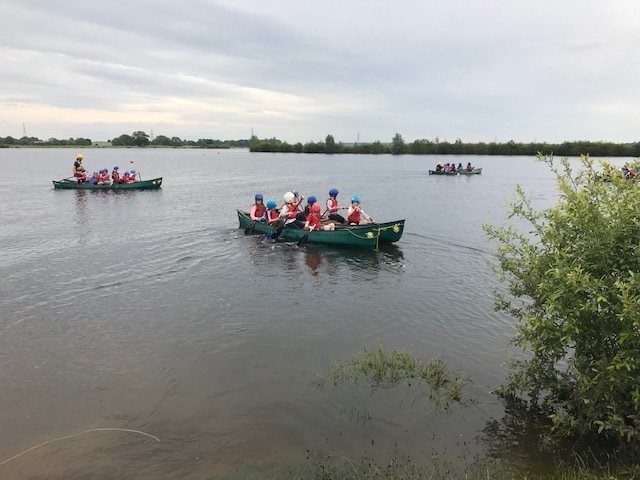 Now they've got their sea legs....why not try to build their own raft!!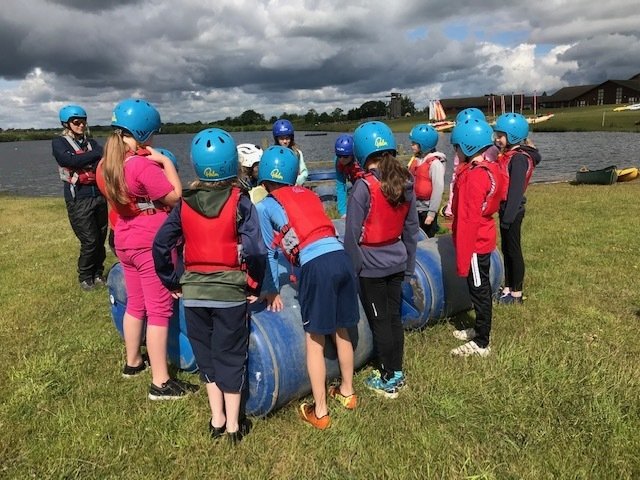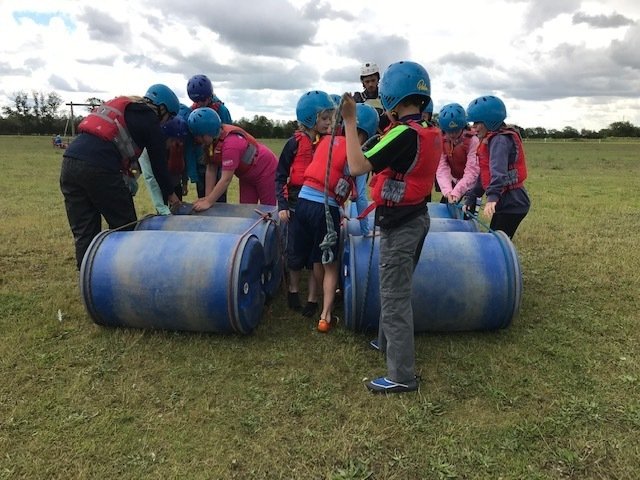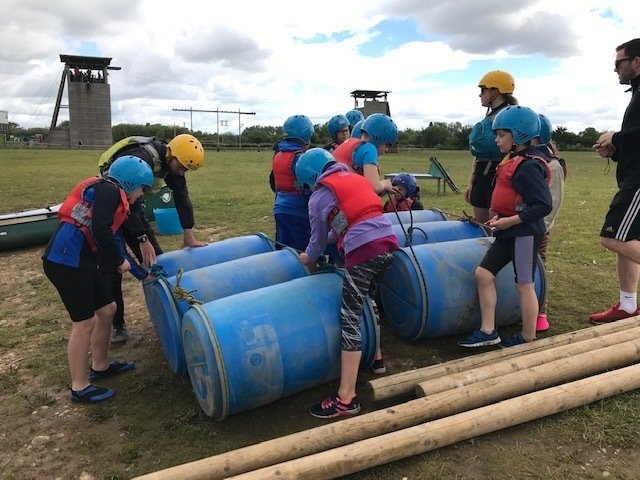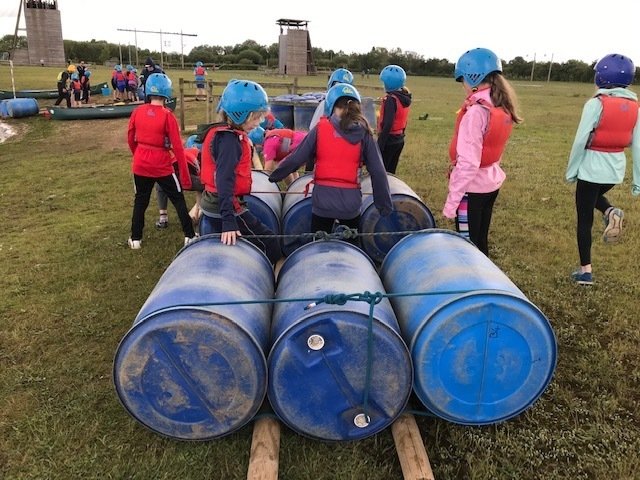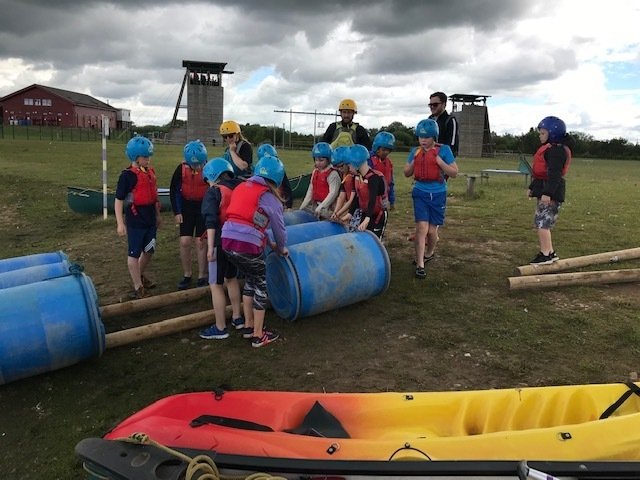 Nearly ready to launch..... And they're off....not sure if they all managed to stay dry!!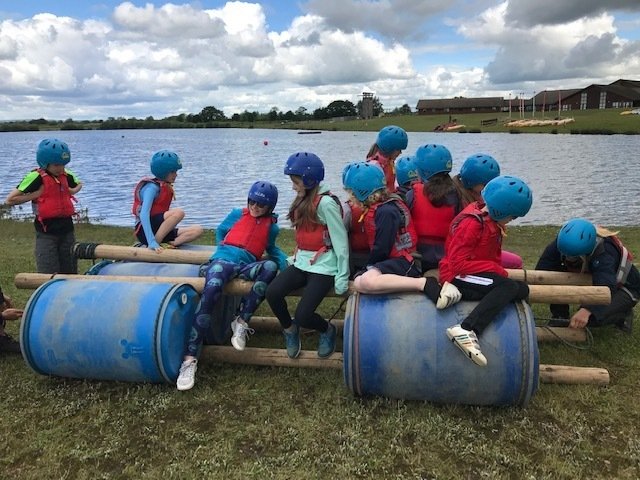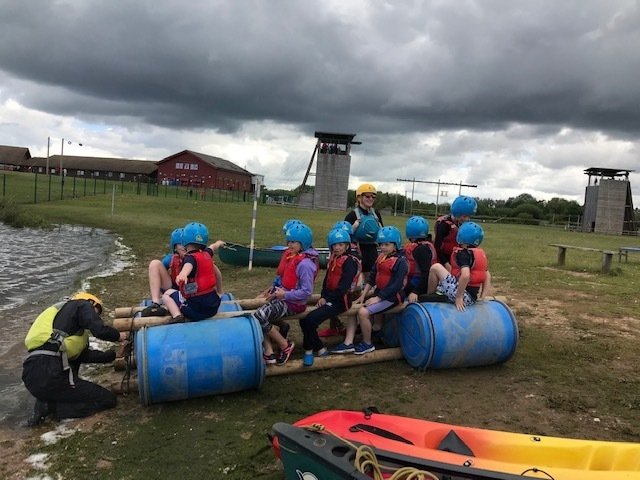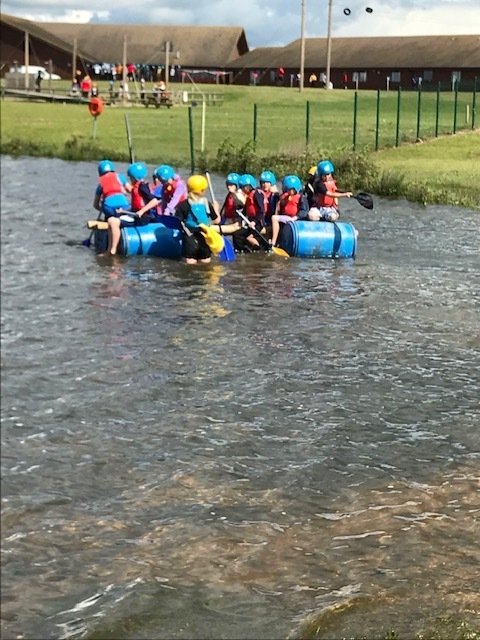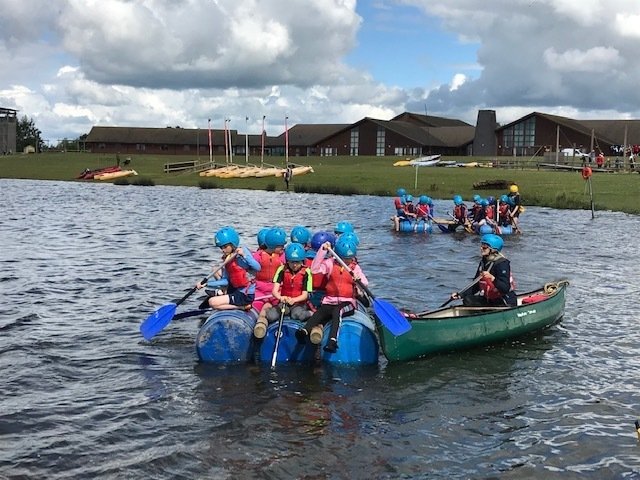 Friday report:
Well it looks like it has been a fantastic trip - a good final night was had by all. We have been inundated with great photos - here are a few more from yesterday and we are expecting everyone to take part in the zip wire challenge this morning.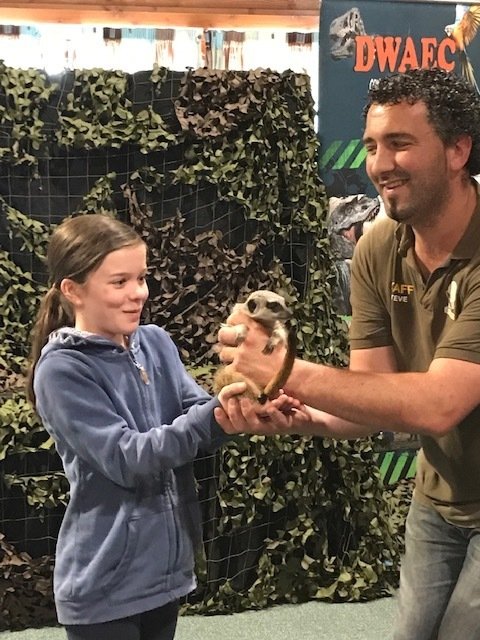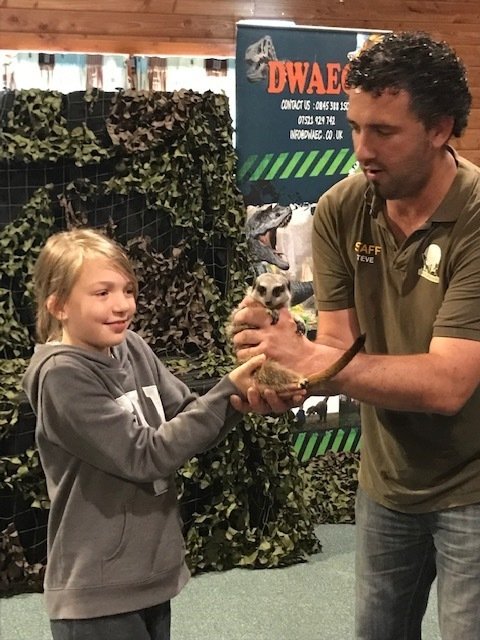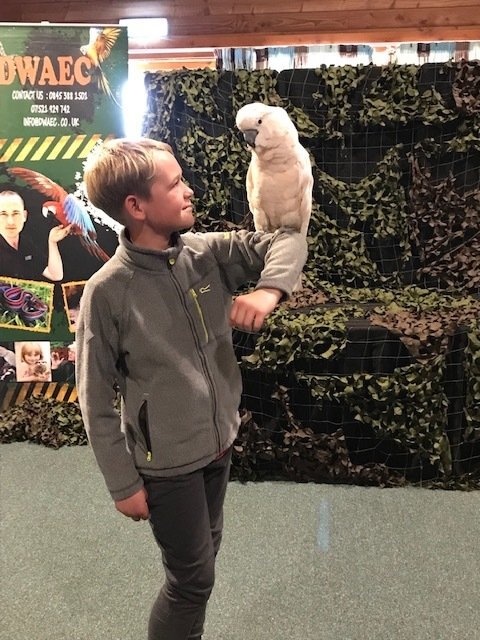 New school pet apparently.....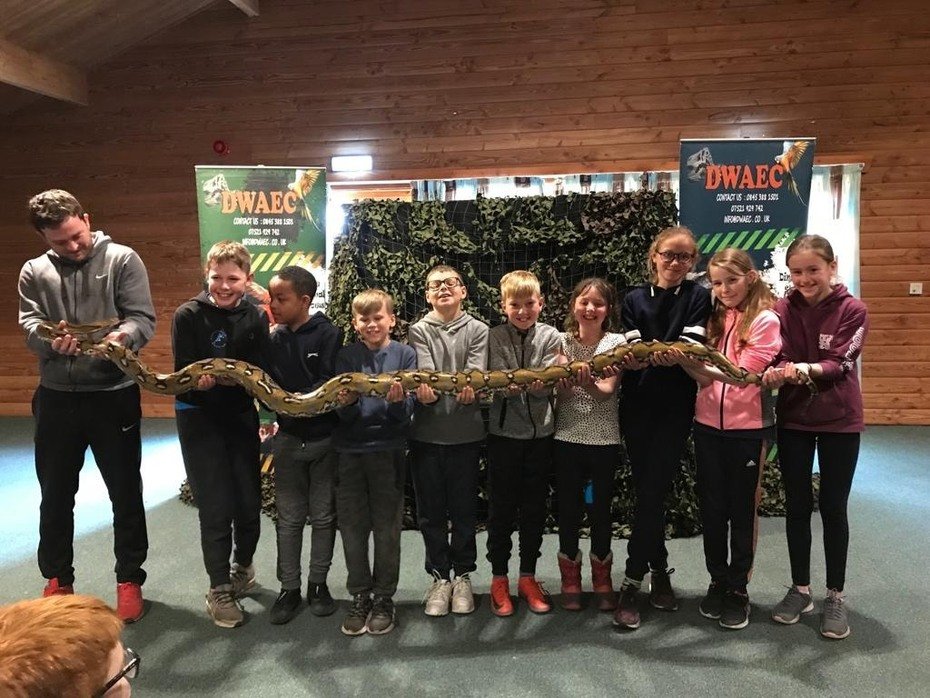 Abseiling action!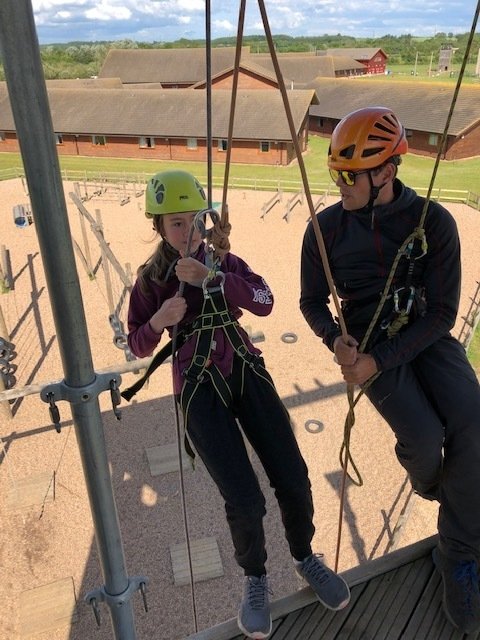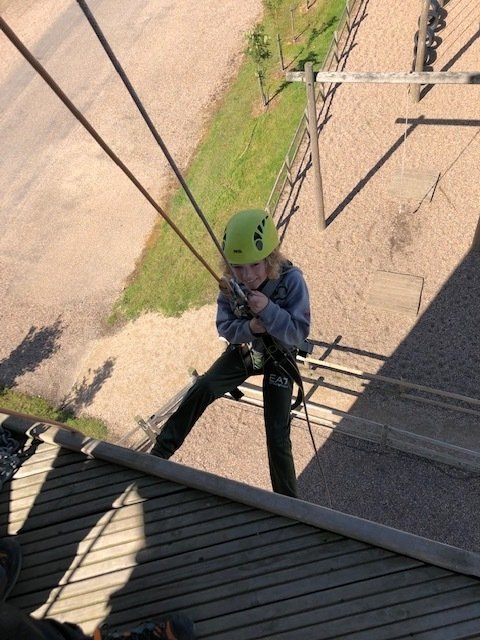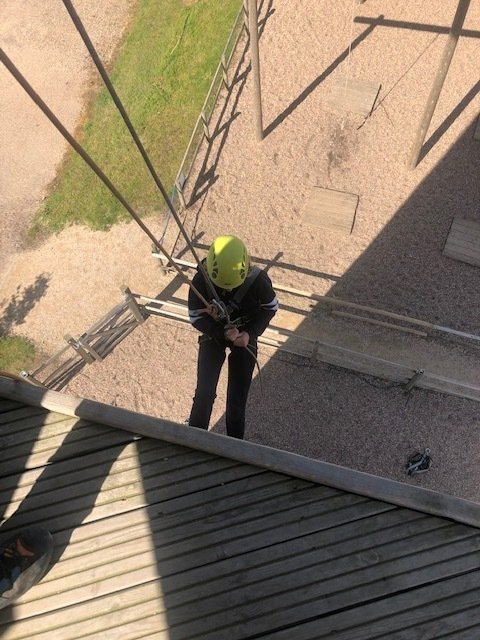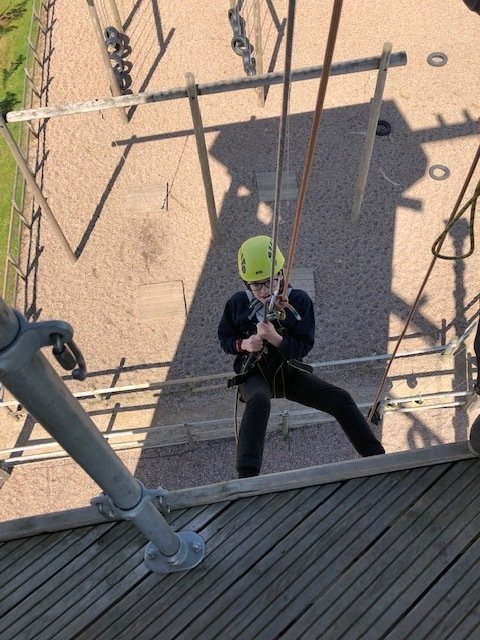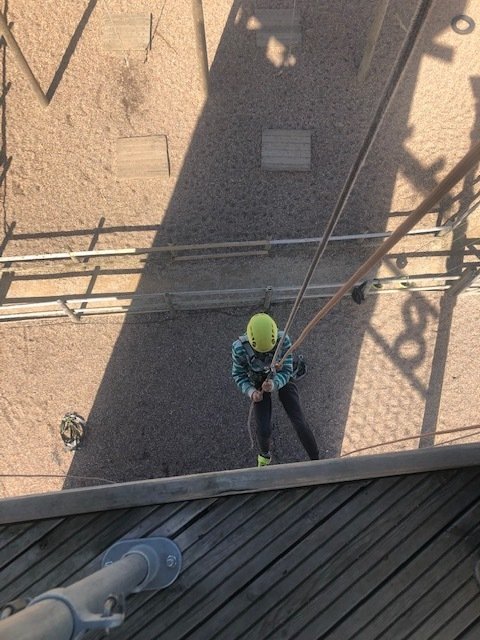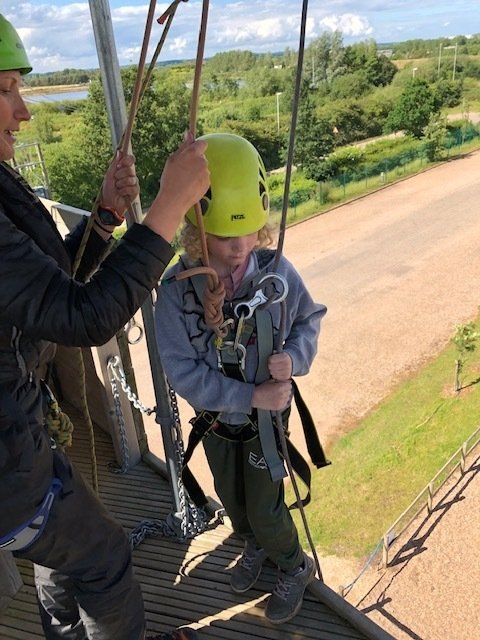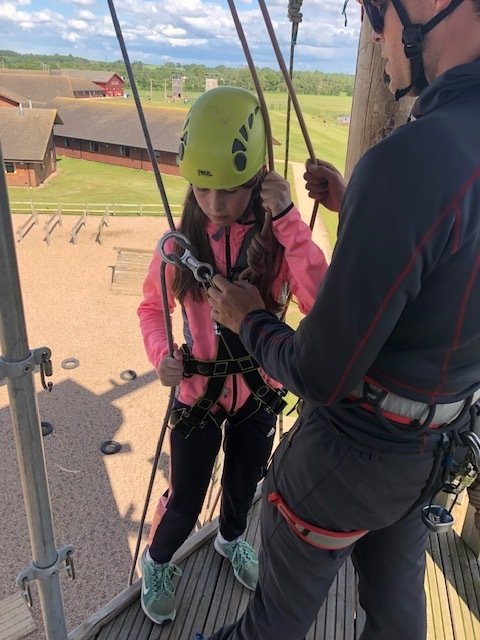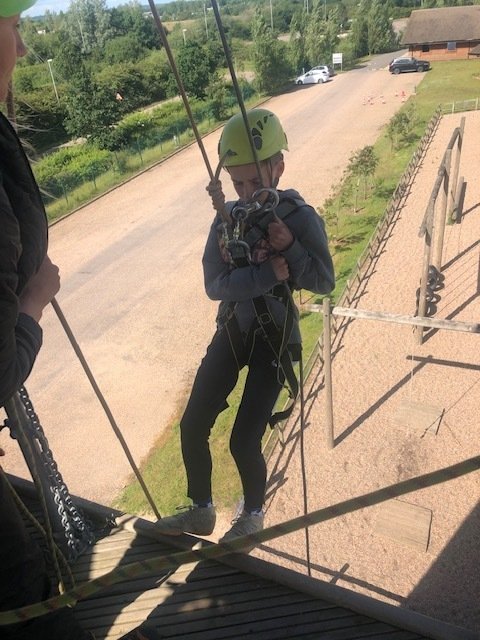 Living the high life on the high ropes: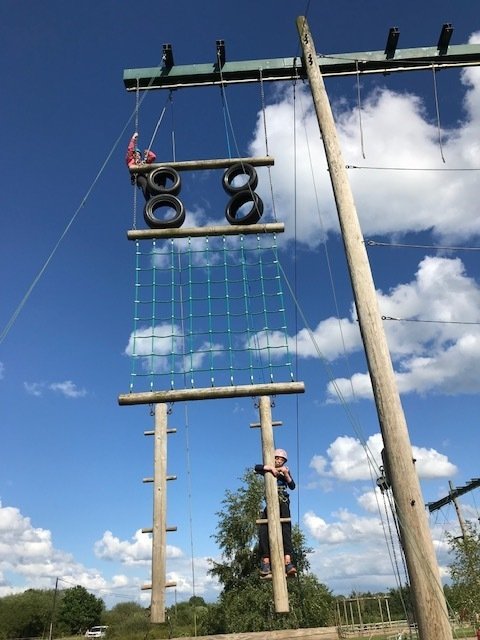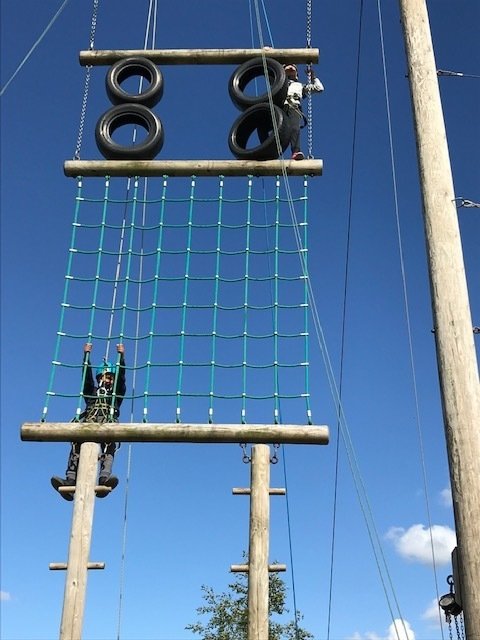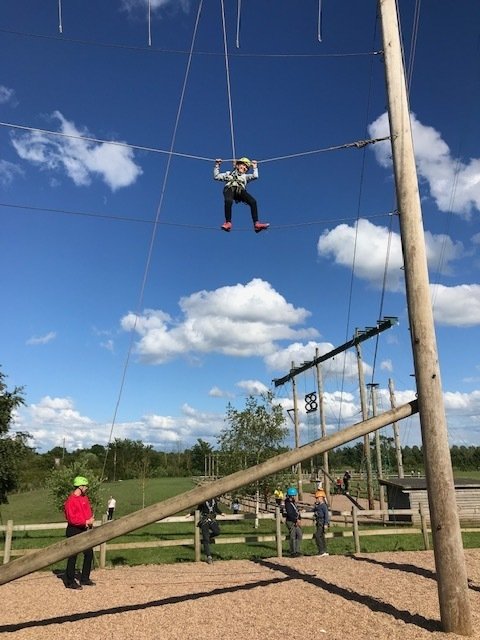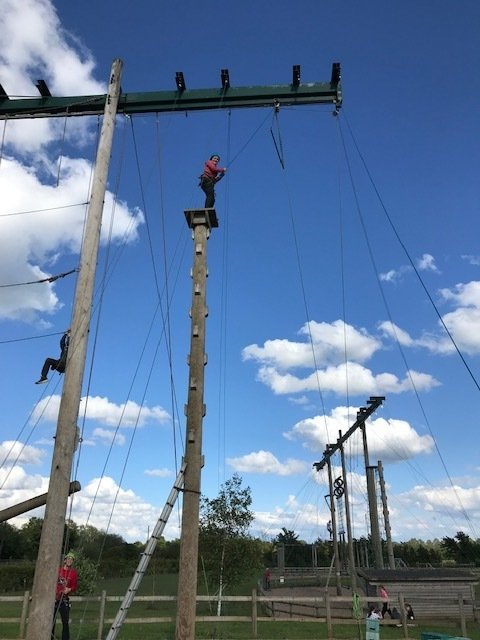 The Selfish Giant
On 6th June 2019, the Image Theatre Group came into school to deliver a theatre workshop and performance of The Selfish Giant.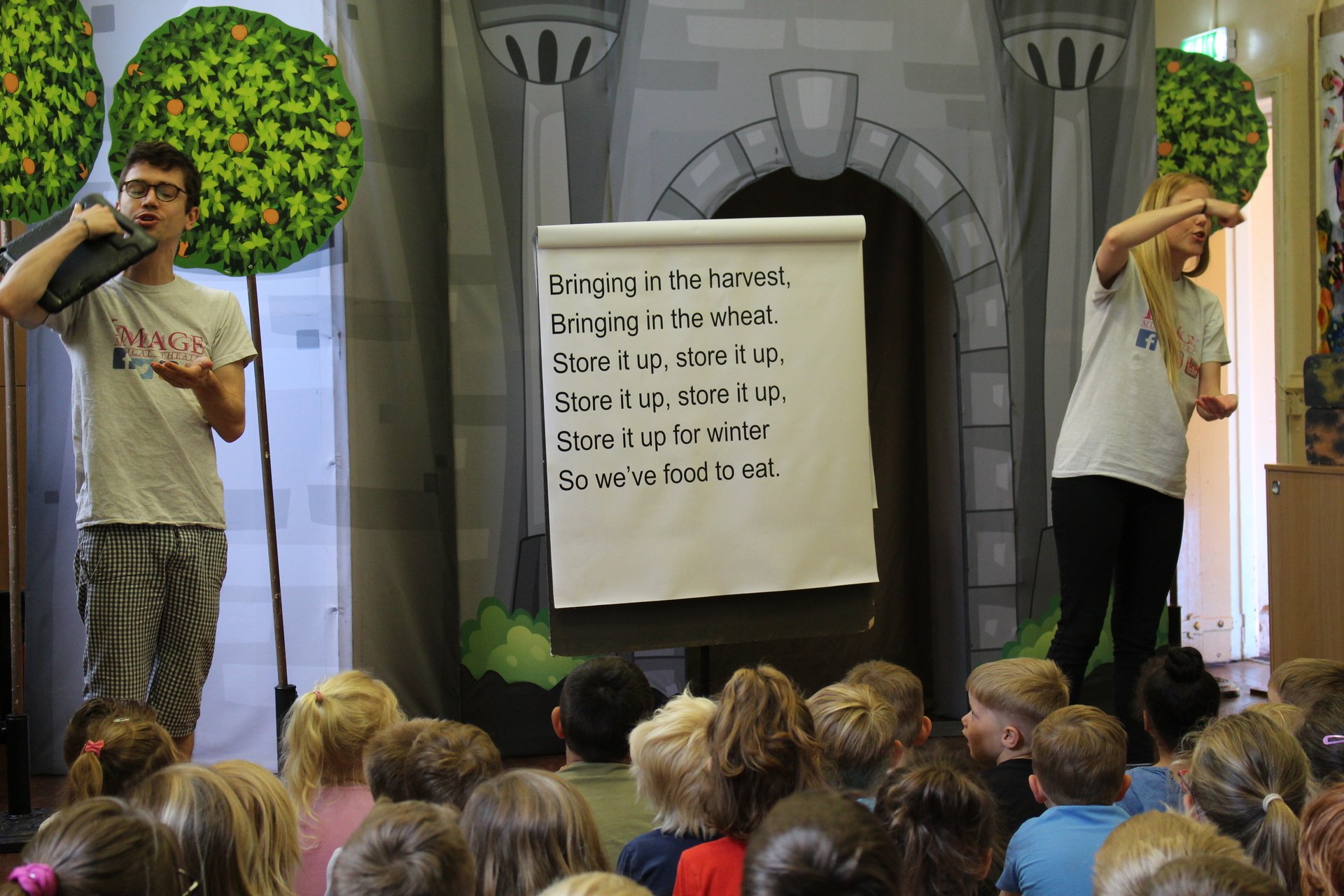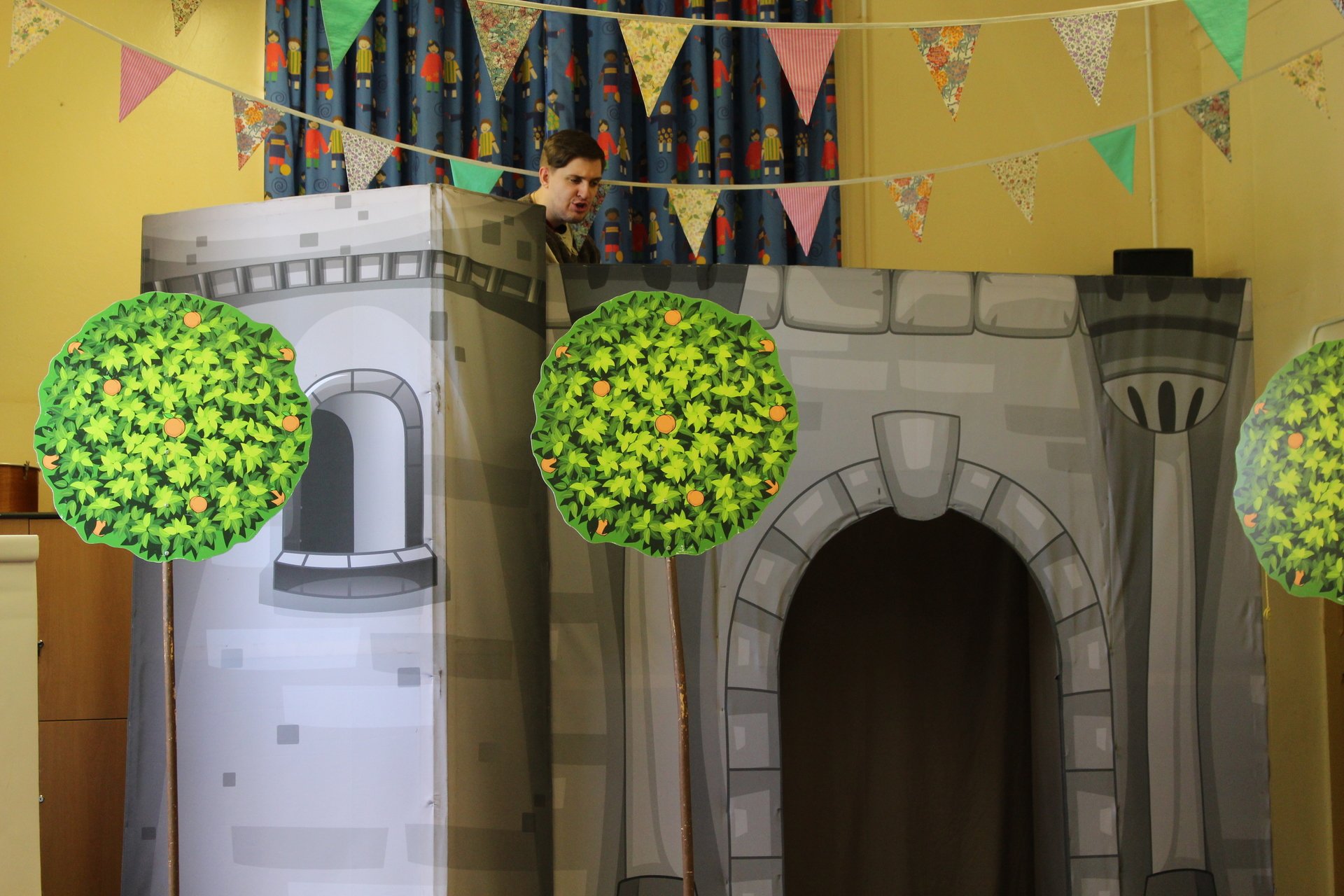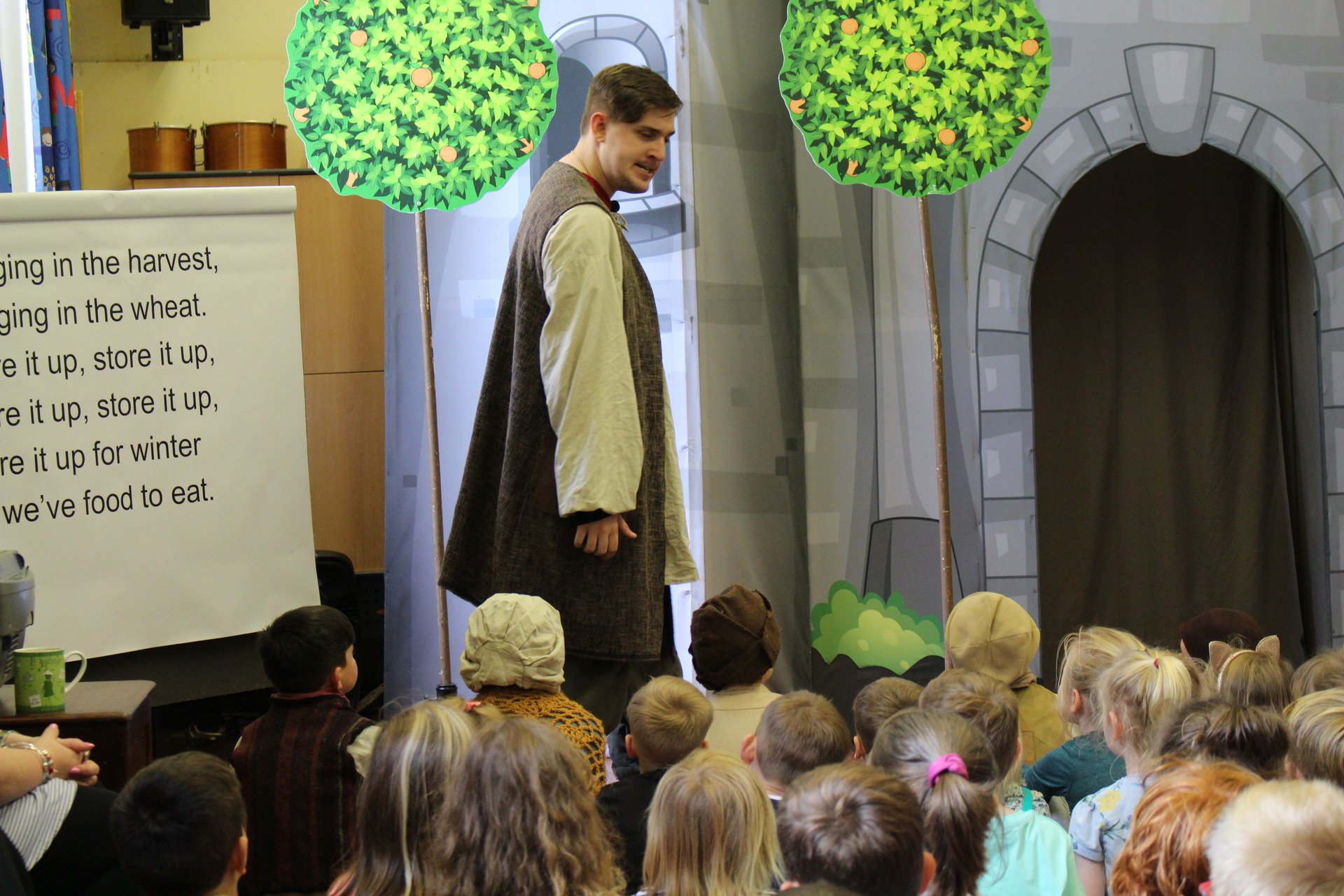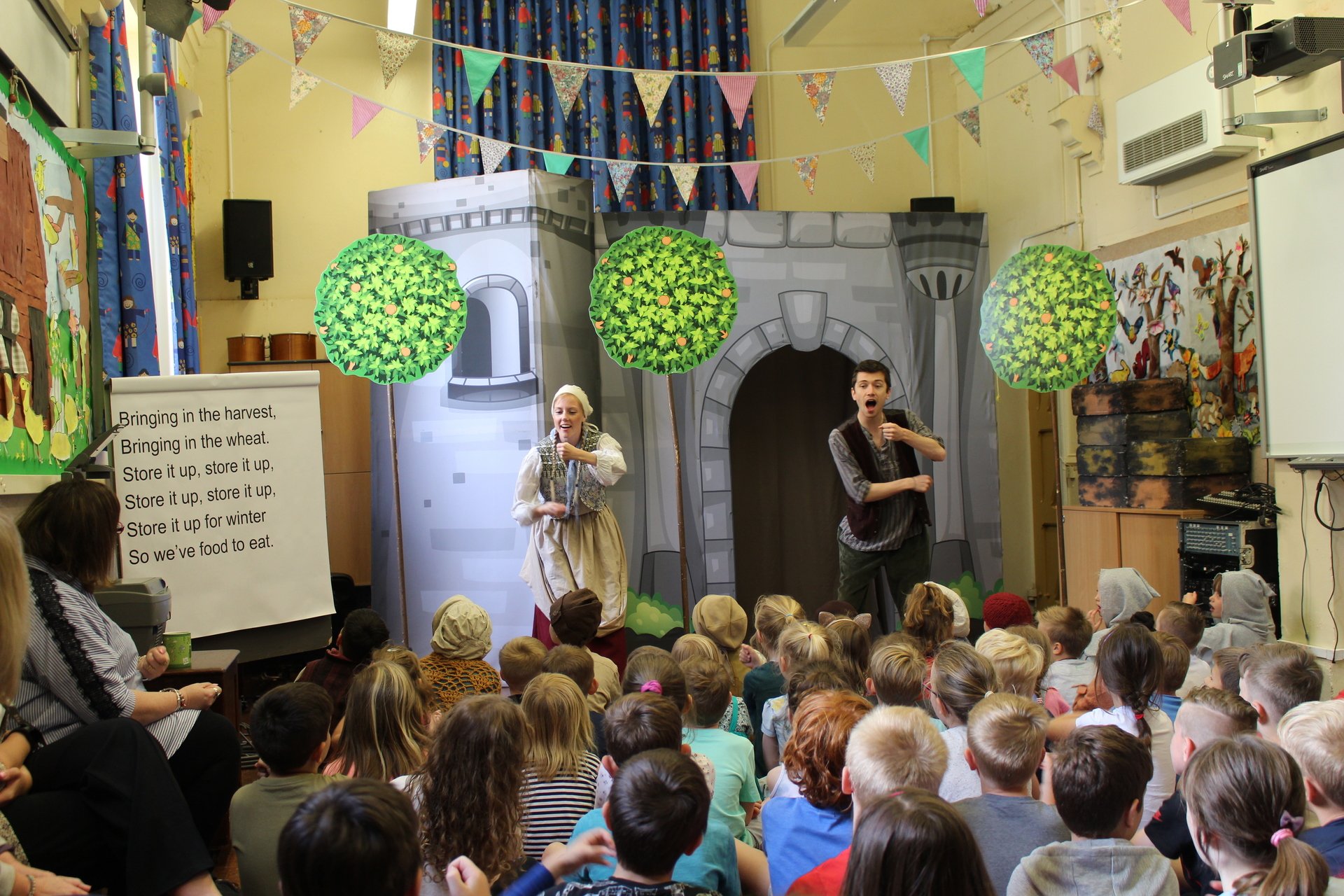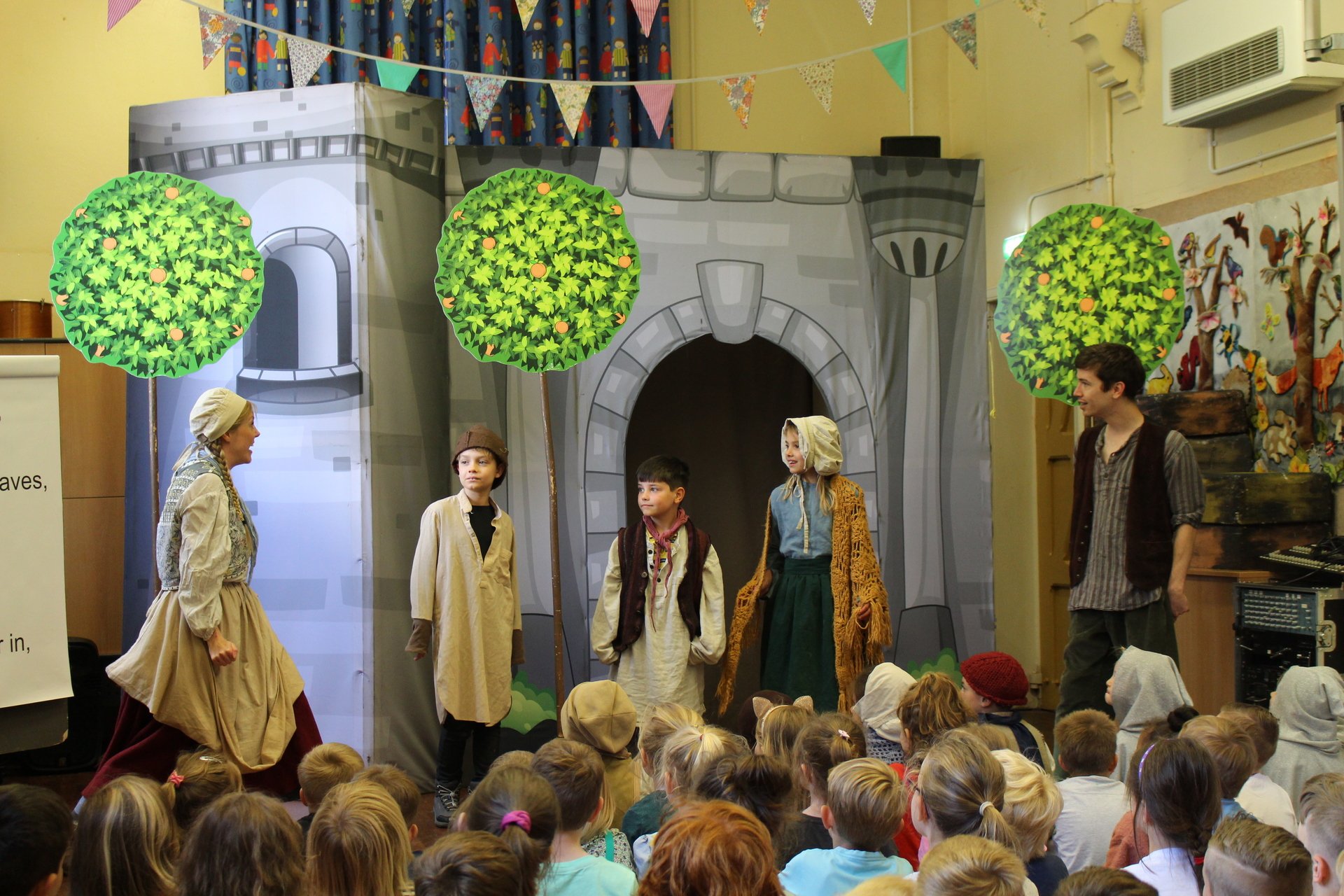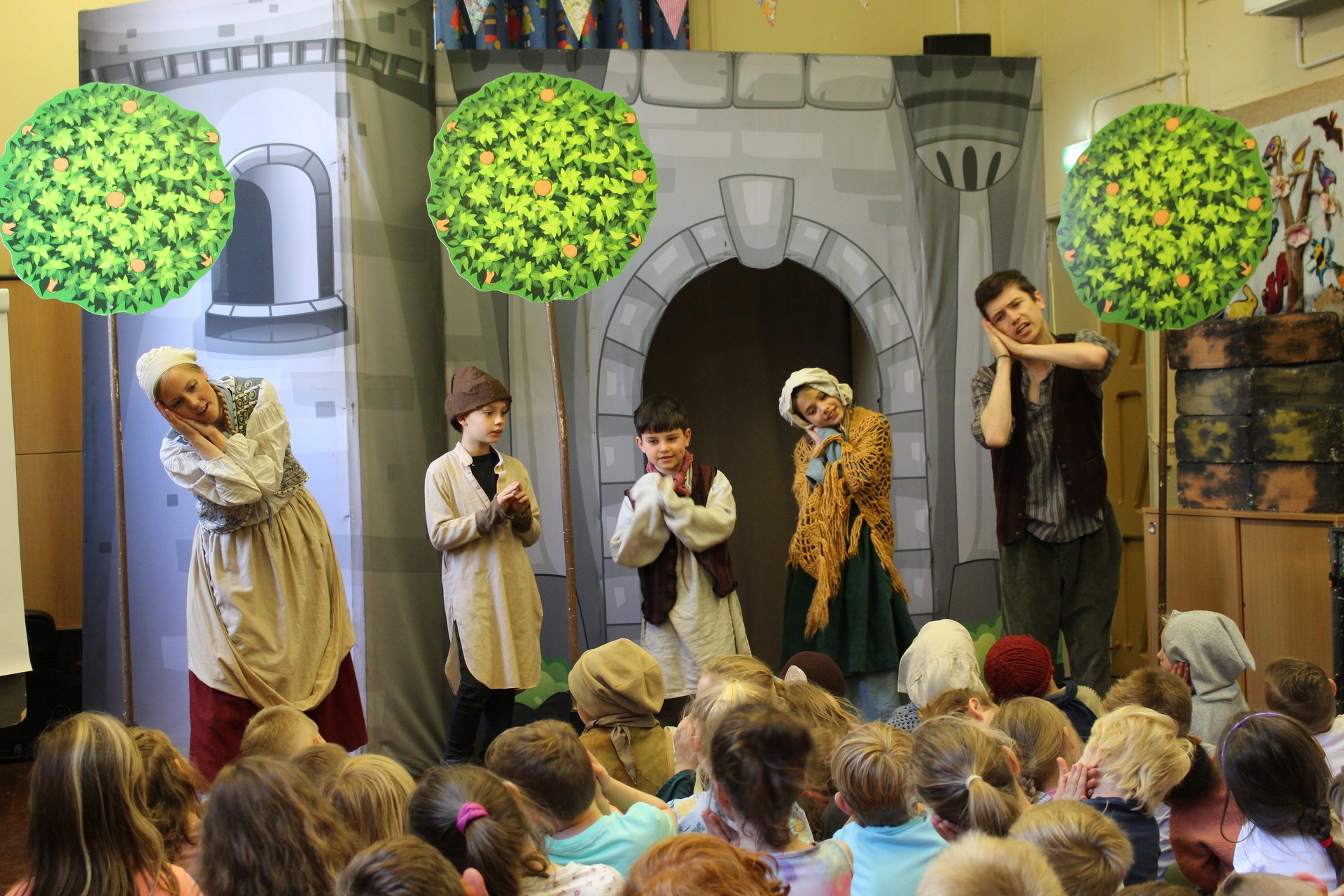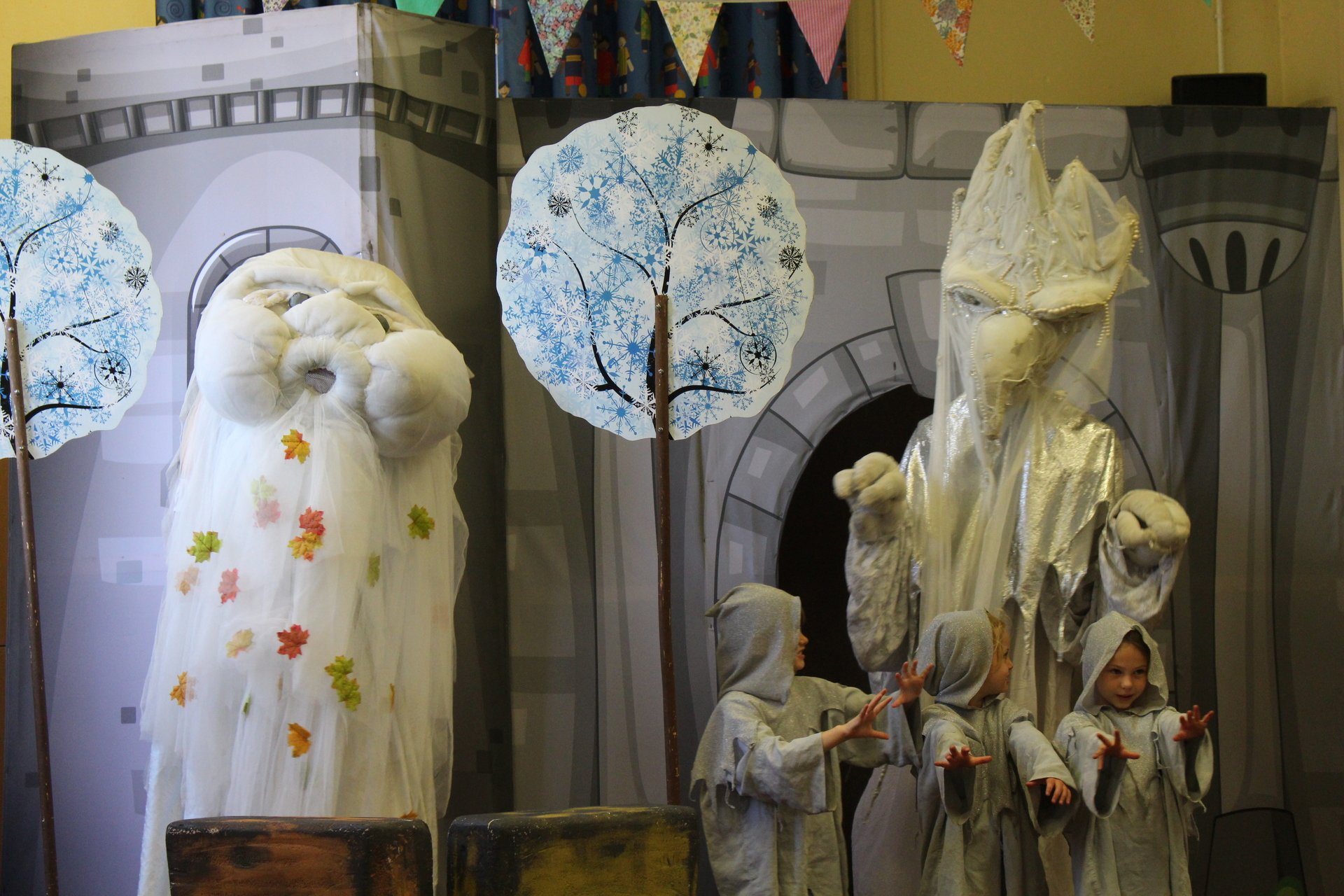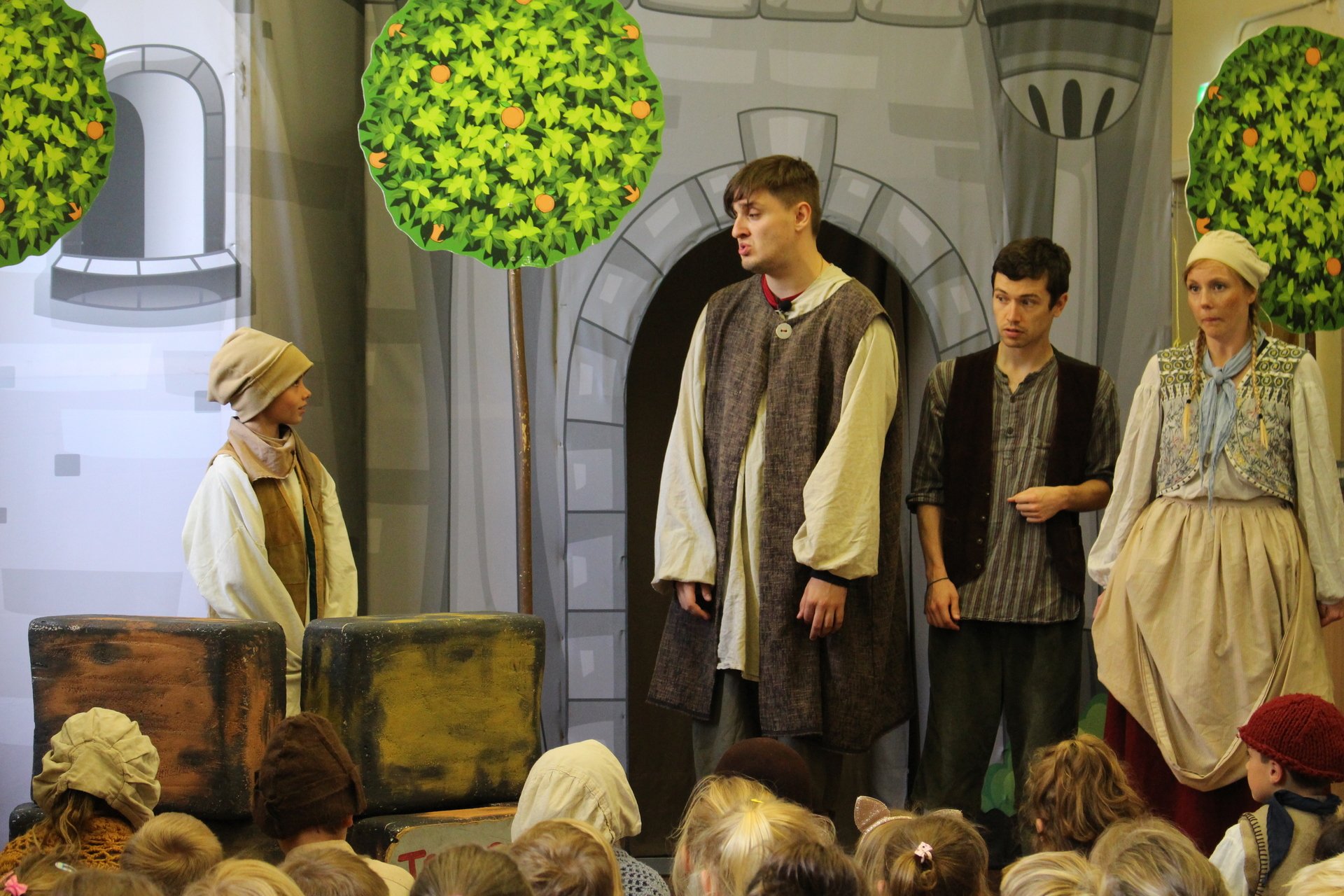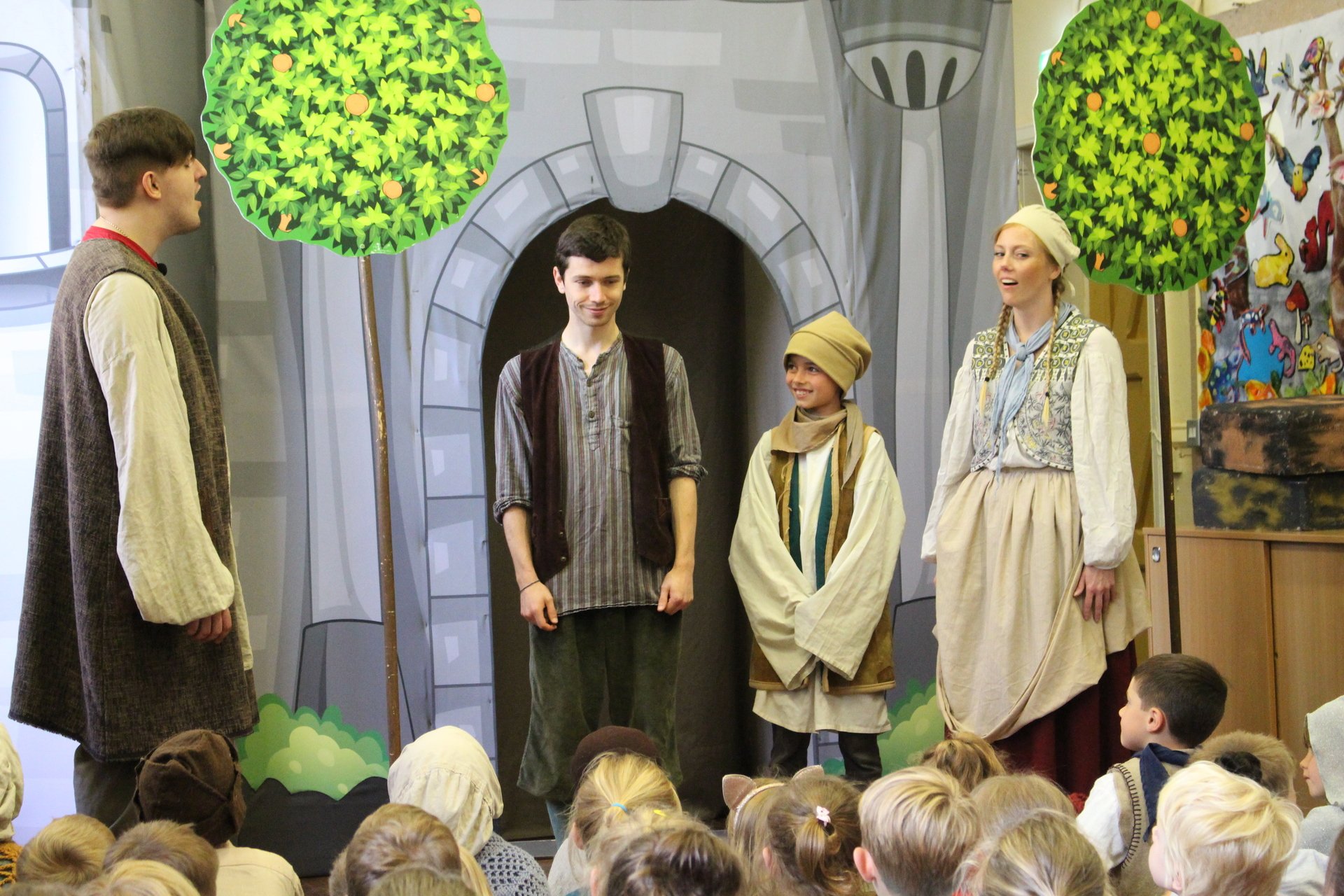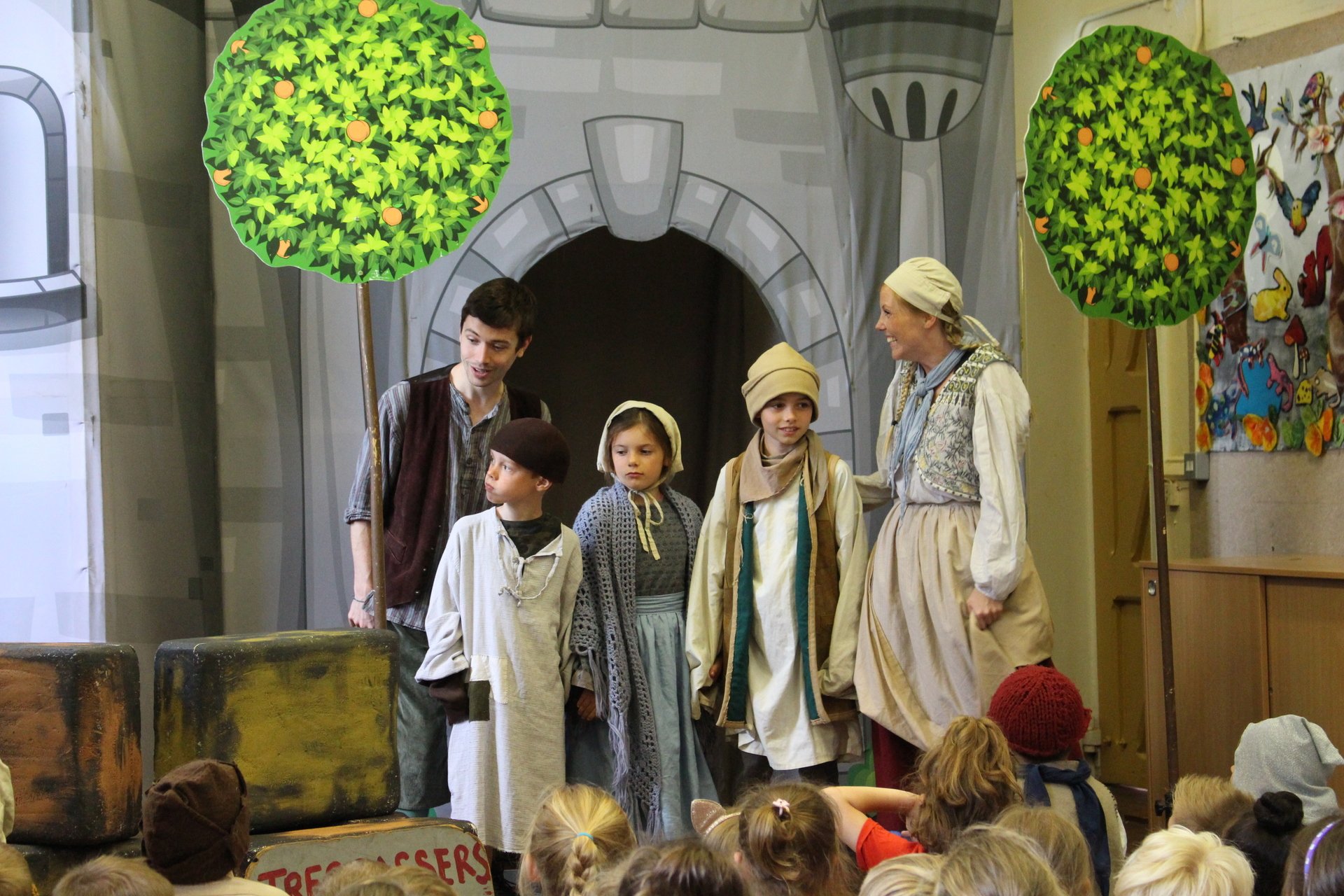 Wacky Hair Day! The children came to school sporting their wackiest hair-dos and brought a variety of bottles in for our May day tombola. Thanks everyone.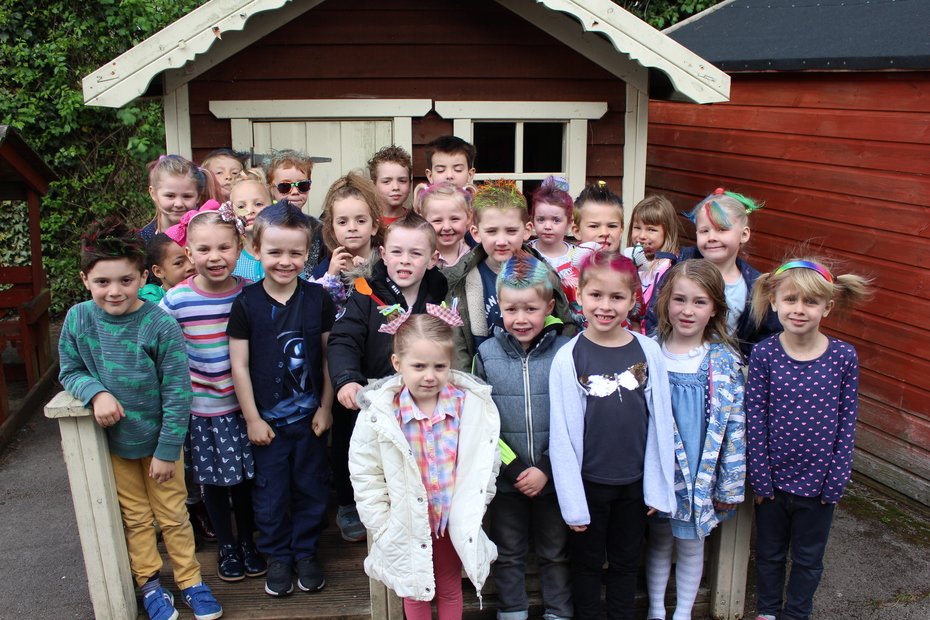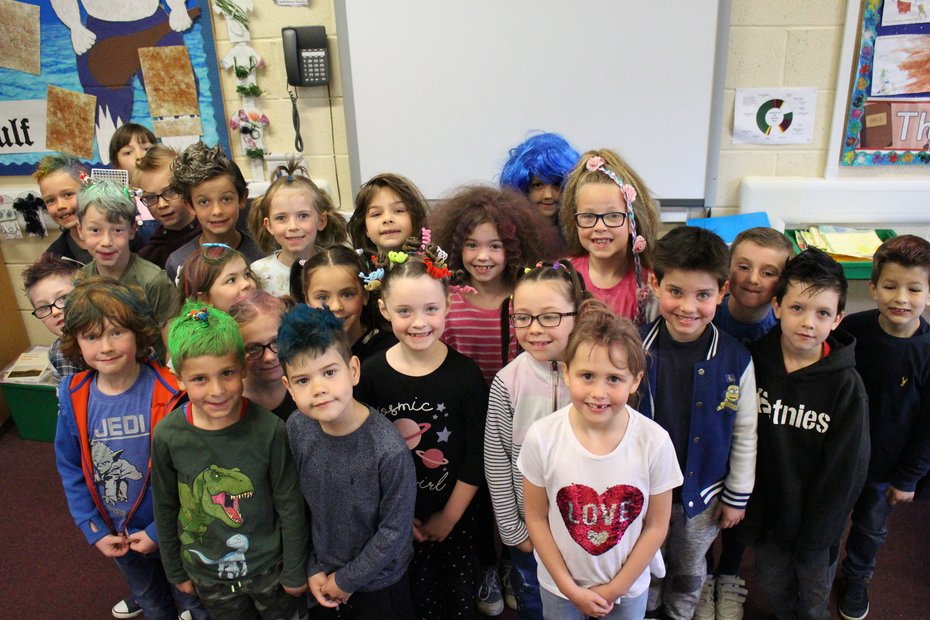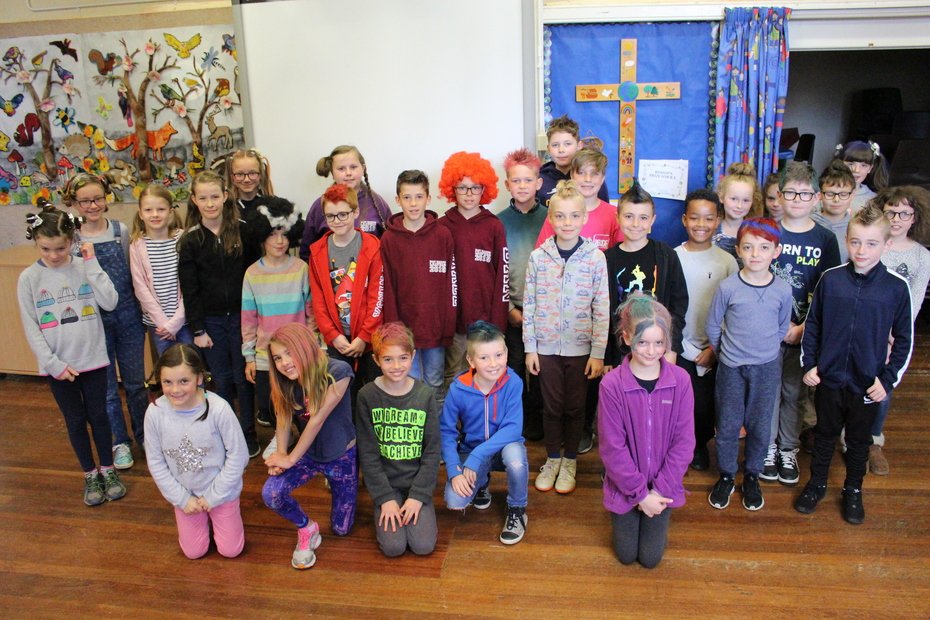 Local MP Chris Heaton-Harris set up a lively debate, House of Commons style, as part of his assembly telling us what it's like to be an MP.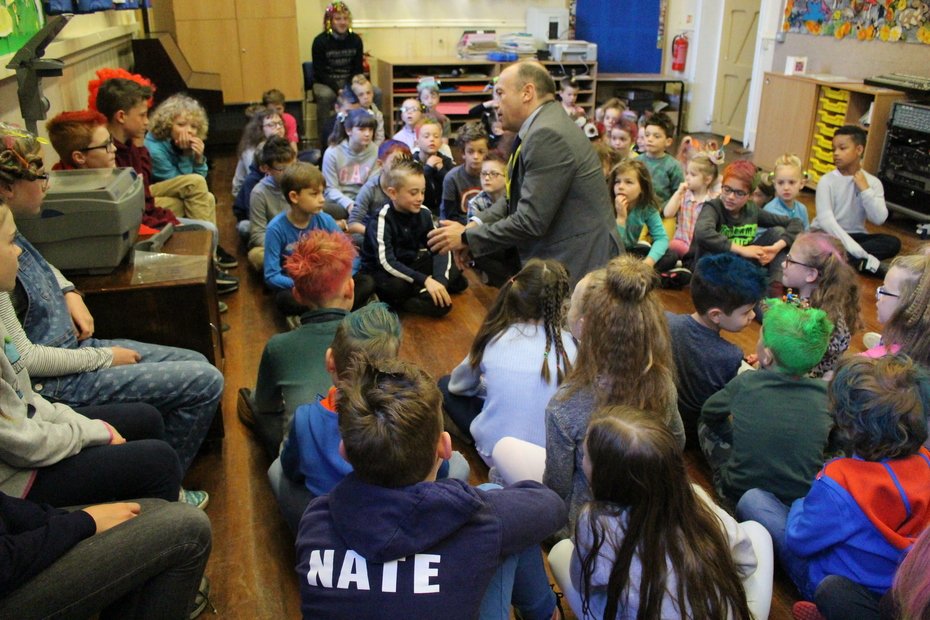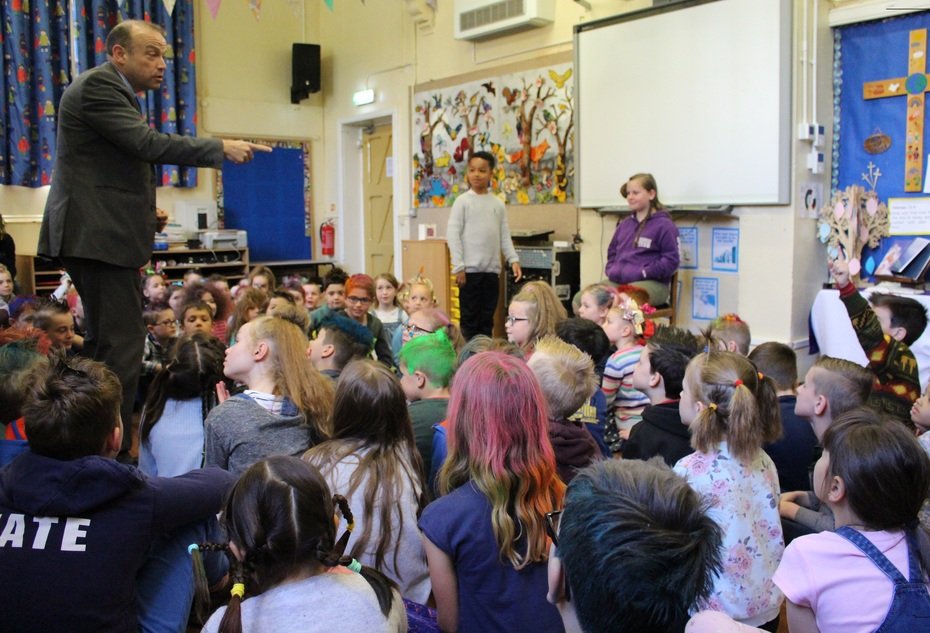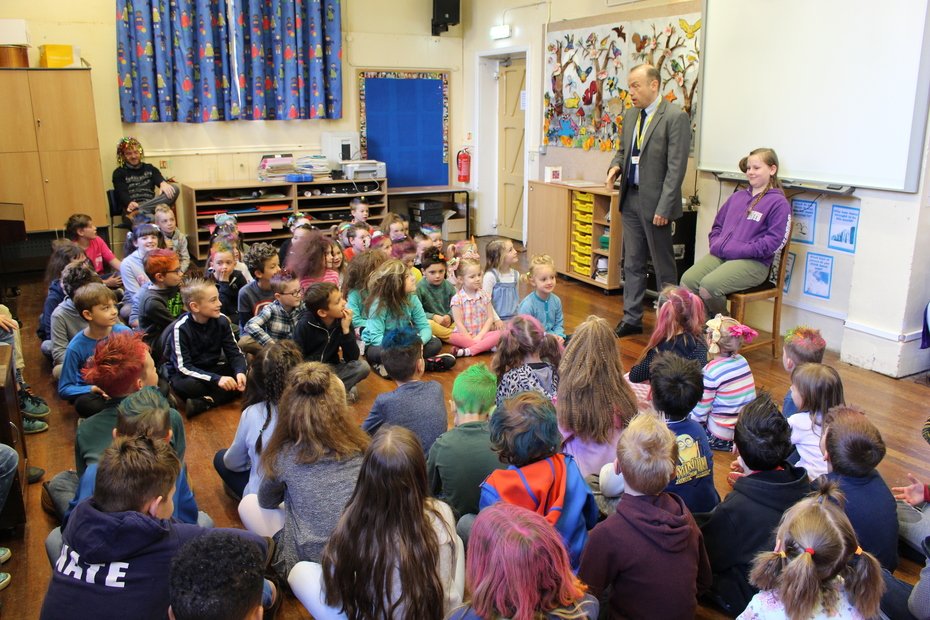 The children enjoyed listening to stories on World Book Day. Thanks to Kirsten, Finley and Ivy's mum, for coming in to read!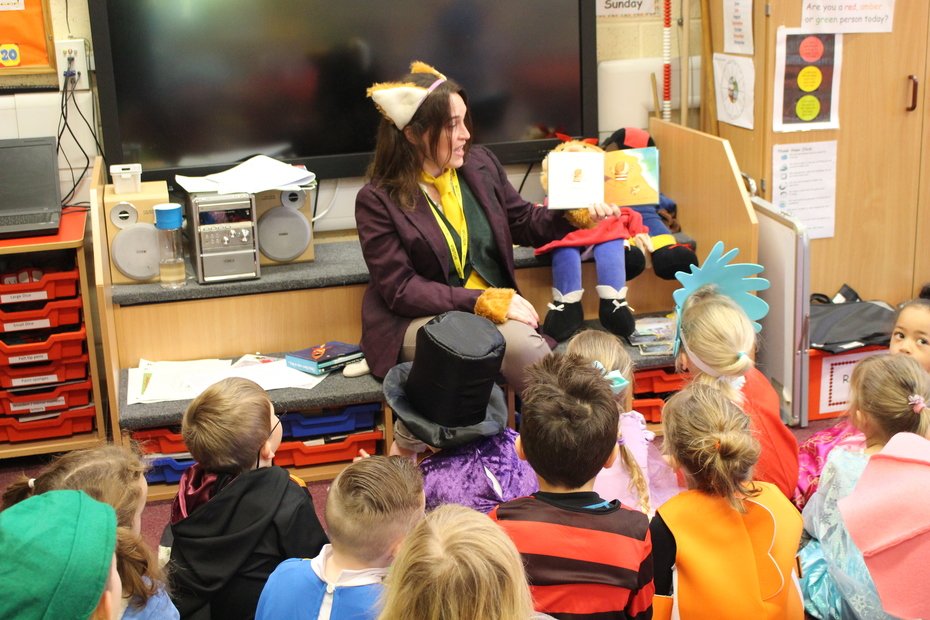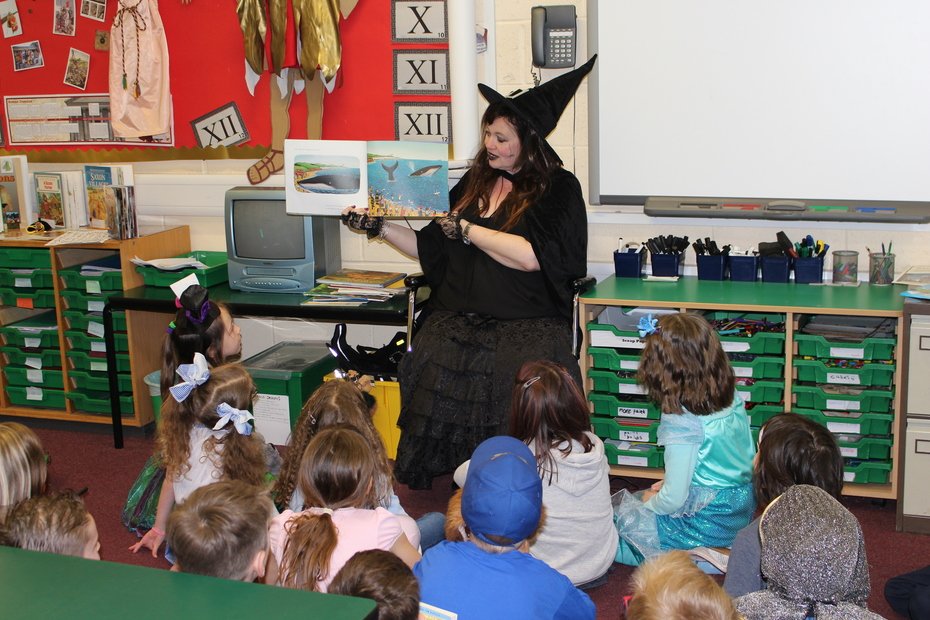 Samba Drumming Performance: the children showcased their drumming skills following a series of workshops in school. Many thanks to Chris Hardwick from Northamptonshire Music and Performing Arts Trust.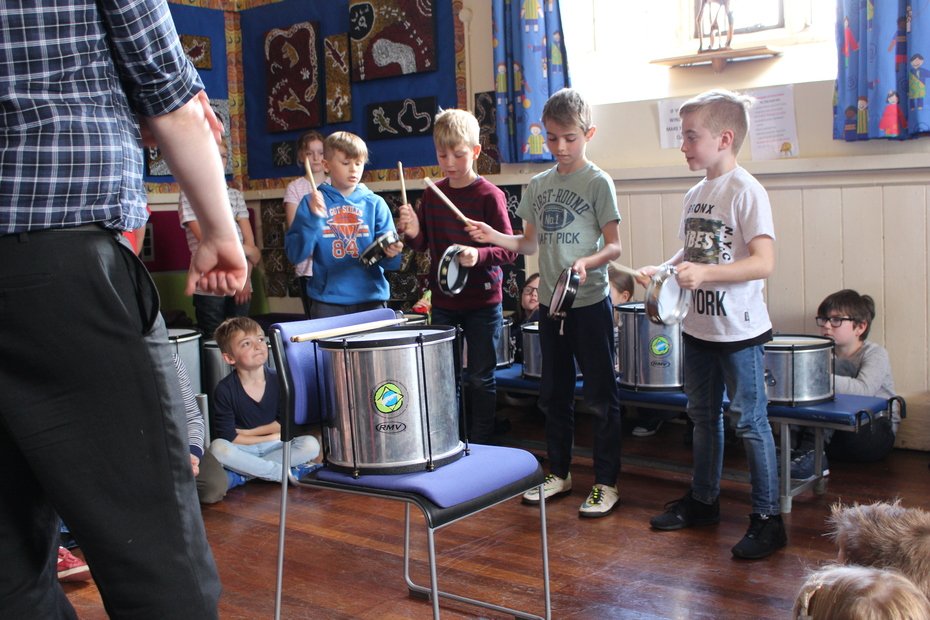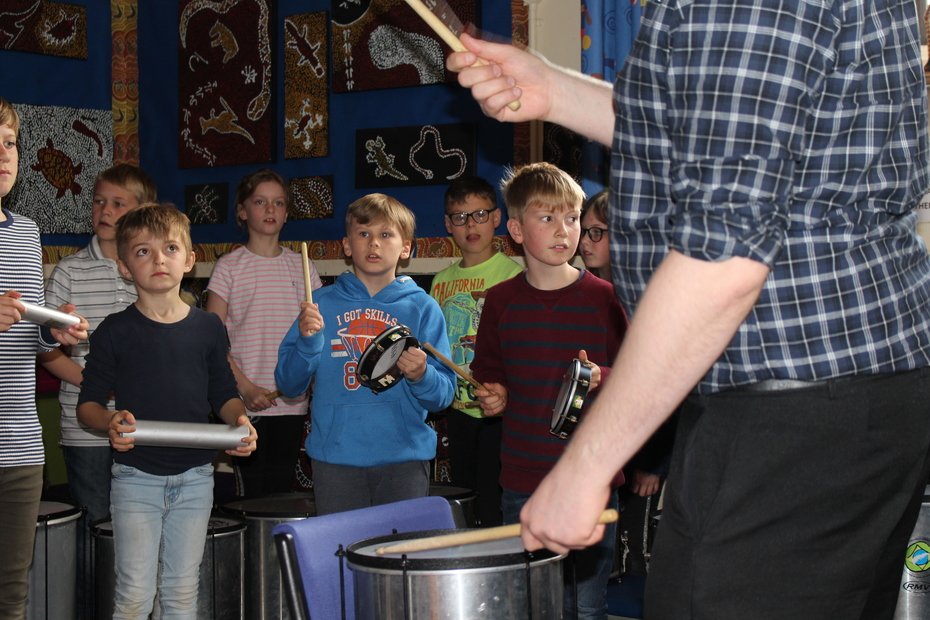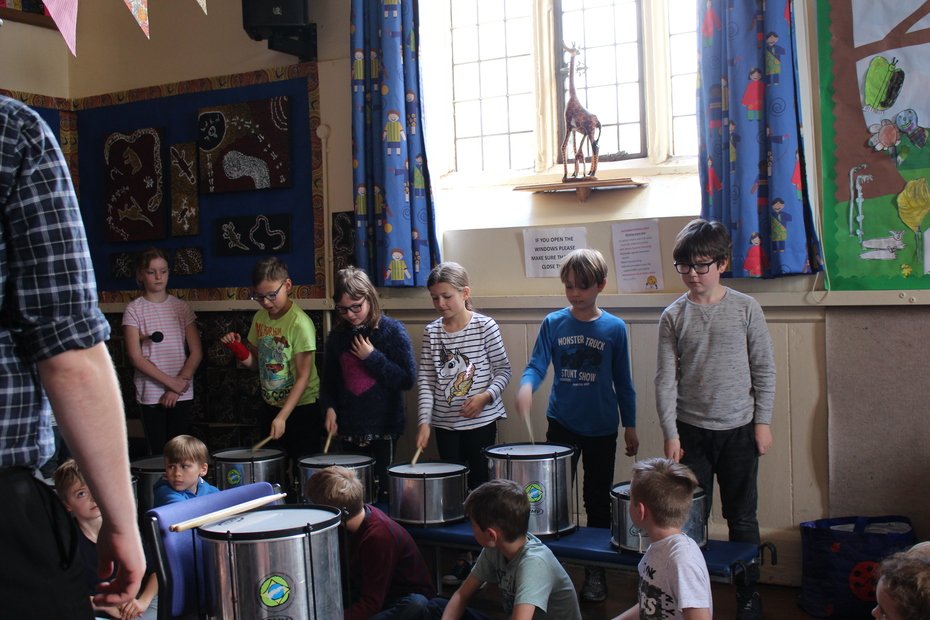 Ian Fisher came in to talk to the school about a career as a farmer.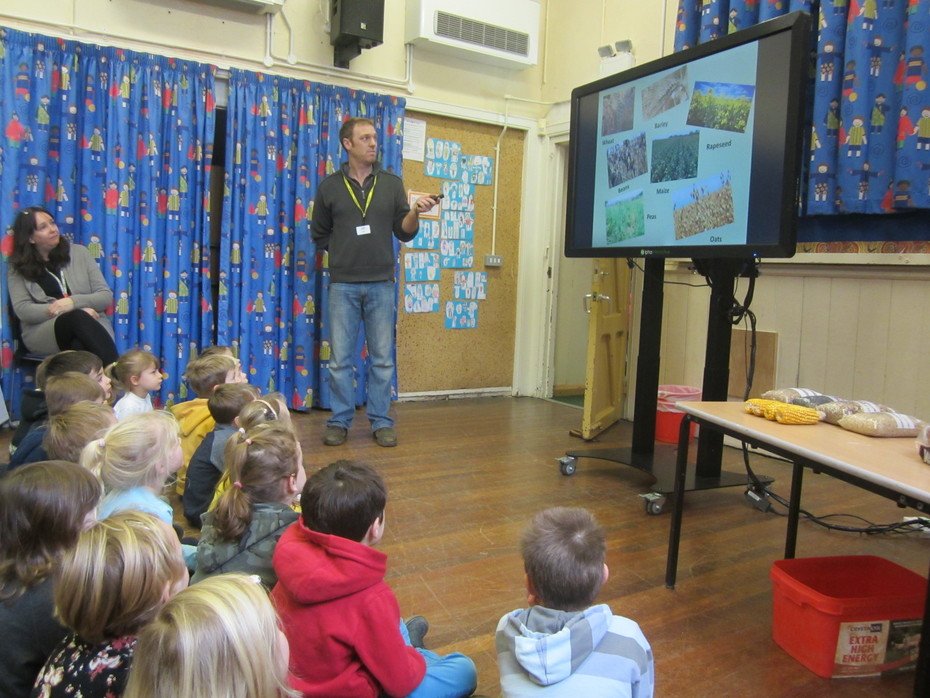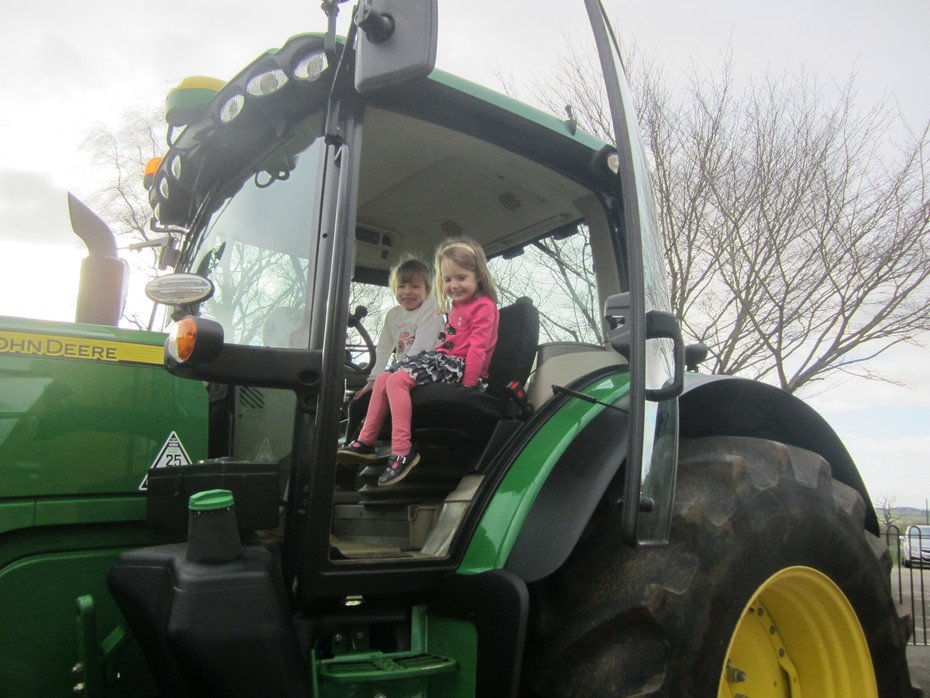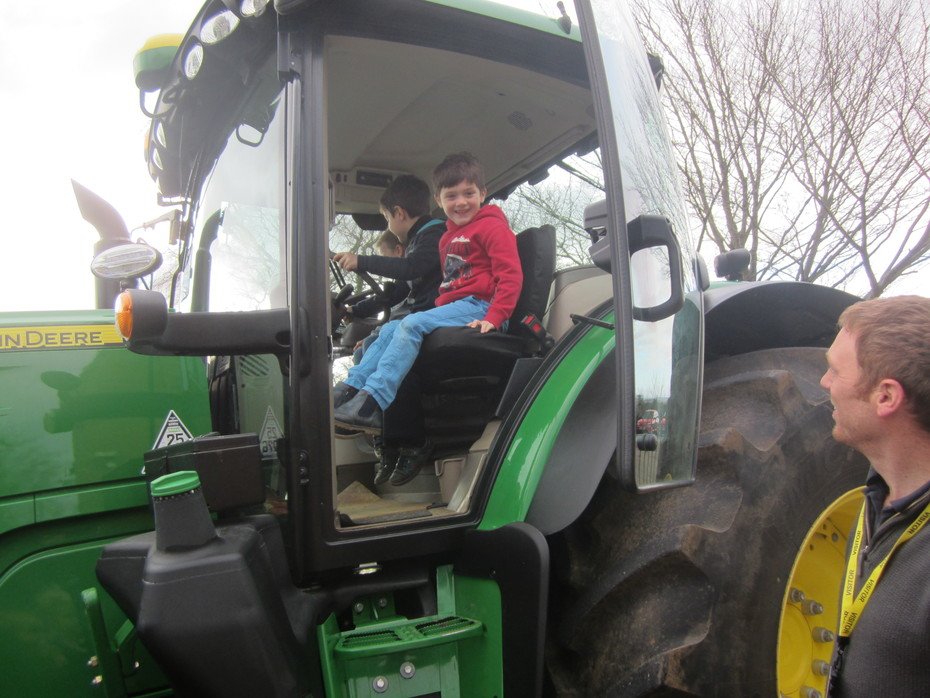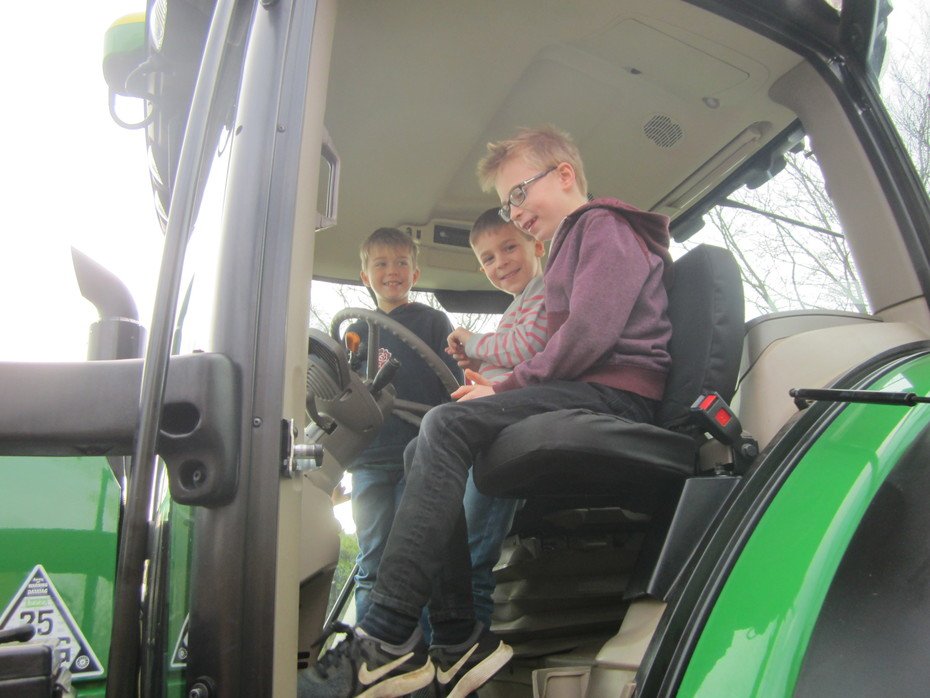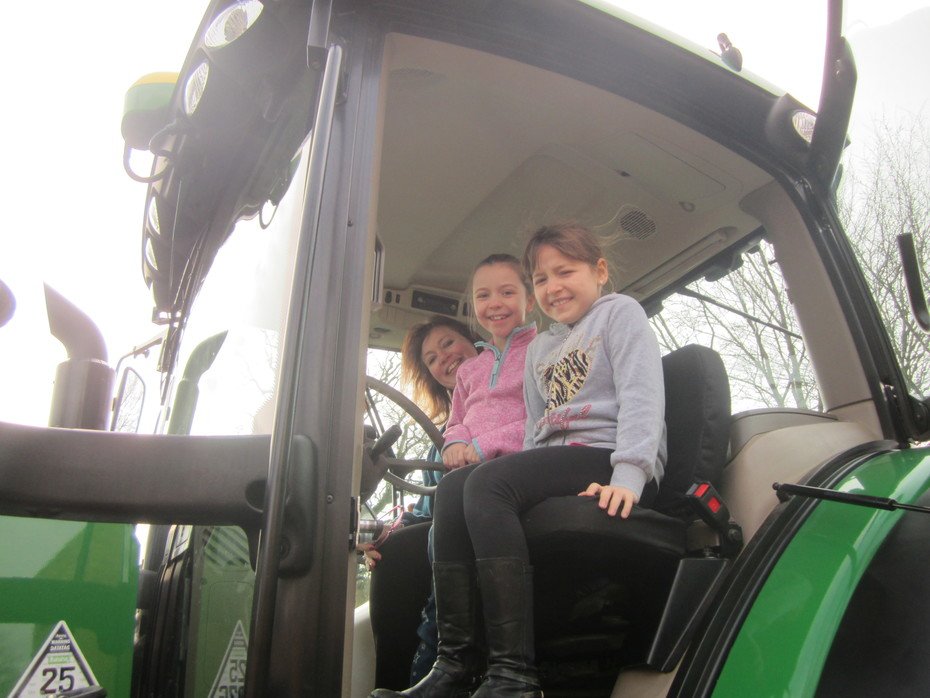 Aboriginal art: the children thoroughly enjoyed working with Stephen Rowley, who shared his knowledge of aboriginal culture, storytelling, drama and art.