Gallery
Special Police Visit from PC McDonald
Thank you to PC McDonald, who treated us to an entertaining and informative assembly on what it is like to be a police officer. The children thoroughly enjoyed seeing the police dogs at work and even got to see Mrs Truslove being arrested too!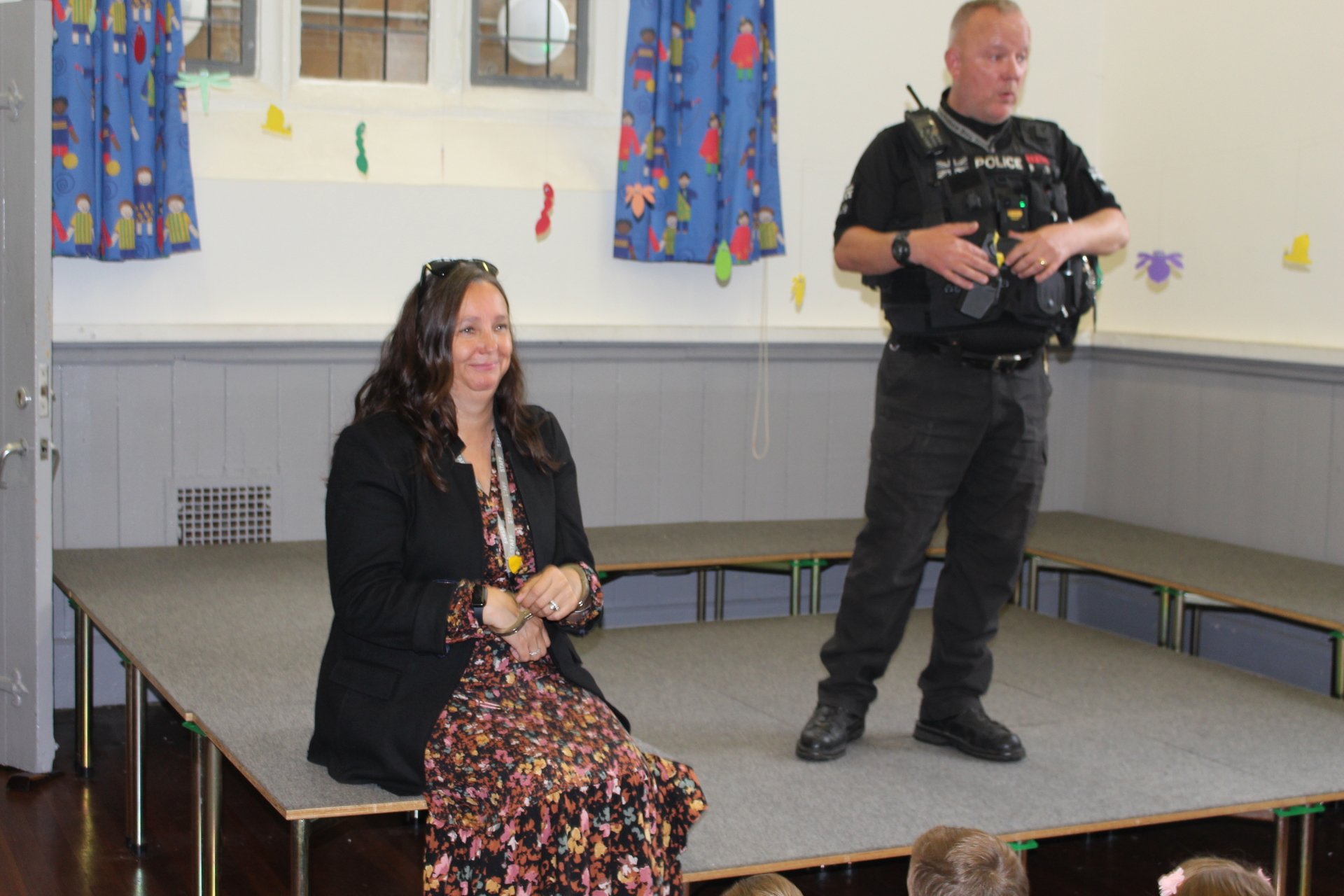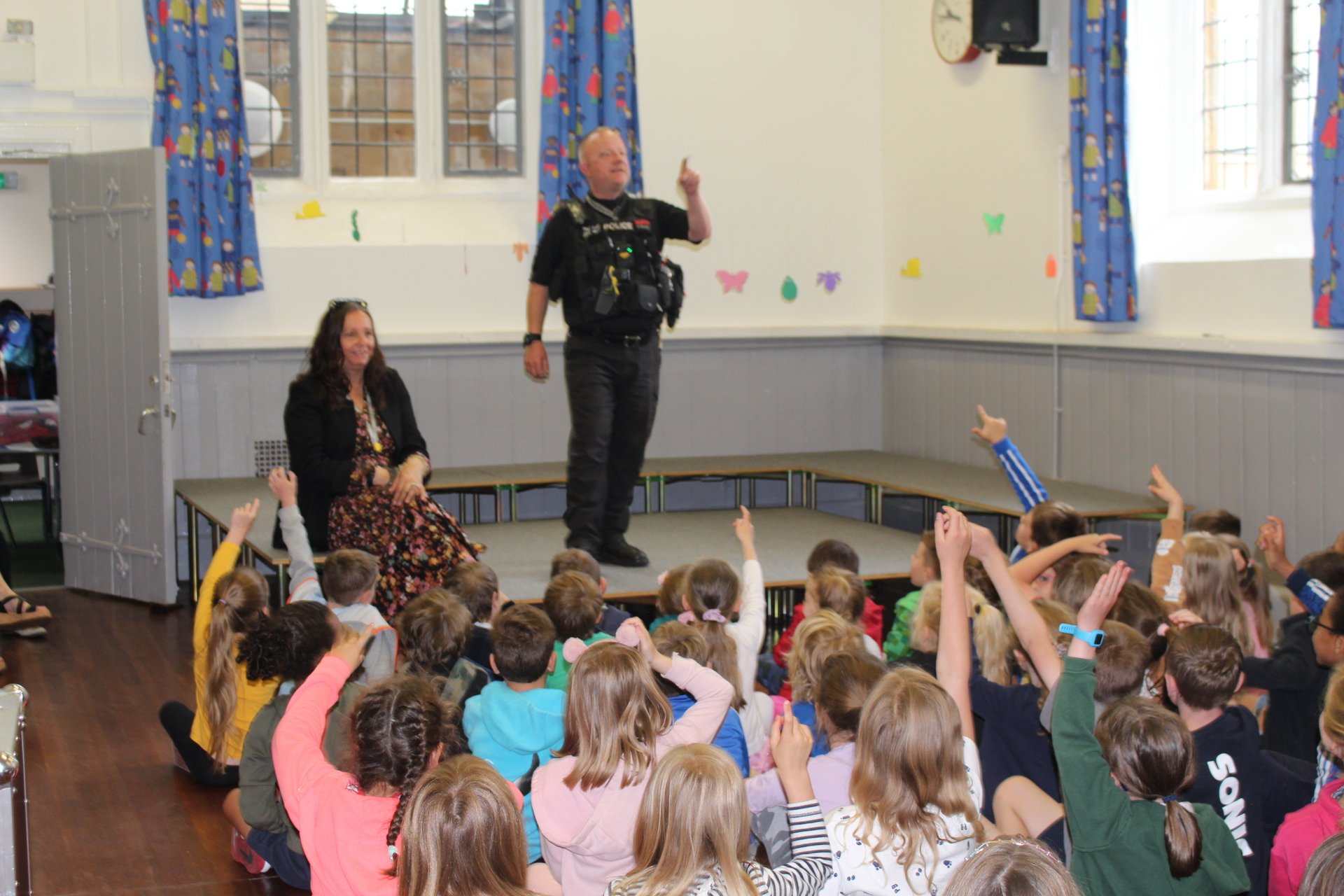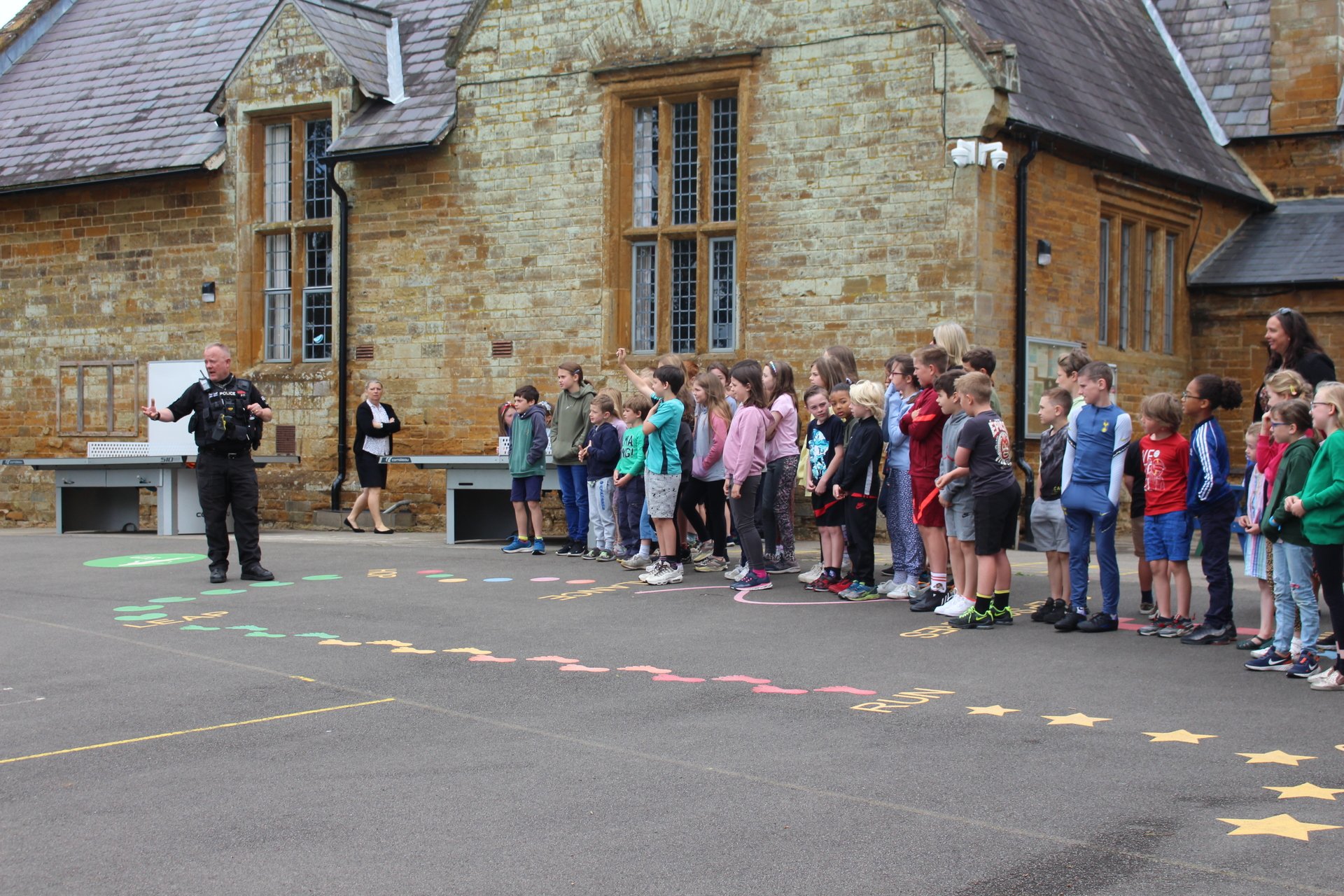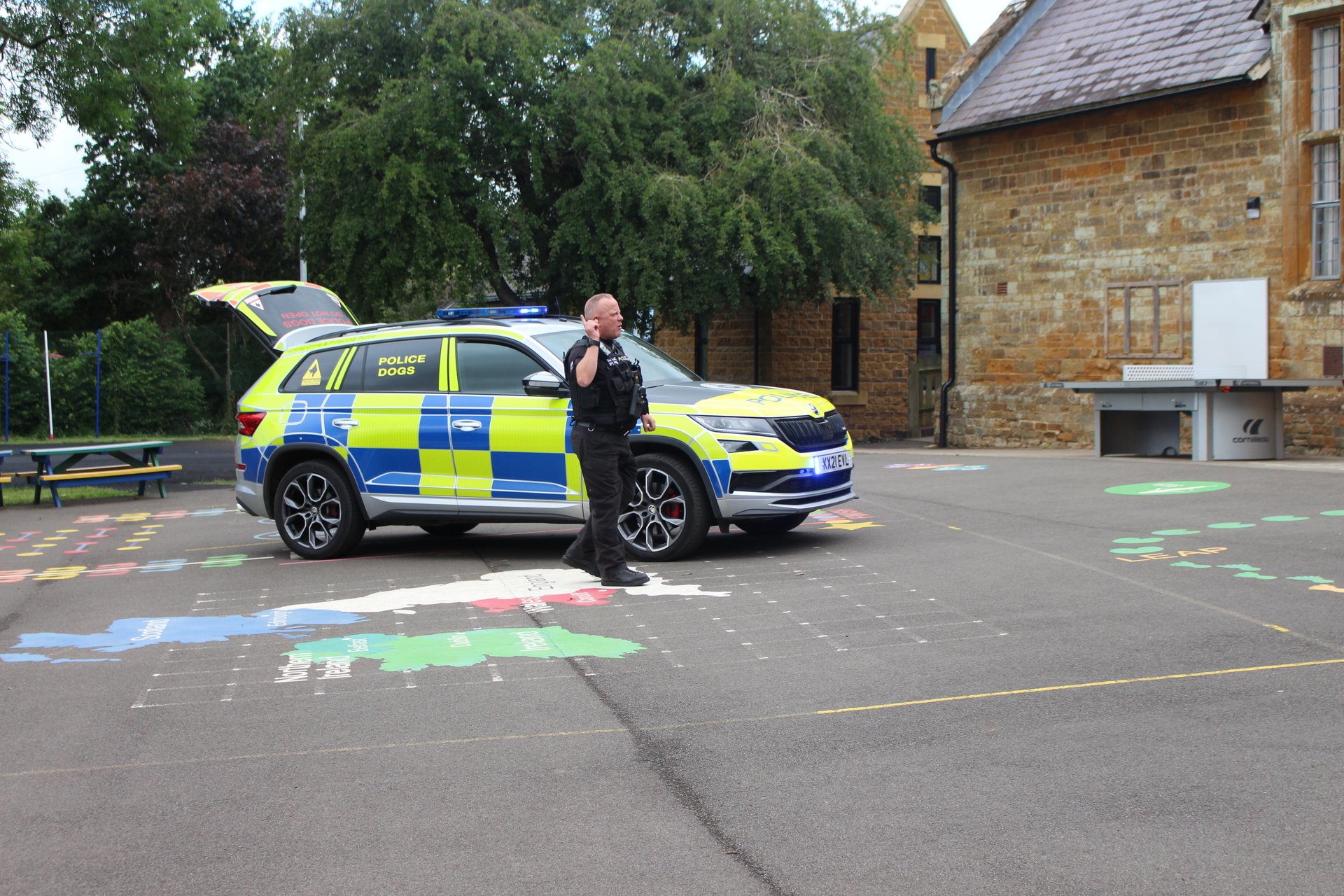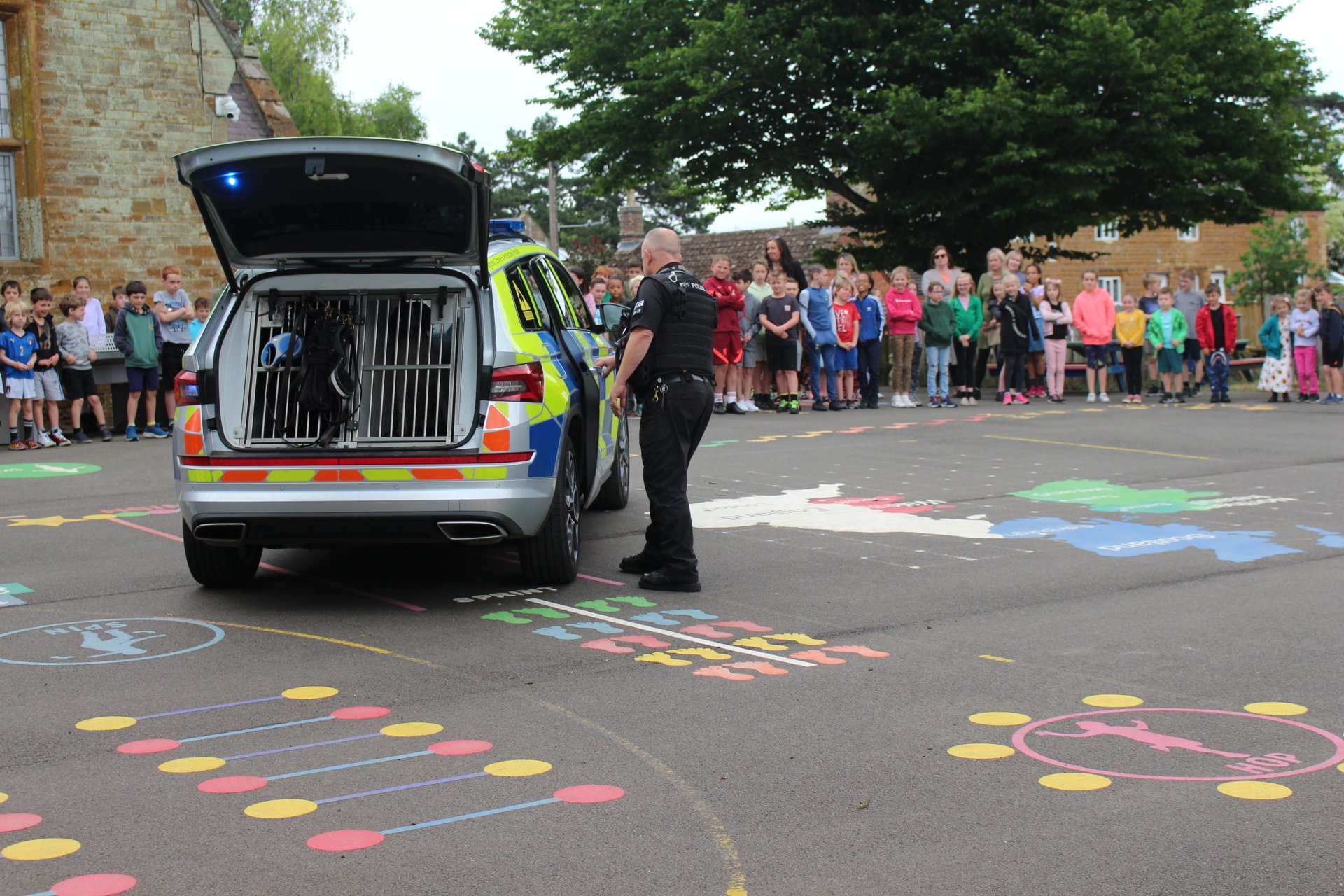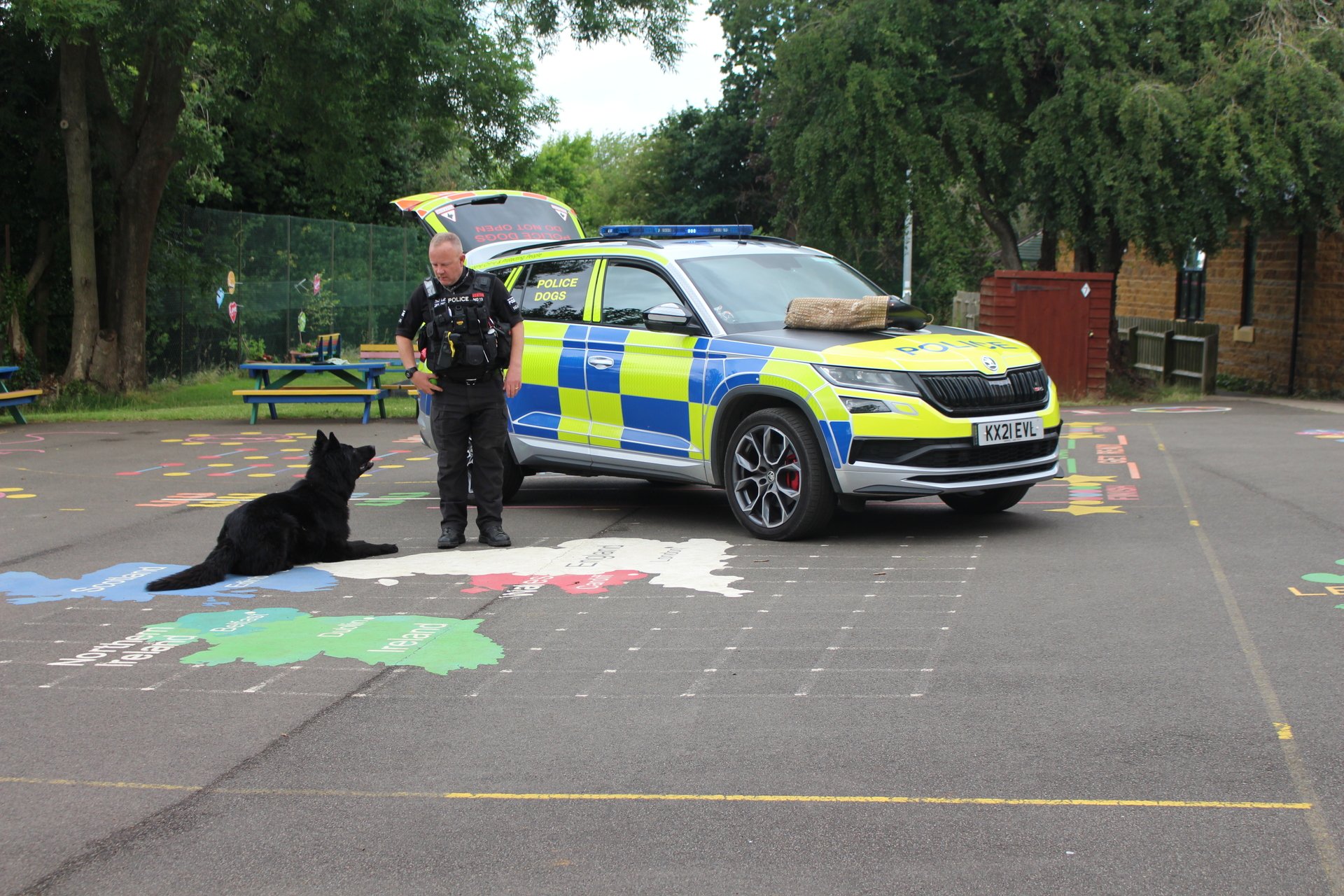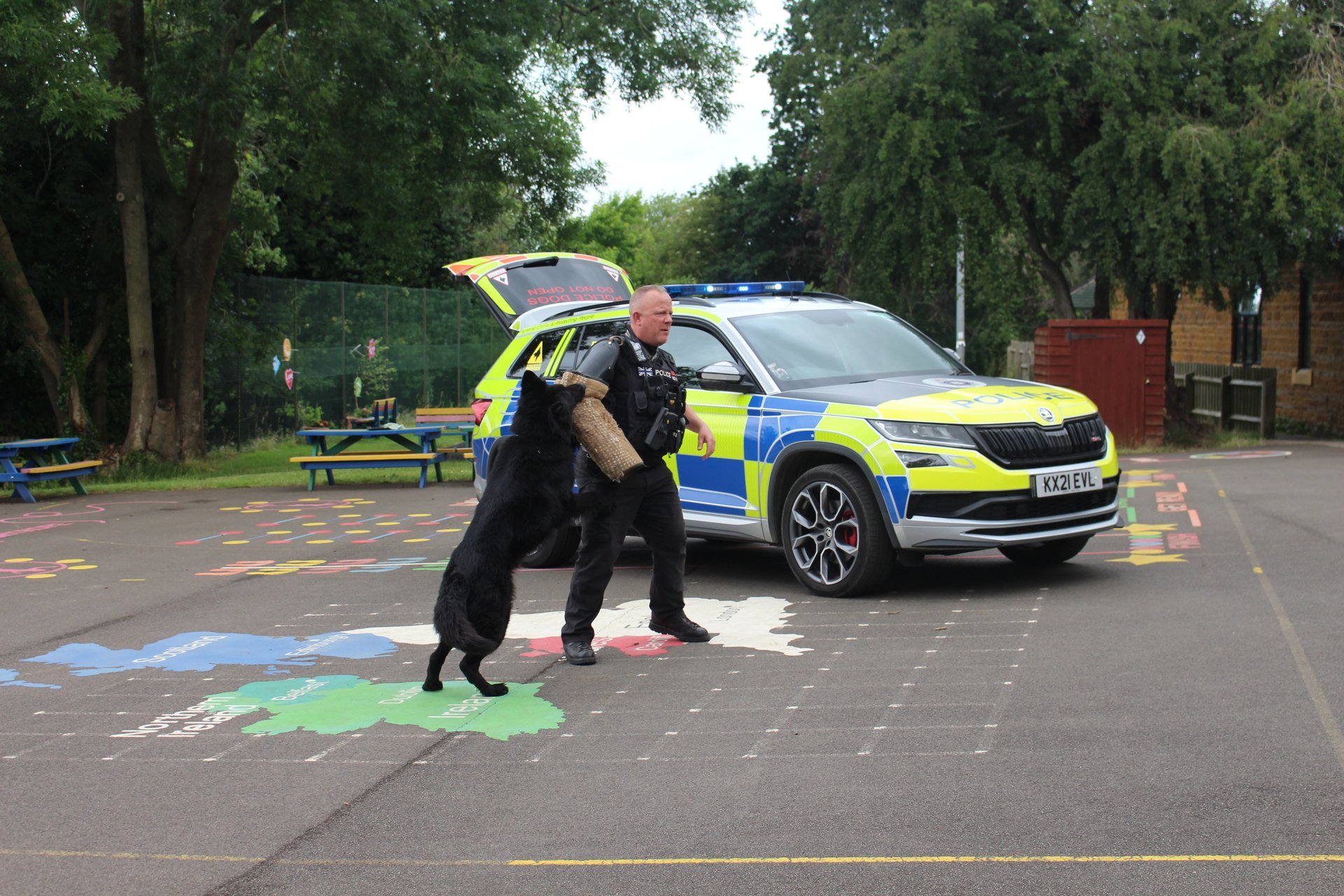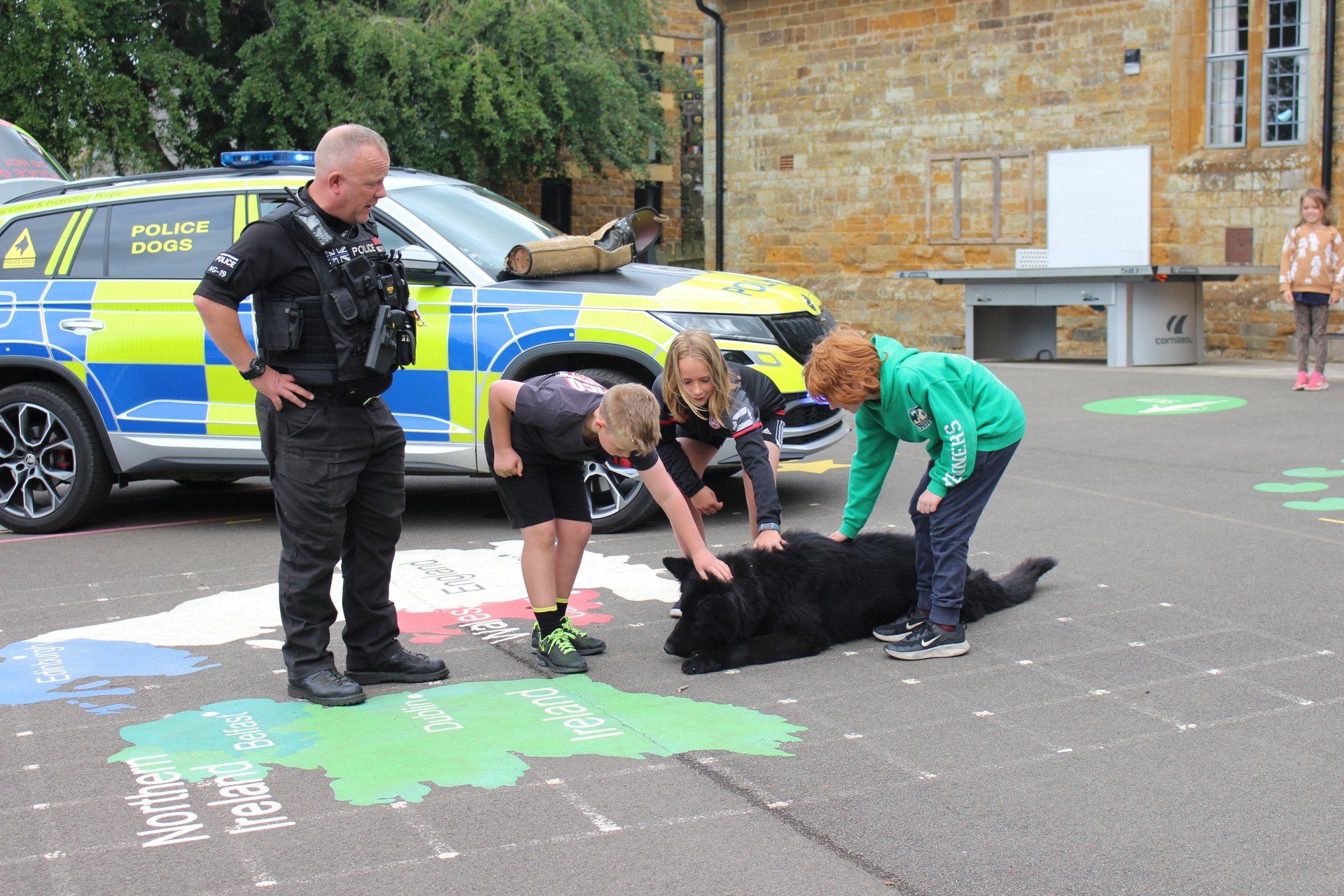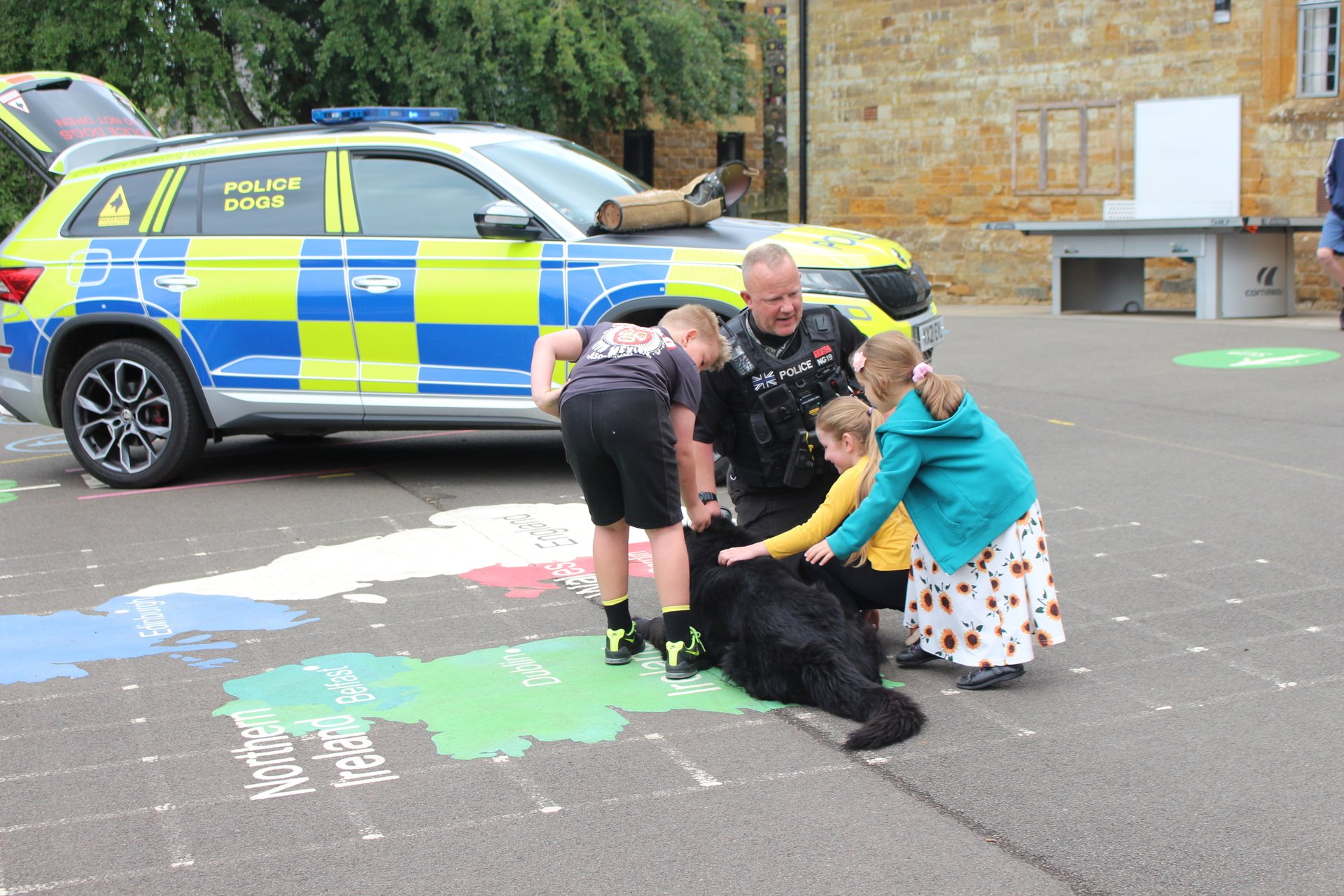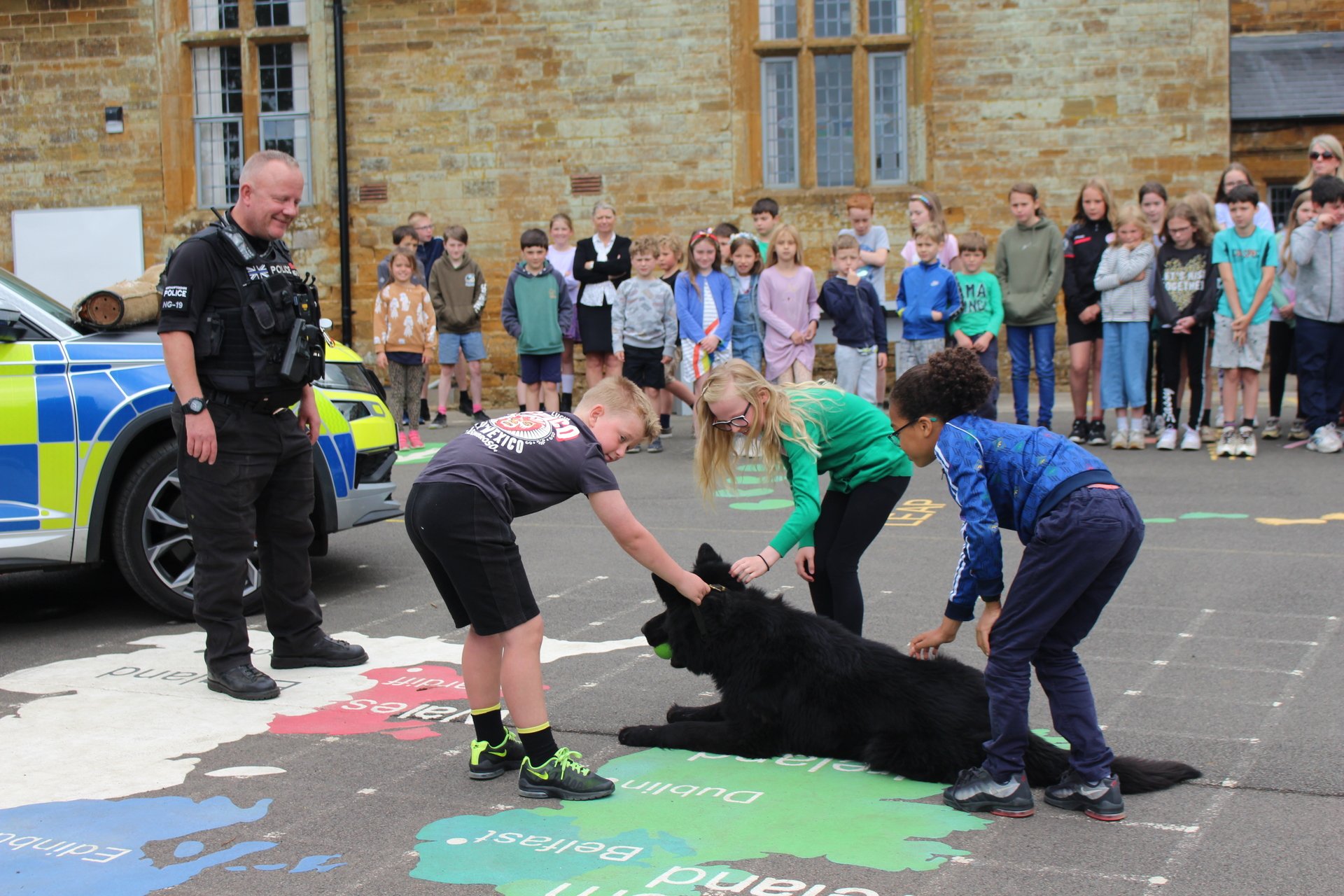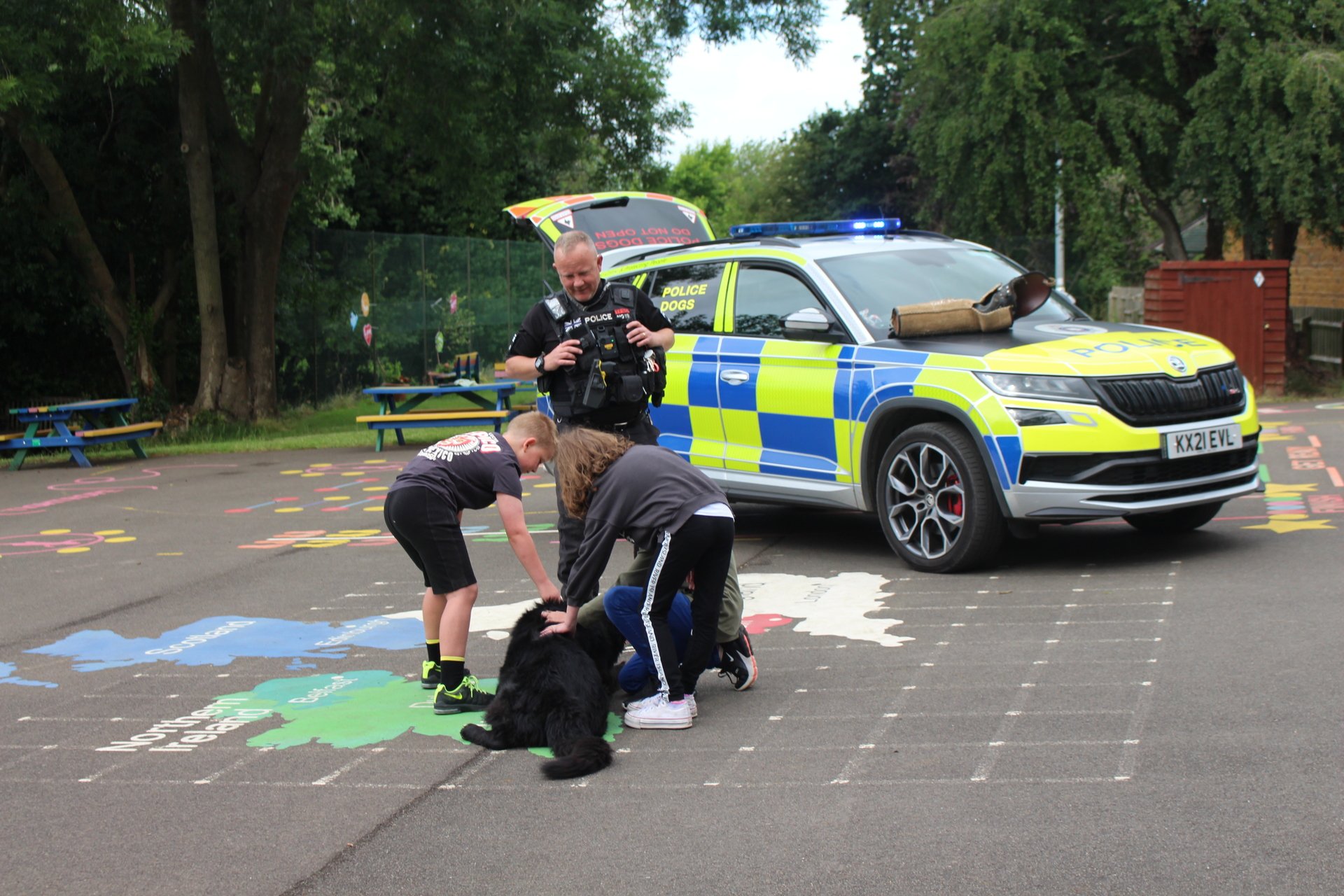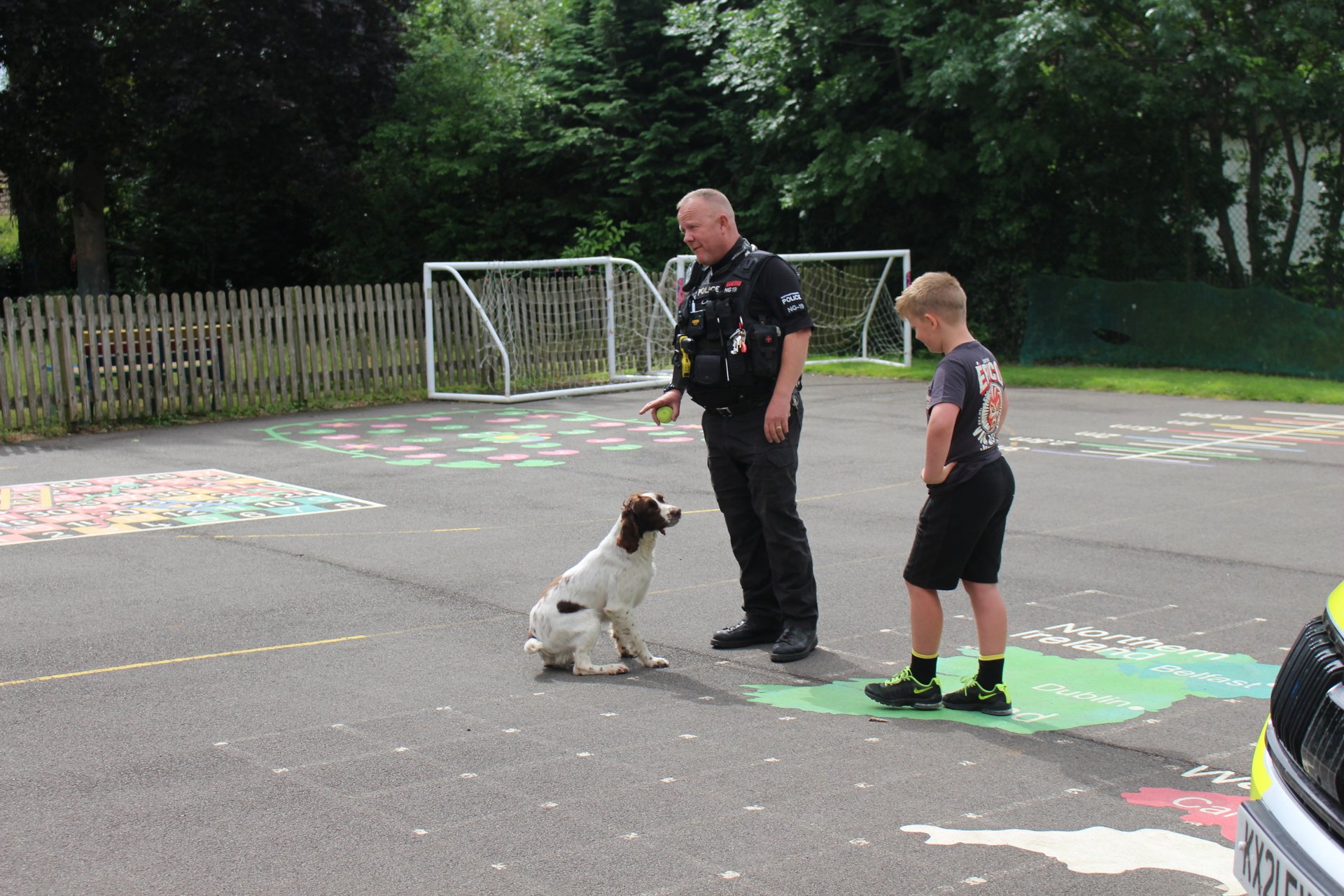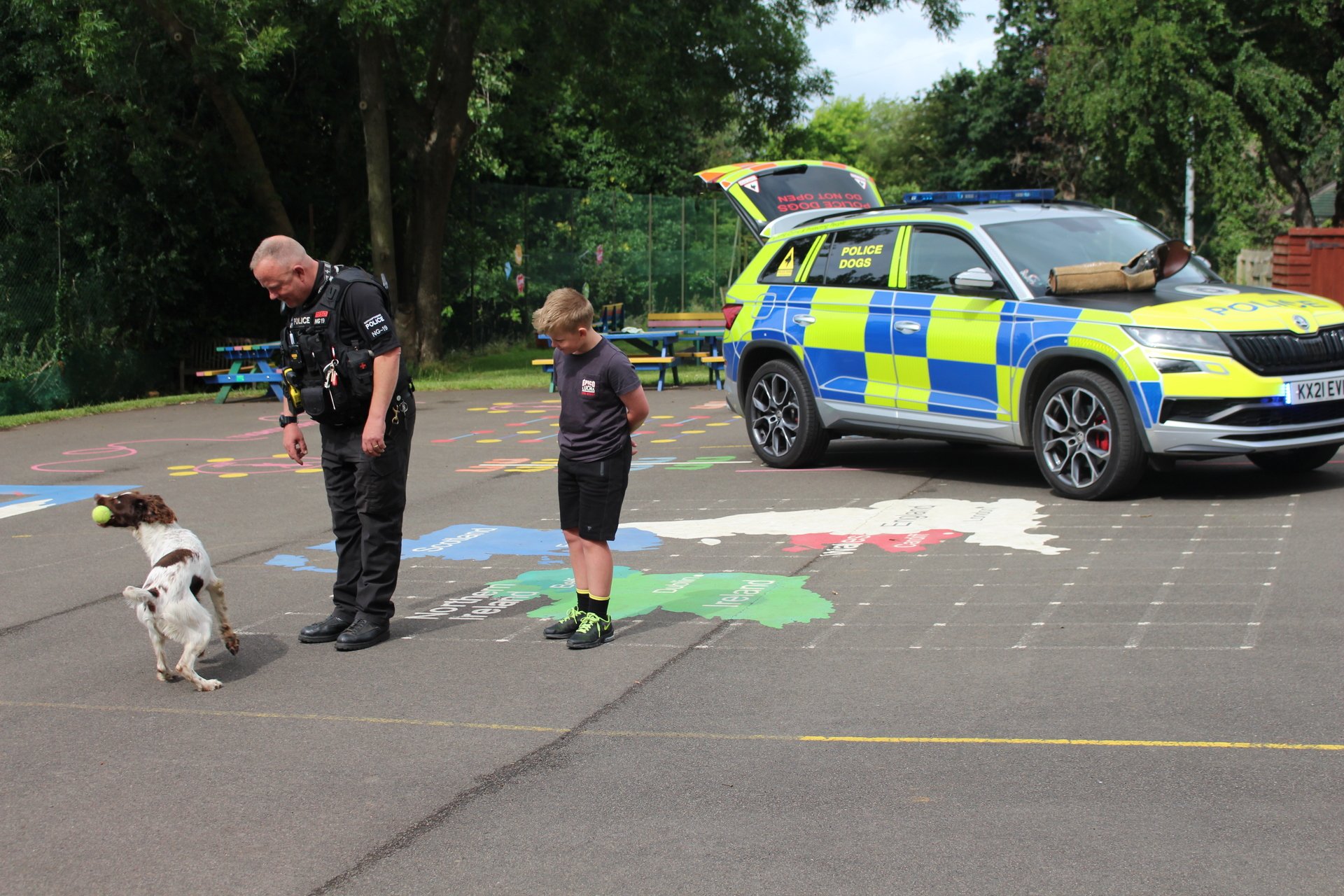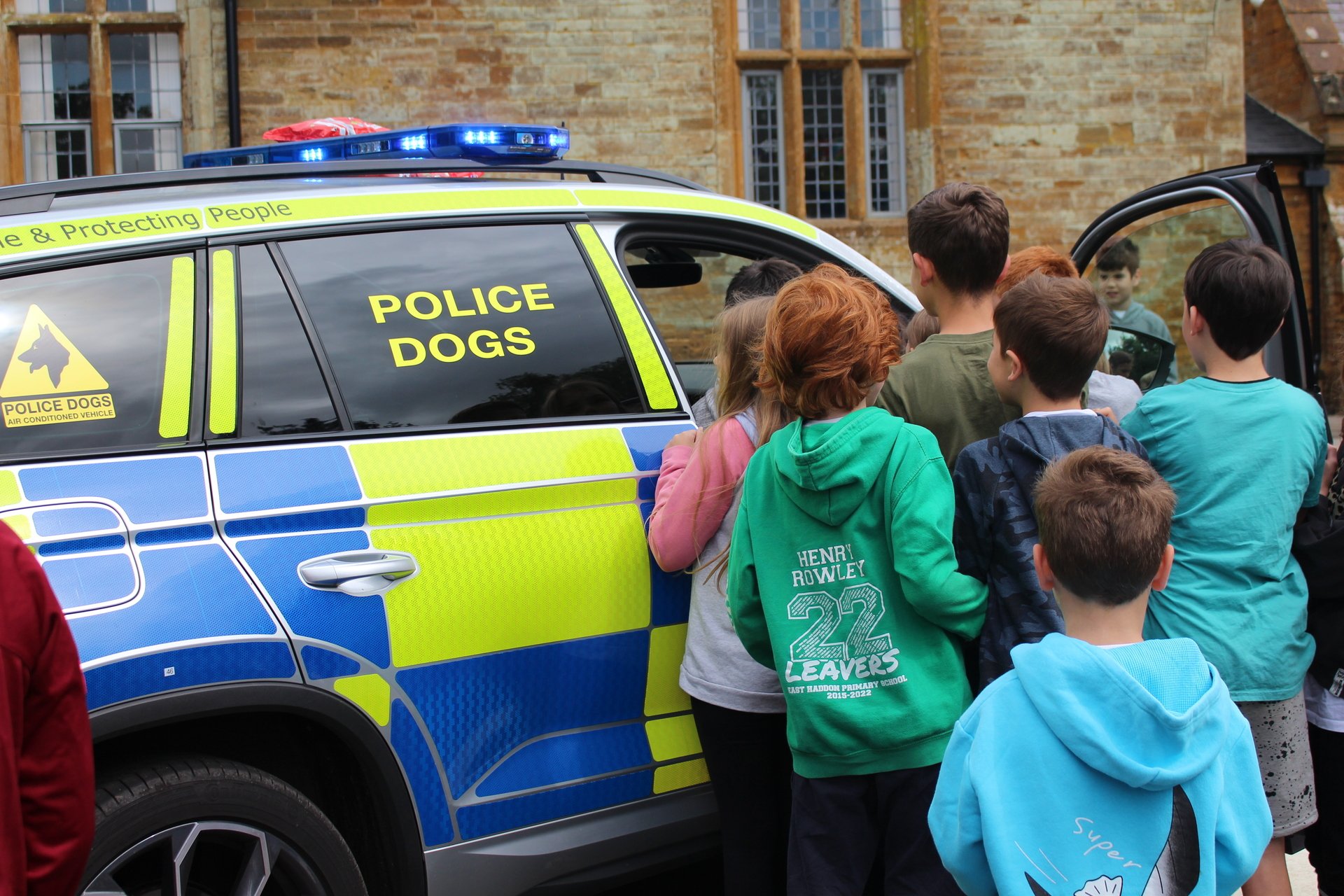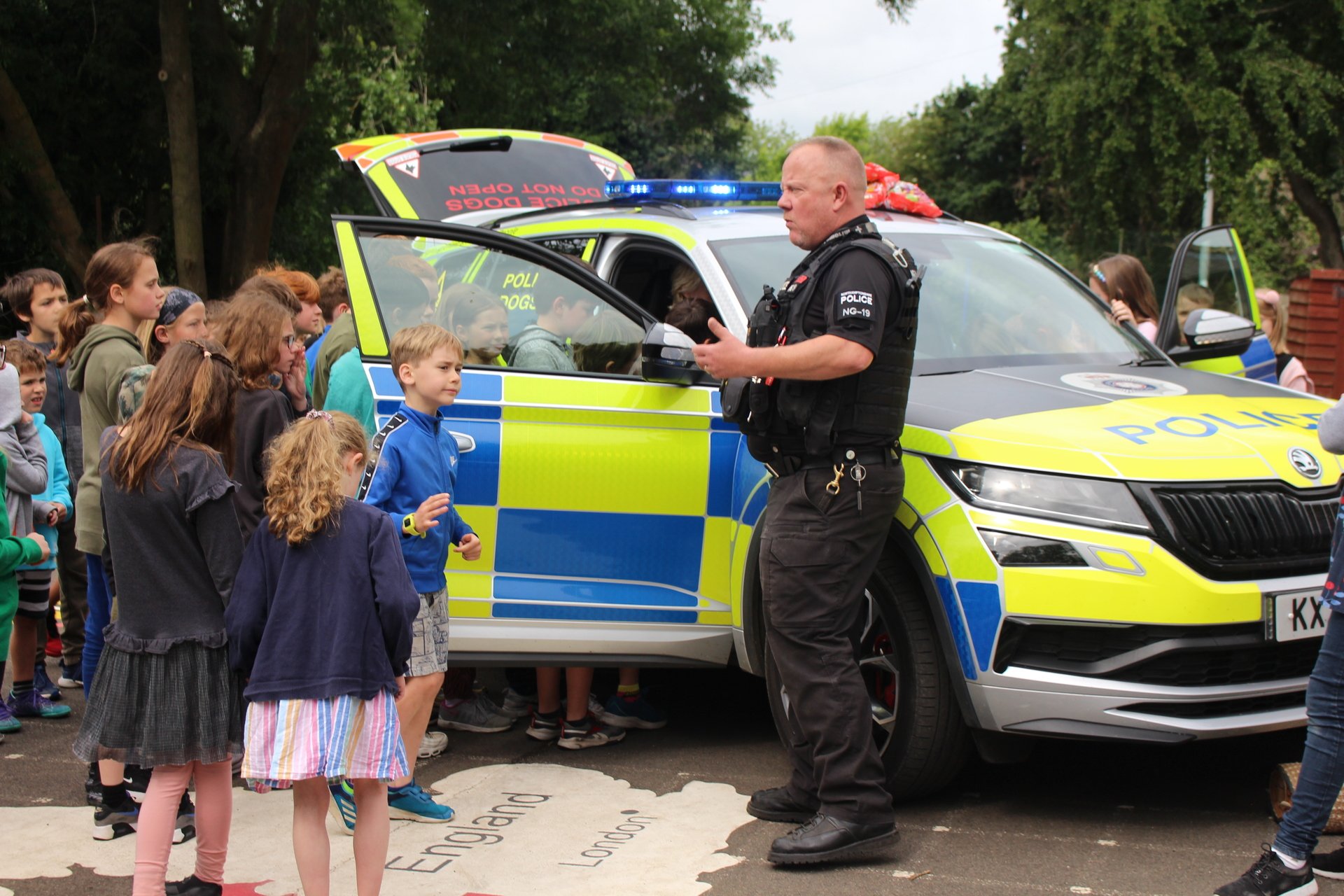 Forest School Treat for Year 6
On Monday, 27th June, Year 6 had their own Forest School session with Claire Underwood. They enjoyed cooking on the camp fire and had lots of fun, including working with our new tools!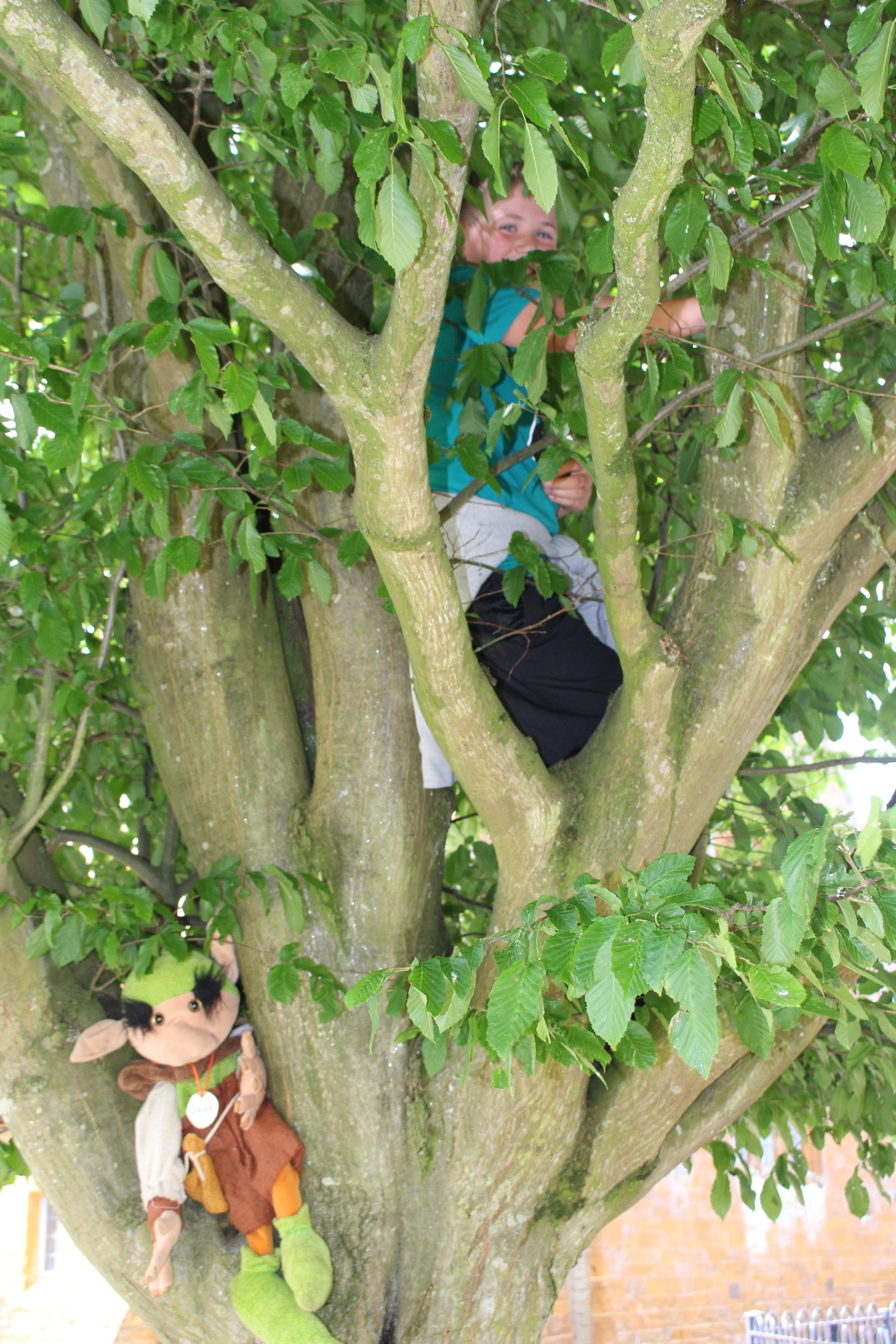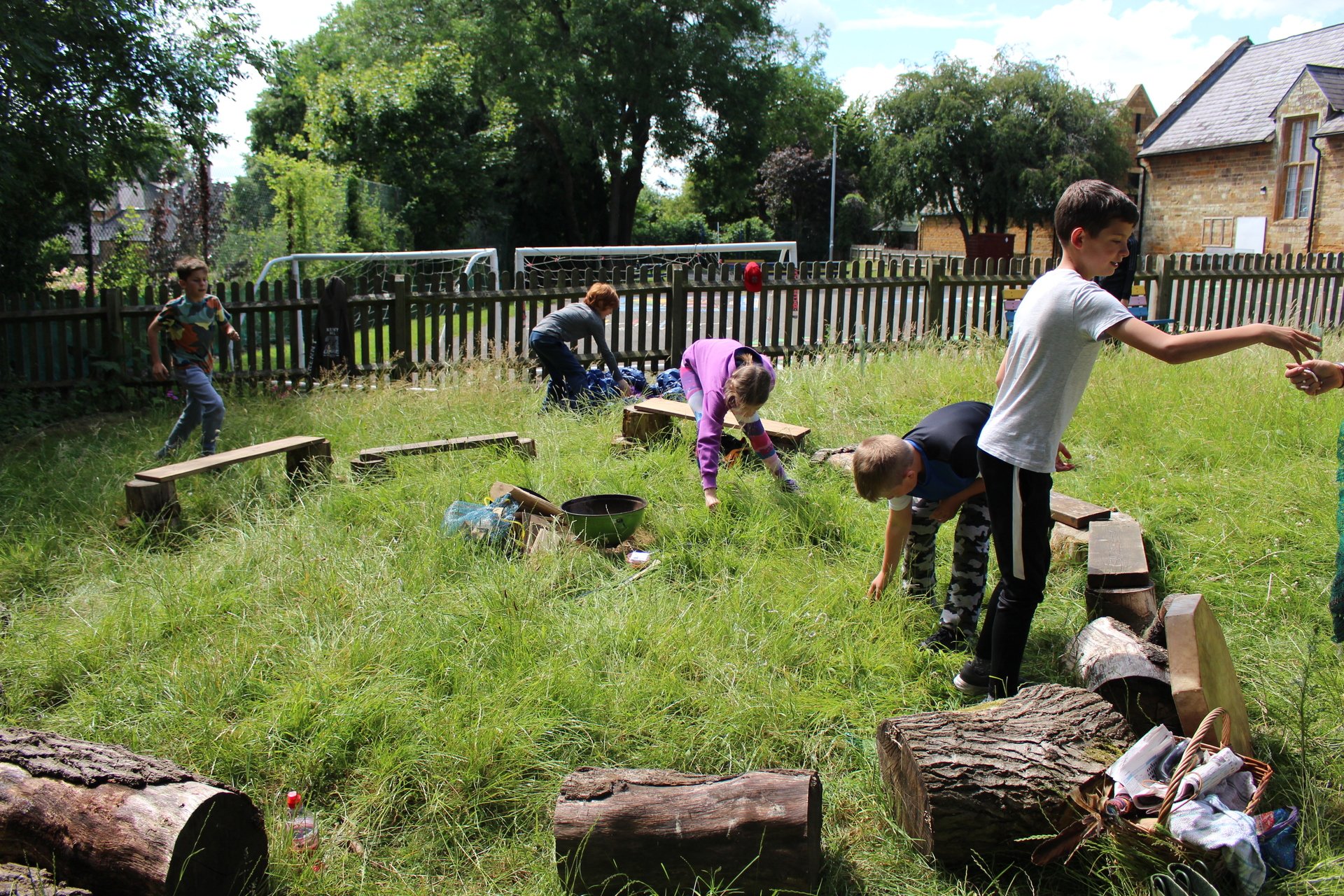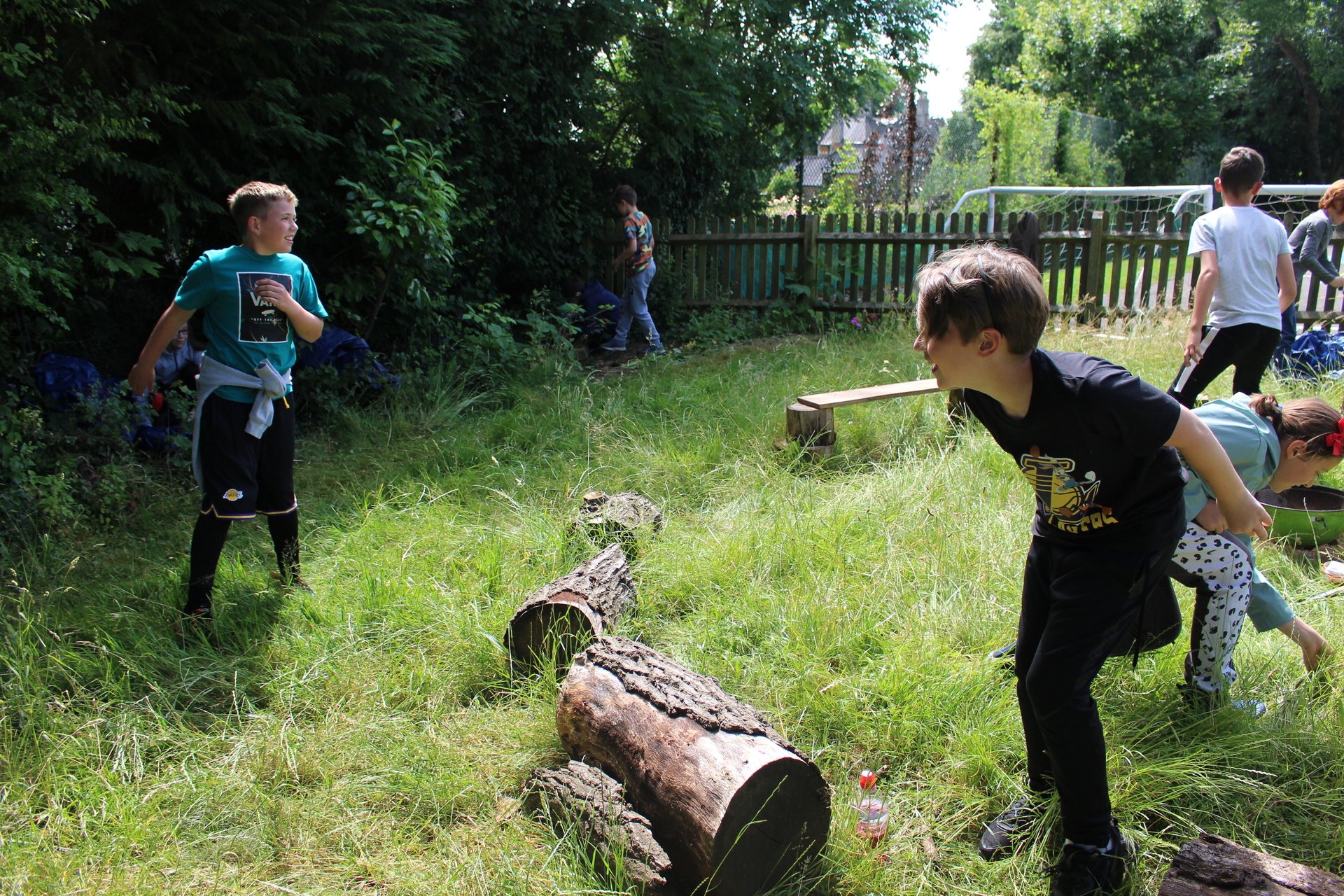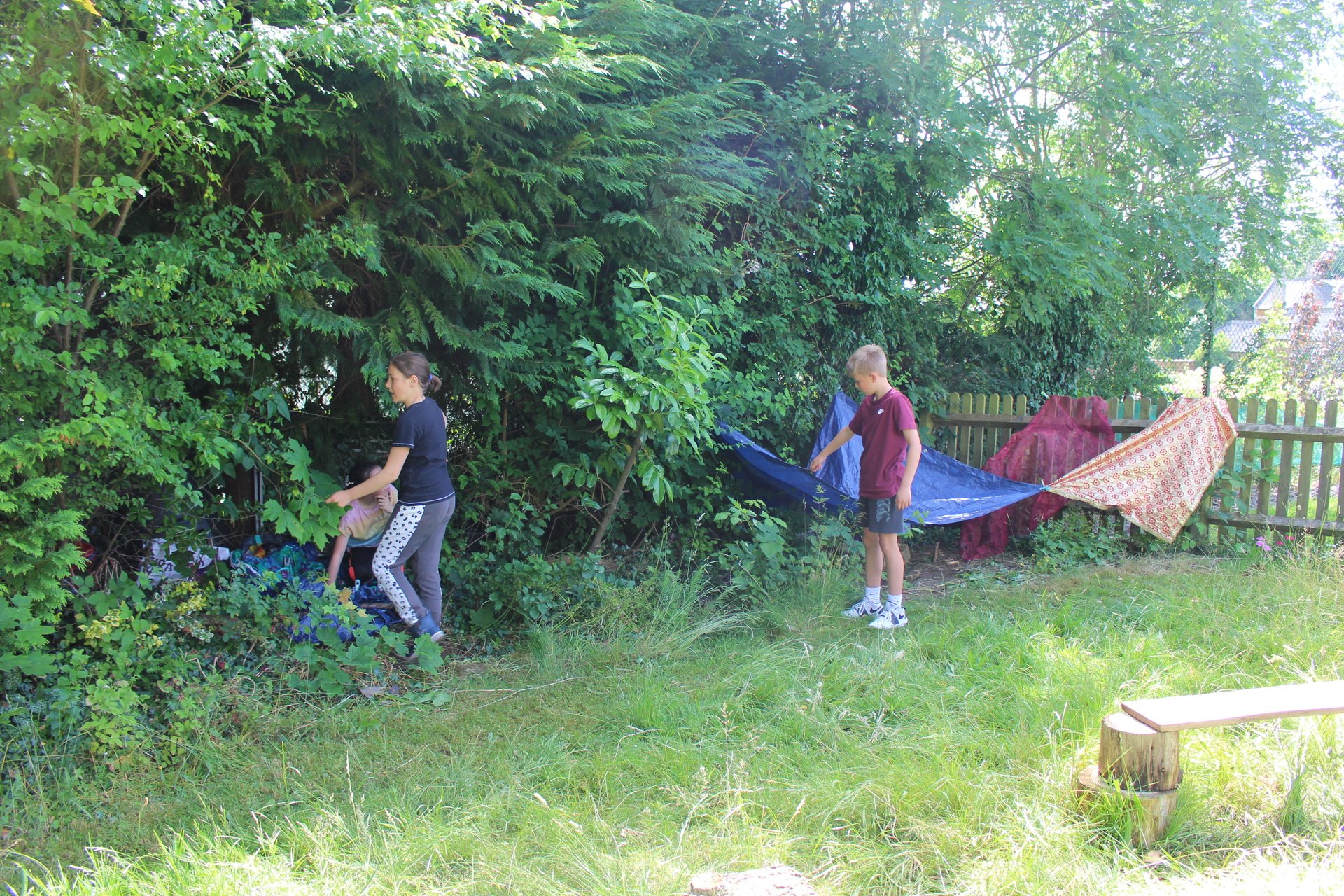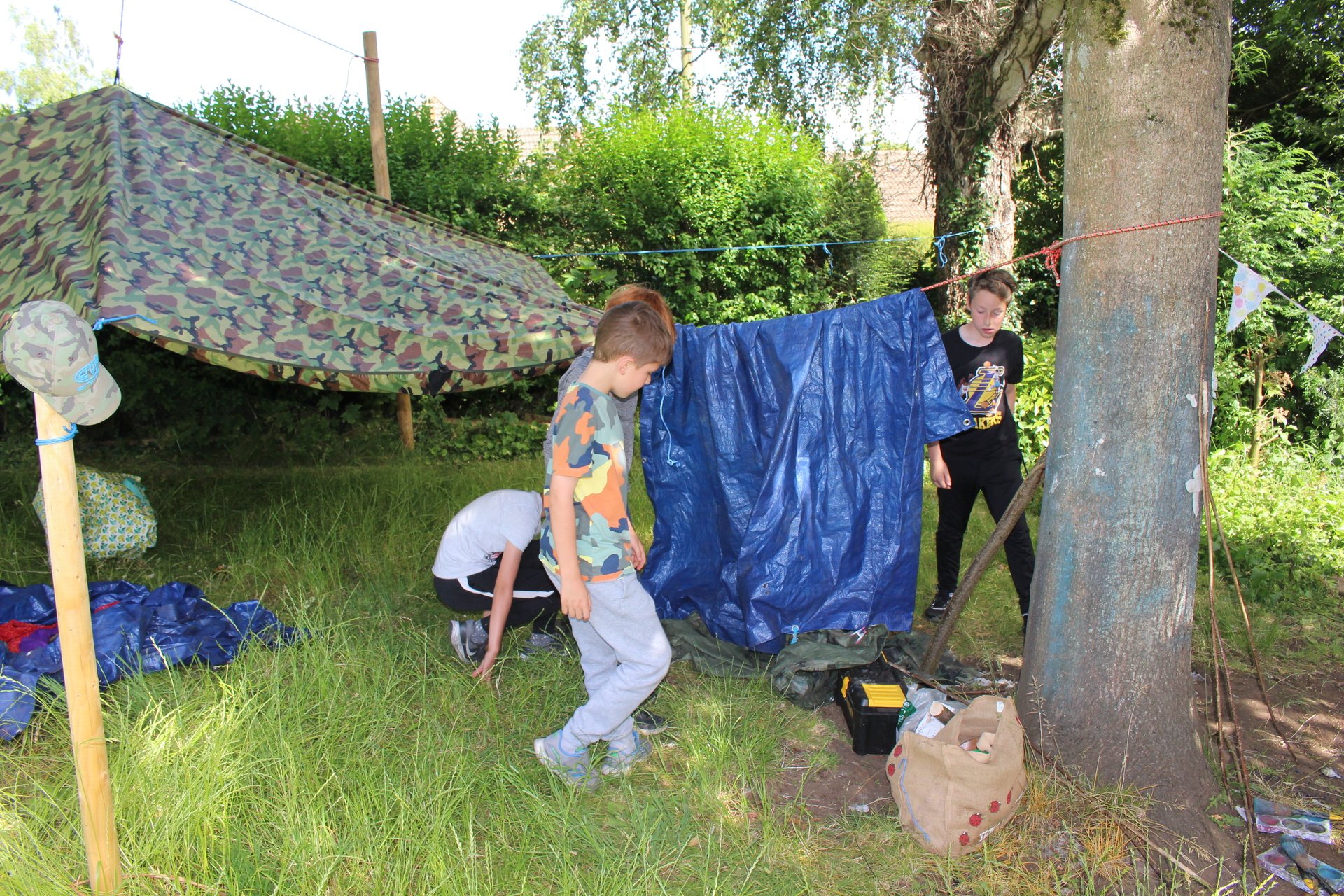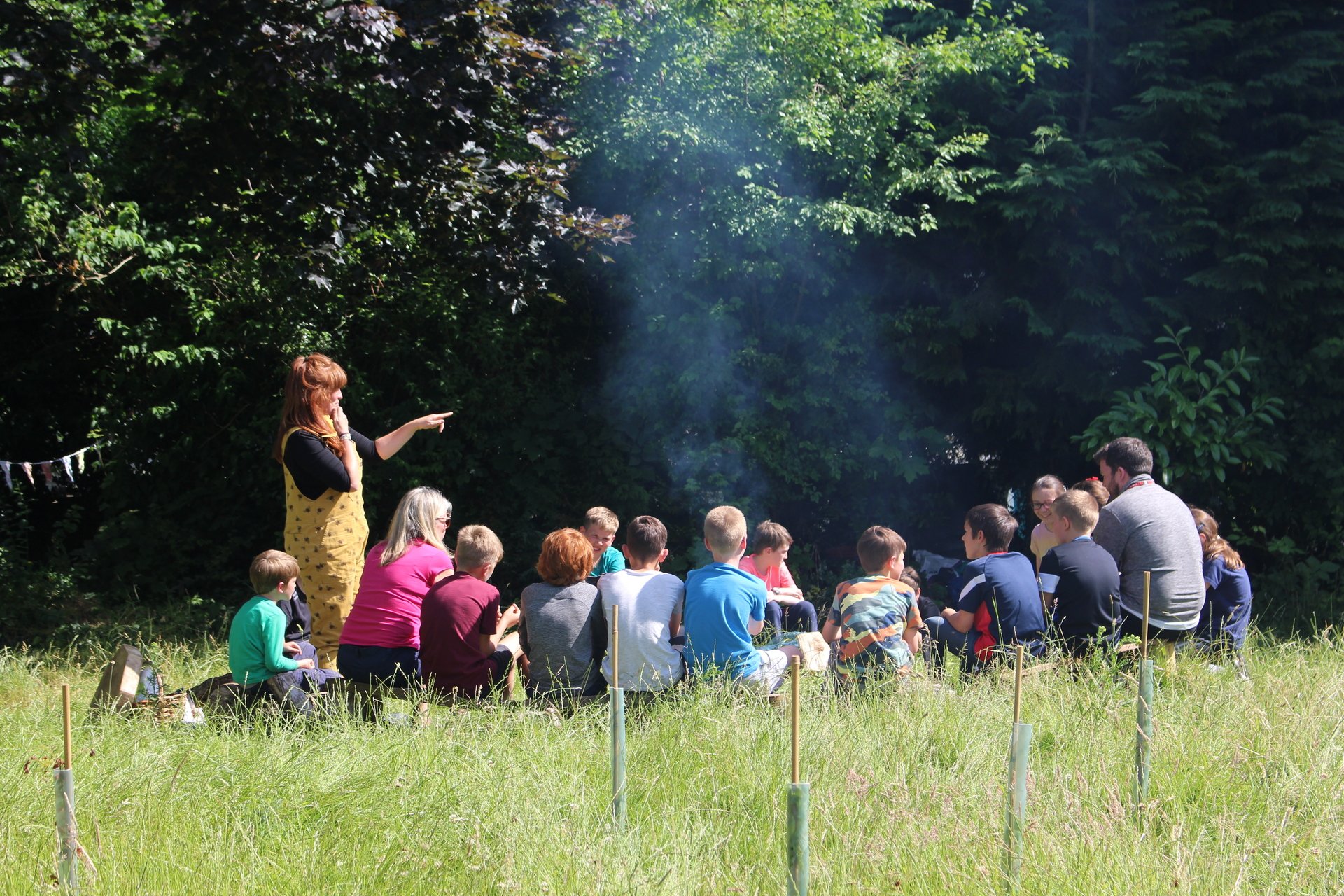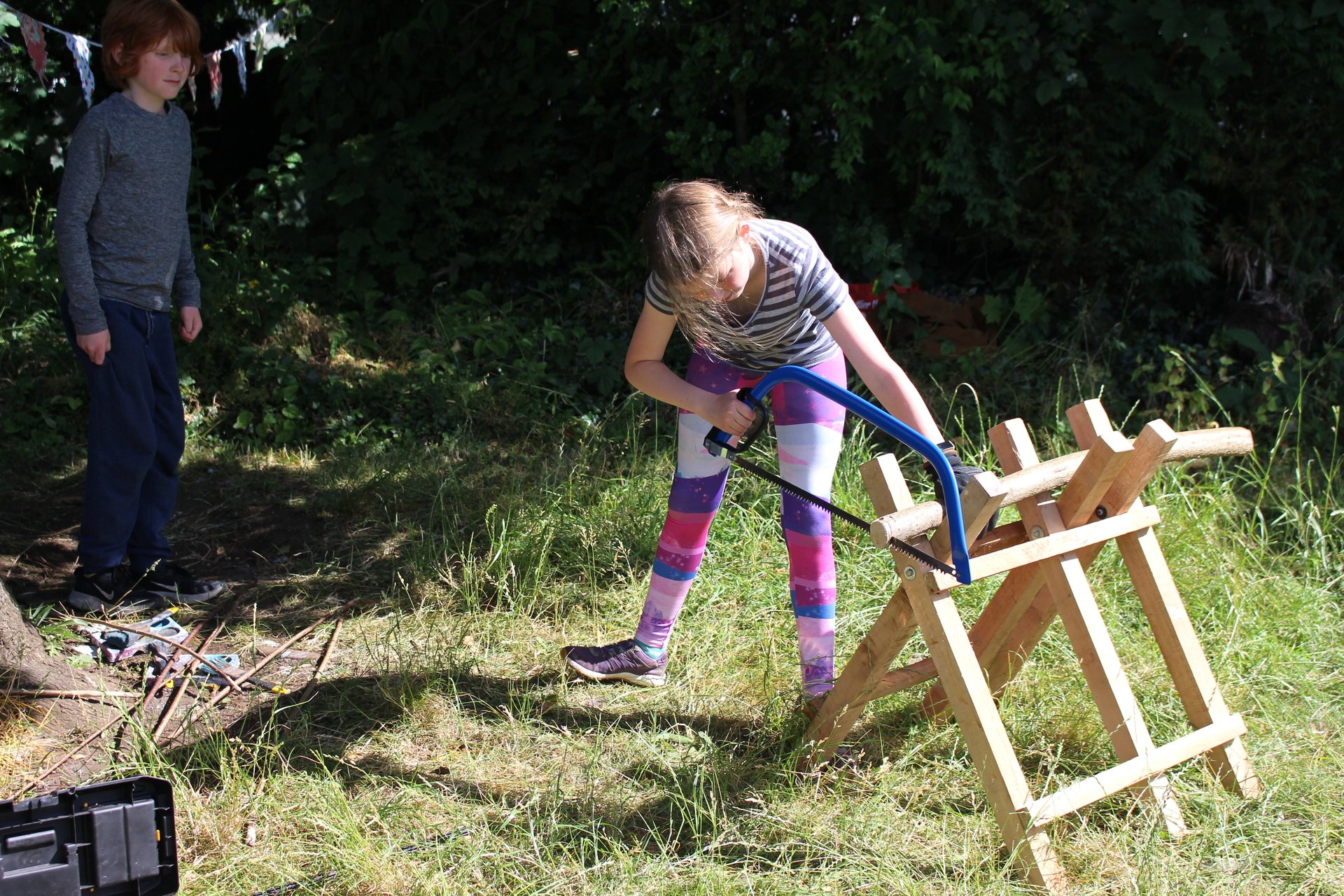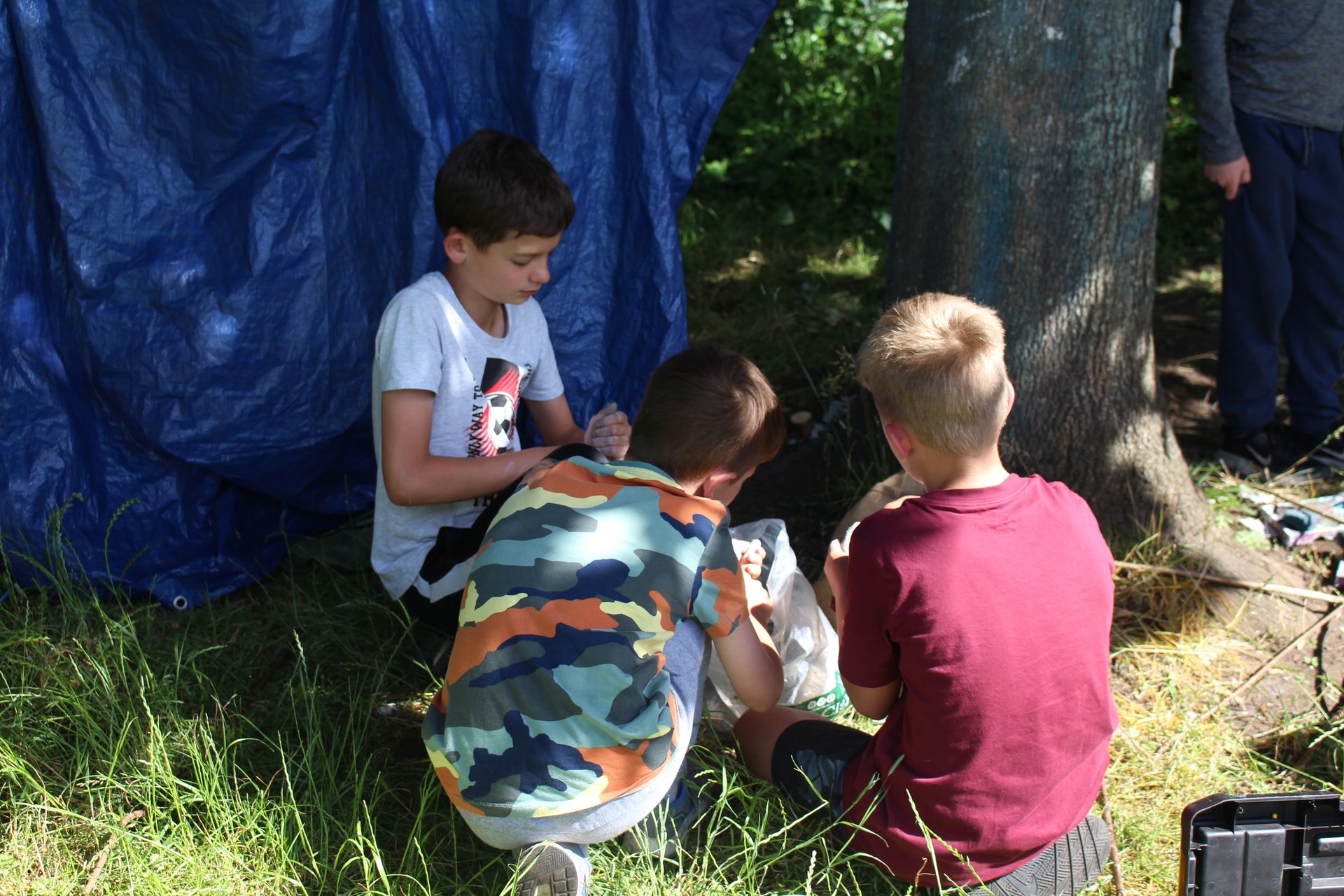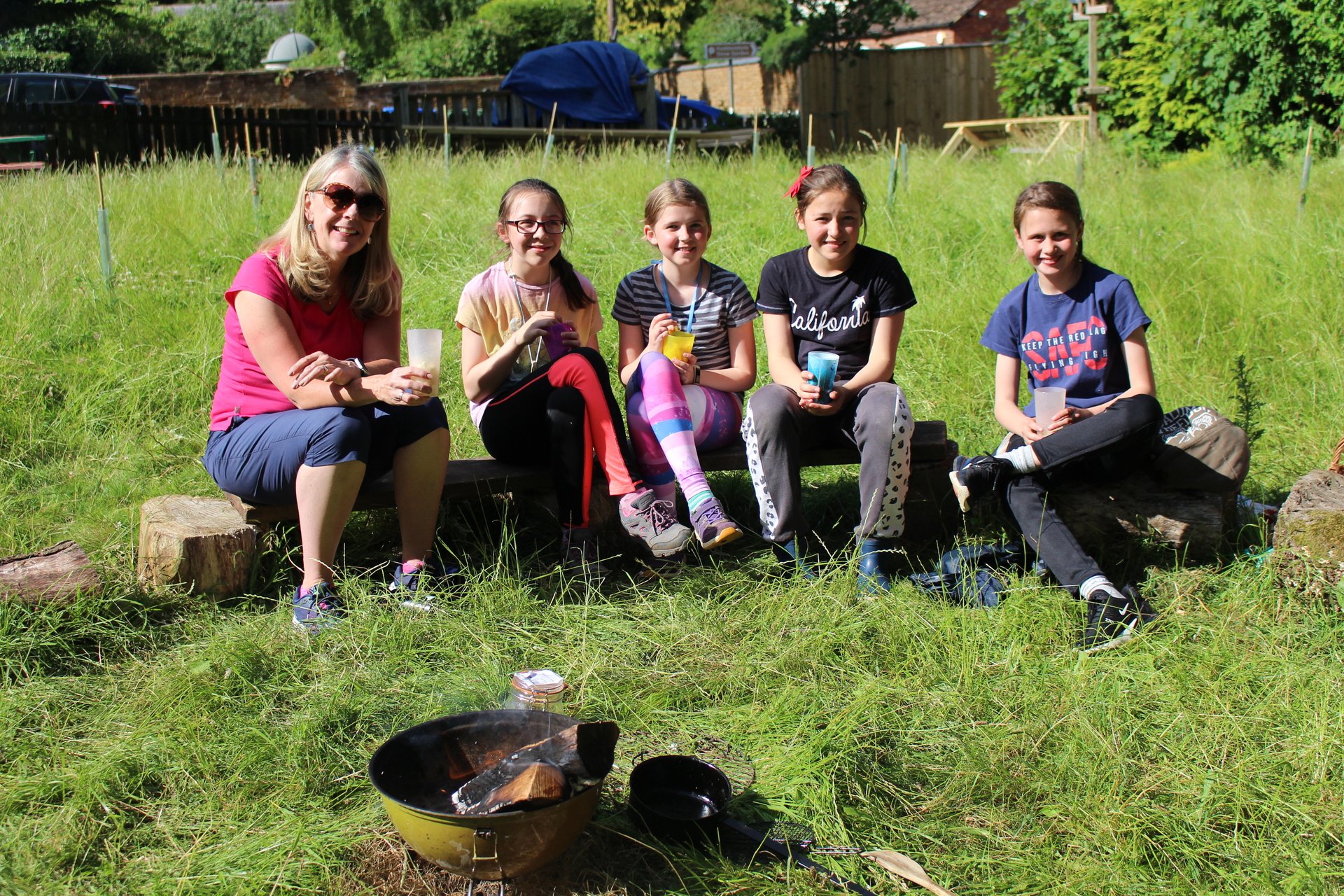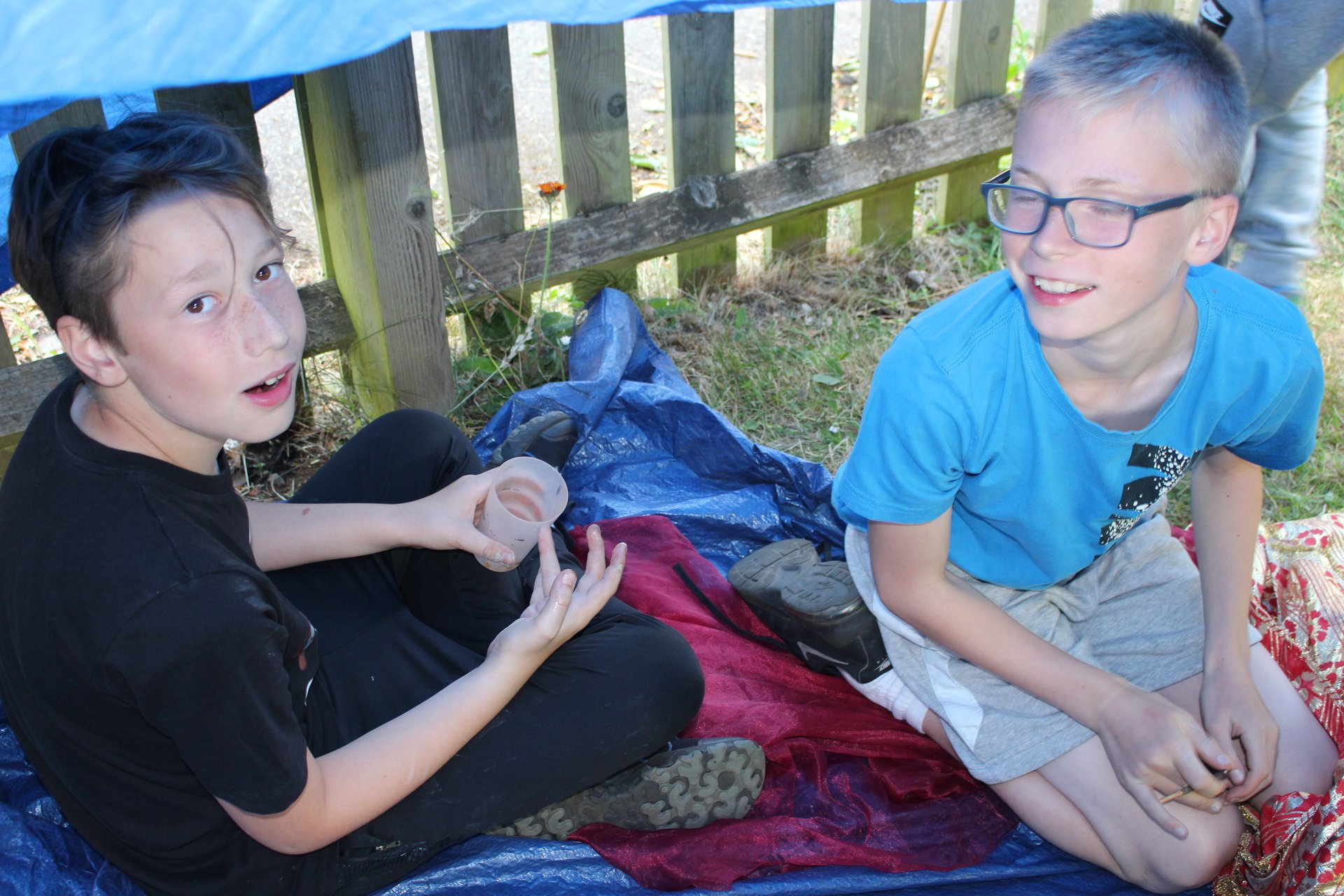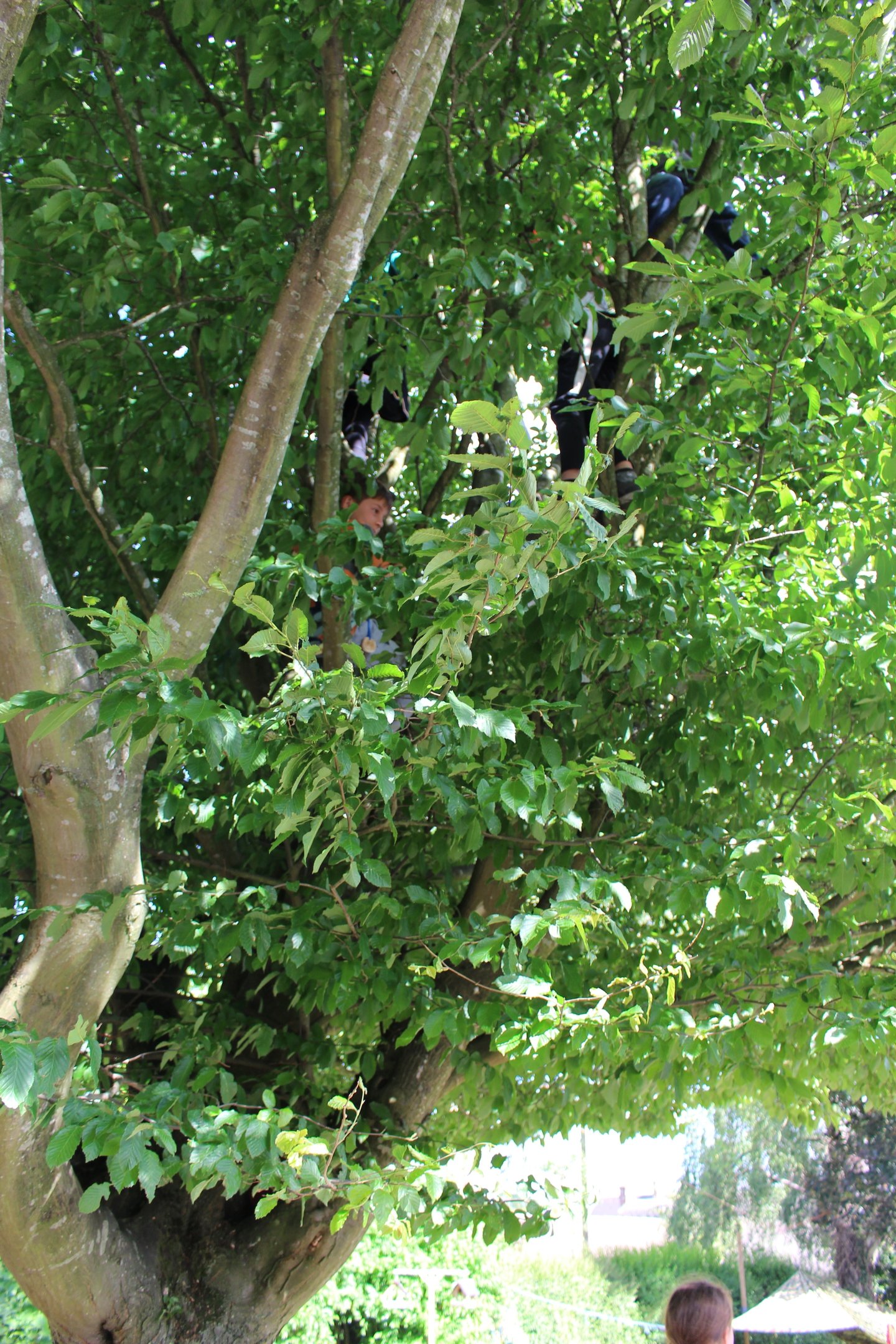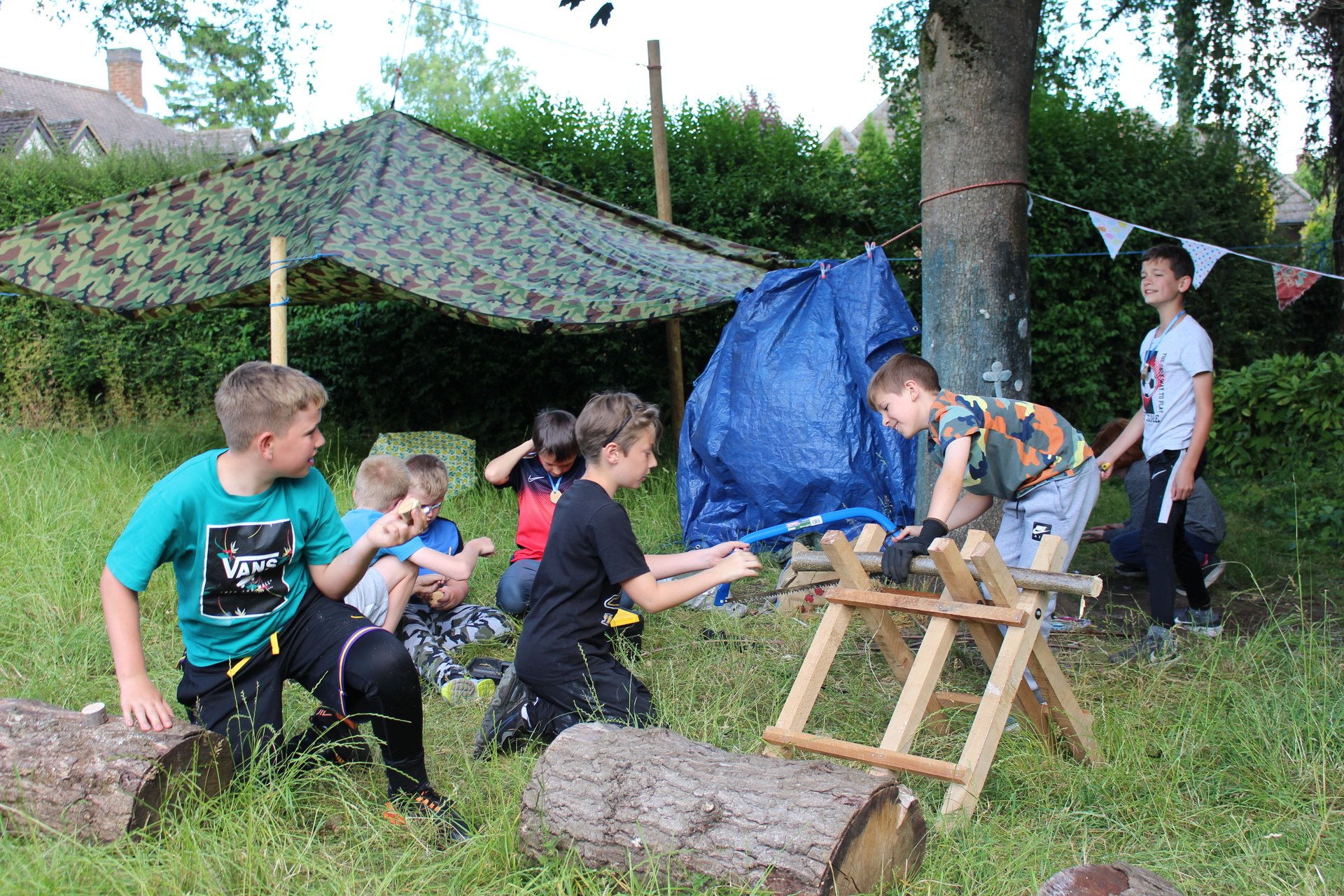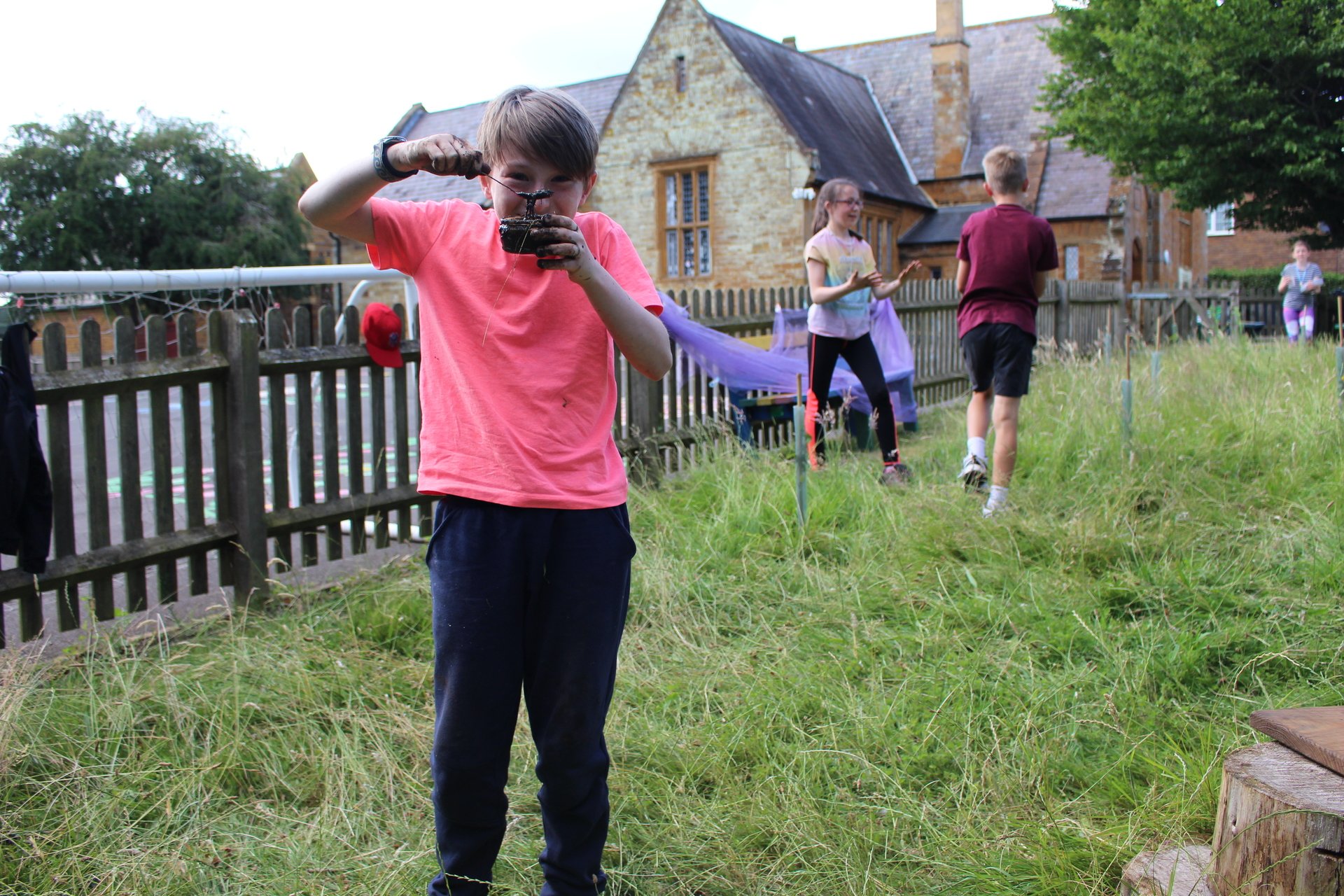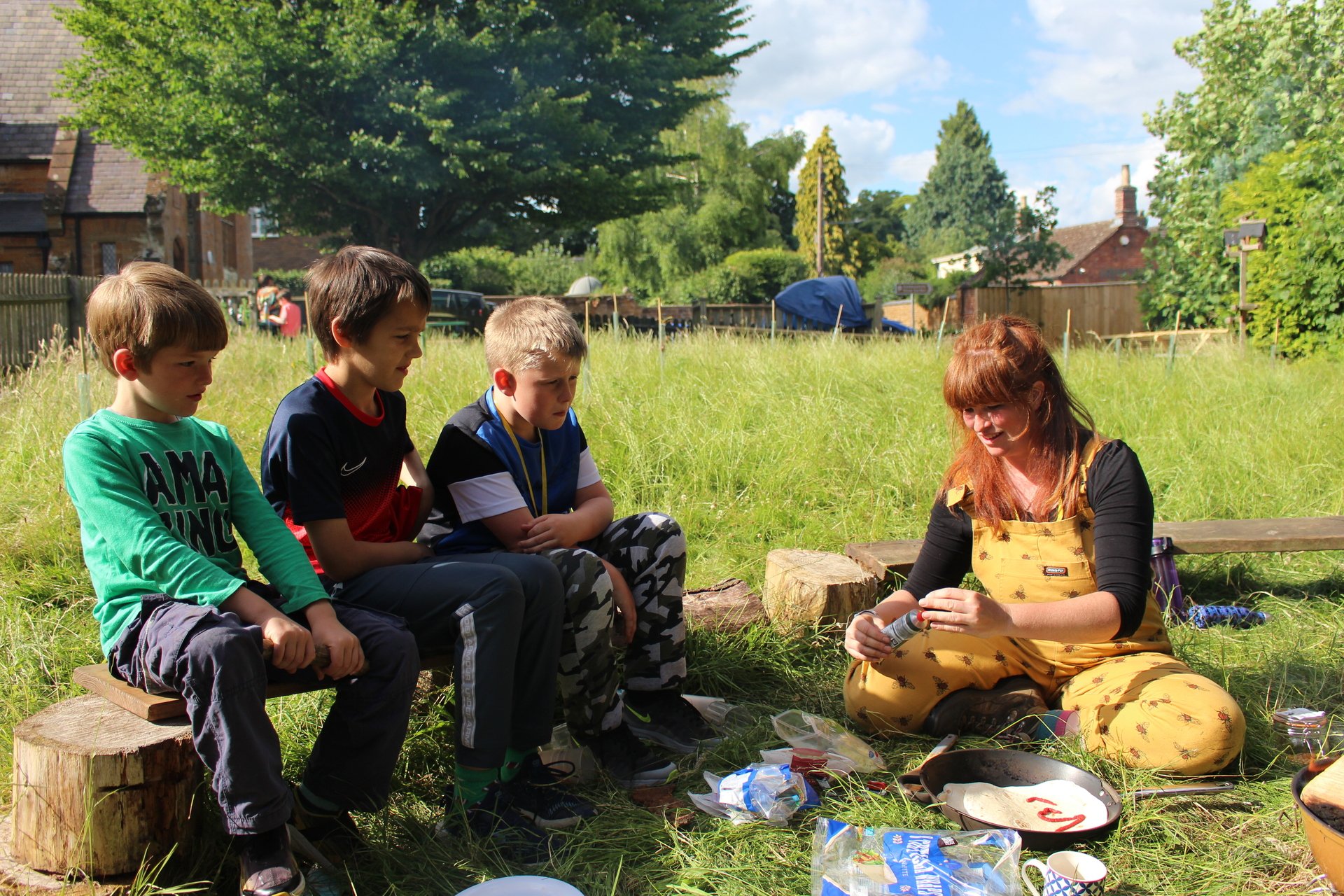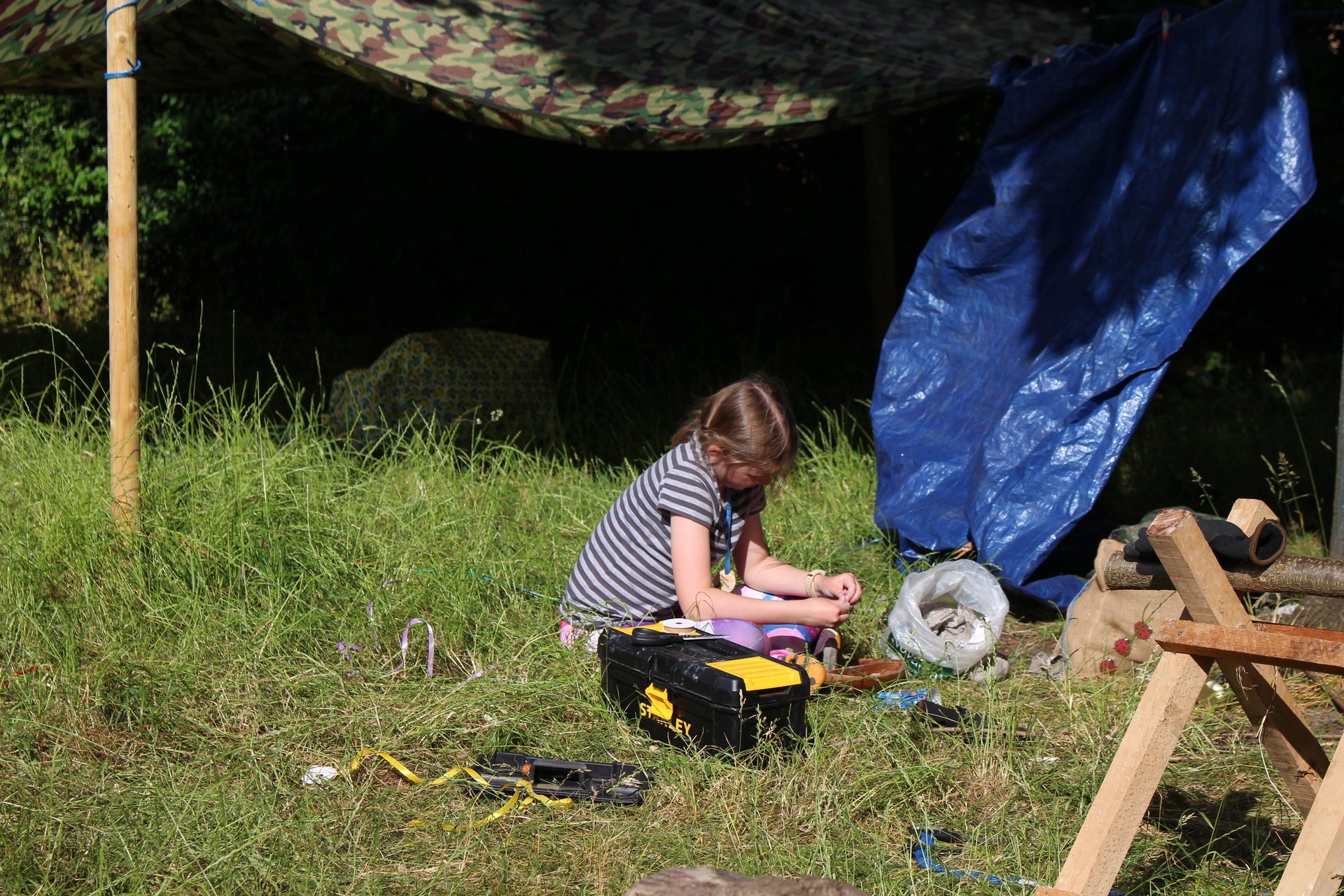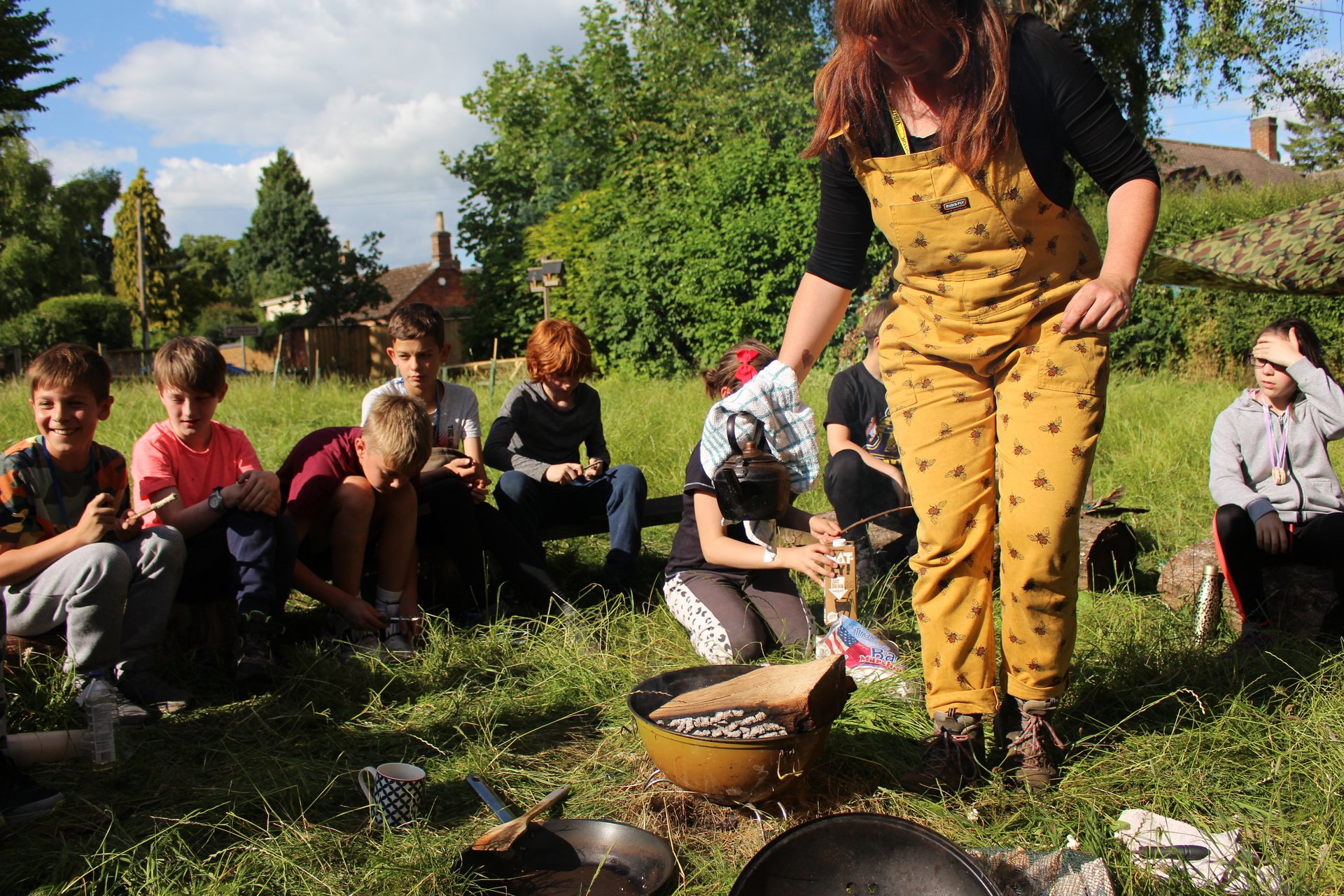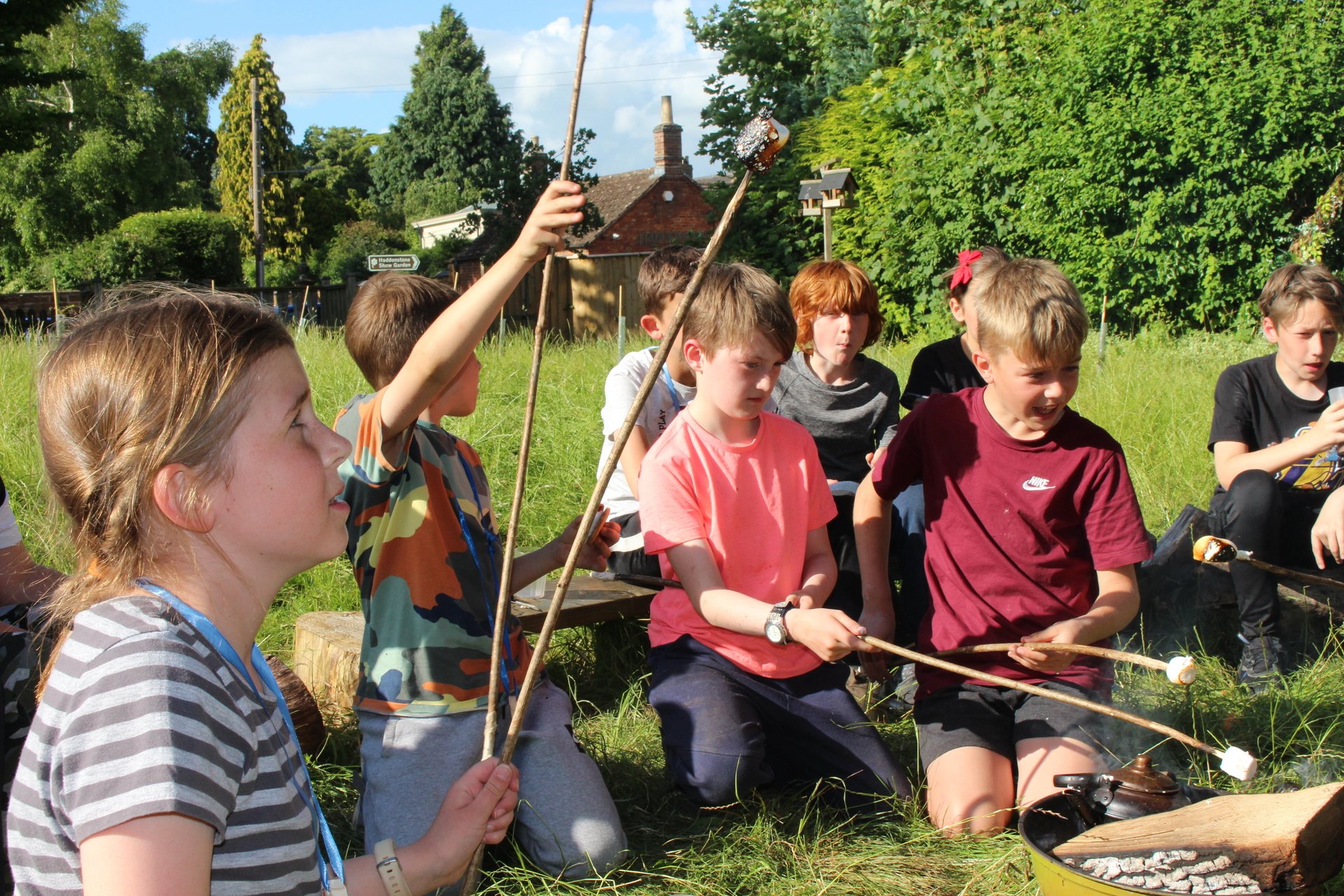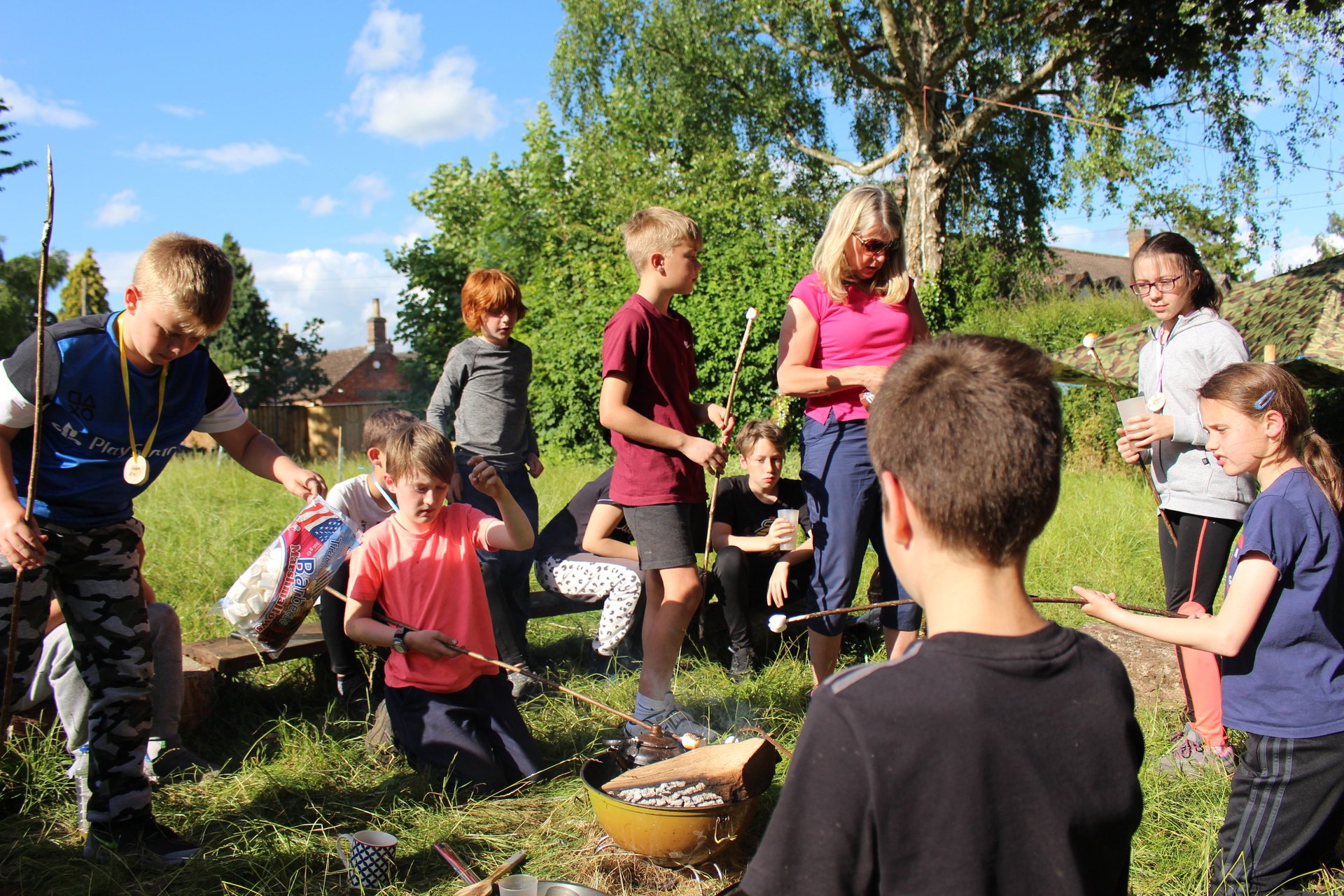 Forest School Woodworking
Reception and Year 1 have been learning some new woodworking skills during their Forest School sessions alongside their usual activities.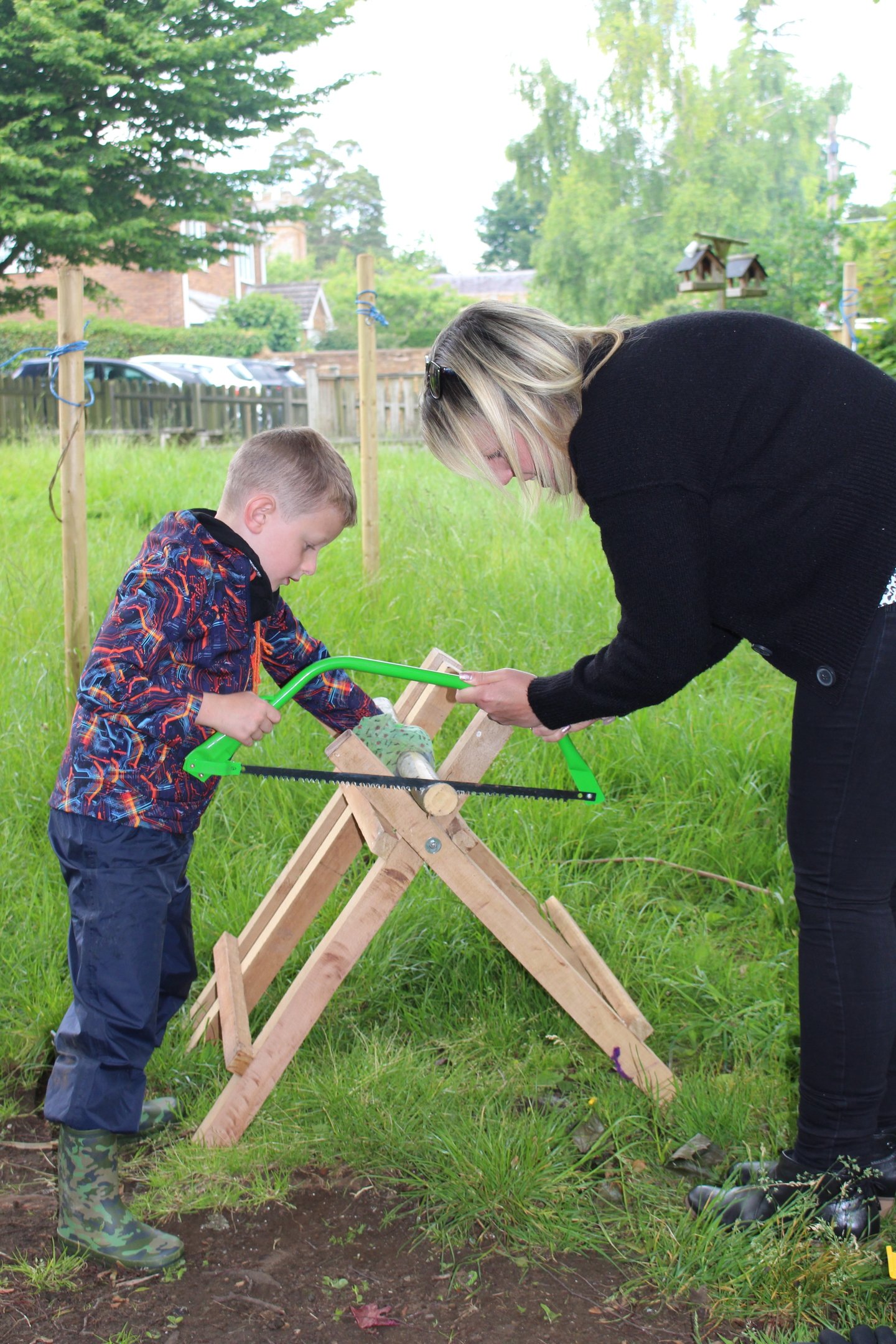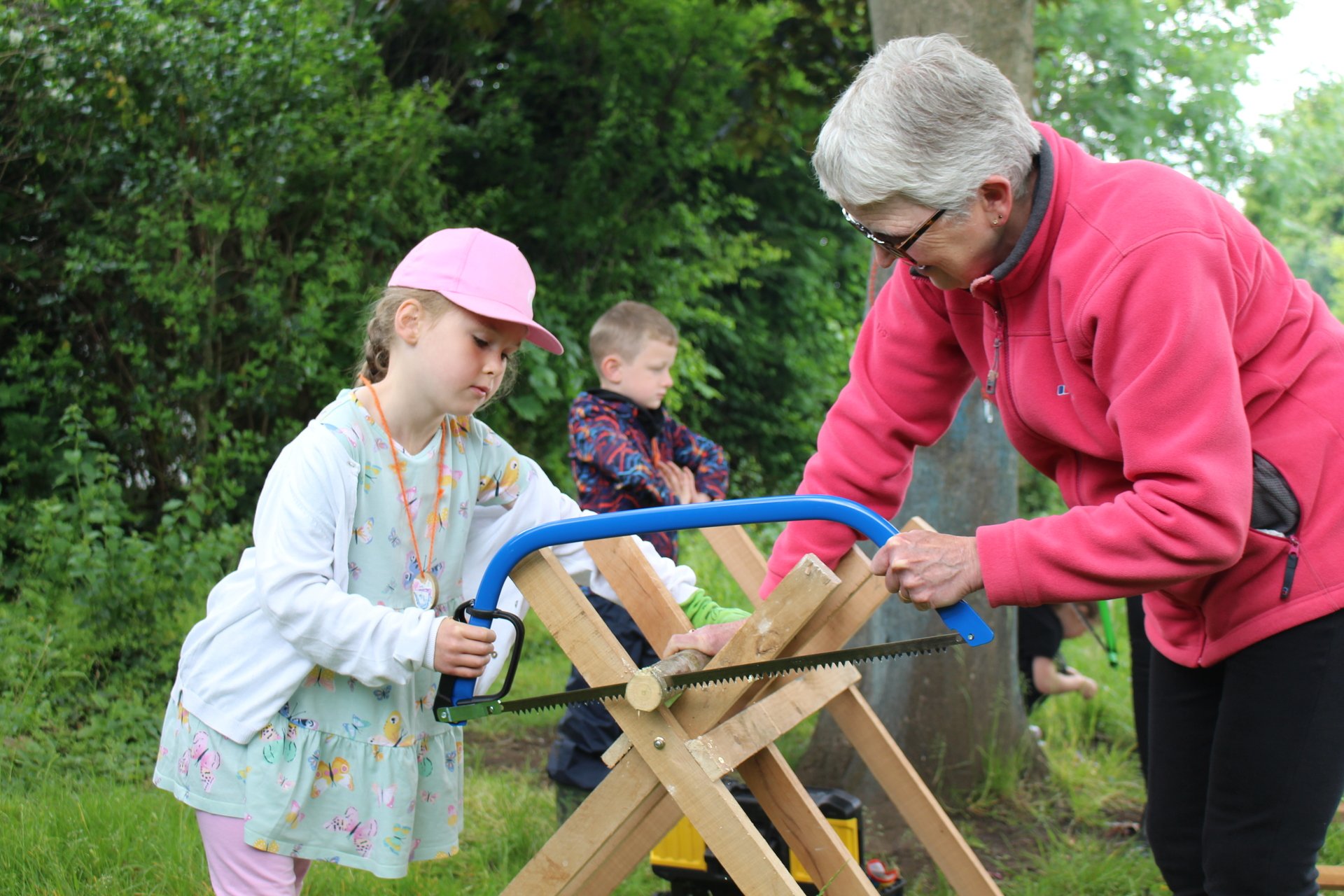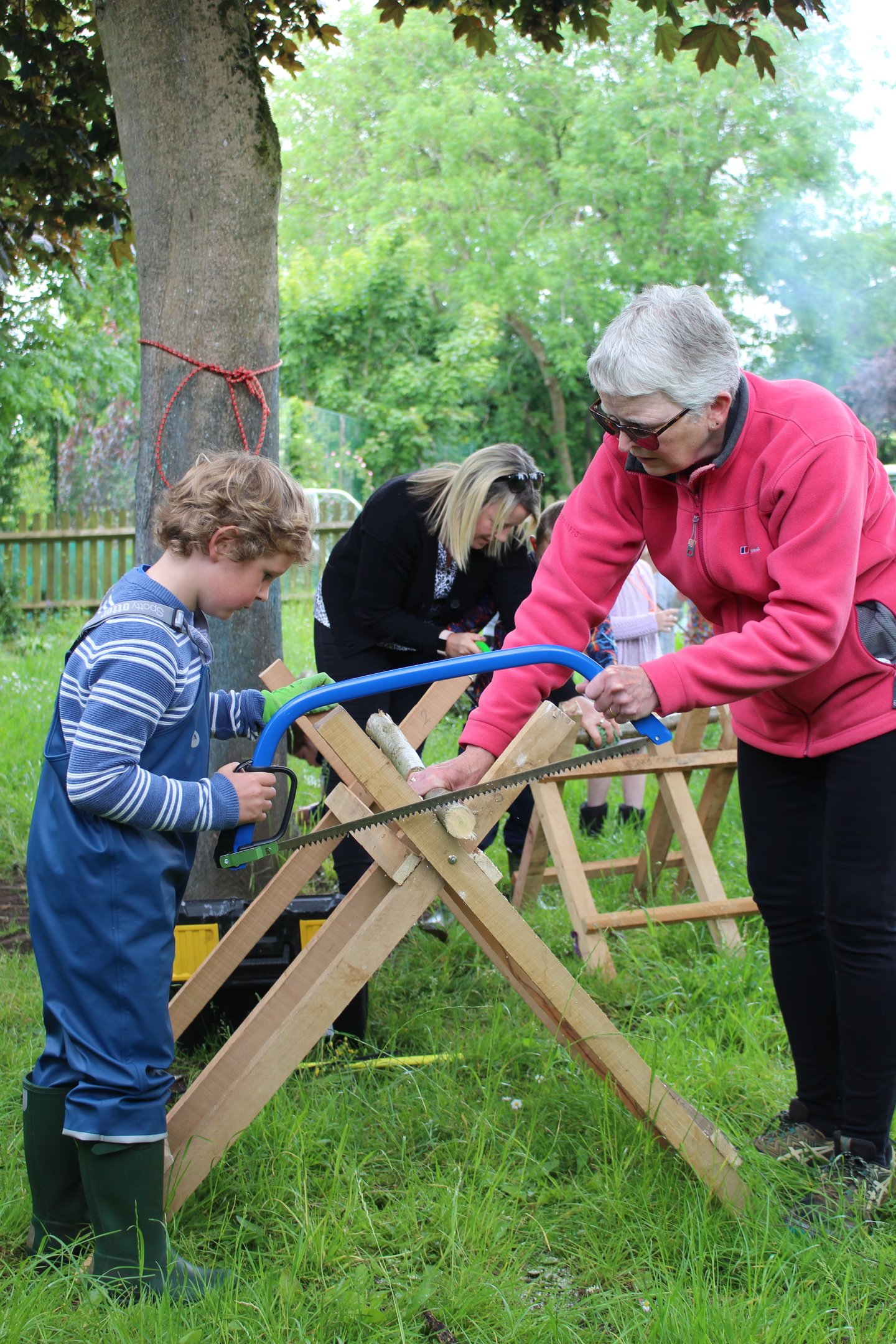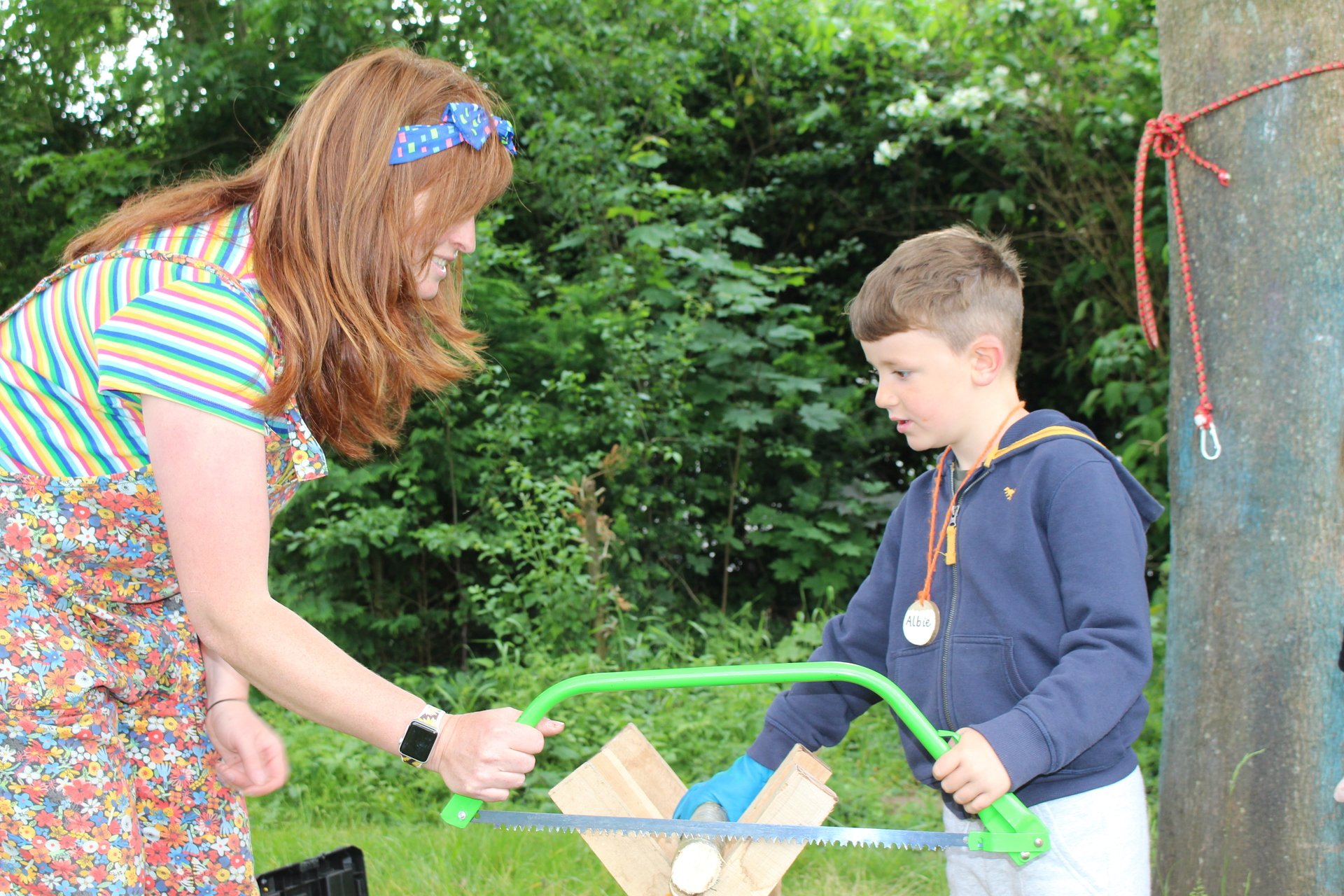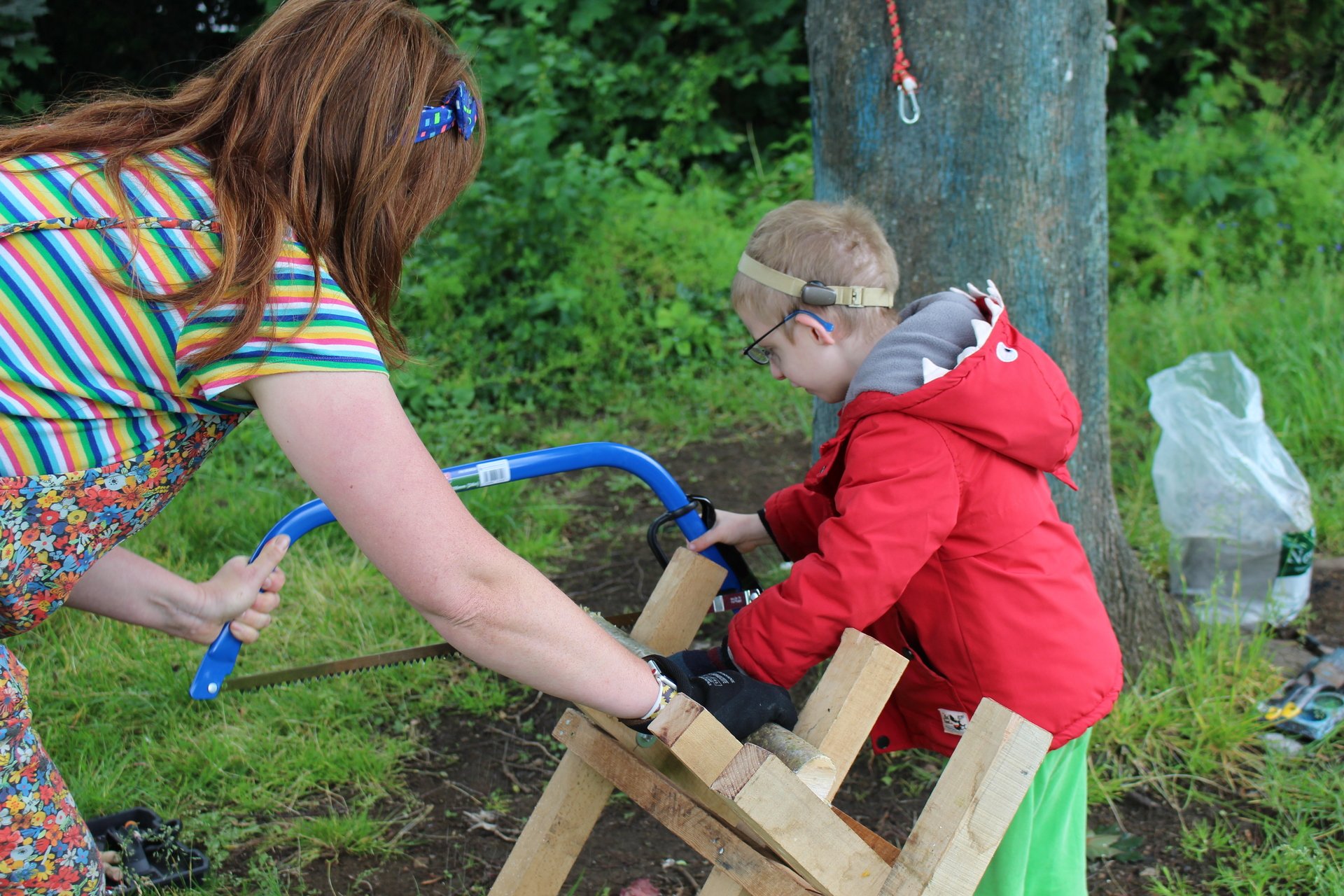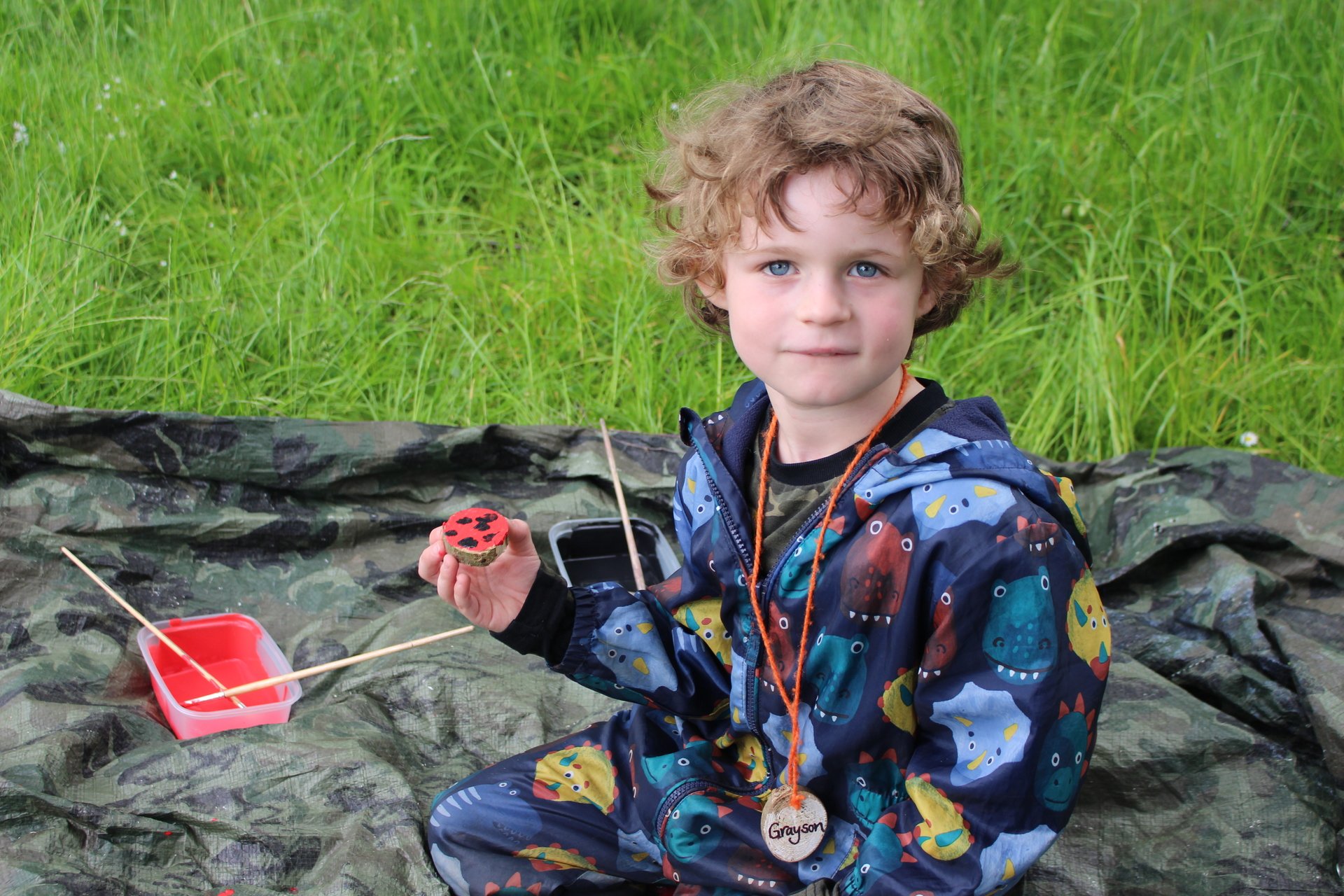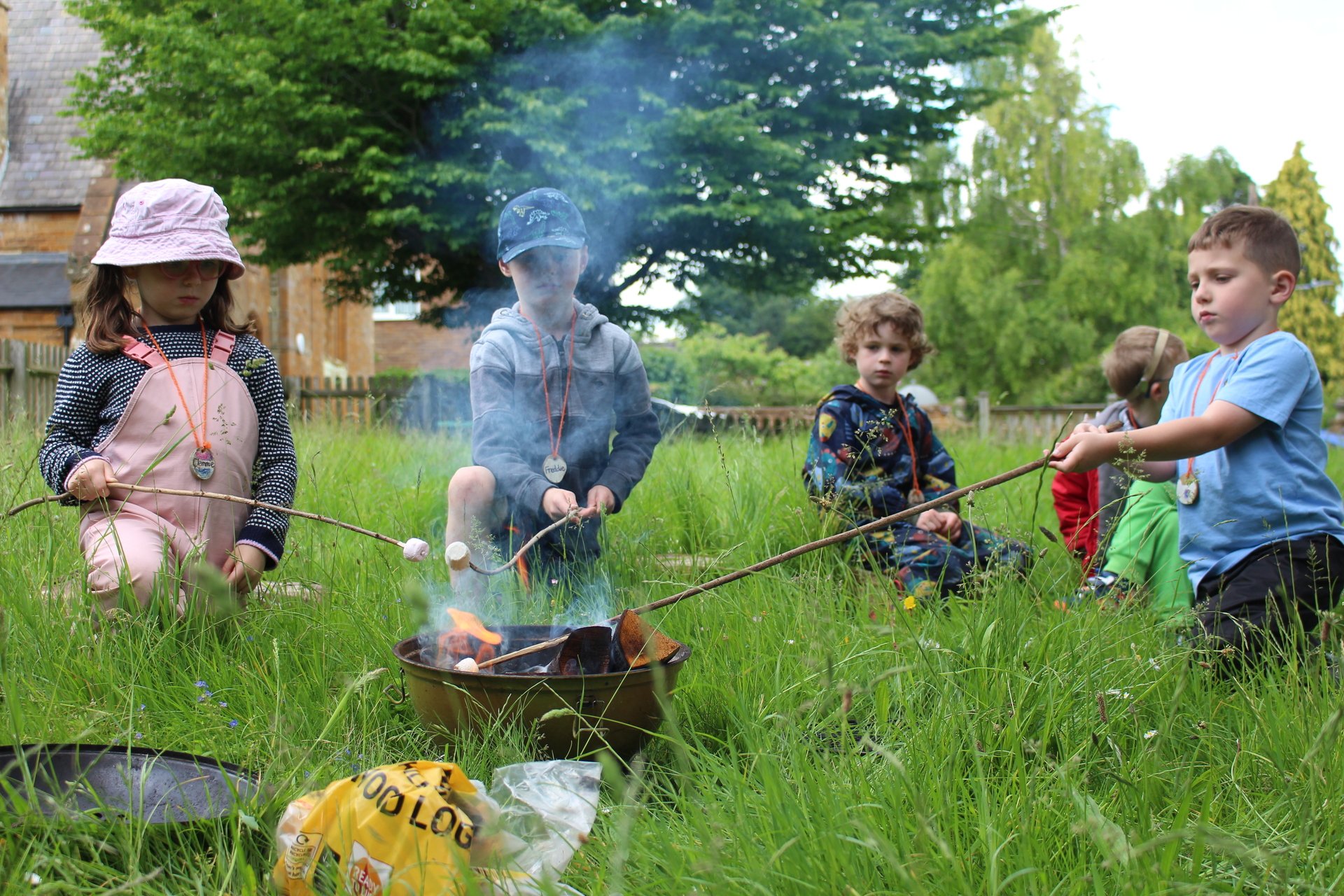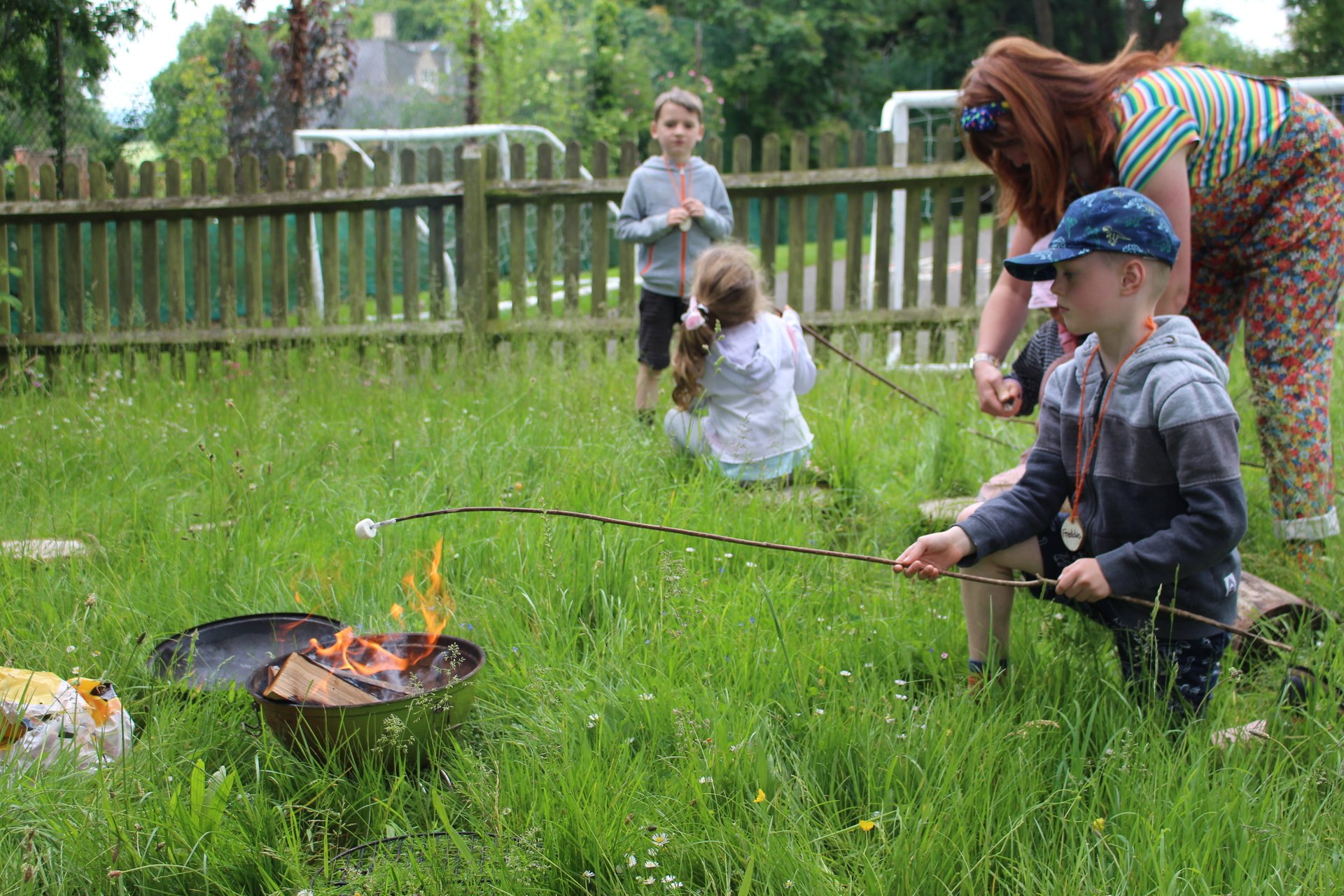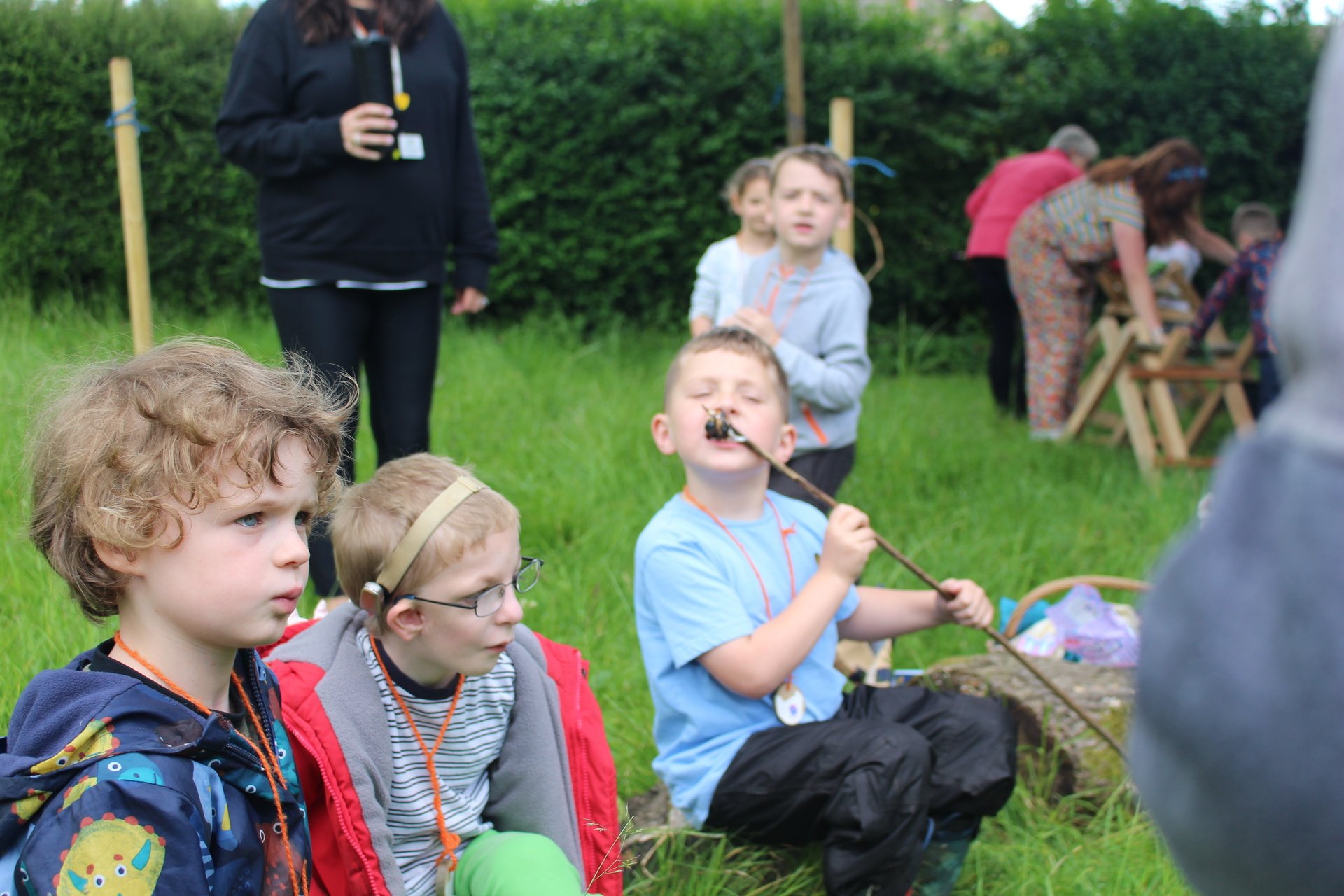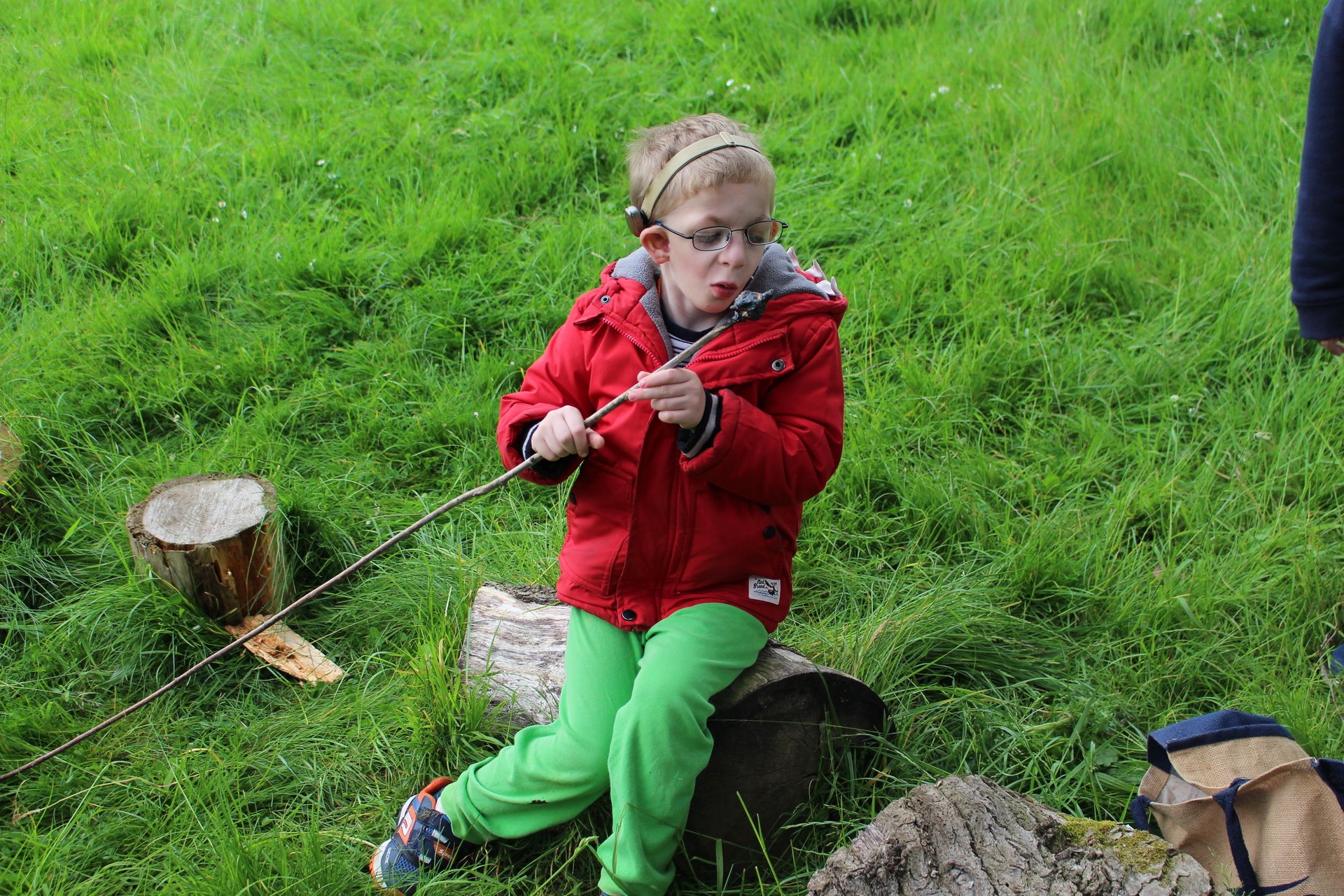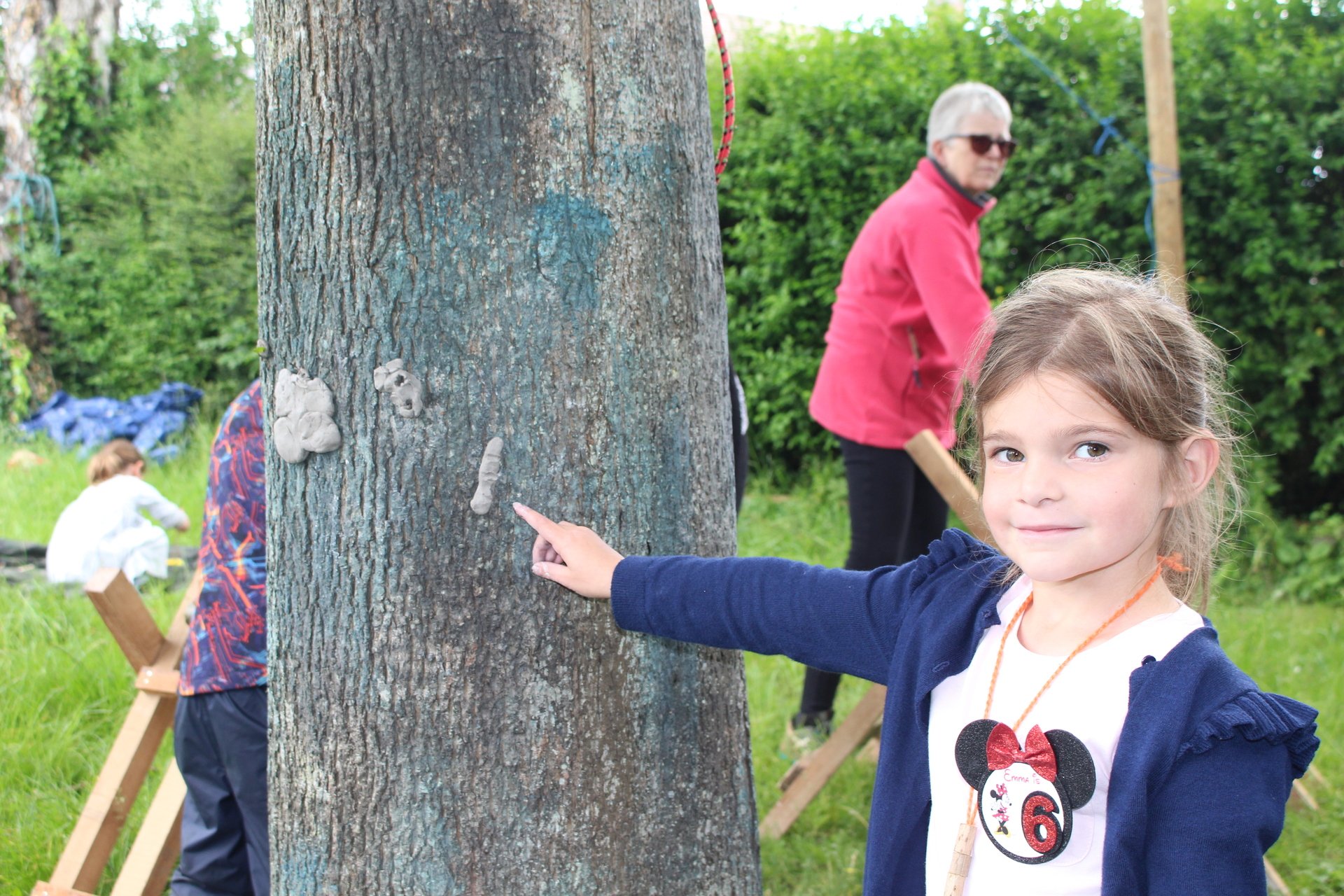 NTGA Activity Day
On 26th May, Years 5 and 6 took part in an activity day at Northamptonshire Trampoline Gymnastics Academy at Benham Sports Centre, where they had the opportunity to do some Archery, Circus Skills and Trampolining - including getting to meet and watch Team GB trampolinist Ross Tait.
The children had an amazing day and got stuck in to all of the challenges with smiles on their faces. The staff at the venue were brilliant and made sure that everyone enjoyed the whole day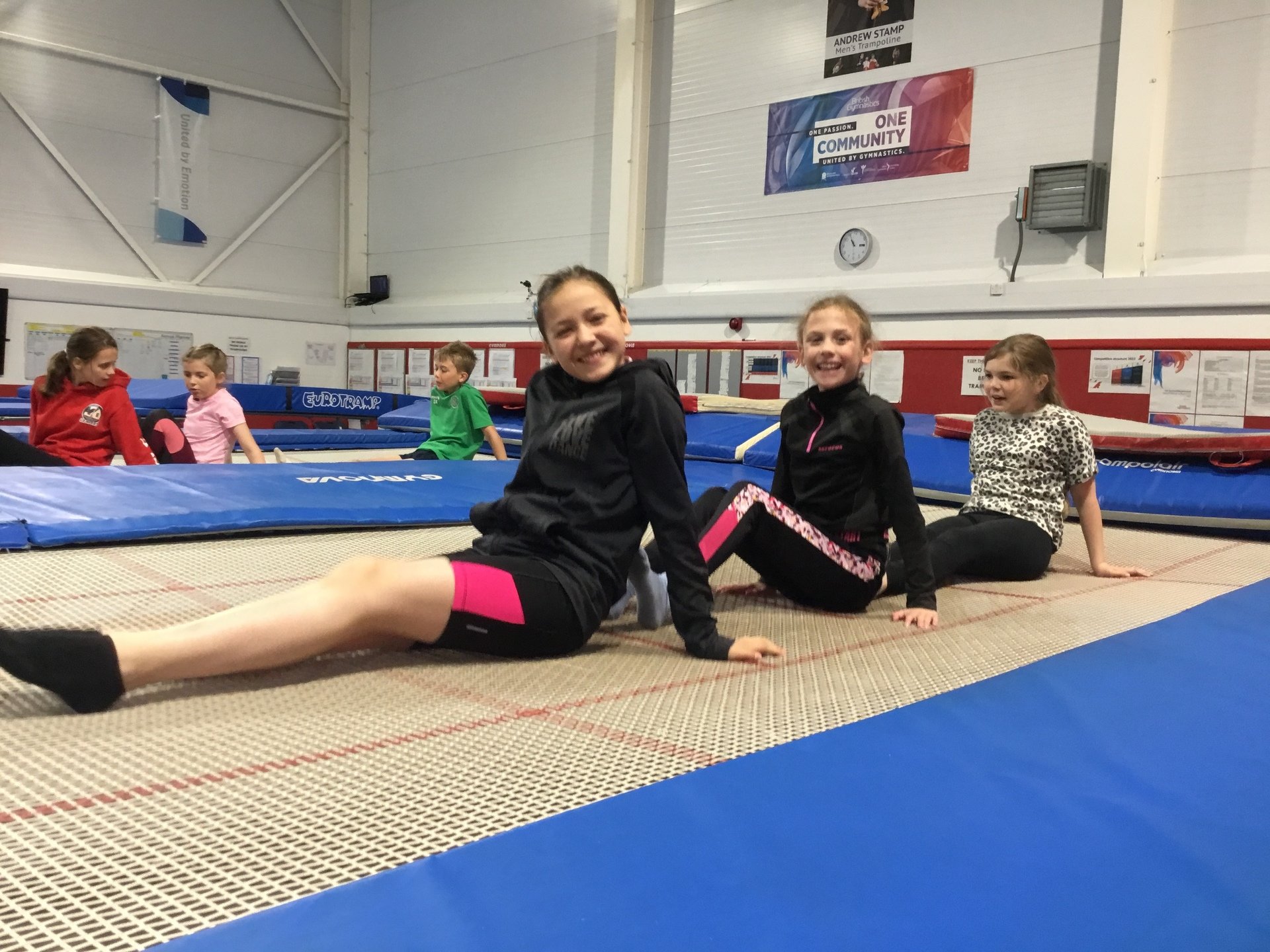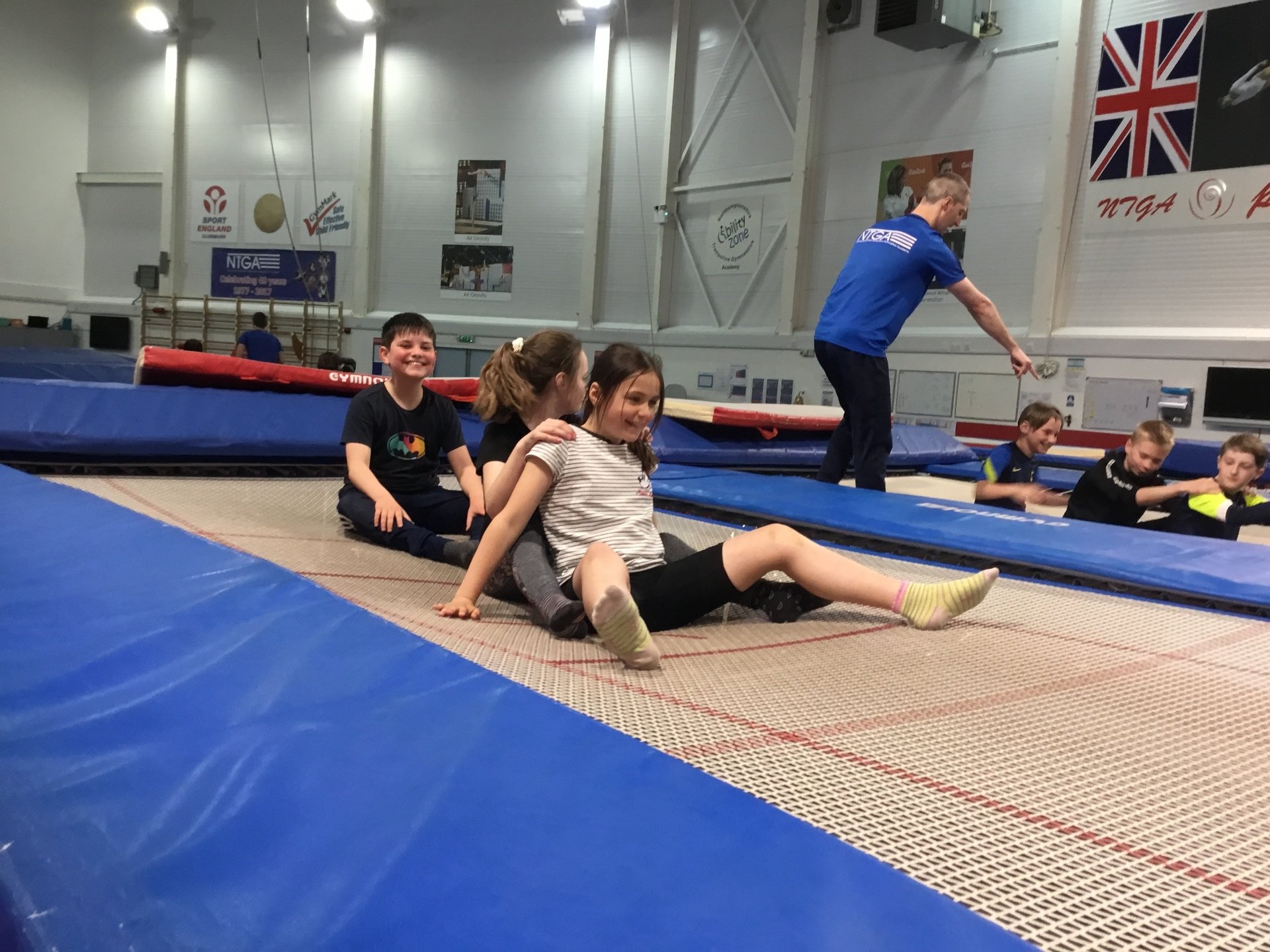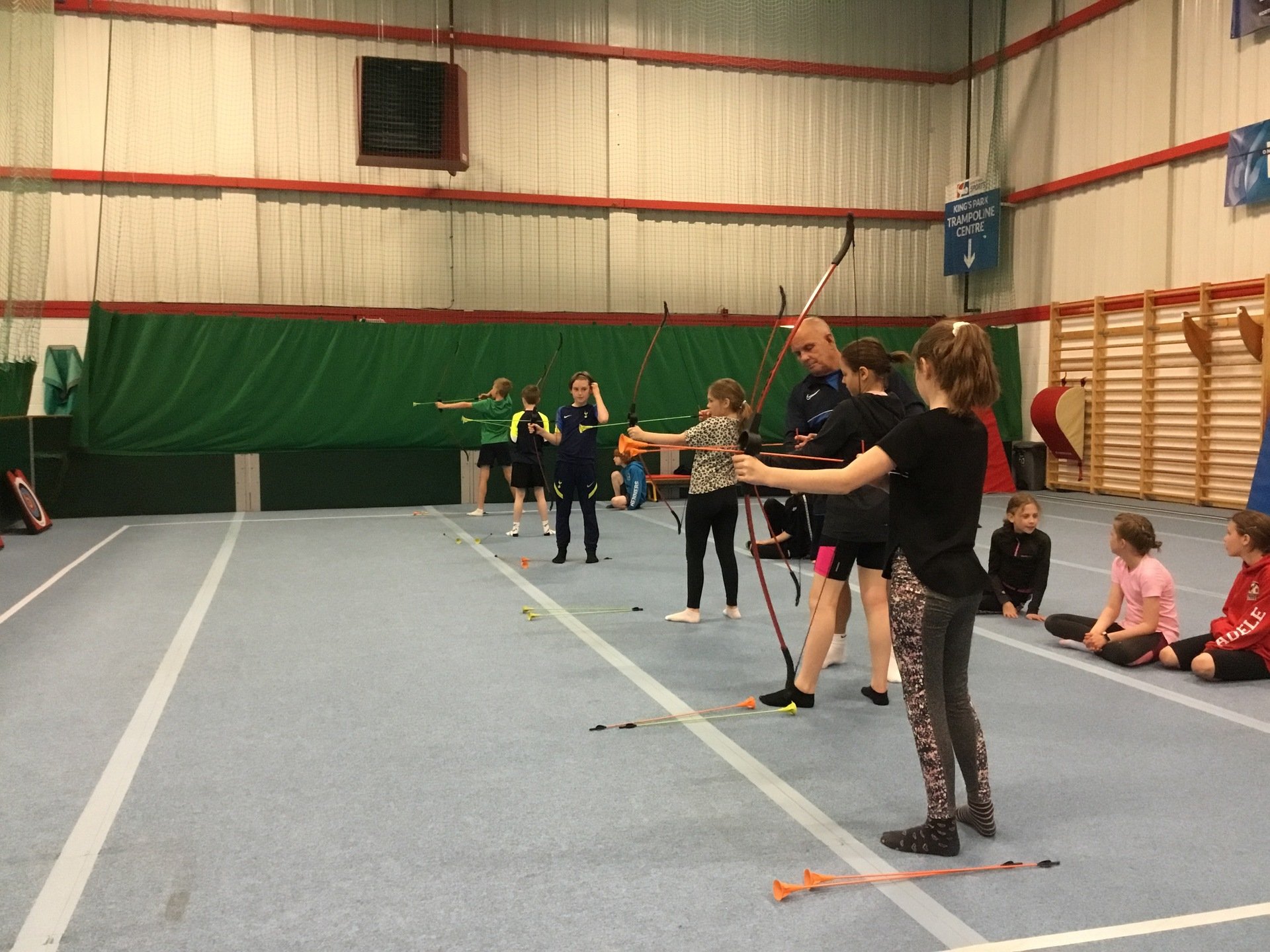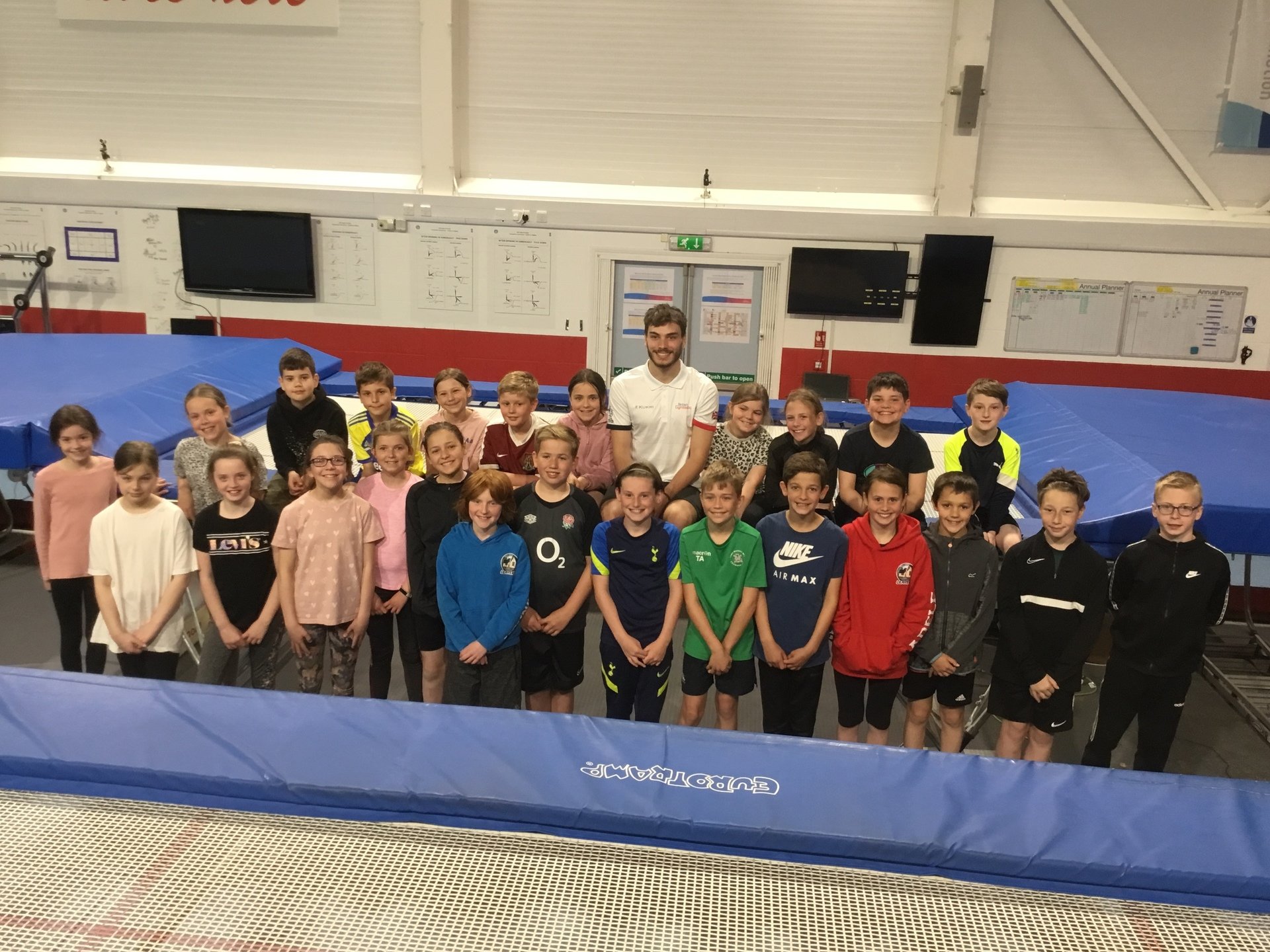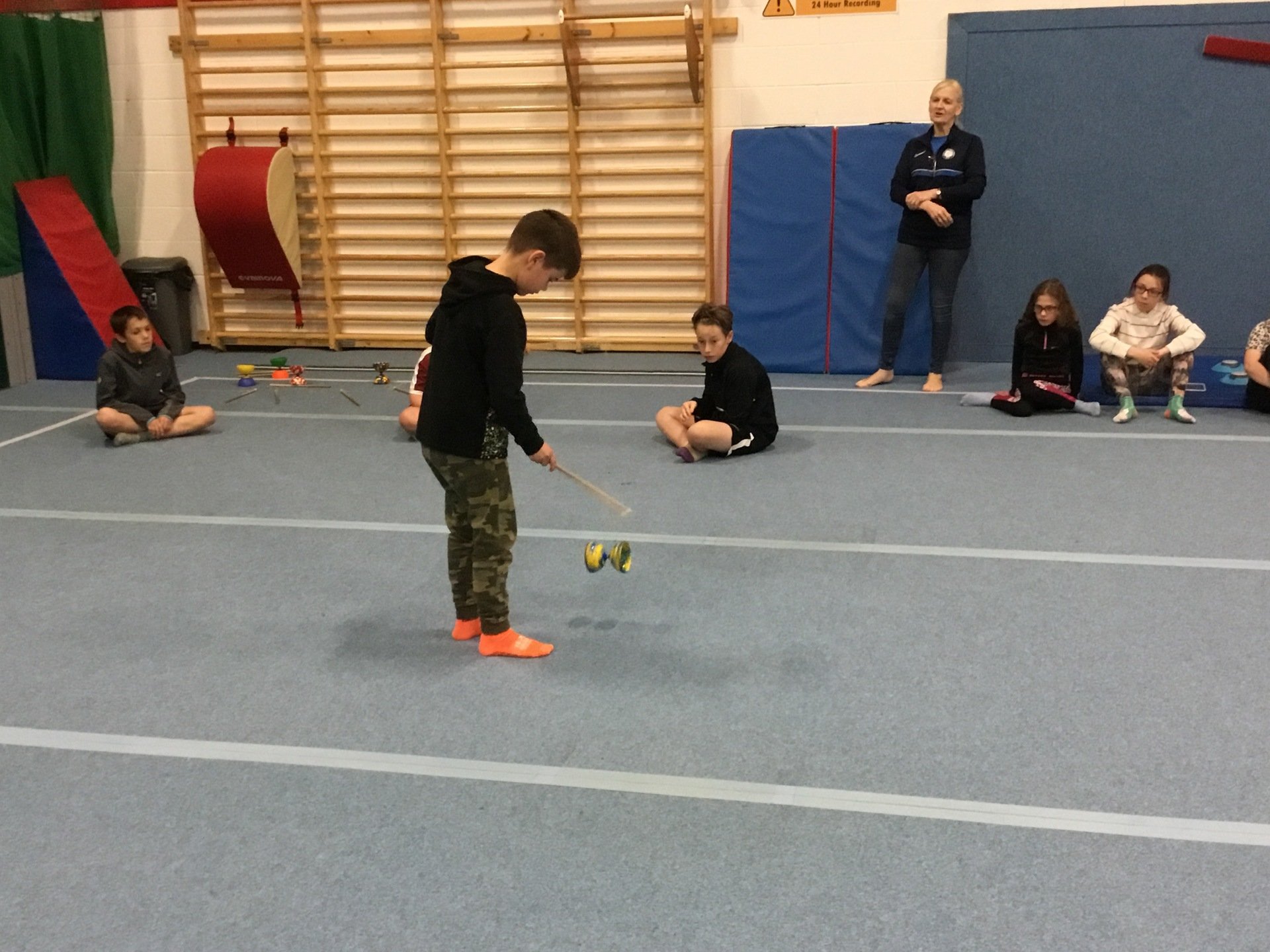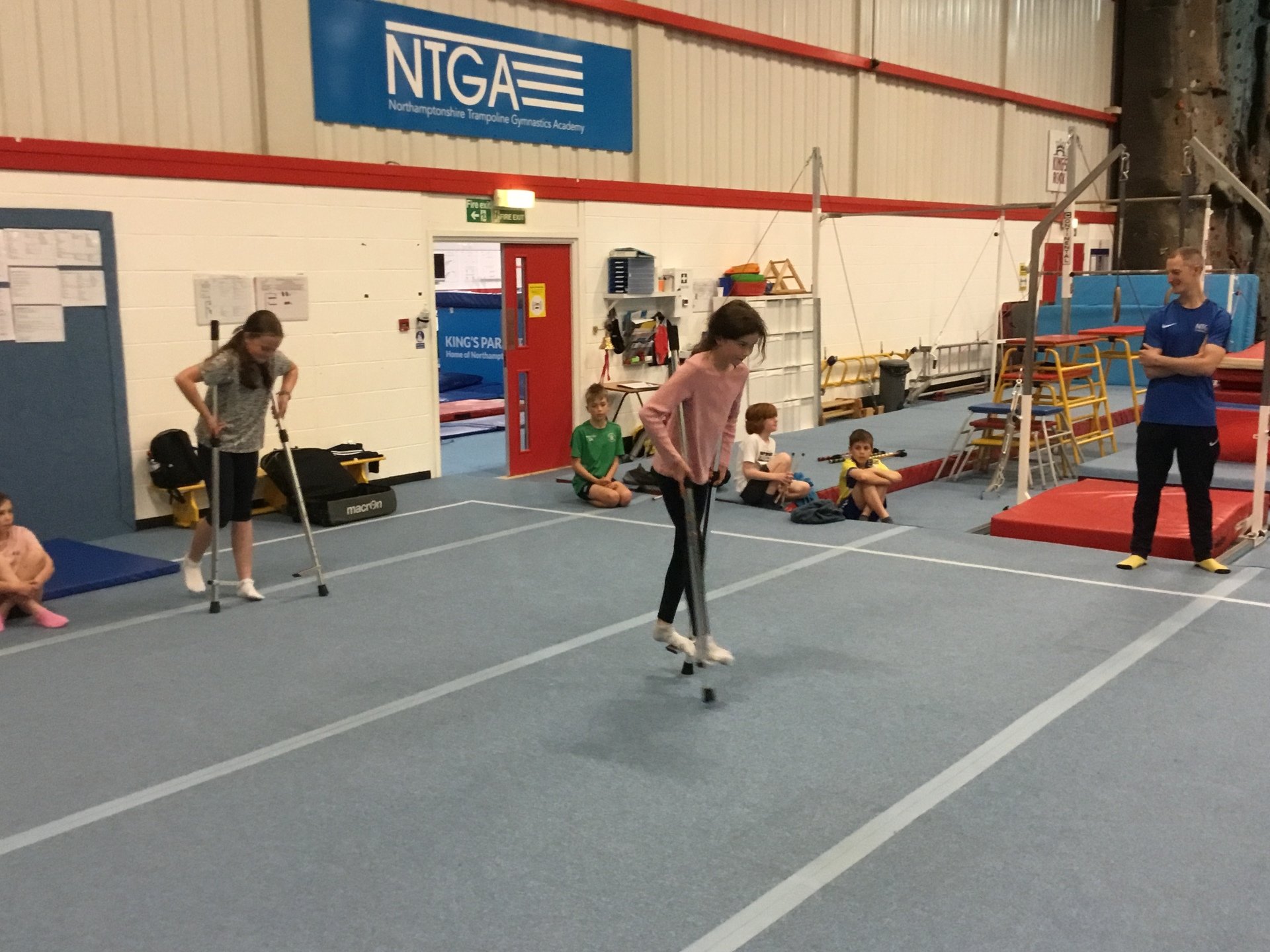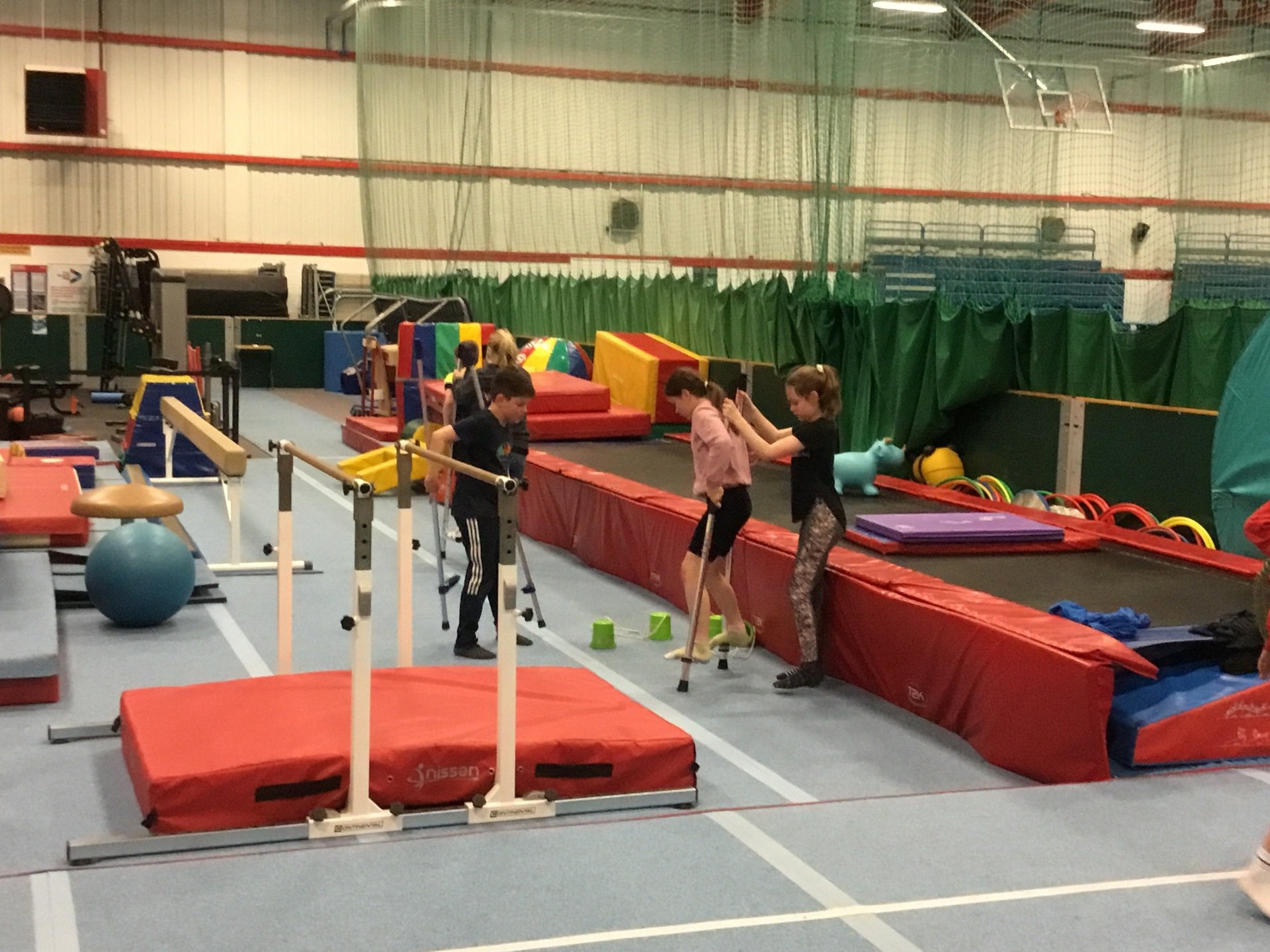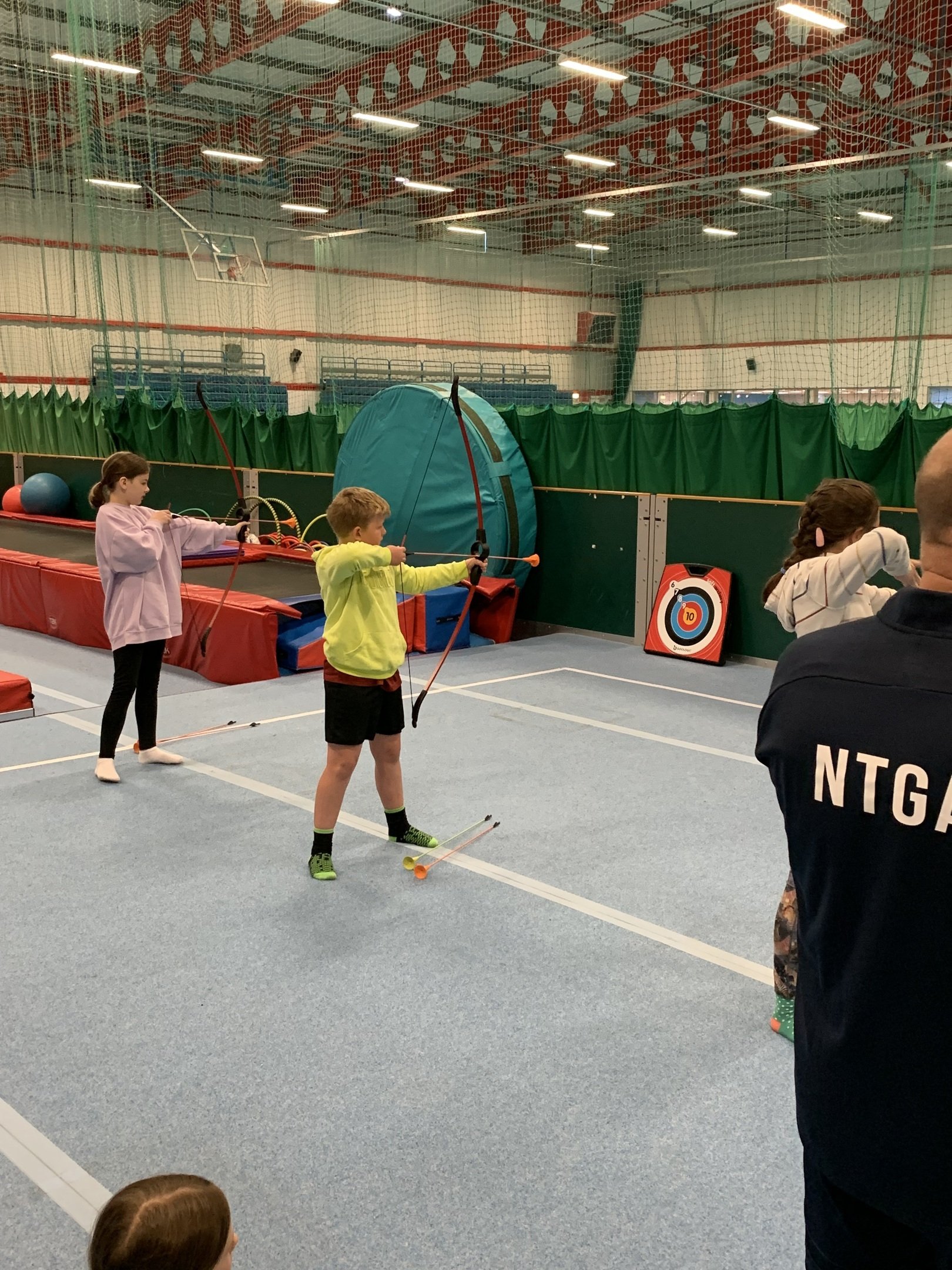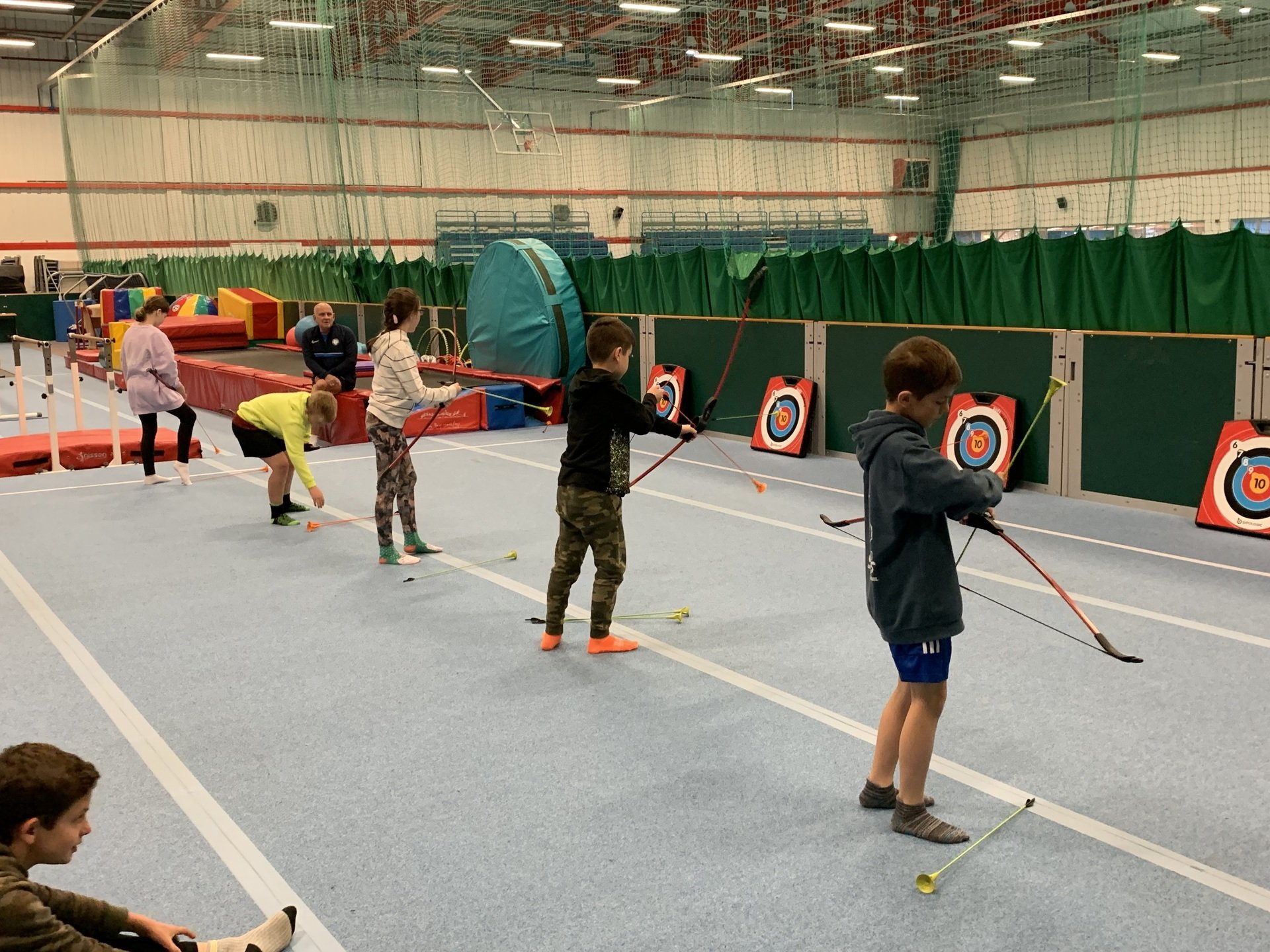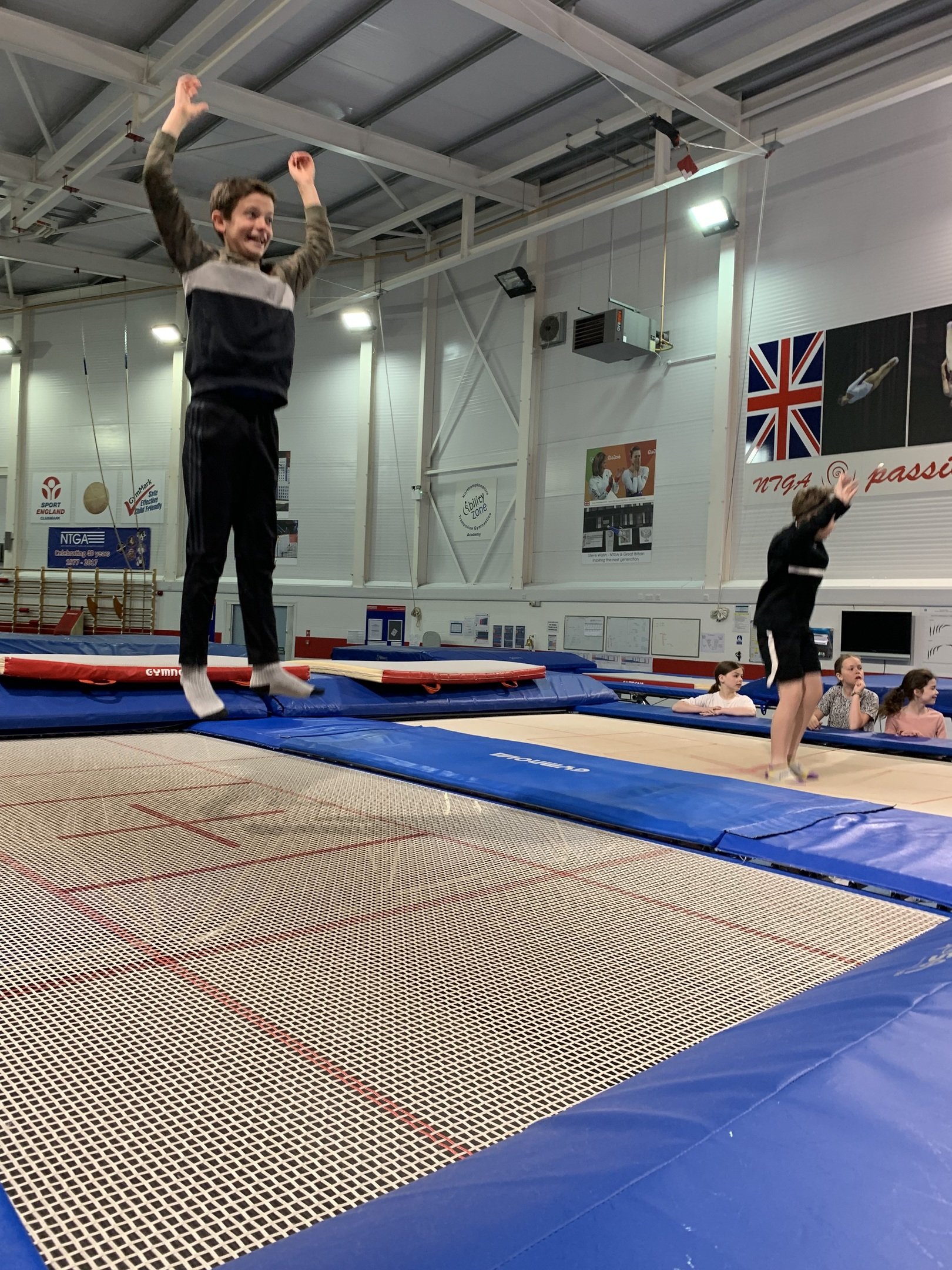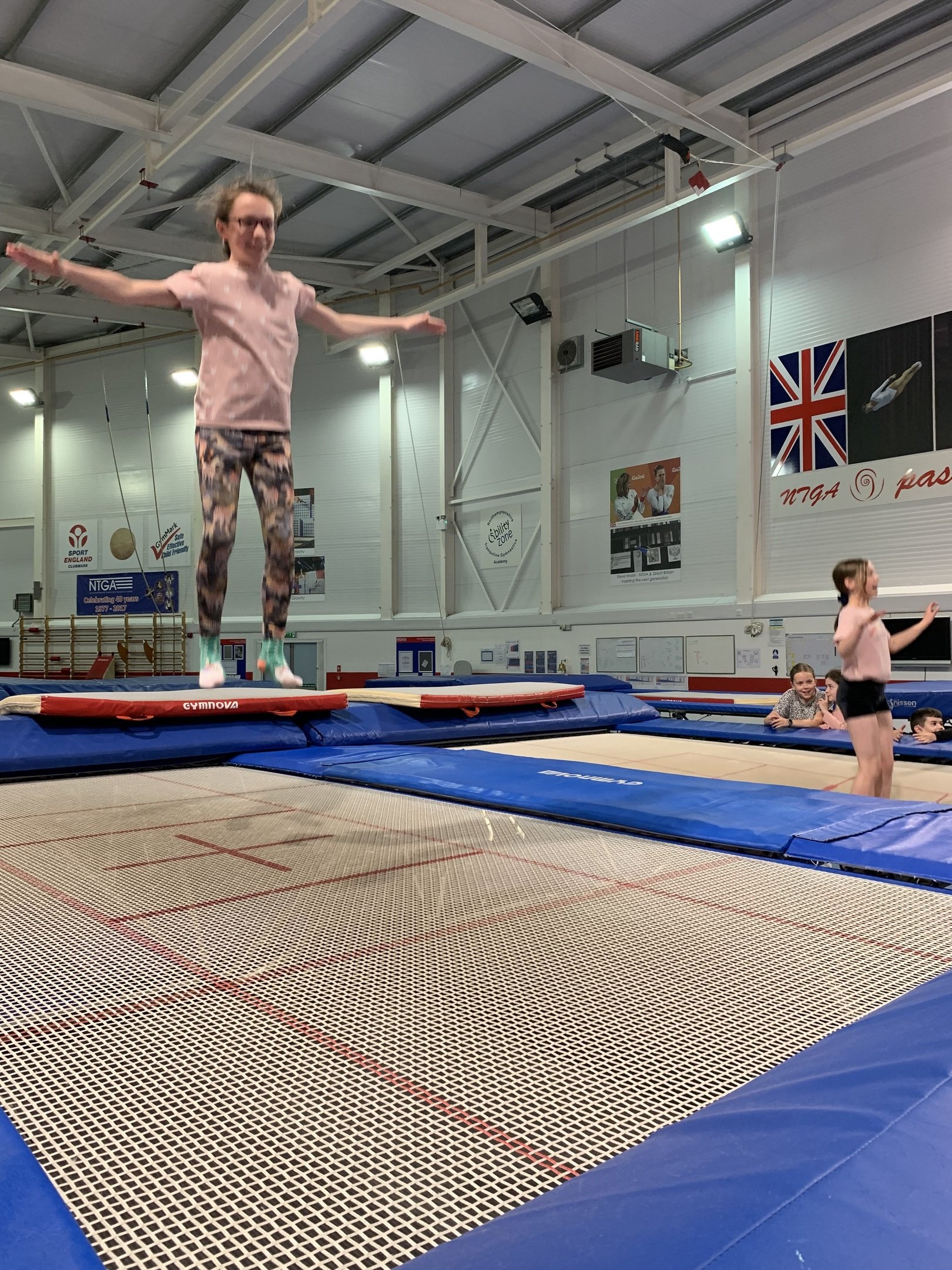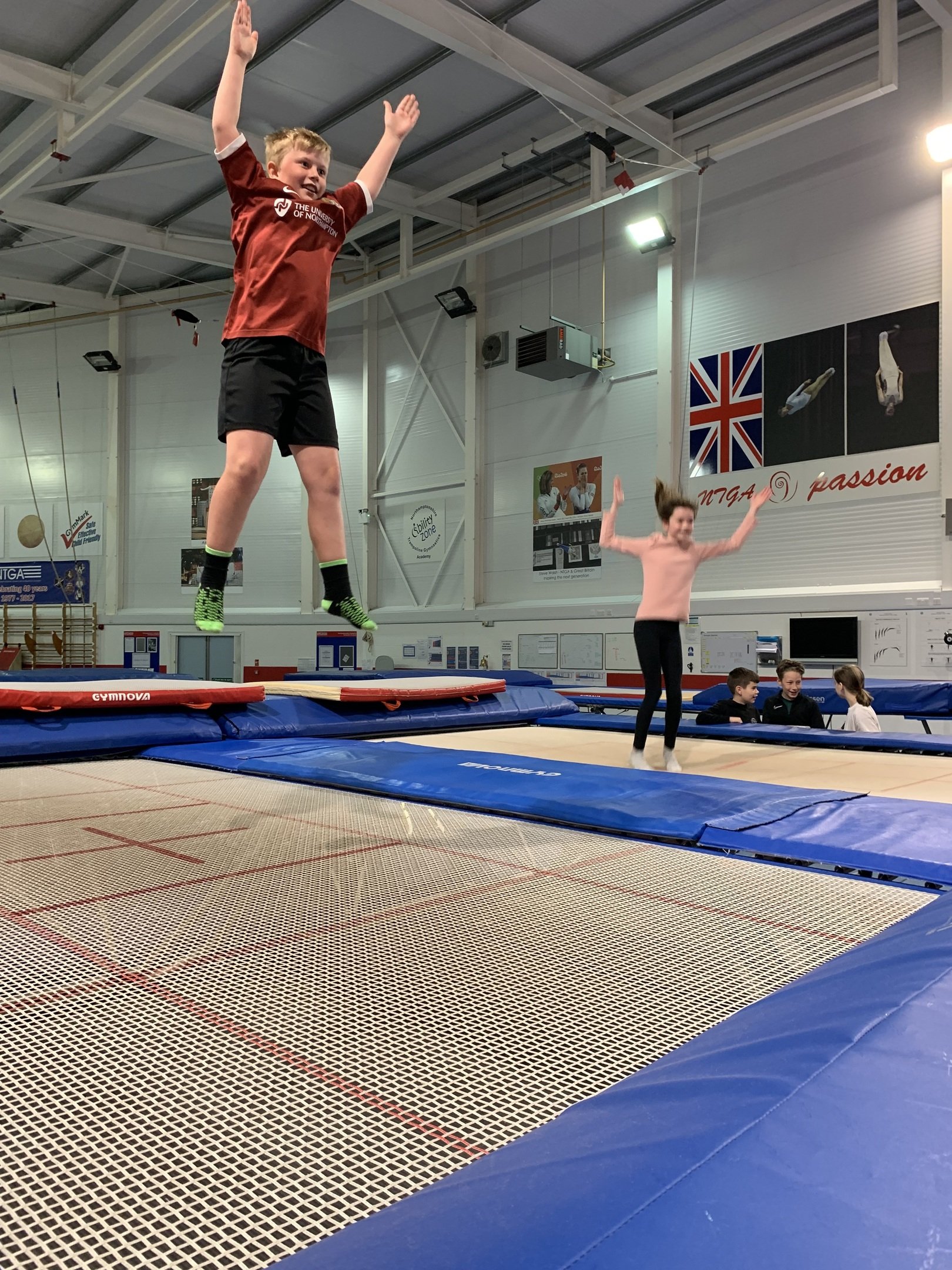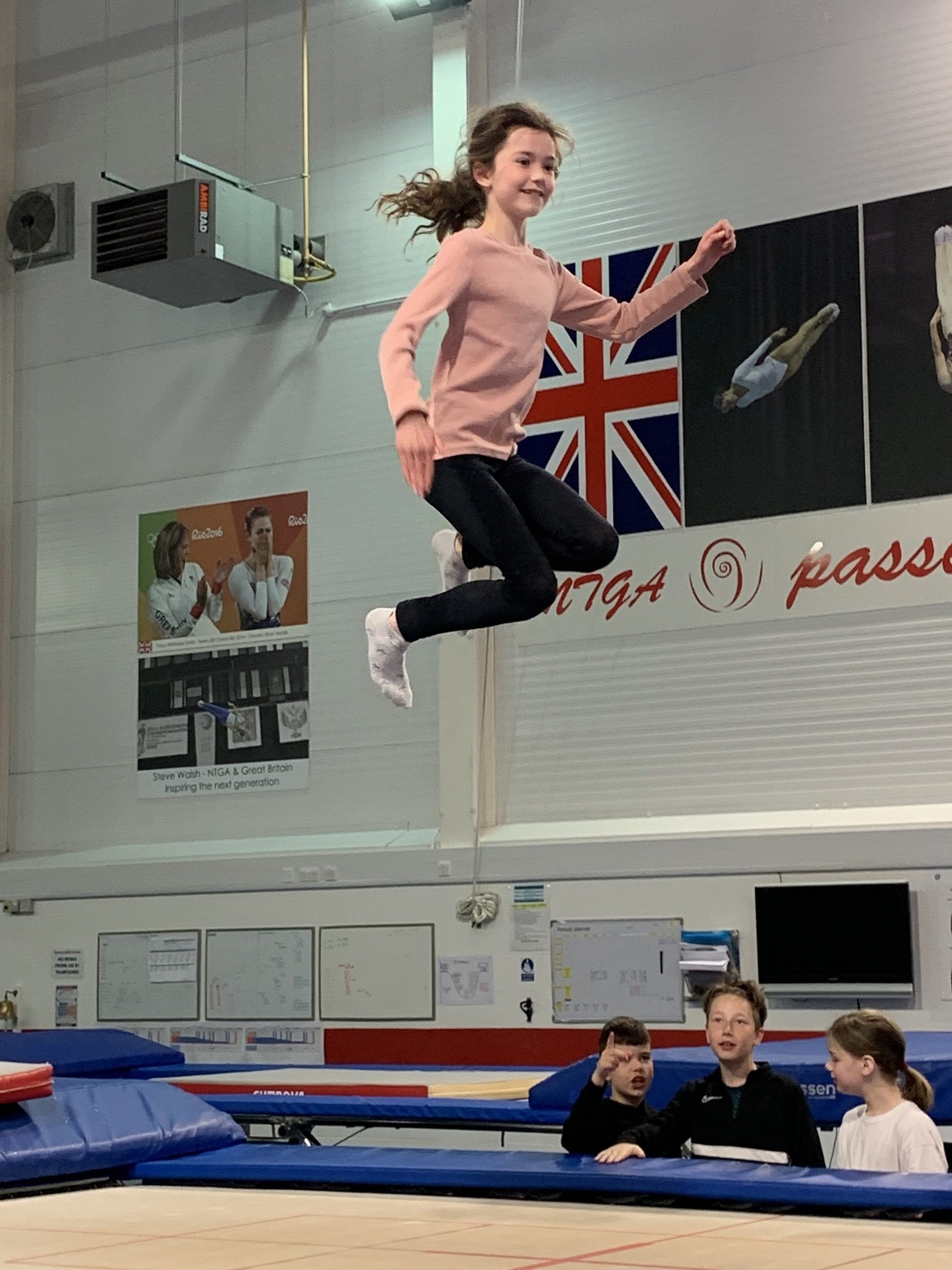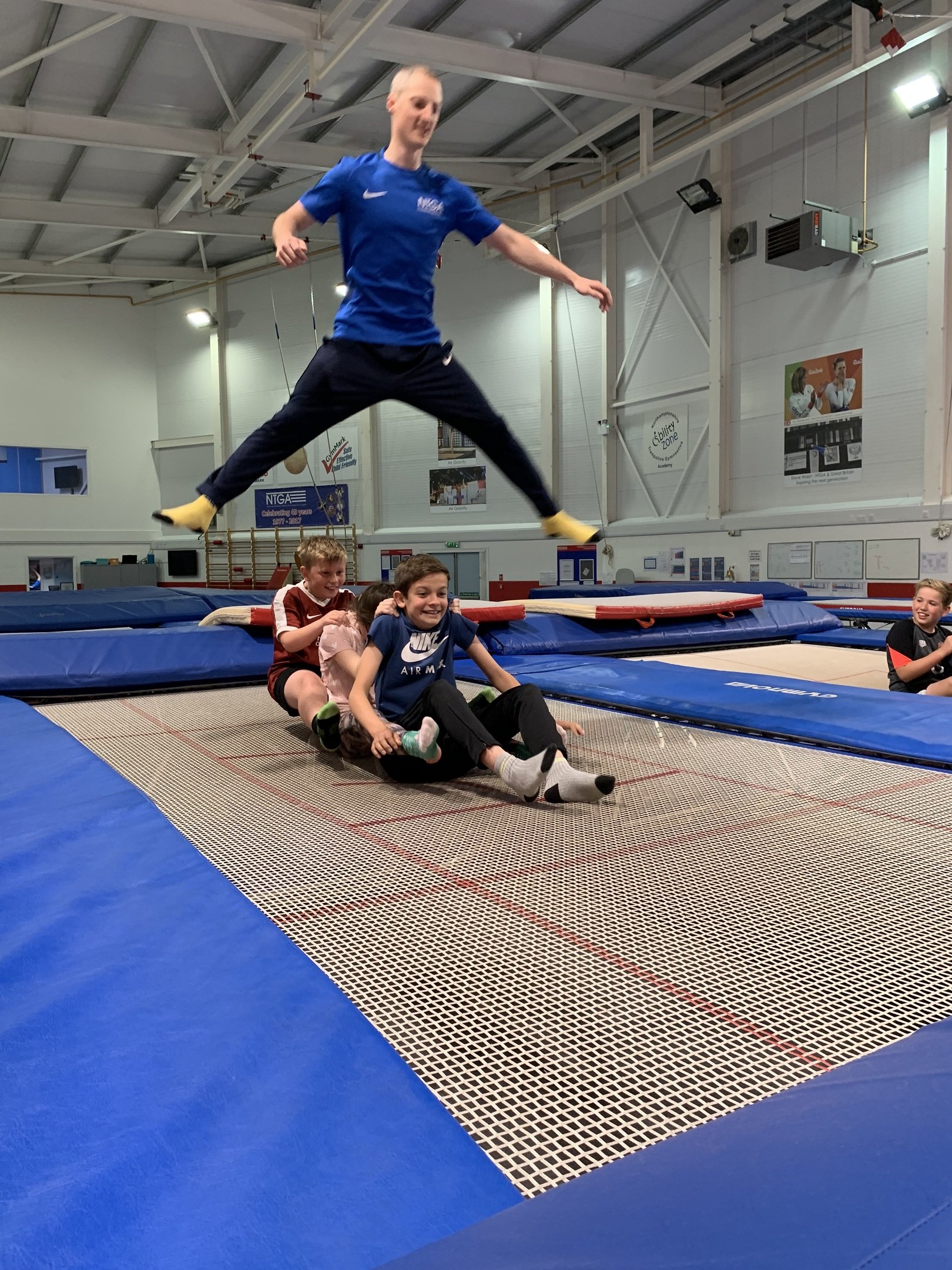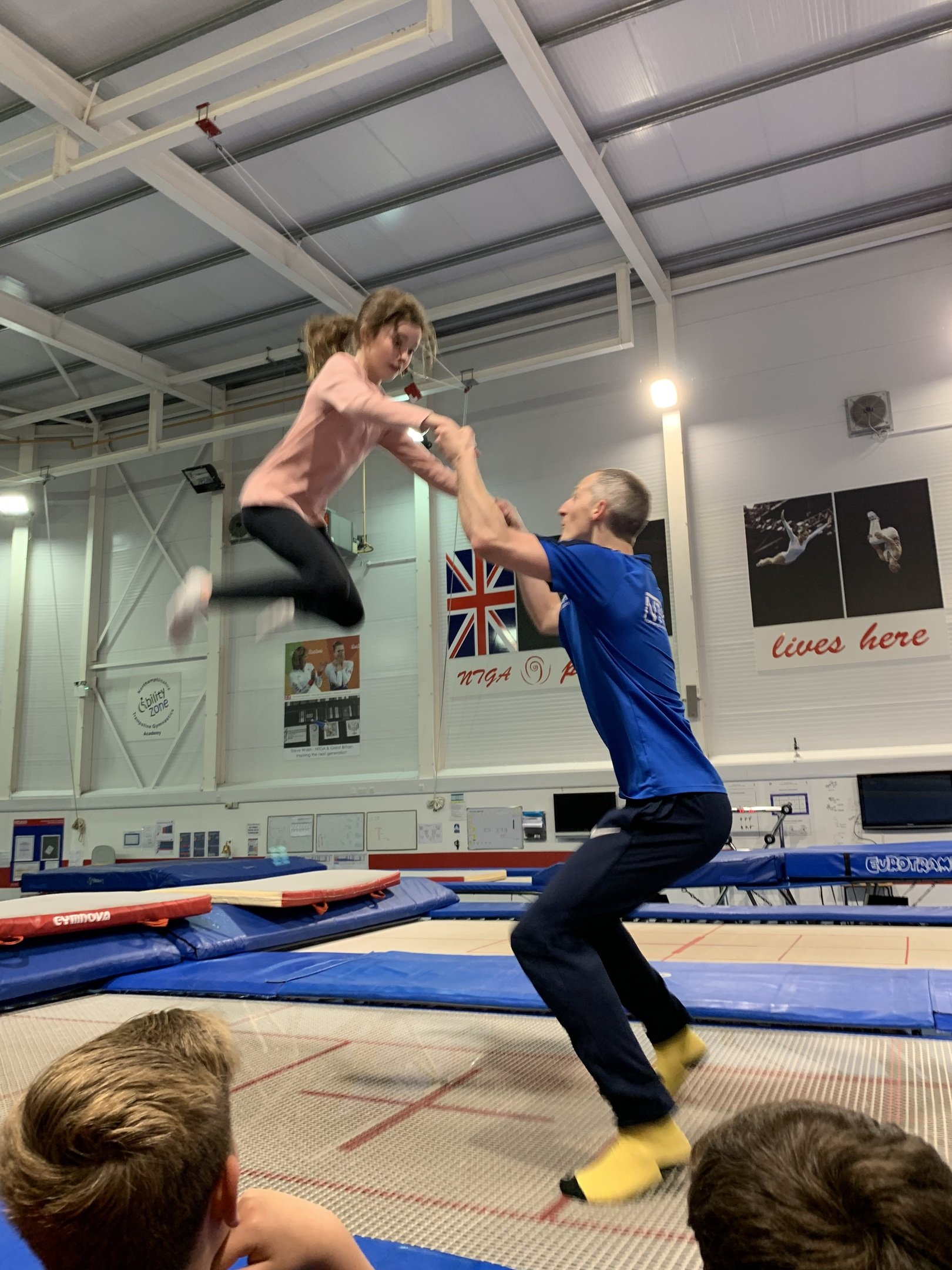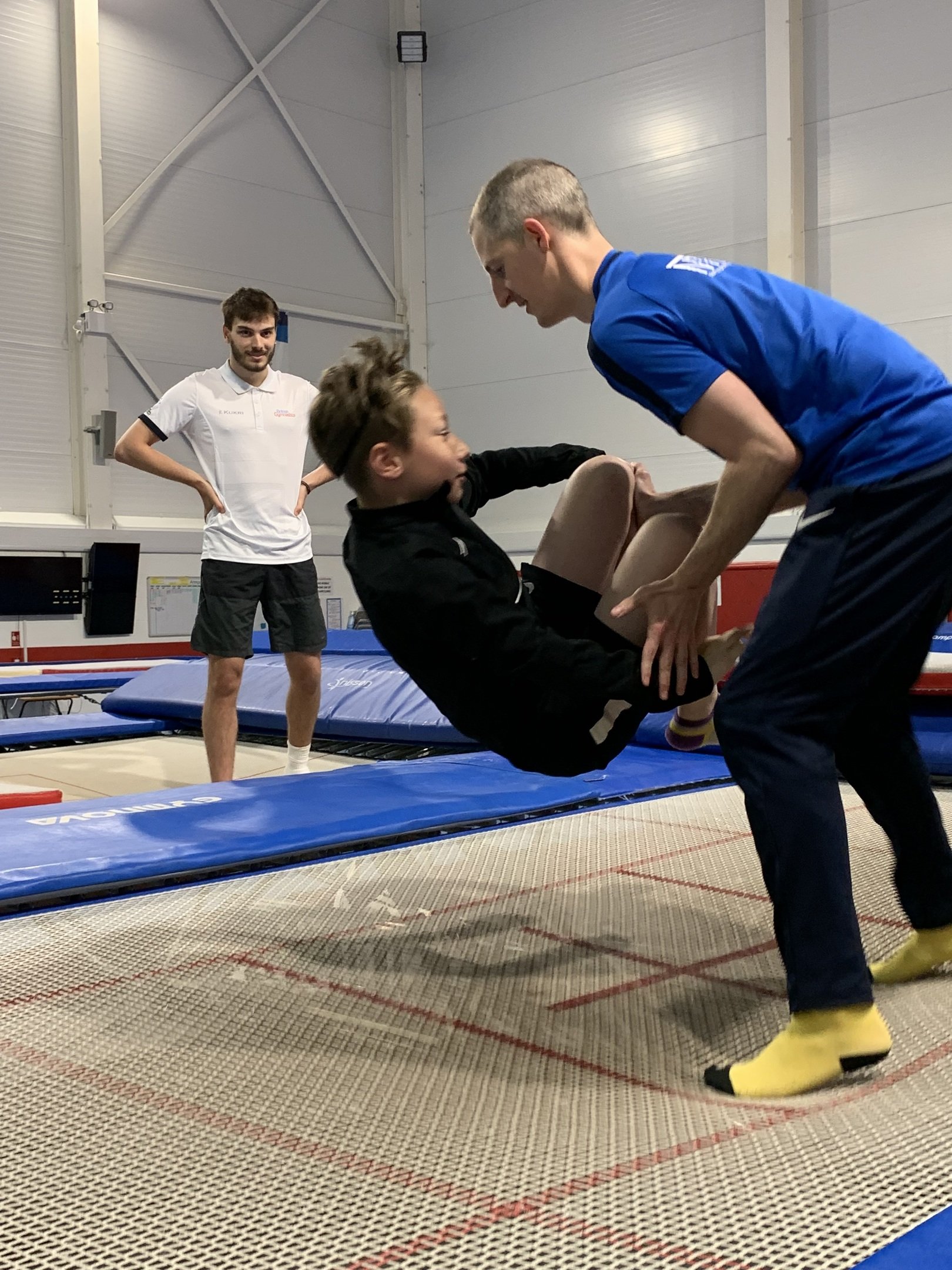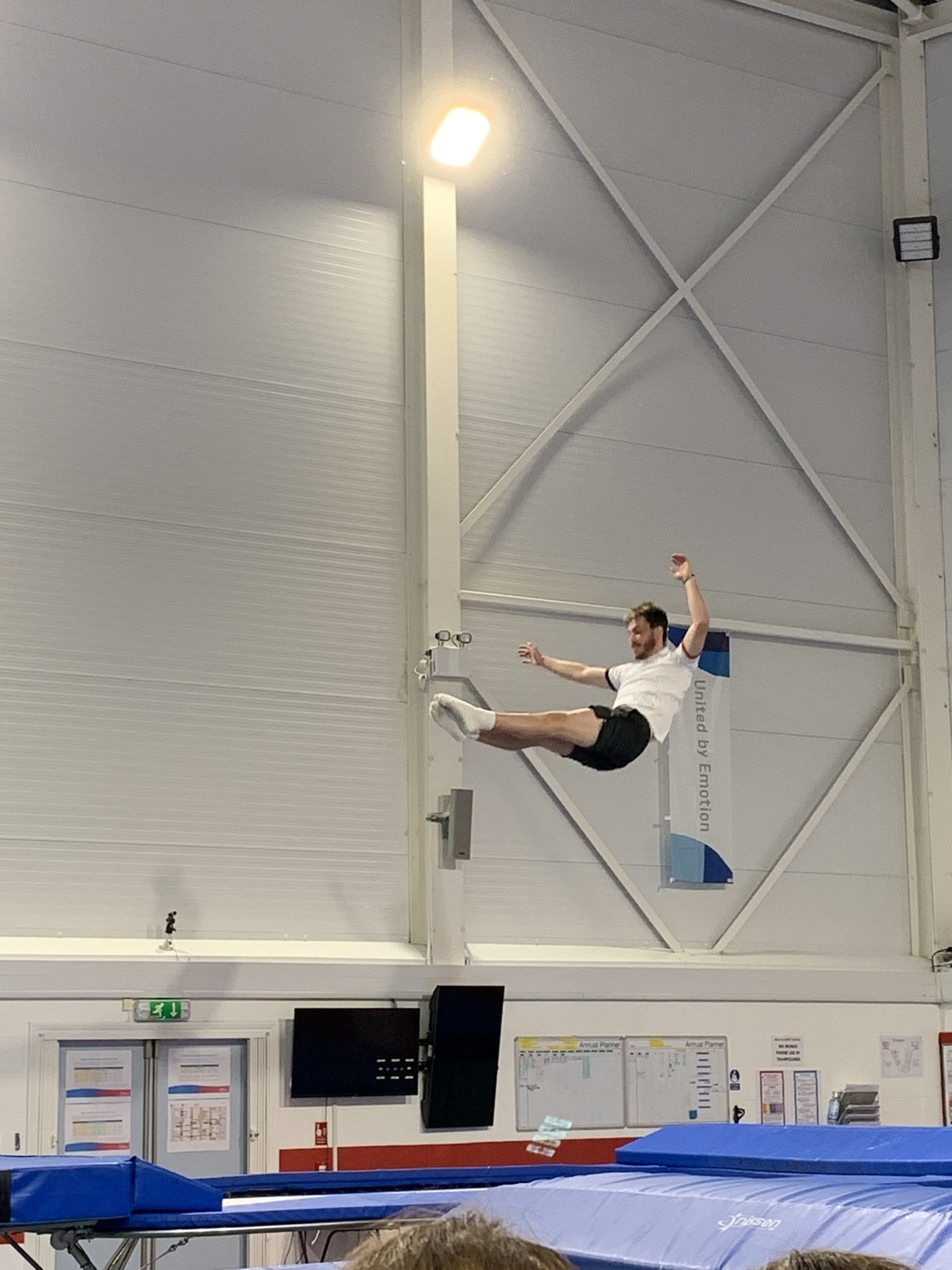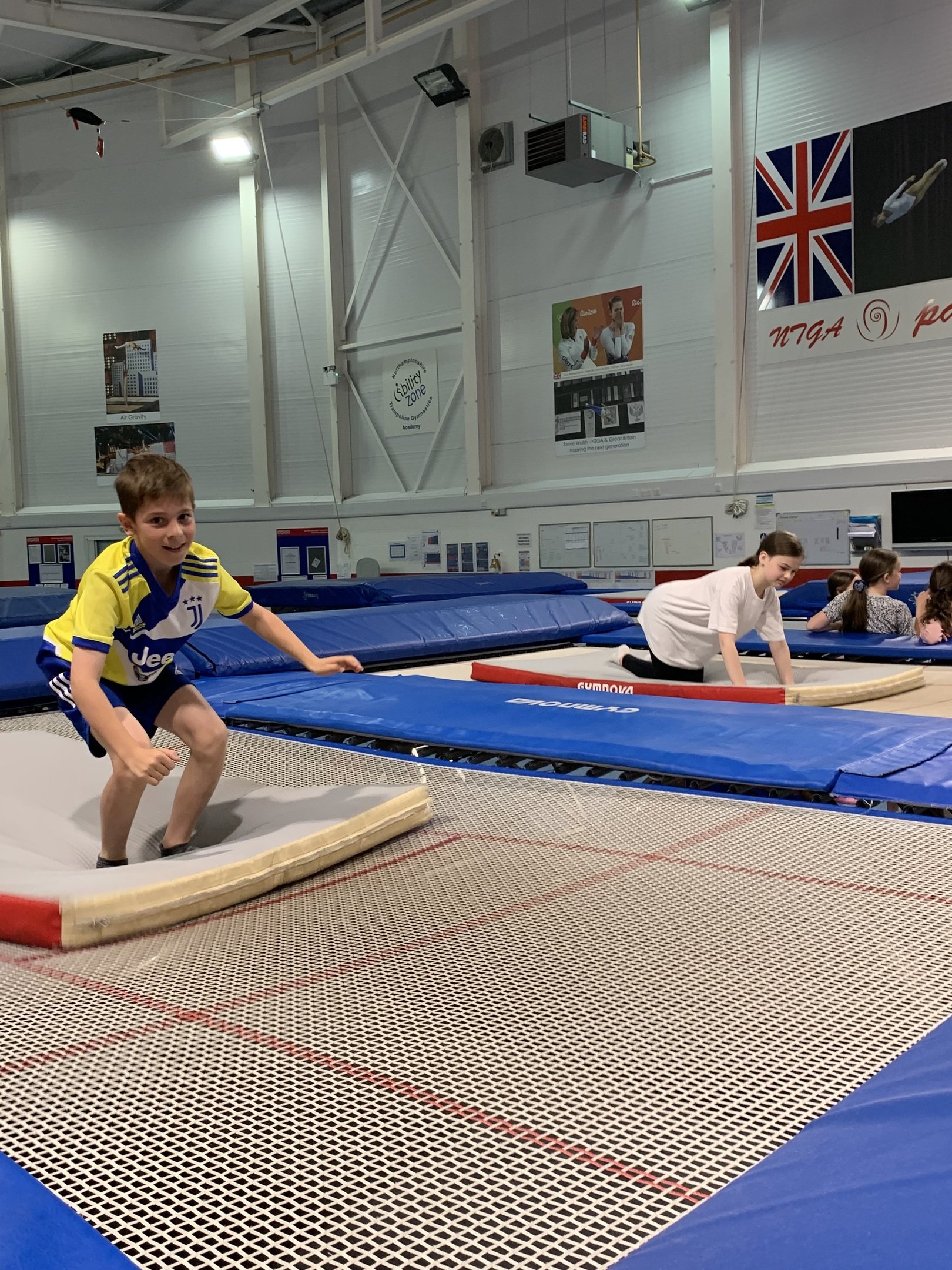 Brass Assembly
Thanks to Richard Baker from Northamptonshire Music and Performing Arts Trust, for taking assembly this Tuesday, 17th May. Thank you also to Florence and William, who showed us their brass skills - very well done.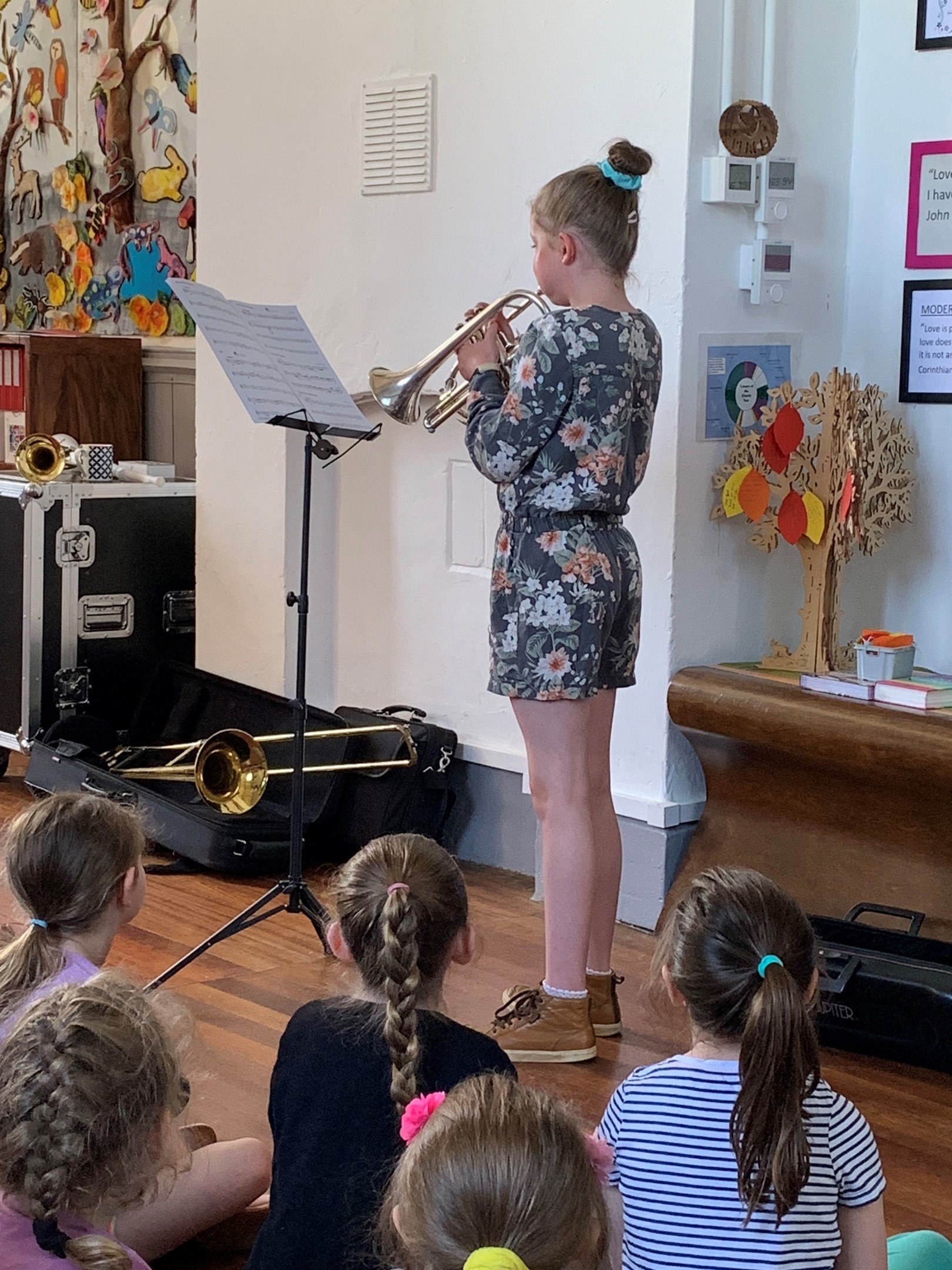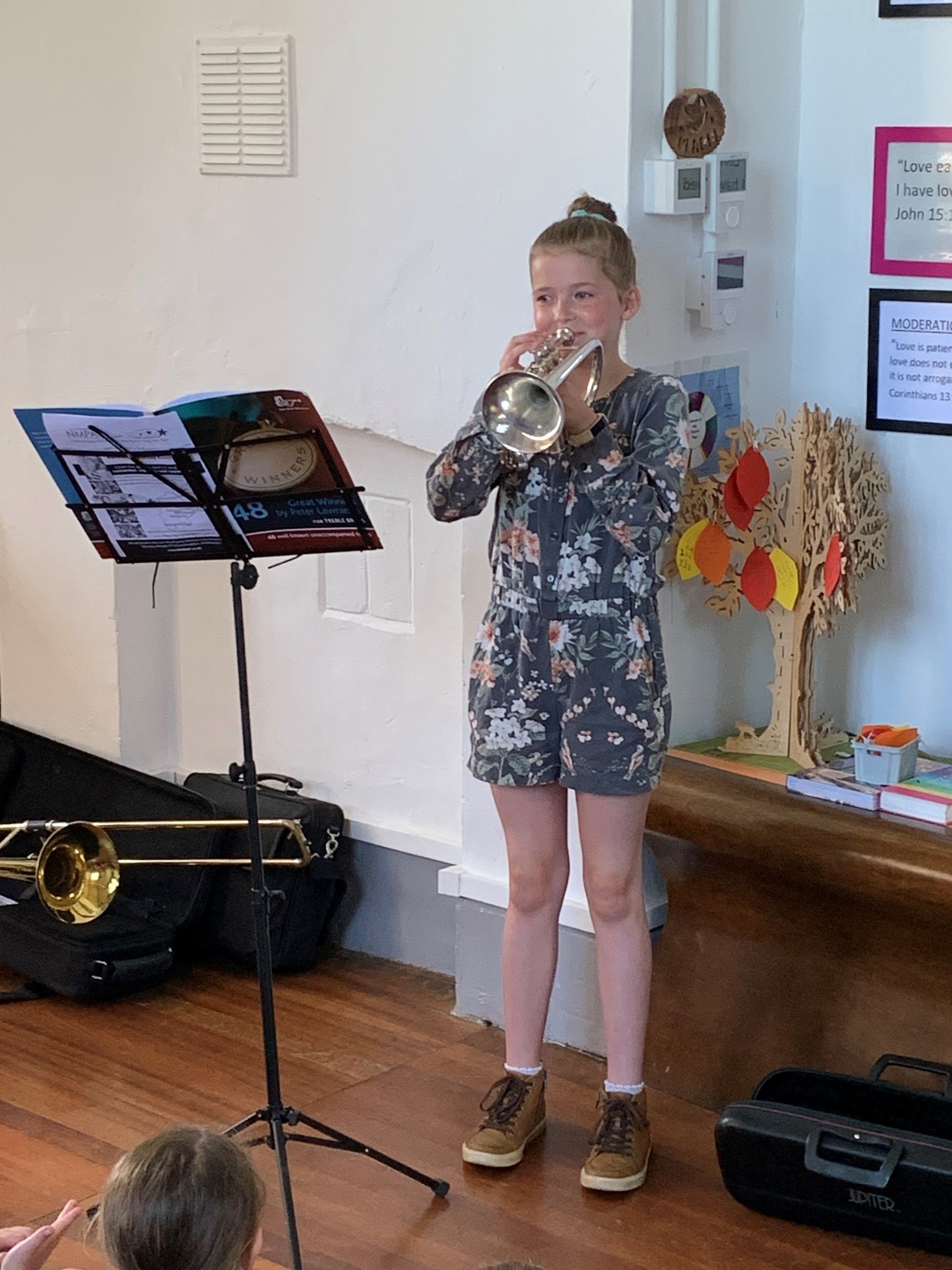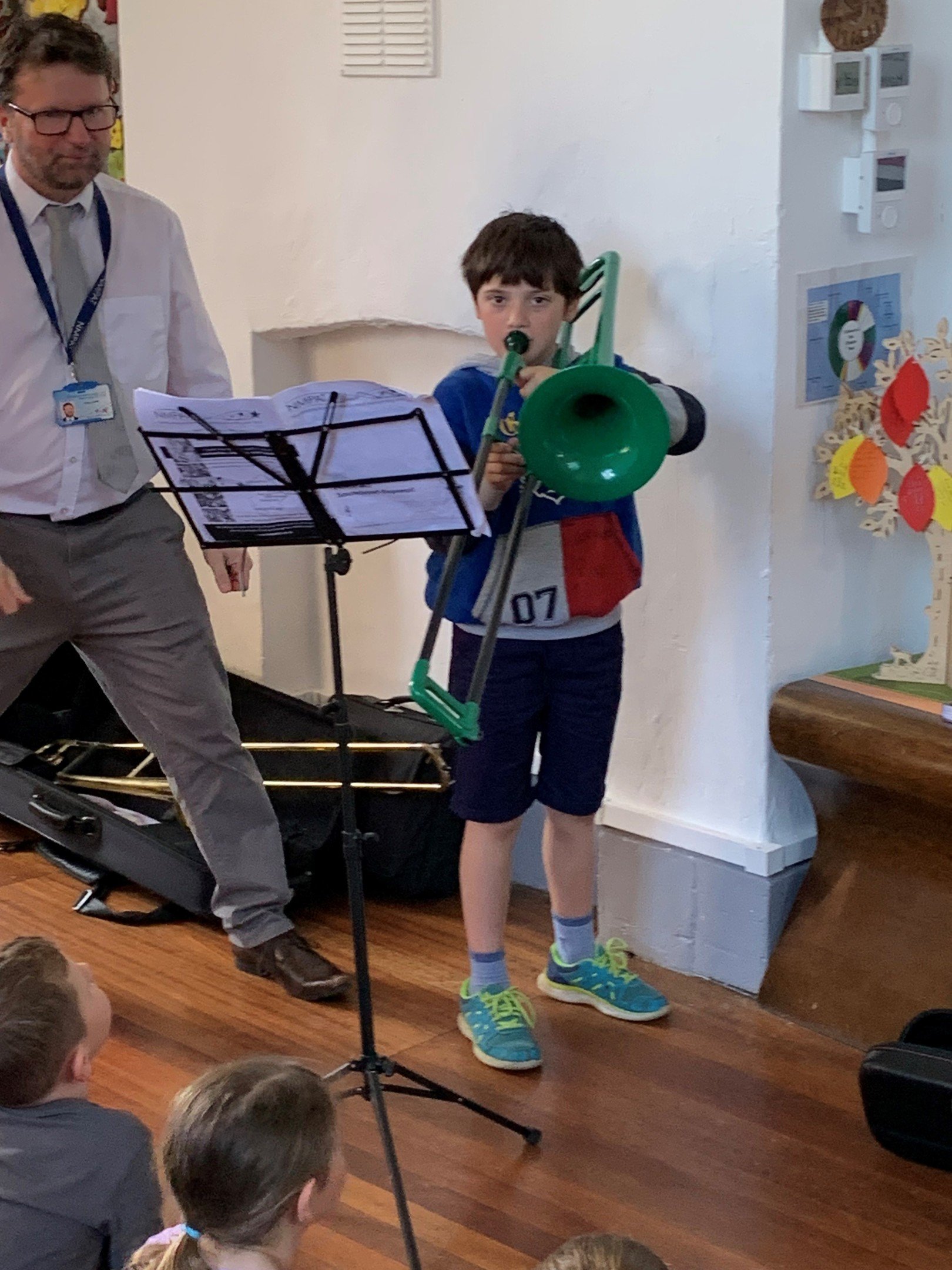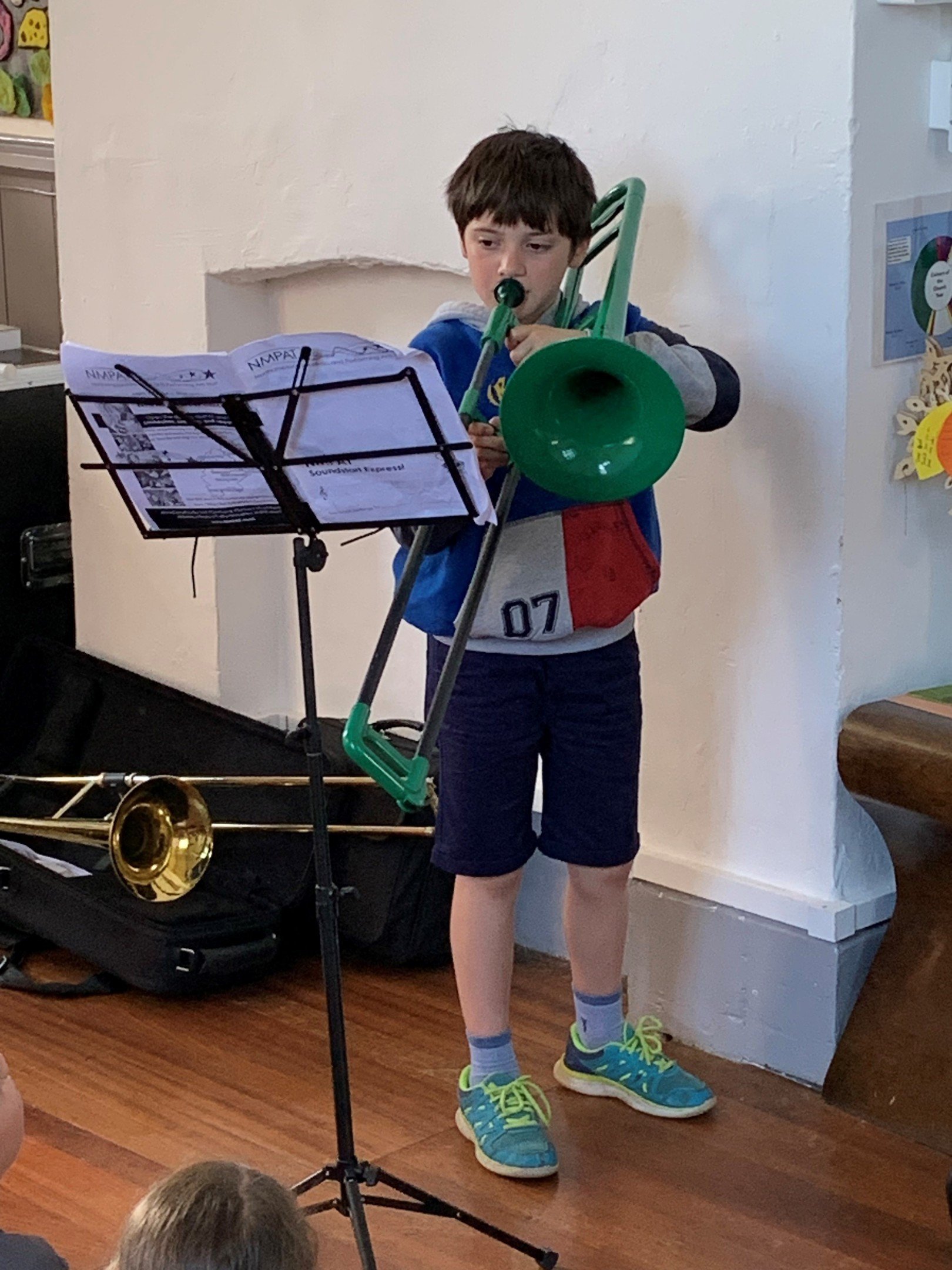 A Special Visitor at Forest School
Reception and Year 1 had a very special visitor this week. The Easter Bunny hopped by with her basket of eggs and stopped to spend some time with the children! It was an eggcellent addition to Forest School and a great surprise! Many thanks to Mrs Bunny - or should that be Miss?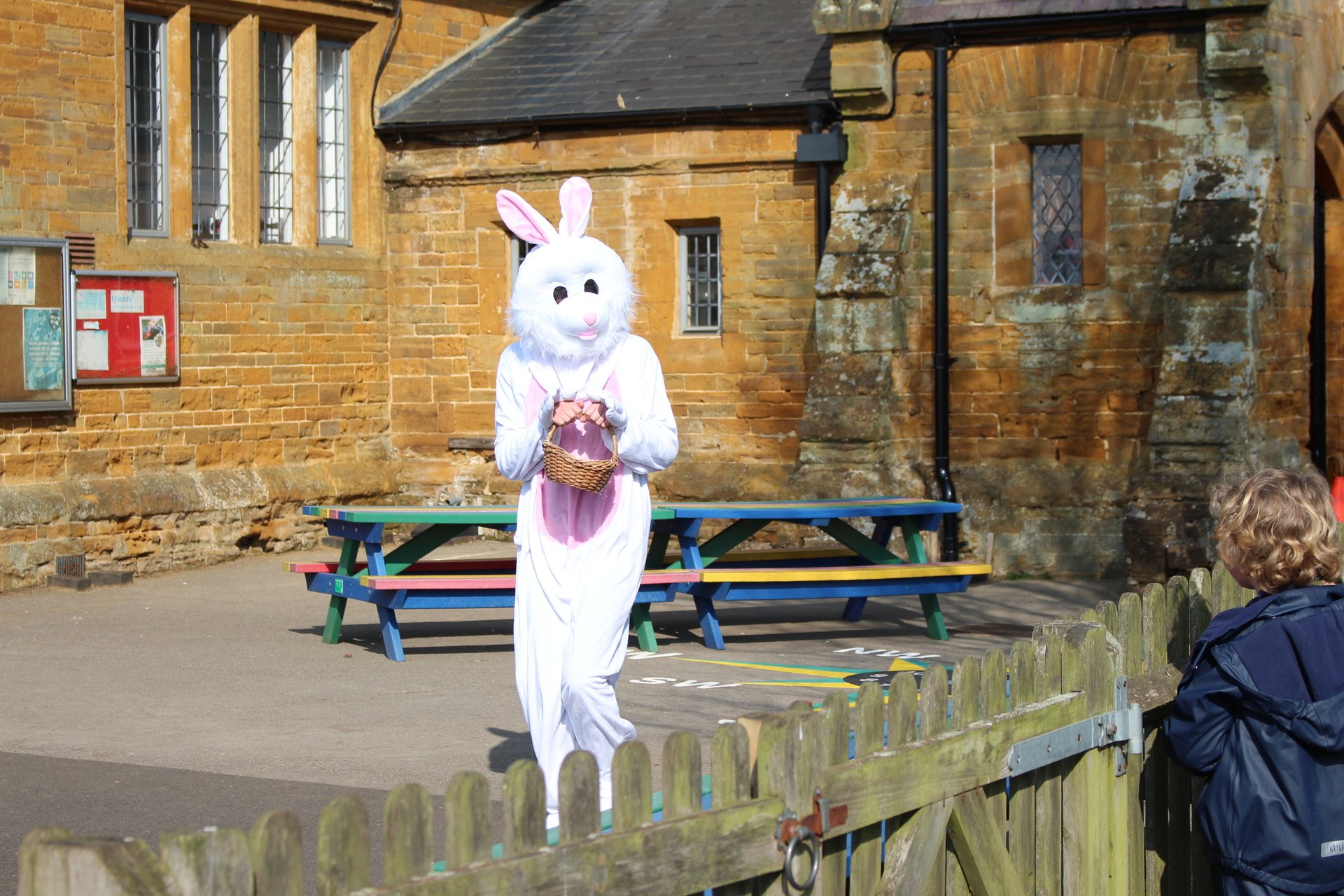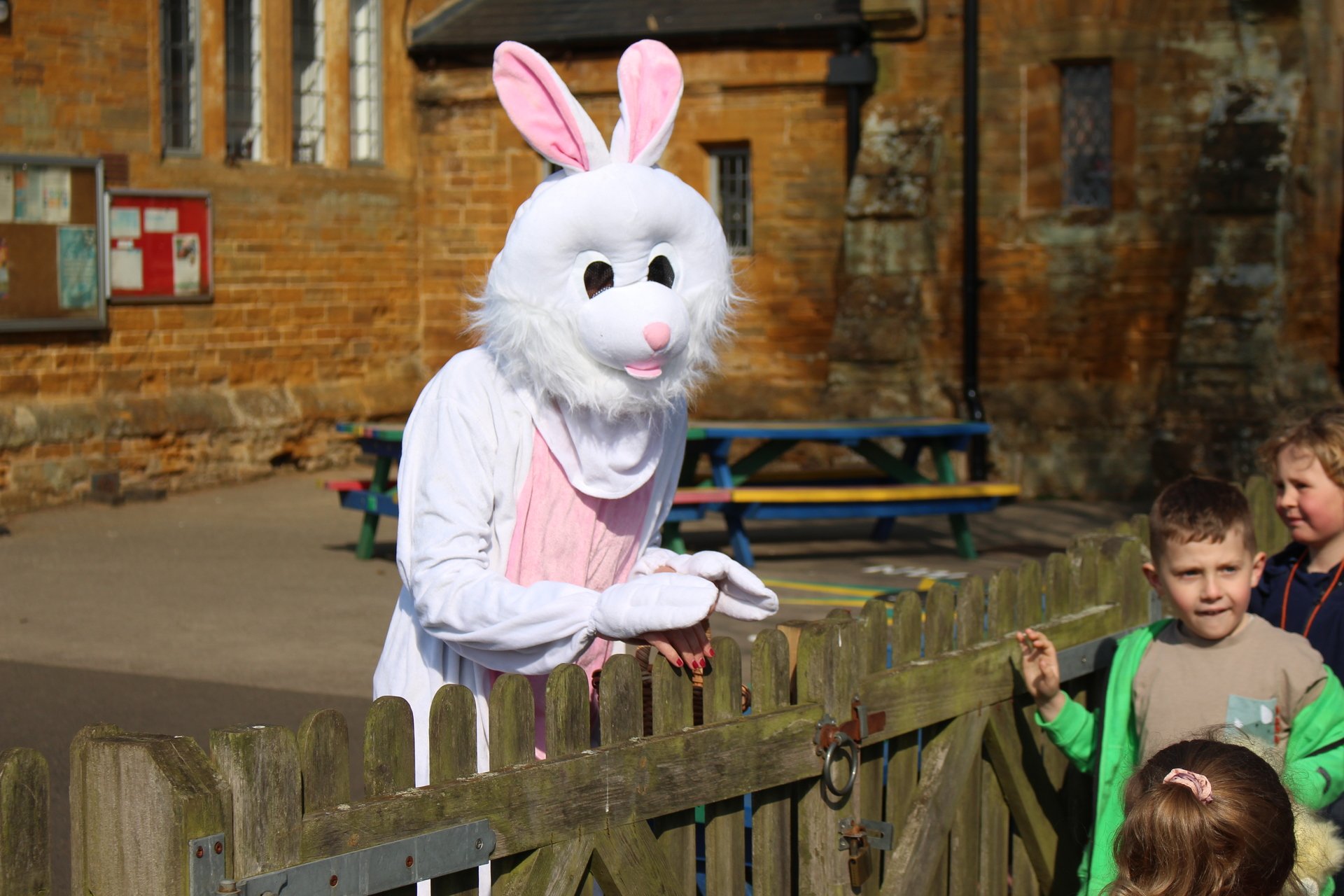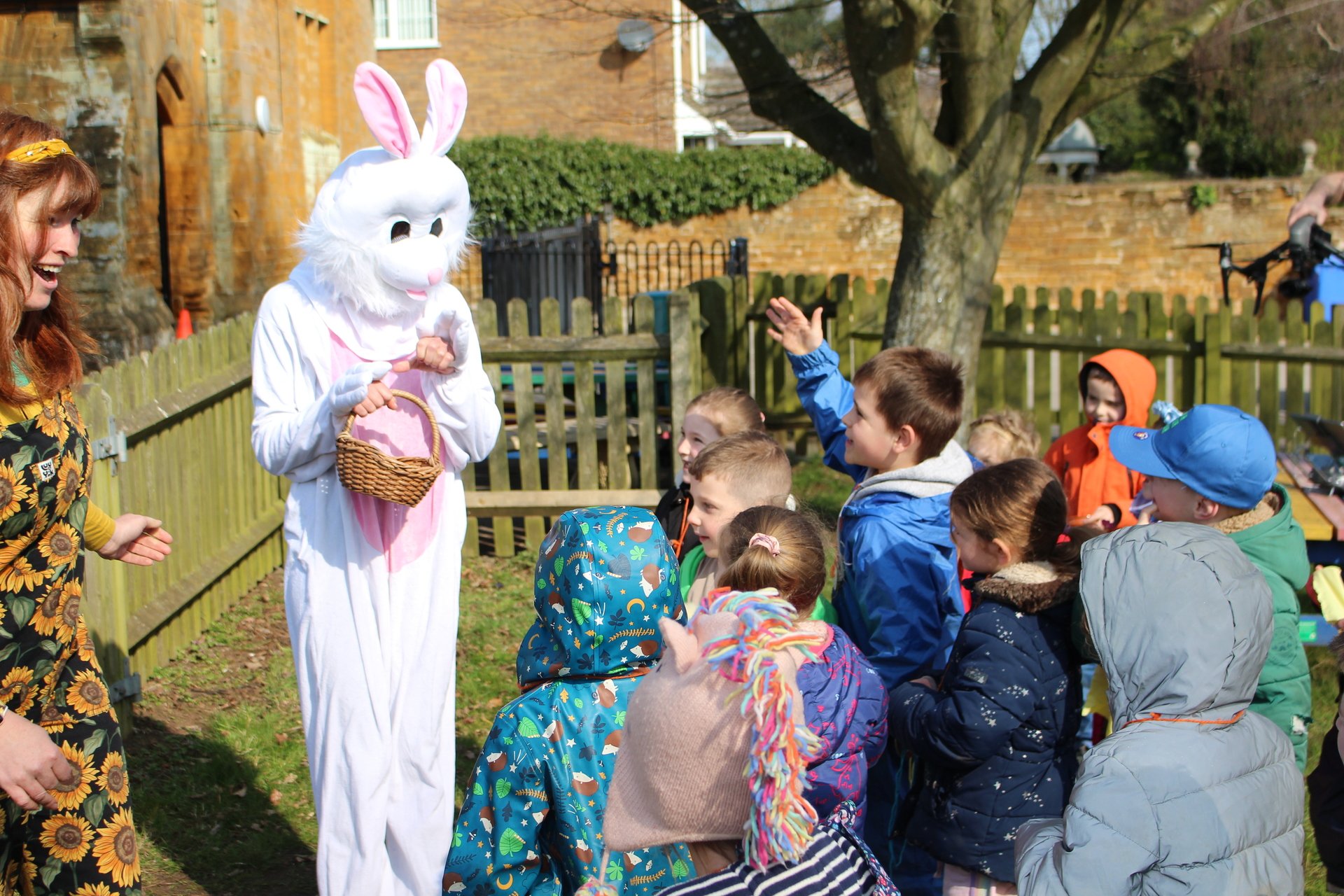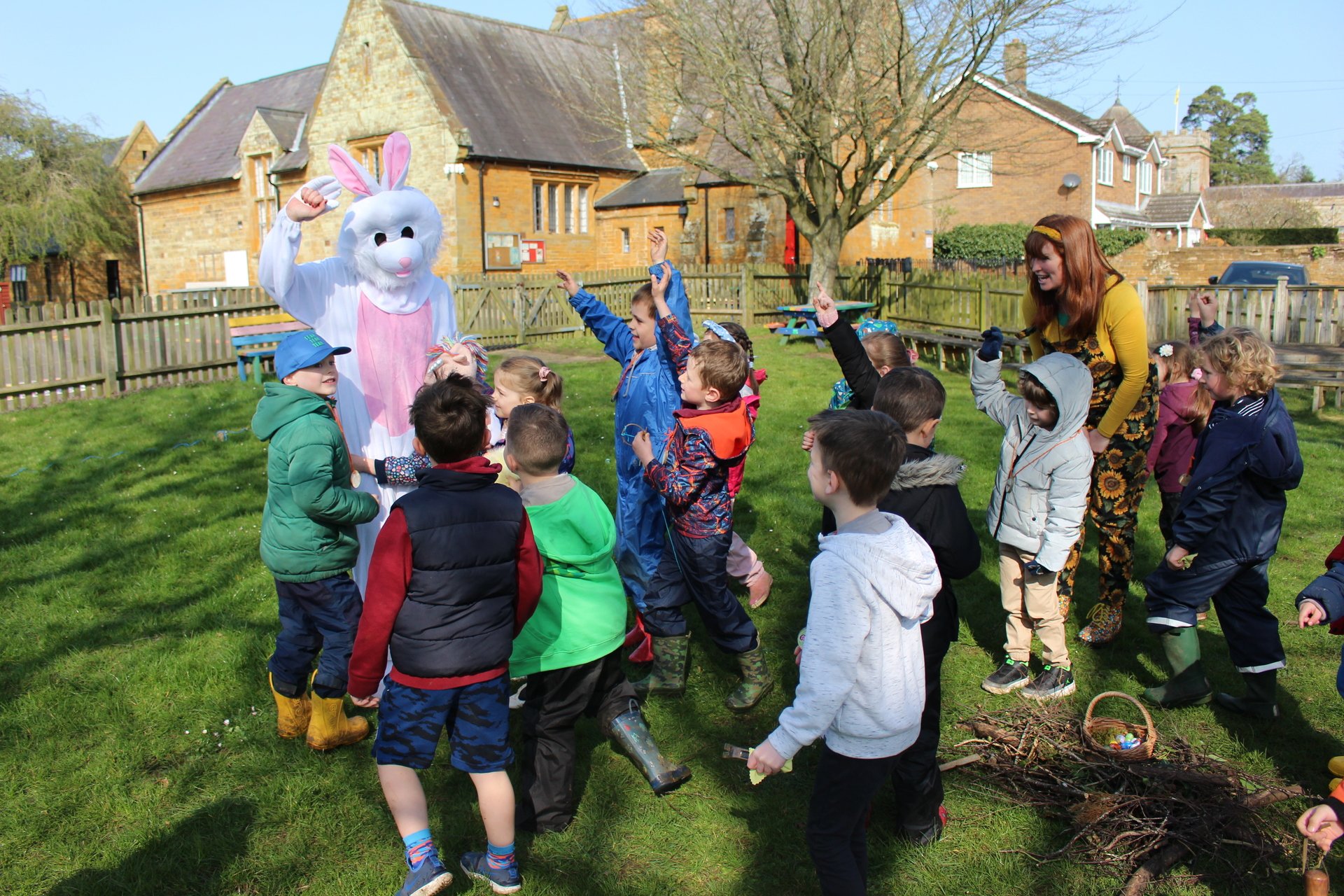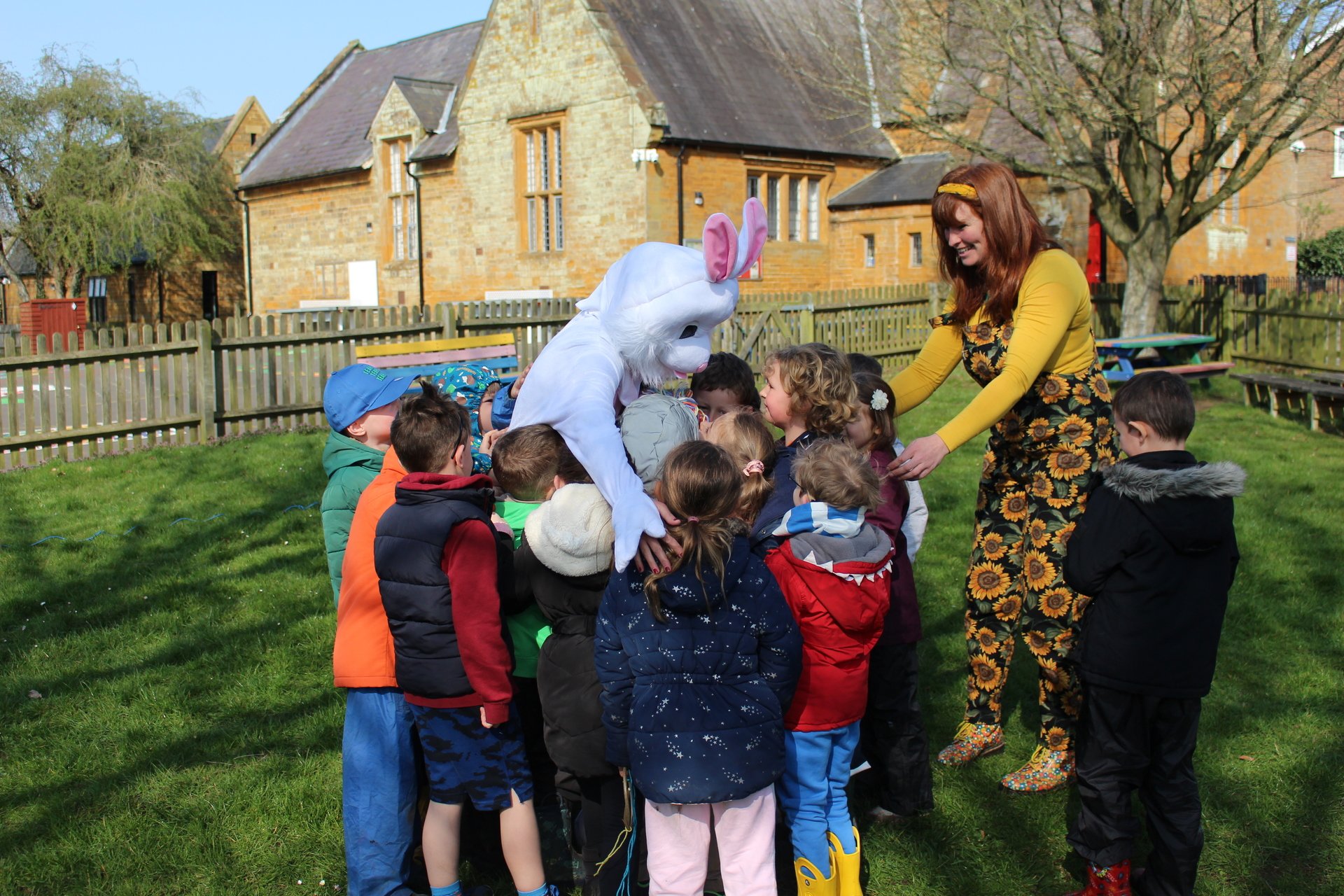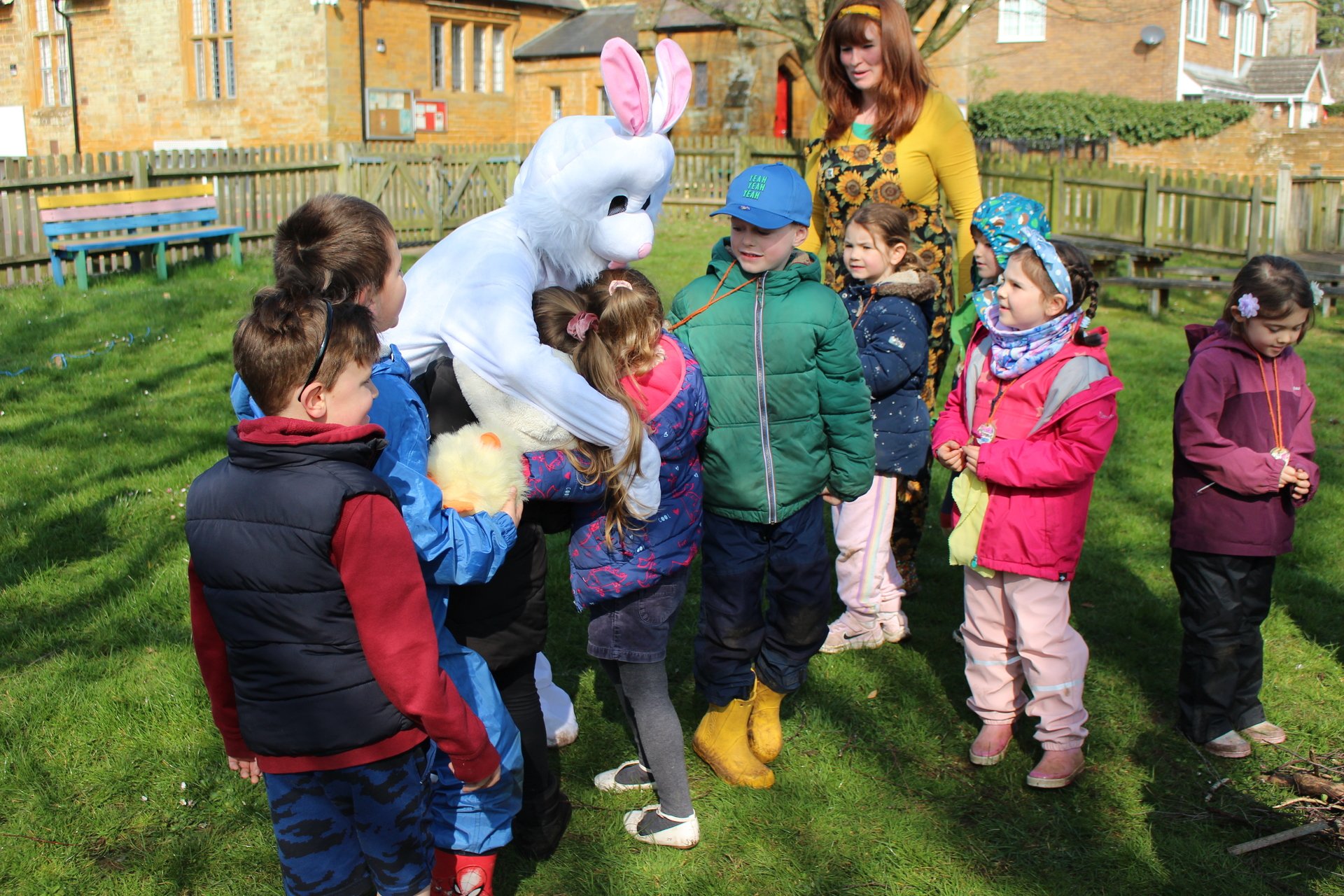 First Access Strings Performance
On Monday 28th March 2022, our Year 4 & 5 pupils gave parents a strings performance, to demonstrate what they have been learning with Mrs Cliffe over the last ten weeks. They have been learning to play the violin and cello as part of the First Access project provided by Northamptonshire Music and Performing Arts Trust.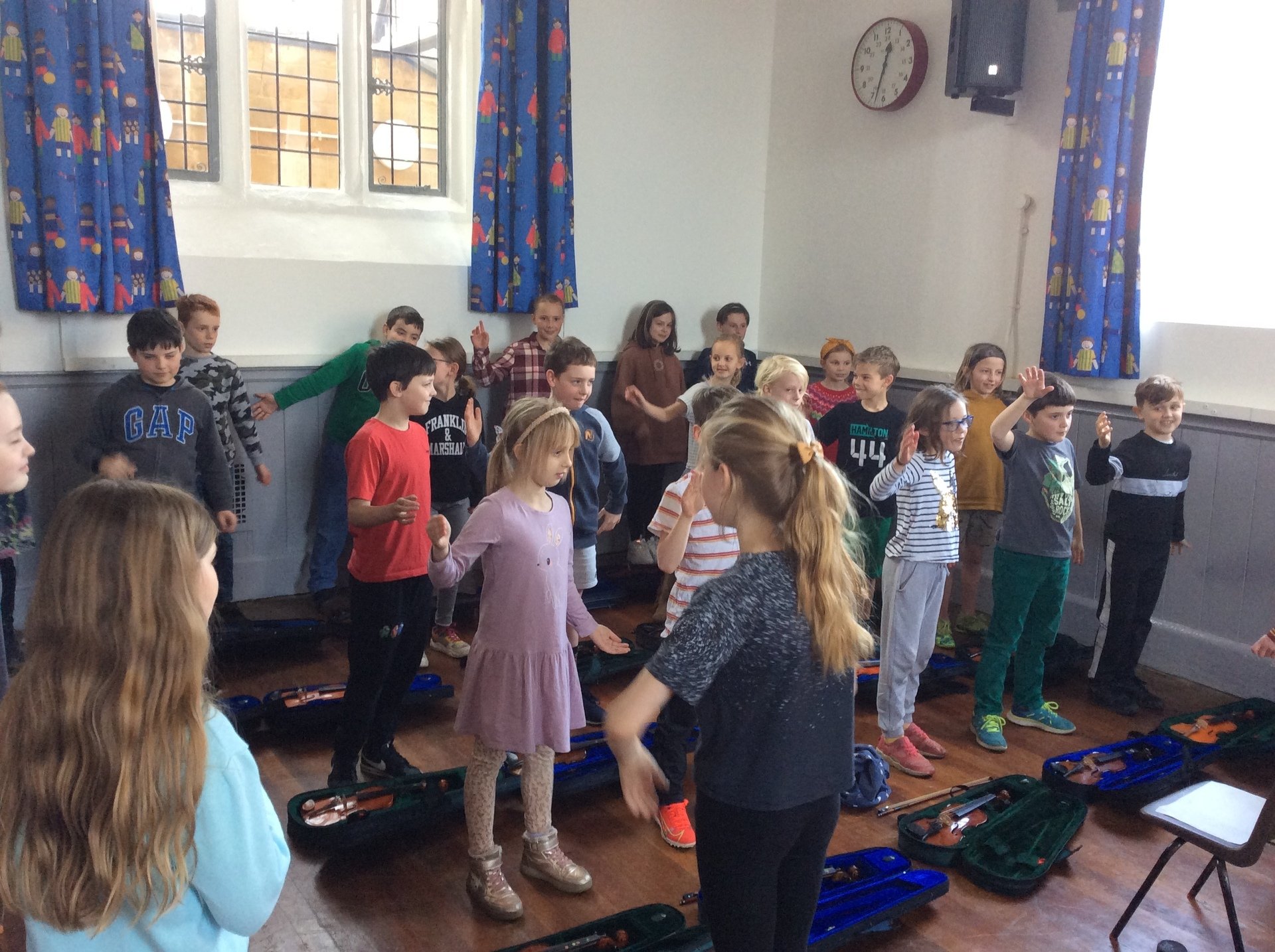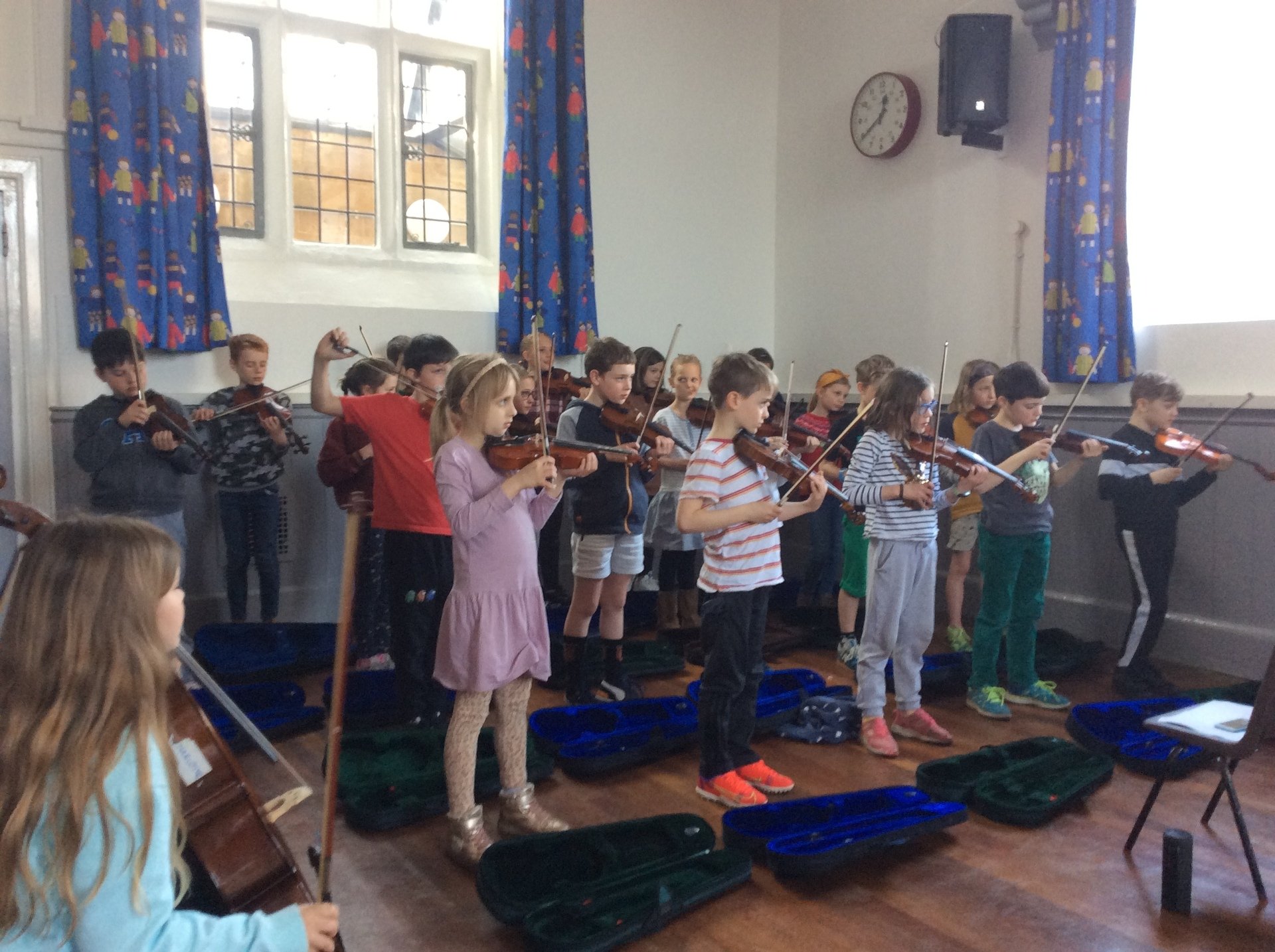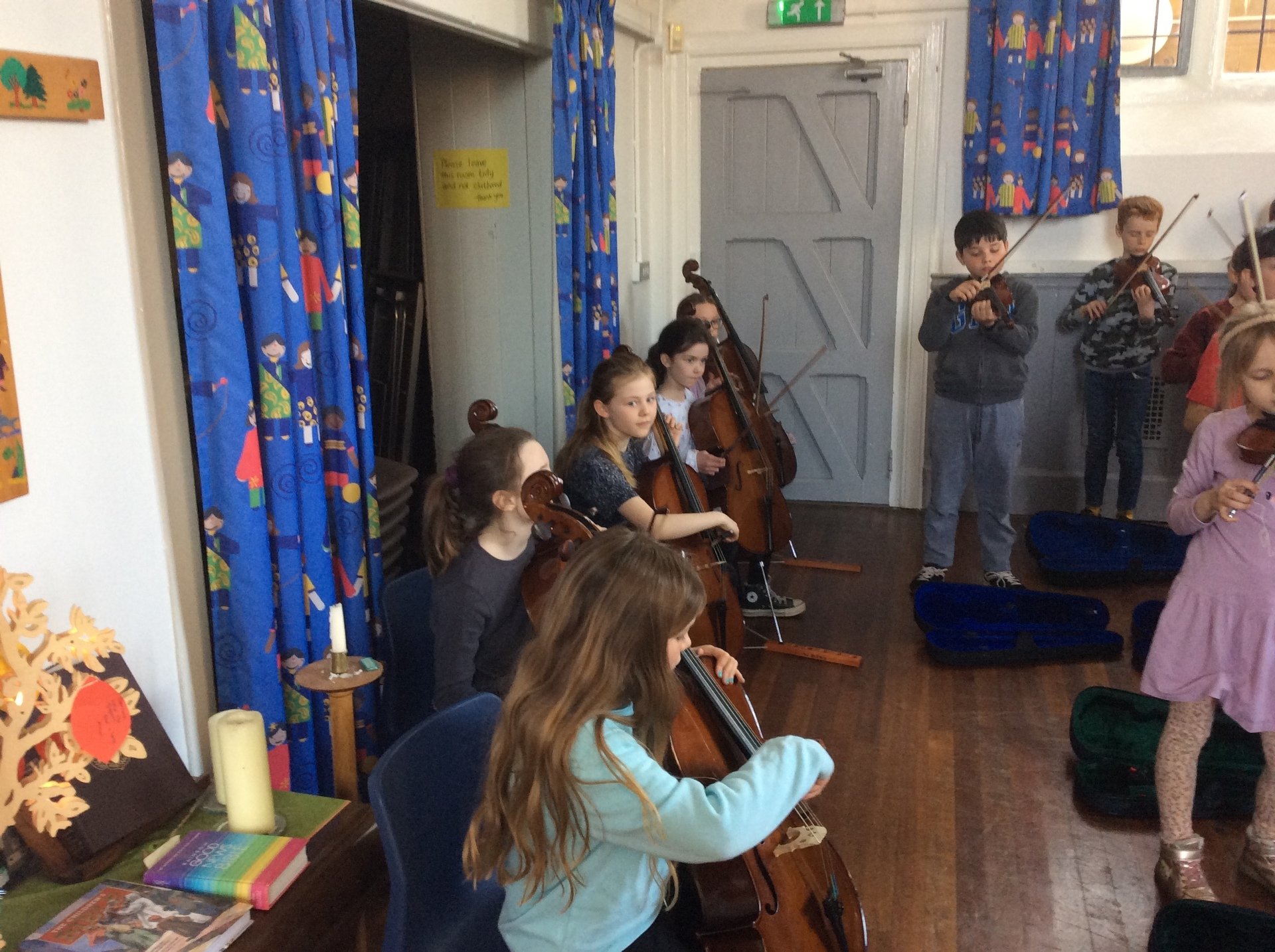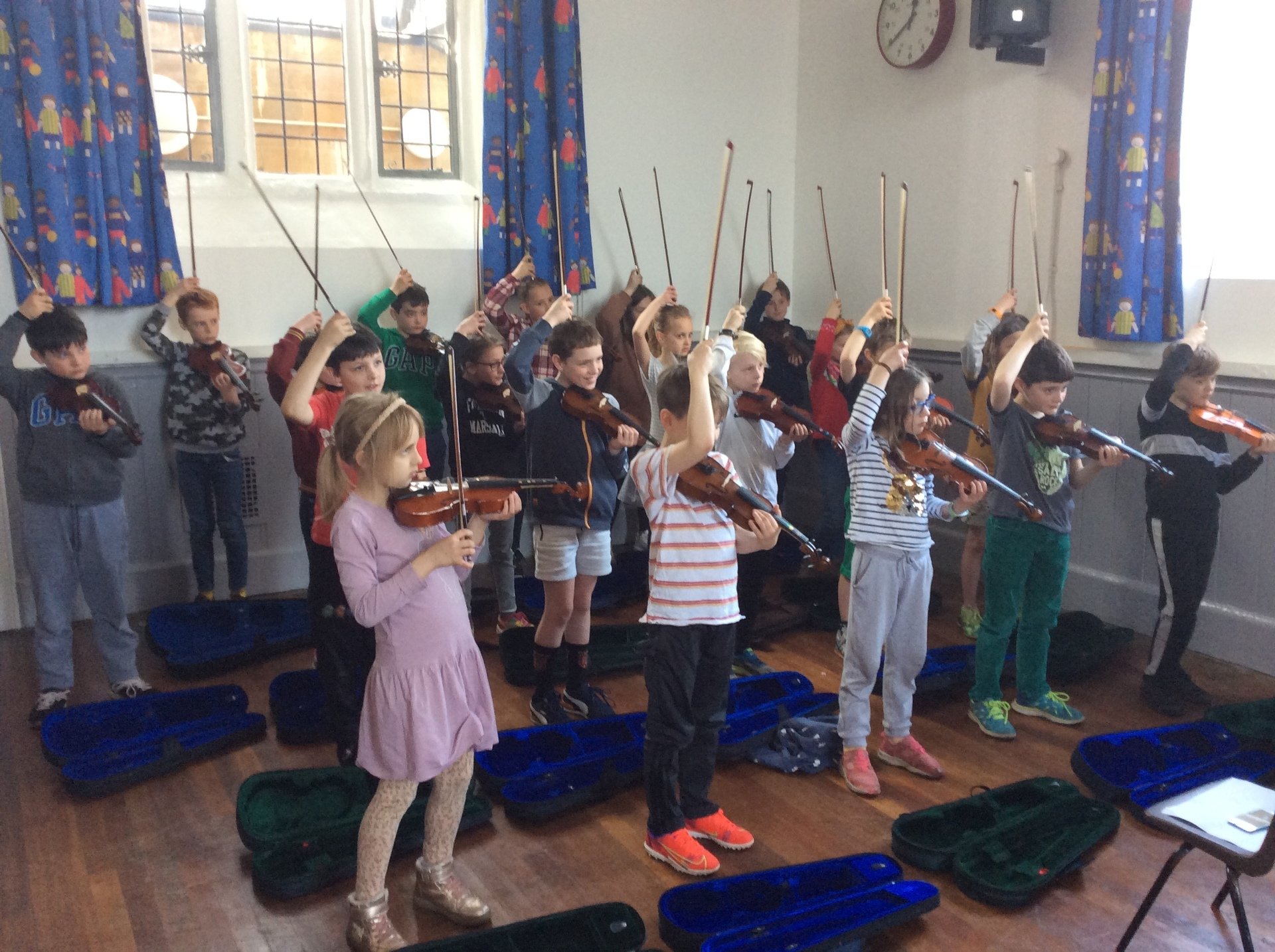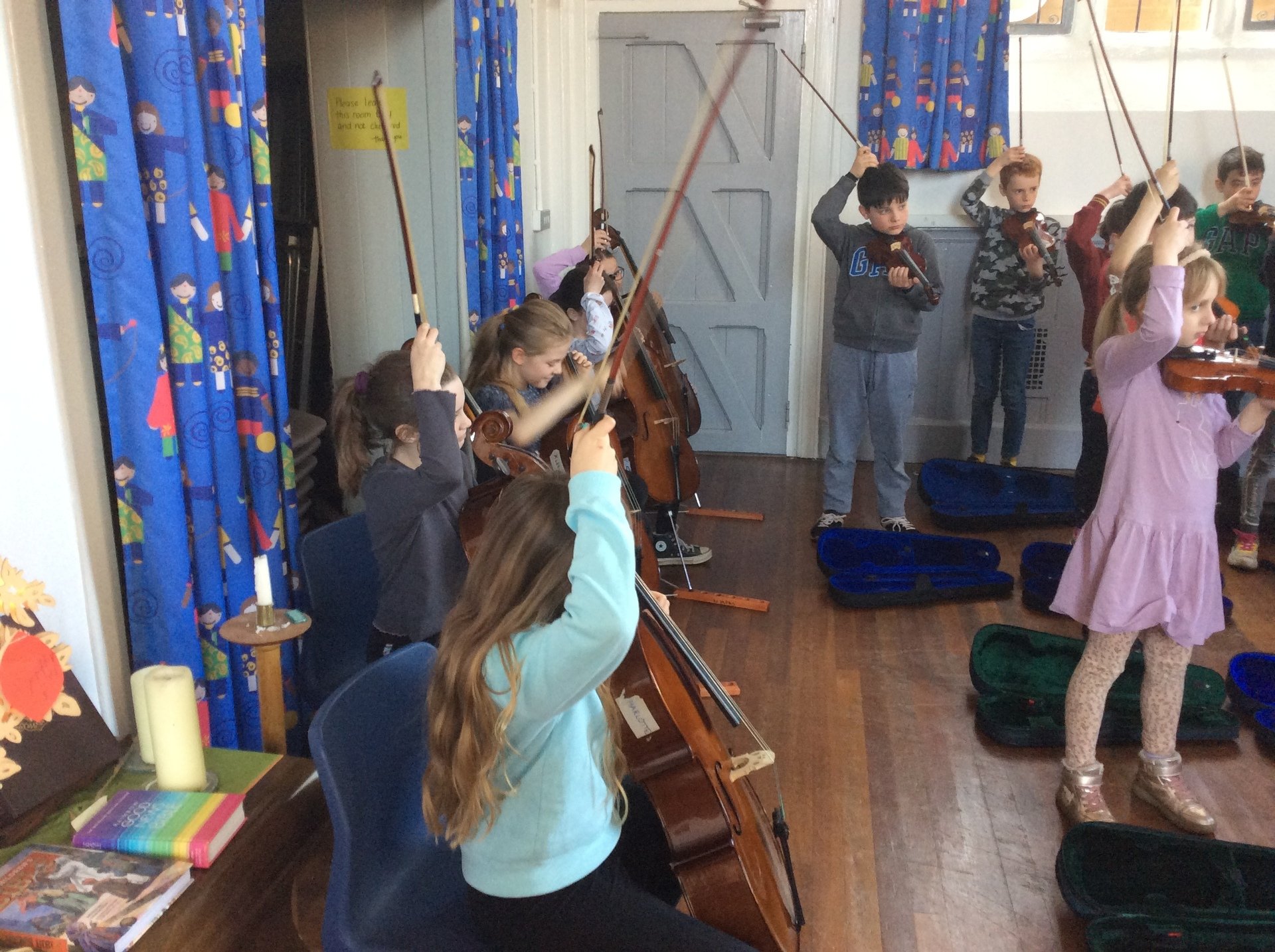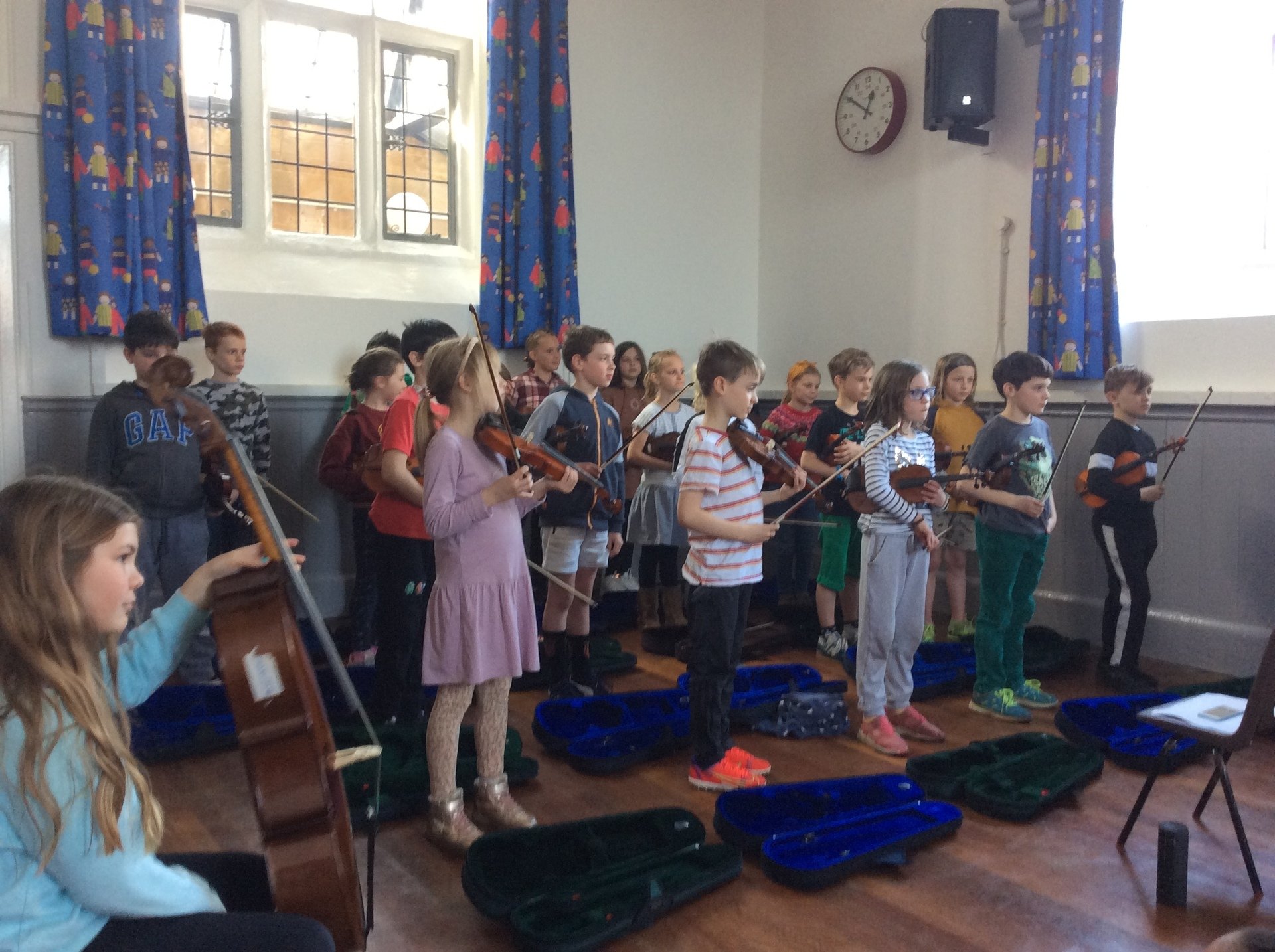 Our Hindu Day
On Thursday 24th March 2022, Sunita Prasad joined us for the day, and led a carousel of activities for the children, to help them explore Hindu culture. The children enjoyed dressing up in traditional Indian clothes and jewellery, made rangoli patterns with sand, looked at a range of ornaments, both decorative and religious, and tried a range of Indian musical instruments. Year 6 then looked at a deeper meaning of God in Hinduism (Parmatma - a term used to talk about God). Year 4 and 5 looked at some of the most prominent gods in Hinduism: Ganesh, Brahma, Shiva, Vishnu, Durge, Saraswati, Lakshmi, Ram and Krishna. Many thanks to Sunita for this most informative and enjoyable day.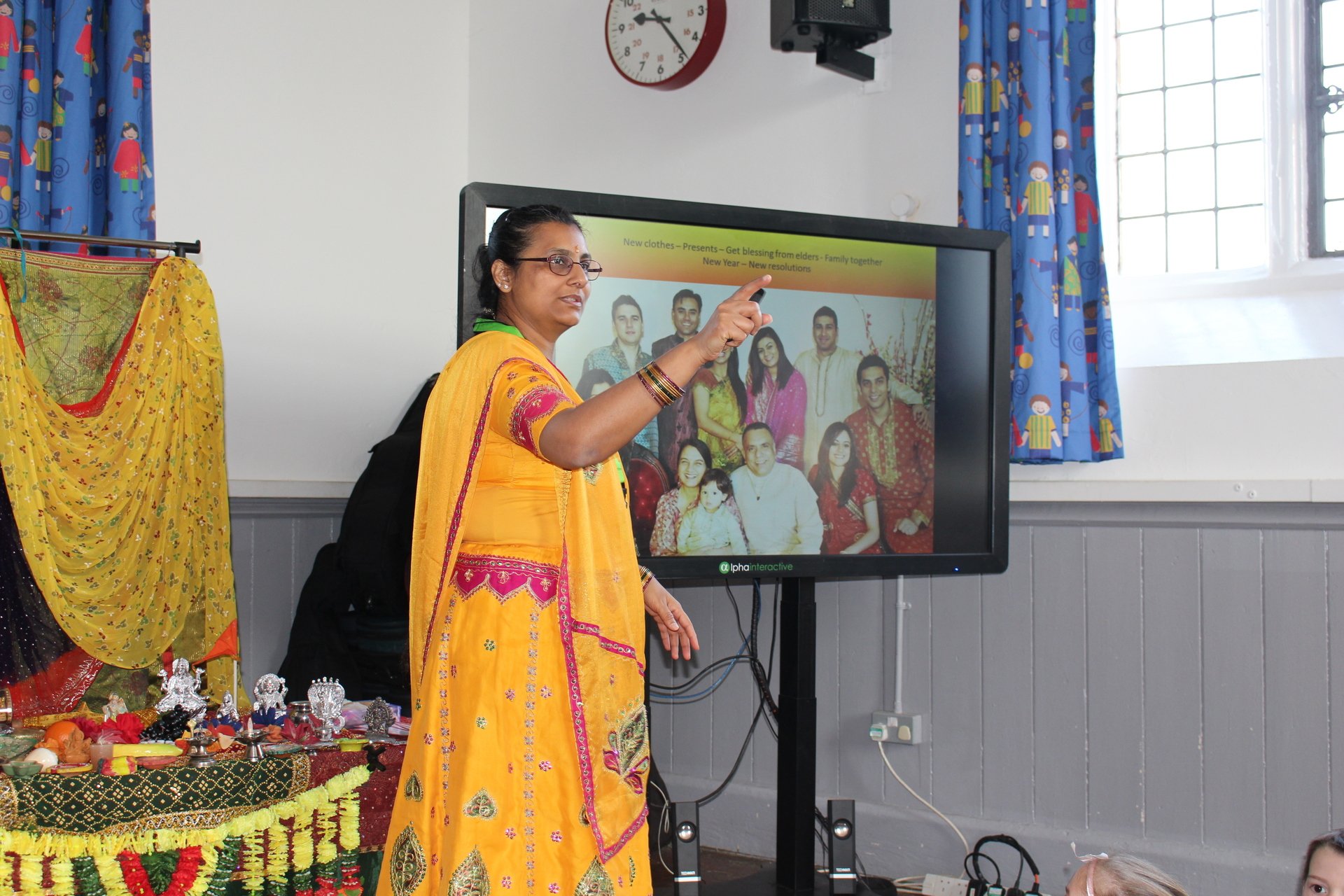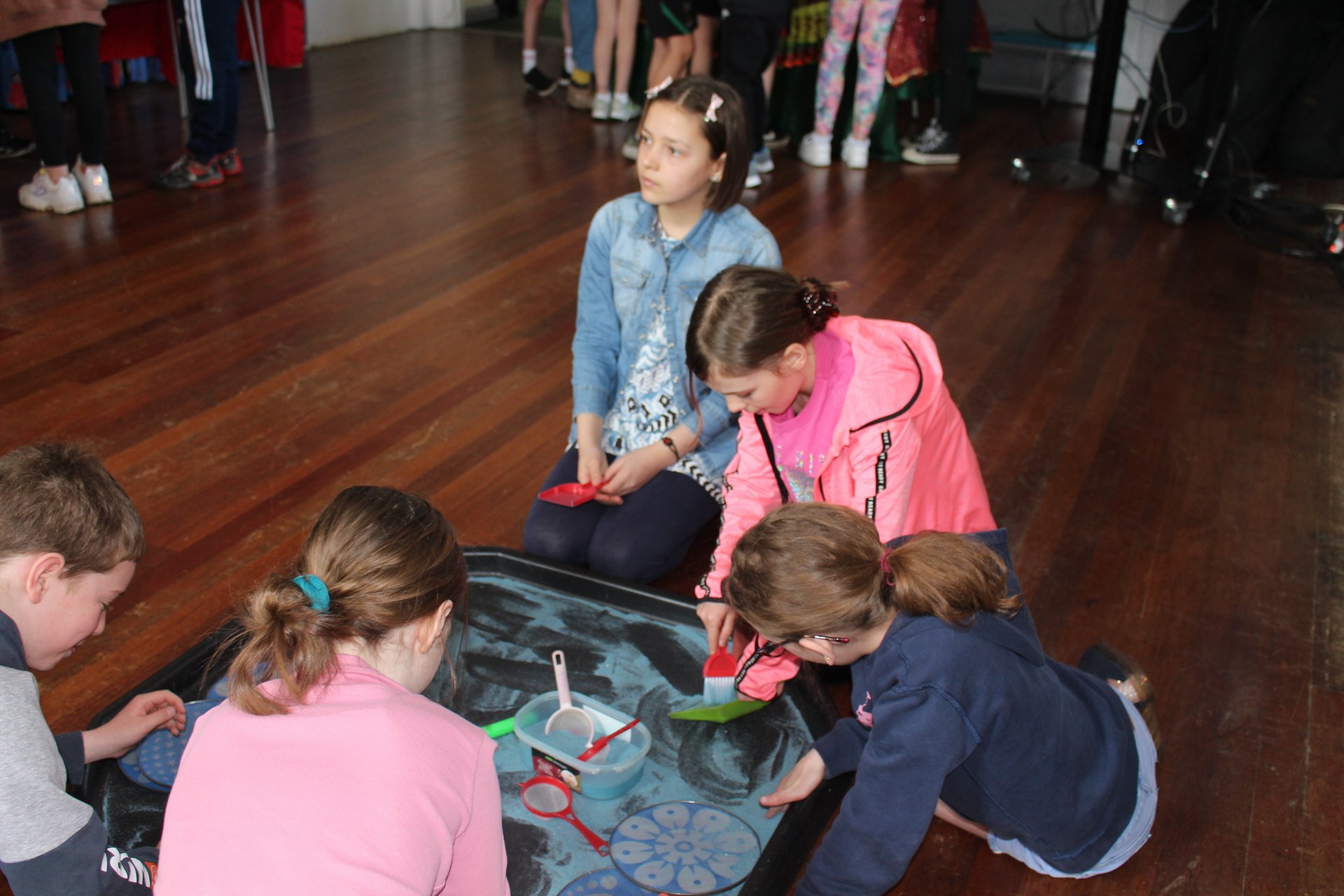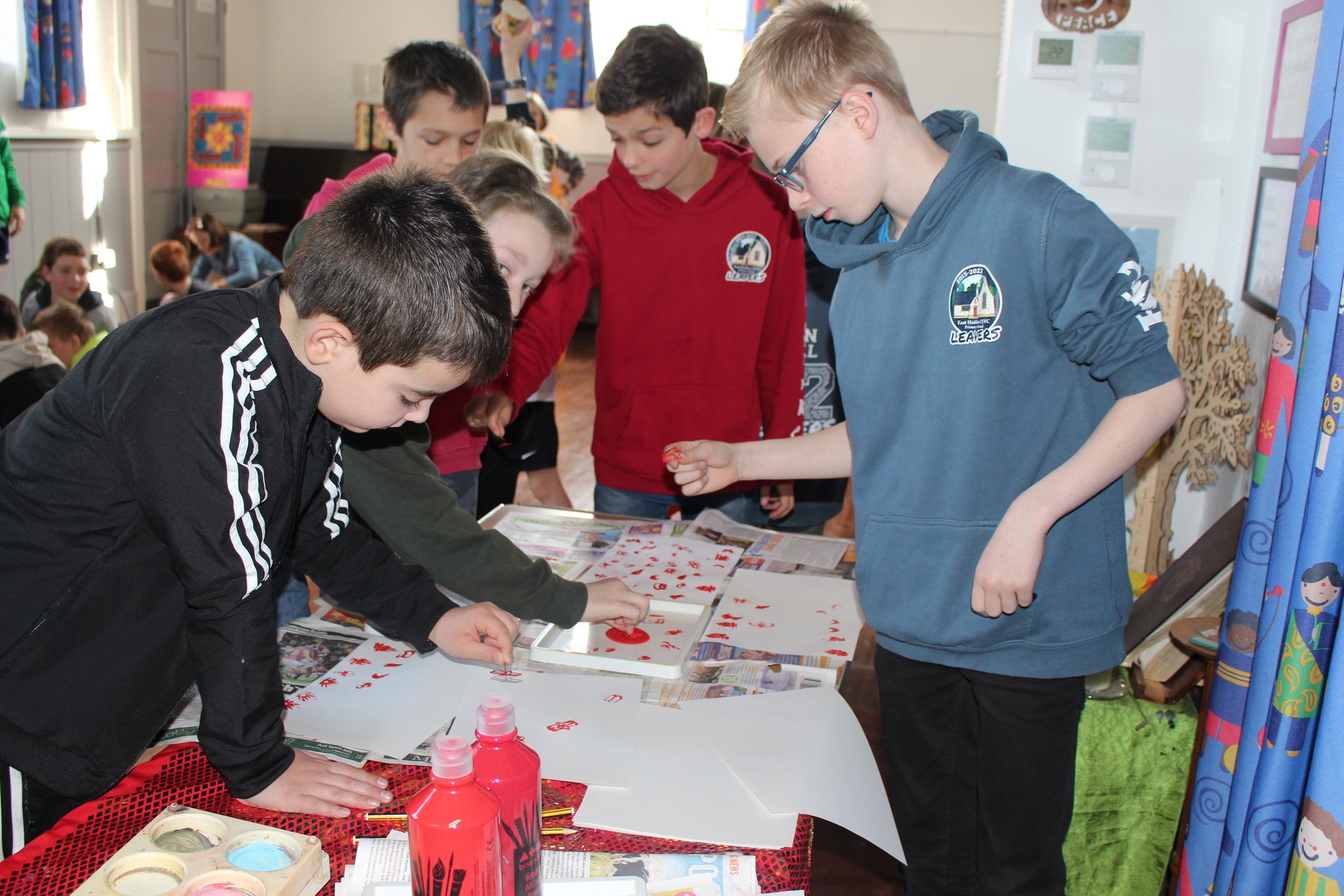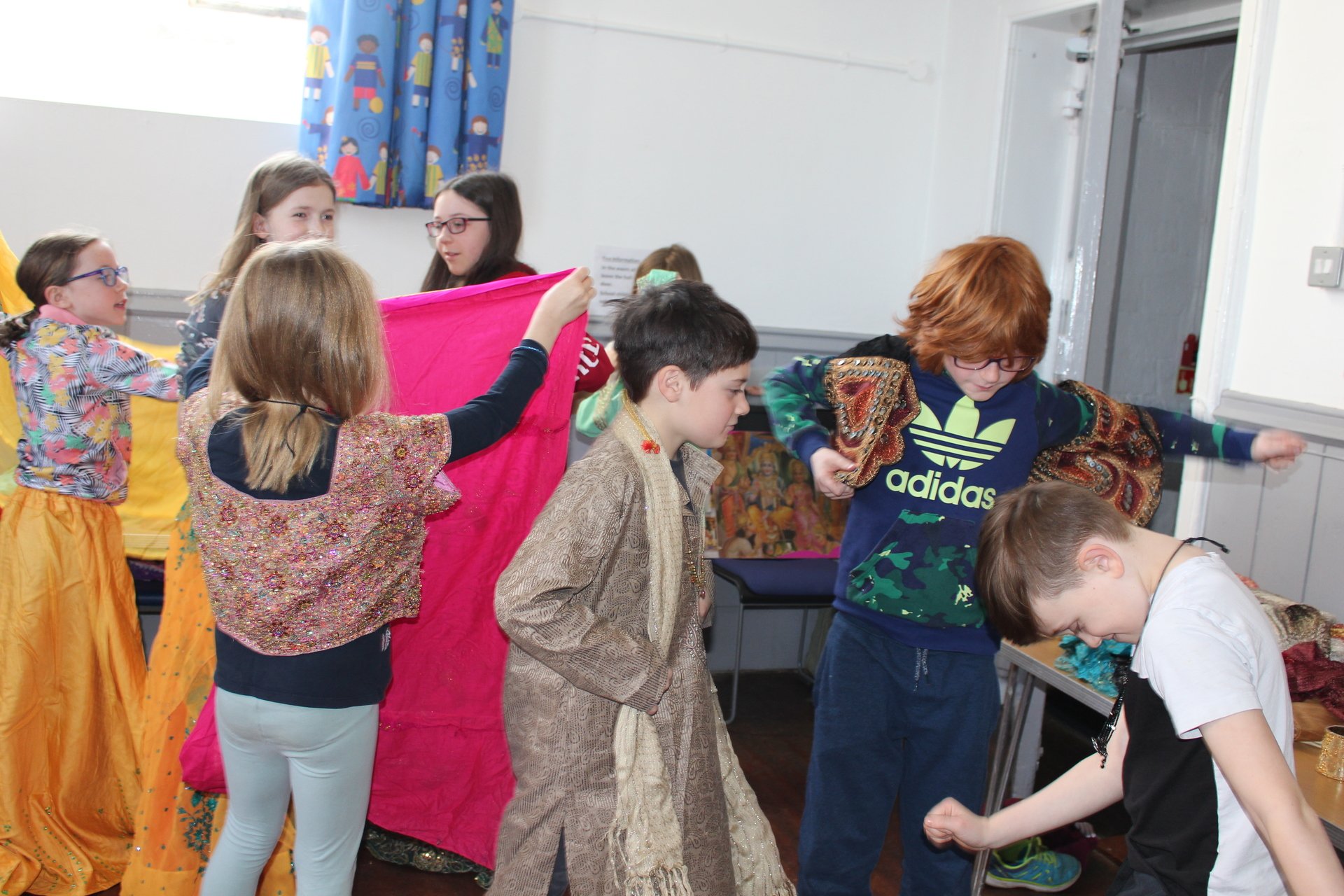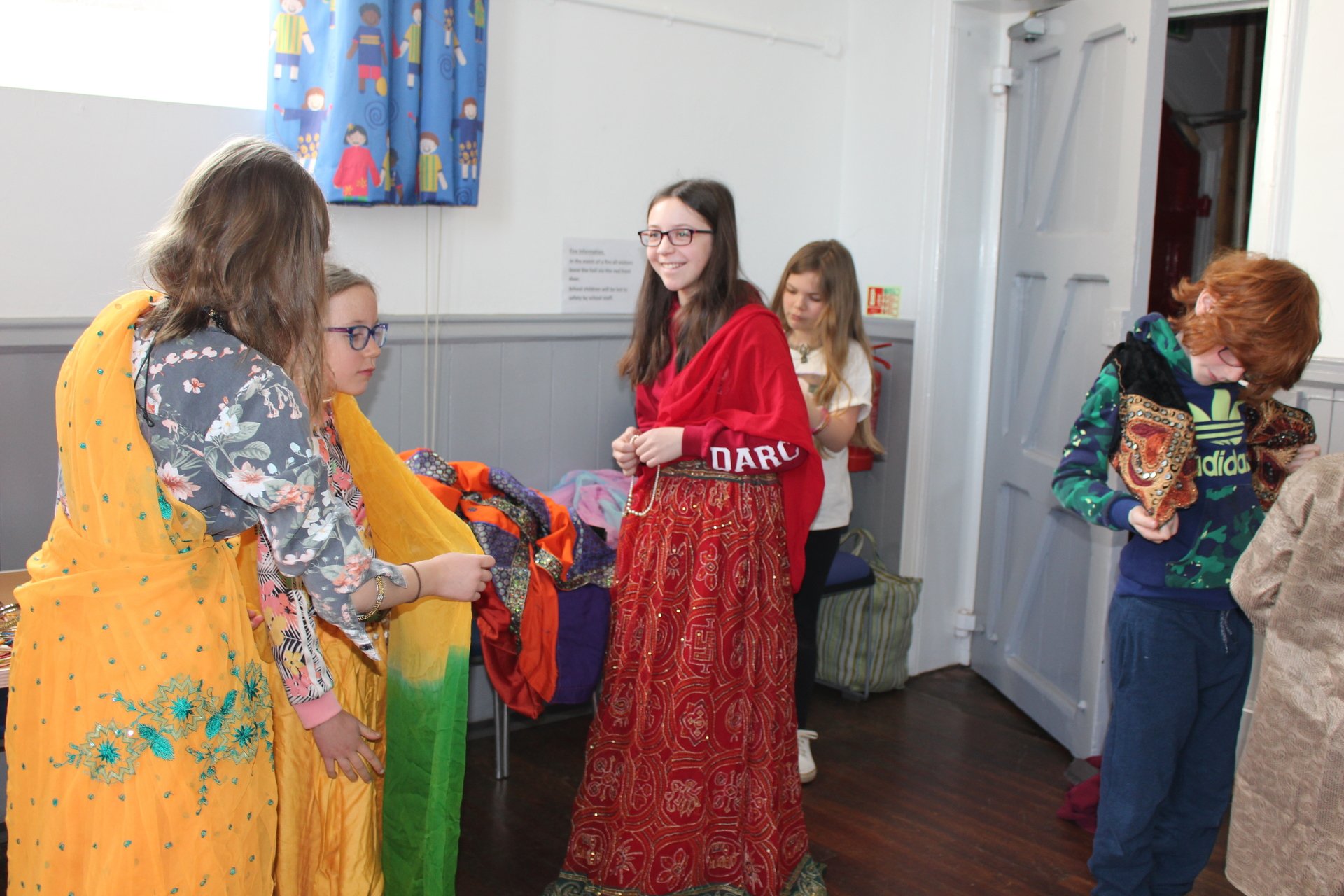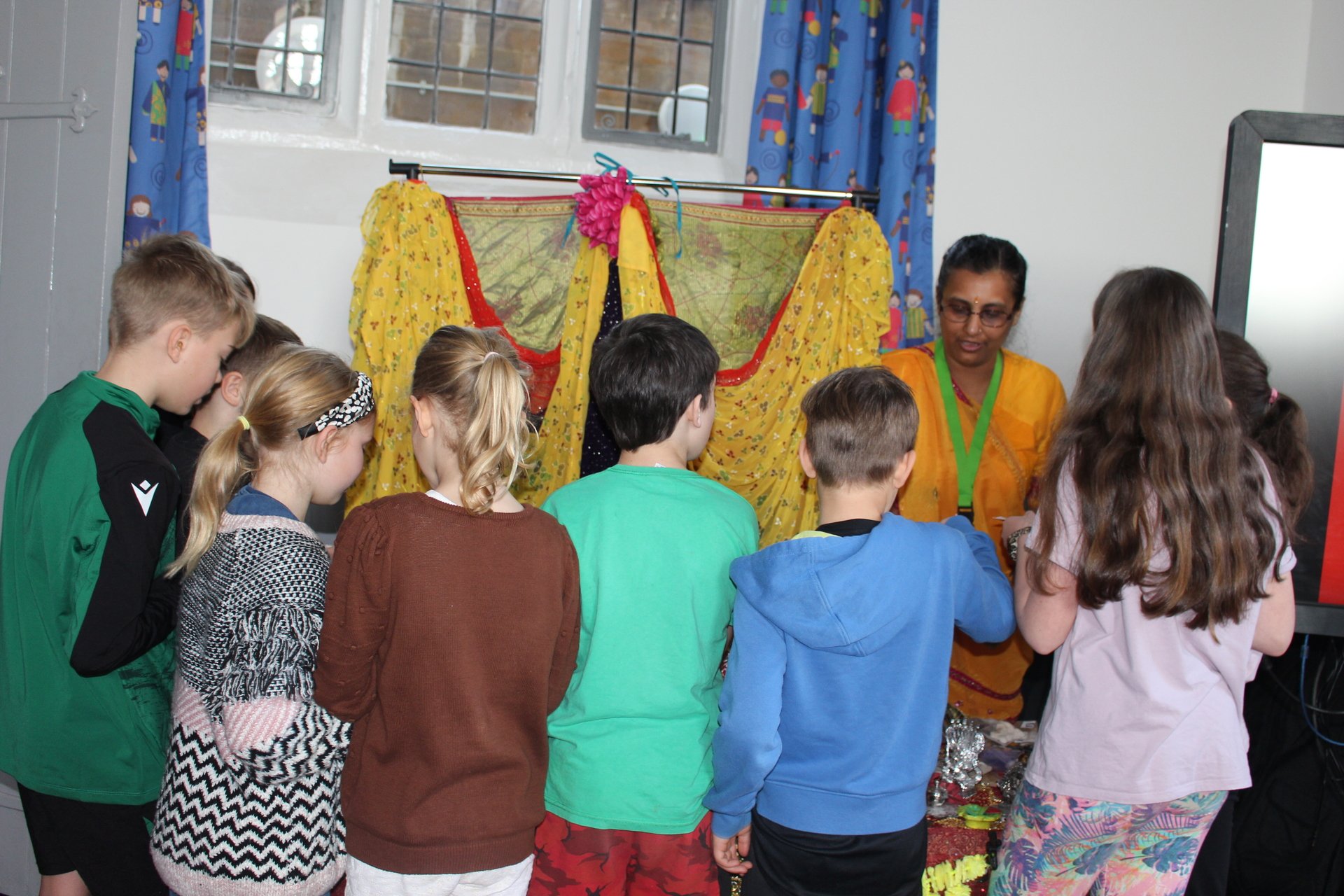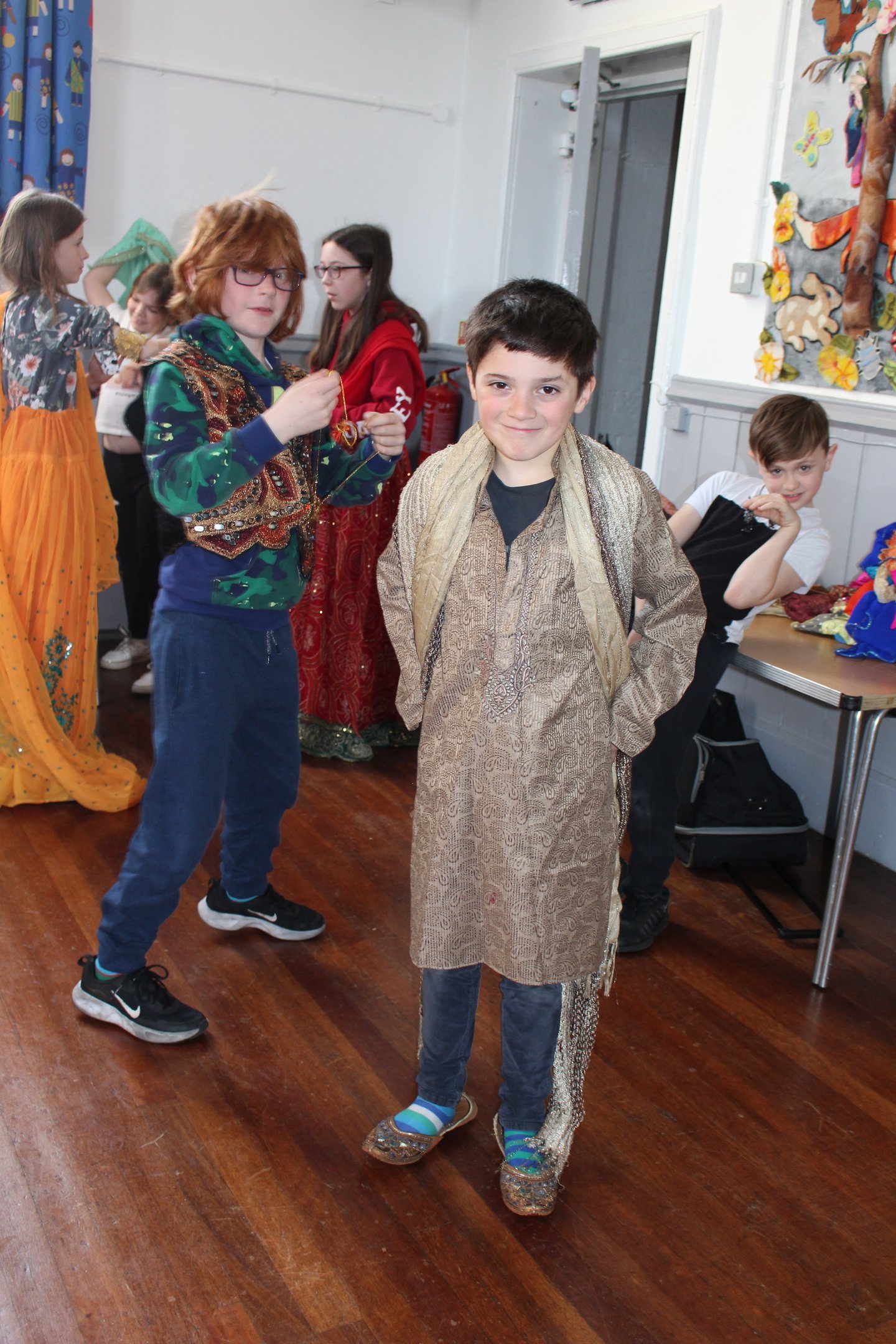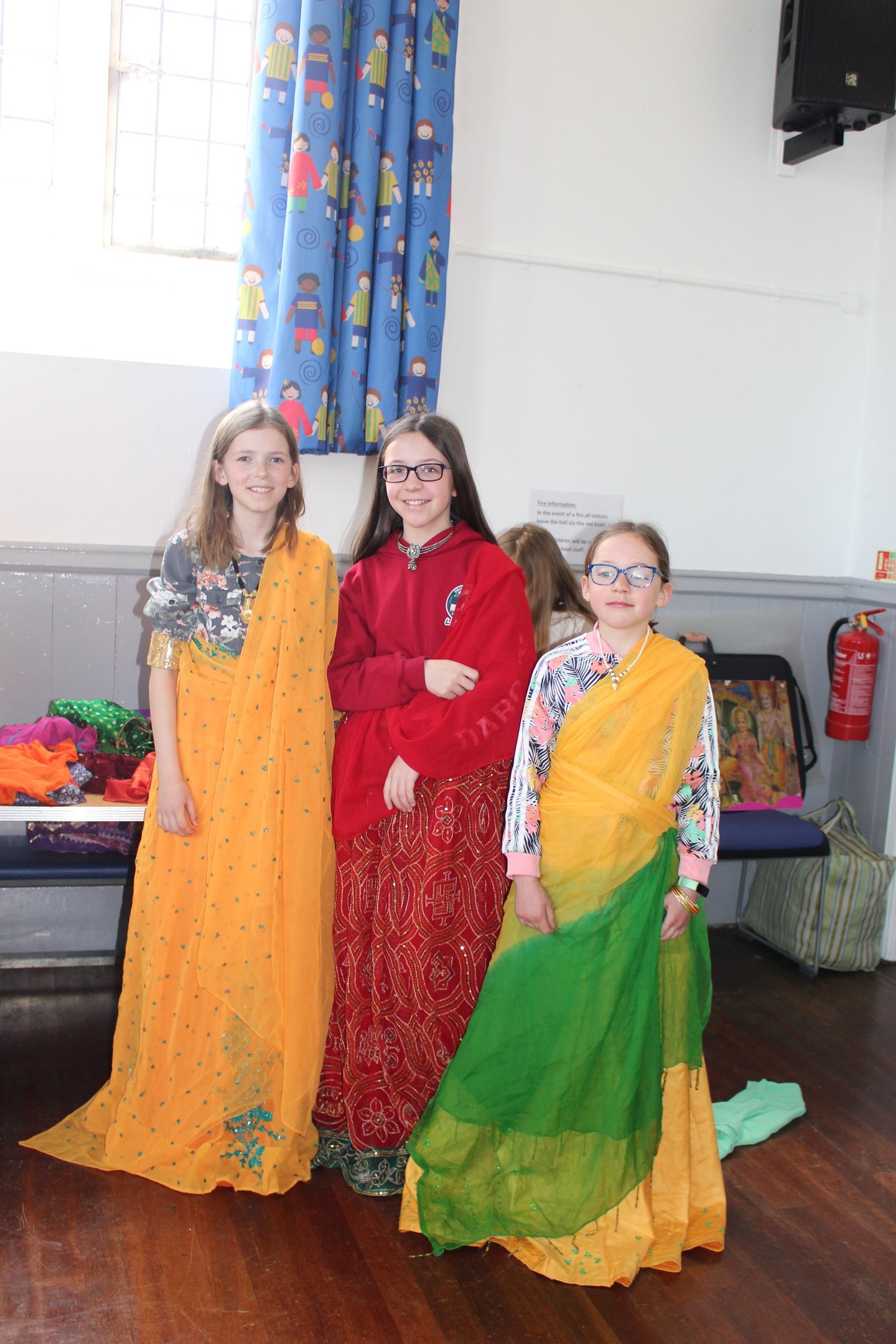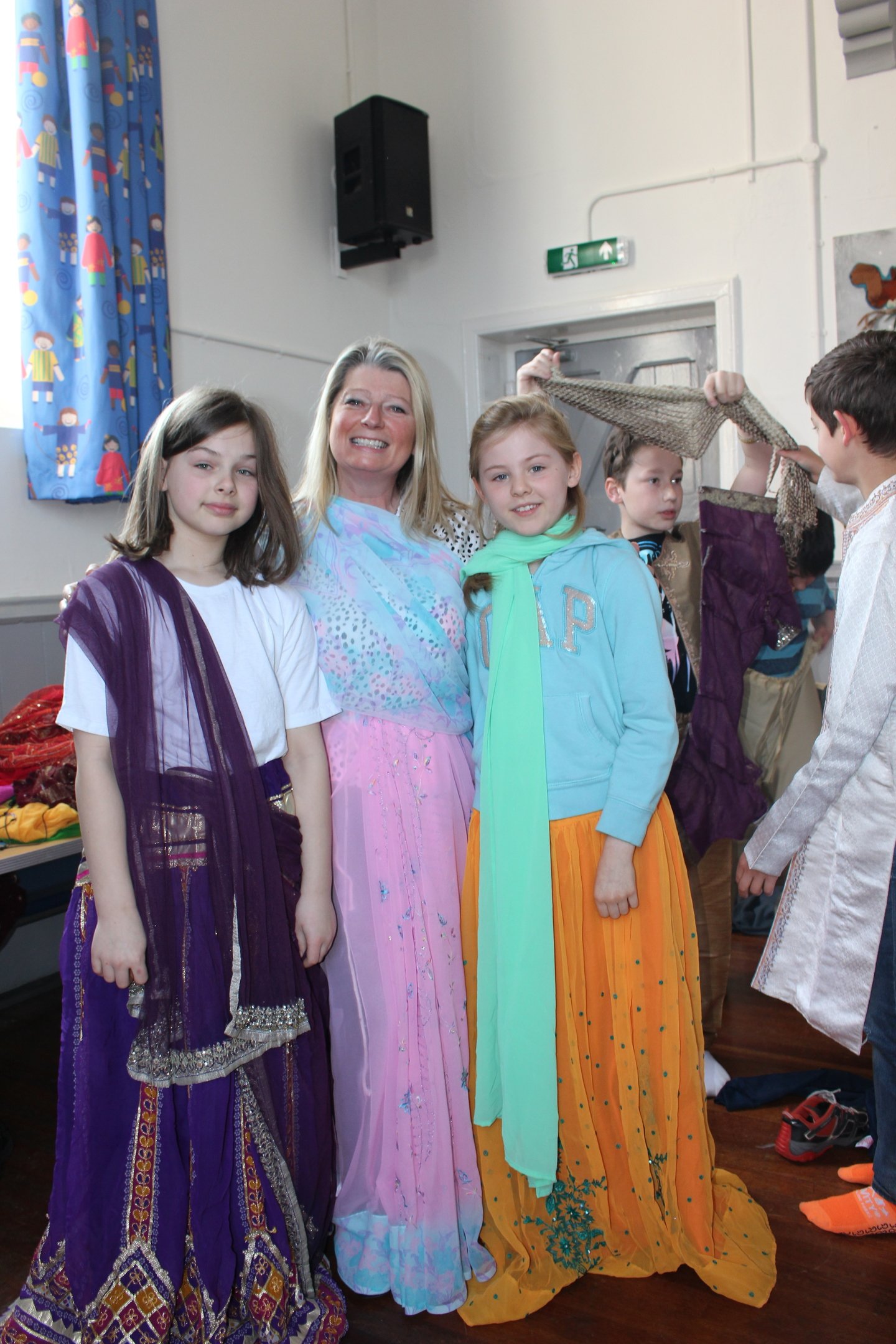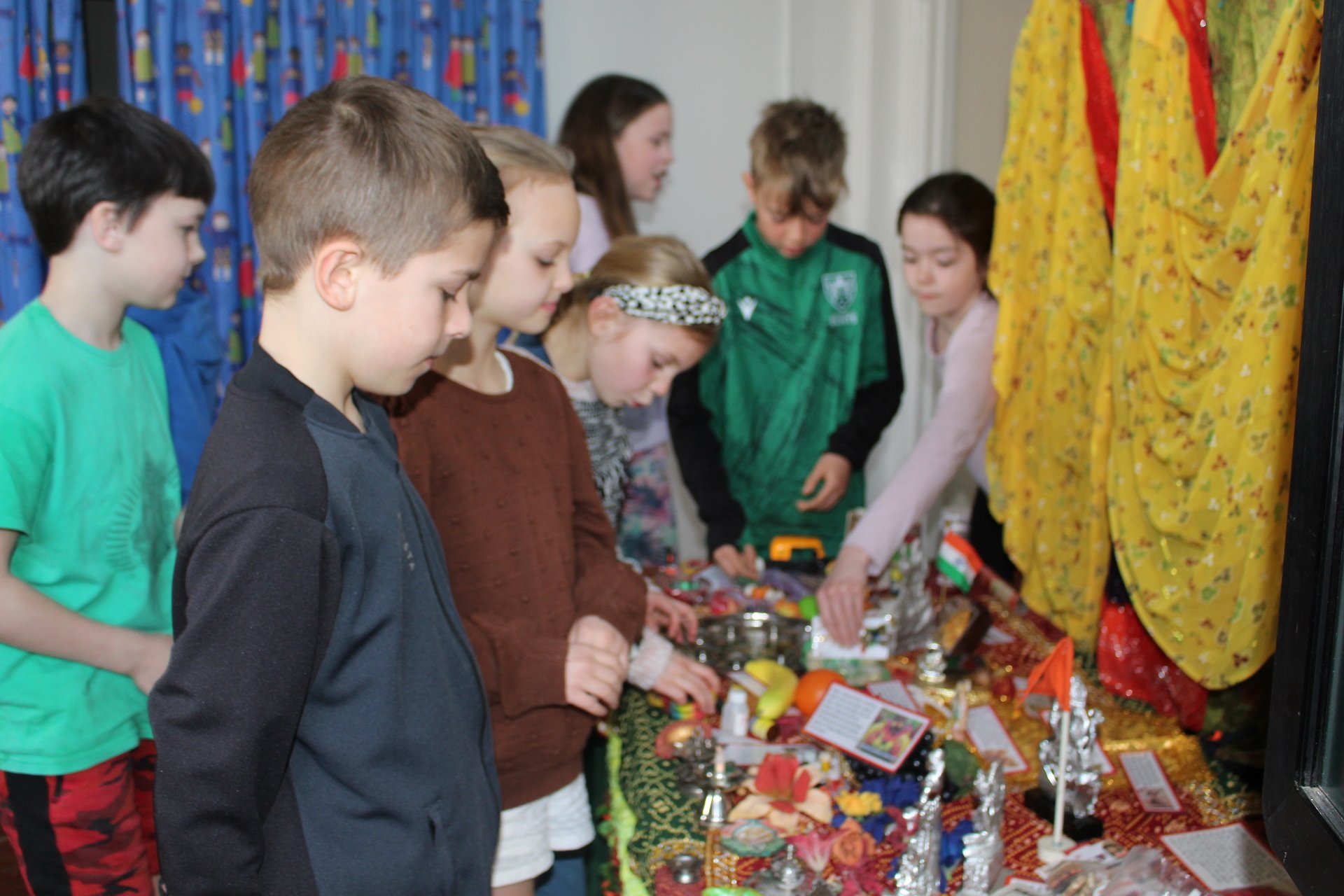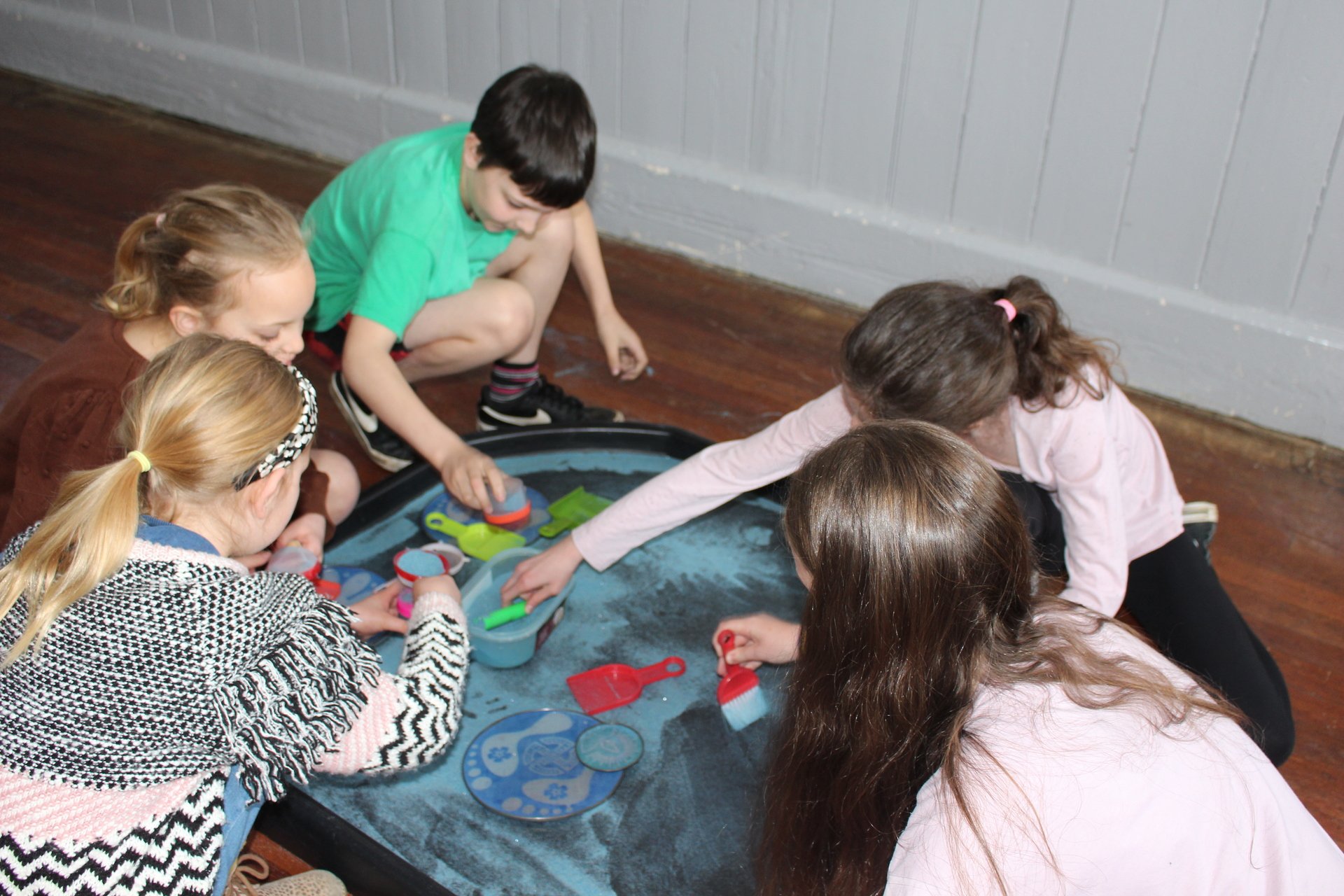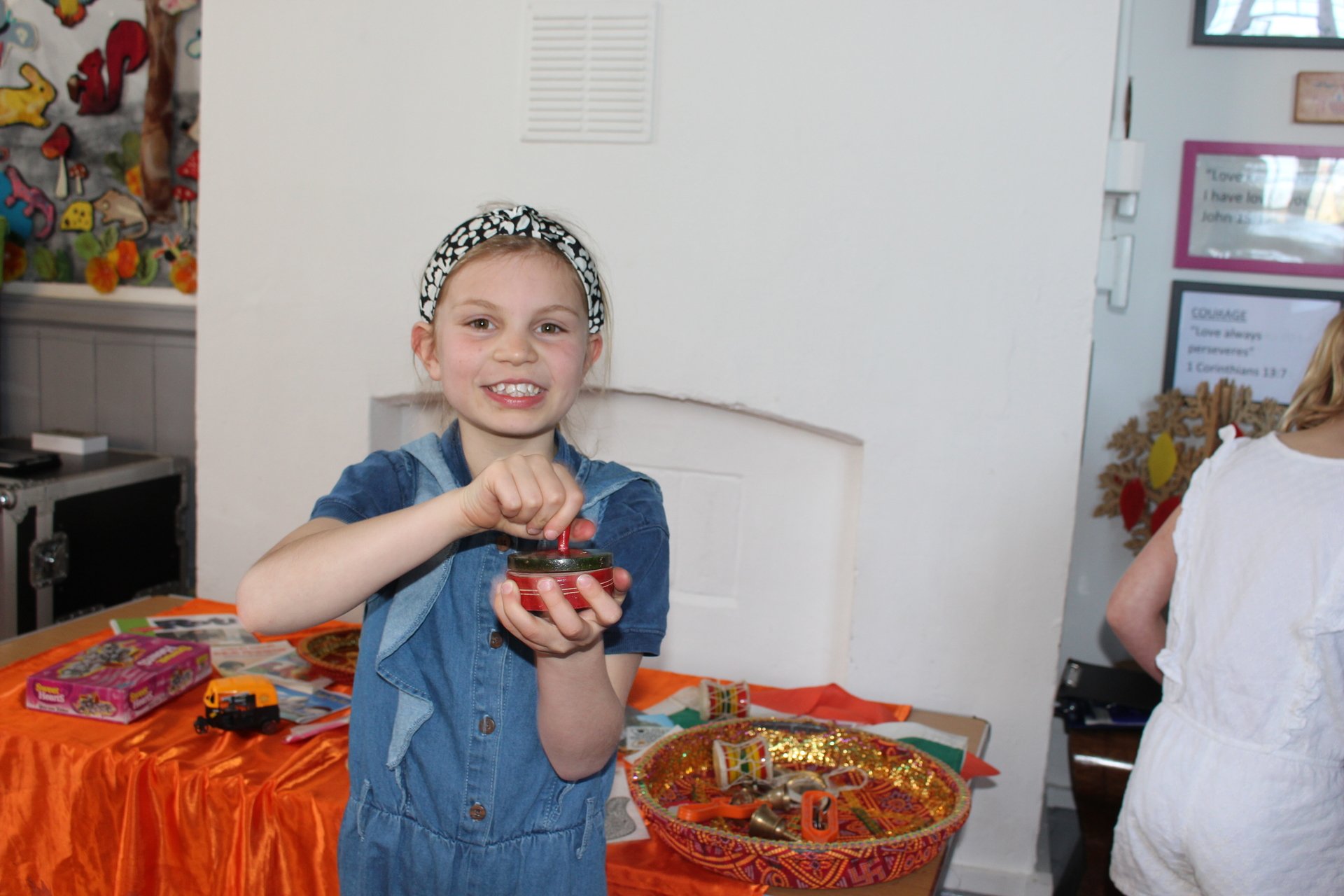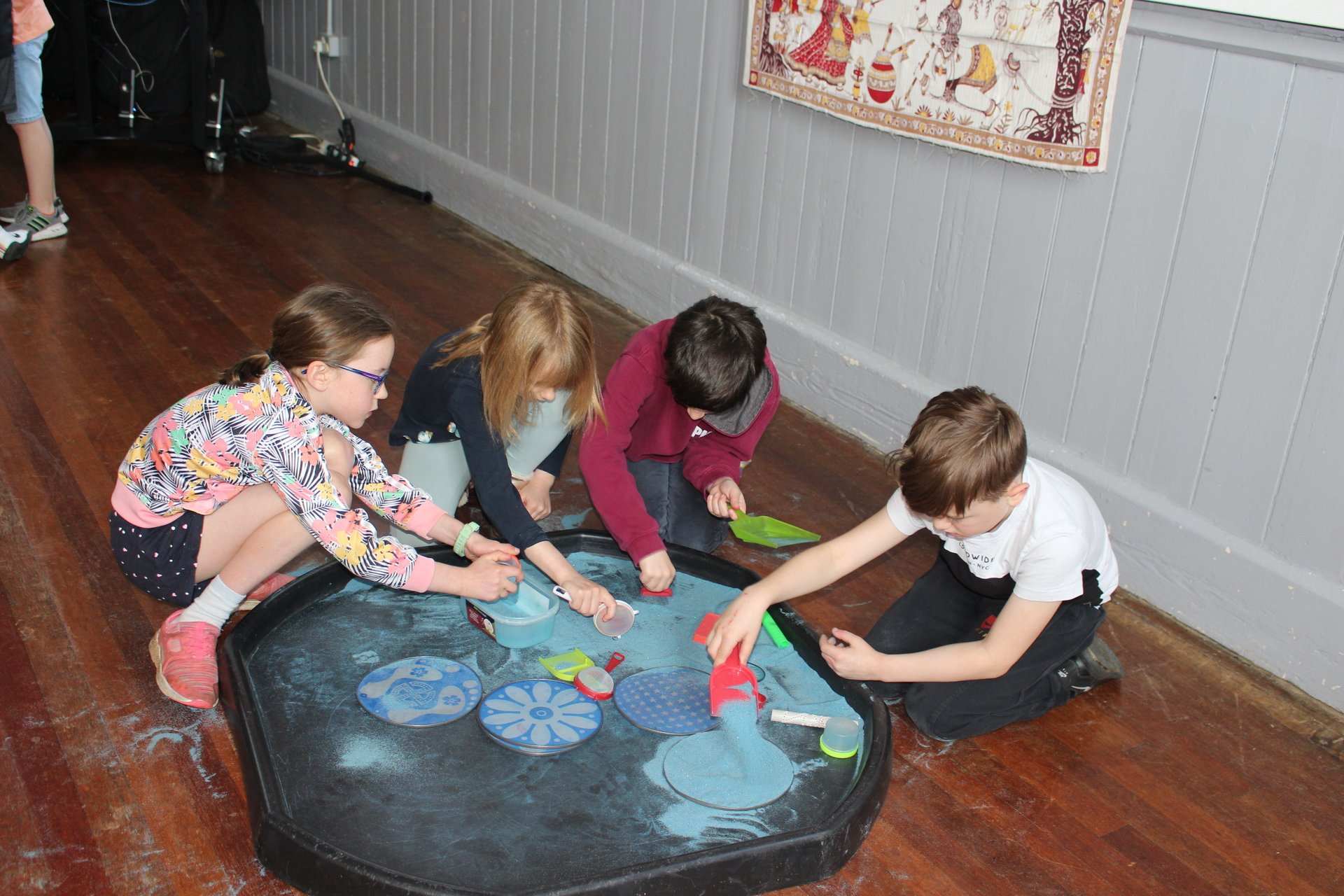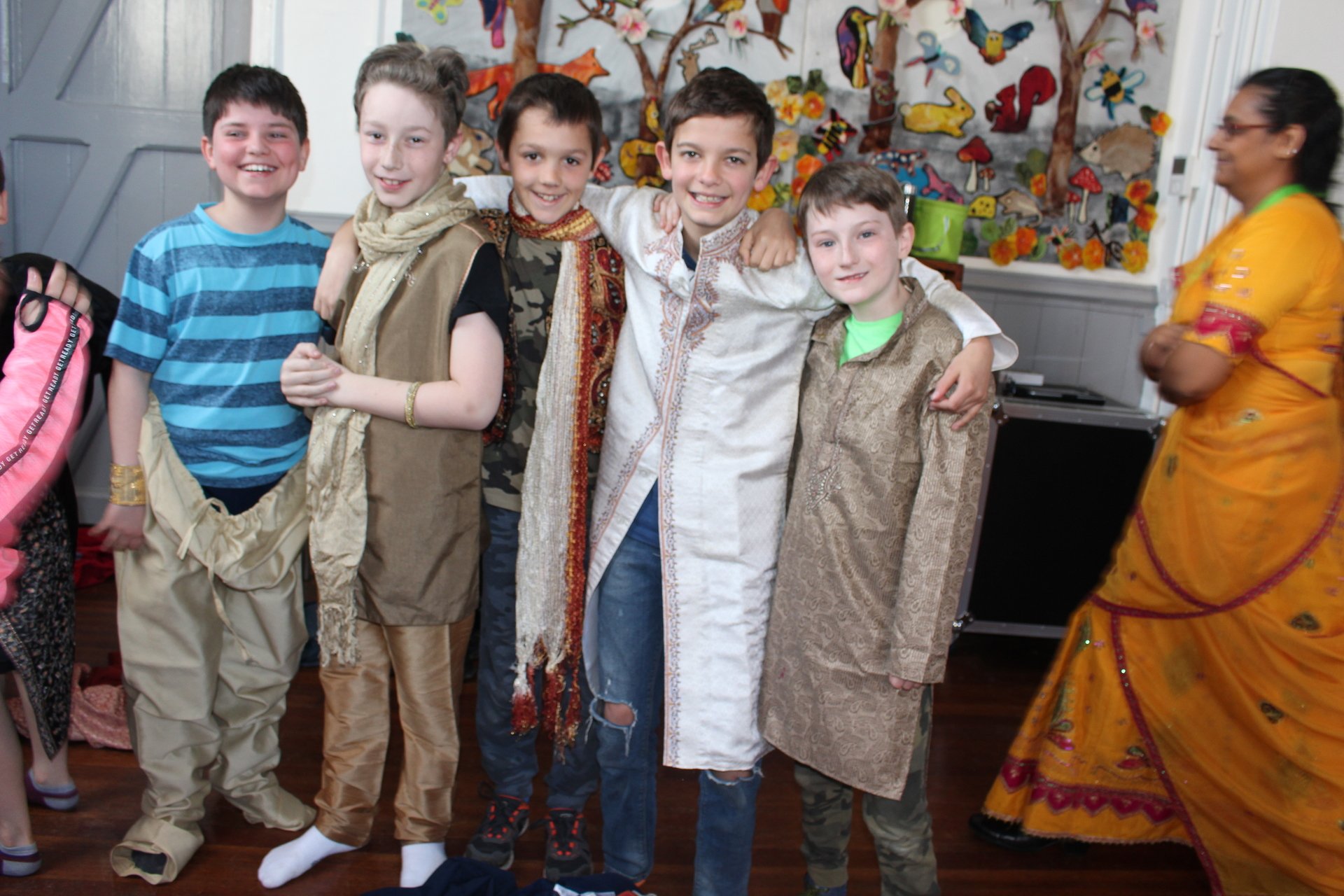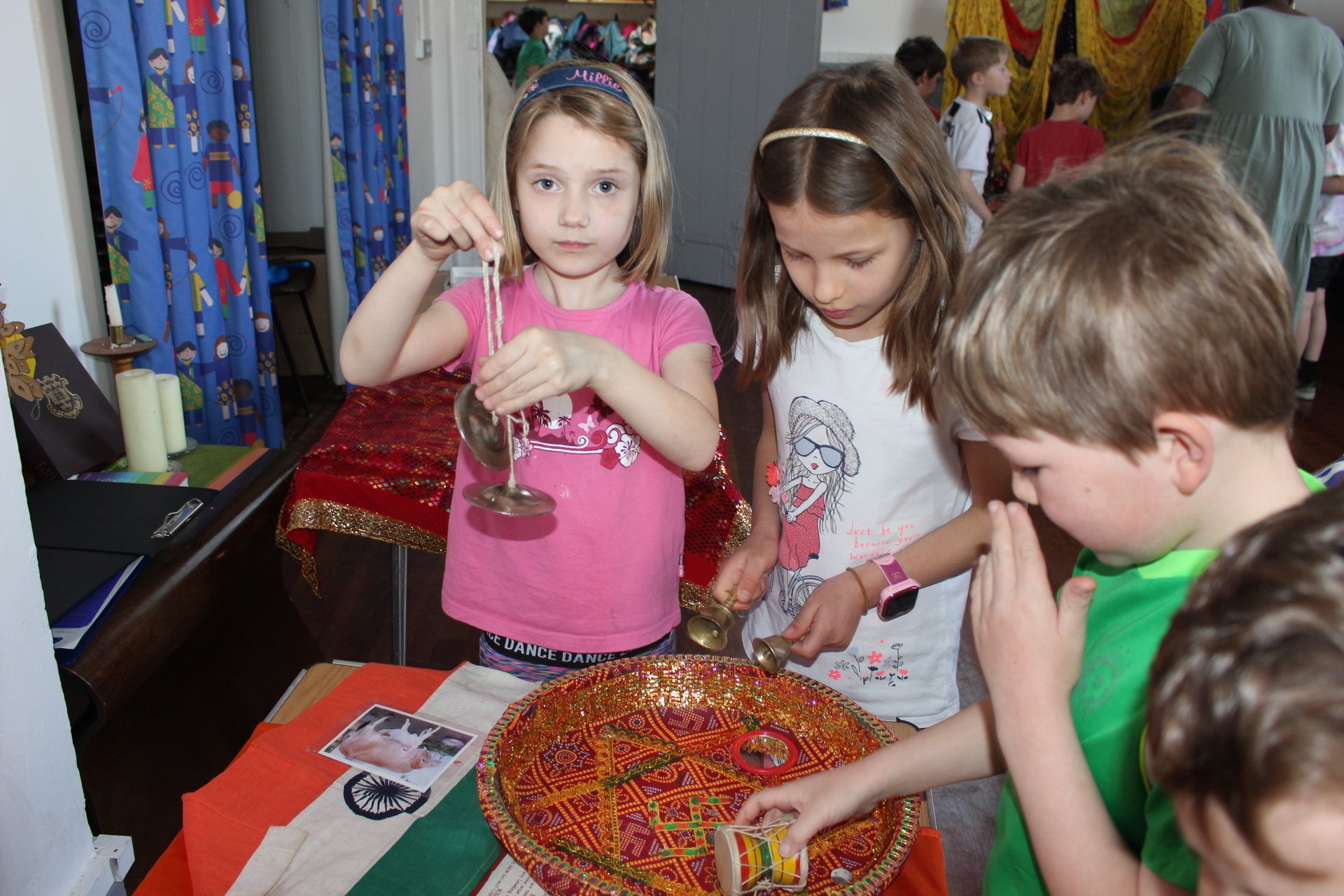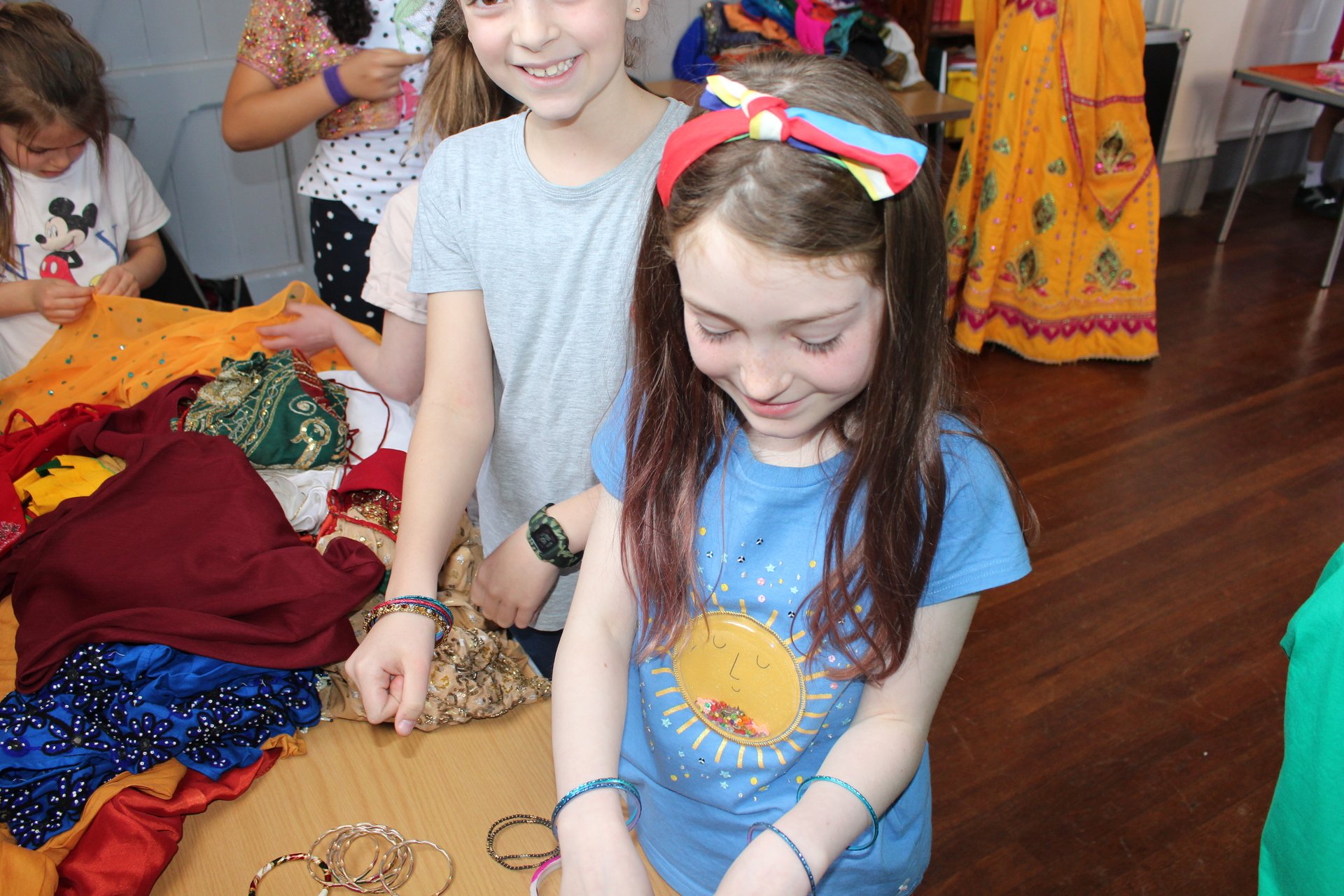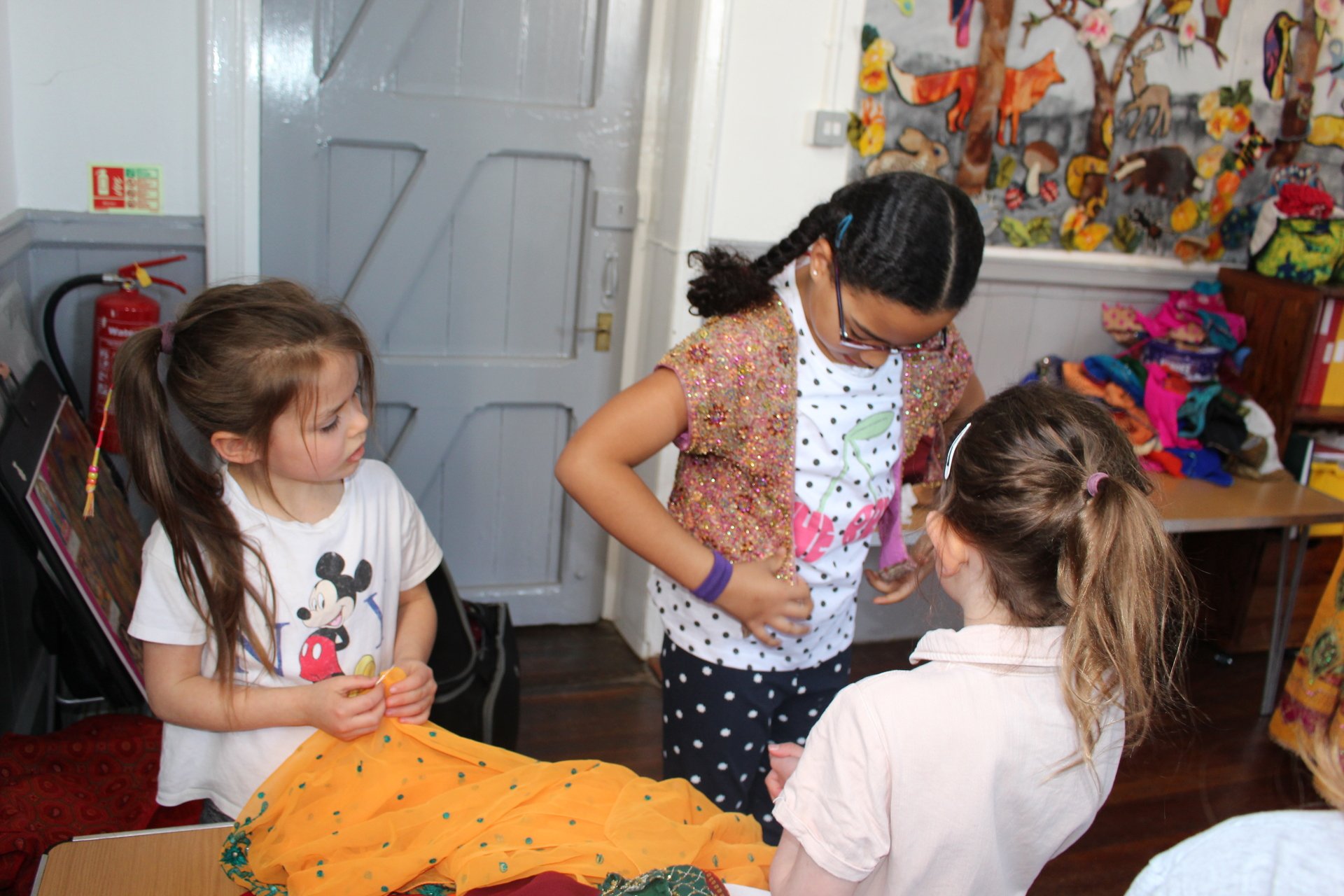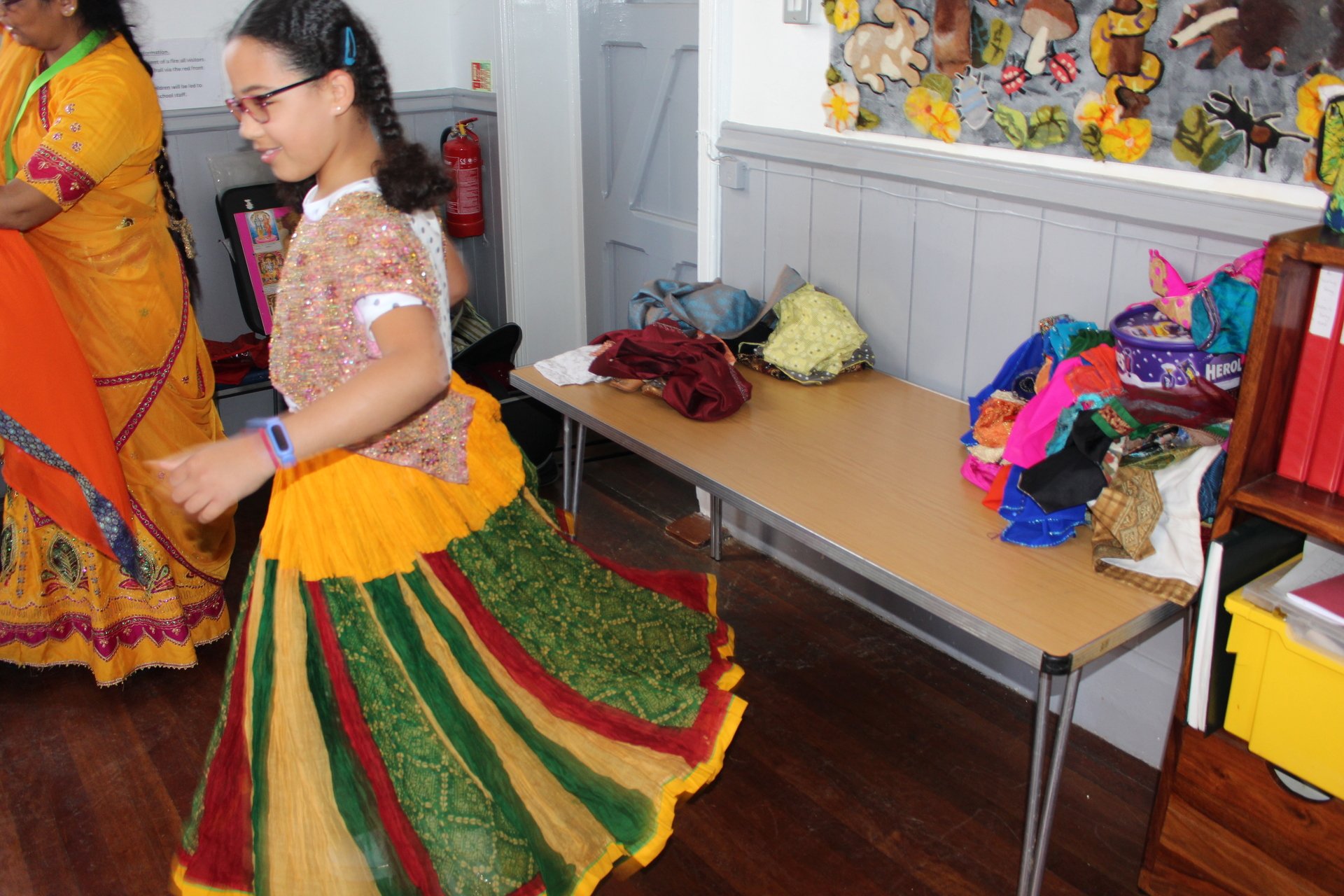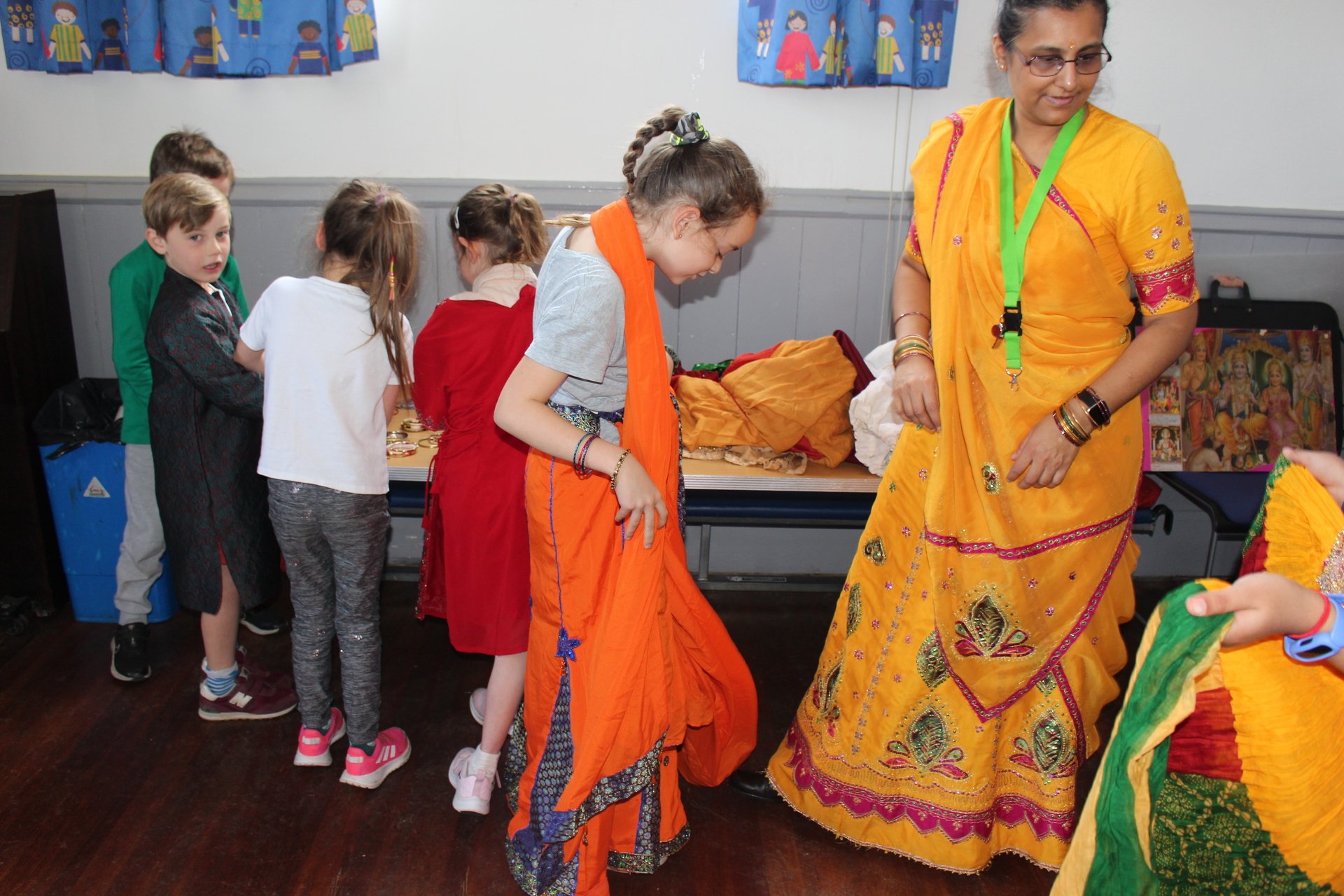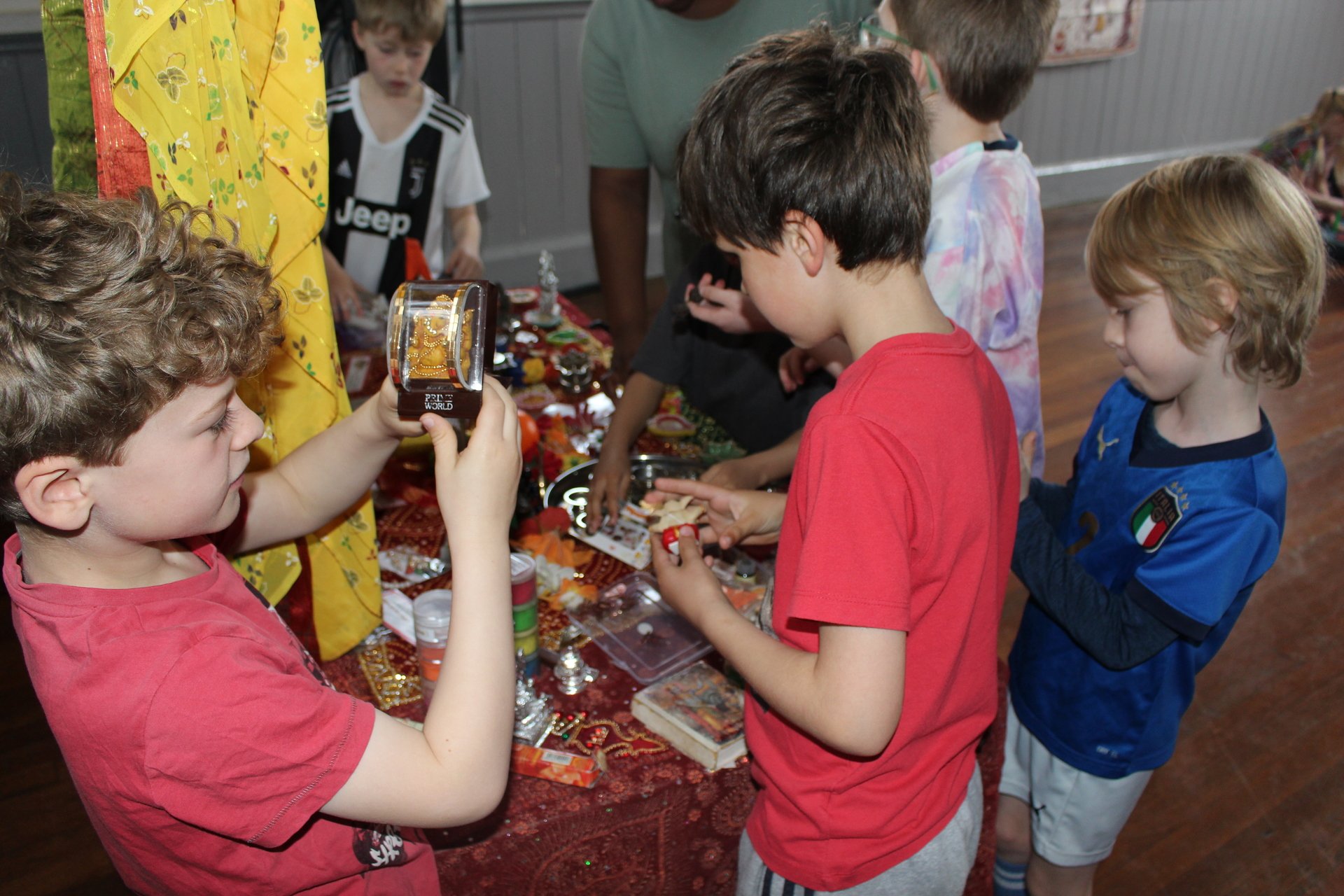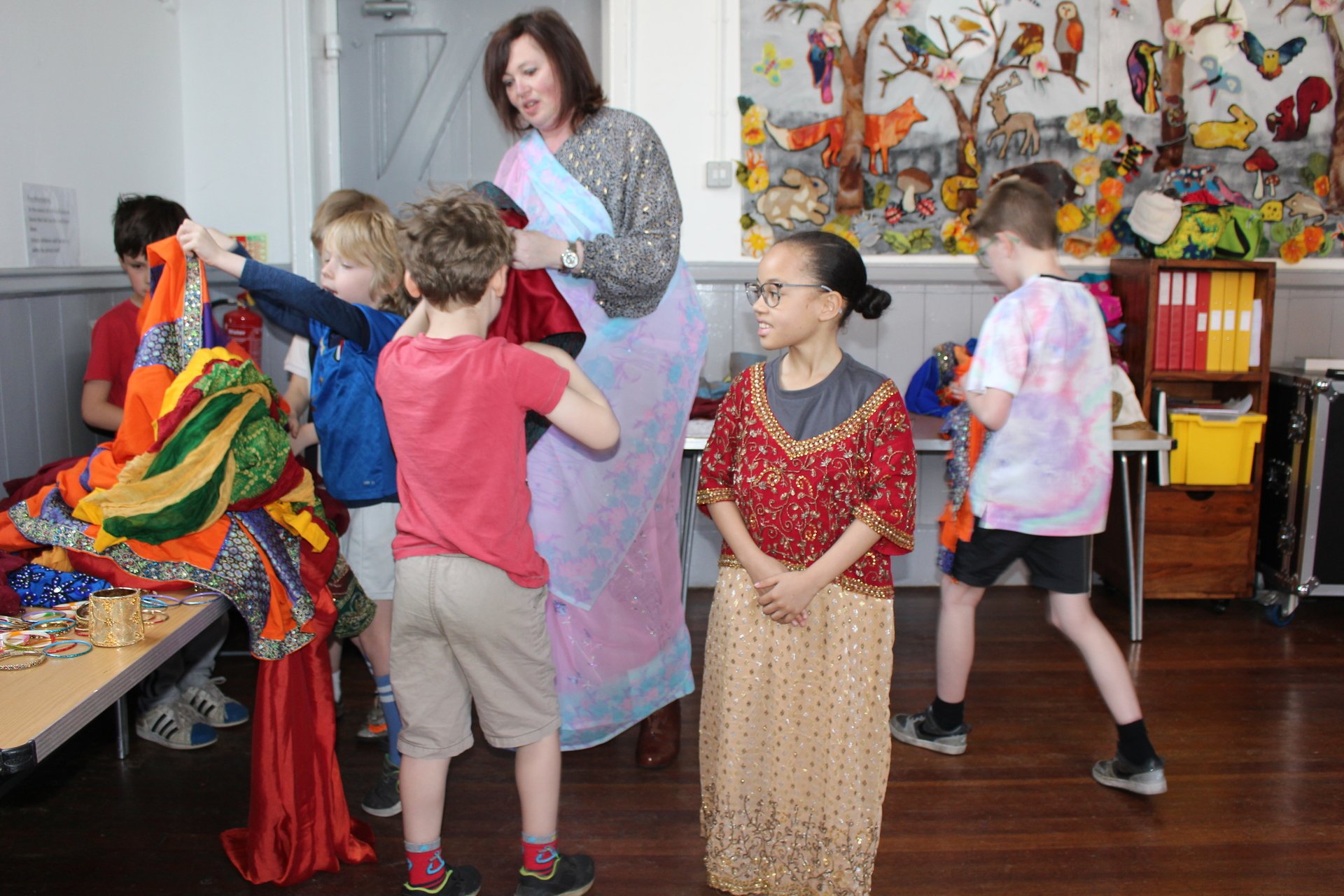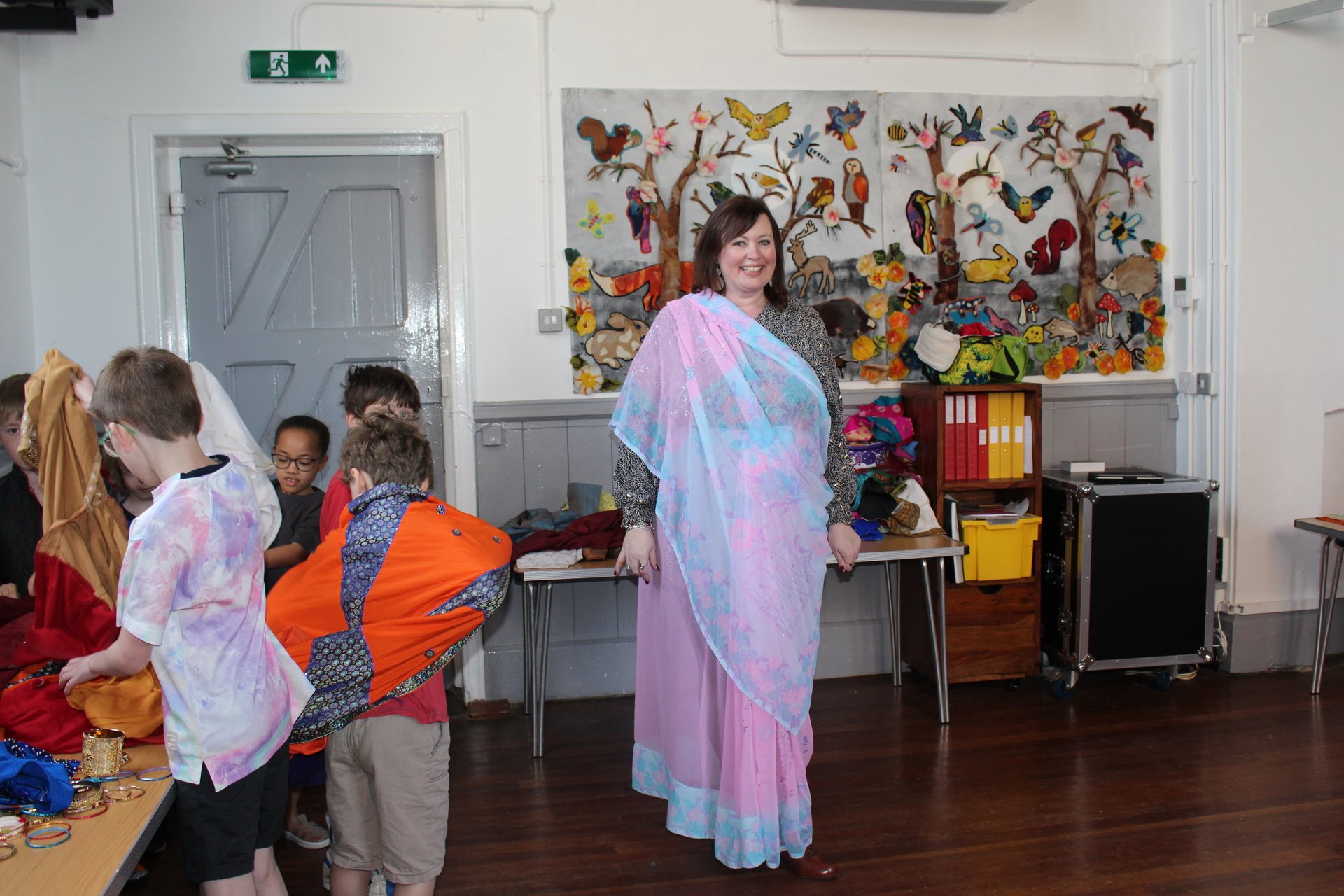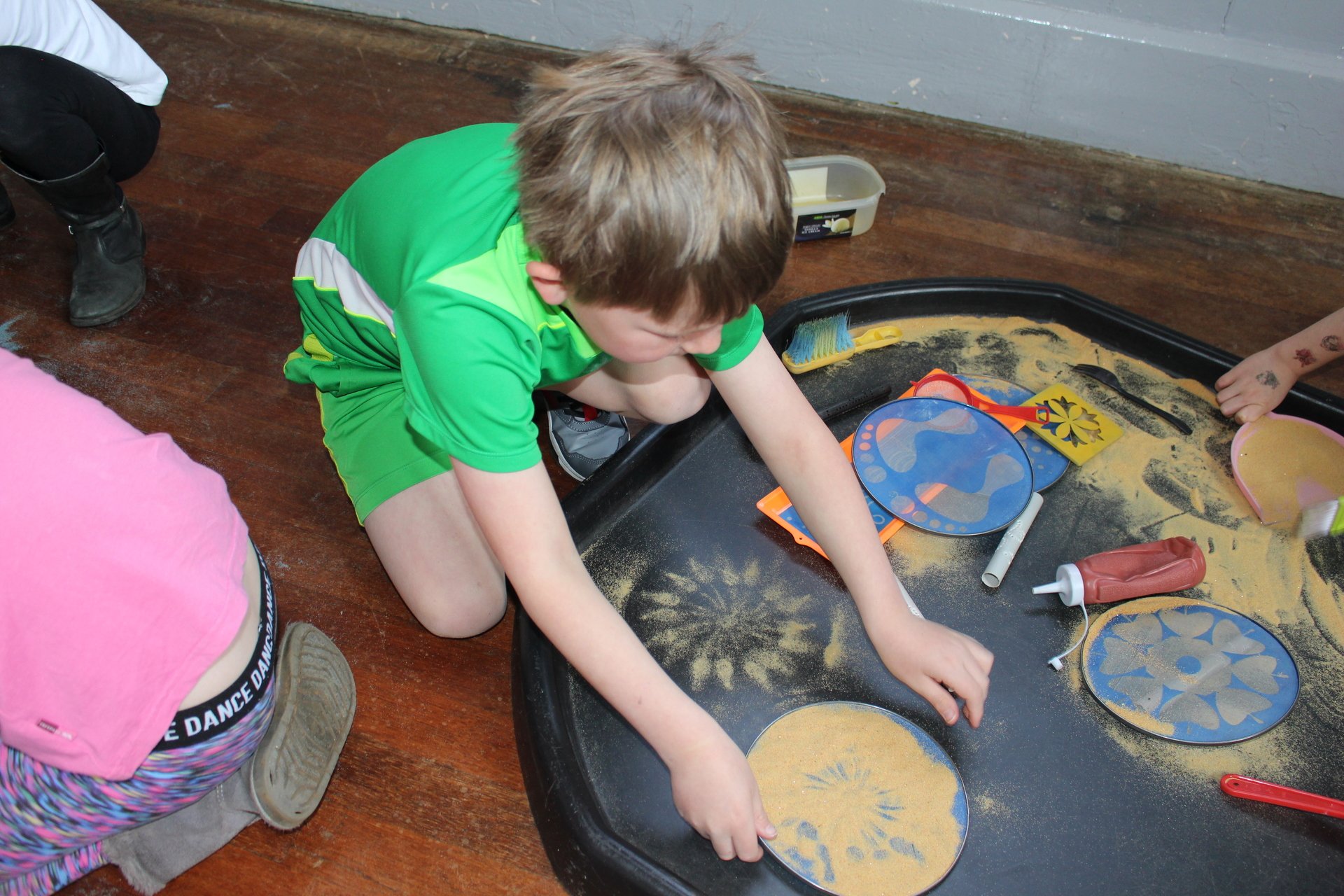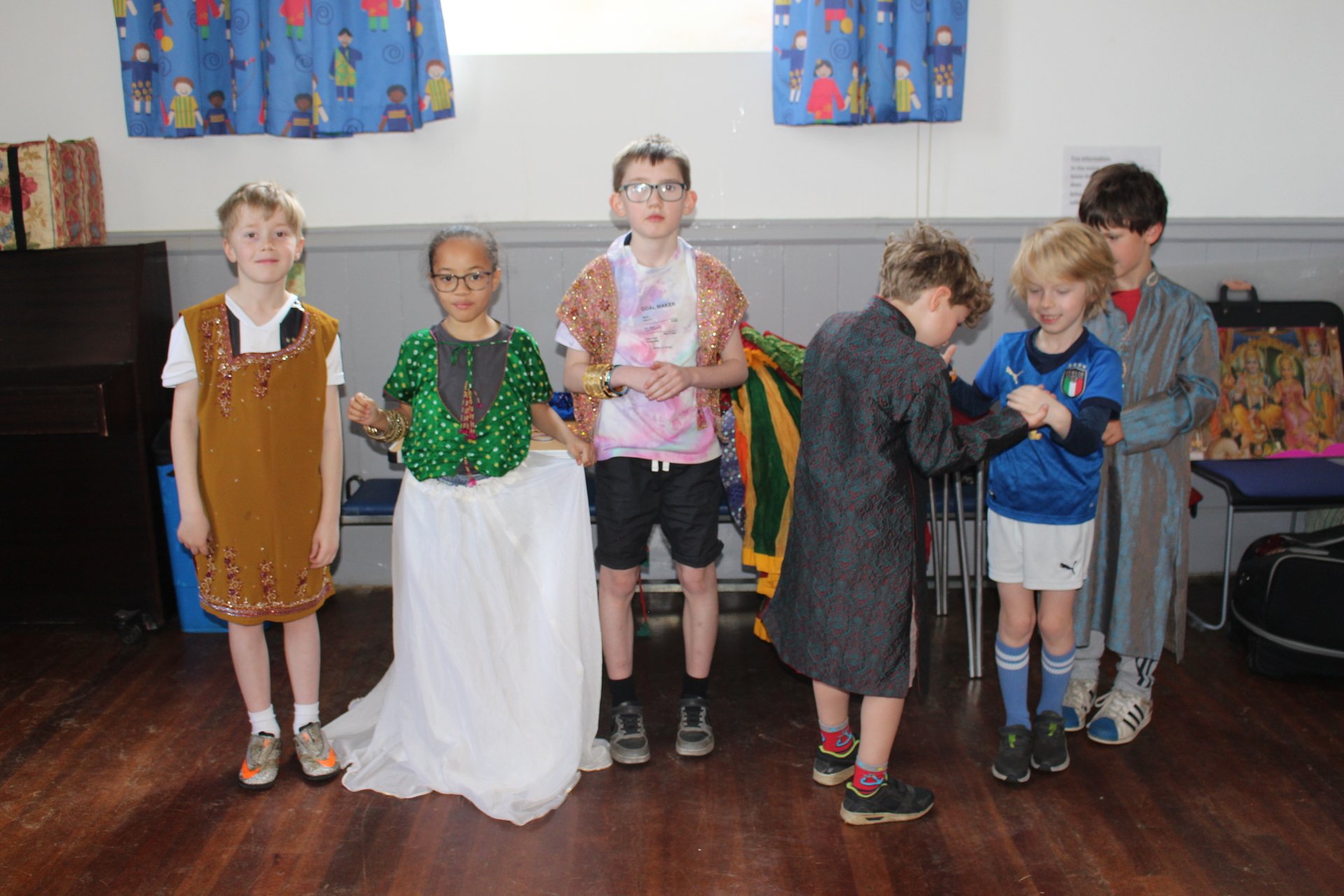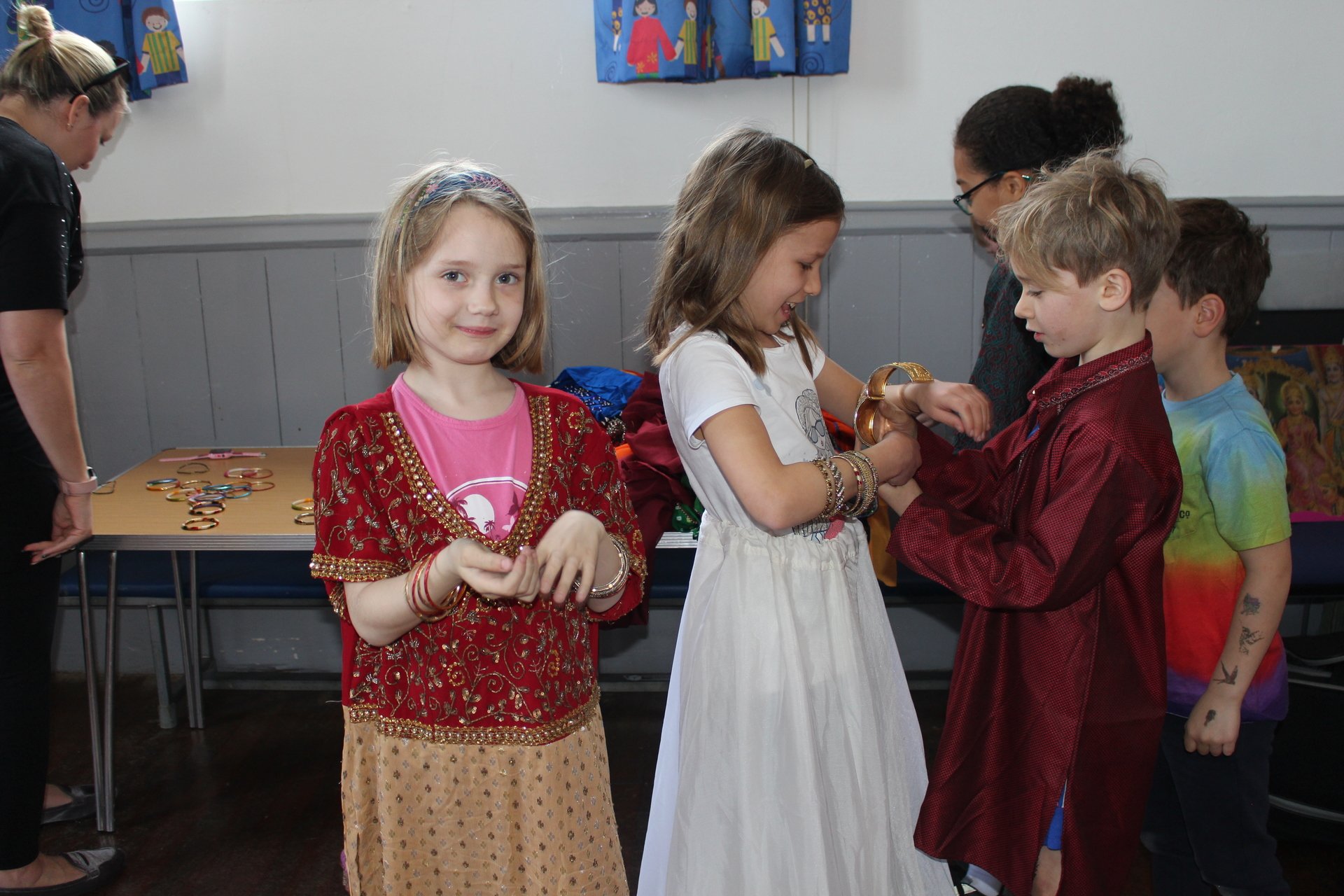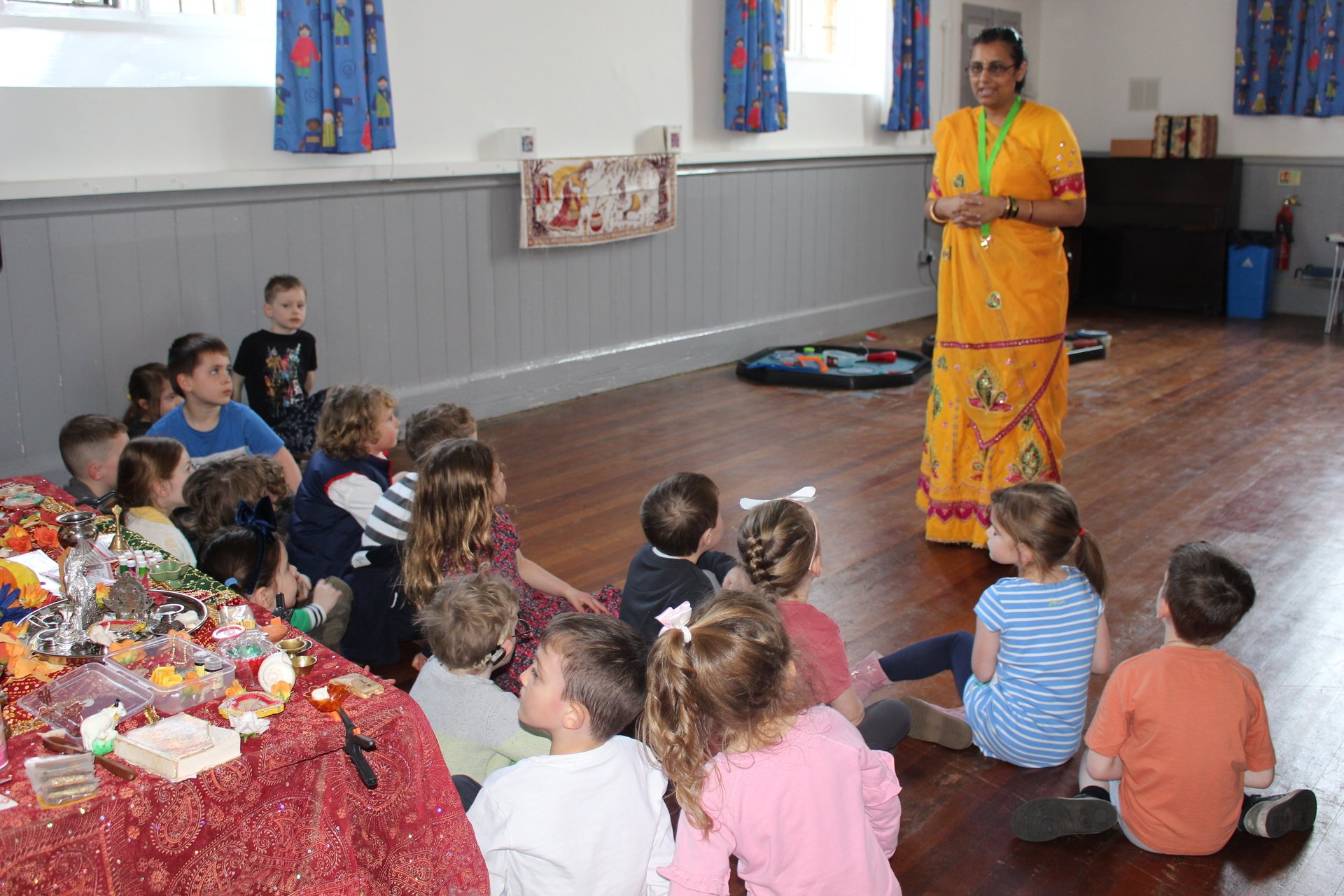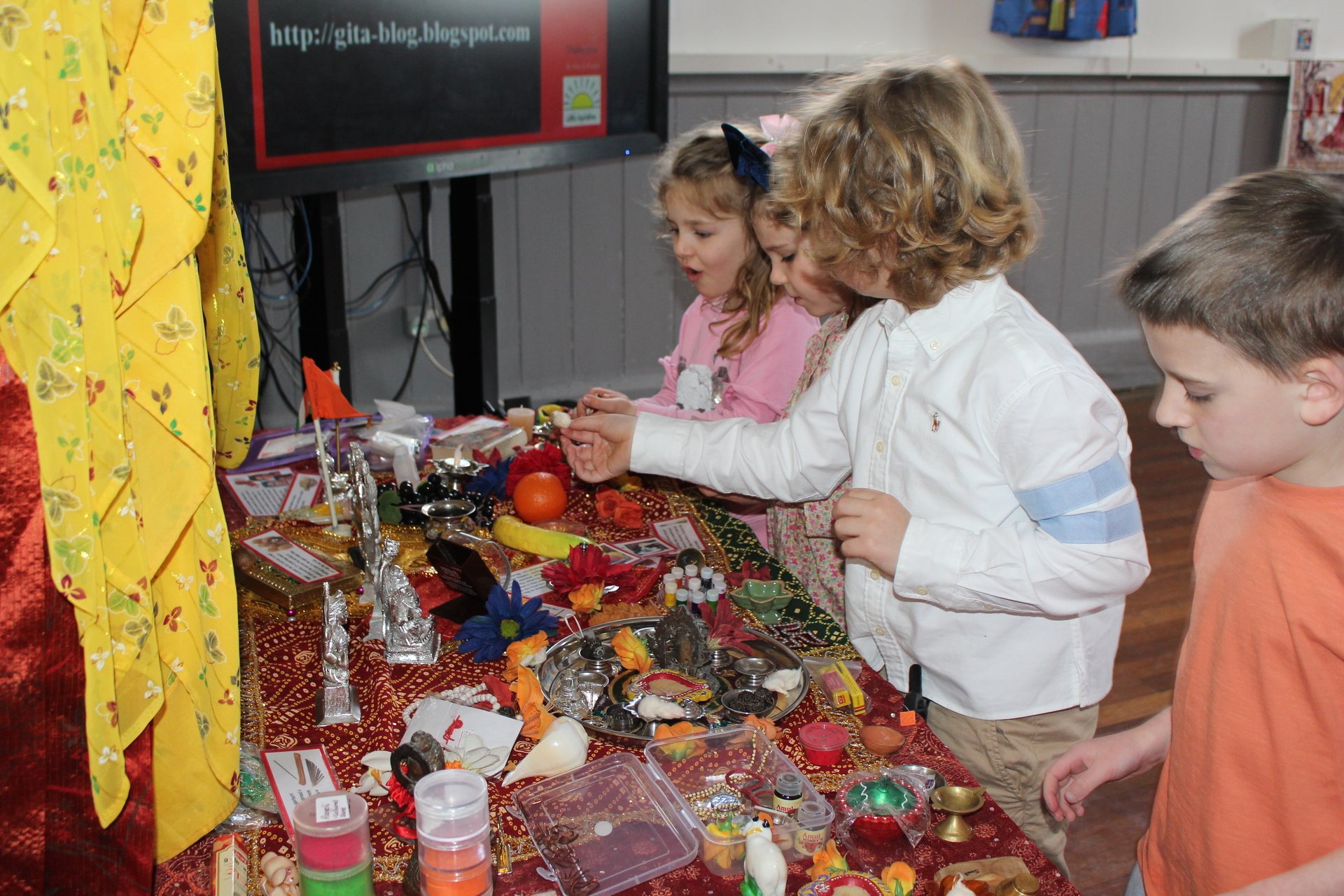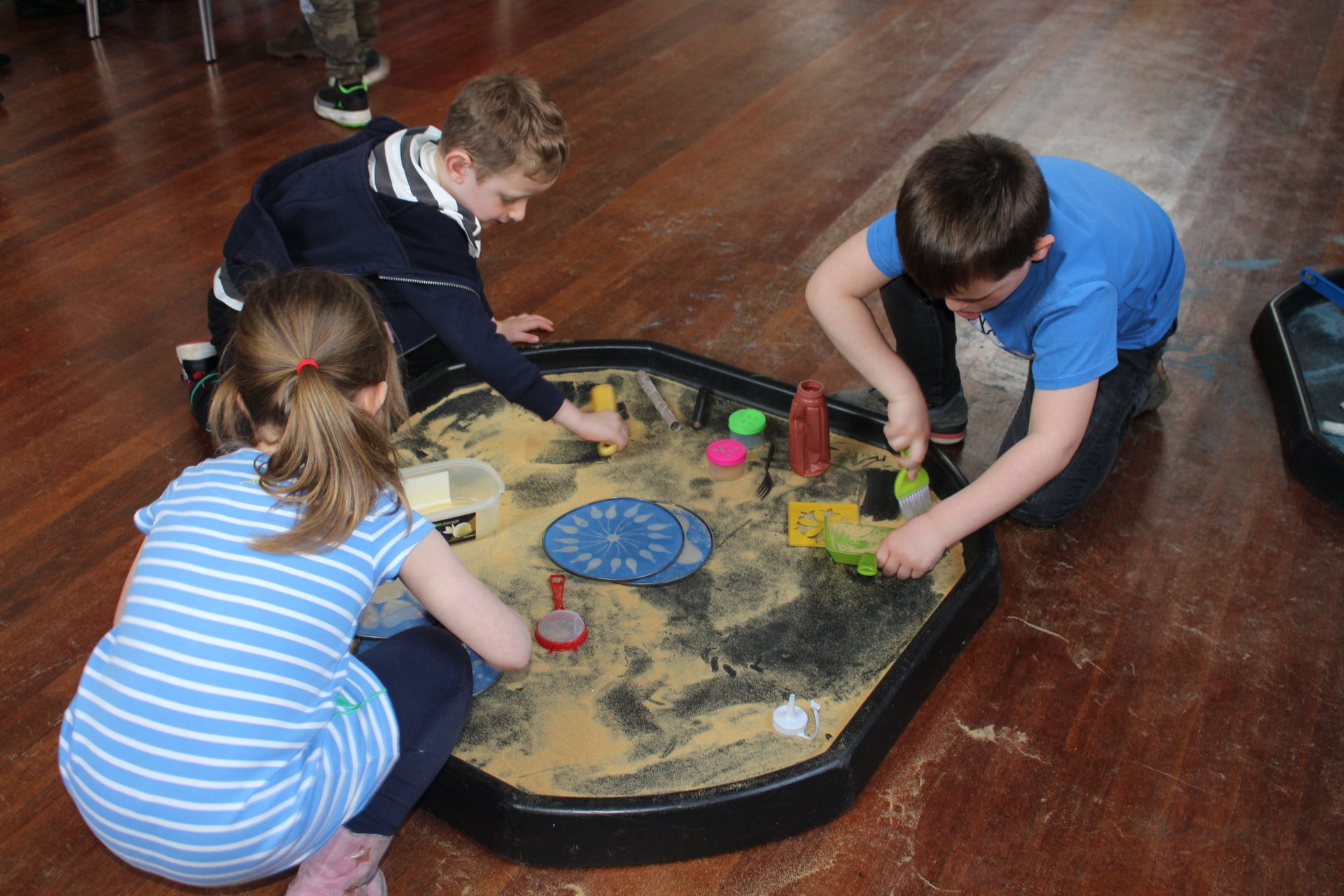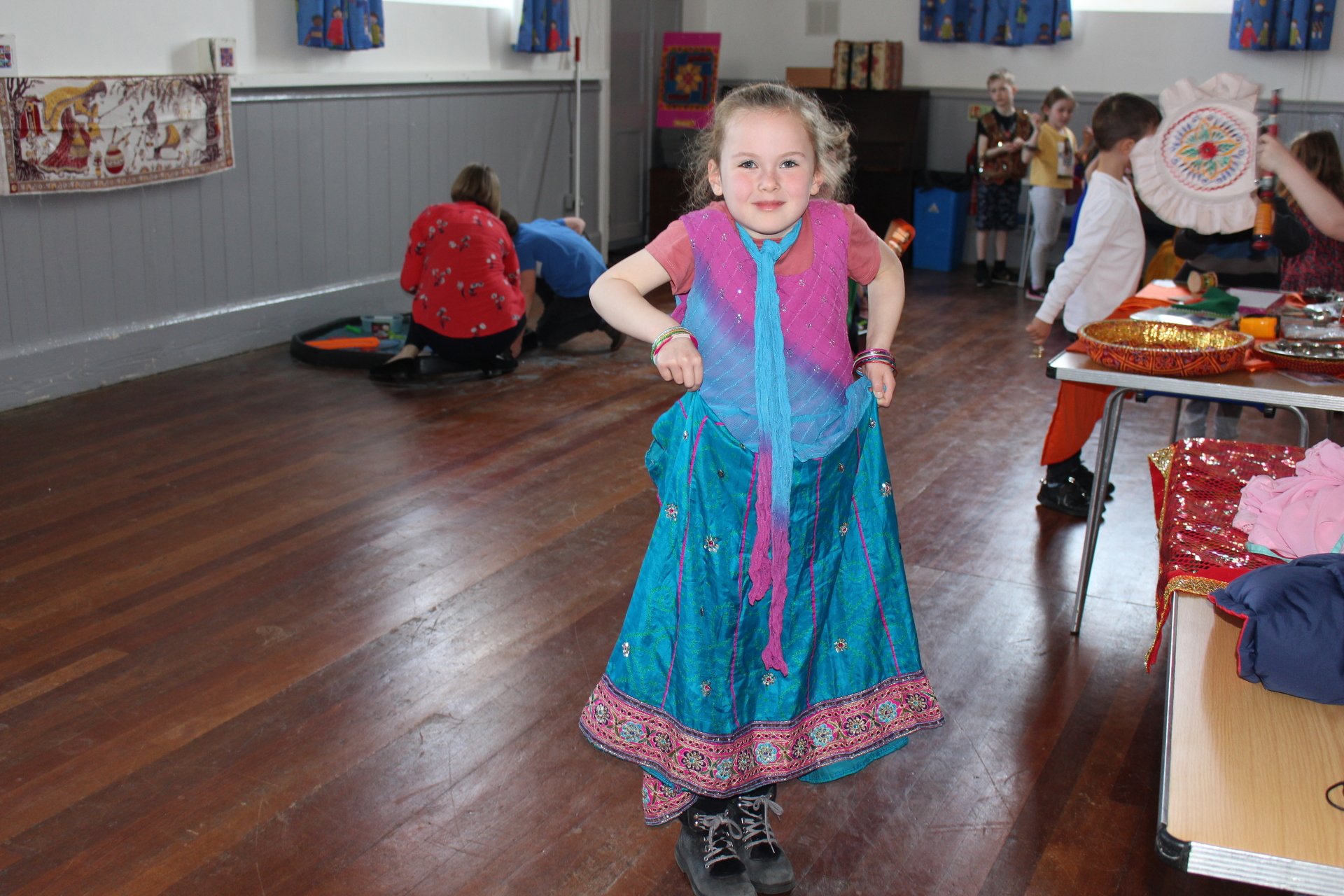 Dodgeball at Guilsborough School
On Thursday 24th March 2022, we went to Guilsborough School for a Year 4/5 dodgeball competition. It was a really good event and the children absolutely loved it. As well as being a competitive event, there was also an extra sporting value (honesty) that the young leaders were awarding points to each team for. As we had three children missing from one of our teams, we were kindly allowed to borrow some children from Crick Primary to complete the East Haddon A team. This team, consisting of Alfie, Atti and Freya (alongside Ella, Nicole and Jess from Clipston) finished as joint-winners of the
overall competition, so a huge well done to them.

The East Haddon B team (Jessie, Tom B, Alice, Toby C, Catherine and Amelie) also won the Honesty award, with the A team finishing a close second, so a massive well done to them too!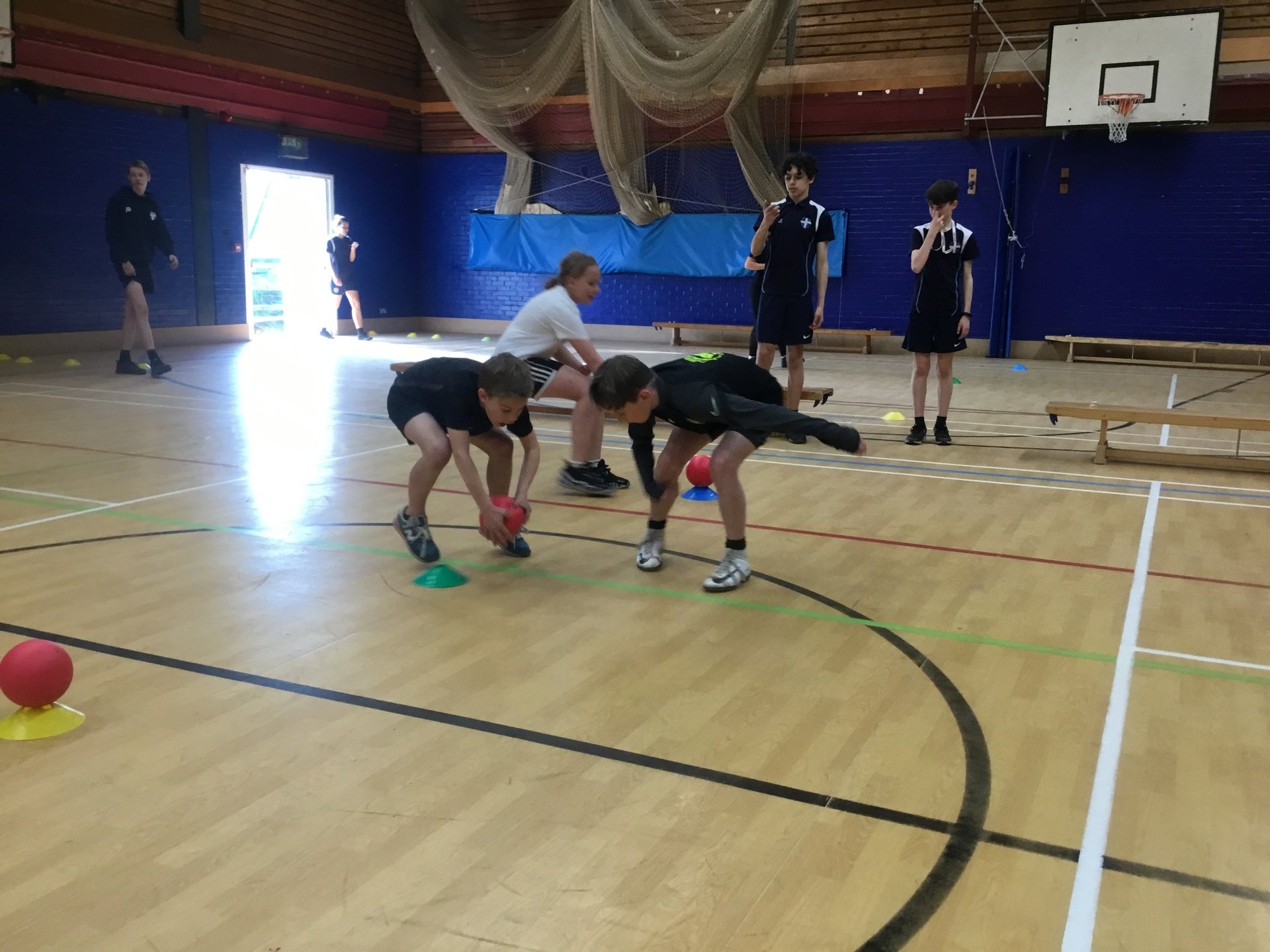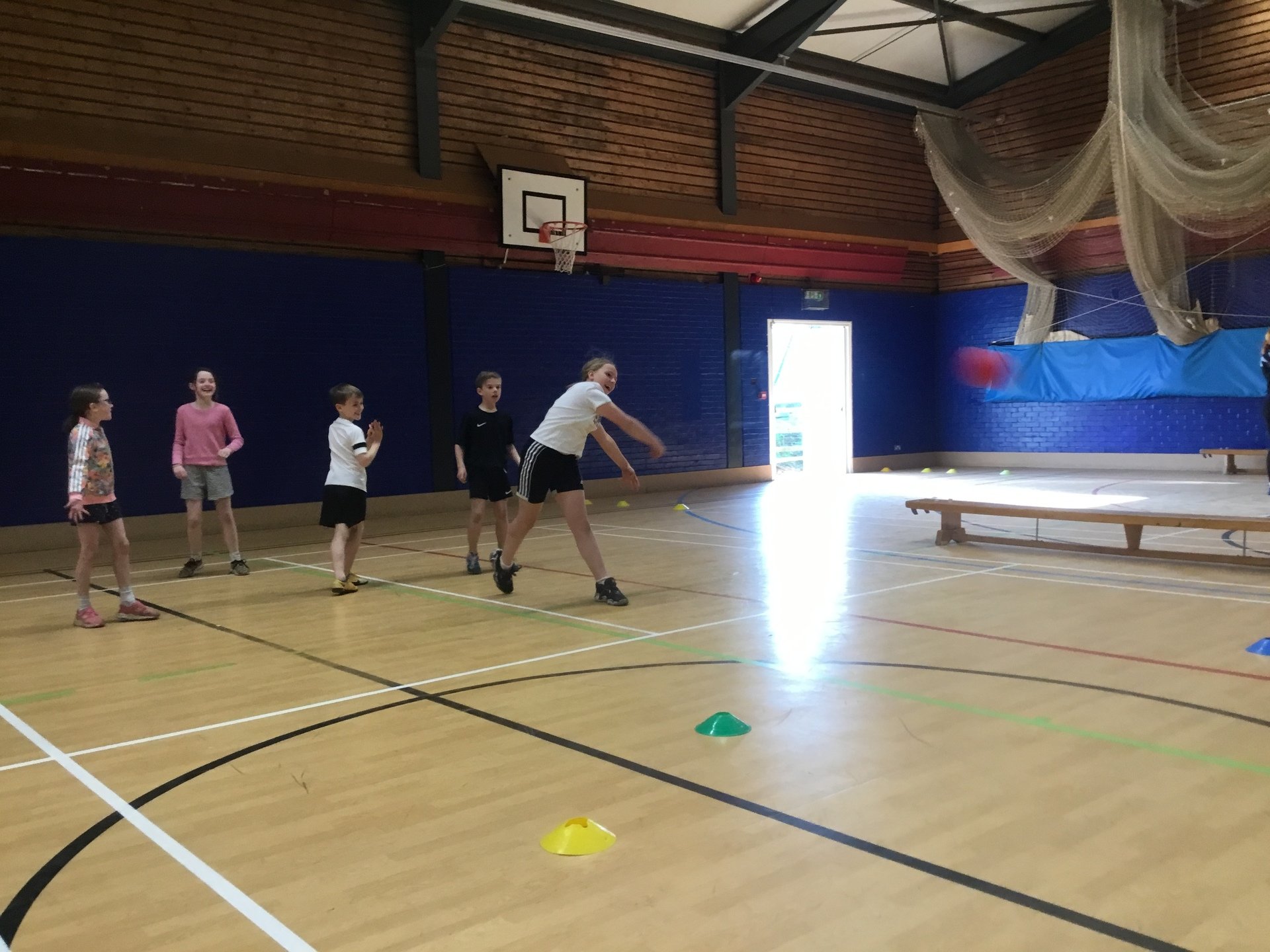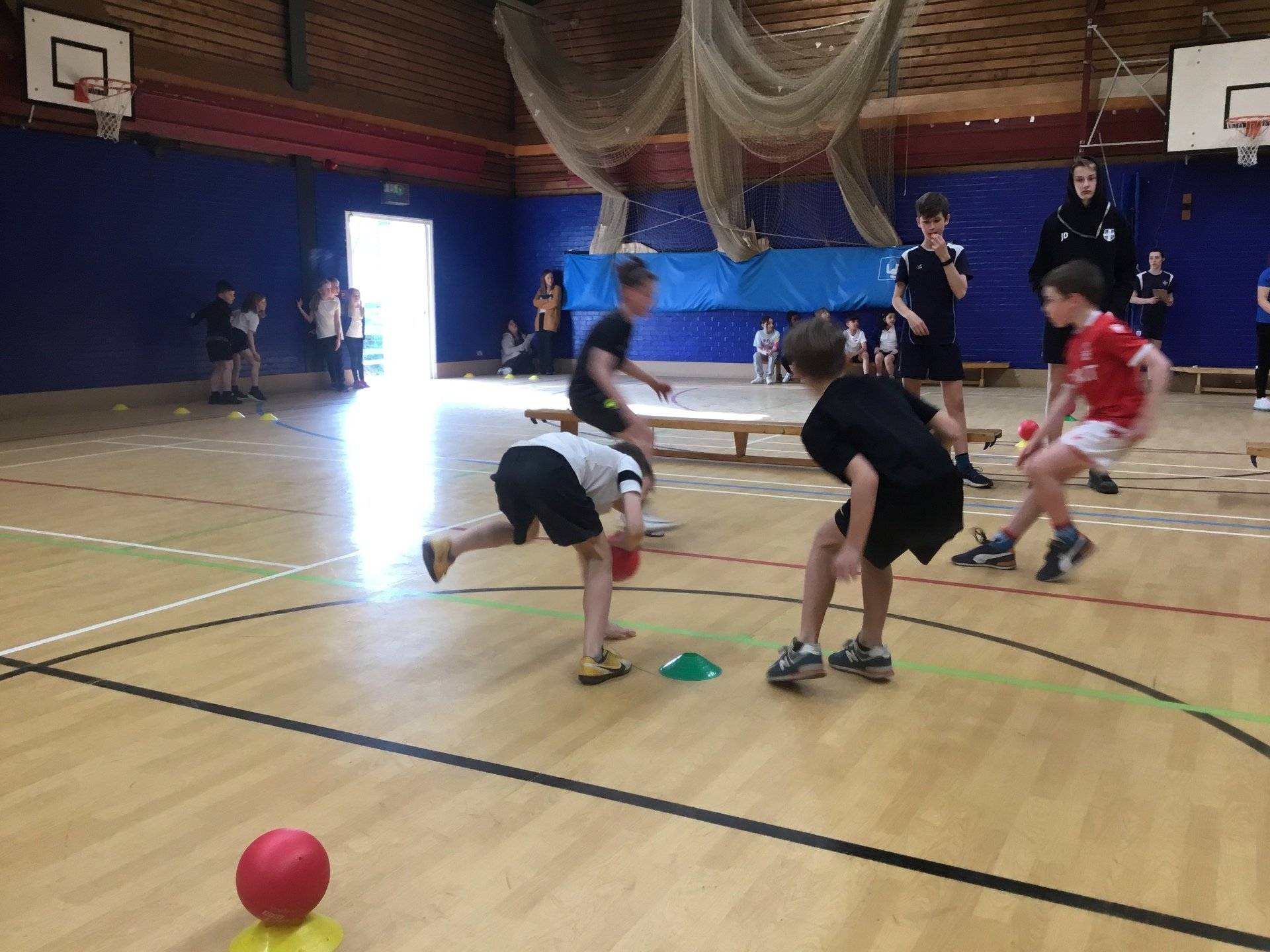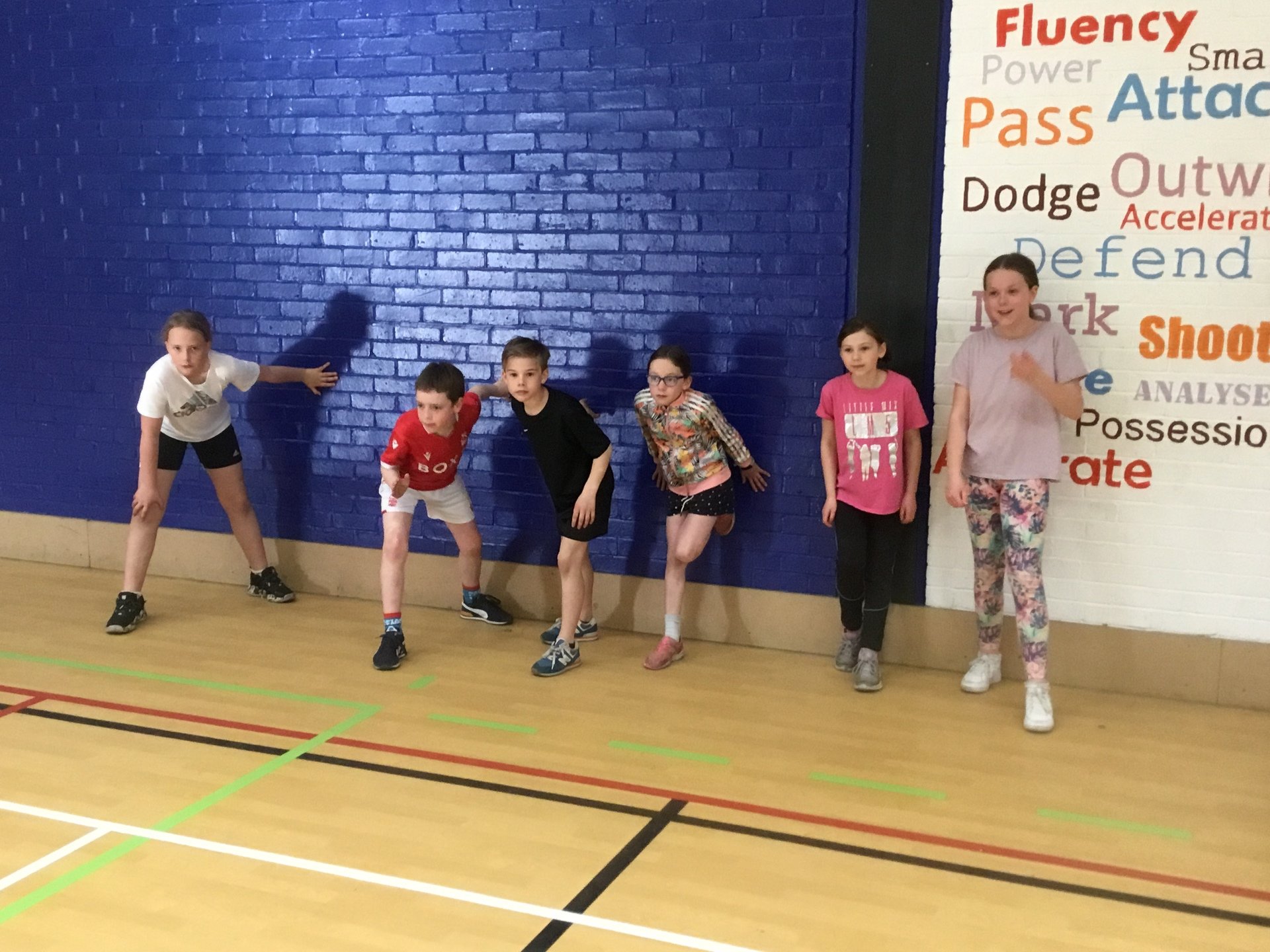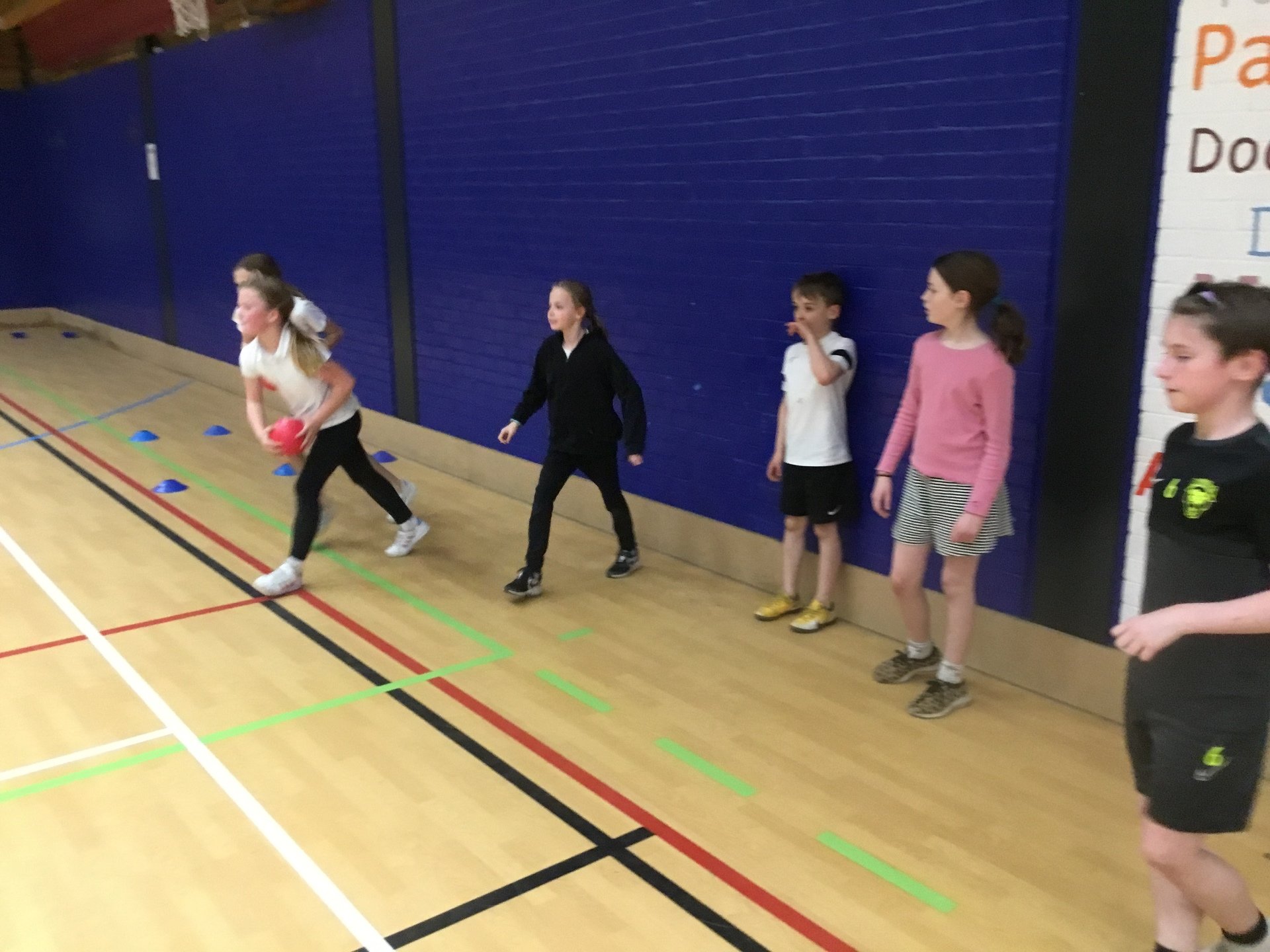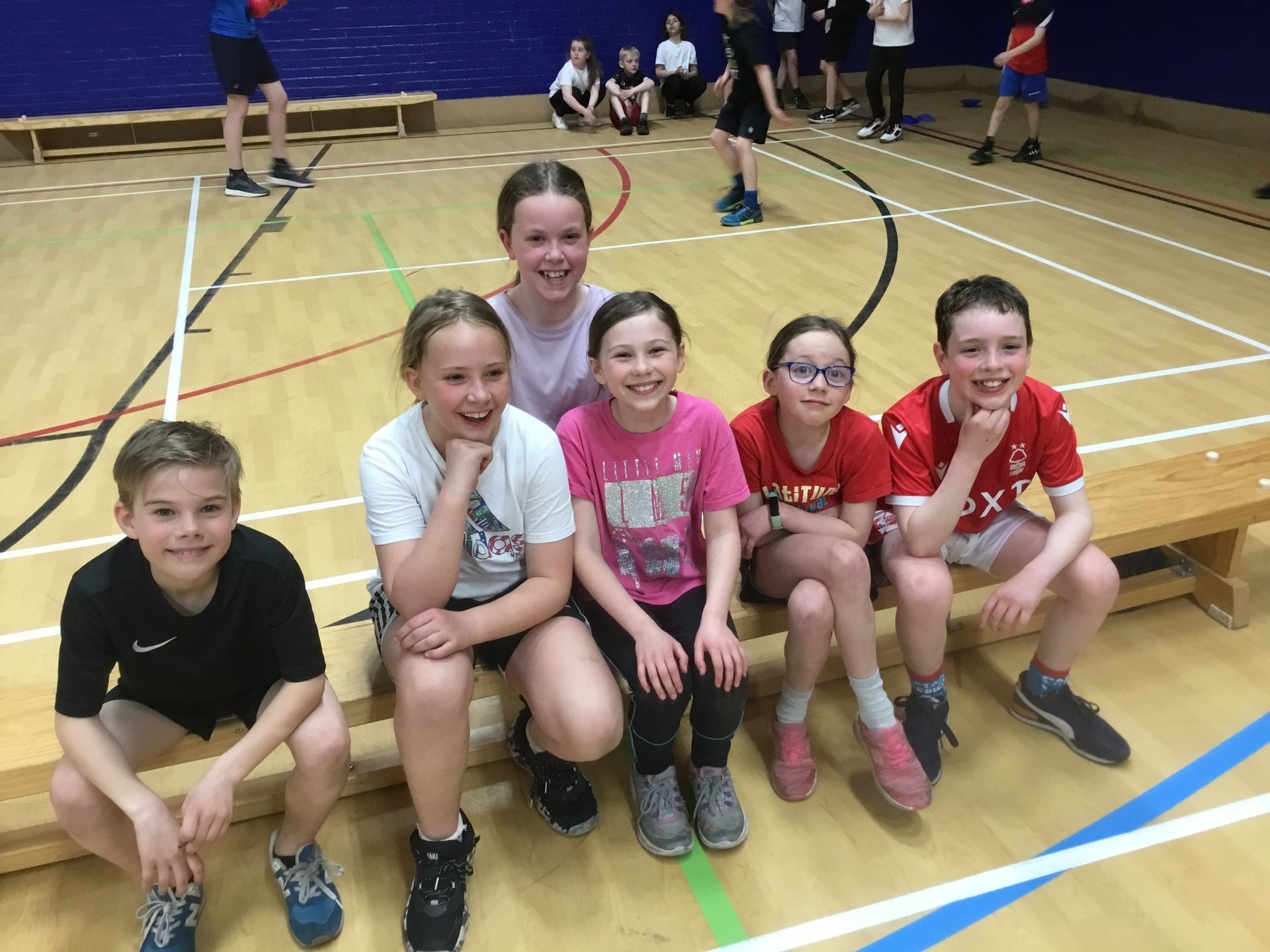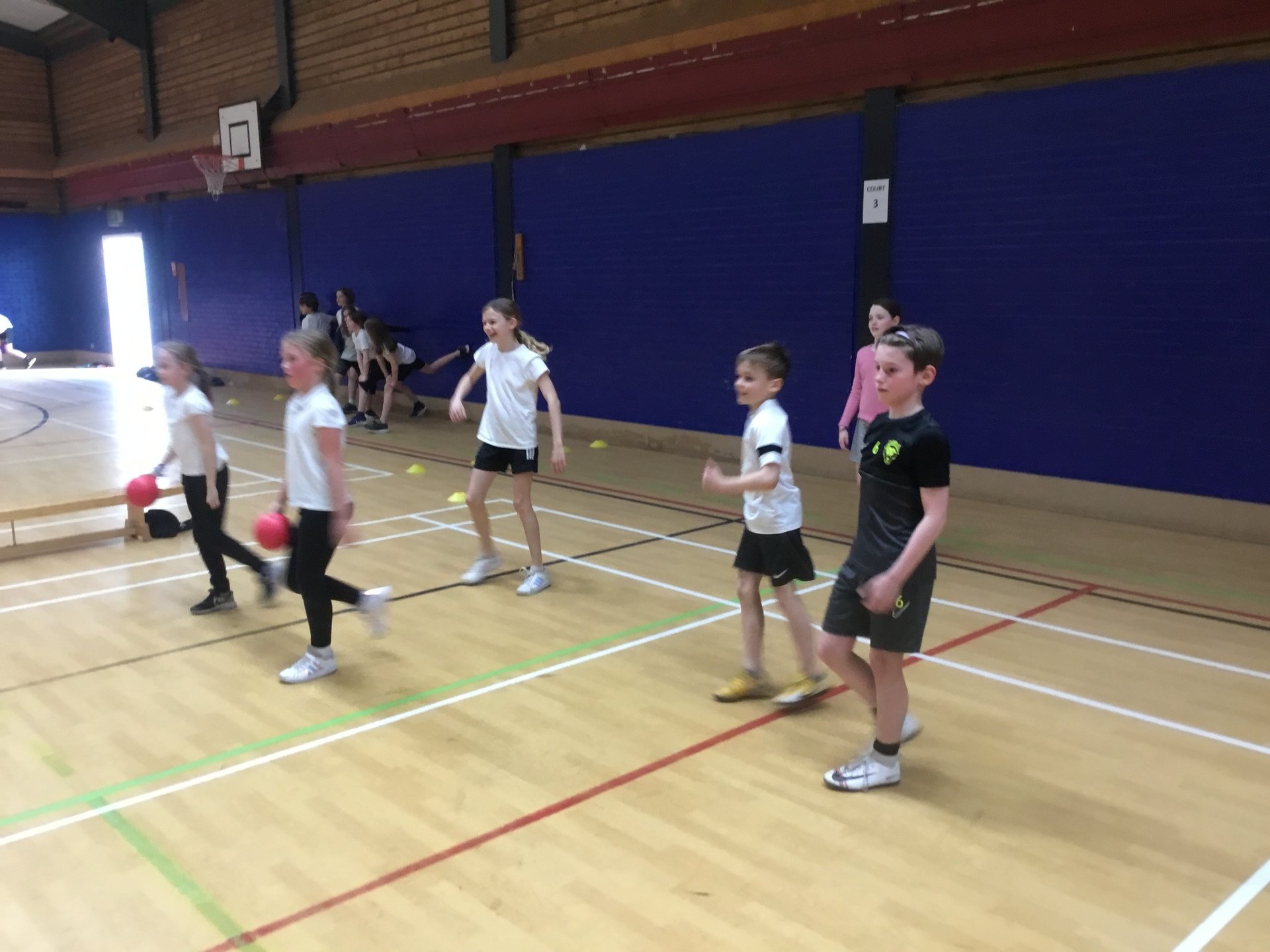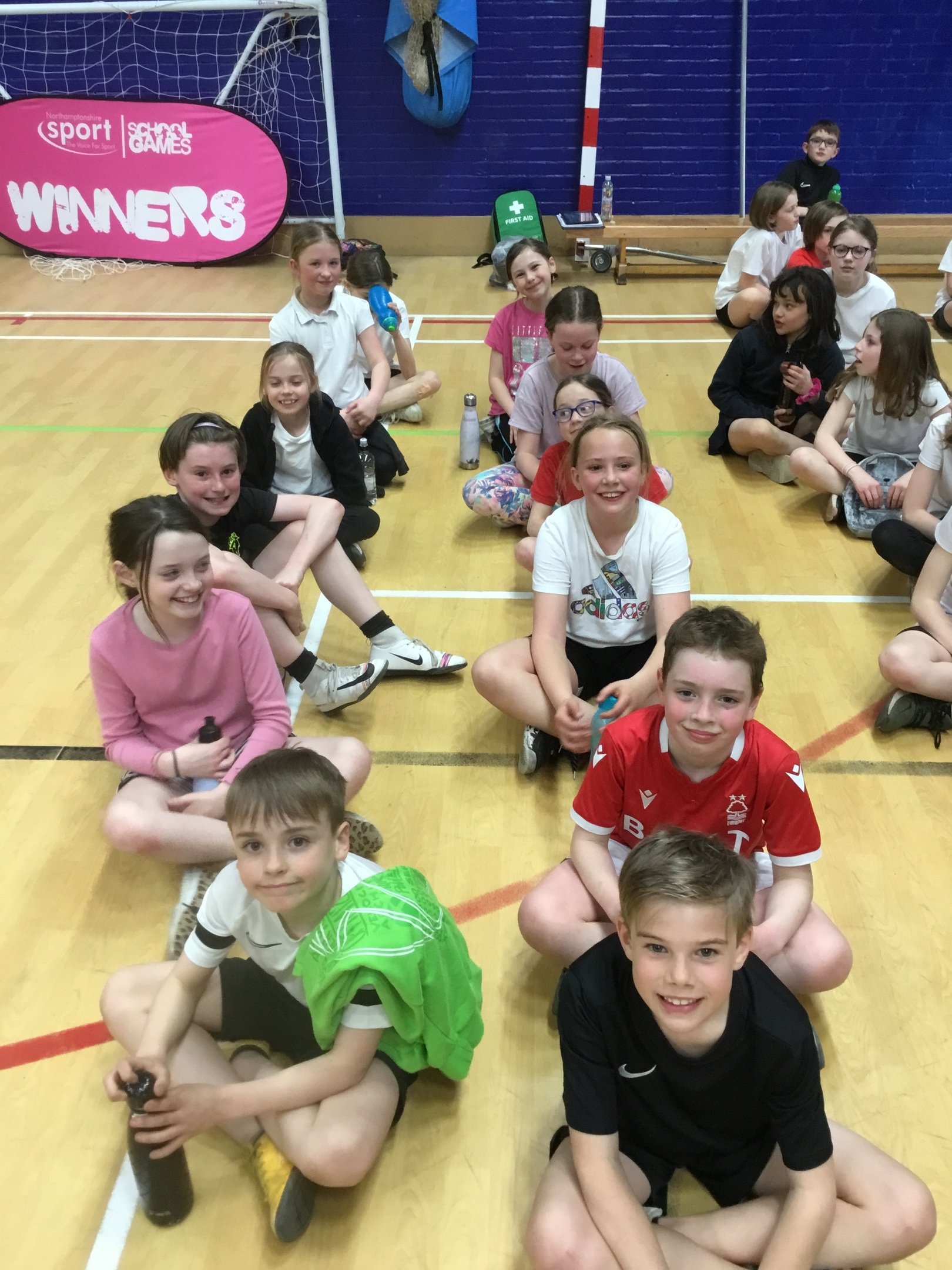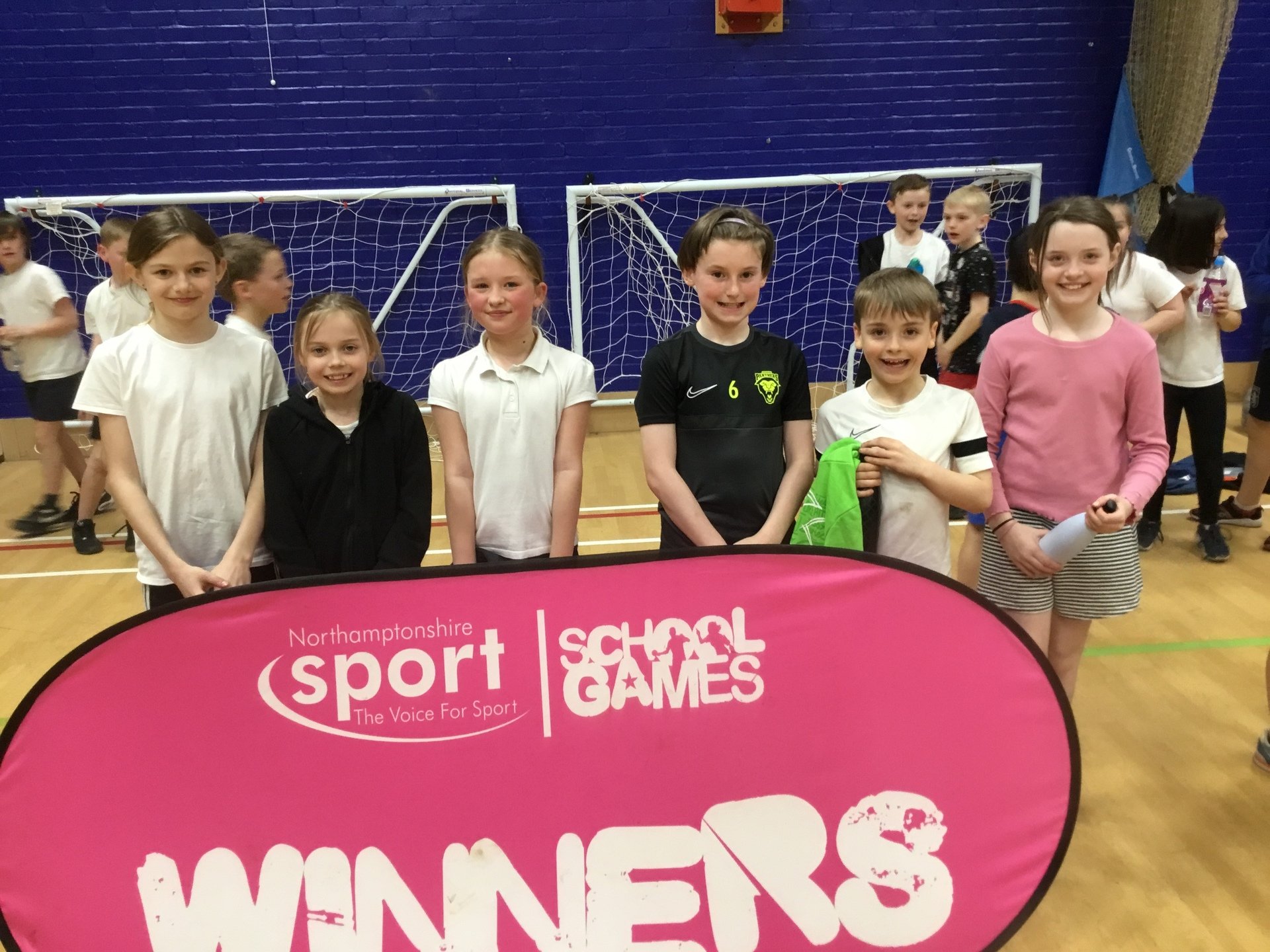 First Aid classes for Key Stage 2
On Tuesday 18th January 2022, our Key Stage 2 children took part in a First Aid session provided by 'Mini First Aid Kids'. Many thanks to Nicky for delivering this training. She was very impressed with the children's knowledge and attitude to learning, and the feedback from the children has been positive. This learning is part of the KS2 curriculum and includes how to make a clear and efficient call to emergency services, and concepts of basic First Aid, covering common injuries, including head injuries.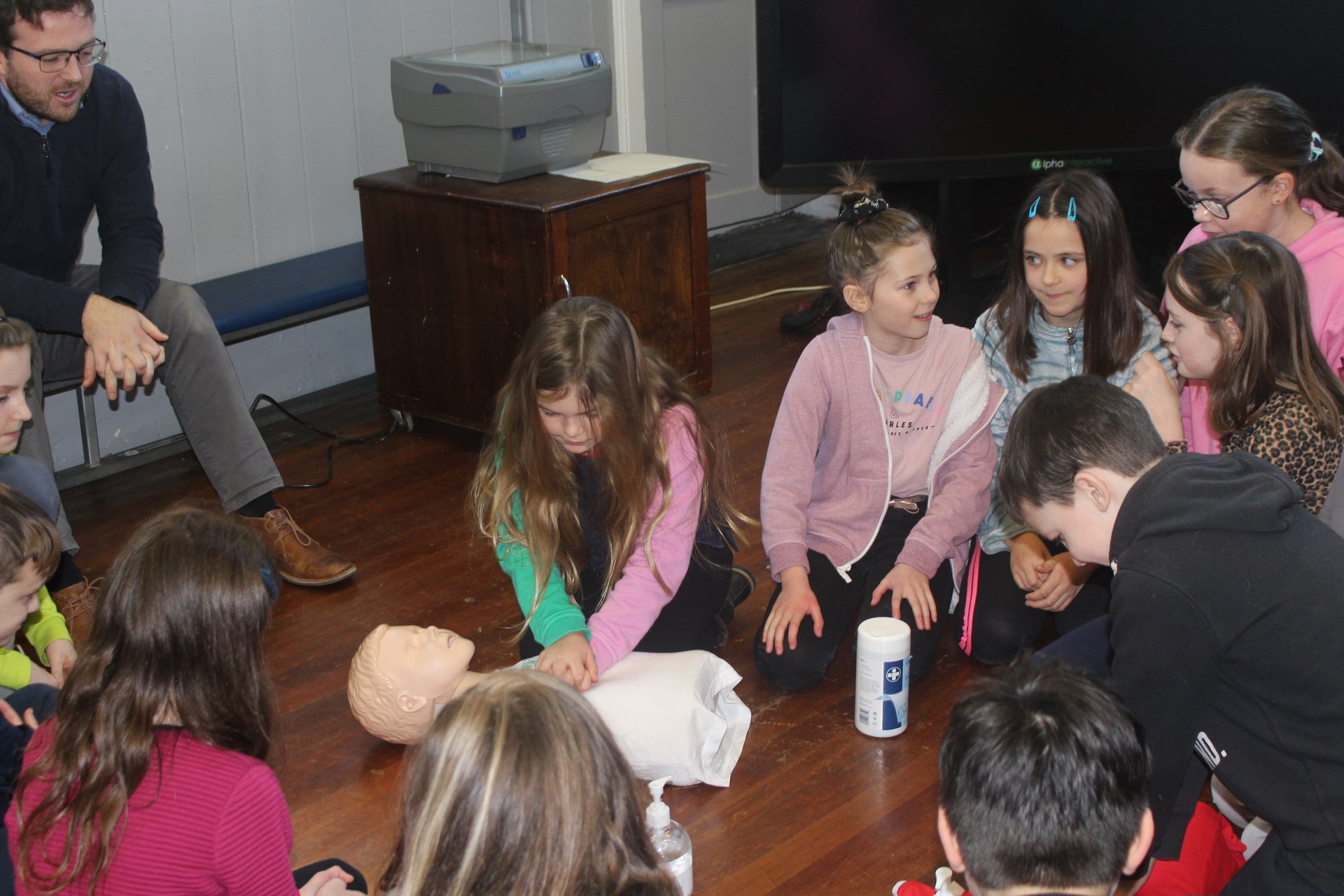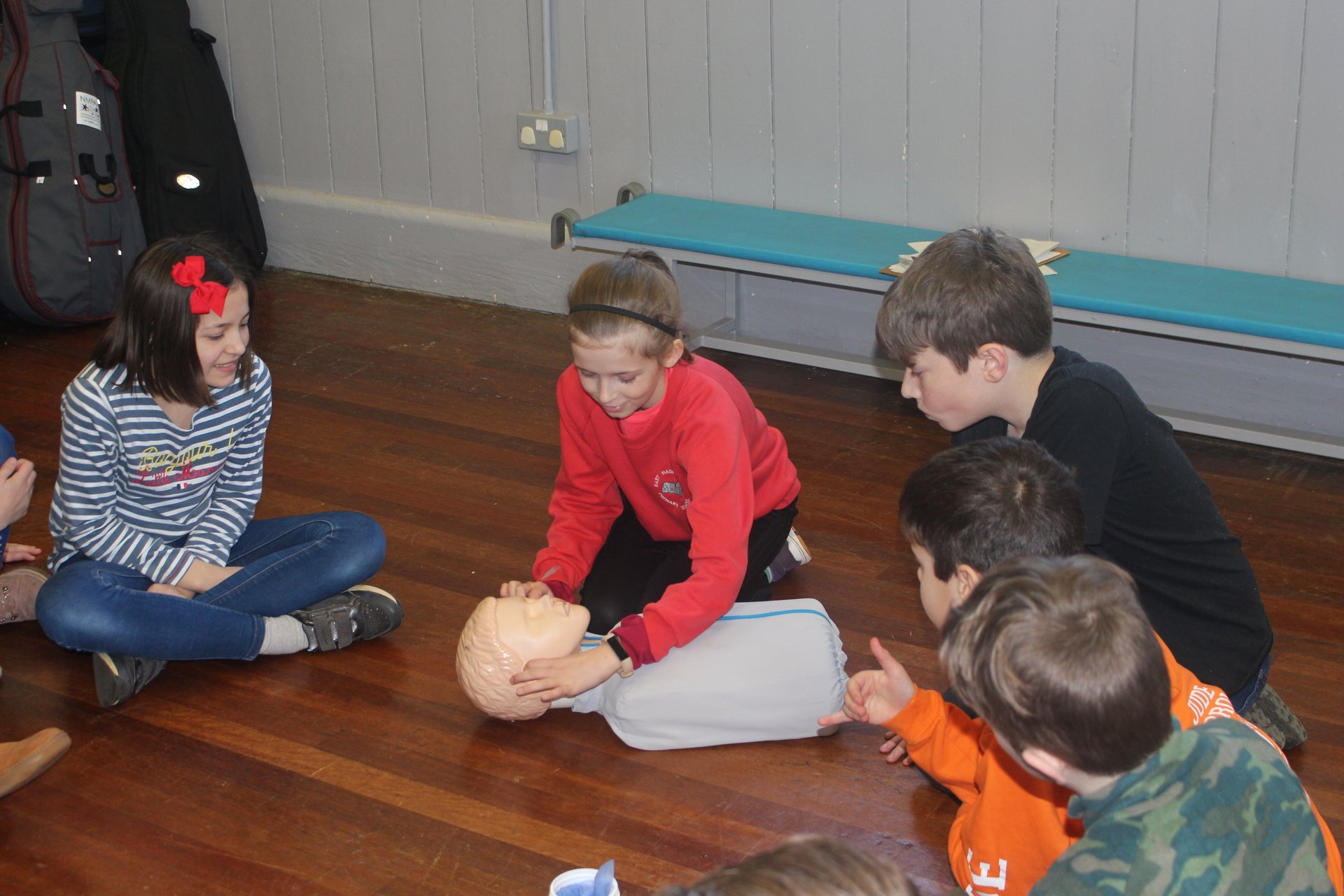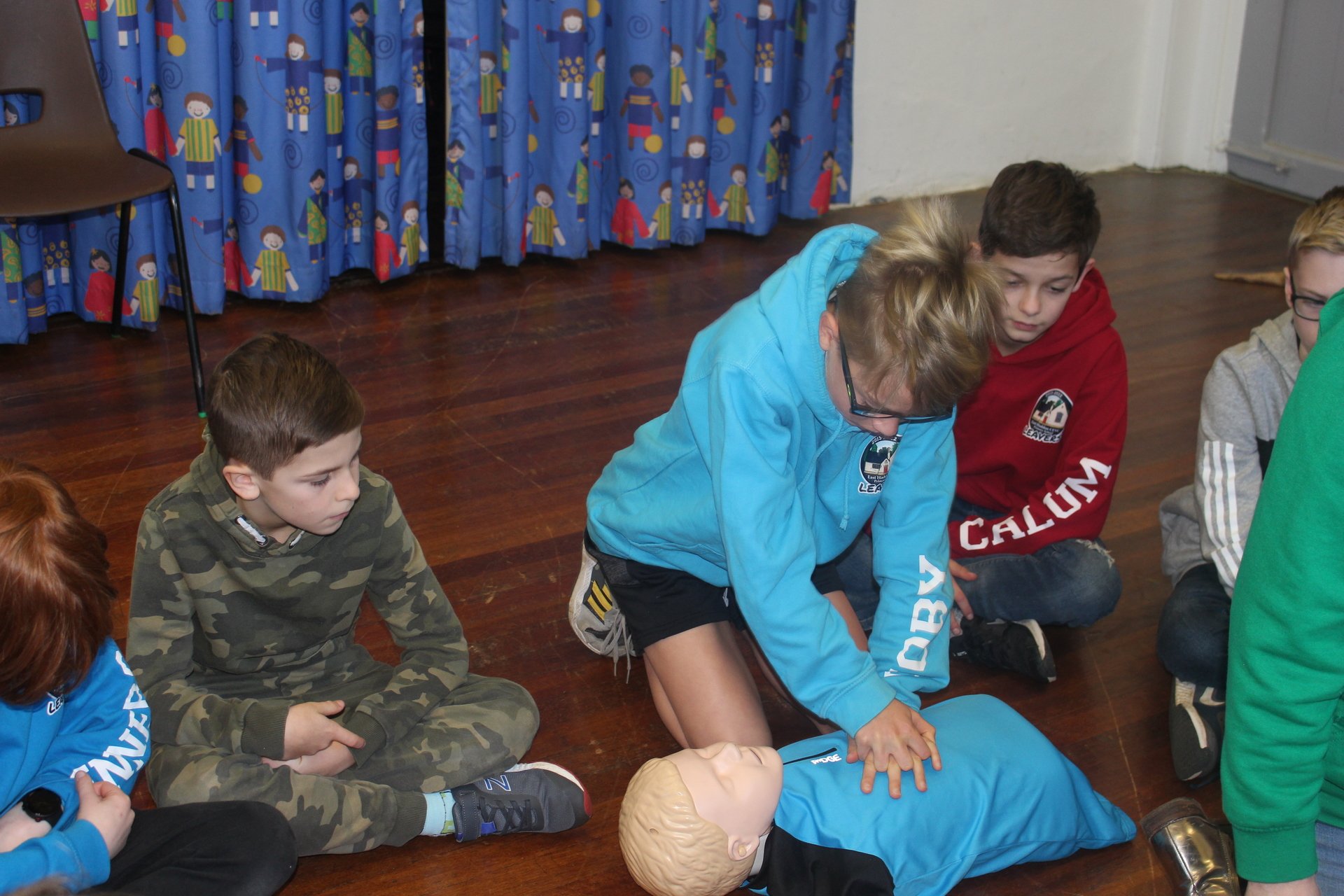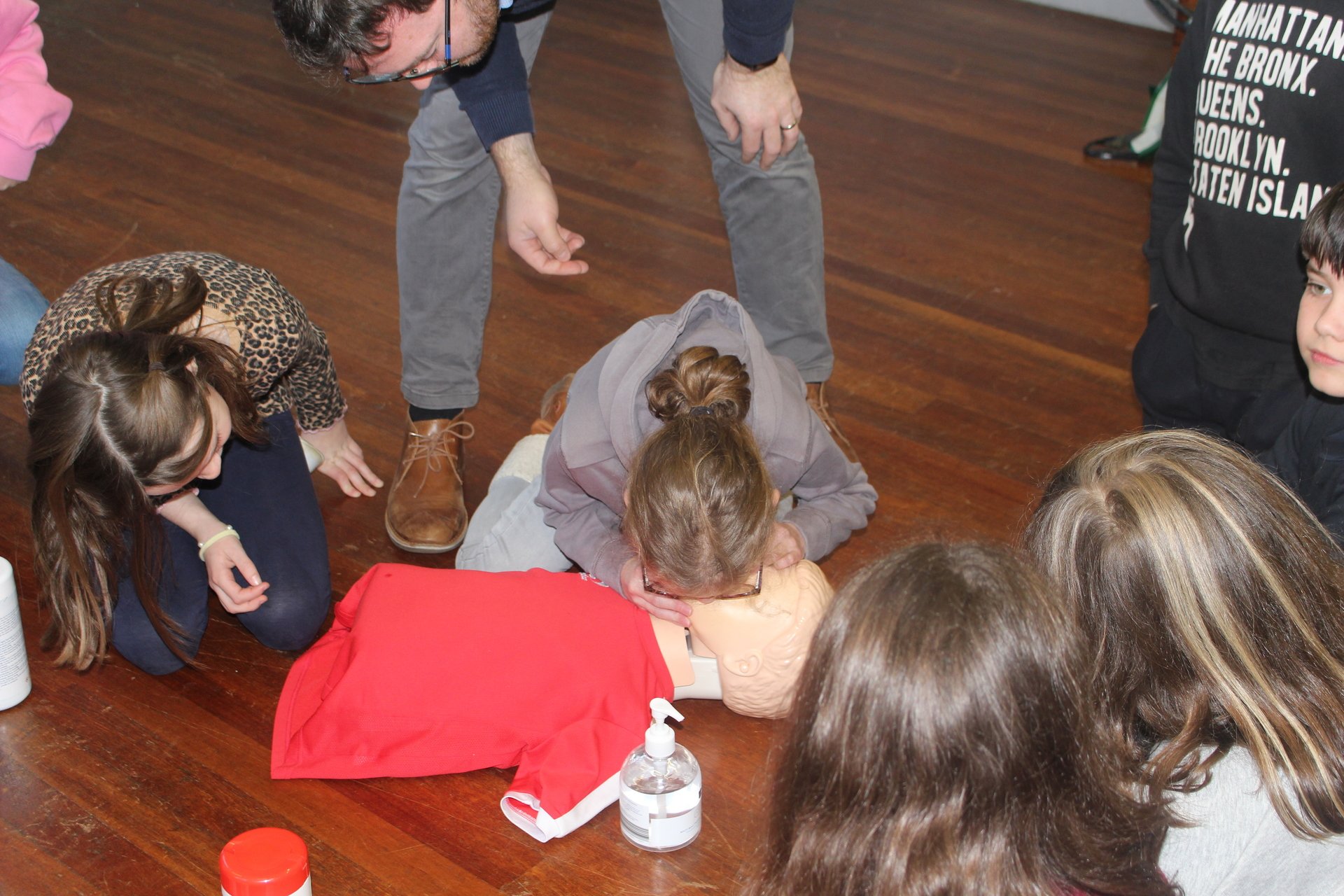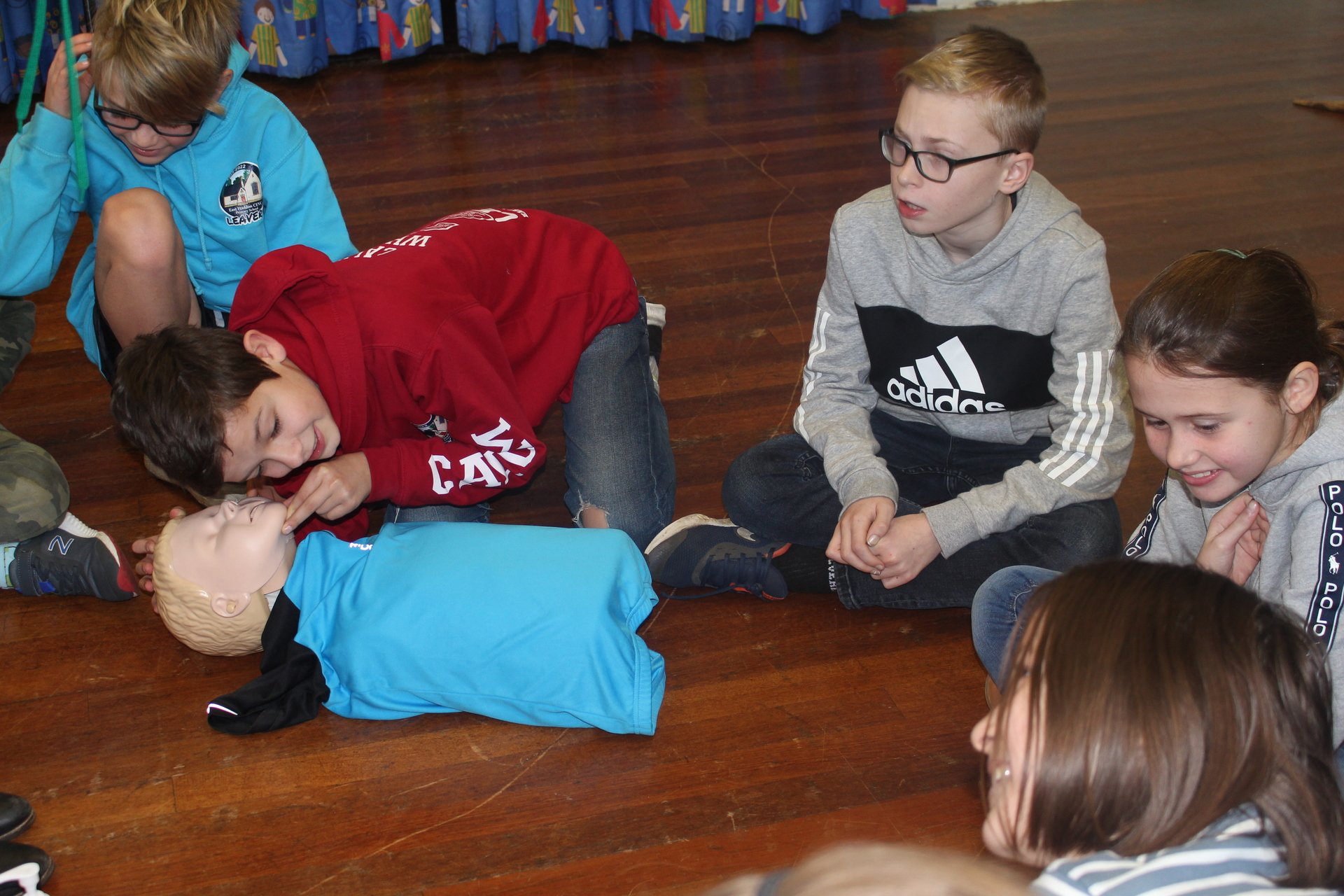 Sportshall Athletics
On Wednesday 12th January 2022 after school, there was a Sportshall Athletics event held at Moulton School. We took a team of children over to take part and they were fantastic! They all did really well in the events they competed in and had massive smiles on their faces. They were also very vocal in cheering each other on, especially during the running events, which was great to see (although it certainly left a ringing in the ears for a while after).
Well done to Eva, Joseph, Alice, Martha, Tom B, Charles, Tom F, Toby C and Riley from Year 4 and Sebastian, Bella, Ellie, Maria, Millie, Arabella and Ivy from Year 3.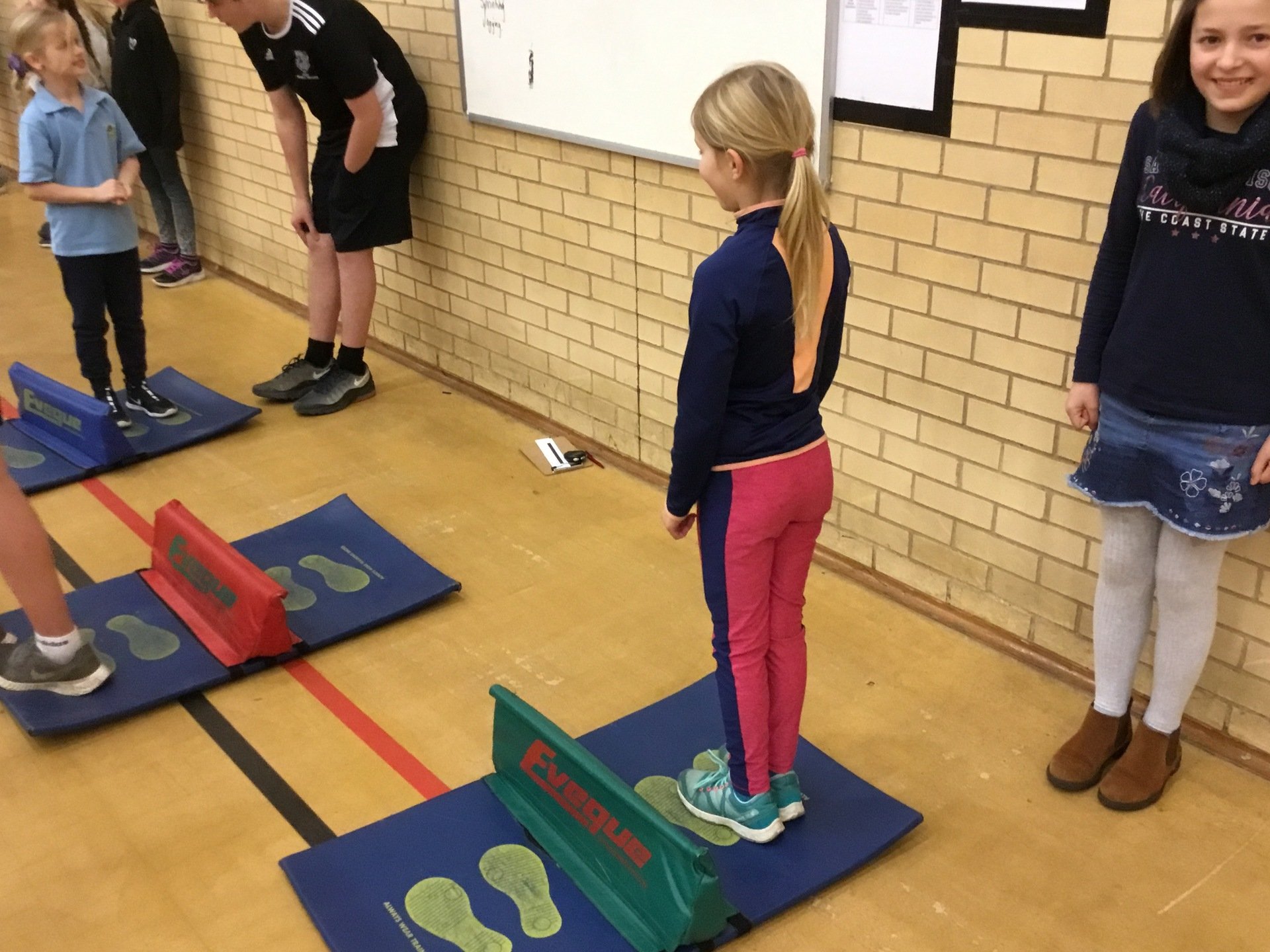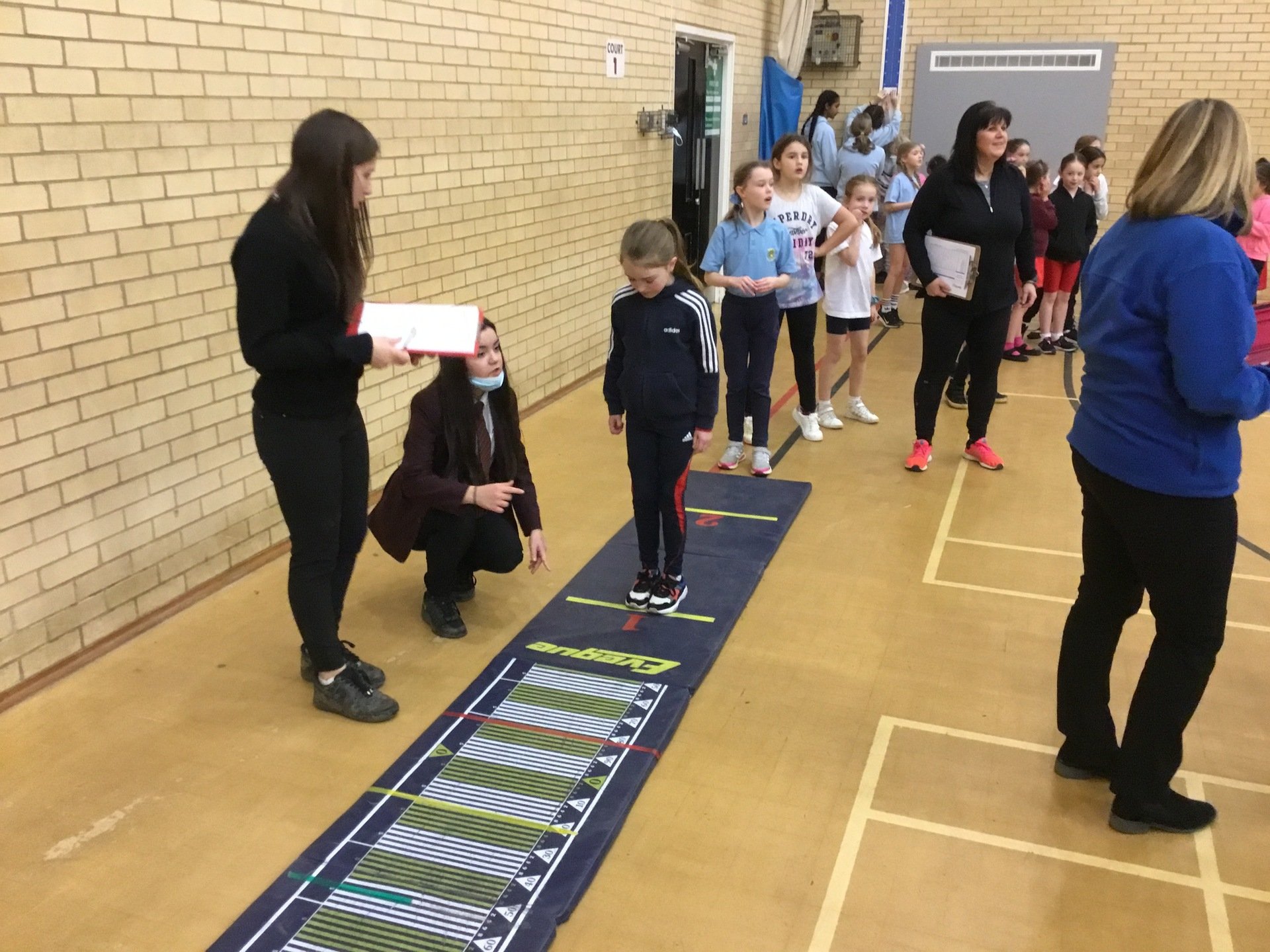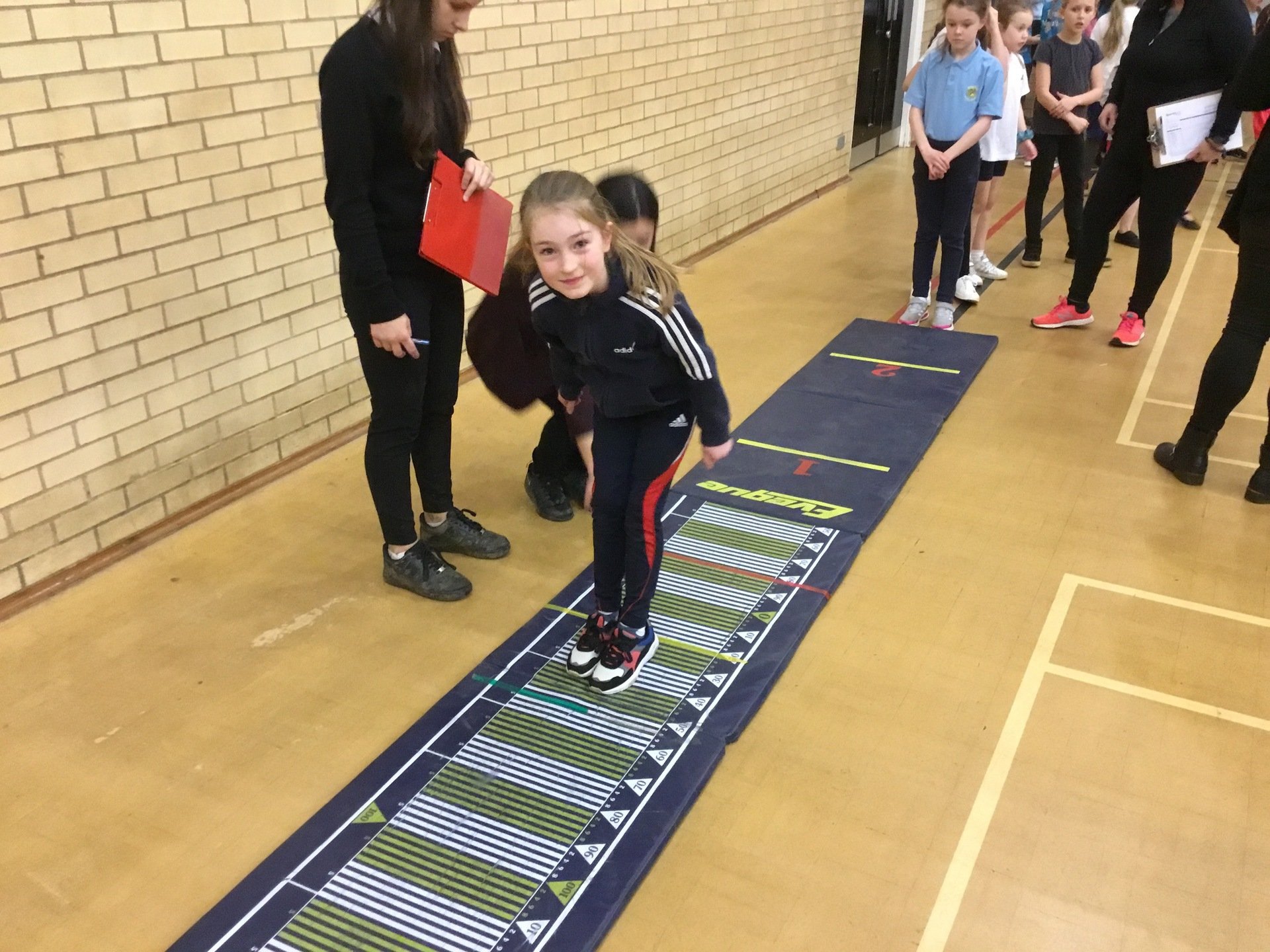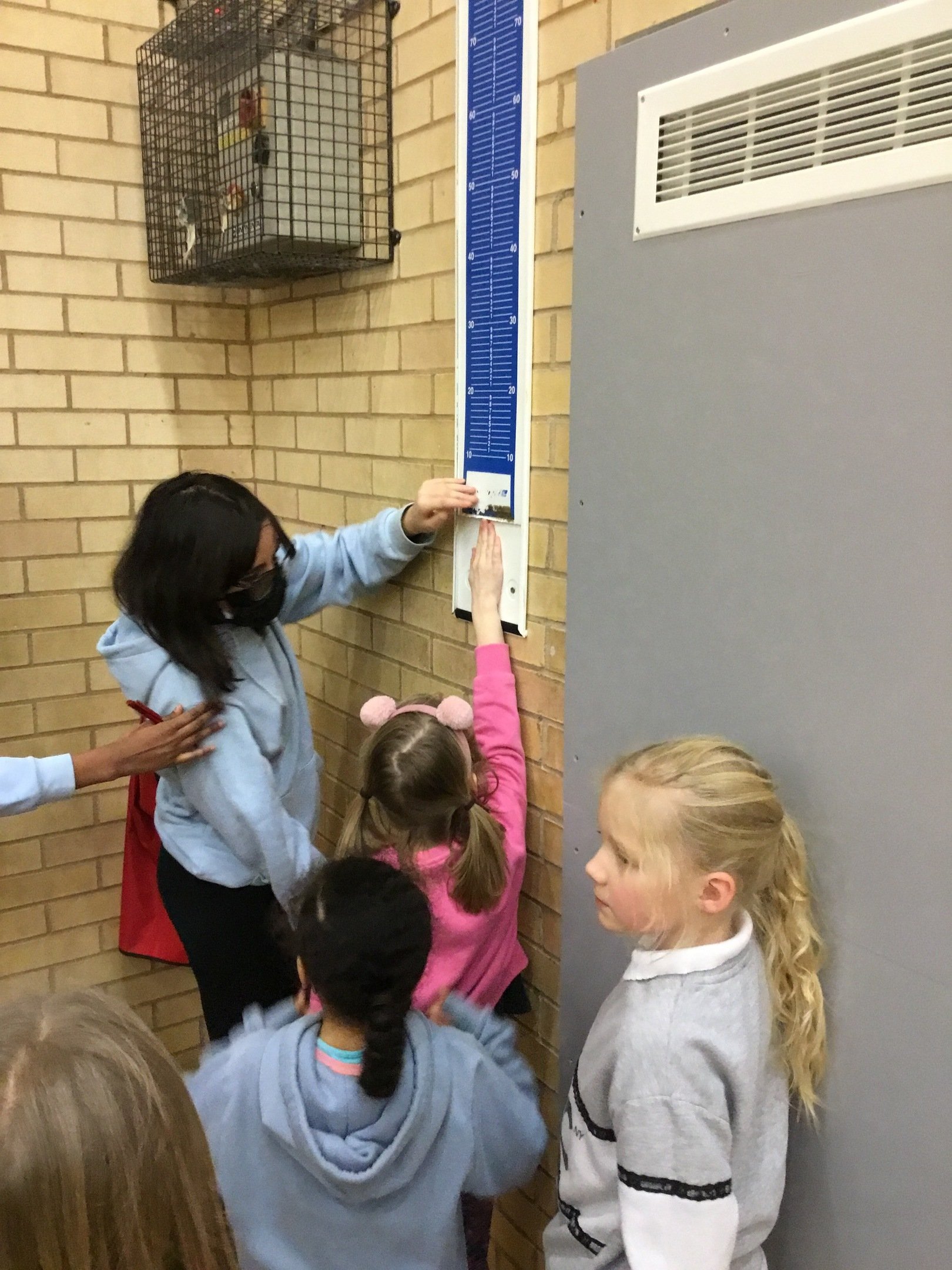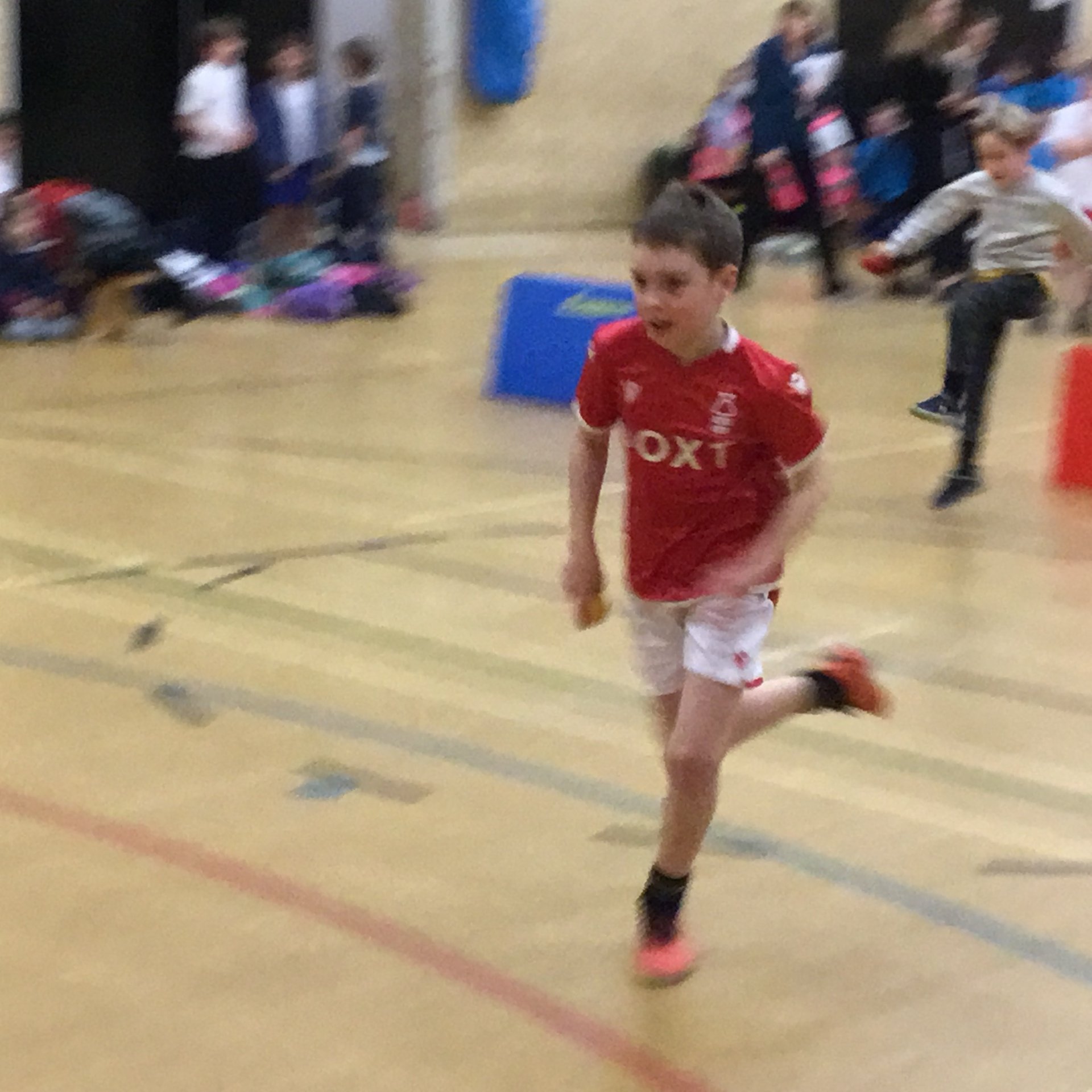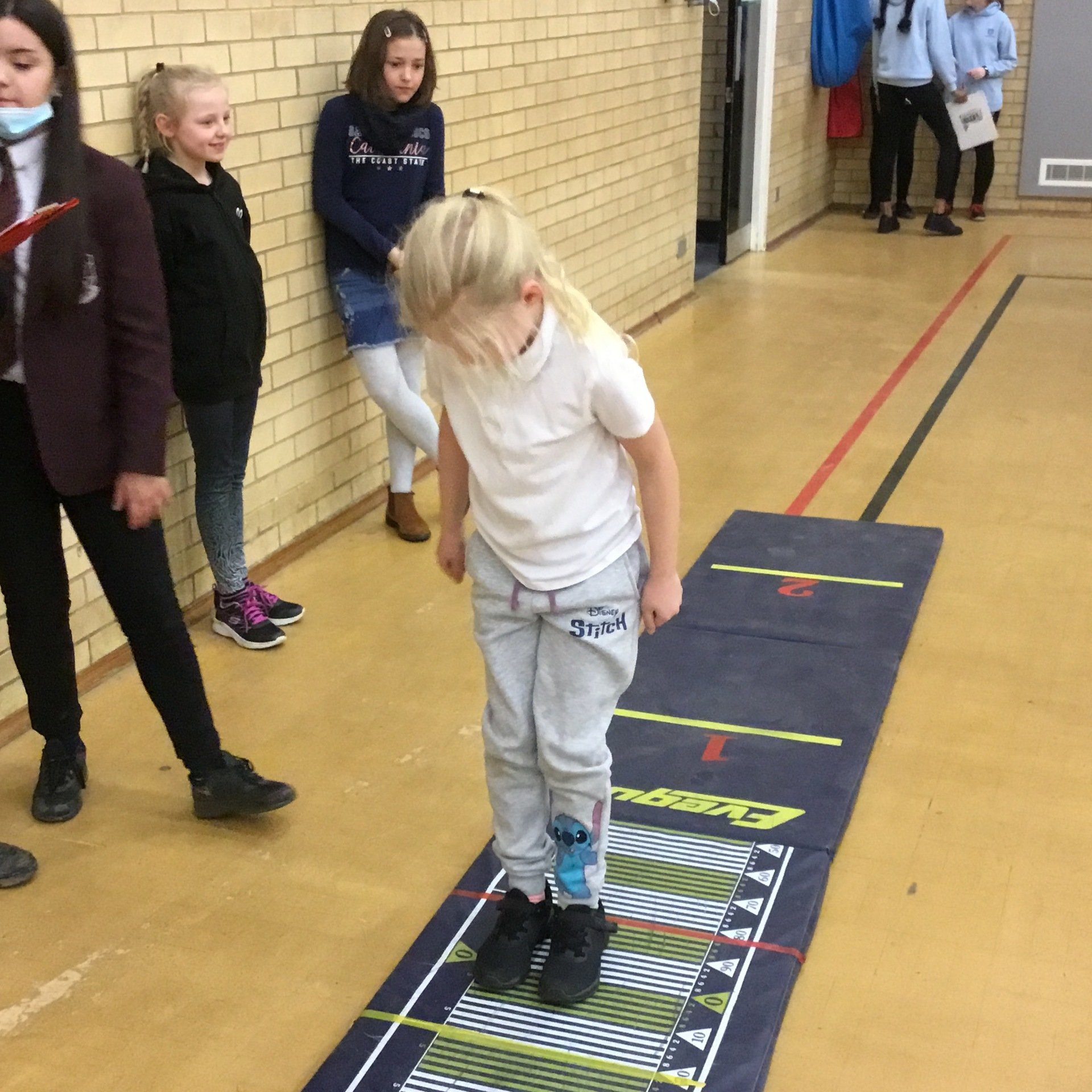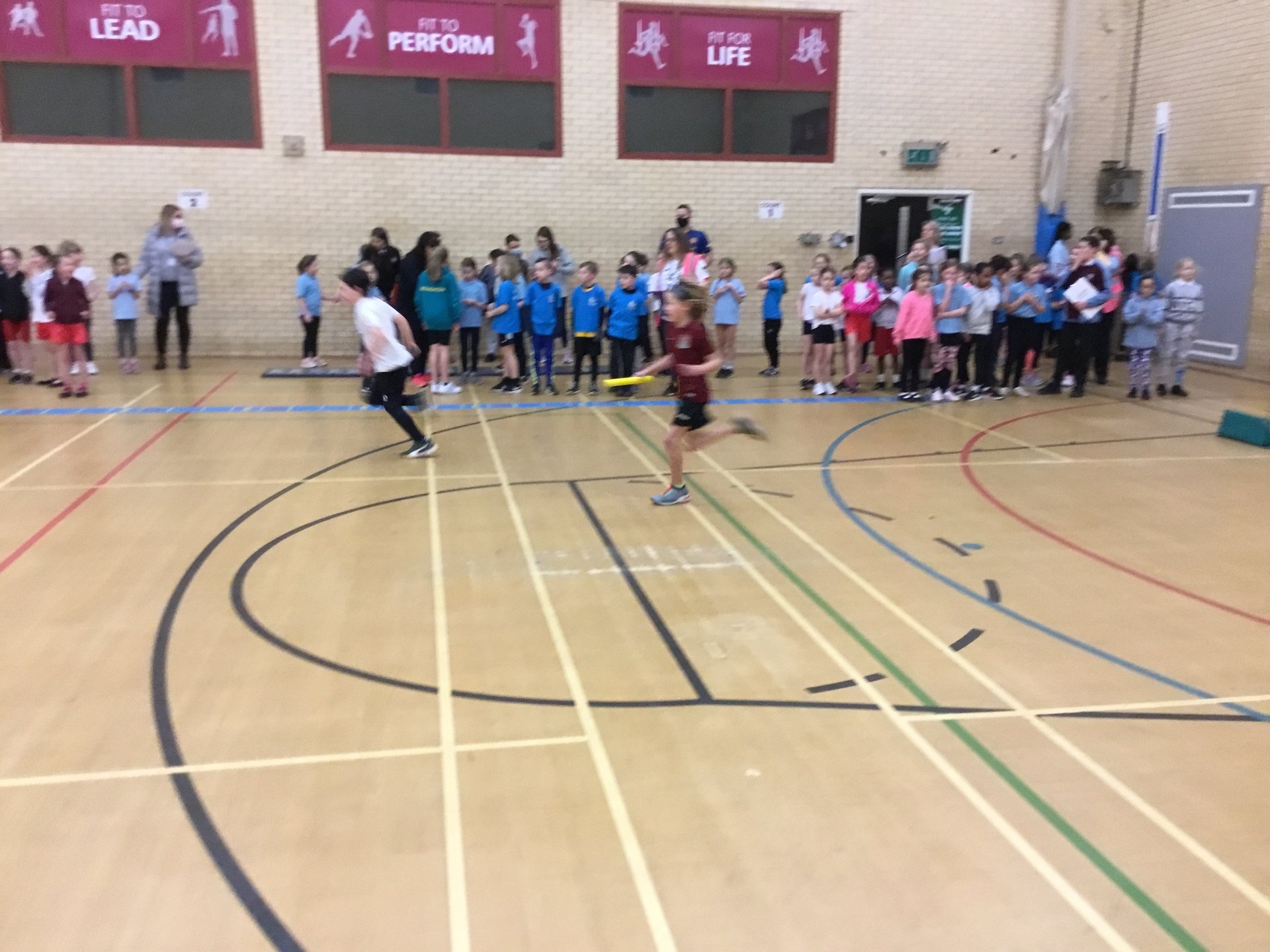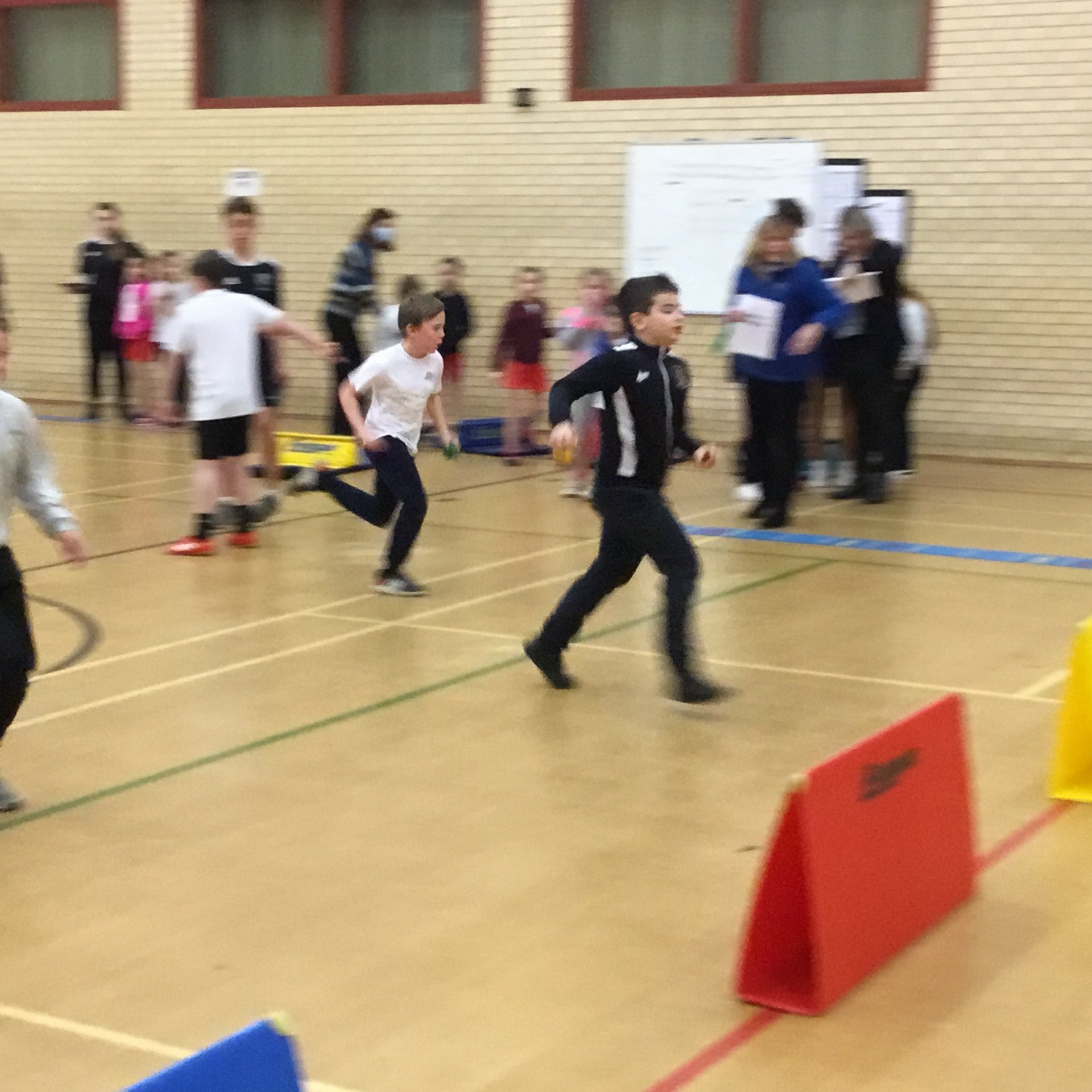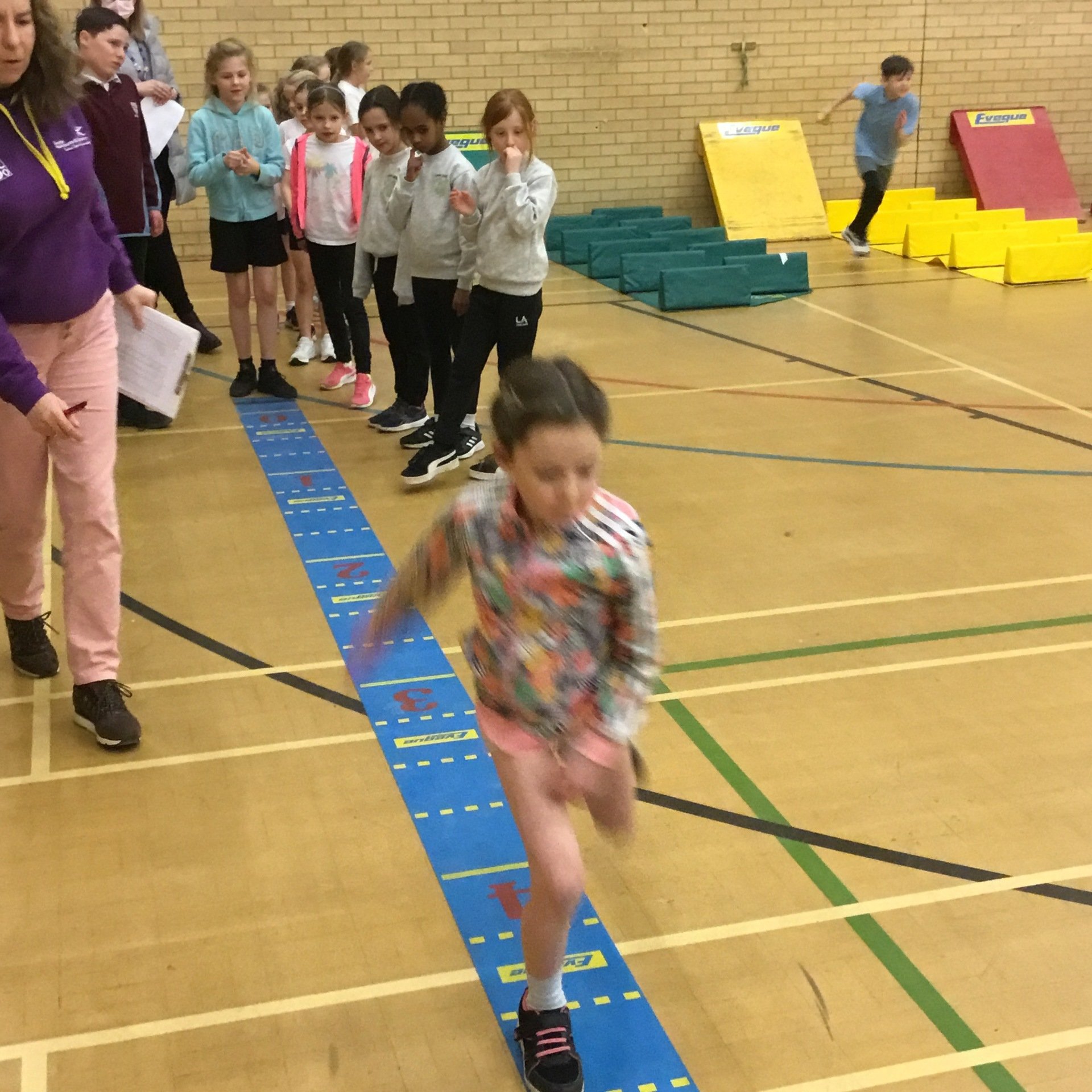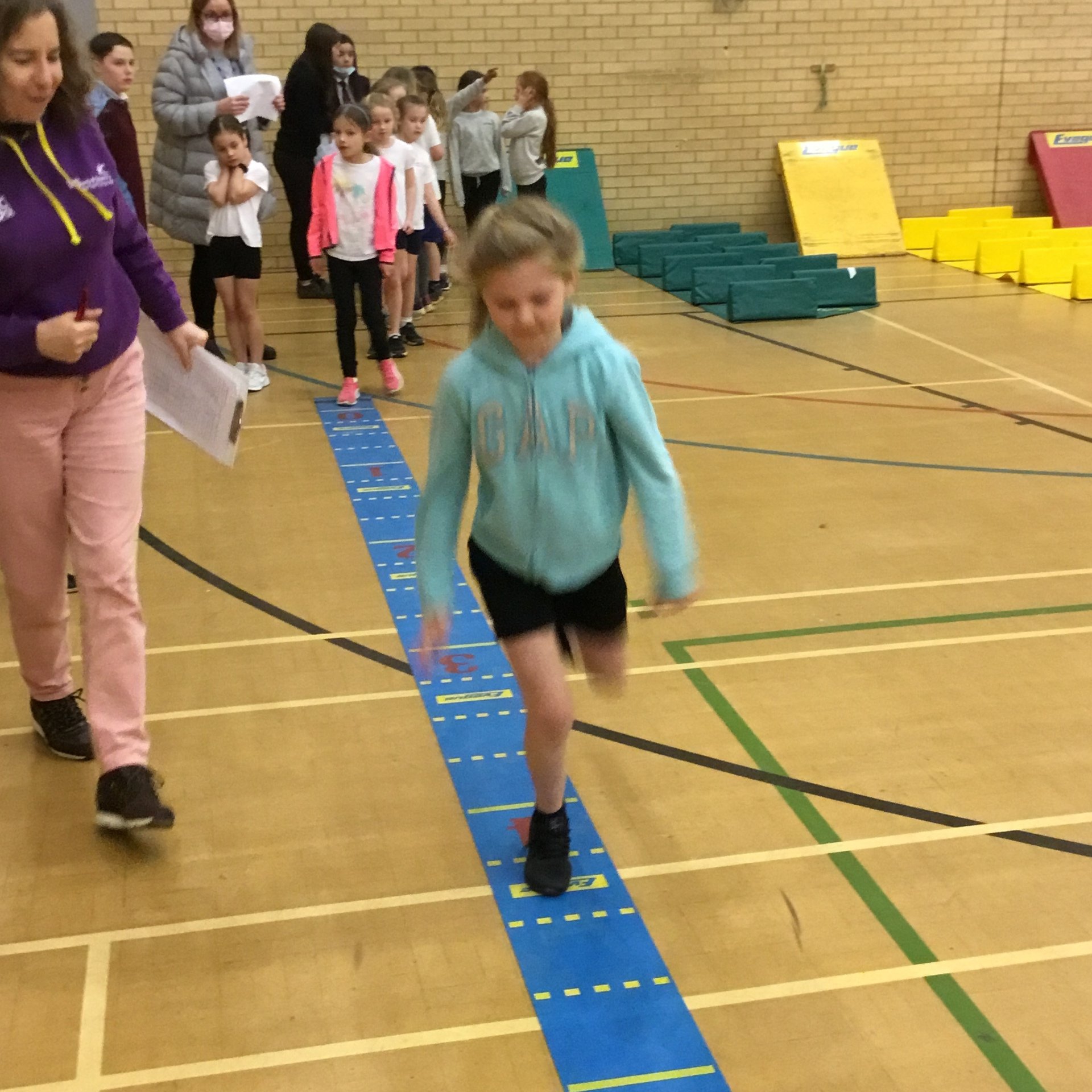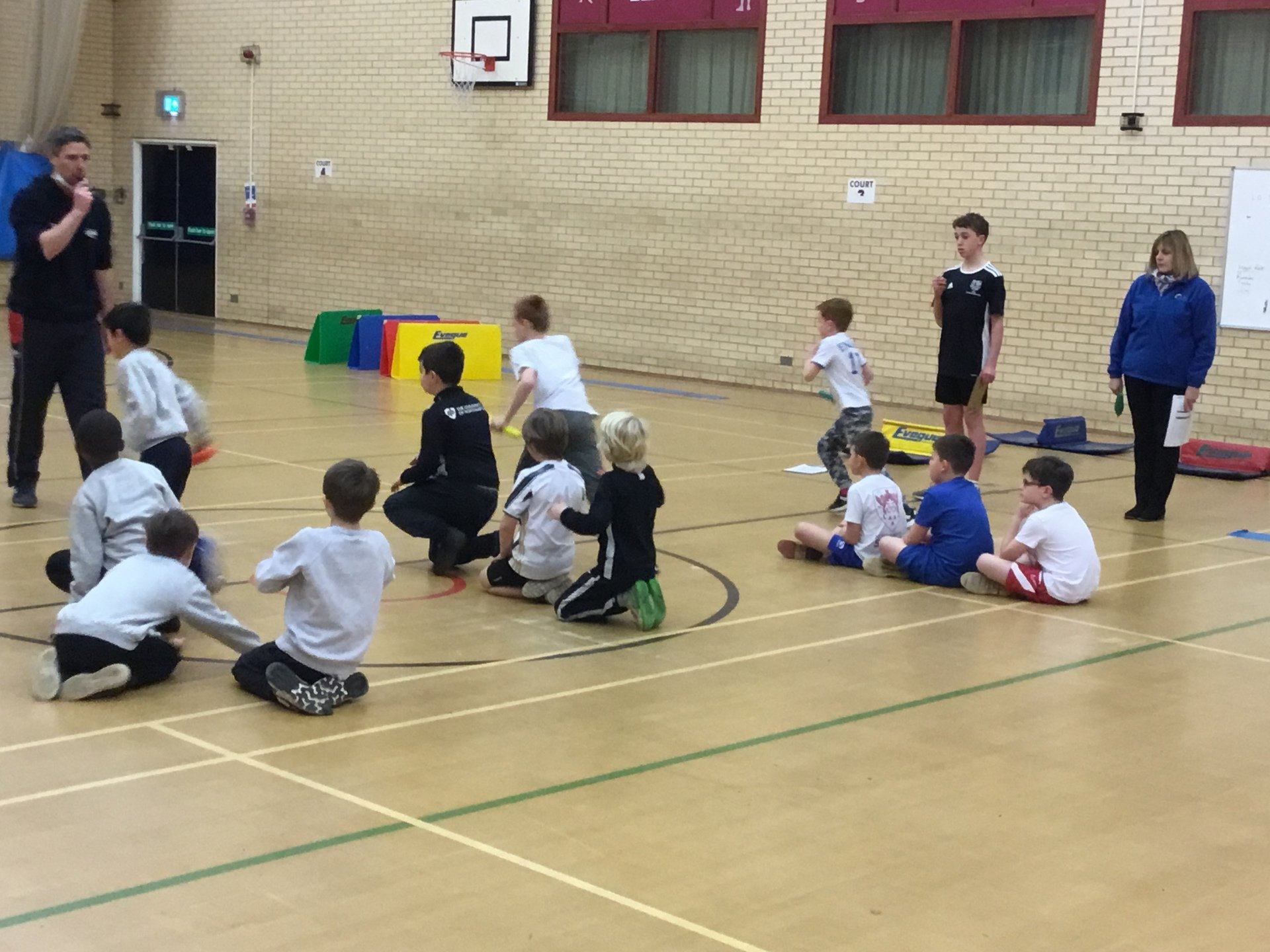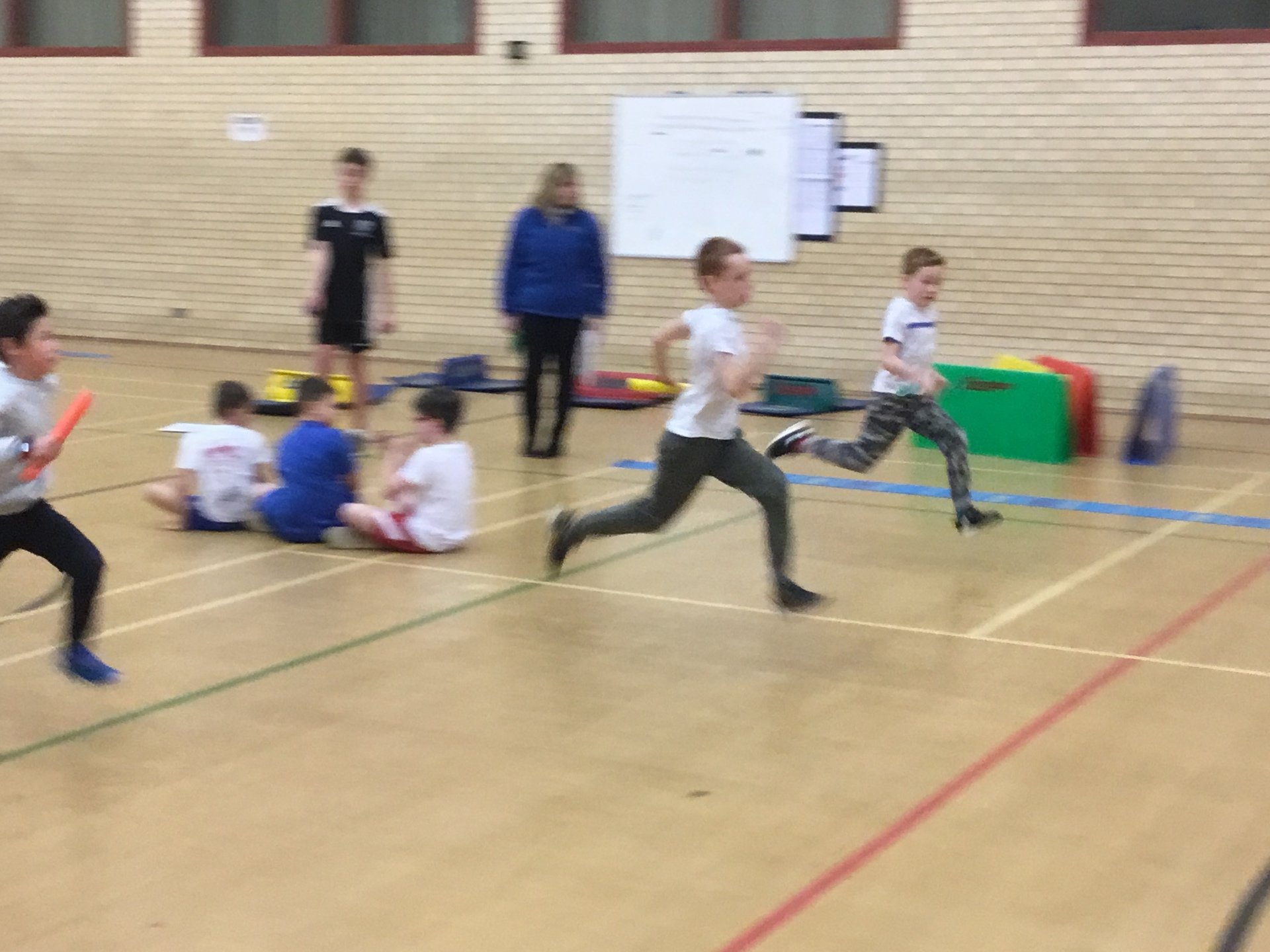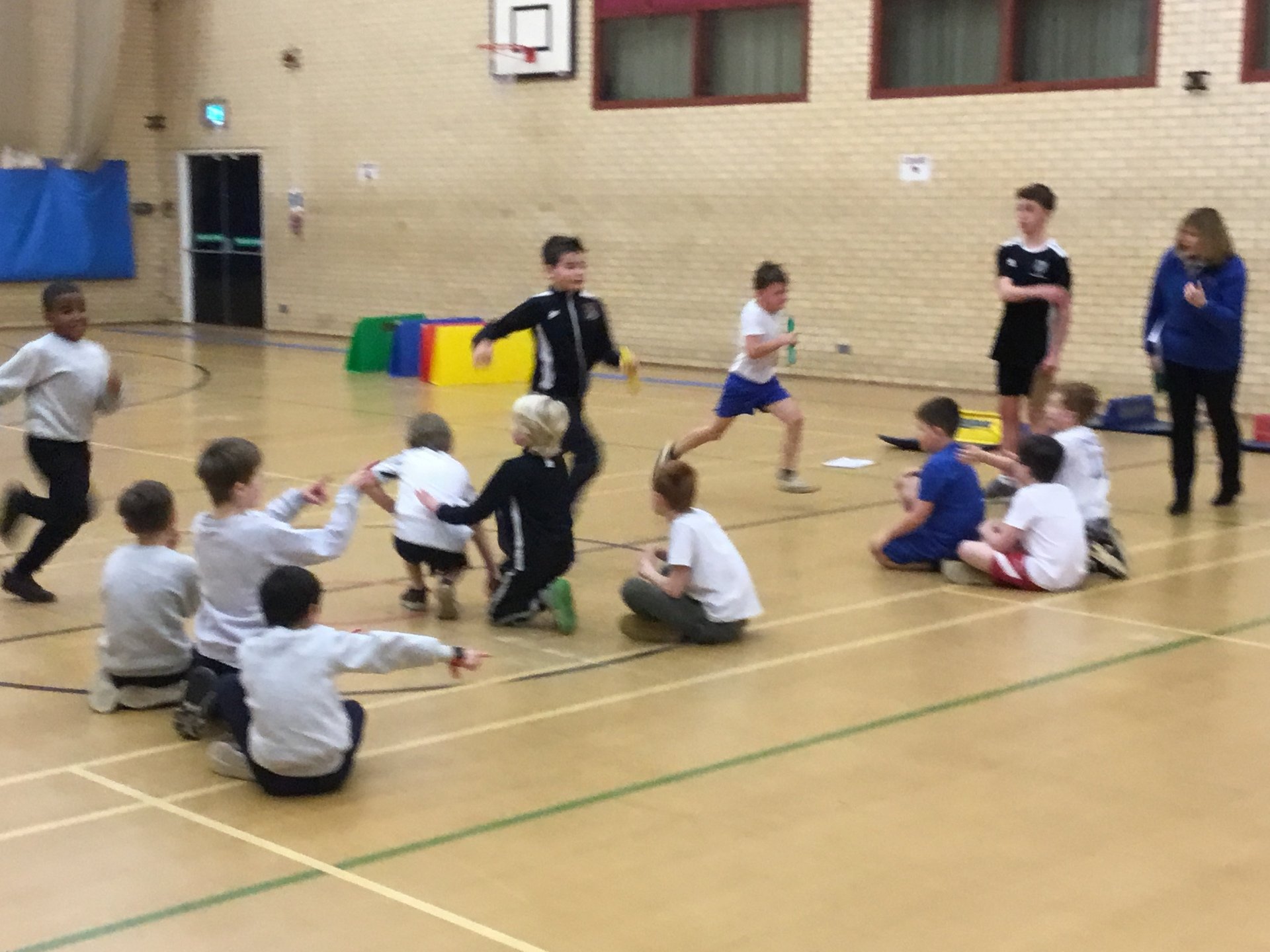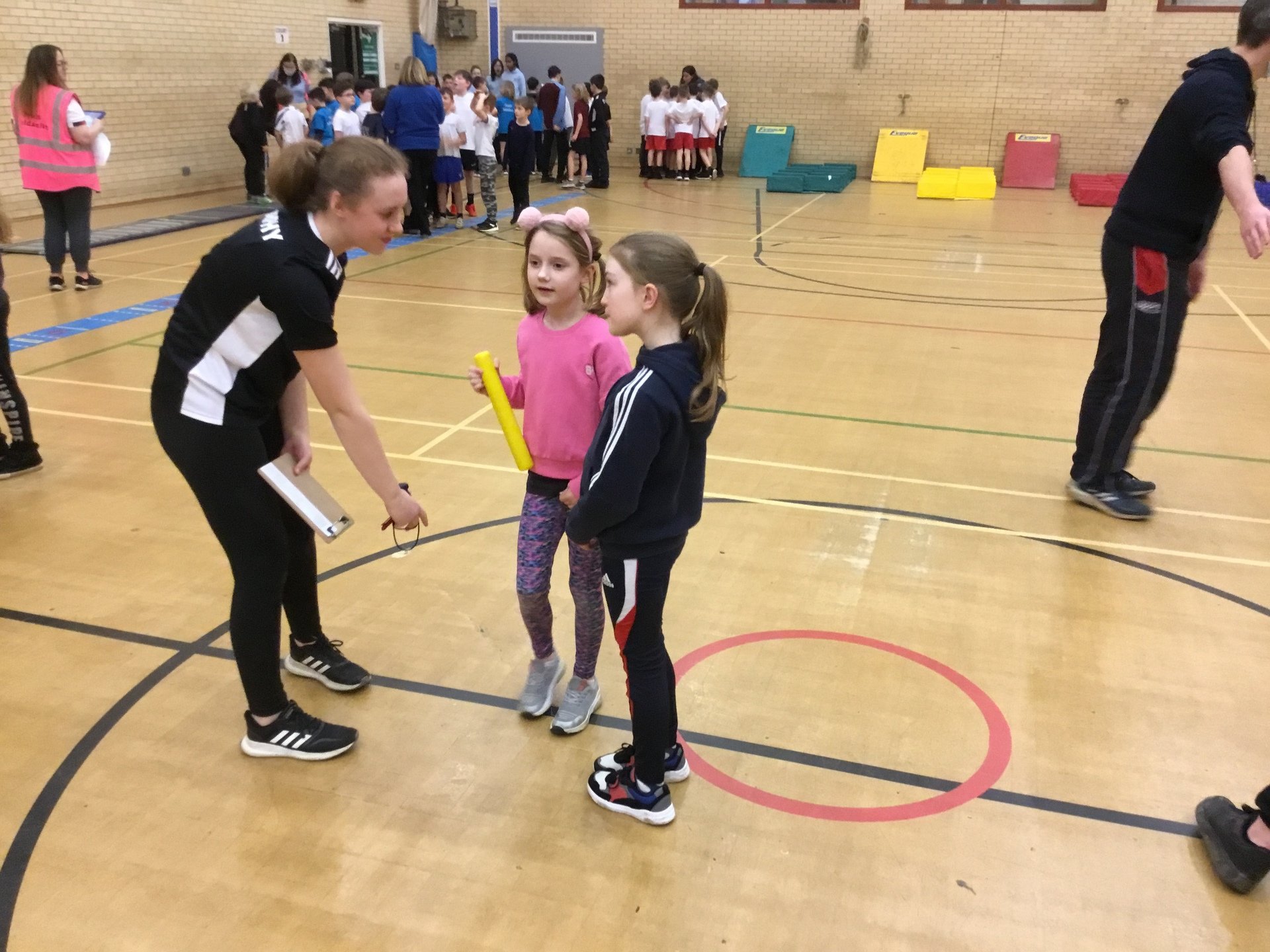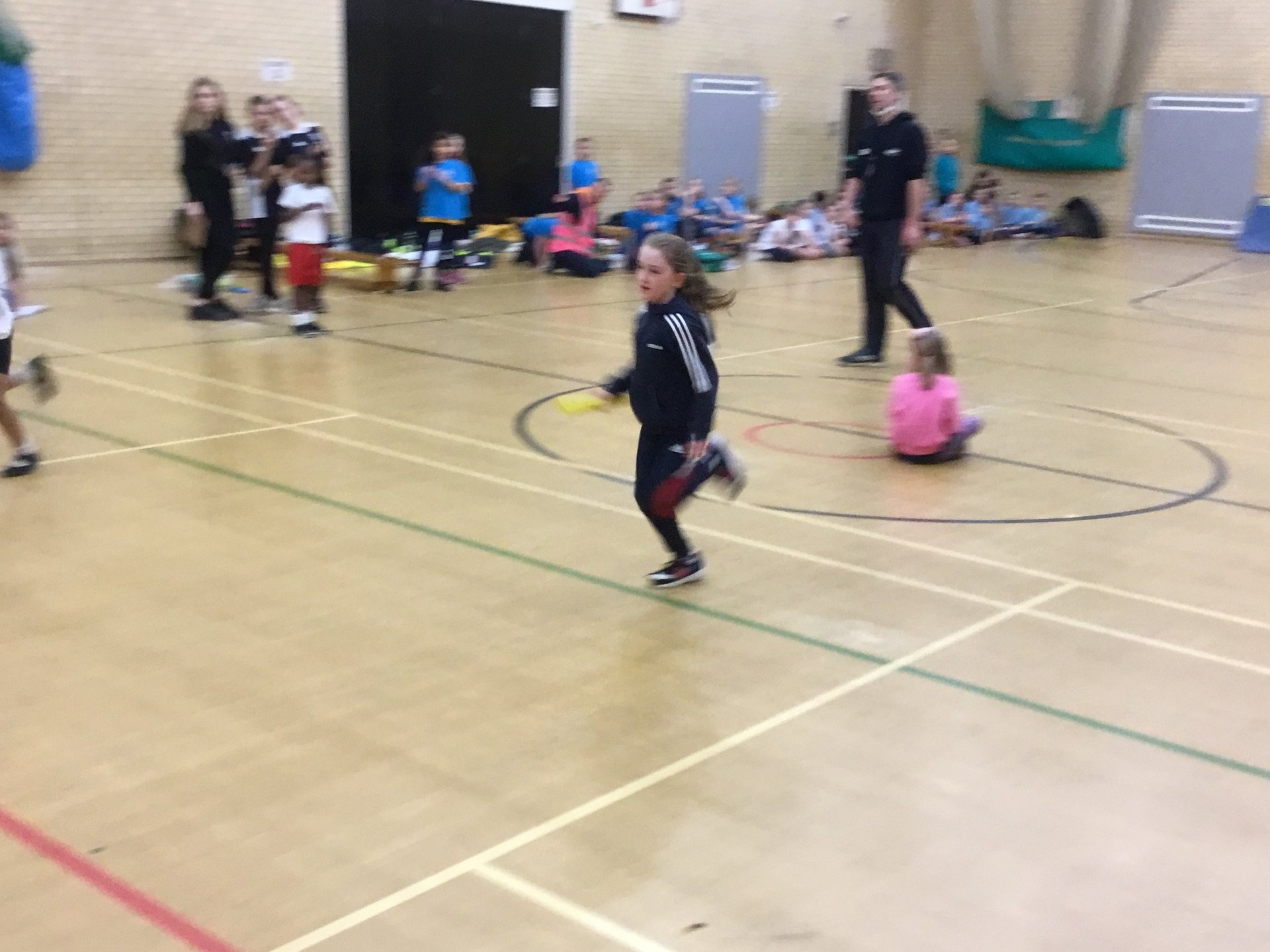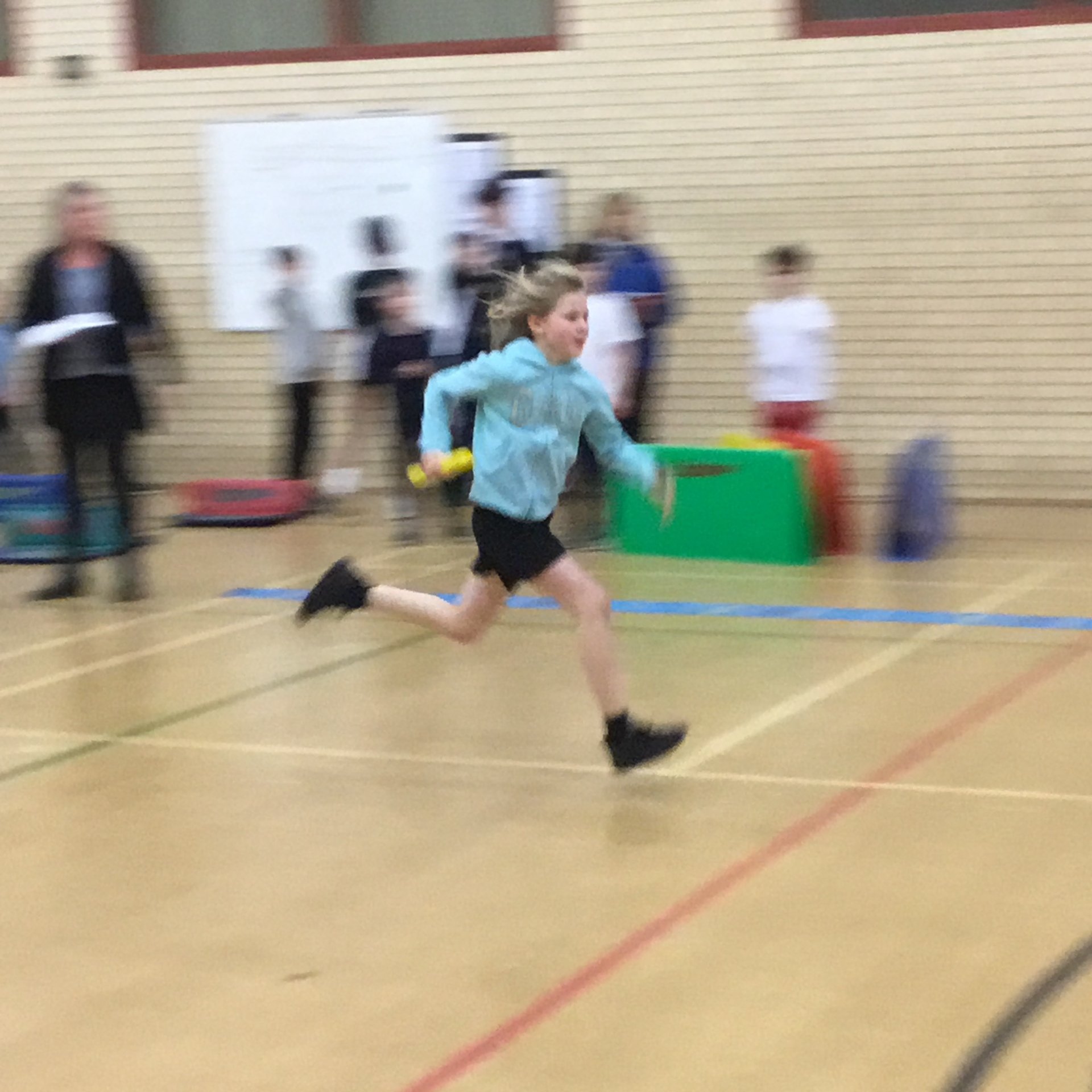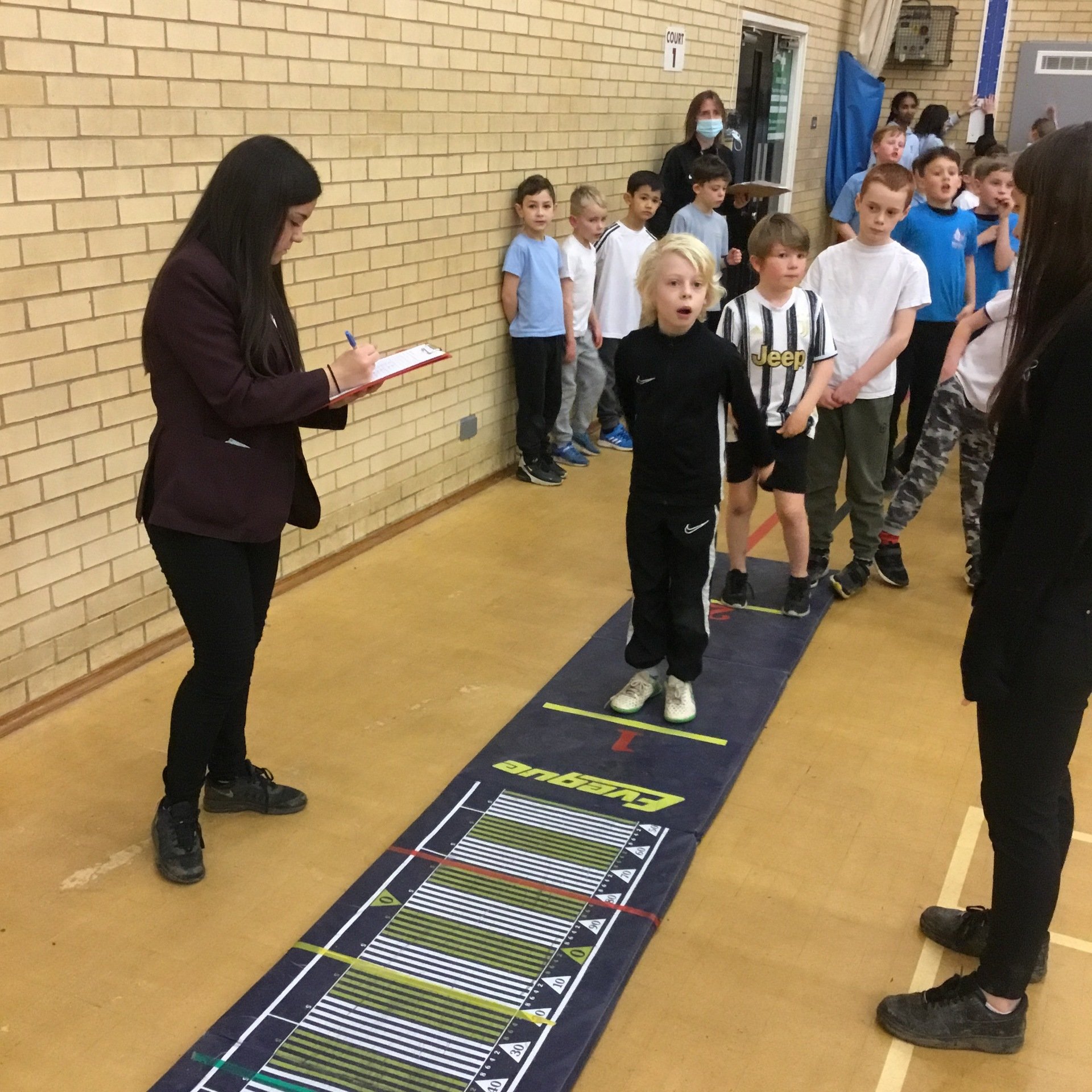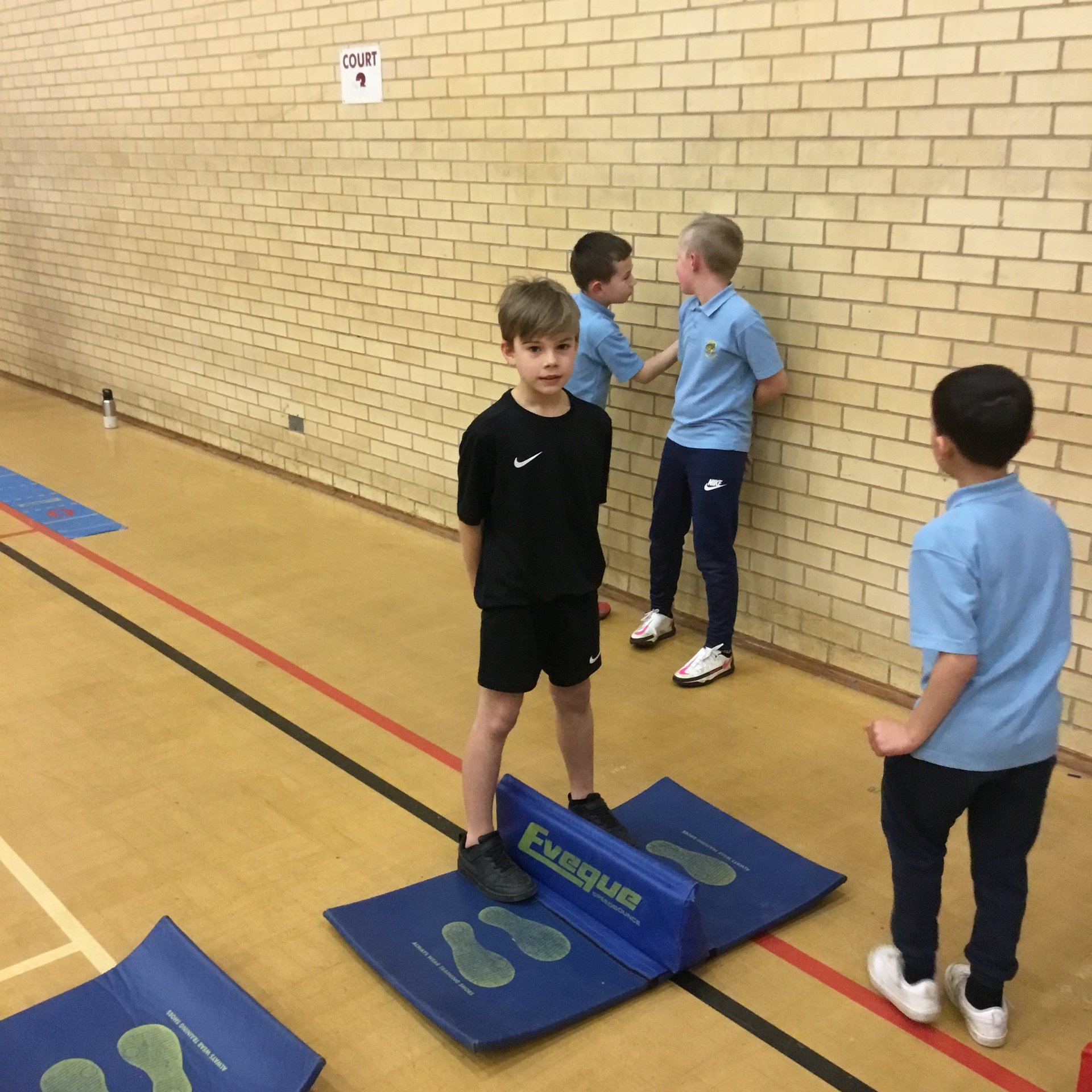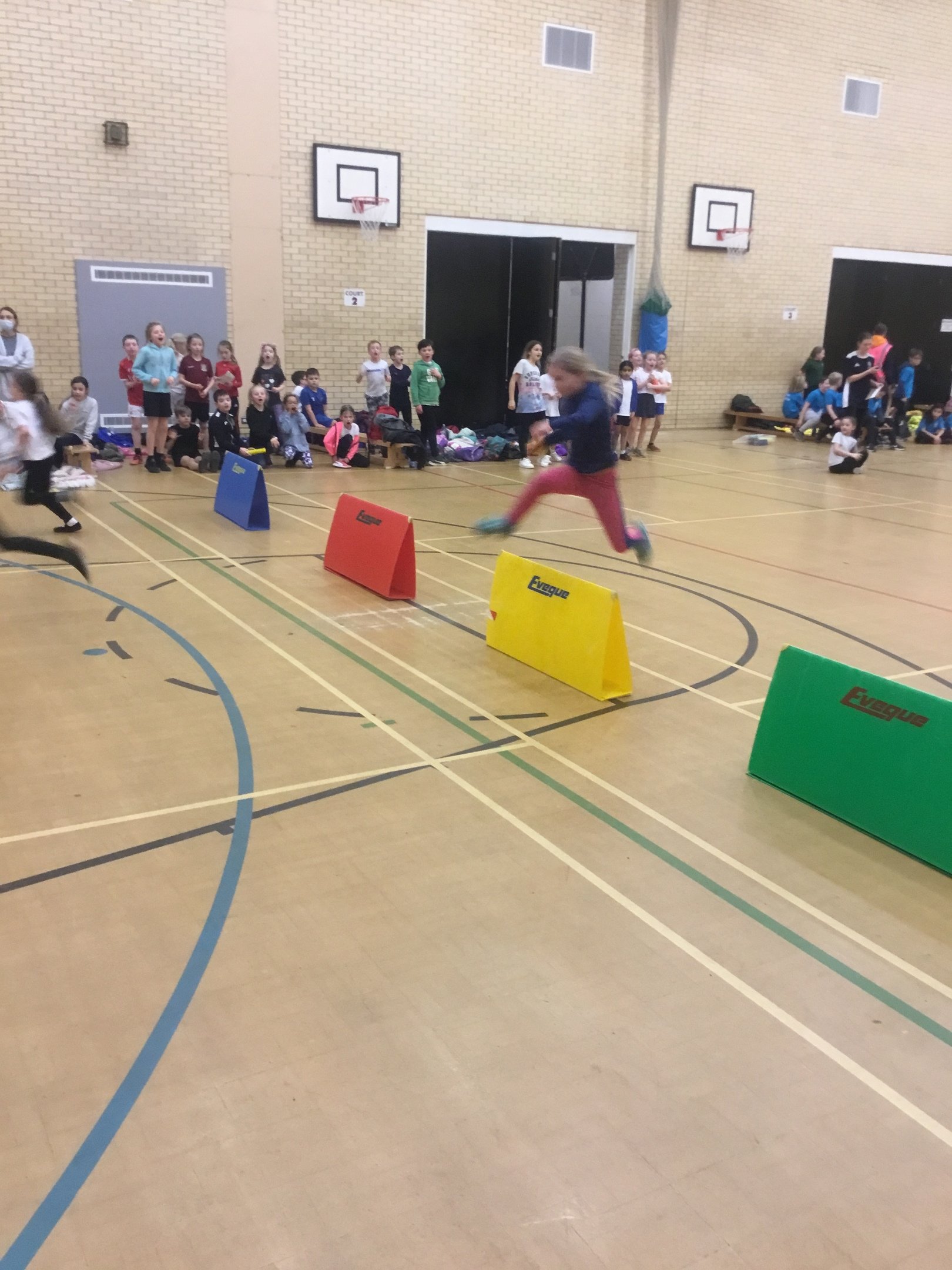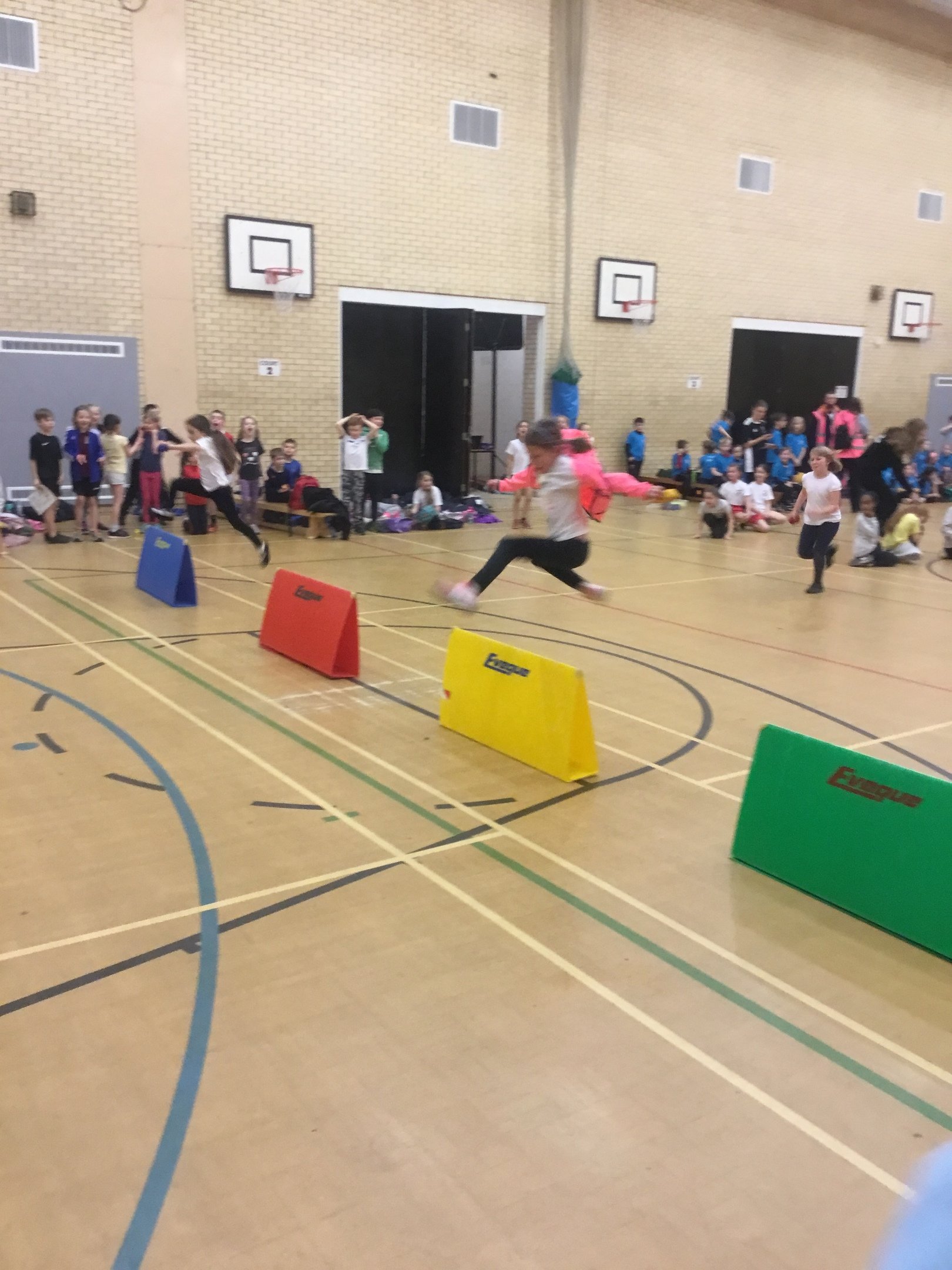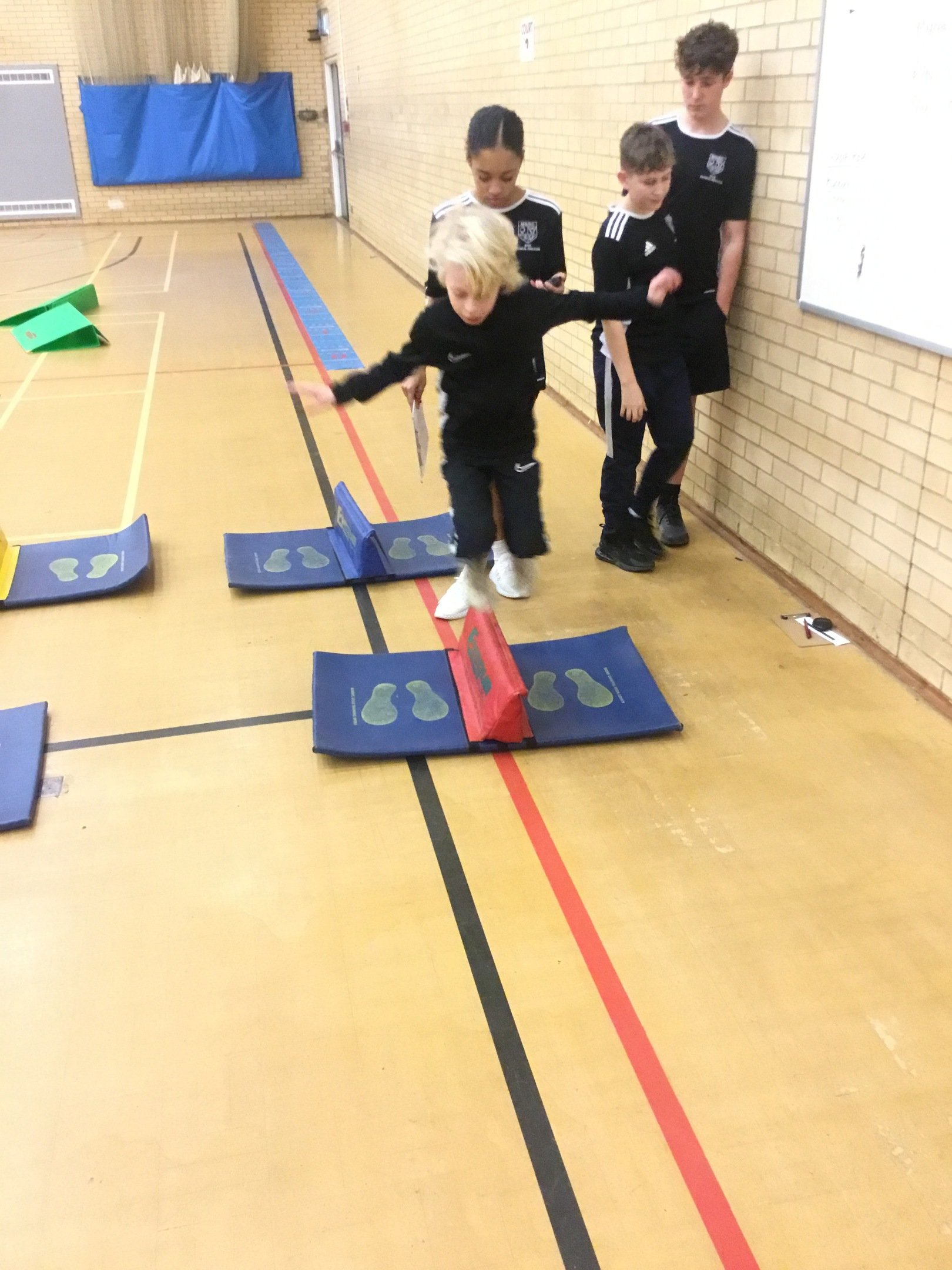 Orienteering
On Friday 7th January 2022, Years 5 and 6 completed an orienteering challenge at Guilsborough Playing Field, organised by Northamptonshire Sport, in teams of 4/5. Teams from four other schools completed the same challenge at different times of the day and by the time it was our turn, three
of those schools had already been and only four of the teams managed to complete the challenge in the 30-minute time frame – the fastest of which was just under 21 minutes. All of our teams managed to finish in time (just) with the team of Calum, Henry, Finley, Kenny and Jack R
completing the course in an amazing time of 13 minutes 40 seconds, the fastest time of the day by 6 minutes! David Hanson, the organiser, couldn't actually believe they had managed to complete it so quickly. Well done to all of Year 5 and 6 for their attitude towards the task.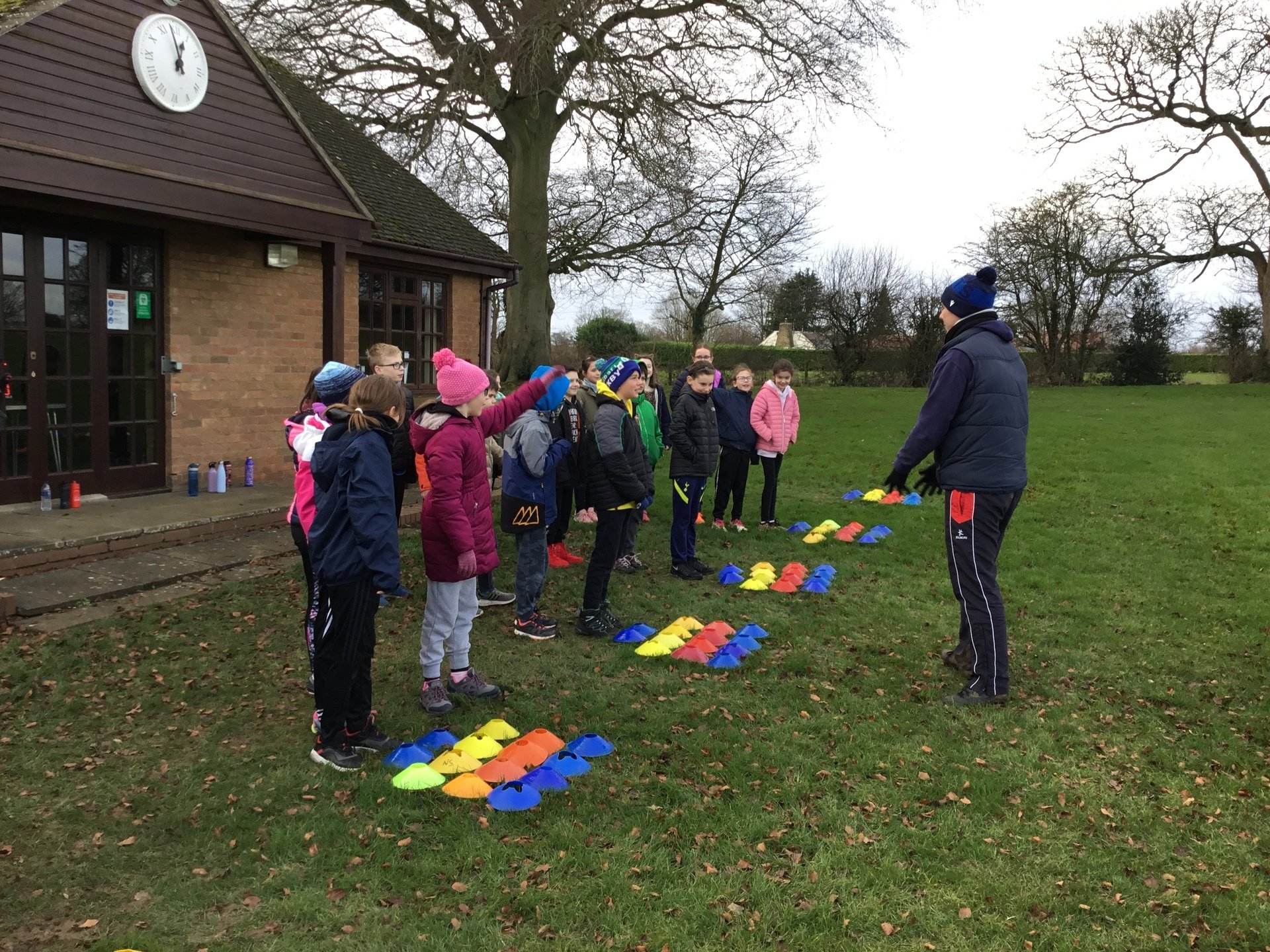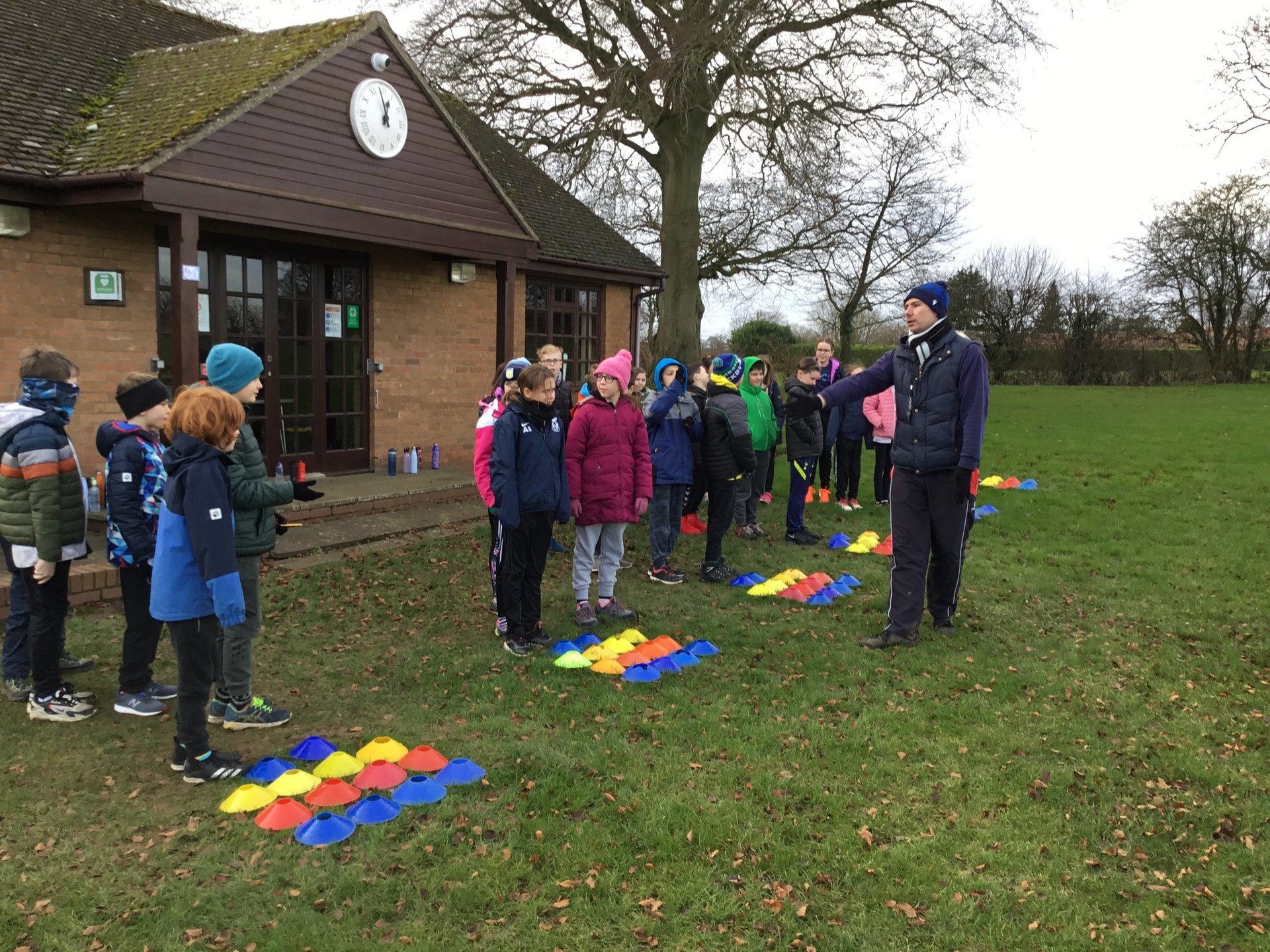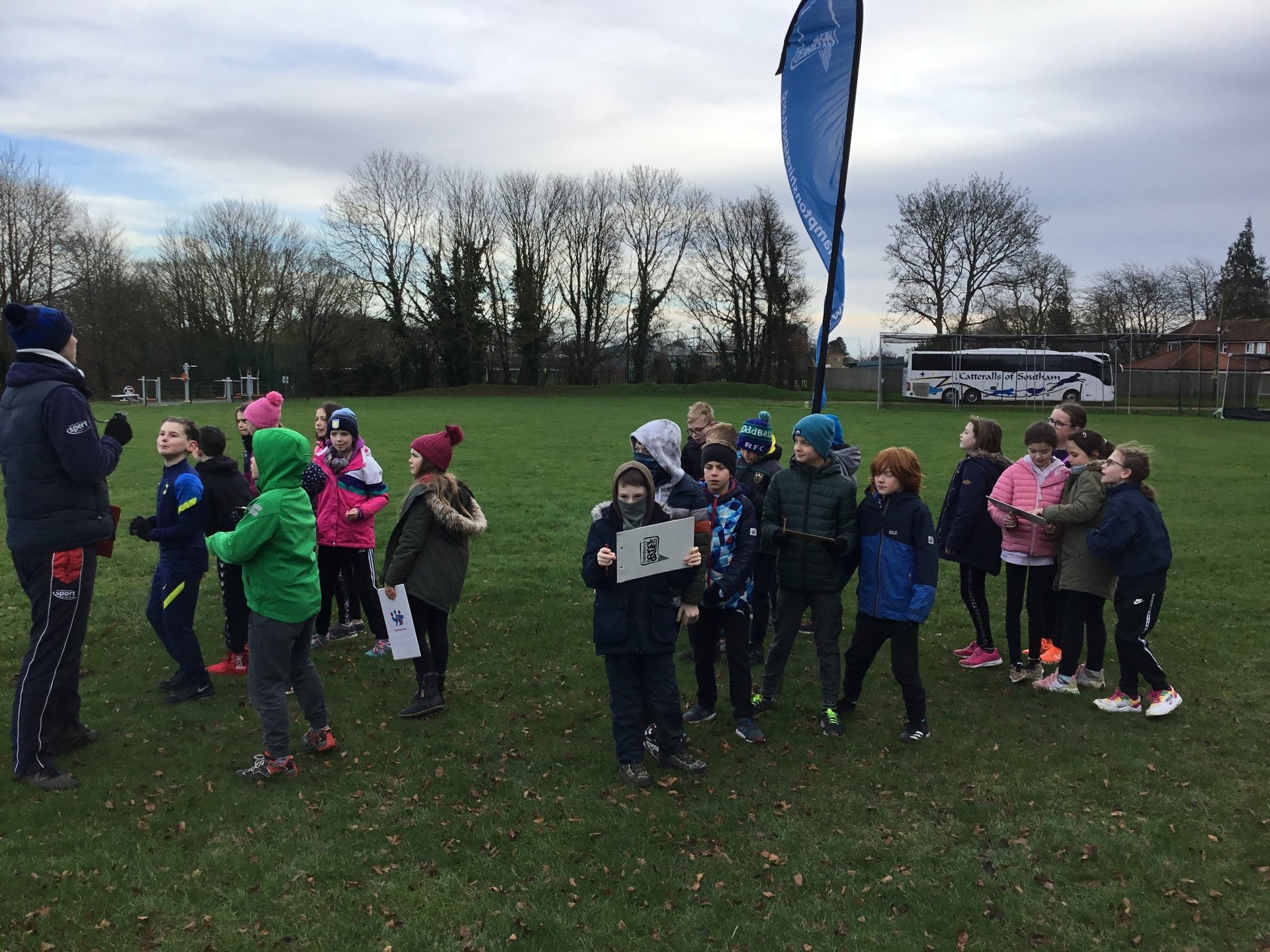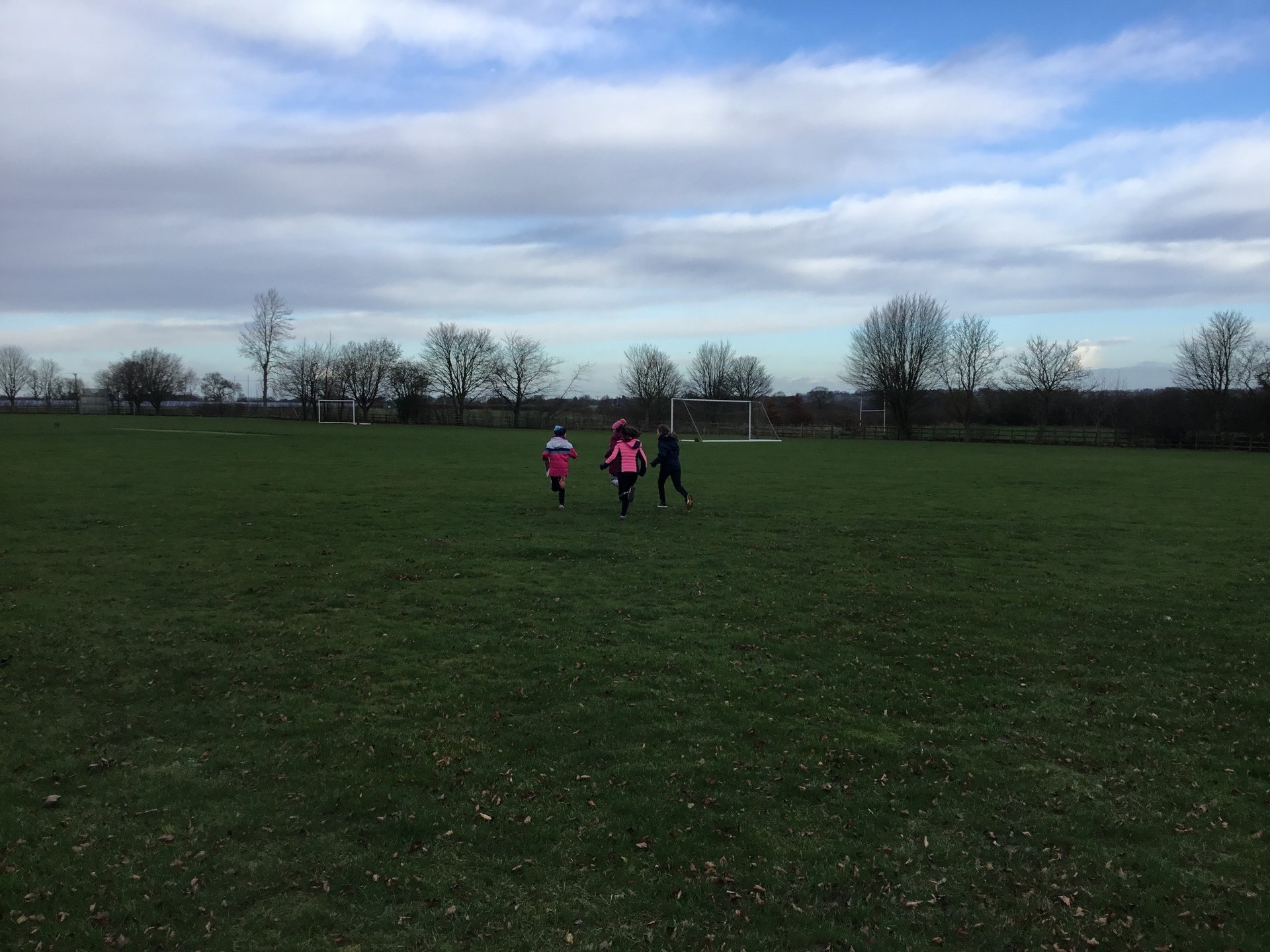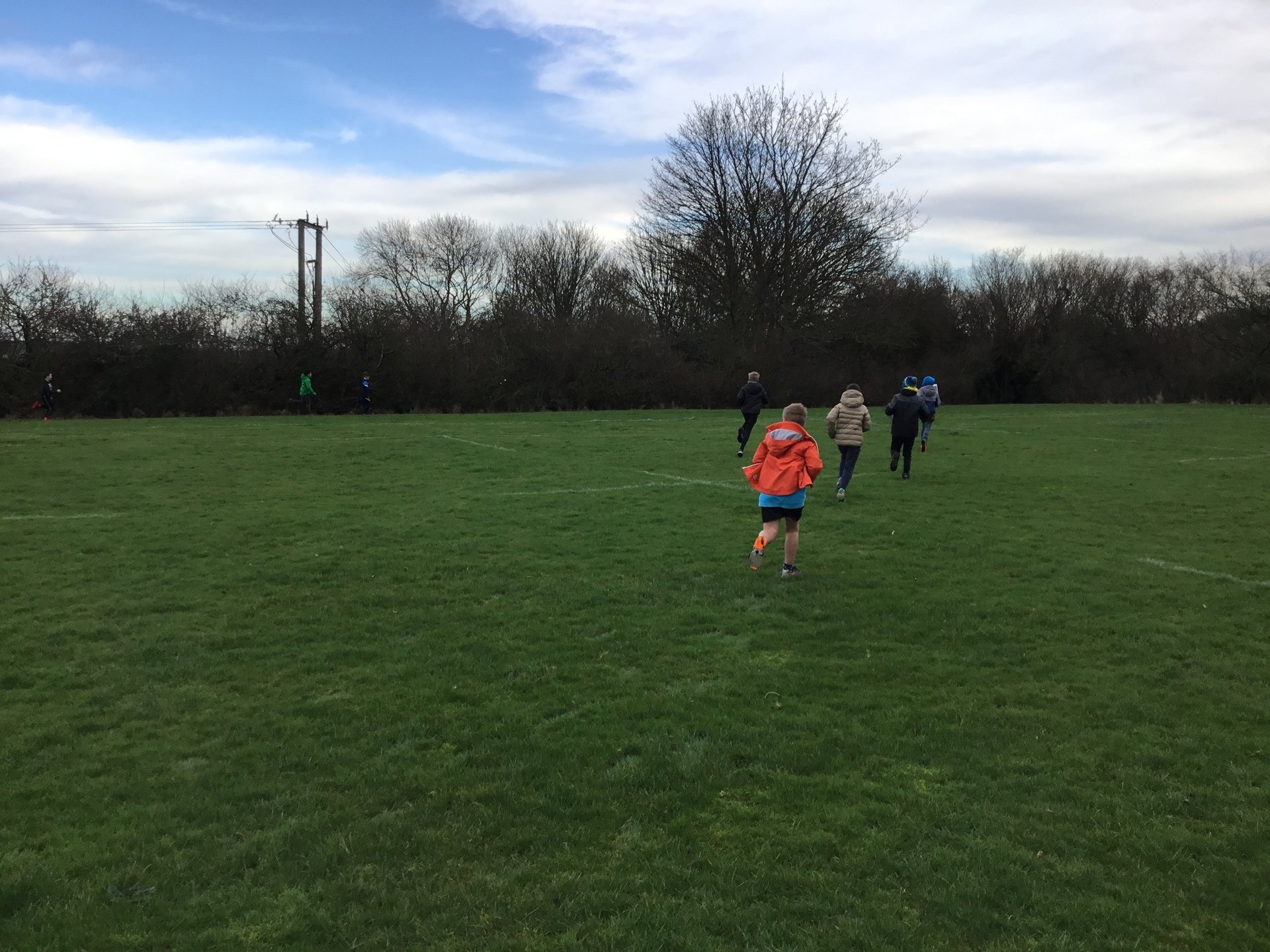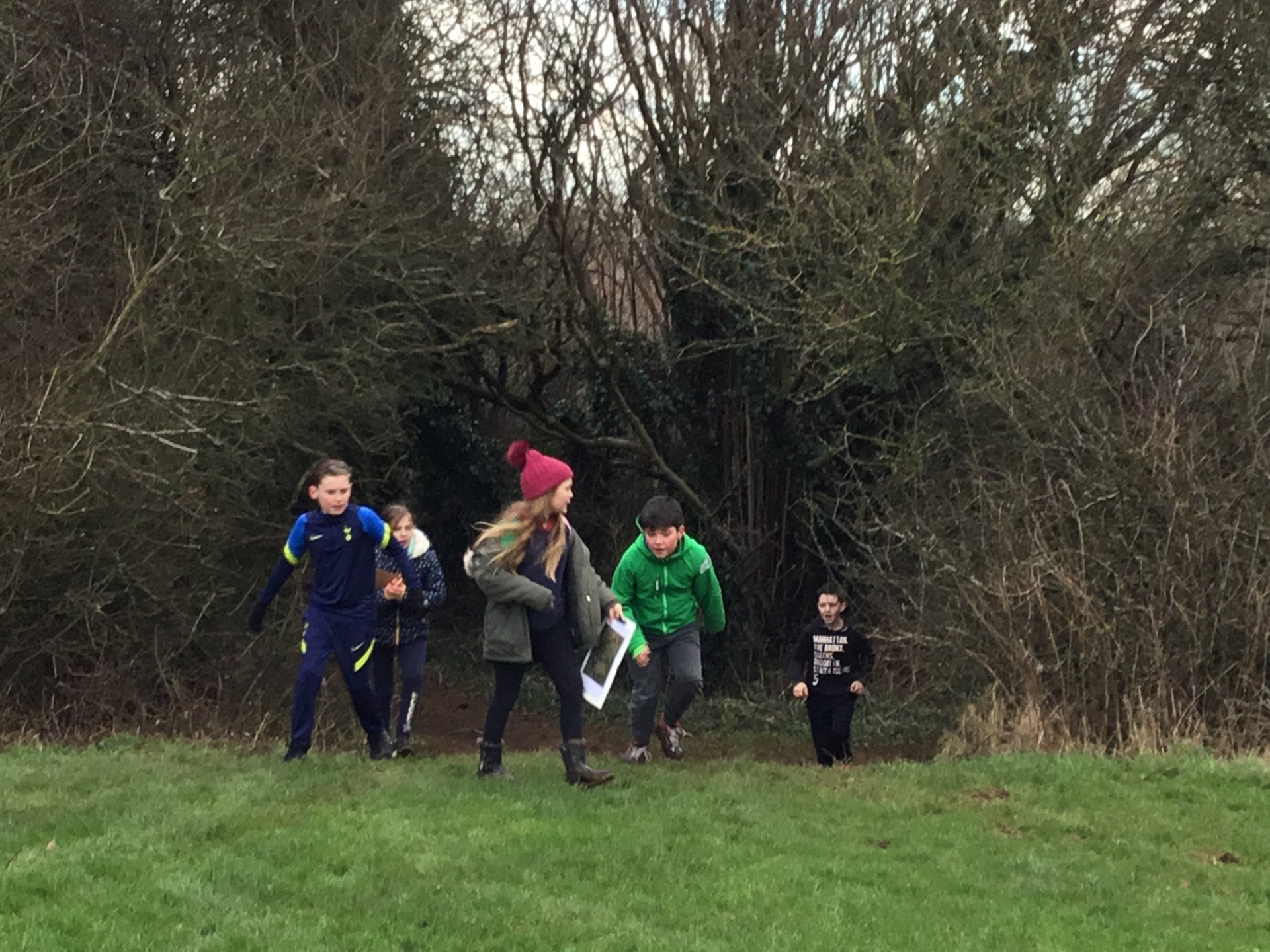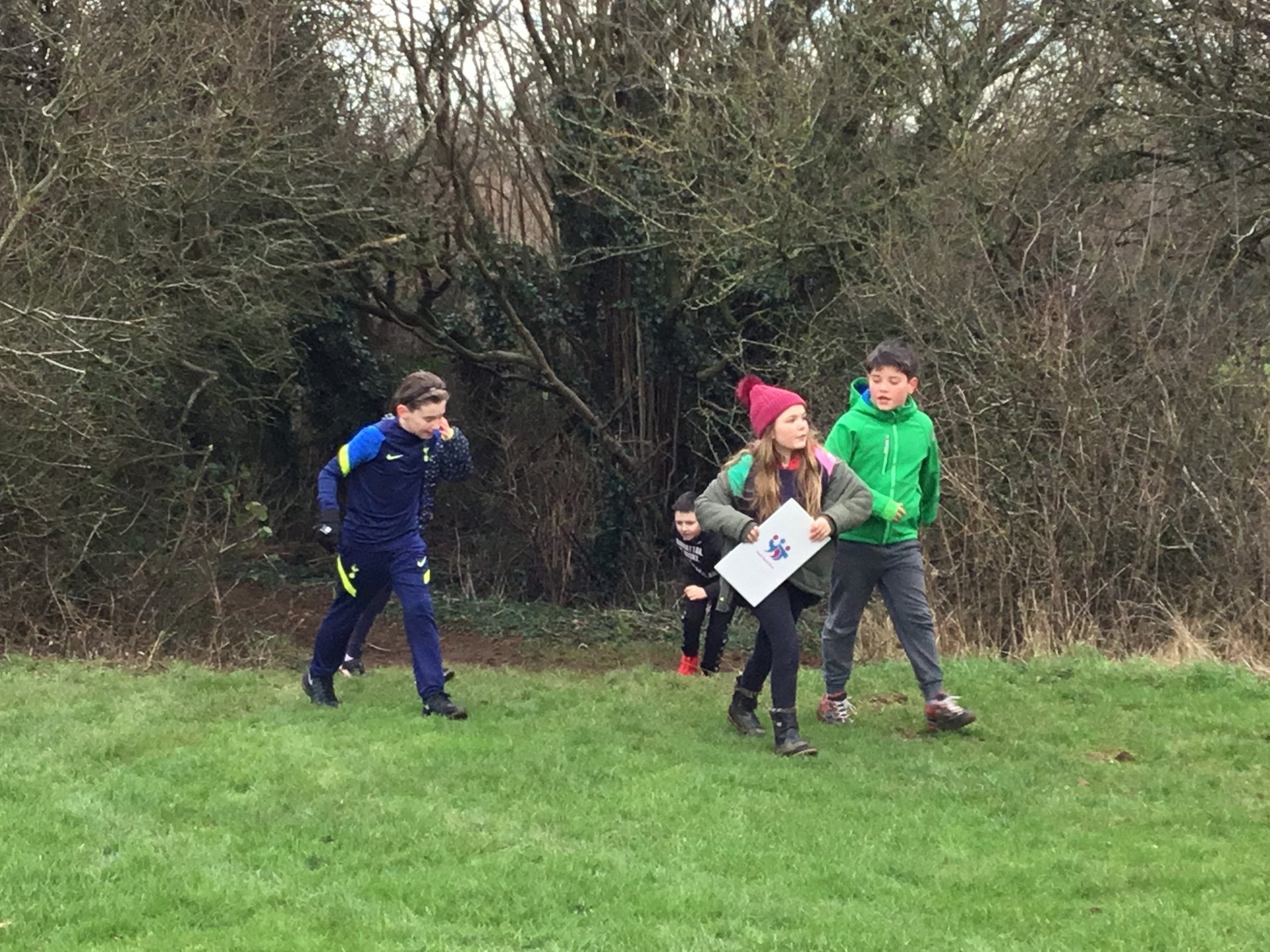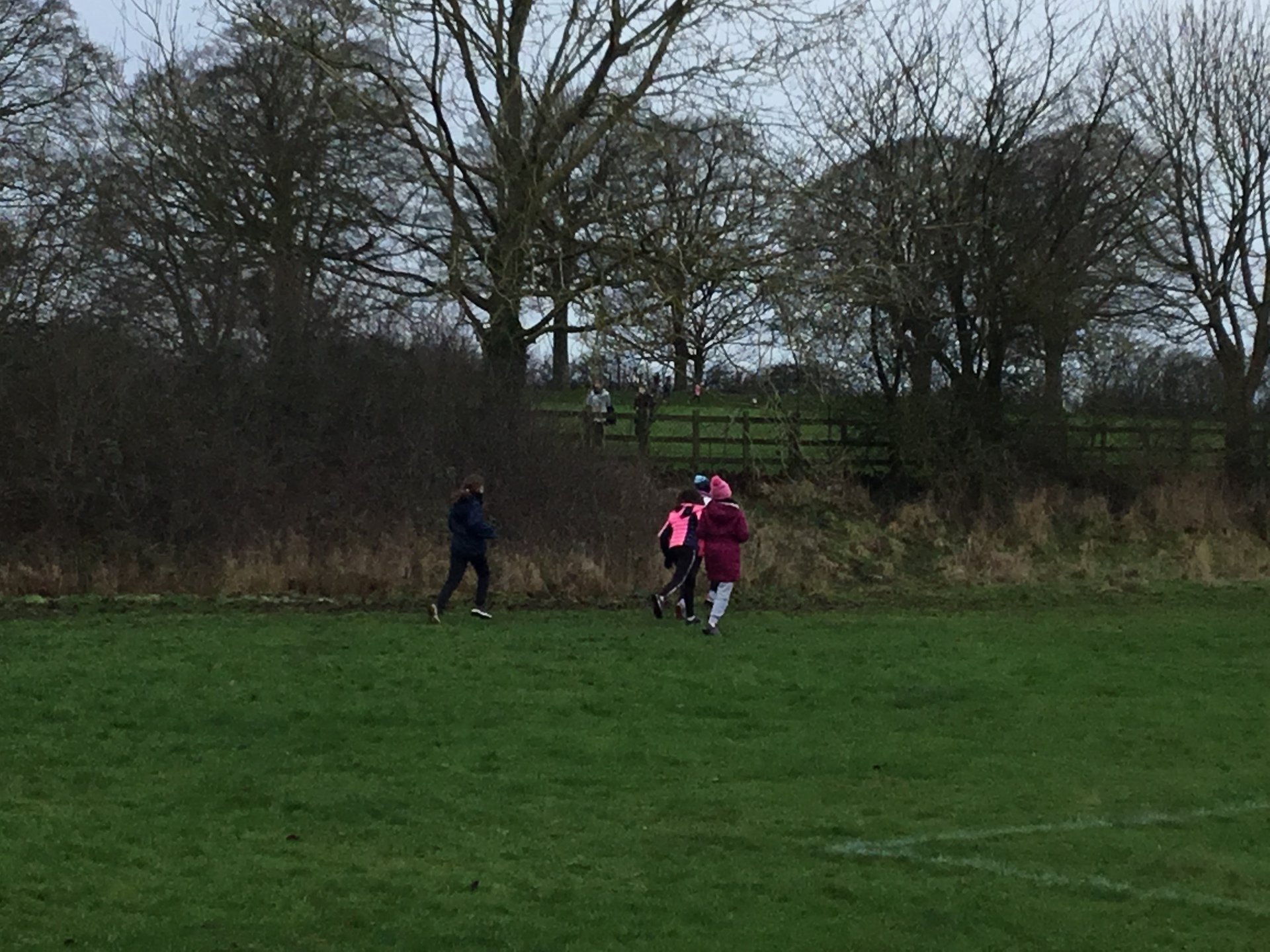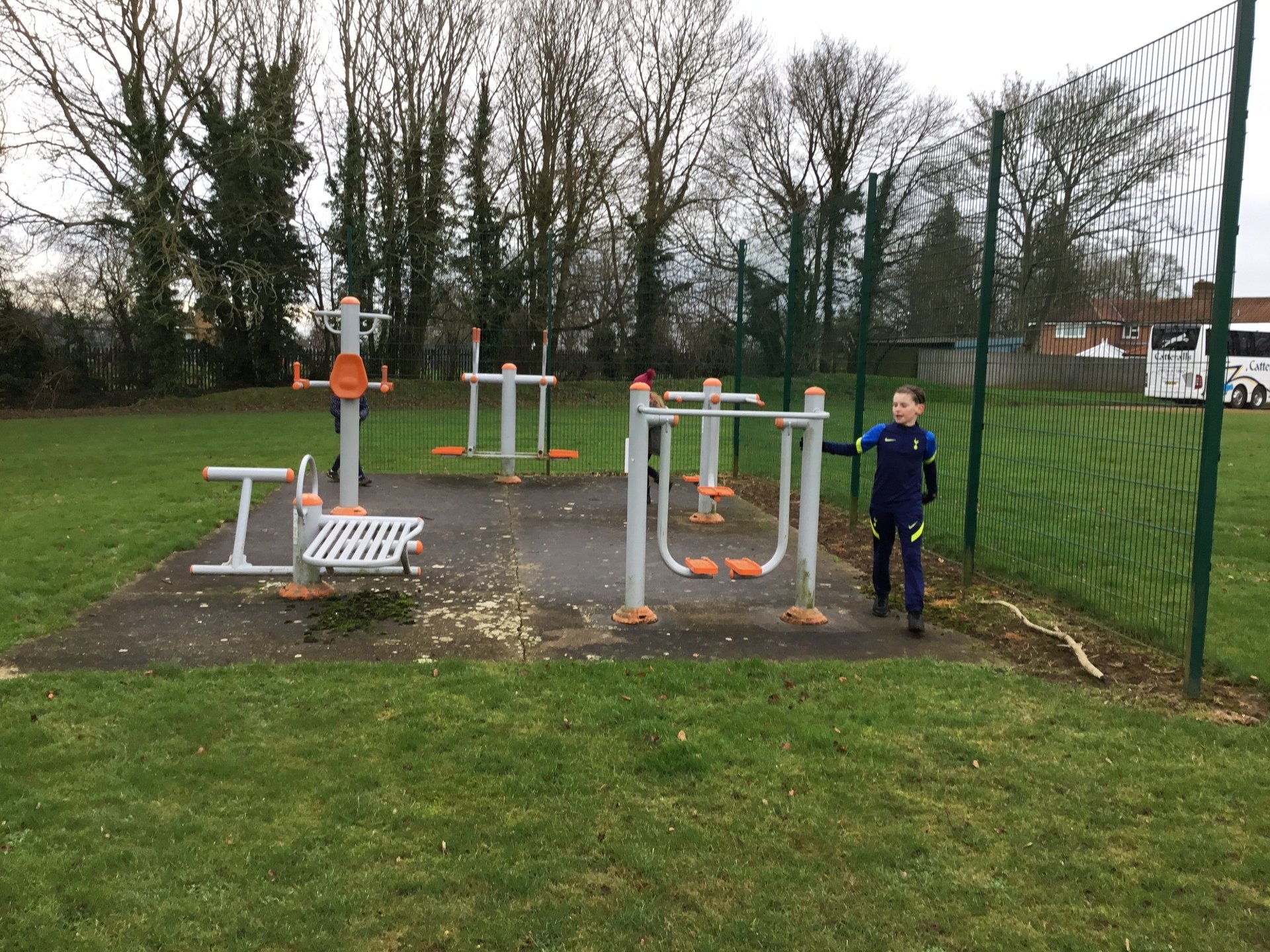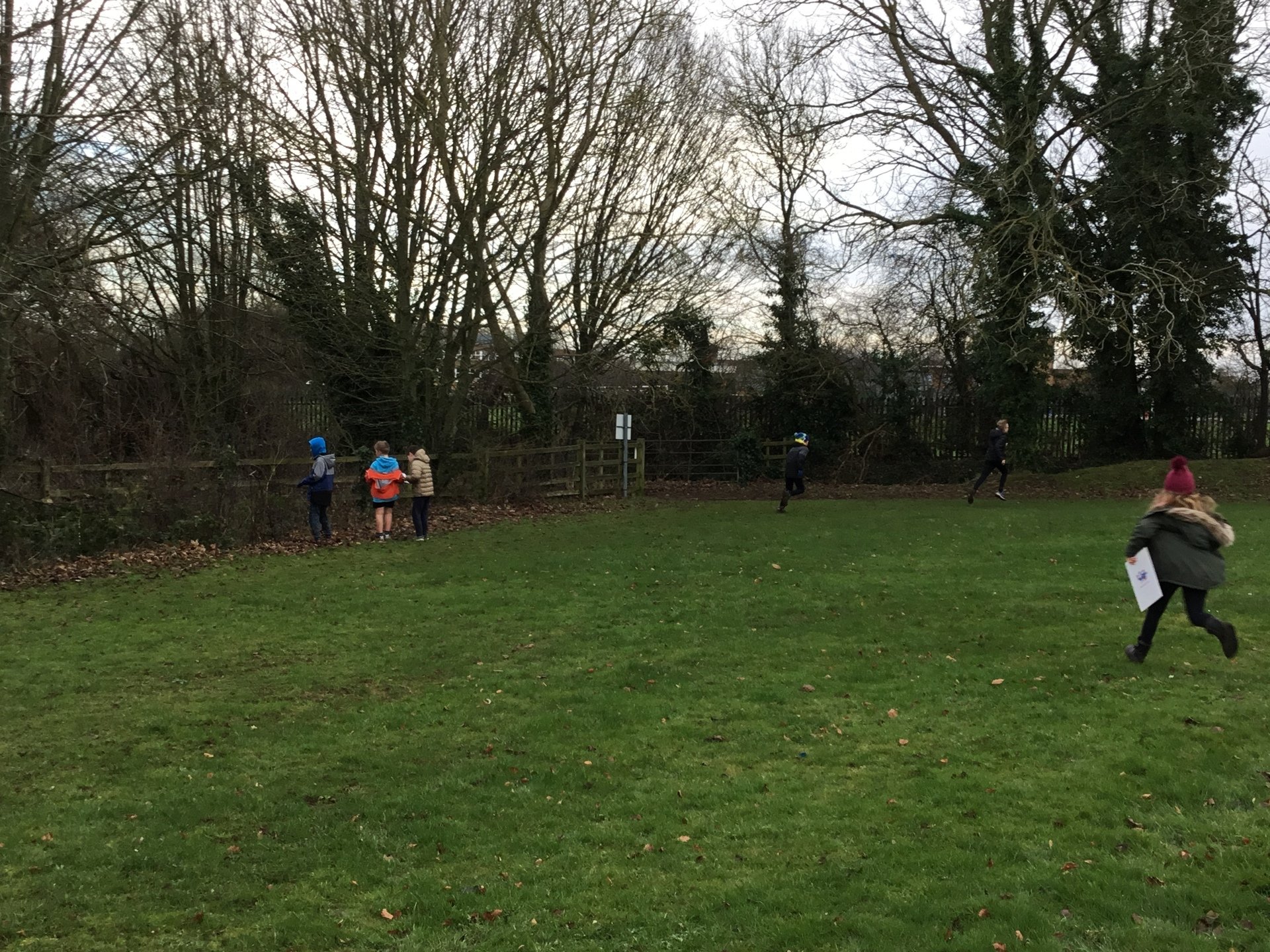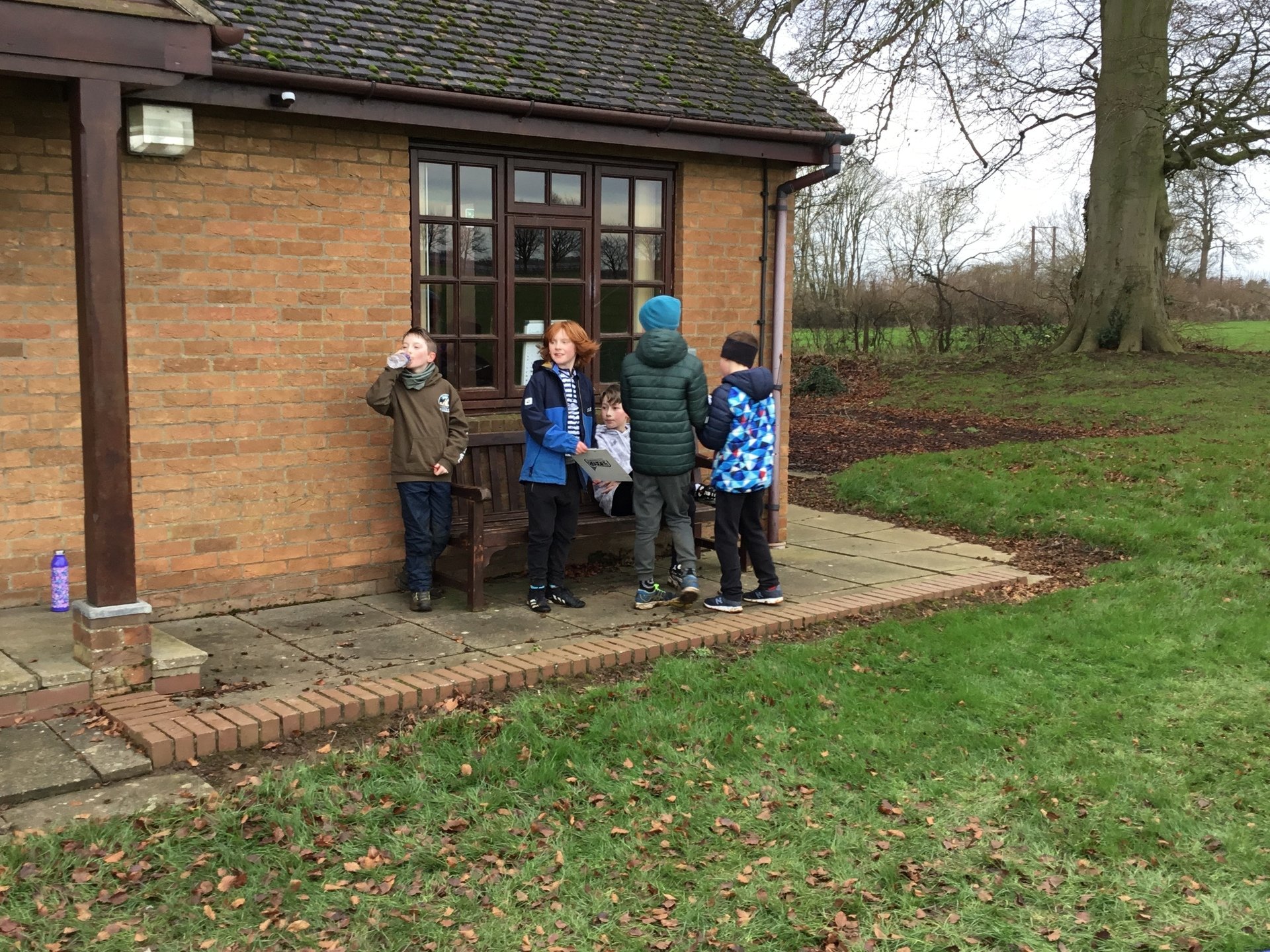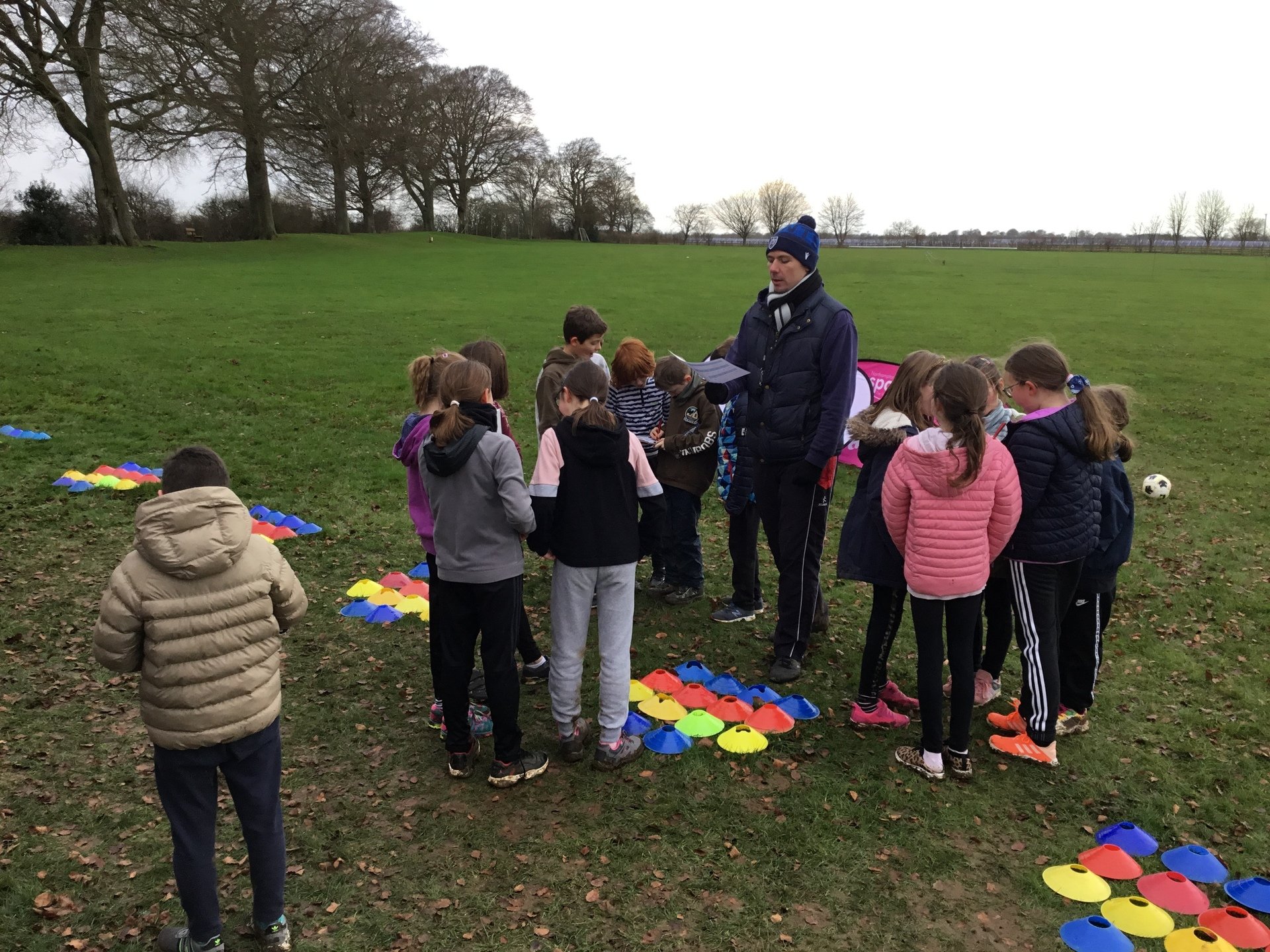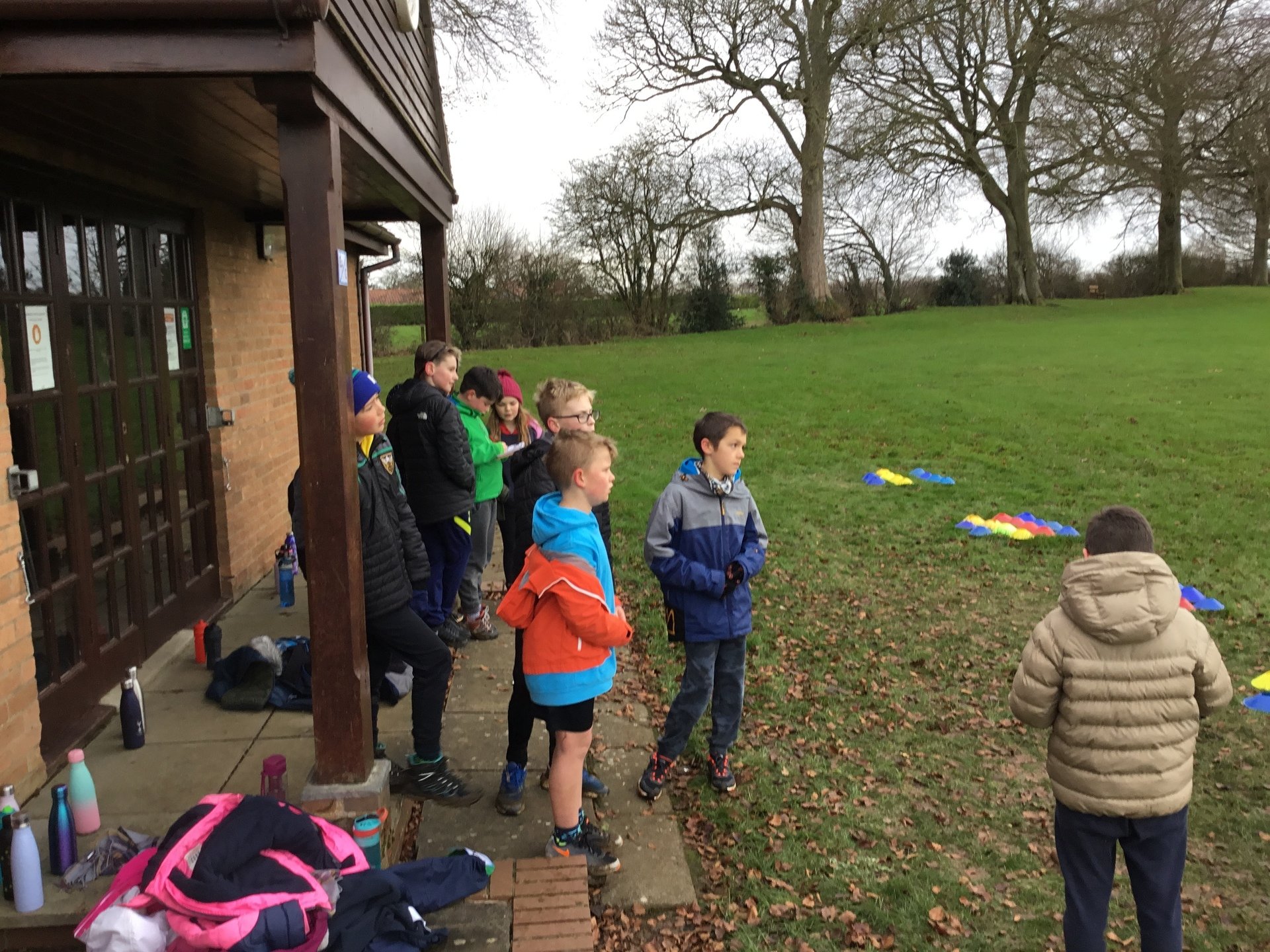 Christmas productions at East Haddon Primary 2021
We were thrilled to be able to show our Christmas Performances to parents this year, even though numbers were limited due to Covid. Reception to Year 3 performed 'The Magical Christmas Jigsaw' and Years 4 to 6 performed 'Sleeping Beauty'. Here are just a selection of photos!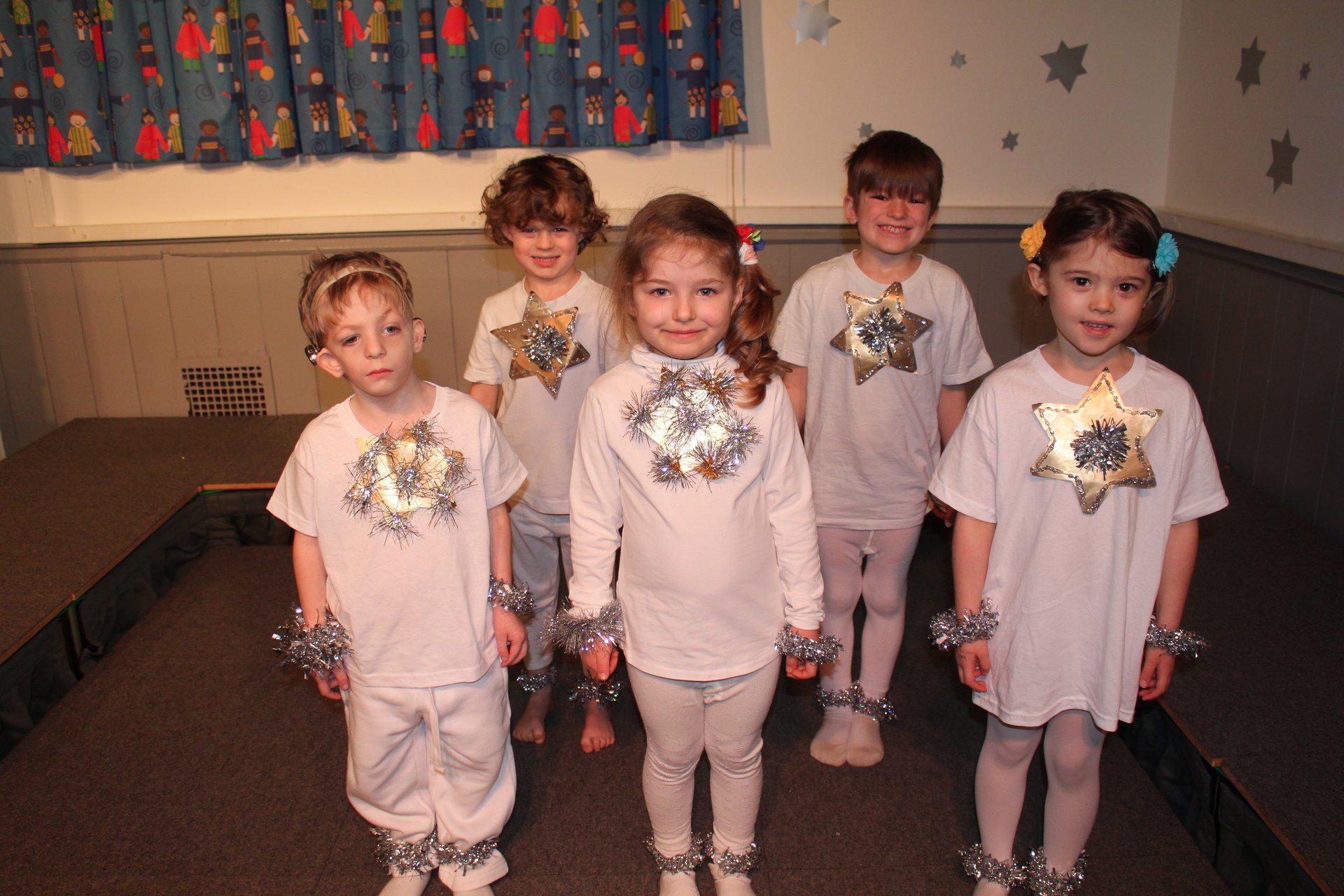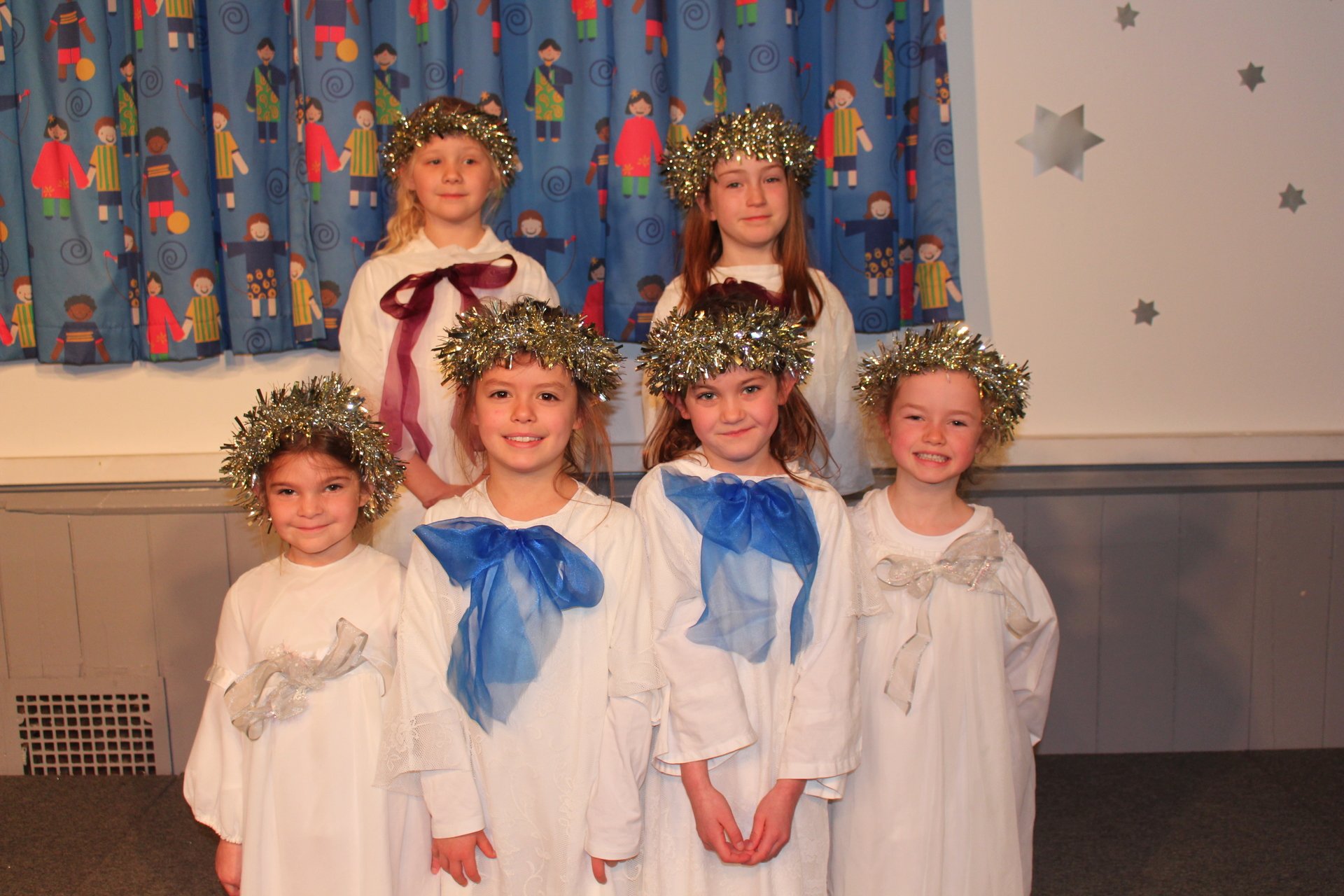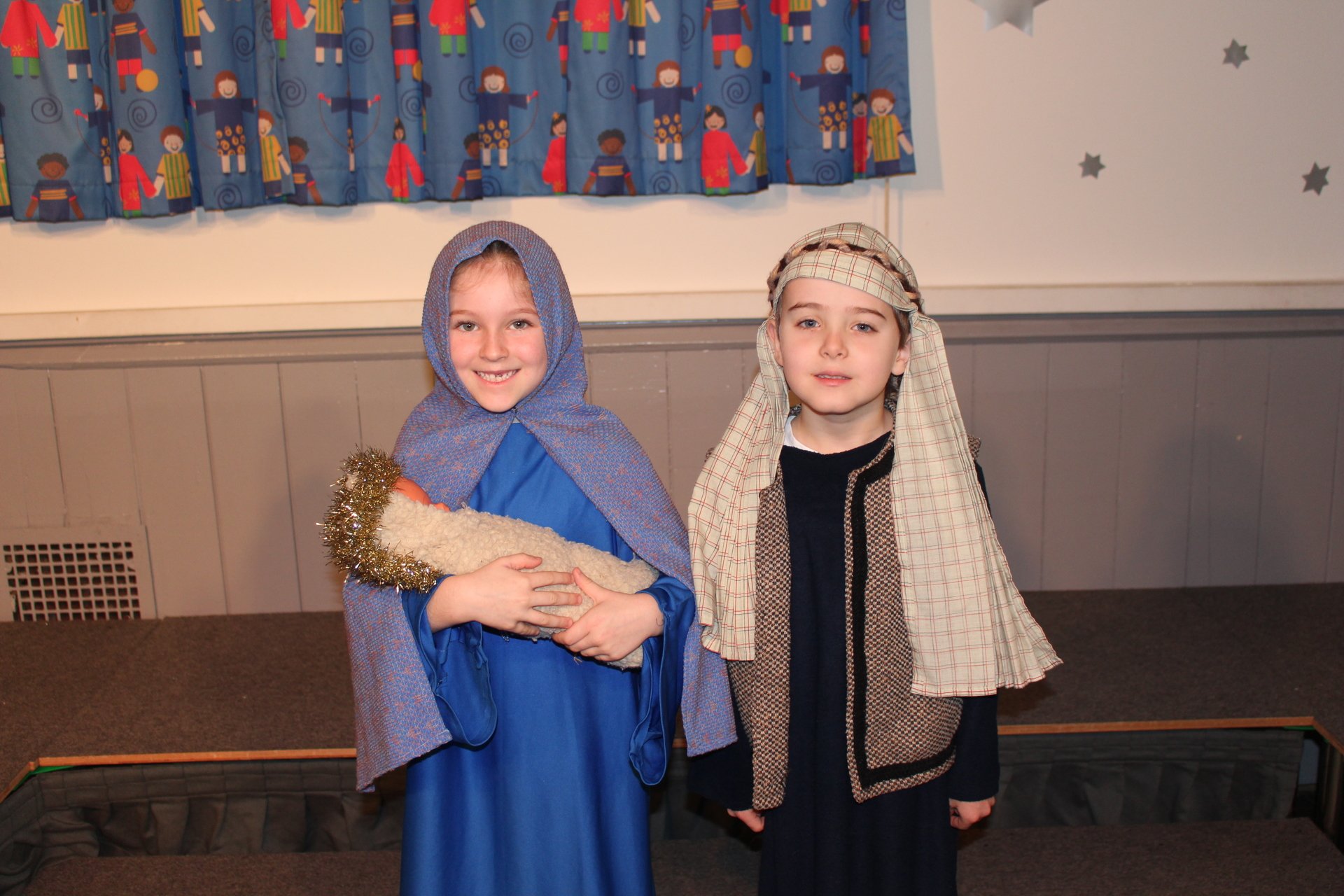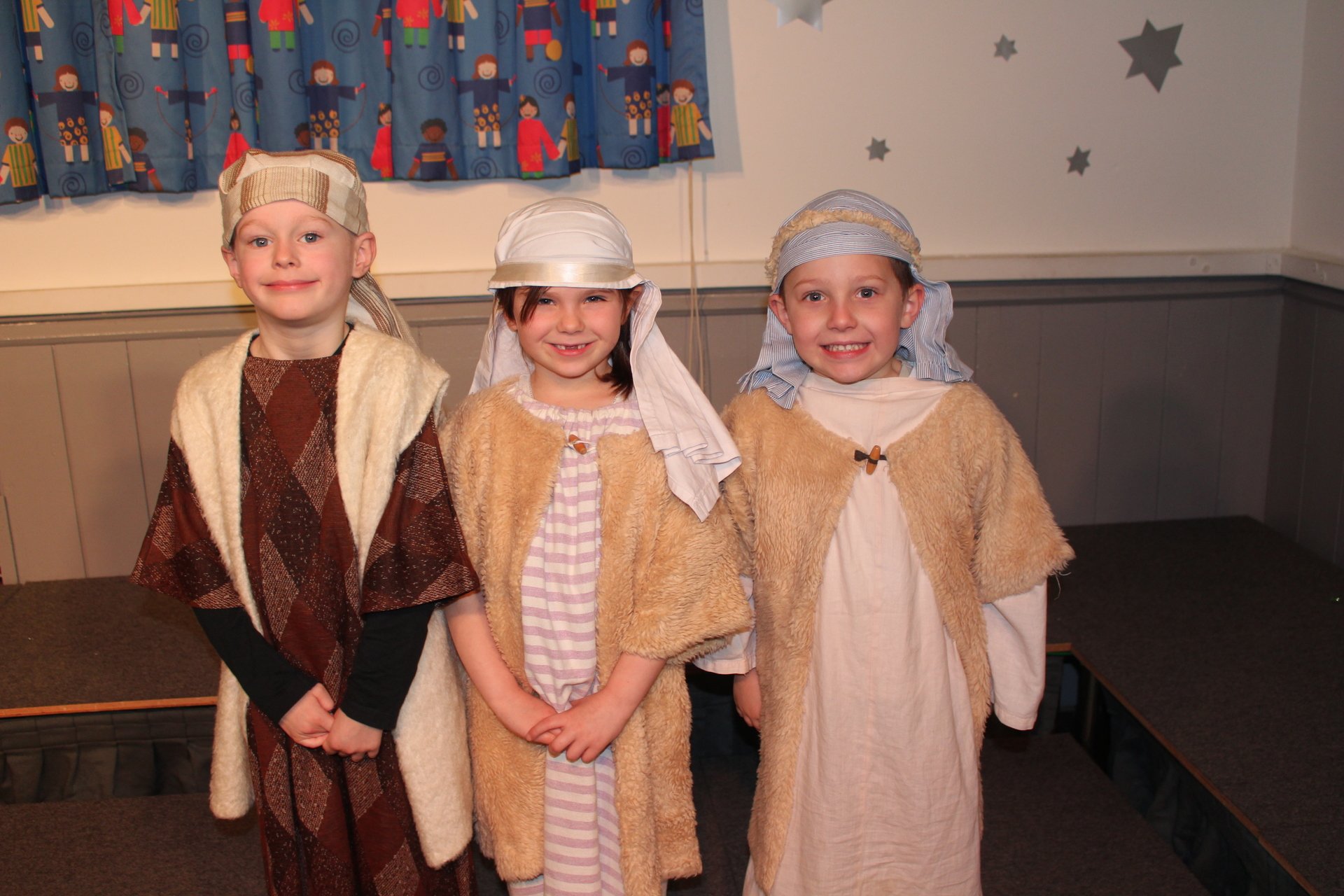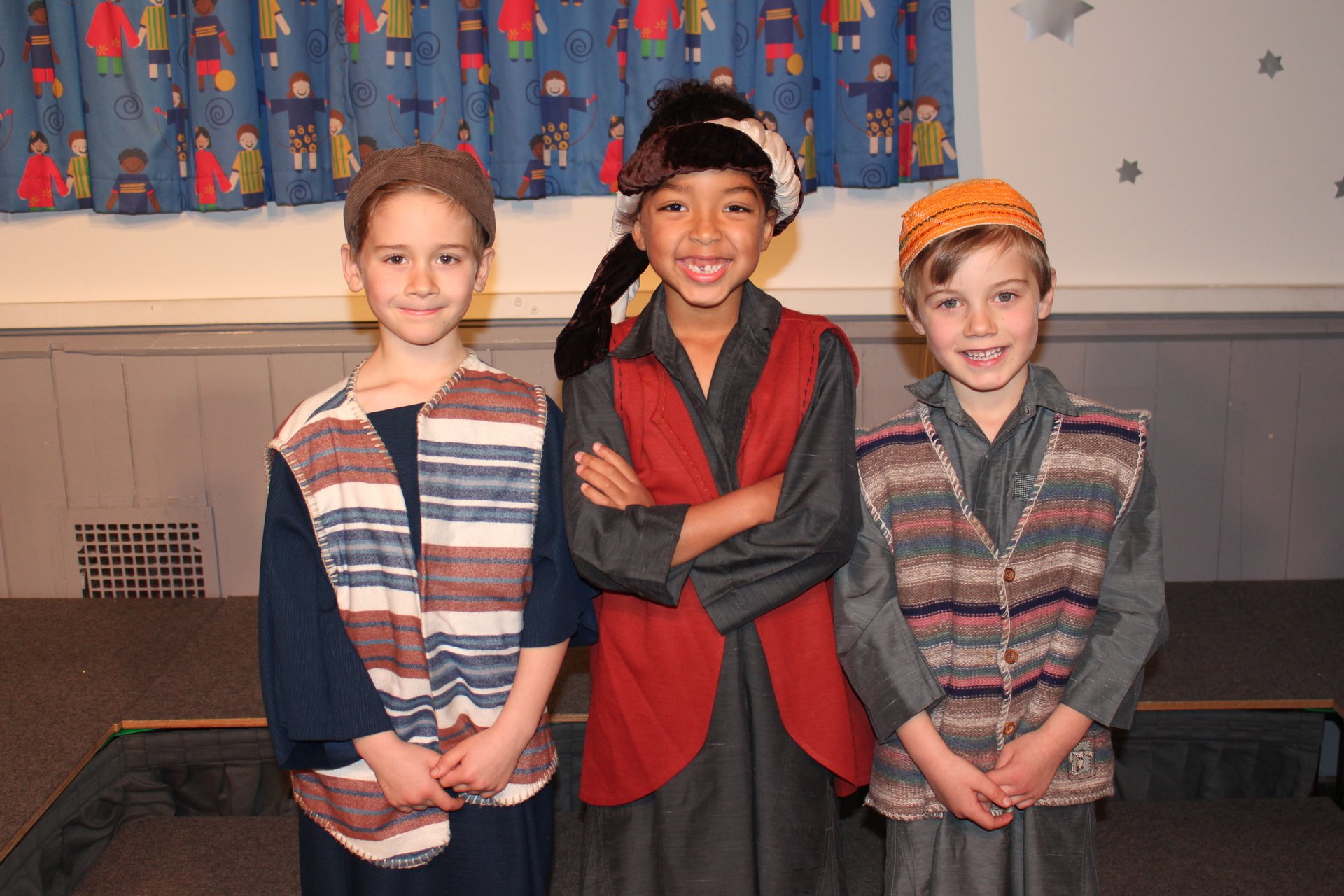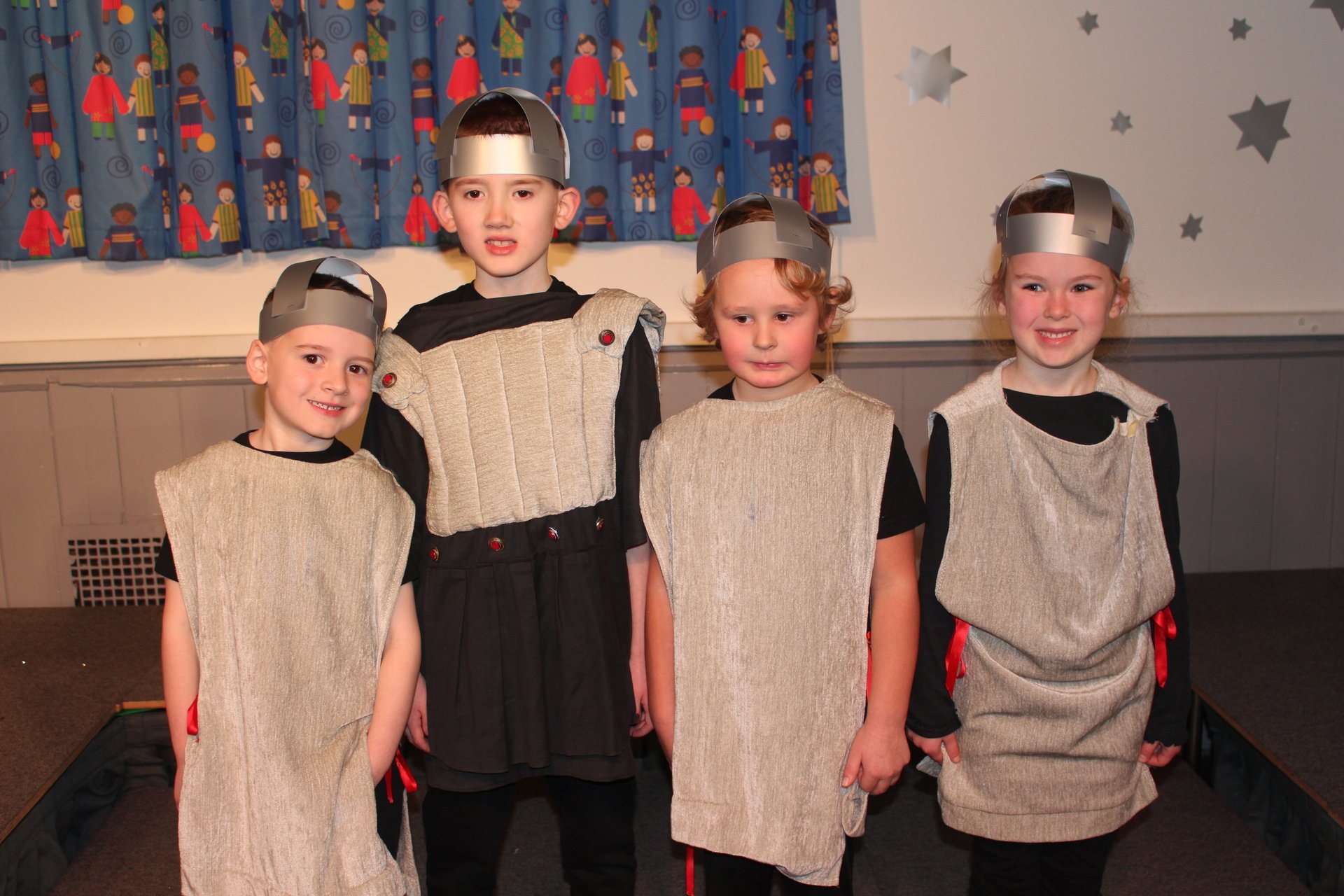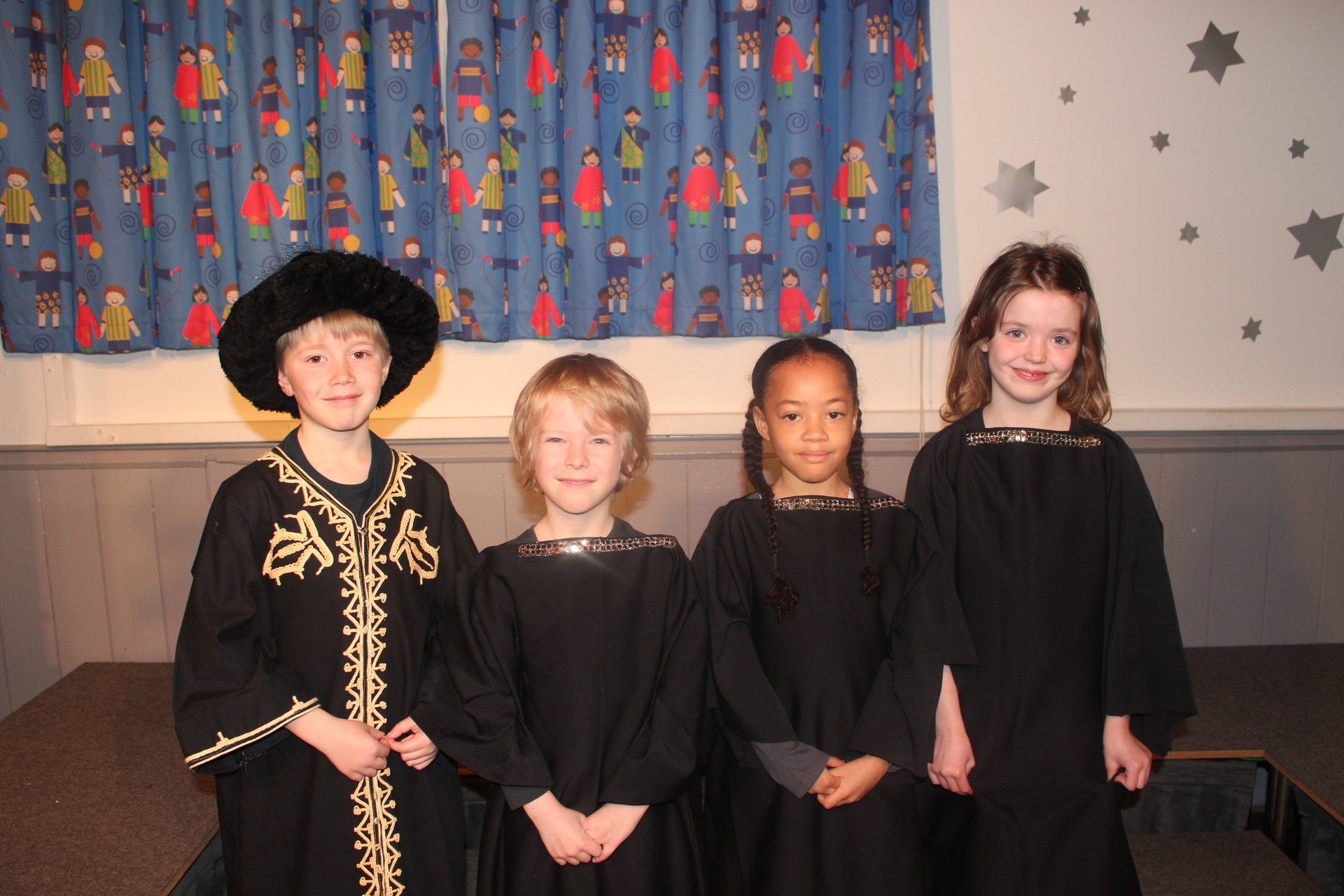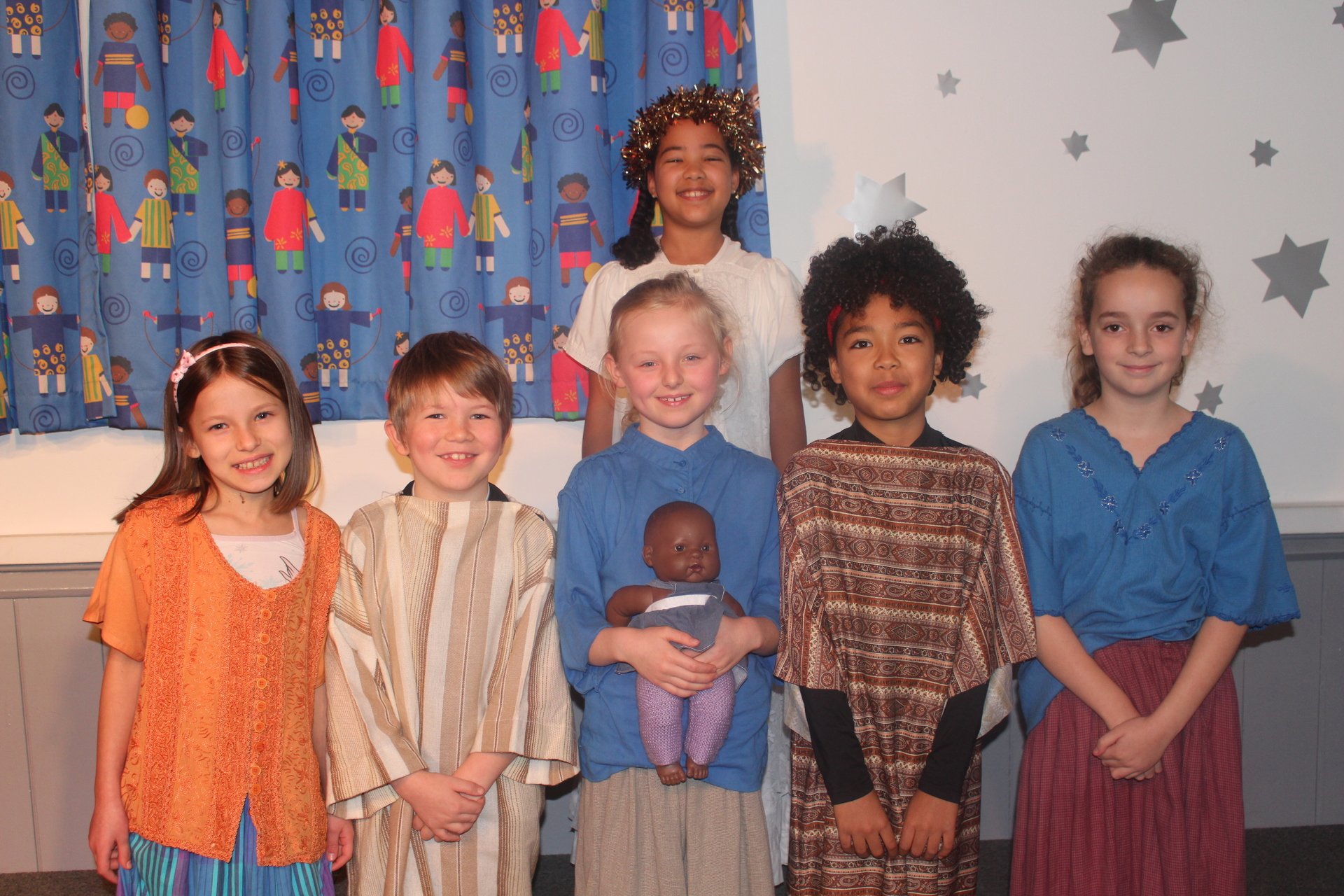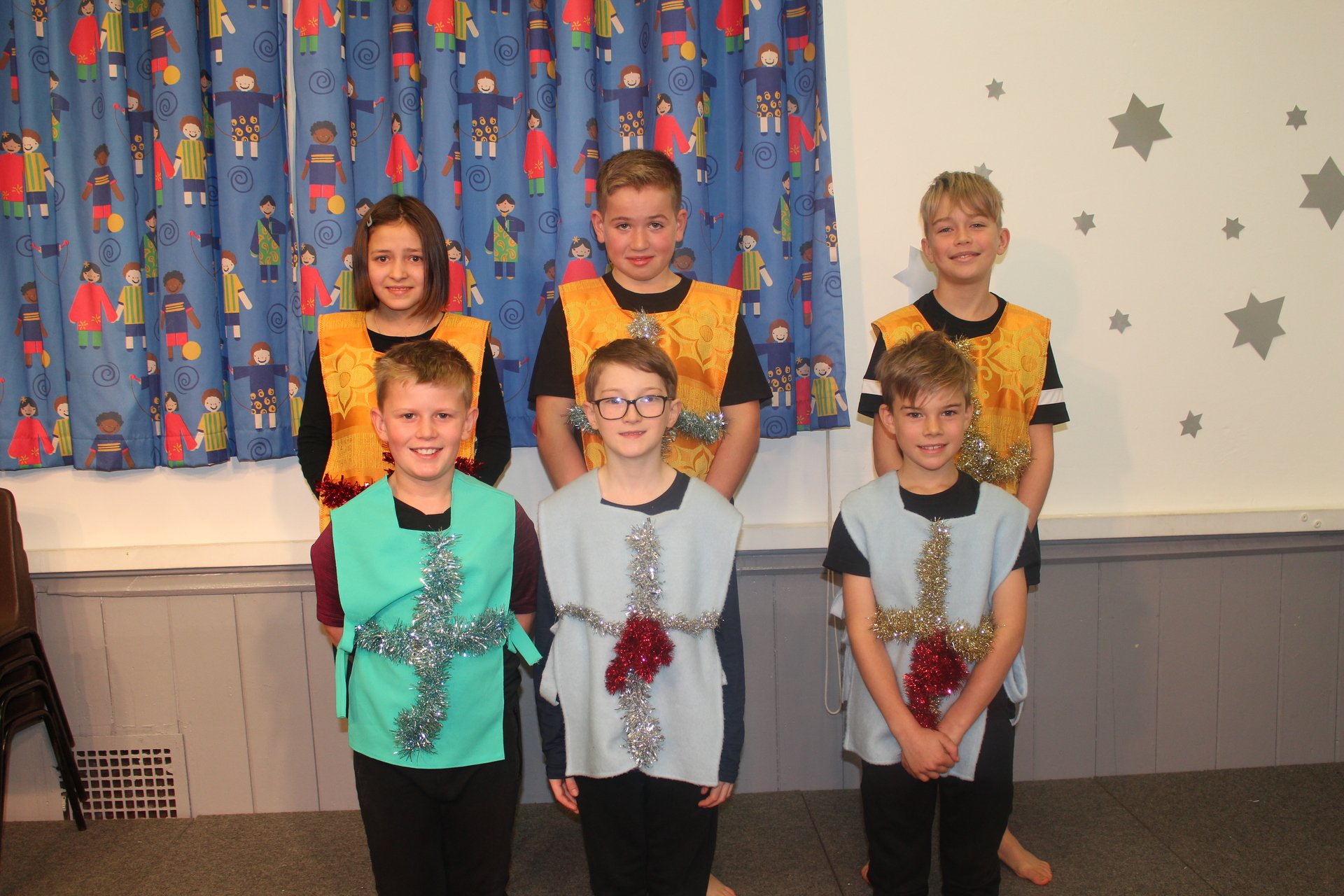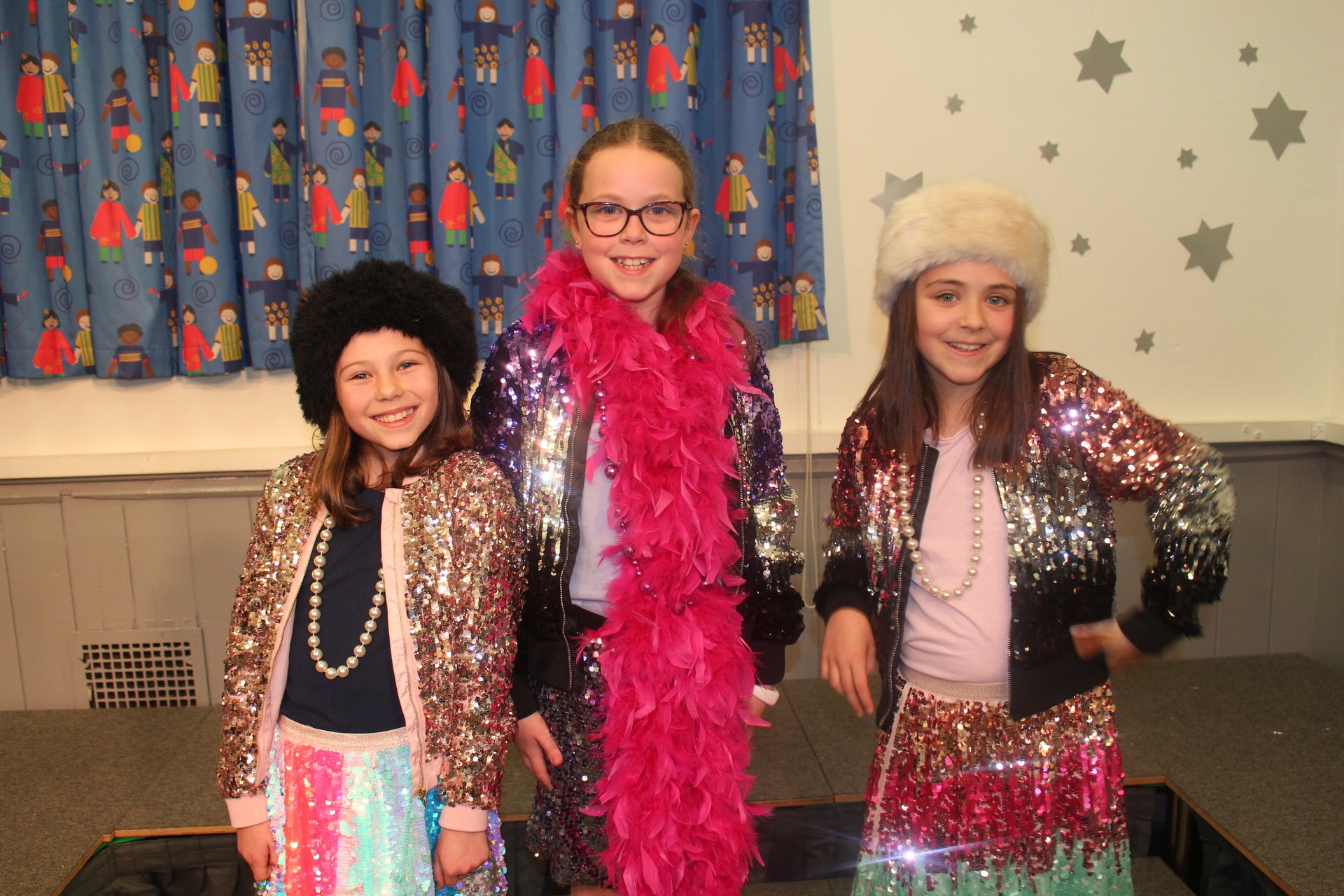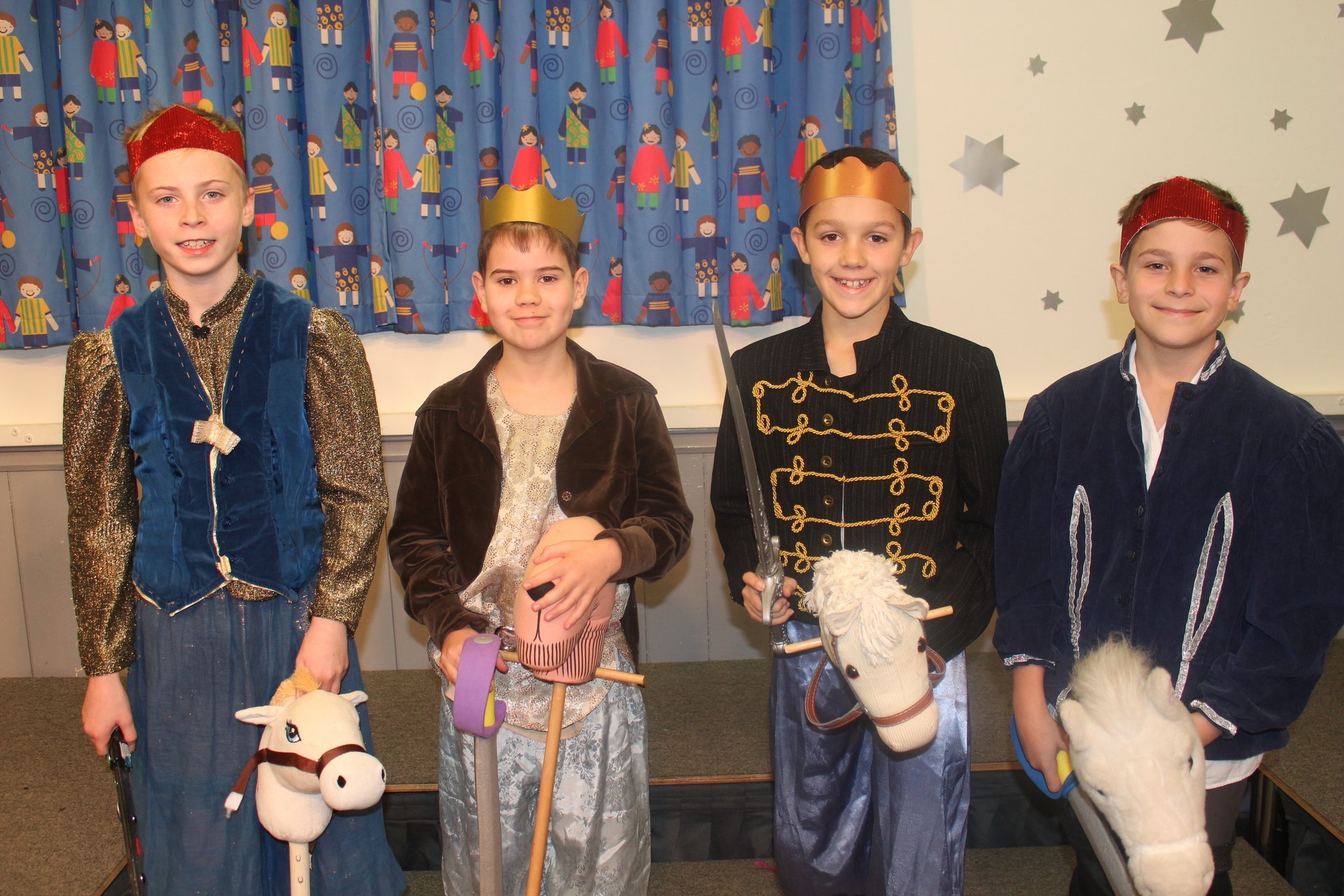 South Northants and Daventry Cross Country
On Wednesday 24th November 2021, we took most of years 4, 5 and 6 over to Daventry Sports Park for the annual South Northants and Daventry Cross-Country. All of the children were fantastic and, as always, really encouraged each other to the end of every race. They all performed fantastically well and came in very tired at the end of their races, showing that they had pushed themselves.
We had lots of excellent results but a special mention must go to Toby C for coming first in the year 4 boys race, Edward S and Florence L, who both finished third in their respective races (year 6 boys and year 6 girls). Everyone who took part will hopefully have come home feeling really proud of themselves and be keen to continue to take part, especially those who have never competed in a long distance race before.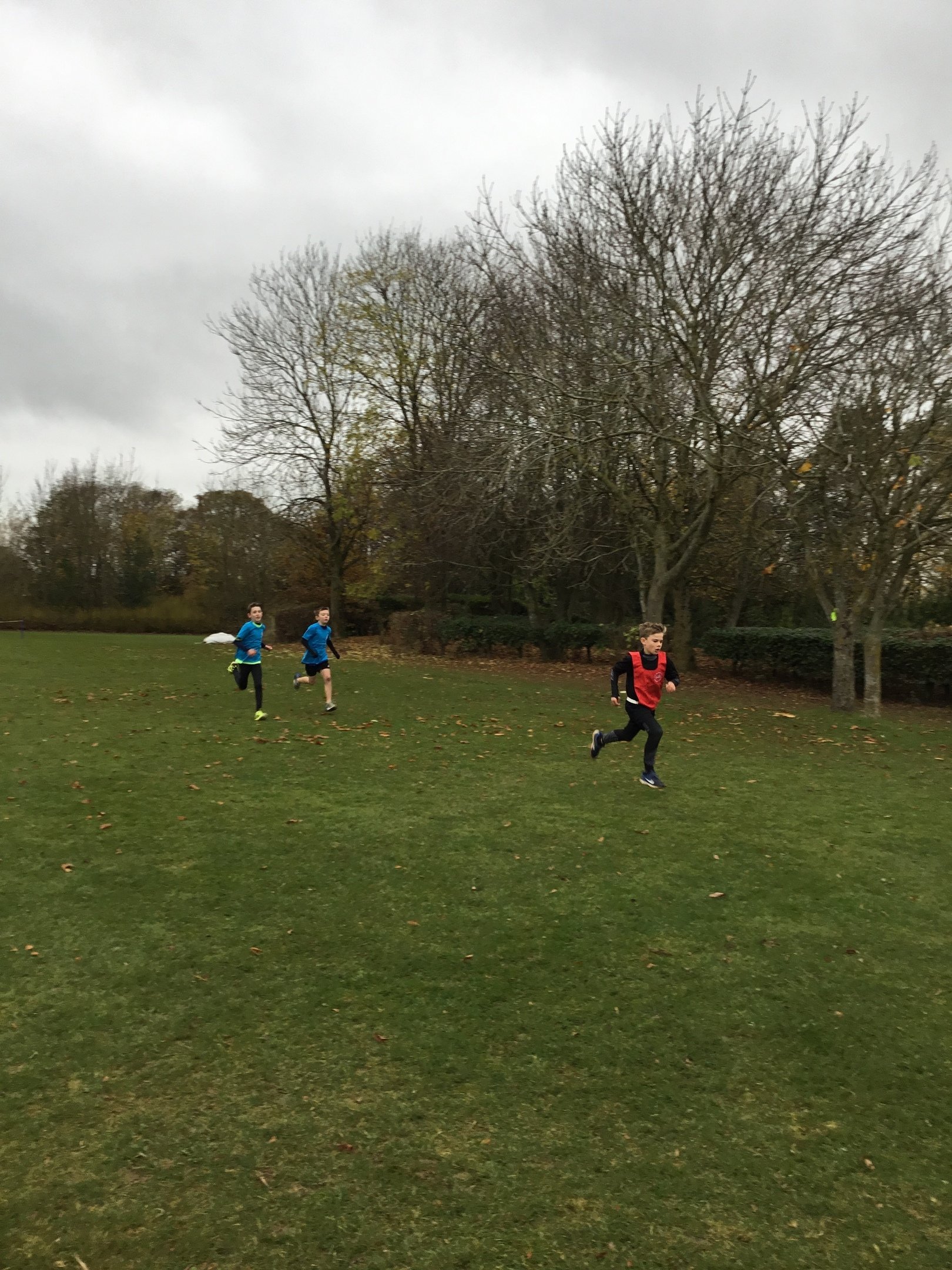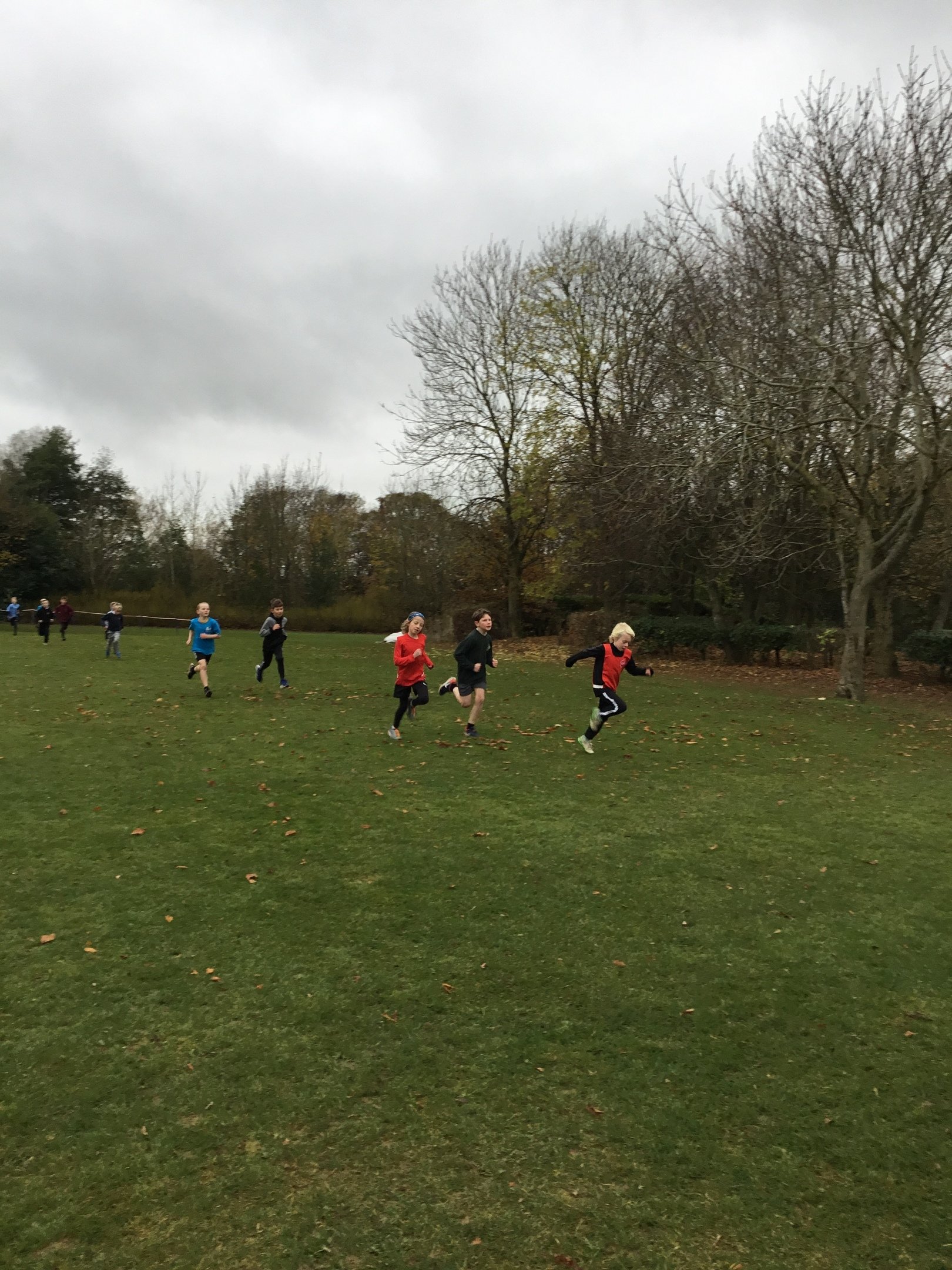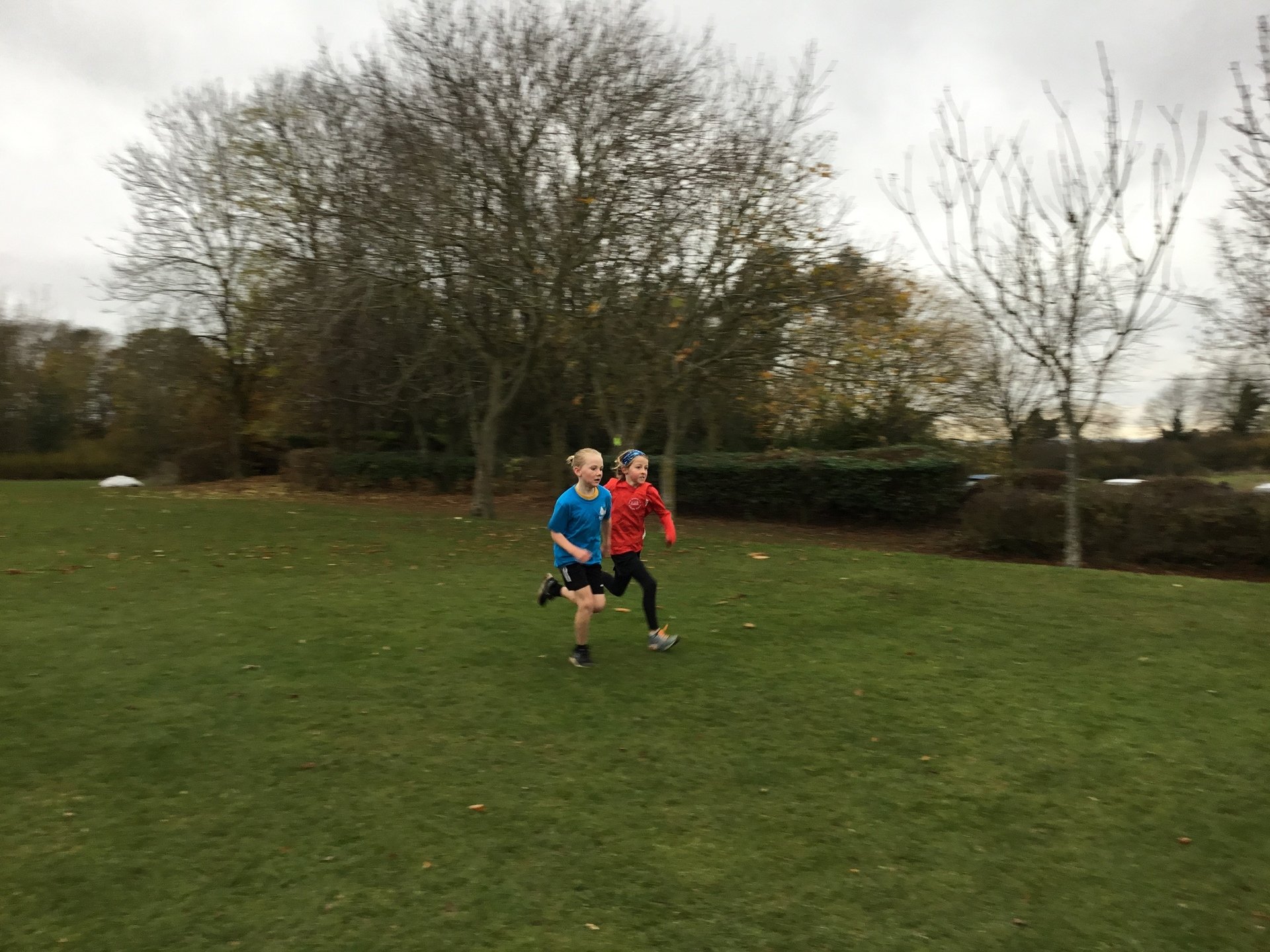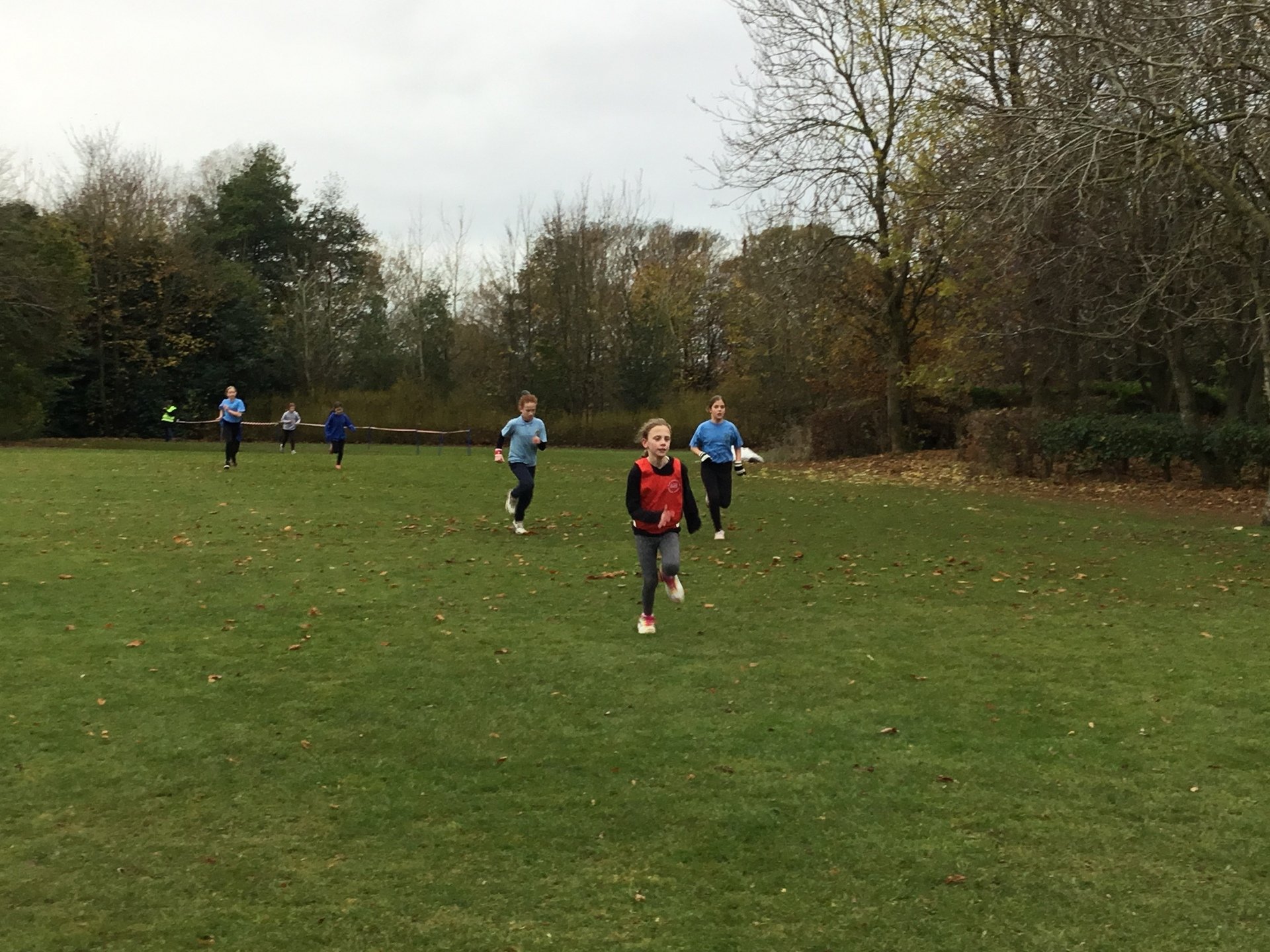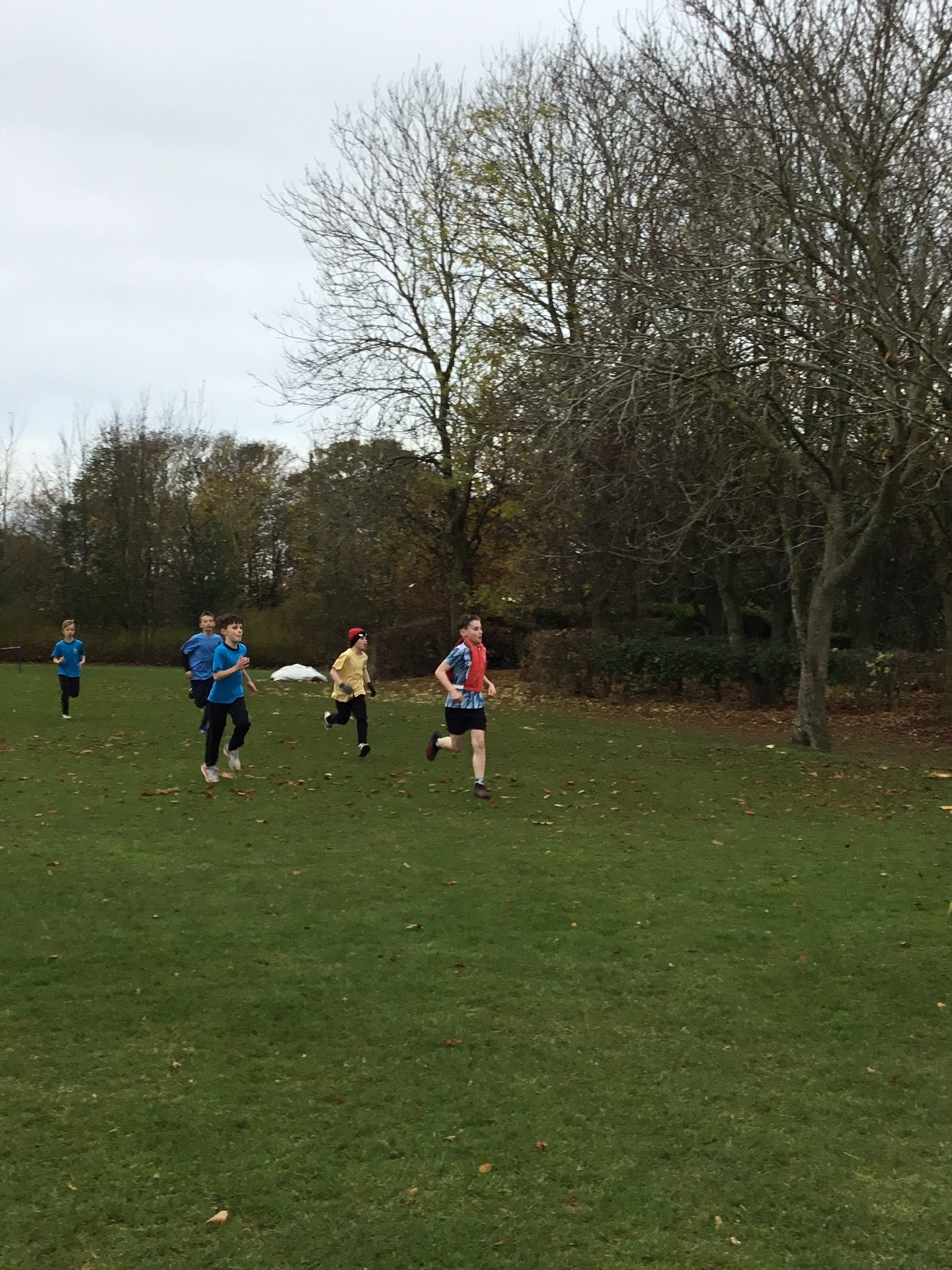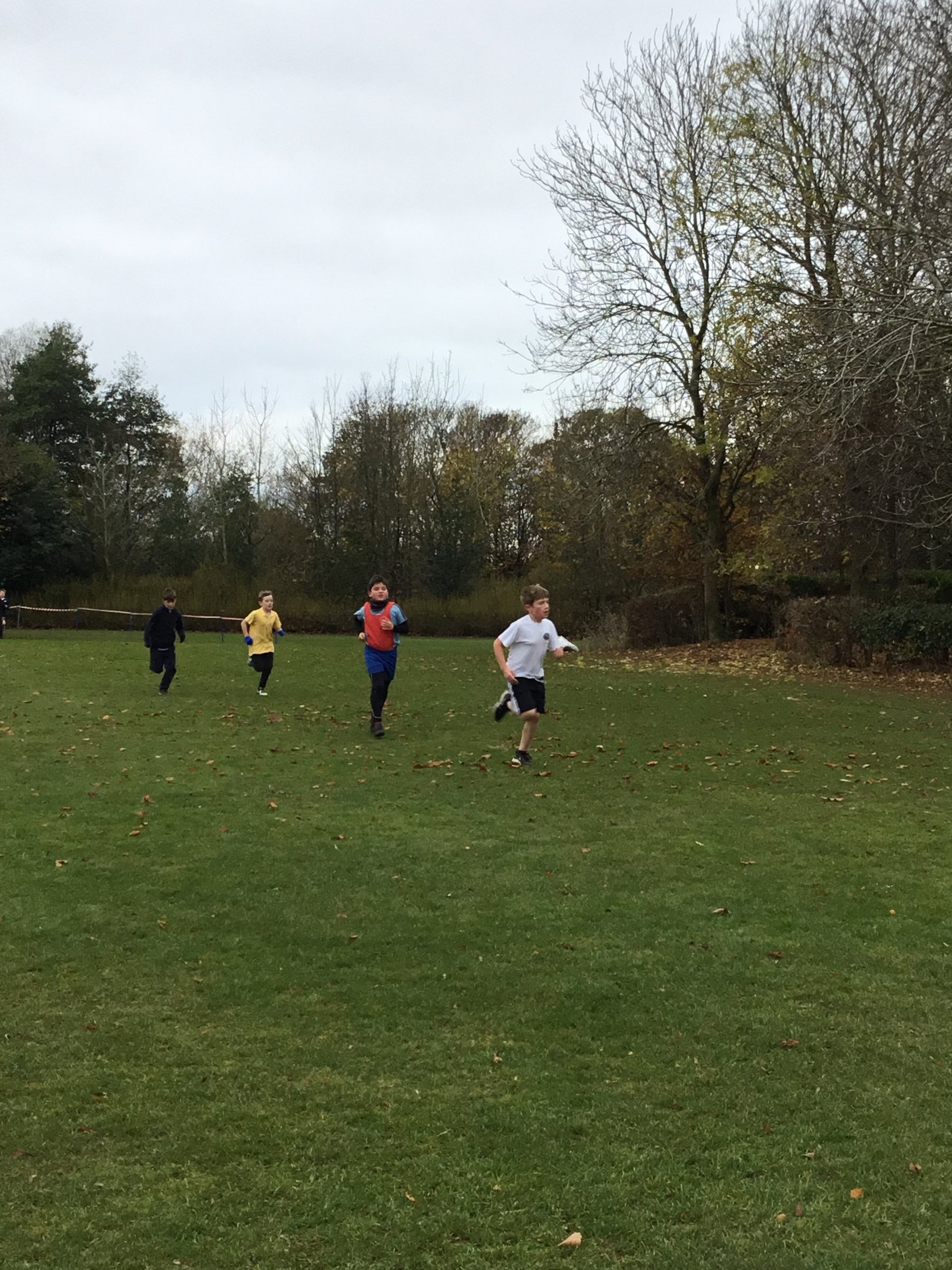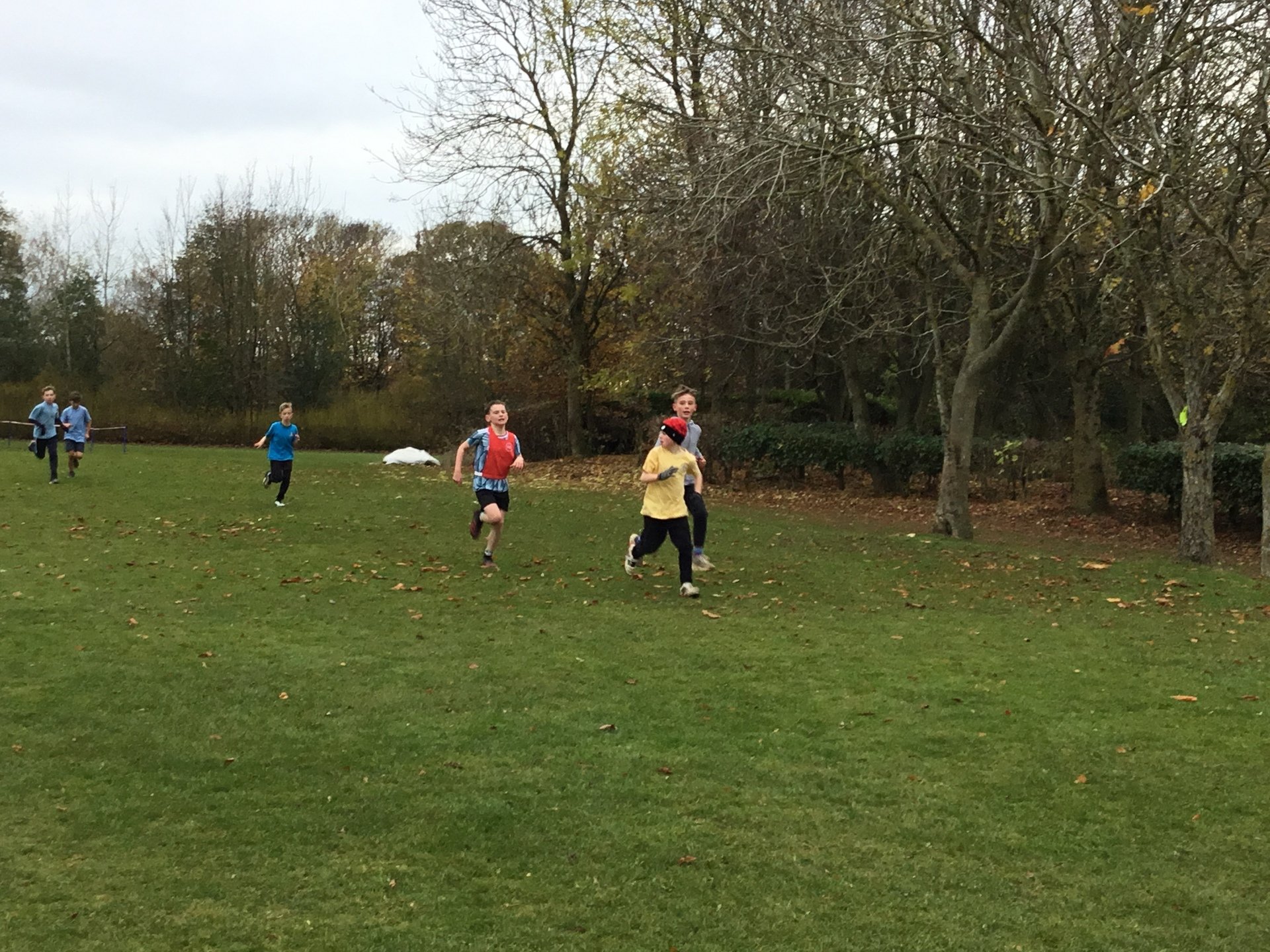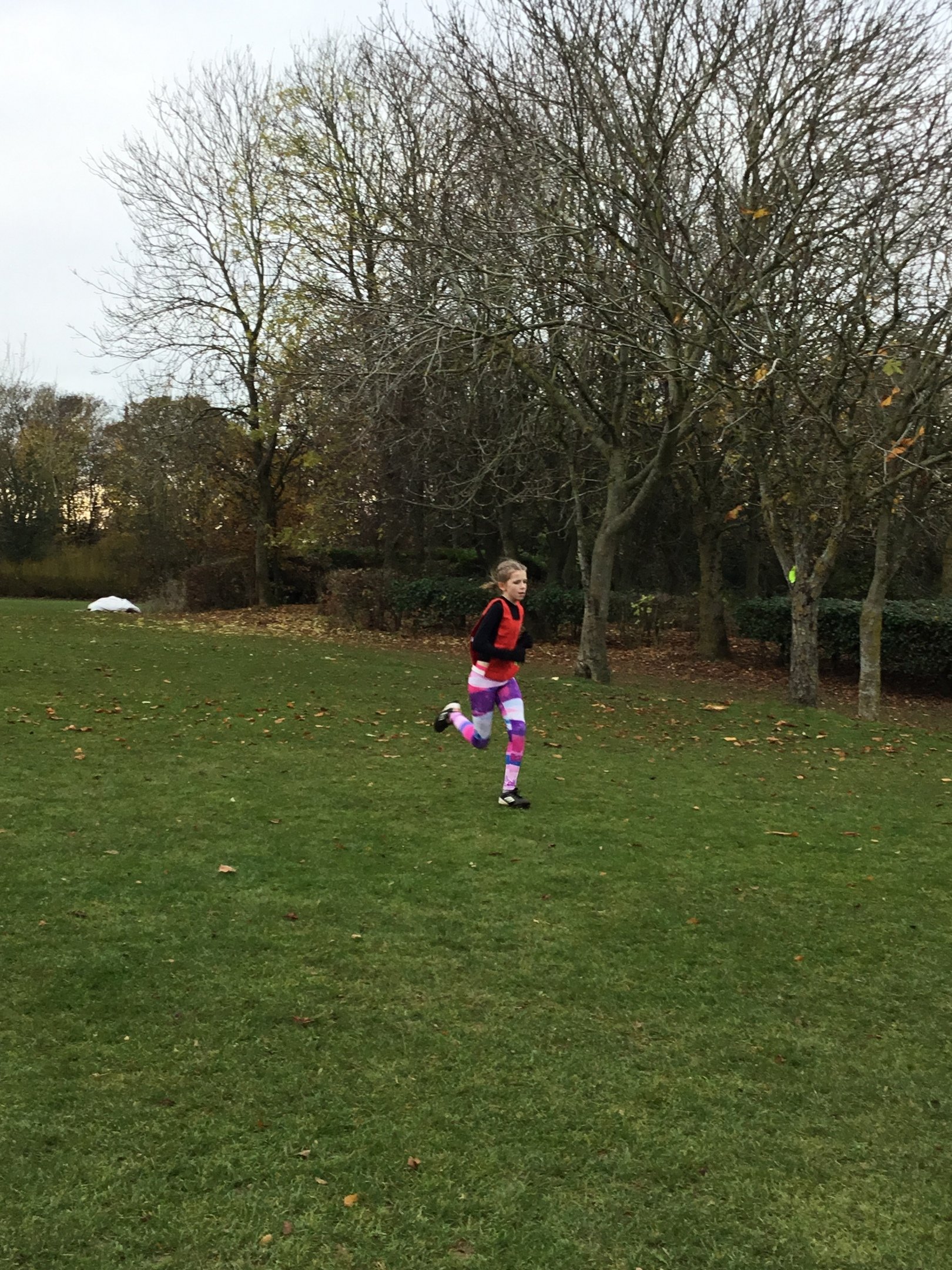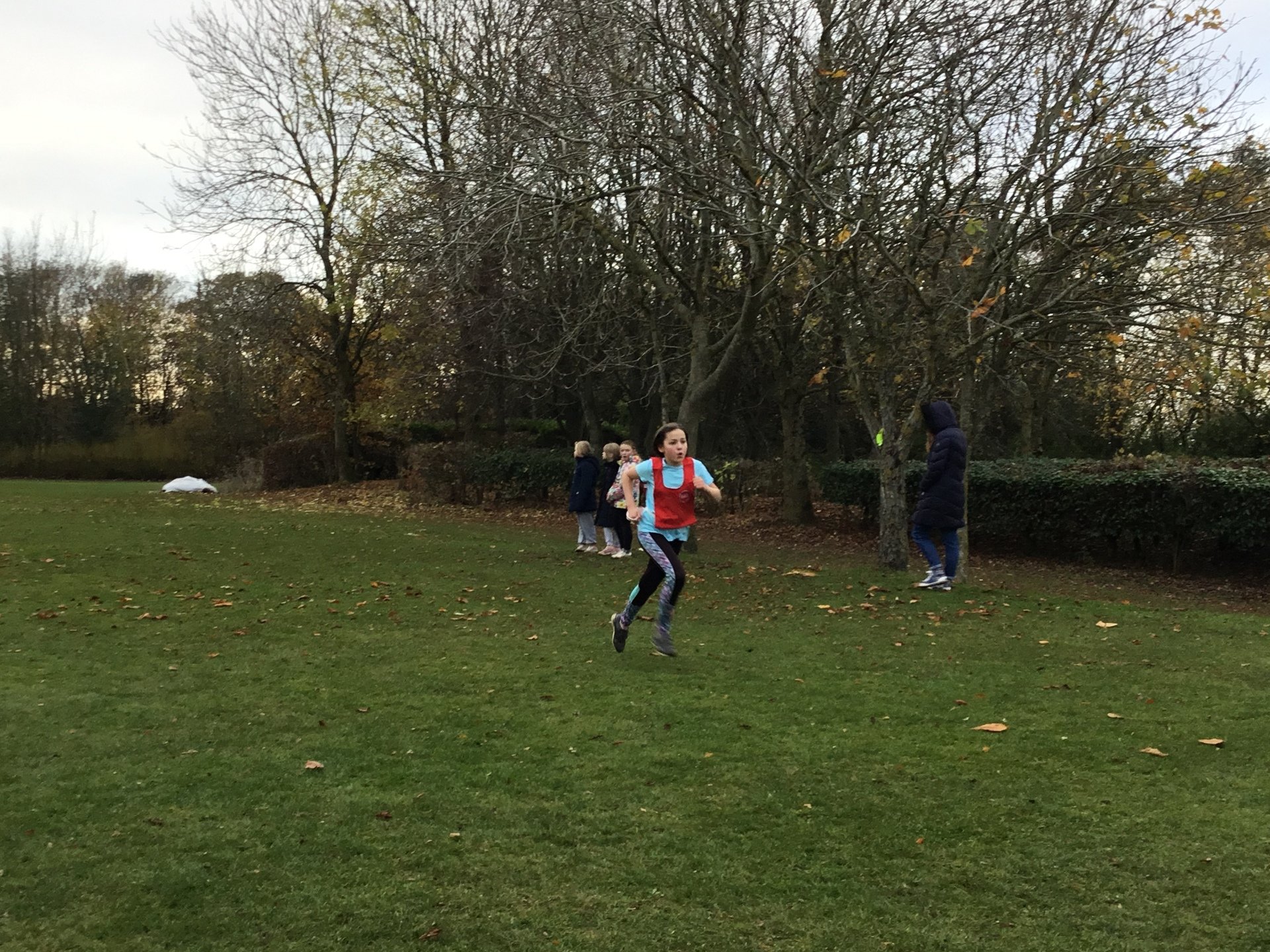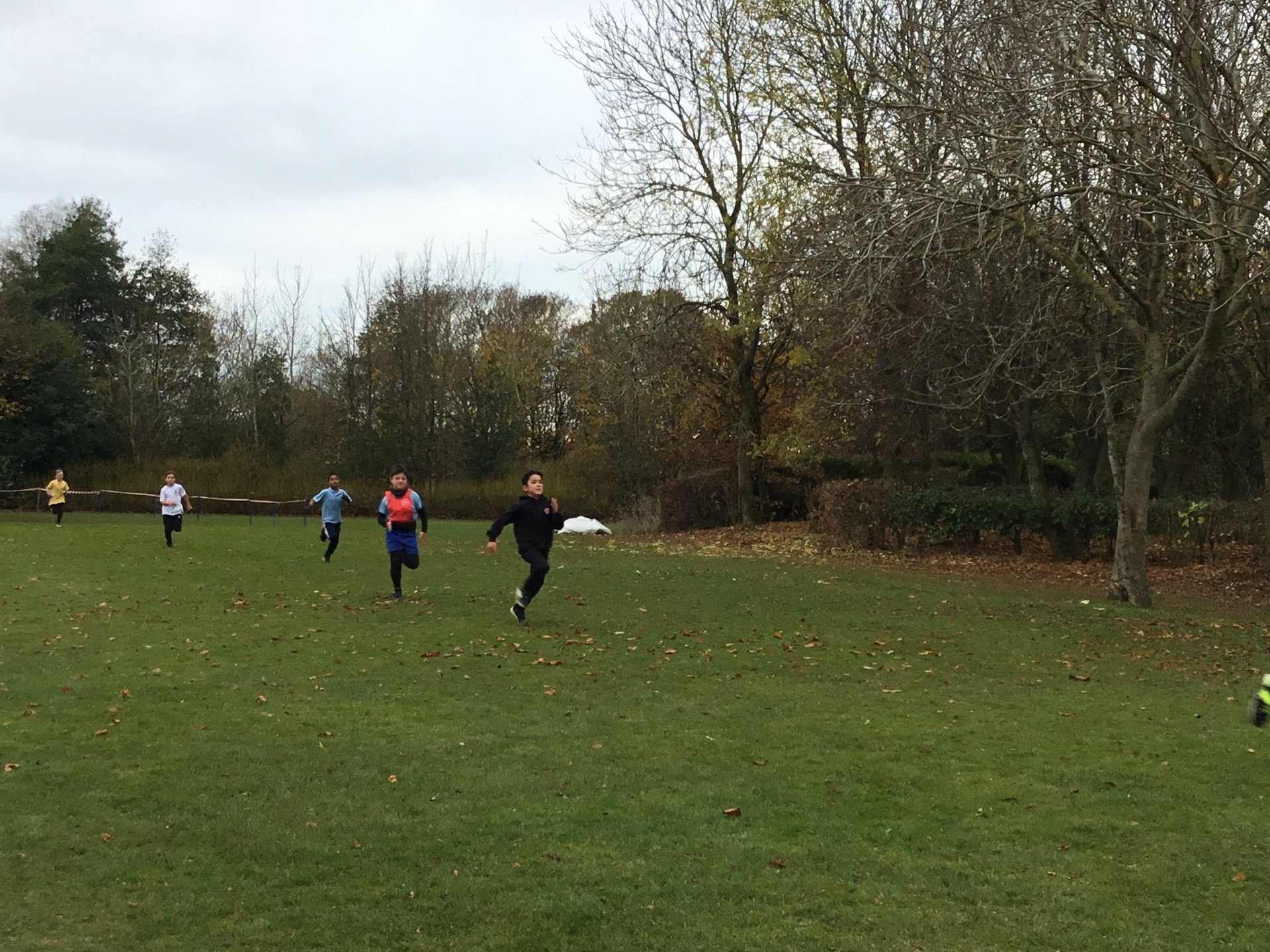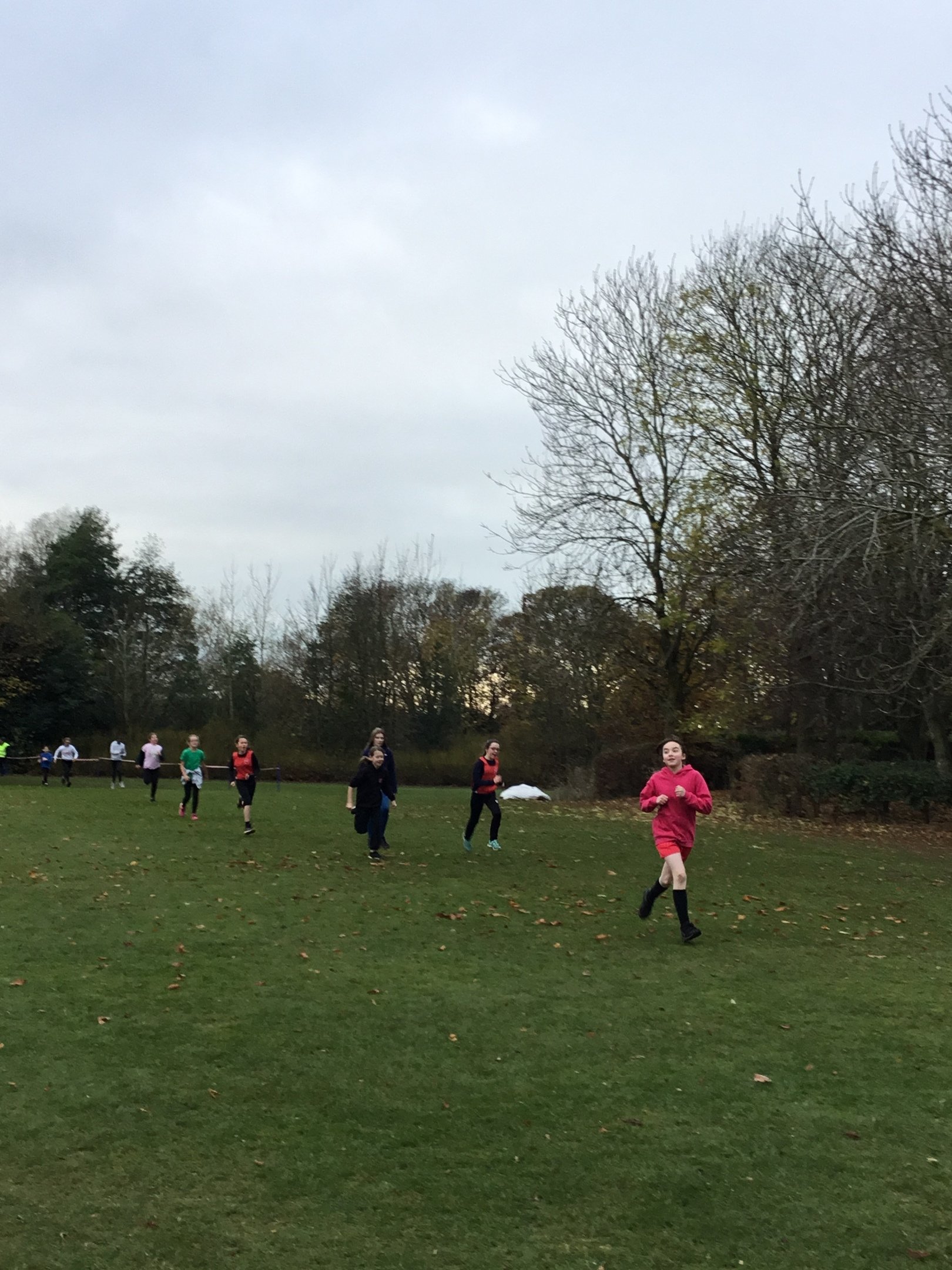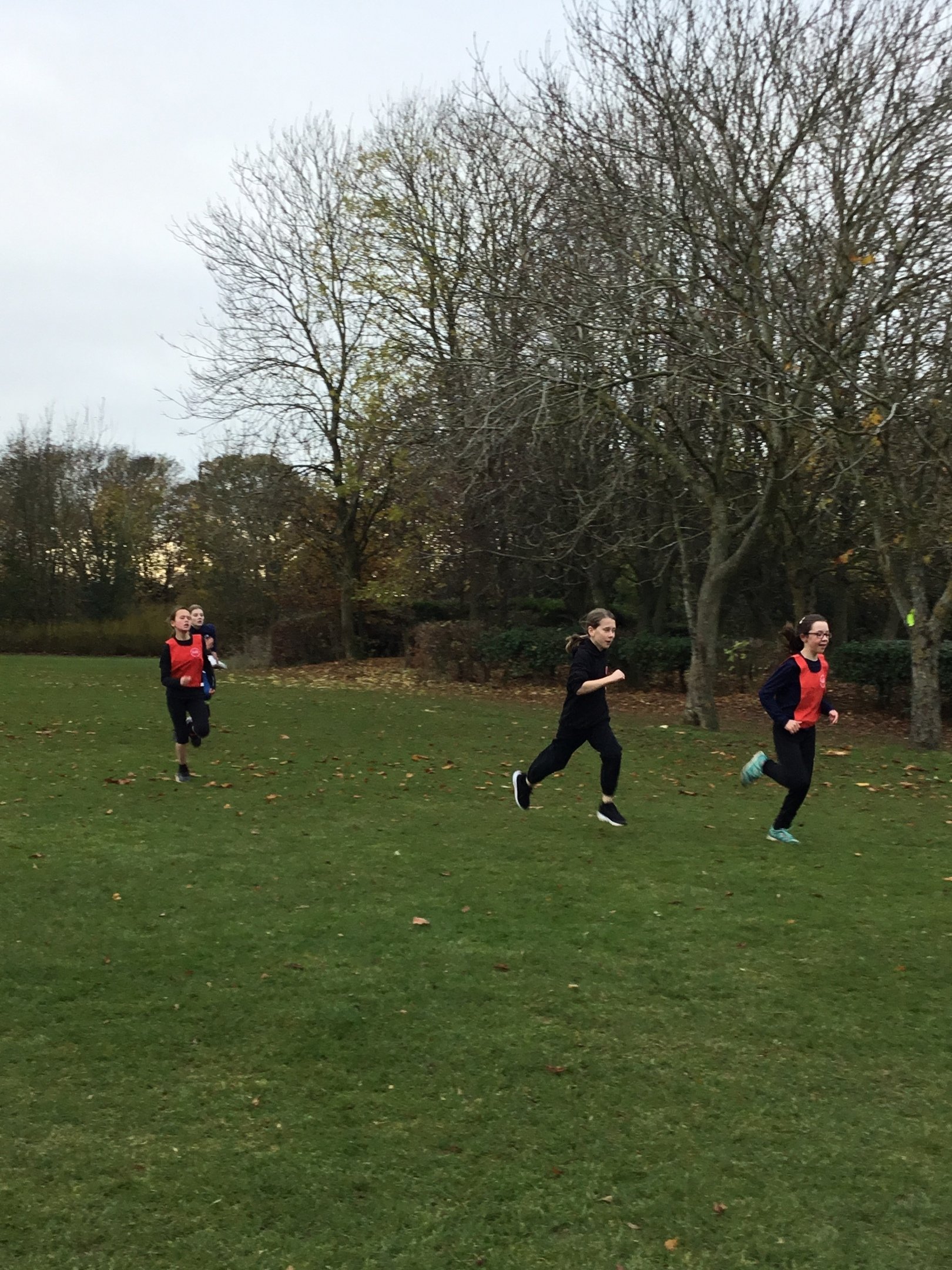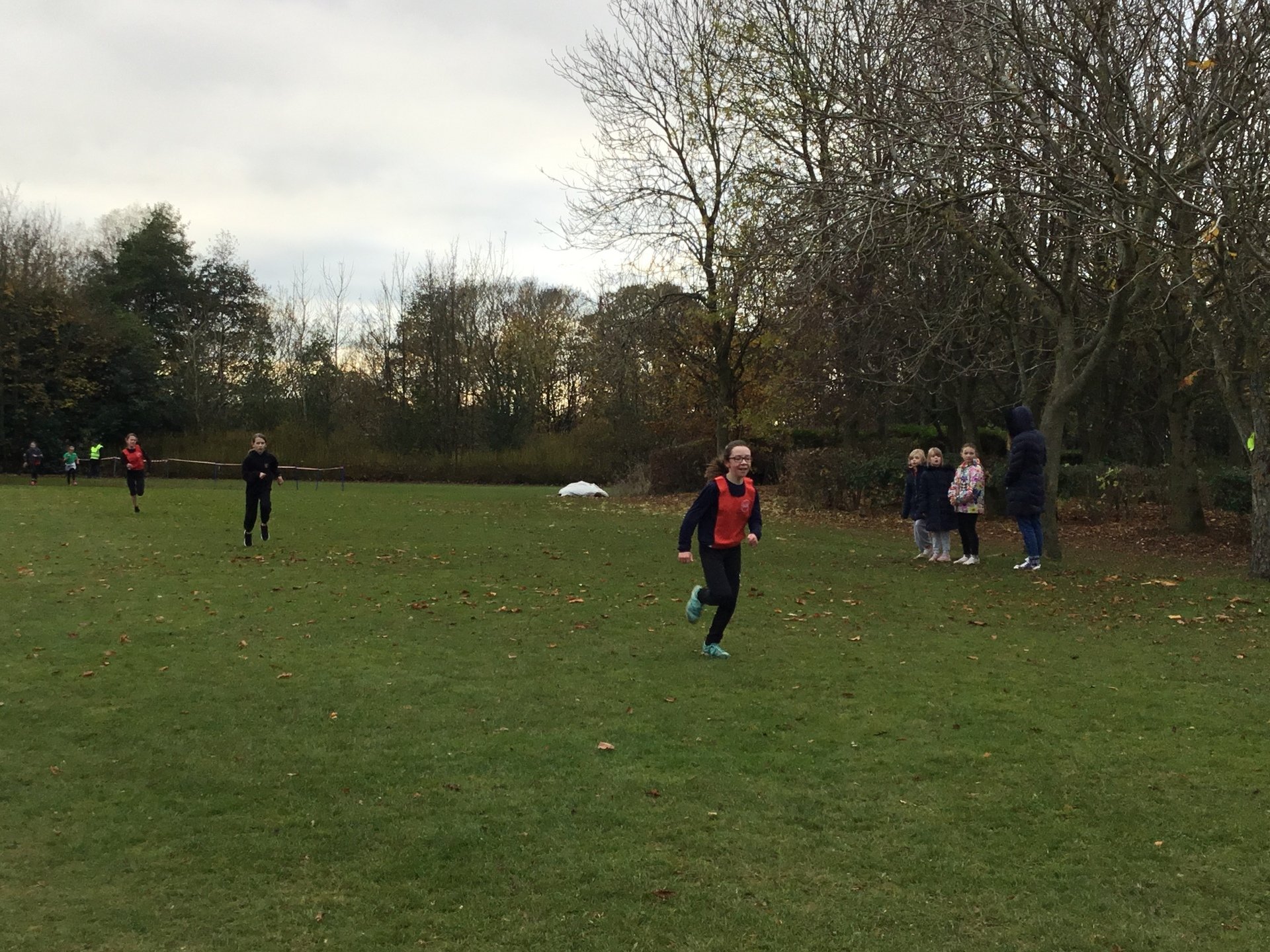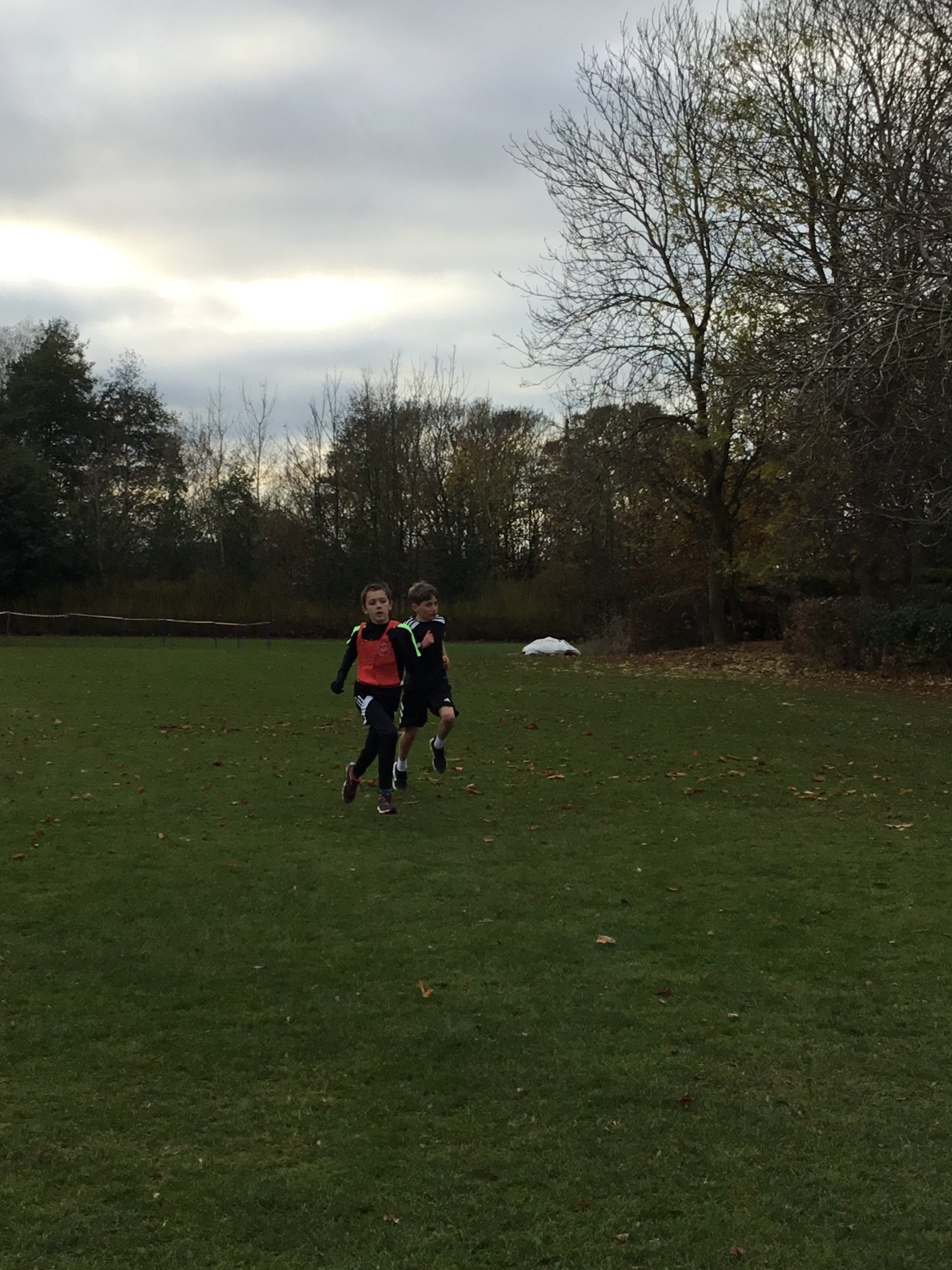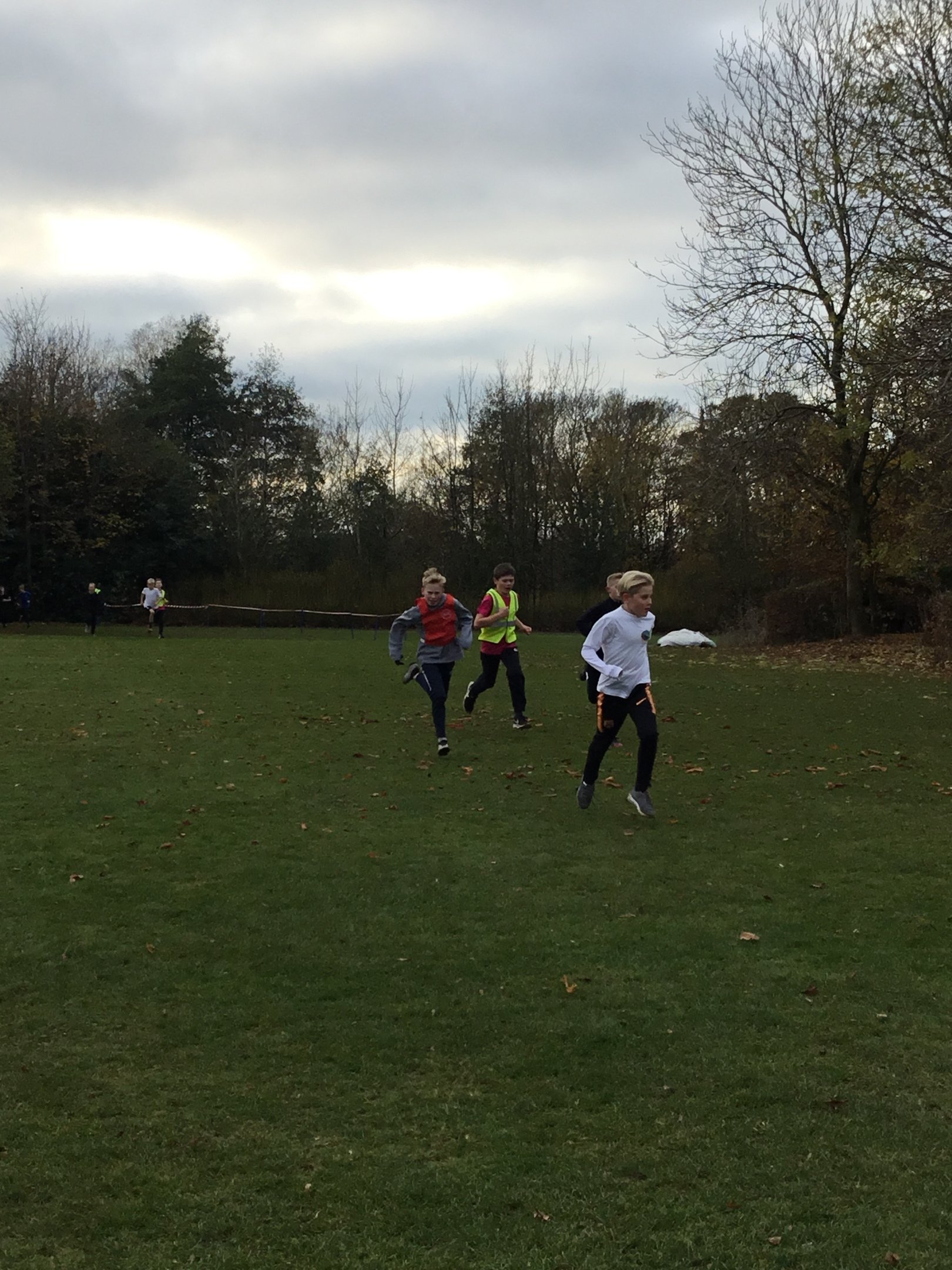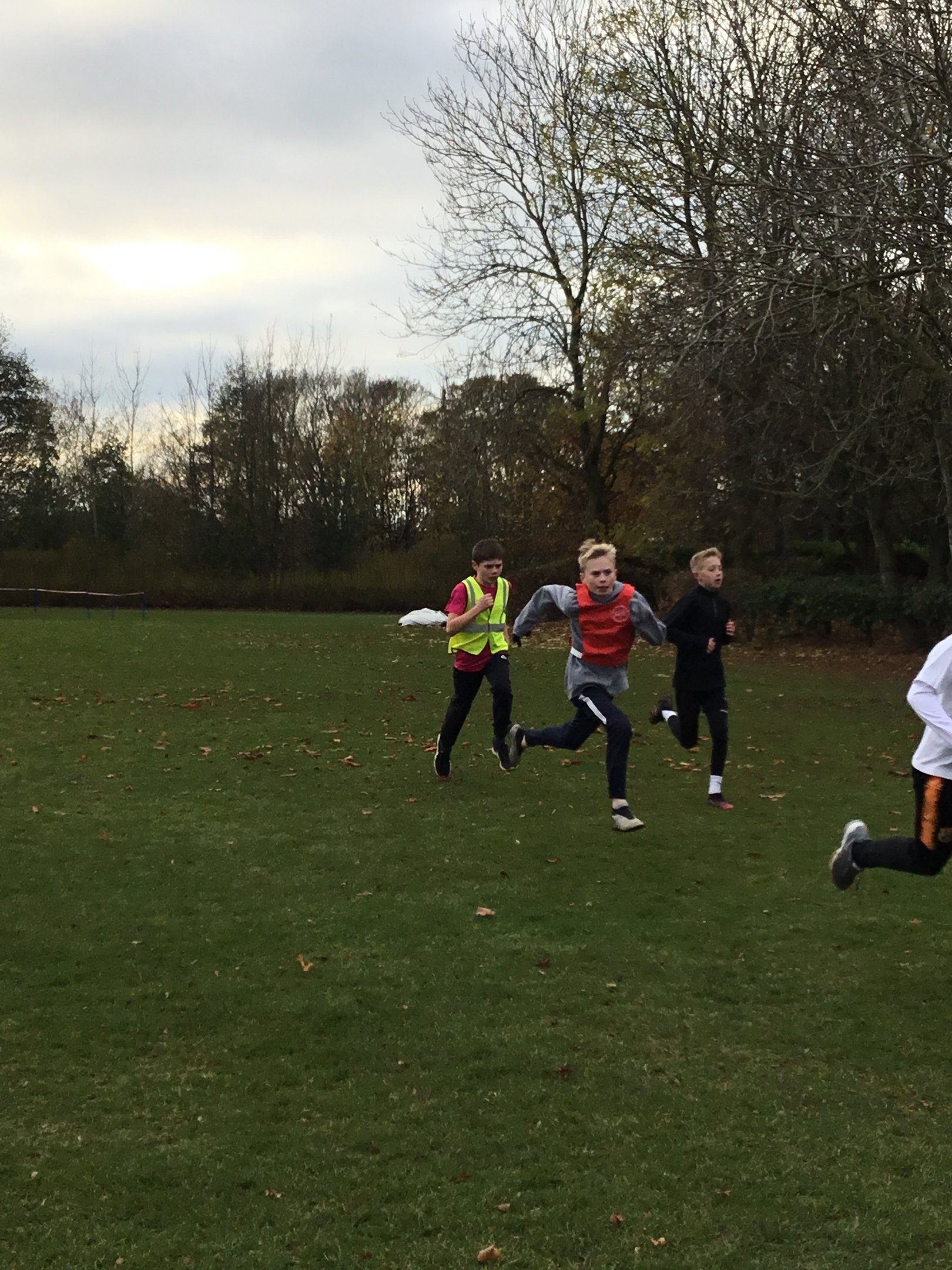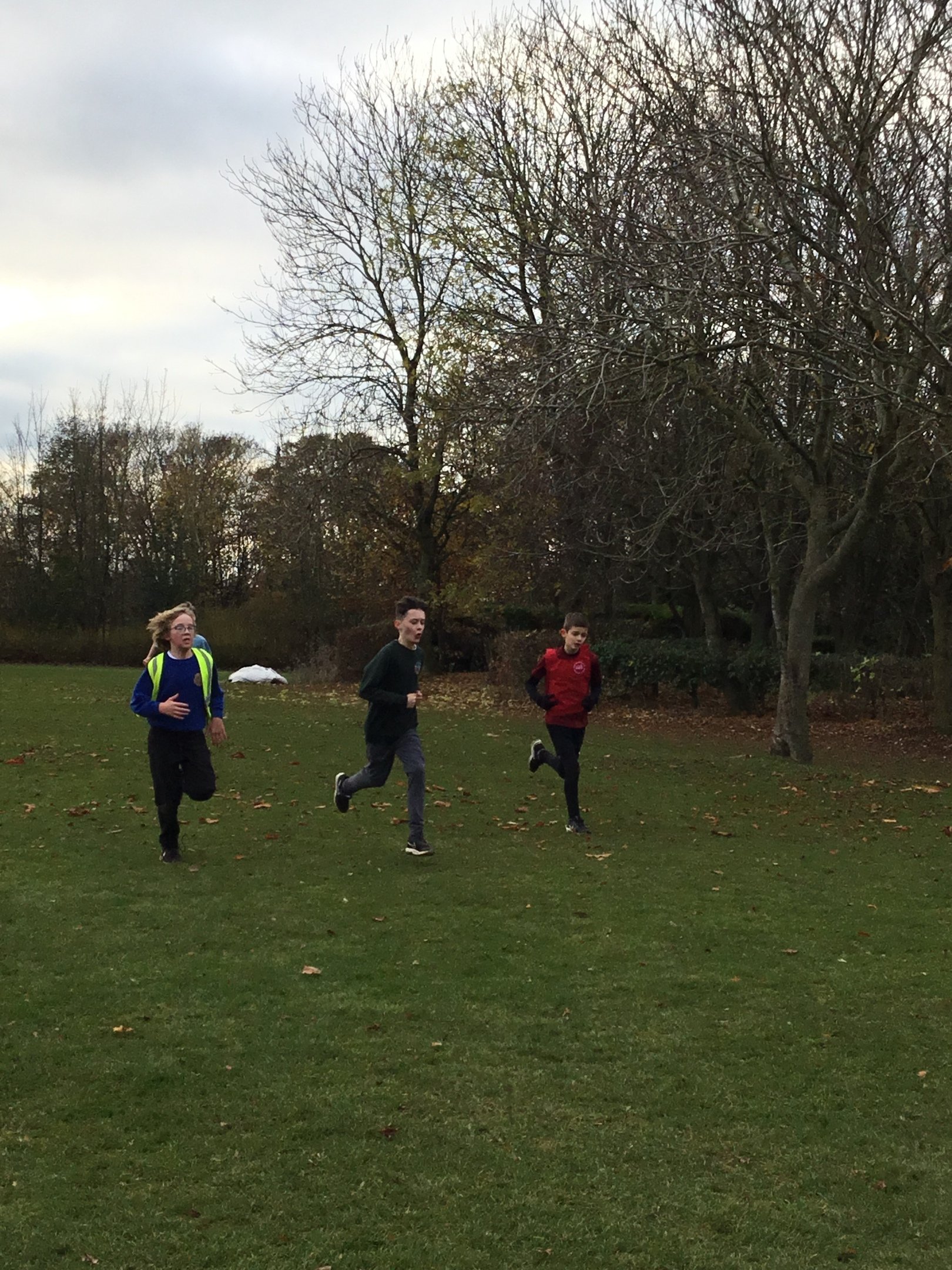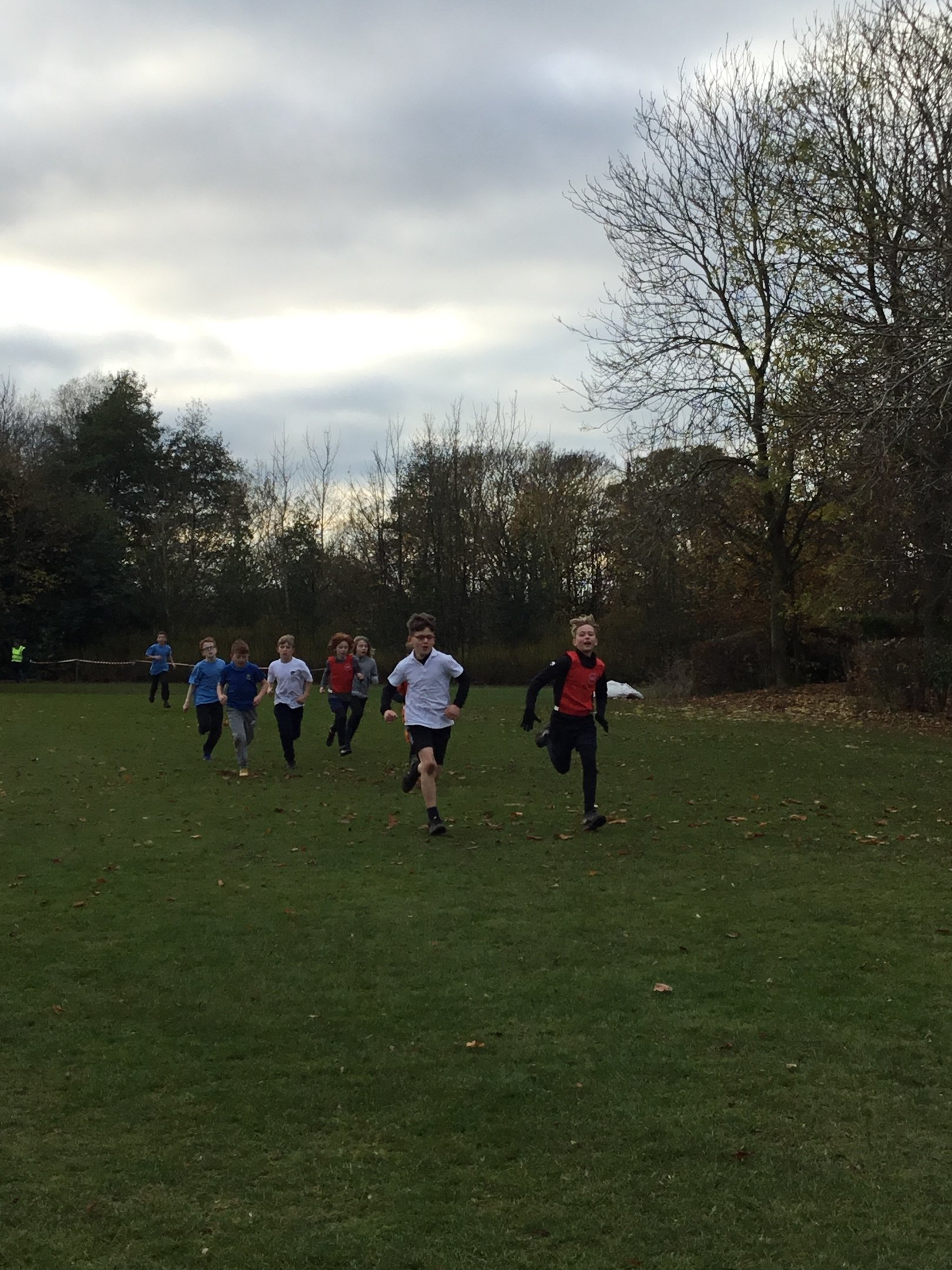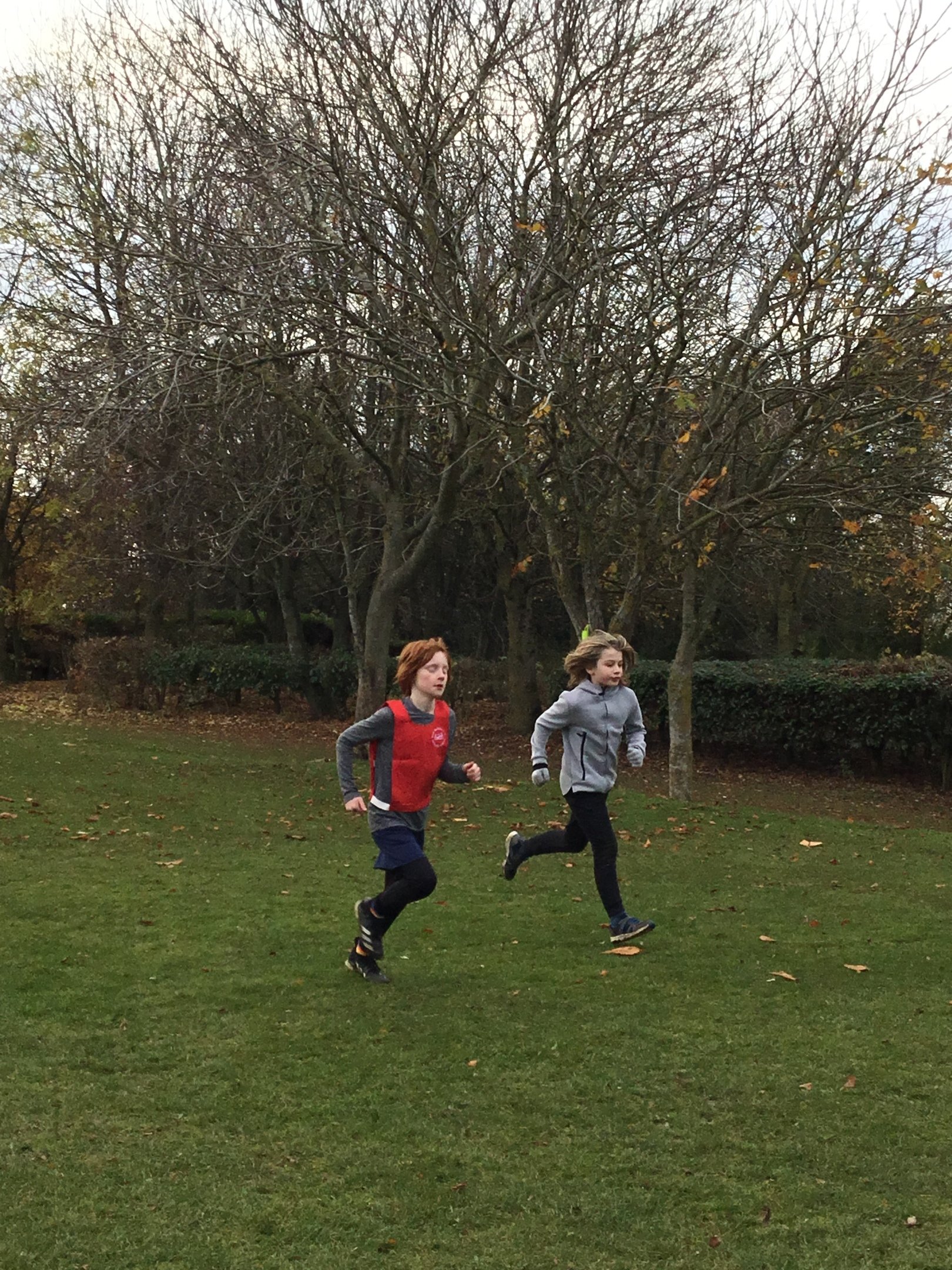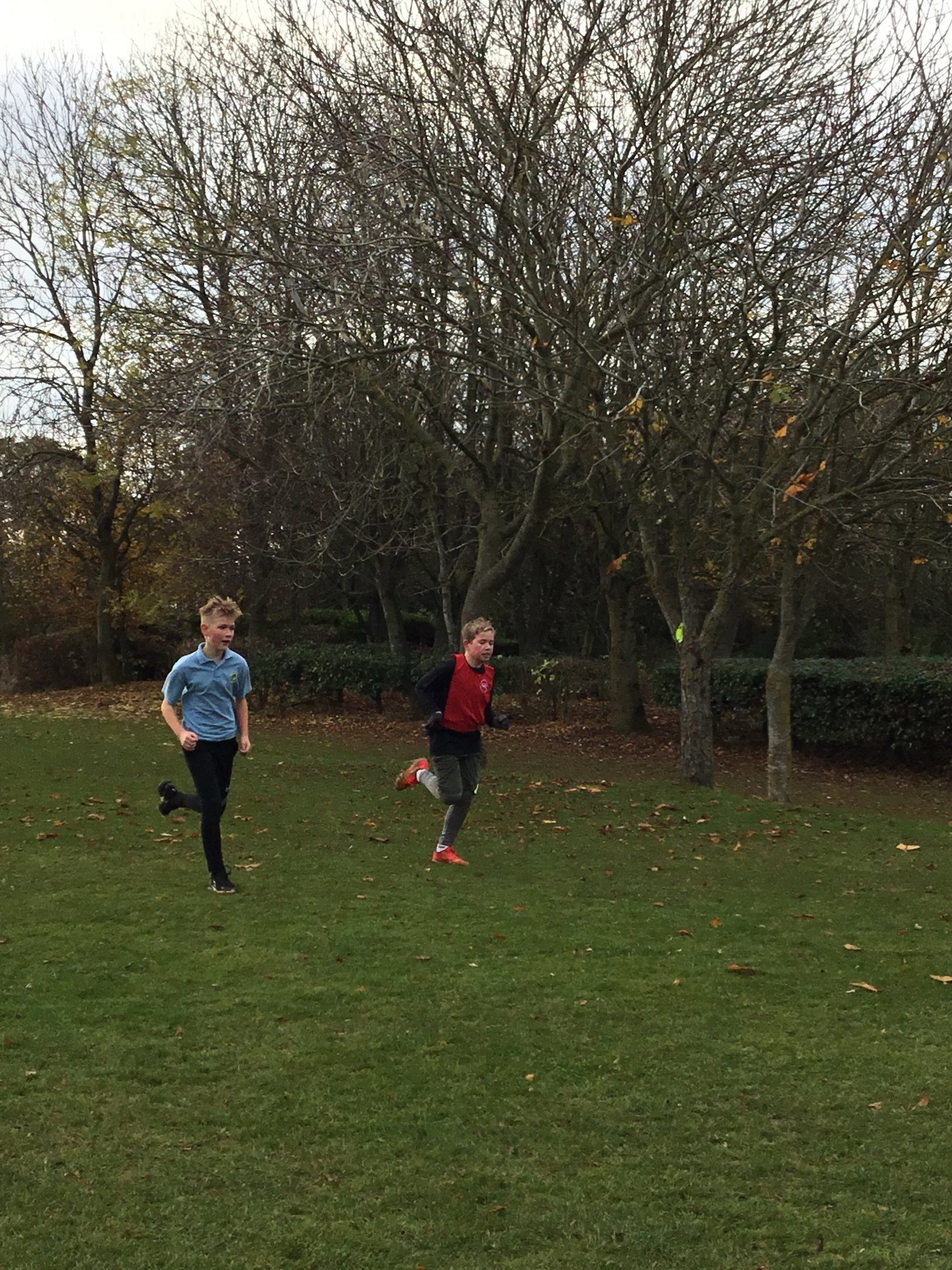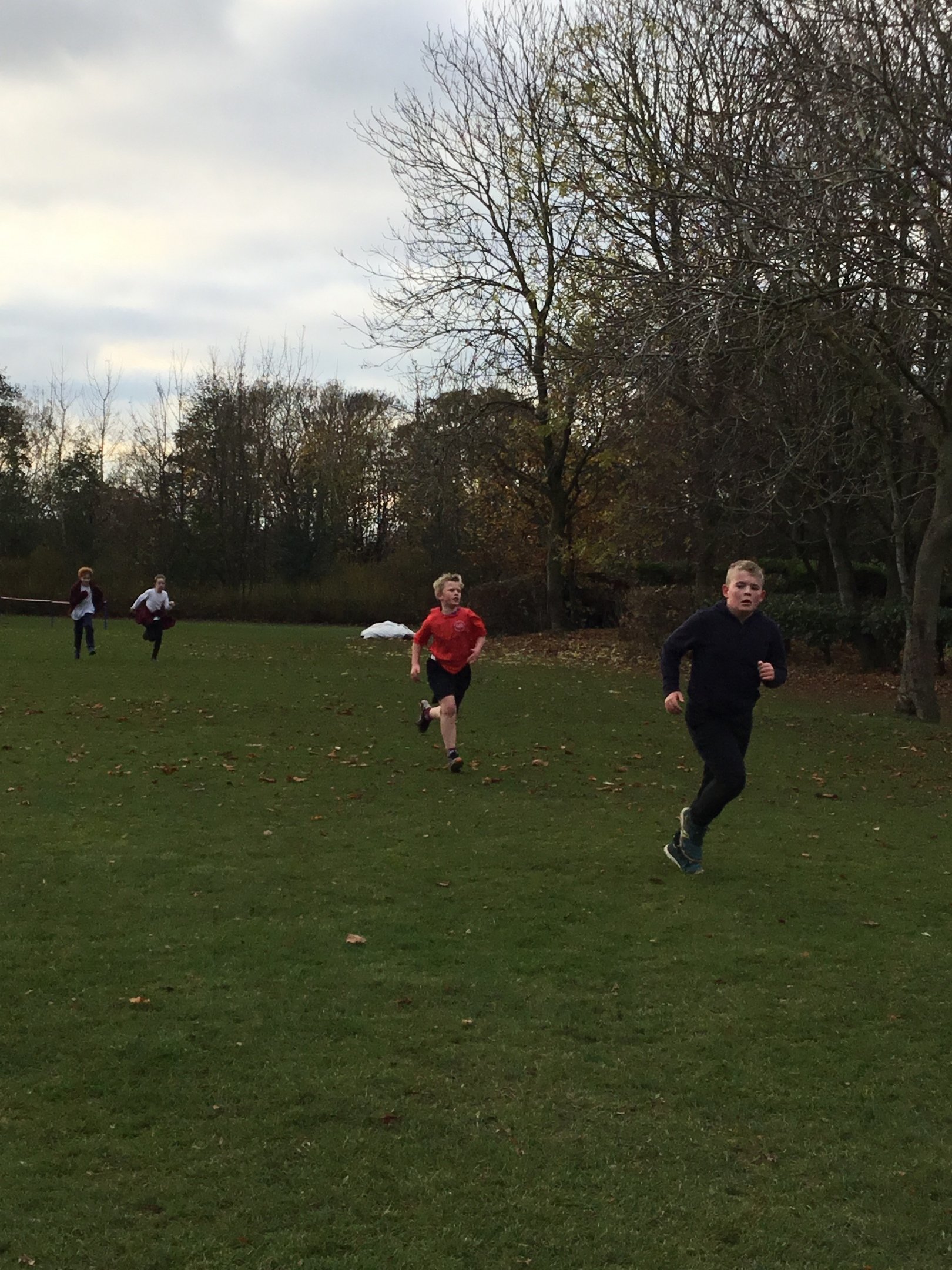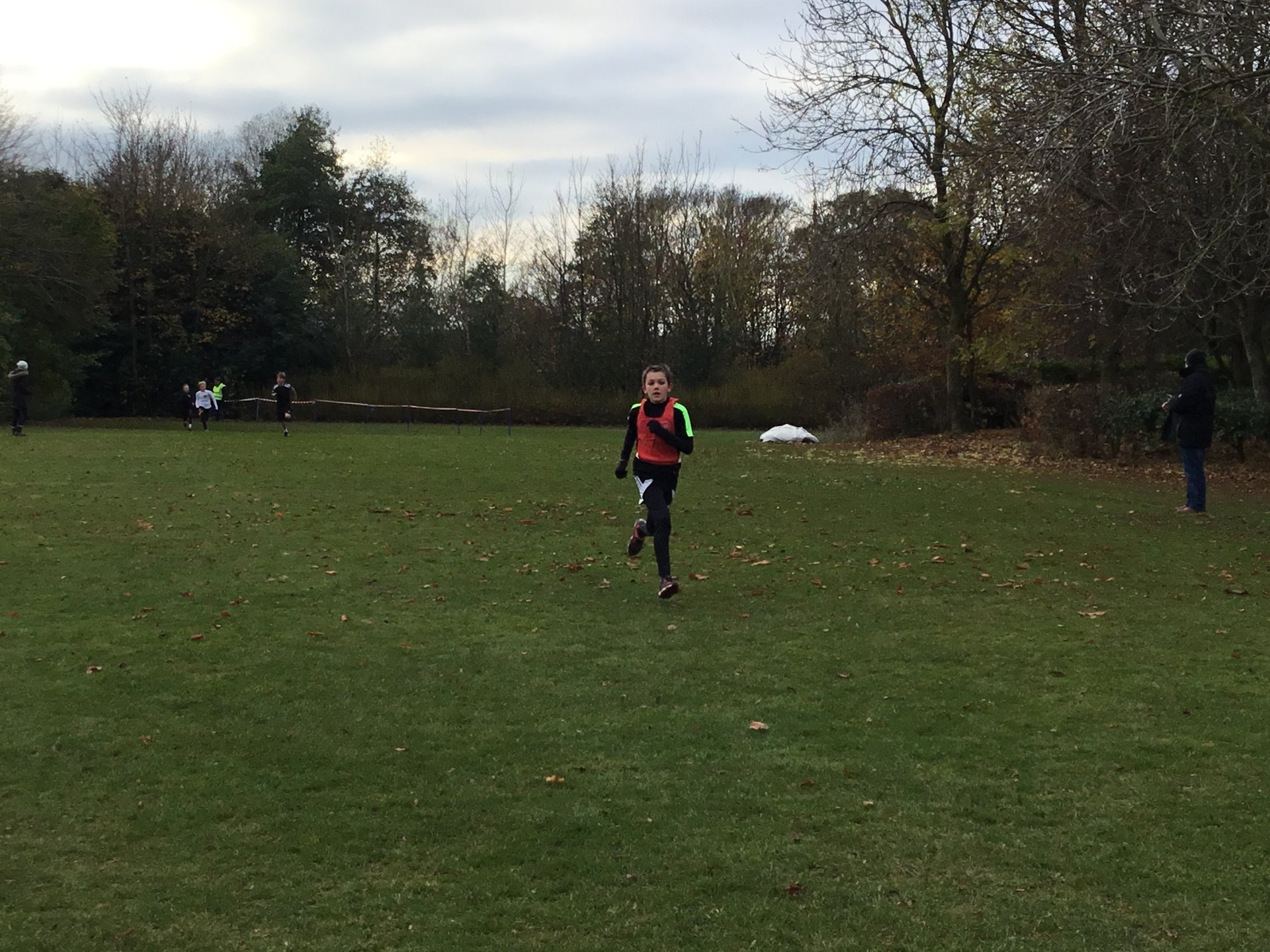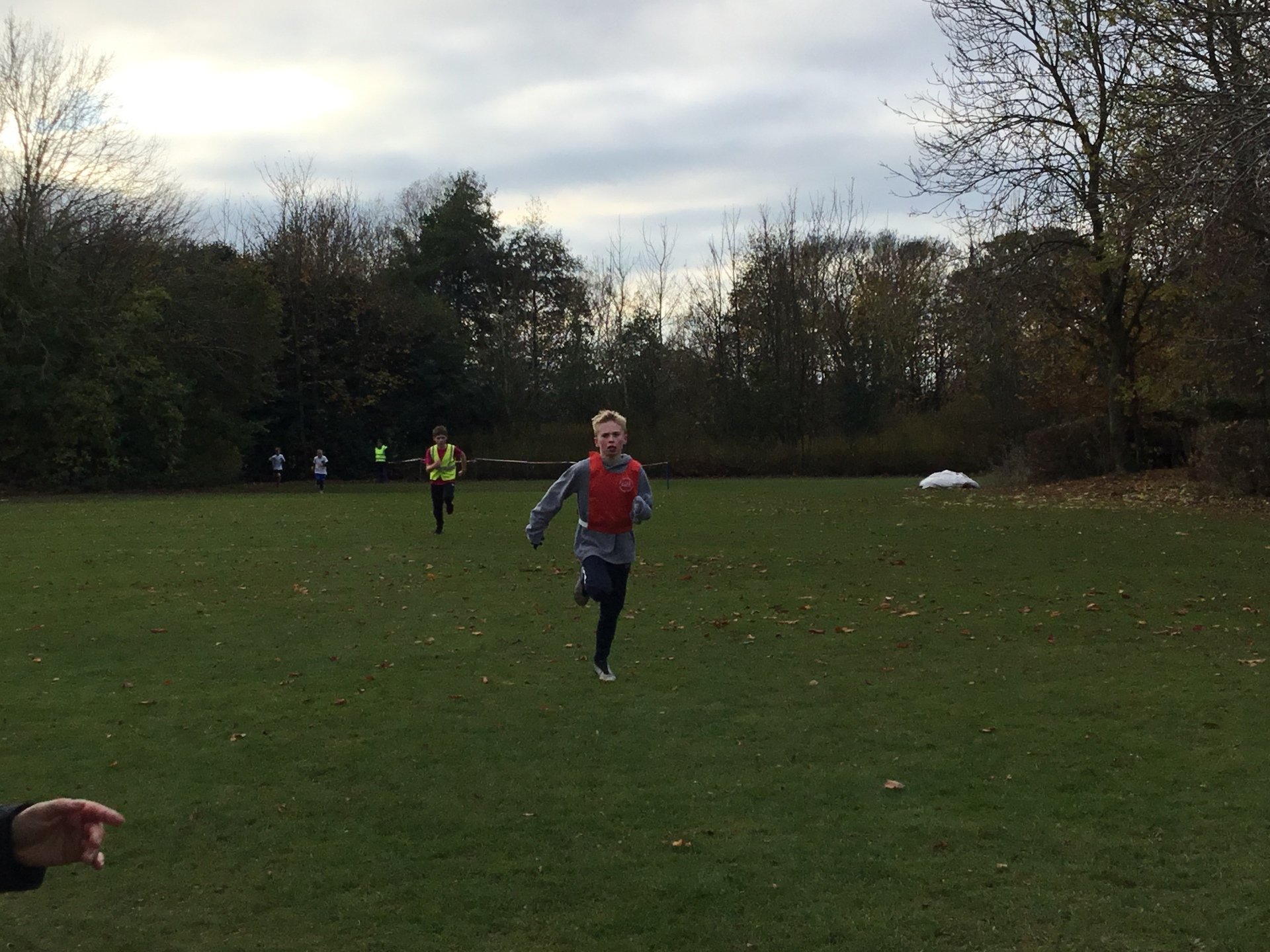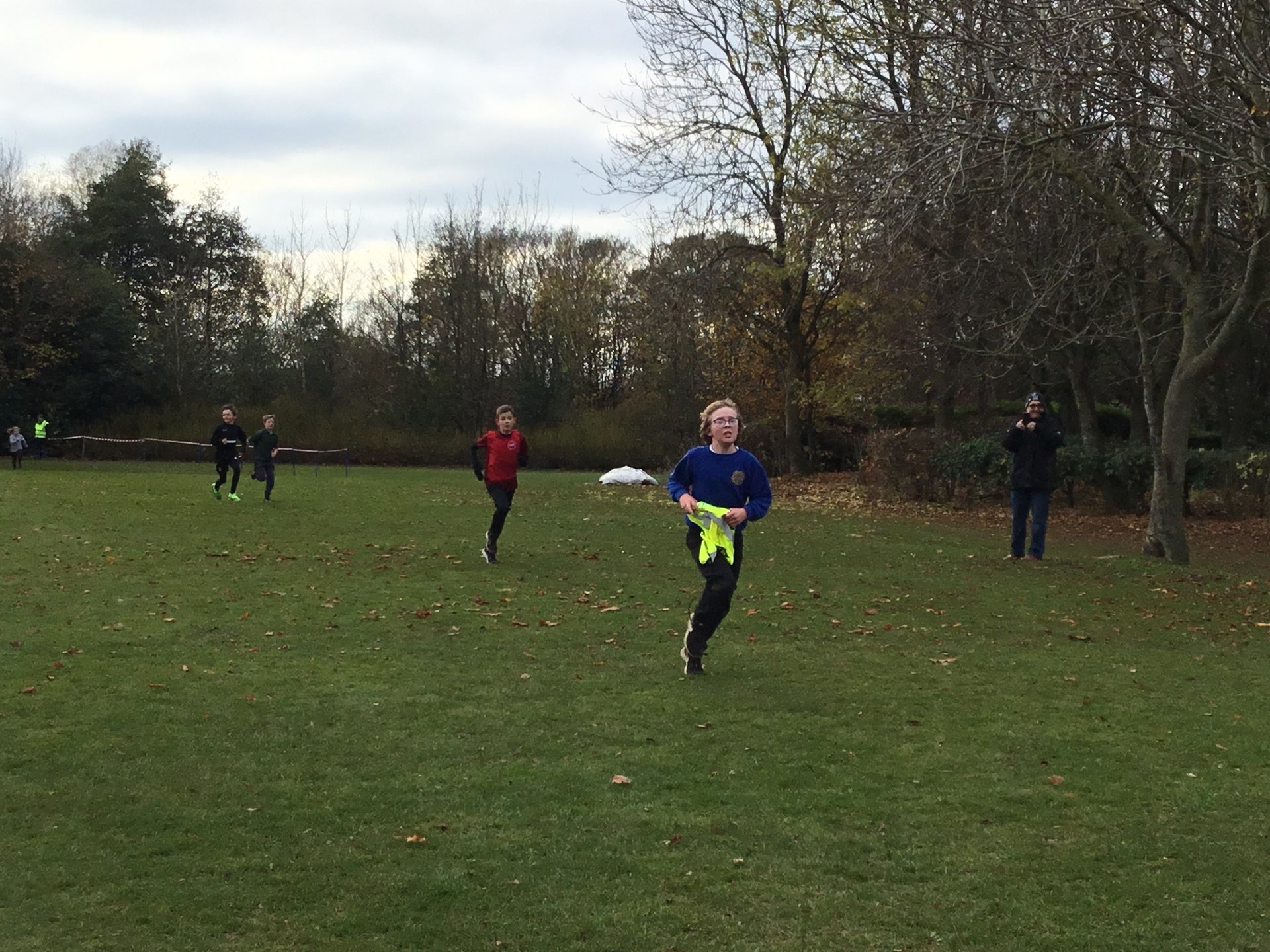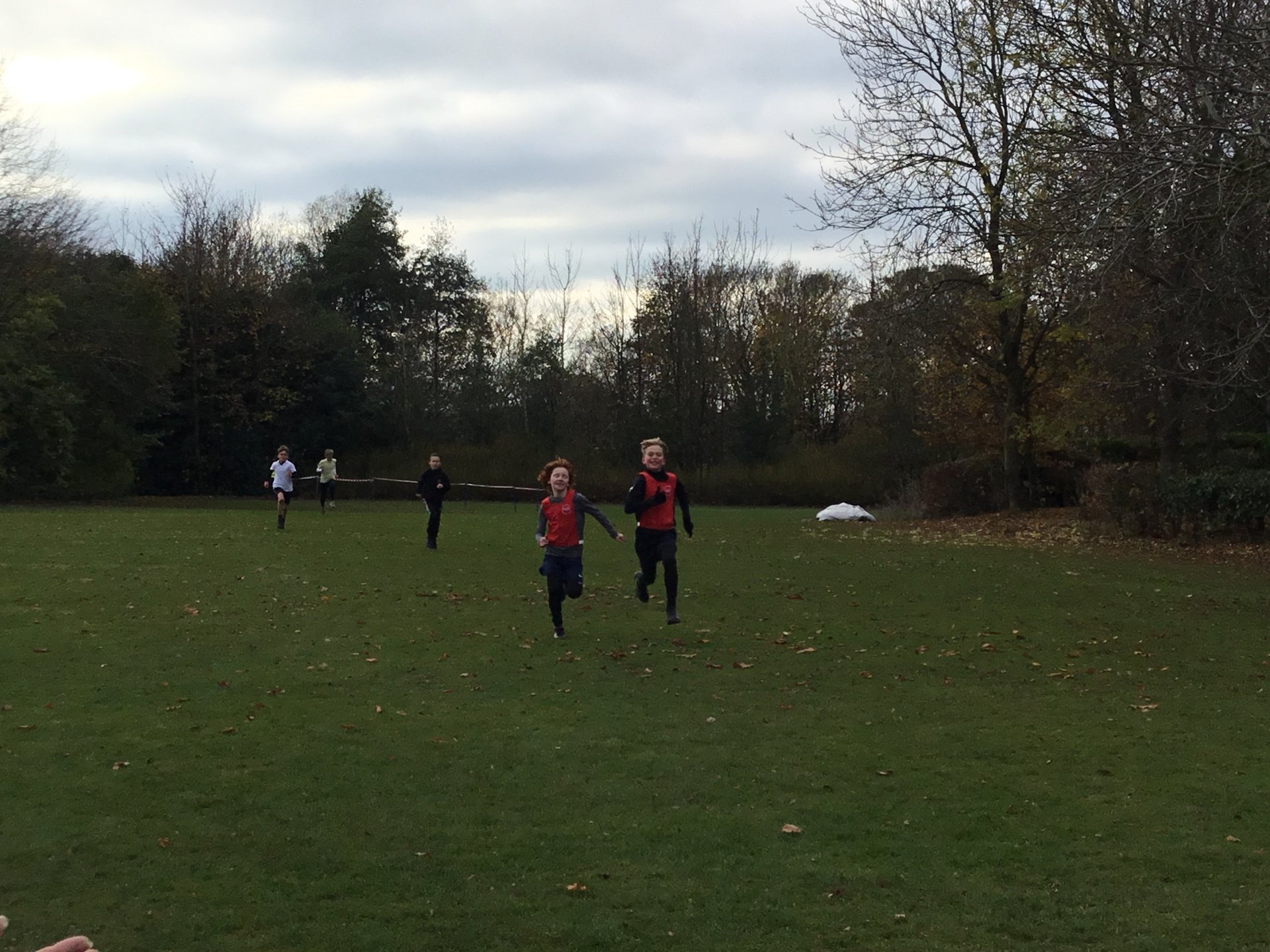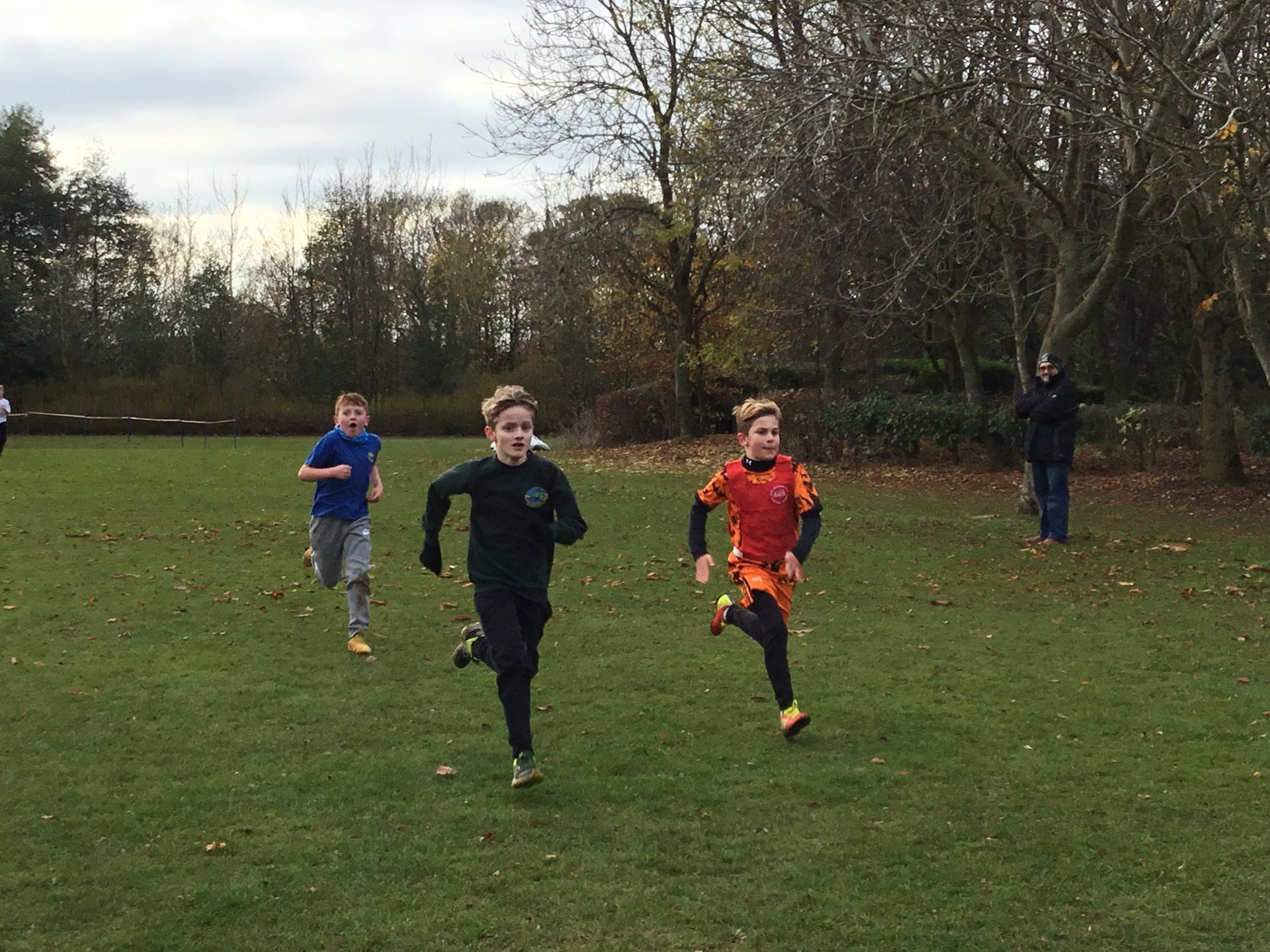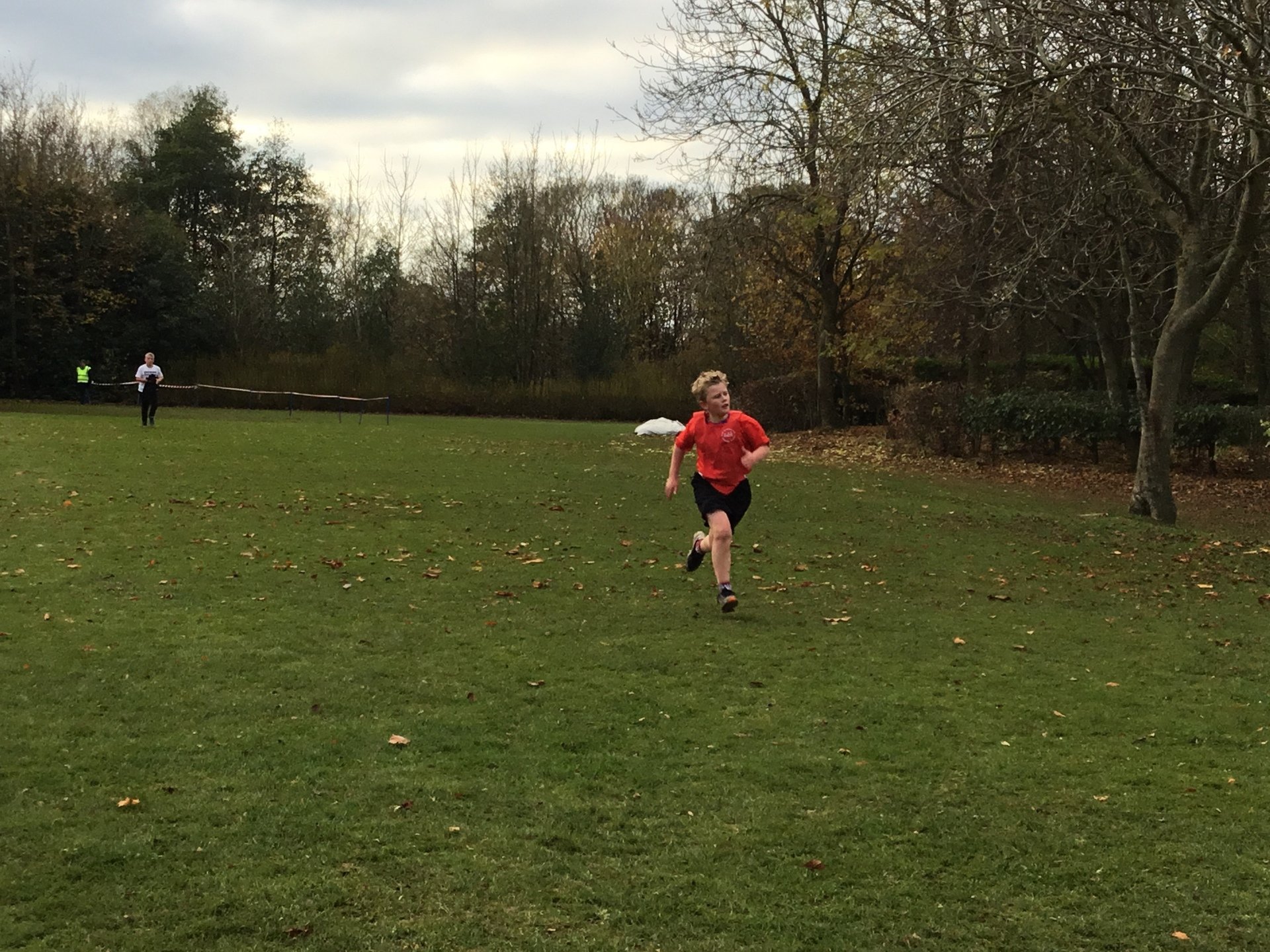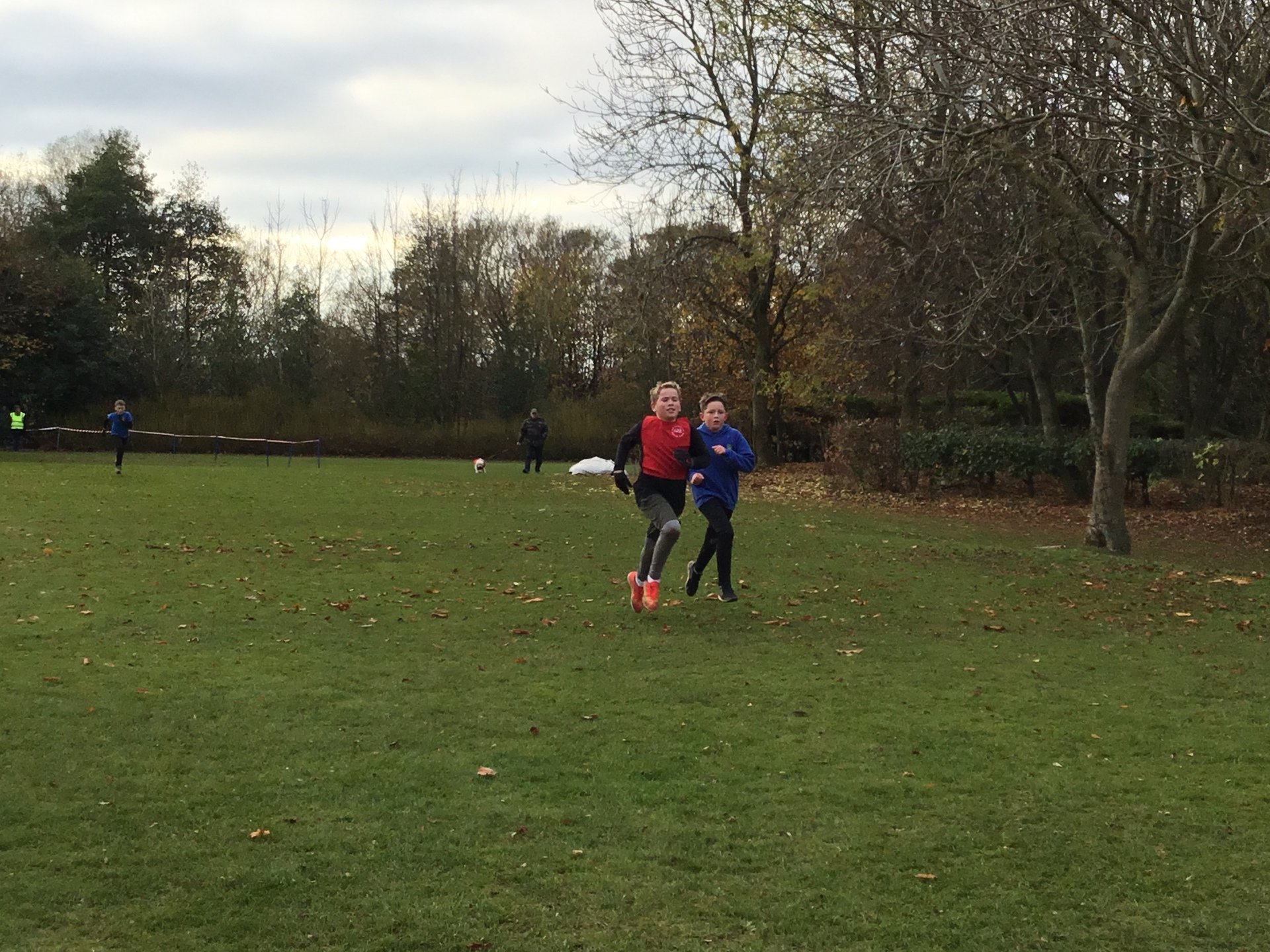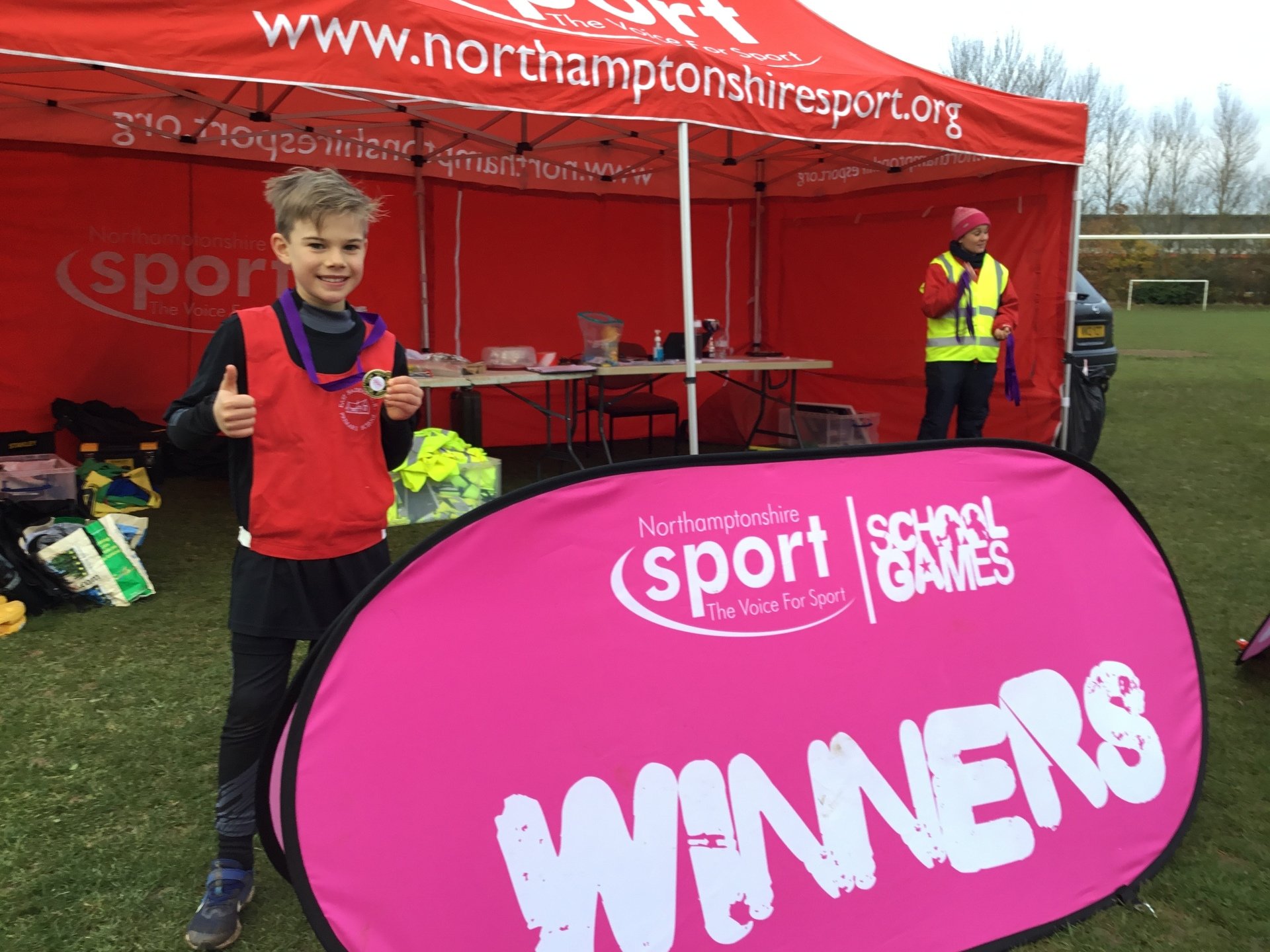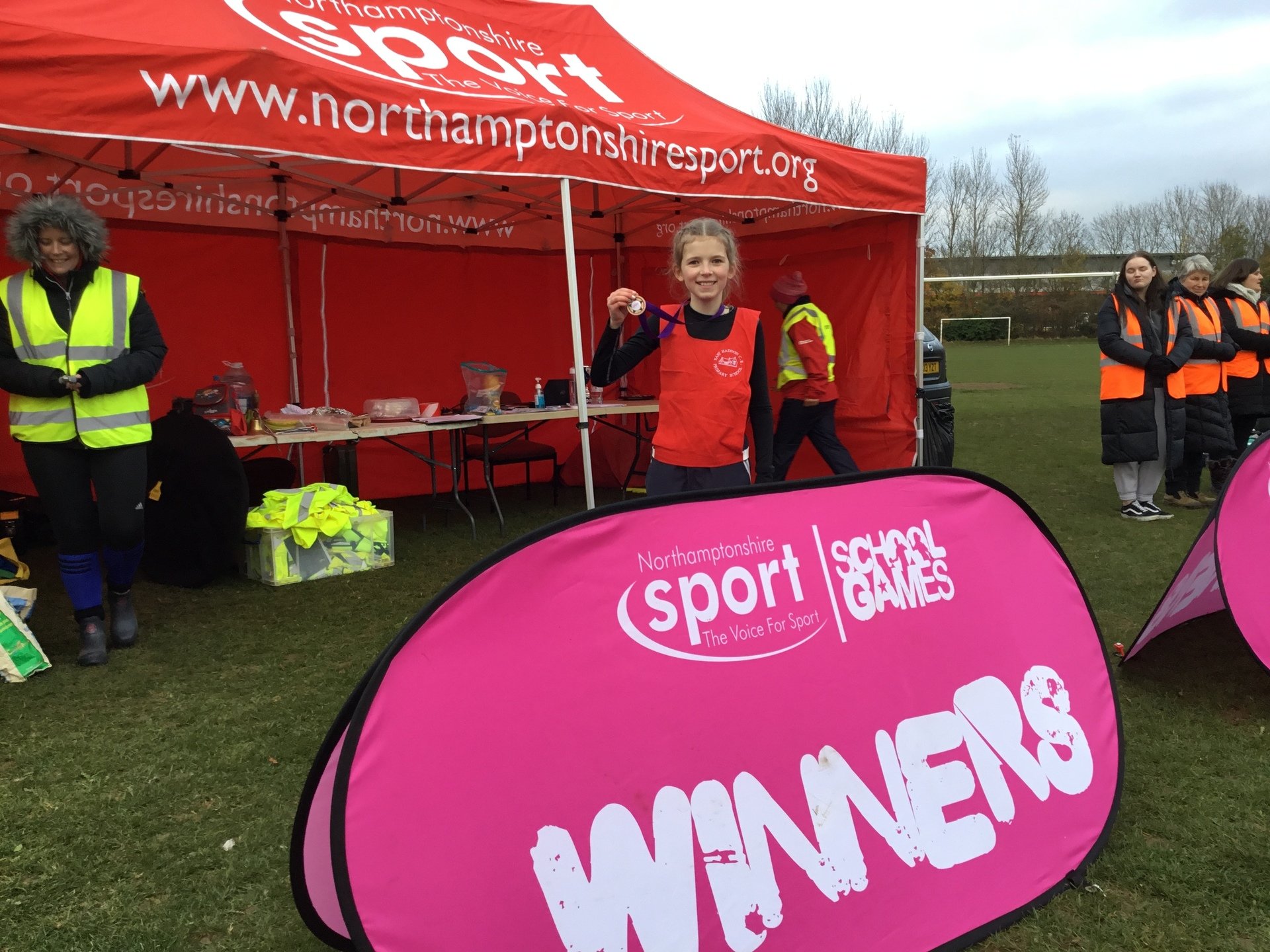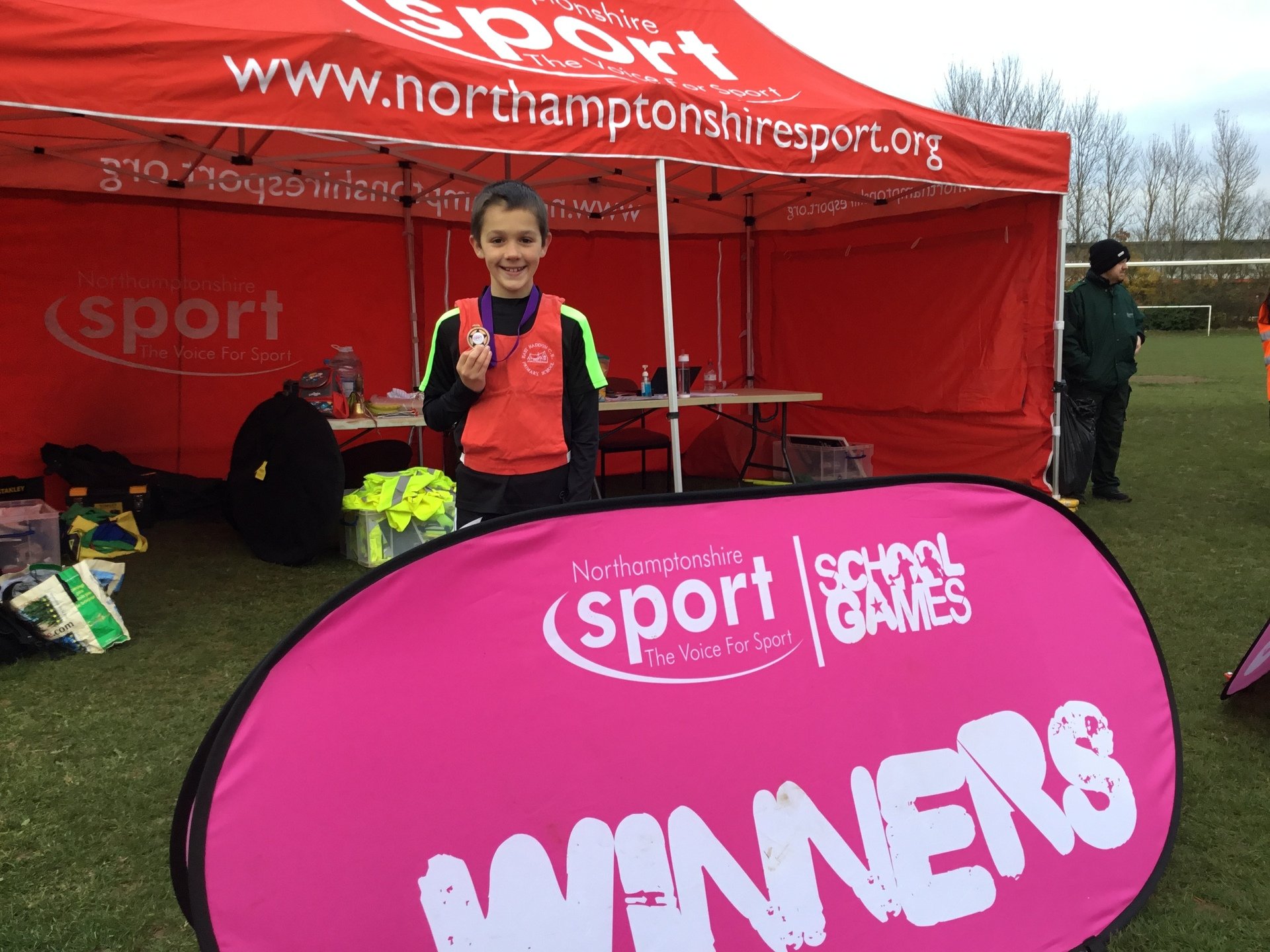 Remembrance Day
On Thursday 11th November 2021, we gathered at the war memorial to read out the names of East Haddon's fallen soldiers and to hold two minutes silence at 11 am. Thank you to Nye, for playing the Last Post so beautifully for us on his cornet.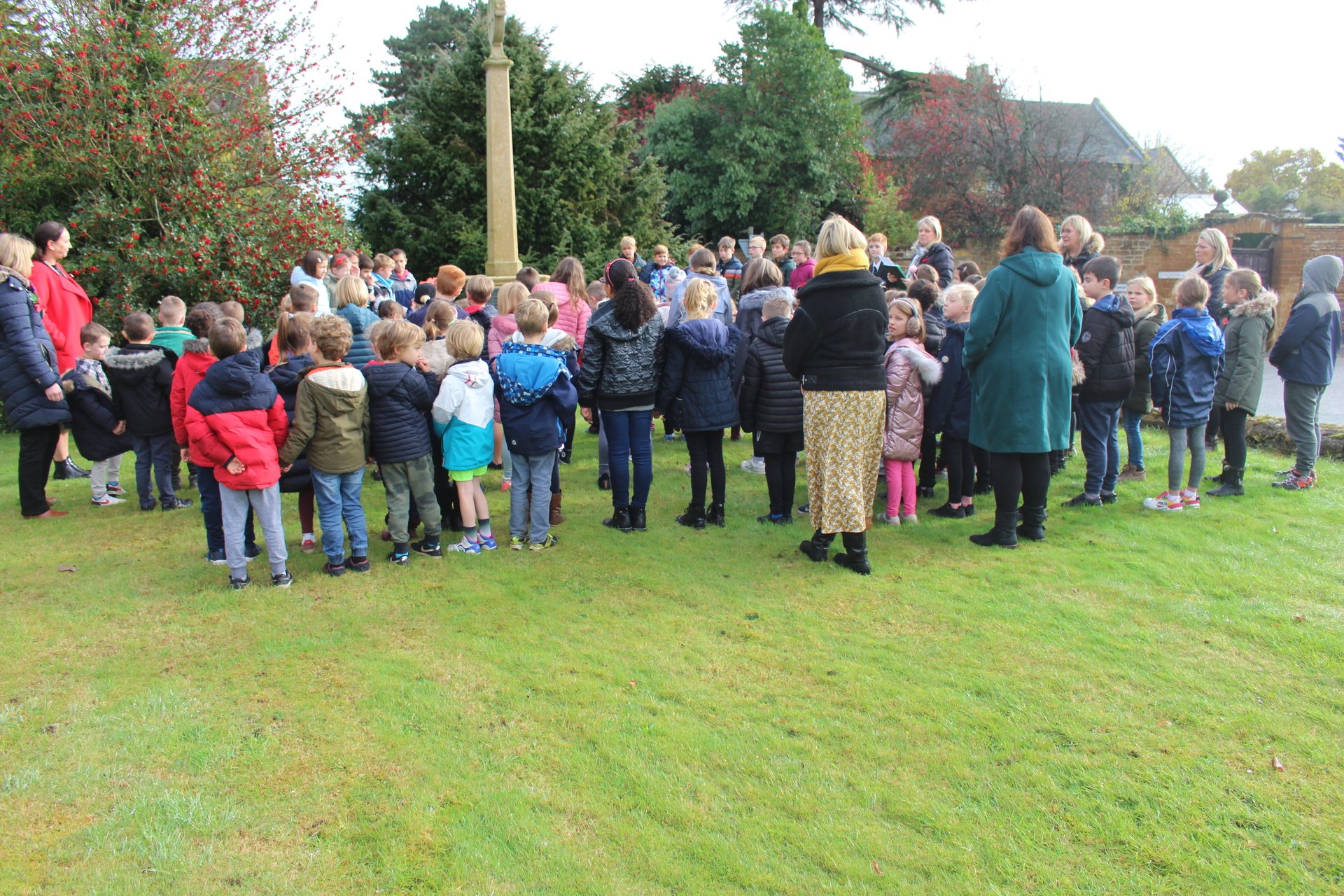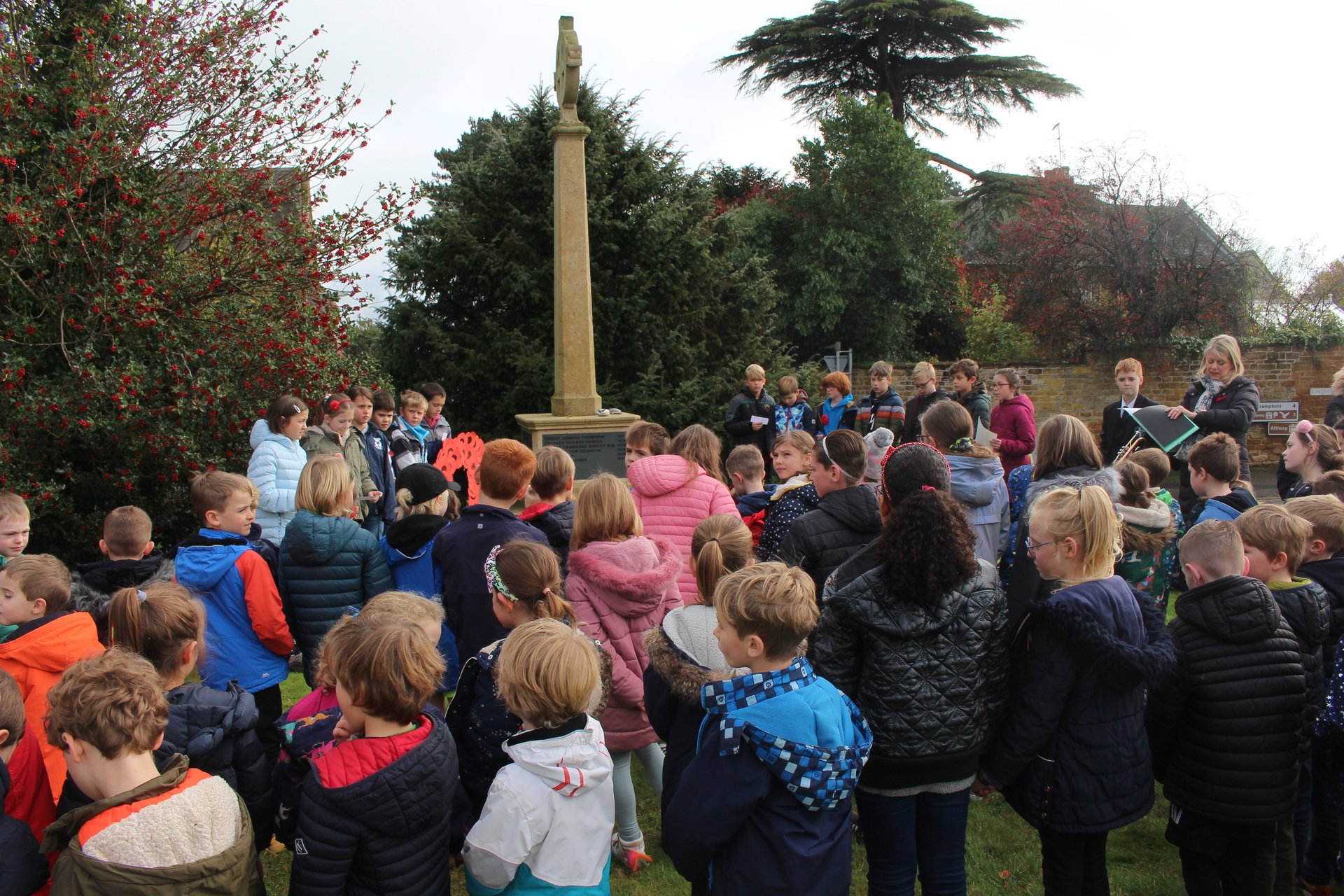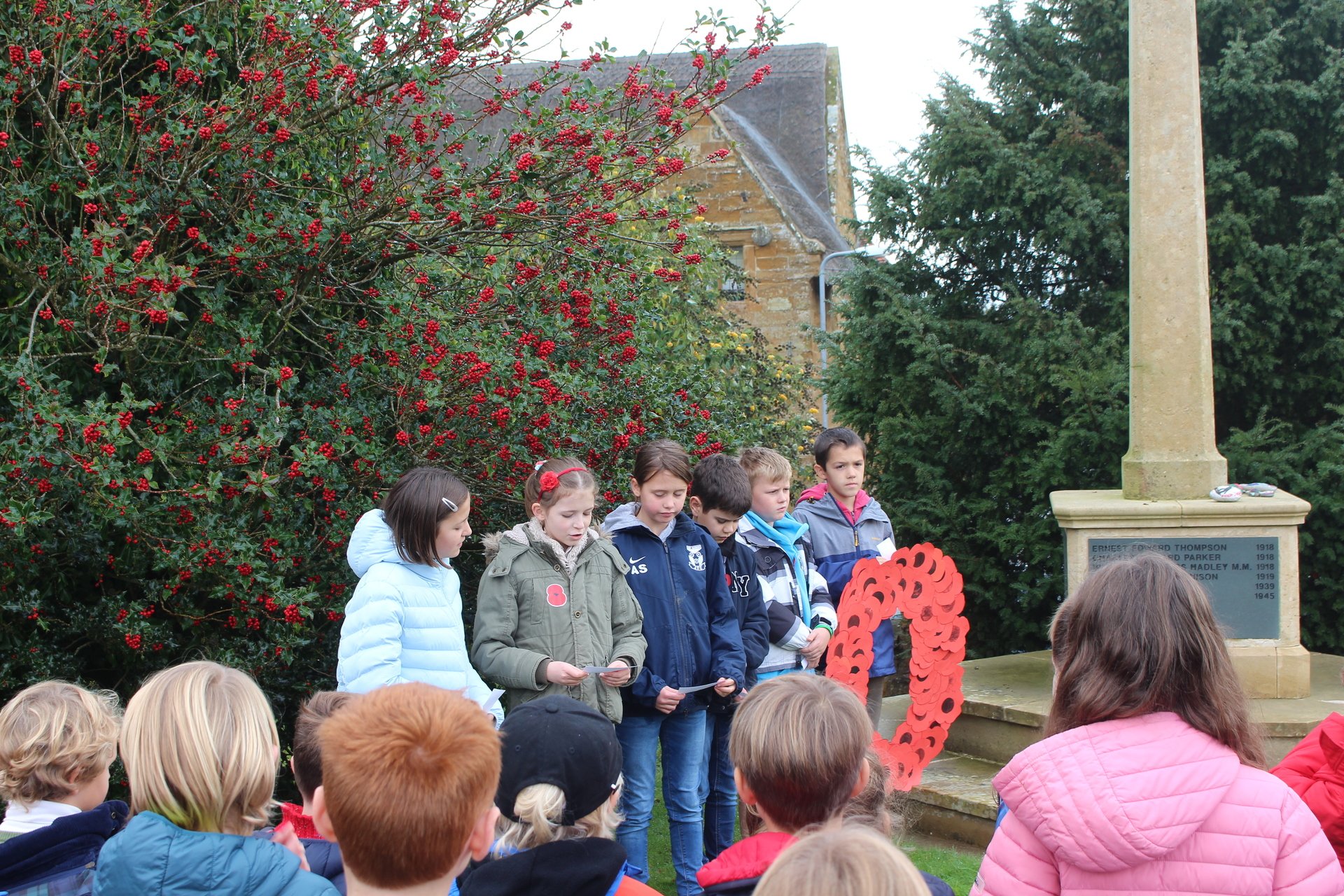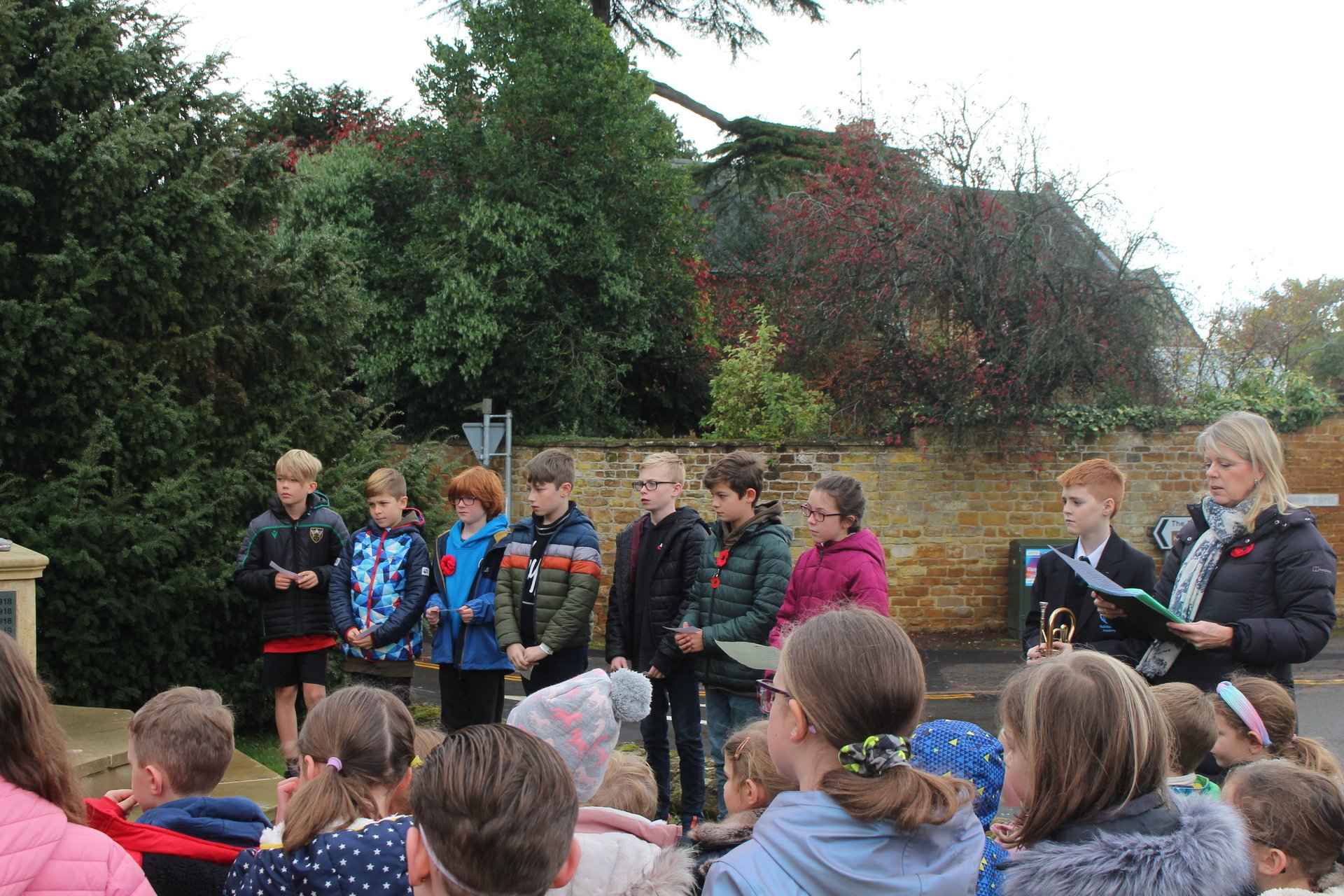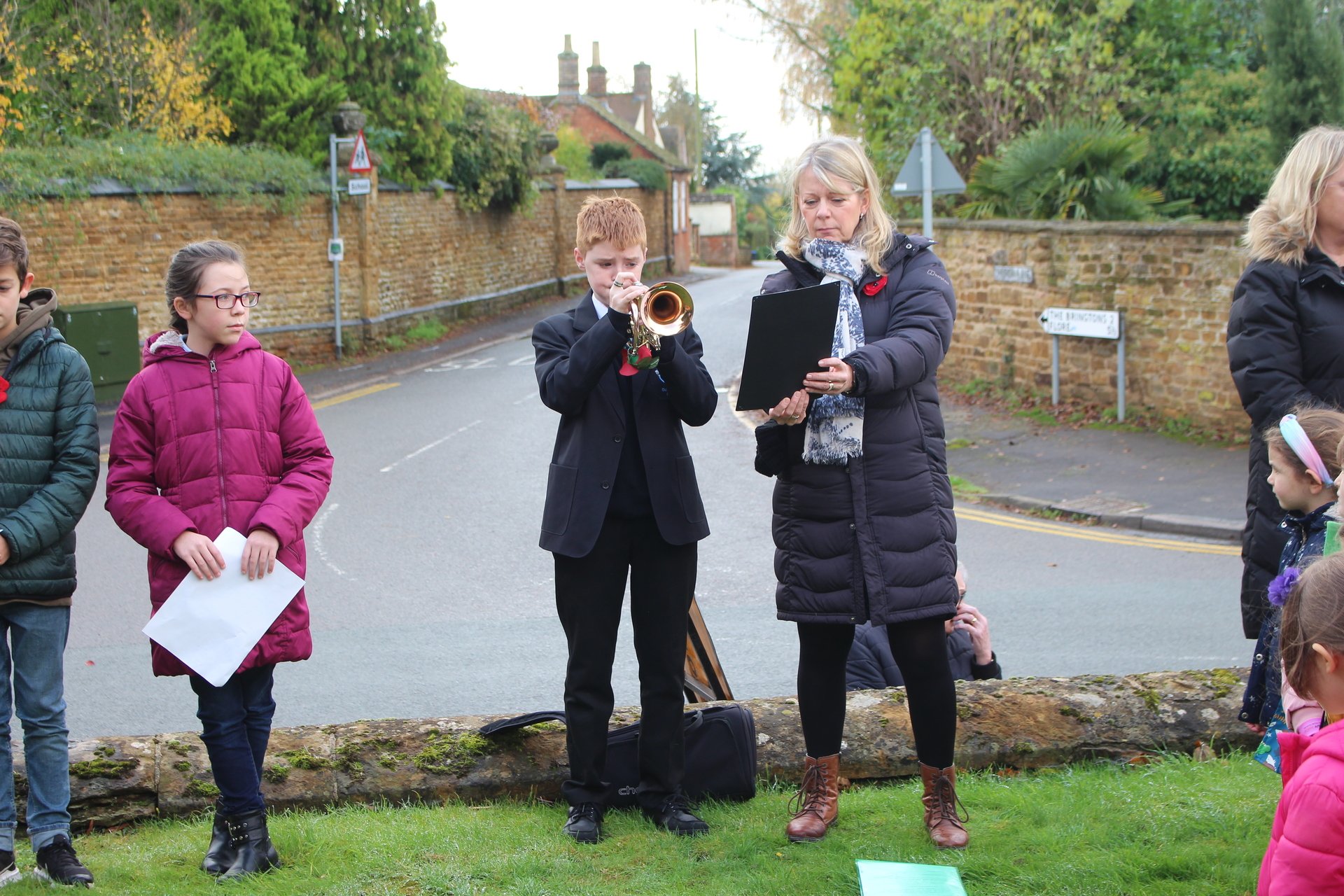 Guy Fawkes
Red class made this handsome Guy Fawkes thanks to some well-timed clothing donations! Thank you also to Mr Barnes for setting poor
Guy on top of the bonfire for us.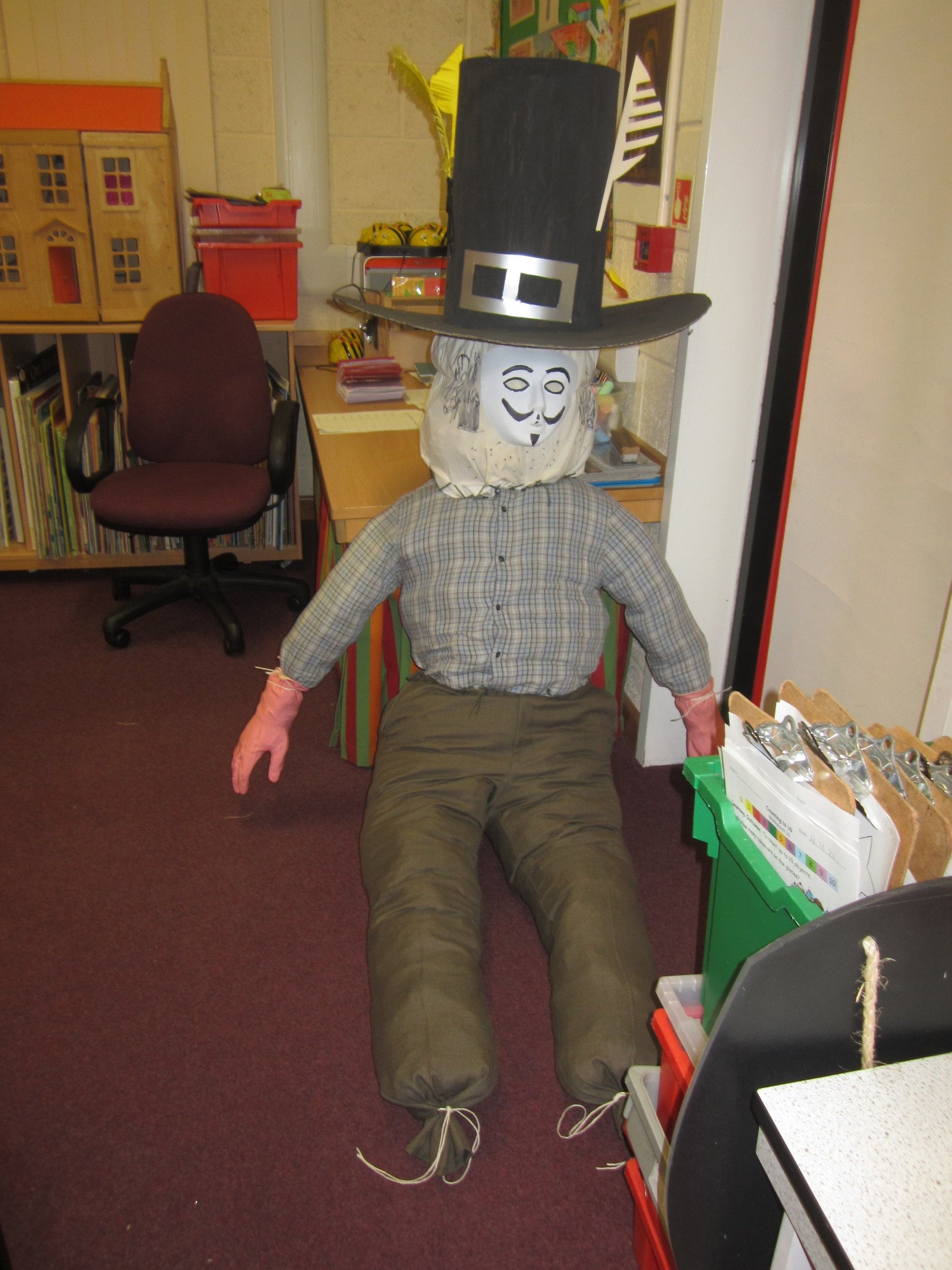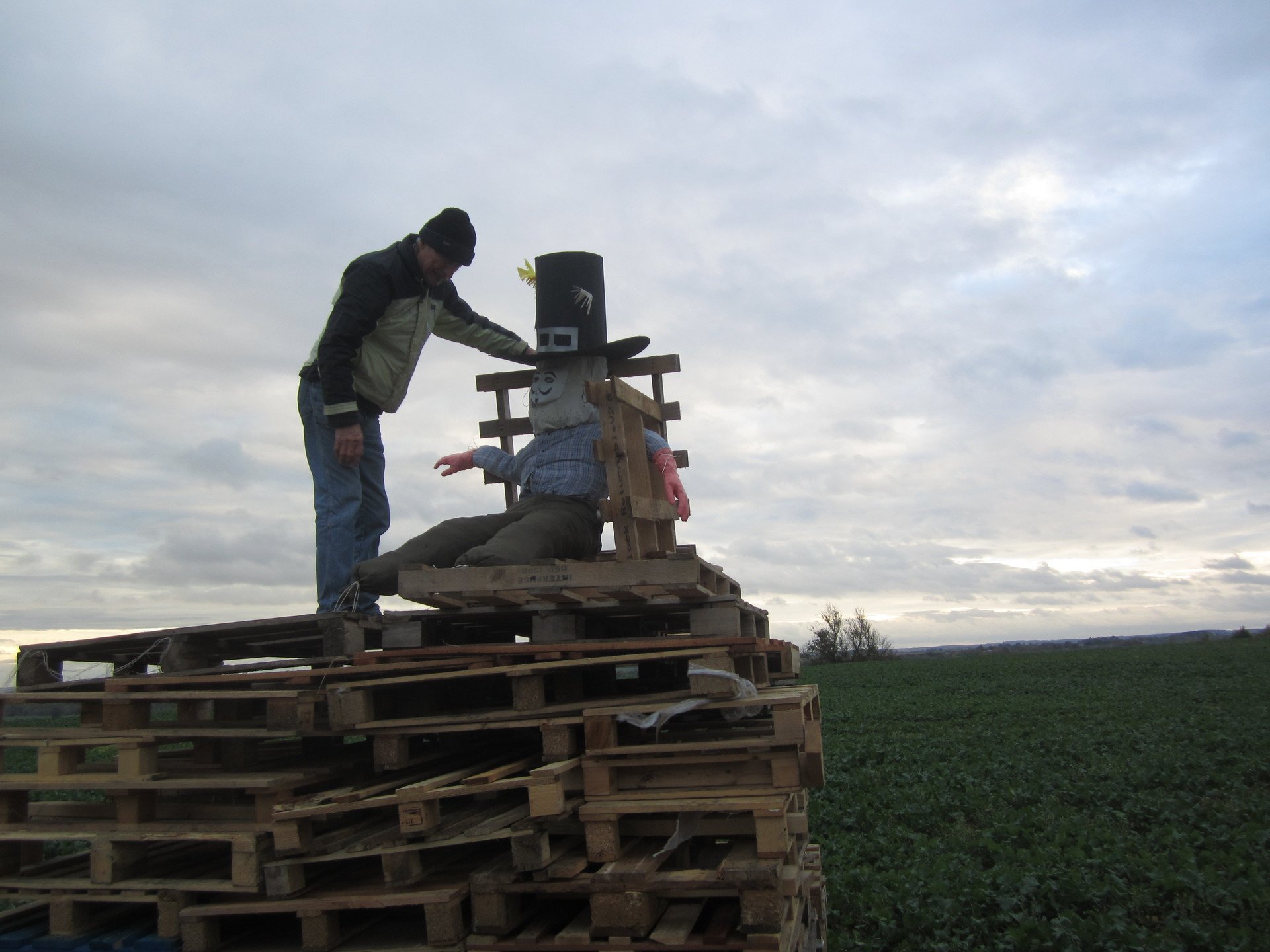 Guy Fawkes is the one on the right!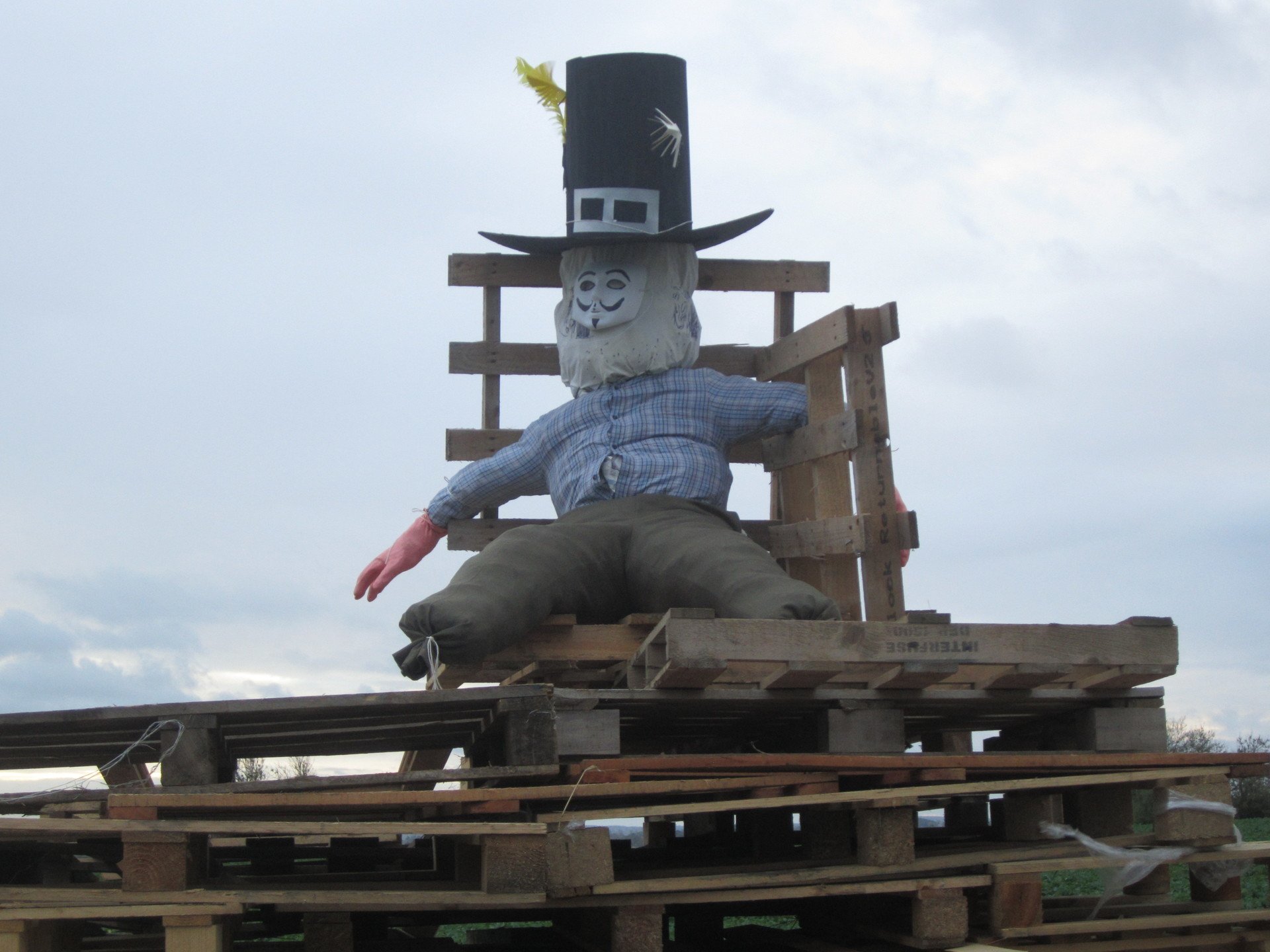 Forest School - Autumn 2021 to Spring 2022
Reception and Year 1 have been exploring the great outdoors with Mrs Underwood, our Forest School leader. They have been taking part in nature-based activities in the school's grassy area, exploring their senses, building dens, creating natural artwork and gardening. Many thanks to Claire Underwood for taking this on. Keep checking back here for more photos!
January 2022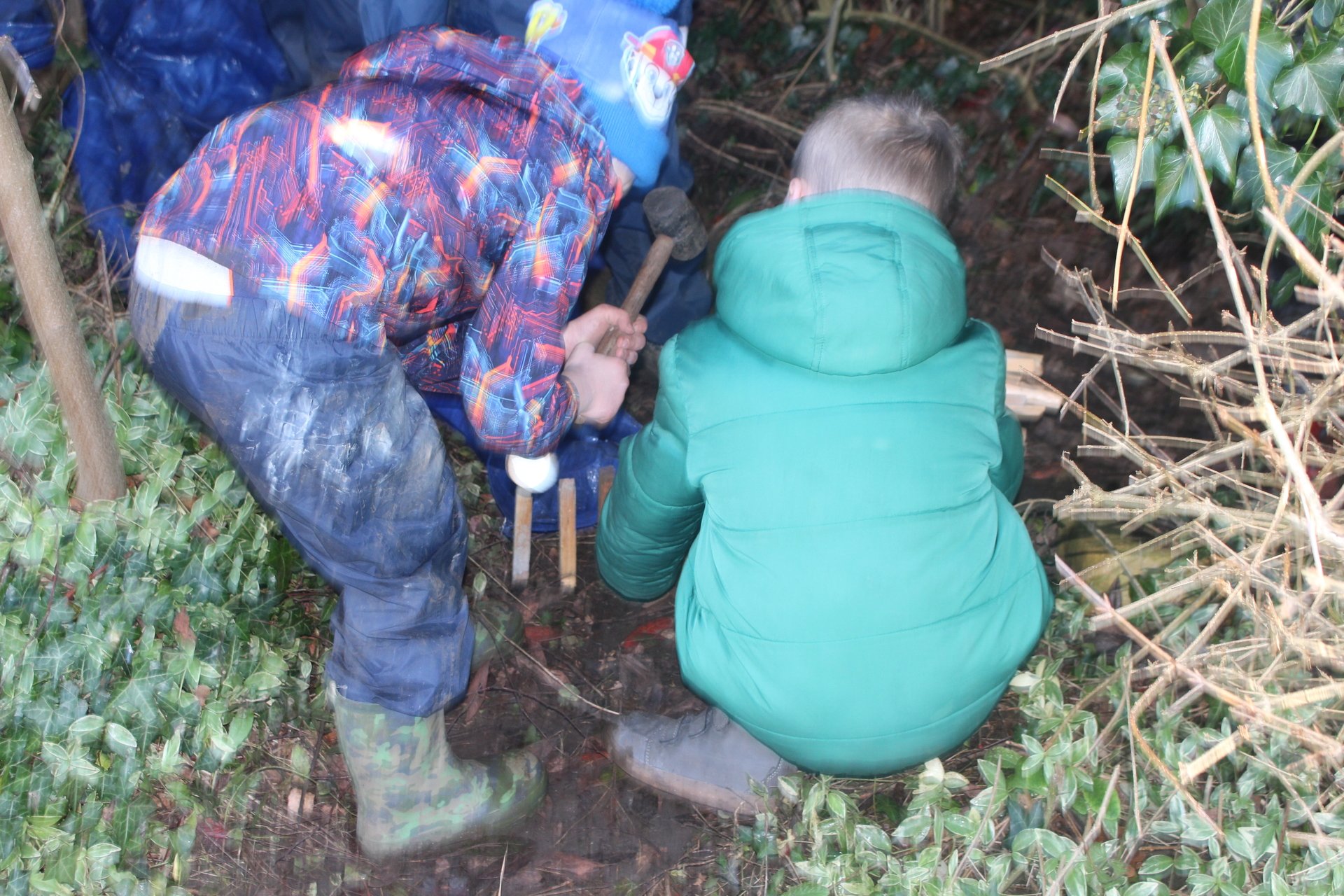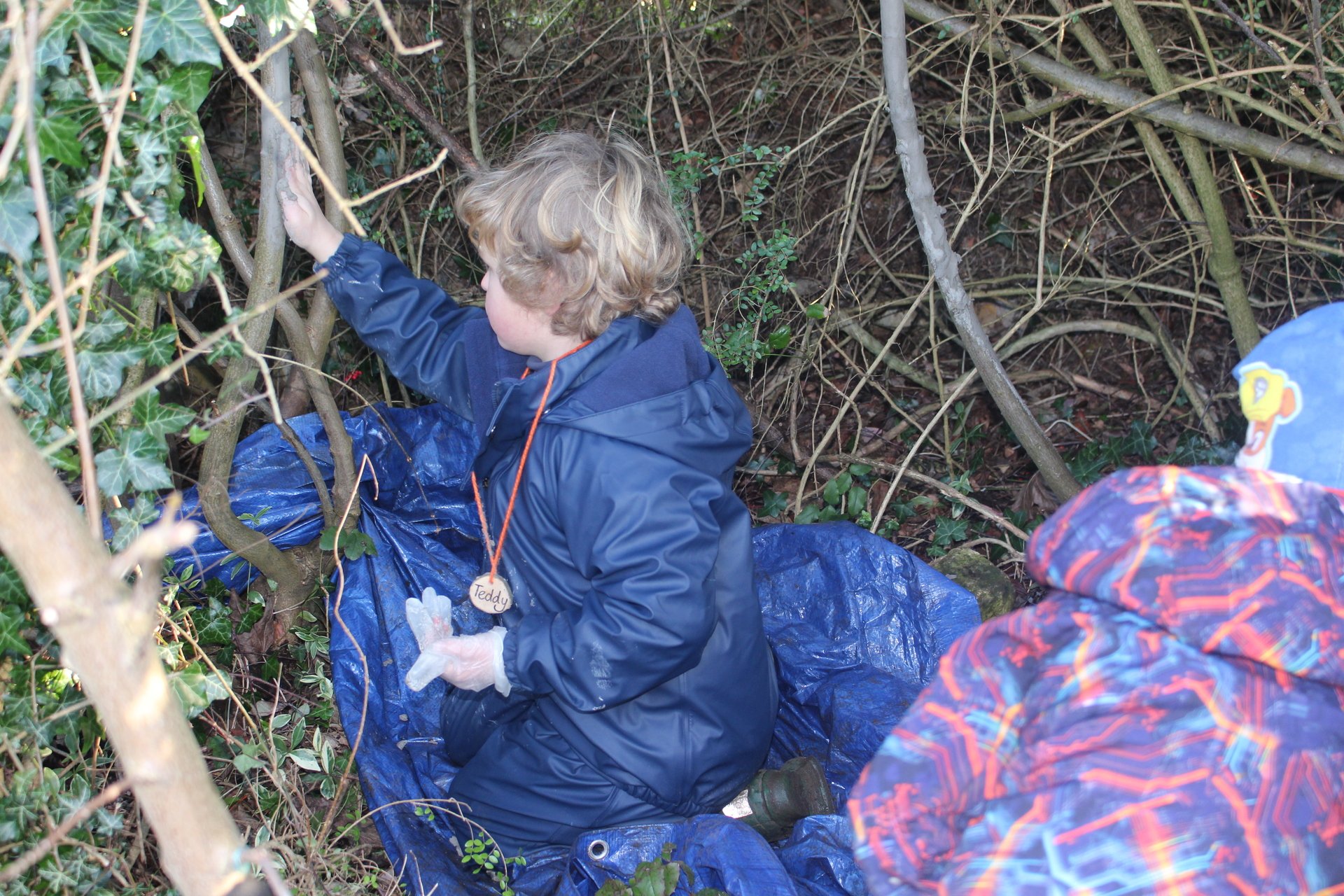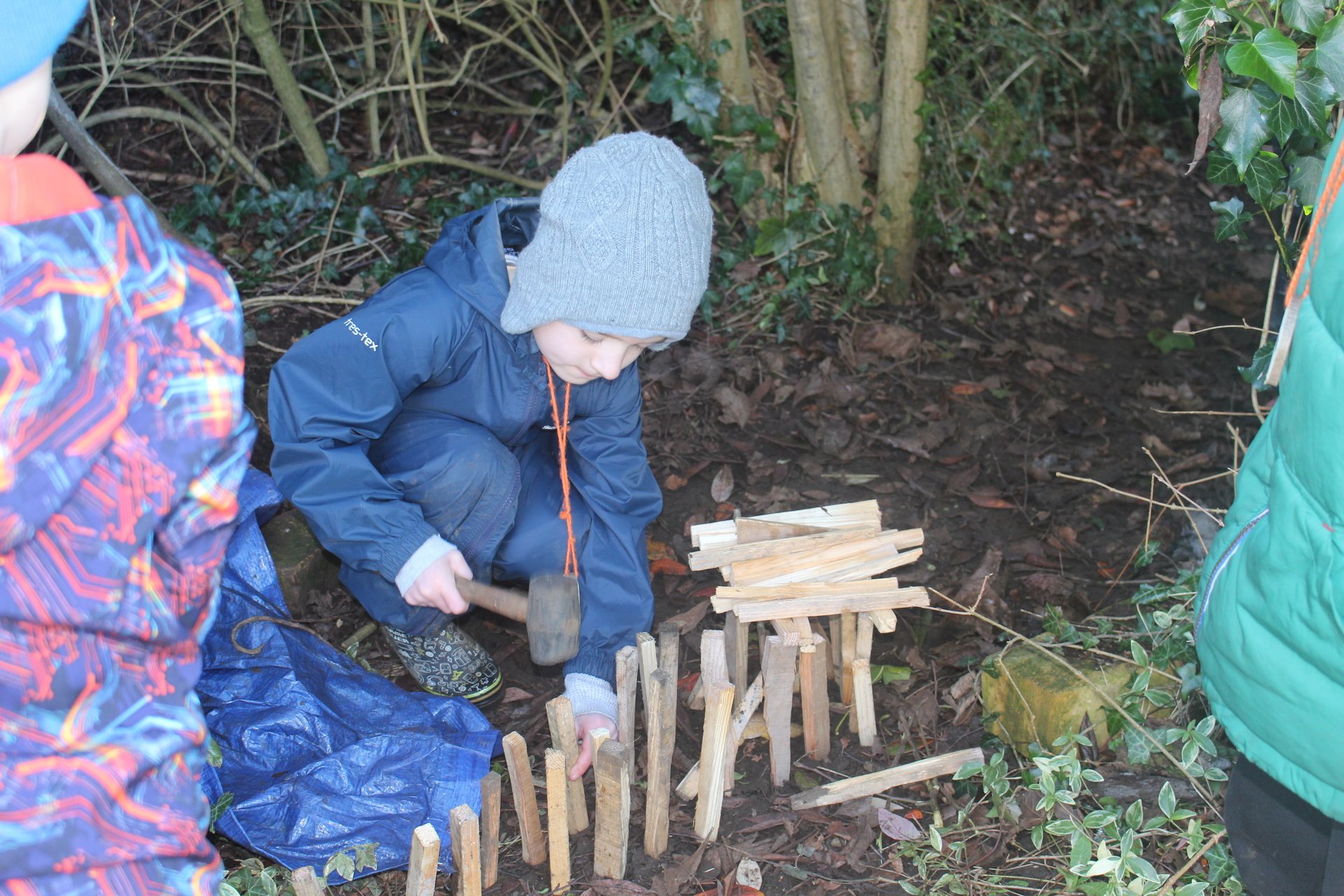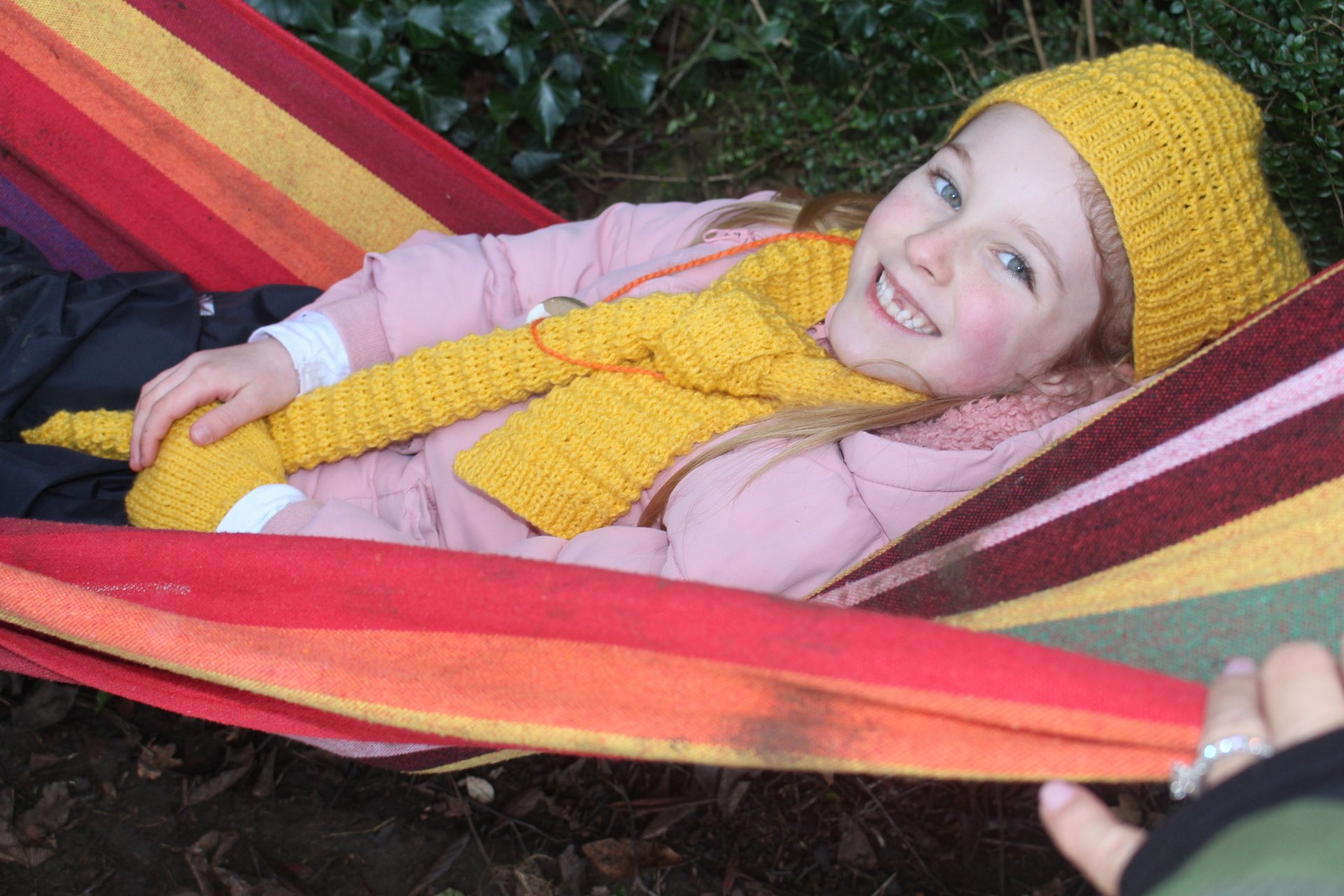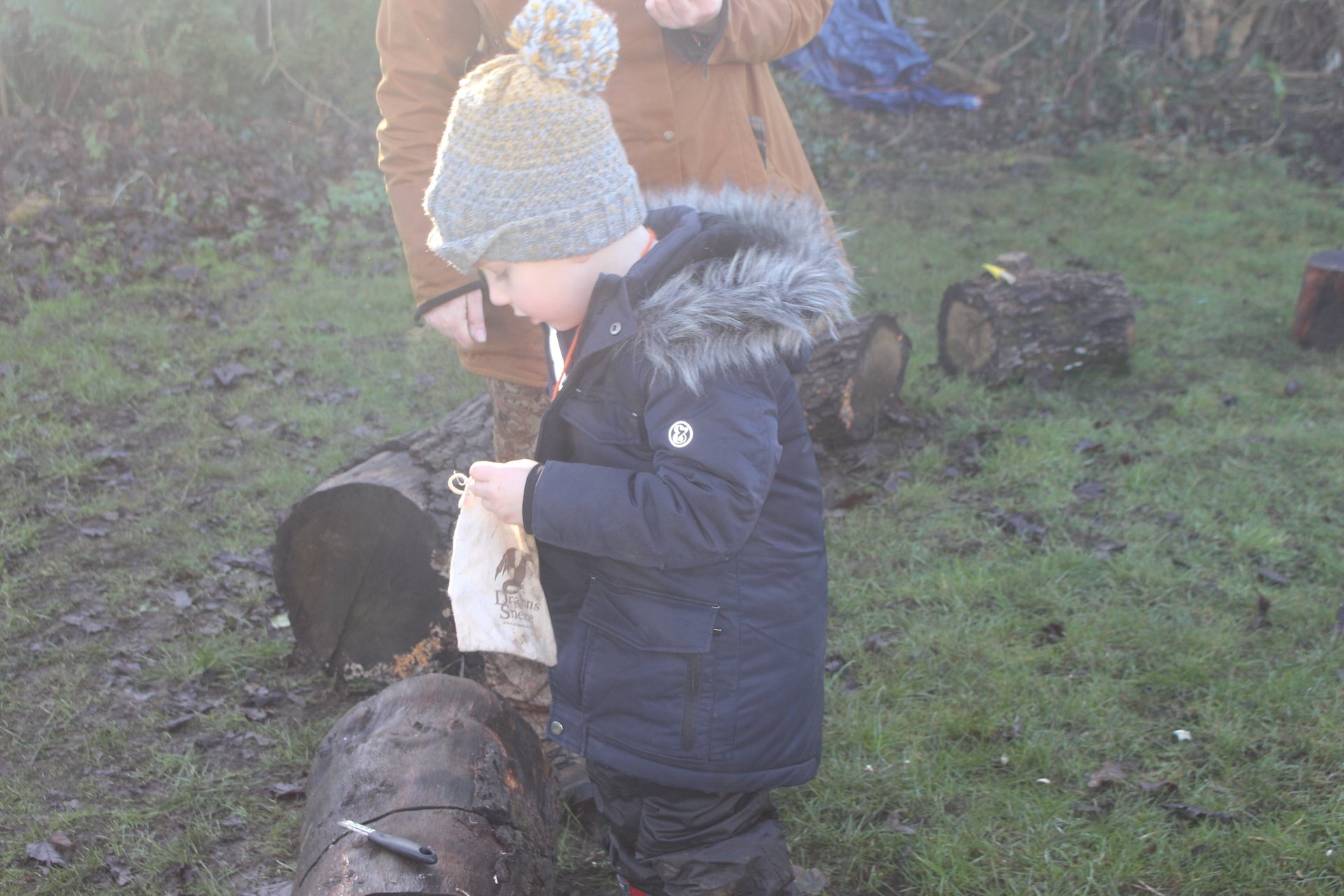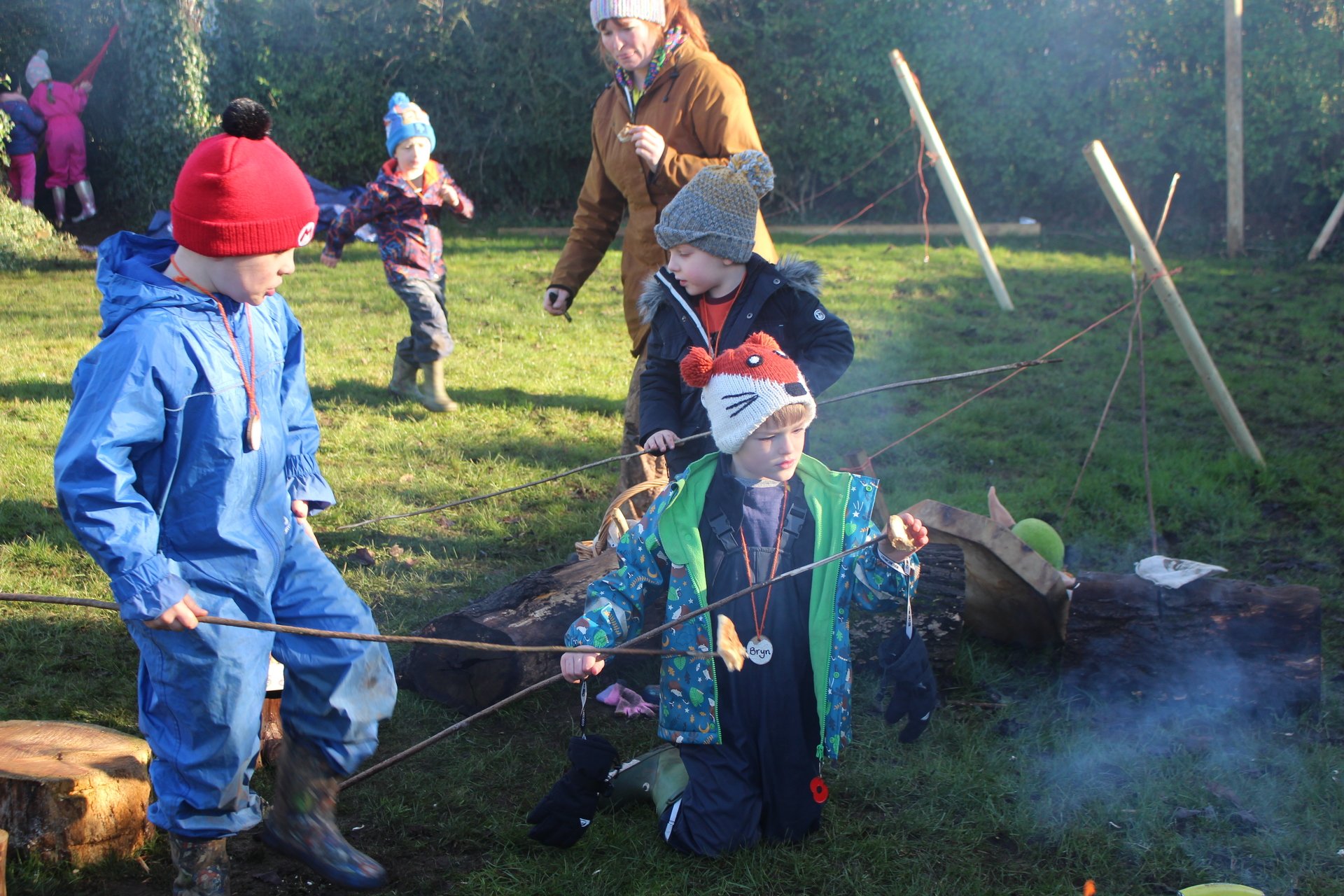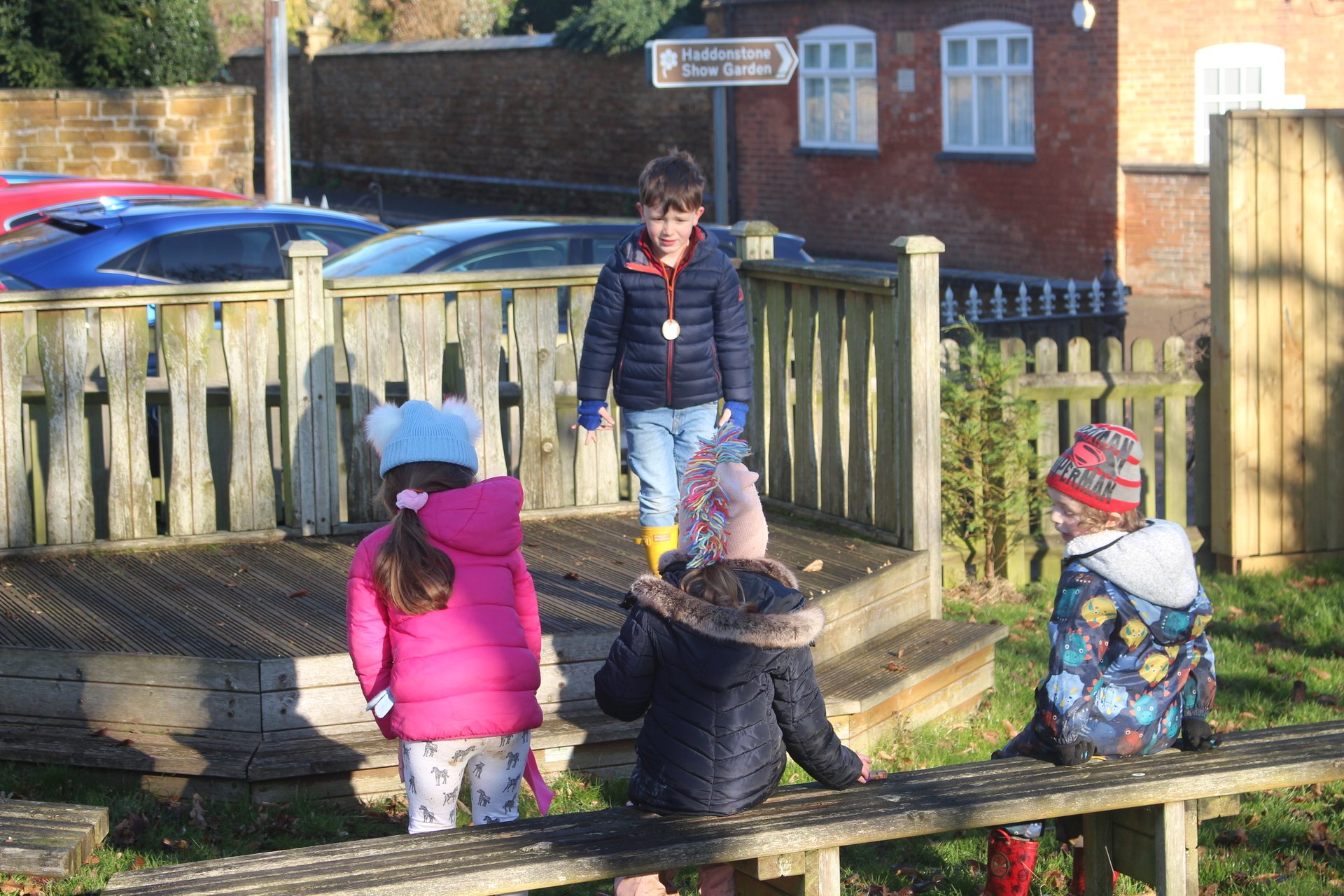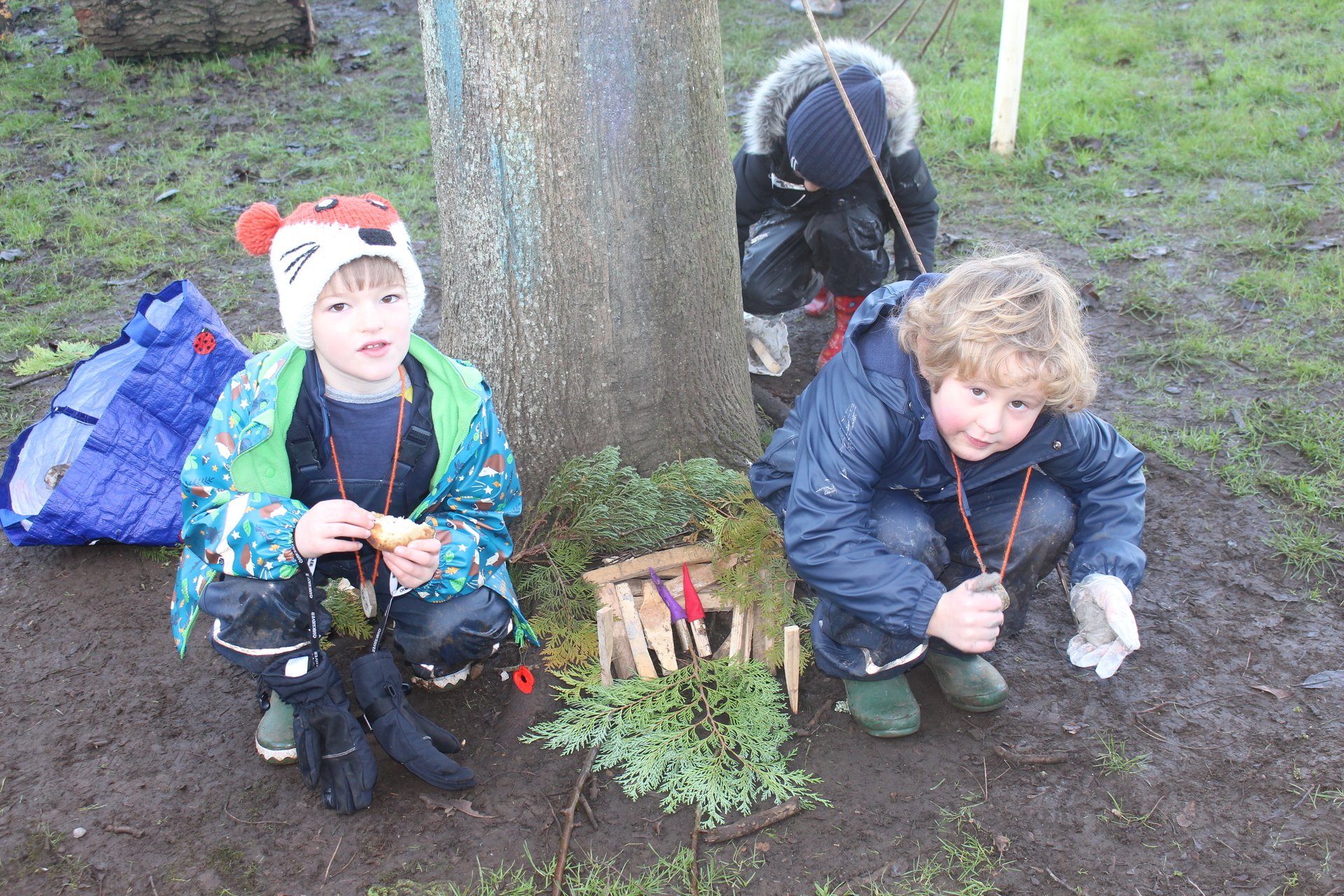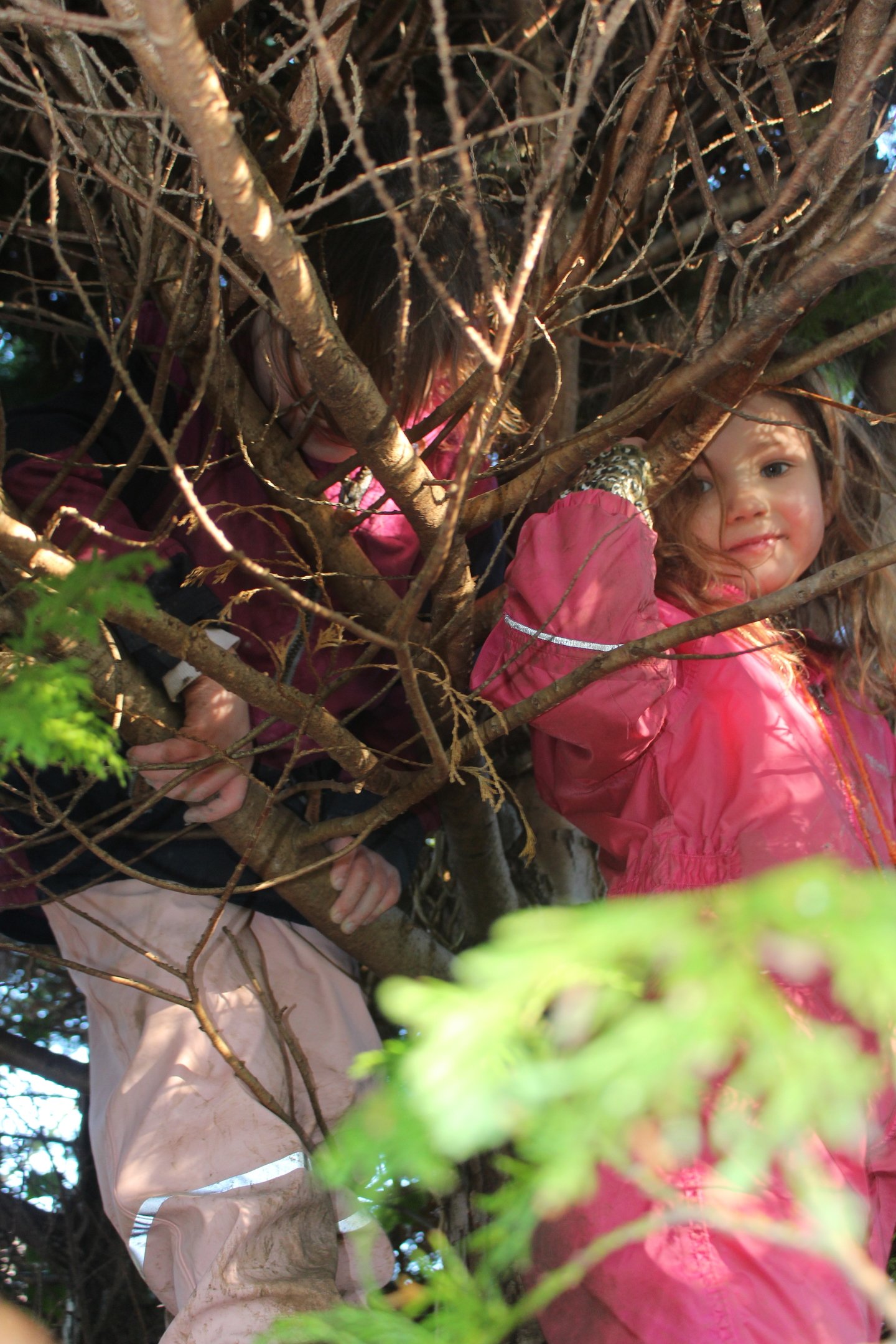 September to December 2021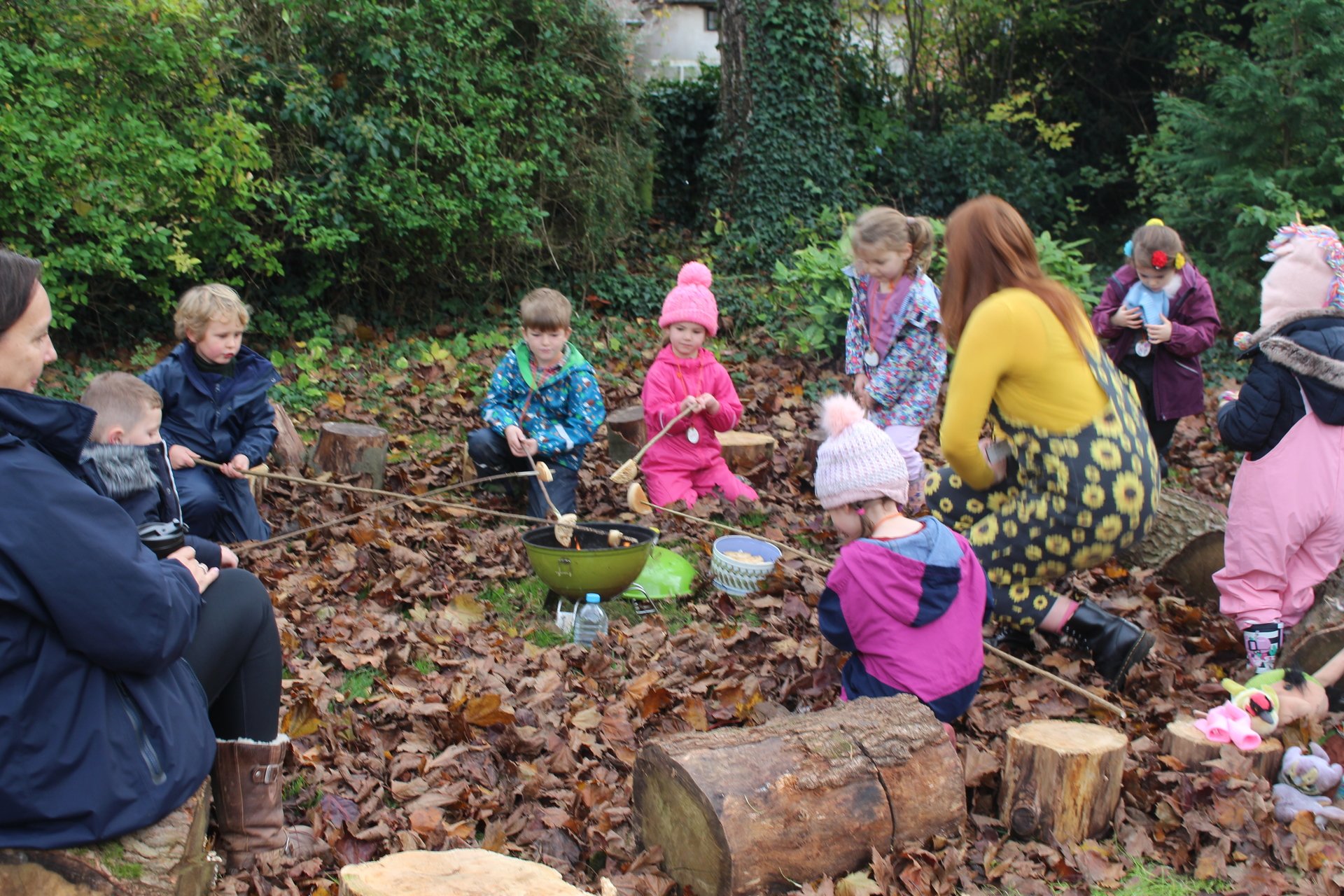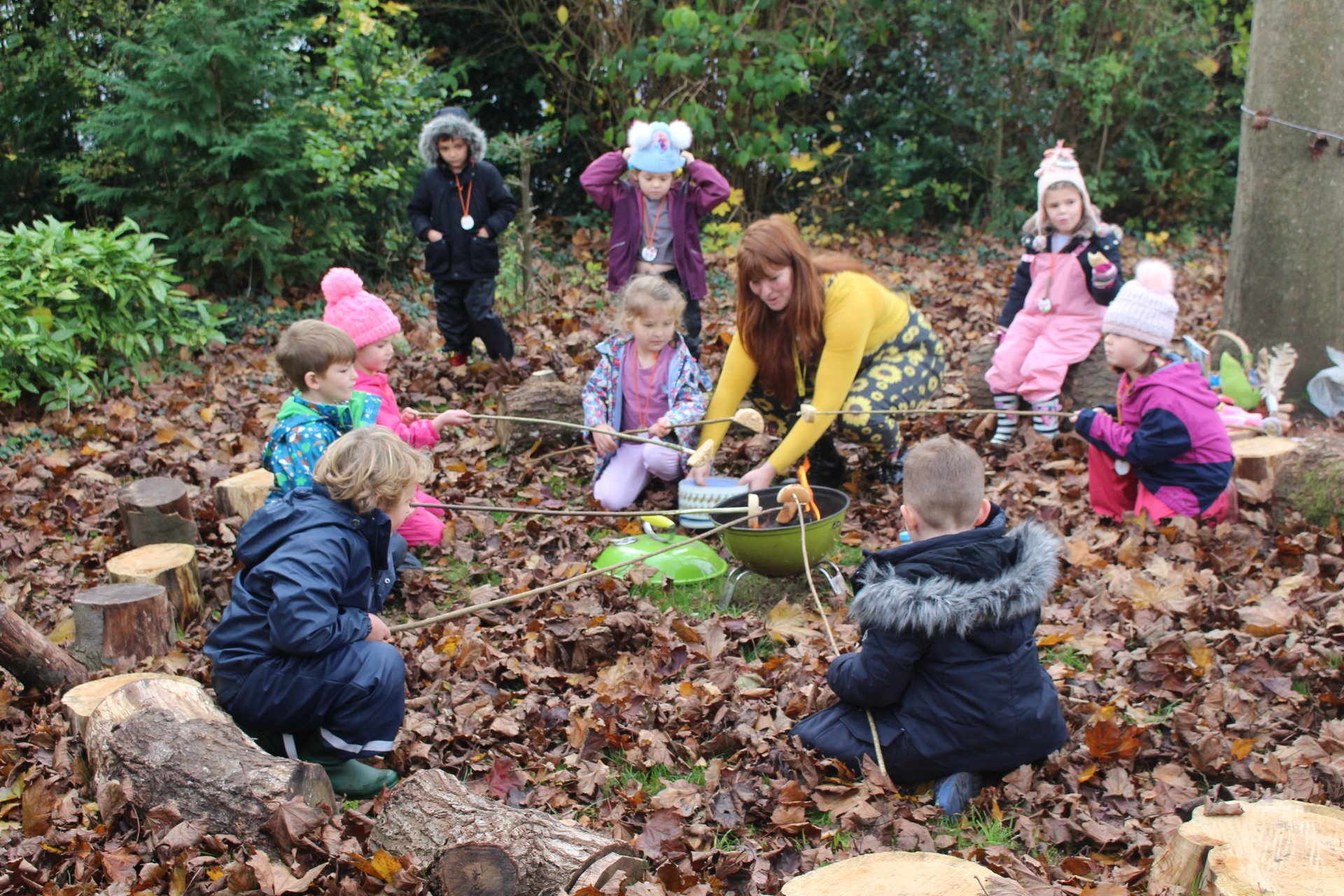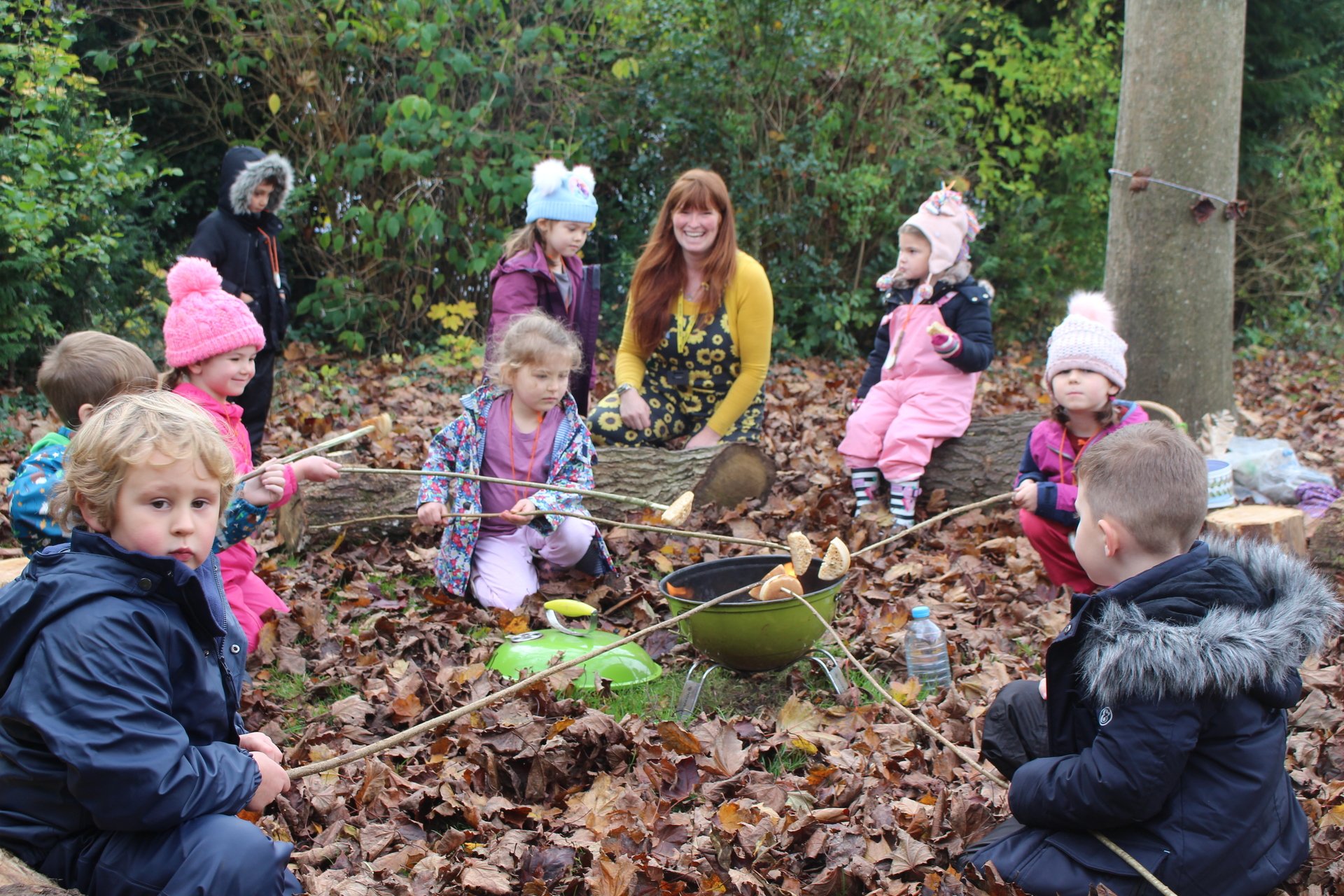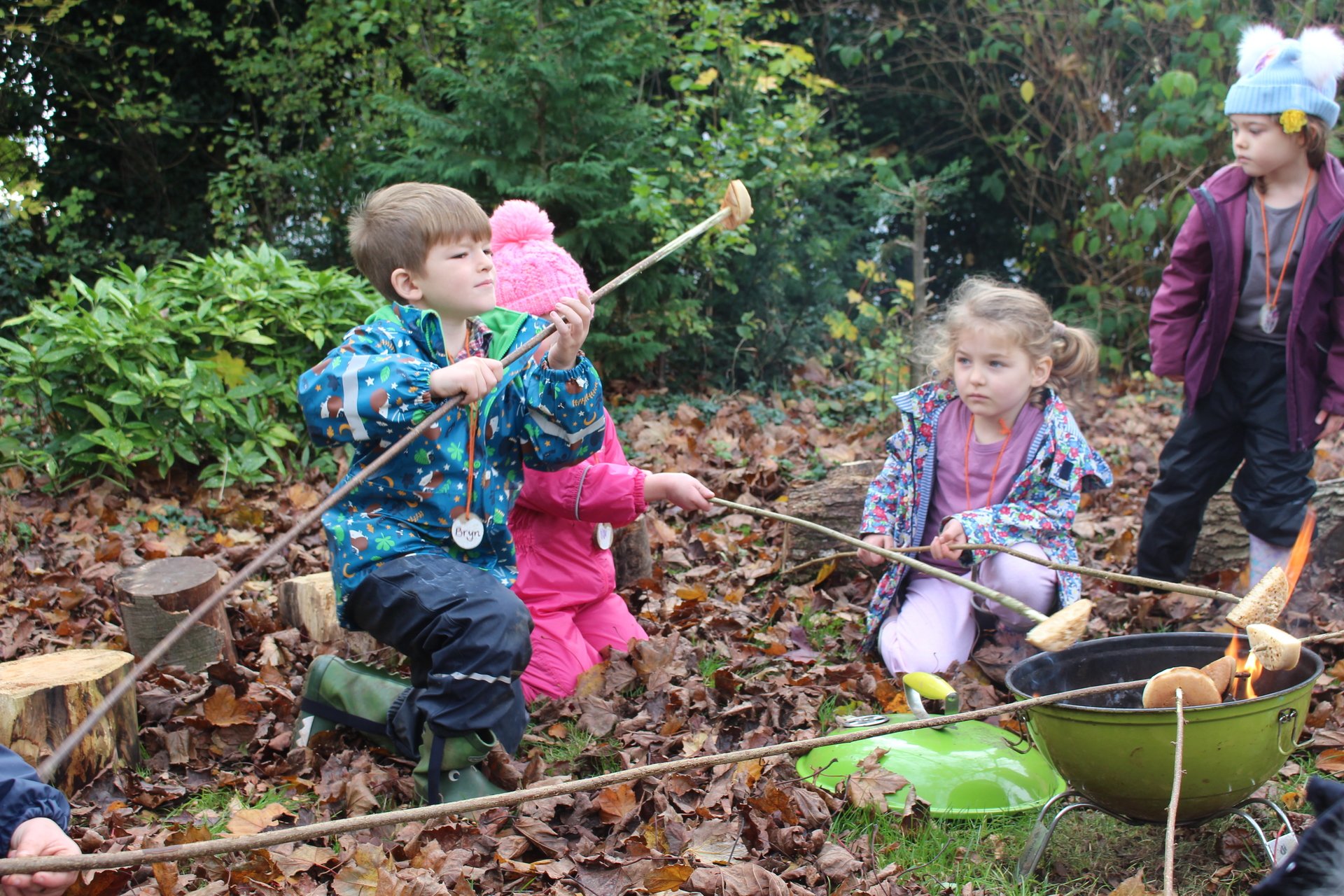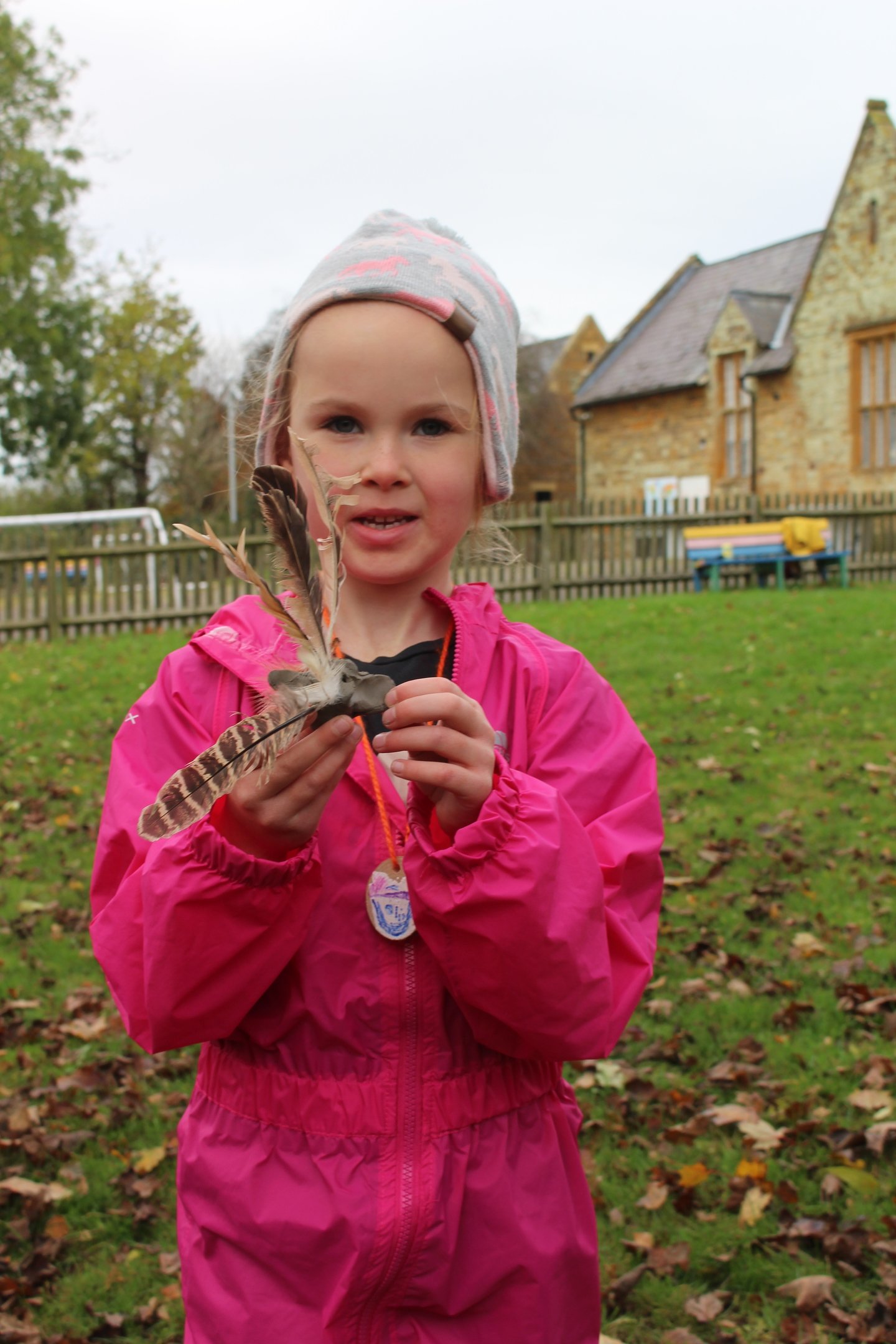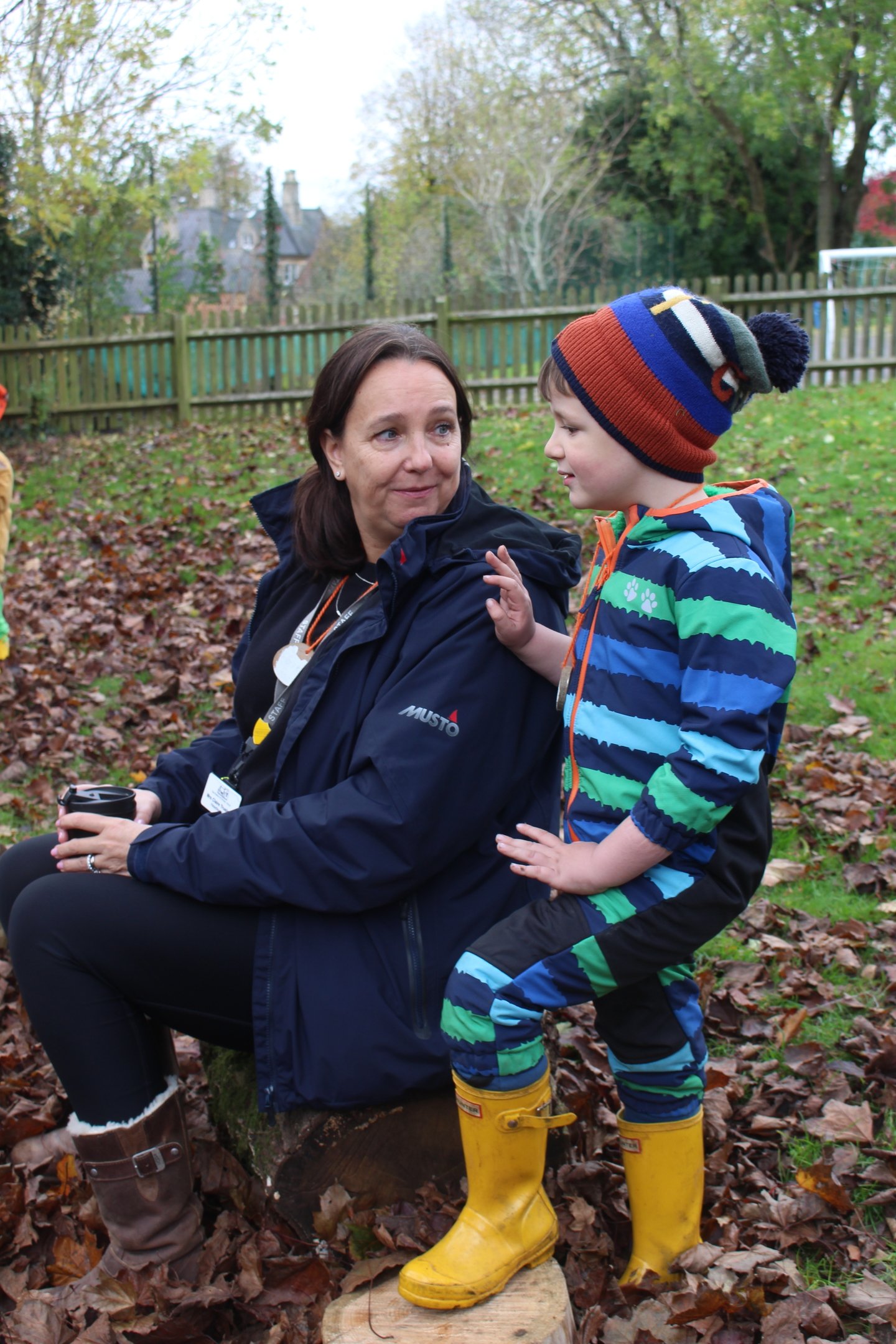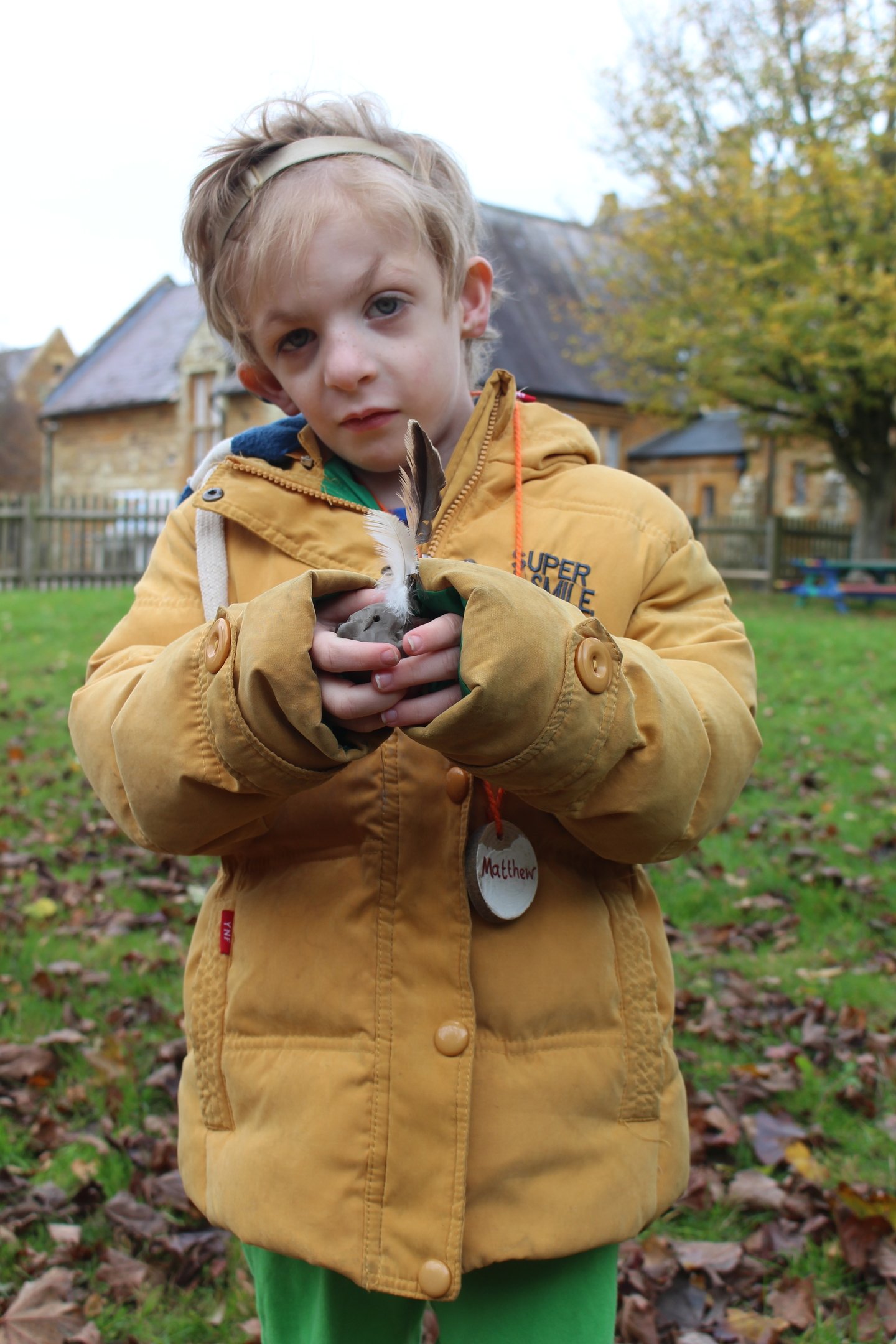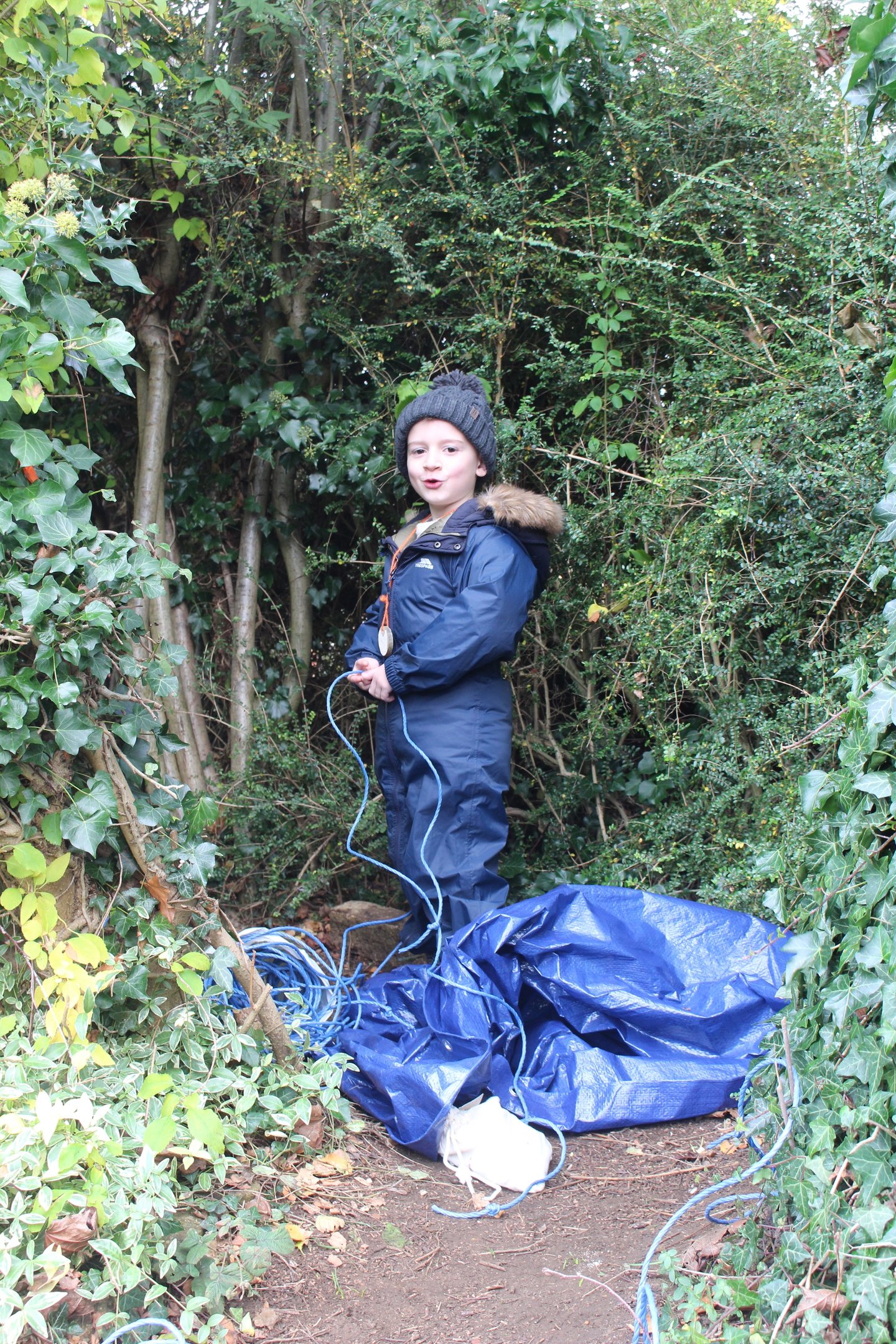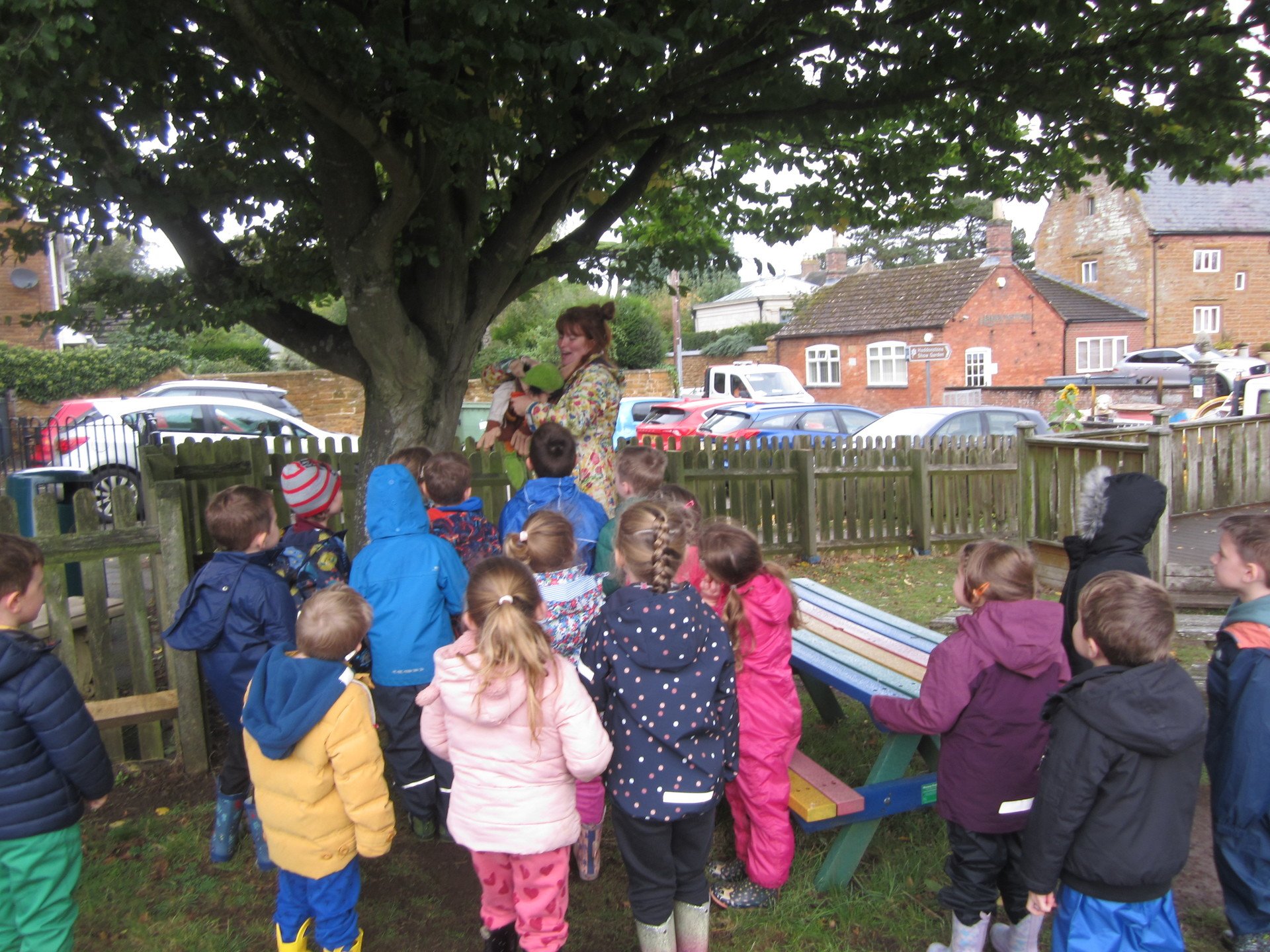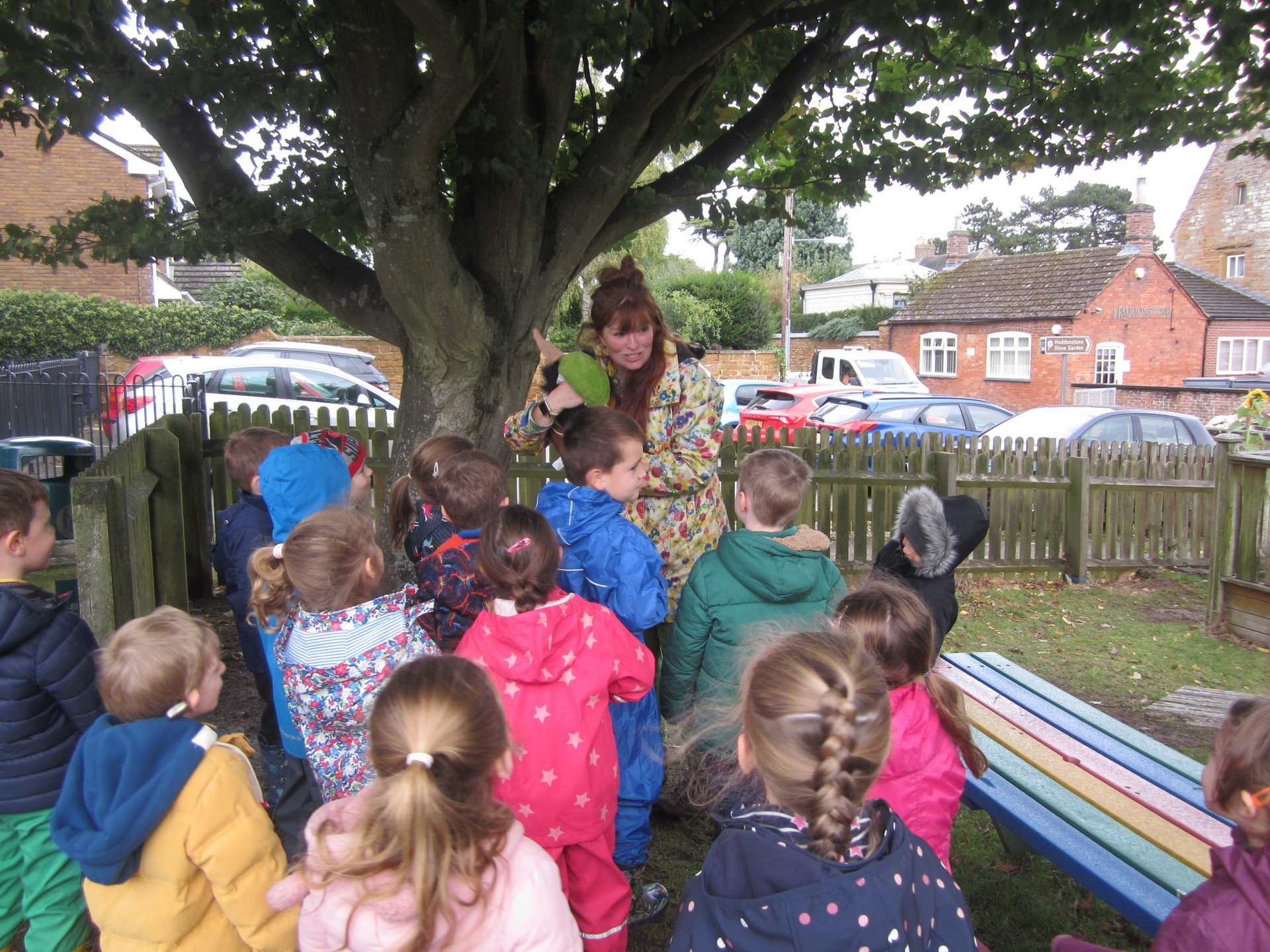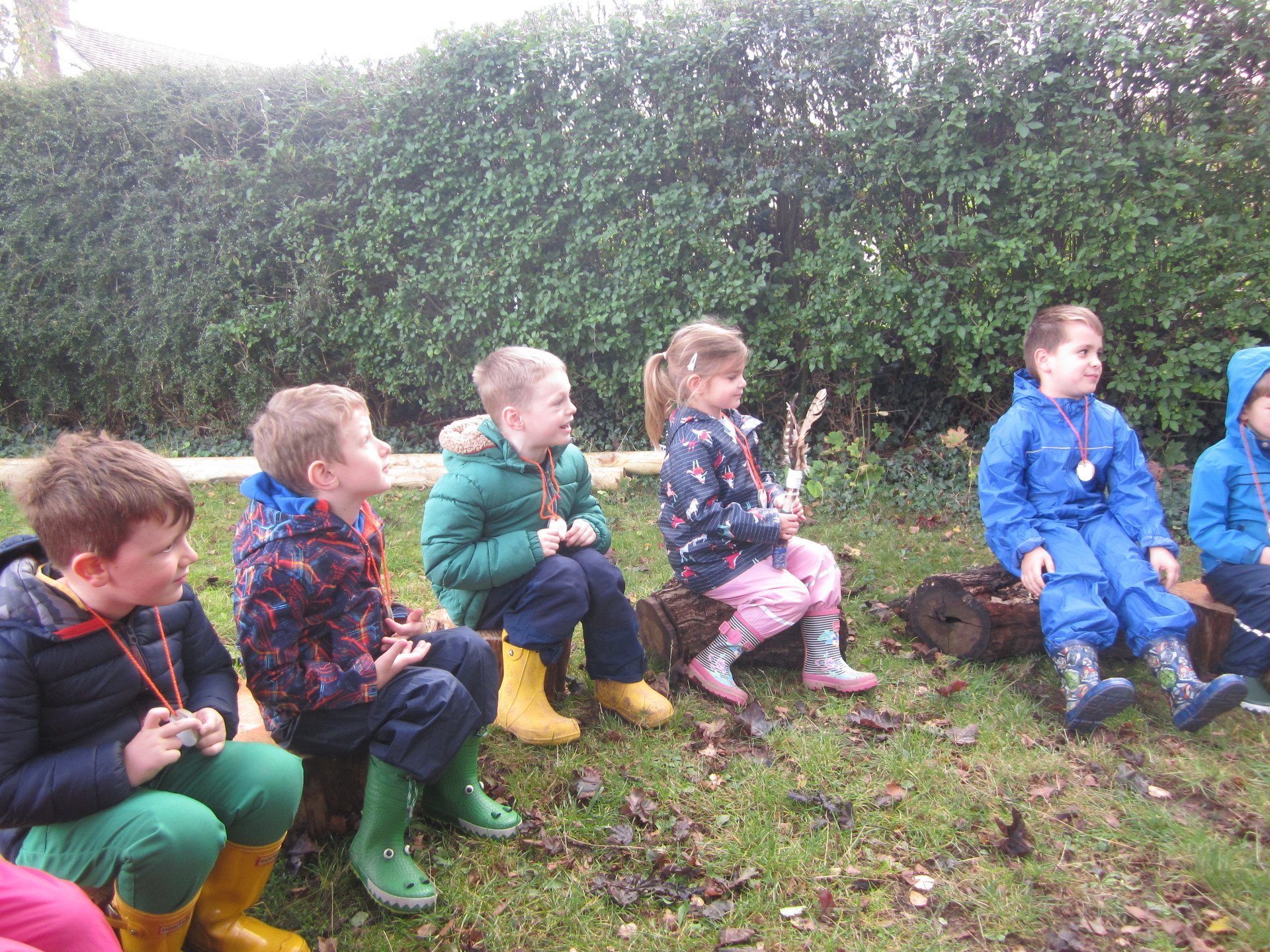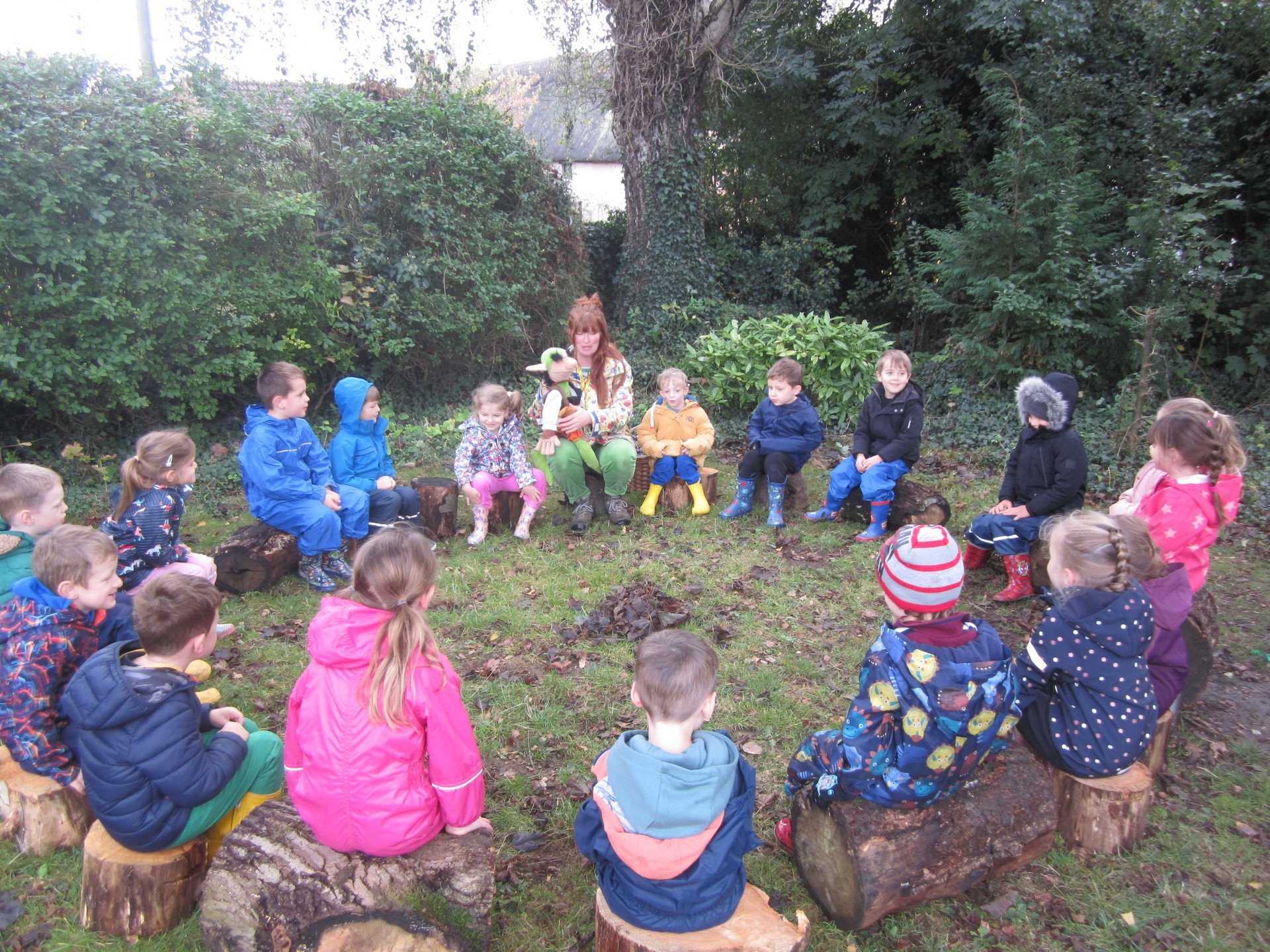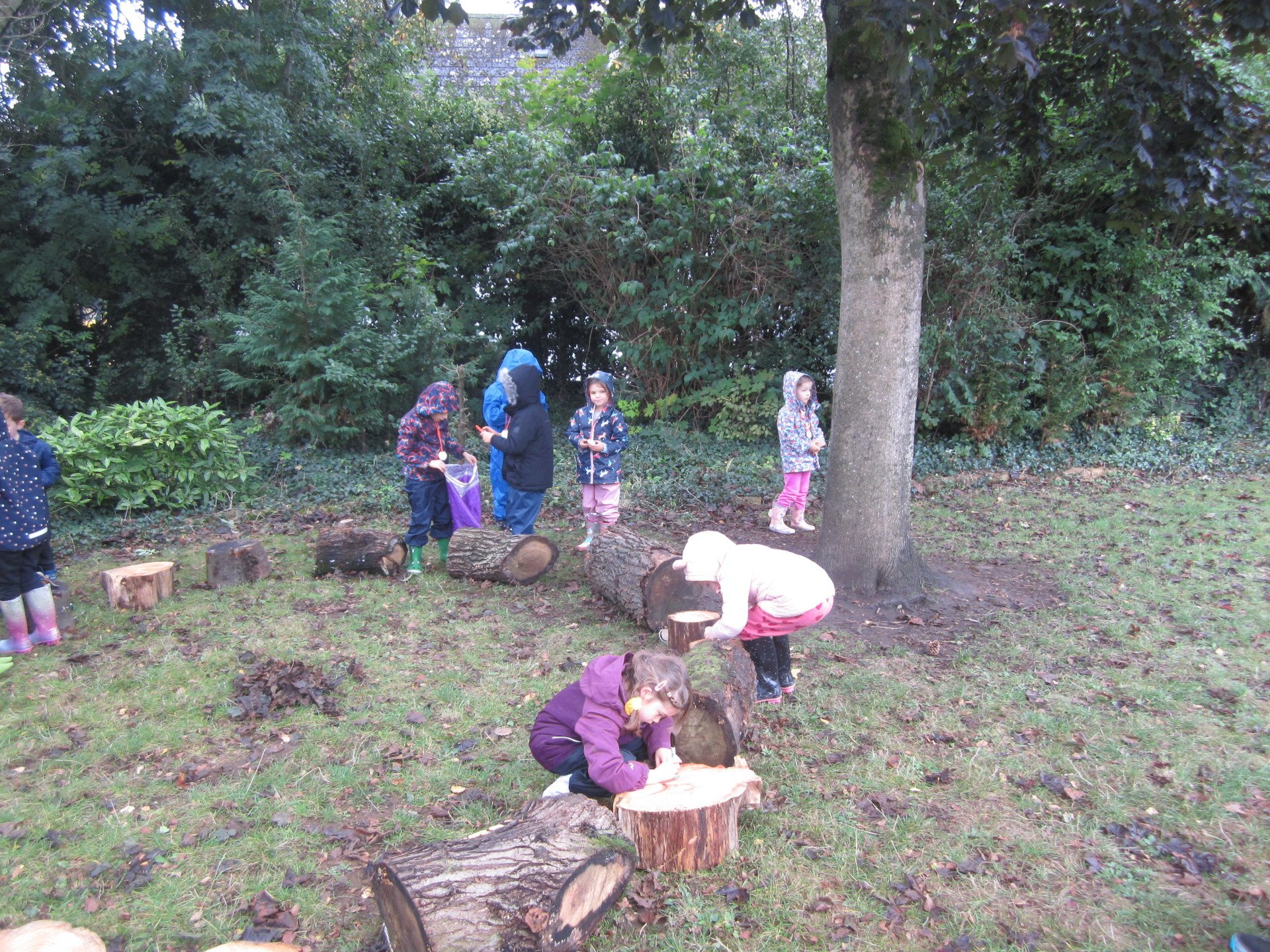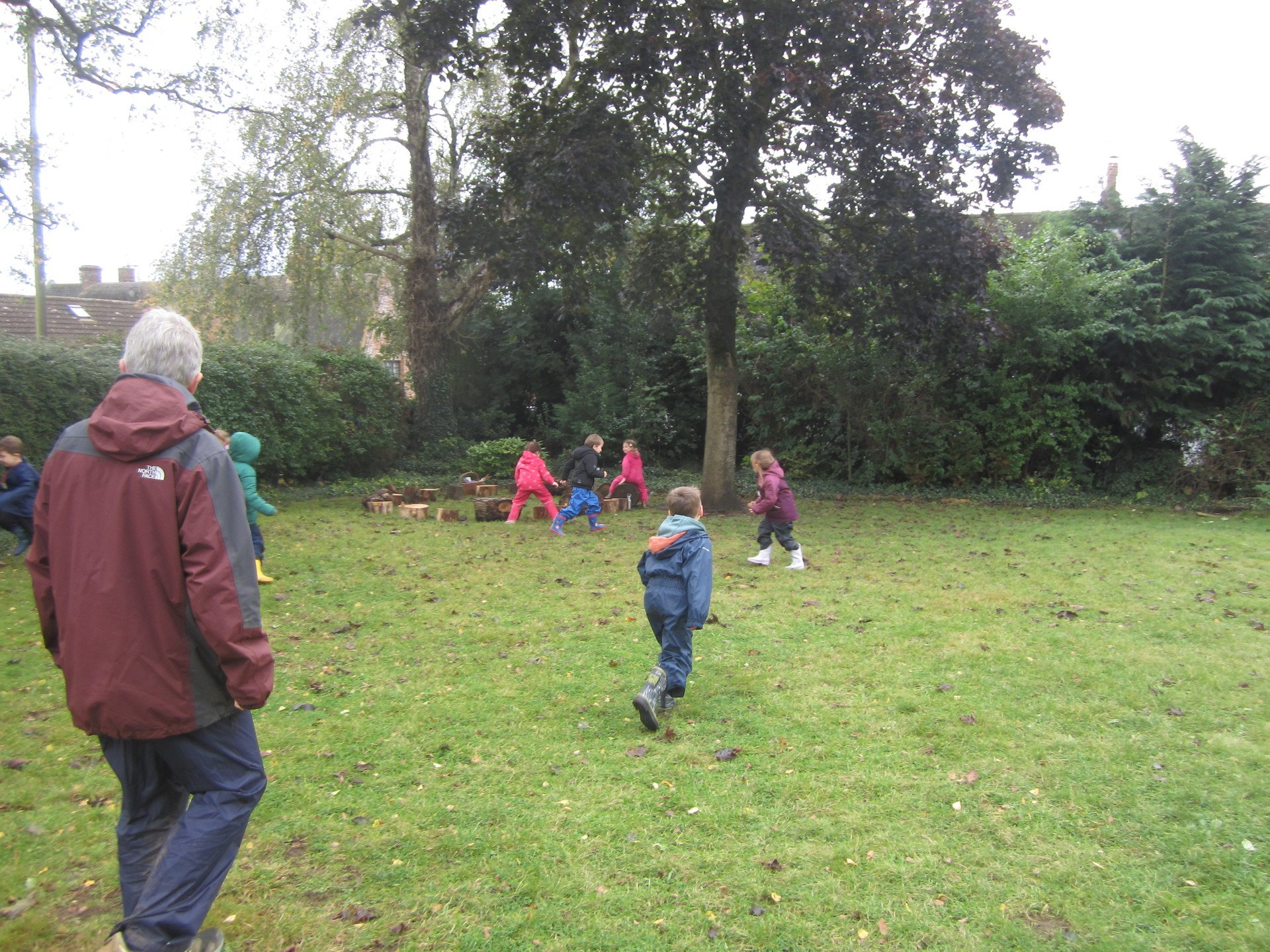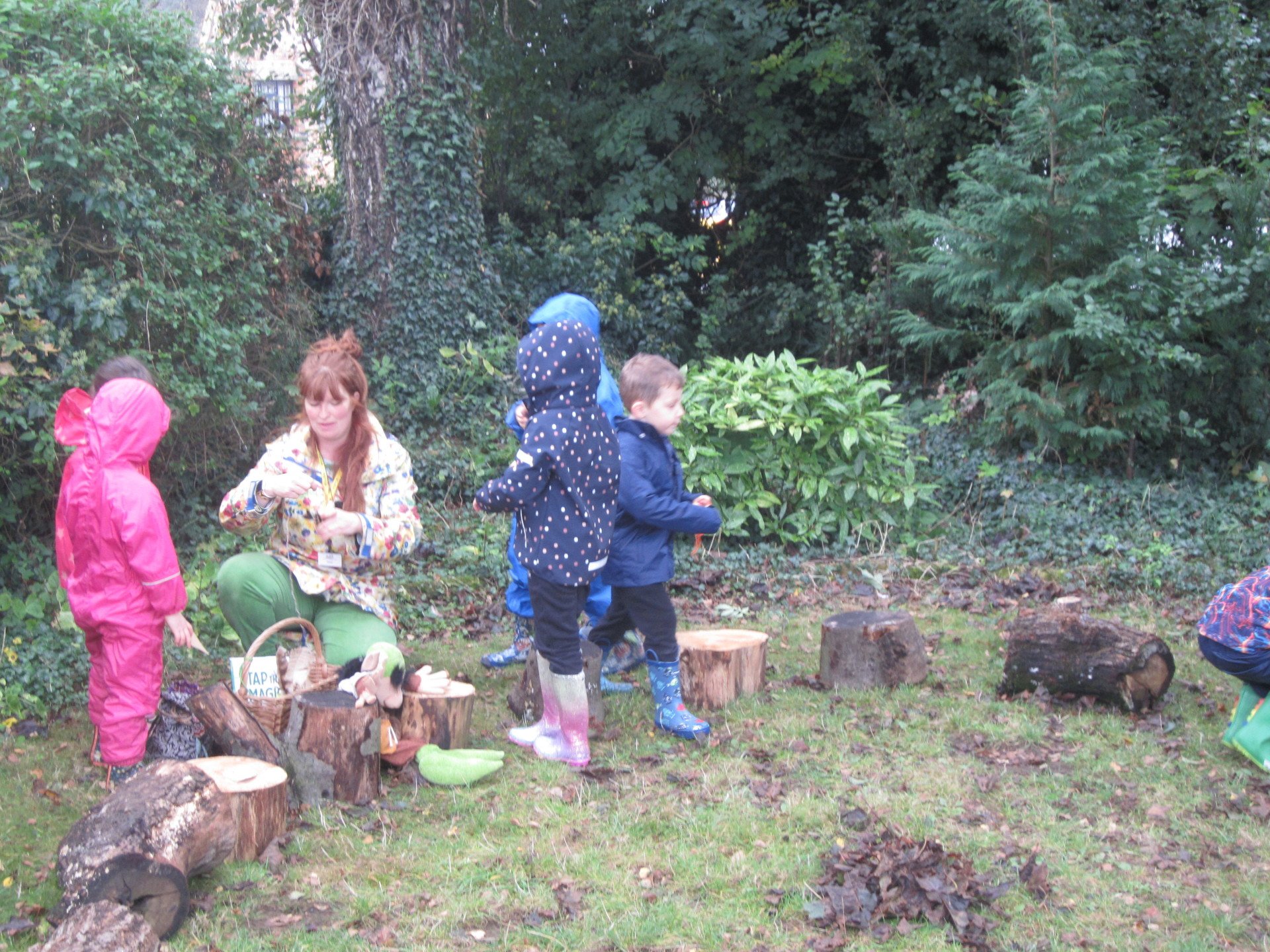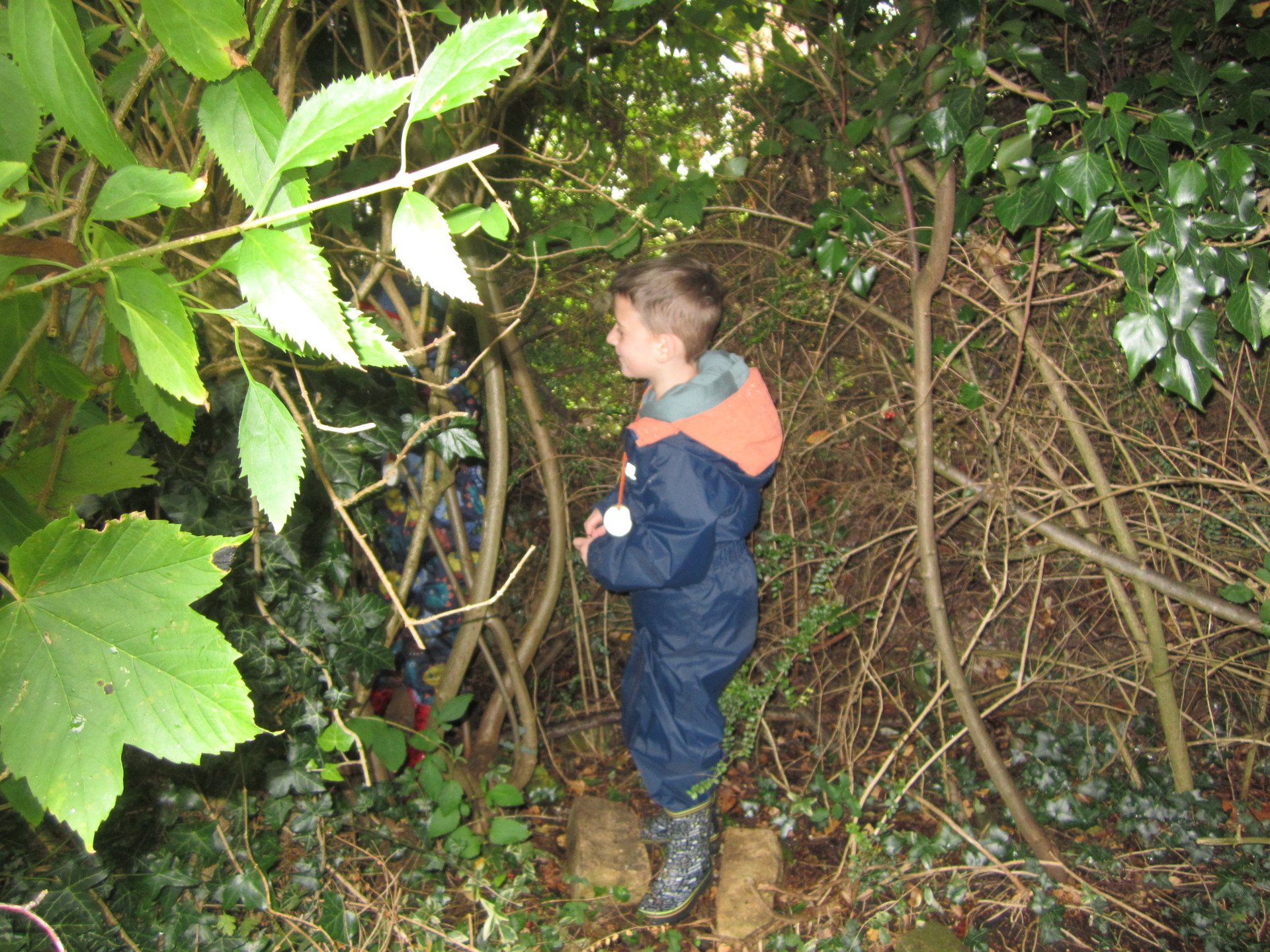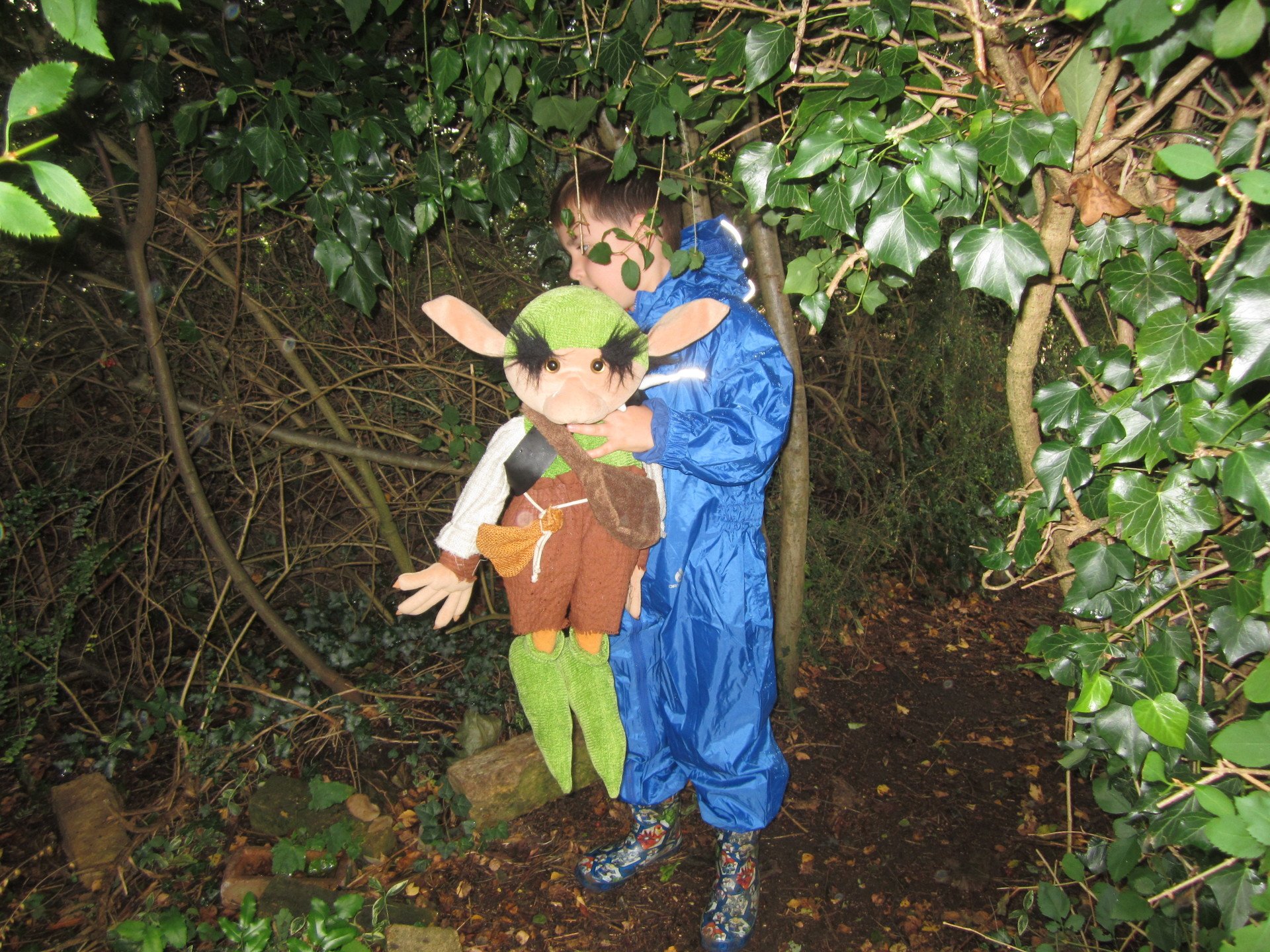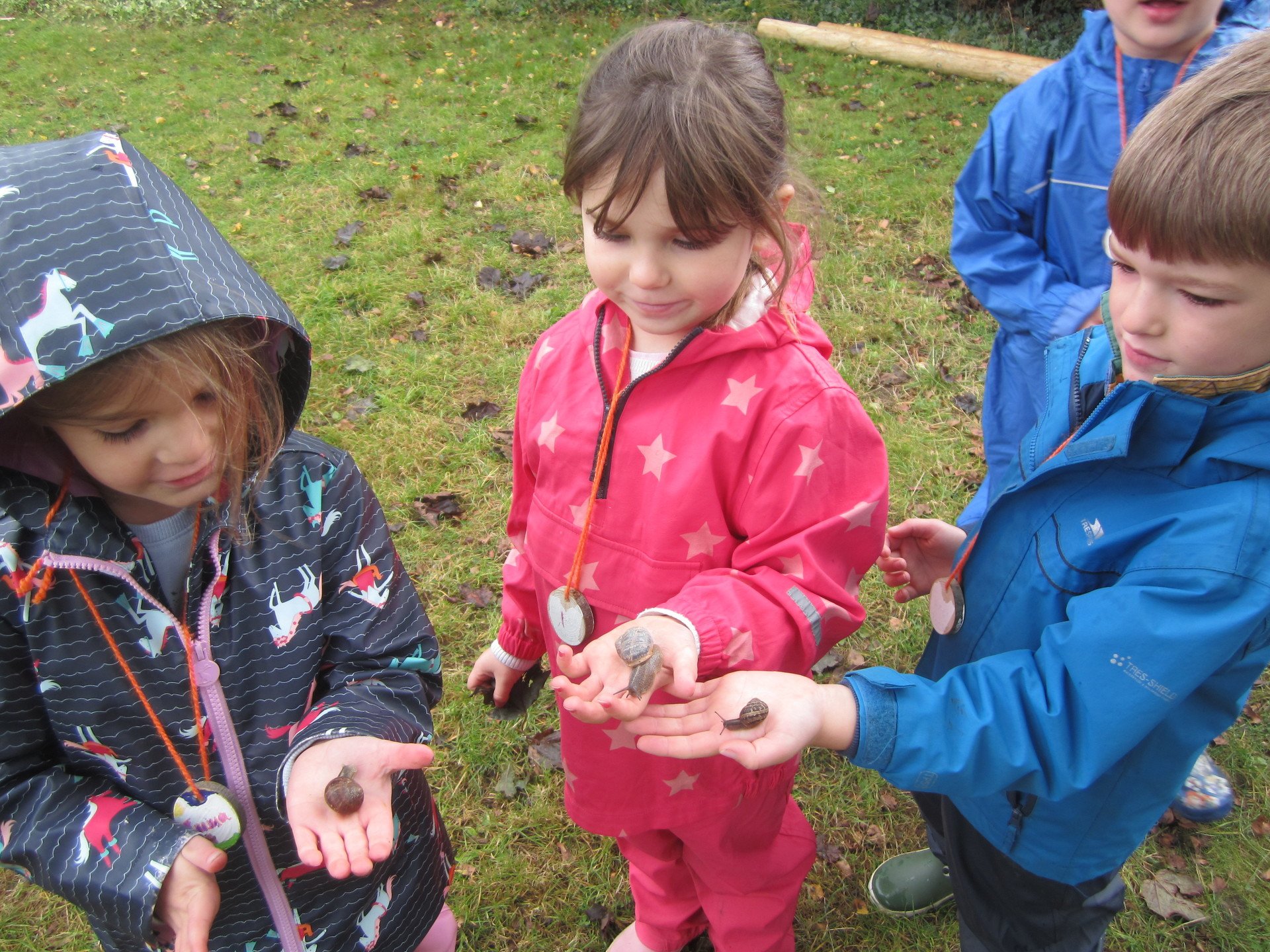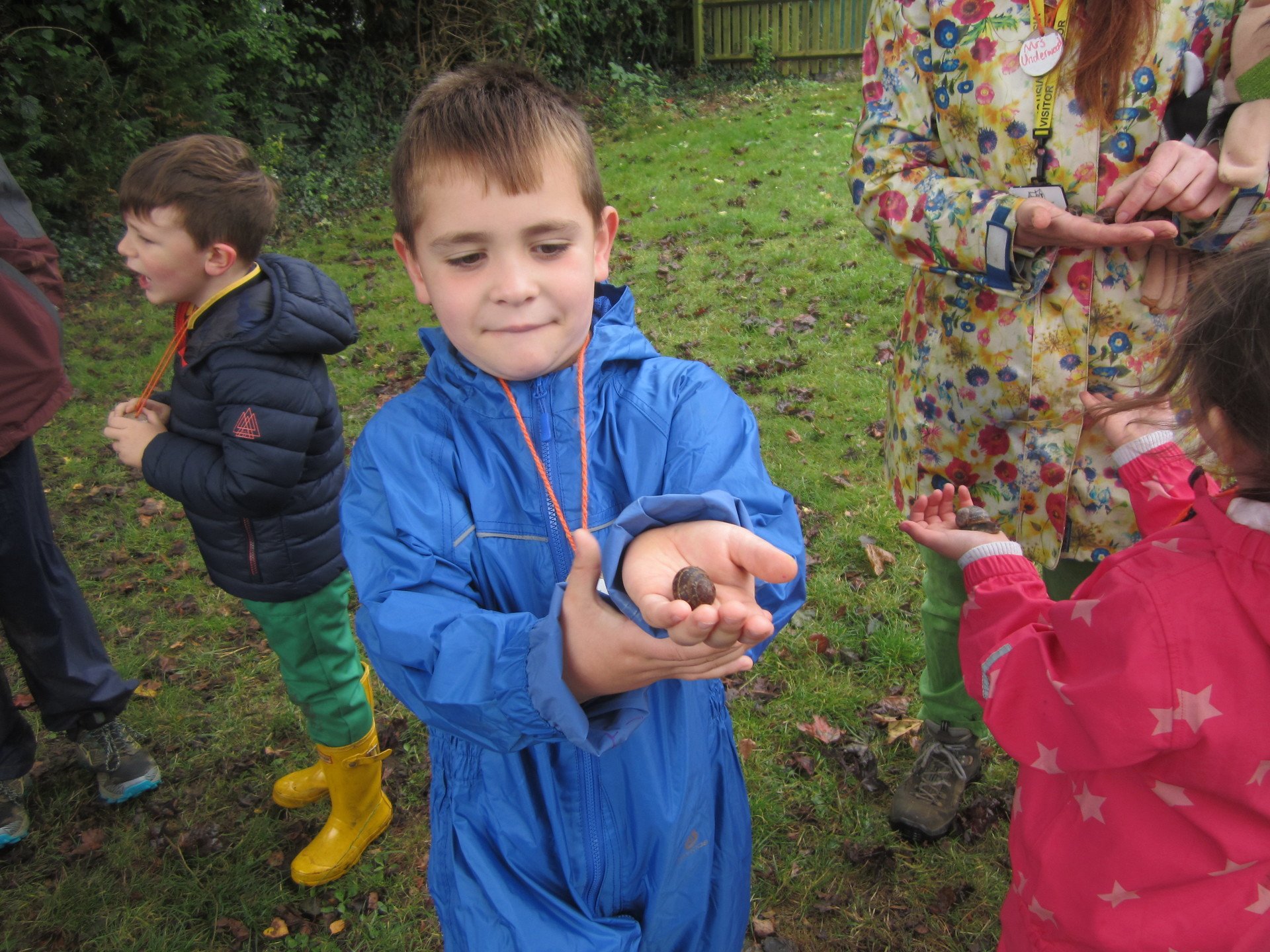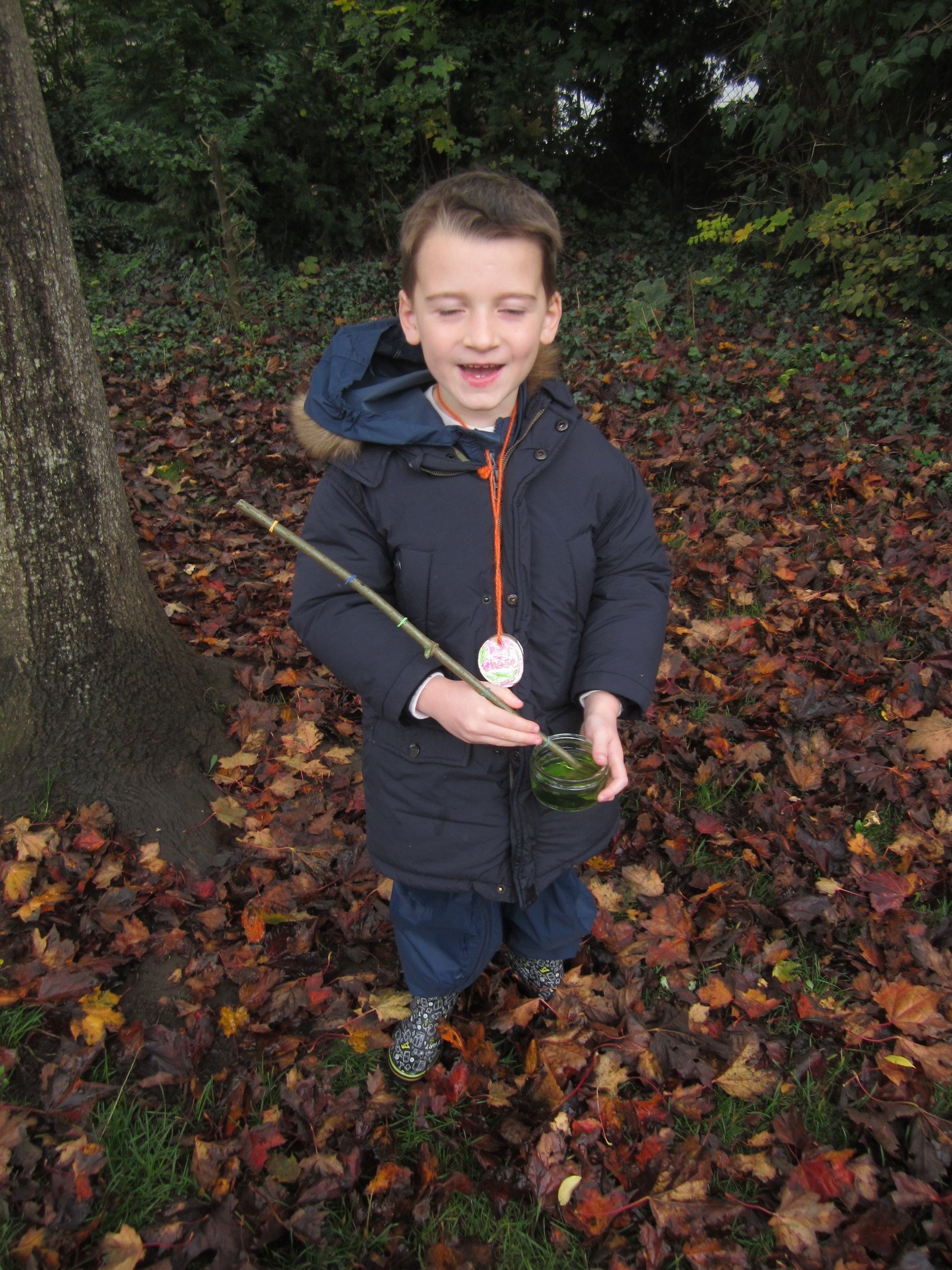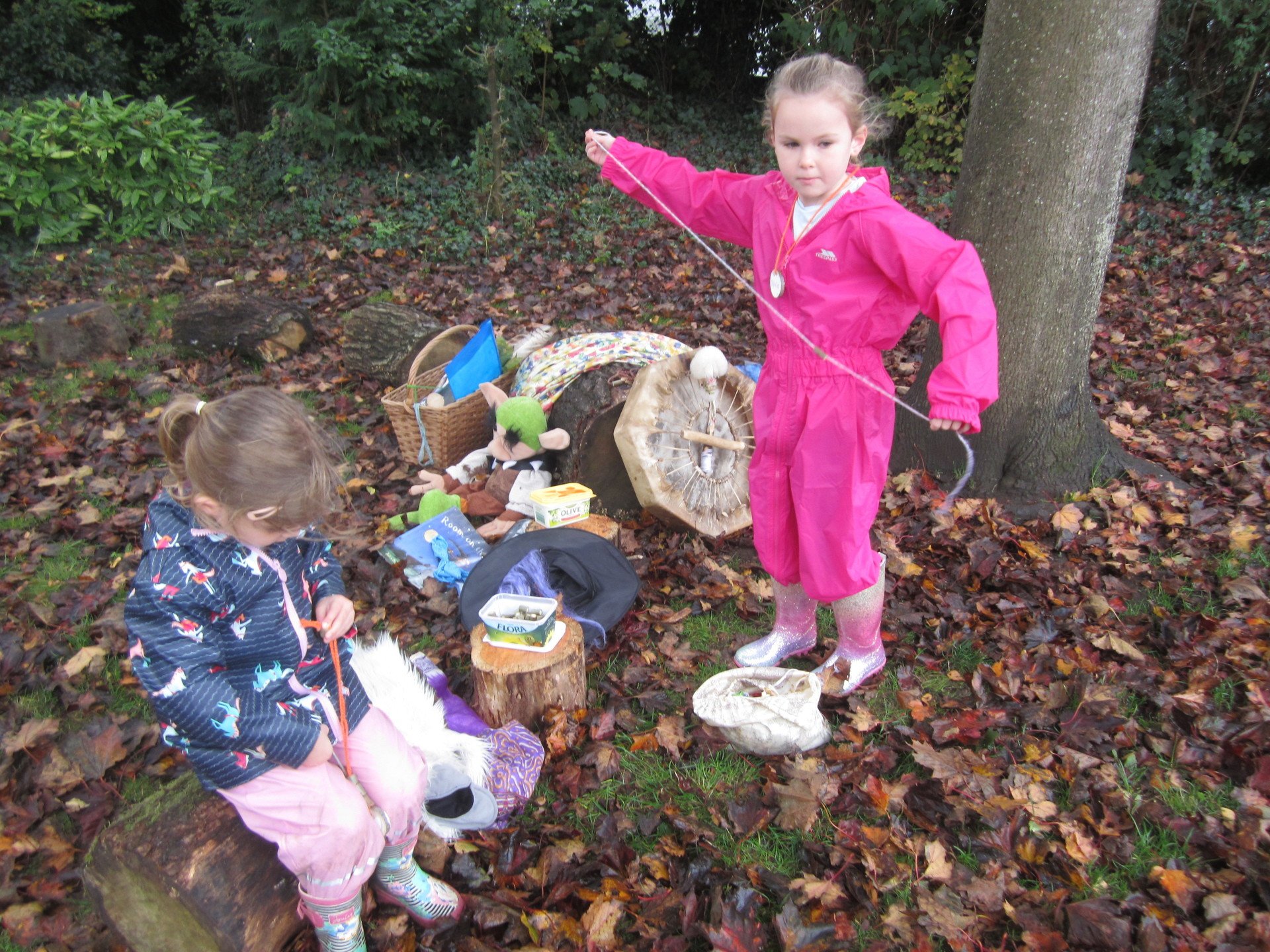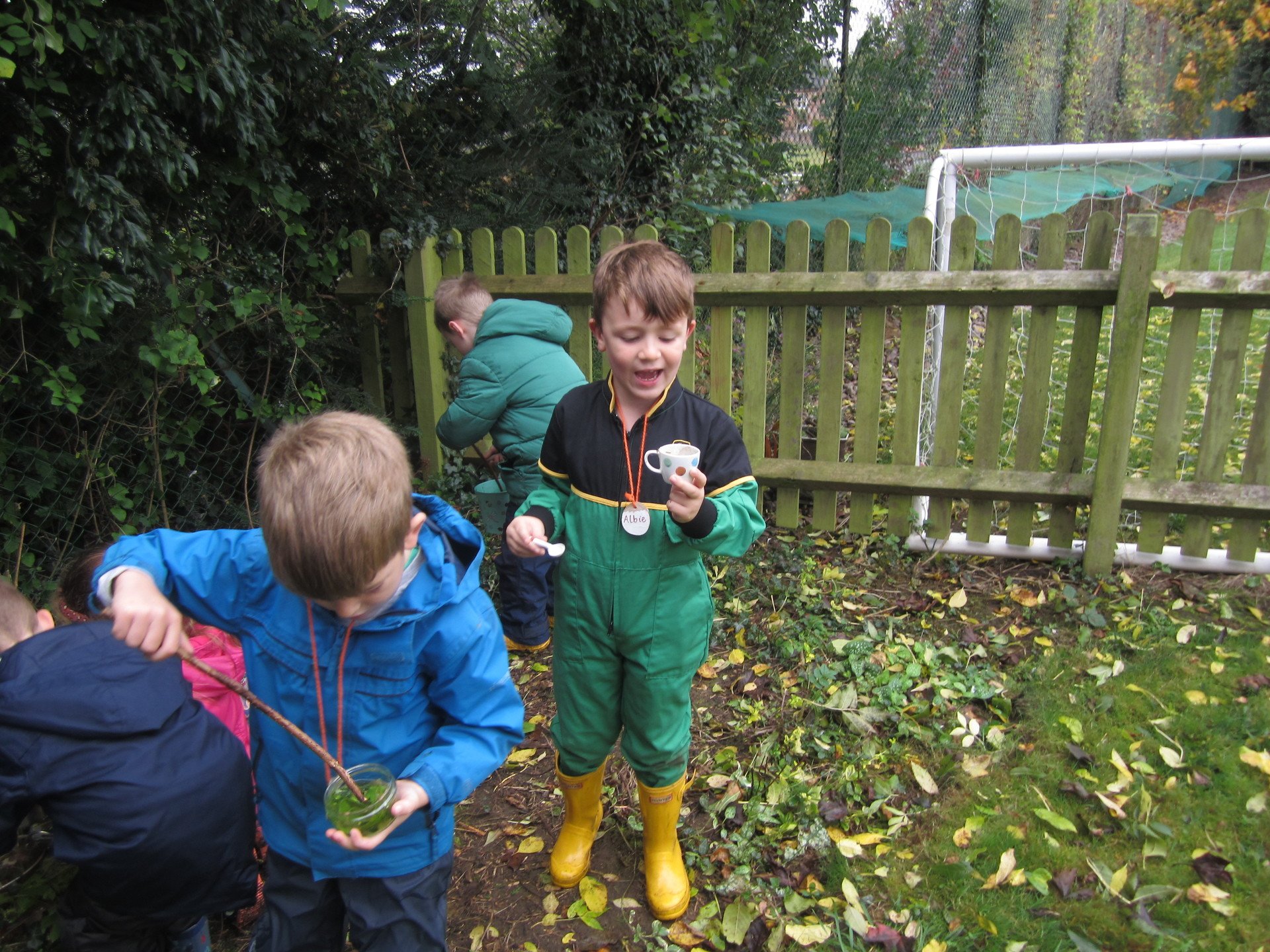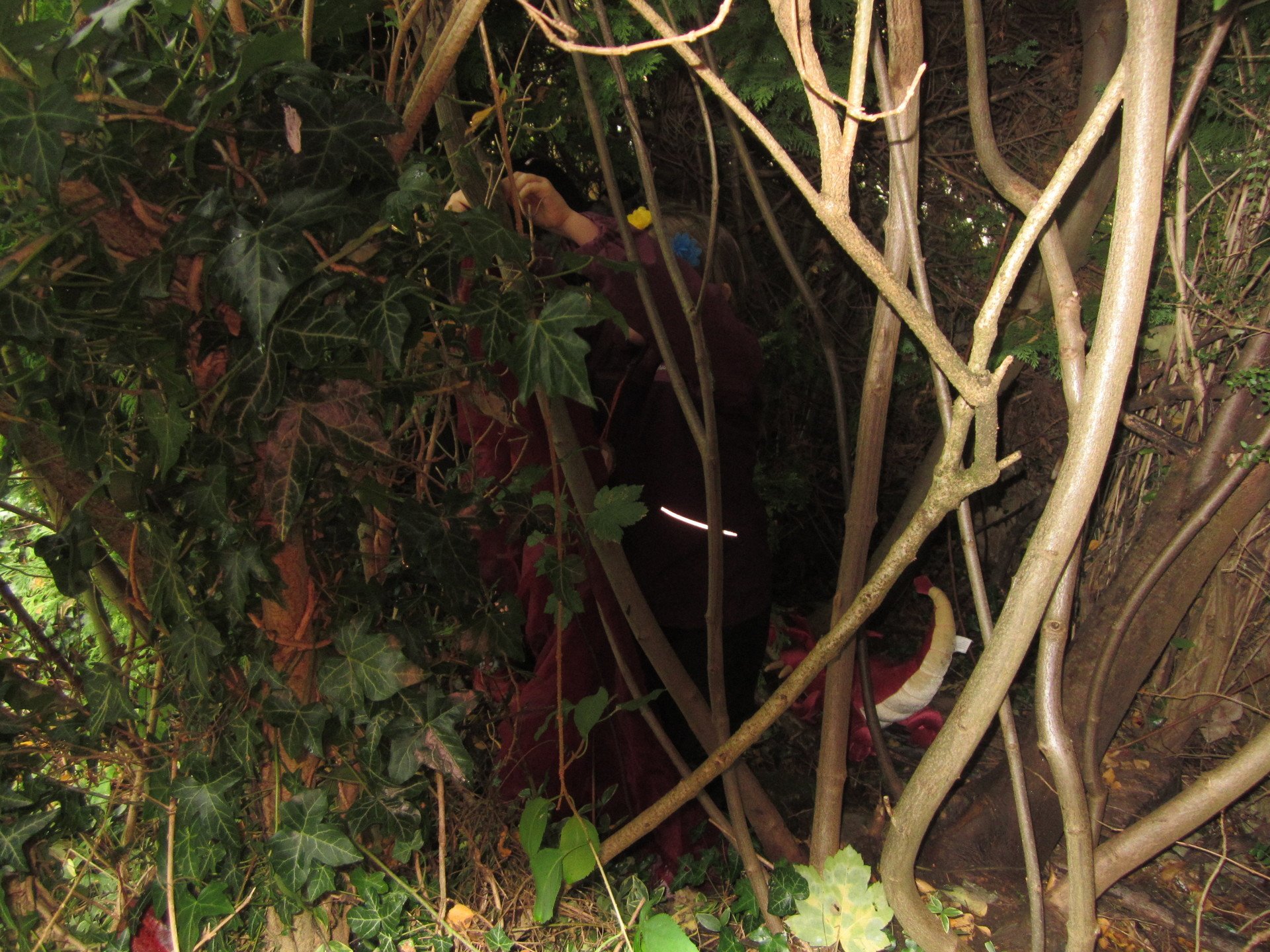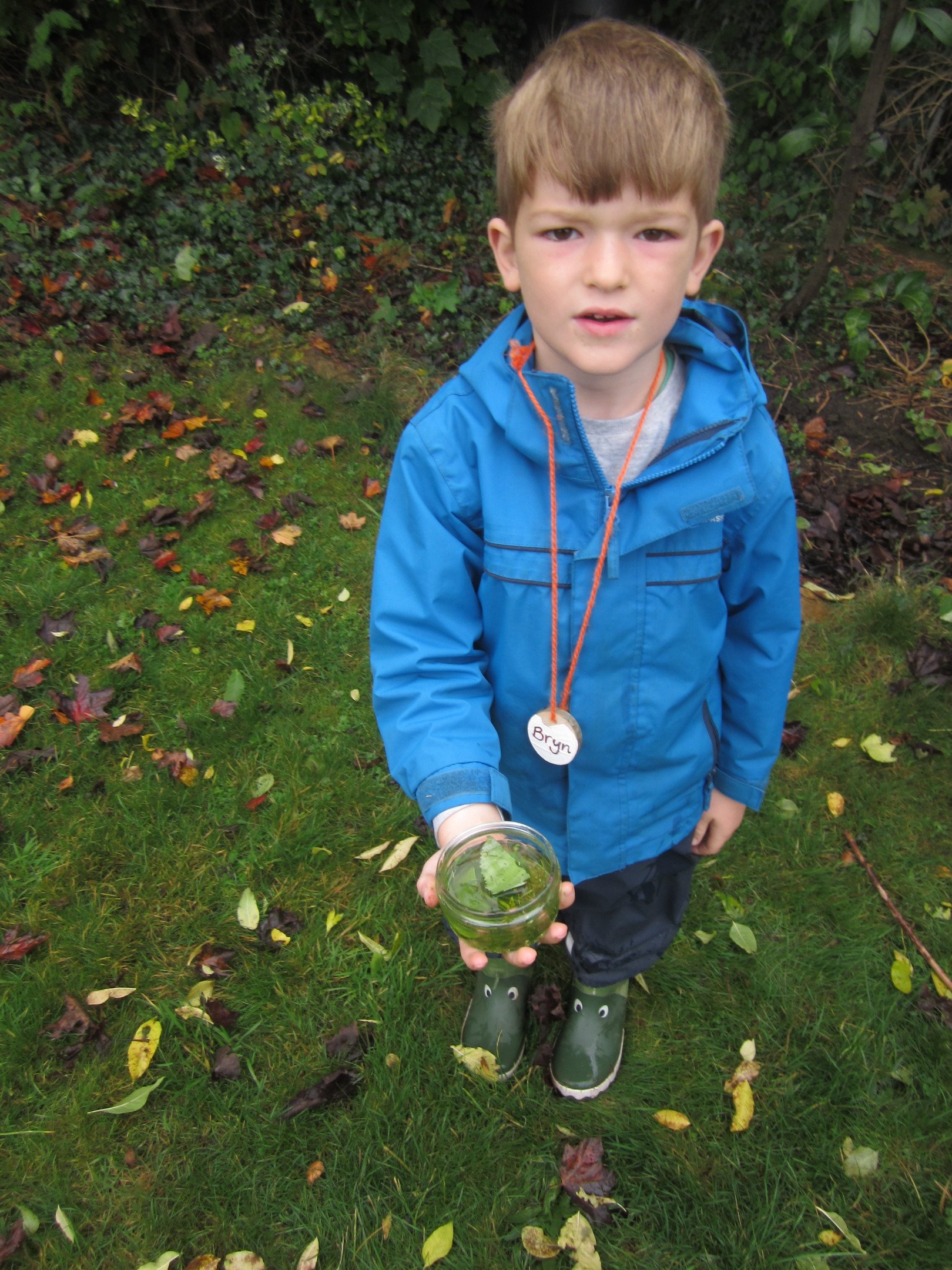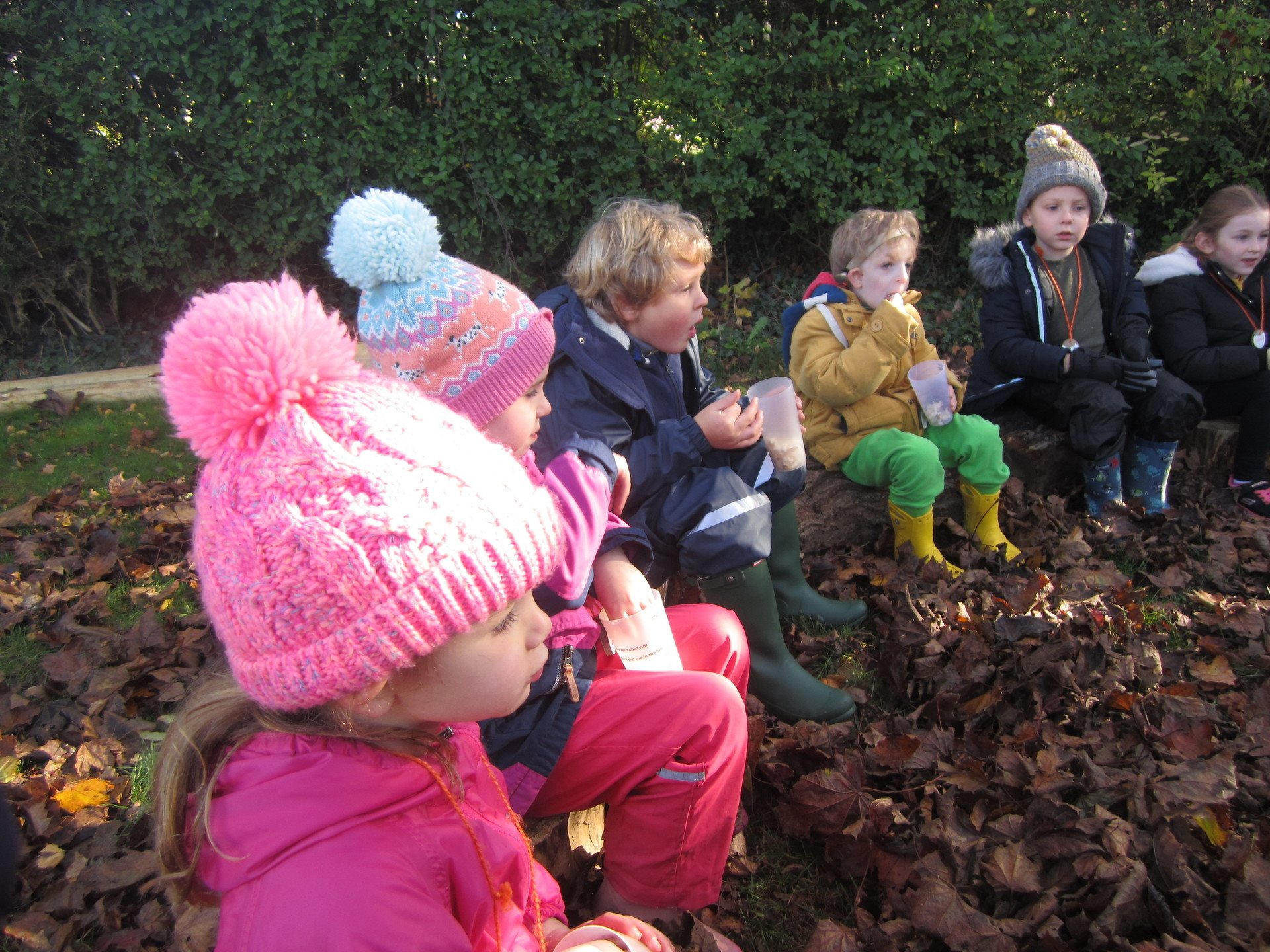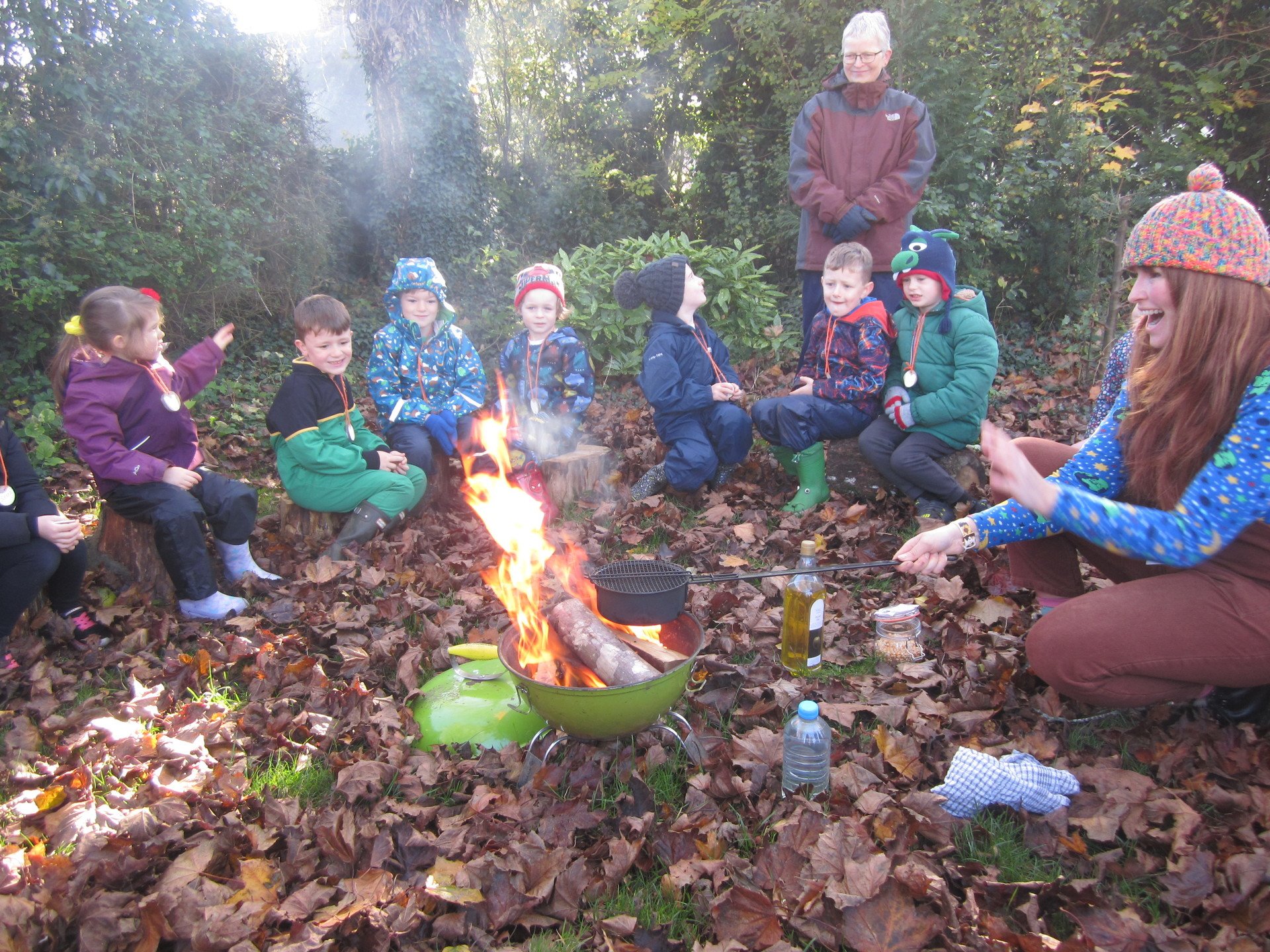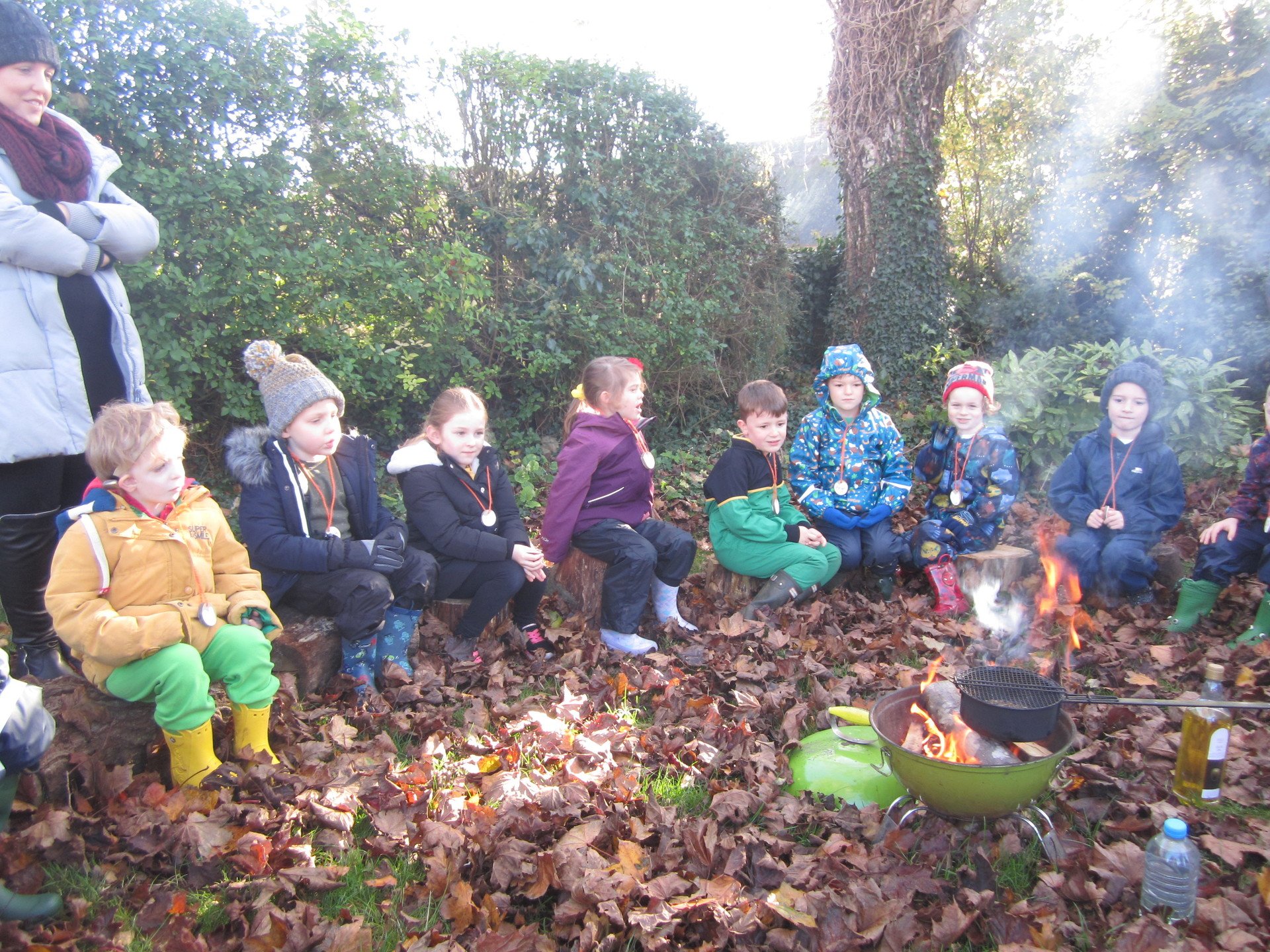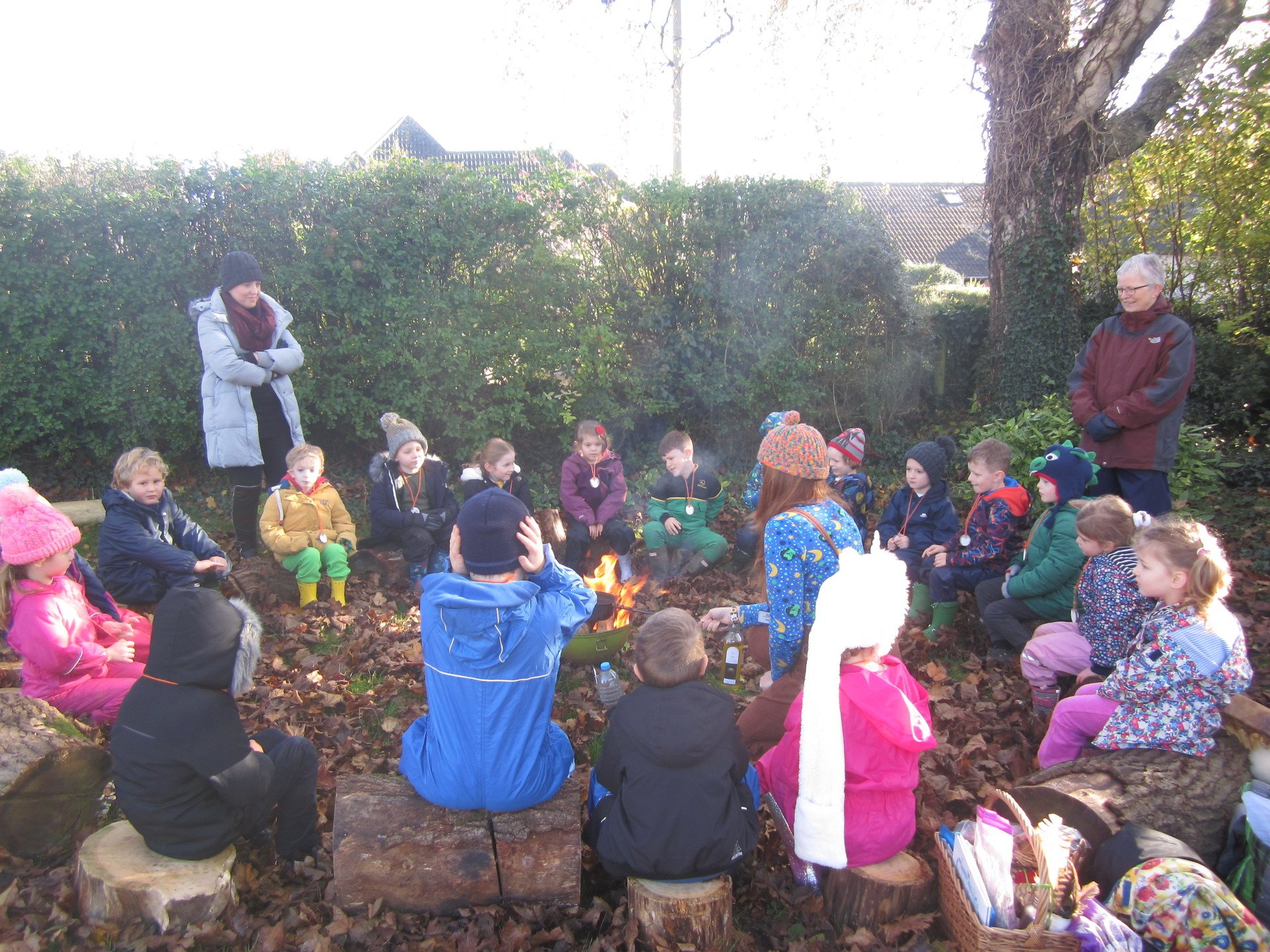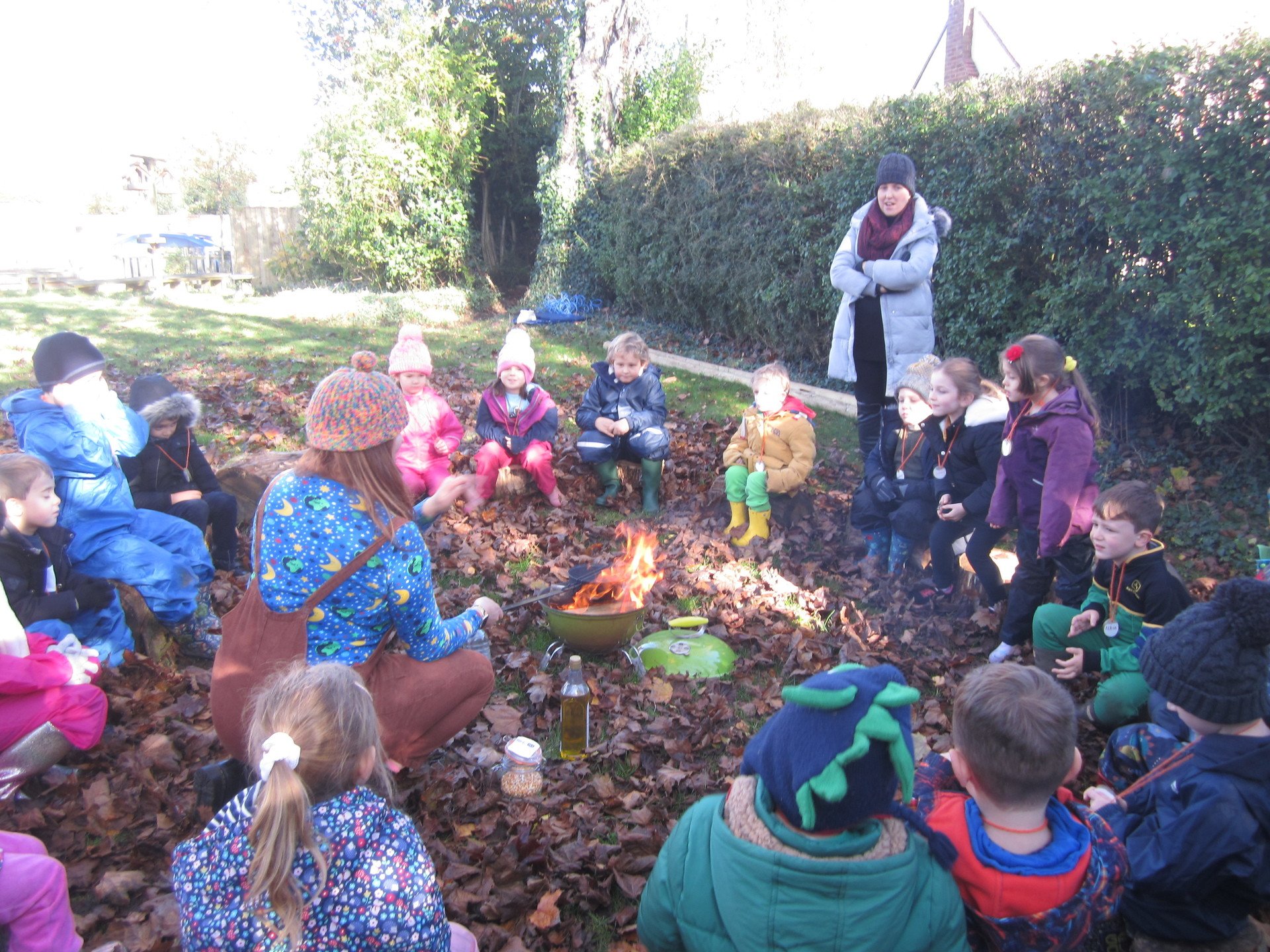 Image Theatre Group production, 12th October 2021
Many thanks to the Image Theatre Group, who treated the whole school to an interactive production of The Reluctant Dragon, running workshops with the children.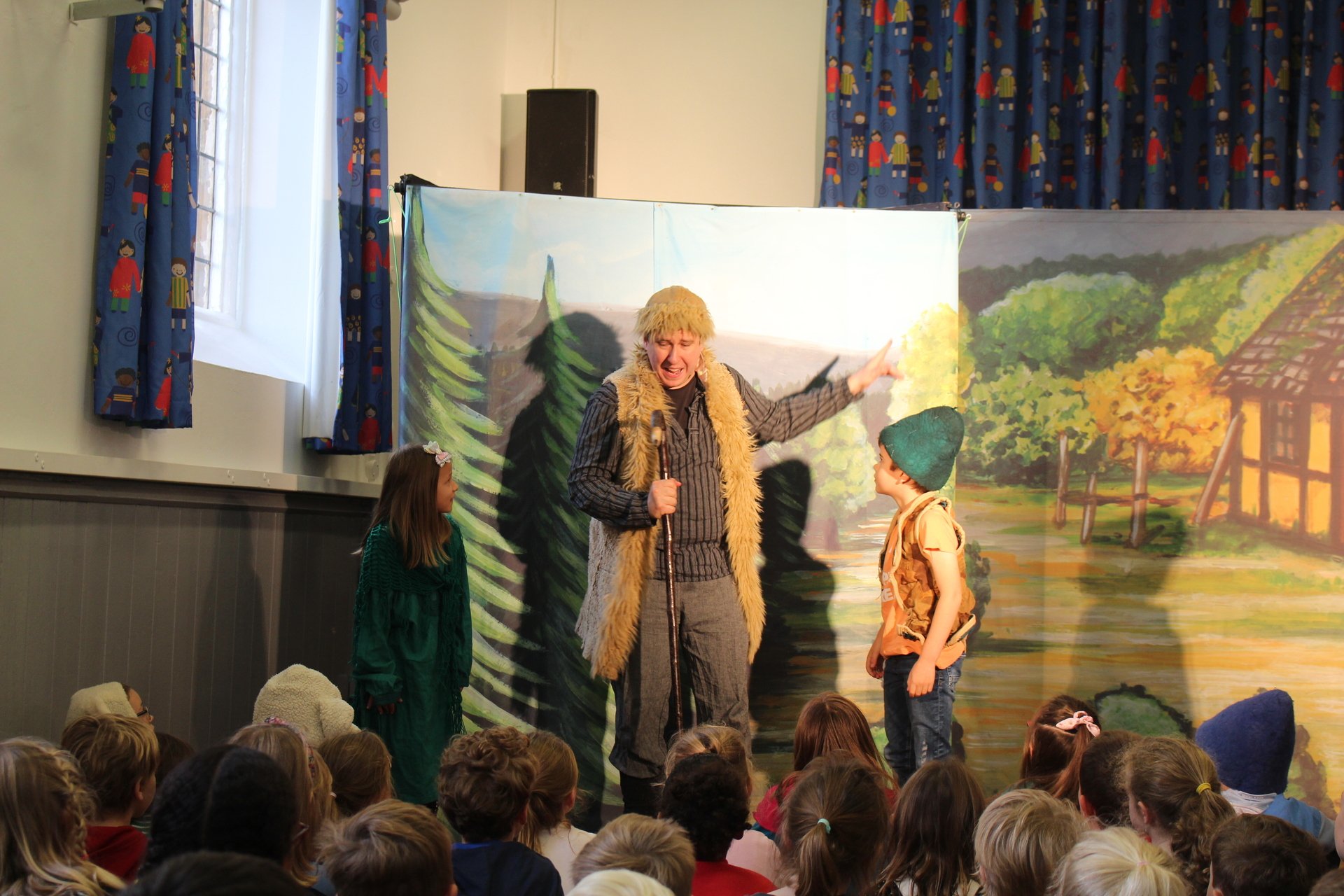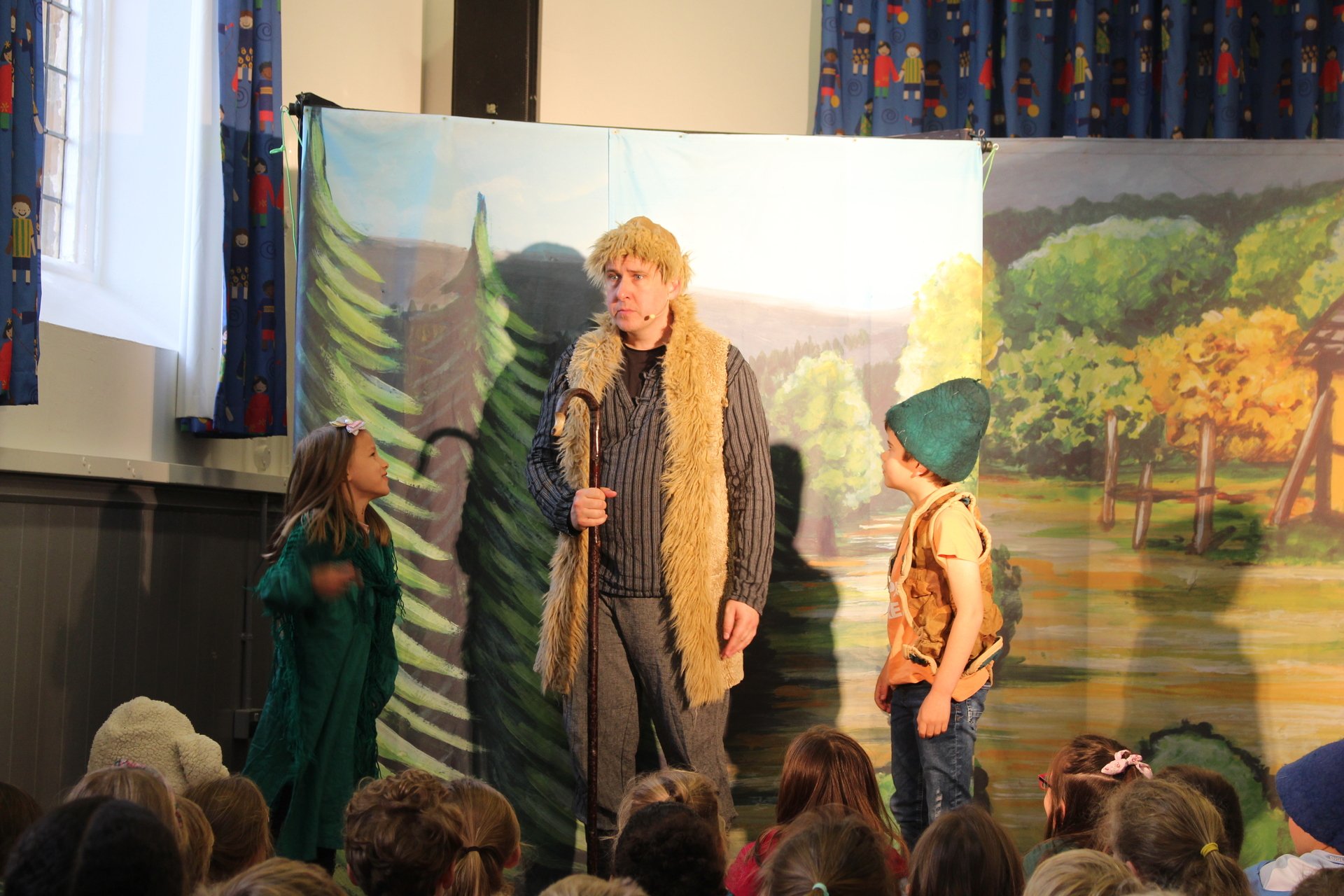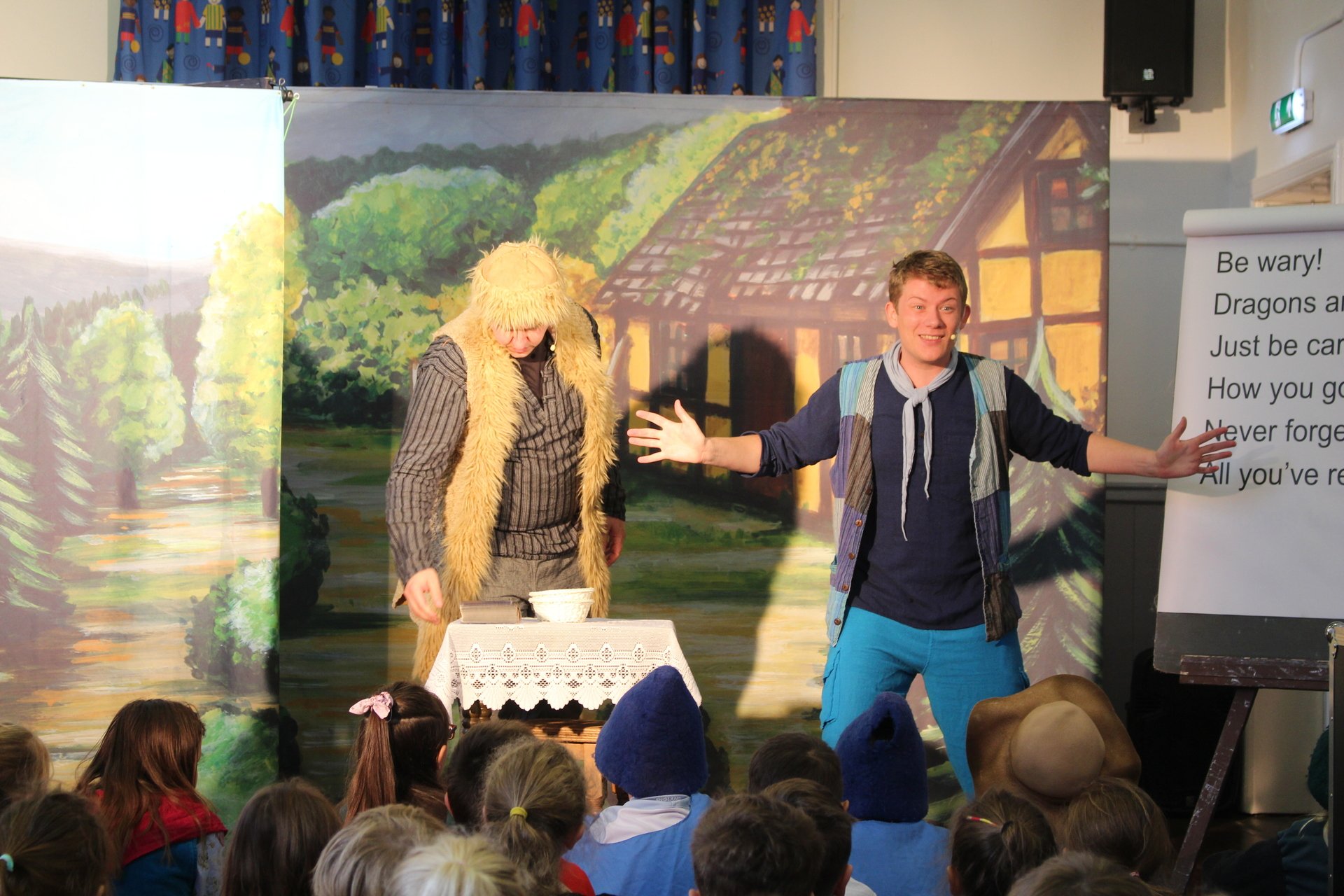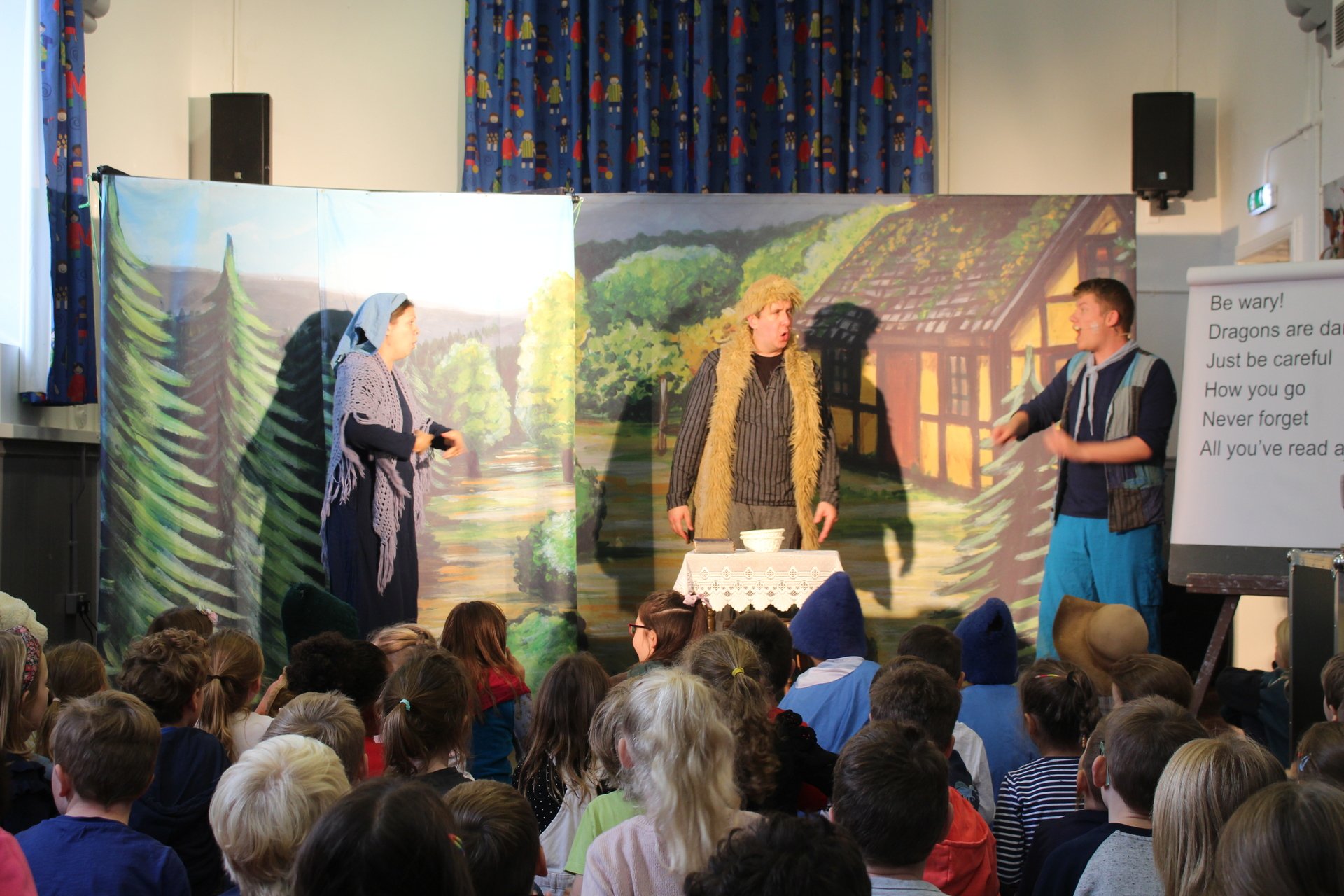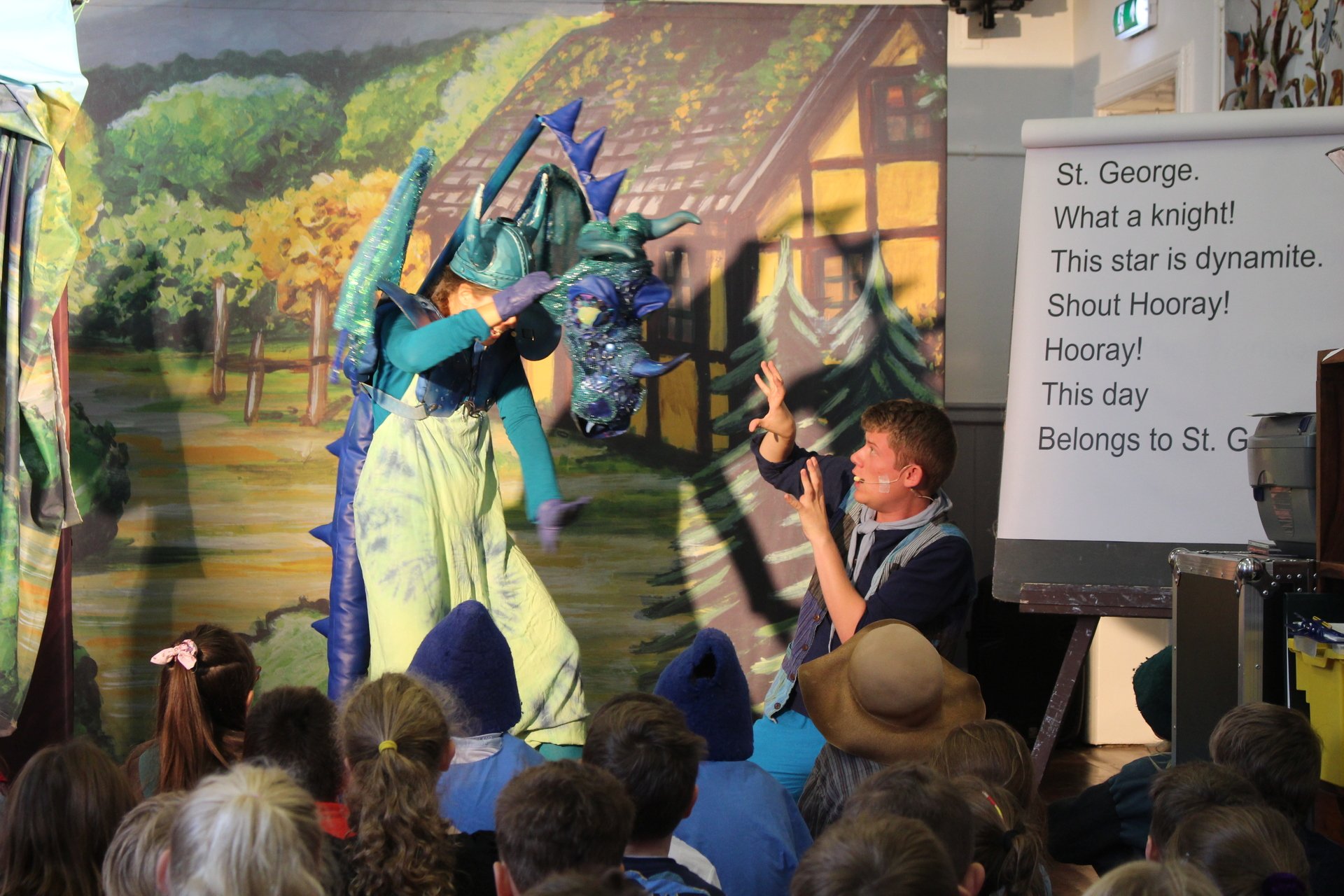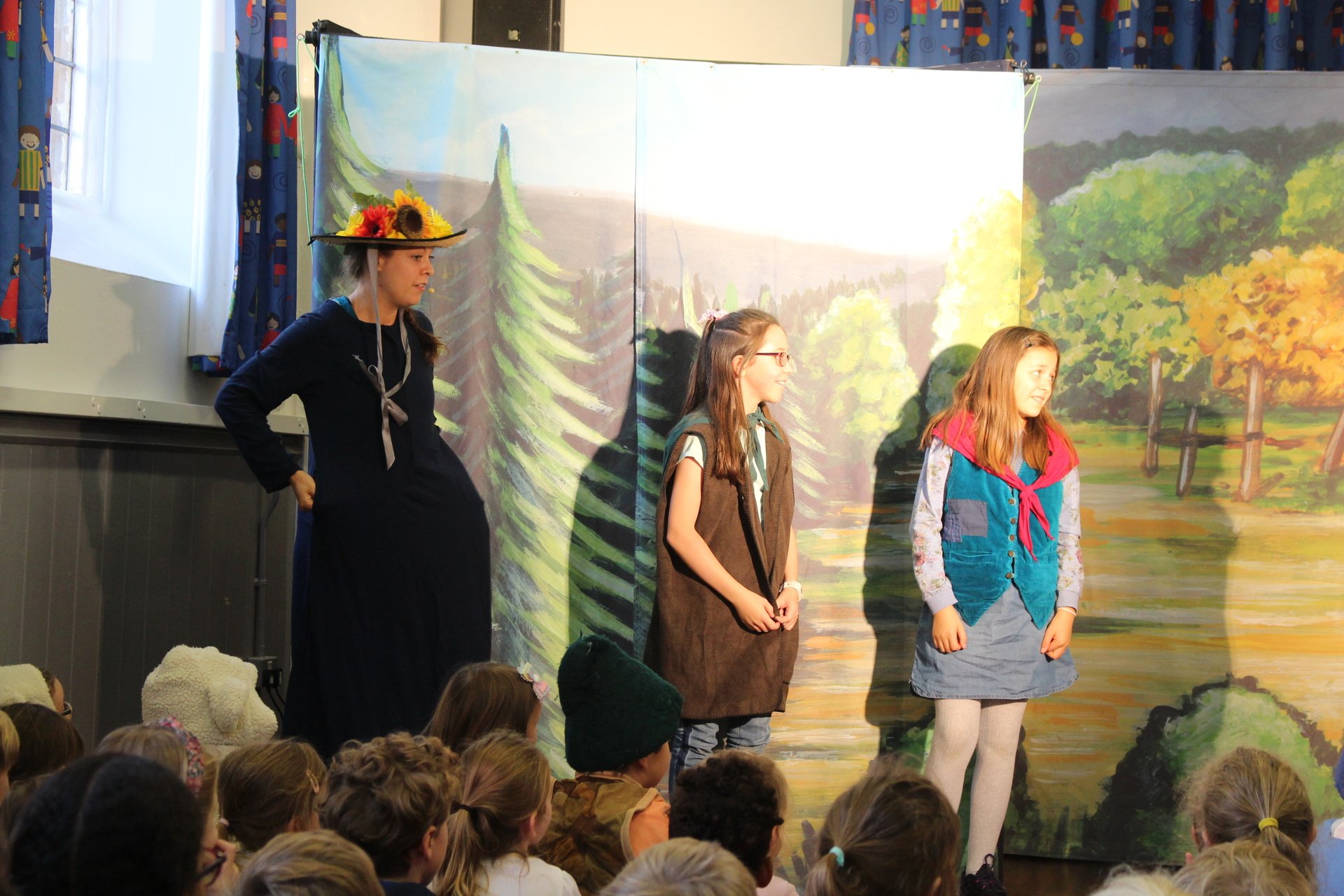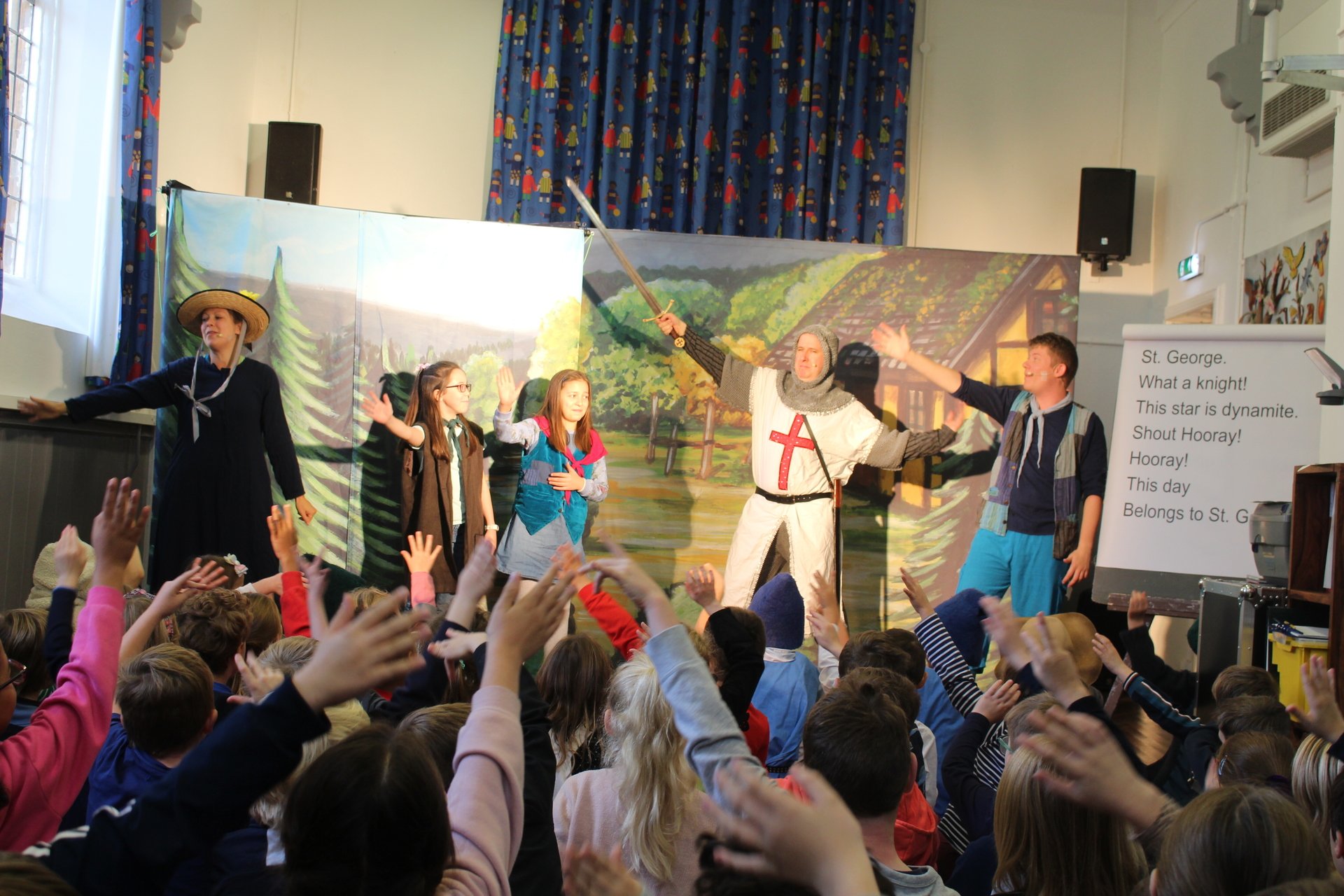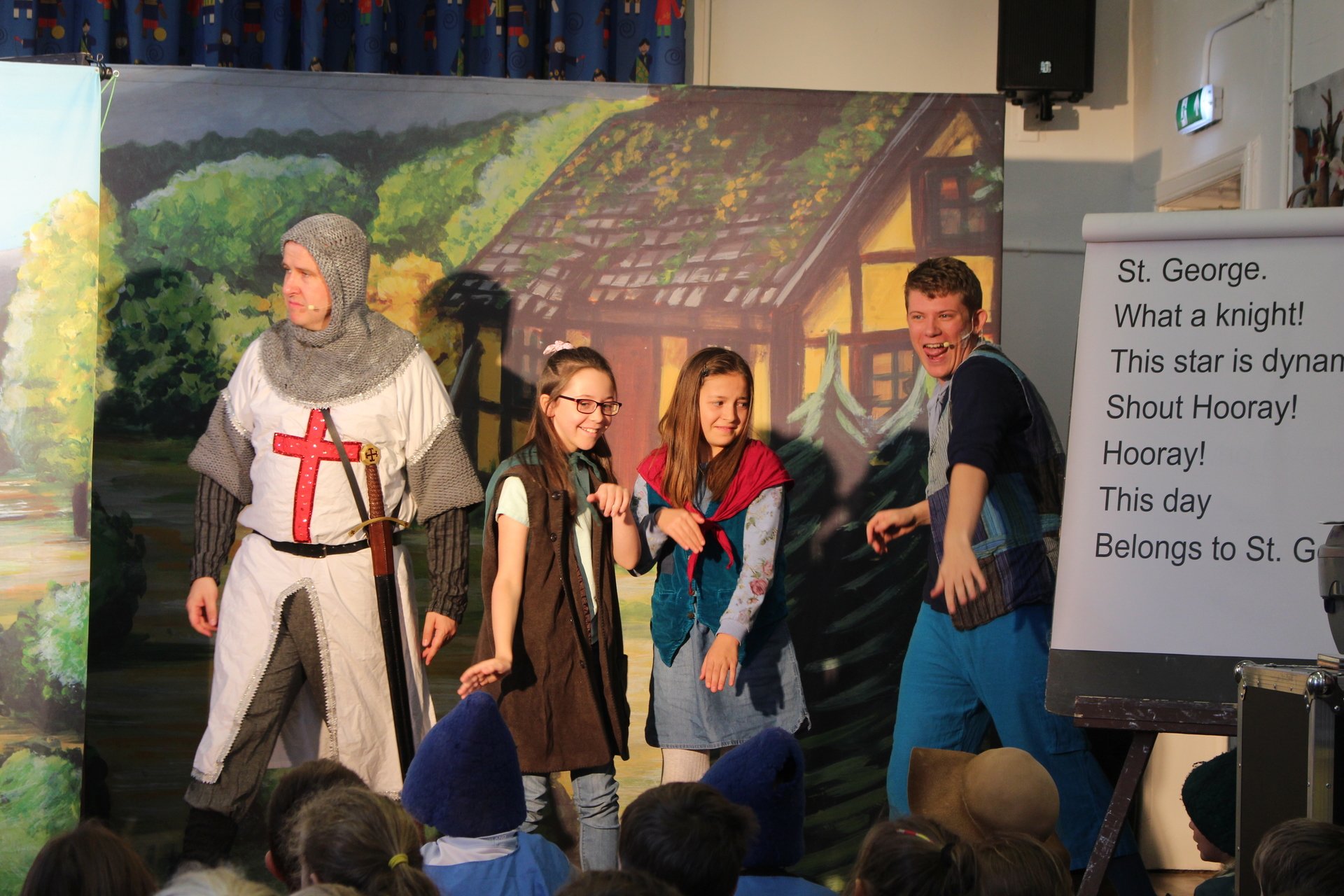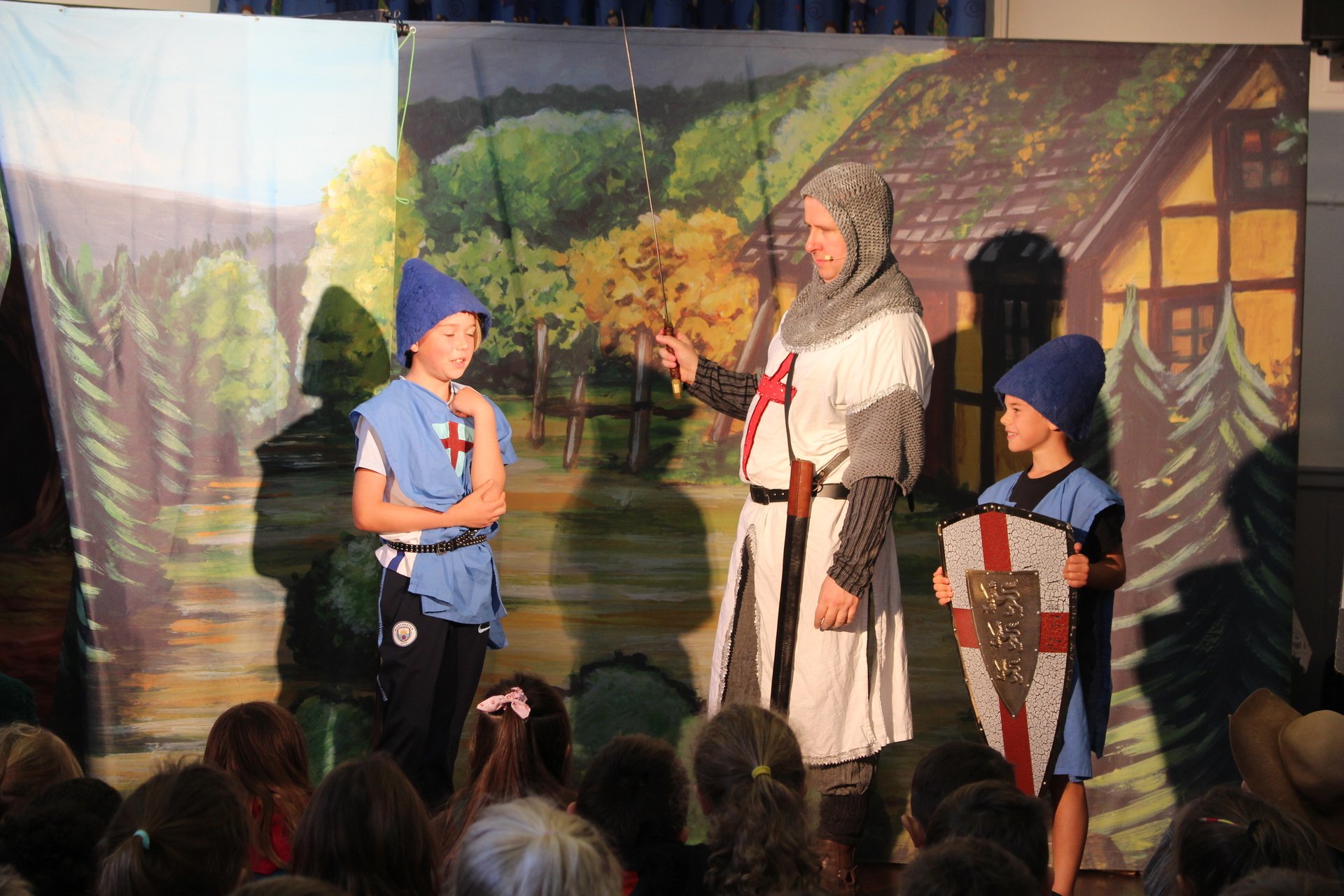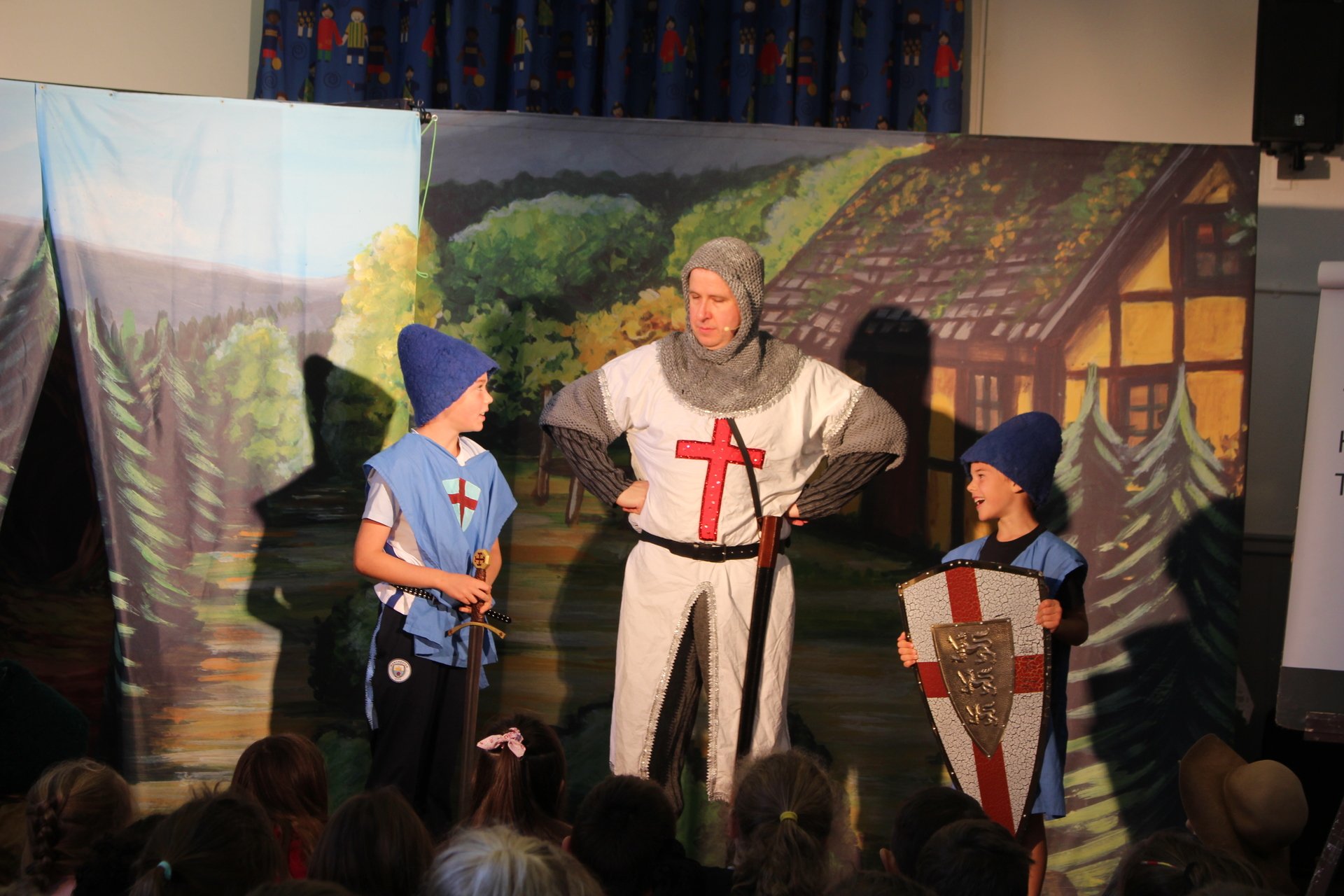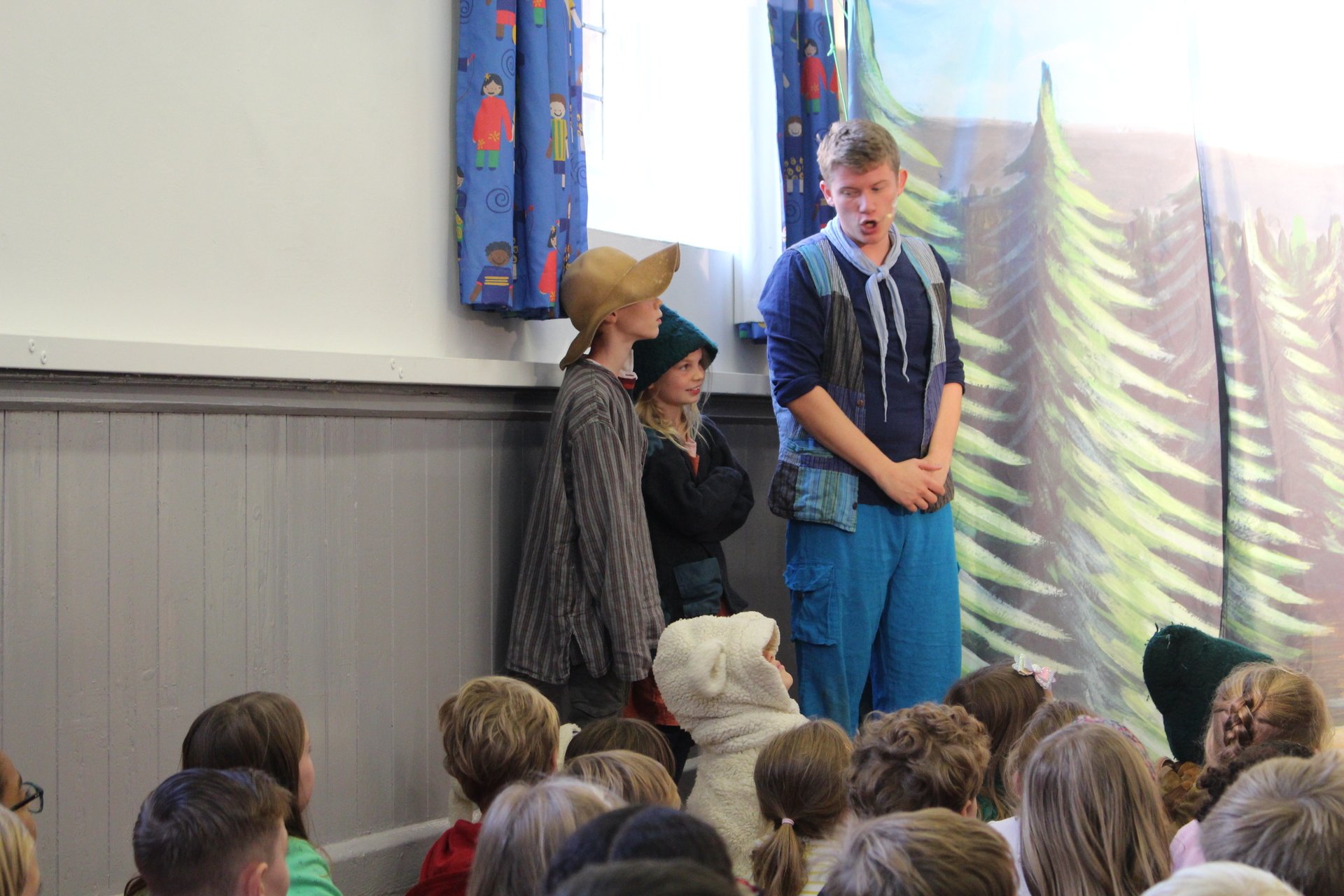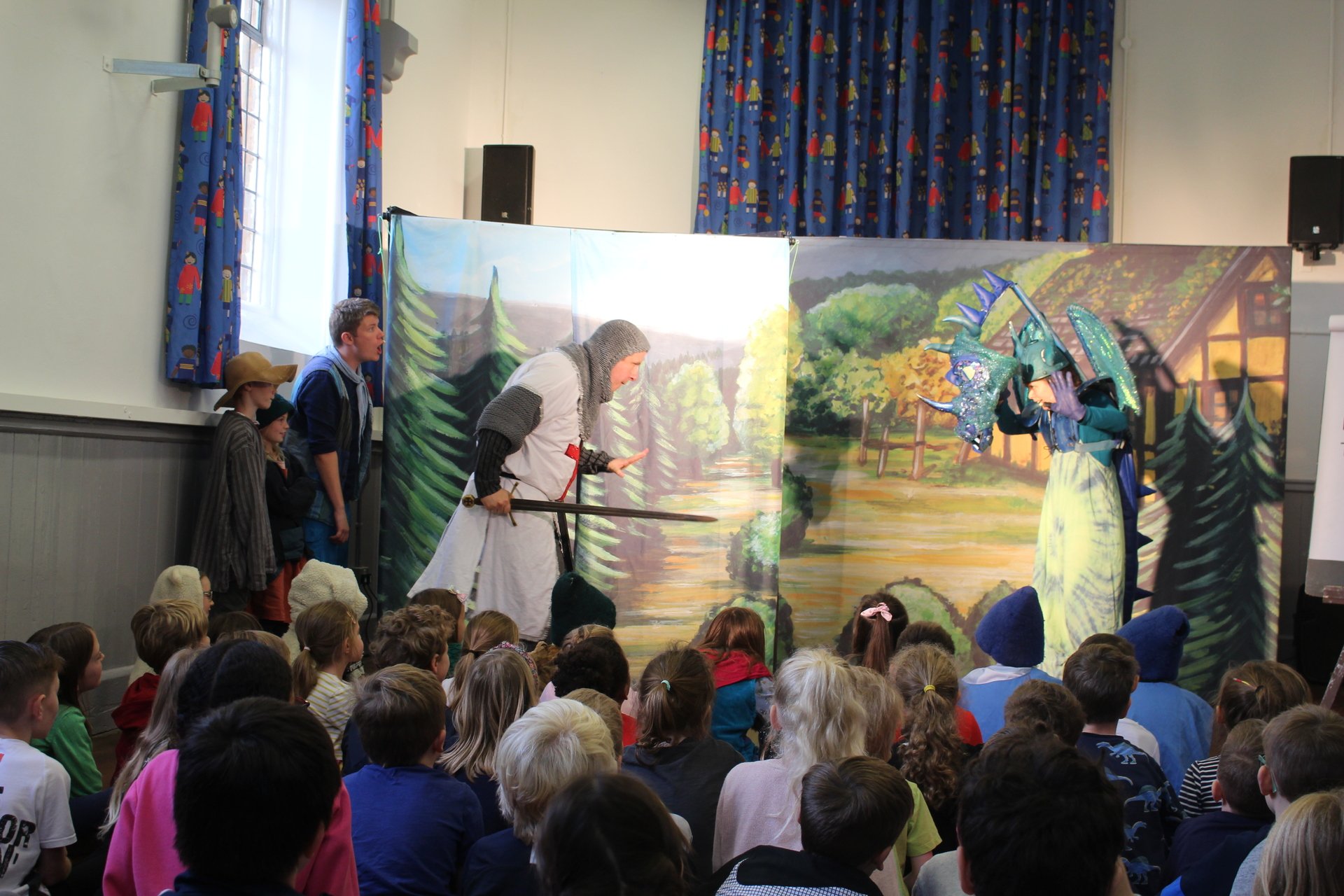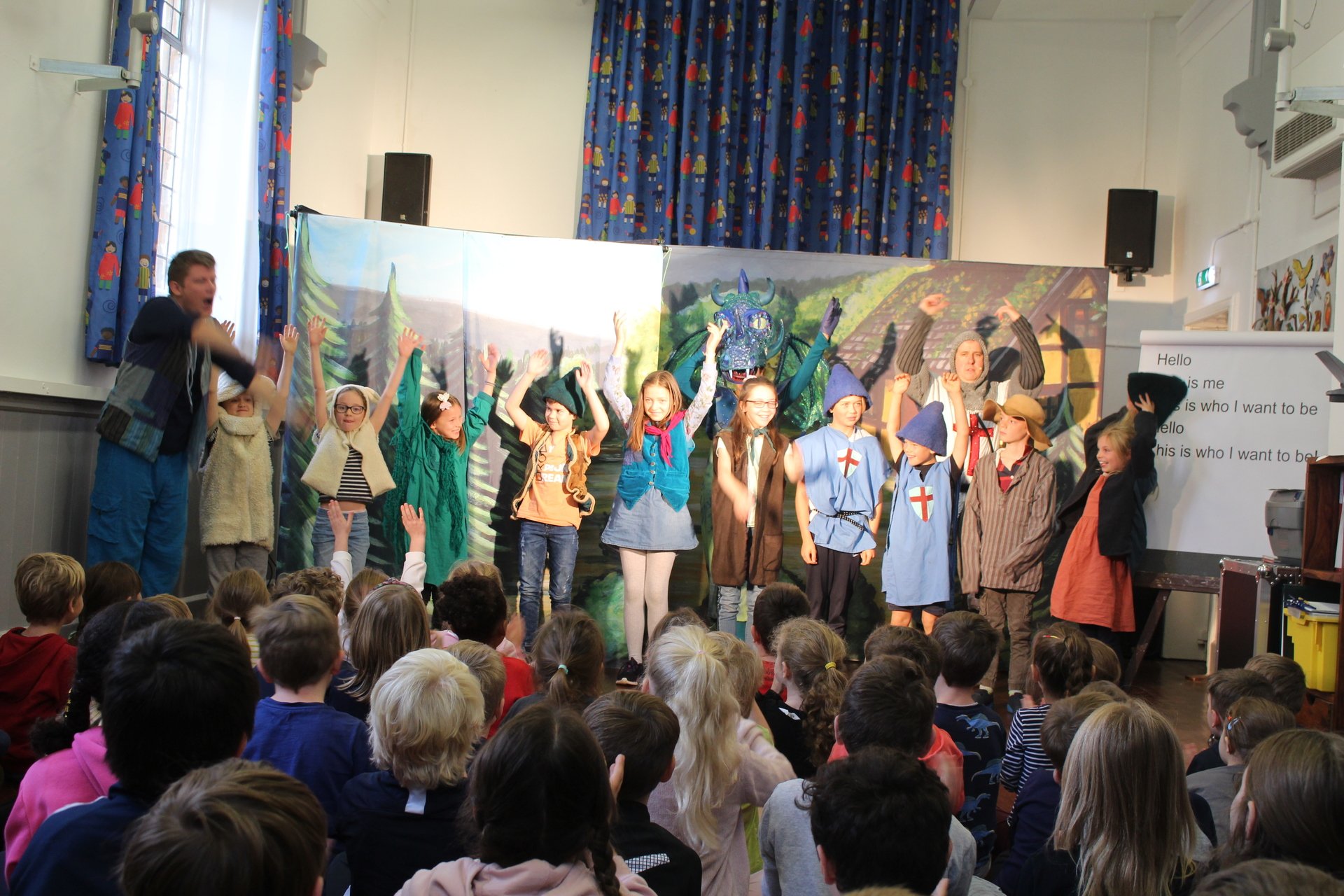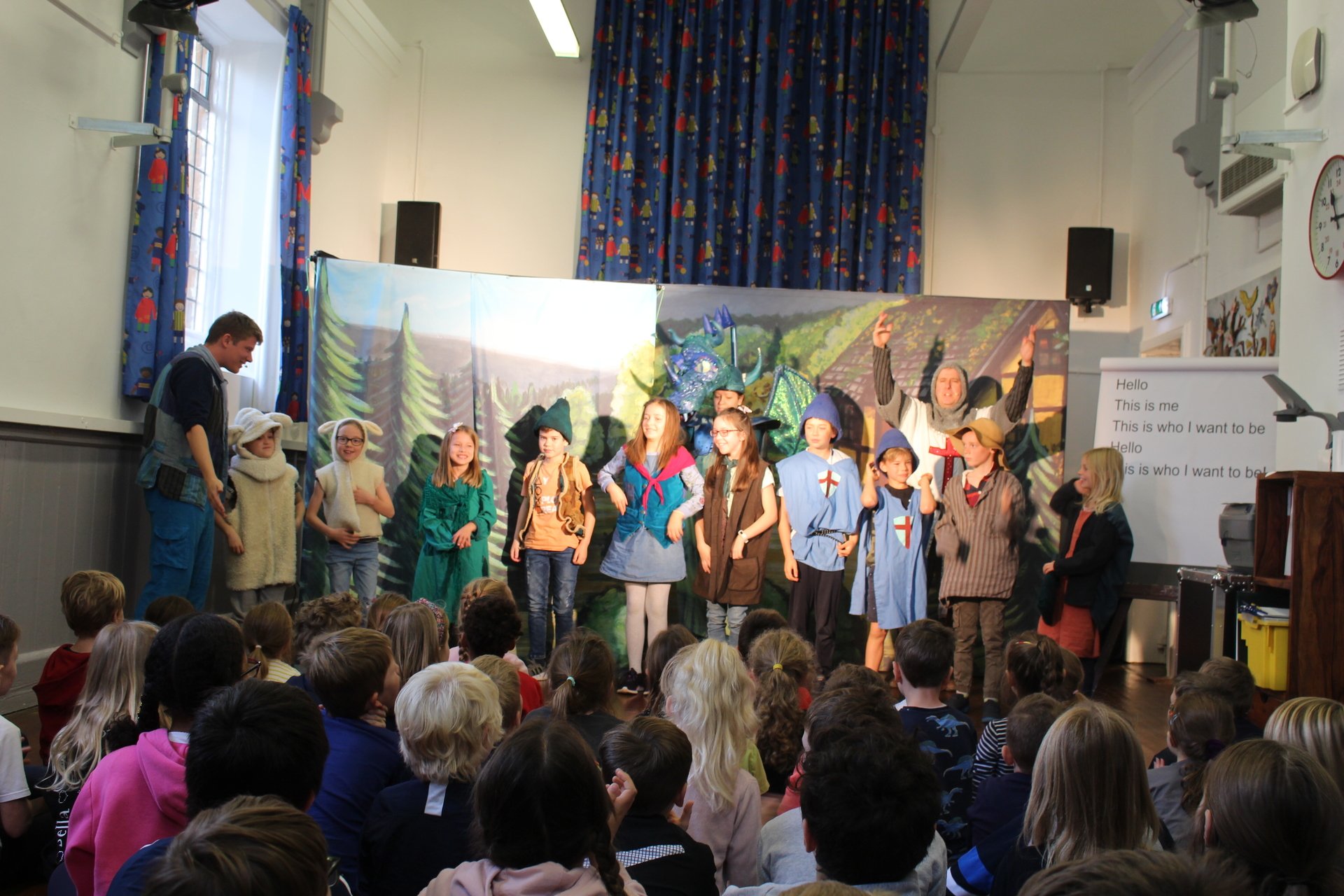 Northamptonshire Music and Performing Arts Trust, 6th September 2021
Many thanks to Mr Baker, our NMPAT Brass teacher, for coming in today to take assembly.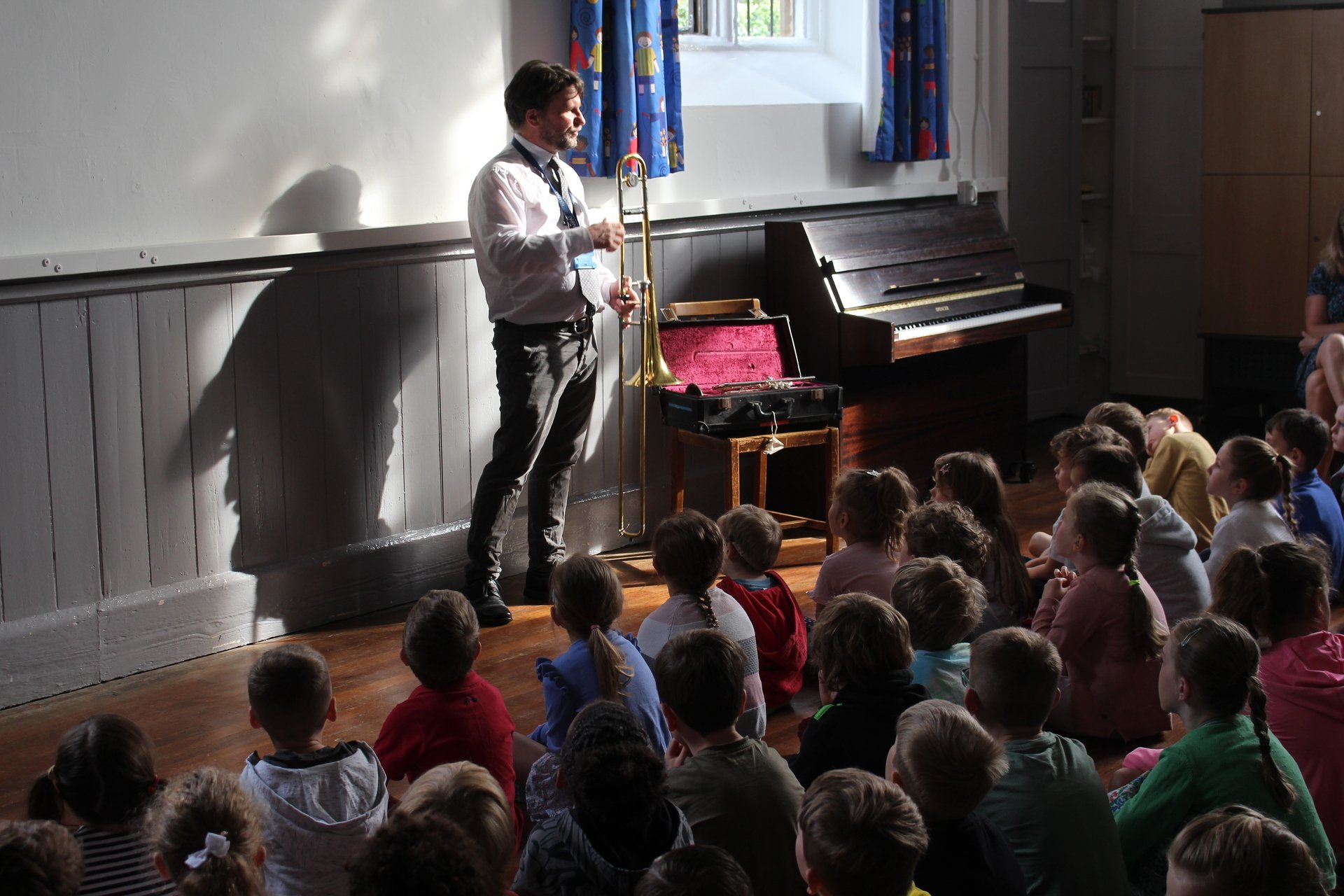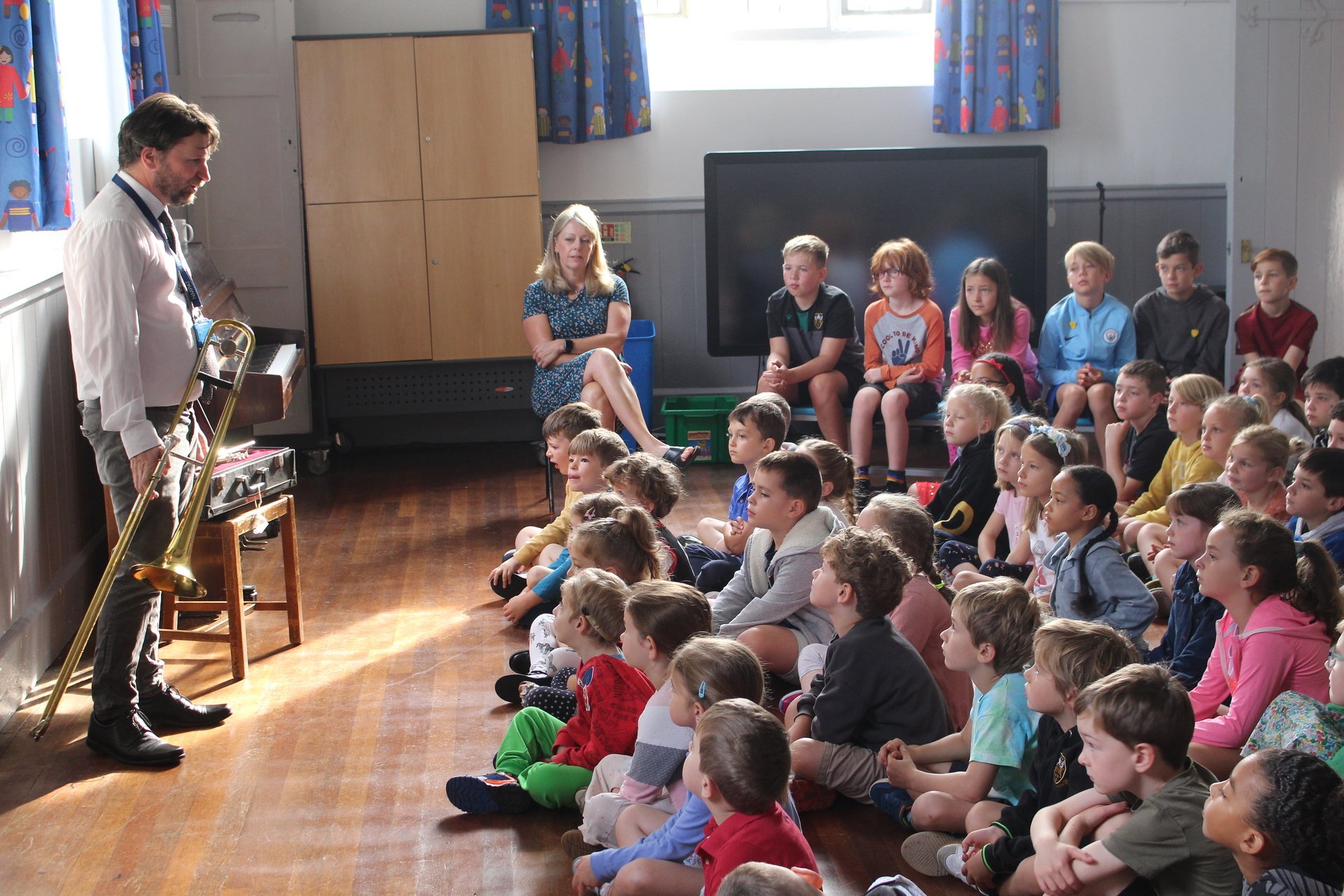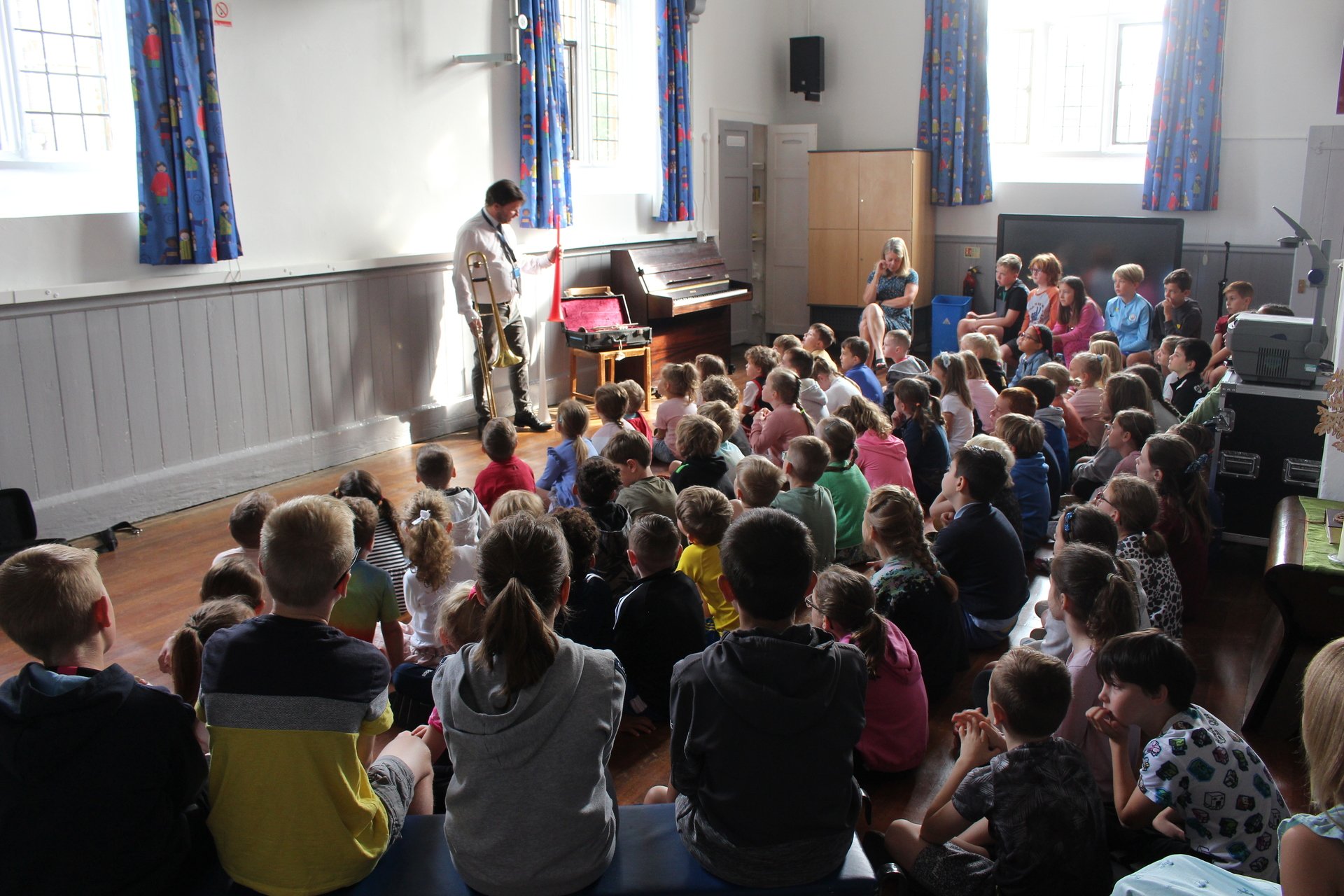 The Bishop's Prize for R.E. July 2020
Congratulations to Florence, who won the Bishop's Prize for R.E. She is pictured below, receiving her prize from last year's winner, Wren.
Well done!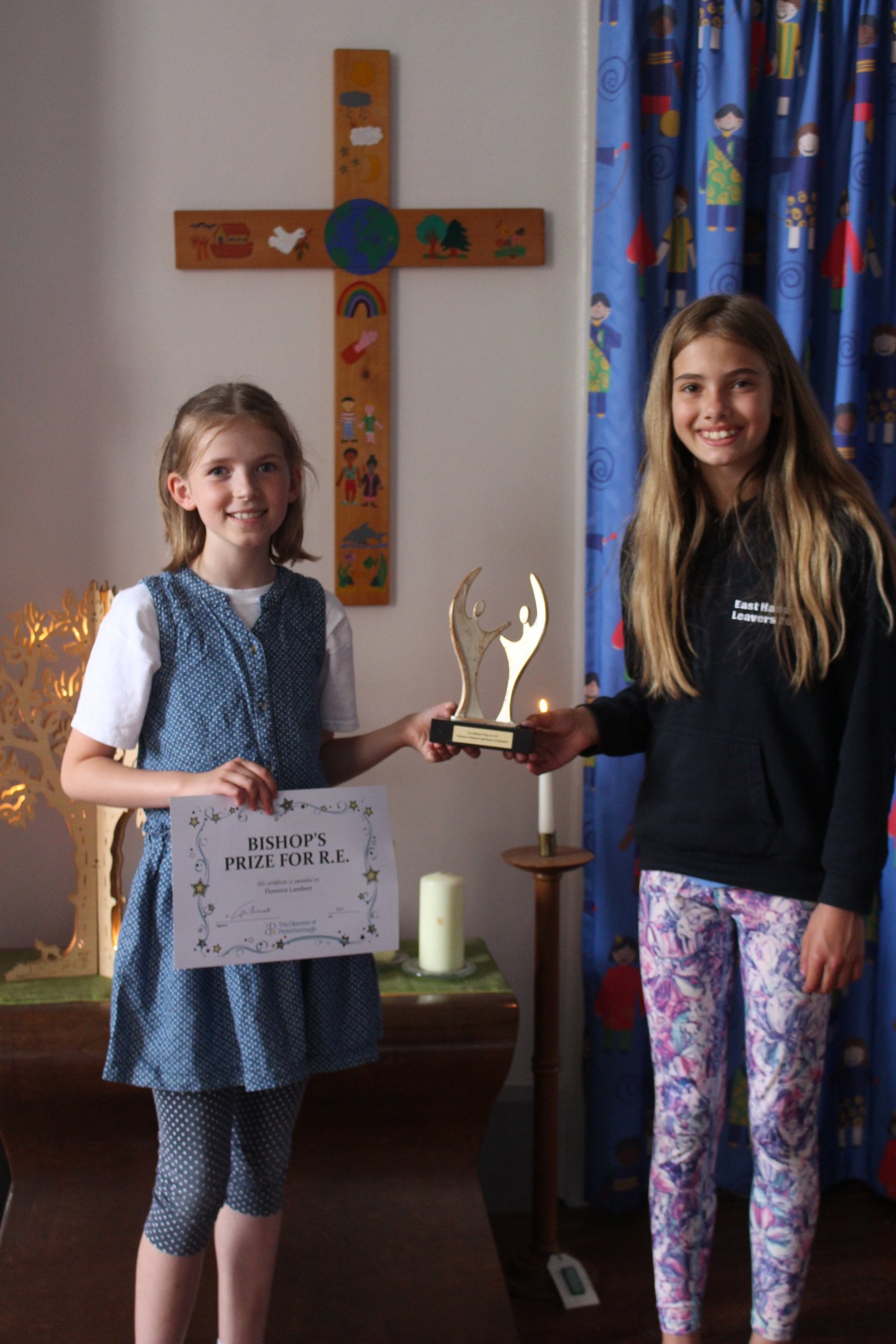 The Springett Family Kindness Award 2021
One child from each class was awarded a kindness award for their acts of kindness throughout the year. Congratulations to Atticus, Heather and Jude. Many thanks to Sarah Springett for this wonderful idea (pictured below with Bertie).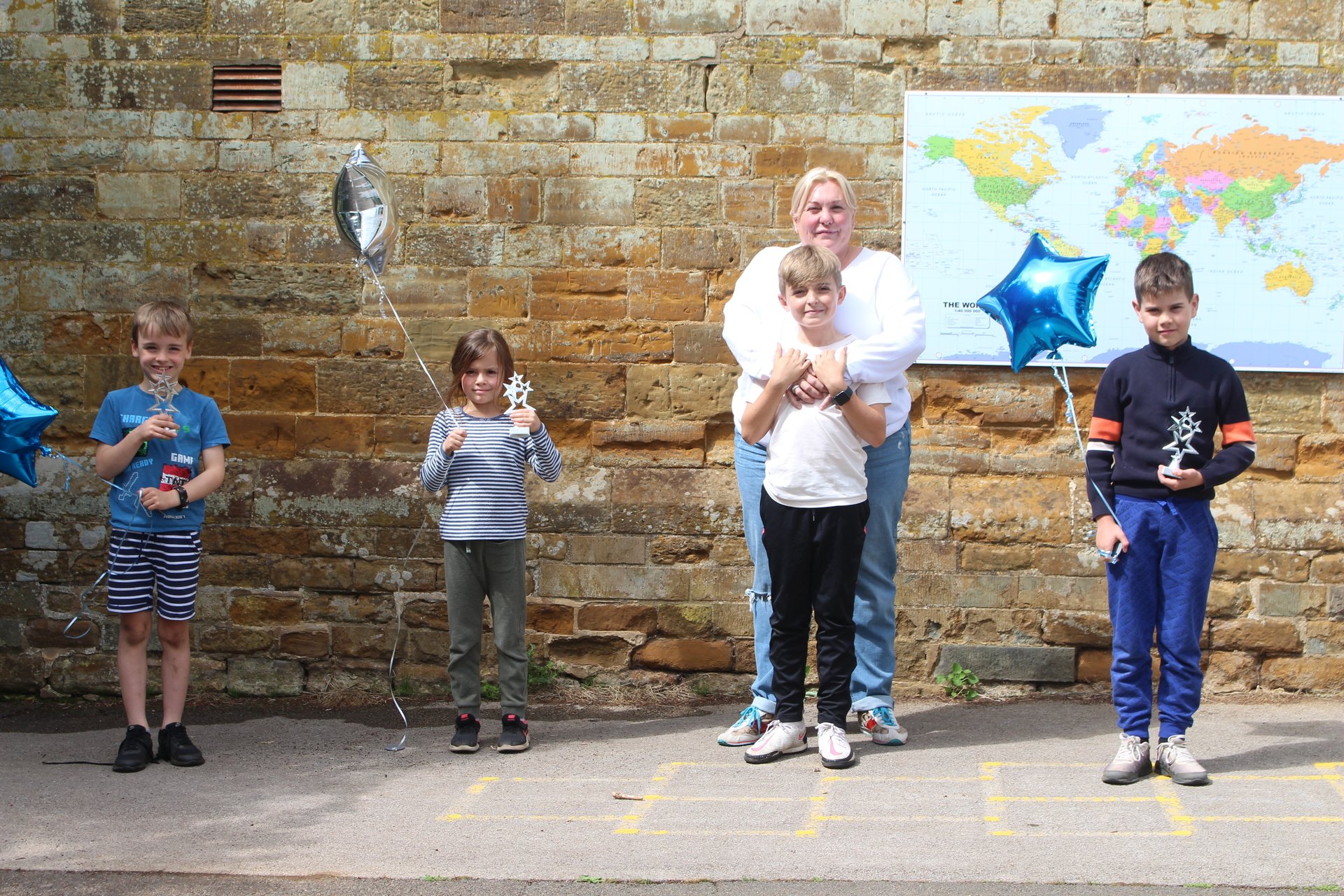 Red Nose Day 2021
The children came to school with a variety of red noses, crazy hair and hats to raise some money for this good cause. We raised £98.50, so well done everyone!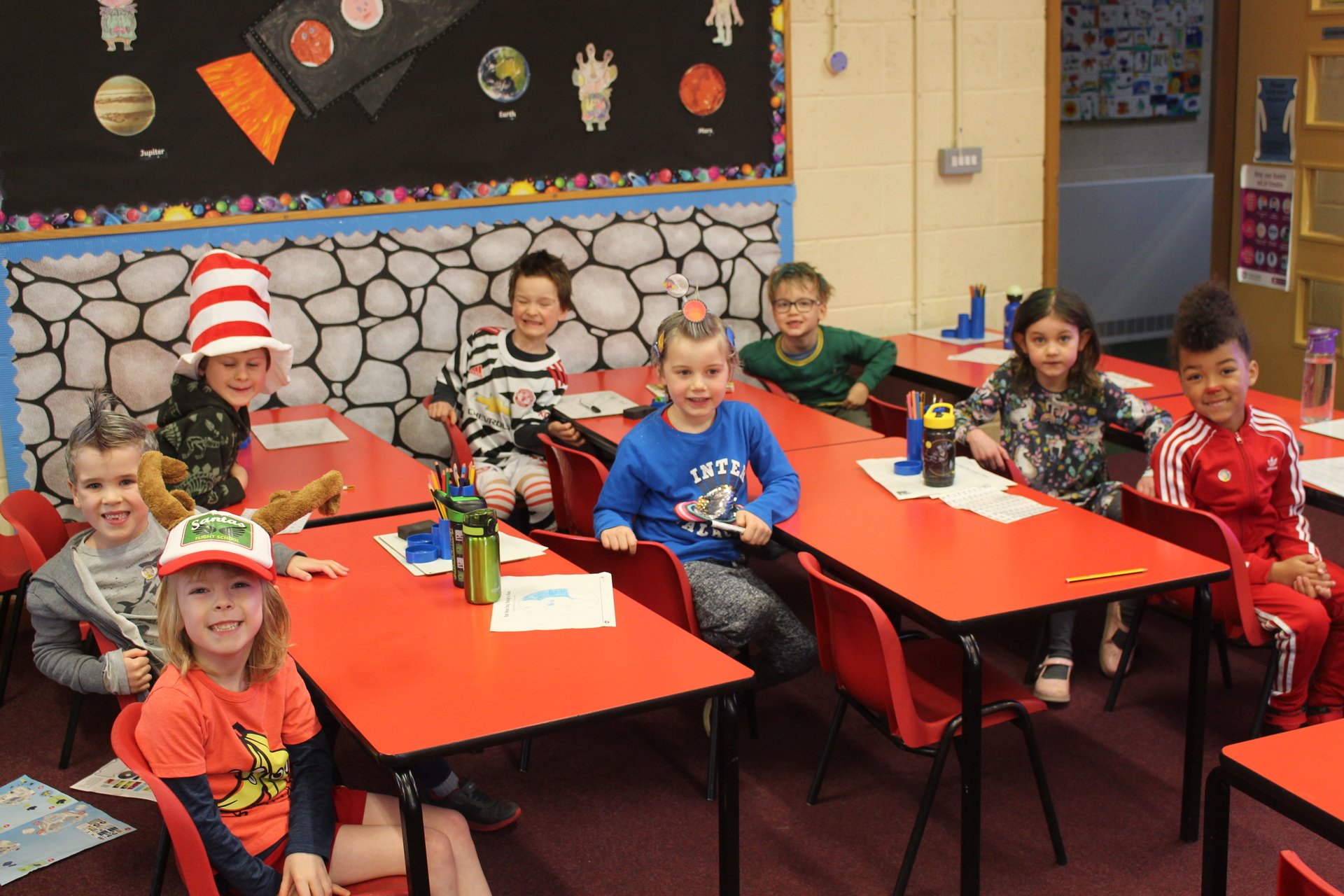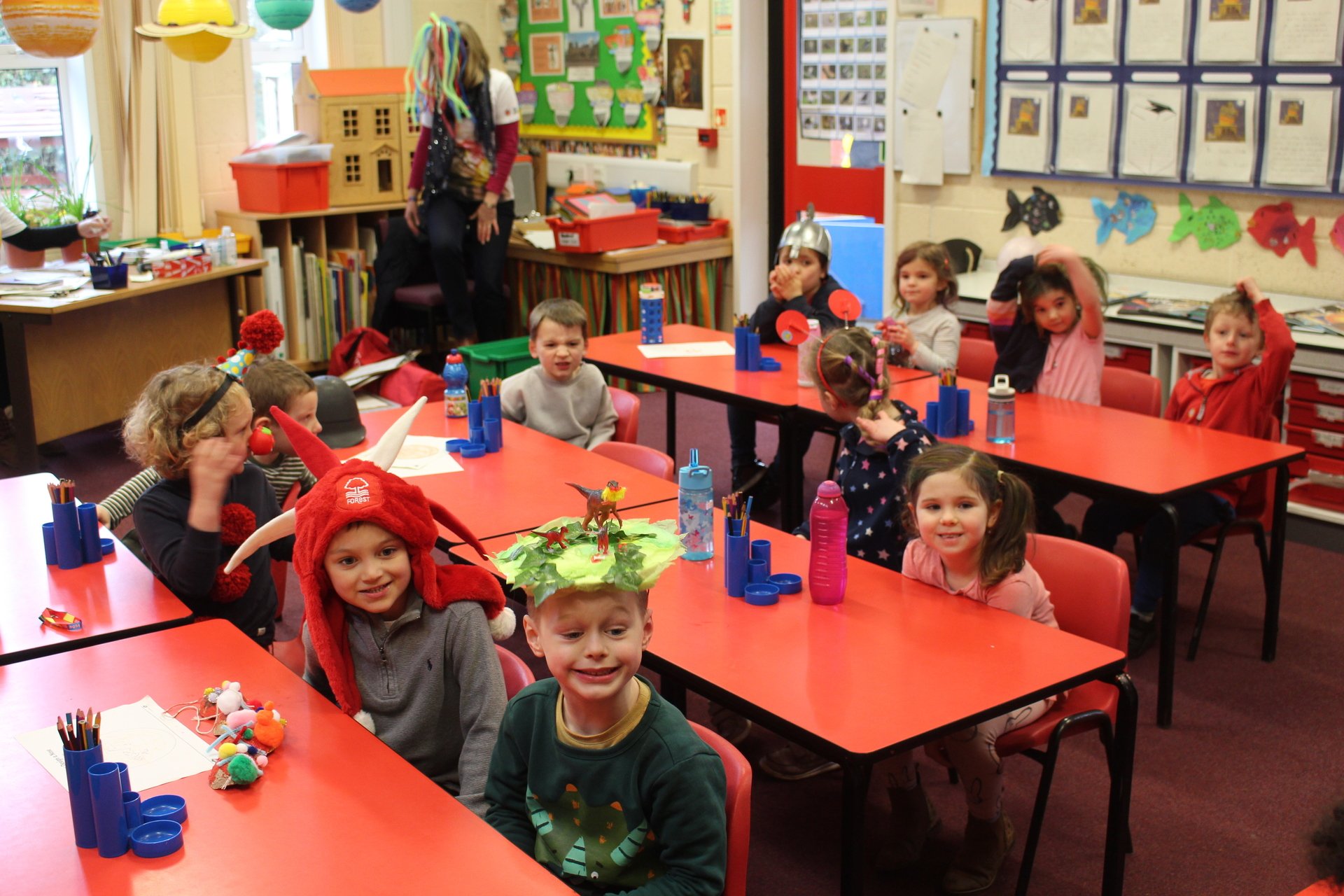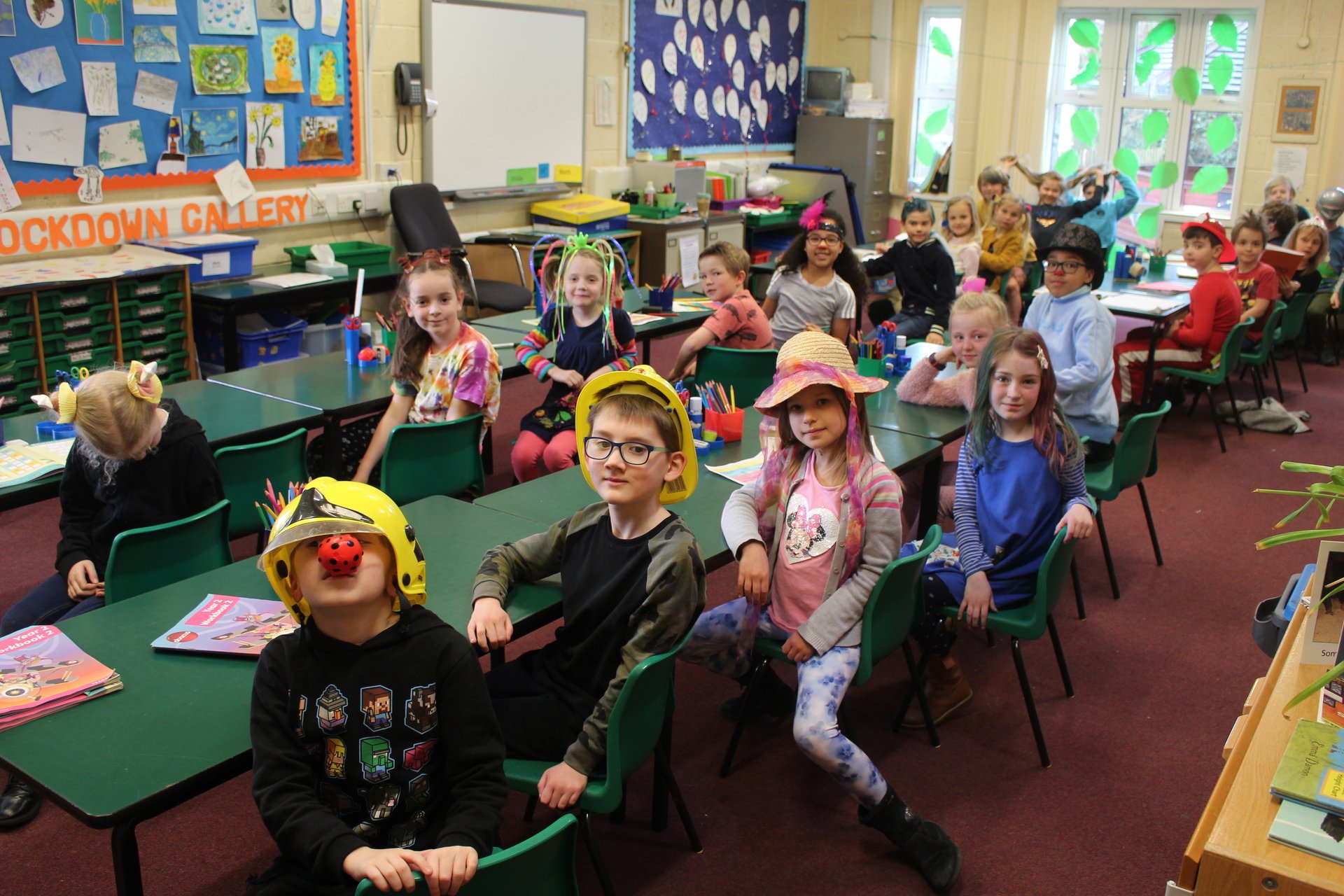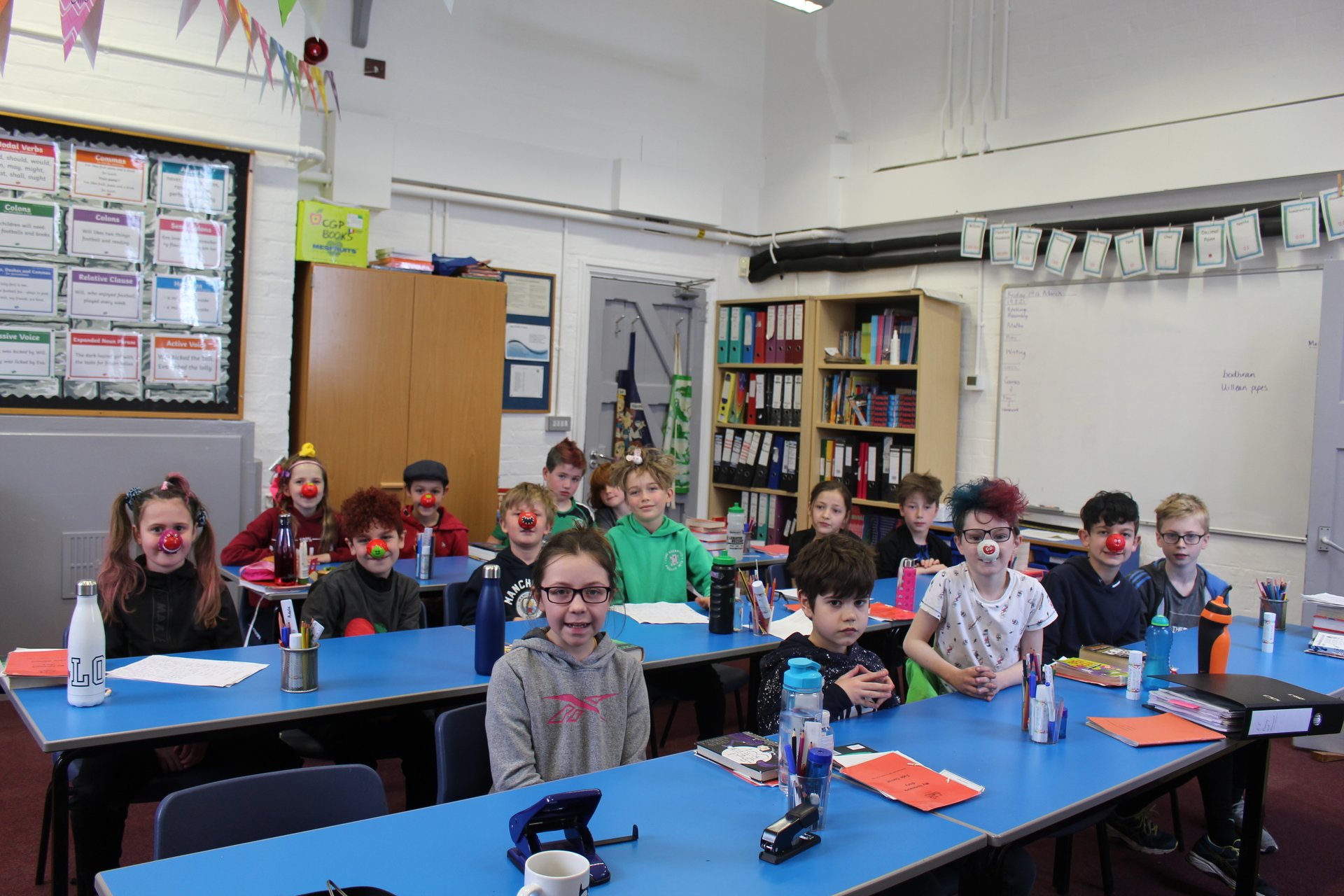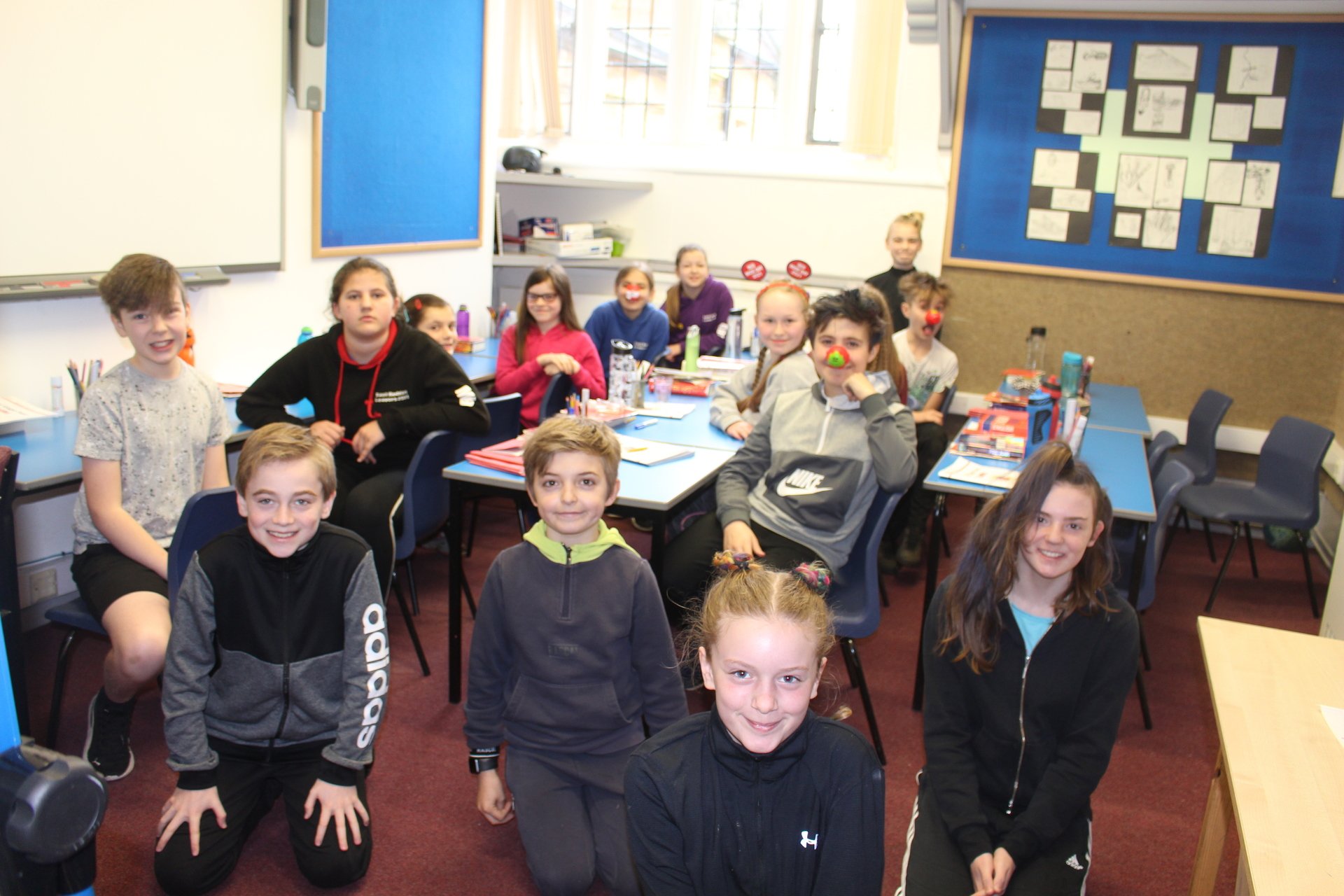 Christingle 2020
The children thoroughly enjoyed making their Christingle oranges this year. Although we couldn't join together as a whole school, the classrooms were very magical as the candles were lit and prayers said. Thank you all for your donations - we raised an amazing £270.17! Many thanks to Lynne Threadgold for organising and donating the oranges.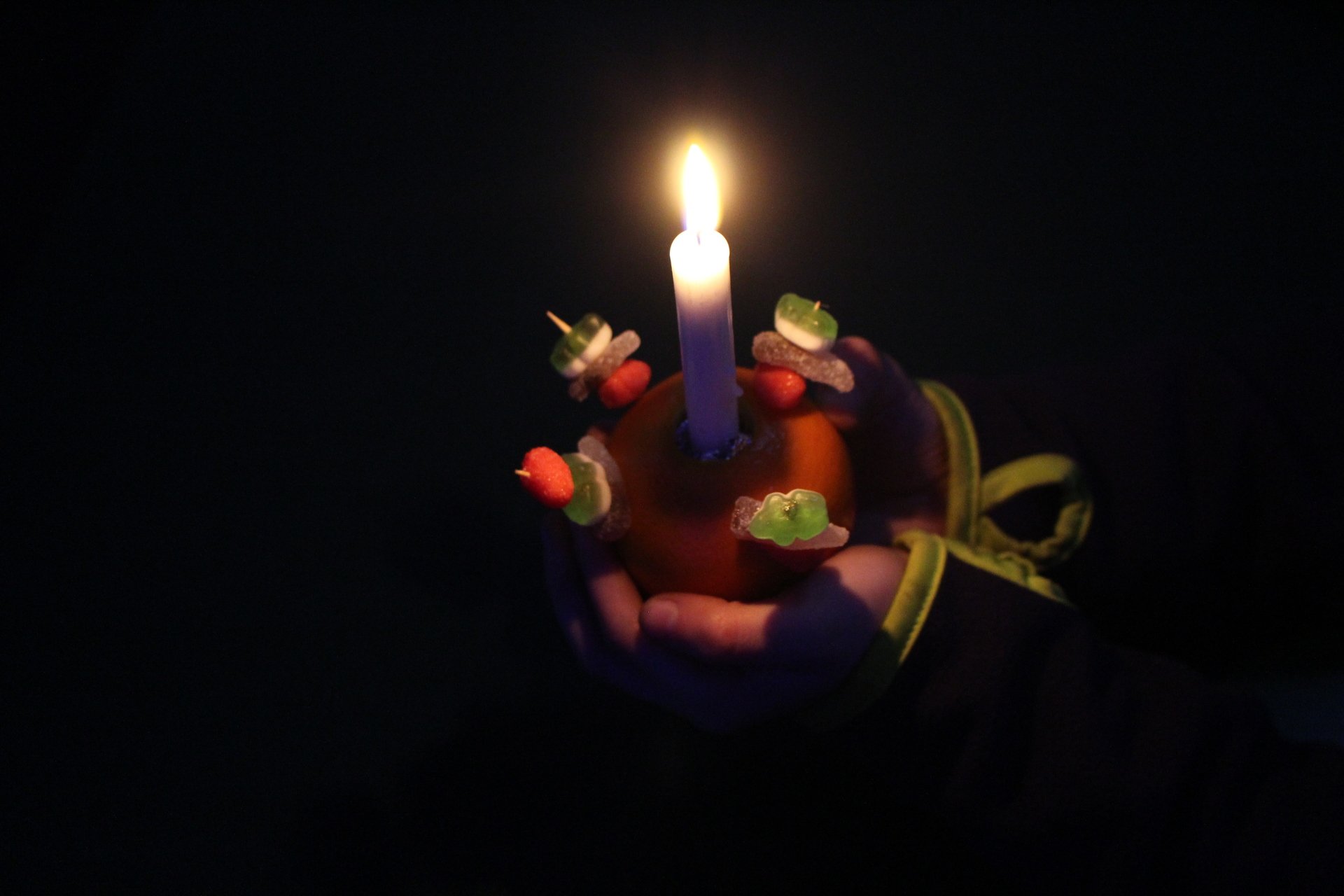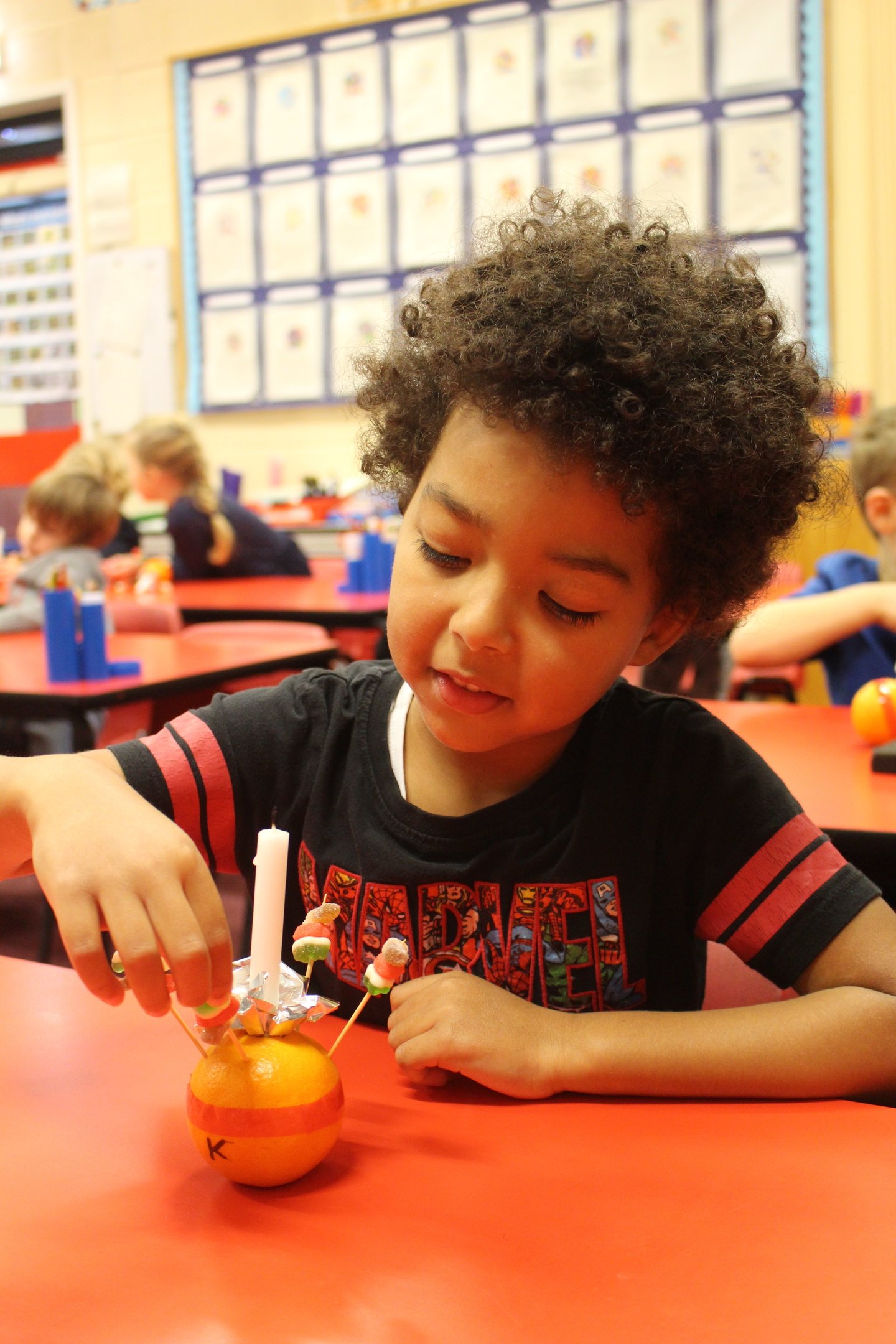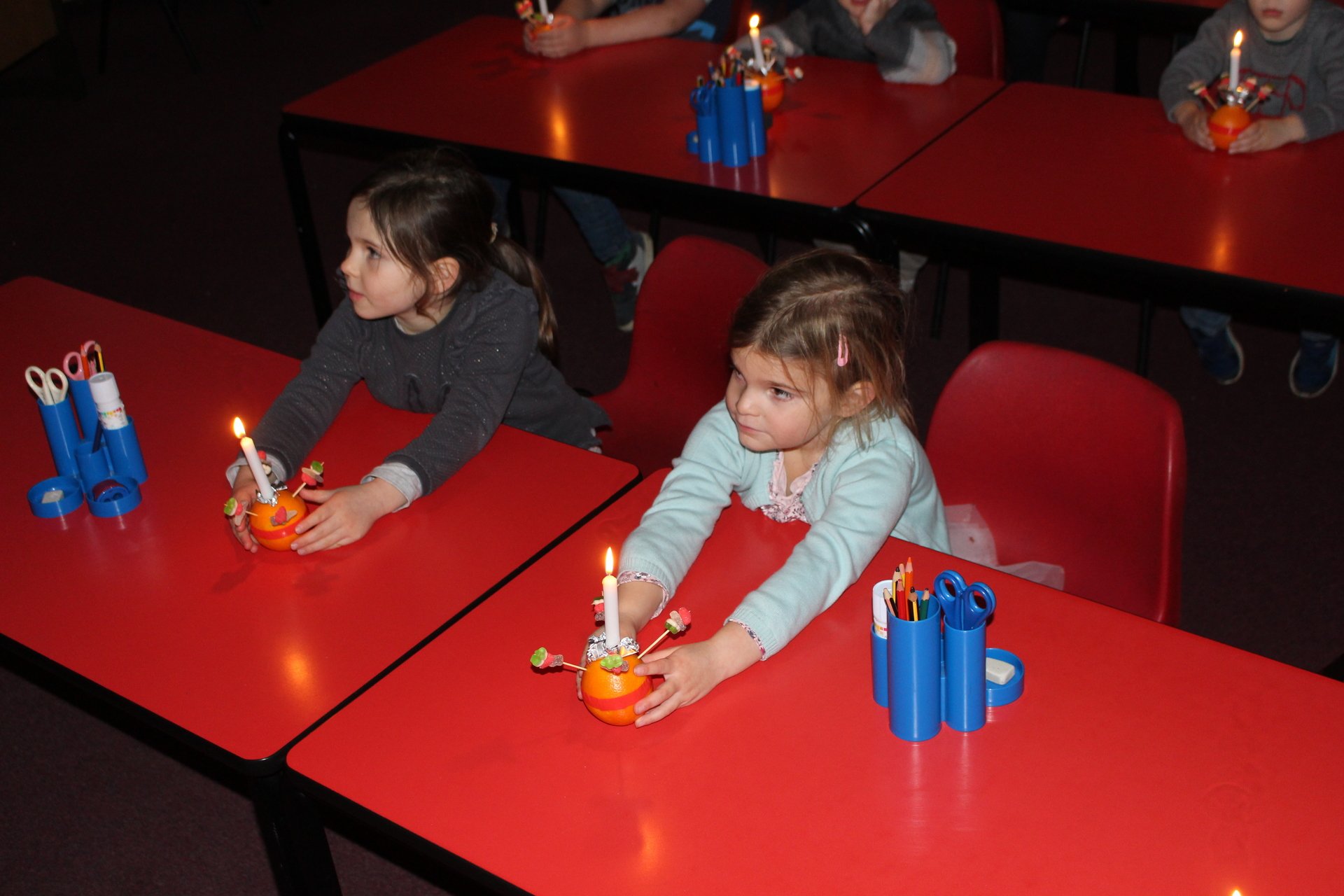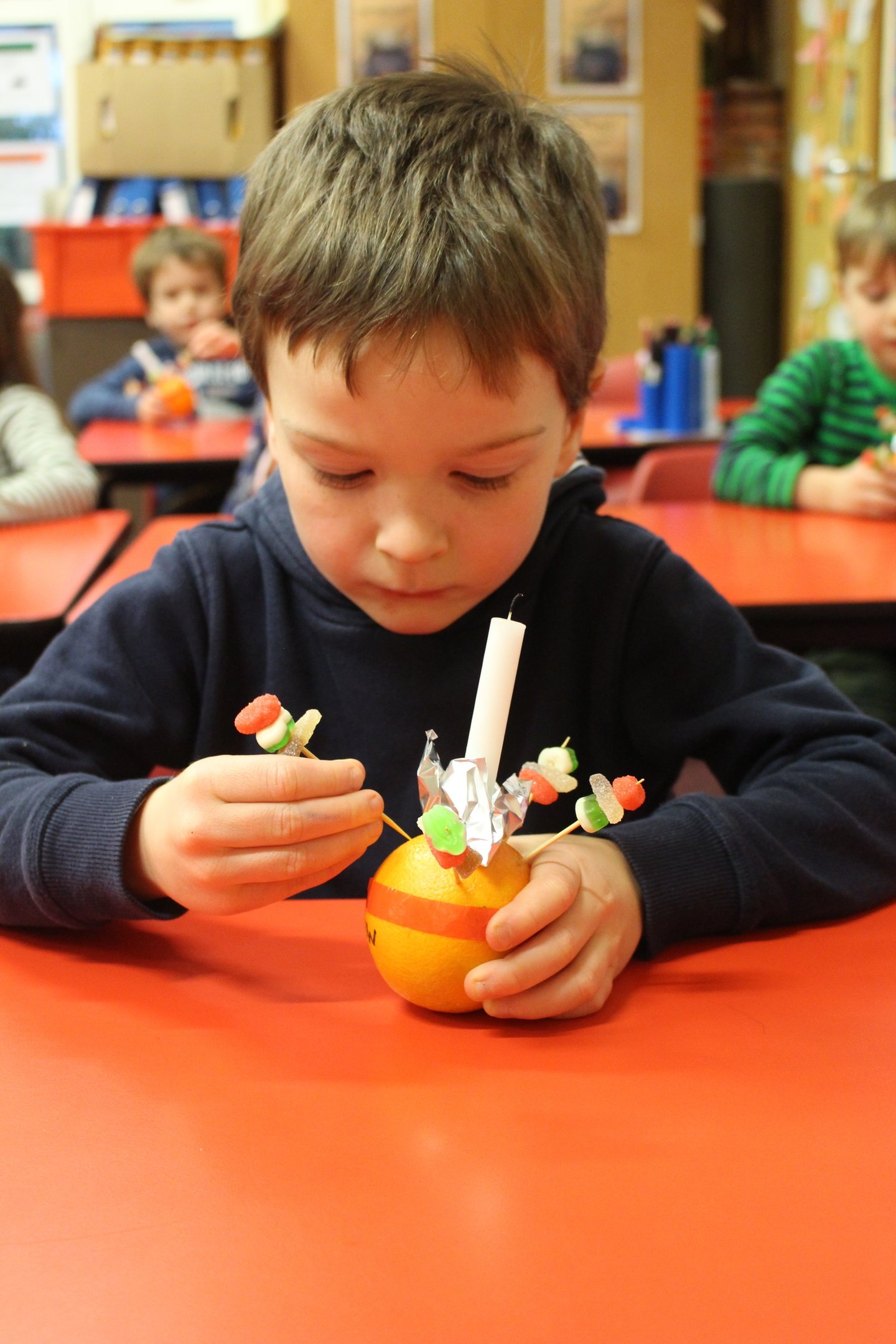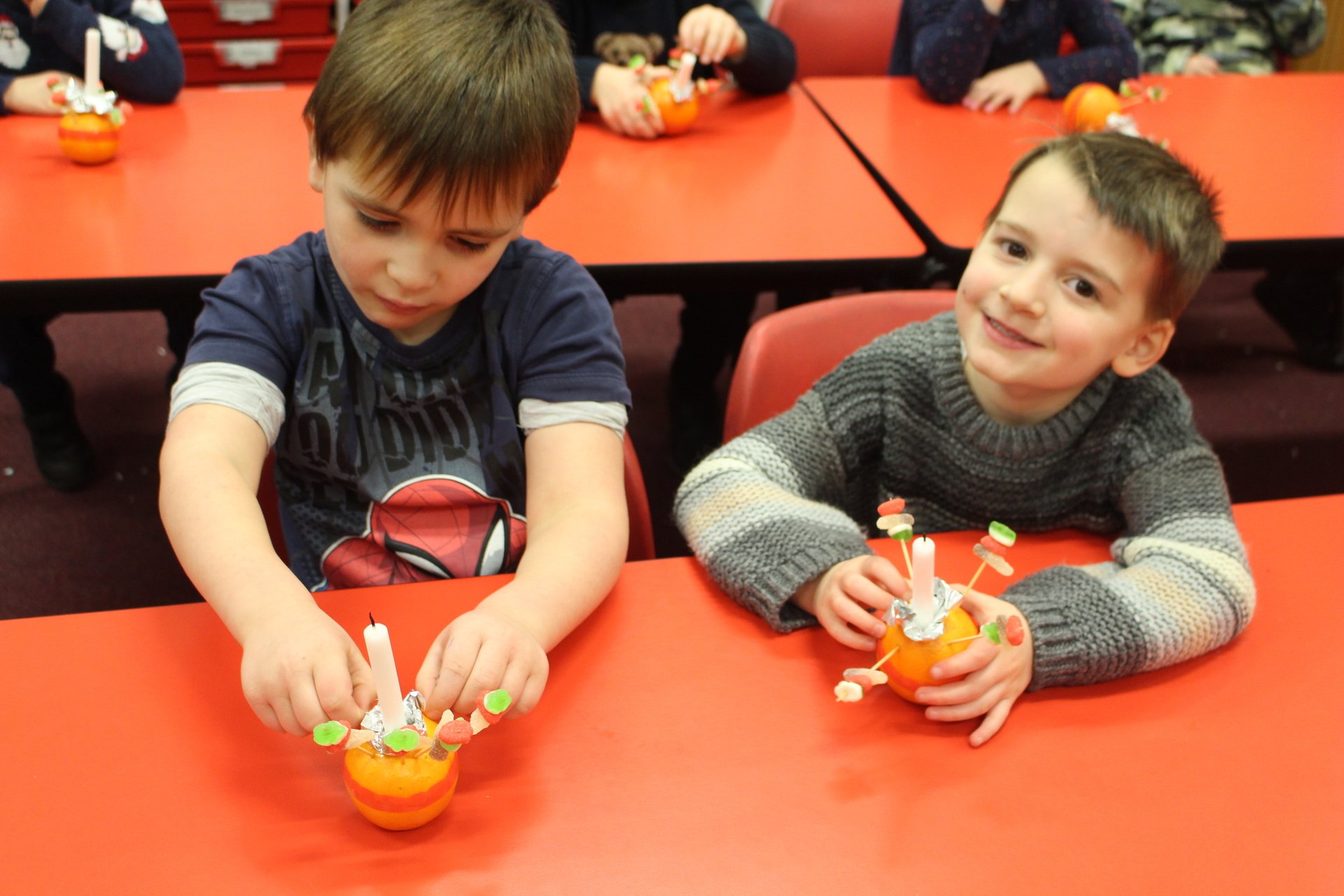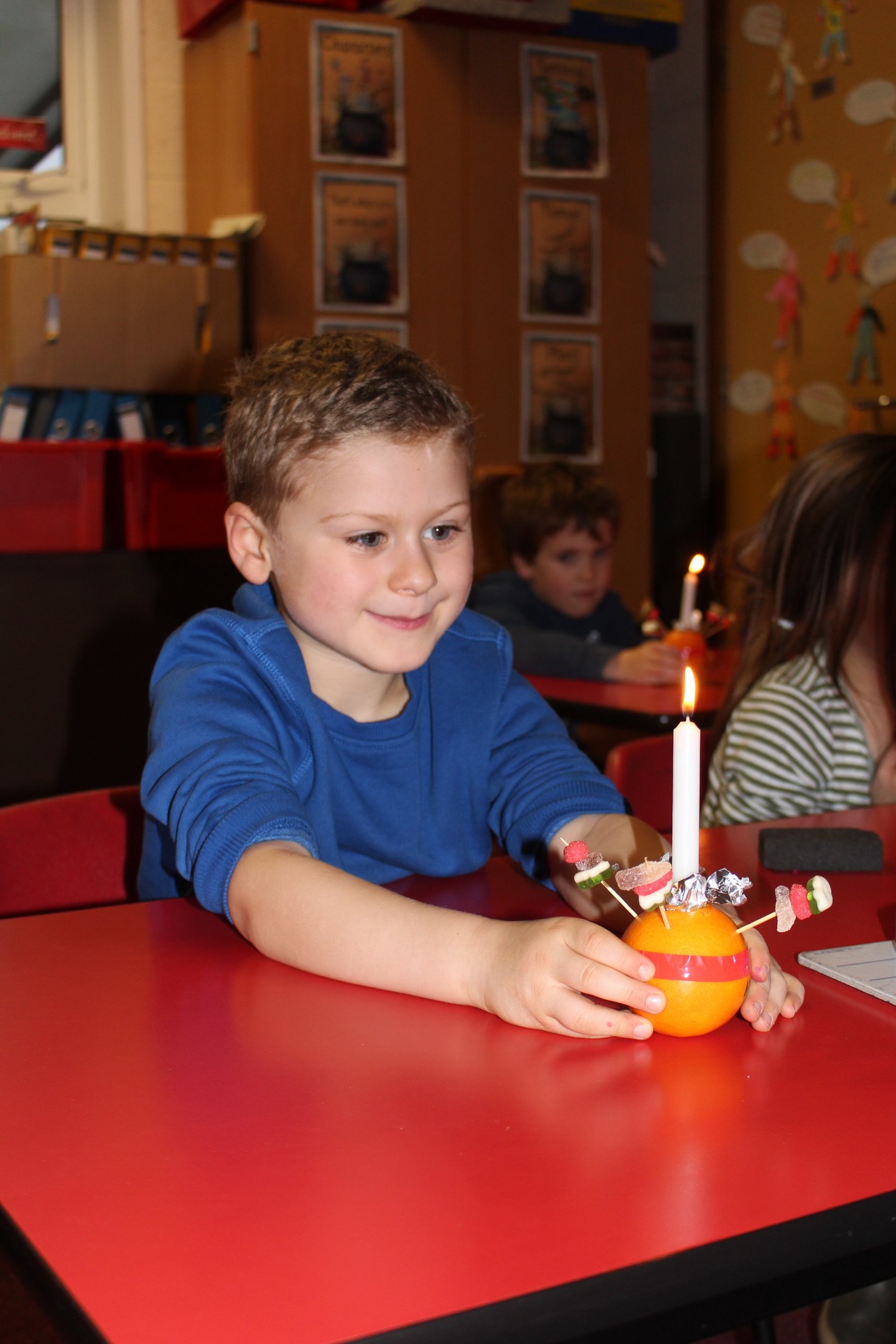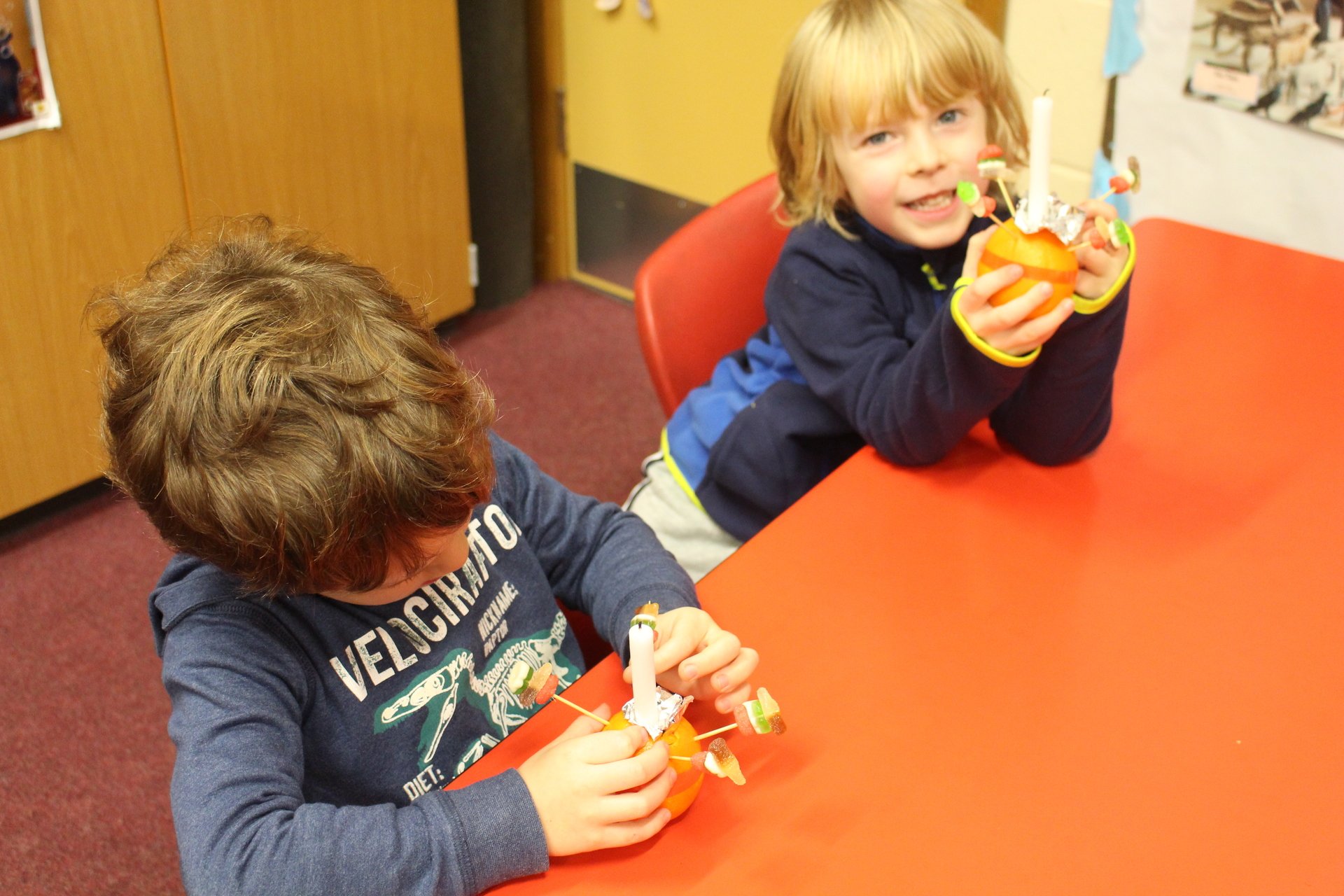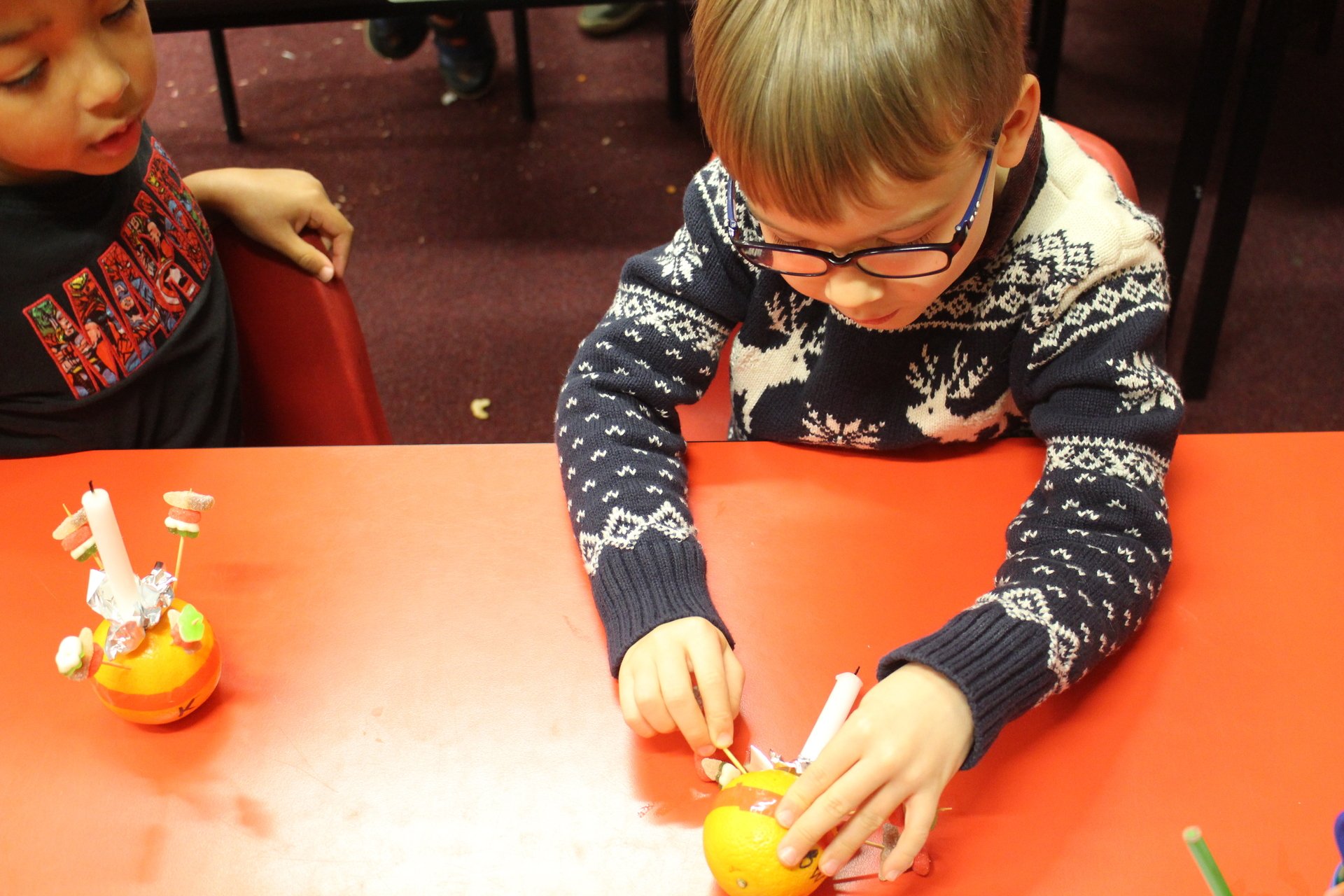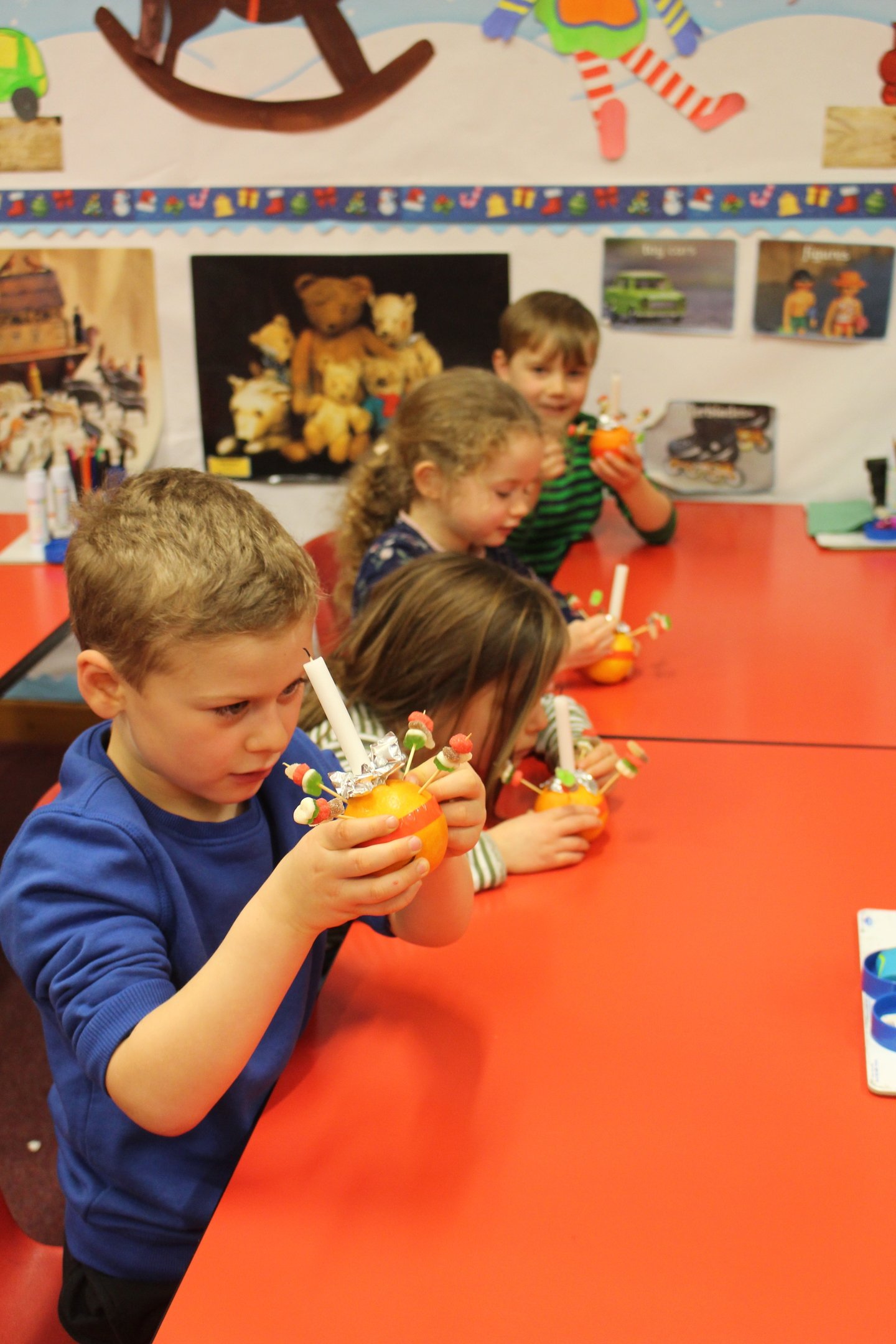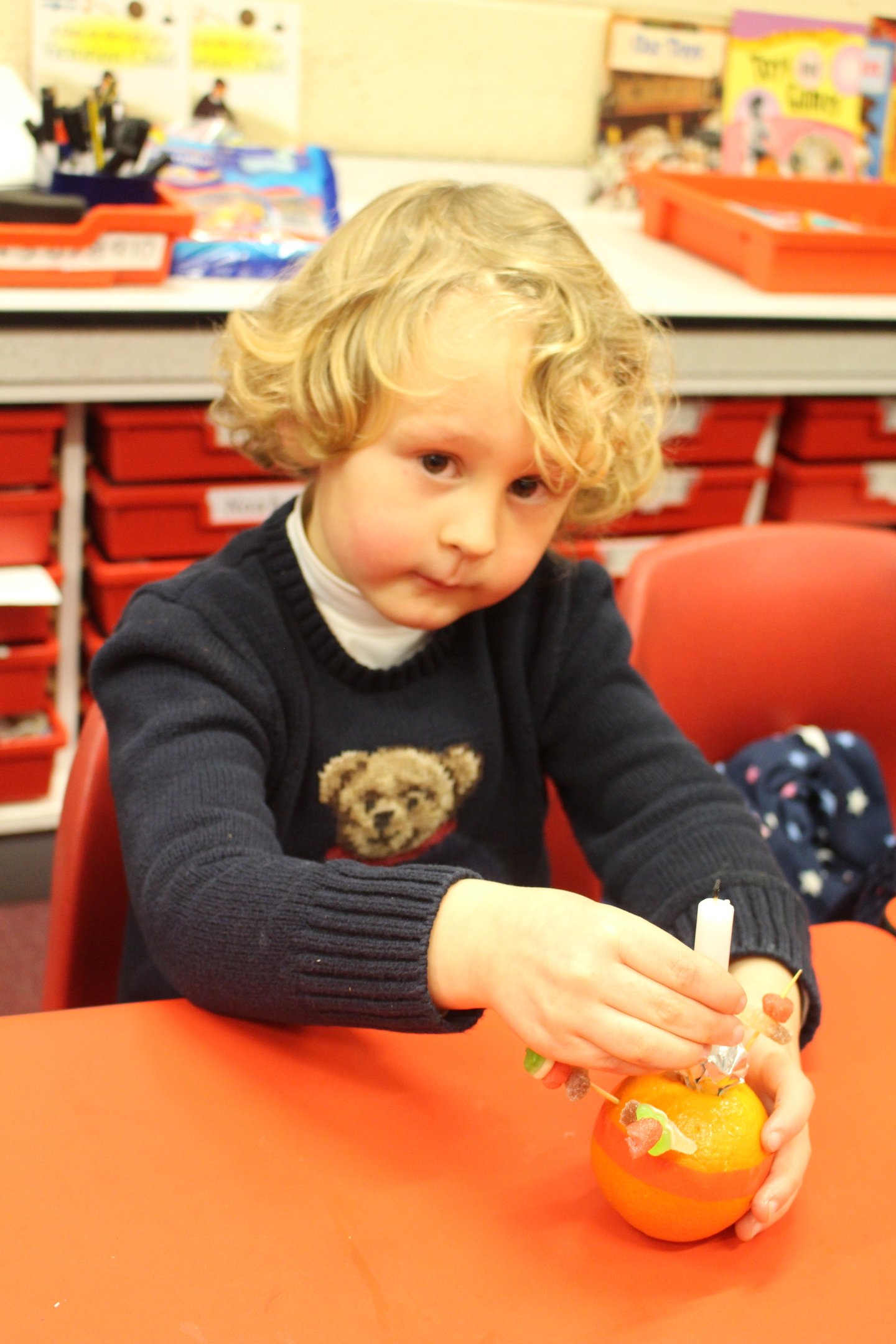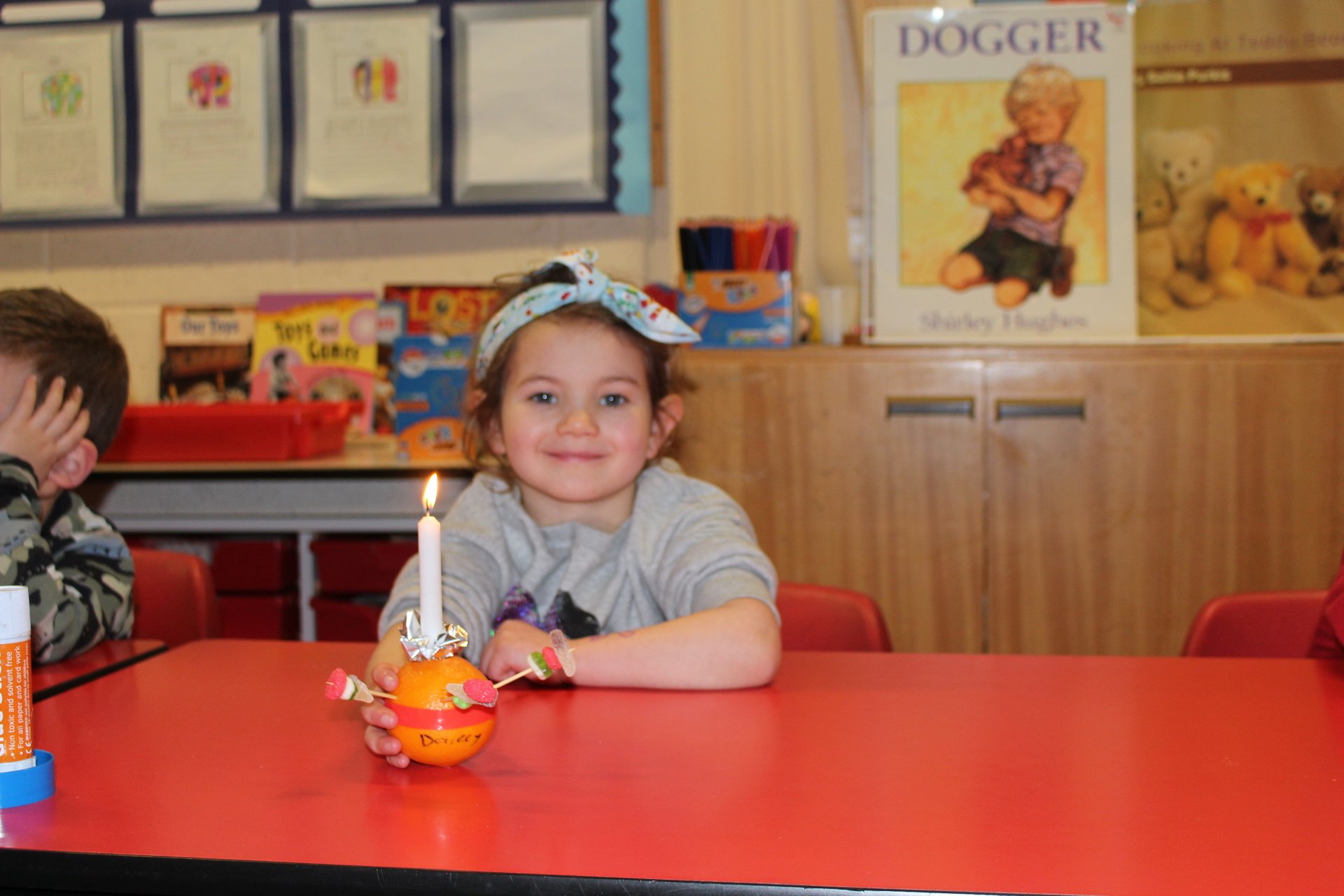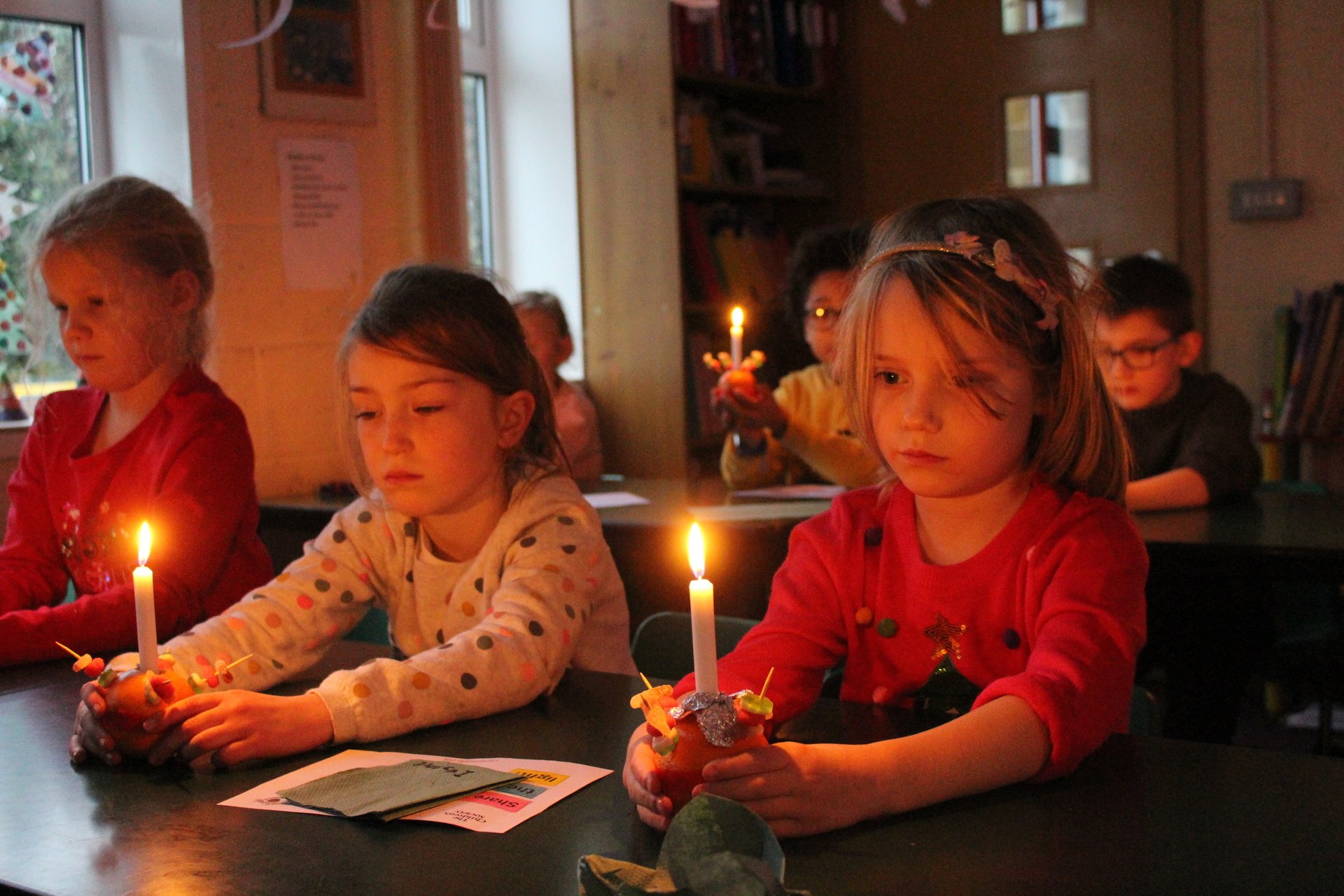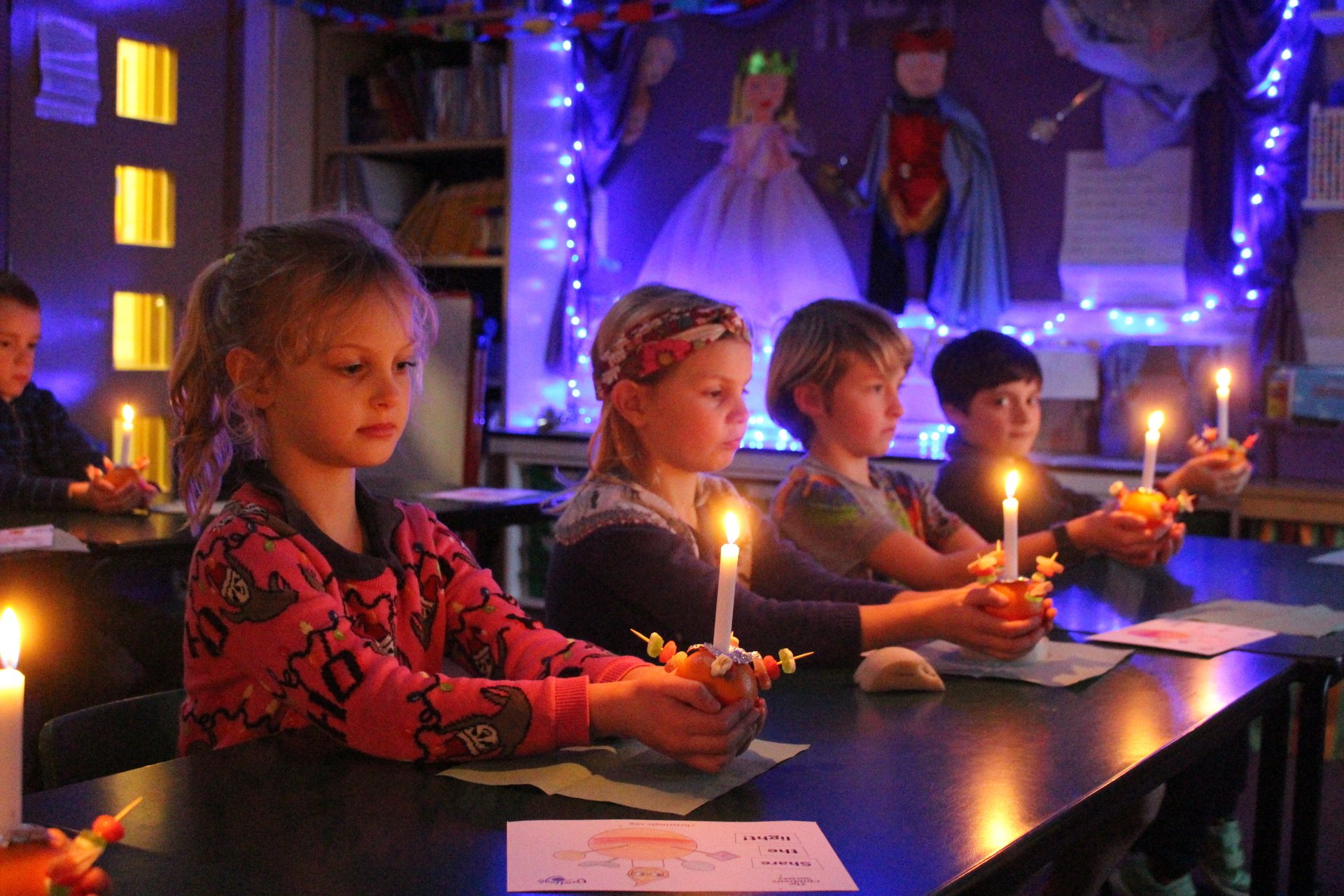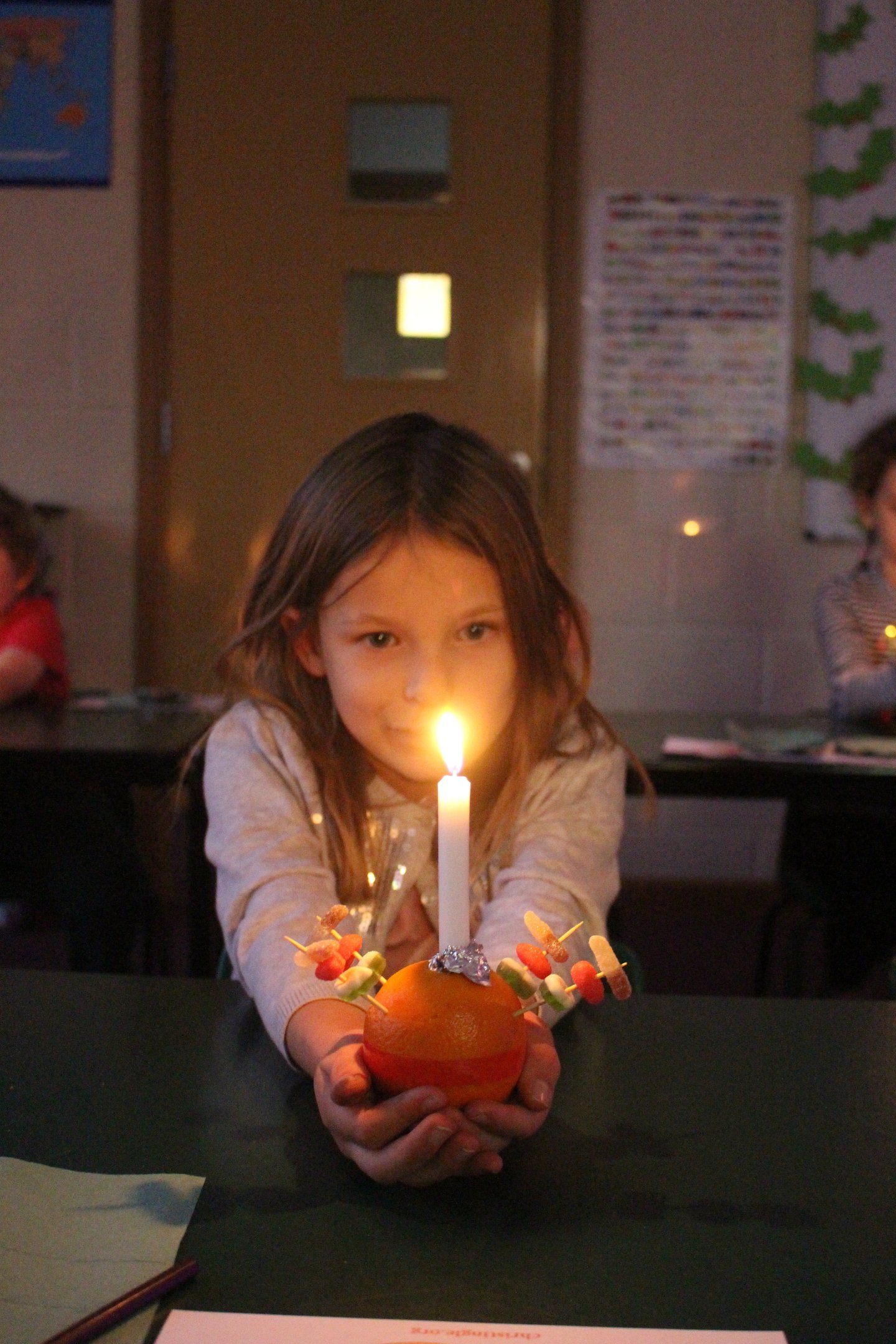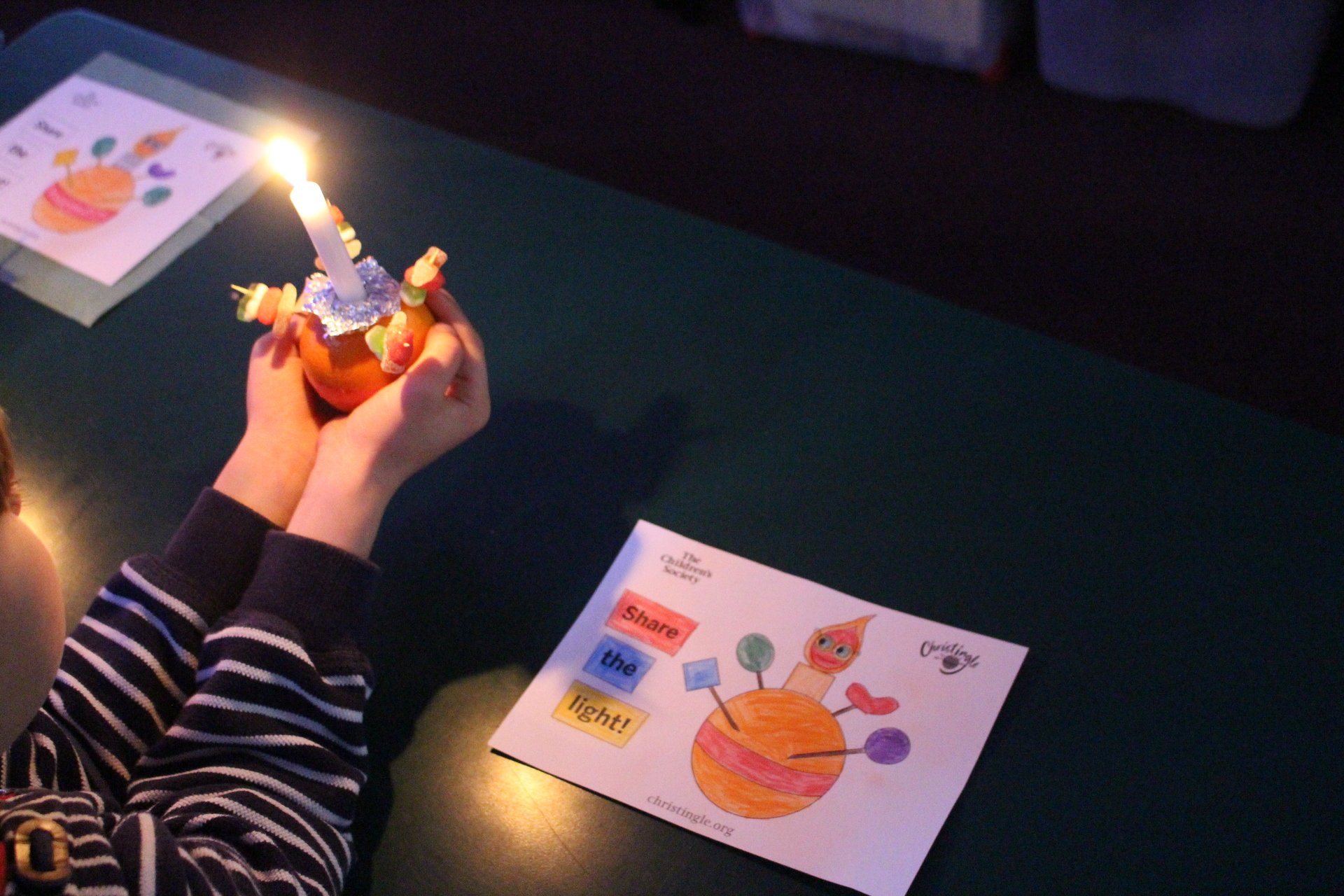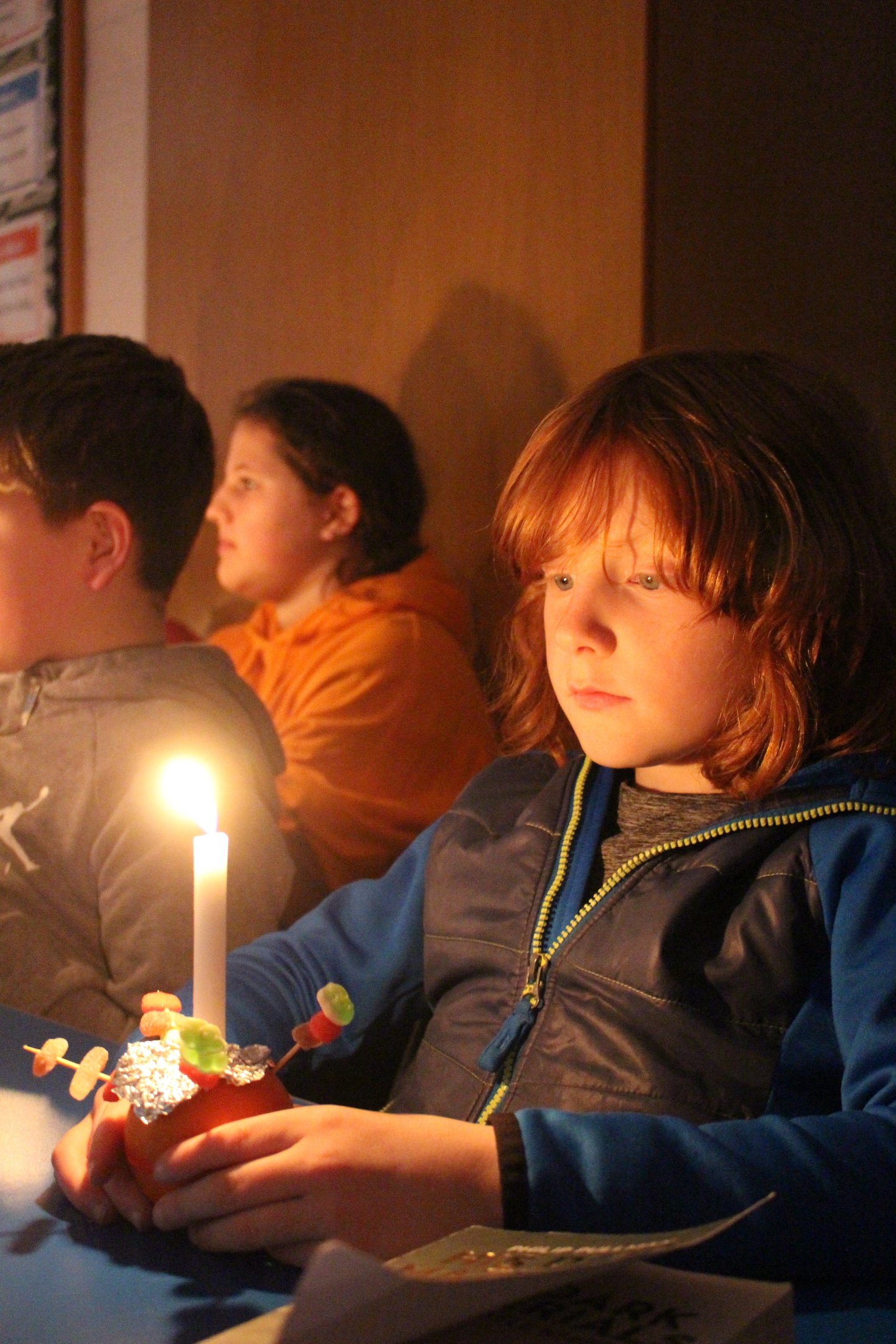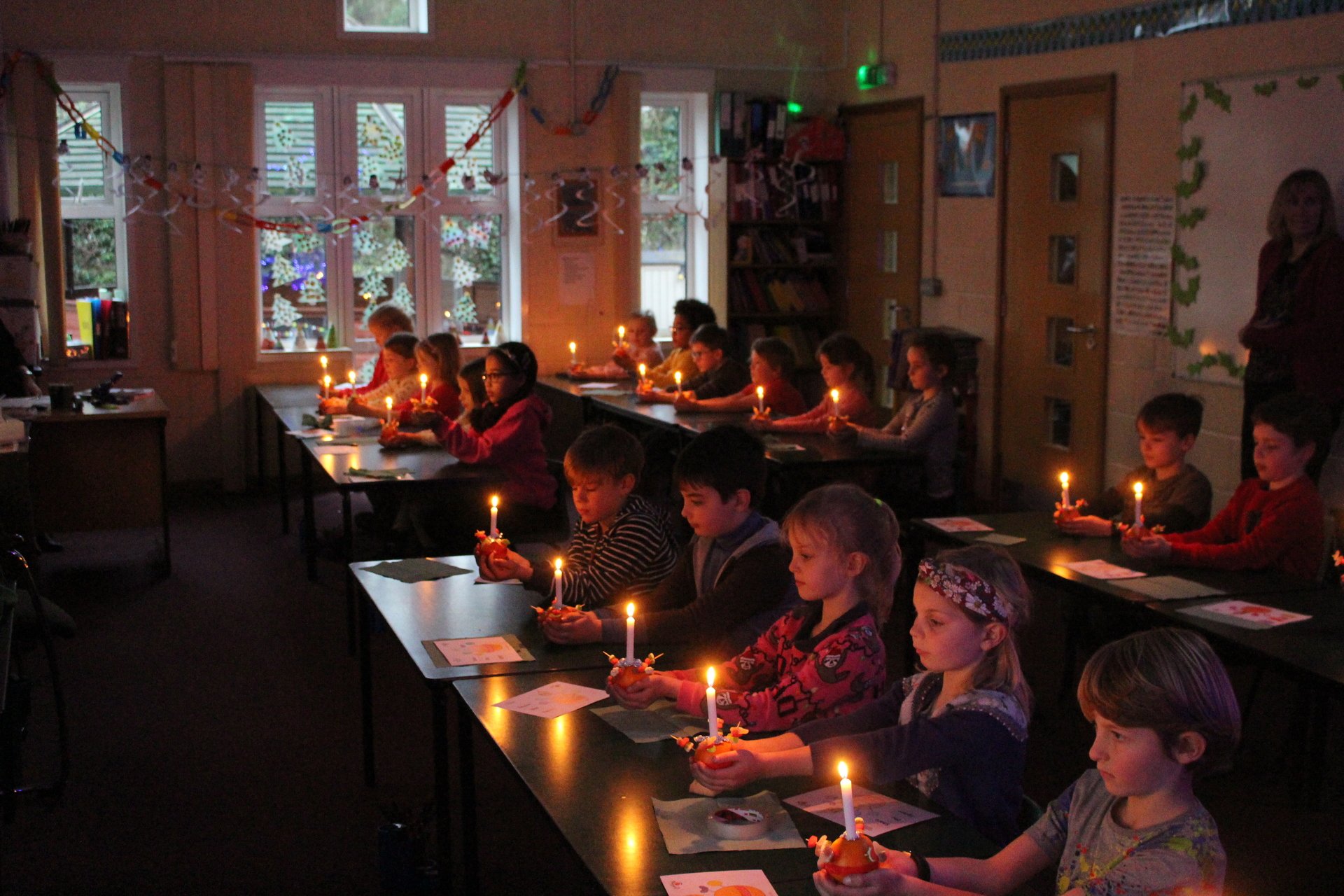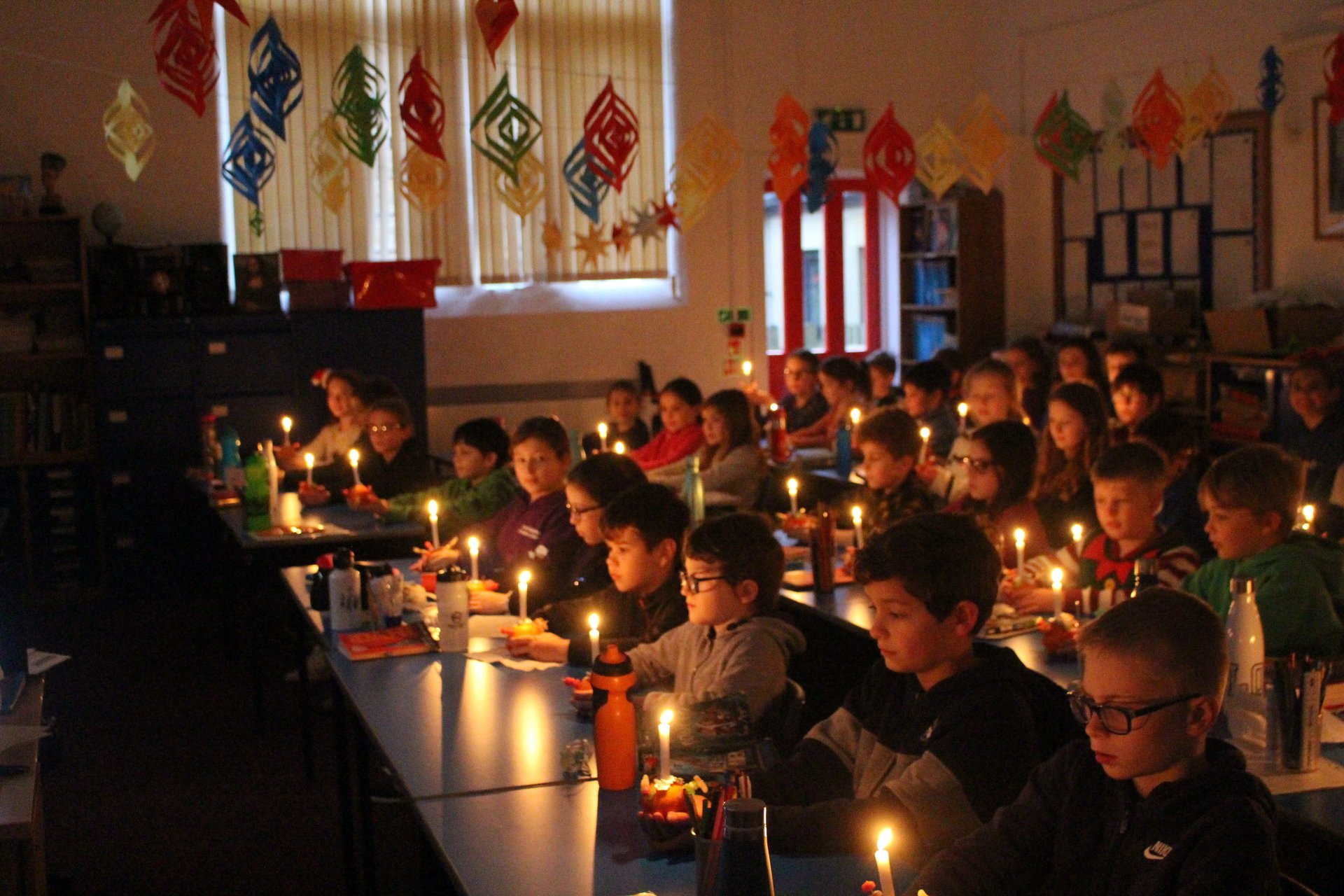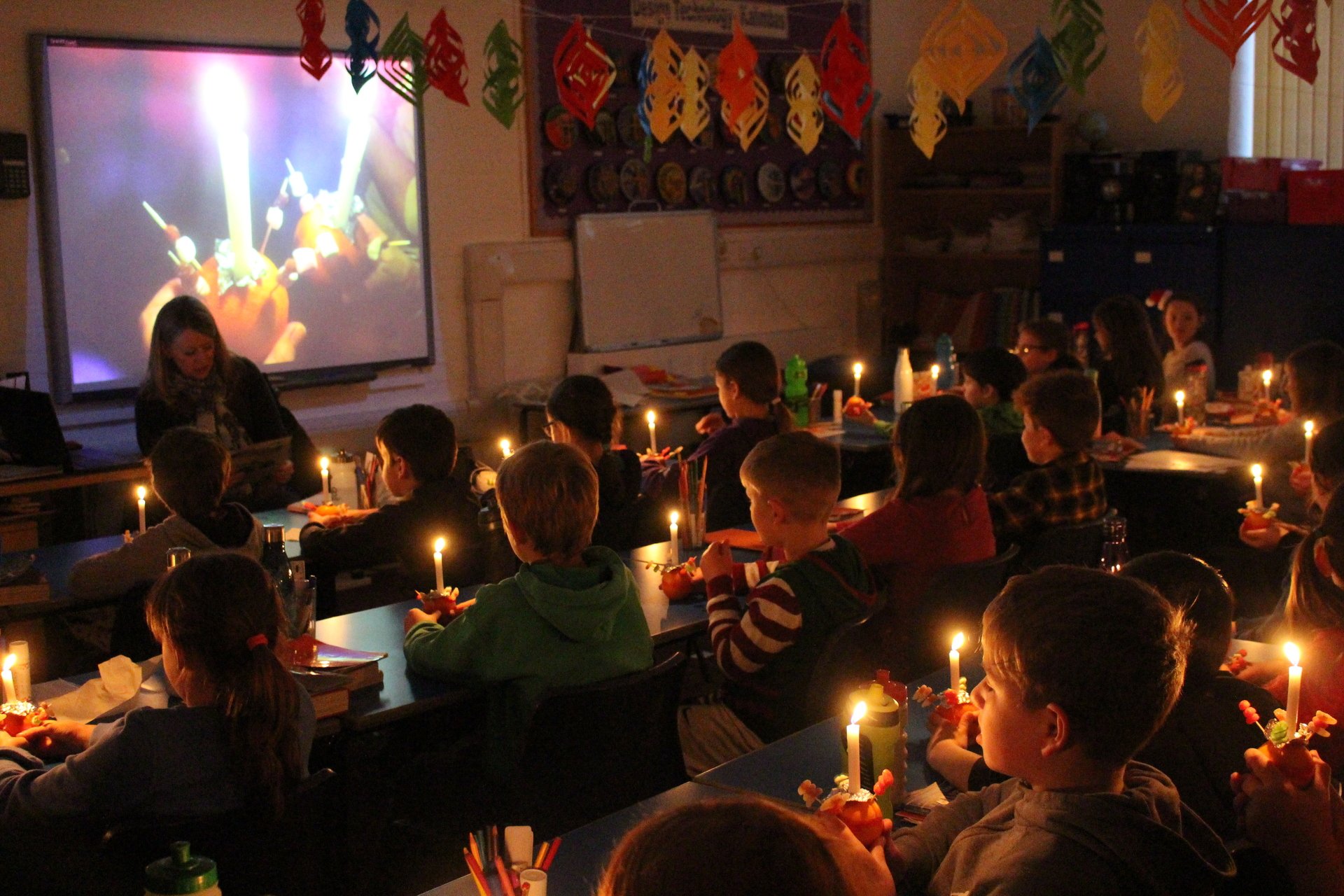 Pyjama Day! Children in Need 2020
We raised £108.96 for Children in Need by all bringing a donation and coming to school in our pyjamas! Well done everyone, a fantastic amount raised for such a great charity.