Welcome to Green Class - Year 2 and 3
Class Teacher - Mrs Gibbins
Teaching Assistants - Mrs Randall and Mrs Gill
Our Topic
Stone Age to the Iron Age
We are loving our topic 'Stone Age to Iron Age'. We have been focusing on how people lived, what they created and invented and created our own cave paintings. We are looking forward to researching what remains we can learn from today.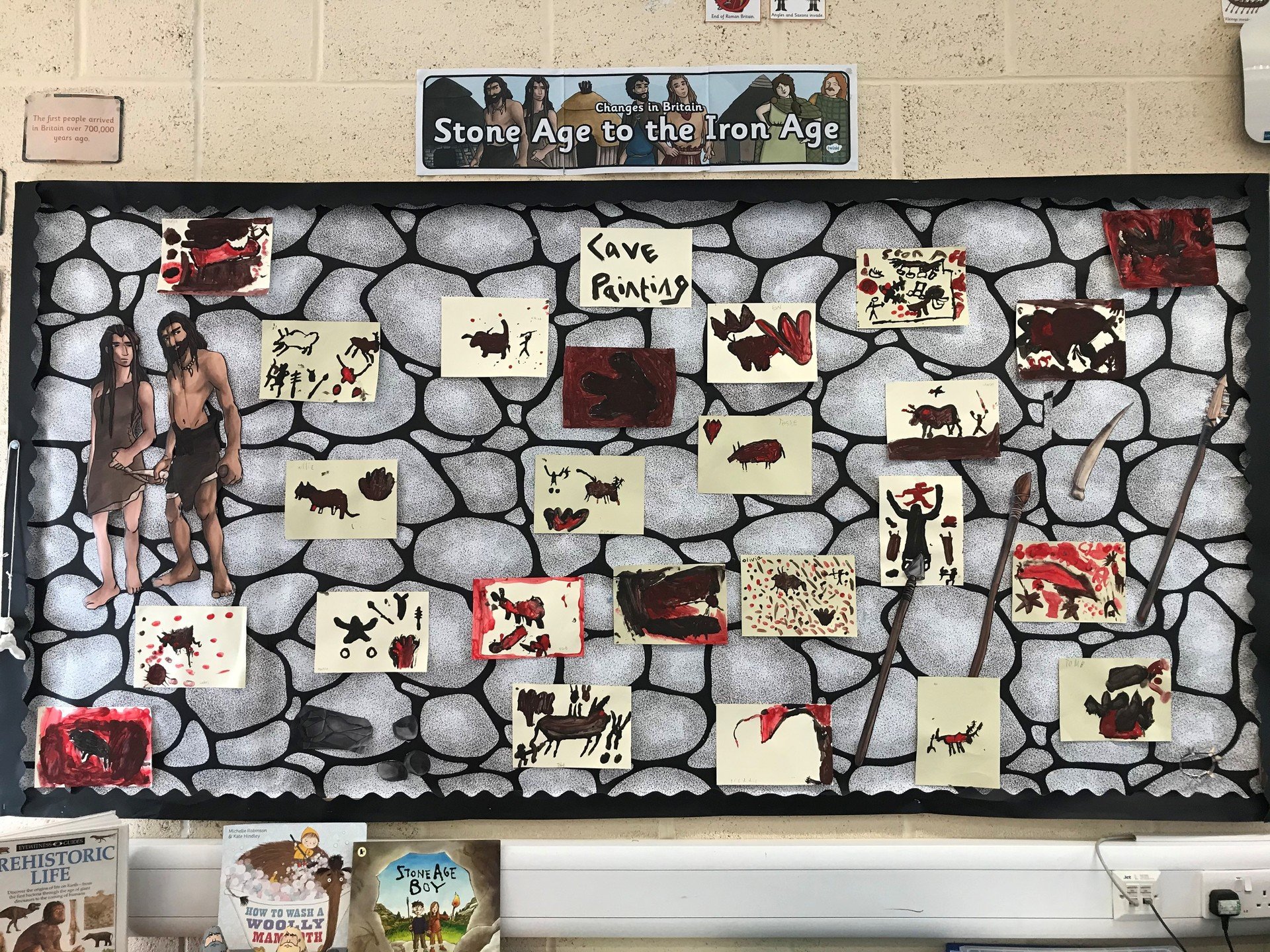 Class Timetable
9 - 9.30am 9.30 - 10.40am 10.55 - 12.10pm 1.10 - 2.10pm 2.25 - 3.30pm daily information
Monday
Assembly

Maths

Grammar Y2

PE - Mr Wilkinson Y3

Grammar Y3

PE - Mr Wilkinson Y2

RE

P.E
Tuesday
Hymn practice & music

Music - Mrs Pickles

Handwriting - Mrs Hayward

Maths

Science

French

Wednesday
Assembly

English

Maths

DT

ICT

Homework due in

Thursday
Assembly

Maths

English

Writing

PE - Mr Barnes

Reading / library change

Times Tables* Test 9am

PE

Library Book change - up to 2 books at a time

Friday
Assembly

English

Maths

History

PHSE

Spelling Test 9am

Word list in in the back of Reading Record Book and updated every 6 weeks

Homework given out
*Please see our Supporting Your Child's Learning page (under the Parents tab) for this year's times tables guidance.
P.E : Please make sure that all P.E kit is in school every day, as times may change. Kits can be taken home once a half term to be washed. Please remember to name all items of clothing.
Book bags: Please bring these to school each day along with reading book and yellow reading record so that we are able to change books and listen to children read. Encourage your child to read on a daily basis as this support will be very beneficial towards their progress. Also ensure that they record this in their Reading Record book.
Water bottles: We encourage children to stay hydrated all day and all children have been provided with a water bottle by school. These are kept in the classroom.
Homework: Homework is given out on a Friday and is expected back by the following Wednesday. Specific tasks will appear in the weekly newsletter.
Pens and pencils: All stationery is provided by school. Children use a pencil for writing in both year groups.
Click here to view our topic for Autumn Term 2020-21.
If you have any questions about anything in Year 2 and 3 please speak to the school office to make an appointment to see me.
Mrs Gibbins