Welcome to Blue Class - Years 4, 5 and 6
Class Teachers - Mr Wilkinson and Mrs Pickles
Higher Level Teaching Assistant - Mrs Hayward
SEN Teaching Assistant - Mrs Randall
Art Topic
We have loved our Layered Leaf Printing Topic and have produced some fantasitc pictures. We sketched our chosen leaf and then created a two layer print design in our books. We then transferred our first design onto our tile and printed the first layer and waited for it to dry. We then added our second design to the tile and printed this onto the tile. We are all so pleased with the results.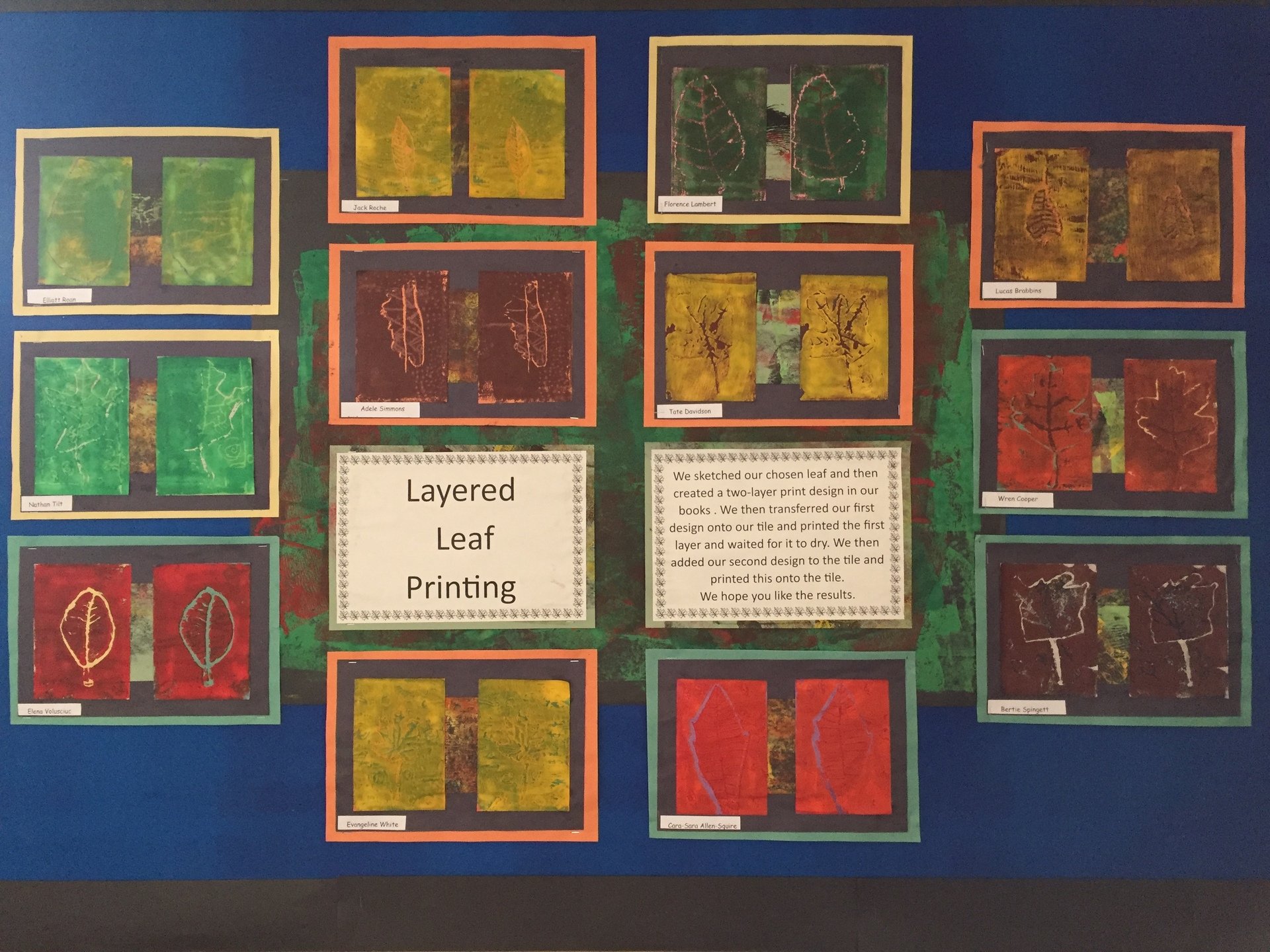 Class Timetable
9 - 9.30am 9.30 - 10.40am 10.55 - 12.10pm 1.10 - 2.10pm 2.25 - 3.30pm daily information
Monday
Hymn practice

Yr 5/6 P.E.

Yr 4 Maths

Yr 4 P.E.

Yr 5/6 Maths

Geography/

History

English

Word (spelling rules)

Group reading

P.E.


Yr 5 Recorder club

Tuesday
Assembly

Maths

Music / French

R.E.

Grammar / Writing Focus

Music

Yr 5/6 Guitar club

Wednesday
Assembly

Maths/ Arithmetic

Writing

Introduction & Planning

DT/Computing

DT/Computing

String lessons with Mrs Cliffe

Thursday

Assembly

Tables Test

Maths

Comprehension

Science

Science/

Reading (Library)

Times tables test*

Homework handed in

Library (book change opportunity)

Woodwind lessons with Miss Lindop

Friday

Assembly

Spelling Test

Writing

Main write

Maths

Games

Grammar/ Homework introduction

Spelling test

P.E.

Homework given out

School orchestra with Mrs Marshall
*Please see our Supporting Your Child's Learning page (under the Parents tab) for our times tables guidance.
Click here for an overview of Spring Term 1.